January 5, 2023


THE WEEK'S BEST QUOTES. . .
"The 'Trump' tax returns once again show how proudly successful I have been and how I have been able to use depreciation and various other tax deductions as an incentive for creating thousands of jobs and magnificent structures and enterprises." — Donald Trump, on Truth Social, attempting to explain why his tax returns show his company lost hundreds of millions of dollars. https://truthsocial.com/@realDonaldTrump/posts/109603661656536931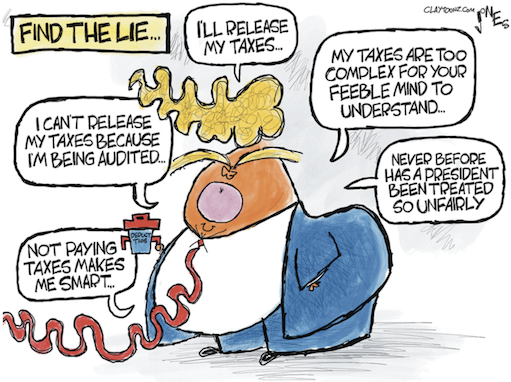 "2023 will be a great year to impeach Joe Biden." — Rep. Marjorie Taylor Greene. https://twitter.com/RonFilipkowski/status/1609695021443477506/photo/1
"We're supposed to be hitting the ground running here, but instead it's just a big belly flop. Believe me, it's not just members of the Freedom Caucus who are aggravated. As the days and hours trickle on, the more aggravated people become." — A GOP lawmaker. https://www.politico.com/newsletters/playbook/2023/01/02/mccarthy-on-the-brink-00076003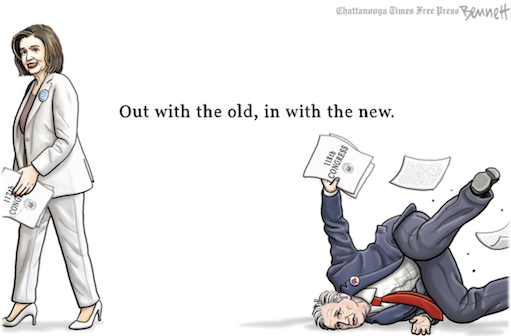 "9/11 claimed my mother's life" — Rep.-elect George Santos (R-NY) during his congressional campaign, even though records show she died 15 years later. https://www.washingtonpost.com/politics/2022/12/29/george-santos-mother-911-death/
"Sad! This changes neither my view of McCarthy, nor Trump, nor my vote. — Rep. Matt Gaetz (R-FL) on Donald Trump's re-endorsement of Kevin McCarthy for speaker. https://www.foxnews.com/politics/matt-gaetz-responds-trump-support-mccarthy-sad
"They're like children. This is such a childish attempt at gaining attention… This is about petty, personal issues that they have, or petty attempts to gain notoriety. It's unbelievably frustrating and they should be held accountable for it by the American people." — Rep. Dan Crenshaw (R-TX), on the 20 Republicans who refuse to back Rep. Kevin McCarthy (R-CA) for speaker. https://twitter.com/ryanstruyk/status/1610288190849515523
VIDEOS
"You're supposed to throw the grenade after you pull the pin. They pulled the pin and passed the grenade around!" — James Carville explaining the inability of Republicans to elect a speaker. https://twitter.com/YDanasmithdutra/status/1610498332245336064
"House Republicans now are on the verge of becoming a total clown show." -- Hannity. https://twitter.com/Acyn/status/1610457485038567424
"It's really going to be a question of do we prosecute a former president, not whether we can — and have it nailed, which I think they do." — John Dean, Richard Nixon's White House counsel, commenting on the January 6 Committee's case against Donald Trump. https://www.youtube.com/watch?v=w5jlRZ0xduE
Ron DeSantis' 2018 ad indoctrinating his children into Trumpism. https://www.youtube.com/watch?v=z1YP_zZJFXs
Conspiracy theorist Mike Lindell says he is going to Florida to audit Governor Ron DeSantis' (R) historic re-election victory because there is no way DeSantis did as amazing as he did. https://twitter.com/RealSaavedra/status/1605386896317652992
LITIGATION TRACKER
Pending Criminal and Civil Cases Against Donald Trump. https://www.justsecurity.org/75032/litigation-tracker-pending-criminal-and-civil-cases-against-donald-trump/
---
IN THIS ISSUE
IN THE NEWS
OPINION
The Jan 6th Committee's 845 page final report. https://www.documentcloud.org/documents/23515535-jan-6-select-committee-final-report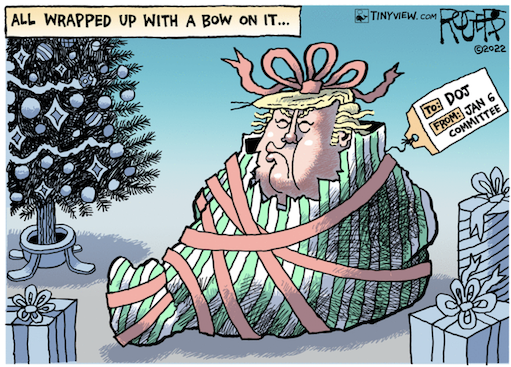 All the transcripts the Jan. 6 committee has released thus far. https://www.axios.com/2022/12/29/jan-6-committee-latest-transcript-interviews
Trump's tax documents released by the House Ways and Means Committee.
https://fm.cnbc.com/applications/cnbc.com/resources/editorialfiles/2022/12/20/housejctreportdec22.pdf
Andy Borowitz: Kevin McCarthy Fails Math for First Time Since High School
In a historic setback, Representative Kevin McCarthy has failed a math test for the first time since high school.
Witnesses in Congress said that the California lawmaker sat ashen-faced as it appeared that, once again, he was no match for arithmetic.
According to a source close to the congressman, failing math brought back "terrible memories" for McCarthy.
"Kevin failed countless math tests as a kid," the source said. "That doesn't make what happened today any easier."
After it became clear that math had defeated him once more, McCarthy, sitting alone in the House chamber, could be heard muttering to himself. "Numbers . . . my old enemy," he said, bitterly. https://www.newyorker.com/humor/borowitz-report/
House GOP Rules Package Would Gut Investigations
In the House Republican Rules package, a provision tucked into its section on the Office of Congressional Ethics would effectively sack most of the Democratic-appointed board members by instituting term limits and make it much harder to hire staff.
This could have big implications for ethics cases… like an investigation into Republican members related to Jan. 6, or Rep-elect George Santos. https://twitter.com/nicholaswu12/status/1609936407367131137
New election frontiers shake up 2024 map
The 2024 election will be fought on a very different battlefield than the last one, with old reliably swing states no longer in play — and new ones taking center stage..
The new battleground map that will determine who wins in 2024 includes two newcomers — Arizona and Georgia — and two traditional swing states — Pennsylvania and Wisconsin. https://www.axios.com/2022/12/30/2024-election-new-battleground-states
Greg Abbott: Scrooge
On Christmas Eve in Washington, D.C. the temperature plunged to 15 degrees Fahrenheit, the coldest on record. In our neighborhood, people were exchanging hints on the Nextdoor app about opening taps to drip (it prevents pipes from freezing) and avoiding black ice on roads. Some were admonishing their neighbors for leaving dogs outside too long. "It's friggin' 15 degrees!"
And yet, the governor of Texas nonetheless decided to dump another 130 men, women, and children—some wearing just t-shirts—on the doorstep of Vice President Kamala Harris's official residence. Three buses arrived between 8 and 10 p.m., and, thanks to the work of Migrant Solidarity Mutual Aid Network, the dazed and confused migrants were offered blankets and conveyed to local churches. Several restaurants donated food. So the immigrants were okay. But without that intervention, we must assume that the bus drivers were under instructions to leave them there, in a residential neighborhood, on a frigid night, wearing only light clothing, not speaking the language, and having no idea where they were.
This brings to 8,700 the number of immigrants Gov. Greg Abbott has shipped to Washington this year. Another 6,500 have been bused to New York, Chicago, and Philadelphia. https://www.thebulwark.com/greg-abbott-scrooge/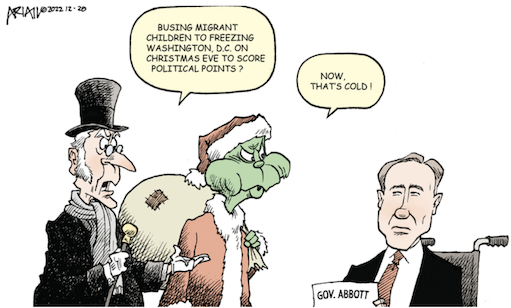 New year expected to bring more changes to state voting laws
Even with proponents of Trump's election lies roundly defeated during this year's midterms, advocates on both sides of the voting debate are bracing for another round of election-related legislation. Republicans are eager to tighten election rules further while Democrats, who took control of two additional statehouses, will seek to make it easier to cast a ballot. https://apnews.com/article/politics-texas-state-government-ohio-michigan-minnesota-180191725cee33b33f25ee838d60b840
Culture wars: House Republicans attack Defense Department for 'woke' social policies
House Republicans plan to open a new front in the culture wars: attacking the Pentagon for its "woke" social policies.
GOP members of military oversight committees in Congress are signaling they'll target the Pentagon over racial curriculum at military academies, efforts to root out extremists from the ranks, and funding for troops' abortions. The issue could get an increased focus in this Congress as Republican members, who will now control the House of Representatives and its committees, have more sway over the chamber's agenda. https://www.usatoday.com/story/news/politics/2023/01/02/culture-wars-house-republicans-attack-pentagon-woke-policies/10890619002/
Mystery deaths of Russian oligarchs
In the past six months, as Russia has been trying to occupy Ukraine, at least eight top Russian businessmen and heads of several major companies have died in unexplained circumstances.
The last of them, the first man of the oil giant Lukoil, Ravil Maganov, may have accidentally fallen from the window (or balcony) of a Moscow hospital or committed suicide, as the controlled Russian media wrote. Maybe he got hurt because he was one of the few top businessmen who did not have kind words about the aggression against Ukraine.
His Lukoil asked for an end to the war back in March, which is hard to forgive. In May, his former executive director Alexander Subotin also died under unexplained circumstances, except for the state propaganda that discredits him, saying that he died "after visiting a shaman".
The circumstances under which Leonid Shulman, one of the directors at Gazprom Invest and Alexander Tyulyakov, also one of the top managers at Gazprom (found dead in his garage), died are not clear. There is no trace of the murder of Vladislav Avayev, former vice president of Gazprom Bank, his wife and their daughter in a Moscow apartment.
Just like the murder of the head of the gas giant Novatek Sergei Protosenya and his family in their apartment in Spain. It remains unknown why Vasily Melnikov, the owner of the medical company Medstom, his wife and two children were stabbed to death in Nizhny Novgorod in March.
Just as it remains unknown how the Russian gas billionaire of Ukrainian origin Mikhail Watford died in his apartment in England.
It seems unlikely that we will ever get answers from Russian investigations regarding this long and likely increase, string of deaths.
It would be reasonable to ask for only one answer – how did these unfortunate people violate the long-established code of loyalty? Because the death of at least eight top managers from the most prominent Russian companies in just six months of Russian aggression against Ukraine cannot be a "regular" crime. https://www.euractiv.com/section/global-europe/opinion/mistery-deaths-of-russian-oligarchs-debunked/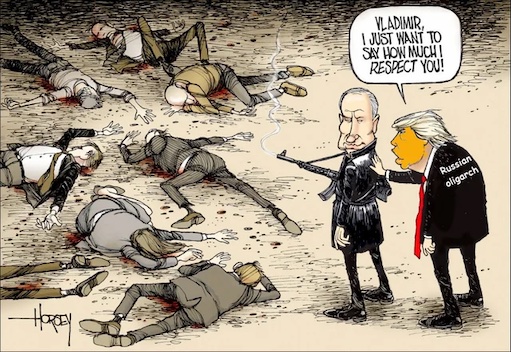 Fidelity slashes Twitter value by 56%
Fidelity was among the group of outside investors that helped Musk finance his $44 billion takeover of the social media site, by purchasing equity. Fidelity slashed its carrying value of Twitter by 56% during the first month of Elon Musk's ownership. https://www.axios.com/2022/12/30/twitter-fidelity-valuation
Why Election Outcomes Are Important
In the 2022 midterms a swing of only 6,647 votes combined across the closest House races would have resulted in a Democratic majority in the House.
That is 6,647 votes out of over 107 million votes cast in the 2022 midterm. Meaning a movement of 0.006% of votes would have changed control of the House.
Due to those 6,647 vote we ended up with the current House Republican majority that is unable to unite around a Speaker. https://snapshotwithevanandjulie.substack.com/p/house-republicans-divided-what-comes
Putin, unaccustomed to losing, is increasingly isolated as war falters
On the 23d anniversary of his appointment in 1999 as acting Russian president, Putin appears more isolated than ever.
More than 300 days of brutal war against Ukraine have blown up decades of Russia's carefully cultivated economic relations with the West, turning the country into a pariah, while Kremlin efforts to replace those ties with closer cooperation with India and China appear to be faltering the longer the war grinds on.
Putin, who started his career as a Soviet KGB agent, has always kept his own counsel, relying on a close inner circle of old friends and confidants while seeming to never fully trust or confide in anyone. But now a new gulf is emerging between Putin and much of the country's elite.
There are also inescapable questions about glaring weaknesses in the Russian military that have become apparent in recent months, including its evident inability to properly train and equip the 300,000 called up during the autumn mobilization.
"The fact is that these 300,000 mobilized do not have enough weapons. When will they get the military technology? Putin also does not have the answer to this question," said Sergei Markov, a hawkish former Kremlin adviser, who supports escalation. "India and China's doubts have arisen because Putin did not win fast enough. Privately they say, 'Win quicker, but if you can't win, we can't build good relations with you.' You should either win or admit your loss. We need most of all for the war to end as fast as possible."  https://www.washingtonpost.com/world/2022/12/30/putin-isolated-russia-ukraine-war/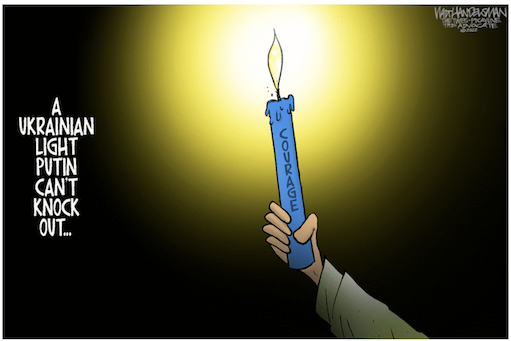 Mark Meadows is alleged to have burned documents during the transition period
Former Trump White House aide Cassidy Hutchinson indicated Mark Meadows, the White House chief of staff, burned documents in his fireplace roughly a dozen times in the final weeks of the administration, according to newly released transcripts of her House Jan. 6 committee depositions. https://thehill.com/policy/national-security/3790491-hutchinson-says-meadows-burned-documents-during-transition/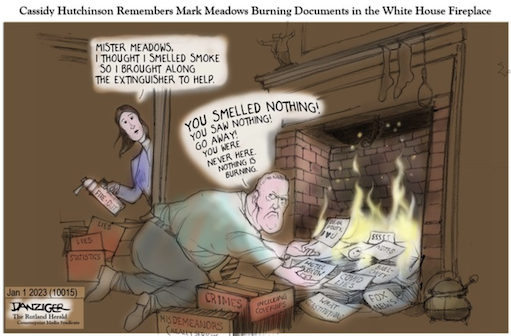 Trump Appears To Float Third-Party Threat If GOP Won't Back Him
Former President Donald Trump has appeared to float the idea of running a third-party campaign if increasingly disgruntled Republican leaders don't get behind his 2024 run for the presidency.
Trump signaled the possibility by posting an article on Truth Social Wednesday ― "The Coming Split," by Dan Gelernter, in the right-wing journal American Greatness ― promoting just such an option.
Gelernter believes such a move would torpedo Trump's chances of winning the White House. But it would also wipe out Republican hopes, which Gelernter argued would be a deserving punishment for rejecting the popular former president.
"Do I think Trump can win as a third-party candidate? No," he wrote. "Would I vote for him as a third-party candidate? Yes. Because I'm not interested in propping up this corrupt [GOP] gravy-train any longer."
Gelernter claimed that the "Republican machine has no intention of letting us choose Trump again: He is not a uniparty team player. They'd rather lose an election to the Democrats, their brothers in crime, than win with Trump."
He asked: "What should we do when a majority of Republicans want Trump, but the Republican Party says we can't have him? Do we knuckle under and vote for Ron DeSantis because he would be vastly better than any Democrat? I say no, we don't knuckle under." https://www.huffpost.com/entry/trump-third-party-angry-at-gopn63afcfd9e4b0ae9de1b7140f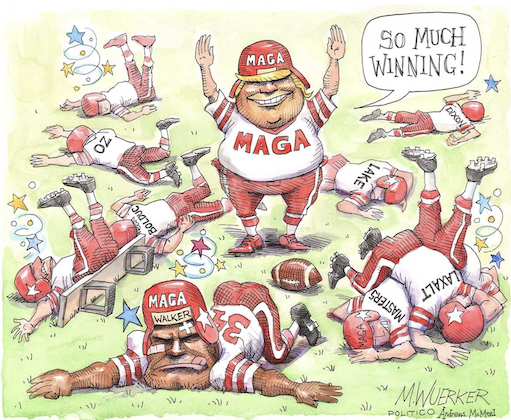 Trump wanted to trademark 'Rigged Election!'
Then-President Donald Trump wanted to trademark the phrase "Rigged Election!" days after Election Day in 2020, according to emails provided by Jared Kushner to the House select committee. https://www.cnn.com/2022/12/30/politics/january-6-transcript-release-latest/index.html
THE DAILY GRILL
President Joe Biden on Twitter: There is a certain stillness at the center of the Christmas story: a silent night when all the world goes quiet. And all the clamor, everything that divides us, fades away in the stillness of a winter's evening. I wish you that peace this Christmas Eve." https://twitter.com/POTUS/status/1606651412280221696
VERSUS
Donald Trump on Truth Social: "Merry Christmas to EVERYONE, including the Radical Left Marxists that are trying to destroy our Country, the Federal Bureau of Investigation that is illegally coercing & paying Social and LameStream Media to push for a mentally disabled Democrat over the Brilliant, Clairvoyant, and USA LOVING Donald J. Trump, and, of course, The Department of Injustice, which appointed a Special 'Prosecutor' who, together with his wife and family, HATES 'Trump' more than any other person on earth. LOVE TO ALL!" https://truthsocial.com/@realDonaldTrump/posts/10957118806079935
John Cassidy: Behind the Humiliation of Kevin McCarthy
Over the past few decades, the G.O.P. has gone from being a ruthless and disciplined party of limited government and trickle-down economics to a party of anti-government protest to, now, a party of performative verbiage—in which the likes of Gaetz and Boebert (and, of course, Trump) are far more interested in boosting their follower count, raising money, and appearing on "The Sean Hannity Show" or Newsmax than they are in governance.
This gradual substitution of theatric self-promotion for serious politics has been ongoing ever since Newt Gingrich's Contract with America, and Tuesday's events merely represented its logical culmination: a newly elected House Republican majority reduced to a rabble incapable of performing the basic function of selecting a leader. In a third round, held late Monday afternoon, Jordan got twenty Republican votes, one more than before, and McCarthy got two hundred and two, one less. G.O.P. leaders then asked for an adjournment, and their wish was granted. Even as McCarthy told reporters that he had no intention of dropping out, it wasn't evident what good a delay would do. It also wasn't clear whether Kelly, the gleeful Illinois Democrat, had run out of popcorn. She may well need more when the voting resumes. https://www.newyorker.com/news/our-columnists/behind-the-humiliation-of-kevin-mccarthy
Carl Hulse: Speaker Fight Reveals a Divided and Disoriented House Majority
House Republicans began their new majority rule on Tuesday with a chaotic and historic debacle, an embarrassing failure to rally around a leader that showcased the difficulties they will face in performing even the basics of governing and their lack of a unifying agenda.
Handed narrow control of the House by voters in November, Republicans squandered the opening hours of the new Congress they could have used to dispel concerns about their capabilities. Instead, they feuded in a disorderly display over who among them should be speaker as the most extreme elements of the new majority repeatedly rejected Representative Kevin McCarthy of California.
Despite Mr. McCarthy's prominent role in fund-raising and delivering the House to Republicans and his backing among most in the party ranks, about 20 Republicans refused to support him and for the first time in a century forced repeated rounds of voting for the speakership. After three flailing attempts at electing a speaker, Republicans abruptly called for the House to be adjourned until noon Wednesday as they scrambled for a way out of their leadership morass. The stalemate meant the usually routine organization of the new House did not occur and its members were not sworn in, nor could any legislation be considered.
The paralysis underscored the dilemma facing House Republicans: No matter the concessions made to some of those on the far right, they simply will not relent and join their colleagues even if it is for the greater good of their party, and perhaps the nation. They consider themselves conservative purists who cannot be placated unless all their demands are met — and maybe not even then. Their agenda is mostly to defund, disrupt and dismantle government, not to participate in it. https://www.nytimes.com/2023/01/03/us/house-speaker-mccarthy-election.html
Charlie Sykes: The incredible shrinking Kevin McCarthy
Tuesday was supposed to be the GOP's celebration of the Red Wave, a moment of triumph and anticipation. Instead, we are likely to get a shitshow for the ages from an unruly, dysfunctional political party that is obviously not all that interested in governing
Time after time, the man who would be speaker tried to shrink himself into the office, and is ending his bid by offering multiple concessions to the bomb-throwers in the caucus who will hold him hostage if he survives. Even Newt Gingrich is alarmed by the shambles. "The precedent that sets is … any five people can get up and say, 'Well, I'm now going to screw up the conference, too.' The choice is Kevin McCarthy or chaos."
But it's chaos either way, isn't it? McCarthy is a hollow man and a weak leader, and his caucus is now in the process of testing just how weak he is. One of the most powerful speakers in House history is about to be replaced by one of the puniest. https://morningshots.thebulwark.com/p/welcome-to-the-maga-crackup
Jonathan Chait: Why House Republicans Keep Eating Their Own
The House Republican majority is currently paralyzed by an internecine power struggle that, like some ninth-century Byzantine religious schism, is simultaneously all-consuming to the participants and utterly inscrutable to outsiders.
Reporters attempting to discern the conflict have taken to describing the competing factions as "conservatives" (the far-right members opposed to Kevin McCarthy's bid for Speaker of the House) and "moderates" (the much larger faction of Republicans loyal to him). But these labels do very little to clarify the strange mania devouring the House Republican caucus. If you define conservative in traditional terms — meaning loyal to the conservative movement of Goldwater and Reagan and opposed, in principle, to any new taxation or social-welfare benefits — the entire Republican caucus is composed of conservatives. McCarthy's loyalists aren't moderates and don't describe themselves as such.
Indeed, the division has barely any real ideological content at all. What Republicans are fighting over is whether to accept the limits of sharing power.
One of the key differences between the two major parties is that Democrats accept the reality that their agenda is not going to move forward when the opposing party occupies the White House. Democratic partisans might grow angry at their leaders for failing to stop it, but members of Congress generally understand that there are limits to the power of the opposition, and even the most unrealistic Democratic rank-and-file voters don't expect their leaders to actively advance liberal policy in the face of a Republican president. Progressive Democrats wanted to defend Obamacare from Donald Trump's repeal attempt. They weren't demanding that Nancy Pelosi somehow force Trump to enact Medicare for All.
Republican aspirations paradoxically become more grandiose during Democratic presidencies, which draw Republican minds deeper into the fever swamps of hysteria, making them more insistent on demands for maximal confrontation. These demands are inevitably impossible, causing Republicans to turn, again and again, against their own leaders. https://nymag.com/intelligencer/2023/01/why-house-republicans-coup-kevin-mccarthy-conservative-moderate-congress.html
Tom Suozzi: A Con Man Is Succeeding Me in Congress Today
Today is my last day as a member of Congress, and George Santos is about to be sworn in to take the seat I held for six years. He will take an oath to 'bear true faith' to the Constitution and take this obligation without any 'purpose of evasion.'
I've lost track of how many evasions and lies Mr. Santos has told about himself, his finances and his history and relationship with our stretch of Long Island and northeastern Queens. When he is seated, it will diminish our Congress, our country and my constituents — soon his constituents. It saddens me that after 30 years of public service rooted in hard work and service to the people of this area, I'm being succeeded by a con man.
One of my favorite lines from the 2011 film "The Best Exotic Marigold Hotel" has always stayed with me: "Everything will be all right in the end. So if it is not all right, then it is not yet the end." That's how I feel about America right now. It's not a naïve idea; it's what keeps us sane and able to keep moving forward in the age of Mr. Santos and Mr. Trump. The system works — if not right away, then ultimately. It has worked throughout our history, and it will work now. https://www.nytimes.com/2023/01/03/opinion/george-santos-congress.html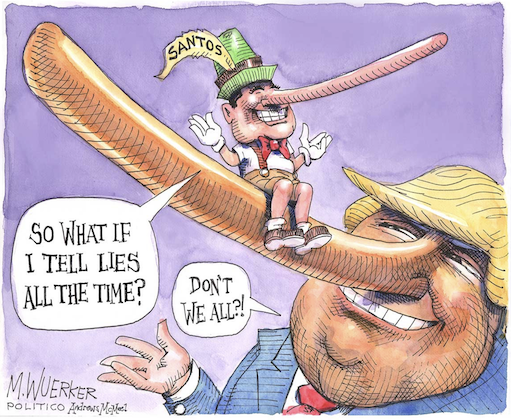 Ben Sasse: America's True Divide: Pluralists vs. Zealots
Civic pluralists understand that ideas move the world more than power does, which is why pluralists value debate and persuasion. We believe America is great because it is good, and America is good because the country is committed to human dignity, even for those with whom we disagree. A continental nation of 330 million souls couldn't possibly agree on everything, but we can hash out our disagreements in the communities where we live and the institutions we build. The small but important role of government, for the civic pluralist, is a framework for ordered liberty. Government doesn't give us rights, or meaning, or purpose or permission. It exists to protect us from the whims of mobs and majorities.
Political zealots reject this, holding that society starts and ends with power. Government in their view isn't to protect from the powerful or the popular. More than anything else, zealots—on the right and the left—seek total victory in the public square. They believe that the center of life is government power. They preach jeremiads of victimhood and decline. On the left, they want a powerful bureaucracy. On the right, they want a strongman. But they agree on a central tenet: Americans are too weak to solve problems with persuasion. They need the state to do it.
The zealots thrive in the chaos of the current moment. https://www.wsj.com/articles/americas-true-divide-pluralists-vs-zealots-power-democracy-partisanship-institutions-twitter-echo-chamber-neighbor-11672657710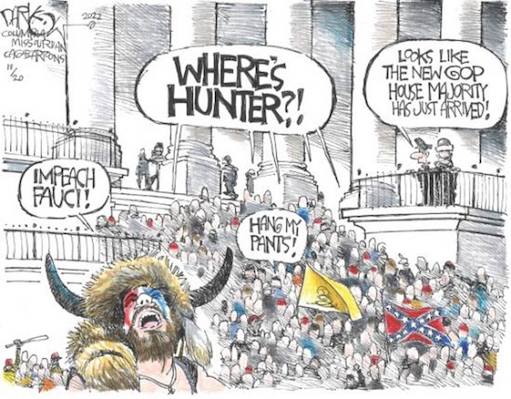 David Byler: Trump's GOP foes are scared. But not as much as they should be
Donald Trump's Republican opponents seem worried.
Many believe GOP voters are ready to move on from the former president, but we all remember the 2016 primary. In that race, Trump had roughly 35 percent of Republican voters behind him, and multiple opponents split an anti-Trump majority. Trump won state after state — and the nomination — with just a plurality of the vote.
Trump's foes are right to fear a repeat of 2016, but they're thinking too small. There are so many other ways the primary could turn out badly for them.
Trump leads his faction, in pursuit of his own goals, and the rest of the party often fails to work together against him.
If Trump's opponents work together well — finding a competent candidate who can withstand the spotlight and beat Trump — they have a shot at taking back the party. If not, one of these nightmare scenarios, or one yet to be imagined, might come to pass. https://www.washingtonpost.com/opinions/2022/12/28/trump-2024-nightmare-scenarios-gop/
Jonathan Martin: The Looming GOP Crisis Over Ukraine
"Zelensky is basically an ungrateful international welfare queen," Donald Trump Jr., the former president's eldest son, said on Twitter shortly before the Ukrainian president traveled to Washington.
Like much from his social media oeuvre, Trump the younger was thirsting for clicks and attention (mission accomplished!). Yet his attack, wrapped with a dog whistle-shaped bow for his fellow conservatives, represented more of a substantive critique on a signal foreign policy issue than his dad has ventured in recent weeks.
More significantly, the invective, from a dedicated troll who's obsessive about properly channeling the right's id, was a reminder of the churning debate within the Republican Party — one the party's putative presidential frontrunner is effectively sitting out but that's only intensifying.
National security has long been the adhesive that held together an at-times unwieldy conservative coalition. The threat of communism unified Republicans through the Cold War and after 9/11 Islamic terrorism sustained that unity across factional lines. Then came Iraq.
The GOP's Ukraine divide is so resonant because it's here and now and because it neatly cleaves much of the party's old and new guard. But it also cuts deeply because it represents a stand-in for the internal party debate that never took place over the Iraq war, the long shadow of which still stretches over the GOP nearly 20 years after American invasion. https://www.politico.com/news/magazine/2022/12/29/republicans-ukraine-spending-00075844
William Kristol: Things Turned Around in 2022
At the end of 2022, Putin is still Putin. The mullahs are still the mullahs. Trump is still Trump. Those actors have not changed.
But the world around them changed because of the struggles and successes of those who fought for democracy and for freedom.
Volodomyr Zelensky and the people of Ukraine stood heroically firm. The Iranian people bravely rose up. At home, the American electorate rejected the worst of the election deniers and continued its rebuke of Trumpism for the third straight election. Congress passed a fair amount of reasonable legislation, including the Electoral Count Act. The January 6th Committee conducted itself seriously and honorably and in the course of its work documented a great deal of important evidence which was not previously known. Partly as a consequence of their labors—which were dismissed both early and late as being obscure and inconsequential—the Department of Justice now seems likely to try to enforce some accountability not just for the foot soldiers, but for the leaders of the insurrection. And for Donald Trump.
What happened in 2022 was as remarkable as it was unexpected. And as a result, we enter 2023 in better shape than we could have reasonably hoped a year ago. https://thetriad.thebulwark.com/p/a-surprisingly-happy-new-year
Susan B. Glasser: 2022 Could Have Been Worse—Much, Much Worse. For Biden and a crisis-battered country, an oddly optimistic end to an objectively bad year
Biden and his crisis-battered Administration are ending the year on a strikingly positive note. "Biden and his team feeling vindicated by a 2022 turnaround," CNN reported this week. New York magazine called 2022 "Joe Biden's Actually Not-at-All-Bad Year." Over at The Atlantic, my fellow-pessimist Tom Nichols was cheered enough by Russia's battlefield reverses and the defeat of anti-democracy Republicans to make "the case for a certain amount of optimism in 2023."
Legislatively, Biden managed to secure passage of a long list of bills in his first two years, including measures to spend billions on infrastructure, climate-change mitigation, and health care, as well as a chips Act that seeks to shift manufacturing of critical technology components back to the U.S. Some of those bills even cleared with bipartisan support, despite a fifty-fifty Senate and a narrow House majority. Politically, Democrats overcame Biden's unpopularity to register the best midterm results in twenty years for a party in power, keeping hold of the Senate as voters rebuffed the most extreme Trump-backed Republican candidates in battleground states.
Biden's rebound is a marker, it seems to me, not only of a President whose great skill is persistence in the face of adversity but of a leader whose foes have underestimated him—and the fractious country he heads—at great cost to themselves. Both Vladimir Putin and Donald Trump seem to have made the mistake of believing their own propaganda. They did not see Biden as the formidable opponent he has proved to be. The American President, aided by the catastrophic overreach of their attacks on democracies at home and abroad, brought something that turned out to be incalculably valuable to the fight: clarity. https://www.newyorker.com/news/letter-from-bidens-washington/2022-could-have-been-worse-much-much-worse
Eugene Robinson: In George Santos, the GOP gets the representative-elect it deserves
Sooner or later, the Republican Party's devolution was bound to saddle GOP leaders with someone exactly like Rep.-elect George Santos of New York: a glib, successful candidate for high office who turns out to be pure fantasy with zero substance.
Santos, 34, who helped give Republicans their slim House majority by winning an open Long Island seat previously held by a Democrat, has admitted to "embellishing" his résumé and using a "poor choice of words" in touting his credentials. Those are understatements akin to calling the Amazon a creek or the Grand Canyon a ditch.
Santos's carapace of lies is so elaborate and encompassing that it may suggest psychological issues we should hope he gets help in addressing. And there are serious legal questions about the source of $700,000 he reported lending to his campaign, with both local and federal prosecutors now said to be investigating.
But his idea of building a political career in the Republican Party on sharp-edged rhetoric and audacious lies was hardly original. Santos just took that routine further than his soon-to-be colleagues have done. We've had lots of metaphorical empty suits in Congress over the years. Now comes the emptiest yet. https://www.washingtonpost.com/opinions/2022/12/29/george-santos-gop-deserves-representative-elect/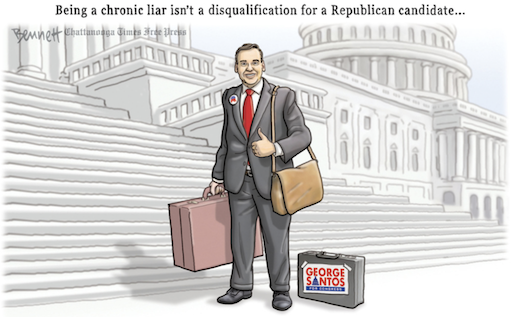 Jonathan Lemire: Biden begins 2023 with a stronger hand to play and an inclination to play it
A year makes a difference after all.
President Joe Biden begins 2023 politically stronger than 12 months ago, bolstered by his party's surprise midterms success, a robust set of legislative accomplishments and the resilience of the alliance he rallied to support Ukraine after Russia's invasion. Indeed, as he vacations on St. Croix, the biggest decision he faces is whether to seek reelection to the office he holds.
Biden has not yet fully committed to another term, according to three people with knowledge of the deliberations but not authorized to speak publicly about private conversations. On his island vacation, Biden continued his running conversation with family and a select few friends and allies about a reelection bid.
There are challenges still on the horizon, from an economy threatening to slow down, to the war in Europe, to an incoming Republican House majority threatening gridlock and investigations. But those in the president's circle believe there is a strong and growing likelihood that he will run again and that an announcement could potentially come earlier than had been expected, possibly as soon as mid-February, around the expected date of the State of the Union, according to those people. https://www.politico.com/news/2022/12/31/biden-2023-reelection-announcement-accomplishments-new-year-00075984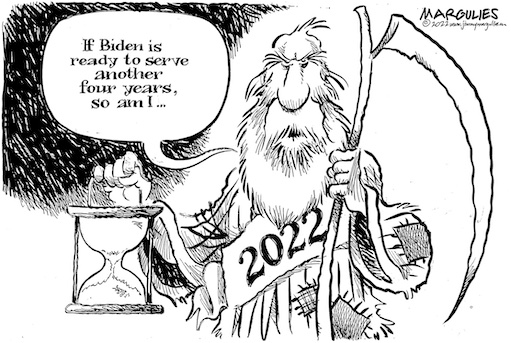 E.J. Dionne Jr.: Democracy won 2022. Can it keep winning?
We have become so accustomed to bad news, crisis and dysfunction that it's hard to accept the ways in which 2022 was a surprisingly good year for democracy, innovative government action and even a degree of social peace.
Can we build on the good news in 2023? Yes, but it will take a lot of creative work because Washington will soon become much more of a partisan battlefield and because the global forces working against democratic advances will try to recoup their losses.
Accepting that things have improved is almost never fashionable. It's bad for page views and it carries the whiff of complacency. It's safer to say that things are a mess because there are always so many injustices to be confronted and so much human suffering to be relieved. There's also this: Since Donald Trump won the presidency in 2016, we've suffered from a frenzied addiction to the prospect of ruin.
But supporters of democratic governments and societies will never right the world's wrongs without confidence that democracy itself can work — and unless a majority of citizens sees evidence that this is true. In 2022, the evidence began accumulating. https://www.washingtonpost.com/opinions/2023/01/01/2022-democracy-ukraine-good-year/
Nigel Gould-Davies: Putin Has No Red Lines
The West should aim to persuade Mr. Putin that withdrawing his forces from Ukraine is less perilous than fighting. He will be likely to do so if he understands that a long war threatens his regime — whose preservation seems to be the only thing he values more highly than a subordinated Ukraine — by fatally weakening domestic cohesion or by escalating out of control.
America should focus on three things. First, it should no longer declare that there are measures it will refrain from taking, and weapons systems it will not provide, to support Ukraine. To signal unilateral restraint is to make an unforced concession. Worse, it emboldens Russia to probe for, and try to impose, further limits on U.S. action — making the war more, not less, risky.
Second, America, with its partners, must make clear that time is working against Russia — not in its favor, as Mr. Putin still believes. The West should demonstrate readiness to mobilize, and quickly, its huge economic superiority to enable Ukraine to defeat Russia and to impose further severe sanctions. The military and economic costs to Russia will drain its far more limited resources and place greater strains on the regime.
Third, the West should make clear to a wide range of Russian audiences that it is safe to end the war by leaving Ukraine. An orderly withdrawal is unlikely to lead to regime change, let alone the breakup of Russia. Neither outcome is an official goal of Western policy, and talk of them is unhelpful and even counterproductive. Some in the West will resist the idea of any such reassurance. But if Russia's elites conclude that it is as dangerous for Russia to leave Ukraine as to stay, they have no incentive to press for an end to the war. Reassurance does not mean compromise.
Pursued firmly and resolutely, these diplomatic "shaping operations" in support of Ukraine's military campaign can ensure that Russia's least-bad option aligns with what the vastly more powerful West wants. Such a strategy is the opposite of accepting red lines. Revealingly, "red lines" is the mirror image of an earlier metaphor used at the start of the war. When Russia looked strong, many proposed giving Mr. Putin an "off-ramp" to persuade him to stop fighting. Now Russia is weaker, they call for Western restraint to persuade him not to fight more recklessly.
Both approaches would reward Russian aggression by shifting Western policy in line with Russia's preferences. Mr. Putin was not given an off-ramp then, and he should not be allowed to define the limits of Western policy now. Strategy needs rigorous thought, not lazy metaphors. https://www.nytimes.com/2023/01/01/opinion/putin-russia-ukraine-war-strategy.html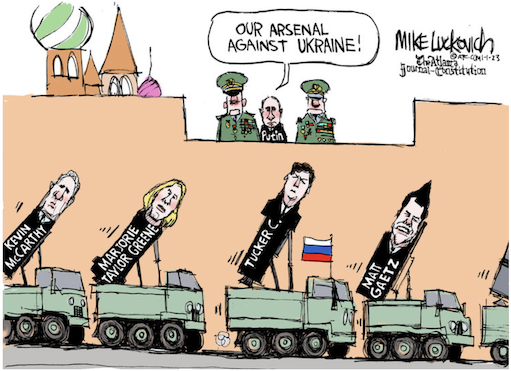 Azi Paybarah and Camila DeChalus: The talented Mr. Santos: A congressman-elect's unraveling web of deception
With echoes of the fabulist protagonist at the heart of "The Talented Mr. Ripley" book and movie, George Santos, 34, has spun an elaborate web of lies and deceptions about his identity and his past, according to acquaintances, public records, media reports and, in some cases, by his own admission. He also claims to have suddenly come into millions of dollars in wealth over the past 18 months, even as the financial data company Dun & Bradstreet estimated in July that his private family firm, the Devolder Organization, only had $43,688 in revenue.
He said he is part Black. He said he is the grandson of Holocaust survivors. He claimed he helped develop "carbon capture technology." He claimed to have worked at companies that never employed him. He claimed to be a graduate of two universities, only to admit that he has no college degree at all. He even said his parents' financial hardship forced him to leave the prestigious Horace Mann School in the Bronx "months" before he could graduate. But that claim and numerous others have either been shown to be false or lacking evidence by The Washington Post and other news organizations.
Even by the low standards for truth-telling in politics, the scope of Santos's falsehoods has been breathtaking. It has surprised Democrats who researched him and missed so many details, as well as Republicans who vouched for him.
In June 2020, Santos wrote on Twitter that he is the "grandson of Holocaust refugees." This month, Jewish Insider cast doubt on that claim, noting that the dates Santos cited for his grandparents departure from Belgium to Brazil do not line up, nor do immigration records support his version of his family's history. The Republican Jewish Coalition, which featured Santos as part of its annual November conference in Las Vegas, denounced his false claims about his heritage and said that "he will not be welcome at any future RJC event."
In March, Santos said in a podcast interview that he was "raised Catholic, born to a Jewish family — very, very confusing religious background." Last week, he told the New York Post: "I never claimed to be Jewish."
Even early parts of Santos's life story were fabricated by him.
In an October 2020 interview, Santos recalled an allegedly painful childhood experience. He said of his parents: "They sent me to a good prep school — which was Horace Mann Prep in the Bronx. And in my senior year of prep school, unfortunately, my parents fell on hard times." Santos went on to say that at the time, his family couldn't "afford a $2,500 tuition" and "I left school [with] four months till graduation."
After the school was contacted by The Post and provided with several variations of Santos's name that he has used in public, Ed Adler, a spokesman for Horace Mann, wrote in an email: "George Santos or any of the aliases you [cite] never attended HM."
In that same March podcast interview, Santos also said, "I've been to Moscow many times in my career." He also referred to "carbon capture technology" as something "that I've helped develop and fundraised for in my career. I've had a very extensive role in gas and oil in this country." Santos and his representatives have provided no proof of those claims. https://www.washingtonpost.com/politics/2022/12/31/george-santos-deception-house/