May 11, 2023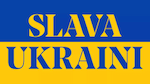 To subscribe to this FREE weekly newsletter simply email jellison@san.rr.com with "subscribe" as the subject.
LITIGATION TRACKER
Pending Criminal and Civil Cases Against Donald Trump

.

https://www.justsecurity.org/75032/litigation-tracker-pending-criminal-and-civil-cases-against-donald-trum
THE WEEK'S BEST QUOTES. . .
Robert F. Kennedy Jr. claims Ukrainian President Volodymyr Zelensky intentionally provoked Russia's invasion of Ukraine. — 
https://twitter.com/RobertKennedyJr/status/1653772735779143681
"A spoiled, angry, disobedient CHILD shot and killed 17 of his classmates, and now spoiled, angry, know it all CHILDREN are trying to tell law abiding ADULTS that we must give up our Constitutional RIGHT to own certain weapons. … David Hogg and the rest of these silly little immature "media prosti-tots" need to grab a passy, have seat in time out, and shut up."— NC Lt. Gov. Mark Robinson, the GOP frontrunner for NC governor, attacking teenage survivors of the 2018 shooting at Marjory Stoneman Douglas High School in Parkland, Florida, for their advocacy for gun control measures.
https://www.facebook.com/mark.k.robinson.3/posts/pfbid02G8s51gReW3GvPnxKbeCVzQAJ8DvX9Pf5Xnq7ovn92iZ98H7ezfqqn9RVYL2cvufdl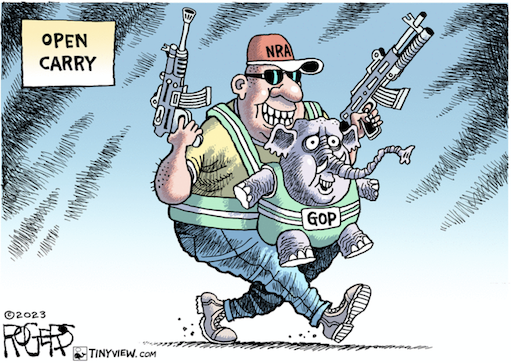 "It is the worst thing that's ever been done to the American people since slavery." — Republican candidate for Kentucky governor Eric Deters on people losing their jobs for refusing to get the COVID-19 vaccine matches the severity of slavery.
https://twitter.com/heartlandsignal/status/1653443434185621538
"First of all, my son has done nothing wrong. I trust him. I have faith in him." — "President Joe Biden defended his son Hunter as federal prosecutors are said to be nearing a decision on whether to charge the president's son with tax and firearms violations after a four-year criminal investigation.
https://www.nbcnews.com/politics/white-house/biden-defends-son-hunter-ahead-possible-federal-tax-gun-charges-rcna83154
"I'm not dumb. The way to win is to beat the guy that's ahead. And so what would a campaign look like? A campaign would look like a direct, frontal challenge to Donald Trump. His presidency failed us. He can't defend his record, he can't defend his conduct, and he's afraid to get on stage with anybody who will call him to task on it. What are we supposed to do, give him a participation trophy for the last time? The streak of yellow down his back is visible from where I'm sitting." — Former Gov. Chris Christie (R) saying he is planning a campaign for the Republican nomination that casts Donald Trump as a coward and his presidency as a failure.
https://thedispatch.com/podcast/remnant/fake-town-halls-w-chris-christie/
"It is God who is absolutely in control of our lives." — Rep. Keith Self (R-TX), who represents the latest community reeling from a mass killing, pushed back against Americans who say more than prayers are needed to curb the violence, calling them "people that don't believe in an almighty God."
https://www.washingtonpost.com/nation/2023/05/07/keith-self-shooting-prayers-allen-texas/
"All I want to say is that it's Congress' job to do this. If they fail to do it, we will have an economic and financial catastrophe that will be of our own making, and there is no action that President Biden and the U.S. Treasury can take to prevent that catastrophe." — Treasury Secretary Janet Yellen.
https://twitter.com/ThisWeekABC/status/1655209963097141251
"I have to have regular conversations with my kids: 'What happens if I am killed?' I have to have regular conversations with them about how to walk down the street, things to look for." — Rep. Ilhan Omar (D-MN).
https://www.startribune.com/what-happens-if-i-am-killed-minnesota-congresswoman-ilhan-omar-speaks-out-about-threats-harrass/600272947/
"I do think that we have enough support within Congress to sustain this for a good deal longer. All the leadership in the House and Senate in my party is very much in favor of defeating the Russians." — Senate minority leader Mitch McConnell (R-KY) predicted U.S. funding to support Ukraine's military will continue to flow despite growing calls from isolationist members of his own party to reduce or end aid to Kyiv.
https://www.bloomberg.com/news/articles/2023-05-09/mcconnell-predicts-congress-will-keep-funding-ukraine-s-defense
"His response, to me, was ridiculous — that he didn't even know the woman. I mean, you know, how many coincidences are we going to have here with Donald Trump, Brian? I mean, he must be the unluckiest S.O.B in the world. He just has random people who he has never met before, who are able to convince a jury that he sexually abused them. I mean, this guy. It is one person after another, one woman after another. The stories just continue to pile up."— Former Gov. Chris Christie (R).
https://radio.foxnews.com/2023/05/10/chris-christie-donald-trump-must-be-the-unluckiest-s-o-b-in-the-world/
"They're going to do anything they can to keep him from winning. It ain't gonna work… people are gonna see through the lines, a New York jury, he had no chance." — Sen. Tommy Tuberville (R-AL) said the civil rape trial verdict against Donald Trump "makes me want to vote for him twice."
https://twitter.com/igorbobic/status/1656061886750683139
"I wish things were different, but I can't see this changing anything in a Republican primary. The things that are going to change anything in a Republican primary are if the field — his opponents for 2024 — show some political backbone and political talent and ability to capture some of the oxygen that he is sucking up." — Political strategist Sarah Longwell, on Donald Trump being found liable for sexual assault.
https://www.politico.com/news/2023/05/10/trump-world-cnn-carroll-verdict-00096099
"They know to de-escalate situations. I've talked to a lot of them. They like this idea. They are grandparents like we are — my husband and I are grandparents — and they want to be there to help protect children." — Sen. Marsha Blackburn (R-TN) suggesting that grandparents could join a force of armed military vets and retired police officers to protect schools from shootings.
https://www.huffpost.com/entry/marsha-blackburn-kayleigh-mcenaney-armed-grandparents_n_645b603fe4b094269bb0d9bd
VIDEOS ...
Liz Cheney isn't a presidential candidate — at least not yet. But the former Wyoming congresswoman launched her first TV ad of the 2024 election cycle in New Hampshire on Tuesday, warning voters of the 'risk' of a second Donald Trump presidency.
https://www.youtube.com/watch?v=7agsf8HWgt8
Sedition clip collection aired before the 14 seditious conspiracy convictions.
https://twitter.com/Acyn/status/1654292131782049792
Mark Fiore: Silence Dissent With Decorum:
https://markfiore.substack.com/p/silence-dissent-with-decorumtm
"It is a horror show when he's left to his own devices. So, you may want his policies, but Trump will not deliver Trump policies. He will deliver chaos." — Former Attorney General William Barr.
https://twitter.com/cspan/status/1654542051780730882
"It is the worst thing that's ever been done to the American people since slavery." — Republican candidate for Kentucky governor Eric Deters says people losing their jobs for refusing to get the COVID-19 vaccine matches the severity of slavery.
https://twitter.com/HeartlandSignal/status/1653443434185621538

"Trans rights are human rights" — Clementine Springsteen, a Davenport West High School senior, yelled during a scholarship ceremony with Iowa Gov. Kim Reynolds, who has signed legislation blocking gender-affirming care for trans youth and a "bathroom bill, "gutted child labor laws, introduced a corrosive school "choice" bill, banned so-called "critical race theory" and, as Ms. Springsteen referenced, blocked access to gender-affirming care for children. 
https://twitter.com/IAStartingLine/status/1652842367286689795
MEDIA
As controversy erupts around Clarence and Ginni Thomas,
FRONTLINE
tells the inside story of their path to power. This investigation from veteran filmmaker Michael Kirk and his team traces how race, power and controversy collide in the rise of the Supreme Court justice and his wife and how the couple has reshaped American law and politics. PBS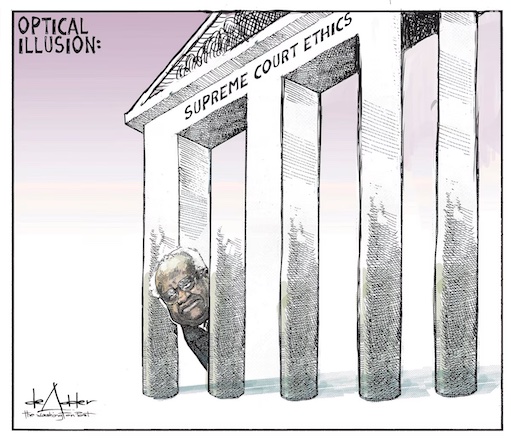 ---
IN THIS ISSUE
IN THE NEWS
OPINION
Andy Borowitz: MyPillow Guy Saving Up to Buy a Supreme Court Justice
Mike Lindell, better known as the MyPillow Guy, has disclosed that he is saving up to buy a Supreme Court Justice.
"I've always wanted to own a Supreme Court Justice, but it seems like other guys have already snapped up the best ones," he said. "I realized I'd better jump on this while there are still some left on the market."
Lindell bemoaned the fact that Justices such as Clarence Thomas and Neil Gorsuch had already been purchased, but he acknowledged that they were "probably out of my price range anyway."
"Since my pillow empire has been tanking, the most I can afford is a bargain-basement Supreme Court Justice in beat-up condition," he said. "I'm gonna have to settle for Kavanaugh." 
https://www.newyorker.com/humor/borowitz-report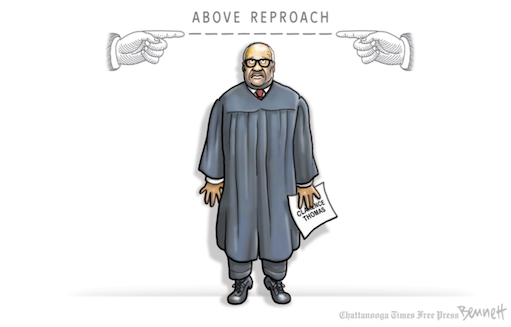 Oath Keepers Leader Wants Leniency for Public Service … of Creating the Oath Keepers
Stewart Rhodes, the founder of the Oath Keepers militia, is facing sentencing as the ringleader of a seditious conspiracy on Jan. 6, 2021 to prevent Joe Biden from becoming president."
The government is seeking to lock up Rhodes for the next 25 years. But Rhodes is arguing he should get a lenient sentence of 'time served' out of respect for his history of 'good works,' by which he means — surprisingly — creating the Oath Keepers in the first place.
https://www.rollingstone.com/politics/politics-news/stewart-rhodes-leniency-creating-oath-keepers-1234731524/
Trump's defeat in Carroll case presages more legal peril
Legal threats in Washington, Manhattan and Atlanta — both criminal and civil — are crystallizing in ways Trump has skirted for his entire political life. And the story of his bid to regain the presidency is likely to be defined by his attempts to stave off criminal liability for things he did the last time he occupied the White House.
https://www.politico.com/news/2023/05/09/trump-upcoming-legal-cases-00096098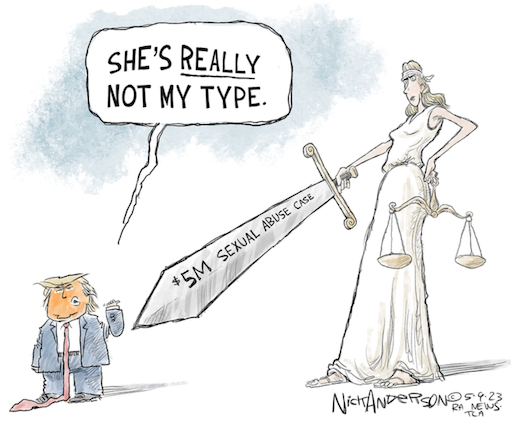 Gov. Greg Abbott pledges to pardon a Texas man sentenced to 25 years for killing an Austin protester
A Texas state district judge on Wednesday sentenced Daniel Perry to 25 years in prison for shooting to death a man protesting police brutality. Gov. Greg Abbott has pledged to pardon the former U.S. Army sergeant for the crime.
https://www.texastribune.org/2023/05/10/daniel-perry-murder-austin-protestor/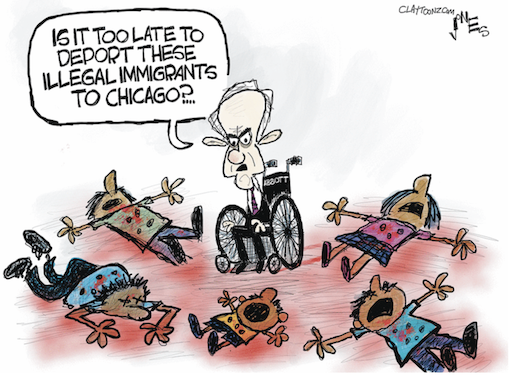 Far-right faction pushes to oust 'traitors' from Georgia GOP
A far-right faction that has gained clout in the Georgia GOP wants to give the state party new powers to block candidates from qualifying to run as Republicans if they're deemed to be insufficiently conservative or a 'traitor' to the party.
The rule change is being championed by leaders of the Georgia Republican Assembly, a conservative faction that has vilified Gov. Brian Kemp, Secretary of State Brad Raffensperger and other Republicans who rejected Donald Trump's demands to overturn his election defeat.
Under the proposed rule change, the Georgia GOP convention could vote to prevent a political candidate from qualifying to run as a Republican in the next election, giving the state party's 1,500 or so delegates authority to pick favorites in top races.
https://www.ajc.com/politics/politics-blog/far-right-faction-pushes-to-oust-traitors-from-georgia-gop/2ADAPHD5ZBB3FIKFXQ2LWPH4P4/
The Corruption of Lindsey Graham
The surrender to despotism doesn't happen all at once. It advances in stages: a step, a rationalization. Another step, another rationalization. The deeper you go, the more you need to justify. You say what you need to say. You believe what you need to believe.
Read the free e-book by William Saletan on Sen. Lindsey Graham's (R-SC) transformation from Republican thought-leader to Donald Trump sycophant at
https://www.thebulwark.com/wp-content/uploads/2023/05/The-Corruption-of-Lindsey-Graham.pdf
Senate tax chief says billionaire Crow 'stonewalling' over perks for Clarence Thomas
Billionaire Harlan Crow has refused to comply with a request by Senate Finance Chair Ron Wyden for a complete accounting of Crow's gifts to Supreme Court Justice Clarence Thomas.
Wyden's next steps could include subpoenaing Crow for the requested records or using a section of the tax code that vests the chairs of Congress' tax committees with the authority to obtain a private citizen's tax returns directly from Treasury — a power that House Democrats used last year to publish the taxes of former President Donald Trump.
https://www.politico.com/news/2023/05/09/harlan-crow-clarence-thomas-gifts-00095967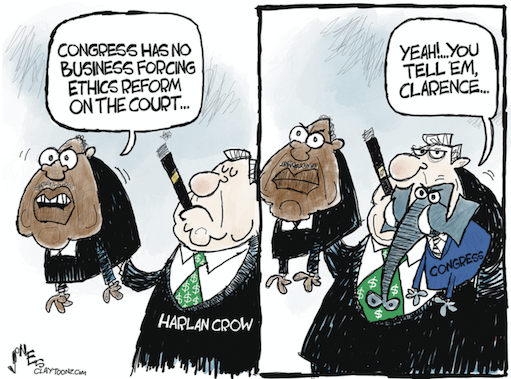 Trump's weird weapon: Bad news
Call it the Trump Law of Inverse Reactions: Everything that would seem to hurt the former president only makes him stronger.
Trump's grip over Republicans seems stronger than ever — and chances of beating President Biden are as high as ever.
For the first time in a long time, top Republicans and Democrats are telling us the same thing, in the same words — Trump looks impossible to beat for the Republican nomination.
https://www.axios.com/2023/05/09/trump-bad-news-2024
Why the E. Jean Carroll Verdict Will Matter to Voters
The unanimous jury verdict that has turned Donald Trump from an alleged sexual assaulter into a proven one may create political shockwaves if recent history is any guide.
As numerous empirical studies have shown, the American public has come to view sexual assault as a form of abusing power that can disqualify a perpetrator from holding public office. Trump may suffer significant political damage from this new majoritarian understanding.
https://www.justsecurity.org/86507/why-the-e-jean-carroll-verdict-public-opinion-peer-reviewed-research/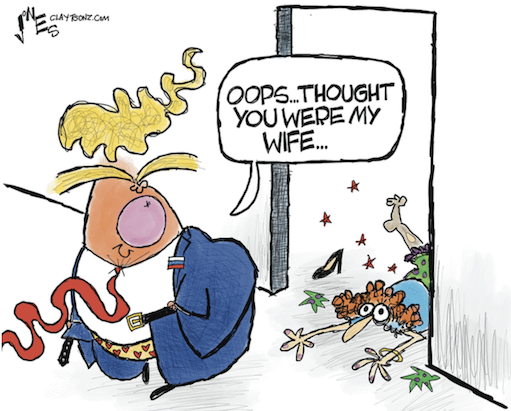 DeSantis courts evangelicals with strict abortion law; opponents counterpunch in his backyard
Planned Parenthood is launching an effort to put abortion on the Florida ballot next year — setting the stage for a high-profile battle with Republican Gov. Ron DeSantis as he prepares to run for president.
The multi-million-dollar initiative, the details of which were confirmed to Politico ahead of an announcement next week, would roll back one of DeSantis' signature policies by allowing abortion until a fetus is viable at about 24 weeks of pregnancy.
https://www.politico.com/news/2023/05/05/desantis-abortion-ban-initiative-00095486
Sadly, most Americans support the anti-trans policies favored by GOP
A new Washington Post/KFF poll finds a majority of Americans don't even believe that transgender people exist: 57% say a person's gender can't differ from the sex assigned at birth, with 43% saying it can differ.
In addition, a majority of Americans oppose allowing puberty blockers or hormone treatments for minors, allowing trans girls and women to participate in female sports and allowing school teachers to discuss trans identity.
https://www.washingtonpost.com/education/2023/05/05/trans-poll-gop-politics-laws/
Trump 2024: Bring Back the 'Muslim Ban' — and Expand It
Donald Trump for months has been telling people close to him that he plans to bring back his infamous 'Muslim ban' if he's reelected in 2024, Rolling Stone reports.
Banning Muslims from entering the United States is a longstanding obsession of Trump's… But the former president appears to be unsatisfied with merely reinstating the ban as it existed during his presidency. More recently, Trump has privately discussed adding more countries, including Afghanistan, to the list of majority-Muslim countries whose citizens he's seeking to ban from the United States.
https://www.rollingstone.com/politics/politics-features/donald-trump-muslim-ban-immigration-2024-1234730150/
Unsurprisingly, Disney Is Much More Popular Than Ron DeSantis
Florida Gov. Ron DeSantis's (R) attacks on Disney for their woke policies never made much sense politically. It's like attacking apple pie.
A new poll proves that's correct.
Despite the attacks, nearly two in three Americans currently hold favorable views of Disney – including nearly half of Republicans.
However, DeSantis' favorability has declined from net -4 favorable to net -11 over the last month.
Obviously, DeSantis has made a number of missteps and has also faced withering attacks by Donald Trump.
But attacking Disney has done nothing for him politically.
https://navigatorresearch.org/americans-oppose-the-expulsion-of-tennessee-state-representatives/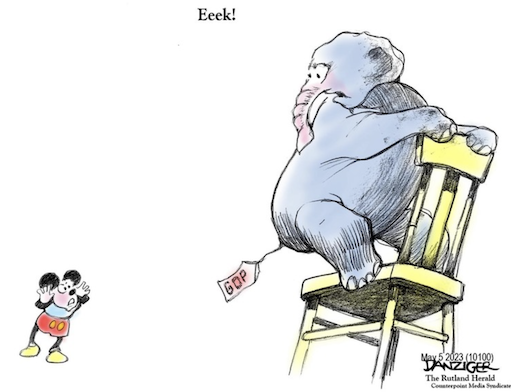 In Deep-Red Texas, National Democrats See Ted Cruz as a Potential 2024 Target
Despite well over a decade of unfulfilled hopes among Democrats that Texas might finally turn blue, no one who spoke to Time for this story was ready to write the state off as a lost cause.
Harvey Kronberg, the publisher of Quorum Report, an insider newsletter on Texas politics, thinks that Democrats' long history of losses could end with a star candidate who knows how to land jabs at an opponent and use radio and TV to their advantage—areas where he thinks O'Rourke fell short.
Saiad Kronberg: I actually think we will see us become authentically purple in the next decade. One statewide win will turn us purple.
https://time.com/6277353/ted-cruz-collin-allred-texas-senate/
Comer's Big Gamble
House Oversight Committee Chair James Comer (R-KY) has taken his biggest gamble yet, subpoenaing records from the FBI that he claims could show that then Vice President Joe Biden allegedly received bribes from a foreign national in exchange for policy favors.
In the bevy of investigations that Comer has launched, this one carries the most risk. The Kentucky Republican is now raising accusations of alleged criminal actions by Biden based on an anonymous whistleblower. This claim can only be backed up by an FBI document that will be difficult to obtain. Of course, if Comer can't get the document, he can try to convince the whistleblower to testify in a hearing.
https://punchbowl.news/archive/5423-punchbowl-news-am/
Emails Reveal 'Jaw-Dropping' Herschel Walker Money Scandal
When Herschel Walker emailed a representative for billionaire industrialist and longtime family friend Dennis Washington in March 2022, he seemed to be engaging in normal behavior for a political candidate: He was asking for money, the Daily Beast reports.
But unbeknownst to Washington and the billionaire's staff, Walker's request was far more out of the ordinary. It was something campaign finance experts are calling 'unprecedented,' 'stunning,' and 'jaw-dropping.' Walker wasn't just asking for donations to his campaign; he was soliciting hundreds of thousands of dollars for his own personal company—a company that he never disclosed on his financial statements.
https://www.thedailybeast.com/emails-reveal-jaw-dropping-herschel-walker-money-scandal
Judge Tosses Trump's Lawsuit Against NY Times, Orders Him to Pay All Legal Fees
A New York judge has tossed out Donald Trump's lawsuit against The New York Times, and ordered the former president to pay all attorneys fees, legal expenses, and associated costs.
Trump filed the lawsuit in 2021, alleging that the newspaper, three of its reporters and his niece Mary Trump engaged in an 'insidious plot' to obtain his private records for a Pulitzer-winning story about his tax issues.
https://www.thedailybeast.com/judge-tosses-trumps-lawsuit-against-ny-times-orders-him-to-pay-legal-fees
Judicial activist directed fees to Clarence Thomas's wife, urged 'no mention of Ginni'
Conservative judicial activist Leonard Leo arranged for the wife of Supreme Court Justice Clarence Thomas to be paid tens of thousands of dollars for consulting work just over a decade ago, specifying that her name be left off billing paperwork, according to documents reviewed by The Washington Post.
In January 2012, Leo instructed the GOP pollster Kellyanne Conway to bill a nonprofit group he advises and use that money to pay Virginia Ginni Thomas, the documents show. The same year, the nonprofit, the Judicial Education Project, filed a brief to the Supreme Court in a landmark voting rights case.
Leo, a key figure in a network of nonprofits that has worked to support the nominations of conservative judges, told Conway that he wanted her to give Ginni Thomas another $25K, the documents show. He emphasized that the paperwork should have No mention of Ginni, of course.
https://www.washingtonpost.com/investigations/2023/05/04/leonard-leo-clarence-ginni-thomas-conway/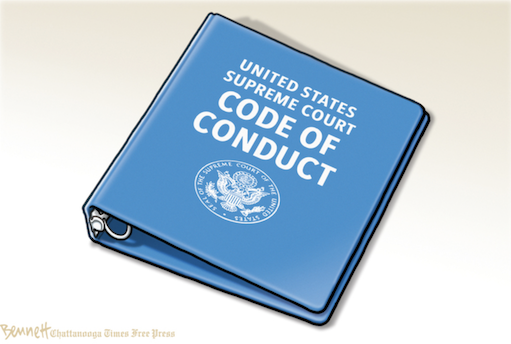 Trumps Fail To Turn Over Documents In Fraud Case, New York Attorney General Claims
Donald Trump, his three eldest children and the Trump Organization failed to turn over emails and other communications in a fraud lawsuit, the New York attorney general's office claimed in a letter submitted in court last week. The office singled out "an unexplained drop-off in emails for Ivanka Trump" as one of the more significant issues.
The refusal to provide material goes back to the investigation into the Trumps' business practices that preceded the lawsuit, the letter notes. In May 2022, the former president paid a $110,000 fine after Judge Arthur Engoron found Trump in contempt for failing to comply with a subpoena from the attorney general's office. "For years, Mr. Trump and the Trump Organization have tried to thwart our lawful investigation, but today's decision makes clear that no one can evade accountability," Attorney General Letitia James said when a judge ordered Trump ordered to pay the fine last year.
https://www.forbes.com/sites/zacheverson/2023/05/03/trumps-fail-to-turn-over-documents-in-fraud-case-new-york-attorney-general-claims/
The GOP Can't Beat Gen Z, but It Can Stifle Its Vote
Republicans in state legislatures are working around the clock to make it harder for students to vote. With a presidential election on the horizon, Republicans are hyper-aware of Gen Z's voting power. Although young voters in past elections have been inconsistent, Gen Z in the last midterm election put Republicans on notice. And since the GOP can't win young voters on the issues they care about, so voter suppression strategies used for decades to suppress minority voters are now being copied and pasted to suppress Gen Z voting.
But, if members of Gen Z continue to exercise their democratic rights with the same zeal they demonstrated in 2020 and 2022, those politicians who support voter suppression laws will soon be kicked to the curb. The future belongs to Gen Z, sooner than later.
https://www.thedailybeast.com/gop-cant-beat-gen-z-but-it-can-stifle-its-vote
It's Not Clear What Kevin McCarthy Wants
The White House is befuddled by McCarthy and has no idea what his strategy is or what he's trying to achieve. The disconnect between the two sides is alarming given the looming default deadline.
McCarthy has little room to maneuver. His four-seat margin is miniscule. Plus, the House Republican Conference has shifted seismically during the last year. He'll need a deal that can garner close to half of his conference. A deal that doesn't win conservative support could end McCarthy's speakership.
https://punchbowl.news/archive/5523-punchbowl-news-am/
Former F.B.I. Agent Charged in Jan. 6 Riot
Federal prosecutors have charged a former F.B.I. agent with illegally entering the Capitol during the Jan. 6 riot and said he had called police officers Nazis as he encouraged a mob of Trump loyalists to kill them.
The former agent, Jared L. Wise, was arrested on Monday and faces four misdemeanor counts, including disrupting the orderly conduct of government and trespassing, after agents received a tip in January last year that he had been inside the Capitol, according to a criminal complaint.
Mr. Wise, 50, told the police they were like the Gestapo, Nazi Germany's feared secret police, the complaint said. When violence erupted, he shouted in the direction of rioters attacking the law enforcement officers, "Kill 'em! Kill 'em! Kill 'em!"
https://www.nytimes.com/2023/05/03/us/politics/jan-6-former-fbi-agent.html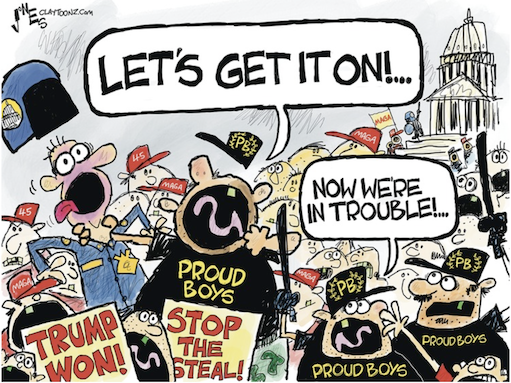 Kari Lake's lawyers sanctioned over false election claims
The Arizona Supreme Court on Thursday sanctioned attorneys for Kari Lake, the 2022 Republican candidate for governor, ordering them to pay thousands of dollars for repeating 'unequivocally false' election claims in court.
https://www.nbcnews.com/politics/politics-news/kari-lakes-lawyers-sanctioned-false-election-claims-rcna82992
Utah State Board of Education considers removing 'climate change' from curriculum
When the Utah State Board of Education meets, they will have a controversial topic to discuss — whether the term climate change is too politically charged to be taught to students.
https://www.abc4.com/news/northern-utah/utah-state-board-of-education-considers-removing-climate-change-from-curriculum/
Black voters backing Biden, but not with 2020 enthusiasm
While only about half of Democrats overall say they want Biden to run again in 2024, 81% say they would definitely or probably support him if he were the nominee. The groundswell isn't as stark among Black adults: 41% say they want him to run and only 55% say they are likely to support him in the general election.
https://apnews.com/article/black-voters-biden-reelection-2024-south-carolina-5d01caa2ca7a6609ca68823efdafb145
THE DAILY GRILL
Chuck Grassley is on Fox News accusing Biden of involvement in a bribery scheme. But when pressed for details, he says, we gotta wait to see what the document actually says.  VIDEO https://twitter.com/atrupar/status/1653837245957152775

VERSUS

For going on 5 years now, Republicans in Congress have been lobbing unfounded politically-motivated attacks against @POTUS without offering evidence for their claims. Or evidence of decisions influenced by anything other than U.S. interests. They prefer trafficking in innuendo.  — Ian Sams, the White House spokesman for oversight and investigations. https://twitter.com/IanSams46/status/1653850041629519872



"Fox demands that Media Matters cease and desist from distribution, publication, and misuse of Fox's misappropriated proprietary footage, which you are now on notice was unlawfully obtained." — From Fox's letter to Media Matters concerning MM publishing's leaked Tucker videos.  https://twitter.com/jeremymbarr/status/1654507983273877505

VERSUS

"Perhaps if I tell them that the footage came from a combination of WikiLeaks and Hunter Biden's laptop, it will alleviate their concerns." — Media Matters president Angelo Carusone. https://twitter.com/jeremymbarr/status/1654507983273877505
Ruth Marcus: At last, a measure of justice for Donald Trump
The verdict — that Trump subjected Carroll to sexual abuse and then defamed her when he called her claims a 'hoax' and 'complete con job' — will not change minds. Still, it is an ineradicable part of the record, perhaps only the beginning of a legal system holding Trump responsible for his actions, however belatedly…
Will this verdict do anything to stop him? Probably not. This isn't a criminal conviction. The jury had to decide to credit Carroll's account by only a preponderance of the evidence — not the higher criminal standard of beyond a reasonable doubt. Trump could have raped E. Jean Carroll in the middle of Fifth Avenue and his true believers wouldn't care. The rest of us have long known who he is and what he is capable of…
Justice is dispensed in small, imperfect doses. A single teaspoonful will not cure the disease. But it is a start.
https://www.washingtonpost.com/opinions/2023/05/09/trump-e-jean-carroll-verdict-justice/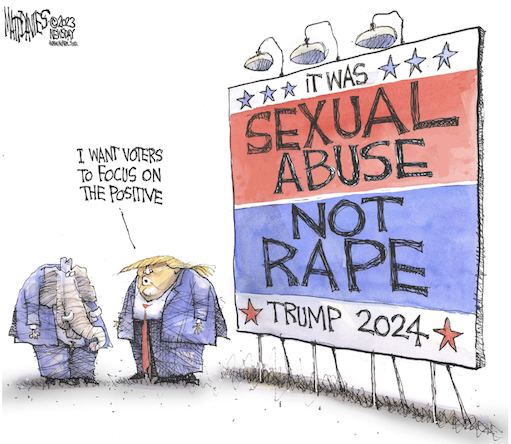 Harry Litman:How Donald Trump's abhorrent character made E. Jean Carroll's case
The damning verdict will of course be ignored by the fraction of the electorate that is willing to overlook or ignore every one of Trump's transgressions no matter how grave.
But for the rest of us, the verdict stands for far more than his misconduct on one afternoon in 1996. It's a judgment of a character that is by leaps and bounds more loathsome than that of any other figure to occupy the presidency.
https://www.latimes.com/opinion/story/2023-05-09/e-jean-carroll-verdict-donald-trump-liable-character
Laurence H. Tribe: Why I Changed My Mind on the Debt Limit
Mr. Biden must tell Congress in no uncertain terms — and as soon as possible, before it's too late to avert a financial crisis — that the United States will pay all its bills as they come due, even if the Treasury Department must borrow more than Congress has said it can.
The president should remind Congress and the nation, "I'm bound by my oath to preserve and protect the Constitution to prevent the country from defaulting on its debts for the first time in our entire history." Above all, the president should say with clarity, "My duty faithfully to execute the laws extends to all the spending laws Congress has enacted, laws that bind whoever sits in this office — laws that Congress enacted without worrying about the statute capping the amount we can borrow."

By taking that position, the president would not be usurping Congress's lawmaking power or its power of the purse. Nor would he be usurping the Supreme Court's power to "say what the law is," as Chief Justice John Marshall once put it. Mr. Biden would simply be doing his duty to "take care that the laws be faithfully executed" even if doing so leaves one law — the borrowing limit first enacted in 1917 — temporarily on the cutting room floor.

Ignoring one law in order to uphold every other has compelling historical precedent. It's precisely what Abraham Lincoln did when he briefly overrode the habeas corpus law in 1861 to save the Union, later saying to Congress, "Are all the laws, but one, to go unexecuted, and the government itself go to pieces, lest that one be violated?"

For a president to pick the lesser of two evils when no other option exists is the essence of constitutional leadership, not the action of a tyrant. And there is no doubt that ignoring the debt ceiling until Congress either raises or abolishes it is a lesser evil than leaving those with lawful claims against the Treasury out in the cold. https://www.nytimes.com/2023/05/07/opinion/debt-limit.html
Bess Levin: Fox News Fired Tucker Carlson After Discovering He Wasn't Just Playing a Racist on TV (Among Other Things)
Before he was abruptly fired by Fox News last month, Tucker Carlson spent years hosting what many people would agree was—and what The New York Times literally called—"the most racist show in the history of cable news." He regularly promoted the "great replacement theory," a concept beloved by white supremacists who falsely claim that Democrats are replacing white Americans with nonwhite immigrants so they can control the country. He told his viewers that Black Lives Matter protesters were coming for them and defended a man convicted of murdering a protester at a BLM rally. He said that immigrants make the United States "poorer and dirtier." He borrowed material from neo-Nazis. And he insisted—after a gunman wrote about a "Hispanic invasion" in his manifesto and then killed 23 people in El Paso—that white supremacy is "not a real problem."
Despite all this, there were apparently some people who were still laboring under the impression, or holding out hope, that Carlson himself did not actually believe such things—that he was simply playing a racist on TV. For instance, the higher-ups at Fox News, who were reportedly not just shocked to read a racist text message written by Carlson that came out during its litigation process with Dominion Voting Systems, but used it as part of their decision to give him the ax.
Yes, The New York Times reports that one of Carlson's texts "set off a panic at the highest levels of Fox on the eve of its billion-dollar defamation trial" and "contributed to a chain of events that ultimately led to Mr. Carlson's firing."
At the end of the day, is it a good thing that one of the worst purveyors of right-wing hate and deeply bigoted ideas is off the air? Obviously, yes. Is it nevertheless pretty weird that Fox executives were completely fine with everything Carlson said publicly, five nights a week, to millions of people, but were beside themselves to find out that, off the air, he actually believed it all? Very much so.
https://www.vanityfair.com/news/2023/05/tucker-carlson-white-men-text-message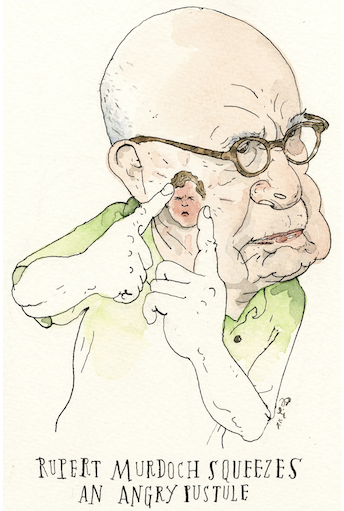 Maureen Dowd: Supremely Arrogant
The Supreme Court is still great.
It's the greatest gathering of grievances we've ever seen on the high court. The woe-is-me bloc of conservative male justices is obsessed with who has wronged them.
It might be an opportune time to hire a Supreme shrink so these resentful men can get some much-needed therapy and stop working out their issues from the bench.
Neil Gorsuch is settling a score for his mother.
In her memoir, Anne Gorsuch Burford wrote that when she was forced out as Ronald Reagan's Environmental Protection Agency administrator in 1983, her 15-year-old son, Neil, "was really upset." He told her: "You should never have resigned. You didn't do anything wrong. You only did what the president ordered. You raised me not to be a quitter. Why are you a quitter?"
The Times wrote in an editorial back then: "On becoming the head of the E.P.A., Anne Gorsuch inherited one of the most efficient and capable agencies of government. She has turned it into an Augean stable, reeking of cynicism, mismanagement and decay."

Last year, her son moved to complete her toxic mission. He enthusiastically joined the 6-to-3 vote to severely curtail the E.P.A.'s ability to regulate power plant emissions. The activists who pushed for Gorsuch to be nominated to the court are finally getting to their real goal: the dismantling of their despised administrative state.

The Chevron ruling arose from a challenge to a decision by Gorsuch's mother to lower automobile emissions standards. He can now vindicate her stance.

Samuel Alito also feels maltreated. In writing the opinion that overturned Roe v. Wade, this brazenly political justice who doesn't distinguish between his legal and religious views mercilessly stripped women of the right to make decisions about their bodies. But somehow, he whines that he is the victim.

Last month Alito told The Wall Street Journal that he did not like the way the court's legitimacy was being questioned. "We are being hammered daily, and I think quite unfairly in a lot of instances. And nobody, practically nobody, is defending us."

Funny. That's how many women feel about this Supreme Court.

Clarence Thomas, who is still bitter over being outed as a porn-loving harasser of women who worked for him — even though Joe Biden did his best to sweep the corroborating evidence under the Senate rug — was slapped with more revelations of ethics derelictions this past week.

ProPublica broke the news that Thomas's billionaire benefactor for luxury trips and family property, Harlan Crow, had also secretly paid the private school tuition for Thomas's grandnephew.

The Washington Post revealed that Leonard Leo, an executive vice president at the Federalist Society — the cult that has transformed the courts in its own right-wing image — surreptitiously funneled tens of thousands of dollars to Thomas's wife, Ginni, for "consulting work" a decade ago.

John Roberts cannot accept that these justices are incapable of policing themselves. Despite all the slime around him, he refused to testify before Congress about a court that blithely disdains ethics.

One reason may be, as The Times reported, that the chief justice's own wife, Jane, has made millions of dollars as a legal recruiter, placing lawyers at firms with business before the Supreme Court.

Even though I've been writing since Bush v. Gore that the court is full of hacks and the bloom is off the robes, it is still disorienting to see the murk of this Supreme Court. https://www.nytimes.com/2023/05/06/opinion/supremely-arrogant.html
Heather Cox Richardson: Another Week, Another Mass Shooting 
For years now, after one massacre or another, I have written some version of the same article, explaining that the nation's current gun free-for-all is not traditional but, rather, is a symptom of the takeover of our nation by a radical extremist minority. The idea that massacres are 'the price of freedom,' as right-wing personality Bill O'Reilly said in 2017 after the Mandalay Bay massacre in Las Vegas, in which a gunman killed 60 people and wounded 411 others, is new, and it is about politics, not our history.
The unfettered right to own and carry weapons has come to symbolize the Republican Party's ideology of individual liberty. Lawmakers and activists have not been able to overcome Republican insistence on gun rights despite the mass shootings that have risen since their new emphasis on guns.
https://heathercoxrichardson.substack.com/p/may-6-2023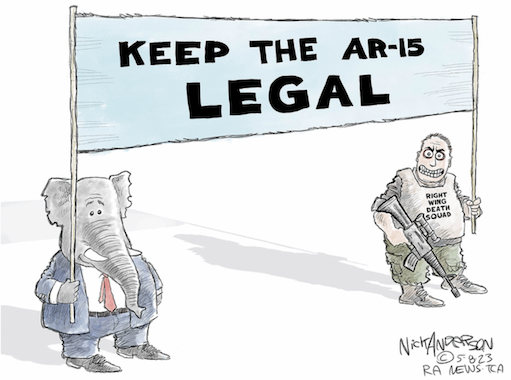 Susan B. Glasser: Will the (Russian) Empire Strike Back?
The upcoming U.S. Presidential election, in 2024, could decide not only the trajectory of democracy in America but the fate of Russia and Ukraine as well. Russia has not hesitated to intervene aggressively in American politics before; many forget that, according to the Mueller report, the Russian-intelligence campaign to influence the 2016 U.S. election originated with the Kremlin's anger over what it considered to be America's role in toppling the Russia-backed leader of Ukraine in 2014. With Russia now embroiled in an existential war against Ukraine, and the United States today firmly on Ukraine's side, Putin has far more incentive this time.
The current Republican front-runner for 2024 is the Putin-admiring Donald Trump, who has been outspoken in questioning U.S. support for Ukraine since last year's Russian invasion. Were Trump to win, with or without Russia's connivance, it would count as a dramatic win for Putin as well—a political concussion with far more boom to it than any number of drone attacks.
Republican support for Ukraine, though robust and bipartisan enough in the polls and congressional votes so far, is not to be taken for granted. Trump's return is too real of a possibility. The U.S. course cannot be considered irreversibly set in favor of Ukraine. That question will not be settled until the next Presidential election. Period. The battlefields in this awful war unleashed by Russia are many. 
https://www.newyorker.com/news/letter-from-bidens-washington/will-the-russian-empire-strike-back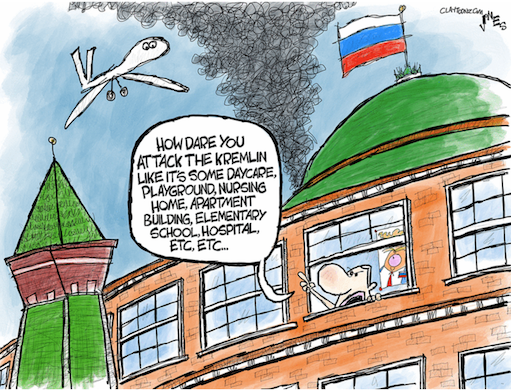 Nicholas Goldberg: Despite accusations of rape and other crimes, Trump's up in the polls. How can that be?
Over the years, voters have adopted a less judgmental standard for what's acceptable in a candidate.

Up to a point, that's a good thing. Americans were shocked by Nixon's use of profanity on the White House tapes — until we got used to it. We were shocked when President Clinton admitted smoking marijuana (but not inhaling), which previous candidates hadn't done — until we got used to that too. Clinton survived sexual misbehavior revelations that would've sunk some of his predecessors, but by the end of that scandal, many Americans had decided that whether he cheated on his wife was his own business.

In 2023, we've clearly decided as a society that we're going to treat our candidates' personal foibles and flawed behavior with a measure of generosity, at least some of the time.
But Republicans, please. There's got to be a line.
If Trump had a consensual extramarital affair with Stormy Daniels, that's not admirable, classy or exemplary behavior. But Americans might reasonably decide they don't care.
Rape, on the other hand, is something else. If he did it, that's beyond the pale.
Hiding a hush-money payoff through false business records — that's unacceptable too. But far more egregious than that (and we'll soon see what the Justice Department and the Georgia prosecutors conclude) were his efforts to subvert the perfectly legitimate 2020 election.

By all means, wait and see where the investigations end up and what the prosecutors decide and what the juries have to say. But sooner or later, Republicans everywhere need to come forward and say that breaking the law and undermining American democracy is simply not OK.

But will they? https://www.latimes.com/opinion/story/2023-05-04/e-jean-carroll-donald-trump-rape-hush-money-stormy-daniels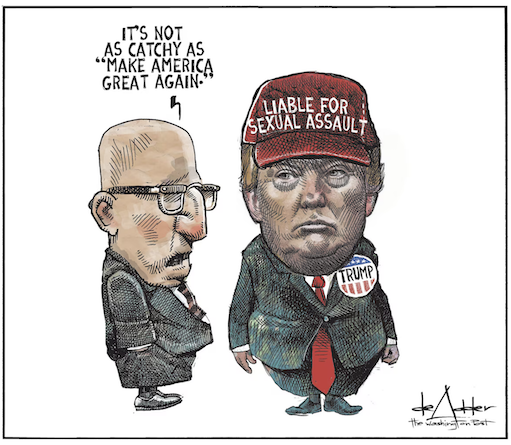 Eugene Robinson: The Proud Boys jury got it right on Jan. 6 seditious conspiracy
Three different sets of jurors have concluded that Jan. 6 was no spontaneous riot. It was planned, organized, incited and led by individuals and groups in a conspiracy against our democratically elected government.

Let's hope that Jack Smith, the special counsel investigating former president Donald Trump's role in the insurrection, is paying attention.

After all, it was Trump who told the Proud Boys to stand back and stand by in 2020 presidential campaign debate with Joe Biden. It was Trump who, after his defeat, summoned disappointed supporters to gather in Washington on the day when Congress would officially certify Biden as president-elect. It was Trump who tweeted, Big protest in D.C. on January 6th. Be there, will be wild!

It was Trump who spoke at that morning's rally on the Ellipse, stoking anger with outrageous and disproven lies about how the election had supposedly been stolen from him. It was Trump who claimed, falsely, that then-Vice President Mike Pence had the authority to overturn Biden's victory. It was Trump who sent the crowd — by then, an angry mob — off toward the Capitol. And it was Trump who watched television coverage for hours, making no attempt to quell the violence, as the insurrectionists overran police lines, brutally attacked officers, smashed their way into the citadel of American democracy, and menaced members of Congress and his own loyal vice president.

We are still trying to process what happened on that shocking and unprecedented day. The wheels of U.S. justice are designed to grind slowly, and it has been frustrating to see accountability parceled out in dribs and drabs over two long years. The Proud Boys verdict ends the last remaining case involving charges of seditious conspiracy — so far. We do not know what charges, if any, Smith might bring against Trump and members of his inner circle.
Jurors are getting it right. Leaders of the insurrection should face the most serious charges and suffer the most severe punishments. Now we wait to see whether the man without whose incitement Jan. 6 never would have happened — Donald Trump — is made to face his day in court as well. https://www.washingtonpost.com/opinions/2023/05/04/proud-boys-jury-verdict-jan-6-charges/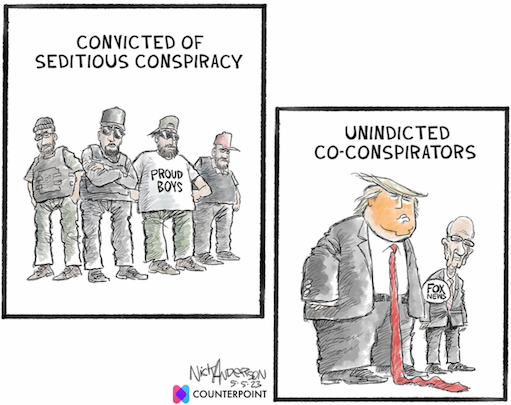 Charlie Sykes: America's Lowest Standard
No publicly traded company would consider naming Trump to an executive position, or even to a position on its board. None of his billionaire friends would trust him with their money. Even in our debased political culture, the cascade of rape allegations and indictments would force Trump's resignation as a senator, governor, or legislator.
Trump would not be allowed to own an NFL, NBA, or MLB team, and no one would even think of giving him a management job at a local Burger King. It's impossible to imagine him being given any position of authority at any school or university in the United States.
Hamilton thought that he had fireproofed the presidency from mountebanks and charlatans because we would seek out only the best and the brightest among us. Instead, we have apparently saved our lowest standards for the presidency.
https://www.theatlantic.com/ideas/archive/2023/05/trump-reelection-2024-assault-allegations/673957/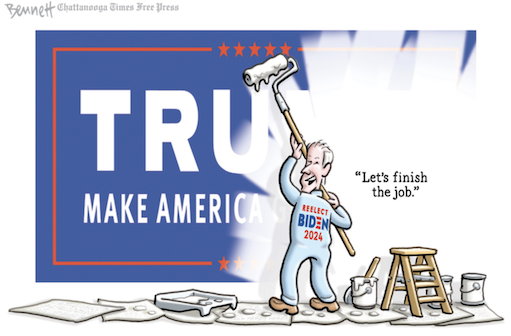 Jonathan Blitzer: The Risky Gamble of Kevin McCarthy's Debt-Ceiling Strategy
The House Republicans bill to raise the debt ceiling text, according to Politico, was the product of a coördinated campaign by members of the Freedom Caucus which began immediately after McCarthy became Speaker. Knowing that the debt-ceiling fight would be the defining event of McCarthy's Speakership, they wanted to press their advantage. Their bill would include strict work requirements for Medicaid and food stamps, major slashes to discretionary spending, and the elimination of unused pandemic aid. In exchange for some hundred and thirty billion dollars in cuts to next year's budget, the Republicans would agree to raise the debt ceiling until March, 2024. The proposals came out of a series of conversations with competing factions inside the House conference known as "the five families." But the conservatives who've given McCarthy the greatest trouble are the ones he seemed to have paid the most attention to. "The leadership just picked up the House Freedom Caucus plan and helped us convert it into the legislative text," Matt Gaetz, a Freedom Caucus member from Florida, said.

And yet the Freedom Caucus's demands kept mounting. Eventually, the three-hundred-page bill—the Limit, Save, Grow Act—turned into an attack on the Inflation Reduction Act, arguably Biden's crowning legislative achievement. The Republican bill would, among other things, gut the I.R.A.'s green-energy tax incentives, endangering at least a hundred thousand jobs, the vast majority of which were bound for Republican districts. This week, McCarthy pared back some of the bill's measures in response to objections from other members. But the crux of it remained intact.

With a majority as tenuous as McCarthy's, every member matters, but those who matter most are the ones who are least willing to compromise. During the Speaker's race, moderate Republicans were frustrated that a relatively small number of extremists could effectively hold everyone hostage.
The White House's dilemma is real. Some congressional Democrats have already called on Biden to begin talks with McCarthy. There are a few potential areas of compromise: the government could institute modest caps on future spending and it could reform permitting requirements for fossil-fuel and other energy projects, issues that, the former leadership aide told me, "have been bipartisan in the past or are now." If Biden doesn't come to the table, the country is at the mercy of an erratic Republican majority that the Speaker himself can barely control. If he does, the Republicans will have got him there through sheer bullying. And then what? No one expects hard-line House Republicans to give any ground. McCarthy would have to be willing to cut a deal that risks his Speakership.  https://www.newyorker.com/news/the-political-scene/the-risky-gamble-of-kevin-mccarthys-debt-ceiling-strategy
Sarah Longwell: Republicans Are In a Trap of Their Own Making
 One of the peculiar pathologies of Republican-primary politics is that even Trump's competition feels unable to criticize him. Case in point: After Trump was indicted, DeSantis called the move 'un-American,' Pence called it 'an outrage,' and Haley said it was 'more about revenge than it is about justice.'
They are in a trap of their own making. For eight years, Republican leaders have defended Trump at every turn—from the Access Hollywood tape to 'very fine people on both sides.' From the first impeachment to January 6 to the second impeachment.
They thought that by covering for Trump they were tapping into his power, but they were actually giving away their own—mortgaging themselves and their reputations to Trump's lies and depravities. By defending him then, they have made it impossible to credibly accuse him of anything now. https://www.theatlantic.com/ideas/archive/2023/05/trump-desantis-2024-primary-focus-groups/673995/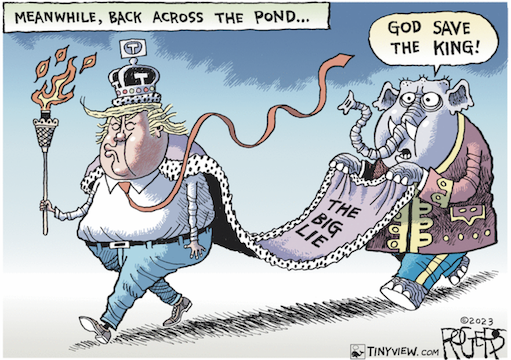 Philip Bump: Trump's Fifth Avenue strategy for 2024;
Trump was indicted in Manhattan in April and faces possible criminal charges related to his handling of documents with classification markings and for his efforts to retain power despite that loss. Washington Post-ABC News polling released this week shows that most Americans think Trump should face criminal charges in each of those cases, as well as for his role in fomenting the violence that unfolded at the Capitol on Jan. 6, 2021.

There is a catch, of course: While Democrats overwhelmingly think Trump should face charges, Republicans overwhelmingly don't.

Incredibly, about 1 in 7 people who think that Trump should be criminally sanctioned for trying to subvert American democracy also say they'd probably vote for him to be president in a contest against Biden.

That's the Fifth-Avenue crowd, the Trump supporters for whom criminal conduct is no barrier to support. Again, that's not our saying Trump committed a crime. It's them saying he should be charged. But also be president instead of Biden. https://www.washingtonpost.com/politics/2023/05/09/trump-criminal-charges-2024-election-biden/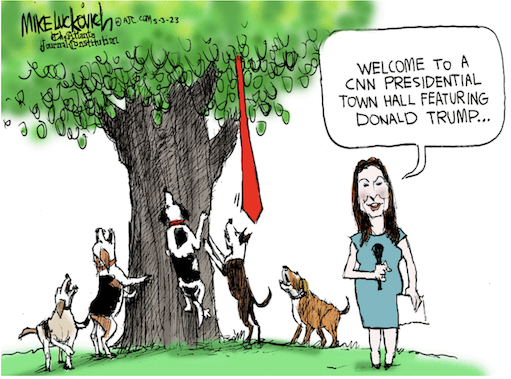 Matt Bai: How Joe Biden should solve the Kamala Harris Conundrum
Having publicly promised to choose a woman during his primary campaign with Bernie Sanders, and then wanting to hold his party together during an agonizing summer of racial unrest, Biden determined that his running mate should be a Black woman. It was the right call at the time, morally and politically — although I would argue that by publicly crowing about his criteria, Biden's campaign did his eventual running mate a disservice, ensuring that whomever he chose would be seen as the best Black female candidate rather than the best candidate, period.

Given the country's long struggle with inclusivity at the highest levels of politics, however, the list of Black women with obvious credentials wasn't long, and most of the candidates were untested.

The safest choice, by far, was Harris. She'd been elected statewide in California, and she'd already been introduced to the country as a presidential candidate. With at least as much experience in public life as Barack Obama had when he ran for president, and far more than Donald Trump, Harris was always the most obvious fit.

But 2024 will be a very different election from 2020, and now the bill for Biden's political calculus may be coming due. Democrats defend Harris or insist that running mates don't matter in a presidential campaign anyway, and usually that's true. (I'd argue that Sarah Palin mattered in 2008, although she was less of a running mate than a running gag.) But Biden is four years older now, and with Republicans already harping on the president's mental fitness, Harris will face more scrutiny than any running mate we can remember. Her favorability ratings have closely tracked Biden's, but they're consistently lower and well below those of other recent vice presidents.

Because this is the lot Biden chose, inevitably, when he elevated Harris nearly three years ago. He knew the stakes. He must have believed then that she had the ability to win over voters and lead the nation if it came to that — and it's hard to believe she could have come this far if she didn't. There's really no choice now but to find out.

If I were giving Biden advice he surely doesn't want, I'd tell him to steer into the storm rather than away from it, and run with Harris almost as if he expected her to take over. I'd make her a constant fixture at Biden's side in public events and in the kind of extended interviews she's mostly avoided doing. I'd turn the campaign into what Hollywood calls a "two-hander" — a show with two protagonists.

Because this is the lot Biden chose, inevitably, when he elevated Harris nearly three years ago. He knew the stakes. He must have believed then that she had the ability to win over voters and lead the nation if it came to that — and it's hard to believe she could have come this far if she didn't. There's really no choice now but to find out. https://www.washingtonpost.com/opinions/2023/05/08/kamala-harris-joe-biden-succession-2024-campaign/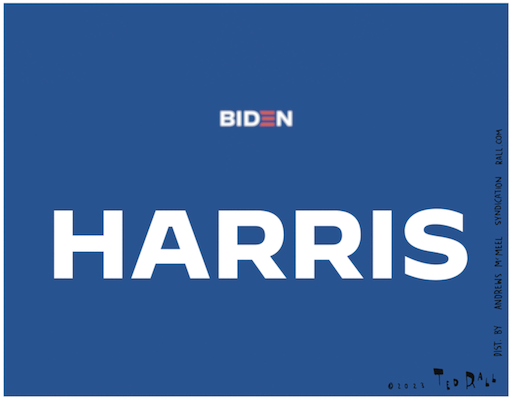 Philip Elliot: Dianne Feinstein Is Giving a Master Class in How to Ruin a Legacy
To say Feinstein, now 89, is facing mounting pressure to resign would be to undersell the swelling frustration even among her biggest fans, both in progressive circles and in the Senate Dining Room.
If anything, Feinstein is fast becoming a masterclass in how to spoil a legacy, one that should be taught in books about leadership for decades. Her and her office are providing a stunning demonstration in how to soil an inevitable obituary with tales of missteps rather than of purpose, and how to willfully ignore the well-meaning nudges that have been coming for years now.
https://time.com/6278008/dianne-feinstein-senate-legacy-durbin/
Catherine Rampell: How Fox News and Trump wrote the playbook for their own downfall
What happens when the anti-establishment becomes the establishment or the insurgent becomes the incumbent?
This is the strategic challenge facing major leaders on the right, from Fox News to Donald Trump himself.
The paranoid style in American politics — the conspiratorial fantasy that the Powers That Be Are Out to Get You — has been around for centuries. But nearly 30 years ago, Fox News found an efficient way to monetize it. The network rose to prominence by sowing distrust in traditionally authoritative sources, including, of course, established news outlets. Fox proclaimed itself the upstart, the underdog, the overthrower and underminer of these elites.

Fox was, supposedly, the One True Prophet brave enough to tell you the things that "the mainstream media" would not. And the strategy mostly worked.

Today, Fox News has far and away the largest audience of any cable news network, with about as many viewers as MSNBC and CNN combined. It's hard to argue with a straight face that this makes Fox anything other than, well, "mainstream" and "elite," at least among media outlets. What was once counterculture is now, unambiguously, culture.

But the company's growing dominance has complicated its business model. After all, just as Fox rose to prominence by discrediting incumbents, Fox has now provided other political and media parvenues with a blueprint for how to tear down a now-incumbent Fox, too. Or, at least, how to outflank it.

Fox is now at risk of becoming a victim of the financial strategy it pioneered. New True Prophets on the right have emerged, including One America News and Newsmax as well as myriad podcasts and radio shows. They have worked to chip away, with varying degrees of success, at Fox's credibility among its loyal audience by claiming they instead now hold the monopoly on truth. Fox's recently fired anchor, Tucker Carlson, is reportedly plotting his own rival news perch. (He has a shot at success, too; is there a more compelling supervillain origin story than having been canceled by cancel-culture-abhorring Fox News?)

Fox now has two choices. It can either embrace its incumbency and try to hang on to its audience by casting itself as a trusted, established news source among conservatives; or, it can try to out-extreme the extremists. https://www.washingtonpost.com/opinions/2023/05/09/how-fox-news-trump-wrote-playbook-their-own-downfall/
Bess Levin: Being an Unlikable Jerk Not Working Out So Well for Ron DeSantis
After the 2022 midterm elections, the broad consensus among Republicans and the conservative media was that Donald Trump was finished and Ron DeSantis was the future of the GOP. Fast-forward approximately six months later, though, and the two men—whose respective ascensions to the White House in 2024 would be equally bad for humanity!—appear to have had a complete role reversal, as demonstrated by a recent poll putting DeSantis behind the former guy by a whopping 36 points. How to account for it all? At the moment, the Florida governor's woes seem to stem from a variety of factors including that:
He refuses to give up his extremely stupid fight with Walt Disney, which resulted in Mouse-town suing him last month;
He signed a hugely restrictive six-week abortion ban that has reportedly even given GOP mega-donor Ken Griffin pause;
He's obsessed with attacking the LGBTQ+ community;
He's literally ruined people's lives for political purposes;
No one believes him when he says he's never eaten pudding using three fingers as a spoon;
He's just…kind of an asshole?
https://www.vanityfair.com/news/2023/05/ron-desantis-unlikeable