January 9, 2020
ON THE RECORD. . .
"Our president will start a war with Iran because he has absolutely no ability to negotiate. He's weak and he's ineffective. So the only way he figures that he's going to get reelected — and as sure as you're sitting there — is to start a war with Iran." — Donald Trump, in a video from Trump Tower on November 16, 2011.

"Bout to open up a big ol' can of whoop ass #DontMessWithTheBest #USAUSAUSA" -- In a now deleted tweet, Eric Trump apparently knew about the U.S. strike against an Iran military commander — and hinted to the world about it — two days before it happened.

"I would testify, I would, um, do demonstrations. I'd give lectures, I'd give summations. Or, I'd do what I do best, I'd try the case. I'd love to try the case. Well I don't know if anybody would have the courage to give me the case, but, uh, if you give me the case, I will prosecute it as a racketeering case, which I kind of invented anyway. — Rudy Giuliani, who is prepared to do more than just testify at President Trump's upcoming impeachment trial.

Everyone's asking if the US government has a plan. Trump spent the last 3 years hollowing out our diplomatic corps, undermining military commanders, and denigrating intelligence agencies. His supporters like it. They believe he was sent by god. They don't need him to have a plan. — Julia Ioffe @juliaioffe

"And Trump did it without consulting Congress. He has no support from our allies. He has no exit strategy for a war with Iran. America is still bogged down in Iraq and Afghanistan. He has no credibility anywhere, with anyone, because he has lied about everything." — Robert Reich@RBReich

"It's like hitting a hornets' nest with a baseball bat. You don't do it unless you're ready to go to war with the hornets." — Robert Baer, a former CIA case officer in the Middle East and veteran of clandestine operations, on the killing of Maj. Gen. Qasem Soleimani.

Mr. Trump got himself into this mess by withdrawing from the 2015 nuclear deal with Iran, despite U.N. certifications of Iranian compliance, and launching a massive sanctions campaign that has badly damaged the Iranian economy. He did so in spite of widespread predictions that Iran would respond by resuming its nuclear activity and by launching attacks across the Middle East against the United States and its allies. — Washington Post Editorial

"If they do ask us to leave, if we don't do it in a very friendly basis. We will charge them sanctions like they've never seen before ever. It'll make Iranian sanctions look somewhat tame. We have a very extraordinarily expensive air base that's there. It cost billions of dollars to build. Long before my time. We're not leaving unless they pay us back for it." — Trump, speaking to reporters on Air Force One.

"In any other country, Joe Biden and I would not be in the same party." — Rep. Alexandria Ocasio-Cortez (D-NY) in an interview with New York magazine.

Instead of being a dead bad guy, Suleimani appears almost as potent in his "martyrdom" as he was in life. His death has already spurred anti-American sentiment across the Middle East. It has unified Iran's divided society. And it has also precipitated the first action to wind down or end the American military presence in the region—Suleimani's primary mission since he took over the Quds Force, in 1998. — Robin Wright in the New Yorker

"The administration tore up the Iran agreement, placed a significant, severe embargo on Iran, and then killed one of their major generals — nobody in their right mind would actually think that that would lead to negotiations. So when Secretary of State Pompeo's out there saying, 'Well, maximum pressure, our goal is to get them back to the negotiating table,' no naive child would believe that, you would have to be brain-dead to believe that."— Sen. Rand Paul (R-KY), on CNN.

"We took action last night to stop a war. We did not take action to start a war." — Trump using Orwellian doublespeak, an attempt to deny that killing a senior Iranian official ratcheted up hostilities by claiming the opposite.

Fewer than 3 in 10 registered voters can identify the Islamic republic on an unlabeled map. — New Morning Consult/Politico survey
---
IN THIS ISSUE
FYI
OPINION
1. Andy Borowitz: Ayatollah Mystified That He Is the Only Dictator Trump Dislikes
Iran's Supreme Leader, Ayatollah Ali Khamenei, is "completely baffled" as to why he appears to be the only dictator whom Donald J. Trump does not like, the autocrat said on Monday.
"Trump loves Vladimir Putin and Mohammed bin Salman, and he's even given Kim Jong Un a cute nickname, but, for some mysterious reason, I leave him cold," the visibly saddened Ayatollah said. "I just don't get it."
Khamenei initially tried not to take Trump's distaste for him personally, he said, "but when it became clear that he liked even second-tier strongmen like Recep Tayyip Erdoğan, of Turkey, and Rodrigo Duterte, of the Philippines, I'd be lying if I said it didn't hurt."
One possible reason Trump might dislike him, the Ayatollah theorized, is that "he just doesn't realize how repressive I am."
"If he did his homework, he'd see that I trample press freedoms, shred basic human rights, and persecute political opponents," he said. "In terms of the things that are important to him, I really check all the boxes." https://www.newyorker.com/humor/borowitz-report/
2. In confrontation with Iran, Trump wrestles with the shadow of Obama, 'the metric he has to beat'
As President Trump's allies rushed to defend his decision to authorize a drone strike that killed Iran's top military commander, many have focused less on Qasem Soleimani than another once-prominent actor in Middle East affairs: former president Barack Obama.
"Obama drew red lines & ignored them," Rep. Matt Gaetz (R-Fla.) wrote in a tweet, adding that Trump "never will."
"There is a NEW Sheriff in town," proclaimed former Milwaukee sheriff David A. Clarke Jr., a vocal Trump surrogate. "Maybe they thought Obama was still the Commander in Chief."
House Minority Whip Steve Scalise (R-La.) recycled a misleading claim that Obama had been "sending Iran pallets of cash as they killed Americans." But with Trump in charge, he added, "America fights back."
For Trump, the true measure of the dramatic and risky military operation will become clear over time, as the United States braces for a potential retaliatory strike from Iran that could embroil his administration in the kind of complex and intractable Middle East conflict he had pledged to avoid. But amid the immediate fallout from Soleimani's death, the president and his defenders rushed to declare that Trump had bested his predecessor in standing up to a malign foreign power. https://www.washingtonpost.com/politics/in-confrontation-with-iran-trump-wrestles-with-the-shadow-of-obama-the-metric-he-has-to-beat/2020/01/04/2bd11a80-2e49-11ea-9b60-817cc18cf173_story.html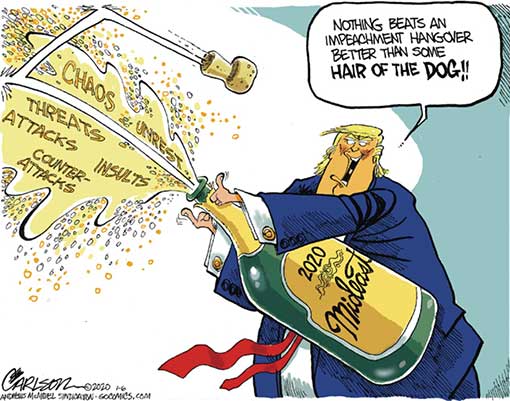 3. Mnuchin seeks delay of proposed disclosure of Secret Service spending on presidential travel until next year
The Trump administration is seeking to delay a Democratic effort to require the Secret Service to disclose how much it spends protecting President Trump and his family when they travel — until after the 2020 election, according to people familiar with the discussions. https://www.washingtonpost.com/politics/mnuchin-seeks-delay-of-proposed-disclosure-of-secret-service-spending-on-presidential-travel-until-next-year/2020/01/08/8769ea28-30da-11ea-91fd-82d4e04a3fac_story.html
4.  Iraq's vote to expel U.S. troops is Iran's true victory
More for Without firing a shot, Iran appears to have executed a devastating revenge attack against the United States for the killing of Gen. Qassem Suleimani. Using Iraq's democratic process, Iranian-influenced members of parliament on Sunday voted to expel American soldiers from Iraq. With that, Iran may have effectively won the battle of influence in Iraq.
This strategic coup de grace was delivered not by rockets or suicide vests, but by legitimate votes in a democracy built by the United States. https://www.latimes.com/opinion/story/2020-01-05/iraq-parliament-us-troops-iran-strategy
5. Trump Administration Blocks Iran's Top Diplomat From Addressing the U.N. Security Council
The Trump administration is barring Iran's top diplomat from entering the United States this week to address the United Nations Security Council about the U.S. assassination of Iran's top military official in Baghdad, violating the terms of a 1947 headquarters agreement requiring Washington to permit foreign officials into the country to conduct U.N. business. https://foreignpolicy.com/2020/01/06/trump-administration-blocks-iran-foreign-minister-zarif-addressing-un-security-council/
6. U.S. manufacturing activity hits worst level since 2009
The Institute of Supply Management's index of manufacturing activity hit its lowest level since the end of the Great Recession.
It shows worsening conditions for the U.S. manufacturing sector, which has been in contraction for five straight months, and reignites concerns about the trade war's impact on the economy. https://www.axios.com/us-manufacturing-index-ism-lowest-great-recession-af6fb388-9cee-4944-8955-6aec166671ea.html
7. Amy McGrath Grows War Chest to Take on McConnell
Former Marine Corps pilot Amy McGrath raised $6.2 million for her U.S. Senate campaign in the fourth quarter of 2019, according to her campaign, marking another impressive fundraising quarter even as she faces grumbling from some progressive Democrats in Kentucky.
The money McGrath raised in the final three months of 2019 brings her total to $16.9 million, just $2 million shy of what former Secretary of State Alison Lundergan Grimes raised in her bid against U.S. Senate Majority Leader Mitch McConnell in 2014. McGrath's campaign said it has $9.1 million on hand.
"It's clear that Amy is proving to be one of the most prolific fundraisers in American politics," said Mark Nickolas, McGrath's campaign manager. "This is one of those things that's a problem for McConnell. It shows why he's in trouble." https://www.kentucky.com/news/politics-government/article238944743.html
8. White House update of key environmental law would exclude climate change
The Trump administration will instruct federal agencies to no longer take climate change into account when measuring the impact of major infrastructure projects, according to two senior administration officials — a sweeping overhaul of one of the nation's most consequential environmental laws.
The proposed changes to the 50-year-old National Environmental Policy Act are aimed at speeding approvals for pipelines, oil and gas leases, highway construction and other kinds of development. The law, which was last updated in 1978, has proved one of the most potent stumbling blocks to President Trump's push to accelerate oil, gas and coal extraction across the country. https://www.washingtonpost.com/climate-environment/white-house-update-of-key-environmental-law-would-exclude-climate-change/2020/01/03/35491e10-2e89-11ea-9b60-817cc18cf173_story.html
9. A fake Twitter account stirred tensions between Jews and African Americans. Giuliani celebrated.
Trolls on the online forum 4chan celebrated on New Year's Day as a fake Twitter (TWTR) account seeking to stoke tensions between Jewish and black Americans amid a string of anti-Semitic attacks in New York provoked outrage. Even as the trolls celebrated, the account went unchecked by Twitter for hours despite dozens of users saying they reported the account to the social media company.
The incident is more evidence of how trolls work to increase racial division in the US. It also raises questions about Twitter's commitment to combating hate on its platform and how quickly it will respond to fake accounts seeking to stoke such divisions during an election year. https://www.cnn.com/2020/01/02/tech/twitter-fake-account-anti-semitic-new-york-attacks/index.html
10. Iran overshadows impreachment as Trump leaves Congress staggering
It's hard to imagine anything eclipsing the imminent impeachment trial of President Donald Trump. But that's where Congress finds itself with the United States on the brink of military conflict with Iran.
Trump's killing of Iranian Maj. Gen. Qassem Soleimani has overshadowed the third presidential impeachment trial in U.S. history, at least for now. But the twists are still coming at a breakneck pace: Not long after Trump issued new threats to Iran on Monday, John Bolton, his former national security adviser, said he'd testify about Trump's Ukraine scandal if subpoenaed by the Senate. Meanwhile, the House could vote as early as Thursday on a resolution asserting Congress' sole authority to declare war.
Lawmakers are left struggling to prioritize the two dramas — and could for weeks if Iran retaliates against the United States while the Senate considers removing Trump. It's a microcosm of Trump's frenetic presidency: The plodding pace of Congress has it barely keeping up as an institution. https://www.politico.com/news/2020/01/06/iran-impeachment-trump-congress-095139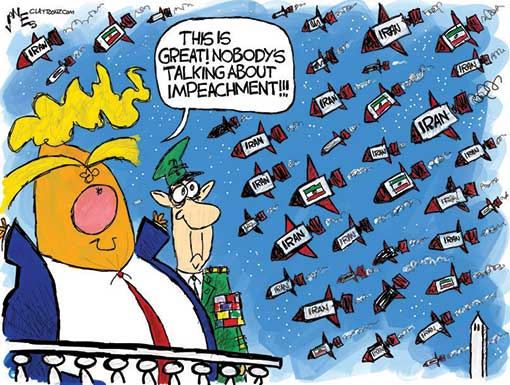 11. The DAILY GRILL
....targeted 52 Iranian sites (representing the 52 American hostages taken by Iran many years ago), some at a very high level & important to Iran & the Iranian culture, and those targets, and Iran itself, WILL BE HIT VERY FAST AND VERY HARD. The USA wants no more threats!--Donald Trump tweet

VERSUS

For what it's worth, I find it hard to believe the Pentagon would provide Trump targeting options that include Iranian cultural sites. Trump may not care about the laws of war, but DoD planners and lawyers do...and targeting cultural sites is war crime. — Colin Kahl @ColinKahl

 

Democrats keep playing stupid games. -- Marco Rubio @marcorubio

VERSUS

The "stupid game" is that Democrats insist that witnesses and documents, the importance of which has become clear after the House voted to impeach, should be introduced at trial to give the American people a full picture of the evidence. — Jennifer Rubin 

 

Over the weekend the Trump had repeatedly threatened to retaliate for any attacks against American interests by ordering airstrikes against as many as 52 potential targets, one for each American hostage held after the seizure of the United States embassy in Tehran in 1979.

VERSUS

"Those who refer to the number 52 should also remember the number 290," he said on Twitter, a reference to the 290 people killed in 1988 in the accidental downing of an Iranian airliner by an American warship. "Never threaten the Iranian nation." — Iran's moderate president, Hassan Rouhaniresponding with his own numerology.

 

George Orwell: "The Party told you to reject the evidence of your eyes and ears. It was their final, most essential command."

VERSUS

Taegan Goddard: "The GOP once stood for Grand Old Party. It might as well mean the George Orwell Party now."
12. From MEDIA MATTERS (They watch Fox News so you don't have to)
If President Donald Trump tuned in to Fox News after ordering Thursday night's successful U.S. operation to kill Maj. Gen. Qassem Soleimani, the commander of Iran's elite Quds Force, he heard nearly unalloyed praise of his decision along with claims that any U.S critics are siding with the Iranian regime. https://www.mediamatters.org/fox-news/how-fox-news-cabinet-responding-soleimanis-killing

On January 3, Fox & Friends guest retired Brig. Gen. Anthony Tata expressed offense that Sen. Chris Murphy (D-CT) had called America's targeted killing of Iranian Gen. Qassem Soleimani an "assassination." As co-host Brian Kilmeade agreed, Tata said it's "insanity" to call the killing an assassination. Tata then accused Murphy of "jumping on the side of Iran" and complained that "Democrats will support, you know, Hamas, or Hezbollah, or Iran" over America and President Donald Trump. https://www.mediamatters.org/fox-friends/fox-news-already-accusing-democrats-who-question-trump-being-aligned-iran

SEAN HANNITY: I have faith that if we targeted those three main refineries inside of Iran their economy would go belly up. And what would happen? Then the people of Iran, that have been protesting although there's not a lot of news reporting on it, then they might have a chance to overthrow the Mullahs that have been terrorizing even their own people.  https://www.mediamatters.org/sean-hannity/sean-hannity-fantasizes-about-next-american-strike-iran-which-he-says-will-lead

DOBBS: I think Chuck Schumer was born complaining, and I wouldn't expect any quick change in his behavior. It is also, I think, -- a good case could be built, it would be utterly irrational of the Trump administration to brief the very people who are trying to unseat him, remove him from power, to overthrow his presidency and who have done everything in their power to do so.  I mean, I just can't understand why a neutral voice in this -- say in the national media isn't saying what are the Democrats talking about? And why would they expect anything other than to be found untrustworthy by the President of the United States?  https://www.mediamatters.org/lou-dobbs/lou-dobbs-says-it-would-be-utterly-irrational-trump-brief-congress-strike-against

Fox News producer spreads false information to support Trump's military aggression against Iran. Before apologizing and retracting the claim, a Middle East senior field producer for Fox falsely claimed that graffiti had appeared in Tehran thanking Trump for killing Soleimani. The image was at least six months old. https://www.mediamatters.org/fox-news/fox-news-producer-spreads-false-information-support-trumps-military-aggression-against

Fox Business host Stuart Varney pitched the idea that the Soleimani strike itself ought to take impeachment off the table, during a lead-in appearance on Mornings with Maria: "Are we now going to try to impeach and remove from office the commander-in-chief who's just taken out one of the world's leading terrorists? That's quite a question, I suggest." https://www.mediamatters.org/trump-impeachment-inquiry/fox-news-uses-soleimani-strike-attack-trump-impeachment

Even though the Trump administration has spent years lying to the American public, television pundits assert there is no reason to doubt the administration's claims about Iran and the assassination of Iranian Gen. Qassem Soleimani. And yet, despite all the lies, pundits on cable news repeatedly said today that they have no reason to doubt what Trump administration officials are saying regarding Soleimani's assassination. None of these people provided any evidence to support their claims. https://www.mediamatters.org/cnn/despite-all-lies-pundits-assert-no-reason-doubt-what-trump-says-about-iran
13. From the Late Shows
The Late Show with Stephen Colbert: This Is It Folks: Trump Can Wage War With No Understanding Of The Consequences: https://youtu.be/5p2j9-tjF4w

Late Night with Seth Meyers: Trump Threatens War Crimes Against Iran: A Closer Look: https://youtu.be/OEiwoY_6ll8

Trump Orders Assassination of Top Iranian General Soleimani | The Daily Show: https://youtu.be/SXARDOeSDyg
1. Paul Krugman: Trump the Intimidator Fails Again
International crises often lead, at least initially, to surging support for a country's leadership. And that's clearly happening now. Just weeks ago the nation's leader faced public discontent so intense that his grip on power seemed at risk. Now the assassination of Qassim Suleimani has transformed the situation, generating a wave of patriotism that has greatly bolstered the people in charge.
Unfortunately, this patriotic rallying around the flag is happening not in America, where many are (with good reason) deeply suspicious of Donald Trump's motives, but in Iran.
In other words, Trump's latest attempt to bully another country has backfired — just like all his previous attempts.
From his first days in office, Trump has acted on the apparent belief that he could easily intimidate foreign governments — that they would quickly fold and allow themselves to be humiliated. That is, he imagined that he faced a world of Lindsey Grahams, willing to abandon all dignity at the first hint of a challenge.
But this strategy keeps failing; the regimes he threatens are strengthened rather than weakened, and Trump is the one who ends up making humiliating concessions. https://www.nytimes.com/2020/01/06/opinion/trump-iran-trade.html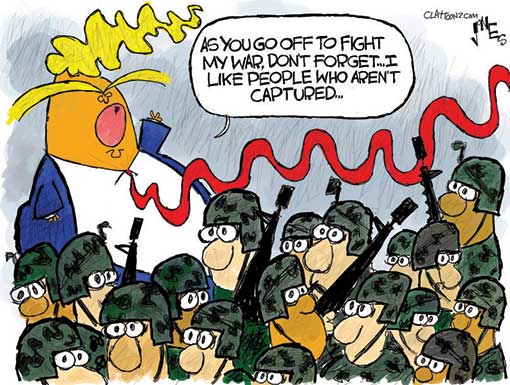 2. Neal K. Katyal and George T. Conway III: Why Is Mitch McConnell So Afraid of John Bolton?
The core principle behind the rule of law is that justice is blind and partisan identity should not influence a trial's outcome. But anyone watching Mr. McConnell twist himself into knots in trying to block witnesses and documents has to wonder whether this notion ever took root in his mind. He has gone so far as to say that "there will be no difference between the president's position and our position as to how to handle this to the extent that we can." He also said, "There's no chance the president is going to be removed from office."
How can Mr. McConnell make such a claim without having heard from Mr. Bolton? Remember that the diplomat Fiona Hill testified at the House impeachment hearings that Mr. Bolton called the pressuring of Ukraine by the administration a "drug deal" and said he wanted no part of it. Mr. Bolton himself has said that he possesses new information that has not been revealed. He even gave a speech saying that some of Mr. Trump's foreign policy decisions were made in his self-interest, not in the interest of the American people. Particularly after the United States' killing of Maj. Gen. Qassim Suleimani of Iran, such questions have arisen once again. https://www.nytimes.com/2020/01/07/opinion/john-bolton-testify.html
3. Josh Rogin: Trump's dysfunctional foreign policy meets its biggest crisis
That Soleimani was engaged in planning attacks against Americans is easy to believe. But the administration's ever-changing messaging and refusal to share its intelligence with the public have undermined its call for support of Trump's action. It's no wonder that congressional Democrats are now demanding Trump declassify its legal justification for the strike.
The administration further hurt its cause by attempting to blame the recent series of events with Iran on the Obama administration, making tenuous claims about how the Iran nuclear deal led to the crisis we are seeing today. That needlessly politicizes the issue.
"In 2015, the Obama-Biden administration essentially handed power to the Iranian leadership, and acted as a quasi-ally of theirs, by underwriting them, underwriting the very militias that killed Americans," Pompeo told "Fox News Sunday."
It's true the Obama-era nuclear deal with Iran didn't address the kind of regional mischief Soleimani was responsible for. But referring to a U.S. administration as "a quasi-ally" of Iran's leadership is inflammatory and partisan. The Trump administration decided to exit the deal, to ramp up maximum pressure and to try deterring Iran from responding. It must own that policy and the fallout. Blaming Obama three years into the new administration doesn't pass muster. https://www.washingtonpost.com/opinions/2020/01/06/trumps-dysfunctional-foreign-policy-meets-its-biggest-crisis/
4. David Atkins: We Cannot Afford a War with Iran
A president whose sole redeeming quality was not embroiling the United States in et another war in the Middle East appears poised to do exactly that, whether as an intentional wag-the-dog distraction in an election year (and during his impeachment), or a matter of simple bumbling incompetence.
But since it is an election year where competing budget and policy proposals are the subject of endless debates and discussion, we should also talk about the cost of this potential conflict. War and peace are never light subject matters, and the prospect of armed conflict makes all secondary considerations seem like childishness or moral cowardice. But it does matter.
The architects of the invasion of Iraq assured the American public that it would be a quick and cheap war. Instead, the cost of our cumulative wars in the Middle East likely exceeds a whopping $6 trillion by now, with nearly $3 trillion of that spent in Iraq. A war with Iran would almost certainly cost many trillions more; and who knows how many lives?
The mere prospect of the wealthiest country in the history of the human race squandering its money in this way is a moral outrage dwarfed only by the horrors of war itself. We know that just $300 billion would go a long way toward mitigating the climate crisis. Eliminating all student loan debt would cost around $1.6 trillion (though that overstates the case due to the enormous economic stimulus that doing so would provide). We could end world hunger for just $30 billion a year by some estimates. Universal Pre-K? $140 billion a year—and again, that would have gigantic economic stimulus benefits. And so on. https://washingtonmonthly.com/2020/01/04/we-cannot-afford-a-war-with-iran/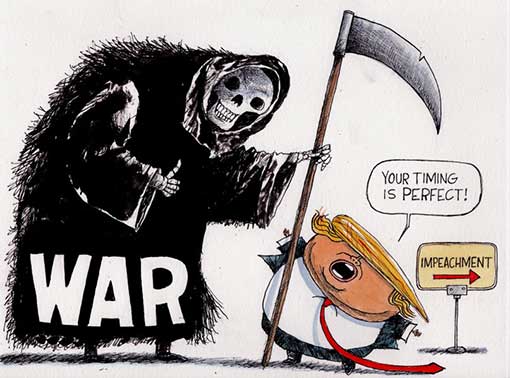 5. Can We Survive the Post-Truth Era?
Trump and the GOP are sowing the seeds for the country's unraveling—be it through voter suppression efforts, packing the courts, and an inflammatory, truth-immunized right-wing media. A disturbing consequence: Perhaps a third of Americans view those who call out this administration's corruption and lawless actions as existential enemies. As George Orwell once put it, "The further a society drifts from truth the more it will hate those who speak it."
We have been through wrenching and divisive periods before. Eventually, we emerged healed, But today is different. A sizable portion of the country has walled itself off with the help of a balkanized media. It has become more radical, demonstrated a dwindling devotion to democratic norms and has come to view those with different worldviews as sworn enemies. This is how the societal seams then begin to come apart.
As we turn a new decade, America eerily resembles the charged atmosphere of the 1850s. It took an enormously bloody civil war to sort things out then. I'm not predicting a repeat scenario, but I fear our domestic instability could lead to more violence, which would then make it easier for foreign adversaries to take advantage of our weakness.
Once Trump is gone, it will take exceptional moral and political leadership to overcome the underlying causes of our current dysfunction. The first step will be to abandon Trump's perverse form of bullshit. https://washingtonmonthly.com/2020/01/03/can-we-survive-the-post-truth-era/
6. Elizabeth Kolbert: What Will Another Decade of Climate Crisis Bring?
What will the twenty-twenties bring? In geophysical terms, this question is almost too easy to answer. Temperatures will continue to rise. It's virtually guaranteed that the coming decade will be warmer than the twenty-tens, which were warmer than the two-thousands, which were warmer than the nineteen-nineties, which—you guessed it—were warmer than the nineteen-eighties.
And with still higher temperatures will come still greater damage. Droughts will grow more punishing. (Australia's horrific wildfires are, in large part, the result of what Australians are calling a "big dry," which is now in its third year and has forced many towns to truck in water.) Warmer air holds more moisture, so the flip side of drought is deluge. (Last week, as Australia was roasting, flooding in Indonesia killed at least forty people.) Meanwhile, the planet's ice sheets will continue to melt, leading to ever-higher sea levels, as will the Arctic ice cap. It's possible that by 2030 the Arctic Ocean will be ice-free at the end of the summer.
Every decade is consequential in its own way, but the twenty-twenties will be consequential in a more or less permanent way. Global CO2 emissions are now so high—in 2019, they hit a new record of forty-three billion metric tons—that ten more years of the same will be nothing short of cataclysmic. Unless emissions are reduced, and radically, a rise of two degrees Celsius (3.6 degrees Fahrenheit) will be pretty much unavoidable by 2030. This will make the demise of the world's coral reefs, the inundation of most low-lying island nations, incessant heat waves and fires and misery for millions—perhaps billions—of people equally unavoidable.
Really waking up, and not just dreaming to ourselves that things will be O.K., has become urgent—beyond urgent, in fact. To paraphrase Victoria's fire authority: The world is in danger, and we need to act immediately to survive.  https://www.newyorker.com/magazine/2020/01/13/what-will-another-decade-of-climate-crisis-bring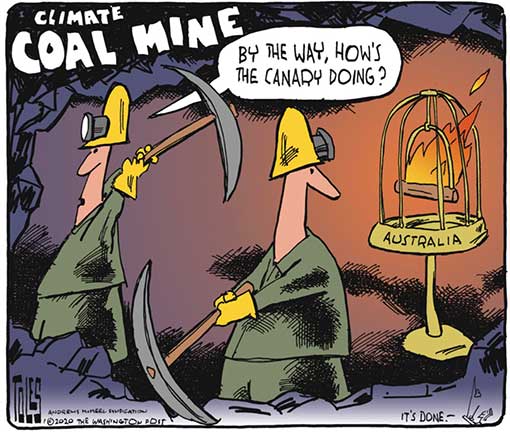 7. Jonathan Chait: Trump Thinks Attacking Iran Will Get Him Reelected. He's Wrong.
Americans historically support their presidents in foreign conflicts, both the wise ones and unwise ones alike, at least initially. Trump no doubt believes the halo effect will last at least through November — that he might undertake an action that would harm his reelection out of some larger sense of duty to the nation or the world is unfathomable.
But presidents traditionally benefit from a presumption of competence, or at least moral legitimacy, from their opposition. Trump has forfeited his. He will not have Democratic leaders standing shoulder to shoulder with him, and his practice of disregarding and smearing government intelligence should likewise dispel any benefit of the doubt attached to claims he makes about the necessity of his actions. Trump has made it plain that he views American war-fighting as nothing but the extension of domestic politics. We should believe him. http://nymag.com/intelligencer/2020/01/trump-war-iran-election-nuclear-obama.html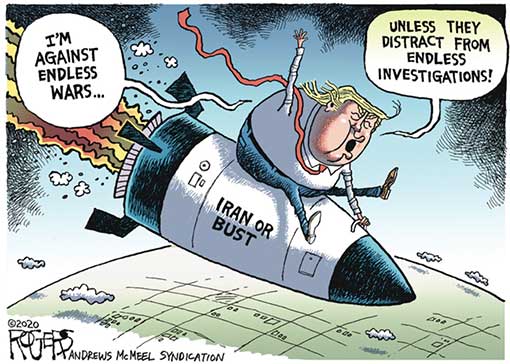 8. Susan E. Rice: The Dire Consequences of Trump's Suleimani Decision
Mr. Trump's "maximum pressure campaign" to impose ever more debilitating economic sanctions did not force Iran to capitulate; instead, predictably, it induced Tehran to lash out with a series of increasingly bold military provocations against Sunni Arab and Western targets while restarting important aspects of its nuclear program. Iran's destabilizing activities in the region, notably in Syria, Yemen and Lebanon, have only intensified. At the same time, it has conducted a brutal crackdown on its civilian population. None of the Trump administration's stated objectives have been met; if anything, the United States' security and strategic positions in the region have weakened.
In deciding to eliminate General Suleimani, Mr. Trump and his team argue they were acting in self-defense to thwart imminent attacks on Americans in Iraq and the region. This may be true, as General Suleimani was a ruthless murderer and terrorist with much American blood on his hands. Unfortunately, it's hard to place confidence in the representations of an administration that lies almost daily about matters large and small and, even in this critical instance, failed to brief, much less consult, bipartisan leaders in Congress.
There is no hope now to revive, much less strengthen, the Iran nuclear deal, and we must expect Iran will accelerate its efforts to revive its nuclear program without constraint.
The global economy is imperiled, as the Gulf States' energy infrastructure faces the risk of an Iranian attack, and commercial shipping through the Strait of Hormuz and the larger Gulf region is threatened.
In the face of Iranian reprisals, it will be difficult for the United States to de-escalate tensions and avoid a larger conflict. Iran gets the next move. The United States has failed to deter Tehran thus far, even with the deployment of 14,000 additional American troops to the Gulf region since May. The announcement this week that the Pentagon was sending 3,500 more soldiers from the 82nd Airborne Division seems unlikely to change things.
It's hard to envision how this ends short of war. https://www.nytimes.com/2020/01/04/opinion/trump-suleimani-iran.html
9. Bess Levin: Damning New Emails Show Trump Knew He Was Breaking The Law On Ukraine
Of the two dozen different defenses and counting that Donald Trump's allies have trotted out re: why he shouldn't be impeached for attempting to extort Ukraine, the one most frequently cited is that the freeze on nearly $400 million in military aid in exchange for investigations is much ado about nothing because said aid was ultimately released—no harm, no foul, everyone can go home. That, of course, is a lot like arguing that a mafia don didn't do anything wrong in ordering the murder of a snitch, if all he did was send his capos to break the guy's kneecaps, tie to him to a chair, cut off his ring finger and utter the words "we're gonna kill you and your whole family," if the guy happened to make it out alive after the cops showed up at the abandoned warehouse. The ring finger is just ornamental! He's still got both pinkies!
The problem with this defense is that it appears quite-to-very likely that the only reason the aid was eventually released was because Adam Schiff sent a letter concerning the existence of the whistle-blower complaint, which preceded the unfreezing by just one day. Also, in November we learned that the Office of Management and Budget and acting White House chief of staff Mick Mulvaney scrambled to come up with an after-the-fact justification for the hold, which they insisted was legal, despite pushback from officials at the State Department and National Security Council who thought otherwise. Oh, and then there are the unredacted emails, the existence of which was reported by Just Security's Kate Brannen on Thursday, which show that Trump knew the freeze was considered illegal but pressed for it anyway. And just to top things off, the transparent attempt by the Justice Department to cover up the concern from the Pentagon about the whole breaking-of-the-law thing.
According to the unredacted emails however, which Paoletta was clearly assuming would never see the light of day, that assertion isn't true at all. In "fact," there are multiple examples of a Defense Department official flagging serious issues to the OMB, which the DOJ conveniently blacked out before releasing.
As you can probably imagine, Democrats are quite reasonably steamed up about the revelation that (1) Trump pushed for the freeze despite knowing the DOD believed it to be illegal, and (2) the Justice Department tried extremely hard to obscure this and other pertinent facts. "The newly-revealed unredacted emails are a devastating blow to Sen. McConnell's push to have a trial without the documents and witnesses we've requested," Chuck Schumer said in a statement. "These emails further expose the serious concerns raised by Trump administration officials about the propriety and legality of the president's decision to cut off aid to Ukraine to benefit himself…. The American people deserve a fair trial that gets to the truth, not a rigged process that enables a cover-up." McConnell does not yet appear to have responded to the news, but if we give him time surely he'll come up with a new and inventive way to explain that the emails could show Trump repeatedly dunked the president of Ukraine's head in a toilet shouting "I want my investigations, Zelensky!" and he'd still acquit the guy in less than day. https://www.vanityfair.com/news/2020/01/donald-trump-ukraine-aid-emails
10. Jonathan Chait: Trump's One Foreign-Policy Idea Is to Make America More Like Its Enemies
This is Trump's deepest belief about foreign policy: The things that separate the United States from terrorists and dictatorships are not a source of strength, but of weakness. Our enemies are stronger and tougher, willing to do the hard things that must be done in order to win. To defeat them, we must become like them.
Trump has long dismissed respect for human rights, international law, and innocent life as a form of political correctness. During the campaign, he promised to kill the families of terrorists, steal oil from countries the U.S. invades, and restore torture. "Don't tell me it doesn't work — torture works," Trump said in 2016. "Okay, folks? Torture — you know, half these guys [say]: 'Torture doesn't work.' Believe me, it works. Okay?"
Trump's disdain for human rights and international law explains his longstanding admiration for dictators. This is a man who 30 years ago criticized the Chinese communist party for waiting too long to suppress the demonstrations at Tiananmen Square, and defended Vladimir Putin's iron hand: "He's running his country and at least he's a leader, unlike what we have in this country," Trump said in 2015. From the premise that the authoritarians of the world are strong and correct, and its (small-d) democrats are politically correct fools, his broader recasting of America's alliances makes perfect sense. Of course he would draw the United States closer to Russia, the Gulf States, and the emerging autocrats of Europe, and further away from its traditional Western allies. Why side with the foolish and weak when we can instead cast our lot with the clever and strong? http://nymag.com/intelligencer/2020/01/trump-iran-war-crimes-cultural-bomb-foreign-policy.html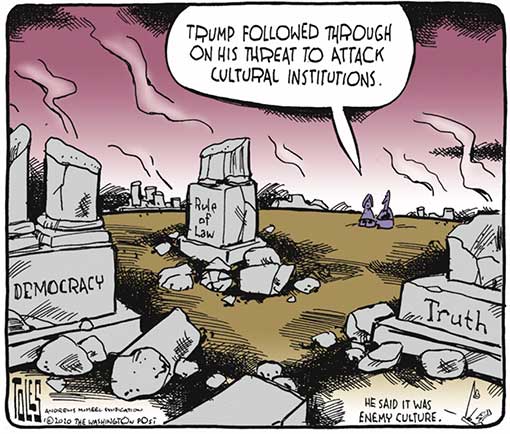 11. Frank Rich: What Will Happen to The Trump Toadies?
All cults come to an end, often abruptly, and Trump's Republican Party is nothing if not a cult. While cult leaders are generally incapable of remorse — whether they be totalitarian rulers, sexual Svengalis, or the self-declared messiahs of crackpot religions — their followers almost always pay a human and reputational price once the leader is toppled. We don't know how and when Donald Trump will exit, but under any scenario it won't be later than January 20, 2025. Even were he to be gone tomorrow, the legacy of his most powerful and servile collaborators is already indelibly bound to his.
Whether these enablers joined his administration in earnest, or aided and abetted it from elite perches in politics, Congress, the media, or the private sector, they will be remembered for cheering on a leader whose record in government (thus far) includes splitting up immigrant families and incarcerating their children in cages; encouraging a spike in racist, xenophobic, and anti-Semitic vigilantes; leveraging American power to promote ethnic cleansing abroad and punish political opponents at home; actively inciting climate change and environmental wreckage; and surrendering America's national security to an international rogue's gallery of despots.
That selective short list doesn't take into account any new White House felonies still to come, any future repercussions here and abroad of Trump's actions to date, or any previous foul deeds that have so far eluded public exposure. For all the technological quickening of the media pulse in this century, Trump's collaborators will one day be viewed through the long lens of history like Nixon's collaborators before them and the various fools, opportunists, and cowards who tried to appease Hitler in America, England, and France before that. http://nymag.com/intelligencer/2020/01/what-will-happen-to-trumps-republican-collaborators.html
12. Jonathan Chait: Trump, Who Actually Loves Dictators, Smears Democrats As Iran Lovers
"The only ones mourning the loss of [Iranian general Qasem] Soleimani are our Democrat leadership and Democrat Presidential candidates," says Nikki Haley. Because she has previously established a modicum of independence from Trump, Haley has received the most attention for this remark, but she is hardly alone. Kellyanne Conway sneers, "The alarmists and apologists show skepticism about our own intelligence and sympathy for Soleimani." Republican apparatchik Tony Shaffer attacks "Democrat lawmakers who would rather mourn a war criminal than credit President Trump for making the world safer." And so on.
The accusation is obviously a risible lie. No prominent Democrat — indeed, as far as I know, no Democrat at all — has "mourned" Soleimani, defended his conduct, or suggested the world was a better place with him in it. The question is whether the act of killing him on net enhances America's safety and diplomatic standing.
What makes this current smear campaign so extraordinarily ironic is that Trump is actually guilty of the very thing his surrogates are falsely charging his opposition. Trump has repeatedly lavished praise on the world's most notorious dictators. Trump in 2016 praised Saddam Hussein's methods of killing terrorists: "He did that so good. They didn't read them the rights. They didn't talk. They were terrorists. Over." Trump's point was not only that the United States was unwise to remove Saddam Hussein from power, but edged into outright admiration for his unlawful methods.
That Trumpists can turn around from ignoring or justifying his professed love of dictators to accusing Democrats of supporting an Iranian militarist merely shows the mental flexibility required of the president's defenders. http://nymag.com/intelligencer/2020/01/trump-who-loves-dictators-smears-democrats-as-iran-lovers.html