October 27, 2016
ON THE RECORD. . .
"Truly historic moments are rare in politics. But this (the 3rd debate) was a thunderbolt that might have spelled the end for Trump's dynamic, disorganized and self-destructive campaign and the elevation of the first female major party nominee, whose precision and preparedness has often been overshadowed by her flashier opponent." --Glenn Thrush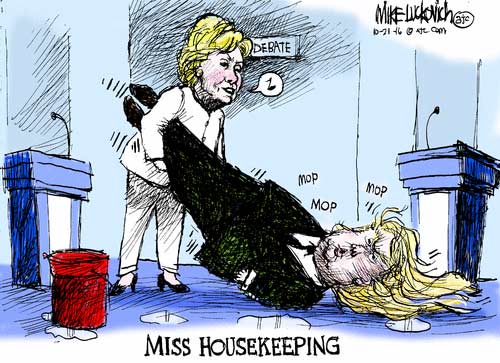 "Once the act-like-an-adult sedatives wore off around 30 minutes into the third debate, he lapsed into his reflexive lying and insult comedy." -- John Avlon
"Trump's act, which worked on a Republican electorate in a crowded field of candidates, failed miserably among a broader electorate. He's lost — and the fat lady has already started singing." -- Philip Klein in the Washington Examiner. 10/20/16
"Folks, it takes a lot of work to get booed at a charity dinner. All of Trump's flaws were on display — the inability to laugh at himself, his inability to play to a crowd where not everyone is an adoring fan, and his inability to wear a poker face. When you combine Trump's dinner performance with his call to accept the election results IF he wins, it's going to be a long 18 days until Election Day." --First Read
"Every woman lied when they came forward to hurt my campaign. Total fabrication. The events never happened. Never. All of these liars will be sued after the election is over." -- Donald Trump saying he will sue the women who have accused him of sexual misconduct after the election is over.
"In my view, this was easily the most decisive debate. She devastated him. He melted down. His refusal to accept the results of this election disqualifies him automatically from any office in the United States. There were several areas where he was utterly incoherent, grasping at "facts", without any understanding of policy. His personal foulness emerged." -- Andrew Sullivan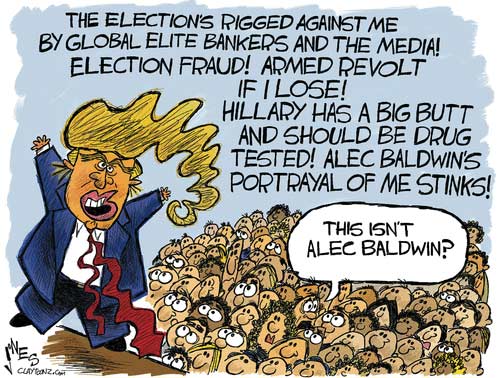 "Trust me, if they went into our emails — I suppose which may happen, who knows — I'm sure there would be statements that would be less than flattering about, you know, the Clinton staff. That's what happens in campaigns." -- Sen. Bernie Sanders.
Rep. Darrell Issa's "primary contribution to the United States Congress has been to obstruct and to waste taxpayer dollar on trumped-up investigations that have led nowhere." -- President Obama 10/24/16
"Congratulations, Newt, on last night, that was an amazing interview. We don't play games, Newt, right?." --Donald Trump congratulating Newt Gingrich on his "amazing interview" with Fox News' Megyn Kelly in which the former House speaker accused the host of being "fascinated with sex."
"After careful observation and reflection, I have come to believe that Donald Trump, if elected President of the United States, would not be able to stand up to this pressure and this criticism without becoming unhinged and unable to perform competently the duties of his office." -- Libertarian vice presidential candidate Bill Weld obliquely urging voters to vote for Hillary Clinton. 
---
IN THIS ISSUE
1. Andy Borowitz: Nation Unsure It Can Tolerate Thirteen More Days Of Rudy Giuliani
2. Trump's window is closing
3. The DAILY GRILL
4. From MEDIA MATTERS (They watch Fox News so you don't have to)
5. From the Late Shows
6. Political Ads/Statements
7. Climate change didn't make the cut
8. Trump Says Polls Showing Clinton Winning Are 'Phony.' His Argument Is Ludicrous
9. Poll: Just Half of Republicans Would Accept Clinton
10. A Trump win would tank the markets 
11. Late Night Jokes for Dems
12. Trump's Two-Track Campaign
13. Republicans plan for Clinton presidency: Investigations and impeachment 
1. Amber Phillips: Donald Trump just put Hill Republicans in a no-win situation
2. Washington Post Editorial: Trump's breathtaking repudiation of American democracy
3. Greg Sargent: Trump is threatening to take our democracy down with him.
4. Maureen Dowd: What We Saw in the Final Debate
5. Paul Krugman: It's Trump's Party
6. NY Daily News Editorial: Bury Trump in a Landslide
7. Elizabeth Kolbert: Letter From Greenland: Greenland Is Melting
8. Kurt Eichenwald: A People's History Of Donald Trump's Business Busts And Countless Victims
9. Charlie Cook: Donald Trump Leaves a Car Wreck Behind
10. Jenna Johnson: At charity roast, Donald Trump delivered what might as well be a campaign eulogy
11. Doyle McManus: Rigged election? Trump is just hanging himself out to dry
12. The New Yorker Editors: The New Yorker Endorses Hillary Clinton 
1. Andy Borowitz: Nation Unsure It Can Tolerate Thirteen More Days Of Rudy Giuliani
As millions of Americans actively count down the days until Giuliani disappears forever, thirteen more days of him "seems like a lifetime," Davis Logsdon, a psychologist who has been studying the Giuliani ordeal, said.

"Americans' traumatic experience of Rudy Giuliani in 2016 has gone through several phases," Logsdon said. "First, they struggled to remember who he was. Then, once they remembered, they recoiled in horror. Finally, they began actively wishing he would go away forever. That is the phase many people find themselves in today."

Even as they long for the day when Giuliani resumes his rightful place in obscurity, many Americans are experiencing feelings of anger and disbelief that he was permitted to crawl back into their consciousness to begin with, Logsdon said.

"Of the many inexcusable things that cable news has done this election, repeatedly subjecting Americans to Rudy Giuliani is at the top of the list," he said. "The human cost has been enormous."

As they struggle to endure the final thirteen days of Rudy Giuliani, Americans should not feel isolated or alone, Logsdon said. "They need to know that there are millions of people just like them, and even more who are unsure if they can stand another thirteen days of Kellyanne Conway," he said. Read more at http://www.newyorker.com/humor/borowitz-report/
2. Trump's window is closing
With two weeks to go, Donald Trump's path to an Election Night win is almost entirely closed.
Hillary Clinton enters the final 15 days of the race safely ahead in states worth more than 270 electoral votes. Indeed, the suspense of this final stretch is less about whether Trump can turn it around than how many down-ballot Republicans he will drag down with him.
For the party that put Trump forward, the race has become less of a suspenseful thriller and more, to use a favorite Trump term, of a "horror show." 10/24/16 Read more at http://www.politico.com/story/2016/10/clinton-trump-election-countdown-polls-230212#ixzz4O02dzhkT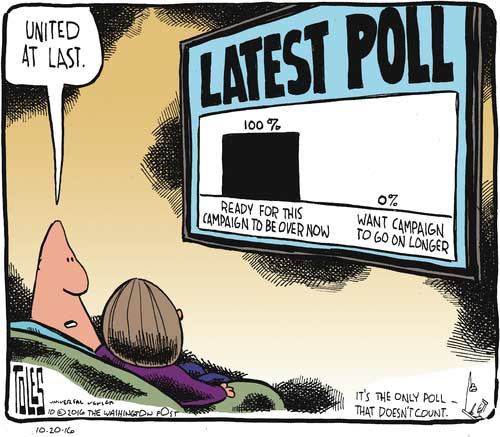 3. The DAILY GRILL
"Just like when you ran the State Department, $6 billion was missing. How do you miss $6 billion? You ran the State Department, $6 billion was either stolen. They don't know. It's gone, $6 billion." —Trump

VERSUS

Trump misunderstands a $6 billion figure that appeared in a 2014 management alert from the State Department Inspector General. No money is missing or lost, a point that the IG emphasized in a letter to The Washington Post in 2014. Instead, the alert highlighted missing paperwork, not dollars. -- WA Post Fact Checker

 

"She destroyed 33,000 emails criminally, criminally, after getting a subpoena from the United States Congress." —Trump

VERSUS

Clinton's staff had requested the emails to be deleted months before the subpoena, according to the FBI's August 2016 report. Moreover, there's no evidence Clinton deleted the emails in anticipation of the subpoena, and FBI director James B. Comey has said his agency's investigation found no evidence that any work-related emails were "intentionally deleted in an effort to conceal them." -- WA Post Fact Checker

 

"If you look at your voter rolls, you will see millions of people that are registered to vote … that shouldn't be registered to vote." —Trump

VERSUS

Trump cited a 2012 Pew Center on the States study as the source of this claim looked at ways to make the election system more accurate, cost-effective and efficient. It did not say that these problems indicated signs of isolated or widespread voter fraud. -- WA Post Fact Checker

 

"On Obamacare, "the premiums are going up 60, 70, 80 percent." —Trump

VERSUS

State-by-state weighted average increases range from just 1.3 percent in Rhode Island to as high as 71 percent in Oklahoma. But the most common plans in the marketplace will see an average increase of 9 percent, according to the Kaiser Family Foundation's July analysis. -- WA Post Fact Checker

 

"We take care of illegal immigrants — people who come into our country illegally — better than we take care of our vets." —Trump

VERSUS

This is an absurd comparison that has received Four Pinocchios. -- WA Post Fact Checker

 

"Hillary Clinton wanted the wall. Hillary Clinton fought for the wall in 2006 or thereabouts. Now, she never gets anything done, so naturally the wall wasn't built. But Hillary Clinton wanted the wall." —Trump

VERSUS

Not exactly. Clinton supported the Secure Fence Act of 2006, which authorized the construction of fencing along the U.S.-Mexico border. The fence is mostly vehicle barriers and single-layer pedestrian fence. Trump has called for a border wall of precast concrete, as tall as 30 to 60 feet. -- WA Post Fact Checker

 

"Of course there is large scale voter fraud happening on and before election day. Why do Republican leaders deny what is going on? So naive!" – Donald Trump on Twitter, 10/17/16

VERSUS

"Voter fraud" has become Trump's catchall phrase for all voting irregularities. Confirmed instances of actual voter fraud do exist, but Trump makes a totally unsupported extrapolation of these isolated cases to say they are indicative of a widespread fraud in the U.S. election system. We wonder whether it ever occurred to Trump that "nobody is talking about" the "big, big problem" of voter fraud because that "big, big" problem doesn't exist. Trump earns Four Pinocchios. -- WA Post Fact Checker
4. From MEDIA MATTERS (They watch Fox News so you don't have to)
Media Critics: CNN's Use Of Pro-Trump Surrogates Undercuts The Network's Journalism -- After the third and final presidential debate, Trump surrogates scrambled to spin Donald Trump's statement that he may not accept the results of the election, putting forward a litany of absurd claims. On CNN, that role was filled by the network's roster of paid contributors who were specifically hired for their willingness to defend Trump. http://mediamatters.org/blog/2016/10/20/media-critics-cnn-s-use-pro-trump-surrogates-undercuts-network-s-journalism/214016

Fox Business Gets Fooled Again By Gateway Pundit's Email Conspiracy Theory -- Host Stuart Varney Falsely Claims Out-Of-Context Email Proves Clinton Campaign Is "Encouraging" Voter Fraud http://mediamatters.org/blog/2016/10/20/fox-business-gets-fooled-again-gateway-pundits-email-conspiracy-theory/213999

Trump Ally Roger Stone: If The Election Results Match Polling, That Means It Was Rigged http://mediamatters.org/video/2016/10/21/trump-ally-roger-stone-if-election-results-match-polling-means-it-was-rigged/214040

VIDEO: How False Equivalence Ruins Trump-Clinton News Coverage. News outlets covering the presidential election have made the mistake of treating Hillary Clinton and Donald Trump as two equally flawed candidates. That false equivalence has made it harder for voters to understand the categorical differences between their options on November 8. https://www.youtube.com/watch?v=pz_o0LgP8xQ

Breitbart News Claims Paul Ryan Wants To Elect Clinton And Shares Her "Globalist Worldview" http://mediamatters.org/blog/2016/10/22/breitbart-news-claims-paul-ryan-wants-elect-clinton-and-shares-her-globalist-worldview/214047

At His Most Unhinged, NRA's LaPierre Sends "Urgent" Message To Members Describing America As A Hellscape -- During a six-minute get out the vote video, NRA executive vice president and CEO Wayne LaPierre described America after eight years of Obama as president in hellish terms unrecognizable to anyone who actually lives here, claiming that the president has "laid waste to the America we remember" causing the country to "completely unravel." http://mediamatters.org/blog/2016/10/24/his-most-unhinged-nra-s-lapierre-sends-urgent-message-members-describing-america-hellscape/214058

Trump Ally Roger Stone: Clinton Was "Hopped Up On Drugs" And Used A Secret "Minor Teleprompter" During The Debates http://mediamatters.org/video/2016/10/24/trump-ally-roger-stone-clinton-was-hopped-drugs-and-used-secret-minor-teleprompter-during-debates/214066

Trump Ally Alex Jones: Billy Bush Was A "CIA" Operative, "Set Up" Trump With Sexual Assault Comments http://mediamatters.org/video/2016/10/25/trump-ally-alex-jones-billy-bush-was-cia-operative-set-trump-sexual-assault-comments/214103
5. From the Late Shows
SNL Third Debate Cold Open: Donald Trump vs. Hillary Clinton - SNL

The Daily Show with Trevor Noah: The Final Clinton vs. Trump Debate

https://www.youtube.com/watch?v=of7g9u54WsI

Jimmy Kimmel Live: Mean Tweets - President Obama Edition #2
6. Political Ads/Statements
Martha and Sara | Hillary Clinton

Captain Khan | Hillary Clinton

Trump's policies | The Briefing

What would we lose each year without Planned Parenthood? | The Briefing

Russia first | The Briefing

DCCC Clips: CA49 CHARACTER

Google it | The Briefing

Example | Hillary Clinton
7. Climate change didn't make the cut
Wednesday wrapped up three weeks of presidential campaign debates. It was also a three-week period in which cities in at least 34 states reported record-high temperatures. New York reached 80 degrees yesterday, and Nashville nearly hit 90.
This year is all but guaranteed to be the planet's hottest on record, just as 2015 and 2014 were. The damage from climate change is now speeding up.
And how many questions were Hillary Clinton, Donald Trump, Tim Kaine and Mike Pence asked about climate change over the six hours of their four combined debates?
Zero.
The failure to ask about climate change is a failure of journalism. I thought that the debate moderators had some very fine moments over the last few weeks, calmly drawing out the candidates. But the lack of a single question on the world's biggest problem was a grievous error. 10//20/16 Read more at http://www.nytimes.com/newsletters/2016/10/20/opinion-today?nlid=74243604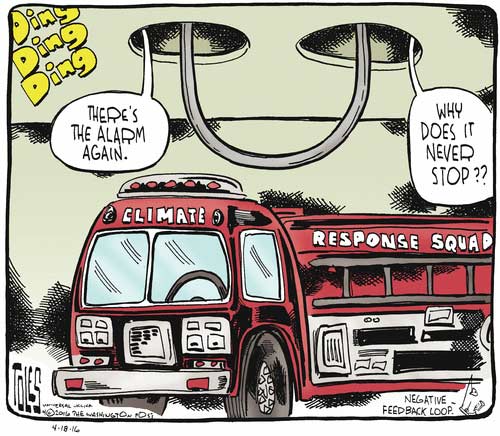 8. Trump Says Polls Showing Clinton Winning Are 'Phony.' His Argument Is Ludicrous
At a time when Donald Trump and his supporters are trying everything imaginable to undermine the credibility of public-opinion polls showing his candidacy sinking slowly into the pages of American history, they will clearly pick up any rock they can and hurl it at the hated messengers of bad news. But Team Trump's latest effort to turn an eight-year-old email about a totally noncontroversial polling practice into proof of an ongoing Democratic conspiracy is so blatantly cynical that it bespeaks contempt for the mogul's followers. 10/24/16 Read more at http://nymag.com/daily/intelligencer/2016/10/trump-calls-unfavorable-polls-phony-his-argument-is-absurd.html
9. Poll: Just Half of Republicans Would Accept Clinton
Only half of Republicans would accept Hillary Clinton, the Democratic nominee, as their president, according to a new poll. And if she wins, nearly 70% said it would be because of illegal voting or vote rigging, according to a Reuters/Ipsos survey released on Friday. 10/21/16 Read more at https://www.theguardian.com/us-news/2016/oct/21/republicans-reject-us-election-result-hillary-clinton-win
10. A Trump win would tank the markets
If GOP nominee pulls off a Brexit-like surprise, Wall Street would face a Brexit-like stock plunge.
New research out on Friday suggests that financial markets strongly prefer a Hillary Clinton presidency and could react with panicked selling should Trump defy the polls and deliver a shocking upset on Nov. 8.
The authors of the paper envision a massive global market shock should Trump win. "Given the magnitude of the price movements, we estimate that market participants believe that a Trump victory would reduce the value of the S&P 500, the UK, and Asian stock markets by 10-15%," they write and "would reduce the oil price by $4, would lead to a 25% decline in the Mexican Peso, and would significantly increase expected future stock market volatility." -- Ben White 10/21/16 Read more at http://www.politico.com/story/2016/10/donald-trump-wall-street-effect-markets-230164
11. Late Night Jokes for Dems
"Trump later tried to downplay the comments, saying it was just locker-room banter. People didn't know what was crazier, his excuse or the idea that Trump's ever been to a gym." –Jimmy Fallon

"With the election just a month away, it seems like everyone's encouraging people to vote. In fact, I saw that last week, some politicians in Arizona took part in a voter registration event at a strip club. The politicians said the hardest part was pretending they had never met the strippers before." –Jimmy Fallon

"Anyone who expected Donald Trump to reel it in was way off the mark. He was on fire. He promised that if he was president he'd throw Hillary in jail. He called her the devil — not A devil, THE devil. Which I think might have been his way of coming on to her." –Jimmy Kimmel

"The minute that tape came out, Hurricane Matthew just disappeared from television. The only channel that continued their round-the-clock coverage of the hurricane was Fox News because they didn't want to talk about the Trump tape. Even the Weather Channel was like, 'To hell with this, let's go with the Trump tape!'" –Jimmy Kimmel

"The Washington Post on Friday leaked the behind-the-scenes 2005 video of Donald Trump chatting with Billy Bush on the 'Access Hollywood' bus. Trump was caught on tape telling Billy about the time he tried to have sex with 'Entertainment Tonight' reporter Nancy O'Dell. He says he took her furniture shopping. By the way, I want some follow-up, I want to know if that happened, and if it did, what did he buy her? A sizable item? A hutch or a dinette set? Are we talking ottoman?" –Jimmy Kimmel

"So, of course, people were outraged. Trump apologized, Billy Bush got suspended from his job. Poor Jeb Bush. Billy Bush is his cousin; he has to be thinking, 'Why in the hell didn't he release this tape a year ago?'" –Jimmy Kimmel

"After a video surfaced of Donald Trump and Billy Bush making lewd sexual comments about women, NBC announced Bush would be suspended from the 'Today' show indefinitely. Bush could not be grabbed for comment." –Seth Meyers

"Fox News' Geraldo Rivera said this weekend that he has additional embarrassing tapes of Donald Trump. And if Geraldo thinks they're embarrassing, you know it's bad." –Seth Meyers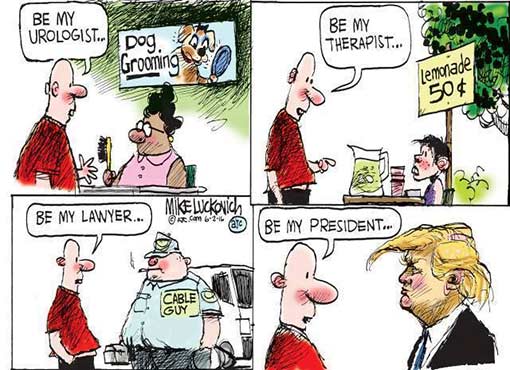 12. Trump's Two-Track Campaign
Team Trump is pleading with the Republican base to come home. Donald Trump himself is pleading with the public to … stay at his hotels? It's a curious choice of campaign time for the Republican nominee. Now less than two weeks out, he's following up a trip to one of his Florida properties – complete with testimonials from his employees – with a visit to the grand opening of his Washington hotel. (Isn't it open already? Couldn't any ribbons be cut, say, after Nov. 8?)" It's part of the two-track operation that is the campaign at this late stage. There is actual campaigning going on. Then there is brand-building that might overlap with campaigning, complete with the new Trump TV-style operation. (Are there soft Trump supporters, or undecided voters, who are watching livestreams on Trump's Facebook page at 6:30 pm?) Trump has been selling himself, and his brand, from the start. Up and down the ballot, though, Republicans might be expecting a little more campaign focus at this stage. 10/26/16 Read more at http://abcnews.go.com/Politics/note-trump-trail/story?id=43068911
13. Republicans plan for Clinton presidency: Investigations and impeachment
If Donald Trump leaves the Republican Party divided after the election, a Hillary Clinton victory could bring the party back together, as the party prepares a flood of potential congressional investigations against Clinton, who is poised to be the first woman president.
In the last few weeks alone, dozens of House Republicans have demanded that a special prosecutor investigate the Clinton Foundation for possible conflicts of interest. Texas GOP Sen. Ted Cruz has called for a "serious criminal investigation"into a Democratic operative featured in a sting video by conservative activist James O'Keefe. And Speaker Paul Ryan has promised "aggressive oversight work in the House" of an alleged "quid pro quo" deal between the FBI and the State Department over reclassifying an email on Clinton's private server. 10/26/16 Read more at http://www.nbcnews.com/politics/2016-election/hillary-clinton-s-victory-prize-congressional-investigations-n672926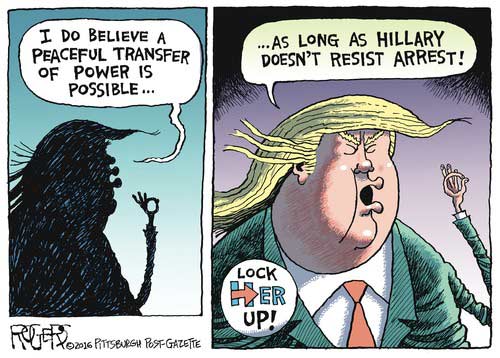 1. Amber Phillips: Donald Trump just put Hill Republicans in a no-win situation
The first question many House and Senate Republicans will get when they face reporters Thursday morning will not be about Trump's tax plan, or about their own tax plan, or any plan for that matter. It will be this one: Your party's presidential nominee has been claiming — without evidence — that the election is rigged against him. At Wednesday's debate, he refused to say whether he'll accept the election results. Do you still support a candidate who holds that position?
Uhh …
It's not what Republicans want to be talking about with 20 days to go. And it's a comment that's very hard, if not impossible, to defend. As The Fix's Philip Bump put it, Trump made an astonishing, damaging refusal to accept the very premise of American elections and democracy.
These aren't comments he made 11 years ago on an "Access Hollywood" bus. This isn't a policy idea anathema to conservatism that they can brush off as campaign rhetoric. This is a comment that will be attacked by political opponents for its potential to do very real damage to the country. Elections, as Bump details more here, are founded in trust, and a presidential candidate just took a big swipe at that foundation. 10/20/16 Read more at https://www.washingtonpost.com/news/the-fix/wp/2016/10/20/donald-trump-just-put-hill-republicans-in-a-no-win-situation/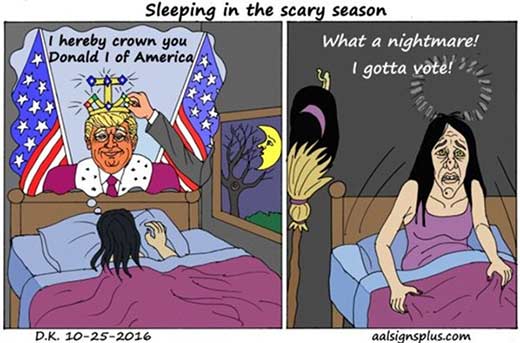 2. Washington Post Editorial: Trump's breathtaking repudiation of American democracy
'I'll keep you in suspense': Trump on whether he'll accept election results
Next to that, policy issues seem small. Yet the policy discussion was clarifying also, exposing as it did Mr. Trump's ignorance of — or is it distaste for? — facts and policy. He again insisted that the North American Free Trade Agreement has sucked jobs from the country, when economists have found otherwise. He indicated the debt would take care of itself under his economic plan because "we will have created a tremendous economic machine," which is pure snake oil. Incoherently, he attacked Ms. Clinton for favoring open borders but also favoring a border wall.
In another striking moment, Mr. Trump denied that the Russian government has been meddling in this election, refusing to accept the judgment of the country's intelligence community. Ms. Clinton said "the most important question" was whether Mr. Trump would acknowledge Moscow's interference. Mr. Trump at first declined to do so, saying he doubted the reports by U.S. intelligence agencies. He avoided any criticism of Russia's Vladi­mir Putin, repeatedly insisting it would be "good" to get along with Russia, with no mention of Russia's invasion of Ukraine and other actions that have made getting along difficult.
As if to prove Ms. Clinton's point that Mr. Trump would withdraw U.S. leadership from the world — to Mr. Putin's delight — the Republican nominee doubled down on his insistence that NATO countries and other allies "have to pay up," and he absurdly took credit for forcing reforms on the decades-old alliance. Ms. Clinton, by contrast, insisted that the United States benefits from engagement in the world, which used to be a consensus view on presidential debate stages.
These are gaps that would have been probed and tested in a normal campaign. They fade to the status of trivia in the face of an opponent who will not accept the basic rules of American democracy. 10/19/16 Read more at https://www.washingtonpost.com/opinions/trumps-breathtaking-repudiation-of-american-democracy/2016/10/19/3a7e69c2-966f-11e6-9b7c-57290af48a49_story.html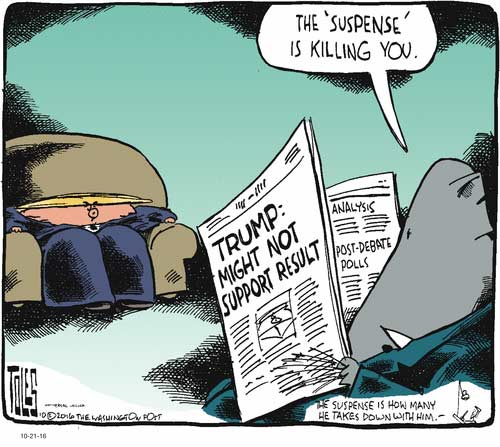 3. Greg Sargent: Trump is threatening to take our democracy down with him. He'll fail miserably at that, too.
Trump is trying to go out in a blaze of frightful demagoguery that threatens to take our democracy down with him. Indeed, he appears to be laying the groundwork to question the outcome's legitimacy long after the election is over as a way to keep his followers engaged. But, should things continue as they are, Trump may end up furiously tweeting about the election's "rigged" outcome at 3:00 a.m. as a sidelined, shriveled, increasingly buffoonish figure, a failed demagogue who is beneath the attention even of late-night TV comics.
Trump's effort to cast doubt on the integrity of the election, of course, has specific aims. He hopes to create the impression of a sh*tshow election, to depress enthusiasm and turnout among Clinton supporters. Trump's own advisers have said this is their closing game plan.
But the early signs are that this is failing. Demographics expert Michael McDonald made an important point about this to Reuters: "The risk he faces by engaging in a scorched-earth policy is that he activates people rather than turning them off."
McDonald's calculations have found that, if anything, Trump's antics are spurring more resolve to vote for Clinton, rather than less. McDonald found that after the first debate, there was a surge in absentee voter requests among womenin North Carolina (a state Trump must win) and Georgia (a state that may actually be in play, which would be utterly disastrous for Trump, though this may not prove real). As McDonald concluded, the early evidence suggests that women who are increasingly tuning in to the choice between Trump and Clinton are responding by "exercising their right to vote." 10/20/16 Read more at https://www.washingtonpost.com/blogs/plum-line/wp/2016/10/20/trump-is-threatening-to-take-our-democracy-down-with-him-hell-fail-miserably-at-that-too/?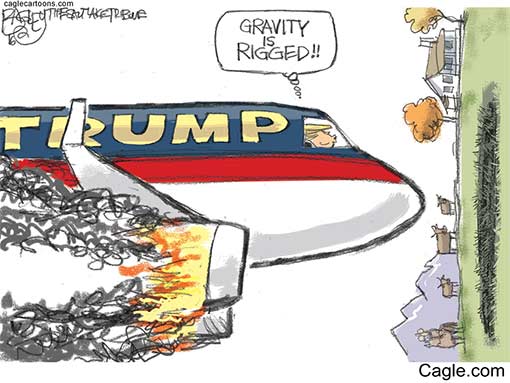 4. Maureen Dowd: What We Saw in the Final Debate
At the final debate Donald Trump once more showed how easily egged on he is.
When Clinton called Trump a Putin puppet, he unraveled, once more proving how malleable he is with anyone from Vladimir Putin to Clinton, who either praises him or pokes him.
"No puppet. No puppet. You're the puppet,'' he said, going into what the former Obama chief speechwriter Jon Favreau tweeted was "a full Baldwin.'' Talking about Putin, Trump once more offered the simple reason he has flipped his party's wary stance toward the Evil Empire, subjugating his party's ideology to his own ego: "He said nice things about me.'' Similarly, he reduced a debate about the Supreme Court to the fact that Ruth Bader Ginsburg had attacked him and had to apologize.
He was so unnerved, he said one of the most shocking things ever heard in a debate, putting his ego ahead of American democracy. Asked by the admirable debate moderator, Fox News' Chris Wallace, if he would accept the results of the election or reject it as rigged, Trump replied coyly and self-destructively: "I will tell you at the time,'' adding, "I will keep you in suspense."
In order to stop losing, he would have to stop losing it.
But he didn't. He got egged on. Bigly. 10/21/16 Read more at http://www.nytimes.com/interactive/projects/cp/opinion/clinton-trump-third-debate-election-2016/trump-egged-on
5. Paul Krugman: It's Trump's Party
Just in case you had any doubts about that political reality, a Bloomberg poll recently asked Republicans whose view better matched their own view of what the party should stand for: Paul Ryan or Donald Trump. The answer was Mr. Trump, by a wide margin.
This lesson hasn't been lost on Republican politicians. Even if Mr. Trump loses bigly, they'll know that their personal fortunes will depend on maintaining an essentially Trumpist line. Otherwise they will face serious primary challenges and/or be at risk of losing future elections when base voters stay home.
So you can ignore all the efforts to portray Mr. Trump as a deviation from the G.O.P.'s true path: Trumpism is what the party is all about. Maybe they'll find future standard-bearers with better impulse control and fewer personal skeletons in their closets, but the underlying nastiness is now part of Republican DNA.
And the immediate consequences will be very ugly. Assuming that Hillary Clinton wins, she will face an opposing party that demonizes her and denies her legitimacy no matter how large her margin of victory. It may be hard to think of any way Republicans could be even more obstructionist and destructive than they were during the Obama years, but they'll find a way, believe me.
In fact, it's likely to be so bad that America's governability may hang in the balance. A Democratic recapture of the Senate would be a very big deal, but they are unlikely to take the House, thanks to the clustering of their voters. So how will basic business like budgeting get done? Some observers are already speculating about a regime in which the House is effectively run by Democrats in cooperation with a small rump of rational Republicans. Let's hope so — but it's no way to manage a great nation.
Still, it's hard to see an alternative. For the modern G.O.P. is Mr. Trump's party, with or without the man himself. 10/23/16 Read more at http://www.nytimes.com/2016/10/24/opinion/its-trumps-party.html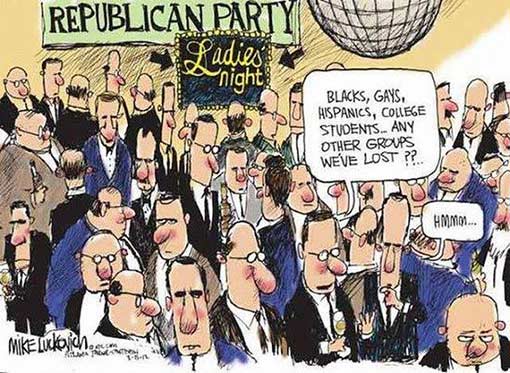 6. NY Daily News Editorial: Bury Trump in a Landslide
When deliberating over a presidential endorsement, the Daily News Editorial Board strives to identify the person who offers the greatest promise to brighten the futures of Americans and to safeguard the national security.
Never have we questioned a candidate's fitness to serve.
Then came Donald Trump — liar, thief, bully, hypocrite, sexual victimizer and unhinged, self-adoring demagogue.
The 16-month campaign since Trump vaingloriously entered the race has horrifyingly revealed that the Big Lie brazenly told — built on smaller falsehoods and spread by social media and a lust for TV ratings — can bring the United States to the brink of electing an aspiring strongman with no moral bearing or self-control.
But, now, with his defeat all but certain, Trump is conjuring for his followers demons that conspire to destroy them and the nation.
Chillingly, he refused in Wednesday night's debate to commit to honoring the results of the November election. Doing so, he questioned the fundamental soundness of America's democracy.
Trump's reckless willingness to damage trust in the electoral process — in order to save face and hold leadership of the paranoid wing of U.S. politics — is the most pressing reason why voters must defeat him in a landslide.
History will mark the presidential contest of 2016 for demagoguery that distorted America's electoral process from a competition of ideas into, on the one hand, a reach for power based on a cultish thirst for vengeance, and, on the other, a bipartisan drive to save the American presidency itself.
Herewith, we fervently pray, is the political obituary of Donald Trump and all that he stands for. 10/20/16 Read more at http://interactive.nydailynews.com/2016/10/daily-news-editorial-bury-trump-in-landslide/
7. Elizabeth Kolbert: Letter From Greenland: Greenland Is Melting
I First visited the Greenland ice sheet in the summer of 2001. At that time, vivid illustrations of climate change were hard to come by. Now they're everywhere—in the flooded streets of Florida and South Carolina, in the beetle-infested forests of Colorado and Montana, in the too warm waters of the Mid-Atlantic and the Great Lakes and the Gulf of Mexico, in the mounds of dead mussels that washed up this summer on the coast of Long Island and the piles of dead fish that coated the banks of the Yellowstone River.
But the problem with global warming—and the reason it continues to resist illustration, even as the streets flood and the forests die and the mussels rot on the shores—is that experience is an inadequate guide to what's going on. The climate operates on a time delay. When carbon dioxide is added to the atmosphere, it takes decades—in a technical sense, millennia—for the earth to equilibrate. This summer's fish kill was a product of warming that had become inevitable twenty or thirty years ago, and the warming that's being locked in today won't be fully felt until today's toddlers reach middle age. In effect, we are living in the climate of the past, but already we've determined the climate's future.
Global warming's back-loaded temporality makes all the warnings—from scientists, government agencies, and, especially, journalists—seem hysterical, Cassandra-like—Ototototoi!—even when they are understated. Once feedbacks take over, the climate can change quickly, and it can change radically. At the end of the last ice age, during an event known as meltwater pulse 1A, sea levels rose at the rate of more than a foot a decade. It's likely that the "floodgates" are already open, and that large sections of Greenland and Antarctica are fated to melt. It's just the ice in front of us that's still frozen. 10/24/16 Read more at http://www.newyorker.com/magazine/2016/10/24/greenland-is-melting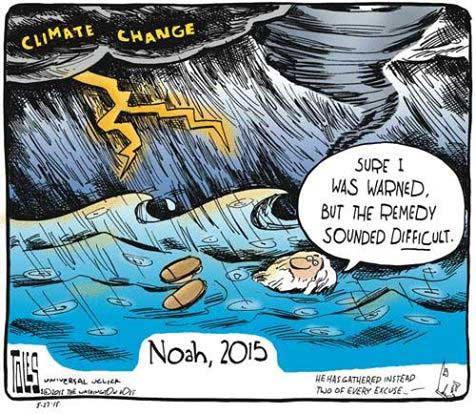 8. Kurt Eichenwald: A People's History Of Donald Trump's Business Busts And Countless Victims
Trump is now completing his biggest and most astonishing demolition: tearing down the Republican Party. Since the disclosure of a recording earlier this month in which Trump demeans women and boasts of sexually assaulting them, the GOP presidential nominee has vowed to make his campaign a scorched-earth mission. He now speaks of vast conspiracies against him involving bankers, the media and politicians, while raging against Republicans who have pulled away from his toxic campaign, ripping open chasms between his zealous supporters and the GOP. Win or lose on November 8, Trump, whose campaign did not respond to Newsweek requests for comment about this article, will leave the Republican Party as damaged as those art deco panels were 36 years ago.
To anyone who has watched Trump over the past four decades, none of this is a surprise. His presidential campaign is built on the claim that he's a brilliant businessman worth $10 billion who turns every challenge into success, but Trump is none of those things. Instead, he was born into an exceedingly wealthy family and tried to build upon his father's success with ever-riskier ventures, and by any rational measure, he failed again and again.
Trump demands applause and annihilates those who refuse to give it. He preens about successes he obtained only by destroying the wealth, careers and reputations of other people. He takes credit for the victories of others and denies any blame for his many failures. In his impulsive pursuit of self-aggrandizement, his victims are legion.
And now he vows to do to America what he did to them. 10/28/16 Read more at http://www.newsweek.com/2016/10/28/donald-trump-business-busts-victims-511034.html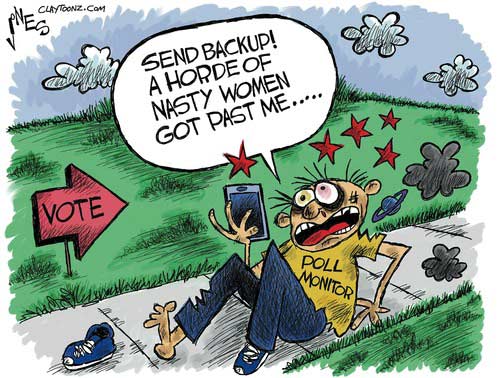 9. Charlie Cook: Donald Trump Leaves a Car Wreck Behind
Republicans will now have four years to think about what they did to themselves this year, plenty of time to contemplate the consequences of handing over their party's car keys to the tea-party movement and watching as the quintessential tea partier, Donald Trump, drove the car over a cliff.
On several levels, this political car wreck wasn't supposed to happen. Six times since the end of World War II we have had a party that has held the White House for two terms seek a third term. Five times out of six, the American people instead voted for change. Maybe it's the cumulative grievances with a party that builds up over eight years; maybe it's because voters think it ill-advised to leave one party in power for too long. For whatever reason, that's the way it usually happens. Arguably it should have this year.
When I talk to smart Republican leaders and strategists, they have a very good idea of what their party's problems are, and they know what needs to be done. But my colleague Amy Walter recently reminded us of a great line by former House Speaker John Boehner: A leader without followers is simply a man taking a walk. Republican leaders are faced with a party in which about half of its members believe that compromise is a four-letter word and hold some pretty exotic views of what this country is and where it is headed—views that are very different from where the country actually is and where it is going.simply a man taking a walk. Republican leaders are faced with a party in which about half of its members believe that compromise is a four-letter word and hold some pretty exotic views of what this country is and where it is headed—views that are very different from where the country actually is and where it is going. Read more at https://www.nationaljournal.com/s/643837?unlock=GB41JHLDGHI95URM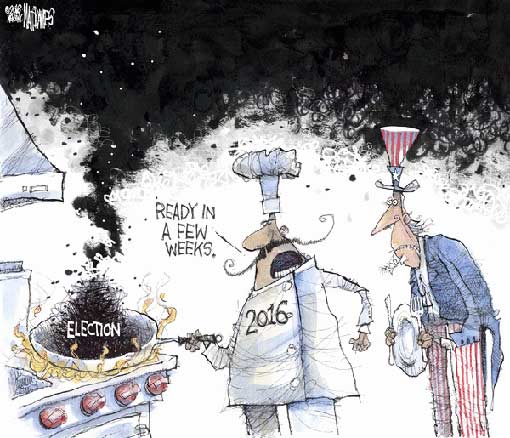 10. Jenna Johnson: At charity roast, Donald Trump delivered what might as well be a campaign eulogy
It was supposed to be his opening joke, but it landed with such heavy bitterness that it prompted scattered, uncomfortable laughter.
"A special hello to all of you in this room who have known and loved me for many, many years. It's true," Trump said as he took command of the dais at the Alfred E. Smith Memorial Foundation Dinner on Thursday evening, wearing a white tie and a black tuxedo coat that he kept tugging at.
"The politicians," he continued. "They've had me to their homes, they've introduced me to their children, I've become their best friends in many instances. They've asked for my endorsement, and they always wanted my money. And even called me really a dear, dear friend. But then suddenly, decided when I ran for president as a Republican, that I've always been a no-good, rotten, disgusting scoundrel. And they totally forgot about me."
Over the next 15 minutes, Trump gave a speech that might as well have been a eulogy for his presidential campaign.
He joked about the size of his hands and the size of his rival Hillary Clinton's rally crowds, then compared himself to Jesus. He noted that the debate the night before — which ended with him angrily ripping his notes — has been called "the most vicious debate in the history of politics," prompting him to reflect: "Are we supposed to be proud of that?" He joked about prosecuting Clinton if he ever gets elected president, accused the media of working for her and brought up the FBI's investigation into Clinton's use of a private email server while secretary of state.
"Hillary is so corrupt, she got kicked off the Watergate Commission," Trump said, citing a false Internet rumor as the crowd turned on him and started to boo, something that simply doesn't happen at lavish charity dinners at the Waldorf Astoria hotel. The face of one of the guests sitting on the stage behind him was suddenly struck with horror.
"Hillary believes that it's vital to deceive the people by having one public policy and a totally different policy in private," Trump said, as the booing intensified.
Trump would go on to accuse Clinton of "pretending not to hate Catholics" and mock the Clinton Foundation's work in Haiti. At one point, he wondered aloud if the crowd was booing him or Clinton, to which someone in the crowd answered: "You!" 10/21/16 Read more at https://www.washingtonpost.com/news/post-politics/wp/2016/10/21/at-charity-roast-donald-trump-delivered-what-might-as-well-be-a-campaign-eulogy/?hpid=hp_hp-top-table-main_no-name%3Ahomepage%2Fstory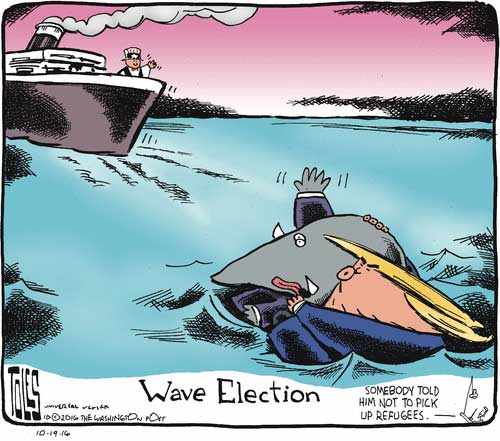 11. Doyle McManus: Rigged election? Trump is just hanging himself out to dry
"Rigged" is, of course, Trump's fallback excuse for every failure. He has argued that the Emmy Awards are unfair because he never won one, and that the judicial system is rigged because a Mexican-American judge ruled against him.
Trump's claims that the presidential election is "rigged" has further alienated him from GOP leaders already searching for the escape hatch from the trainwreck of his campaign. Republican officials in swing states such as Ohio and Florida have protested that their voting systems are entirely sound. "This isn't helping our Senate and House candidates at all," griped a top GOP strategist who declined to be quoted by name. "Let's just get this election over and move on."
It's not clear, though, that Trump is ready to move on.
His campaign manager, Kellyanne Conway, said last week that he might refuse to concede until state-by-state results are certified, a process that takes as long as 30 days in some states. But the Electoral College will submit its votes to Congress by Dec. 19, with or without his concession.
Trump could, as some have speculated, be laying the groundwork to turn his campaign into a permanent "grievance movement," challenging the Republican Party leadership through a not-yet-formed cable television network. Or we could merely be witnessing a psychodrama: the process by which Trump reconciles himself to defeat.
Speaking in North Carolina Friday, he sounded as if that prospect were occurring to him for the first time.
"I don't know what kind of shape I'm in," he told supporters at a rally. "Win, lose or draw — and I'm almost sure if the people come out, we're going to win — but I will be happy with myself."
Trump has said his father taught him that there's nothing worse than being a loser. But that's wrong. Most Americans don't disdain the second-place finisher in a tough contest. What they dislike, instead, is a sore loser. 10/23/16 Read more at http://www.latimes.com/opinion/op-ed/la-oe-mcmanus-trump-rigged-election-20161023-snap-story.html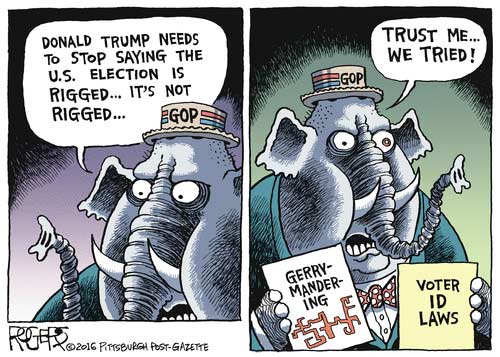 12. The New Yorker Editors: The New Yorker Endorses Hillary Clinton
Hillary Clinton's vision and temperament are the opposite of her opponent's. She has been a pioneer throughout her life, and yet her career cannot be easily reduced to one transcendent myth: she has been an idealist and a liberal incrementalist, a glass-ceiling-smashing lawyer and a cautious establishmentarian, a wife and mother, a First Lady, a rough-and-tumble political operator, a senator, a Secretary of State. Her story is about walking through flames and emerging changed, warier and more determined. In her intelligence, in her gimlet-eyed recognition of both the limits and the possibilities of government, she's a particular kind of inspirational figure, a pragmatist and a Democratic moderate. We wish that Clinton faced a worthy opponent: she deserves a less sullied, more substantive win. But her claim to our support goes far beyond the nihilism of the alternative. It is also notable that she has chosen as a running mate Tim Kaine, a highly capable politician with a record of genuine compassion; by contrast, the Republican Vice-Presidential choice, Mike Pence, has tried to position himself for the future on the national stage but has distinguished himself as one of the country's most fiercely anti-gay politicians, declaring that marriage freedom would lead to "societal collapse."
The election of a woman to the Presidency will have myriad reverberations in the life and the institutions of this country. President Obama's election certainly did not end the saga of racial conflict and prejudice in the United States, but as a distinct step forward it opened up the world to countless young people. Similarly, electing a female President means imagining new possibilities: that a woman might survive that gantlet of derision to hold power with confidence, without apology, to enlarge our notions of authority and hasten an age when a female President will no longer be exceptional. Just as President Obama was able at certain moments of glaring injustice and crisis to focus the country on matters of race in a potentially lasting way, Hillary Clinton, who has emphasized in her campaign and throughout her political life such issues as early-childhood education, paid family leave, and equal pay, could also change the nation in deeply consequential ways. That's a thrilling possibility for all Americans. 10/31/16 Read more at http://www.newyorker.com/magazine/2016/10/31/the-new-yorker-endorses-hillary-clinton