February 11, 2021
ON THE RECORD. . .
"If they only impeached you twice, you need to run again. Because to change the system you have to kick it in the ass. I would love to be [sic] the only President to be impeached three times. Because history remembers those that didn't conform. I'm in, are you? If Trump asked me how to win again. I would run on being impeached twice. They are about to give him super powers. They are about to make him a martyr." — Brad Parscale, Trump's 2020 campaign manager until July. 

"I woke up early this morning literally laughing thinking about what a bunch of morons the Democrats (+11) are for giving some one like me free time. In this Democrat tyrannical government, Conservative Republicans have no say on committees anyway. Oh this is going to be fun!" — Rep. Marjorie Taylor Greene (R-GA) one day after the House voted to strip her of her committee assignments.

"That was so good I almost had to smoke a cigarette afterwards." — Rep. Matt Gaetz (R-FL), on Rep. Marjorie Taylor Greene's press conference.
"This is one of those rare instances — maybe not exceedingly rare, but it doesn't happen often — where the best policy perfectly aligns with the politics." — Sen. Bob Casey (D-PA) on the benefits to Democrats of passing the Covid-19 relief bill.

"Somebody who has provoked an attack on the United States Capitol to prevent the counting of electoral votes, which resulted in five people dying, who refused to stand up immediately when he was asked to stop the violence, that is a person who does not have a role as the leader of our party going forward. We should not be embracing the former president." — Rep. Liz Cheney (R-WY)

"Even chasing President Trump out of office isn't enough for them. They have to impeach him AGAIN. They are going after Trump, and they are still coming after me — both of us for the same sin: instead of protecting the elites, I stood up for the people and now I am being threatened every day by Democrats calling for me to be expelled from the Senate, and Joe Biden has echoed that I should be 'flat beaten."' -- Sen. Josh Hawley's email to supporters in which he sought to fundraise off Trump's coming Senate impeachment trial.

"I am deeply disappointed in former President Trump. He was not honorable. He let a lot of peaceful people down." — Jake Angeli, who wore a fur hat with horns while raiding U.S. Capitol, is charged with six criminal counts, including two felonies, that could net him 28 years in prison.

Then-President Donald Trump falsely claimed more than 100 times that Democrats had "rigged" or "stolen" the 2020 election ahead of January's deadly insurrectionist attack on the U.S. Capitol. — HuffPost analysis

Winston Churchill famously said, "Those who fail to learn from history are condemned to repeat it." All Americans, but especially my fellow Republicans, should remember this wisdom during the Senate's trial of former president Donald Trump -- Rep. Adam Kinzinger, (R-Ill)

"When you're removed from the platform, you're removed from the platform ... Remember, our policies are designed to make sure that people are not inciting violence." — Twitter CFO Ned Segal saying former President Trump will never be allowed back on the platform

Louisiana GOP quickly rebuked Sen Cassidy, saying it is "profoundly disappointed" he backed the Trump trial. "We feel that an impeachment trial of a private citizen is not only an unconstitutional act, but also an attack on the very foundation of American democracy …"

VIDEOS

Cruz & Hawley (Love & Marriage Parody) | A Meidas Touch & Bette Midler Production: https://youtu.be/AFe4gROMnoY

"There's so much fraud that every state is going to be turned over. It was the biggest election corruption in the history. And Donald Trump is going to be our president for four more years.":— MyPillow CEO Mike Lindell doubling down on his proliferation of the lie that President Joe Biden did not win the election. https://www.mediamatters.org/january-6-insurrection/mypillow-ceo-mike-lindells-facebook-posts-are-full-insider-information

Former president Donald Trump left a legacy of disillusionment and despondency across federal agencies. — The Post's Lisa Rein and Tom Hamburger analyze Trump's lasting impact on the government. https://wapo.st/39tcDPa

Farewell to Lou Dobbs, the most North Korean broadcaster America has ever seen | The DailyShow: https://youtu.be/20kRv_jW7-E​

Watch: Capitol-Riot Video Played in Trump's Impeachment Trial: https://youtu.be/ivVOPWrFfW4

Castor winds down his very bizarre speech by daring the DOJ to arrest Trump. https://twitter.com/atrupar/status/1359245250133393408
---
IN THIS ISSUE
In The News
OPINION
Andy Borowitz: Trump's Lawyers Stun Senate by Claiming Jared Made Him Do It
Donald J. Trump's defense lawyers stunned the United States Senate on Tuesday by acknowledging that their client had incited the Capitol riot, but only because his son-in-law, Jared Kushner, made him do it.
Bruce Castor, one of Trump's lead attorneys, claimed that the ex-President had been reluctant to speak to the angry mob of supporters on January 6th, and did so only after Kushner assured him, "What could possibly go wrong?"
According to Davis Logsdon, a law professor at the University of Minnesota, the lawyers' new argument could be persuasive "because it fits into a larger pattern of everything Jared Kushner doing or saying turning into crap."
"Although it remains unlikely that there are enough Republican votes to convict, this new claim gives G.O.P. senators another option: voting to remove Jared Kushner as Trump's son-in-law," he said. https://www.newyorker.com/humor/borowitz-report/
Movie at the Ellipse: A Study in Fascist Propaganda
On January 6, Trump supporters gathered at a rally at Washington DC's Ellipse Park, regaled by various figures from Trump world, including Donald Trump Jr. and Rudy Giuliani. Directly following Giuliani's speech, the organizers played a video. To a scholar of fascist propaganda, well-versed in the history of the National Socialist's pioneering use of videos in political propaganda, it was clear, watching it, what dangers it portended. In it, we see themes and tactics that history warns pose a violent threat to liberal democracy. Given the aims of fascist propaganda – to incite and mobilize – the events that followed were predictable. https://www.justsecurity.org/74504/movie-at-the-ellipse-a-study-in-fascist-propaganda/ VIDEO at https://vimeo.com/508134765
Pushing QAnon and Stolen Election Lies, Flynn Re-emerges
Michael T. Flynn, the former national security adviser, is a discredited and dishonored ex-general, a once-esteemed military intelligence officer who went off the rails ideologically and then was fired a mere 24 days into the Trump administration for lying to the F.B.I. about contacts with the Russian ambassador.
He was one of the most extreme voices in Mr. Trump's 77-day push to overturn the election, a campaign that will be under scrutiny as the former president's second impeachment trial gets underway next week. Mr. Flynn went so far as to suggest using the military to rerun the vote in crucial battleground states. At one point, Mr. Trump even floated the idea of bringing Mr. Flynn back into the administration, as chief of staff or possibly F.B.I. director, people familiar with the conversations told The New York Times.
And now, safely pardoned and free to speak his mind, Mr. Flynn has emerged from the Trump presidency much as he entered it — as the angry outsider who pushes fringe ideas, talks of shadowy conspiracies and is positioning himself as a voice of a far right that, in the wake of the Capitol riot, appears newly, and violently, emboldened. https://www.nytimes.com/2021/02/06/us/politics/michael-flynn-qanon.html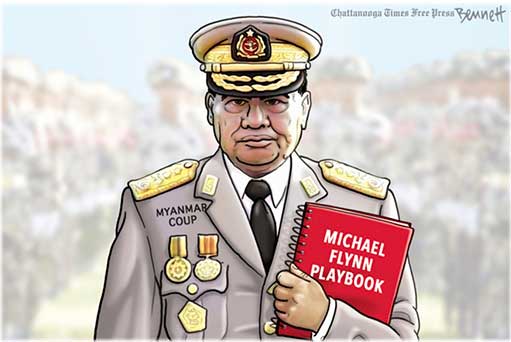 Trump Shifted Campaign-Donor Money Into His Private Business After Losing The Election
Donald Trump's reelection campaign, which never received a cent from the former president, moved an estimated $2.8 million of donor money into the Trump Organization—including at least $81,000 since Trump lost the election. https://www.forbes.com/sites/danalexander/2021/02/05/trump-shifted-campaign-donor-money-into-his-private-business-after-losing-the-election/?sh=30d4b0e14418
Poll: 64 percent of GOP voters say they would join a Trump-led new party
A majority of Republican voters said if former President Trump were to start a new political party they would likely join, a new Hill-HarrisX poll finds.
Sixty-four percent of registered Republican voters in the Jan. 28-29 survey said they'd join a new political party led by the former president, including 32 percent who said they would very likely join.
By contrast, 36 percent of Republican respondents said they are either very or somewhat unlikely to join. https://thehill.com/hilltv/what-americas-thinking/537442-poll-64-percent-of-gop-voters-likely-to-join-a-trump-led-3rd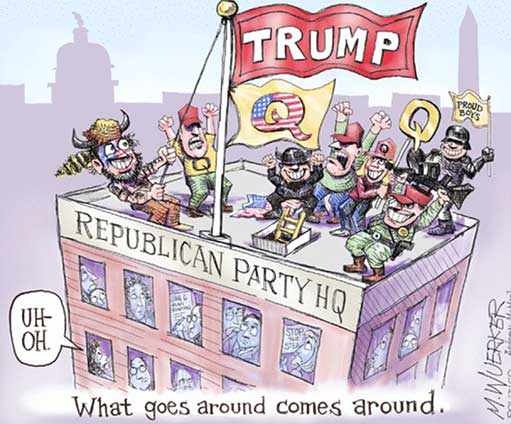 Voting technology company Smartmatic files $2.7 billion lawsuit against Fox News, Rudy Giuliani and Sidney Powell over 'disinformation campaign'
A voting technology company swept up in baseless conspiracy theories about the 2020 election filed a monster $2.7 billion lawsuit on Thursday against Fox News, some of the network's star hosts, and pro-Trump attorneys Rudy Giuliani and Sidney Powell, alleging the parties worked in concert to wage a "disinformation campaign" that has jeopardized its very survival.
"We have no choice," Antonio Mugica, the chief executive and founder of Smartmatic, told CNN Business in an interview about the company's decision to file the lawsuit. "The disinformation campaign that was launched against us is an obliterating one. For us, this is existential, and we have to take action."
The lawsuit, filed in New York state court, accused Fox, Giuliani, Powell and hosts Lou Dobbs, Maria Bartiromo, and Jeanine Pirro of intentionally lying about Smartmatic in an effort to mislead the public into the false belief that the 2020 presidential election was stolen from former President Donald Trump.
"They needed a villain," the lawsuit said. "They needed someone to blame. They needed someone whom they could get others to hate. A story of good versus evil, the type that would incite an angry mob, only works if the storyteller provides the audience with someone who personifies evil."
"Without any true villain, defendants invented one," the lawsuit added. "Defendants decided to make Smartmatic the villain in their story."  https://amp.cnn.com/cnn/2021/02/04/media/smartmatic-fox-news-giuliani-powell-lawsuit/index.html
MyPillow CEO released a movie pushing election fraud conspiracies, YouTube and Vimeo took it down
MyPillow's Mike Lindell released a two-hour documentary claiming to provide "absolute proof" that the 2020 election was stolen from Trump. Right Wing Watch watched it so that you don't have to. https://twitter.com/RightWingWatch/status/1357741439866781696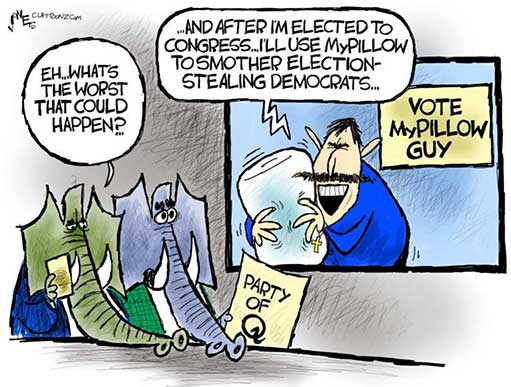 GOP eyes path to power by making peace with the far right
 Over the course of 24 hours this week, House Republicans voted to defend a freshman conspiracy theorist with a history of violent rhetoric and a mainstream party leader who backed Donald Trump's impeachment.
The seemingly conflicting moves signal that Republican leaders, particularly in the House, are betting they can return to political power by cobbling together a coalition featuring both pro-Trump extremists and those who abhor them. The votes also suggest that Washington Republicans are unable, or unwilling, to purge far-right radicals from their party, despite some GOP leaders' best wishes. https://apnews.com/article/gop-power-peace-far-right-5f4b9e7f7a4a20894905981817c47011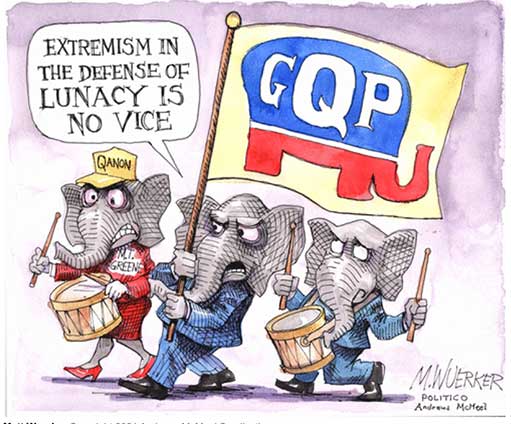 Big Trump donors converge on Newsom recall
Big Republican donors — including some prominent backers of former President Donald Trump — are zeroing in on a new target as they dig out from the wreckage of the 2020 election: California Gov. Gavin Newsom.
Major GOP benefactors are funneling cash into the effort to recall the first-term Democratic governor, who's come under fire for his handling of the coronavirus pandemic and his oversight of the state's battered economy. https://www.politico.com/news/2021/02/05/gavin-newsom-recall-donors-466069
The cottage industry behind Trump's pardons: How the rich and well-connected got ahead at the expense of others
"President Donald Trump's transactional approach largely sidelined low-level offenders who had been waiting years after filing petitions through the Justice Department and elevated those with personal connections to the White House — or the money to pay someone with those connections," the Washington Post reports.
Even Trump allies who advised the White House on clemency say they were startled and disappointed by who was on the final list. https://www.washingtonpost.com/politics/trump-pardons-lobbying/2021/02/05/896f0b52-624b-11eb-9430-e7c77b5b0297_story.html
Lawsuits Take Lead In Fight Against Disinformation
Litigation represents a new front in the war against misinformation, a scourge that has reshaped American politics, deprived citizens of common facts and paved the way for the deadly Jan. 6 attack on the Capitol. Fox News, for instance, paid millions last year to settle a claim from the family of a murdered Democratic National Committee staff member falsely accused by Fox hosts of leaking emails to WikiLeaks.
But the use of defamation suits has also raised uneasy questions about how to police a news media that counts on First Amendment protections — even as some conservative outlets advanced Mr. Trump's lies and eroded public faith in the democratic process. https://www.nytimes.com/2021/02/06/business/media/conservative-media-defamation-lawsuits.html
GOP registration drops after Capitol attack is part of larger trend
In the weeks since the January riot at the Capitol, there has been a raft of stories about voters across the country leaving the Republican Party. Some of the numbers are eye-catching and suggest that the GOP may be shrinking before our eyes, but a closer look at the numbers over time shows that a larger change has been working its way through the party for some time.
In fact, when one takes into account shifts in the composition of the Democratic Party, the real story seems to be more about a deeper remaking of the nation's two major political parties. https://www.nbcnews.com/politics/meet-the-press/gop-registration-drop-after-capitol-attack-part-larger-trend-n1256966
Republican Voters Want The GOP's Future To Look Trumpian
A new HuffPost/YouGov survey finds a 74% majority of Republican and Republican leaning-independent voters say Republican officials should follow Donald Trump going forward, compared to 26% who want to see them go in a different direction. https://www.huffpost.com/entry/poll-republicans-support-trump_n_601c28a1c5b6179453d6d5f9
New Biden rules for ICE point to fewer arrests and deportations, and a more restrained agency
U.S. Immigration and Customs Enforcement is preparing to issue new guidelines to agents this week that could sharply curb arrests and deportations, as the Biden administration attempts to assert more control over an agency afforded wide latitude under President Donald Trump, according to internal memos and emails obtained by The Washington Post.
The draft guidelines are awaiting approval by Department of Homeland Security Secretary Alejandro Mayorkas, who was confirmed by the Senate on Tuesday. https://www.washingtonpost.com/national/new-biden-rules-for-ice-point-to-fewer-arrests-and-deportations-and-a-more-restrained-agency/2021/02/07/faccb854-68c6-11eb-bf81-c618c88ed605_story.html
Spurning Calls to Resign, Liz Cheney Says G.O.P. Must Move Past Trump
Representative Liz Cheney of Wyoming waded deeper into Republicans' identity crisis on Sunday, warning her party on the eve of a Senate impeachment trial not to "look past" former President Donald J. Trump's role in stoking a violent attack on the Capitol and a culture of conspiracy roosting among their ranks.
In her first television interview since fending off an attempt by Mr. Trump's allies to oust her from House leadership over her vote to impeach him, Ms. Cheney said Republican voters had been "lied to" by a president eager to steal an election with baseless claims of widespread voter fraud. She cautioned that the party risked being locked out of power if it did not show a majority of Americans that it could be trusted to lead truthfully.
"The notion that the election had been stolen or that the election was rigged was a lie, and people need to understand that," Ms. Cheney said on "Fox News Sunday." "We need to make sure that we as Republicans are the party of truth, and that we are being honest about what really did happen in 2020 so we actually have a chance to win in 2022 and win the White House back in 2024."
She added that Mr. Trump "does not have a role as a leader of our party going forward. https://www.nytimes.com/2021/02/07/us/politics/liz-cheney-trump.html
His Biz Is Shunned, She Resigned, and Everyone Is Being Sued: What Became of Trump's Election Dead-Enders
But some of Trump's most hardcore associates and advisers, who egged him on and helped fuel his most dangerous or destructive attempts to subvert American democracy, aren't doing so well. In the three months since the election was called for Joe Biden, most of the lawyers and MAGA enthusiasts who decided to play a consequential role in the ex-president's efforts to overturn the Democratic nominee's 2020 win (efforts that led directly to the Jan. 6 mob violence), have had their jobs or businesses shredded, their personal lives shaken, or their reputations irrevocably tarnished—all while Trump's been relaxing and playing his rounds of golf in the Sunshine State.
The ones who helped spearhead the most extreme chapters in the broader crusade to nullify the election outcome are now besieged by their own legal battles. Several of them have complained that friends aren't talking to them anymore, or have huffed and fumed over Twitter banning them for life for spreading dangerous misinformation. Several of the Trump-allied attorneys are just trying to hold onto their law licenses, under calls for disbarment for their participation on the Team Trump efforts. https://www.thedailybeast.com/what-became-of-trumps-election-dead-enders-his-biz-is-shunned-she-resigned-and-everyone-is-being-sued
Michigan Senate Majority Leader caught in hot mic moment, says he stands by points on Capitol attack 'hoax'
Senate Majority Leader Mike Shirkey (R-Clarklake), opened the floor session of the Michigan Senate on Wednesday morning with a prayer. He spoke of seeking unity, working together and looking to God when people "get off track." 
But immediately after delivering the invocation, microphones in the Senate chamber caught the highest ranking Republican elected official in the state standing by the sentiment of recent statements he made that aspects of the Jan. 6 insurrection at the U.S. Capitol were a "hoax" and "staged." 
"I frankly don't take back any of the points I was trying to make," Shirkey said, speaking with Lt. Gov. Garlin Gilchrist. Portions of his comments were difficult to hear, with other lawmakers chatting in the background, but Shirkey appeared to indicate he may regret some of the specific words he chose that were captured in a video recently posted. https://www.freep.com/story/news/politics/elections/2021/02/10/mike-shirkey-garlin-gilchrist-hoax-capitol/6703829002/
Georgia Prosecutors Open Criminal Inquiry Into Trump's Efforts to Subvert Election
Prosecutors in Georgia have started a criminal investigation into former President Donald J. Trump's attempts to overturn Georgia's election results, including a phone call he made to Secretary of State Brad Raffensperger in which Mr. Trump pressured him to "find" enough votes to help him reverse his loss.
On Wednesday, Fani T. Willis, the recently elected Democratic prosecutor in Fulton County, sent a letter to numerous officials in state government, including Mr. Raffensperger, requesting that they preserve documents related to "an investigation into attempts to influence" the state's 2020 presidential election.
While the letter does not mention Mr. Trump by name, it is related to his efforts to change the outcome of Georgia's election, according to a state official with knowledge of the matter. A copy of the letter was obtained by The New York Times. https://www.nytimes.com/2021/02/10/us/politics/trump-georgia-investigation.html
Fulton County District Attorney Fani Willis said the Trump investigation is "of high priority" and will go before a grand jury as soon as March. https://twitter.com/kylegriffin1/status/1359537713607700483
Trump impeachment defense team scrambling to make new videos to bolster case
President Donald Trump's legal team is scrambling to collect and produce more videos to bolster their impeachment trial arguments after a rambling debut performance that enraged the former president and dismayed Republicans, according to a person familiar with the discussions.
The move to use more videotape -- and lean away from in-person arguments -- amounts to a tacit acknowledgment that the lawyers Trump has enlisted to defend him during his second impeachment trial are failing to inspire confidence. https://www.cnn.com/2021/02/10/politics/trump-impeachment-defense/index.html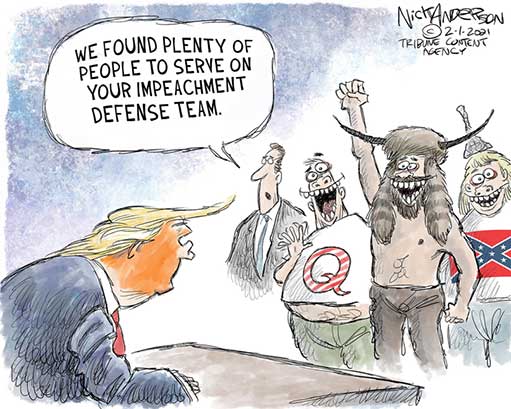 Democrats eye big ACA changes in COVID relief bill
Democrats' coronavirus relief proposal includes major changes to the Affordable Care Act, aiming to make health insurance more affordable for the millions of people who have lost their employer-based coverage during the pandemic.
These changes would check off a whole lot of moderate Democrats' heath care agenda, at least temporarily. They include some of the biggest changes that President Biden campaigned on. https://www.axios.com/aca-coronavirus-democrats-health-affordability-795d2c6c-e2ea-4988-8db4-fc167778fb07.html
Dozens of states see new voter suppression proposals
There are at least 165 proposals under consideration in 33 states so far this year to restrict future voting access by limiting mail-in ballots, implementing new voter ID requirements and slashing registration options.
Three states at the tip of the spear are Arizona, Pennsylvania, and Georgia — states critical to Trump's loss in November and Democrats' takeover of the U.S. Senate last month. According to the Brennan Center for Justice at NYU Law, Arizona leads the pack with 19 proposals, followed by Pennsylvania with 14 and Georgia with 11. https://www.axios.com/state-voter-suppression-proposals-5ee31df3-8e98-4bf5-8910-7bc6db704f15.html
1 in 4 Arizonans still insist Trump won, as second impeachment begins
As the Senate began debate Tuesday on a historic second impeachment of former President Donald Trump, a recent poll shows that more than half of Arizona Republicans believe Trump was the rightful winner of the November election.
The poll, taken by OH Predictive Insights shortly before President Joe Biden's Jan. 20 inauguration, found that 60% of all Arizona voters are confident Biden won, but 20% of independents and 54% of registered Republicans believe Trump is "the rightful winner" of the election. https://cronkitenews.azpbs.org/2021/02/09/1-in-4-arizonans-still-insist-trump-won-as-second-impeachment-begins/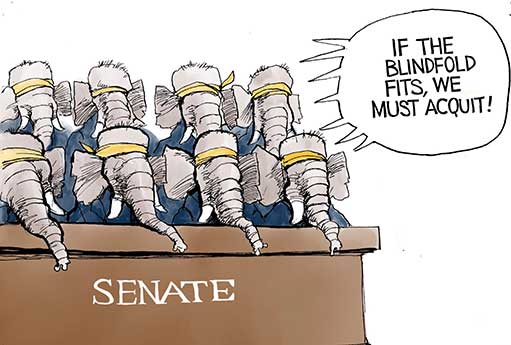 From MEDIA MATTERS (They watch Fox News so you don't have to)
The 2024 Republican presidential primary is underway -- and it is happening almost exclusively on Fox News. Ten GOP politicians who might seek the Oval Office made a combined 44 appearances on Fox's weekday programming in January, according to a Media Matters review.
Fox's position as the prime venue for Republican presidential candidates will ensure that its hosts retain at least some of the unprecedented influence on GOP politics that they had during Trump's administration. The next Republican presidential nominee will need to "speak Fox." Republicans who want to be taken seriously will compete to win airtime on the network.
This competition for Fox's attention is already playing out. Sen. Tom Cotton (AR) made the most weekday Fox appearances of the group last month with 12, followed by Sen. Josh Hawley (MO) with eight and Sen. Marco Rubio (FL) with five. Sen. Rick Scott (FL) appeared four times, former South Carolina Gov. Nikki Haley, Florida Gov. Ron DeSantis, and Sen. Ted Cruz (TX) each gave three interviews, while Texas Gov. Greg Abbott, South Dakota Gov. Kristi Noem, and former Secretary of State Mike Pompeo sat for two apiece. Trump, who is reportedly considering a 2024 run, would likely be the odd-on favorite.
With the right-wing media bubble only strengthened by the four years of the Trump administration, Fox's influence over the GOP primary process will likely continue to increase in the years to come. https://www.mediamatters.org/fox-news/2024-republican-presidential-primary-has-begun-fox-news
Philip Bump: Nearly half the Republicans who will judge Trump bolstered the falsehood that drove the Capitol riot
The House impeachment managers arguing for Trump to be convicted by the Senate are instead framing that day as the culmination of months of incitement by the former president. Before the Nov. 3 election, Trump claimed that he could lose his reelection bid only if rampant fraud occurred; once he lost, that's precisely what he alleged. Week after week, Trump elevated any random allegation of fraud in an effort to show that something suspect had occurred, to create a miasma of uncertainty aimed at rationalizing his effort to peel back Joe Biden's win. It was successful: Most Republicans still falsely believe that the election was marred by fraud.
Trump had a lot of assistance in pushing that case, including from the conservative media and his campaign team. But he was also assisted by a large segment of the Republican Senate caucus, the group that is currently being asked to see his behavior after the election as part of an effort to overthrow the results of the presidential election.
Nearly half of the Republican caucus, in other words, is being asked to judge that the falsehood they helped propel was an instrumental part of an attempted against the U.S. government. https://www.washingtonpost.com/politics/2021/02/10/nearly-half-republicans-who-will-judge-trump-bolstered-falsehood-that-drove-capitol-riot/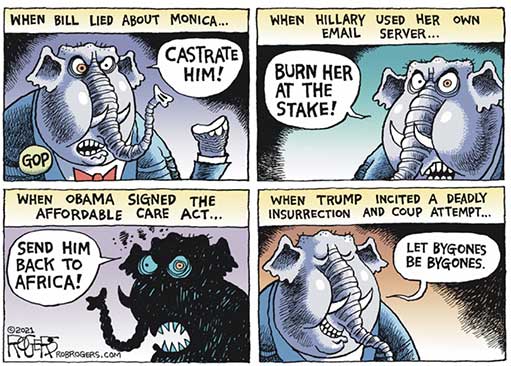 Robin Abcarian: Why should Marjorie Taylor Greene apologize? The GOP loves her just the way she is
U.S. Rep. Marjorie Taylor Greene, the Republican conspiracy theorist from Georgia, told her House colleagues Thursday that she came by her wacko views honestly: It was Google that led her astray.
It wasn't her fault she embraced a movement that believes Donald Trump was sent to Earth to save Americans from a cabal of child-eating, Satan-worshiping pedophiles who happen to be Democrats. Why would she have suspected those things weren't true?
It wasn't her fault she claimed mass school shootings were staged events, or that she physically harassed a teenage survivor of the Parkland shooting, once calling him "#littleHitler."
It wasn't her fault she once described American Airlines Flight 77 on 9/11 as "the so-called plane that crashed into the Pentagon."
It wasn't her fault she "liked" a social media post calling for "a bullet to the head" of House Speaker Nancy Pelosi (D-San Francisco) in January 2019. Or that she insinuated California wildfires were ignited by a space laser controlled by Jews.
"I started looking up things on the internet asking questions, like people do every day, use Google," Greene explained. "The problem with that, though, is that I was allowed to believe things that weren't true."
This from the breakout star of the party of personal responsibility.
"I heard no apology," said Majority Leader Steny H. Hoyer (D-Md.).
That's because there wasn't one.
"If this Congress is to tolerate members that condone riots, that have hurt American people, police officers, have occupied federal property, burned businesses in cities, but yet wants to condemn me — to crucify me in the public square for things I said and I regret a few years ago, then I think we are in a real big problem," said Greene, seemingly oblivious to the fact that she could have been describing the Trump-loving loons who stormed the Capitol last month. https://www.latimes.com/opinion/story/2021-02-05/column-marjorie-taylor-greene-will-not-apologize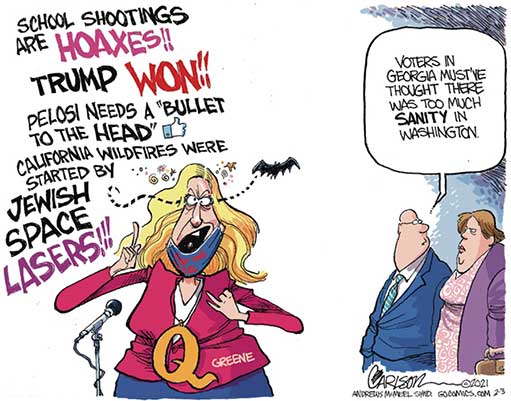 Jonathan Chait: The Forces That Stopped Obama's Recovery Will Not Stop Biden's
Democrats in Congress also learned an important lesson from the Obama era. Many moderate Democrats shared a belief with the mainstream media that bipartisanship was both possible and necessary. Democrats in Congress squandered much of their time pursuing fruitless negotiations with Republicans, chasing a deal they were sure lay just around the corner. Only in retrospect did they realize that Republicans were stringing them along to allow opposition to build while they ran out the clock.
One of the biggest obstacles Obama faced in 2009 was the excessive confidence of his putative congressional allies that they could strike an agreement with Republicans. Biden's congressional allies have fewer illusions about the incentives of their Republican counterparts.
Economic thinking itself has changed in important ways over the last decade. Economists previously feared that the federal government floating trillions of dollars in additional debt would cause interest rates to rise. (Indeed, this seems like a straightforward application of supply and demand.) Instead, interest rates have failed to budge, eliminating the austerity pressure that exerted such a powerful impact in the 1980s and 1990s. https://nymag.com/intelligencer/article/biden-recovery-trillion-stimulus-checks-relief-bill-congress-pass-obama-trump.html
Eli Stokols: While Biden pushes crisis response, Republicans go to war — with themselves
Treasury Secretary Janet L. Yellen made a succinct case for President Biden's $1.9-trillion coronavirus relief package, asserting this week in a national television interview that it will be an economic lifeline to families, workers, teachers and healthcare professionals.
"This is really an urgent need," she told ABC News on Thursday morning, "and we need to act big."
Hours later, freshman Republican Rep. Marjorie Taylor Greene of Georgia drew live cable news coverage as she spoke on the House floor. Ahead of the chamber's vote to revoke her committee assignments, she tried to disavow her past statements denying the Sept. 11 terrorist attack and school shootings, and attributing California's forest fires to "space lasers" controlled by Jews. But she made no apology, portraying herself as a victim of a liberal "cancel culture."
Her combative posture and embrace of conspiracy theories, many of them advanced by pro-Trump extremists who stormed the U.S. Capitol last month, have put her party in a bind as its leadership wrestles with how to move forward after losing the presidency and Congress.
The striking dichotomy between two parties — one eager to deliver sweeping legislative relief amid a pandemic and economic crisis, the other consumed by debates over conspiracy theories and loyalty to the bombastic former president — has become a defining feature of the Biden administration's first weeks. And it's providing Biden with a more comfortable honeymoon than new presidents usually enjoy.
"It feels like there's nothing but open road for Biden right now. Republicans are just circling around the drain," said Jennifer Palmieri, a Democratic communications strategist and veteran of the Obama administration. "When you see them on television right now, it's to fight with each other. It seems like they have a lot to sort out before they can have the organizational and the ideological cohesion to be an effective opposition party."
As the White House and Democrats focus on making the case for a sweeping response to the pandemic and ensuing economic crisis, Republicans continue to be riven by the sort of internal feuds that dominated the Trump presidency, focusing on intraparty fights and purity tests while mustering only marginal and uncoordinated responses to the administration's top priority. https://enewspaper.latimes.com/infinity/article_share.aspx?guid=f6a1e518-9eef-42b3-88fd-75fd1d8b07fb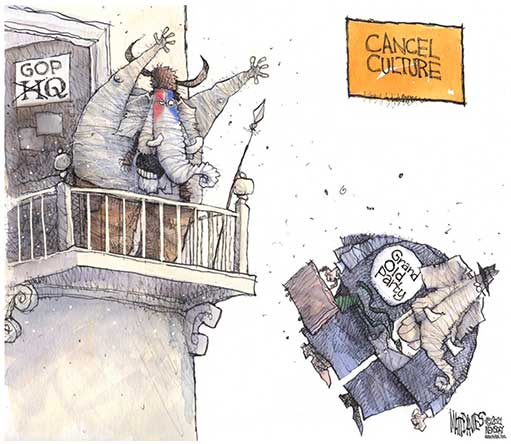 Philip Bump: The three factions of House Republicans
By now, a month into the 117th Congress, we can discern three separate but fluid groups within the Republican caucus based on how they've voted on key issues. One group we'll call the Trumpists, and it is made up of those Republicans who declined to impeach Trump, voted against stripping Greene of her committee assignments and backed the effort to overturn the 2020 presidential election by voting against counting the electoral votes submitted by Arizona and/or Pennsylvania.
Then there is what we'll call the accountability caucus, the group of Republicans who voted either to impeach Trump or oust Greene. Those are two very different issues, of course, but each vote demonstrated a willingness to criticize another Republican against the will of party leadership.
The third group we can call the pro-democracy Republicans, those who stuck with the party on impeachment and Greene but who also rejected the effort to overturn Trump's 2020 loss.
We can break the caucus into seven groups, showing how the various votes overlapped. To give a sense of how safe their seats are, we plotted them on a spectrum from least to most Republican based on the most recent district-level presidential results. (We've excluded those who were marked as voted on one or more issue.) https://www.washingtonpost.com/politics/2021/02/05/three-factions-house-republicans/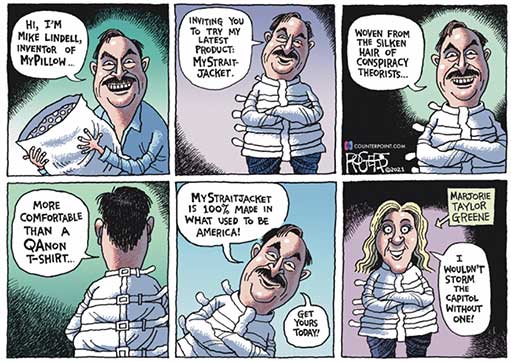 Dana Milbank: 99 House Republicans have embraced anti-Semitism and violence
For more than five years, I begged Republicans to reject the creeping anti-Semitism Donald Trump brought to the party, noting on the eve of the 2016 election that "when a demagogue begins to identify scapegoats, the Jews are never far behind."
But I never expected I would see in my lifetime, in the United States of America, what occurred on the floor of the House this week. One hundred ninety-nine Republican members of Congress rallied to the defense of a vile, unapologetic anti-Semite in their ranks who calls for assassination of her opponents.
This is more than a Republican problem; it's an American problem. You don't have to be a scholar of 20th-century Europe to know what happens when the elected leaders of a democracy condone violence as a political tool and blame the country's ills on the Jews.
Rep. Marjorie Taylor Greene (Ga.), who is quickly becoming the de facto face of the Republican Party, has suggested that the deadly neo-Nazi rally in Charlottesville, where white supremacists chanted "Jews will not replace us," was actually an "inside job" to "further the agenda of the elites."
She shared a video in which a Holocaust denier claimed that an "unholy alliance of leftists, capitalists and Zionist supremacists have schemed to promote immigration and miscegenation" with the purpose of "breeding us out of existence in our own homelands."
She posed for campaign photos with a white-supremacist leader and then refused to renounce the man.
She approved of a claim that the Israeli intelligence service assassinated John F. Kennedy, and she speculated that wealthy Jewish interests — the Rothschilds, a target of anti-Semites since the 19th century — set forest fires in California using lasers from space.
This isn't idle bigotry, for she "liked" a social media suggestion that "a bullet to the head would be quicker" to remove House Speaker Nancy Pelosi (Calif.), who has committed "a crime punishable by death." She posted on social media about hanging Barack Obama and Hillary Clinton, approved of a suggestion that FBI agents be executed, and posted a photo of herself with an automatic weapon next to three Democratic members of Congress, calling herself their "worst nightmare." https://www.washingtonpost.com/opinions/2021/02/05/199-house-republicans-have-embraced-anti-semitism-violence/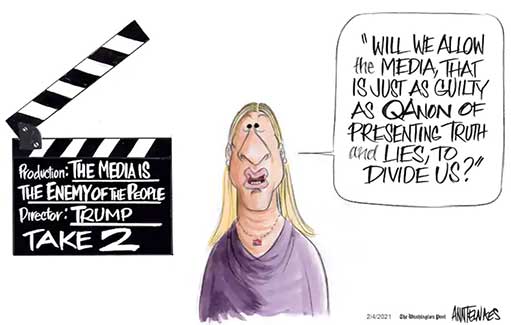 David D. Kirkpatrick and Mike McIntire: Its Own Domestic Army': How the G.O.P. Allied Itself With Militants
Following signals from President Donald J. Trump — who had tweeted "LIBERATE MICHIGAN!" after an earlier show of force in Lansing — Michigan's Republican Party last year welcomed the support of newly emboldened paramilitary groups and other vigilantes. Prominent party members formed bonds with militias or gave tacit approval to armed activists using intimidation in a series of rallies and confrontations around the state. That intrusion into the Statehouse now looks like a portent of the assault halfway across the country months later at the United States Capitol.
As the Senate on Tuesday begins the impeachment trial of Mr. Trump on charges of inciting the Jan. 6 Capitol rioting, what happened in Michigan helps explain how, under his influence, party leaders aligned themselves with a culture of militancy to pursue political goals.
Michigan has a long tradition of tolerating self-described private militias, which are unusually common in the state. But it is also a critical electoral battleground that draws close attention from top party leaders, and the Republican alliance with paramilitary groups shows how difficult it may be for the national party to extricate itself from the shadow of the former president and his appeal to this aggressive segment of its base.
Six Trump supporters from Michigan have been arrested in connection with the storming of the Capitol. One, a former Marine accused of beating a Capitol Police officer with a hockey stick, had previously joined armed militiamen in a protest organized by Michigan Republicans to try to disrupt ballot counting in Detroit.
The chief organizer of that protest, Meshawn Maddock, on Saturday was elected co-chair of the state Republican Party — one of four die-hard Trump loyalists who won top posts. https://www.nytimes.com/2021/02/08/us/militias-republicans-michigan.html
Jonathan Chait: Republicans: Trump Can't Be Impeached Because He Can't Be Impeached
On the evening of January 6, after a Trumpist mob had stormed the Capitol, Senator Lindsey Graham stood on the Senate floor and finally detached himself from the president he had so obediently served: "Count me out, enough is enough."
But the thing about Lindsey Graham running away is that he always comes back. After his brief and apparently unpleasant experience with independence, Graham has returned to his familiar, comfortable place at Trump's feet. "I think he's going to be a viable leader of the Republican Party," he gushes. "He's very popular. And he's going to get acquitted."
Graham might be the most overtly comic illustration of his party's turnabout on impeachment, but he is also perfectly representative of its dominant faction. The post-Trump GOP is split three ways. The party's tiny, small-d democratic wing on its left has fully broken with the authoritarian former president (Representative Adam Kinzinger continues to urge conviction). The party's far-right wing, with members like Matt Gaetz and Marjorie Taylor Greene, is sinking deeper into the Trump personality cult. In the middle are the soft authoritarians, whose initial and genuine revulsion at the violent insurrection has given way to weary cynicism. https://nymag.com/intelligencer/2021/02/impeachment-trump-republican-senate-acquit-mob-steal-election.html