May 10, 2018
ON THE RECORD. . .
"I think if they have to do that to win the election, I'm all for it… Just win, baby."— House Minority Leader Nancy Pelosi (D-CA), in a Politico interview, on Democratic candidates opposing her for Speaker.

"Our ability to confront Iran's destabilizing behavior—and to sustain a unity of purpose with our allies—is strengthened with the JCPOA, and weakened without it." The U.S. could be left with a tough choice "between a nuclear-armed Iran or another war in the Middle East."  -- Former President Barack Obama in reaction to Trump's decision to withdraw the U.S. from the Iran deal.

"He fired Comey because Comey would not, among to other things, say that he wasn't a target of the investigation. He's entitled to that. Hillary Clinton got that. And he couldn't get that. So he fired him. And then he said, 'I'm free of this guy.'" — Rudy Giuliani admitting that President Trump fired FBI James Comey because he wanted the FBI to clear him.

"Jared is a fine man, you know that, but men are, you know, disposable. But a fine woman like Ivanka? Come on." -- Rudy Giuliani saying the "whole country would turn" on special counsel Robert Mueller if he "went after" Ivanka. But Kushner? Not so much.

"I am focused on the law more than the facts right now." — Rudy Giuliani, in a CNN interview.

"Today, Donald Trump simultaneously lied about the Iranian nuclear deal, undermined global confidence in US commitments, alienated our closest allies, strengthened Iranian hawks, & gave North Korea more reason to keep its nukes. This madness is a danger to our national security." -- Former CIA Director John O. Brennan on Twitter

"I know the New York FBI. There are no 'stormtroopers' there; just a group of people devoted to the rule of law and the truth. Our country would be better off if our leaders tried to be like them, rather than comparing them to Nazis." -- Former FBI Director James Comey rebuking Rudy Giuliani, a member of President Donald Trump's legal team, for referring to bureau officials as "stormtroopers," saying U.S. leaders should be emulating federal law-enforcement officials "rather than comparing them to Nazis."

"How can you drain the swamp if you're the one that keeps muddying the waters?. I guess you're too busy draining the swamp to ever stop and smell the stink you're creating. That's your stink. Mr. President, that's your swamp." -- Fox News host Neil Cavuto delivering a closing monologue Thursday questioning President Donald Trump's habit of calling news stories "fake news" while the President lies frequently and leaves false facts uncorrected.
---
IN THIS ISSUE
FYI
OPINION
1. Andy Borowitz: Trump Removes Giuliani from Legal Team by Naming Him New White House Doctor
In a move that has stirred controversy in both legal and medical circles, Donald J. Trump removed Rudy Giuliani from his legal team on Monday by naming him the new White House doctor.

The decision to appoint the former New York mayor to such a key medical position raised eyebrows, in no small part because Giuliani would become the first White House doctor in history not to possess a medical degree.

But, in an official White House briefing to announce the decision, the press secretary, Sarah Huckabee Sanders, pushed back against the criticism of Giuliani's nonexistent medical credentials. "Rudolph Giuliani is every bit as qualified to be a doctor as he is to be a lawyer," she said.

Dr. Giuliani hit the ground running in his new job, immediately scheduling an hour-long appearance on Sean Hannity's Fox News program to discuss the state of Trump's health.

"Is the President's mental health good?" Giuliani asked on the air. "Maybe it is, maybe it isn't. Is he all there? You really have to define what you mean by 'all.' If he's out of his mind, so what? That's nobody's business. The important thing is, I'm on TV again talking a lot, and I've never felt so alive." https://www.newyorker.com/humor/borowitz-report/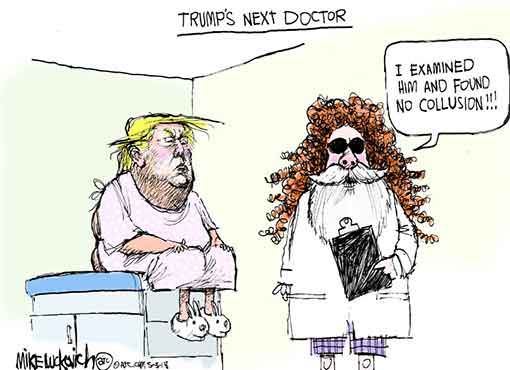 2. Trump was asked the most basic question about his Iran deal decision. He had no answer.
After publicly signing a memorandum to violate the Iran nuclear deal by reinstating the "highest levels" of U.S. sanctions against the country, President Trump was asked a very basic question by a reporter who was in attendance at the White House for the ceremony.
"Mr. President, how does this America safer?" she said. "How does this make American safer?"
Trump gathered his thoughts for a moment, then just restated the question in the form of an assertion.
"This will make America much safer," he said, before getting up for the table on which he signed the memorandum. https://thinkprogress.org/trump-iran-nuclear-deal-cant-say-how-it-makes-america-safer-918b75b12305/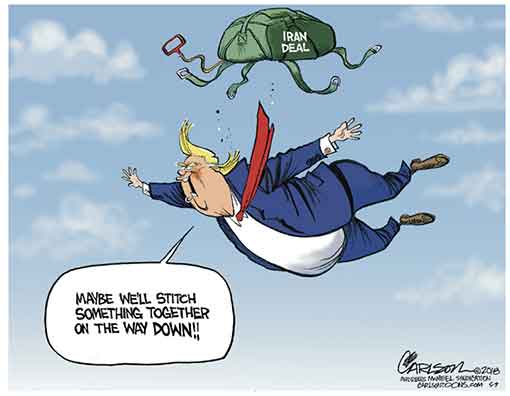 3. U.S. embassy cables warned against expelling 300,000 immigrants. Trump officials did it anyway.
In the past six months, the Trump administration has moved to expel 300,000 Central Americans and Haitians living and working legally in the United States, disregarding senior U.S. diplomats who warned that mass deportations could destabilize the region and trigger a new surge of illegal immigration.
On Friday DHS canceled the provisional residency of 57,000 Hondurans whose numbers add to the 195,000 Salvadorans and 46,000 Haitians previously given 18 months to leave the country or face deportation. TPS recipients from those three countries are the mothers and fathers of an estimated 273,000 U.S.-born children who will have to leave or separate from their parents.The phased expulsions are a central part of the Trump administration's effort to raise physical and legal walls around the U.S. immigration system. Together with Trump's move to end protections for 690,000 "dreamers" brought to the United States illegally as children,his administration has stamped an expiration date on the residency of 1 million immigrants.  https://www.washingtonpost.com/world/national-security/us-embassy-cables-warned-against-expelling-300000-immigrants-trump-officials-did-it-anyway/2018/05/08/065e5702-4fe5-11e8-b966-bfb0da2dad62_story.html
4. The Latest: Boeing license to sell jets to Iran to be voided
Treasury Secretary Steven Mnuchin says licenses Boeing has to sell billions of dollars in commercial jetliners to Iran will be revoked under the action President Donald Trump has taken to withdraw from the Iran nuclear deal.
Mnuchin briefed reporters after Trump's announcement earlier Tuesday. Mnuchin says the existing sales licenses held by Chicago-based Boeing Co. and its European competitor, Netherlands-based Airbus Group, would be invalidated by Trump's decision. https://www.apnews.com/7769da33651a449196128dbdf1bcf48c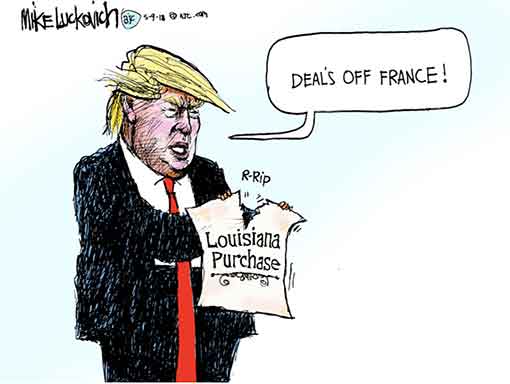 5. Dems +8 On House Ballot
A new Monmouth poll finds that Democrats have maintained their advantage on the generic Congressional ballot test. If the election for the House of Representatives was held today, 49% of registered voters say they would support or lean toward supporting the Democratic candidate in their district compared to 41% who would vote for the Republican. This is similar to the 50% to 41% edge Democrats held in Monmouth's polling in March. https://www.monmouth.edu/polling-institute/reports/monmouthpoll_us_050318/
6. The DAILY GRILL
"This is a completely tainted investigation. The list of questions Mueller reportedly intends to ask Trump appear "intended to trap him," His "totally garbage investigation," which he called "an outrageous miscarriage of justice."Attorney General Jeff Sessions and Deputy Attorney General Rod Rosenstein should shut down Mueller's probe. The crimes now have all been committed by the government and their agents."-- Rudy Giuliani

VERSUS

"Once they are onto something, federal criminal investigations have a way of inexorably grinding the gears and the momentum is almost impossible to stop. The defense in such cases turns, at a certain point, to trench warfare." -- Samuel Buell, a Duke University law professor and former federal prosecutor.

Stormy Daniels' lawyer, Michael Avenatti, is an "ambulance chaser. Avenatti and Daniels are pursuing charges against Trump for monetary gain. -- Rudy Giuliani

VERSUS

Rudy Giuliani - the only "ambulance" I have ever chased in my career is the one you are driving right now in a desperate attempt to save this presidency. Any time you would like to compare our legal careers and cases over the last 15 yrs, I would be happy to. -- Michael Avenatti on Twitter

 

 I don't have concern, in a sense, because these things happened many years ago — and there's such bigger problems in front of us as a nation that we need to be dealing with than other things in his life a long time ago. I think some of these things — that's for him and his wife to deal with. -- Evangelist Franklin Graham about Donald Trump

VERSUS

If he will lie to or mislead his wife and daughter, those with whom he is most intimate, what will prevent him from doing the same to the American public? --  Evangelist Franklin Graham about President Bill Clinton in1998


As everybody is aware, the past Administration has long been asking for three hostages to be released from a North Korean Labor camp, but to no avail. Stay tuned! -- Trump on Twitter

VERSUS

That's false. Two were detained after President Trump took office. -- NY Times
7. From MEDIA MATTERS (They watch Fox News so you don't have to)
Fox's Tammy Bruce says Trump shouldn't sit for interview with Mueller because it would be "an insult to the office of the presidency."  https://www.mediamatters.org/video/2018/05/03/foxs-tammy-bruce-says-trump-shouldnt-sit-interview-mueller-because-it-would-be-insult-office/220106

Fox's Stuart Varney: The left might try to impeach Trump "on the basis of a white lie about an alleged affair." https://www.mediamatters.org/video/2018/05/04/fox-s-stuart-varney-left-might-try-impeach-trump-basis-white-lie-about-alleged-affair/220117

Tucker Carlson says a "core weakness" of the United States is that English isn't the official language. Carlson: "Is there a single country in the world you know of, that's bilingual or multilingual, that's not at war with itself?"  https://www.mediamatters.org/video/2018/05/04/tucker-carlson-says-core-weakness-united-states-english-isn-t-official-language/220120
8. From the Late Shows
Weekend Update on Michael Cohen Raid - SNL: https://youtu.be/a9K8wG_M06Y

Michael Cohen Wiretap Cold Open - SNL: https://youtu.be/K1K8s-tQGqY

Weekend Update on Rudy Giuliani's Confessions - SNL: https://youtu.be/t_xIZJ0dmTc

The Late Show with Stephen Colbert: Rudy Giuliani Made 'Hannity' Watchable: https://youtu.be/ymQAkH7B43Q

John Oliver: Trump and Giuliani are 'basically two versions of the same person': https://youtu.be/mXQuto1fMp4
9. Late Night Jokes for Dems
Rudy Giuliani also said last night that the list of questions special counsel Robert Mueller wants to ask President Trump are designed to trap him in some way. Though you don't have to work that hard to catch Trump in a lie. You really only need a DVR. -- Seth Meyers

Trump's new lawyer Rudy Giuliani has been everywhere, saying everything, in no particular order. First, he told Sean Hannity that Trump, despite repeated denials, had, in fact, reimbursed Michael Cohen the $130,000 Cohen paid to Stormy Daniels. Trump backed that up on Twitter and then had tweet "regwet" and claimed Giuliani just had a momentary oopsy-a-truthie: "He started yesterday. He'll get his facts straight." That's just Rudy using a classic legal strategy: Step one, go on every TV show known to man. Step two, learn the facts of your case. -- Stephen Colbert

Last week, House chaplain Patrick Conroy was forced to resign under pressure from Speaker Paul Ryan. However, Father Conroy now says he will not step down because he believes Ryan's decision was politically biased. Basically: He's just like Jesus. They thought he was gone, and then three days later he was like, "Nope, I'm back!" -- James Corden

There's a major development in the ongoing Stormy Daniels story. Last night on Fox News, President Trump's new legal adviser, Rudy Giuliani, admitted that Trump repaid his personal lawyer for the hush money he paid to Daniels, even though Trump has repeatedly claimed to know nothing about it. Now, forget all the lying — the most shocking part of this story is that Donald Trump actually repaid someone. -- James Corden

If you remember, when Giuliani joined the legal team, he said that he'll wrap up this case in two weeks. Now, I didn't realize he meant "I'm going to go on TV and prove that Trump was guilty." -- James Corden

Here's how bad it is — this morning Trump gave Giuliani $130,000 to shut the hell up. -- James Corden

That's right, Giuliani said Trump might plead the Fifth. Legal experts say this would be a shocking development — the first time in history Trump has chosen to stop talking. -- Jimmy Fallon

It was 90 degrees here in New York today! People were sweating like President Trump watching Rudy Giuliani on "Hannity." -- Jimmy Fallon

Last night, Rudy Giuliani went on Fox News and revealed that Trump knew about and paid for Stormy Daniels' hush money. Even Kanye was like, "You should probably stop talking." -- Jimmy Fallon

I saw that when John Kelly became Trump's chief of staff, the Secret Service director emailed him, saying, "Congratulations, I think." Which is the same thing everyone said to Melania at her bridal shower. -- Jimmy Fallon

Sarah Huckabee Sanders said she is unaware of hush money payments made by President Trump to other women. Then Sanders opened an envelope full of cash and said, "I'm sorry, I can't talk anymore." -- Conan O'Brien
10. House Republicans Prepare to Endorse Trump's Military Parade
"House Republicans are preparing to endorse President Trump's plan for a military parade in the nation's capital, with warfighting vehicles rolling down city streets and planes flying overhead," Bloomberg reports.
"The display in Washington would be authorized under the Republican-proposed draft for the annual defense policy measure." https://www.bloomberg.com/news/articles/2018-05-04/trump-s-military-parade-would-be-endorsed-under-republican-bill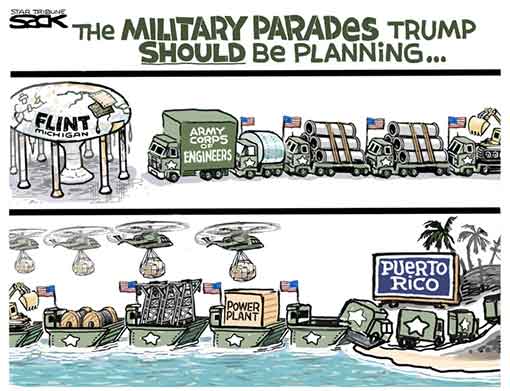 11. Does Donald Trump Understand What DACA Means?
Trump turned his attention to the midterms last week, at a rally in Michigan, where he made it clear that he thinks border demagoguery will provide the Republican Party with another path to victory. "Our laws are so corrupt and so stupid," he said. "I call them the dumbest immigration laws anywhere on earth." He told the crowd, "The liberal politicians who support criminal aliens, and they support them far over American citizens—Nancy Pelosi and her gang—they've got to be voted out of office!"
The 2016 election showed that, if not adequately countered, bigotry and fearmongering can yield crowds, votes, and the power of high office. In that sense, Trump understands DACA very well.  https://www.newyorker.com/magazine/2018/05/14/does-donald-trump-understand-what-daca-means
12. Trump Wants Congress to Pull Back $15B In Spending
President Trump is sending a plan to Congress that calls for stripping back more than $15 billion in previously approved spending, with the hope that it will temper conservative angst over ballooning budget deficits,
Almost half of the proposed cuts would come from two accounts within the Children's Health Insurance Program (CHIP) that White House officials said expired last year or are not expected to be drawn upon. An additional $800 million in cuts would come from money created by the Affordable Care Act in 2010 to test innovative payment and service delivery models. https://www.washingtonpost.com/business/economy/trump-calls-on-congress-to-pull-back-15-billion-in-spending-including-on-childrens-health-insurance-program/2018/05/07/9427de18-5216-11e8-a551-5b648abe29ef_story.html
13. Republicans in key election races turn down volume on Trump's tax cuts
The most vulnerable Republican incumbents in the tightest congressional races in the November elections are talking less and less about the tax cuts on Twitter and Facebook, on their campaign and congressional websites and in digital ads, the vital tools of a modern election campaign," a Reuters analysis of their online utterances shows.
All told, the number of tax messages has fallen by 44% since January. For several congressmen in tough reelection fights, Steve Knight in California, Jason Lewis in Minnesota, and Don Bacon in Nebraska, messaging is down much more – as much as 72%. https://www.reuters.com/article/us-usa-election-taxcuts-insight/republicans-in-key-election-races-turn-down-volume-on-trumps-tax-cuts-idUSKBN1I80XB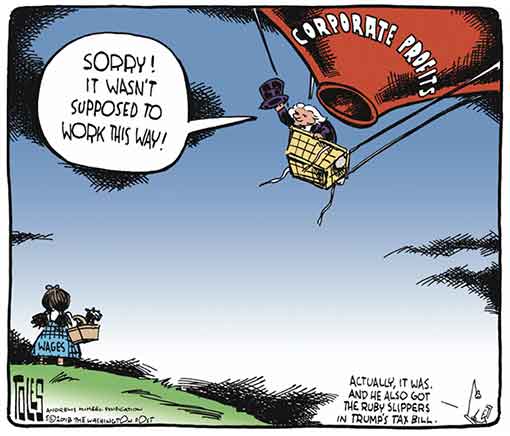 14. Republicans whose jobs once seemed safe are struggling for a 2018 survival strategy
Across the country, dozens of House Republicans who previously coasted to victory are for the first time facing credible and well-financed Democratic opponents — and working furiously to find a strategy for survival.
House Majority Leader Kevin McCarthy (R-Calif.) delivered a stern message last month to the rank and file after a surprisingly narrow special election win in a reliably Republican Arizona district: Wake up, because Democrats are motivated. https://www.washingtonpost.com/powerpost/republicans-whose-jobs-once-seemed-safe-are-struggling-for-a-2018-survival-strategy/2018/05/06/031e931e-4f49-11e8-84a0-458a1aa9ac0a_story.html
15. Mar-a-Lago isn't the 'Winter White House.' It's just an embarrassing cash grab
The "Southern White House" is a nearly perfect symbol of the Trump administration's ethical failings. President Trump has on a number of occasions tweeted or spoken the phrase "Southern White House" in reference to Mar-a-Lago, his private club in Palm Beach, Fla. Last month, for example, while sitting beside Japan's prime minister in front of a television crew at Mar-a-Lago, he proclaimed that the club is "indeed" the Southern White House, boasting, "And again, many, many people want to be here. Many of the leaders want to be here. They request specifically."
This "Southern White House" branding is part of a broader effort that aims to lend official sanction to the president's properties. When a lobbyist announced at a White House meeting that he was a member of one of Trump's clubs, Trump responded, "Very good, very good." Hope Hicks once masterfully pitched Mar-a-Lago's link to government as the fulfillment of destiny, writing in an email to a reporter that, "[T]he president looks forward to using the property as the Southern White House, as it was intended to be." https://www.washingtonpost.com/news/posteverything/wp/2018/05/07/mar-a-lago-isnt-the-winter-white-house-its-just-an-embarrassing-cash-grab/
1. Heather Hurlburt: Trump Continues to Rebrand America As Weird and Flaky
Today's announcement represented a significant shift in the foundations of American foreign policy — even if that is not what was on display. The world will actually become less confident of whether Tehran is or is not pursuing nuclear weapons. Washington will be, ironically, both less central to the region's affairs and less able to withdraw from it. The Iranian regime will enter a new phase of instability of its own. And the announcement will mark an enormous step toward making 21st-century international politics a no-rules free-for-all.
Though you would never have known it from Trump's remarks, everyone from Senate Republicans to Israeli military leaders believed that the Iran deal was working to keep Tehran's nuclear ambitions constrained — and to keep outside powers well-informed of what went on in Iran's labs, reactors, and storage sites. The IAEA and U.S. intelligence agencies certified again and again that Iran was following the terms of the deal. The president's speech didn't share any allegations of violations — because none have surfaced.
Now, Washington, failing to waive our own sanctions, puts us in violation of the agreement's terms. Will Tehran retaliate by restarting some nuclear work? Most observers think not, at least not right away — that the regime will seek to hold on to support from Europe for at least a while. But we will be less sure. Any future assessments will be even more clouded by politics. http://nymag.com/daily/intelligencer/2018/05/trump-continues-to-rebrand-america-as-weird-and-flaky.html
2. Jill Filipovic: Michael Cohen is learning the brutal truth about Trump
Trump lawyer / fixer / organizer of Playboy model (alleged) mistress payoffs Michael Cohen graces the cover of the National Enquirer this week, pictured looking hangdog and droopy under the headline "PAYOFFS & THREATS EXPOSED: TRUMP FIXER'S SECRETS & LIES!"
The Enquirer cover sends a signal that Cohen, whose office and home were recently raided by federal investigators, is out of the President's good graces.
That he and the rest of the villainous segment of the Trump team made it to the White House is a great stain on our nation, and they have predictably exploited it as a business opportunity. And then have been (predictably) stunned by the level of examination they have drawn.
Cohen may yet put his nearly canine loyalty to Trump ahead of his own self-interest and refuse to give up what he knows (one imagines it's a whole lot). But by now, he should be well aware that just about any of the soulless mongrels who have fetched for Trump would turn on any of the others in a second -- the volume of backstabbing and self-aggrandizing leaking coming out of the Trump White House is evidence of that.
Cohen didn't lay down with the dogs here; he's long been one of them. The question now is whether he's at least sufficiently motivated by basic self-preservation -- and the weight of an investigation bearing down -- to break from the pack. https://www.cnn.com/2018/05/01/opinions/cohen-national-enquirer-jill-filipovic/index.html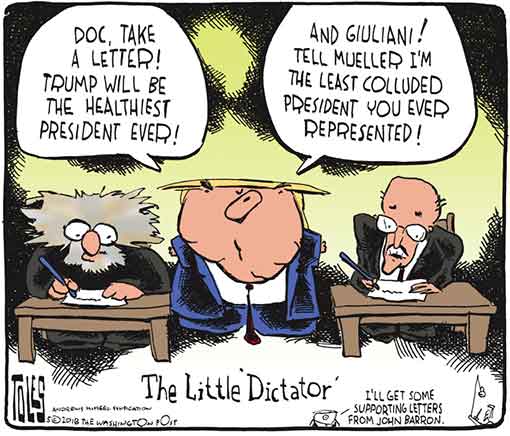 3. Jonathan Chait: Giuliani's FBI 'Stormtroopers' Smear Is the Key to Trump's Authoritarian Mind-set
In 1995, National Rifle Association president Wayne LaPierre signed his name to a fundraising letter referring to Bureau of Alcohol, Tobacco and Firearms agents as "jack-booted government thugs." The implicit association of American federal law enforcement with fascists provoked a furor. Former president George H. W. Bush publicly resigned his NRA membership in protest; LaPierre had to apologize.
Last night, in the midst of a long, deeply incriminating interview, Rudy Giuliani called FBI agents "stormtroopers." Here was the president's lawyer, not an outside lobbyist, comparing federal law enforcement to Nazis directly, rather than indirectly. The Washington Post's account of Giuliani's interview noted the remark in a single sentence, in the 30th paragraph of its story. The New York Times, Wall Street Journal, and Politico accounts of Giuliani's interview did not even mention the stormtrooper remark at all.
No doubt the flurry of hair-on-fire legal jeopardy unleashed by Giuliani's remarks helped bury the newsworthiness of his stormtrooper line. Still, the casualness with which the line was uttered and received does indicate something important about the way Republican thinking about law enforcement has evolved. The party's respect for the rule of law is disintegrating before our eyes, and in its place is forming a Trumpian conviction that the law must be an instrument of reactionary power.
Just as Giuliani can call the famously straight-laced Comey "perverted" in the very same interview he casually conceded that his own client habitually pays hush money to porn stars, Republicans can both fear the law as an instrument of terror while coveting it for the same purpose. This duality is how they can toggle between demanding ruthless authoritarian power and then, when describing their own legal predicament, squealing like the most unhinged anti-government radicals, comparing the FBI to Nazis. Trump holds this view with long-standing fervor, and has always combined a, shall we say, casual approach to legal scruples with demands for merciless law enforcement against the other (from Hillary Clinton to the Central Park Five) without any cognitive dissonance.
But Trump is not sui generis; his authoritarian impulses merely represent a more extreme iteration of a growing impulse on the right. At some point, the power of Trump's government will either break the rule of law, or be broken by it. http://nymag.com/daily/intelligencer/2018/05/giuliani-fbi-stormtroopers-and-trumps-authoritarianism-mueller.html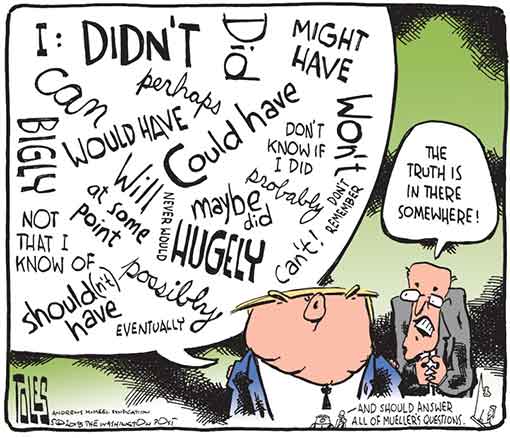 4. Christopher Cadelago and Matthew Nussbaum: 'He can't just lie his way out of every single box'
Over his decades in real estate, Donald Trump was seemingly able to get away with anything, emerging from each consecutive bankruptcy and scandal ever more famous and with his brand ever more marketable. As a candidate, he declared he could shoot someone in the middle of New York's Fifth Avenue and not "lose any voters."
But as president, Trump is running up against the limits of saying or doing whatever he wants. The revelation by Rudy Giuliani that his client reimbursed his longtime personal attorney Michael Cohen for a $130,000 hush money payment to porn actress Stormy Daniels contradicted Trump's own previous denials that he knew anything about the deal — and, despite Giuliani's intent to tamp down concerns that the October 2016 payment violated campaign finance laws, raised a whole new set of questions about whether Trump failed to disclose a personal loan.
"As long as they believe that all that matters is the base and Fox News, they'll keep doing it," said Rick Wilson, a Republican strategist who has been critical of Trump's presidency. "But at some point, when the law is the issue and not Trump's bubble, you end up in a situation where he can't just lie his way out of every single box."
https://www.politico.com/story/2018/05/03/trump-statements-lies-presidency-568334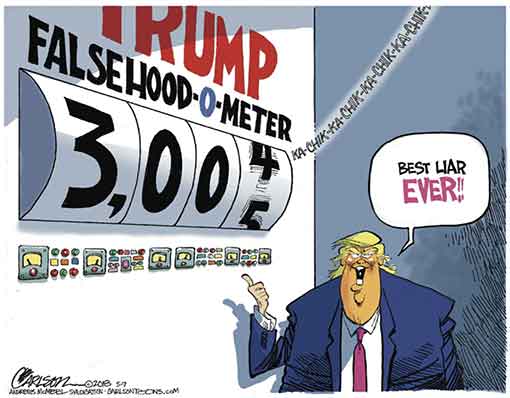 5. Darren Samuelson And Josh Gerstein: The astonishing corruption of American democracy
This definition of corruption lumps together two very different varieties. The first is corruption for personal benefit — embezzling public funds, for example. The second is corruption on behalf of a voting bloc — for instance, Tammany Hall-style patronage machines where votes are purchased in return for jobs, turkey baskets, and other services. (Often these are combined, of course, but they are logically distinct.)
What America has today is almost exclusively the personal type of corruption, which is considerably worse than the other sort. (A patronage machine may be bent and inefficient, but at least a goodly share of the population gets a piece of the action, and often functional public works and services to boot.) For example, Rohit Chopra and Julie Margetta Morgan recently released a new report for the Roosevelt Institute looking not at money in politics, but money in government. They argue that existing anti-corruption laws are barely being enforced, and are outdated anyway. For example, astoundingly corrupt EPA Administrator Scott Pruitt hasn't been impeached or indicted after months of scandal, and it's not even illegal for members of Congress to trade on insider information (which they do constantly).
They also say the revolving door and cultural capture (i.e. the tendency of government employees to sympathize with supposed private-sector adversaries) has made regulators identify with the industries they oversee. Former Attorney General Eric Holder, for instance, had an office reserved for him at the high-powered corporate law firm Covington & Burling for his whole tenure, to which he returned after repeatedly refusing to prosecute big banks or their employees for staggering crimes. (The really insidious thing is he would probably honestly deny his corporate ties influenced his decisions.) Finally, all this mess is largely out of public view and thus harder to understand or root out. http://theweek.com/articles/770962/astonishing-corruption-american-democracy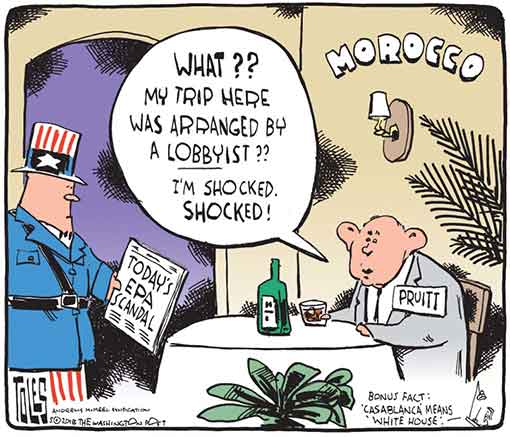 6. Caitlin Flanagan: The First Porn President
"I can now retire from politics," he said—the king of cool, the ironist in chief—"after having had 'Happy Birthday' sung to me in such a sweet, wholesome way": JFK, speaking to the vast audience at Madison Square Garden as Marilyn Monroe tottered away on her high heels, in her flesh-colored dress, leaving behind the hot trail of her sexual desire glowing in the darkness. In less than two years, they would both be dead, but that moment will live forever, reminding us always of our first and only Playboy president. The "playboy," as the publication invited its reader to think of himself, was urbane, sophisticated—able to handle a wide variety of amorous women, from the Miss Porter's sophisticate with her expensive underwear and afternoon passions to the Hollywood showgirl whose naked photographs had been published against her wishes in that very magazine.
Donald Trump is miles away from Playboy and its endless offerings of clean, healthy girls who were high-school cheerleaders and education majors and whose prettiness was as central as their sexiness. He's not an undisciplined golden boy whose private behavior, if exposed, could destroy his image. He is the first truly shameless president, the first porn president, and that is why it is Stormy Daniels—more than the FBI or the IRS or the string of women who have claimed sexual harassment or abuse by him—who just might take him down. Daniels and Trump built their careers in different industries. She is entirely self-made, he is not. But the business approach she has taken to her porn career is similar to the one he has taken in his real-estate and political enterprises, and although the asymmetry of their respective powers—the aging sex worker and the president of the United States—might seem insurmountable, in many respects they are equally matched. https://www.theatlantic.com/politics/archive/2018/05/the-porn-president/559523/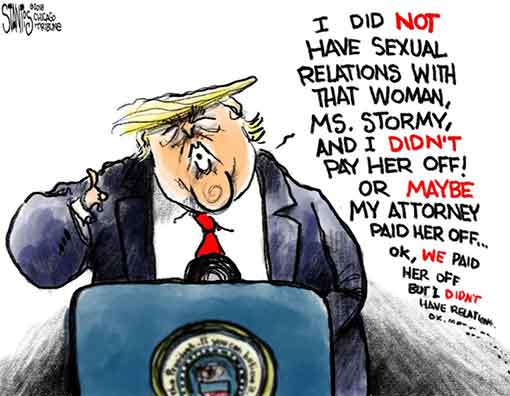 7. Representative Adam B. Schiff: Democrats: Don't Take the Bait on Impeachment
Impeachment is an extraordinary remedy, not to be entertained lightly, and in the case of a president, would mean putting the country through a deeply wrenching process. It is instead a remedy that must be considered soberly, mindful of the fact that removing a president from office should be the recourse for only the most serious transgressions.
Should the facts warrant impeachment, that case will be made more difficult politically if part of the country feels that removing Mr. Trump is the result that some of their fellow Americans were wishing for all along.
During the course of our investigation in the House Intelligence Committee, we have found troubling evidence of both collusion and obstruction of justice. The special counsel, Robert Mueller, has no doubt seen even more than we have, but his investigation is not complete, and our efforts continue as well. There is much more work to do before any of us can say whether the evidence rises to the level that we should consider a remedy beyond the one that voters will render at the ballot box.
Given the evidence that is already public, I can well understand why the president fears impeachment and seeks to use the false claim that Democrats are more interested in impeachment than governing to rally his base. Democrats should not take the bait. Let President Trump arouse his voters as he will, while Democrats continue to focus on the economy, family and a return to basic decency. And in the meantime, all Americans should reserve judgment until the investigations have run their course. https://www.nytimes.com/2018/05/04/opinion/adam-schiff-democrats-impeachment.html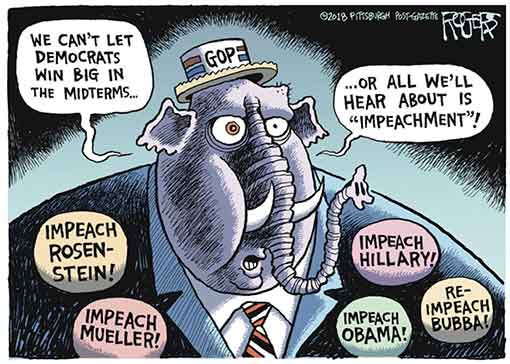 8. Gail Collins: Don and Rudy, Disaster Twins
Giuliani made headlines this week when he went on Fox News and delivered a surprise announcement — that Trump had reimbursed his lawyer Michael Cohen for that $130,000 porn star payoff.
It was a stunning revelation to all Americans who had believed Cohen's claim that he raised the money by borrowing against his home equity line of credit.
But the point was to try to eliminate any suspicion that the $130,000 involved a campaign finance law violation. "Money from the campaign, or campaign contributions, played no roll (sic) in this transaction," twittered Trump. As only he can.
"This was for personal reasons," Giuliani told "Fox & Friends." "This was the president had been hurt, personally, not politically, personally so much. And the first lady, by some of the false allegations, that one more false allegation, six years old."
Wow, Trump's new lawyer talks just like him.
So it comes down to this: The $130,000 that Stormy Daniels got to keep quiet during the campaign was from Trump. But it was not an illicit campaign contribution. Nonono, it was simply a charitable attempt to protect Melania from a broken heart.
To come to this conclusion you would only have to do two things:
A) Forget that on Thursday Giuliani said it had to be paid because "Imagine if that came out … in the middle of the last debate with Hillary Clinton."

B) Conclude that in buying off Stormy, Donald Trump was much, much more concerned about his wife's feelings than about getting elected president.
What would you have said if someone told you that Mayor Giuliani would eventually devote his legal skills to defending President Donald Trump from a porn star scandal? Yet here we are. https://www.nytimes.com/2018/05/04/opinion/trump-giuliani-disaster-twins.html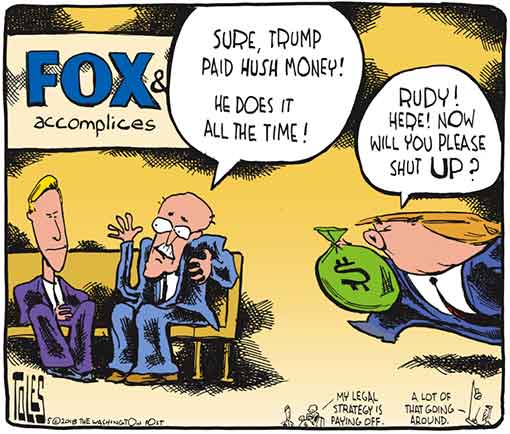 9. David Fari: Trump is drowning in lies
It's clear the president is in trouble not just because his lips are moving and his incompetent underlings can't get their stories straight, but because over the past month he and his allies have been engaged in another of their quests to convince the public that the Mueller investigation is almost over. In that context, the hiring of the clueless Rudolph William Louis Giuliani looks like a head fake. He certainly wasn't hired for his subtlety or TV acumen.
Most unbelievably, it appears to be allies of the president who leaked Mueller's alleged list of questions he'd like to ask the president. The president tweeted that the list contains "no questions on Collusion." This statement, along with more than 3,000 things the president has said since taking office, is simply not true. There are multiple collusion questions on the list, including ones about the infamous pre-election Trump Tower meeting between Donald Trump Jr., Jared Kushner, and Russian lawyer Natalia Veselnitskaya, a self-professed Kremlin "informant." Mueller's manifest is also festooned with pointed questions about President Trump's obstruction of justice, from what he said to former FBI Director Jim Comey at their February 2017 meeting to discuss the FBI investigation of former National Security Adviser Michael Flynn to his nationally televised interview with NBC's Lester Holt in which the president gleefully admitted that Comey had been fired to stop the Russia investigation.
The president's allies leaked this damning set of queries? It's hard to see how this could be any worse for him. Perhaps a litany of questions headlined with "How would you like your prison cell decorated?" and "Have you prepared your resignation speech?" Why else would the president be burning through lawyers like napkins at a barbecue shack? If his case is so airtight, if there really was NO COLLUSION and if the entire Russia probe is a HOAX, why do lawyers keep walking away from the case of the century?.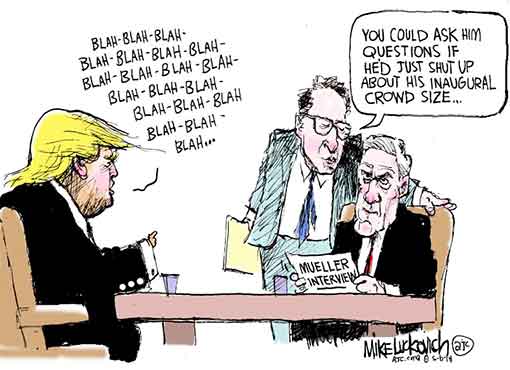 http://theweek.com/articles/771197/trump-drowning-lies
10.  Maureen Dowd: The Naked Truth About Trump
You know you're in trouble when Donald Trump has to correct you on the facts. And Rudy Giuliani is in trouble. He and the Donald, the lawyer who was a mob buster and the president who acts like a mob boss, cooked up a harebrained plan to get Trump past the Stormy Daniels problem.
The gruesome twosome, whose reputations have grown darker since the days when they swanned around New York as larger-than-life figuras, didn't consult any top White House officials, even the counsel. When Ashley Parker, a Washington Post White House reporter, texted a West Wing adviser, the adviser texted back a string of emojis, including a popcorn box, as in they were just watching this horror movie from the audience.
Even on a great day, things are always unraveling with Trump. Chaos is always getting unleashed. Turbulence is always brewing.
So Rudy's scheme quickly unraveled.
He admitted in TV interviews this week that President Trump had reimbursed Michael Cohen — also a Sean Hannity lawyer — for the $130,000 payoff to keep the porn star mum about her Lake Tahoe liaison with Trump, while claiming that the president didn't know specifically what the payment was for. "Oh my goodness, I guess that's what it was for," Trump said, according to Giuliani, incredibly making the First Vulgarian sound more like Mike Pence or James Comey.
Instead of getting Trump out of a jam, it jammed him into a deeper hole, giving Mueller's team new areas of legal inquiry and material to add to its mountain of damaging records, and possibly helping the special counsel fill in the blanks on the 70 blank subpoena forms he just requested from a courthouse in Virginia.
Trump distanced himself from his good friend, as he is wont to do, promising that Rudy will "get his facts straight." This prompted Vanity Fair to write the headline: "Trump Assures Reporters He'll Make Giuliani a Better Liar."
Trump's game is keeping everyone, especially the press, riveted.
"He needs the excitement," says Trump biographer Michael D'Antonio. "Without the drama and the crisis and the powerful opponent, he'd be just another guy." https://www.nytimes.com/2018/05/05/opinion/sunday/the-naked-truth-about-trump.html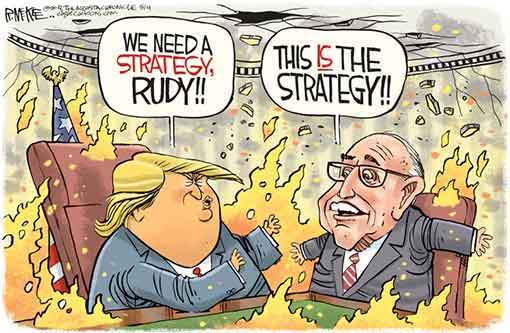 11. Nicholas Kristof: Our Addiction to Trump
At cocktail parties, on cable television, at the dinner table, at the water cooler, all we talk about these days is Trump. So we complain about Trump being insular and parochial — but we've become insular and parochial as well. We've caught the contagion that we mock.
I'm addicted myself, which is why I write so much about Trump — or catch myself on a date night with my wife engaging in horrified conversation about Trump.
In fairness, there's good reason we're all Trump addicts: President Trump truly is THE story in America today. He is systematically undermining American institutions and norms that underlie democratic government: courts, law enforcement, journalism, the intelligence community, truth. He is also being investigated for possibly obstructing justice and colluding with a foreign power's attack on our electoral system. Epic battles will follow.
Two thousand years from now, historians may be lecturing on Trump the way they now discuss, say, the challenge to Roman institutions from Caligula. https://www.nytimes.com/2018/05/05/opinion/sunday/trump-obsession.html
12. Jonathan Chait: Why Mueller Must Expose Trump's Business Empire
The secret sauce of Trump's real-estate business in its early stages was his ability to manipulate the media and willingness to borrow massive sums and not pay them back. When he exhausted his ability to stiff his creditors, the new secret sauce became a willingness to take money from shady overseas sources, especially (but not exclusively) Russian oligarchs looking either to park their cash overseas, or to gain some measure of influence. Whether Russia was investing in Trump for the purpose of gaining some hidden leverage over him is not incidental to the Mueller investigation but its very heart.
Trump's business empire provided the entire basis for his claim to be qualified to be president. It was the proof of his genius, that he alone possessed the deal-making skills and knowledge of the political system to fix it. He managed to conceal the nature of that business empire by withholding his tax returns, and media scrutiny of his business dealings has still only scratched the surface. Those secrets carry alongside them national-security risks of unknown scale. The argument now put forward by the president and his defenders is that the FBI has no business exposing these secrets, which ought instead to remain locked in the vaults of Trump's shadowy counterparties. http://nymag.com/daily/intelligencer/2018/05/robert-mueller-must-expose-trumps-crooked-business-empire.html
13. NY Times Editorial: 'I Did You a Great Favor When I Fired This Guy'
"Rule of law" is a generic-sounding term, but Mr. Comey's firing, and all that has followed in its wake, provides an opportunity to reaffirm its true meaning. In brief, it's the idea that all of us are equal under the law, and that government actors are both limited by it and accountable to it. Mr. Trump and his crew see it differently. Consider Vice President Mike Pence's praise last week for a former Arizona sheriff, Joe Arpaio, who routinely violated the constitutional rights of black and brown people and then openly disobeyed a federal court order to stop. Mr. Pence called Mr. Arpaio a "champion" of the "rule of law." That could only be true if "rule of law" meant the rule of whoever happens to be in office.
Mr. Trump's firing of Mr. Comey and his subsequent attacks on law enforcement have illuminated that the independence of the Justice Department is relatively recent, and revealed that it is more fragile than most of us imagined. The good news is that, for the time being at least, law enforcement officials, including those appointed by Mr. Trump himself, are doing their jobs and protecting the rule of law as it is properly understood. In the face of regular threats to his independence and his job by congressional Republicans, Mr. Rosenstein responded last week, "The Department of Justice is not going to be extorted."
Officials like Mr. Comey, Mr. Mueller and Mr. Rosenstein — Republicans first appointed by Republican presidents — stand for a principle that Donald Trump and his supporters not only don't understand, but find deeply threatening. For this reason, Americans should remember May 9, 2017, as the beginning of one of the great tests of American democracy. https://www.nytimes.com/2018/05/06/opinion/trump-comey-firing.html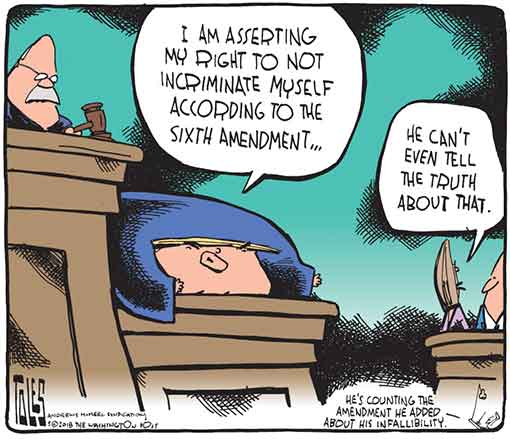 14. Juan Williams: Trump's useful idiots
President Trump has Republicans doing a double-take in front of one of those distorted funhouse mirrors.
With Trump in the White House, Kanye is now more popular among Republicans than Sen. Marco Rubio (R-Fla.).
Republicans once denounced West for saying after Hurricane Katrina that President George W. Bush did not "care about black people."
Now, he is thrilling white nationalists and some Trump supporters by calling for black people to agree that 400 years of slavery "sounds like a choice" made by black people.
West is also being celebrated by Trump supporters as a free thinker for embracing the president as "my boy," a break with 90 percent of black voters.
"The amount of Republicans with a favorable view of rapper Kanye West increased by 23 percentage points from 2015 to late April 2018, according to a poll from HuffPost and YouGov," The Hill reported last week.
How long will it take before the pro-Trump black provocateurs realize that funhouse mirrors can't hide them from the scorn of people who judge their true reflection?
They are useful idiots for Trump and the corporate interests who throw up media distractions while they take the money and run. http://thehill.com/opinion/white-house/386458-juan-williams-trumps-useful-idiots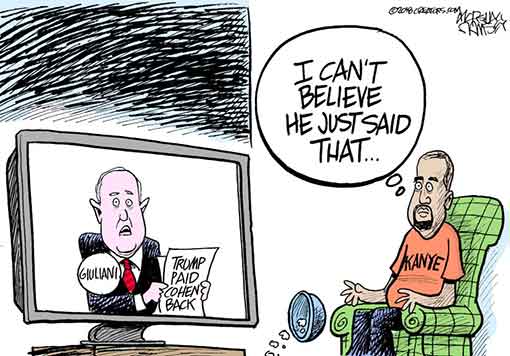 15.  Gail Collins: Don and Rudy, Disaster Twins
Donald Trump has a genius for picking the worst possible person for any job. These days, the nation hears the words "You're hired," and it trembles.
The man can't even come up with a doctor who isn't a disaster. His cabinet members are recycling like empty soda cans. His E.P.A. head alone is facing at least 11 federal investigations.
Now he's got Rudy Giuliani. Has anybody managed to create so much chaos so fast?
"Rudy is a great guy, but he just started a day ago," Trump said on Friday, referring to the lawyer he hired last month. "He'll get his facts straight."
Yes, world, here's my new high-powered lawyer who's going to straighten out the debacle that is my presidency. I have total confidence that he'll eventually figure out how to discuss the case accurately.
Rudolph W. Giuliani has been all over TV in recent days– making damaging concessions, opening up the possibility President Trump used a slush fund to pay off many women and, worst of all, floating the idea Trump doesn't need to respond to a subpoena because he is president. (The Supreme Court in U.S. v. Nixon and Clinton v. Jones thought differently). Outside the Fox News cocoon, with real interviewers, the Trump team, we can all see, devolves into gibberish, suggesting there is no accurate and exculpatory story to tell. https://www.nytimes.com/2018/05/04/opinion/trump-giuliani-disaster-twins.html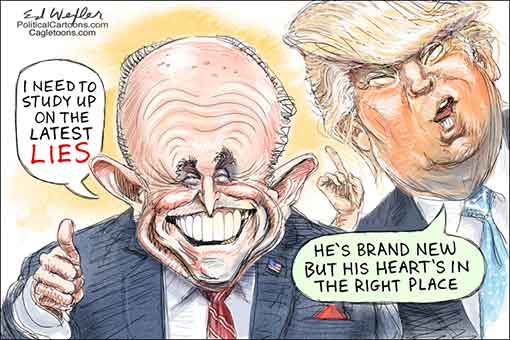 16. John Pavlovitz: When You Say 'Hillary Would Have Been Worse'—You Sound Ridiculous
The idea that Hillary Clinton would have been remotely capable of the kind of wanton recklessness, legislative overreach, and civil rights assaults we're experiencing right now in America, is so far afield of reality it should come replete with unicorns, leprechauns, and a Trump popular vote victory.
This is all really quite simple: Hillary Clinton wouldn't have been capable of the malice and malpractice Donald Trump is capable of, simply because she's a rational, level-headed, intelligent, articulate, faithful, compassionate human being—and he is none of those things.
Hillary Clinton wouldn't have been a perfect President—but she would have been a President with dignity; one who worked hard, who studied carefully, who showed compassion for hurting people in times of crisis; one capable of restraint and empathy and reason. She would have put America first, not on website headers and rally banners—but in the way she protected all its people, by the way she did her job.
So friend, you're welcome to keep throwing out the fantastical, baseless, conversation-stopping assertion that Hillary Clinton would have been worse than the fast food dumpster fire you've helped set here. https://johnpavlovitz.com/page/2/