July 30, 2020
ON THE RECORD. . .
"The Democrats have stated strongly that they won't approve a Payroll Tax Cut (too bad!) It would be great for workers. The Republicans, therefore, didn't want to ask for it. Dems, as usual, are hurting the working men and women of our Country!" — Trump blamed Democrats after Senate Republicans rejected a payroll-tax cut in the pandemic relief package.

"Serious threats against me, against my family … my daughters, my wife — I mean, really? Is this the United States of America?" — Dr. Anthony Fauci

"He made a fool out of himself. He wanted to be among the people, so he went into the crowd. And so they knocked the hell out of him, so that was the end of him." — Trump mocking Portland Mayor Ted Wheeler (D) who was tear-gassed at protests in Portland while thanking the thousands who "have come out to oppose the Trump administration's occupation of this city."

"We've had racists, and they've existed, they've tried to get elected president. He's the first one that has." — Joe Biden

"Trump wants to instigate a race war. He wants to have Black folks fighting white folks. So he can rise up and say, 'I'm the real Grand Wizard of the Ku Klux Klan and I'm the president. Reelect me. That's what he's trying to do. He's trying to play to the fears, to the racial animus that exists among certain white people, and he will do everything and anything to do that because he wants to be reelected at all costs." — Rep. Bobby Rush (D-IL)

"I've never seen such a clause ... in 21 years of being a judge. Have you ever seen such a clause?" -- Judge Hellerstein asks a DOJ lawyer after the Trump administration tried to imprison Michael Cohen to stop his writing a book critical of the president..

"Having a daughter does not make a man decent. Having a wife does not make a decent man. Treating people with dignity and respect makes a decent man." — Rep. Alexandria Ocasio-Cortez (D-NY), responding to Rep. Ted Yoho's (R-FL) non-apology after calling her a "f**king bitch."

"I haven't really been following it too much. I just wish her well, frankly. — Trump responding to a reporter who asked whether he thought Ghislaine MaxwellMaxwell would reveal which powerful men were involved in Epstein's trafficking ring.

"How can the White House push schools across the country to open, vowing it's safe to gather, while at the same time cancel the Republican convention in Jacksonville saying it's not safe to gather?" — POLITICO Playbook

"As a mother of four children, I do not trust this president with their lives." — Atlanta Mayor Keisha Lance Bottoms (D), criticizing President Trump's push for schools to reopen in the fall amid surging coronavirus cases.

The enslavement of millions of African people, the necessary evil upon which the union was built." — Senator Tom Cotton (R-AK) speaking in support of legislation he introduced that would prohibit use of federal funds to teach the 1619 Project, an initiative from the New York Times that reframes US history around August 1619 and the arrival of slave ships on American shores for the first time.

"I won't be going." -- Trump, saying that he would not pay respect to Congressman John Lewis as he lies in state at the Capitol.

"He should be answering for what he did at Lafayette Square ... He was like a blob — just a henchman for the president." — Nancy Pelosi, about AG Barr's testimony before a House panel.

"When White men with swastikas storm a government building with guns, there is no need for the president to activate you, because they're getting the president's personal agenda done." — Rep. Pramila Jayapal (D-WA) to AG Barr over his apparent willingness to intervene when protesters are opposed to President Trump's policies but not when those protesters are supportive of the president.

"He's (Dr. Fauci) got this high approval rating...Why don't I have a high approval rating?...Nobody likes me. It could only be my personality. I don't know." — Trump about Dr. Fauci.

REP. SWALWELL: You don't read the president's tweets?
AG BARR: No.
SWALWELL: Well, there's a lot of evidence in the president's tweets, Mr. Attorney General. I think you should start reading them.

"We're leading in North Carolina. We're leading in Pennsylvania. We're leading in Arizona. We're leading nicely in Florida. I think our poll numbers are very good. We're leading substantially in Georgia." — Trump claiming leads in states where public polling shows him losing.

From White House adviser Peter Navarro interview on CNN:
NAVARRO: The China virus. The CCP virus.
JOHN BERMAN: You know what? We let you say that once, Peter. Please don't say that again on this show.
NAVARRO: The China virus.
BERMAN: Alright. Peter Navarro, we appreciate you being with us.

"If Obama or Clinton or Biden were up late tweeting out crackpot theories from a "sex with demons" doctor, the Republicans would be calling on the military to surround the White House and enforce the 25th amendment with nuclear weapons." — Tom Nichols

POLITICAL ADS.....

Oh my god | The Lincoln Project: https://twitter.com/ProjectLincoln/status/1286105602205405184

Failure | The Lincoln Project: https://youtu.be/2uLJkpH__os

Maxwell | The Lincoln Project: https://youtu.be/Mo1lDJrZKx8

Memories | The Lincoln Project: https://youtu.be/45S8hrCmhwo

Trump Stooge | The Lincoln Project: https://youtu.be/lSGXknNaYqU

This Is Not A Test | DNC: https://youtu.be/I8FuY1RbfD4
---
IN THIS ISSUE
FYI
OPINION
1. Andy Borowitz: Obama Passes Cognitive Test by Reciting the First Fifty Digits of Pi
Barack Obama recently passed a cognitive test that required him to recite the first fifty digits of pi, the former President has disclosed.

Obama took the test voluntarily, he said, in order to reassure his employers at Netflix that he was "of sound mind."

"Netflix has made a big investment in me as a producer, and I thought it was important for them to know that I was all right upstairs," Obama said.

The former President said that he enjoyed taking the test, including a section that required him to memorize and then recite a hundred verses of the Iliad.

"That was actually a lot of fun," Obama said. "Greek is such a beautiful language."

Although he passed the test, Obama said that there were moments when he felt "rusty" and "not as sharp as I was back in the day."

"I definitely need to do some more mental exercises," he said. "One hour of three-dimensional chess with Bill Gates every morning isn't getting it done." https://www.newyorker.com/humor/borowitz-report/
2. Electoral 'Chaos' in Pennsylvania?
Quit asking President Trump if he will contest the 2020 election. He already is. His lawyers are suing Pennsylvania—a swing state that Trump won by only 44,292 votes in 2016—over its mail-in system. Last month, the Trump campaign launched a federal lawsuit against Pennsylvania and the election boards of all all its 67 counties. The suit claims that state election officials are "undermining ballot security through unmonitored by-mail voting" and choosing "a path that jeopardizes election security and will lead—and has already led—to the disenfranchisement of voters, questions about the accuracy of election results, and ultimately chaos heading into the upcoming November 3, 2020 General Election." https://thebulwark.com/electoral-chaos-in-pennsylvania/
3. Republicans suddenly sweating falling deep into House minority
A slew of dismal summer polls and a persistent fundraising gap have left some Republicans fretting about a nightmare scenario in November: That they will fall further into the House minority.
Publicly, House GOP leaders are declaring they can still net the 17 seats needed to flip the chamber. But privately, some party strategists concede it's a much grimmer picture, with as many as 20 Republican seats at risk of falling into Democratic hands.
Far from going on offense, the GOP could be forced to retrench in order to limit its losses. There's a growing fear that President Donald Trump's plummeting popularity in the suburbs could threaten GOP candidates in traditionally favorable districts, and that their party's eagerness to go on offense might leave some underfunded incumbents and open GOP-held seats unprotected. https://www.politico.com/news/2020/07/29/republicans-house-seats-385760
4. Minnesota Republican county official resigns after posting image comparing mask wearing to Nazi Germany
A Minnesota Republican Party county official has resigned after posting an image on Facebook comparing mask mandates to Jews being forced to wear Stars of David in Nazi Germany.
In response, Jewish Community Action tweeted, "Given that Minnesota rabbis recently spoke out in favor of a mask mandate, comparing that mandate to the Holocaust feels especially disgusting. We ask the @MNGOP to tell Wabasha Republicans to stop using imagery like this. It betrays a total lack of both empathy and education." https://twitter.com/JCA_MN/status/1287872160267001857
5. Senate GOP won't extend pandemic food stamps but doubles 'three-martini lunch' deduction
Senate Republicans' coronavirus relief proposal came under attack from a coalition of hunger advocates Tuesday for not extending funding for food assistance programs, despite rising demand during the pandemic.
About 26 million adults reported going without enough food to eat in the previous week, according to an analysis of the Census Bureau's weekly household data survey in early July.
Although the Senate GOP proposal offers no new funds for Supplemental Nutrition Assistance Program (SNAP) and Pandemic EBT program, a debit-card benefit for households with children who have temporarily lost access to free or reduced-price school meals, it does double the tax deduction for business meals, known as the "three-martini-lunch deduction," increasing the reimbursement from 50 percent to 100 percent of meals. https://www.washingtonpost.com/business/2020/07/28/senate-gop-wont-extend-pandemic-food-stamps-doubles-three-martini-lunch-deduction/
6. Coronavirus Disinformation Video Seen 20M Times Before Facebook Took It Down
The Breitbart video from the doctors claiming that Hydroxychloroquine cures the coronavirus has been going crazy in anti-vax, anti-mask, reopen Facebook Groups today. Its at >20 mil views on FB. And that doesn't include all the private groups it's been spreading through.
Facebook isn't (merely) a host for this video, it's the facilitator for spreading it to tens of millions of people. https://twitter.com/BrandyZadrozny/status/1287925891532754949
7. Trump Is Now Openly Defying the Supreme Court's Ruling on DACA
The Trump administration announced on Tuesday that it will continue to defy a federal court order compelling the full restoration of DACA, the Obama-era program that allows 700,000 immigrants to live and work in the United States legally. By doing so, the administration has chosen to flout a decision by the Supreme Court, effectively rejecting the judiciary's authority to say what the law is.
Donald Trump first attempted to rescind the Deferred Action for Childhood Arrivals program in September 2017, a move that would've stripped its beneficiaries of work permits and subjected them to deportation. But his administration continually cut corners, failing to explain the basis for its decision and refusing to consider the impact of DACA repeal on immigrants, their communities, and their employers (including the U.S. Army).
This June, the Supreme Court ruled that the administration's actions were "arbitrary and capricious" under federal law and therefore "set aside" DACA repeal.
Trump's new policy is nothing less than brazen defiance of a federal court ruling. Grimm, and the Supreme Court itself, ordered DACA's full resuscitation, which requires the acceptance of new applicants and the conferral of two-year renewals. There is simply no legal basis for DHS's zombie version of the program. https://slate.com/news-and-politics/2020/07/daca-donald-trump-supreme-court.html?scrolla=5eb6d68b7fedc32c19ef33b4
8. At least 76% of American voters can cast ballots by mail in the fall
The coronavirus pandemic is set to change the way millions of Americans can vote in November, as states expand access to mail-in voting as a safer alternative to in-person voting.
As of now, nearly 180 million Americans who are eligible to vote would be able to cast a ballot by mail. Of those, 22 million live in states that will accept fear of the coronavirus as an excuse to vote absentee, or have switched to become "no excuse" states. https://www.washingtonpost.com/graphics/2020/politics/vote-by-mail-states/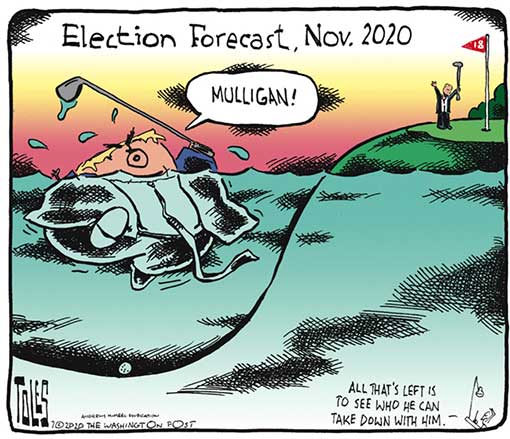 9. Trump's Response to Protests May Cost Him Election
The biggest story of early June was the widespread support that rapidly emerged in favor of the protesters, people of all races and ages, who took to the streets to make a statement about racism in America. The protesters, he said, were winning a values argument with Americans of all races, backgrounds, and political persuasions at the very moment President Trump was trying to paint them as an angry and radical minority. "Trump could not be more on the wrong side of this issue for anyone except for a very isolated group of his base, and that's what he's stuck with," said pollster Michiah Prull, the CEO of Avalanche.. "He's taking a line of messaging that works for 34% of his base in our survey. It's not even that big of a part of his base. He's really alienating folks. There's a compelling argument here that Trump's negatives can be driven up even further among some of these Lean Trump folks, based on his behavior and relationship with the protests," Prull said, suggesting that NeverTrump groups like the Lincoln Project and Republican Voters Against Trump could take up that work.
Yet Trump seems to be doing the work on his own in recent days, by dispatching federal troops to cities like Portland, Chicago, and even Albuquerque to tangle with protesters who, for the most part, have been behaving peacefully for more than a month. As with Lafayette Square, Trump is perversely creating mayhem in the name of law and order, clinging to the apple-pie idea that the "silent majority" of 1968 is still hiding out somewhere. The country will "go to hell" if Biden wins, Trump said this week, as if people don't understand that he's the one presiding over the chaos. But if Avalanche's research is correct, the silent majority of 2020 is firmly on the side of Biden when it comes to issues of race and justice, and its members walked out of Trump's community theater Richard Nixon impression many weeks ago. https://www.vanityfair.com/news/2020/07/polling-trumps-protest-response-could-cost-him-2020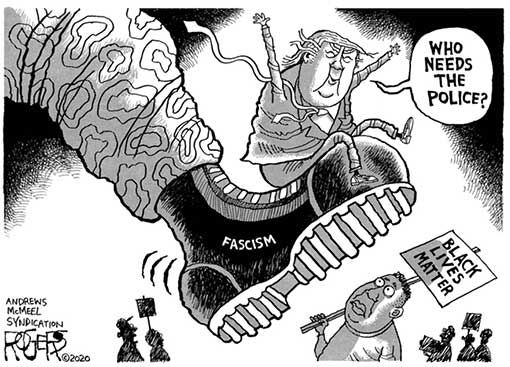 10. Trump keeps boasting about passing a cognitive test — but it doesn't mean what he thinks it does
"Experts say the president's fixation on the Montreal Cognitive Assessment is particularly puzzling because the test is normally administered only if someone is concerned that they or their loved ones may be experiencing dementia or other cognitive decline. Getting a perfect score — as Trump has repeatedly claimed he did — merely signifies that the test-taker probably does not have a cognitive impairment as measured by the exam." https://www.washingtonpost.com/politics/trump-bragging-cognitive-test-dementia/2020/07/22/6578e826-cb65-11ea-91f1-28aca4d833a0_story.html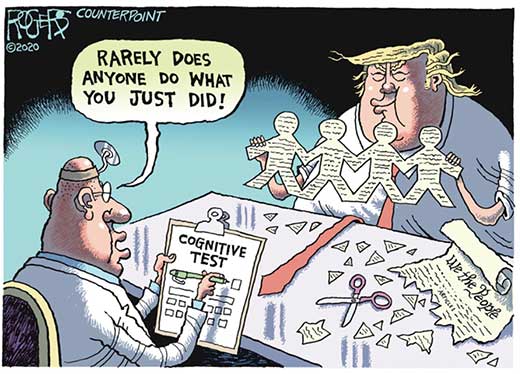 11. Coronavirus ravaged Florida, as Ron DeSantis sidelined scientists and followed Trump
As Florida became a global epicenter of the coronavirus, Gov. Ron DeSantis held one meeting this month with his top public health official, Scott Rivkees, according to the governor's schedule. His health department has sidelined scientists, halting briefings last month with disease specialists and telling the experts there was not sufficient personnel from the state to continue participating.
As the virus spread out of control in Florida, decision-making became increasingly shaped by politics and divorced from scientific evidence, according to interviews with 64 current and former state and administration officials, health administrators, epidemiologists, political operatives and hospital executives. The crisis in Florida, these observers say, has revealed the shortcomings of a response built on shifting metrics, influenced by a small group of advisers and tethered at every stage to the Trump administration, which has no unified plan for addressing the national health emergency but has pushed for states to reopen. https://www.washingtonpost.com/national/coronavirus-ravaged-florida-as-ron-desantis-sidelined-scientists-and-followed-trump/2020/07/25/0b8008da-c648-11ea-b037-f9711f89ee46_story.html
12. Fact check: Trump peppers Fox News town hall with false claims on coronavirus and other topics
Donald Trump delivered another rapid series of false and misleading claims on Sunday night, this time at a Fox News "virtual town hall" event at the Lincoln Memorial in Washington, DC.
Trump was dishonest both about matters pertaining to the coronavirus pandemic and about his usual array of other topics, from trade with China to his rally crowds. A preliminary list, which doesn't even include all of the inaccuracies, is at https://www.cnn.com/2020/05/03/politics/fact-check-fox-news-townhall-trump-may-3/index.html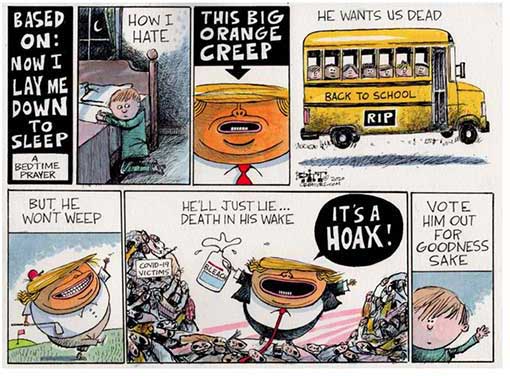 13. The Great Climate Migration
Scientists have learned to project such changes around the world with surprising precision, but — until recently — little has been known about the human consequences of those changes. As their land fails them, hundreds of millions of people from Central America to Sudan to the Mekong Delta will be forced to choose between flight or death. The result will almost certainly be the greatest wave of global migration the world has seen.
People are already beginning to flee. In Southeast Asia, where increasingly unpredictable monsoon rainfall and drought have made farming more difficult, the World Bank points to more than eight million people who have moved toward the Middle East, Europe and North America. In the African Sahel, millions of rural people have been streaming toward the coasts and the cities amid drought and widespread crop failures. Should the flight away from hot climates reach the scale that current research suggests is likely, it will amount to a vast remapping of the world's populations. https://www.nytimes.com/interactive/2020/07/23/magazine/climate-migration.html
14. COVID-19 patients will be 'sent home to die' if deemed too sick, Texas county says
Starr County in rural South Texas is at a dangerous "tipping point," with Starr County Memorial Hospital — the county's only hospital — is overflowing with COVID-19 patients.
The county has been forced to form what is being compared to a so-called "death panel." A county health board – which governs Starr Memorial – is set to authorize critical care guidelines Thursday that will help medical workers determine ways to allocate scarce medical resources on patients with the best chance to survive.
A committee will deem which COVID-19 patients are likely to die and send them home with family, Jose Vasquez, the county health authority, said during a news conference Tuesday.
"The situation is desperate," Vasquez said. "We cannot continue functioning in the Starr County Memorial Hospital nor in our county in the way that things are going. The numbers are staggering."
https://www.star-telegram.com/news/coronavirus/article244443257.html
15. A look at the Americans who believe there is some truth to the conspiracy theory that COVID-19 was planned
Most Americans (71%) have heard of a conspiracy theory circulating widely online that alleges that powerful people intentionally planned the coronavirus outbreak. And a quarter of U.S. adults see at least some truth in it – including 5% who say it is definitely true and 20% who say it is probably true, according to a June Pew Research Center survey. The share of Americans who see at least some truth to the theory differs by demographics and partisanship.
Educational attainment is an especially important factor when it comes to perceptions of the conspiracy theory. Around half of Americans with a high school diploma or less education (48%) say the theory is probably or definitely true, according to the survey, which was conducted as part of the Center's American News Pathways project.
Partisan affiliation also plays a role in perceptions of the theory. About a third (34%) of Republicans and independents who lean to the GOP say the theory that powerful people intentionally planned the COVID-19 outbreak is probably or definitely true, compared with 18% of Democrats and Democratic leaners. It's worth noting there is no significant difference in how likely partisans are to have heard at least a little about the theory: 72% of Republicans have heard of the claim, compared with 70% of Democrats.
Conservative Republicans are especially likely to see at least some truth in the theory: Roughly four-in-ten (37%) say it is probably or definitely true. This contrasts with 29% of moderate and liberal Republicans, 24% of moderate and conservative Democrats and 10% of liberal Democrats. https://www.pewresearch.org/fact-tank/2020/07/24/a-look-at-the-americans-who-believe-there-is-some-truth-to-the-conspiracy-theory-that-covid-19-was-planned/
16. LeBron James joins push to turn out ex-felon vote in Florida
A group founded by NBA superstar LeBron James and other Black athletes and entertainers is stepping into the fight to register Florida voters with felony records, saying it will help pay court debts and fees so they can cast ballots in the November presidential election.
More Than A Vote, a group established by James and others in the wake of George Floyd's death in Minneapolis, on Friday said it will donate $100,000 to help pay outstanding court debts of ex-felons so they can register to vote. The money will go to the Florida Rights Restoration Coalition, which in 2018 successfully pushed to a constitutional amendment that lifted Florida's lifetime voting ban on people with felony convictions. After the amendment passed, the Republican-led state Legislature earlier this year raised the bar for felons to vote, passing a law that is being challenged in federal court.
"Your right to vote shouldn't depend upon whether or not you can pay to exercise it," Miami Heat forward and More than a Vote member Udonis Haslem said in a written statement. https://www.politico.com/states/florida/story/2020/07/24/lebron-james-joins-push-to-turn-out-ex-felon-vote-in-florida-1303417
17. Trump plays on fears in play for the suburbs
Donald Trump this week sent a message to "The Suburban Housewives of America," and in a single tweet summed up his strategy for shoring up support in communities critical to his reelection chances: Scare them.
"Biden will destroy your neighborhood and your American Dream. I will preserve it, and make it even better!" he wrote.
In tweets, campaign ads and new policies, Trump is trying to win over suburbanites by promising to protect their "beautiful" neighborhoods from the racial unrest that has gripped some U.S. cities this summer. He's sent federal agents to stem violence in cities, warned of a way of life being "obliterated," and raised the prospect of falling property values. https://www.pbs.org/newshour/politics/trump-plays-on-fears-in-play-for-the-suburbs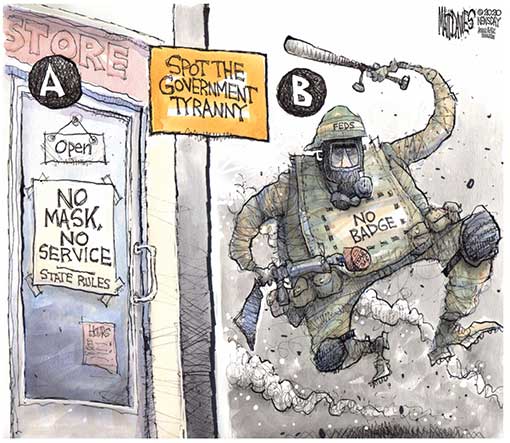 18. Corporate Insiders Pocket $1 Billion in Rush for Coronavirus Vaccine
On June 26, a small South San Francisco company called Vaxart made a surprise announcement: A coronavirus vaccine it was working on had been selected by the U.S. government to be part of Operation Warp Speed, the flagship federal initiative to quickly develop drugs to combat Covid-19.
Vaxart's shares soared. Company insiders, who weeks earlier had received stock options worth a few million dollars, saw the value of those awards increase sixfold. And a hedge fund that partly controlled the company walked away with more than $200 million in instant profits.
The race is on to develop a coronavirus vaccine, and some companies and investors are betting that the winners stand to earn vast profits from selling hundreds of millions — or even billions — of doses to a desperate public.
Across the pharmaceutical and medical industries, senior executives and board members are capitalizing on that dynamic.
They are making millions of dollars after announcing positive developments, including support from the government, in their efforts to fight Covid-19. After such announcements, insiders from at least 11 companies — most of them smaller firms whose fortunes often hinge on the success or failure of a single drug — have sold shares worth well over $1 billion since March, according to figures compiled for The New York Times by Equilar, a data provider.
The sudden windfalls highlight the powerful financial incentives for company officials to generate positive headlines in the race for coronavirus vaccines and treatments, even if the drugs might never pan out. https://www.nytimes.com/2020/07/25/business/coronavirus-vaccine-profits-vaxart.html
19. The DAILY GRILL
"I cannot apologize for my passion, or for loving my God, my family, and my country."" — Rep Ted Yoho's "apology" to AOC for accosting the congresswoman and calling her a "bitch."

VERSUS

"Mr. Yoho mentioned that he has a wife and two daughters. I am two years younger than Mr. Yoho's youngest daughter. I am someone's daughter, too. My father, thankfully, is not alive to see how Mr. Yoho treated his daughter." — Rep. Ocasio-Cortez

 

"My administration currently has zero unfulfilled requests for equipment or anything else that they need from the governors. No governor needs anything right now and we think we'll have it that way until the end because frankly we are stocked up and ready to go." -- Trump on Tuesday

VERSUS

"If there are no outstanding requests for PPE, it's because the federal government largely stopped filling those requests months ago when the Strategic National Stockpile (SNS) was emptied. Since then, the Trump administration has forced states into the private market to secure critically needed PPE. President Trump told governors he didn't want to be a 'shipping clerk.'" — Mike Faulk, a spokesperson for Washington Gov. Jay Inslee (D) calling Trump's claim "misleading rhetoric."

 

An hour before Dr. Anthony S. Fauci threw the first pitch at the season opener between the New York Yankees and the Washington Nationals, Donald Trump stood on the briefing room stage at the White House and declared that he, too, had been invited to throw out his own opening pitch.

VERSUS

One problem: Mr. Trump had not actually been invited on that day by the Yankees. Mr. Trump had been so annoyed by Dr. Fauci's turn in the limelight, an official familiar with his reaction said, that he had directed his aides to call Yankees officials and make good on a longtime standing offer from Mr. Levine to throw out an opening pitch.

 

So disgusting to watch Twitter's so-called "Trending", where sooo many trends are about me, and never a good one. They look for anything they can find, make it as bad as possible, and blow it up, trying to make it trend. Really ridiculous, illegal, and, of course, very unfair! — Trump tweet

VERSUS

Nearly 150,000 Americans have died from a pandemic that is raging out of control and the President of the United States is, predictably, whining about himself. — Rep. Don Beyer @RepDonBeyer
20. From MEDIA MATTERS (They watch Fox News so you don't have to)
Sinclair Broadcast Group's America This Week, host Eric Bolling, has previously spread dangerous misinformation about the coronavirus on his Sinclair program. He and his guests have pushed conspiracy theories that the coronavirus was engineered in a lab, suggested the coronavirus death toll was being inflated, and promoted unproven coronavirus treatments. In March, he suggested that media outlets were inciting panic about the outbreak to damage President Donald Trump politically. He has also repeatedly used racist names for the virus. And in his previous episode, Bolling agreed with a guest that the economy must reopen despite the health risks, as the pandemic continues raging in most states. https://www.mediamatters.org/sinclair-broadcast-group/sinclair-gives-plandemic-conspiracy-theorists-platform-spread-their-lies
1. Maureen Dowd: A.O.C. and the Jurassic Jerks
As Republicans sniped, one Democrat soared.
Ted Yoho, a Florida Republican, tried to slap down Alexandria Ocasio-Cortez. A reporter overheard him muttering that the congresswoman was "a fucking bitch" as Yoho walked away after having an argument with her about crime and policing on the steps of the Capitol. (Yoho denies he said it.)
The youngest woman to ever serve in Congress is so full of natural political talent, burning so bright, that the 2020 field seems dull next to her luster. It was a remarkable moment on Capitol Hill, where for years super-achieving women have let such sexist remarks slide.
She went to the House floor Thursday and schooled Yoho the Yahoo and the retrograde crowd.
"Mr. Yoho mentioned that he has a wife and two daughters," she said. "I am two years younger than Mr. Yoho's youngest daughter. I am someone's daughter, too." She added, "I am here because I have to show my parents that I am their daughter, and that they did not raise me to accept abuse from men."
Showing her skill in a generational dimension foreign to Congress until now, A.O.C. posted a video of herself on Instagram Stories strutting to the rap tune "Boss Bitch" by Doja Cat, her long hair whipping to the music, with the Capitol in the background. "I'm a bitch and a boss, Im'a shine like gloss." She captioned it: "Shine on, fight for others, and let the haters stay mad."
And that's the way you make Paleolithic men understand that they are history. https://www.nytimes.com/2020/07/25/opinion/aoc-yoho-trump-2020.html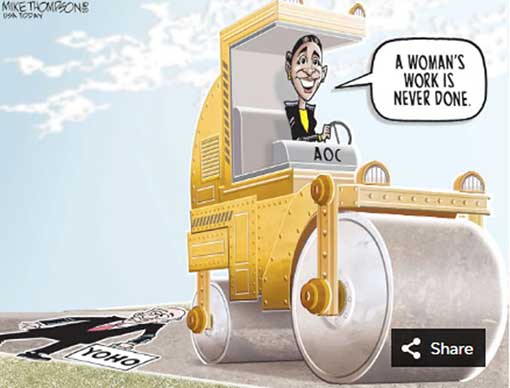 2. Amanda Carpenter: Let Them Expense Cake!
If anything represents the bass-ackwards approach Republicans are taking to the coronavirus response, it might be the proposal, supported by President Trump, that Senator Tim Scott put into the latest round of coronavirus relief.
Scott wants to raise the deduction for business meals from 50 percent to a full 100 percent, which he says "will lead to more customers, more opportunities for hardworking waitstaff and kitchen staff, and much-needed revenue for small businesses across the country."
Um, what? Almost 150,000 Americans are dead, millions of kids won't be able to attend in-person classrooms this fall, people still can't get fast accessible testing—and one of our top priorities is allowing a full deduction for business meals? Calling this "out-of-touch" would be generous because it would imply it was somewhere within the realm of actually being "in touch." The only way this makes sense is if you want to skew "relief" towards steakhouses in Washington and New York. Trump Hotel may be a lobbyist hotspot, but your local pizza place most assuredly is not.
Besides, who in the world is traveling around the country, hosting client meals and events, in the middle of a highly-contagious and deadly pandemic? For goodness sake, Google is keeping its employees home until July 2021.
At the same time, billionaire hedge fund manager-turned Treasury Secretary Steve Mnuchin has a plan! Cut the $600 per week federal unemployment benefit to $200 a week. "It wouldn't be fair to use taxpayer dollars to pay more people to sit home than they would get working and get a job," Mnuchin told Chris Wallace on Fox News Sunday. Yes! Fairness! That's what Republicans are after!
Well, if that's the case, do the restaurant workers, retail workers, and other working-class folks the Trump administration thinks are busy milking the system for a paid vacation get the meal deduction? BWAHAHAHAHAHA. Don't bother keeping those McDonald's receipts. These benefits aren't for the Dollar Menu crowd, you fool. https://thebulwark.com/let-them-expense-cake/
3. Richard North Patterson: Donald Trump vs. Democracy
Trump and his party are fundamentally opposed to that most basic tenet of democracy: an honest and inclusive election. Instead, they want to choose their own electorate through selectively excluding probable Democratic voters—minorities, urbanites, and the young—by making it more difficult for such people to vote and, in this year of COVID-19, more dangerous.
The GOP's methods for restricting in-person voting are a time-tested product of its reliance on a shrinking demographic of older, often less educated white people: Enforcing discriminatory voter ID laws that target minorities. Closing polling places to make voting in Democratic areas harder and more time-consuming. Limiting early and absentee voting. Paring voter rolls on pretexts that disproportionately disenroll eligible voters of color.
But the pandemic hands Republicans potent new weapons: Eschewing public health measures in overcrowded polling places predominantly used by Democrats, thereby endangering voters and poll workers. And, most critically, amplifying the impact of in-person voting by Republicans through the suppression of mail-in balloting.
The strategy rests on four related premises. First, that making voting tougher for presumptive Democrats than Republicans can tilt closely contested states. Second, that Trump voters are more enthusiastic, and thus more likely to vote in person. Third, and less flattering, that—conned by their ignorant and derelict leader—his base voters are simply too dumb to appreciate the risk of in-person voting. Fourth, that mass voting by mail would undercut Republican efforts to disenfranchise Democratic voters. https://thebulwark.com/donald-trump-vs-democracy/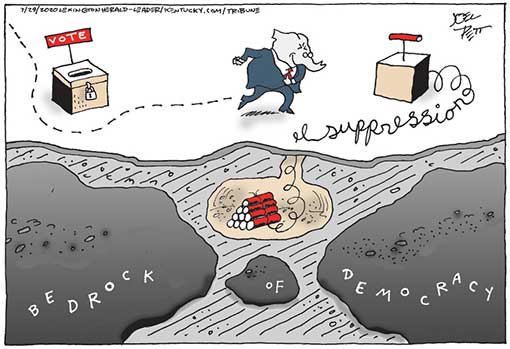 4. Jonathan Chait: Why Trump's Protest Crackdown Keeps Blowing Up in His Face
An administration official recently told the Washington Post the White House "had long wanted to amplify strife in cities," and that "it was about getting viral online content." A confession that the president is provoking violent confrontations on American soil in order to seed campaign propaganda would tear apart a normal president, but has already been half-forgotten against the backdrop of a presidency in which scandals of this scale occur several times a week.
But the reason Trump's tactic fails is that, by deploying troops to fight the anarchists, he broadens the issue into a fight about Trump himself. This inevitably draws more, largely nonviolent protesters into the streets. "The numbers of protesters had dwindled substantially in recent weeks," one reporter in Portland observed last week, "but reports of heavily armed, unidentified, camouflaged federal officers abducting people off the street into unmarked vehicles and meting out violence on the people of Portland have thoroughly re-energized the populace."
The same thing happened further north. "Nightly protests since the police killing of George Floyd in Minneapolis had dwindled in recent weeks in Seattle but were reinvigorated in the wake of federal action in the Portland protests and after Washington Gov. Jay Inslee (D) tweeted that President Trump had sent federal law enforcement agents to the city," reported the Post.
And so the scenes that Trump craves, pitting soldiers against black-clad radicals, have transformed quickly into troops against veterans, moms, and other antagonists who cut a more sympathetic profile. The protesters report that they have joined the protests because of Trump's response to the protests. Tessa and Leshan Terry formed the "Wall of Vets" in Portland, and came to their first demonstration, after seeing video of agents beating a fellow Navy veteran. https://nymag.com/intelligencer/2020/07/trump-protesters-portland-troops-police-protests.html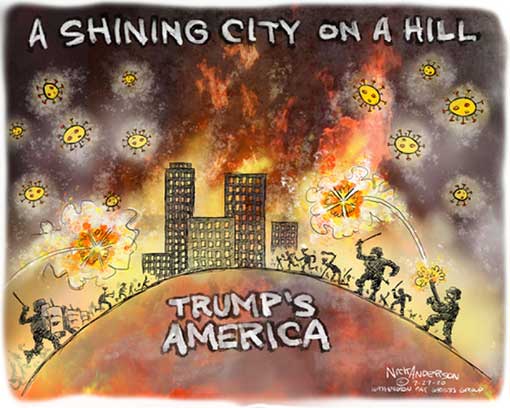 5. Catherine Rampell: Trump knows he's going to lose. He's already salting the earth behind him.
How can you tell President Trump thinks he's going to lose in November? Because he has already begun salting the earth behind him.
And his fellow Republicans are helping by sabotaging key institutions that the next (presumably Democratic) president will inherit.
On Tuesday, the Republican-controlled Senate Banking Committee approved Trump's latest two picks for the Federal Reserve Board of Governors. One of these nominees, Christopher Waller, would be a competent, reasonable, totally qualified addition to the most powerful economic body in the world.
The other is Judy Shelton.
Shelton, a professional crank, has previously suggested that the Fed shouldn't exist. She has repeatedly likened the Fed to a "Soviet State Planning Committee" because the central bank, rather than the quantity of gold, controls the money supply. Shelton has spent her career trying to bring back the gold standard, a monetary system abandoned worldwide and roundly rejected by economists.
Those were her views until recently, anyway. Once Trump nominated her to the Fed, she changed her tune. Now the key problem with the central bank, she says, is that it is not political enough and ought to "pursue a more coordinated relationship with" the president. Which happens to be exactly what Trump wants: a Fed that serves his narrow political interests, rather than the economy's. https://www.washingtonpost.com/opinions/trump-knows-hes-going-to-lose-hes-already-salting-the-earth-behind-him/2020/07/23/9a506016-cce5-11ea-91f1-28aca4d833a0_story.html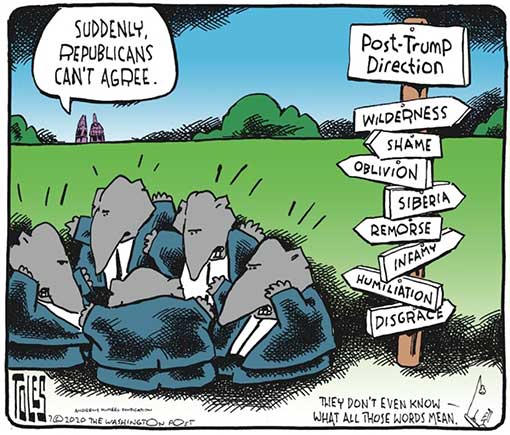 6. Greg Sargent: Trump's frantic new effort to win back seniors is already failing
Here's President Trump's new reelection strategy, in a nutshell: Convince vulnerable seniors who rightly fear getting killed by the pandemic that Trump let rampage out of control that they should instead fear getting killed by criminals who would supposedly rampage out of control in a future post-police dystopia that is entirely invented.
You can see this in Trump's campaign ads. He is running a new spot that depicts an elderly woman calling the police in terror as a marauder circles her house like a vulture, only to find that in "Joe Biden's America," the police are no longer there.
In recent weeks, Trump's campaign has spent $20 million on the ad and others like it. But that ad is based on a lie: It falsely claims Biden would defund the police. Tellingly, if you listen closely, you'll note that the person who voices this lie is Trump's chief propagandist, Sean Hannity.
The fear of death hovers over that ad. It's no accident that this comes as Trump is bleeding support among seniors, very likely due to his catastrophic mishandling of the virus, because they have the most to fear from it. One threat to seniors is supposed to magically supplant the other. https://www.washingtonpost.com/opinions/2020/07/23/trump-frantic-new-effort-win-back-seniors-is-already-failing/
7. Jonathan Chait: Trump Brags That He Repeated 5 Words in a Row on 'Difficult' Dementia Test
In a new interview with Fox News, President Trump again repeated what is becoming his proudest triumph as president — allegedly passing a test for cognitive impairment. (We don't know that Trump passed the test; the only corroboration is his former doctor, Ronny Jackson, who is obviously beholden to the president whose endorsement set up his new career.) The test Trump took is not a test for geniuses. Its questions, such as pointing to a picture of an elephant and saying "elephant," are designed to screen for dementia. But Trump took pains to note that some of the questions are harder. Several days ago he insisted to Chris Wallace, "I'll bet you couldn't even answer the last five questions." Now he has revealed the most difficult of these questions.
"The last questions are much more difficult," he said. "Like a memory question. It's, uh, like you'll go, 'Person, woman, man, camera, TV.' So they say, 'Could you repeat that?' So I said, 'Yeah.' So it's 'person, woman, man, camera, TV.' 'Okay, that's very good.'"
It seems perhaps unfair, given Trump's hours of daily television consumption, that 40 percent of the words he had to repeat involved television. Nonetheless, it is an achievement. Of sorts. Though I would argue that Chris Wallace probably could repeat those words as well.
"The doctors said very few people can do that, very few people get that," Trump elaborated, with evident pride. It seems as if the actual test here is whether or not a person who passes the dementia screening boasts about his performance in public as if it is proof of his genius, rather than evidence that his doctors suspected he is suffering serious cognitive impairment. https://nymag.com/intelligencer/2020/07/trump-repeated-5-words-person-woman-man-camera-tx-dementia-cognitive-test.html
Sarah Cooper: How to person woman man camera tv:https://www.youtube.com/watch?v=j8oaaP68i4s
8. Jonathan Blitzer: Is It Time to Defund the Department of Homeland Security?
In early June, after the killing of George Floyd, when tens of thousands of mostly peaceful demonstrators assembled in cities across the country to protest police brutality, the Department of Homeland Security sent hundreds of its agents to patrol the crowds. They cleared space for a Presidential photo op in front of St. John's Church, in Washington, D.C., by forcibly removing demonstrators, and in New York City they reportedly made at least one arrest at gunpoint. The legal rationale for their being on the scene was a statute from 2002 that gave them broad authority to protect federal property and personnel. This mandate sounded just vague enough to escape mainstream notice at the time, when police officers were being filmed tear-gassing and beating protesters. But a pressing question remains, which the D.H.S. leadership can't easily answer: What are agents from Customs and Border Protection and Immigration and Customs Enforcement doing in the streets of U.S. cities nowhere near the border, policing citizens who have broken no laws? https://www.newyorker.com/news/daily-comment/is-it-time-to-defund-the-department-of-homeland-security
9. John Cassidy: America Is a Country Besieged by Its Own President
This week marked the fifty-first anniversary of the moon landing by Neil Armstrong and Edwin (Buzz) Aldrin. I am just about old enough to remember how, in Leeds, the city in northern England where I grew up, people gathered around their radios and television sets to witness the historic event. To most of the world, the landing symbolized American leadership and power. It wouldn't be accurate to say that most of the people I grew up with loved the United States, or even openly admired it. Barely disguised resentment at the manner in which this country had eclipsed the British Empire was combined with a widespread contention that America was a shallow place beset by crass commercialism, high crime rates, and gaping racial rifts. But beneath the British condescension, there was also a respect for America: its technological know-how, its organizational efficiency, its democratic traditions, and its sheer heft. When my dad was away, working in Scotland, he saw the U.S.S. John F. Kennedy sail up the Firth of Forth. The vast aircraft carrier was almost a quarter of a mile long, he reported back to us in wonderment.
A half century later, the rest of the world is looking on in horror as this country lurches from one disaster to another. Trapped in a leadership vacuum created by the narcissistic reality-TV star who occupies the Oval Office, the United States seems powerless to arrest the spread of a pandemic that most industrialized countries contained months ago. As the cumulative number of infections surpasses four million, an economic rebound that began when many states prematurely reopened their economies appears to be stalling. And, with an election just three and a half months away, that same President, in a desperate effort to save his political skin, seems intent on creating violent clashes in some of America's biggest conurbations. https://www.newyorker.com/news/our-columnists/america-is-a-country-besieged-by-its-own-president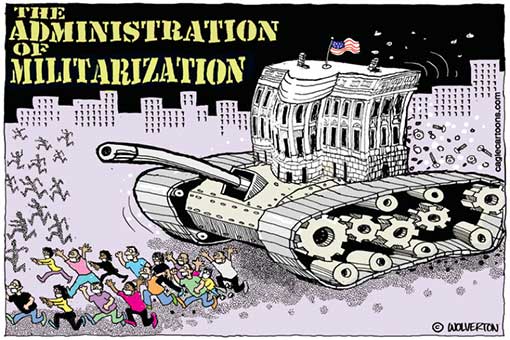 10. Zack Beauchamp: Portland, polarization, and the crisis of the Republican Party
What we're seeing, according to experts on comparative democracy and American politics, is our polarized political system reaching its breaking point — and our democracy buckling under the pressure of Trump's authoritarian impulses and near-total control of the Republican Party.
There is no legitimate justification for deploying these federal troops over local objections. The protests in Portland are limited to a small area and are primarily peaceful protests rather than riots. The violence that does grow out of those protests, like the recent rise in gun violence in Chicago, is a quintessentially local issue; the federal government has no business getting involved absent local request.
But Trump is running a "law and order" reelection campaign that works by entrenching partisan divides and stoking racial resentment. His unprecedented deployment of federal law enforcement personnel is a means to that end; he gets away with it because American politics is so dangerously polarized that Republicans are willing to accept virtually anything if it's done to Democrats.
"Accepting this type of 'occupation' of American cities by unidentified federal agents requires such an extreme level of dehumanization of the citizens — which is probably why Trump repeatedly labels these cities as being run by 'liberal Democrats,'" says Lilliana Mason, a political scientist at the University of Maryland.
"At this point in our political circumstances, that label alone is enough to allow law-abiding Americans in those cities to be viewed as less worthy of basic democratic protections — and to permit harm to come to them at the hands of the state."
"It's not just about partisanship — it's about who gets to be considered a 'real' American, with the full rights and privileges that entails. But it also clears the way for Trump's push toward authoritarian rule," Mason concludes. "It feels like the brakes are off." https://www.vox.com/2020/7/24/21335887/portland-trump-dhs-federal-polarization?scrolla=5eb6d68b7fedc32c19ef33b4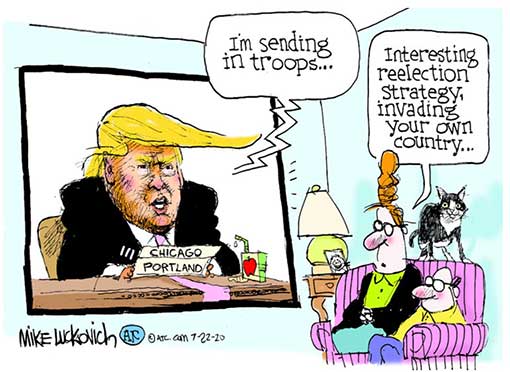 11. Dana Stevens: Held back
As parents realize how badly the U.S. botched the next school year, we're furious
Having utterly failed to contain the virus, the administration is now employing the crafty tactic of attempting to draw attention away from the pandemic — as if we could be distracted out of noticing that we can no longer safely leave our homes, we have no functioning public institutions (libraries, museums, schools), we have lost more than 139,000 American lives, and we are well on our way into the worst economic downturn since the Great Depression.
Early on, the administration shrugged its responsibility off onto the states, leaving Americans with a wildly inconsistent patchwork of policies that varied according to their governors' political affiliations, the population's trust in science and the degree to which their states had shut down, or not.
An Associated Press-NORC Center for Public Affairs Research poll this week found that most Americans are concerned that reopening schools for in-person learning will lead to a coronavirus surge, and 35 percent of parents think they shouldn't open at all. Another 41 percent of parents think they should only open with "major adjustments." My daughter's school-to-be recently gave families an early August deadline to choose all-online or "blended" classes for the fall. We're hesitating, keeping an eye on the city's case numbers as we weigh the familiar misery of Zoom against the incalculable risk of contracting or spreading a potentially fatal disease. Whichever we go with, we will no doubt spend the semester wondering if we harmed either our child's education or our community's health by not picking the other option.
Now, with case numbers rising in 44 out of 50 states, the White House, abruptly abandoning its always spotty commitment to federalism, has begun issuing marching orders about opening schools full-time and on schedule, masks and social distancing be damned. In a classic bit of Trump gaslighting, not only has any hope for increased school funding dematerialized, but the administration is threatening to defund individual school districts if they don't comply with the order to reopen. https://www.washingtonpost.com/outlook/2020/07/24/remote-school-parents-rage/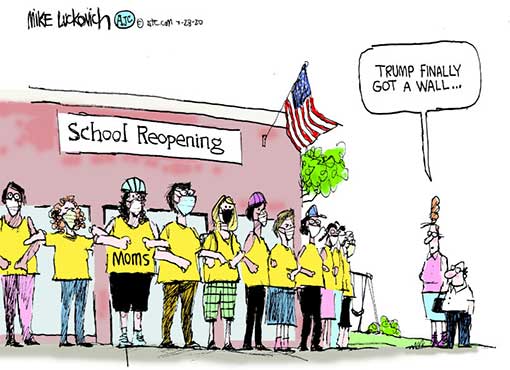 12. Roger Cohen: American Catastrophe Through German Eyes
No people has found the American lurch toward authoritarianism under President Trump more alarming than the Germans. For postwar Germany, the United States was savior, protector and liberal democratic model. Now, Germans, in shock, speak of the "American catastrophe."
A recent cover of the weekly magazine Der Spiegel portrays Trump in the Oval Office holding a lighted match, with a country ablaze visible through his window. The headline: "Der Feuerteufel," or, literally, "the Fire Devil."
Trump provokes outrage in a cascade designed to blunt alarm. He deadens reactions through volume and repetition. But something about the recent use of unmarked cars and camouflage-clad federal agents without clear identifying insignia detaining protesters shattered any inclination to shrug.
From the deployment of those federal units in Portland, Oregon's largest city, where protesters have been demanding racial justice and police accountability, it's not a huge leap to the use of paramilitaries (like the German Freikorps in the 1920s) to buttress a "Law and Order" campaign. The Freikorps battled communists. Today, Trump claims to battle "anarchists," "terrorists" and violent leftists. It's the leitmotif of his quest for a second term. https://www.nytimes.com/2020/07/24/opinion/trump-germany.html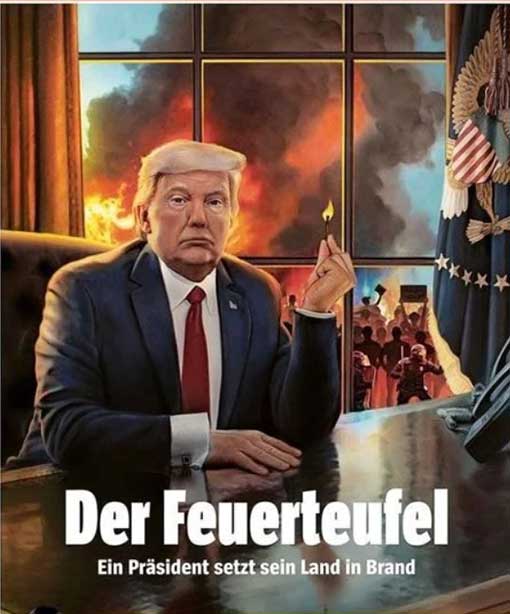 13. Peter Baker: 'Mugged by Reality,' Trump Finds Denial Won't Stop the Pandemic
He insisted that it was safe, that people could go back to work, that schools could reopen, that he could hold packed indoor campaign rallies, that he could even hold a full-fledged, boisterous, bunting-filled nominating convention as if all were well.
Only now, it is all crashing down around President Trump. The president who shunned masks and pressured states to reopen and promised a return to the campaign trail finds himself canceling rallies, scrapping his grand convention, urging Americans to stay away from crowded bars and at long last embracing, if only halfheartedly, wearing masks.
It may not be the death of denial, but it is a moment when denial no longer appears to be a viable strategy for Mr. Trump. For more than three years in office, he proved strikingly successful at bending much of the political world to his own vision of reality, but after six months the coronavirus pandemic is turning out to be the one stubborn, inalterable fact of life that he cannot simply force into submission through sheer will. https://www.nytimes.com/2020/07/24/us/politics/coronavirus-trump-denial.html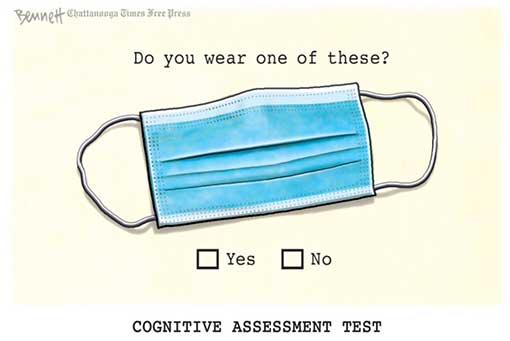 14. Ali Noorani: 100 Days Out from the Election, Immigration is on the Ballot
It is getting harder and harder for the vulnerable to seek protection in the United States from persecution of any kind—religious, political, or social. Attorney General William Barr is reopening asylum cases to potentially remove protections. Children as young as 1 year old, are being detained in hotels. Our immigration courts are stacked with leadership focused on denying cases and curtailing due process. "Enforcement" at the border now means deporting people without following the law. Under the president's April proclamation even family members of lawful permanent residents may not be able to enter the country, and also affects recipients of diversity visas. And, barring action from Congress, the administration's approach to immigration is in danger of bankrupting U.S. Citizenship and Immigration Services before the summer is over.
America is clearly better than this. Because, much to his chagrin (and political peril), President Trump has forged a new consensus on American immigration.
In polling completed at the end of May, as the nation continued to be racked by COVID-19 and as George Floyd's death was launching a new kind of conversation about racial justice, Gallup found that more Americans wanted an increase in immigration than a decrease—a first since Gallup started asking this question in 1965.
Look closely and you see something surprising: a 7-point rise since 2018 in independents' support for increased immigration. Among people older than 55, 63 percent want the present level or an increase and 73 percent think immigration is a good thing. The numbers are 77 percent and 80 percent among those with "some college" education, and 79 percent and 86 percent among moderates.
The very coalition that boosted Trump to victory in 2016 is cracking under the weight of his hardline immigration policies. https://thebulwark.com/100-days-out-from-the-election-immigration-is-on-the-ballot/
15. Eric Lutz: What If Trump Had Actually Responded to Coronavirus Like a Rational Person?
Poll after poll—including new reports from NBC News/Marist and the Associated Press/NORC Center for Public Affairs Research out on Monday—shows Donald Trump falling further behind Joe Biden, thanks in large part to the pandemic he has steadfastly mismanaged. With fewer than 100 days until election day, support for his handling of the pandemic has hit a new low, and Biden continues to outstrip him in crucial states. The solution to the president's dimming political prospects, then, would seem simple: just do something about the coronavirus. But Trump, true to form, has continued to dismiss the dangers of COVID-19, to face the pandemic with little more than wishful thinking, and to treat it as a political problem rather than the devastating public health crisis that it is.
His inability to change course for the public good, even when doing so is in his best interest, reflects his lifelong objection to admitting failure, not to mention his refusal to hear bad news. "The irony is that if he'd just performed with minimal competence and just mouthed words about national unity, he actually could be in a pretty strong position right now," Ben Rhodes, a deputy national security adviser under Barack Obama, told the Washington Post. "And he just could not do it." https://www.vanityfair.com/news/2020/07/what-if-trump-had-actually-responded-to-coronavirus-like-a-rational-person