May 28, 2020
ON THE RECORD. . .
"I am ashamed to have him be President of the United States of America. And I hope that the voters of Michigan will remember this when November comes, that he didn't care enough about their safety, he didn't care about their welfare, he didn't respect them enough just to engage in the very simple task, the painless task, the easy task of wearing a mask when he was provided one. And so I hope that we'll have a new president soon enough who does respect people more than this president does. — Michigan AG Dana Nessel (D)

"The president is a petulant child who refuses to follow the rules, and I have to say, this is no joke. I think the message he's sending is the same message he sent when he took office in 2017, which is, 'I don't care about you, I don't care about your health, I don't care about your welfare, I don't care about anyone but myself,'" she added. — Michigan AG Dana Nessel (D) on President Trump's decision not to wear a mask at a Ford plant in her state.

"This is an individual who has encouraged people to break the law in a manner that jeopardizes the health of all our state residents. And then when we have armed gunmen storming the capitol holding swastikas and confederate flags, he calls them very good people who our governor ought to negotiate with." — Michigan AG Dana Nessel after the armed demonstrators occupied the statehouse demanding to speak with the governor. Some comments in a private Facebook group organizing the event went so far as to threaten violence against Whitmer and other lawmakers, according to the Detroit Metro Times.

With regard to November's election, the shocking-but-normal reality is that we know Donald Trump will cheat. Everyone knows he'll cheat. Even his supporters know he'll cheat. His cheating is one of the things they love about him. So that he'll cheat—while loudly accusing the other side of cheating—is a given. We just don't know yet exactly how.  — Michael Tomasky

"It's a disgrace what I watch from this fake news media and from some of these liberal institutions. Columbia is a liberal, disgraceful institution to write that because all the people that they cater to were months after me, they said we shouldn't close it." — Trump attacking Columbia University's analysis said that had the lockdown or social distancing happened sooner, the analysis said almost all of the lives that have been lost could have been saved.

"I know Joe Scarborough. Joe is a friend of mine. I don't know T.J. Klausutis. Joe can weather vile, baseless accusations but T.J.? His heart is breaking. Enough already." -- Mitt Romney as Trump continues tweeting about baseless conspiracy theories about Joe Scarborough.

"So far today, the president has accused someone of murder, accused Democrats of rigging the election, bragged about 100,000+ deaths, called a congressman a fraud, called the Speaker of the House crazy, and misspelled 'too.' And that's just on Twitter." — Windsor Mann

"We are far below 2.2 million dead Americans because of the actions of President Trump." — Kayleigh McEnany suggesting President Trump views any death toll under 2.2 million as a success in handling the coronavirus pandemic.

"Whatever his issues with Scarborough, President Trump's crazed Twitter rant on this subject was vile and unworthy of his office. Some will undoubtedly shrug it off as Trump being Trump, but one could hardly be blamed for reading it and doubting his fitness to lead. To say Trump owes Scarborough an apology is to put it mildly. But in the end, Scarborough won't be the one hurt by this. Against a weak opponent, Trump somehow managed in 2016 to win despite carrying on with sad, deluded conspiracy theories about Sen. Ted Cruz's father being involved in the assassination of John F. Kennedy. Against a less reviled opponent, he may not be so lucky in 2020. And observers might even someday look back at this incident as the instant when things began to unravel." -- Washington Examiner editorial

"Wearing a mask to protect against coronavirus is about loving your fellow human being. This is an instruction as old as the Bible. You are supposed to love your fellow man and woman, and that is what we are doing." — Ohio Gov. Mike DeWine (R) telling Ohioans to wear the face coverings even as they have become a political flashpoint amid the pandemic.
POLITICAL ADS

Lindsey Must Go: https://youtu.be/pyavctH2LeA

Deer In The Headlights | Joe Biden For President: https://youtu.be/viO4Nz7DyHI

Memorial Day | The Lincoln Project: https://youtu.be/KwIESh3HVdQ

The president spent his day golfing | Joe Biden@JoeBiden https://twitter.com/JoeBiden/status/1264374557860716544
---
IN THIS ISSUE
FYI
OPINION
1. Andy Borowitz: Fauci Urges Trump to Remain on Golf Course Until Pandemic Is Over
Sharply disagreeing with critics of Donald J. Trump's weekend visit to the Trump National Golf Club, Dr. Anthony Fauci has urged Trump to remain on the golf course until the pandemic is over.

"The people who are giving you a hard time about your golf trip are just haters," Fauci told Trump on Sunday. "It's in the best interest of everyone in the country that you keep golfing, Mr. President."

"Please," he added.

Trump was reportedly surprised by the doctor's words of encouragement, especially because the golf trip had limited the President's ability to communicate with Fauci, the Centers for Disease Control, and other scientists involved in the coronavirus response.

"It's been tough without you, but we are doing the best we can," Fauci said. "After all the hard work you've done, you deserve months and months and months of golfing."

Fauci also recommended that Trump throw away his phone, stop talking to the press, and not tell anyone about the great idea he had on the golf course about using lawn fertilizer to protect people from the coronavirus. https://www.newyorker.com/humor/borowitz-report/
2. AP-NORC poll: Half of Americans would get a COVID-19 vaccine
Only about half of Americans say they would get a COVID-19 vaccine if the scientists working furiously to create one succeed, a number that's surprisingly low considering the effort going into the global race for a vaccine.
But more people might eventually roll up their sleeves: The new poll from The Associated Press-NORC Center for Public Affairs Research found 31% simply weren't sure if they'd get vaccinated. Another 20% said they'd refuse. https://apnews.com/dacdc8bc428dd4df6511bfa259cfec44
3. Revealed: conservative group fighting to restrict voting tied to powerful dark money network
A powerful new conservative organization fighting to restrict voting in the 2020 presidential election is really just a rebranded group that is part of a dark money network already helping Donald Trump's unprecedented effort to remake the US federal judiciary, the Guardian and OpenSecrets reveal.
The organization, which calls itself the Honest Elections Project, seemed to emerge out of nowhere a few months ago and started stoking fears about voter fraud. Backed by a dark money group funded by rightwing stalwarts like the Koch brothers and Betsy DeVos' family, the Honest Elections Project is part of the network that pushed the US supreme court picks Brett Kavanaugh and Neil Gorsuch, and is quickly becoming a juggernaut in the escalating fight over voting rights. https://www.theguardian.com/us-news/2020/may/27/honest-elections-project-conservative-voting-restrictions
4. Trump Lies About Pelosi In Memorial Day Remarks
President Trump's Memorial Day remarks at the White House, billed as honoring American veterans, quickly turned into a stream of insults about Speaker Nancy Pelosi.
Trump again falsely claimed Pelosi was "dancing in the streets of Chinatown" as coronavirus started to spread across the country.
He added: "These are sick people." https://twitter.com/atrupar/status/1263862449796603909
5. Historical COVID-19 comparisons are breathtaking
More Americans have died of the coronavirus in the last 12 weeks than died in the Vietnam and Korean Wars combined and nearly twice as many as died of battle wounds during World War I. The death toll has nearly matched the number of people killed by the initial blasts of the world's first atomic bombs dropped on Hiroshima and Nagasaki. In terms of American deaths, it is the equivalent of 22 Iraq wars, 33 September 11 attacks, 41 Afghanistan wars, 42 Pearl Harbors or 25,000 Benghazis. https://www.nytimes.com/2020/05/24/us/politics/trump-coronavirus-death-toll.html
6. Schiff Wants Flynn-Kislyak Transcripts Released
After the outgoing acting director of national intelligence declassified misleading "unmasking" requests to portray the Obama administration railroading Michael Flynn, House intelligence committee chairman Adam Schiff (D-CA) called for "any intelligence report or transcript" of Flynn's calls with then-Russian Ambassador Sergei Kislyak, about which Flynn lied to the FBI, including intelligence reports that prompted the unmasking requests, the Daily Beast reports. https://www.thedailybeast.com/adam-schiff-wants-flynn-kislyak-transcripts-release
7. Little sense of shared grief as virus deaths near 100,000
For months after the Sept. 11 terrorist attacks, the nation ached together in televised memorials, joining in a collective catharsis of uniformed salutes, bagpiped dirges and President George W. Bush declaring a national day of mourning and remembrance.
The space shuttle Challenger explosion in 1986 turned classrooms into grieving sessions, with President Reagan directly addressing the national wounds. The Japanese attack on Hawaii's Pearl Harbor in 1941 was a day that President Franklin D. Roosevelt said would live in "infamy," uniting the mainland to enter a world war.
Yet as the nation nears 100,000 deaths from COVID-19 — far more than all those tragic events combined or the entire Vietnam War — there is little sense this Memorial Day weekend that Americans are grieving together or uniting in a sense of purpose. https://www.latimes.com/world-nation/story/2020-05-22/little-sense-of-shared-grief-as-virus-deaths-near-100-000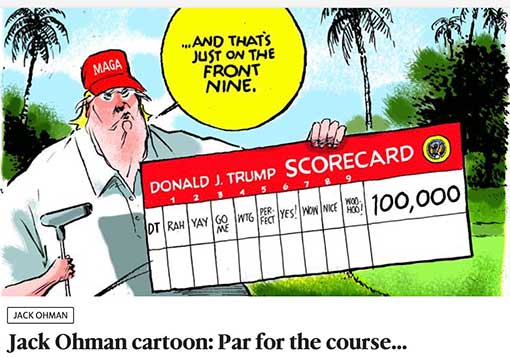 8. Michael Flynn's name was never masked in FBI document on his communications with Russian ambassador
A Republican effort to determine who may have leaked the name of Michael Flynn in connection to his 2016 contact with the Russian ambassador has centered on the question of which Obama administration officials requested his identity be "unmasked" in intelligence documents.
But in the FBI report about the communications between the two men, Flynn's name was never redacted, former U.S. officials said.
It was the FBI, not the NSA, that wiretapped Kislyak's calls and created the summary and transcript, the former officials said.
"When the FBI circulated [the report], they included Flynn's name from the beginning" because it was essential to understanding its significance, said a former senior U.S. official, who spoke on the condition of anonymity to describe sensitive intelligence. "There were therefore no requests for the unmasking of that information." https://www.washingtonpost.com/national-security/michael-flynns-name-was-never-masked-in-fbi-document-on-his-communications-with-russian-ambassador/2020/05/20/e94ee050-9a0b-11ea-ac72-3841fcc9b35f_story.html
9. Half the Accounts Tweeting on 'Reopening' May Be Bots
Carnegie Mellon University researchers have discovered that much of the discussion around the pandemic and stay-at-home orders is being fueled by misinformation campaigns that use convincing bots.
Said professor Kathleen Carley: "We're seeing up to two times as much bot activity as we'd predicted based on previous natural disasters, crises and elections." https://www.scs.cmu.edu/news/nearly-half-twitter-accounts-discussing-%E2%80%98reopening-america%E2%80%99-may-be-bots
10. Joe Biden Finds Bernie Sanders's Donors Elusive
Presumptive Democratic presidential nominee Joe Biden has yet to unlock a key part of the party's fundraising base less than six months before Election Day: Bernie Sanders's army of online small donors, a Wall Street Journal analysis found.
About 60,000 people who gave to the Vermont senator during the Democratic primary had also chipped in to Mr. Biden's campaign by the end of April, according to the Journal's analysis of Federal Election Commission data filed this week. That group amounted to just under 3% of the roughly 2.2 million total Sanders donors the Journal identified in public filings. https://www.wsj.com/articles/joe-biden-finds-bernie-sanderss-donors-elusive-11590156897
11. Trump will lose in a landslide because of the economy, new election model predicts
A new Oxford Economics model predicts the coronavirus pandemic will cause President Trump to suffer a "historic defeat" in November, CNN reports.
"The model, which uses unemployment, disposable income and inflation to forecast election results, predicts that Trump will lose in a landslide, capturing just 35% of the popular vote. That's a sharp reversal from the model's pre-crisis prediction that Trump would win about 55% of the vote. And it would be the worst performance for an incumbent in a century."
Said the report: "It would take nothing short of an economic miracle for pocketbooks to favor Trump, adding that the economy will be a "nearly insurmountable obstacle for Trump come November." https://edition.cnn.com/2020/05/20/business/economy-election-trump-biden-jobs/index.html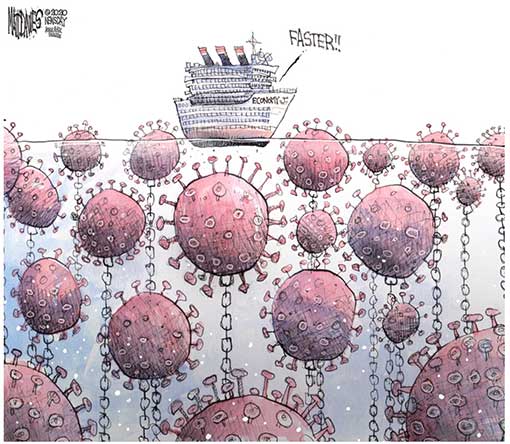 12. Lockdown Delays Led to at Least 36,000 More Deaths, Models Find
If the United States had begun imposing social-distancing measures one week earlier in March, about 36,000 fewer people would have died in the pandemic, according to new estimates from Columbia University disease modelers.
And if the country had begun locking down cities and limiting social contact on March 1, two weeks earlier than when most people started staying home, a vast majority of the nation's deaths — about 83 percent — would have been avoided, the researchers estimated.
https://www.nytimes.com/2020/05/20/us/coronavirus-cases-deaths.html
13. Trump tests whether incumbent leader can tap outsider anger
Donald Trump is running against himself.
With his cries to "Reopen our country!" and his rebukes of the federal bureaucracy and health regulations amid the coronavirus pandemic, Trump has tried to tap into the same populist, anti-Washington anger he rode to victory in 2016. The difference: He is now, by definition, the face of government.
Positioning himself as the outsider despite being the incumbent, Trump has feuded with governors, pushed back against government restrictions and, this week, said he was taking an unproven anti-malarial drug against the coronavirus despite warnings from his own health experts. https://apnews.com/aaa334dbbe61570f1ff514c175b51c38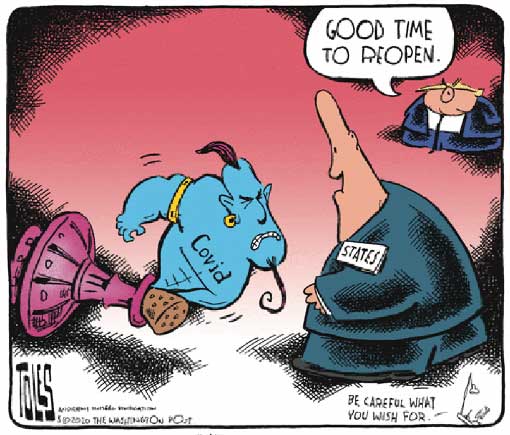 14. Senior officials advised against Trump emergency arms sales to Saudis
Secretary of State Mike Pompeo disregarded the advice of high-level officials at the State Department, Pentagon and within the intelligence community in invoking an emergency waiver last year to circumvent congressional review of billions of dollars in arms sales to the U.S. allies in the Persian Gulf region, according to two former administration officials and three congressional sources.
That decision was under investigation by a government watchdog who was fired last week at Pompeo's urging, and it has fueled renewed accusations from lawmakers that the Trump administration bucked the will of Congress and even violated the law when it fast-tracked the weapons sales. The secretary of state is facing intense scrutiny over the inspector general's ouster, which has unleashed a flurry of negative stories and a torrent of criticism on Capitol Hill.
In justifying the move to Congress, Pompeo wrote that "Iranian aggression" and "increasing regional volatility" necessitated an urgent delivery of certain weapons to U.S. partners in the Middle East.
But during meetings last spring of the National Security Council at several levels, high-level career and political officials from the Pentagon, State Department and intelligence community agreed that there had been no change in Tehran's behavior to justify invoking emergency authorities and advised against doing so, according to a former administration official who attended the meetings.
"There is nothing going on right now that we could point to that would say it was any different than the month before," the former official said. https://www.politico.com/news/2020/05/20/mike-pompeo-trump-emergency-arms-sales-saudi-arabia-271943
15. A Trump election conspiracy collapses
Trump had complained repeatedly about election "fraud" and theft in heavily populated, Democrat-rich Broward and Palm Beach counties, which had slowly but erratically updated their vote totals after polls closed on Election Day.
"Law Enforcement is looking into another big corruption scandal having to do with Election Fraud in #Broward and Palm Beach. Florida voted for Rick Scott!" wrote Trump on Nov. 8, 2018.
In a tweet the next day, the president falsely accused Democrats of sending "their best Election stealing lawyer, Marc Elias, to Broward County they miraculously started finding Democrat votes. Don't worry, Florida - I am sending much better lawyers to expose the FRAUD!"
But neither Trump's unnamed "lawyers" nor the Florida Department of Law Enforcement found evidence of a "big corruption scandal." https://www.politico.com/states/florida/story/2020/05/21/a-trump-election-conspiracy-collapses-1285442
16. Twitter labels Trump's tweets with a fact-check for the first time
Twitter on Tuesday slapped a fact-check label on President Trump's tweets for the first time, a response to long-standing criticism that the company is too hands-off when it comes to policing misinformation and falsehoods from world leaders.
There is NO WAY (ZERO!) that Mail-In Ballots will be anything less than substantially fraudulent. Mail boxes will be robbed, ballots will be forged & even illegally printed out & fraudulently signed. The Governor of California is sending Ballots to millions of people, anyone….. — Donald Trump tweet

Get the facts about mail-in ballots — Twitter fact check.
17. The DAILY GRILL
"Because I'm allowed to. Well, that's called 'out of state.' You know, why I voted?  Because I happen to be in the White House and I won't be able to go to Florida to vote." —Trump when asked why he voted absentee in the Florida primary in March.

VERSUS

The South Florida Sun-Sentinel  reported on Wednesday that Trump was at his Florida golf club on March 7 and 8, located "across the street from a library where early voting was offered from 10 a.m. to 6 p.m." on both those days. The Hill tweeted a video of Trump golfing in West Palm Beach on Saturday, March 7. https://americanindependent.com/donald-trump-lie-absentee-ballot-florida-primary-golf-kayleigh-mcenany-white-house/

 

"I think it's fine. It's the flu. It's the flu… It's going to be handled. It's going to come. It's going to be bad. And maybe it will be worse than the normal flu seasons. And it's going to go away. I think it is being handled fine. I think the words are right." — Donald Trump, on Fox News, on April 24, 2009, commenting on the Obama administration's response to H1N1 Swine Flu.

VERSUS

Biden/Obama were a disaster in handling the H1N1 Swine Flu. Polling at the time showed disastrous approval numbers. 17,000 people died unnecessarily and through incompetence! Also, don't forget their 5 Billion Dollar Obamacare website that should have cost close to nothing!" — Trump, April 2020

 

3 years ago, after Jeff Sessions recused himself, the Fraudulent Mueller Scam began. Alabama, do not trust Jeff Sessions. He let our Country down. That's why I endorsed Coach Tommy Tuberville (@TTuberville), the true supporter of our #MAGA agenda!
https://secure.winred.com/tommytuberville/donate — Donald J. Trump


VERSUS

@realdonaldtrump Look, I know your anger, but recusal was required by law. I did my duty & you're damn fortunate I did. It protected the rule of law & resulted in your exoneration. Your personal feelings don't dictate who Alabama picks as their senator, the people of Alabama do. -- Jeff Sessions

 

3 years ago, after Jeff Sessions recused himself, the Fraudulent Mueller Scam began. Alabama, do not trust Jeff Sessions. He let our Country down. That's why I endorsed Coach Tommy Tuberville (@TTuberville), the true supporter of our #MAGA agenda! https://secure.winred.com/tommytuberville/donate — Donald J. Trump @realDonaldTrump

VERSUS

The most disloyal actual retard that has ever set foot in the Oval Office is trying to lose AND take the Senate with him. Another Roy Moore fiasco so he can blame someone else for his own mess. — Ann Coulter @AnnCoulter

 

I give, and have given from the beginning, my entire yearly salary, $400,000 to $450,000, back to our government. Last check to HHS Covid relief. My great honor! — Donald J. Trump @realDonaldTrump

VERSUS

OK but your golf (exercise) has cost taxpayers over $130,000,000, including payments to the company you own and we don't even get a real president out of it so you're kind of way ahead here. — George Conway @gtconway3d

 

"When will they open a Cold Case on the Psycho Joe Scarborough matter in Florida. Did he get away with murder? Some people think so. Why did he leave Congress so quietly and quickly? Isn't it obvious? What's happening now? A total nut job!" — Trump is referring to the 2001 death of Lori Klausutis, a 28-year-old aide who worked for Scarborough when he was a Republican member of Congress representing Florida's 1st CD.

VERSUS

The circumstances of Klausutis's death have spawned conspiracy theories, but authorities never suspected foul play. Her death is not an unsolved mystery or a cold case waiting for answers. Klausutis's death on July 20, 2001, was ruled accidental and the police concluded there was no reason to further investigate. A police investigator told The Post in 2017 that authorities had left "no stone unturned." -- PolitiFact has given Trump's claim its worst rating, "Pants on Fire."
18. From MEDIA MATTERS (They watch Fox News so you don't have to)
Trump's immigration policies are spreading COVID-19. Fox News personalities are cheering it on.
The Trump administration's policies of continued deportations and mass incarceration of undocumented immigrants and asylum seekers during the COVID-19 crisis are spreading the disease within the United States and across Central and South America and the Caribbean, but this hasn't stopped right-wing media from cheerleading these extreme policies.  https://www.mediamatters.org/immigration/trumps-immigration-policies-are-spreading-covid-19-fox-news-personalities-are-cheering

Fox News is now hyping what appears to be a coordinated effort by pro-Trump groups and the Trump campaign to put forward a separate narrative from another group of doctors who are speaking out against official guidance from experts about safety measures to battle the coronavirus pandemic and instead urging the quick reopening of businesses and the end of shelter-in-place orders. https://www.mediamatters.org/coronavirus-covid-19/after-report-trump-campaign-push-organize-anti-lockdown-doctors-fox-news

Donald Trump has been spreading a debunked conspiracy theory that MSNBC host Joe Scarborough, who is now a loud Trump critic, is a murderer. Unlike with previous pro-Trump conspiracy theories, Fox News isn't covering this story on-air at all (even to debunk it) -- even as the network's most prominent host pushes the baseless attack on his radio show. https://www.mediamatters.org/sean-hannity/fox-news-ignoring-trumps-conspiracy-theory-about-joe-scarborough-while-sean-hannity

Right-wing media attack Joe Biden for wearing a mask. Rush Limbaugh claimed that "the mask has become a required symbol on the left to promote fear" and "indecision," and Biden looked "like an abject idiot." Limbaugh also theorized that "they haven't been able to get Trump in a mask and they're going crazy. …  This is what they want to be able to show everybody Trump doing, and Trump will not give them this." https://www.mediamatters.org/coronavirus-covid-19/right-wing-media-attack-joe-biden-wearing-mask
19. From the Late Shows
The Late Show with Stephen Colbert: Trump Fires State Dept. IG To Protect Mike Pompeo, Reveals He's Taking Hydroxychloroquine; https://youtu.be/dw2wXfjZGUQ

Old but still good: Jordan Klepper vs. Trump Supporters | The Daily Show: https://www.youtube.com/watch?v=NzDhm808oU4
1. Eric Lutz: The Flynn "Unmasking" Non-Scandal Gets Even More Non-Scandalous
Donald Trump's allies are escalating their probes into the origins of the Russia investigation, announcing their intention to issue subpoenas for information about the "unmasking" of Michael Flynn—the president's former national security adviser, who was forced out of the administration after less than a month over his shady contacts with then-Russian ambassador Sergey Kislyak. The retired general lied to Vice President Mike Pence, and later to federal investigators, about the interactions, and admitted as much when he pleaded guilty to Robert Mueller in 2017. But he has since become a cause for the president and other Republicans, who say he was set up by deep state actors working in concert with Barack Obama's administration, which—as the conspiracy theory goes—was improperly spying on Flynn and others in Trump's circle. "I'm trying to explain to the American people what happened in Crossfire Hurricane," Lindsey Graham told reporters this week.
But there appears to be a problem with the "unmasking" theory: Flynn was not, in fact, unmasked in the report on his Kislyak call. The Washington Post on Wednesday reported that, in the FBI's report about communications between Flynn and Kislyak, Flynn's name appeared unredacted, making the hunt to find out who in the Obama administration sought to reveal his name in intelligence materials—well, kind of unnecessary. "They included Flynn's name from the beginning," a former United States official told the Post. "There were therefore no requests for the unmasking of that information."
Of course, Trumpworld investigations aren't meant to make sense. The idea here is not so much to uncover wrongdoing as it is to have the words "Obama" and "Biden" and "investigation" appear in the same sentence as much as possible between now and November, and to occasionally turn up nefarious-sounding but ultimately benign materials, like Susan Rice's recently declassified email to herself in which she noted—gasp!—that Barack Obama made clear he wanted investigations into Russia's election hacking to be done "by the book." "The Obama Administration is turning out to be one of the most corrupt and incompetent in U.S. history," Trump tweeted last week. "Obamagate" is looking more and more like this cycle's Hillary Clinton email scandal—a web of implication and insinuation that doesn't add up to anything, but is just confusing enough to muddy the waters and distract from the corruption and incompetence that has been unfolding in plain sight this whole time. It seems particularly tired this time around, but that doesn't mean it can't work. https://www.vanityfair.com/news/2020/05/mike-flynn-unmasking-non-scandal-gets-even-more-non-scandalous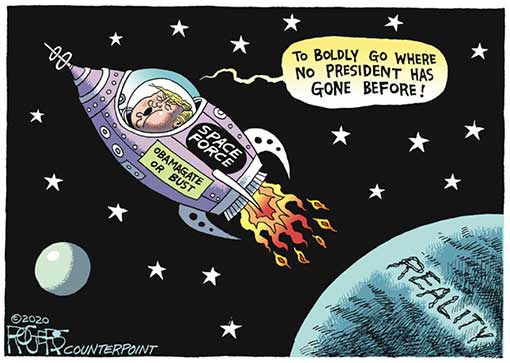 2. Garrett Graff: The Hypocrisy of Mike Pompeo
MANY OF THOSE around Donald Trump have evinced a certain moral or political flexibility, but few have eclipsed the purely distilled, cynical hypocrisy of Mike Pompeo. As a Tea Party, Koch-backed member of Congress, he built his political reputation almost solely on two issues: lambasting Secretary of State Hillary Clinton about the Benghazi attack and her email server, and more broadly, attacking the Obama administration's Iran deal at every turn.
Now, Pompeo—who in April passed his two-year mark as the nation's top diplomat—has spent much of the last year mired in a widening series of questions about his own leadership at the State Department and alleged use of taxpayer resources for personal errands and to bolster his own political ambitions.
For a politician who spent years in Congress railing about the misuse of government funds and improper conduct, it's an extraordinary turnabout. Amid the controversaries, time and again, Secretary Mike Pompeo has conveniently taken stances that Congressman Mike Pompeo never would have tolerated.
During his years on the House Republicans' select committee on Benghazi, Pompeo railed against the State Department's lack of cooperation with Congress and Hillary Clinton's lack of support for her employees as secretary. "We were stonewalled by the State Department and by former Secretary Clinton," Pompeo told NPR in 2015. "It was the case that the State Department came out after the event and told the American people a tale that just turned out not to have been true." https://www.wired.com/story/mike-pompeo-hypocrisy/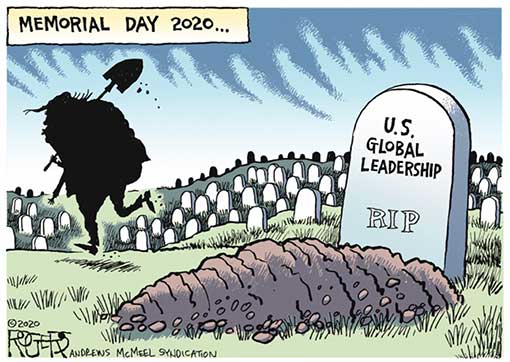 3. Susan B. Glasser: Trump Is a Superspreader—of Distraction
Trump lovers may find the return to the Ukraine impeachment story endlessly satisfying revenge drama played nightly on Fox. Still, riling up his base over impeachment, or retaliating for it, or whatever it is that the President is doing, is only part of Operation Obfuscation. Trump right now is mass-proliferating diversions, from last week's spurious "Obamagate" to this week's threat to withhold federal funds from Democratic-led states that make it easier for voters to cast ballots by mail this fall. If it seems as though Trump is generating more controversies than usual these days, that's because he is. He is a superspreader of distraction. It's an excellent way to make one forget, at least for a while, about the death and economic destruction currently rampaging across the country.
If a return to normal isn't really around the corner, Trump can at least offer distraction and denial. Diversion was and is the point. As if the coronavirus did not exist. As if more than a thousand Americans weren't dying every day of this terrible virus without a cure. It was only a few weeks ago that the President was saying the United States might lose only fifty or sixty thousand Americans, or perhaps a hundred thousand total, to the disease. On April 10th, he predicted that covid-19 deaths in the United States would be "substantially below the one hundred thousand" figure, perhaps even as low as half of that. But now it is the start of the Memorial Day weekend, a time when the country traditionally pays tribute to its wartime fallen, and Trump's "invisible enemy" is about to pass that awful milestone of a hundred thousand American deaths. The grim symbolism of this year's holiday is not likely to be soon forgotten, no matter how hard the President tries. https://www.newyorker.com/news/letter-from-trumps-washington/trump-is-a-superspreader-of-distraction
4.  Jonathan Chait: Ukraine's President Finally Delivers Favor Trump Was Impeached Over
A very, very long time ago, the House of Representatives impeached President Trump for abusing his power by pressuring Ukraine to announce an investigation of his opponent, Joe Biden. Then every Senate Republican except Mitt Romney decided either that this was fine, or that it wasn't abusive enough to justify removal, or that — as senators including Susan Collins, Rob Portman, Shelly Moore Capito optimistically put it — he had learned his lesson.
Meanwhile, here's a funny footnote to this long-forgotten episode in our distant past. Yesterday, Ukraine's president announced the investigation.
It might seem surreal that Trump would simply pick up his low-rent scheme right where he left off, given that it got him impeached and the payoff is modest. But one of the oddities of this episode is that its effect is radically contingent on the attention of the media and public officials.
In May of 2019, Giuliani was visiting Ukraine, and openly boasting about his plans to use Trump's diplomatic leverage to shake loose dirt on Biden. He wasn't hiding it. He wasn't even denying it was improper. ("There's nothing illegal about it. Somebody could say it's improper.") Nobody cared.
The whole scheme was sitting there in plain sight until a whistle-blower filed a formal complaint, which the Trump administration tried to cover up. Then Congress decided to investigate and initiate impeachment. Republicans toggled between denying it happened and insisting it was not a big deal if it had, then let Trump go.
Now he's back at it, but because of both the coronavirus and having successfully established the precedent that he can get away with this, nobody is treating it as a first-tier scandal. It's back to being what it started as: grist for generating headlines that imply some kind of wrongdoing by Joe Biden. https://nymag.com/intelligencer/2020/05/ukraine-favor-trump-impeachment-biden.html
5. Virginia Heffernan: Grab your sanitizer and face masks — it's Republican dirty trick season
Malarkeygate.
The pile Trump dips into for his smear jobs keeps getting bigger and more rank. But his recent claims about his enemies are kinda ... weird. Recently he suggested that cable news everyman (and Never Trumper Republican) Joe Scarborough murdered a woman who died of natural causes 20 years ago. Scarborough didn't.
In the last few days, Fox News has been trying hard to squeeze a scandal out of a snoozer email memo by Susan Rice, former national security advisor to President Obama, memorializing that her boss told James B. Comey, then the FBI director, to do things "by the book" in running down Trump appointee Michael Flynn's Russia contacts.
Still awake? Not exactly crack pipes or Chappaquiddick, is it? But the dirty tricksters want you to believe it is sure and certain proof of a cover-up of deep state crimes against Trumpworld.
Rep. Adam B. Schiff (D-Burbank) condemned this kind of ruthless politicking by Republicans in a speech during an Intelligence Committee hearing last year: "You might think" all the ways the Trump campaign made common cause with Russians "is OK," he said. "I don't."
Schiff was right: The entire Republican Party, including warhorse Karl Rove, who as of Thursday is advising the Trump campaign, evidently sees collaboration with Russia and the whole deck of dirty tricks as "just what you have to do to win." https://www.latimes.com/opinion/story/2020-05-22/republicans-dirty-tricks-campaign-donald-trump
6. Jonathan Chait: Trump Is Failing at Governing But Winning at Authoritarianism
Donald Trump has been battering away at American democracy for about four years now, first as a populist candidate warning of rigged elections and inciting his supporters to violence, and then as a president. Scholars who study democratic erosion — the process through which populist leaders hollow out previously healthy republics — have shown steady, if not increasing, concern.
Ross Douthat has been one of the most effective and articulate critics of those warnings. Douthat's Trump is little more than a clown, who may dream of the jackboot but who has been reduced instead to ineffectually stamping his loafers. Douthat's latest column, "Donald Trump Doesn't Want Authority," oversimplifies his thesis only slightly. While acknowledging that Trump's misgoverning has had tragic effects, he reiterates his portrayal of a president too hapless to do any real damage to the democratic system.
Douthat has one point. Even a reasonably effective leader of Trump's authoritarian bent could have exploited this crisis more effectively. The pandemic produced a worldwide upsurge in trust for leaders — in almost every state, governors have enjoyed soaring approval ratings, as have leaders across the globe, some of them inept. Only Trump's ineptitude was so obvious, playing out in buffoonish daily briefings, that he was denied the upsurge that almost every other leader enjoyed. Even a barely competent version of Trump would now be sitting on a commanding lead.
But effective public management and effective attacks on democratic norms are different skills. Douthat undersells the very real success Trump has had in the latter area. Trump has not "suddenly discovered how to use his authority for dictatorial or democracy-defying purpose," he asserts.
Well no, perhaps not "suddenly." He has instead worked his way there through trial and error. But Trump's progress after three years is undeniable.
Trump's first success came immediately: He disabled the norms walling off presidents from private interests. Restraints that were once so strong that Jimmy Carter had to sell off his peanut farm lest any pro-peanut bias infect his decision-making have essentially disappeared altogether. The entire Republican congressional party, and much of its judicial wing, have lined up behind Trump's claim that he doesn't need to even disclose his financial interests, let alone cut them loose. Conservatives literally use "Emoluments Clause" as a punchline — after all, it was never enforced before, since nobody until Trump bothered violating it. Just about the only small price Trump pays anymore is regular stories by David Fahrenholdt detailing the government overpaying at his properties. https://nymag.com/intelligencer/2020/05/trump-authoritarian-democracy-barr-justice.html
7. Max Boot: Conspiracy theories are more dangerous than ever
Plagues have been a particularly rich breeding ground for conspiracy theories. In 14th century Europe, Jews were massacred after being accused of spreading the bubonic plague by poisoning wells.
So it is no surprise that there is now an epidemic of coronavirus conspiracy theories. The virus was said to have been started by a Chinese biological warfare laboratory, the U.S. Army, Bill Gates or a "globalist conspiracy to establish sweeping population control" — and it is said to be spread by 5G towers. A movie called "Plandemic" alleges that masks make you sick, that bleach can heal you and that a vaccine may kill you; it has been viewed at least 8 million times online. Naturally, the novel coronavirus has been subsumed into the all-encompassing QAnon conspiracy theory that has become a quasi-religion among some Trump supporters. They think that the virus was created by the "deep state" to bring down their hero.
What's different about this particular moment in conspiracy history?
We now have an unhinged conspiracy-monger in the White House. When he is not ranting about a vast, nebulous plot perpetrated by the prior administration (" gate") or about how Joe Scarborough supposedly murdered an aide, Trump is opining that the virus started in a Chinese lab, that hydroxychloroquine is an effective prophylactic, and that injections of bleach can treat the disease. His son, Eric, recently said that the coronavirus has been hyped by Democrats eager to stop his dad from holding rallies, and that "after Nov. 3, coronavirus, will magically all of a sudden go away." https://www.washingtonpost.com/opinions/2020/05/23/three-reasons-conspiracy-theories-are-more-dangerous-than-ever/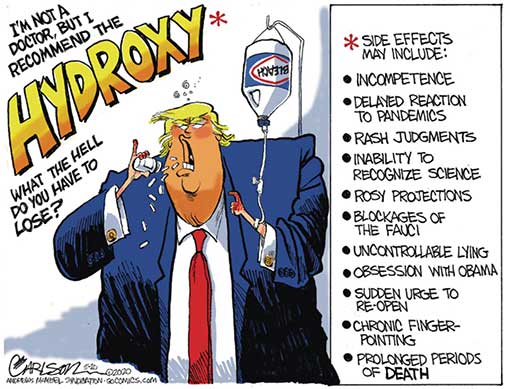 8. Nicholas Kristof: Crumbs for the Hungry but Windfalls for the Rich: Billions are going to zillionaires under the guise of pandemic relief
While President Trump and his allies in Congress seek to tighten access to food stamps, they are showing compassion for one group: zillionaires. Their economic rescue package quietly allocated $135 billion — yes, that's "billion" with a "b" — for the likes of wealthy real estate developers.
My Times colleague Jesse Drucker notes that Trump himself, along with his son-in-law, Jared Kushner, may benefit financially from this provision. The fine print was mysteriously slipped into the March economic relief package, even though it has nothing to do with the coronavirus and offers retroactive tax breaks for periods long before Covid-19 arrived.
Senator Sheldon Whitehouse of Rhode Island and Representative Lloyd Doggett of Texas, both Democrats, have asked the Trump administration for any communications that illuminate how this provision sneaked into the 880-page bill. (Officially, the provision is called "Modification of Limitation on Losses for Taxpayers Other Than Corporations," but that's camouflage; I prefer to call it the "Zillionaire Giveaway.")
About 82 percent of the Zillionaire Giveaway goes to those earning more than $1 million a year, according to Congress's Joint Committee on Taxation. Of those beneficiaries earning more than $1 million annually, the average benefit is $1.6 million.
In other words, a single mom juggling two jobs gets a maximum $1,200 stimulus check — and then pays taxes so that a real estate mogul can receive $1.6 million. This is dog-eat-dog capitalism for struggling workers, and socialism for the rich. https://www.nytimes.com/2020/05/23/opinion/sunday/coronavirus-economic-response.html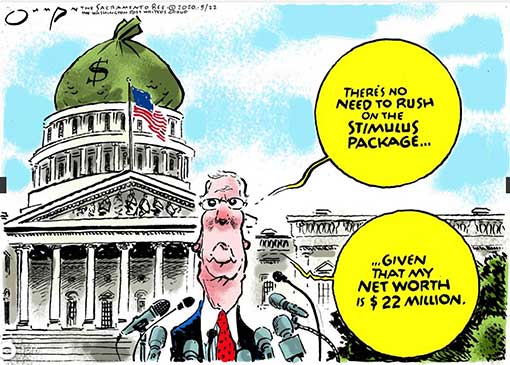 9. Nicholas Goldberg: The Trump attack machine reaches new levels of hysteria. Is there anything to be done about it?
It's all part of the by now familiar Trump playbook: Inflame the base with outrageous charges, muddy the minds of the undecided with false equivalencies, fashion whole conspiracies out of the thinnest of facts, retweet the libels of others. Then add some incendiary language and superlatives — the worst ever, the most incompetent, the biggest crime, the most awful scandal — and poof, you've got a strategy.
It's shocking how effectively these tactics were deployed in 2016. Remember the Hillary Clinton email server? Trump actually assailed Clinton for corruption "on a scale we have never seen before" while the credulous crowds shouted "lock her up, lock her up."
And what did the press do? We lost our perspective and the email story repeatedly landed on Page One and on the cable news repeat cycle, as if it were a truly significant story that deserved extensive coverage. A study by the Shorenstein Center at Harvard later found that Clinton's controversies received more attention in the media during the campaign than Trump's — much of it focused on the email story that Trump's own State Department eventually concluded amounted to nothing, finding there had been "no persuasive evidence of systemic, deliberate mishandling of classified information" by Clinton.
Now the media have a second chance to get it right. But will it matter? Will it change anything?
We're a divided country, an angry country that can't agree on a common narrative, a common history or a common set of values, much less a single coherent picture of President Trump.
Reporters must soldier on, doing their best to present the facts, fully, honestly and in their proper context, so that readers can draw informed conclusions and make their best possible decisions on election day. But getting the truth out in the current political climate is an uphill battle. https://www.latimes.com/opinion/story/2020-05-23/trump-press-attack-coverage
10. David Atkins: We Need to Speak Honestly About the GOP's Evolution Into a Conspiracy Cult
Being a Republican now requires believing in a jaw-dropping series of claims that, if true, would almost necessitate anti-democratic revanchism. One has to believe that a cabal of evil scientists is making up climate science in exchange for grant money; that there is rampant, widescale voter impersonation fraud carried out by thousands of elections officials nationwide; that the "Deep State" concocted a scheme to frame Trump for Russian collusion but chose not to use it before the 2016 election; that shadowy forces are driving migrant caravans and diseases across American borders in the service of destroying white Republican America; that the entire news media is engaged in a conspiracy against the Republican Party; that grieving victims of gun violence and their families all across America want to take away guns as a pretext for stomping the boot of "liberal fascism" on conservative faces; and so on. That and much more is just the vanilla Republican belief system at this point (not even touching less explosive academic fictions like "tax cuts pay for themselves" or "the poor will work harder to better themselves if you cut the safety net.")
It doesn't stop there. Almost half of Fox News viewers–the core of the GOP–believe that Bill Gates is using the COVID-19 pandemic to microchip them.  And Donald Trump has been promoting a series of conspiracy theories on twitter each more outlandish than the last, from old debunked accusations against cable news hosts he dislikes to concocted accusations against former president Barack Obama. https://washingtonmonthly.com/2020/05/23/we-need-to-speak-honestly-about-the-gops-evolution-into-a-conspiracy-cult/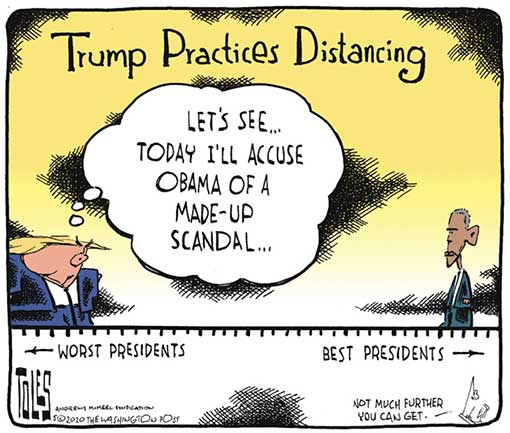 11.  Chris Cillizza: Why Donald Trump's wild weekend can't be normalized
"I have struggled with Biden's recent remarks," tweeted former Trump administration ambassador to the United Nations Nikki Haley on Saturday afternoon. "They were gut wrenchingly condescending. Regardless of color, gender, or class, to label any individual with what he or she is expected to think, believe, and vote is demeaning and disrespectful. Not to mention arrogant and entitled."
Which, fine. Biden was wrong. He shouldn't have said it.
But, the outrage summoned by Haley and her ilk seems to miss one big reality: Trump says and does things on an almost-daily basis that far exceed the inappropriateness of Biden's comment. And yet, there is silence from the same people so willing to leap to condemn Biden.
Just to prove my point, let's go through just some of what Trump has tweeted and retweeted between Friday morning -- when Biden made his "ain't black" remark and Sunday morning.
* Retweeted a post calling 2016 Democratic presidential candidate Hillary Clinton a "skank."

* Retweeted a post suggesting -- contrary to science -- that hydroxychloroquine is an effective treatment for coronavirus, adding these words: "Many physicians agree with you. Also, some very good studies!"

* Retweeted a photo of former 2018 Georgia gubernatorial nominee Stacey Abrams that included these words: "She fought a tough race, kissed a lot of babies and visited every buffet restaurant in the State."

* Retweeted two doctored photos of House Speaker Nancy Pelosi -- one with a Trump 2020 face mask on and one with duct tape over her mouth. The tweet said: "To protect PolyGrip during this pandemic, we have developed 2 options. With the DJT option, she will be able to tongue and adjust her dentures more easily. With duct tape, she won't be able to drink booze on the job as much."

* Tweeted, with no evidence or proof, that mail-in ballots will produce "the greatest Rigged Election in history."

* Retweeted an article about the death of an intern in then-Florida Rep. Joe Scarborough's office, adding: "So a young marathon runner just happened to faint in his office, hit her head on his desk, & die? I would think there is a lot more to this story than that?"

* Tweeted this unfounded speculation about the 1990s death of the intern in Scarborough's office: "A blow to her head? Body found under his desk? Left Congress suddenly? Big topic of discussion in Florida...and, he's a Nut Job (with bad ratings). Keep digging, use forensic geniuses!"

* Tweeted that former Attorney General Jeff Sessions should drop out of the Alabama Senate race -- accusing him of having "no courage, & ruined many lives."
That's all in the last 48 hours. https://www.cnn.com/2020/05/24/politics/donald-trump-tweets-joe-biden-comments/index.html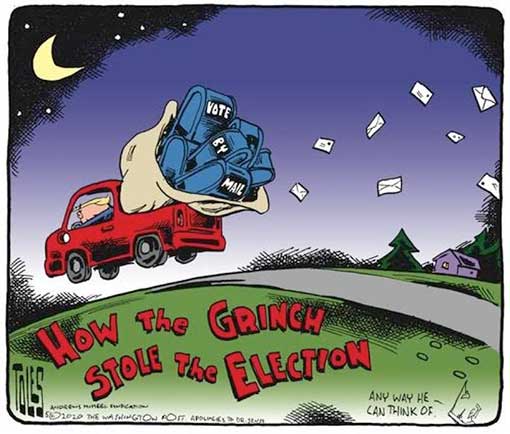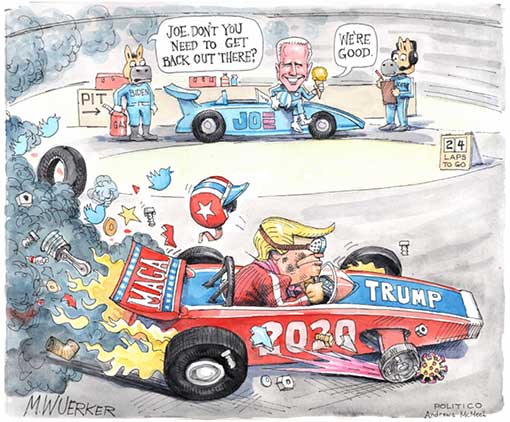 12. Jonathan Chait: Trump Is Smearing Joe Scarborough Because Republicans Reward His Bullying
The United States is in the midst of its worst economic catastrophe in 90 years, and its deepest public-health crisis in more than 100, and the president is laser-focused on the co-host of a morning cable-news talk show whose audience, about 1.1 million daily viewers, equals less than one third of one percent of the population.
Indeed, to put the matter more precisely, the president is focused on investigating a 20-year-old death that Trump wishes to falsely pin on Morning Joe co-host Joe Scarborough. Trump has tweeted about the case four times since the beginning of Memorial Day weekend. It is, to say the least, a strange issue to focus on given the circumstances. Even if his claims were true, there are far more important issues before him.
This is not a shrewd messaging gambit. It does, however, follow a certain logic.
Obviously a wise and strategic president would not be doing this. The sane strategy for maximizing Trump's reelection odds would be to manage the public-health response to the pandemic while taking advantage of a Democratic Congress willing to spend almost unlimited sums to pump stimulus into the economy.
But "sane" left the building a long time ago, and Trump is left in a world of second- and third-best strategies. In place of effective governance, he is counting on partisanship to polarize the race, keeping it close enough that he can eke out another win by demonizing his opponent. A crucial element of Trump's polarization method is to suppress all internal dissent.
Trump is not a political genius, but he does grasp the power of audacious lies. His most devoted cultists believe everything he says, even the things that contradict other things he says. Perhaps more vital to his success is the political allies who go along with the lies even if they see through them. https://nymag.com/intelligencer/2020/05/trump-scarborough-morning-joe-murder-lie.html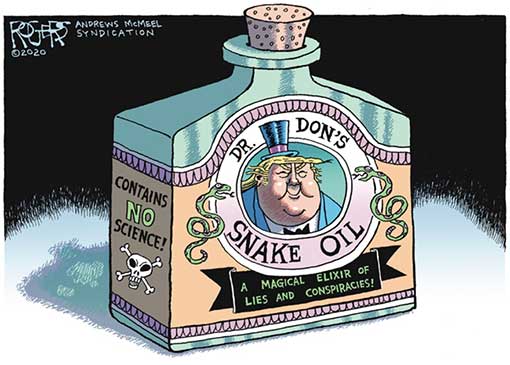 13. Gabrial Sherman: "This Is So Unfair to Me": Trump Whines About His COVID-19 Victimhood as Campaign Flails
As he headed into Memorial Day weekend, Donald Trump complained that he was COVID-19's biggest victim. "He was just in a fucking rage," said a person who spoke with Trump late last week. "He was saying, 'This is so unfair to me! Everything was going great. We were cruising to reelection!" Even as the death toll neared 100,000 and unemployment ranks swelled to over 38 million, Trump couldn't see the pandemic as anything other than something that had happened to him. "The problem is he has no empathy," the adviser said. Trump complained that he should have been warned about the virus sooner. "The intelligence community let me down!" he said.
Trump's outburst reflected his growing frustration that, at this stage of the race, he is losing to Joe Biden. According to a Republican briefed on the campaign's internal polls, Trump is trailing Biden by double digits among women over 50 in six swing states. "Trump knows the numbers are bad. It's why he's thrashing about," the Republican said.
Even those closest to Trump have been privately worried the election is slipping away. According to a source, Melania Trump warned the president during their trip to India in February to take the virus response seriously. "He totally blew her off," the source said. Melania later told people that Trump "only hears what he wants to hear and surrounds himself with yes-people and family," the source added.
And when he's not feeling helpless or aggrieved, Trump continues to cling to magical thinking. "He lives in his own fucking world," the outside adviser said. Trump recently told a friend that the Moderna vaccine is going to be ready in months.
At this point many Republicans I spoke to said the only hope for Trump is that Biden implodes. As one prominent Republican put it: "Right now the only person who can change the dynamic is Joe Biden." https://www.vanityfair.com/news/2020/05/trump-whines-about-his-covid-19-victimhood-as-campaign-flails