May 31, 2018
ON THE RECORD. . .
Your paper is a joke to even bring these issues up or raise these issues." -- Rep. Devin Nunes (R-CA) when asked by the Sacramento Bee if he planned to host any local forums or town hall meetings.

"You have to stand proudly for the national anthem or you shouldn't be playing, you shouldn't be there, maybe you shouldn't be in the country." — Trump in an interview on Fox & Friends.

"Our presidency has been debased by a figure who has a seemingly bottomless appetite for destruction and division and only a passing familiarity with how the Constitution works. And our Article I branch of government, the Congress is utterly supine in the face of the moral vandalism that flows from the White House daily." — Sen. Jeff Flake (R-AZ)

"People of all races, religions and nationalities work at Sanofi every day to improve the lives of people around the world. While all pharmaceutical treatments have side effects, racism is not a known side effect of any Sanofi medication." -- The makers of Ambien in response to Roseanne Barr who said she was "Ambien tweeting" when she wrote racist remarks on Twitter.

"Truth is relative. They may have a different version of the truth than we do." -- Rudy Giuliani saying special counsel Robert Mueller may be setting a "perjury trap" for Donald Trump.

"As a private citizen, it's what I would call my informed opinion that, given the massive effort the Russians made, and the number of citizens that they touched, and the variety and multi-dimensional aspects of what they did to influence opinion … and given the fact that it turned on less than 80,000 votes in three states, to me it exceeds logic and credulity that they didn't affect the election. And it's my belief they actually turned it." -- Former Director of National Intelligence James Clapper saying Russia's subversion of the 2016 presidential election did prove decisive in tipping it to Donald Trump.

"You shouldn't be playing ... Maybe you shouldn't be in the country." -- Donald Trump, who believes that law-abiding NFL players exercising their Constitutional rights should be kicked out of the country—which pretty much squares with the rest of his views on immigration.

"This is not your father's Republican Party. They are not who we are. They are not who America is. What they are doing is sending a vision of America around the world that is distorted. That is damaging. That is hurting us... this phony populism, this fake nationalism.... It's time to say 'no more.'" -- Former Vice President Joe Biden at the New York state Democratic convention

"There are many ways to describe the @realDonaldTrump policy of ripping children away from their parents at the border. It violates human rights laws. It is unAmerican. It would shock Jesus. But I think the most appropriate way to describe it is this: The policy is evil,"-- Rep. Ted Lieu (D-CA) about DHS's orders to separate migrant parents from their children at the border.

"Who's going to give back the young and beautiful lives (and others) that have been devastated and destroyed by the phony Russia Collusion Witch Hunt? They journeyed down to Washington, D.C., with stars in their eyes and wanting to help our nation. … They went back home in tatters." -- Trump tweet.

"As far as what I have seen to date, it appears that there was an investigation not of the campaign, but of certain individuals who have a history that we should be suspicious of that predate the presidential campaign of 2015/2016." -- Sen. Marco Rubio (R-FL) said Sunday that he had seen "no evidence" that a reported FBI informant who made contact with Trump campaign staffers prior to the 2016 election was "part of an investigation on the campaign," let alone the so-called "Spygate" scandal Trump has tried to engineer.

Happy Memorial Day! Those who died for our great country would be very happy and proud at how well our country is doing today. Best economy in decades, lowest unemployment numbers for Blacks and Hispanics EVER (& women in 18years), rebuilding our Military and so much more. Nice! -- Trump ringing in Memorial Day with a tweet listing his accomplishments.

"But as far as the Trump presidency, I wouldn't even call it a presidency. It's an asterisk. It's a typo. I mean, every day it's worse and 10 years from now the history books will be having a field day with it and the shame of the people who supported him, if they're still around, in the sense of being in the public eye, will be like the people who supported McCarthy." -- Martin Short 
---
IN THIS ISSUE
FYI
OPINION
1. Andy Borowitz: N.F.L. Adds First Amendment to List of Banned Substances
The National Football League has expanded its list of banned substances to include the First Amendment to the United States Constitution, the league confirmed on Wednesday.

Roger Goodell, the commissioner of the National Football League, said that, by adding the First Amendment to the list of banned substances, the N.F.L was establishing a "policy of zero tolerance on tolerance."

In order to enforce the ban, Goodell said that players would be tested periodically to determine whether they had used words, gestures, or facial expressions that are strictly prohibited under the new rule.

Speaking at the White House, Donald Trump applauded the league for banning the approximately seventeen hundred N.F.L. players from exercising freedom of speech, and expressed hope that the ban could eventually be expanded to include the other three hundred and twenty-five million Americans. https://www.newyorker.com/humor/borowitz-report/
2. The Trump effect: New study connects white American intolerance and support for authoritarianism
A new study finds a correlation "between white American's intolerance, and support for authoritarian rule. In other words, when intolerant white people fear democracy may benefit marginalized people, they abandon their commitment to democracy.
The World Values Survey data used is from the period 1995 to 2011 — well before Donald Trump's 2016 run for president. It suggests, though, that Trump's bigotry and his authoritarianism are not separate problems, but are intertwined. When Trump calls Mexicans "rapists," and when he praises authoritarian leaders, he is appealing to the same voters. https://www.nbcnews.com/think/opinion/trump-effect-new-study-connects-white-american-intolerance-support-authoritarianism-ncna877886
3. Trump's Plan for Political Survival: Blame Obama for Everything
Broadsides against his predecessor are nothing new for Trump. Nor are the false and misleading suggestions that President Obama snooped on him during his campaign. In early 2017, Trump very publicly, and erroneously, accused Obama of wiretapping him in 2016.
What stood out about the weekend's salvo was the vitriol, perhaps panic, behind it and the frostiness it underscored about the relationship between the two most recent Oval Office occupants.
According to two White House officials, Trump has been privately wondering whether Obama is actively working behind the scenes to undermine or undercut his presidency. And he's done so without bothering to pick up the phone to ask or confront his predecessor. Obama and Trump have not spoken since the inauguration. https://www.thedailybeast.com/trumps-plan-for-political-survival-blame-obama-for-everything
4. The Drive to Elect Women Is Defining 2018's Democratic Primaries
Most analysis has framed this year's multitude of Democratic primaries as struggles for the soul of the party between moderate, 'handpicked DC' candidates and left-wing 'insurgents' in the Bernie Sanders mold… But there may be something much simpler and more powerful than ideology at work here: Democratic primary voters' intense desire to nominate women in 2018.
A confluence of factors has led to this Trump-driven political moment: last year's Women's March, the societal reckoning in the wake of 'Me Too,' and the enormous power of EMILY's List to shape races by aiding female Democratic candidates' fundraising efforts. Political scientists could debate just how significant a role each of these has played in this year's explosion of female candidates. The data, however, is crystal clear. http://cookpolitical.com/analysis/house/house-overview/drive-elect-women-defining-2018s-democratic-primaries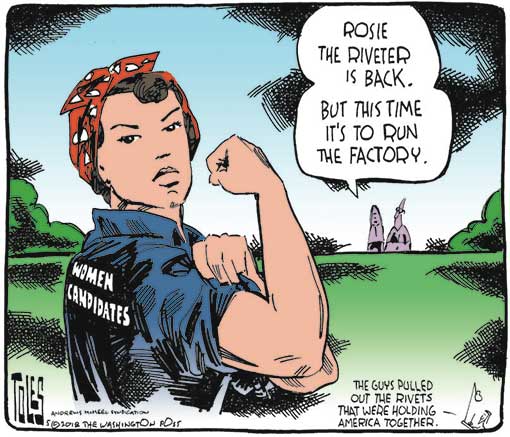 5. Federal Budget Deficit Projected to Soar to Over $1 Trillion in 2020
The federal government's annual budget deficit is set to widen significantly in the next few years, and is expected to top $1 trillion in 2020 despite healthy economic growth, according to new projectionsfrom the nonpartisan Congressional Budget Office released Monday.
The national debt, which has exceeded $21 trillion, will soar to more than $33 trillion in 2028, according to the budget office. By then, debt held by the public will almost match the size of the nation's economy, reaching 96 percent of gross domestic product, a higher level than any point since just after World War II and well past the level that economists say could court a crisis.
The fear among some economists is that rising deficits will drive up interest rates, raise borrowing costs for the private sector, tank stock prices and slow the economy, which would only drive the deficit higher.
"Such high and rising debt would have serious negative consequences for the budget and the nation," said Keith Hall, the director of the budget office. "In particular, the likelihood of a fiscal crisis in the United States would increase." https://www.nytimes.com/2018/04/09/us/politics/federal-deficit-tax-cuts-spending-trump.html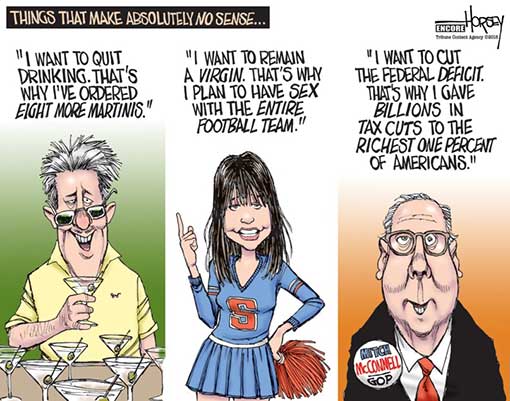 6. 4 in 10 'Strongly Disapprove' of Trump Presidency
A new Gallup poll finds that 41% of Americans "strongly disapprove" of the job Donald Trump is doing as president, and 26% strongly approve — almost exactly the same percentages as Gallup found 15 months ago, in the first weeks of his presidency.
"The percentage of Americans who strongly disapprove of the job Trump is doing is one of the highest for any president in the history of the Gallup 'strongly' question… Only two presidents have had higher strong disapproval ratings. http://news.gallup.com/poll/234944/strongly-disapprove-trump-presidency.aspx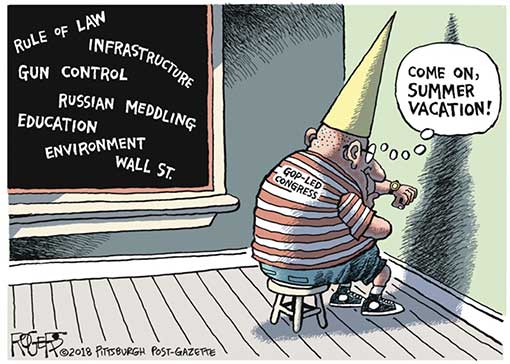 7. Immigration dominates GOP candidates' TV ads in House contests across the country
"House Republican candidates are blanketing the airwaves with TV ads embracing a hard line on immigration — a dramatic shift from the midterm elections in 2014," USA Today reports.
Republicans have aired more than 14,000 campaign ads touting a tough Trump-style immigration platform this year. The barrage underscores why House GOP leaders worry that passing a legislative fix for undocumented immigrants brought to the country as children, referred to as DREAMers, would put GOP candidates at risk heading into the fall election.
In contrast, Democrats "bombard voters with ads that promise to protect Obamacare, shore up Social Security and expand Medicare."
The competing messages demonstrate how far apart the two parties are. They're not just talking about issues differently; they're touting completely different issues to motivate activists and win hotly contested primaries. https://www.usatoday.com/story/news/politics/2018/05/29/immigration-dominating-gop-tv-ads-house-contests/638063002/
8. The DAILY GRILL
"Going to have new equipment and well-deserved pay raises. We just got you a big pay raise. First time in 10 years. We got you a big pay increase. First time in over 10 years. I fought for you. That was the hardest one to get, but you never had a chance of losing." -- Donald Trump  to graduates of the U.D. Naval Academy.

VERSUS

That's not right. U.S. military members have gotten a pay raise every year for the past 10 years and several have been larger than this year's 2.6 percent increase. Pay increases in 2008, 2009 and 2010, for example, were all 3.4 percent or more. -- ABC News

 

"We have now the lowest number of ships that we've had since World War I, and very soon you're going to get to 355 beautiful ships. 355. That's almost a couple of hundred more ships." --  Donald Trump  to graduates of the U.D. Naval Academy.

VERSUS

THE FACTS: No it isn't. The Navy now has 283 ships. And a 355-vessel battle fleet is not going to be achieved "very soon." The Navy plans to reach 355 in the 2050s while saying that could happen in the 2030s if it gets more money and extends the normal life of ships in the fleet. -- ABC News

 

Put pressure on the Democrats to end the horrible law that separates children from there parents once they cross the Border into the U.S. Catch and Release, Lottery and Chain must also go with it and we MUST continue building the WALL! DEMOCRATS ARE PROTECTING MS-13 THUGS. -- Trump blaming Democrats for the mess his administration has created. 

VERSUS

The strategy Trump employed with his Saturday tweet is similar to his playbook on DACA: create a crisis, then blame his political enemies for failing to solve it. -- NY Magazine

 

The Failing @nytimes quotes "a senior White House official," who doesn't exist, as saying "even if the meeting were reinstated, holding it on June 12 would be impossible, given the lack of time and the amount of planning needed." WRONG AGAIN! Use real people, not phony sources. -- Donald Trump on Twitter.

VERSUS

The source of that sentence was a White House official who held a briefing on Thursday afternoon in the White House briefing room that was attended by about 50 reporters, with about 200 or so more on a conference call. -- Michael D. Shear in the NY Times.
9. From MEDIA MATTERS (They watch Fox News so you don't have to)
Anthony Scaramucci: "It's almost like" Democrats "support MS-13, Hamas, and now ... Chairman Kim."https://www.mediamatters.org/video/2018/05/25/anthony-scaramucci-its-almost-democrats-support-ms-13-hamas-and-now-chairman-kim/220307

Fox News guest says that the only problem with missing 1,500 immigrant children is that America can't deport them. Mark Krikorian: "The problem here is that the government has no idea where they are, therefore they're never going to show up for their hearings and they're hear illegally, permanently." https://www.mediamatters.org/video/2018/05/27/fox-news-guest-says-only-problem-missing-1500-immigrant-children-america-cant-deport-them/220311

Rick Santorum calls 1,500 missing migrant children "hyperbole to try to create an issue." https://www.mediamatters.org/video/2018/05/27/rick-santorum-calls-1500-missing-migrant-children-hyperbole-try-create-issue/220312

Pro-Trump media have a meltdown after Roseanne's racist tweet prompts ABC to cancel her show. Right-wing media figures call on their followers to #BoycottABC. https://www.mediamatters.org/blog/2018/05/29/pro-trump-media-have-meltdown-after-roseanne-s-racist-tweet-prompts-abc-cancel-her-show/220326

Alex Jones: Roseanne Barr comparing Valerie Jarrett to an ape isn't racist. https://www.mediamatters.org/video/2018/05/29/alex-jones-roseanne-barr-comparing-valerie-jarrett-ape-isn-t-racist/220320
10. Late Night Jokes for Dems
President Trump today sent a letter to North Korean leader Kim Jong Un, canceling their upcoming meeting. So let me just get this straight, you sent a dictator a letter, but used Twitter to fire most of your staff? How did you break up with your wives — billboards? -- Seth Meyers

Now, on the off chance the president doesn't win the Nobel Prize for peace, part of the blame has to go to Mike Pence. Because Pence did some ad-libbing on Fox News the other night. Poor Mike Pence. His whole entire job was to help Trump get elected just by being a calm-looking white man who quoted the Bible and quietly disapproved of gays. And for a long time that's all he did, but eventually he had to start talking. -- Jimmy Kimmel

So Pence goes on Fox. When he does, he compares the situation in North Korea to Libya. Which is probably the worst possible example he could use, seeing as how the leader of Libya, Moammar Gadhafi, after he gave up his nuclear weapons, was chased into a drainage pipe, dragged through the streets, and killed by rebels. Which is maybe not the way Kim Jong Un wants to go out. -- Jimmy Kimmel

There were two closed-door briefings for members of Congress to go over classified information related to the "spygate" scandal that Trump cooked up. This briefing was originally supposed to be held for Republicans only. Which is insane. It was so insane, in fact, even the White House agreed it didn't look good. So they changed course and hosted a second meeting that Democrats were invited to. Like when your mom forces you to invite the whole class to your birthday party. You don't want to, but you do. -- Jimmy Kimmel

White House Press Secretary Sarah Sanders, in an interview with the "failing New York Times," said being called a liar bothers her. Which, I don't know. I know this might sound crazy, but — have you considered maybe not lying all the time? -- Jimmy Kimmel

Trump canceled the meeting with North Korea over their "tremendous anger and open hostility," which is ironic considering "tremendous anger and open hostility" is Trump's 2020 campaign slogan. -- James Corden

The NFL announced a new policy yesterday requiring players who are on the field to stand during the national anthem. This morning President Trump said, "You have to stand proudly for the national anthem. Or you shouldn't be playing. You shouldn't be there. Maybe you shouldn't be in the country." Is he suggesting that people should be kicked out of the country because they're voicing their opinions? This all started with players protesting police brutality and now, two years later, Trump is suggesting maybe they shouldn't live in the country. He's basically gone from kicking brown people out of the country to kicking out the Cleveland Browns. -- James Corden

Today President Trump announced that he is calling off his meeting with North Korean leader Kim Jong Un. After he broke it off, Trump told him that he could have custody of Don Jr. -- Jimmy Fallon
11. "This Is Rico 101": Why Robert Mueller Isn't Taking Rudy's Bait
The Trump camp's witch-hunt talking points are now dominating the news—but the media battle may be the wrong way to beat Mueller.
Said a former FBI official: "This investigation is classic Mueller: he is doing a classic, organized crime case. This is RICO 101, working your way up and sideways. You pop a few guys for gambling, and no one is going to do a million years for gambling, but you're gonna get their scratch pads, then you move on to their associates. You flip one guy who you arrest with no fanfare. It's exactly what Mueller has been doing his whole goddamn life. It's just that this time the boss of the family happens to be the leader of the free world. Mueller doesn't care if he gets Trump. He doesn't care if he doesn't get Trump. He has no political agenda. He is digging through the layers and bringing back the truth, and the truth is going to be whatever it is going to be." https://www.vanityfair.com/news/2018/05/why-mueller-isnt-taking-rudys-bait
12. Surging gas prices could fuel backlash against Trump
As Americans head out for traditional Memorial Day weekend road trips, they'll confront gas prices of nearly $3 a gallon, the highest since 2014 and a 25 percent spike since last year. The increased cost of fuel is already wiping out a big chunk of the benefit Americans received from the GOP tax cuts. And things could get worse as summer approaches following the administration's standoff with Iran and a move by oil-producing nations to tighten supplies.
The result: The economic and political benefits Trump and the GOP hoped to reap from cutting tax rates could be swamped by higher pump prices that Americans face every time they hit the road. https://www.politico.com/story/2018/05/25/trumps-gas-prices-midterms-570916
13. The feds lost — yes, lost — 1,475 migrant children
The Office of Refugee Resettlement reported at the end of 2017 that of the 7,000-plus children placed with sponsored individuals, the agency did not know where 1,475 of them were.
Sen. Rob Portman, R-Ohio, said, "It's just a system that has so many gaps, so many opportunities for these children to fall between the cracks, that we just don't know what's going on — how much trafficking or abuse or simply immigration law violations are occurring."
A documentary from the PBS program Frontline said that the federal government has actually released some of the minors to human traffickers.
Imagine that.
And now we want to dramatically ramp up the number of children who are removed from their parents? https://www.usatoday.com/story/opinion/nation-now/2018/05/25/immigration-children-separated-families-lost-column/643793002/
14. 'Trump's son should be concerned': FBI obtained wiretaps of Putin ally who met with Trump Jr.
The FBI has obtained secret wiretaps collected by Spanish police of conversations involving Alexander Torshin, a deputy governor of Russia's Central Bank who has forged close ties with U.S. lawmakers and the National Rifle Association, that led to a meeting with Donald Trump Jr. during the gun lobby's annual convention in Louisville, Ky., in May 2016, a top Spanish prosecutor said Friday.
José Grinda, who has spearheaded investigations into Spanish organized crime, said that bureau officials in recent months requested and were provided transcripts of wiretapped conversations between Torshin and Alexander Romanov, a convicted Russian money launderer. On the wiretaps, Romanov refers to Torshin as "El Padrino," the godfather.
"Just a few months ago, the wiretaps of these telephone conversations were given to the FBI," Grinda said in response to a question from Yahoo News during a talk he gave at the Hudson Institute, a conservative think tank in Washington. Asked if he was concerned about Torshin's meetings with Donald Trump Jr. and other American political figures, Grinda replied: "Mr. Trump's son should be concerned." https://www.yahoo.com/news/trumps-son-concerned-wiretaps-show-trump-jr-met-putin-ally-231215529.html
15. Reports of a Democratic party rift are greatly exaggerated
To peruse the coverage of the Democratic primaries of 2018, you'd think there was a battle royale within the Democratic Party: insurgent vs. establishment, Bernie vs. Hillary, progressive vs. moderate, grass roots vs. party bosses.
There's been mention of a "battle between progressives and moderates" (the Guardian), a Democratic "identity crisis" (The Washington Post), a "full-blown Democratic war" (CNN), a "civil war" (Fox News) and a "fight for the future of the Democratic Party" (BuzzFeed).
But if a civil war has been declared, somebody forgot to tell Democratic voters. They are stubbornly refusing to view 2018 through the progressive/moderate, insurgent/establishment lens. https://www.sltrib.com/opinion/commentary/2018/05/26/dana-milbank-reports-of-a-democratic-party-rift-are-greatly-exaggerated/
16. Almost Half Of Republicans Believe Millions Voted Illegally In The 2016 Election
A new HuffPost/YouGov poll finds that 48% of Republicans believe that up to 5 million people voted illegally in the last presidential election ― a claim that President Trump has repeatedly made, even though neither he nor anyone else has produced concrete evidence to show it's true. https://www.huffingtonpost.com/entry/republicans-voter-fraud_us_5b0850f8e4b0fdb2aa53791f
17. Trump blames Democrats for his own policy of separating migrant families at the border
Trump's attempt to blame Democrats for separating migrant families at the border is renewing a political uproar over immigration, an issue that has challenged Trump throughout his presidency and threatens to grow more heated as he imposes more restrictions to stem the flow of illegal immigration.
In one of several misleading tweets during the holiday weekend, Trump pushed Democrats to change a 'horrible law' that the president said mandated separating children from parents who enter the country illegally. But there is no law specifically requiring the government to take such action, and it's also the policies of his own administration that have caused the family separation that advocacy groups and Democrats say is a crisis. https://upload.democraticunderground.com/100210665313
18. The Arc of History Bends a Knee Toward Kaepernick
The irony of Trump's pardon of Johnson is that just hours earlier he had appeared on "Fox & Friends" and suggested that any NFL player who doesn't stand for the anthem isn't just a "son of a bitch," as he tweeted in September, but that they "shouldn't be in the country." Indeed, the same racism that underpinned the persecution of Jack Johnson's behavior would be easily recognizable to the NFL players who have knelt today, who see frequent and deadly examples of the uneven, racially tinged administration of justice. The contradiction inherent in Trump's words and acts was not lost on one prominent sports figure who happens to be one of Trump's biggest supporters.
"I love the man, Donald Trump," Don King told me. "But it's confusing." https://www.politico.com/magazine/story/2018/05/27/nfl-national-anthem-protest-colin-kaepernick-trump-administration-218546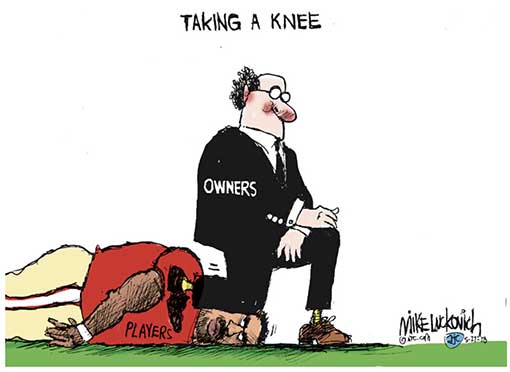 19. CIA report says North Korea won't denuclearize, but might open a burger joint
A new U.S. intelligence assessment has concluded that North Korea does not intend to give up its nuclear weapons any time soon, three U.S. officials told NBC News — a finding that conflicts with recent statements by Donald Trump that Pyongyang intends to do so in the future.
Trump is continuing to pursue a nuclear summit with North Korean leader Kim Jong Un even though the CIA analysis, which is consistent with other expert opinion, casts doubt on the viability of Trump's stated goal for the negotiations, the elimination of North Korea's nuclear weapons stockpile."
In an odd twist, a list of potential concessions by North Korea in the CIA analysis included the possibility that Kim Jong Un may consider offering to open a Western hamburger franchise in Pyongyang as a show of goodwill. https://www.nbcnews.com/news/north-korea/cia-report-says-north-korea-won-t-denuclearize-might-open-n878201
1. Thomas L. Friedman: Sounding Code Red: Electing the Trump Resistance
With the primary season winding down and the midterms soon upon us, it's time to point out that this election is not about what you may think it's about. It is not a choice between the particular basket of policies offered by the candidates for House or Senate in your district or state — policies like gun control, right to choose, free trade or fiscal discipline. No, what this election is about is your first chance since 2016 to vote against Donald Trump.
As far as I am concerned, that's the only choice on the ballot. It's a choice between letting Trump retain control of all the key levers of political power for two more years, or not.
If I were writing the choice on a ballot, it would read: "Are you in favor of electing a majority of Democrats in the House and/or Senate to put a check on Trump's power — when his own party demonstrably will not? Or are you in favor of shaking the dice for another two years of unfettered control of the House, the Senate and the White House by a man who wants to ignore Russia's interference in our election; a man whose first thought every morning is, 'What's good for me, and can I get away with it?'; a man who shows no compunction about smearing any person or government institution that stands in his way; and a man who is backed by a party where the only members who'll call him out are those retiring or dying?"
If your answer is the former, then it can only happen by voting for the Democrat in your local House or Senate race.
Because what we've learned since 2016 is that the worst Democrat on the ballot for the House or Senate is preferable to the best Republican, because the best Republicans have consistently refused to take a moral stand against Trump's undermining of our law enforcement and intelligence agencies, the State Department, the Environmental Protection Agency, the Civil Service, the basic norms of our public life and the integrity of our elections.
Again, this is Code Red: American democracy is truly threatened today — by the man sitting in the Oval Office and the lawmakers giving him a free pass. https://www.nytimes.com/2018/05/29/opinion/midterms-trump-democrats.html
2. Tina Nguyen: Donald Trump's 2018 Midterm Strategy Is Total Warfare
Diving gleefully off script at a campaign event on Tuesday night in Nashville, Donald Trump picked up right where he left off earlier this month, calling members of the Salvadoran-American street gang MS-13 less than human. "They're not human beings," he declared. "And this is why we call the bloodthirsty MS-13 gang members exactly the name I used last week. What was the name?" he asked the crowd, which responded with a booming chant of "Animals!" This is what "rallying the base" looks like in 2018, as the midterm elections approach. Trump was in town to churn up excitement for Republican congresswoman Marsha Blackburn in the battle for Bob Corker's newly open Senate seat against Democrat Phil Bredesen, a former Tennessee governor. It was also, in a way, a metaphor for the state of play in Washington as Republicans brace for what could be a blue wave in November. Not only did Trump employ his patented method of belittling opponents ("I never heard of this guy. Who is he?" he asked of Bredesen), but he leaned further into a brand of Trumpian paranoia and toxicity that's come to define his midterm-campaign efforts.
Xenophobia, which Trump wielded like a cudgel in 2016, is once again leading the G.O.P. playbook. "They make all of this money," Trump said of the Mexican government, "and they do absolutely nothing to stop people from going through Mexico from Honduras and all these other countries—the caravan, all of this stuff—they do nothing to help us. Nothing." At one point, he claimed that House Minority Leader Nancy Pelosi "loves MS-13," and he tied Bredesen to the rest of the Democratic cabal loathed among his base. "If Bredesen were ever to get elected, he would do whatever Chuck [Schumer] and Nancy [told him]," he said. "They don't want the wall; they want open borders. They're more interested in taking care of criminals than they are of taking care of you. Bredesen donated a lot of money to the campaigns of Barack Obama and Hillary Clinton," he added, throwing in a "Crooked Hillary" for good measure, and encouraging a round of "lock her up" chants. https://www.vanityfair.com/news/2018/05/donald-trump-2018-midterm-strategy
3. Julie Hirschfeld Davis and Maggie Haberman: With 'Spygate,' Trump Shows How He Uses Conspiracy Theories to Erode Trust
As a candidate, Donald J. Trump claimed that the United States government had known in advance about the Sept. 11 attacks. He hinted that Antonin Scalia, a Supreme Court justice who died in his sleep two years ago, had been murdered. And for years, Mr. Trump pushed the notion that President Barack Obama had been born in Kenya rather than Honolulu, making him ineligible for the presidency.
Last week, President Trump promoted new, unconfirmed accusations to suit his political narrative: that a "criminal deep state" element within Mr. Obama's government planted a spy deep inside his presidential campaign to help his rival, Hillary Clinton, win — a scheme he branded "Spygate." It was the latest indication that a president who has for decades trafficked in conspiracy theories has brought them from the fringes of public discourse to the Oval Office.
Now that he is president, Mr. Trump's baseless stories of secret plots by powerful interests appear to be having a distinct effect. Among critics, they have fanned fears that he is eroding public trust in institutions, undermining the idea of objective truth and sowing widespread suspicions about the government and news media that mirror his own.
"The effect on the life of the nation of a president inventing conspiracy theories in order to distract attention from legitimate investigations or other things he dislikes is corrosive," said Jon Meacham, a presidential historian and biographer. "The diabolical brilliance of the Trump strategy of disinformation is that many people are simply going to hear the charges and countercharges, and decide that there must be something to them because the president of the United States is saying them."
But Mr. Trump's willingness to peddle suspicion as fact has implications beyond the Russia inquiry. It is a vital ingredient in the president's communications arsenal, a social media-fueled, brashly expressed narrative of dubious accusations and dark insinuations that allows him to promote his own version of reality. https://www.nytimes.com/2018/05/28/us/politics/trump-conspiracy-theories-spygate.html
4. Paul Waldman: Stop Chasing Trump Down the Rabbit Hole
You may have noticed that today's news is not dominated by the blockbuster revelations of what members of Congress learned yesterday when they met with Justice Department officials to review information about the FBI's counterintelligence investigation into Russian meddling in the 2016 election, specifically the bureau's use of a confidential informant who contacted Trump campaign officials after learning of suspicious links involving Russia."
Why is it that the results of that highly unusual meeting (two meetings, actually) are not splashed across every front page and dominating every minute of cable news today? Because the whole thing was a farce, and it didn't give Republicans what they were hoping for.
This reveals the absurd pattern we've fallen into. It goes like this: President Trump makes a ridiculous accusation that almost everyone immediately understands to be false. Then we in the media, because it's the president, treat that accusation as though it's something that has to be taken seriously. Then governmental resources are mustered to deal with the accusation. Then Republicans try to twist the mobilization of those resources to give them the answer they're seeking. But because it's all based on a lie, they fail once Democrats force some measure of truth to be revealed. http://www.sacbee.com/opinion/op-ed/article211931574.html
5. Robin Wright: Trump's Imploding World Order
As the great undoer of traditional U.S. policies, Trump has demanded the renegotiation of nafta, brokered with Canada and Mexico three decades ago; imposed new global tariffs that unravel globalization; and abandoned the young Trans-Pacific Partnership, which had represented some forty per cent of global trade. He moved the U.S. Embassy to Jerusalem, long considered the final, rather than the first, step of a Middle East peace—and ordered preparations for the withdrawal of U.S. forces that were still fighting isis in Syria. He challenged the global commitment to nuclear nonproliferation—and, implicitly, the treaty at its heart, in place since 1970—by calling for a more sophisticated U.S nuclear arsenal and abrogating the Iran deal. He's publicly admired or deepened relations with autocrats, including the President of the Philippines, Rodrigo Duterte, and the President of Egypt, Abdel Fattah El-Sisi.
"What we've learned in the past fifteen months of Trump's Presidency is that, tactically, there's a pattern: he lays out a maximal position and hopes that, by some combination of threat and personal connection, it'll work," Haass told me. "In every instance, he exaggerates the ability of the U.S. to have its way, and he underestimates the ability of others to push back. What we don't see is any evidence that he's thought this through."
On issues ranging from North Korea and Iran to trade with China, Haass said, the Trump Administration will have to decide between what it wants and what is possible: "All-or-nothing foreign policy will lead to failed diplomatic gambits or conflict." And the United States has "only seen Trump's Act I," he added. "We don't know what else is to follow." https://www.newyorker.com/news/news-desk/trumps-imploding-world-order
6. Jon Wolfsthal, Julie Smith: Pompeo's Iran Plan Is a Pipe Dream
The Trump team does not have a plan or a strategy for how to get Iran to do any of the things that the United States rightly wants.
 And to make matters worse, the White House is less likely to get any of the cooperation it needs from Europe to apply "unprecedented financial pressure" because of how the Trump administration handled the Iran deal in recent months. First, the White House indicated to U.S. allies that the deal could be saved but never undertook serious efforts to broker a supplemental agreement. Then, after violating the deal, the Trump administration had the audacity to both blame its European allies for failing to save the agreement and claim that the Iranians had violated the deal even as Iran was adhering to it.
Understandably, Europe isn't in the mood to now abandon an accord it claims to want to preserve (however difficult that might be moving forward). European reactions to Pompeo's speech were largely negative. British Foreign Secretary Boris Johnson, striving to use all the diplomatic tact he could muster, called Pompeo's "jumbo" plan "very difficult."
So, Iran remains a problem, the United States is more isolated and less trusted abroad, and Iran is now able to, at a time of its choosing, turn up the nuclear pressure, because the nuclear accord is on life support. That is not a strategy for success. It is a strategy for disaster. http://foreignpolicy.com/2018/05/21/pompeos-iran-nuclear-plan-is-a-pip-dream-trump/
7. Jonathan Chait: Trump's Racist Immigration Policy Is Backfiring on Him
Last year, when he was preparing to deliver his first speech to Congress, President Trump reminded his staff that he had consistently delighted crowds with his racist diatribes. "Acting as if he was at a rally, he then read aloud a few made-up Hispanic names and described potential crimes they could have committed, like rape or murder," reports the Washington Post today, reconstructing the scene. "Then, he said, the crowds would roar when the criminals were thrown out of the country — as they did when he highlighted crimes by illegal immigrants at his rallies."
When we invoke Trump as a populist figure, this is the kind of dynamic we envision — the demagogue whipping up his base by unleashing primal forces that a more principled politician would hesitate to exploit. And yet the revulsion created by the political spectacle, and the horrifying human costs of its implementation, has obscured the reality that Trump's immigration policy is a total failure. It is not merely destroying the lives of its targets, it is failing to carry out its intended goals or to help Trump at all.
The attendant harm of Trump's policy is undeniable. Indeed, while the human toll of the cruelty has horrified immigration-rights activists, the political fallout may ultimately spread far more widely than the current political headlines indicate. Trump has unleashed border agents and goaded them into vicious and frequently illegal enforcement, with inhuman consequences. They are tearing children from the arms of their parents, and losing track of the children they seize.
If you are so cynical as to assume white voters are simply too racist to care, think again. The visceral power of harm to children and families can overcome deep-rooted racism. In the early and mid-19th century, abolitionists emphasized how slavery tore apart African-American families, causing revulsion among white northerners who were assuredly quite racist on the whole. The emotional power of the stories of families torn apart by Trump's policy has an unknown, but vast, potential. http://nymag.com/daily/intelligencer/2018/05/trumps-racist-immigration-policy-is-backfiring-on-trump.html
8. Damon Linker: Trump's tribalist revival
If politics is about policymaking, then Donald Trump's presidency thus far has been an exercise in weakness and ineptitude.
But if politics is about something deeper than policy — about moving and shaping public opinion, and thus shifting the political landscape at a more fundamental level — then the distressing truth is that President Trump has been remarkably effective in his nearly three years at the center of American public life. Since he declared his candidacy for president in June 2015, Trump has managed, above all, to revive and empower a tradition of tribalistic American patriotism that had grown largely dormant over the past half century.
The president warns ominously that immigrant children ("alien minors") are "not innocent"; the NFL responds to the president's racialized taunts by warning football teams that they will be fined for their players' refusal to stand for the national anthem; Trump suggests that players who persist in their protest of police brutality by kneeling during the anthem "shouldn't be in the country" — in these examples from just the past two days, we can see Trump and his rhetoric tapping into and unleashing something old, potent, and poisonous in American life. The president's critics are wrong to describe these sentiments as "un-American." On the contrary, they are profoundly American, drawing on some of the deepest and darkest currents in our history.
Despite what many on the center-right and center-left allowed themselves to believe over the past few decades, American tribalism never died. It remained there, politically dormant, under the surface, lacking a champion, existing in a state of untapped potential — a potential that Trump has now activated and explicitly encourages every day.
There's no telling how many Americans will end up finding this mode of "love it or leave it" patriotism appealing — or how ugly American politics will become, after two and a half (or six and a half) more years of presidential encouragement. http://theweek.com/articles/774976/trumps-tribalist-revival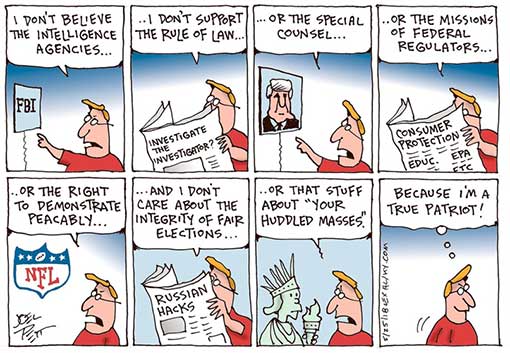 9. Masha Gessen: In the Trump Era, We Are Losing the Ability to Distinguish Reality from Vacuum
Thinking morally about the Trump era requires a different temporal frame. It requires a look at the present through the prism of the future. There will come a time after Trump, and we need to consider how we will enter it. What are we going to take with us into that time—what kind of politics, language, and culture? How will we recover from years of policy (if you can call it that) being made by tweet? How will we reclaim simple and essential words? Most important, how will we restart a political conversation? Political discourse was in crisis before Trump—no wonder Americans of all stripes have become accustomed to using the words "politics" and "political" to denote substance-free transactions in the electoral arena. But, under Trump, it is nearing complete destruction.
We are losing the habit, and perhaps the capability, of distinguishing reality from vacuum. This is disorienting in the present and disastrous for the future—it is the one factor that will make post-Trumpian recovery, when it comes, so difficult. We must pose a bigger question than whether Administration members or congressional Republicans should stay or go, for it's not only Trump's appointees or fellow party members who are implicated in the daily insults and damage to our perceptions. We should be asking what each one of us can do to assert a fact-based reality at any given time. The great French thinker and activist Simone Weil had a prescription that she wrote down in her journal in 1933: "Never react to an evil in such a way as to augment it." A few days later, she added, "Refuse to be an accomplice. Don't lie—don't keep your eyes shut." https://www.newyorker.com/news/our-columnists/in-the-trump-era-we-are-losing-the-ability-to-distinguish-reality-from-vacuum
10. Natasha Bertrand: The Chilling Effect of Trump's War on the FBI
Much has been written in recent days about Trump's "new" strategy to discredit the Russia investigation. The president has been attacking both the investigators in the Russia probe and the news organizations that cover the investigation, all in an attempt to persuade the public that the probe has been tainted by bias from the start. The frequency of these attacks may be climbing, but Trump's tactics have actually remained remarkably consistent—beginning before he even took office. "Intelligence agencies should never have allowed this fake news to 'leak' into the public," Trump tweeted on January 11, 2017, referring to a dossier published by BuzzFeed that alleged collusion between his campaign team and Russia. "One last shot at me," he added. "Are we living in Nazi Germany?"
The rhetoric, while normal from this president, is norm-shattering. More puzzling, however, is the extent to which Trump has instigated a Republican-led war on intelligence agencies.
Ultimately, some experts say, the damage done by Trump's attacks on the intelligence and law-enforcement communities could be the erosion of the core traditions and institutional norms that the FBI and DOJ have relied on to pursue investigations that are independent of the White House. The attacks could also have a chilling effect. "This could create an incentive to lean against disclosure" to Congress, Kris said. He noted that while there is "a history of low-level guerrilla warfare between the branches of government"—manifested through restricting funding, demanding documents, or threatening contempt and impeachment—"what's notable about the current environment is the way in which the most extreme kind of rhetoric is deployed so rapidly and readily."
"There are definitely fewer protected zones in our government," he said. "Intelligence used to be one of them, but we've lost something there." https://www.theatlantic.com/politics/archive/2018/05/the-chilling-effect-of-trumps-war-on-the-fbi/561218/
11. Peter Beinart: Trump's and Bolton's Instincts Form a Toxic Combination
Why did the Trump administration cancel its much-hyped nuclear summit with North Korea? And why the confusing semi-backtrack the following day, in which Trump embraced North Korea's "warm and productive statement" regretting the cancellation, and left the door open to a meeting he'd ditched barely 24 hours before? The answer lies in the toxic interplay between Donald Trump's instincts and John Bolton's. Each man's foreign-policy views are dangerous enough in and of themselves. Put them together and you have the perfect cocktail for the decimation of American power.
Bolton is a Manichean in the tradition of his hero, Barry Goldwater. He has spent his career depicting America's adversaries—the Soviet Union, Cuba, Saddam Hussein's Iraq, and these days, Iran and North Korea—as evil. He denies that they have any legitimate security concerns. He abhors compromise. He demands maximum American economic, political and, if necessary, military pressure. He basic negotiating posture is: Once you give in on everything, then we'll start talking.
Trump is different. He doesn't divide the world into virtuous, pro-American regimes, which the United States should support, and villainous anti-American ones, which the United States should crush. Trump is less ideological. Instinctively, he believes that almost every regime is ripping America off—the adversaries and the allies too. That inclines him to pick a broader array of fights. But it also makes him more willing to resolve them. Trump is not moralistic and he's not a stickler for detail. Bolton seems to want to be the 21st-century version of Reagan (as he's imagined in conservative mythology): standing up to the evil enemy and bringing about its downfall. Trump seems to want to be the political version of Trump the real-estate whiz (as he's imagined in Trump's own mythology): cutting great deals that make everyone rich.
The combination of Trump and Bolton's maximalism is alienating public opinion across the world—which will sooner or later produce populist anti-American leaders. And it's exposing America as a paper tiger, a country that demands things it can't compel. Trump may not be able to distinguish bluster from genuine power, but the rest of the world is catching on. https://www.theatlantic.com/international/archive/2018/05/trumps-and-boltons-instincts-form-a-toxic-combination/561275/
12. Paul Rosenberg: "Witch hunt!": Donald Trump, Roy Cohn, Joe McCarthy and the dark history of the president's war cry
When Robert Mueller began his investigation into Russian interference in the 2016 election campaign, Donald Trump proclaimed on Twitter, "This is the single greatest witch hunt of a politician in American history!" That phrase -- "Witch Hunt!" -- has been his go-to war cry ever since, bolstered only by his near-meaningless "No collusion!"  claim, even as Mueller has racked up indictments, guilty pleas and cooperating witnesses. 
Trump's defense is working, to some extent, given that a recent poll found that 59 percent of respondents didn't believe Mueller has uncovered any crimes so far, notwithstanding all those guilty pleas. Such is the power of a relentlessly repeated narrative over mere facts.
Now we're about to see what a real witch hunt looks like, as Trump tries to force the Department of Justice to investigate the investigators, looking for imaginary wrongdoing or "infiltration" in what was an entirely normal, non-intrusive FBI method of information-gathering.
This is a classic example of Trump gaslighting, à la "Hillary Clinton started birtherism and I ended it," trying to convince us that up is down and we're crazy for thinking otherwise. Only now it's not just Trump. Increasingly, it's more and more of the Republican leadership. https://www.salon.com/2018/05/25/witch-hunt-donald-trump-roy-cohn-joe-mccarthy-and-the-dark-history-of-the-presidents-war-cry/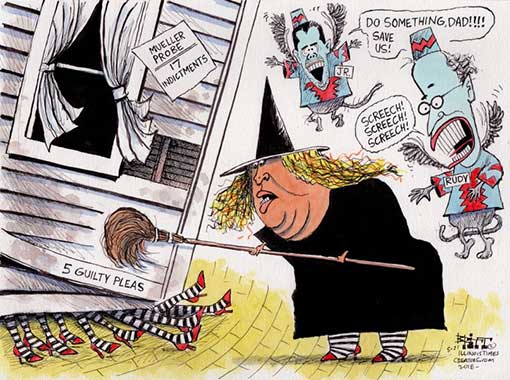 13. Maureen Dowd: Grifters Gone Wild
Con artists have always been slithering around.
Huckleberry Finn tangled with flimflam men on Mississippi riverboats. There was a flirty snake oil salesman in "Oklahoma!" And Marian the Librarian fell in love with a charming charlatan, Professor Harold Hill, in "The Music Man."
It was all part of an amusing American tradition of rapscallions doing their little side hustles.
But now narcissistic con artists are dominating the main stage, soaring to great heights and spectacularly exploding.
We have one running amok in the Oval.
Trump voters allowed themselves to believe they had a successful billionaire who knew the art of the deal when he only knew the art of the con. They bought his seductive campaign narrative, that the system was rigged and corrupt and only he could fix it. After winning by warning voters they were being suckered, he's made them all suckers. https://www.nytimes.com/2018/05/26/opinion/sunday/grifters-gone-wild.html
14. Rick Wilson: Trump's land of delusion: Disregard the sycophants; the wheels are coming off, if they were ever on
For some Americans — a minority, I pray — Trump is a pied piper luring the credulous and the uninformed into accepting lies over truth, comfort over reality and conspiracy over fact. In Trump's world and that of his angry minions, the winning doesn't stop, the vast left-wing conspiracy's witch-hunt against him is both broad and insidious, and the truth is what he wants it to be on any given day.
Maintaining the Trump illusion requires an endless suspension of disbelief; denying facts, logic, reason, the law and the utterly evident cluster-you-know-what that this administration represents. The pinnacle of that illusion-at-all-costs philosophy came after the revelation that an FBI informant followed up on leads that Trump campaign foreign policy aides Carter Page and George Papadopoulos had been playing footsie with the Russians.
On Fox News, talk radio and in the Trump-right online media armies, the innocent Trump campaign was the victim of FBI spying against them, ordered by notorious Kenyan Muslim sleeper agent Barack Obama, evil sorceress Hillary Clinton and their army of Deep State apparatchiks.
We can be dragged down into Trump's wilderness of mirrors , or we can take a deep breath and appreciate just how truly terrible his week was. With Trump, it's always the worst week, since the last week.
At least next week is Infrastructure Week. We'll always have Infrastructure Week http://www.nydailynews.com/opinion/trump-land-delusion-article-1.4010243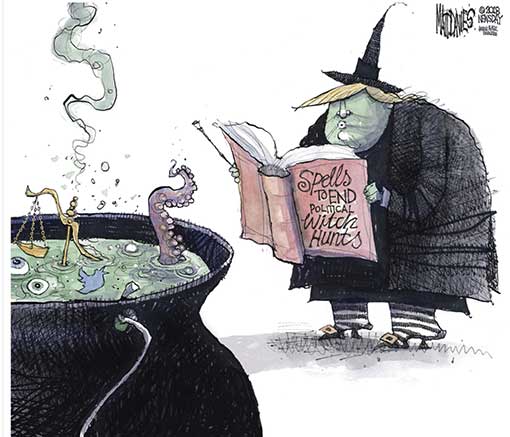 15. Charles M. Blow The Weasel of Oz
For Trump, it's all about manipulation, and he will lie, bully and demean to that end, even if his deceit is discovered.
On Saturday, Trump falsely claimed on Twitter:
"The Failing @nytimes quotes 'a senior White House official,' who doesn't exist, as saying 'even if the meeting were reinstated, holding it on June 12 would be impossible, given the lack of time and the amount of planning needed.' WRONG AGAIN! Use real people, not phony sources."
Well, it turns out that the official not only exists, but audio surfaced of him giving the briefing in the White House itself. And while he never uses the word "impossible," he describes a timeline that sounds impossible.
Trump has not apologized for that lie or corrected it, and the tweet is still available on Twitter.
This is the strategy: Never apologize. Just move on, create a new moment — one that rivals or even outshines the last — and change the subject. This way, you keep your detractors playing on your court and by your rules and you never play on theirs.
In the film, the Wizard of Oz finally confesses: "I'm a humbug!" Trump never will. https://www.nytimes.com/2018/05/27/opinion/the-weasel-of-oz.html