December 20, 2018
ON THE RECORD. . .
"The fact that she's been speaker and will be speaker again is testimony to her enormous ability, her toughness, her off-the-charts work ethic, and her ability to interact with people and negotiate with people and come to a conclusion. She works harder than any human being I've ever known."
— Former House majority leader Richard Gephardt (D-MO)], about Nancy Pelosi.
"Yes, I am supporting Donald Trump, but I'm doing so despite the fact that I think he's a terrible human being." — Interim White House Chief of Staff Mick Mulvaney in November 2016.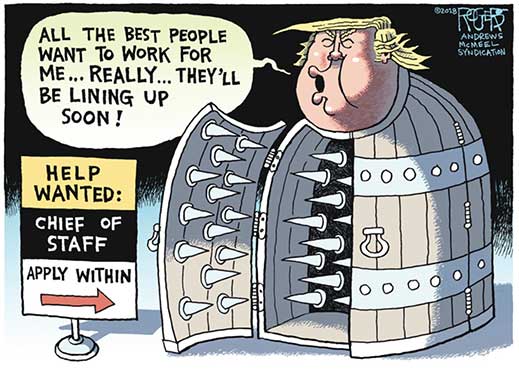 "Good luck … over my dead body." — Rudy Giuliani, when asked by Fox News whether President Trump would submit to a sit-down interview with special counsel Robert Mueller.
"It's a great ruling for our country. We will be able to get great healthcare. We will sit down with the Democrats if the Supreme Court upholds," — Trump hailing the court decision that \the 2010 Affordable Care Act (ACA), was unconstitutional based on its mandate requiring that people buy health insurance.
"The FBI's reputation has taken a big hit because the president with his acolytes has lied about it constantly. At some point someone has to stand up and face the fear of Fox News, fear of their base, fear of mean tweets, stand up for the values of this country and not slink away into retirement but stand up and speak the truth. -- Former FBI director James B. Comey accusing President Trump of trying "to burn down the entire FBI" and charged that congressional Republicans were willing accomplices for failing to challenge him.
"Michael Cohen pleaded guilty to something that's not even a crime. Nobody except for me would be looked at like this. Nobody. What about Congress? The slush fund. Millions and millions of dollars paid out each year. They have a slush fund. Millions. They don't talk about campaign finance anything." -- Trump doubling down on the claim that he's not responsible for campaign finance violations by Michael Cohen on Fox News, saying that investigators should be looking at Congress' "slush fund" for campaign violations instead.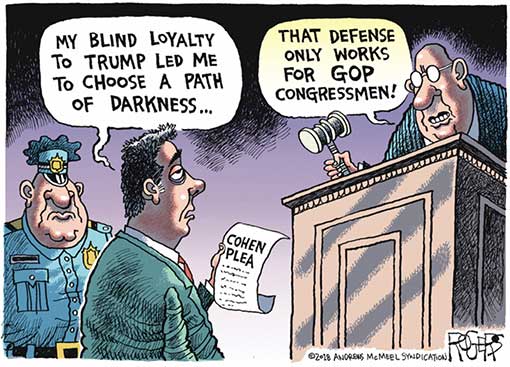 "Here's the thing. If the Justice Department takes the position that Michael Cohen should go to jail, that these allegations are so serious that he should go to jail for these campaign fraud allegations, what is the argument against jail for the individual who coordinated and directed that scheme?" — Rep. Adam Schiff (D-CA).
---
IN THIS ISSUE
FYI
OPINION
1.  Andy Borowitz: Cabinet Warns Trump That Shutting Down Government Would Make It Harder to Steal From
In a tense meeting on Monday, leading Cabinet members warned Donald J. Trump that shutting down the federal government would make it exponentially harder for them to steal from.

Led by his Treasury Secretary, Steven Mnuchin, the Cabinet members begged Trump to prevent a government showdown that would bring their brazen spree of pillaging the nation's coffers to a screeching halt.

"Mr. President, with the federal government up and running, I was able to take seven trips on military aircraft at a cost of eight hundred thousand dollars," Mnuchin said. "I implore you, sir: don't make me fly coach."

Trump's three oldest children, Ivanka, Eric, and Don, Jr., who have piled up impressive taxpayer-funded travel bills of their own, chimed in with an emotional plea to their father. "Daddy, please don't make us stop plundering government money," Ivanka said. "Not right before Christmas."

The normally taciturn Housing and Urban Development Secretary, Ben Carson, also spoke up, warning that a government shutdown would make it impossible for him to accessorize his thirty-one-thousand-dollar dining-room set by purchasing seven-thousand-dollar place mats. "I'd really like those," he said.

According to Kellyanne Conway, the counsellor to the President, the emotional Cabinet meeting had a profound impact on Trump. "For the first time he saw how a government shutdown would hurt people," Conway said. https://www.newyorker.com/humor/borowitz-report/
2. New report on Russian disinformation, prepared for the Senate, shows the operation's scale and sweep
A report prepared for the Senate that provides the most sweeping analysis yet of Russia's disinformation campaign around the 2016 election found the operation used every major social media platform to deliver words, images and videos tailored to voters' interests to help elect President Trump -- and worked even harder to support him while in office.
"What is clear is that all of the messaging clearly sought to benefit the Republican Party -- and specifically Donald Trump," the report says. "Trump is mentioned most in campaigns targeting conservatives and right-wing voters, where the messaging encouraged these groups to support his campaign. The main groups that could challenge Trump were then provided messaging that sought to confuse, distract and ultimately discourage members from voting."

The new report offers the latest evidence that Russian agents sought to help Trump win the White House. Democrats and Republicans on the panel previously studied the U.S. intelligence community's 2017 finding that Moscow aimed to assist Trump, and in July, they said investigators had come to the correct conclusion. Despite their work, some Republicans on Capitol Hill continue to doubt the nature of Russia's meddling in the last presidential election. https://www.washingtonpost.com/technology/2018/12/16/new-report-russian-disinformation-prepared-senate-shows-operations-scale-sweep/
Read "The IRA and Political Polarization in the United States" report at https://www.axios.com/senate-reports-russian-interference-2016-election-9d0daca6-1e2d-4617-9295-f8eec61c1719.html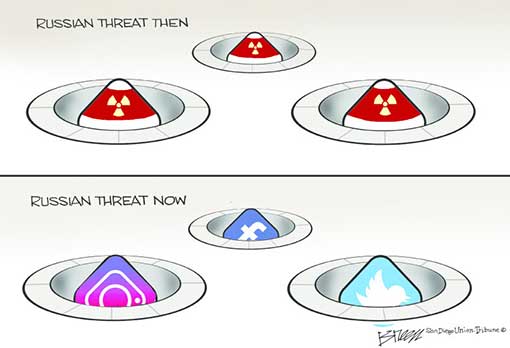 3. Russian disinformation teams targeted Robert S. Mueller
Months after President Trump took office, Russia's disinformation teams trained their sites on a new target: special counsel Robert S. Mueller III. Having worked to help get Trump into the White House, they now worked to neutralize the biggest threat to his staying there.
The Russian operatives unloaded on Mueller through fake accounts on Facebook, Twitter and beyond, falsely claiming that the former FBI director was corrupt and that the allegations of Russian interference in the 2016 election were crackpot conspiracies. One post on Instagram — which emerged as an especially potent weapon in the Russian social media arsenal — claimed that Mueller had worked in the past with 'radical Islamic groups.'
Such tactics exemplified how Russian teams ranged nimbly across social media platforms in a shrewd online influence operation aimed squarely at American voters. https://www.washingtonpost.com/business/technology/russian-disinformation-teams-targeted-robert-s-mueller-iii-says-report-prepared-for-senate/2018/12/17/0e0047f6-0230-11e9-8186-4ec26a485713_story.html
4. A Complete Guide To All 17 (Known) Trump And Russia Investigations
While the media has long short-handed Mueller's probe as the "Russia investigation," a comprehensive review of the cases unfolding around the president and the question of Russian influence in the 2016 campaign harkens back to another lesson of Watergate: Deep Throat's dictum, "Follow the money."
More than two years in, the constellation of current investigations involves questions about foreign money and influence targeting the Trump campaign, transition, and White House from not just Russia but as many as a half-dozen countries. Prosecutors are studying nearly every aspect of how money flowed both in and out of Trump's interconnected enterprises, from his hotels to his company to his campaign to his inauguration. While President Trump once said that he'd see investigations into his business dealings as crossing a "red line," it appears that Trump himself obliterated that line, intermingling his business and campaign until it was impossible for prosecutors to untangle one without forensically examining the other.
For a complete rundown of the various known investigations targeting Trump's world from local, state, and federal prosecutors go to https://www.wired.com/story/mueller-investigation-trump-russia-complete-guide/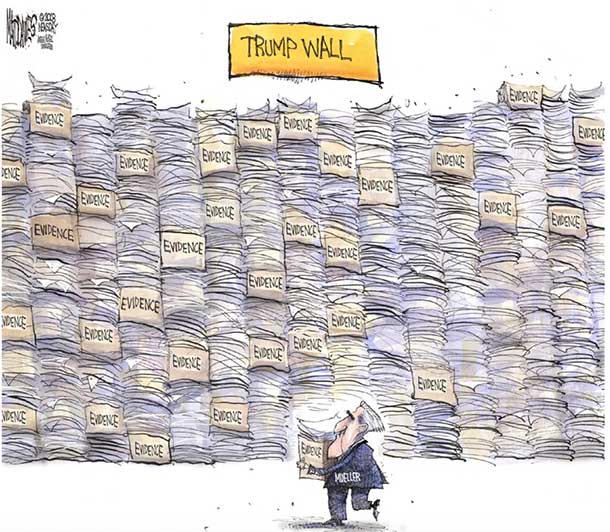 5. U.S. Budget Deficit Hits Widest on Record for Month of November
The U.S. ran the largest deficit in six years in fiscal 2018, the first full year of Donald Trump's presidency when his Republican party enacted a tax-cut package and raised federal spending for the military and other priorities. The measures have added to the growing federal deficit, which is forecast to push past $1 trillion by 2020 when the U.S. next holds presidential elections. https://www.bloomberg.com/news/articles/2018-12-13/u-s-budget-deficit-hits-widest-on-record-for-month-of-november
6. Get Ready for Mueller's Phase Two: The Middle East Connection
Over the past year, the indictments, convictions, and guilty pleas have largely been connected, in one way or another, to Russia. But now, special counsel Robert Mueller's office is preparing to reveal to the public a different side of his investigation. In court filings that are set to drop in early 2019, prosecutors will begin to unveil Middle Eastern countries' attempts to influence American politics, three sources familiar with this side of the probe told The Daily Beast.
In other words, the "Russia investigation" is set to go global. https://www.thedailybeast.com/get-ready-for-muellers-phase-two-the-middle-east-connection
7. Every Organization Trump Has Led Is Under Investigation
Two years after Donald Trump won the presidency, nearly every organization he has led in the past decade is under investigation.
Trump's private company is contending with civil suits digging into its business with foreign governments and with looming state inquiries into its tax practices.

Trump's 2016 campaign is under scrutiny by special counsel Robert S. Mueller III, whose investigation into Russian interference has already led to guilty pleas by his campaign chairman and four advisers.

Trump's inaugural committee has been probed by Mueller for illegal foreign donations, a topic that the incoming House Intelligence Committee chairman plans to further investigate next year.

Trump's charity is locked in an ongoing suit with New York state, which has accused the foundation of "persistently illegal conduct." https://www.washingtonpost.com/politics/mounting-legal-threats-surround-trump-as-nearly-every-organization-he-has-led-is-under-investigation/2018/12/15/4cfb4482-ffbb-11e8-862a-b6a6f3ce8199_story.html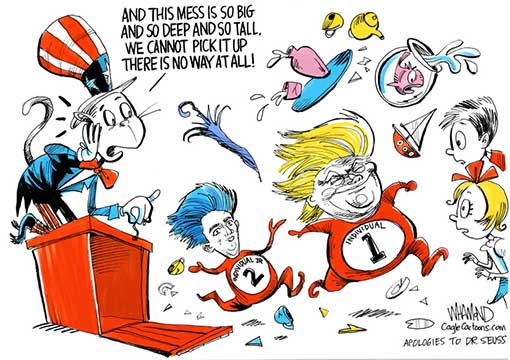 8. Trump Cancels Christmas Party for the Press
Trump has canceled the White House holiday party for the media, making the decades-old tradition a victim of his increasingly contentious relationship with major news organizations.
The annual Christmas-season gathering was a significant perk for those covering the White House, as well as other Washington reporters, anchors and commentators, and New York media executives would regularly fly in for the occasion. At its peak, the invitation-only soirees grew so large that there were two back-to-back events, one for broadcast outlets and one for print organizations. https://www.foxnews.com/politics/trump-cancels-white-house-christmas-party-for-the-press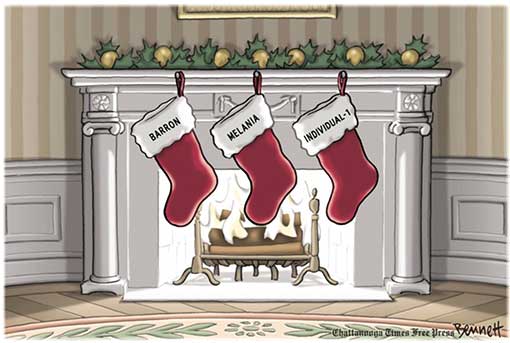 9. NC election fraud: Concerning number of absentee ballots not returned in Columbus Co.
As evidence mounts of potential election fraud in Bladen County, WECT has learned that the 9th District election may not be an isolated problem. WECT has just uncovered that things in Columbus County may be even worse.
About a third of the absentee ballots that were requested in Columbus County during the 2018 general election never got returned to the Board of Elections. That's an even higher percentage of missing ballots than the unreturned ballot numbers that raised the red flags in Bladen County.
There were 557 absentee ballots requested in Columbus County during the November election, more than double the number requested in Columbus County during the last mid-term election in 2014. Of those 557 ballots, 181 of them (32%) disappeared, and most of the missing absentee ballots were mailed to registered Democrats.
That's significant, since former Sheriff Lewis Hatcher is a Democrat, and lost his seat by just 37 votes. http://www.wect.com/2018/12/12/concerning-number-absentee-ballots-not-returned-columbus-co/
10. The DAILY GRILL
"I often stated, 'One way or the other, Mexico is going to pay for the Wall. This has never changed. Our new deal with Mexico (and Canada), the USMCA, is so much better than the old, very costly & anti-USA NAFTA deal, that just by the money we save, MEXICO IS PAYING FOR THE WALL!" -- Trump tweet

VERSUS

"He said that, but it doesn't make any sense. The American people are still paying the price. Mexico is not paying for this wall. But maybe he doesn't understand how a trade agreement works for him to say such a thing."-- Nancy Pelosi (D-CA)
11. From MEDIA MATTERS (They watch Fox News so you don't have to)
Tucker Carlson: Immigration makes America "poorer, and dirtier, and more divided." Carlson: "Huddled masses yearning to breathe free? Nope, cynical shakedown artists who have been watching too much CNN." https://www.mediamatters.org/video/2018/12/13/tucker-carlson-immigration-makes-america-poorer-and-dirtier-and-more-divided/222310

Sean Hannity uses death of 7 year-old in Border Patrol custody to shill for border wall. Hannity: "A 7-year-old girl from Guatemala died of dehydration and shock after crossing into the U.S. illegally with her father ... a wall can prevent these types of heart-breaking stories." https://www.mediamatters.org/video/2018/12/13/sean-hannity-uses-death-7-year-old-border-patrol-custody-shill-border-wall/222311

On Fox News, White House senior adviser Stephen Miller uses death of 7-year-old girl in DHS custody to push Trump's wall. Miller: "If you want to stop the horrors on the northward trek, ... then, for the love of God, fund the border wall." https://www.mediamatters.org/video/2018/12/14/fox-news-white-house-senior-adviser-stephen-miller-uses-death-7-year-old-girl-dhs-custody-push/222315

Brian Kilmeade: Trump payoffs weren't campaign-related because everyone already knew that he lived a billionaire lifestyle from Page Six. Kilmeade: "Anyone who got the New York Post and Page Six knows that Donald Trump" was having affairs. https://www.mediamatters.org/video/2018/12/14/brian-kilmeade-trump-payoffs-werent-campaign-related-because-everyone-already-knew-he-lived/222312

Fox & Friends ignores new report on scale of Russian disinformation. Fox's morning show attacked the Russia investigation instead of reporting on a new study about Russian efforts to back Trump. https://www.mediamatters.org/blog/2018/12/17/Fox---Friends-ignores-new-report-on-scale-of-Russian-disinformation-/222327

What happens when the No. 1 cable news channel is steeped in white nationalist rhetoric? Tucker Carlson's advertisers are sponsoring fascism. https://www.mediamatters.org/blog/2018/12/18/tucker-carlsons-advertisers-are-sponsoring-fascism/222348

Matt Schlapp on Fox News compares Michael Flynn's actions to "pulling off mattress tags, jaywalking, parking tickets." https://www.mediamatters.org/video/2018/12/18/matt-schlapp-compares-michael-flynns-actions-pulling-mattress-tags-jaywalking-parking-tickets/222342
12. From the Late Shows
It's a Wonderful Trump Cold Open - SNL: https://youtu.be/AdQl7SxOHek

Weekend Update: Trump Worries About Impeachment - SNL: https://youtu.be/ZhYoFtGZeWs

A REAL scandal is the one sided coverage, hour by hour, of networks like NBC & Democrat spin machines like Saturday Night Live. It is all nothing less than unfair news coverage and Dem commercials. Should be tested in courts, can't be legal? Only defame & belittle! Collusion? — Donald Trump on Twitter
13. The GOP's health problem: Republicans like big chunks of the Affordable Care Act
Now that a Texas judge has ruled that the entire Affordable Care Act is unconstitutional — all because of its individual mandate — a new Kaiser Family Foundation poll suggests Republicans "may find themselves wishing for a different outcome. Here are some of the more popular provisions that would be eliminated — in order of their popularity:
• Young adults can remain on their parents' health insurance policies until age 26: 82% of the public supports this, including 66% of Republicans.

• Subsidies for lower and moderate income people: 81% support this, including 63% of Republicans.

• Closing the "donut hole" so there's no gap in Medicare prescription drug coverage: 81% like this, as do 80% of Republicans.

• Eliminating costs for many preventive services: 79% support this, as do 68% of Republicans.

• Medicaid expansion: 77% like it, as do 55% of Republicans. https://www.axios.com/aca-ruling-republicans-politics-changed-f54f7a3f-53f4-47f2-9deb-2c4c424534b6.html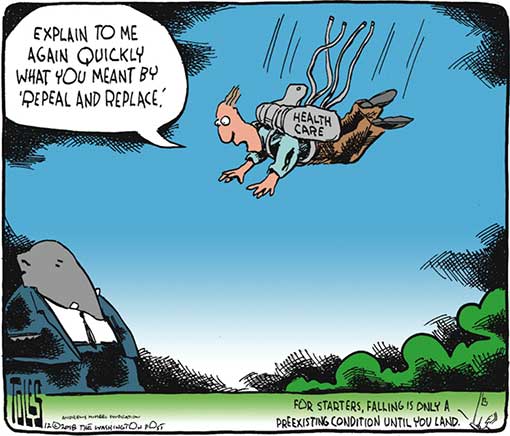 14. Trump's Inauguration Paid Trump's Company — With Ivanka in the Middle
When it came out this year that President Donald Trump's inaugural committee raised and spent unprecedented amounts, people wondered where all that money went.
It turns out one beneficiary was Trump himself.
The inauguration paid the Trump Organization for rooms, meals and event space at the company's Washington hotel, according to interviews as well as internal emails and receipts reviewed by WNYC and ProPublica.
During the planning, Ivanka Trump, the president-elect's eldest daughter and a senior executive with the Trump Organization, was involved in negotiating the price the hotel charged the 58th Presidential Inaugural Committee for venue rentals. A top inaugural planner emailed Ivanka and others at the company to "express my concern" that the hotel was overcharging for its event spaces, worrying of what would happen "when this is audited." https://www.propublica.org/article/trump-inc-podcast-trumps-inauguration-paid-trumps-company-with-ivanka-in-the-middle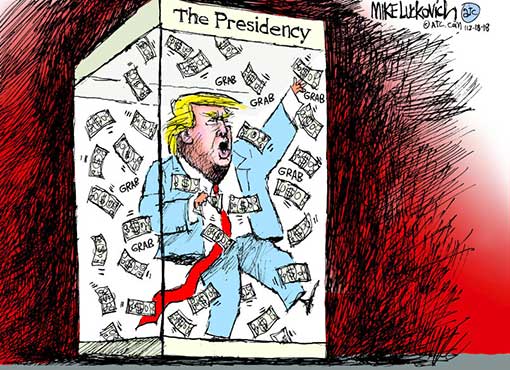 15. Gun deaths in US reach highest level in nearly 40 yearsl
Nearly 40,000 people in the United States died by guns last year, marking the highest number of gun deaths in decades, according to a new analysis of data from the Centers for Disease Control. https://www.cnn.com/2018/12/13/health/gun-deaths-highest-40-years-cdc/index.html
16. Wisconsin Gov. Walker signs lame-duck legislation to weaken incoming Democratic governor, attorney general
Wisconsin Gov. Scott Walker (R) on Friday signed sweeping legislation that weakens the power of the incoming Democratic governor and attorney general, dismissing a national outcry over what Democrats have characterized as a blatant power grab.
The legislation, passed this month in a lame-duck session by the Republican-controlled legislature, consolidates power in the legislature and strips it from Gov.-elect Tony Evers and Attorney General-elect Josh Kaul, both Democrats. https://www.washingtonpost.com/politics/wisconsin-gov-walker-signs-lame-duck-legislation-to-weaken-incoming-democratic-governor-attorney-general/2018/12/14/7e181990-ffd0-11e8-83c0-b06139e540e5_story.html
17. Most Americans want action on climate change. Republicans are the exception
NBC News/ Wall Street Journal poll: Overall, 66% of Americans now say they've seen enough evidence to justify action, up from 51% two decades ago. That figure incorporates 85% of Democrats, 79% of independents, 71% of women, 61% of men and strong majorities of all racial groups. At least 55% agree on the need for action in all regions of the country, and at all age, education and income levels.
Resistance comes only from the one-third of Americans who identify themselves as Republicans. A 56% majority of the GOP says either that concern about climate change is unwarranted or that more research is necessary before taking action. https://www.cnbc.com/2018/12/17/americans-want-action-on-climate-change-republicans-are-the-exception-poll.html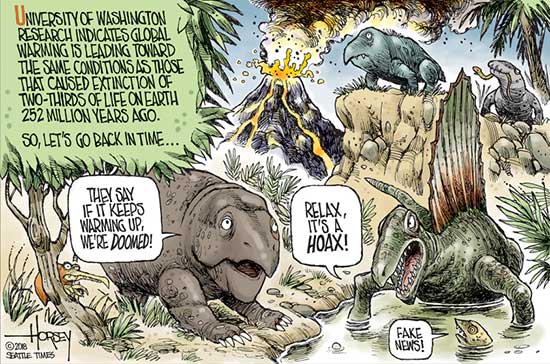 1. T.A. Frank: A Eulogy For Trump's Wall Fantasy: The Costly, Unloved Monstrosity That Wasn't
Reports that Donald Trump has surrendered in the latest showdown with Congress over funding for a border wall will shock no one. Like Yosemite Sam in the face of Bugs Bunny, Trump has fired in all directions and thrown tantrums and gotten outplayed. It's the usual. This time, it was also inevitable. Government shutdowns can be great as brinkmanship, but your cause must be on the side of prevailing voter opinion. Chuck Schumer folded swiftly last January, when Democrats found that shutting down the government over Republicans' refusal to grant citizenship to DACA recipients polled poorly with the public. The math here was equally plain. When only about 35 percent of Americans are in favor of constructing a wall on the border, you're already in the hole and going deeper by throwing down ultimatums.
The Danish historian Palle Lauring liked to observe that those best at leading a rebellion, however justified it might be, are rarely those best suited to govern. Donald Trump will continue to perform at rallies across the country, because that is what takes him back to height of rebel glory, and his biggest fans will attend, enjoying the memory. But they know the show is over, just as Democrats know—barring some calamity, such as an act of war—that the worst is behind them. Trump Lite, hemmed in by a Democratic Congress, is the future. Stagnancy awaits us, along with an inevitable economic correction, which will hurt Trump further. https://www.vanityfair.com/news/2018/12/a-eulogy-for-trumps-wall-fantasy-the-costly-unloved-monstrosity-that-wasnt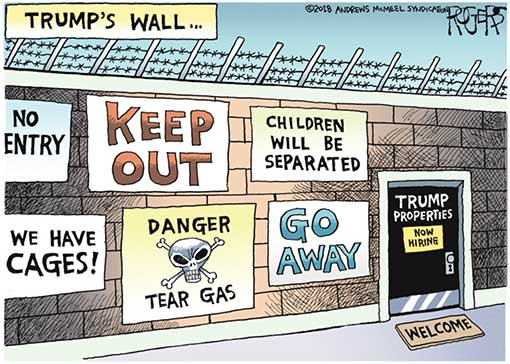 2. Philip Bump: Evaluating Trump's latest legal defense on the 2016 hush-money payments
Let us dispatch quickly with a lot of truly remarkable context for President Trump's Thursday morning tweets denying culpability for alleged campaign-finance law violations. So we'll note only hastily how noteworthy it is that a sitting president has been implicated by his own Justice Department in the commission of multiple felonies. Quickly note how significant it is that those felonies relate to allegations from a Playboy model and an adult-film actress that the president engaged in extramarital affairs. Mention in passing that a person who served as the president's personal attorney for nearly a decade, Michael Cohen, has been sentenced to three years in prison in part for violating campaign finance laws to keep those relationships from being discussed publicly before the election.
And, of course, dedicate only one line to the president's striking demand that Americans ignore his demonstrably false claims about the payments — that he wasn't aware of them, that he wasn't involved — and instead accept this latest, complicated iteration as God's-honest-truth.
There is now and has always been a simple explanation to all of this: Trump and Cohen worked together on the payments to McDougal and Daniels to keep them quiet before the campaign. If that's what happened, it's clear why it isn't the story that Trump's presenting publicly. Instead we're left with increasingly convoluted explanations that, time after time, are shown to be false. https://www.washingtonpost.com/politics/2018/12/13/evaluating-trumps-latest-legal-defense-hush-money-payments/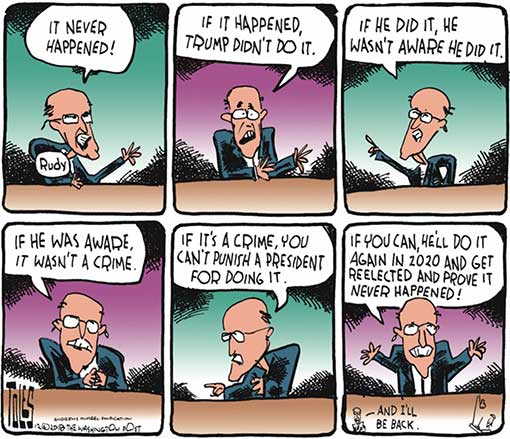 3. Héctor Tobar: Trump's Ongoing Disinformation Campaign Against Latino Immigrants
Generations of Latino immigrants have gone to work with an abiding faith that, if they labor hard enough, they will earn their place here. They lift up the beams of new houses and office buildings, care for the children of strangers, keep restaurant kitchens spick-and-span, and harvest crops in sun and in rain. But, in the first decades of this century, they face a new reality: the prospect that no amount of brawn or sacrifice will grant them the prize that they most desire. Their labor has become a Sisyphean spectacle unfolding in the very homes and communities they have built and kept prosperous.
Latinos began to make up a majority of the babies born in California at about the turn of the millennium. In 2018, many of those children became eligible to vote for the first time. Among them was Alba Piedra, an eighteen-year-old freshman at Santa Ana College. A week before the election, in a column for the Orange County Register, she wrote, "As a child of undocumented parents, I live every day with the fear that my parents might be deported, no matter how hard they work or how much they do for our local community." https://www.newyorker.com/news/daily-comment/trumps-ongoing-disinformation-campaign-against-latino-immigrants
4. William Falk: When facts no longer matter
If there's a word that defines the year 2018, says Dictionary .com, it's "misinformation." An unintended consequence of the Information Age, misinformation — and its cousin, deliberate disinformation — is a rising flood tide of lies, delusions, and blind, adamant belief that imperils our ability to govern ourselves. The pollution pours in from Facebook and other social media, Russian troll farms, and a White House that denies that objective truth exists. Did Saudi Crown Prince Mohammed bin Salman order the murder and dismemberment of journalist Jamal Khashoggi? "Maybe he did and maybe he didn't," President Trump said, shrugging off the CIA's evidence-based conclusion that he did. When asked why his client wouldn't testify in the Russia investigation, Trump lawyer Rudy Giuliani explained, "Truth isn't truth." There's no way to determine who's lying and who's not, Giuliani and his client insist. Truth is inherently partisan. It's whatever you prefer to believe. https://theweek.com/articles/812513/when-facts-no-longer-matter
5. George Packer: The Corruption of the Republican Party
The corruption I mean has less to do with individual perfidy than institutional depravity. It isn't an occasional failure to uphold norms, but a consistent repudiation of them. It isn't about dirty money so much as the pursuit and abuse of power—power as an end in itself, justifying almost any means. Political corruption usually trails financial scandals in its wake—the foam is scummy with self-dealing—but it's far more dangerous than graft. There are legal remedies for Duncan Hunter, a representative from California, who will stand trial next year for using campaign funds to pay for family luxuries.* But there's no obvious remedy for what the state legislatures of Wisconsin and Michigan, following the example of North Carolina in 2016, are now doing.
Republican majorities are rushing to pass laws that strip away the legitimate powers of newly elected Democratic governors while defeated or outgoing Republican incumbents are still around to sign the bills. Even if the courts overturn some of these power grabs, as they have in North Carolina, Republicans will remain securely entrenched in the legislative majority through their own hyper-gerrymandering—in Wisconsin last month, 54 percent of the total votes cast for major-party candidates gave Democrats just 36 of 99 assembly seats—so they will go on passing laws to thwart election results. Nothing can stop these abuses short of an electoral landslide. In Wisconsin, a purple state, that means close to 60 percent of the total vote.
The fact that no plausible election outcome can check the abuse of power is what makes political corruption so dangerous. It strikes at the heart of democracy. It destroys the compact between the people and the government. In rendering voters voiceless, it pushes everyone closer to the use of undemocratic means.
https://www.theatlantic.com/ideas/archive/2018/12/how-did-republican-party-get-so-corrupt/578095/
6. Susan Glasser: "This Is Not a Normal Time": Trump and the Rapidly Expanding "Witch Hunt"
Shortly after 11 a.m. on Thursday, Senator Jeff Flake, of Arizona, took to the Senate floor for his farewell speech. One of President Trump's few remaining public critics in the Republican Party on Capitol Hill, Flake used the chance for one more lament about the perilous state of American democracy in the Trump era. "We all know well that this is not a normal time and that the threats to our democracy from within and without are real," Flake said. "None of us can say with confidence how the situation that we now find ourselves in will turn out." As Flake was still speaking, Trump tweeted out the two-word slogan that more than any other captures the current political agenda in the capital of the most powerful nation in the world. "witch hunt!" the President wrote. No explanation offered, none needed.
In other words, the criminality of key figures in the President's inner circle is now established, by their own admissions, as they start to implicate the President himself. And this is even before Mueller issues findings or criminal charges related to the central subject of his inquiry into whether Trump or his campaign colluded with the Russians in 2016. Additional damning evidence against Trump is increasingly likely to emerge from outside of the Mueller investigation, as in the case of Cohen, or as a consequence of aggressive investigations and oversight by the new Democratic House. For example, on Thursday, the de-facto incoming Speaker of the House, Nancy Pelosi, said that the Ways and Means Committee will use its subpoena powers to demand Trump's tax returns, which, given the extensive reporting in the Times about his family's decades-long tax dodges, could produce an untold wealth of damaging information. https://www.newyorker.com/news/letter-from-trumps-washington/this-is-not-a-normal-time-trump-and-the-rapidly-expanding-witch-hunt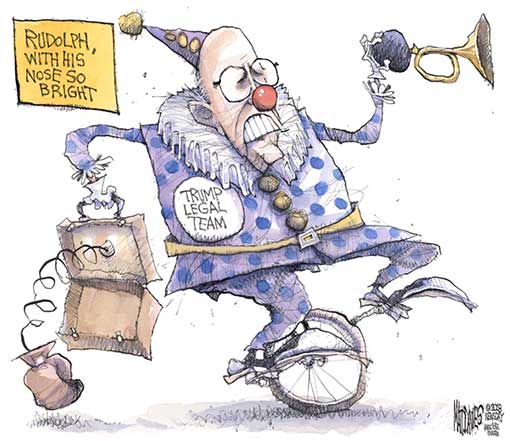 7. Jeffrey Toobin: Adam Schiff's Plans to Obliterate Trump's Red Line
President Trump said some time ago that he believes his personal finances should be off limits to investigators. In an interview with the Times in July, 2017, he asserted that if Robert Mueller, the special counsel, sought to investigate the Trump family's business dealings he would be crossing a 'red line.' When, later that year, several news reports suggested that Mueller had subpoenaed Deutsche Bank for records relating to Trump's businesses, the President reportedly told members of his staff that he wanted to fire Mueller in response.
It was never confirmed whether Mueller had actually subpoenaed Deutsche Bank, but the President's aversion to the scrutiny of his business interests caught the attention of Representative Adam Schiff, who will become the chairman of the House Permanent Select Committee on Intelligence next year. On a recent weekend, at a busy restaurant in downtown Burbank, in the heart of his congressional district, Schiff talked about his plans for conducting an investigation that will be parallel to Mueller's, probing Trump's connections to Russia, Saudi Arabia, and other places around the world.
As Schiff described his approach, it became clear that he wasn't just planning to cross Trump's red line—he intended to obliterate it. https://www.newyorker.com/magazine/2018/12/24/adam-schiffs-plans-to-obliterate-trumps-red-line
8.  Dana Milbank: The GOP majority's last words: But her emails!
Republicans, in the waning hours of their eight-year reign in the House, are using this precious time to do what they love best: investigating Hillary Clinton's emails.
The House Oversight Committee had one last item on this year's calendar — a hearing Thursday on the Clinton Foundation. But it didn't stop there! Republicans and their witnesses used the hearing to reprise their greatest hits: her email server, Benghazi, George Soros, Sidney Blumenthal, Huma Abedin, Cheryl Mills, James B. Comey, Andrew McCabe, Peter Strzok, Lisa Page, IRS targeting the tea party, Uranium One and a QAnon conspiracy about the Justice Department swooping into Little Rock to seize Clinton documents.
Even the lock-her-up Trump administration had tired of these proceedings. The Justice Department — under the command of Trump loyalist and former hot-tub promoter Matthew G. Whitaker — refused to testify (leading one witness to suggest the administration had joined the cover up), and the IRS also sent regrets.
Instead, Republicans summoned conspiracy theorists, including "investigators" poised to make money as tipsters if the IRS brings a Clinton Foundation case. But even these witnesses refused to provide documents supporting their dubious claims. https://www.washingtonpost.com/opinions/the-gop-majoritys-last-words-but-her-emails/2018/12/14/25076412-ffcd-11e8-83c0-b06139e540e5_story.html
9. Jonathan Chait: Trump Had Nothing to Do With His Own Inauguration, White House Says
Last night, the Wall Street Journal reported that federal investigators are probing the Trump inauguration for influence-trading and misappropriation of funds. White House press secretary Sarah Sanders told reporters that the Trump inauguration has nothing to do with Donald Trump.
"That doesn't have anything to do with the president or the First Lady," explained Sanders. "The biggest thing the president did, his engagement in the inauguration, was to come here and raise his hand and take the oath of office. The president was focused on the transition at that time and not on any of the planning for the inauguration."
Apparently Trump just showed up, gave a speech, and left, never asking how the money being raised in his name was being spent or who was handing it over. And so the massive, nationally televised festival of Trump joins the list of Trump-related people or activities for which Donald Trump claims no responsibility. http://nymag.com/intelligencer/2018/12/trump-inauguration-michael-cohen-paul-manafort-didnt-know.html
10. Timothy L. O'Brien: How Donald Trump Got Caught in a Legal Vise
As Donald Trump and his lawyers turn toward the new year, they'll have to contend with a legal narrative that's taken fuller shape through a flurry of court filings and news reports that began landing about three weeks ago and extended through Friday afternoon: Members of Trump's presidential campaign — and possibly "Individual 1" himself — may have orchestrated a number of criminal conspiracies that took root before and during the 2016 presidential campaign, continued after Trump won the election, and have tainted the White House's policies and torn at its operations ever since.
The breadth of investigations is so sweeping — as many on social media and reporters with the Washington Post, the Associated Press, and Bloomberg News have already noted — that few of the worlds Trump inhabits have escaped prosecutors' attention. The Trump Organization, the Trump Foundation, the Trump family, the Trump campaign, the Trump transition, the Trump inauguration, and the Trump White House are all being probed for wrongdoing.
The Trump team's possible collusion with Russia to sabotage and tilt the 2016 election, a probe spearheaded by Special Counsel Robert Mueller, pulls many strands of the investigations together. Trumplandia's intersection with Russia may have started with business propositions more than a decade ago (such as the Trump SoHo hotel and condominium), and included more recent undertakings like a project in Moscow, before evolving into a political partnership during the 2016 campaign after Trump's presidential prospects brightened. 
But there are many other threads, some related to Russia and some not, that investigators are pulling on. The Trump inauguration raised $107 million, and $40 million of that amount remains unaccounted for; Ivanka Trump, according to a joint report from ProPublica and WNYC, refereed payments to Trump's Washington hotel during the inauguration. The Wall Street Journal said last week that federal investigators are examining whether inauguration donors gave money in exchange for policy favors.
If that's the course the various investigations follow, then Trump may emerge as a brazen grifter who, by aspiring to the White House like a wizened, soiled version of Icarus, flew beyond the boundaries of his own luck and abilities and delivered his business, children and well-being into the hands of prosecutors. https://www.bloomberg.com/opinion/articles/2018-12-17/donald-trump-s-legal-vise-how-the-probes-have-proliferated