March 9, 2023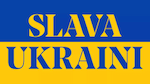 To subscribe to this FREE weekly newsletter simply email jellison@san.rr.comwith "subscribe" as the subject.
THE WEEK'S BEST QUOTES. . .
"I'm heading back to Michigan now threatening to carry out the punishment of death to anyone that is Jewish in the Michigan gov't if they don't leave, or confess, and now that kind of problem."  — From a criminal complaint against Jack Eugene Carpenter III for targeting Michigan AG Dana Nessel.
https://www.nbcnews.com/politics/politics-news/heavily-armed-man-targeted-michigan-attorney-general-dana-nessel-says-rcna73048
"What a roster at CPAC! Perhaps the most extraordinary collection of grifters, gropers, conspiracists, and apologists for authoritarianism that has ever been gathered together in one place, with the possible exception of when Benito Mussolini dined alone." — Bill Kristol
https://twitter.com/BillKristol/status/1630936084682268673
"Instead of House Republicans focusing on attacking the president and his family, why don't they actually focus on what the American people put them in office to do, which is to deliver for them, which is to actually work with their colleagues … to actually put forth pieces of legislation or put forth policies that's going to make a difference in their lives." — White House Press Secretary Jean-Pierre condemning New House Oversight Chairman Jamie Comer (R-Ky.) for his "incredibly ugly and inappropriate" remarks suggesting President Joe Biden's late son, Beau Biden, should have been indicted when he was alive.
https://www.huffpost.com/entry/james-comer-beau-biden-indictment-comment_n_63ffee5fe4b05f1e793d5170
Fox News' Peter Doocy: "Why is President Biden afraid of China?"

White House Press Sec. Karine Jean-Pierre: "The president is not afraid of China. Did you see the president last week when we went to Ukraine? … There's nothing that this president fears." https://twitter.com/therecount/status/1631029103506649091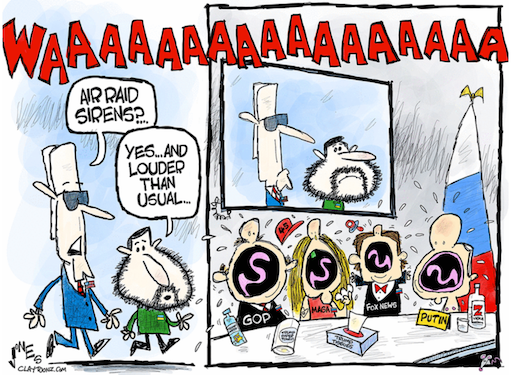 "There will be no money already next year." — Billionaire Oleg Deripaska saying Russia could find its coffers empty already next year and needs investment from "friendly" countries to break the hold of sanctions on the economy. https://www.bloomberg.com/news/articles/2023-03-02/billionaire-deripaska-warns-russia-may-run-out-of-money-in-2024

"The Murdochs have decided that Trump is not going to be President of the United States. Well, we've decided that Fox is not going to be a major network anymore." — Steve Bannon, in a speech at CPAC. https://twitter.com/alaynatreene/status/1631704740122722314

"We have no choice. If we don't do this, our country will be lost forever. This is the final battle. They know it, I know it, You know it, everybody knows it. This is it. Either they win, or we win and if they win, we no longer have a country." — Trump at CPAC, framing the 2024 race as the 'final battle.' https://thehill.com/homenews/campaign/3884457-trump-frames-2024-as-existential-fight-this-is-the-final-battle/
CHARLIES SYKES: You said Trump had the attention span of a gnat.
JOHN BOLTON: That may have even been too complimentary. — Former Trump national security adviser John Bolton was interviewed by Charlies Sykes:  https://twitter.com/EGMatthews/status/1632108296394924032
It was somewhat maddening to see someone who did a lot trying to gut not just rail safety regulations, but the EPA, which is the number one thing standing between that community and a total loss of accountability for Norfolk Southern, and then show up giving out bottled water and campaign swag?— Transportation Secretary Pete Buttigieg  taking aim at Donald Trump. https://www.huffpost.com/entry/pete-buttigieg-east-palestine-criticism_n_6405a11ce4b0e45e2f8f5a87

"When you see police officers assaulted, all of that… if you were just a tourist, you should've probably lined up at the visitors' center and came in on an orderly basis." — Sen. Thom Tillis (R-NC), adding that Tucker Carlson's claims about the January 6 riots are "bullshit." https://twitter.com/lizbrownkaiser/status/1633132852370976775

"I want to associate myself entirely with the opinion of the chief of the Capitol police about what happened on Jan. 6. Clearly the chief of the Capitol Police, in my view, correctly described what most of us witnessed first hand on Jan. 6." — Senate Minority Leader Mitch McConnell (R-KY) saying Fox News made "a mistake" by depicting Jan. 6, 2021 "as largely peaceful." https://thehill.com/homenews/senate/3888363-mcconnell-says-fox-news-made-a-mistake-by-underplaying-violence-of-jan-6/

"I thought it was an insurrection at that time. I still think it was an insurrection today." — Sen. Mike Rounds (R-SD) about Tucker Carlson's attempt to whitewash the January 6 riots. https://www.washingtonpost.com/politics/2023/03/07/gop-capitol-jan-6-mccarthy-carlson/

"Well, the former president spoke about wanting to take the party back from – what'd he say – fools and crazies and so forth, and sometimes self-own is an ugly reality." — Sen. Mitt Romney (R-UT) on Donald Trump's speech at CPAC. https://twitter.com/mkraju/status/1632891508020899841

"Besides misleading the public, they withheld evidence for partisan political reasons that sent people to prison for far more serious crimes than they committed. That is deeply wrong, legally and morally." — Elon Musk about the Jan 6th Committee. https://twitter.com/elonmusk/status/1633021151197954048?
VIDEOS ...
"One of the things we learned post-Trump presidency is that he had ordered a bombing of a couple of fentanyl labs, crystal meth labs, in Mexico, just across the border and for whatever reason, the military didn't do it. I think that was a mistake." — House Oversight Committee chairman James Comer (R-KY) told Fox & Friends. https://www.foxnews.com/video/6322078436112
Mark Fiore: White Guy Grievance. From Dilbert's Scott Adams to Tucker Carlson and the Fox News crew, it seems that complaining about the woes of being a white guy is all the rage these days. https://www.markfiore.com/january-march-2023/2023/3/1/white-guy-grievance
"I am your warrior. I am your justice. And for those who have been wronged and betrayed, I am your retribution."— Donald Trump, in his speech at CPAC. https://twitter.com/acyn/status/1632154556116135936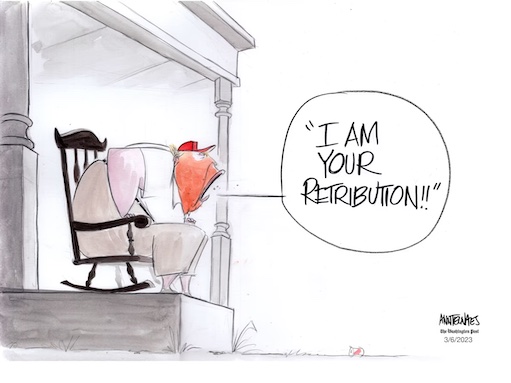 "Pennsylvania managed to elect a vegetable. I'd love for John Fetterman to have good gainful employment. Maybe he could be like a bag guy at a grocery store, but is it unreasonable for me to expect, as a citizen of the United States of America, to have a US Senator have basic cognitive function?" —  Donald Trump Jr., at CPAC, attacking disabled people, just like his father did.
https://twitter.com/EdKrassen/status/1631706163258458136
"Call everything woke and then try to cut its funding seems to be the strategy. Housing: woke, chop it in half. Public schools and job training: woke, slash it ... The 'woke screen' is a smoke screen." — Sen. Sheldon Whitehouse (D-RI) goes off on the GOP congressional budget.
https://twitter.com/therecount/status/1630995925387681792
"We are very, very close to being able to ignore Trump most nights. I truly can't wait. … I hate him passionately." — Tucker Carlson text to a colleague on Jan. 4, 2021, from a cache of internal communications released Tuesday as part of a Dominion Voting Systems $1.6 billion defamation lawsuit.
https://www.washingtonpost.com/media/2023/03/07/fox-news-lawsuit/
LITIGATION TRACKER
Pending Criminal and Civil Cases Against Donald Trump

. https://www.justsecurity.org/75032/litigation-tracker-pending-criminal-and-civil-cases-against-donald-trump/
---
IN THIS ISSUE
IN THE NEWS
OPINION
Andy Borowitz: Tucker Carlson Airs Edited Footage Showing Fyre Festival Was Huge Success
Tucker Carlson stirred controversy by broadcasting edited video that seemed to show that the Fyre Festival was a phenomenal success.

Introducing the footage, the Fox News host told his audience, "For years we've been told that the Fyre Festival was a fiasco of monumental proportions. The video you're about to see tells a different story."

The video that followed, which seemed crudely edited at times, appeared to show a gigantic, appreciative crowd cheering the performances of Beyoncé, Metallica, Paul McCartney, and Kanye West, among other artists.

Some viewers, however, questioned the authenticity of one section of the video, which showed a performance of "The Star-Spangled Banner" by Jimi Hendrix.

Carlson responded to those viewers on the air. "Some of you have asked, 'Isn't Jimi Hendrix dead?' " he said. "All I can say is that's what certain people want you to believe."  https://www.newyorker.com/humor/borowitz-report/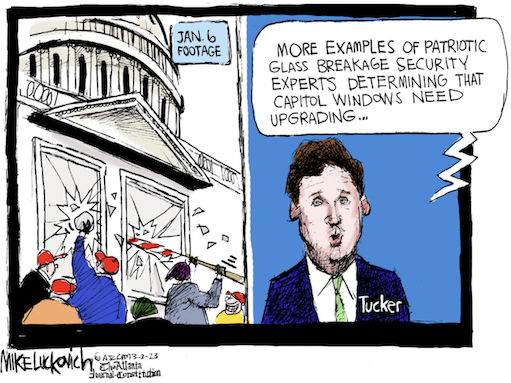 Murdoch has survived scandal after scandal. Will Dominion-Fox News lawsuit be different?
During a January deposition, Rupert Murdoch acknowledged that he knew former President Trump's claims of widespread voter fraud in the 2020 election were false, but he did not intervene to stop Fox News hosts and conspiracy-spinning guests from giving the assertions oxygen — even after the Jan. 6, 2021, rampage on the U.S. Capitol, which left five people dead.

Court testimony and internal emails — which have become evidence in a $1.6-billion defamation lawsuit against Fox News by software and voting machine supplier Dominion Voting Systems — exposed a campaign by Murdoch, his son Lachlan and other key Fox News figures to keep Trump-loving viewers and advertisers in the fold. The network and its stars, including Tucker Carlson and Sean Hannity, were spooked by dipping ratings after the election and feared their audience might switch to other right-wing networks.

Murdoch, during his deposition, expressed some regret about his network's handling of the stolen-election narrative. https://www.latimes.com/entertainment-arts/business/story/2023-03-04/rupert-murdoch-fox-new-accused-spreading-election-lies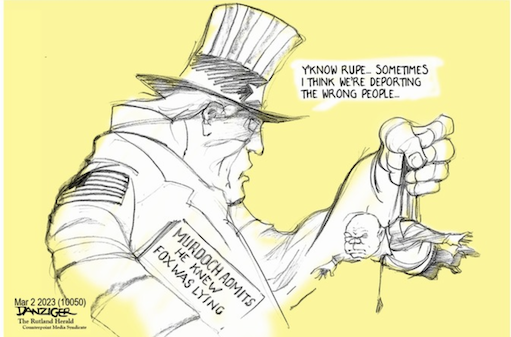 How a New DOJ Memo Sets Up Two Potential Trump Indictments
When the Department of Justice took the position this week that former President Donald Trump acted improperly by urging his followers to attack Congress in 2021, prosecutors did more than open the door to a potential flood of civil lawsuits from police officers who were injured on Jan. 6.
What they actually did, according to legal scholars, is lay the groundwork for a potential criminal indictment against Trump for inciting the insurrection.
https://www.msn.com/en-us/news/politics/how-a-new-doj-memo-sets-up-two-potential-trump-indictments/ar-AA18gOPF
Russia's population nightmare is going to get even worse
A demographic tragedy is unfolding in Russia. Over the past three years the country has lost around 2m more people than it would ordinarily have done, as a result of war, disease and exodus.

The life expectancy of Russian males aged 15 fell by almost five years, to the same level as in Haiti. The number of Russians born in April 2022 was no higher than it had been in the months of Hitler's occupation. And because so many men of fighting age are dead or in exile, women outnumber men by at least 10m. https://www.economist.com/europe/2023/03/04/russias-population-nightmare-is-going-to-get-even-worse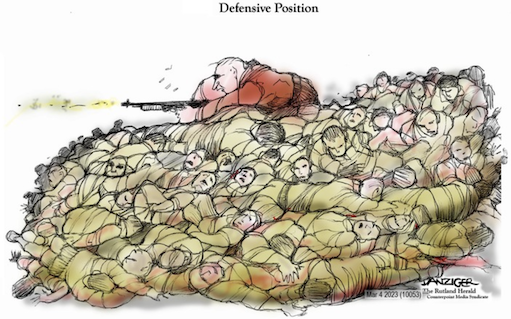 What's Different About This Debt Limit Fight
Many Democrats argue there are two significant but nuanced differences between the current debate and past debt-limit deals: first, that the party demanding concessions hasn't made an offer; second, the growing concern that, this time, Republicans would let the nation default on its debt if they can't extract their tradeoffs.
https://www.politico.com/news/2023/03/06/debt-limit-flashbacks-00085493
Elon Musk torches House Jan. 6 committee for 'misleading the public,' withholding evidence: 'deeply wrong'
Elon Musk took to Twitter early Tuesday morning to criticize several lawmakers that sat on the House Committee Investigating the Capitol Riots on Jan. 6, accusing them of "misleading the public."
Responding to someone else's tweet that accused former Reps. Liz Cheney, R-Wyo. and Adam Kinzinger, R- Ill., along with Congressman Adam Schiff, D-Calif., of being "liars," Musk affirmed the lawmakers were guilty of withholding evidence and said their actions were "deeply wrong."
"Besides misleading the public, they withheld evidence for partisan political reasons that sent people to prison for far more serious crimes than they committed," Musk wrote.
https://www.foxnews.com/politics/elon-musk-house-jan-6-committee-misleading-public-withholding-evidence
Trump, Vowing 'Retribution,' Foretells a Second Term of Spite
Donald Trump has for decades trafficked in the language of vengeance, from his days as a New York developer vowing "an eye for an eye" in the real estate business to ticking through an enemies ledger in 2022 as he sought to oust every last Republican who voted for his impeachment.

But even though payback has long been part of his public persona, Mr. Trump's speech on Saturday at the Conservative Political Action Conference was striking for how explicitly he signaled that any return trip to the White House would amount to a term of spite. https://www.nytimes.com/2023/03/07/us/politics/trump-2024-president.html
Plunge in border crossings could blunt GOP attack on Biden
A sharp drop in illegal border crossings since December could blunt a Republican point of attack against President Joe Biden as the Democratic leader moves to reshape a broken asylum system that has dogged him and his predecessors.
https://apnews.com/article/asylum-immigration-poll-biden-border-dbfb4af09d4beb81f4f1d450d4d66f29
House GOP takes early swipes at Biden budget before fiscal showdown
House Republicans have unleashed an early onslaught of attacks against President Biden and his 2024 budget, as they ready their own plan seeking billions of dollars in spending cuts — and steel themselves for a political standoff over the country's finances.
https://www.washingtonpost.com/us-policy/2023/03/07/biden-budget-republicans/
FTC Twitter Investigation Sought Elon Musk's Internal Communications, Journalist Names
The Federal Trade Commission has demanded Twitter turn over internal communications related to owner Elon Musk and detailed information about layoffs and other business decisions as part of a wide-ranging investigation into the company.
https://www.wsj.com/articles/twitter-investigation-ftc-musk-documents-db6b179e
Florida Republicans seek ban on abortions after 6 weeks of pregnancy
Florida's Republican-led legislature on Tuesday filed bills that would ban abortions after six weeks of pregnancy but offer exemptions for victims of rape and incest if they can provide official proof of the crime.
https://www.politico.com/news/2023/03/07/florida-abortion-ban-6-week-bills-00085865
Fact check: Trump delivers wildly dishonest speech at CPAC
As president, Donald Trump made some of his most thoroughly dishonest speeches at the annual Conservative Political Action Conference.
Trump's lengthy address to the right-wing gathering in Maryland was filled with wildly inaccurate claims about his own presidency, Joe Biden's presidency, foreign affairs, crime, elections and other subjects.
A fact check of 23 of the many false claims Trump made is at
https://www.cnn.com/2023/03/05/politics/fact-check-trump-cpac/index.html
In Florida Legislative Session, a Chance for DeSantis to Check Off His Wish List
Gov. Ron DeSantis has made it his political mission to, as he likes to say, put points on the board.

He is about to run up the score.

Since his landslide re-election victory, the emboldened Republican governor has proposed or endorsed policy after policy that has enthralled his supporters and alarmed his detractors: Allow Floridians to carry concealed weapons without a permit or training. Ban diversity and equity programs at public universities. Expand school vouchers. Allow a death sentence without a unanimous jury. Make it easier to sue the news media. Further restrict abortion.

Most — and perhaps all — of Mr. DeSantis's wishes will likely soon be granted by the Republican-held State Legislature, giving him a broader platform from which to launch a widely expected 2024 presidential campaign. Ahead of the annual session, scheduled to begin on Tuesday and last 60 days, Republican lawmakers have given every indication that they will be guided by whatever the governor wants. https://www.nytimes.com/2023/03/05/us/ron-desantis-florida-legislature.html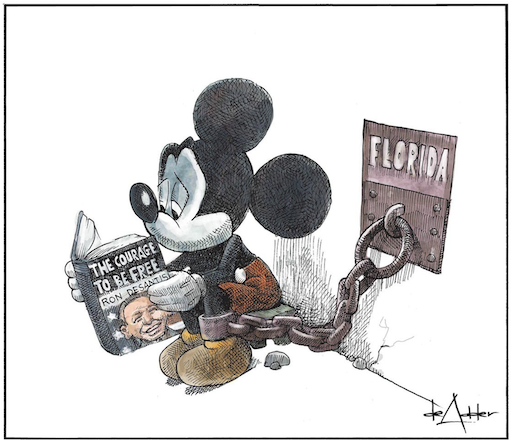 Once an albatross around Trump's neck, Jan. 6 is now taboo in the GOP primary
If any subject is verboten in the early stages of the Republican presidential primary, it's the insurrection that once served as a defining point in 2024 frontrunner Donald Trump's career.
Whereas Republicans once talked openly about it being disqualifying for the former president, today it is little more than a litmus test in GOP circles of a candidate's MAGA bona fides. None of them want any part of it.
https://www.politico.com/news/2023/03/06/cpac-trump-gop-jan-6-00085567
House GOP readies its first big agenda push: A massive energy bill
The energy package — which they aim to pass the last week of March — is set to include some of the party's most popular pitches over the past decade, from boosting fossil-fuel production on federal lands to disapproving of President Joe Biden's block on the Keystone XL pipeline to easing environmental reviews of energy and mining projects.
https://www.politico.com/news/2023/03/06/mccarthy-energy-bill-climate-house-republicans-00085415
No avoiding it now: Immigration issues threaten Biden's climate program
President Joe Biden's plan for greening the economy relies on a simple pitch: It will create good-paying jobs for Americans.
The problem is there might not be enough Americans to fill them. That reality is pressuring the Biden administration to wrestle with the nation's immigration system to avoid squandering its biggest legislative achievements.
https://www.politico.com/news/2023/03/06/biden-climate-program-immigration-00085663
Trump's Threat of a Third-Party Run Is Undercut by 'Sore Loser' Laws
Donald Trump hates losing so much that he has suggested he will mount a third-party campaign if he doesn't win the Republican presidential nomination. But he can't win that way either, thanks to 'sore loser' laws in six states he would need to return to the White House.
Michigan, Ohio, Pennsylvania and Texas, as well as Arkansas and Alabama, have laws that bar a candidate defeated in a major-party primary from running as an independent or on a third-party ticket in the general election. That would put Trump at the general-election starting gate with a deficit of 91 electoral votes of the 270 required to capture the White House.
https://www.bloomberg.com/news/articles/2023-03-06/-sore-loser-laws-undercut-trump-s-threat-of-a-third-party-run
Trump can be sued by police over Jan. 6 riot, Justice Department says
Two officers with the U.S. Capitol Police, joined by 11 Democratic House members, are seeking to hold Trump liable for physical and psychological injuries they suffered during the riot. Trump has argued he is protected from the lawsuit by the absolute immunity conferred on a president performing his official duties.
The Justice Department disagrees, saying that Donald Trump can be held liable in court for the actions of the mob that overtook the U.S. Capitol on Jan. 6, 2021.
https://www.washingtonpost.com/dc-md-va/2023/03/02/trump-jan6-lawsuit-riot/\
With unfounded fraud claims swirling, red California county dumps Dominion voting machines
Swept up in unproven voter fraud claims, the Shasta County Board of Supervisors has upended the county's election process, canceling its contract with Dominion Voting Systems and opting this week to pursue, among other options, the possibility of counting votes by hand.
Supervisor Kevin Crye, part of a newly empowered hard-right majority on the board, also announced at Tuesday's board meeting that he had been in touch with MyPillow Chief Executive Mike Lindell, a prominent pro-Donald Trump election conspiracy theorist, about supporting a pilot voting system in the rural Northern California county.
https://www.latimes.com/california/story/2023-03-01/shasta-cuts-tied-with-dominion-amid-unfounded-voting-fraud-claims
South Carolina Woman Arrested for Aborting Pregnancy
A South Carolina woman was arrested earlier this week and charged with performing or soliciting an abortion.
The incident report says the woman told medical personnel she had taken abortion pills to end a pregnancy. State law prohibits self-medication to abort a pregnancy. The fetus was stillborn and was determined to be 25 weeks and four days, according to the incident report.
https://www.thestate.com/news/local/crime/article272639146.html
'Non-Person' Donald Trump faces 'soft ban' at Fox
Donald Trump, who once dominated the Fox News broadcasts, is now running into a brick wall with what four members of his circle say is a 'soft ban' from the top of the conservative news channel, as it rolls out the red carpet to even the low-profile rival candidates.
Said one source close to Trump: "Everyone knows that there's this 'soft ban' or 'silent ban.' It's certainly — however you want to say, quiet ban, soft ban, whatever it is — indicative of how the Murdochs feel about Trump in this particular moment.
https://www.semafor.com/article/03/01/2023/non-person-donald-trump-facessoft-ban-at-fox-his-aides-say
GOP Lawmaker Proposes 'Hanging on a Tree' as Execution Method
Rep. Paul Sherrell (R) wants to make "hanging by a tree" a new death penalty option in Tennessee. 
https://www.thedailybeast.com/tennessee-lawmaker-paul-sherrell-suggests-hanging-on-a-tree-as-execution-method
Tennessee Pushes to Define 'Sex'
Tennessee Republican lawmakers on Wednesday advanced legislation that would prevent transgender people from changing their driver's licenses and birth certificates, a move that officials warn could cost the state millions in federal funding.

If enacted, the proposal would define male and female in state law and base people's legal gender identities on their anatomy at birth. A handful of Republican-led states have introduced similar bills — including Kansas, Texas and Oklahoma — as GOP lawmakers have put transgender issues at the forefront of their legislative agenda. https://apnews.com/article/transgender-licenses-birth-certificates-4795c4380b25baa4c9a7a8ddddbca9b3
How the Fall of Roe Turned North Carolina Into an Abortion Destination
Clinic by clinic, county by county and up to the highest levels of state government, no state embodies the nation's post-Roe upheaval like North Carolina,.
In the eight months since the federal right to abortion was eliminated, leaving states free to make their own abortion laws, North Carolina, where the procedure remains legal up to 20 weeks, has become a top destination for people from states where it is banned or severely restricted. North Carolina experienced a 37 percent jump in abortions.
The state's abortion providers are under strain, with women sometimes having to wait a month for an appointment.
https://www.nytimes.com/2023/03/04/us/abortion-north-carolina.html
As Trump Inquiry Continues, Georgia Republicans Seek Oversight of Prosecutors
Several bills in the Georgia legislature would make it easier to remove local prosecutors are racist and perhaps retaliatory for the ongoing investigation of Donald Trump.
Two of the measures under consideration would create a new state oversight board that could punish or remove prosecutors for loosely defined reasons, including "willful misconduct." A third would sharply reduce the number of signatures required to seek a recall of a district attorney.
The proposals are part of a broader push by conservative lawmakers around the country to rein in prosecutors whom they consider too liberal, and who in some cases are refusing to prosecute low-level drug crimes or enforce strict new anti-abortion laws.
https://www.nytimes.com/2023/03/05/us/republicans-district-attorneys-trump.html
Democrats vow fierce fight if GOP cuts Medicaid
House Democrats are vowing a fierce fight over Medicaid as Republicans eye plans to curb spending for the low-income health care program in the name of deficit reduction.
https://thehill.com/homenews/house/3882349-democrats-vow-fierce-fight-if-gop-cuts-medicaid/
Florida bills would ban gender studies, limit trans pronouns, erode tenure
Florida legislators have proposed a spate of new laws that would reshape K-12 and higher education in the state, from requiring teachers to use pronouns matching children's sex as assigned at birth to establishing a universal school choice voucher program.
The half-dozen bills, filed by a cast of GOP state representatives and senators, come shortly before the launch of Florida's legislative session Tuesday. Other proposals in the mix include eliminating college majors in gender studies, nixing diversity efforts at universities and job protections for tenured faculty, strengthening parents' ability to veto K-12 class materials and extending a ban on teaching about gender and sexuality — from third grade up to eighth grade.
https://www.washingtonpost.com/education/2023/03/05/florida-bills-would-ban-gender-studies-transgender-pronouns-tenure-perks/
Poll: 68% of voters say Biden is 'too old for another term' — and more Democrats agree than disagree
Nearly 7 in 10 registered voters (68%) now say President Biden is "too old for another term," according to a new Yahoo News/YouGov poll — and more Democrats agree (48%) than disagree (34%) with that assessment.
https://news.yahoo.com/poll-68-of-voters-say-biden-is-too-old-for-another-term--and-more-democrats-agree-than-disagree-162751496.html
THE DAILY GRILL
"Listen to this mother, who lost two children to fentanyl poisoning, tell the truth about both of her son's murders because of the Biden administrations refusal to secure our border and stop the Cartel's from murdering Americans everyday by Chinese fentanyl." — Rep. Marjorie Taylor Greene https://twitter.com/RepMTG/status/1630651899153096715

VERSUS

The fentanyl overdose deaths Greene refers to occurred in July 2020 during the presidency of Donald Trump. Joe Biden was not in public office when the Kiesling brothers died. https://www.detroitnews.com/story/news/local/oakland-county/2023/02/28/southern-border-crisis-michigan-mother-rebecca-kiessling-testifies-sons-fentanyl-overdose-deaths/69953671007/


"Congratulations to Kellyanne Conway on her DIVORCE from her wacko husband, Mr. Kellyanne Conway. Free at last, she has finally gotten rid of the disgusting albatross around her neck. She is a great person, and will now be free to lead the kind of life that she deserves…and it will be a great life without the extremely unattractive loser by her side!" — Trump crowing on Truth Social after a Page Six report Friday that the couple was divorcing. https://truthsocial.com/@realDonaldTrump/posts/109963306182153084

VERSUS

"Looking forward to seeing you in New York at E. Jean's trial next month! Hugs and kisses." -- George Conway, referring to a lawsuit against Trump by writer E. Jean Carroll. https://truthsocial.com/@gtconway3d


"I want you to know that in 2020 there were 4,800 pounds of fentanyl seized by CBP. But in 2021, fiscal year 2021, it increased to 11,200 pounds of fentanyl was seized by the CBP. That is a direct result of Biden administration failure policies," said Greene. "Now here we are in – to date, to date, fiscal, fiscal year 2023 – they have already seized 12,500 pounds of fentanyl. The Biden administration is failing this country by not protecting our border and securing our border, and stopping Chinese fentanyl from being brought into our country illegally by the cartels, and people are dying every single day because of it." -- Marjorie Taylor Greene (R-Georgia) at a Homeland Security Committee meeting. https://www.rawstory.com/the-maths-are-hard-marjorie-taylor-greene-mocked-for-not-understanding-what-seized-means-2659482316/

VERSUS

"Hey @RepMTG The word 'seized' when referring to the border, means something was taken at the border & not permitted to come into America. So, the Biden administration has stopped more fentanyl from getting past the border & into America than the Trump administration." — Jaini Margaret. https://twitter.com/VotingBlueInTX/status/1630672364093538304


"When common sense suddenly became an uncommon virtue, Florida stood as a refuge of sanity, a citadel of freedom throughout the United States and indeed throughout the world." (Meaning reversing parents' and schools' demand for masking in schools before vaccines were widely available.) — Gov. Ron DeSantis In his speech at the Ronald Reagan Library. https://www.washingtonpost.com/opinions/2023/03/07/covid-response-maga/

VERSUS

As of Monday afternoon, Florida had the 12th highest death rate from covid and the eighth highest rate of infection. As of last month, it had the second highest number of cumulative child covid cases. https://www.washingtonpost.com/opinions/2023/03/07/covid-response-maga/
Tom Nichols: The January 6 Whitewash Will Backfire
To recap the events of the past few weeks: McCarthy apparently decided that Carlson was the person who could remove the stain of January 6 from the Republican Party. Remember, once Trump was elected in 2016, the GOP was a national majority, holding the House, the Senate, the White House, most governor's mansions, and most state legislatures across the country. Trump destroyed much of that, and his decision to run again meant that January 6 could not somehow be memory-holed. So the speaker gave the ever-perplexed Carlson access to thousands of hours of video from the attack.
The objective here was clear from the start. If the GOP is going to make a run at national power again, it must find a way to deny the reality of January 6 and neutralize the cloud of seditious stink that still clings to every Republican because of Trump and the insurrectionists. Who better than Carlson to sneer his way through a dismissal of one of the worst days in the history of the United States?
Unfortunately, the attempt to gaslight millions of people isn't going very well. Carlson, as my colleague David Graham points out, is engaging in a "long-standing Donald Trump approach of demanding that his supporters believe him rather than their lying eyes." But there are likely limits to that gambit even for Carlson, who is presenting as bombshells things we already knew. It is not a revelation, for example, that the "QAnon Shaman," Jacob Chansley, walked along with Capitol cops who were trying to keep the fur-hatted weirdo calm even while he was howling in the Senate chamber. Carlson's attempt to deny the danger of that moment is not only silly but also a gobsmackingly incompetent attempt to use footage depicting a rioter whose bizarre behavior was already well-known to the public.
As counterintuitive as it might be, perhaps the best thing for American democracy would be for Carlson to keep bumbling his way through more January 6 footage and to keep images of the insurrection in front of millions of viewers for as long as possible. If that's how McCarthy and Carlson intend to restore the image of the GOP as a normal political party, who are any of us to argue with such public-relations geniuses?
https://www.theatlantic.com/politics/archive/2023/03/maricopa-county-arizona-election-officials-stop-the-steal/673235/
Donna Brazile: The Excellence of Kamala Harris Is Hiding in Plain Sight
I have watched politicians up close for decades. And‌ I have known Vice President Harris for years and urged Joe Biden to make her his running mate in 2020. I ‌believe that the criticism of her is unrelated to her performance as vice president and fails to account for the role she plays in the White House.
Ms. Harris has more experience in elected office than several past presidents and vice presidents — a successful record beginning in 2004 as San Francisco district attorney and California attorney general and including four years as U.S. senator. By contrast, Presidents Trump, Dwight Eisenhower, Ulysses S. Grant, Herbert Hoover and Zachary Taylor never held elected office before becoming president. Many other presidents had fewer years in elected office than Ms. Harris has had.
And as the first woman, African American and Asian American to serve as vice president, Ms. Harris has arguably faced greater — and a different type — of scrutiny than previous vice presidents.
The clothes and shoes she wears, the role of her spouse (Doug Emhoff, America's first second gentleman), the way she sometimes laughs, her cooking skills and staff turnover in her office have all drawn greater attention than her predecessors experienced.
Vice President Harris stands on the steely, unbowed shoulders of Black women like Willie Barrow and others who broke barriers before her. It shouldn't be so hard for a leader like Ms. Harris, so visible in the office she holds, to get some credit where credit is due.
https://www.nytimes.com/2023/03/02/opinion/kamala-harris-vice-president-expectations.html
Joseph R. Biden Jr.: My Plan to Extend Medicare for Another Generation
Millions of Americans work their whole lives, paying into Medicare with every working day — starting with their first jobs, even as teenagers. Medicare is more than a government program. It's the rock-solid guarantee that Americans have counted on to be there for them when they retire.
For decades, I've listened to my Republican friends claim that the only way to be serious about preserving Medicare is to cut benefits, including by making it a voucher program worth less and less every year. Some have threatened our economy unless I agree to benefit cuts.
Only in Washington can people claim that they are saving something by destroying it.
The budget I am releasing this week will make the Medicare trust fund solvent beyond 2050 without cutting a penny in benefits. In fact, we can get better value, making sure Americans receive better care for the money they pay into Medicare.
If the MAGA Republicans get their way, seniors will pay higher out-of-pocket costs on prescription drugs and insulin, the deficit will be bigger, and Medicare will be weaker. The only winner under their plan will be Big Pharma. That's not how we extend Medicare's life for another generation or grow the economy.
This week, I'll show Americans my full budget vision to invest in America, lower costs, grow the economy and not raise taxes on anyone making under $400,000. I urge my Republican friends in Congress to do the same — and show the American people what they value.
https://www.nytimes.com/2023/03/07/opinion/joe-biden-medicare.html?smtyp=cur&smid=tw-nytimes
Jonathan Chait: DeSantis Promises Florida Will Control Disney's Content Right-wing board to clamp down on "woke ideology" in cartoons
A year ago, I wrote a long profile of DeSantis, in which his deep-rooted distrust of liberal democracy was a major theme. Last fall, I attended the National Conservatism Conference, where the attendees laid out rather plainly their ambition to turn DeSantis into a model for a ruthless, illiberal party that would use the organs of the state to crush its enemies. Since those pieces appeared, DeSantis's actions have made me more, not less, concerned.

Whether DeSantis would actually do more damage to American democracy in office than Trump could remains hard to say. Perhaps, perhaps not. But we should recognize that he is not putting himself forward as a critic of Trump's authoritarianism. He is promising, on the contrary, to exceed it. https://nymag.com/intelligencer/2023/03/desantis-promises-florida-will-control-disney-content.html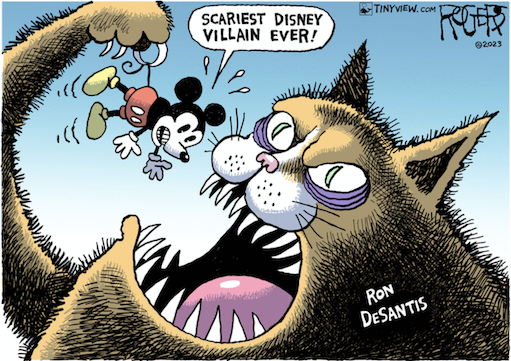 Lorraine Ali: Fox News finally reveals its kryptonite: the bottom line

Fox News isn't news, and it shouldn't be treated as such. Let's call it what it is: a right wing variety show where ratings trump truth.

Throughout the tense days following the 2020 election, through the deadly events of Jan. 6 and the fate of the union balancing on a razor's edge, Fox doubled down again and again, attacking whomever or whatever it needed to stay in the black. But picking on Dominion, an entity with the resources to fight back, was a bad idea. Legal analysts have said there is ample evidence to prove in court that Fox unfairly targeted the voting machine maker, whether the ulterior motive was to help Trump and the Republican Party stay in power, feed viewers more of the red meat the network itself had gotten them hooked on, trounce competitors or all of the above.

Media watchdog groups have called for Fox to be penalized for its creative use of the word "news," but those campaigns have been about as effective in creating real change as Robert Mueller's report on Russian collusion in the 2016 election. Arguing against Fox News on moral or ethical grounds presupposes that the network values the basic tenets of journalism, such as avoiding conflicts of interest that would erode its credibility. But that ship has long since sailed, perhaps off the flat end of the Earth if we're to believe the extreme elements the network's conspiracy theorizing inevitably courts.

Even before the Dominion lawsuit, litigation has been the only effective weapon in the fight against Fox News' dangerous excesses. After all, two of the network's most influential — and seemingly untouchable — figures were taken down by lawsuits. News of multiple settlements, which in turn spurred more lawsuits, ultimately quieted its top blowhard, Bill O'Reilly, and its too-big-to-fail CEO, Roger Ailes. And make no mistake, it was an avalanche of multimillion-dollar payouts that toppled them, not the shame or embarrassment that they preyed on their colleagues and underlings.

Fox News' loose relationship with the facts, and its unholy alliance with the most unhinged characters in the Republican Party, has finally come home to roost, and now the network is poised to pay a massive price. But it won't be the revelation that it's a partisan propaganda outlet that will bring it to heel. As with O'Reilly and Ailes, what might succeed in silencing the network's worst instincts will be what's been its kryptonite all along: the almighty dollar. https://www.latimes.com/entertainment-arts/tv/story/2023-03-02/fox-news-dominion-lawsuit-rupert-murdoch-kryptonite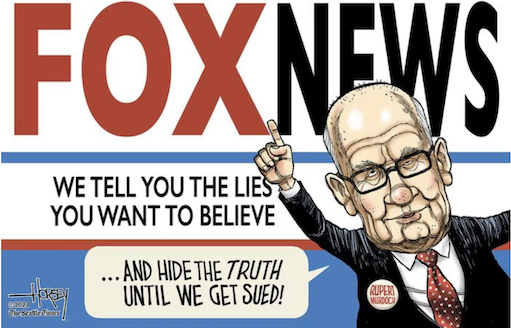 Rich Lowry: Republicans Can't Wait for Trump to Implode
"The disinclination to engage with Trump at all brings back memories of 2016. If it's a temporary dynamic, that's one thing; if it's another prisoner's dilemma among the non-Trump candidates, waiting for someone else to take him on and hoping to emerge unscathed in the aftermath, it's repeating the same mistake and expecting a different result."
"If the current situation holds, there's no way around Trump — only through — and that will require making a case against him."
"To be the man (or the lady), as the immortal Ric Flair said, you've got to beat the man. Trump may indeed be beatable, but the latest polling shows him squarely in the way of anyone who wants to take over the party he's dominated for seven years and counting."
https://www.politico.com/news/magazine/2023/03/02/trump-is-still-the-one-to-beat-00085014
Charlie Sykes: The CPAC Crackup
As NBC News reported this week, many of the most prominent figures in the GOP, including Florida Gov. Ron DeSantis, Virginia Gov. Glenn Youngkin, Republican National Committee Chair Ronna McDaniel, former Vice President Mike Pence and other GOP congressional leaders are avoiding the Conservative Political Action Conference taking place in Maryland this year.

For years, CPAC has been known as the "Star Wars bar scene" of the conservative movement. But in the Trump era, the event increasingly felt like a cult gathering. A few years ago, the conference featured a golden statue of Trump, prompting widespread ridicule. And current CPAC leader Matt Schlapp seems to be relying more and more on fringe figures for its featured speakers.

This year, Schlapp has assembled a roster of B-list Trump loyalists, including former White House press secretary Sean Spicer, Donald Trump Jr, his fiancée Kimberly Guilfoyle, and GOP Reps. Lauren Boebert, Matt Gaetz, Marjorie Taylor Greene, Ronny Jackson, Jim Jordan, Scott Perry and Elise Stefanik. Election denier and failed gubernatorial candidate Kari Lake and My Pillow Guy Mike Lindell will also get (arguably) coveted speaking slots.  https://www.msnbc.com/opinion/msnbc-opinion/cpac-starts-today-trump-kari-lake-desantis-missing-rcna72895 Morning Joe video at https://www.msnbc.com/morning-joe/watch/election-deniers-take-center-stage-at-cpac-145706053809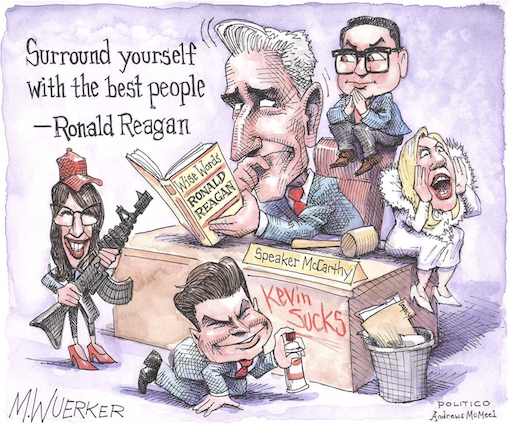 Susan B. Glasser: Donald Who?: Fox, the Dominion Case, and the Perils of Pivoting from Trump
The astonishing disclosures in Dominion's legal briefs are almost too numerous to mention, and are all the more remarkable because they are based on internal e-mails, sworn testimony, and text messages of the Fox brass themselves, including even Rupert Murdoch's correspondence with his son. Monday's nearly two-hundred-page filing  is a better Washington read than most political thrillers. Read it for yourself.

What I found most notable about the lawsuit's disclosures is what they said about Fox executives' fear of their own audience—and unabashed willingness to lie to that audience if that is what it took to keep their loyalty. The Dominion filing confirmed that in the aftermath of the 2020 election, Murdoch had finally decided to abandon Trump. "We want to make Trump a non person," the tycoon e-mailed a former Fox executive, two days after the January 6, 2021, insurrection. But Murdoch could not quite execute the pivot he wanted. "We need to be careful about pissing off the viewers," Fox News' C.E.O., Suzanne Scott, had warned Murdoch, on January 5th. "We have to lead our viewers which is not as easy as it might seem," Murdoch told his son Lachlan, in another e-mail. Asked why he allowed the network to air ads from the election-conspiracy theorist Mike Lindell, Murdoch said in a deposition that the reason was "not red or blue. It is green." Money talks..

The Dominion lawsuit against Fox News is not merely a historical exercise in accountability. (Though, it should be noted that, more than two years after Trump's campaign to overturn the 2020 election, Fox News has a real chance of facing more sanctions for its role in that tragedy than Trump himself.) That's because Trump remains the Republican front-runner for 2024. What will happen if he runs and wins the Republican nomination without Fox's imprimatur? Will the network once again fall in line, as it did in 2016, cheerleading for a G.O.P. victory even after it nominated a candidate Murdoch did not want? Or will the divorce proceed? The internal machinations revealed in the Dominion case hardly suggest a network willing to stand its ground.

Trump's whining aside, however, it's notable how Trump continues to dominate the Republican Presidential field—even without extensive coverage by the country's dominant conservative news source. The crisis that Fox faced in the disastrous aftermath of the 2020 election is the same one that the national Republican Party faces today. Read the Fox e-mails and texts. They show a calculating, morally bereft Republican establishment desperate to escape Trump, fully aware that he is a charlatan and liar and probably crazy, but not sure that it can win without him. Pretending he doesn't exist is the current strategy. Does anyone really think that will work? https://www.newyorker.com/news/letter-from-bidens-washington/donald-who-fox-the-dominion-case-and-the-perils-of-pivoting-from-trump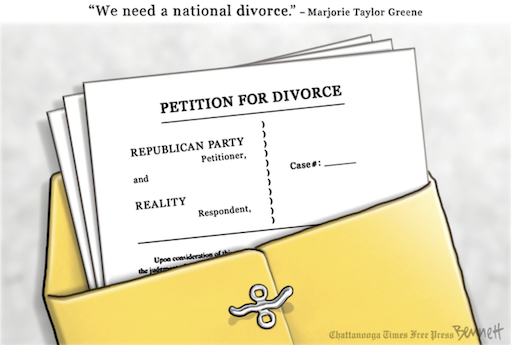 Bess Levin: Donald Trump Claims Ron Desantis Gets Off On Killing Old People In Wheelchairs
Earlier this week, we learned that in his new memoir, The Courage to Be Free, Ron DeSantis has a number of very nice things to say about Donald Trump. Unfortunately for the governor of Florida, his would-be 2024 opponent has not returned the favor, and by "not returned the favor," we mean Trump has decided to follow up his recent suggestion that a 20-something DeSantis groomed high school girls…by claiming the guy will send seniors to an early grave if elected president.
On Tuesday, Trump logged on to Truth Social and told his followers: "Great Poll numbers are springing forth for your favorite President, me, against Ron DeSanctus (& Biden). I guess people are finding out that he wanted to CUT SOCIAL SECURITY & RAISE THE MINIMUM AGE TO AT LEAST 70, at least 4 times. LIKEWISE WITH MEDICARE, WANTED BIG CUTS. HE IS A WHEELCHAIR OVER THE CLIFF KIND OF GUY, JUST LIKE HIS HERO, failed politician Paul Ryan, the FoxNews ratings destroyer who led Mitt Romney's Presidential Campaign down the tubes. GLOBALIST'S ALL! WE WANT AMERICA FIRST!!!"
Trump isn't right about a lot of things, but he is correct in his claim that former House Speaker Paul Ryan famously dreamed of gutting Medicare and Social Security, as well as Medicaid and other key aspects of the social safety net—which he once described as a "hammock that lulls able-bodied people into complacency and dependence." Sadly for Ryan, not enough people in Congress wanted to commit political suicide, and he retired before he could get the job done.
As for DeSantis, the Florida governor has been less direct than Ryan about his lust for doing away with programs millions of people rely on (and in many cases, pay into). But it's not hard to see where his head's at, since he:
● Voted for a series of budget resolutions crafted by the conservative Republican Study Committee that would have voucherized Medicare for new beneficiaries, slowed Social Security cost-of-living increases, and raised the retirement age for both programs during his time in Congress;

● Received, according to The Washington Post, "a 0 percent rating from the Alliance for Retired Americans, an affiliate of the AFL-CIO," and said during debt-limit negotiations in 2013 that Social Security and Medicare should be part of the negotiations;

● Commented the same year: "I think we need to restructure some of these entitlements";

● Said in 2012: "I support what Ryan is trying to do in terms of reforming entitlements."
And what of Trump's position on all this? Well, he is currently painting himself as a defender of Medicare and Social Security and, according to Ryan, refused to pursue cuts to "entitlements" while in office because they weren't popular. However, the ex-president apparently forgets that in 2019, he reportedly discussed gutting Medicare as a potential "second-term project." Or that, in 2020, he was asked if such cuts would ever be on his "plate," and responded, out loud: "At some point they will be." https://www.vanityfair.com/news/2023/02/donald-trump-ron-desantis-wheelchairs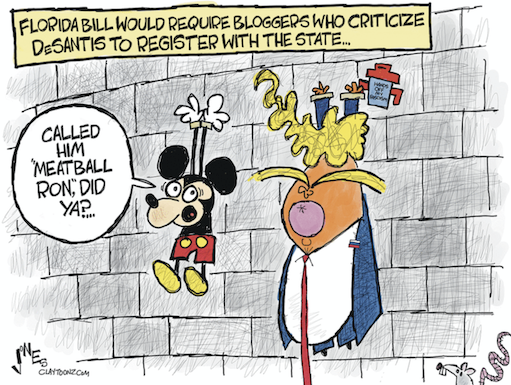 The NY Times Editorial Board: Florida Is Trying to Take Away the American Right to Speak Freely
A homeowner gets angry at a county commission over a zoning dispute and writes a Facebook post accusing a local buildings official of being in the pocket of developers.
A right-wing broadcaster criticizing border policies accuses the secretary of homeland security of being a traitor.
A parent upset about the removal of a gay-themed book from library shelves goes to a school board meeting and calls the board chair a bigot and a homophobe.
All three are examples of Americans engaging in clamorous but perfectly legal speech about public figures that is broadly protected by the Constitution. The Supreme Court, in a case that dates back nearly 60 years, ruled that even if that speech might be damaging or include errors, it should generally be protected against claims of libel and slander. All three would lose that protection — and be subject to ruinous defamation lawsuits — under a bill that is moving through the Florida House and is based on longstanding goals of Gov. Ron DeSantis.
The bill represents a dangerous threat to free expression in the United States, not only for the news media, but for all Americans, whatever their political beliefs. There's still time for Florida lawmakers to reject this crude pandering and ensure that their constituents retain the right to free speech.
"This isn't just a press issue," said Bobby Block, executive director of Florida's First Amendment Foundation. "This is a death-to-public-discourse bill. Everyone, even conservatives, would have to second-guess themselves whenever they open their mouths to speak or sit in front of a keyboard."
 https://www.nytimes.com/2023/03/04/opinion/desantis-florida-free-speech-bill.html
Katie Robertson and Stuart A. Thompson: Conservative Media Pay Little Attention to Revelations About Fox News
Fox News and its sister network, Fox Business, have avoided the story. Newsmax and One America News, Fox's rivals on the right, have steered clear, too. So have a constellation of right-wing websites and podcasts.

Over the past two weeks, legal filings containing private messages and testimony from Fox hosts and executives revealed that many of them had serious doubts that Democrats stole the 2020 presidential election through widespread voter fraud, even as those claims were made repeatedly on Fox's shows. The revelations, made public in a defamation lawsuit against Fox brought by Dominion Voting Systems, have generated headlines around the world.

But in the conservative media world? Mostly crickets.

When users on right-wing social networks discussed the Fox News hosts, many criticized Mr. Carlson, Mr. Hannity and others for not fully believing the election fraud lies they appeared to endorse, Pyrra found. https://www.nytimes.com/2023/03/03/business/media/fox-dominion-conservative-media.html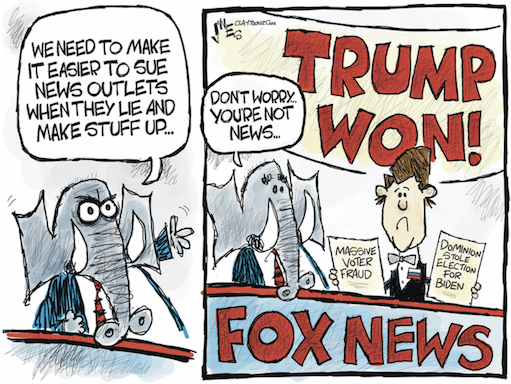 Steve Coll: The Republicans Begin to Eye 2024
Holed up in his gilded bunker at Mar-a-Lago, Trump might not appear to be the political force he once was, and he has clearly lost some mojo since the Republicans' disappointments in the midterm elections, which followed his endorsement of weak and extremist candidates in key races. By Trump's robust standards, his fund-raising since the midterms has been anemic. His love-hate relationship with Fox News has been aggravated by a lawsuit's recent revelations that Rupert Murdoch and some of his network's personalities seem to have privately thought that Trump's claims of election fraud were nonsense. As the primary field for 2024 takes shape, G.O.P. establishment figures are calling Trump a liability. "If we nominate Trump again, we're going to lose," the former Republican House Speaker Paul Ryan said late last month.
Yet Trump remains the top choice for 2024 among likely Republican primary voters, often by sizable margins, according to many national polls, including two released last week. Among other possible contenders, only Florida's governor, Ron DeSantis, attracts double-digit support. And, although he and other high-profile Party leaders such as former Vice-President Mike Pence and former Secretary of State Mike Pompeo are testing the waters, for now the only other prominent figure to have officially declared is Nikki Haley, who has served as both U.N. Ambassador and governor of South Carolina.
The R.N.C. might wish for normalcy and party discipline, but an unregulated brawl is the only kind of campaign that Trump knows how to mount. During last week's litany of attacks, he complained about the "Marxist Thugs" who are out to get him, by which he meant the federal and state prosecutors who have been investigating his finances, his intimidation of election officials, his role on January 6th, and his handling of classified documents. He described America under President Biden as a "Third World Failing Nation" whose rescue urgently requires his MAGA revival and his restoration to the White House.
Our two-party apparatus of Presidential primaries—absurdly long, media-saturated, corrupted by big money—can hardly be justified as a model of democratic decision-making. Yet it does allow Republicans and Democrats to resolve their factional conflicts in the open, and it gives motivated partisan voters at the grass roots a say. The Republican primaries will offer an early measure of whether our constitutional system remains strong enough to expunge by democratic means the anti-democratic movement that Trump continues to mobilize. 
https://www.newyorker.com/magazine/2023/03/13/2024-presidential-race-republican-field
McKay Coppins: Trump Has Become the Thing He Never Wanted to Be. Boring.
Billed as the conservative movement's marquee annual gathering, the conference was once known for its ability to draw together the right's various factions and force them to compete noisily for supremacy. In the 1990s, Pat Buchanan rallied paleoconservative activists against the Bob Dole wing of the GOP. In the early 2010s, Tea Partiers in Revolutionary-era garb roamed the premises while scruffy libertarians hustled to win the straw poll for Ron Paul. Yes, the speakers would say controversial things, and yes, presidential candidates would give sporadically newsworthy speeches. But more than anything, it was the friction that gave the proceedings their electric, carnivalesque quality—that rare, sometimes frightening sense that anything could happen.
This year, that friction was notably absent. Trump, who jump-started his career as a political celebrity with a speech at CPAC in 2011, has so thoroughly captured the institution that many of the GOP's other stars didn't even bother to show up. Everything about the conference—the speakers, the swag, the media personalities broadcasting from outside the ballroom—suggested that it was little more than a three-day MAGA pep rally.
The result: In my decade of covering the event, I'd never seen it more dead.
https://www.theatlantic.com/politics/archive/2023/03/cpac-gop-donald-trump-speech/673292/
Aaron Blake: Trump's dark 'I am your retribution' pledge — and how GOP enabled it
Even for a former president known for casting situations in the most apocalyptic terms possible, and his enemies as being as nefarious as possible, it was a remarkable rhetorical flourish.
"In 2016, I declared, 'I am your voice,'" Donald Trump said Saturday night at the Conservative Political Action Conference (CPAC). "Today, I add: I am your warrior. I am your justice. And for those who have been wronged and betrayed: I am your retribution."
The line validates long-held suspicions that Trump's 2024 campaign amounts to something of a revenge tour. Trump has disputed that his goal is to stick it to his enemies; now he's admitting that it is a revenge tour of sorts — if not for him personally, then for his supporters.
But as much as anything, it reflects just how much the Republican Party, despite its apparent interest in turning the page in 2024, has enabled Trump to rise again. There is no revenge tour or retribution without the GOP playing into speculative and often-fanciful ideas about the wrongs supposedly visited on its base — and which accordingly demand such vengeance. And there is no 2024 hopeful better situated to capitalize on that sense of persecution and injustice. https://www.washingtonpost.com/politics/2023/03/06/trumps-dark-i-am-your-retribution-pledge-how-gop-enabled-it/
Ed Kilgore: Trump Is As Electable Now As He Was in 2016
An odd amnesia seems to have obliterated memories of how completely screwed Trump initially seemed as a prospective rival to Hillary Clinton. According to the RealClearPolitics polling averages from that year, Trump trailed Clinton by nearly 20 points in trial heats shortly after he announced his candidacy. Yes, he did better in later polls, but despite the partisan hype, few people were convinced he would win. He was all but written off by a variety of party figures after the Access Hollywood tapes came out in October 2016. Republican senators Kelly Ayotte, John Thune, Deb Fischer, Mike Crapo, Cory Gardner, Mark Kirk, Lisa Murkowski, and Dan Sullivan, as well as governors Gary Herbert and Bill Haslam, all renounced their support for him instantly. Then–Speaker of the House Paul Ryan told his members they should feel free to abandon their presidential nominee.
How electable did he look then? Even when the furor had calmed down, there was a raging debate among pollsters and pundits aimed at Nate Silver's allegedly too positive projection that Trump had a 29 percent chance of winning. And disputes about how so many people got so much of the 2016 election wrong dragged on for years.
So are we now supposed to believe that the Republicans who made Trump president in 2016 are going to write him off in 2024 because he can't possibly win? The same Donald Trump who again defied the polls and nearly pulled off another shocker in 2020? And the same Republican voters who to a considerable extent believe Trump actually won a second time? This does not make a great deal of sense.
https://nymag.com/intelligencer/2023/03/trump-is-as-electable-in-2024-as-he-was-in-2016.html
Adrienne LaFrance: The New Anarchy
In recent years, Americans have contemplated a worst-case scenario, in which the country's extreme and widening divisions lead to a second Civil War. But what the country is experiencing now—and will likely continue to experience for a generation or more—is something different. The form of extremism we face is a new phase of domestic terror, one characterized by radicalized individuals with shape-shifting ideologies willing to kill their political enemies. Unchecked, it promises an era of slow-motion anarchy.
Consider recent events. In October 2020, authorities arrested more than a dozen men in Michigan, many of them with ties to a paramilitary group. They were in the final stages of a plan to kidnap the state's Democratic governor, Gretchen Whitmer, and possessed nearly 2,000 rounds of ammunition and hundreds of guns, as well as silencers, improvised explosive devices, and artillery shells. In January 2021, of course, thousands of Trump partisans stormed the U.S. Capitol, some of them armed, chanting "Where's Nancy?" and "Hang Mike Pence!" Since then, the headlines have gotten smaller—or perhaps numbness has set in—but the violence has continued.
In June 2022, a man with a gun and a knife who allegedly said he intended to kill Supreme Court Justice Brett Kavanaugh was arrested outside Kavanaugh's Maryland home. In July, a man with a loaded pistol was arrested outside the home of Pramila Jayapal, the leader of the Congressional Progressive Caucus. She had heard someone outside shouting "Fuck you, cunt!" and "Commie bitch!" Days later, a man with a sharp object jumped onto a stage in upstate New York and allegedly tried to attack another member of Congress, the Republican candidate for governor. In August, just after the seizure of documents from Trump's Mar-a-Lago home, a man wearing body armor tried to breach the FBI's Cincinnati field office. He was killed in a shoot-out with police. In October, in San Francisco, a man broke into the home of Nancy Pelosi, then the speaker of the House, and attacked her 82-year-old husband with a hammer, fracturing his skull. In January 2023, a failed Republican candidate for state office in New Mexico who referred to himself as a "MAGA king" was arrested for the alleged attempted murder of local Democratic officials in four separate shootings. In one of the shootings, three bullets passed through the bedroom of a state senator's 10-year-old daughter as she slept.
Experts I interviewed told me they worry about political violence in broad regions of the country—the Great Lakes, the rural West, the Pacific Northwest, the South. These are places where extremist groups have already emerged, militias are popular, gun culture is thriving, and hard-core partisans collide during close elections in politically consequential states. Michigan, Wisconsin, Pennsylvania, Arizona, and Georgia all came up again and again.
https://www.theatlantic.com/magazine/archive/2023/04/us-extremism-portland-george-floyd-protests-january-6/673088/