May 20, 2021
ON THE RECORD. . .
"I want to be clear. I will put the January 6 commission legislation on the floor of the Senate for a vote, period. Republicans can let their constituents know: Are they on the side of truth or do they want to cover up for the insurrectionists and for Donald Trump?" — Sen. Chuck Schumer (D-NY)

"I just met with Corrupt Joe Biden and he's STILL planning to push his radical Socialist agenda onto the American people." — Minority Leader Kevin McCarthy (R-CA) trying to raise money with this campaign text to supporters shortly after his meeting with President Biden about infrastructure spending.

"Leader McCarthy's visit to the former president at Mar-a-Lago was really stunning given what the former president did. He provoked an attack on the Capitol — an attack on our democracy. I can't understand why you'd want to go rehabilitate him. I think he is not leading with principle right now. I think that it is sad, and I think it's dangerous."— Liz Cheney

A Colorado man charged with murdering his wife submitted her absentee ballot in the 2020 elections. He thought "other guys" were cheating so he would "give [Trump] another vote" -- Reid Wilson

"We've lost the White House, the House and the Senate over the past four years, and to continue to, you know, do the exact same thing and expect a different result is the definition of insanity."— Maryland Gov. Larry Hogan (R) on the state of Republican Party.

"This is a woman that's deeply unwell and clearly needs some help. … At this point, I think, the depth of that un-wellness has raised concerns for other members. … I'm concerned about her perceptions of reality. — Alexandria Ocasio-Cortez about Marjorie Taylor Greene.

There's no evidence, as has been said on January 7, that this was an armed insurrection. Armed meaning with firearms. There were no firearms. … there have been things worse than people without any firearms coming into a building."— Rep. Louie Gohmert (R-TX) about the Jan. 6 riot.

"I never thought that I'd be saying, 'Yeah, go Liz Cheney.' But I am." — Former acting AG Sally Yates.

Liz Cheney a "bitter, horrible human being" and a detriment to the Republican brand." — Trump

"To call it an insurrection is a bold face lie." — Rep. Andrew Clyde (R-GA), likening the people entering the Capitol on TV footage to tourists. At a House Oversight Committee hearing, he said the only insurrection he's ever witnessed was the Russia investigation.

"They don't want to live in a country where you're going to have a Justice Department that is going to politicize something to the point where a former president's personal counsel is going actually be spied on by the Justice Department." —Andrew Giuliani, on Russian TV to push conspiracy theories about the federal investigation of his father.

The fact that Kevin McCarthy stripped Justin Amash of all committee seats for criticizing Trump, but has worked to protect MTG from consequences (including pretending he doesn't see it) tells you this is happening with the support of GOP leadership. — AOC

"I'm being falsely accused of exchanging money for naughty favors. Yet, Congress has reinstituted a process that legalizes the corrupt act of exchanging money for favors, through earmarks, and everybody knows that that's the corruption." — Rep. Matt Gaetz (R-GA), telling a crowd of Republican activists Saturday that sexual misconduct allegations involving him are as benign as legislative earmarks.

Andrew Clyde (@rep_clyde), the person screaming at the far left of this photo, recently likened the brutal, wildly out of control, deadly violent Jan. 6 insurrection on the U.S. Capitol to overthrow the will of the people, to a "normal tourist visit." PHOTO
VIDEOS
Marjorie Taylor Greene gives floor speech defending Jan. 6 rioters while attacking Black Lives Matter': VIDEO

Donald Trump is still the president and that the military would call on him "for the code if they need a first strike. … Trump signed the Insurrection Act in secret. "— Lin Wood, who is running to head the S.C. Republican Party. VIDEO

A since-deleted video from 2019 shows Rep, Marjorie Taylor Greene (R-GA) harassing AOC's office through a locked door. Calling her "crazy eyes" and telling her through the office's mailbox slot to "get rid of your diaper" while telling the office to open the door and come out. VIDEO

Weekend Update: Liz Cheney on the Republican Party - SNL

GOP's-A-Cult-For-Scammers-Liars-Thugs-And-Traitors –A MeidasTouch & Bette Midler Production

The Rules of the Demagogue | #RejectGOPFascism | Meidas Touch

Meet The White Women Empowering QAnon Part 1 | Full Frontal with Samantha Bee
REMINDER: Just Security is continuing to track every pending criminal and civil case against Donald Trump.
---
IN THIS ISSUE
IN THE NEWS
OPINION
Andy Borowitz: Stefanik Solemnly Swears to Defend Trump from Constitution
In a solemn swearing in as the new House Republican Conference chair, Representative Elise Stefanik vowed to defend Donald J. Trump from the United States Constitution.

With House Minority Leader Kevin McCarthy officiating, Stefanik raised her right hand and rested her left on a first edition of "The Art of the Deal."

"I, Elise Stefanik, do solemnly swear to preserve, protect, and defend Donald J. Trump from the Constitution of the United States," she recited.

Stefanik became emotional as she finished the oath, in which she promised to defend Trump "from all enemies, foreign and domestic—but especially from that jerk Liz Cheney." https://www.newyorker.com/humor/borowitz-report/
Trump tells GOP to block probe into Jan 6 Insurrection
Said Trump in a statement: "Republicans in the House and Senate should not approve the Democrat trap of the January 6 Commission. It is just more partisan unfairness and unless the murders, riots, and fire bombings in Portland, Minneapolis, Seattle, Chicago, and New York are also going to be studied, this discussion should be ended immediately."
He added: "Republicans must get much tougher and much smarter, and stop being used by the Radical Left. Hopefully, Mitch McConnell and Kevin McCarthy are listening." https://www.donaldjtrump.com/desk/desk-jceefkztbj/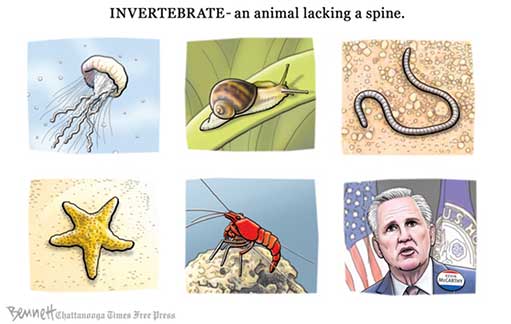 McConnell comes out against Jan. 6 commission, imperiling its chances of becoming law
Senate Minority Leader Mitch McConnell (R-KY) said that he will oppose legislation to create a commission tasked with investigating the Jan. 6 attack on the Capitol — a signal that the legislation will not have the votes to get through the Senate, the Washington Post reports. https://www.washingtonpost.com/politics/mcconnell-comes-out-against-jan-6-commission-imperiling-its-chances-of-becoming-law/2021/05/19/60de1f52-b8b3-11eb-a5fe-bb49dc89a248_story.html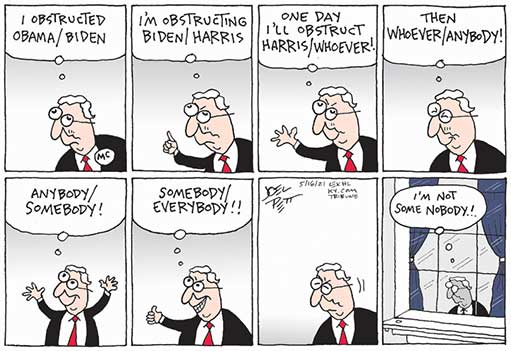 Investigation of Trump Organization now exploring possible criminal conduct, N.Y. attorney general's office says
New York Attorney General Letitia James's investigation into the Trump Organization is now considered a criminal matter, James's office said Tuesday night, noting that officials with the former president's company were recently apprised of the development.
"We have informed the Trump Organization that our investigation into the company is no longer purely civil in nature," said Fabien Levy, a spokesperson for the attorney general's office. "We are now actively investigating the Trump Organization in a criminal capacity, along with the Manhattan DA. We have no additional comment at this time."
The attorney general's notification to the Trump Organization suggested a cooperative relationship has developed between investigators working for James and Manhattan District Attorney Cyrus R. Vance Jr., whose office has been heading a criminal probe into the company and its officers since 2018. Both officials are Democrats. A person familiar with the matter, who like others spoke on the condition of anonymity to discuss an ongoing investigation, said the district attorney was not specifically mentioned in James's letter to Trump's company. https://www.washingtonpost.com/national-security/trump-investigation-new-york-attorney-general-letitia-james/2021/05/18/cd2f1288-b0cf-11eb-a980-a60af976ed44_story.html
Most GOP Voters Think 2020 Election Was Stolen
Six in 10 Republicans believe Trump's false claim that the election 'was "stolen" from him, according to a Reuters/Ipsos poll released last month. And a CBS News poll released over the weekend found that 67 percent of Republicans said that Biden wasn't the legitimate winner of the 2020 election. 
Nearly half, 47 percent, also told CBS News that the party's strategy for winning future elections should be changing voting laws. 
A new Ipsos poll found that that 50% of Republicans believe former President Donald Trump should be the role model for the Republican party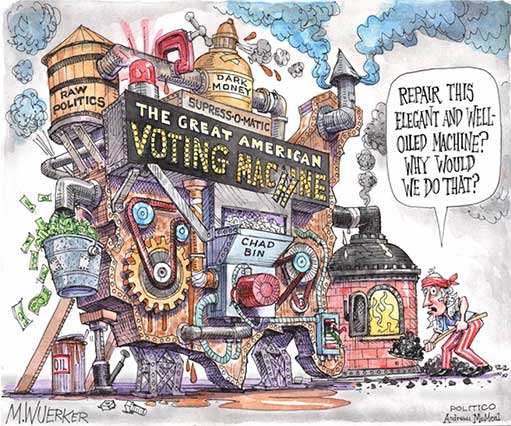 Capitol Rioters' 'Trump Defense' Comes Up Again And Again. Will It Make A Difference?
Albert Watkins, the attorney for "QAnon Shaman" Jacob Chansley, says that his client and other accused Capitol rioters were uniquely vulnerable to being misled by former President Trump's lies.
Said Albert Watkins: "A lot of these defendants… they're all fucking short-bus people. These are people with brain damage, they're fucking retarded…"
He added: "But they're our brothers, our sisters, our neighbors, our coworkers—they're part of our country. These aren't bad people, they don't have prior criminal history. Fuck, they were subjected to four-plus years of goddamn propaganda the likes of which the world has not seen since fucking Hitler." https://www.thedailybeast.com/qanon-shaman-jacob-chansleys-lawyer-al-watkins-says-many-capitol-ioters-are-retarded.
47 percent of GOP prefers changing election laws to improving Republican message
A new CBS News/YouGov poll finds 53% if Republicans think the party should focus on messaging to expand its appeal, while 47% think the party should focus on changing voting rules to try to win with the voters it has. https://www.washingtonpost.com/politics/2021/05/17/47-percent-gop-prefers-changing-election-laws-improving-republican-message/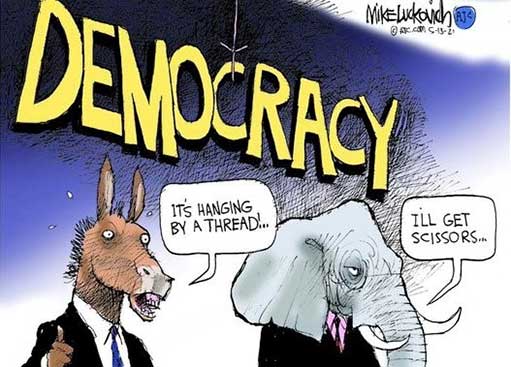 TX Gov. Greg. Abbott says no public schools or government entities will be allowed to require masks
Gov. Greg Abbott announced Tuesday that public schools can no longer require masks on their campuses starting June 5. The decision was part of a new executive order that bans government entities in Texas — like cities and counties — from mandating masks in the fight against the coronavirus pandemic.
Starting Friday, any government entity that tries to impose a mask mandate can face a fine of up to $1,000, according to the order. The order exempts state supported living centers, government-owned or -operated hospitals, Texas Department of Criminal Justice facilities, Texas Juvenile Justice Department facilities, and county and municipal jails. https://www.texastribune.org/2021/05/18/greg-abbott-texas-mask-mandate/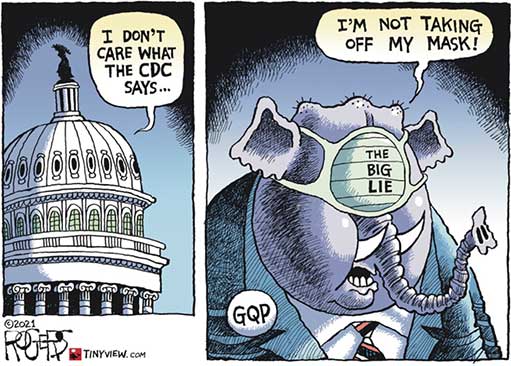 Feds have asked about Giuliani's consulting on Romania
It's not just Ukraine. Justice Department investigators have asked questions about Rudy Giuliani's work connected to Romania, according to two people familiar with the probe into former President Donald Trump's personal lawyer.
Last month, FBI agents raided Giuliani's New York City apartment and office to seize phones and computers as part of an investigation of whether Giuliani violated the law in his work for foreign entities, including the Foreign Agents Registration Act. Giuliani has said that he "never, ever represented a foreign national" and says he specifically puts in his contracts that he won't lobby on behalf of or represent foreign entities. https://www.politico.com/news/2021/05/18/rudy-giuliani-romania-consulting-probe-489257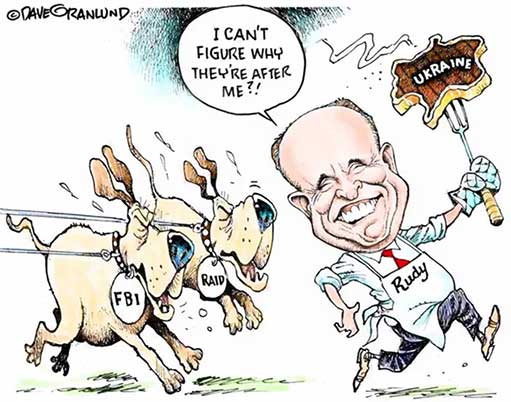 How The Republican Party Could Splinter (Or Stay The Same) After Liz Cheney's Ousting
At least right now, it's hard to imagine any Republican being successful at the national level without having Trump's backing. Perhaps the most obvious sign of the current times?
Senate Minority Leader Mitch McConnell said he would "absolutely" support Trump if he won the nomination in 2024 — even though in February Trump said in a publicly released statement that the senator was a "dour, sullen, and unsmiling political hack.
Again, only time will tell where the Republican Party will go from here, and not every GOP voter is convinced the party needs to change. But at least in the near future, it's possible some type of fissure will form between the part of the Republican Party that wants to remain loyal to the former president and the part that thinks it's time to change. But it seems so far that it's going to be very difficult for the party to move beyond Trump. Trump is not going to willingly depart the scene, that's for sure, and, at least right now, he's making it hard for the party to move on. https://fivethirtyeight.com/features/how-the-republican-party-could-splinter-or-stay-the-same-after-liz-cheneys-ousting/
Liberals to Biden: Ditch the infrastructure talks with Republicans
House progressives sent their own warning shot Tuesday to Speaker Nancy Pelosi and Senate Majority Leader Chuck Schumer, arguing in a letter that Democrats should pursue a multitrillion-dollar megabill sweeping Biden's priorities together, "a single, ambitious package combining physical and social investments hand in hand." It's the strongest sign yet that a growing number of liberals are done with trying to cut an infrastructure deal with Republicans that costs $800 billion at most and kicks other priorities down the road.
"They're not being even players and we should just move on without them," said Rep. Ruben Gallego (D-Ariz.), one of roughly 60 House liberals who signed the letter. He dismissed the GOP's $800 billion plan as a "counting gimmick" rather than a serious proposal: "Time to pull the trigger."
Rep. Mark Pocan (D-Wis.), another senior progressive, called the GOP's latest counteroffer "ridiculous" and said the Republican list of proposals to pay for it might as well have included a "bake sale" to help raise funds. "At what point do they seriously come to the table?" Pocan said, noting that Republicans could still back the Democrats' effort when it comes to the floor. "If they don't come to the table, it doesn't mean we don't serve the meal." https://www.politico.com/news/2021/05/19/biden-liberals-republicans-infrastructure-489418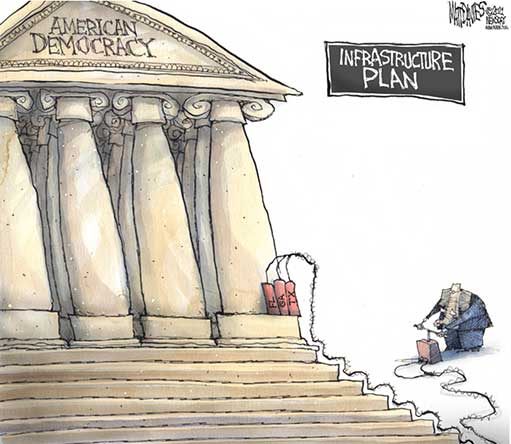 State losses plague Democrats ahead of redistricting
Democrats' 2020 down-ballot disappointments are already coming back to haunt them.
Despite President Joe Biden carrying New Hampshire in a runaway, Republicans surged in other races to flip both chambers of the state legislature. Now, the Granite State GOP is openly plotting the ouster of Rep. Chris Pappas (D-N.H.), experimenting with new maps that pack his district with red towns and shove blue pockets into the seat next door
His plight encapsulates one of the real-life impacts of Democrats' failure to make more inroads in state capitals over the past four years, even as they claimed both chambers of Congress and the White House. Dozens of Democratic members from states large and small — including rising stars like Reps. Sharice Davids (D-Kan.) and Carolyn Bourdeaux (D-Ga.) — now find their political survival might be at the mercy of Republicans eager to grab every inch of territory they can as they chart a way back to the majority. https://www.politico.com/news/2021/05/18/states-democrats-redistricting-489228
EPA revokes Trump-era policy that loosened clean-air rules
The EPA "is revoking a Trump-era rule that overhauled how the agency evaluates air pollutants, a move the Biden administration says will make it easier to enact limits on dangerous and climate-changing emissions. https://apnews.com/article/donald-trump-science-technology-environment-and-nature-government-and-politics-f394883794b097ea35d4786bc0eb0f03
Chinese businessman with links to Steve Bannon is driving force for a sprawling disinformation network, researchers say
A sprawling online network tied to Chinese businessman Guo Wengui has become a potent platform for disinformation in the United States, attacking the safety of coronavirus vaccines, promoting false election-fraud claims and spreading baseless QAnon conspiracies, according to research published Monday by the network analysis company Graphika.
The report provided in advance to The Washington Post, details a network that Graphika says amplifies the views of Guo, a Chinese real estate developer whose association with former Trump White House adviser Stephen K. Bannon became a focus of news coverage last year after Bannon was arrested aboard Guo's yacht on federal fraud charges. https://www.washingtonpost.com/technology/2021/05/17/guo-wengui-disinformation-steve-bannon/
How Palm Beach is preparing for a possible Trump indictment
Law enforcement officials in Palm Beach County, Fla., have actively prepared for the possibility that Manhattan District Attorney Cy Vance could indict former President Donald Trump while he's at Mar-a-Lago, according to two high-ranking county officials involved in planning sessions.
Among the topics discussed in those meetings: how to handle the thorny extradition issues that could arise if an indictment moves forward
An obscure clause in Florida's statute on interstate extradition gives Gov. Ron DeSantis the ability to intervene and even investigate whether an indicted 'person ought to be surrendered' to law enforcement officials from another state — which means that as Mar-a-Lago prepares to close down for the season and Trump relocates to Bedminster, N.J., it isn't just the Florida heat he's leaving behind: He could lose a key piece of political protection. https://www.politico.com/newsletters/playbook/2021/05/13/how-palm-beach-is-preparing-for-a-possible-trump-indictment-492836
McGahn to sit for closed-door interview with House Democrats
Former White House counsel Don McGahn will sit for a closed-door interview with House Democrats as part of an agreement to end a nearly two-year legal battle between the Trump White House and Congress.
The Department of Justice and House lawyers submitted a joint court filing late Wednesday outlining the terms of the agreement and asking a federal appeals court to put the long-running case on hold.
Rep. Jerry Nadler (D-N.Y.), the chairman of the House Judiciary Committee, which issued the subpoena in April 2019, hailed the settlement on Wednesday as an important step to ending a Trump era marked by the executive branch's stiff resistance to congressional oversight.
"When the former President vowed to fight 'all of the subpoenas' aimed at his Administration, he began a dangerous campaign of unprecedented obstruction. We begin to bring that era of obstruction to an end today," Nadler said in a statement. https://thehill.com/homenews/house/553277-mcgahn-to-sit-for-closed-door-interview-with-house-democrats-ending-long
Trump posts furious attack on 'loser' former staffer Miles Taylor on his blog: 'a lowlife I didn't know'
On Wednesday, former President Donald Trump took to his new blog to trash Miles Taylor, a former Homeland Security chief of staff in his administration who penned the infamous "anonymous" op-ed against Trump in The New York Times, endorsed President Joe Biden, and is now threatening to form a moderate conservative party.
"Some people refer to him as 'absolutely nothing,'" wrote Trump. "I hear he is on CNN and MSDNC all the time, but he had nothing to do with any of my decisions, and I wouldn't even know what he looks like. He is the guy who fraudulently wrote a make-believe book and statement to the failing New York Times calling himself 'Anonymous.' That's right, he, a lowlife that I didn't know, was Anonymous. Now he's putting together a group of RINOs and Losers who are coming out to protest President Trump." https://www.rawstory.com/furious-trump-freakout-blog/
Manchester's political contributions, ambassador nod are subject of criminal probe
A federal grand jury in Washington, D.C., has begun issuing subpoenas in a criminal investigation into the nomination of San Diego developer Doug. Manchester as ambassador to the Bahamas by former President Donald Trump.
The case appears to focus on the Republican National Committee and its two senior leaders, and possibly members of Congress. https://www.sandiegouniontribune.com/news/watchdog/story/2021-05-15/manchester-contributions-probe
Activists and Ex-Spy Said to Have Plotted to Discredit Trump 'Enemies' in Government
A network of conservative activists, aided by a British former spy, mounted a campaign during the Trump administration to discredit perceived enemies of President Trump inside the government, according to documents and people involved in the operations.
The campaign included a planned sting operation against Mr. Trump's national security adviser at the time, H.R. McMaster, and secret surveillance operations against F.B.I. employees, aimed at exposing anti-Trump sentiment in the bureau's ranks.
The operations against the F.B.I., run by the conservative group Project Veritas, were conducted from a large home in the Georgetown section of Washington that rented for $10,000 per month. Female undercover operatives arranged dates with the F.B.I. employees with the aim of secretly recording them making disparaging comments about Mr. Trump. https://www.nytimes.com/2021/05/13/us/politics/mcmaster-fbi-trump-project-veritas.html
Leaked Video: Dark Money Group Brags About Writing GOP Voter Suppression Bills Across the Country
In a private meeting last month with big-money donors, the head of a top conservative group boasted that her outfit had crafted the new voter suppression law in Georgia and was doing the same with similar bills for Republican state legislators across the country. "In some cases, we actually draft them for them," she said, "or we have a sentinel on our behalf give them the model legislation so it has that grassroots, from-the-bottom-up type of vibe."
The Georgia law had "eight key provisions that Heritage recommended," Jessica Anderson, the executive director of Heritage Action for America, a sister organization of the Heritage Foundation, told the foundation's donors at an April 22 gathering in Tucson, in a recording obtained by the watchdog group Documented and shared with Mother Jones. Those included policies severely restricting mail ballot drop boxes, preventing election officials from sending absentee ballot request forms to voters, making it easier for partisan workers to monitor the polls, preventing the collection of mail ballots, and restricting the ability of counties to accept donations from nonprofit groups seeking to aid in election administration.
All of these recommendations came straight from Heritage's list of "best practices" drafted in February. With Heritage's help, Anderson said, Georgia became "the example for the rest of the country." https://www.motherjones.com/politics/2021/05/heritage-foundation-dark-money-voter-suppression-laws/
Jonathan Chait: House Republicans Purge Liz Cheney and Join Trump's War on Democracy
Trump and conservative media have not stopped promoting his election lies. The scale of his success is astonishing. Seventy percent of Republicans believe Trump legitimately won the election; of those who believe this, a Republican poll found, half attribute Joe Biden's stolen election in whole or in part to hacked vote-tabulation machines. Another poll, asking Trump supporters what happened on January 6, found three-fifths blamed antifa.
Virtually the entire party has tried to co-opt Trump's lies by diverting the effort into voter-suppression bills premised on his fantasies. Almost none of them will admit Joe Biden legitimately won the election. Instead they will concede he simply is the president right now and immediately change the subject. Asked if Biden is the legitimate president, Representative Jim Banks said only, "Yes, Joe Biden was elected. He was inaugurated." Asked the same question, Representative Elise Stefanik, Cheney's replacement, replied, "President Biden is president and the focus is on defeating his radical agenda."
Convenient as it may be to focus on questions that poll better, there's no avoiding the democracy question in the Republican Party. Cheney has decided to oppose Trump's authoritarianism. Her party's leadership has decided to abet it. https://nymag.com/intelligencer/2021/05/republicans-purge-cheney-and-join-trumps-war-on-democracy.html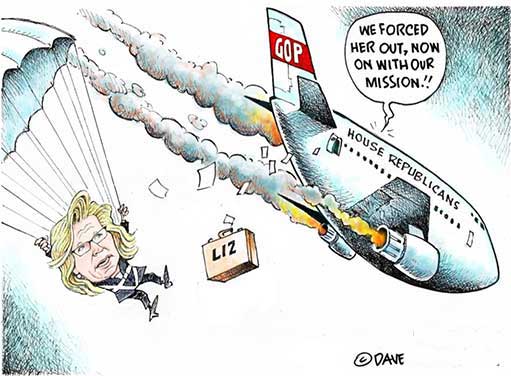 Chauncey DeVega: Why the Republicans' Big Lie works so well: A sociopathic party, and a damaged country
What can be done to counter the Republican Party and Trump movement's powerful weaponization of lies against American democracy and a healthy society? This new post-Trump world, in which neofascism is not a hypothetical possibility but is ascendant and growing in power, requires pro-democracy forces to adopt new ways of thinking.
Democrats, the news media and the American people need to accept that when Republicans, Trumpists and their allies and followers lie it is not a miscommunication, an error, a misunderstanding, a moment of confusion or honest disagreement about questions of public policy and politics. When Republicans and other members of the right lie, it is a weapon — and part of a determined strategy to undermine democracy and reality itself.
Democrats and the media also need to accept and understand that today's Republican Party and right-wing movement are not engaged in "normal politics," where the rules and norms of a healthy, functioning democracy are respected by all sides, where there is give-and-take, honest negotiation and then final compromise in the service of the public interest.
Ultimately, the struggle for American democracy in the Age of Trump and beyond is existential. It will be decided around basic questions of what is true and what is not — and the public's willingness to know the difference and then act accordingly. Based on the historic power of the Big Lie, the forces of democracy are fighting at a great disadvantage. https://www.salon.com/2021/05/18/why-the-republicans-big-lie-works-so-well-a-sociopathic-party-and-a-damaged-country/
Maureen Dowd: Liz Cheney and the Big Lie
I miss torturing Liz Cheney.
But it must be said that the petite blonde from Wyoming suddenly seems like a Valkyrie amid halflings.
She is willing to sacrifice her leadership post — and risk her political career — to continue calling out Donald Trump's Big Lie. She has decided that, if the price of her job is being as unctuous to Trump as Kevin McCarthy is, it isn't worth it, because McCarthy is totally disgracing himself.
That trademark Cheney bluntness made Liz the toast of MSNBC and CNN, where chatterers praised her as an avatar of the venerable "fact-based" Republican Party decimated by Trump.
But if Liz Cheney wants to be in the business of speaking truth to power, she's going to have to dig a little deeper.
Let's acknowledge who created the template for Trump's Big Lie.
It was her father, Dick Cheney, whose Big Lie about the Iraq war led to the worst mistake in the history of American foreign policy. Liz, who was the captain of her high school cheerleading team and titled her college thesis "The Evolution of Presidential War Powers," cheered on her dad as he spread fear, propaganda and warped intelligence.
In her Post piece, Cheney wrote that her party is at a "turning point" and that Republicans "must decide whether we are going to choose truth and fidelity to the Constitution."
Sage prose from someone who was a lieutenant to her father when he assaulted checks and balances, shredding America's Constitution even as he imposed one on Iraq.
Because of 9/11, Dick Cheney thought he could suspend the Constitution, attack nations preemptively and trample civil liberties in the name of the war on terror. (And for his own political survival.)
Keeping Americans afraid was a small price to pay for engorging executive power, which the former Nixon and Ford aide thought had been watered down too much after Watergate.
Trump built a movement based on lies. The Cheneys showed him how it's done. https://www.nytimes.com/2021/05/08/opinion/liz-cheney-donald-trump.html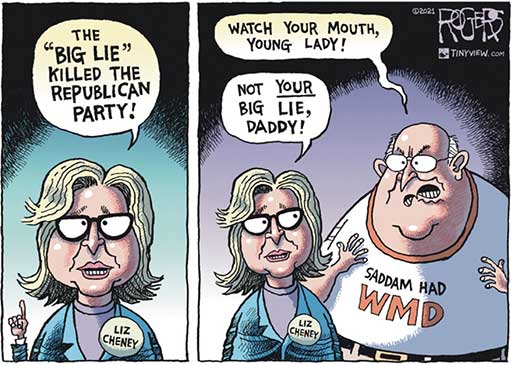 Eli Merritt: Trump's place in history? He is the supreme American demagogue
Donald Trump's tear across the democratic and constitutional landscape of America is not over. The latest collateral damage of his lies and attacks is the ouster of Rep. Liz Cheney from her leadership position as House Republican Conference chair. The Republican caucus threw her out because she dares to speak the truth about Trump's lie that the 2020 presidential election was stolen.
Trump is not going away. The Republican leaders who have disregarded the truth to enable him should know what future historians are going to say about the former president — and them, by association. He will be showcased for decades to come as the greatest symbol of American demagoguery of all time. Compared with Trump, demagogues like Huey Long and Joseph McCarthy will become footnotes.
There is little unique about Trump's methods — which mirror those used by other demagogues — but he has been able to deploy them all in the most powerful office in the world. A personality cult, anti-democratic consolidation of power, populist lies, ceaseless attack on critics, and support for white supremacy are part of the formula Trump employed to gain the presidency and secure near-total control of the Republican Party.
Trump's fate in history is to become the superstar in a cast of dishonored political figures. He will be remembered as the first full-blown demagogue in the White House, one who incited seditious violence on the U.S. Capitol — and for little else. Over time, Democrats and Republicans will unite in this historical understanding of Trump, just as they have long since reached consensus about Democrat Huey Long and Republican Joseph McCarthy.
The judgment of Trump will not be a partisan matter. If Republican leaders care about how history will judge them, they need to join Cheney in the determined fight to put truth and the health of our democracy above party and power. In the long arc of history, truth always wins over demagoguery. Donald Trump's tear across the democratic and constitutional landscape of America is not over. https://www.latimes.com/opinion/story/2021-05-12/donald-trump-demagogues-american-history
Max Boot: There are no Marjorie Taylor Greenes in the Democratic Party
There is no clearer indication of the gulf between the two parties than the confrontation last week between Rep. Alexandria Ocasio-Cortez (D-N.Y.), a star of the left who is known as AOC, and Rep. Marjorie Taylor Greene (R-Ga.), a star of the right who is known as MTG. Last Wednesday, two Post reporters observed Greene accosting Ocasio-Cortez as the latter was exiting the House chamber. Greene was badgering Ocasio-Cortez, loudly demanding, "Why do you support terrorists and antifa?" (Short answer: She doesn't.) Greene came across as a creepy stalker; Ocasio-Cortez as a grownup who refused to engage.
This is only the latest example of Greene harassing Ocasio-Cortez. CNN uncovered a video from February 2019 showing Greene and some of her friends — including a man who would later enter the Capitol during the Jan. 6 insurrection — taunting Ocasio-Cortez from outside her office door. "We're going to go see, we're going to visit, Alexandria Ocasio-Cortez. Crazy eyes. Crazy eyes. Nutty. Cortez," Greene says to the camera, sounding pretty nutty herself.
Greene wrote in Ocasio-Cortez's guestbook, "You're a traitor," with a smiley face. Speaking through a mail slot, she berated Ocasio-Cortez for "bringing God's judgment on our country" by supporting abortion rights. "If you want to be a big girl," she added, "you need to get rid of your diaper and come out and be able to talk to the American citizens, instead us having to use a flap, a little flap." One of her companions taunted Ocasio-Cortez's staff with a line that sounds as if it could have come straight from a horror movie: "You can't stay in there forever. Come out and play."
These confrontations are all the more menacing because, during last year's campaign, Greene appeared in a campaign ad holding a rifle with pictures of Ocasio-Cortez and other liberal lawmakers. Greene also expressed support on Facebook for executing House Speaker Nancy Pelosi (D-Calif.). Her violent rhetoric led House Democrats to strip her of her committee assignments over the opposition of nearly all Republicans. Journalist Windsor Mann is right: "Marjorie Taylor Greene doesn't belong in the House. She belongs in a home."
And yet Greene isn't really that much of an outlier in the House Republican caucus alongside the likes of Reps. Matt Gaetz (Fla.), Louie Gohmert (Tex.), Lauren Boebert (Colo.) and other cuckoo Freedom Caucus members. Many Republicans have promoted the "big lie" that President Biden's election victory was fraudulent and that the storming of the Capitol was either benign or the work of leftist provocateurs. (They can't seem to get their story straight.) Last week, Rep. Andrew S. Clyde (R-Ga.) suggested that the mob invasion was actually "a normal tourist visit" (do tourists normally carry nooses?) while Rep. Paul A. Gosar (R-Ariz.) expressed outrage that the FBI was tracking down the terrorists.
Such extremist views, sadly, do not place these members beyond the pale of a Republican caucus that just voted to remove Rep. Liz Cheney (Wyo.) from its leadership for refusing to go along with the "big lie." (Rep. Madison Cawthorn (N.C.) celebrated the purge with a tweet revealing his mental age: "Na na na na, na na na na, hey hey, goodbye Liz Cheney.") A majority of the House GOP caucus — including all of its current leaders — voted to overturn election results even after the mob assault. https://www.washingtonpost.com/opinions/2021/05/17/there-are-no-marjorie-taylor-greenes-democratic-party/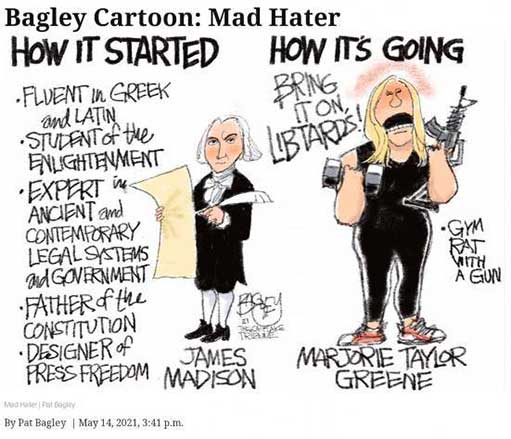 Eric Levitz: We'll Innovate Our Way Out of the Climate Crisis or Die Trying
Today's best-case ecological scenario was a horror story just three decades ago. In 1993, Bill Clinton declared that global warming presented such a profound threat to civilization that the U.S. would have to bring its "emissions of greenhouse gases to their 1990 levels by the year 2000." Instead, we waited until 2020 to do so; in the interim, humanity burned more carbon than it had since the advent of agriculture. Now, it will take a historically unprecedented, worldwide economic transformation to freeze warming at "only" 2 degrees — a level of temperature rise that will turn "once in a century" storms into annual events, drown entire island nations, and render major cities in the Middle East uninhabitable in summertime (at least for those whose lifestyles involve "walking outdoors without dying of heatstroke"). This is what passes for a utopian vision in 202If we confine ourselves to mere optimism — and assume that every Paris Agreement signatory meets its current pledged target for decarbonization — then warming will hit 2.4 degrees by century's end.
The reality of our ecological predicament invites denial of our political one. Put simply, it is hard to reconcile the scale of the climate crisis with the limits of contemporary American politics. Delusions rush in to fill the gap. Among these is the fantasy of national autonomy; the notion that the United States can save the planet or destroy it, depending on the precise timeline of its domestic decarbonization. A rapid energy transition in the U.S. is a vital cause, not least for its potential to expedite similar transformations abroad. But the battle for a sustainable planet will be won or lost in the developing world. Although American consumption played a central role in the history of the climate crisis, it is peripheral to the planet's future: Over the coming century, U.S. emissions are expected to account for only 5 percent of the global total.
There is also the delusion of "de-growth's" viability. The fact that there is no plausible path for global economic expansion that won't entail climate-induced death and displacement has led some environmentalists to insist on global stagnation. Yet there is neither a mass constituency for this project, nor any reason to believe that there will be any time soon. Freeze the status-quo economy in amber, and you'll condemn nearly half of humanity to permanent poverty. Divide existing GDP into perfectly even slices, and every person on the planet will live on about $5,500 a year. American voters may express a generalized concern about the climate in surveys, but they don't seem willing to accept even a modest rise in gas prices — let alone a total collapse in living standards — to address the issue. Meanwhile, any Chinese or Indian leader who attempted to stymy income growth in the name of sustainability would be ousted in short order. It's conceivable that one could radically reorder advanced economies in a manner that enabled living standards to rise even as GDP fell; Americans might well find themselves happier and more secure in an ultra-low-carbon communal economy in which individual car ownership is heavily restricted, and housing, healthcare, and myriad low-carbon leisure activities are social rights. But nothing short of an absolute dictatorship could affect such a transformation at the necessary speed. And the specter of eco-Bolshevism does not haunt the Global North. Humanity is going to find a way to get rich sustainably, or die trying.
Thus, the chasm between the ecologically necessary and the politically possible can only be bridged by technological advance. And on that front, the U.S. actually has the resources to make a decisive contribution to global decarbonization — and some political will to leverage those resources. Unfortunately, due to some combination of fiscal superstitions and misplaced priorities, the Biden administration's proposed investments in green innovation remain paltry. An American Jobs Plan with much higher funding for green R&D is both imminently winnable and environmentally imperative. U.S. climate hawks should make securing such legislation a top priority.
The technological progress of the past decade was not sufficient to compensate for tepid climate policy. But real techno-utopianism has never been tried: As of 2019, global spending on clean energy R&D totaled $22 billion a year, or 3 percent of the Pentagon's annual budget. Increasing spending on such research — while expediting cost-reductions in existing technologies by deploying them en masse — should be twin priorities of American climate policy. https://nymag.com/intelligencer/2021/05/climate-biden-green-tech-innovation.html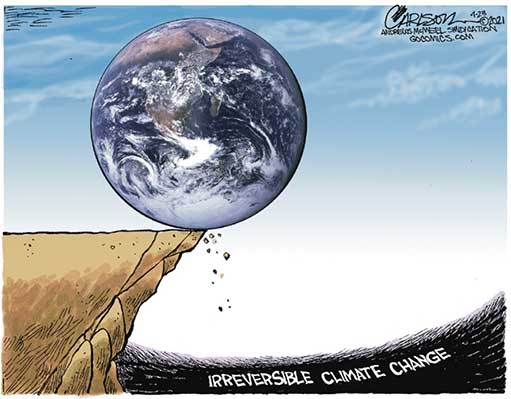 Gabriel Debenedetti: This Time, the Craziest Election Doesn't Have Trump A circus versus Gavin Newsom.
Aat each turn in this young race, the Republicans trying to unseat Newsom — or, more realistically, trying to make a point against him — have made a hash of what ought to have been a political opportunity, almost always because they've misread the moment, and misgauged their exhausted voters' appetite for spectacle and celebrity.
Maybe it was obvious after perennial candidate John Cox launched his latest gubernatorial bid in Sacramento next to a rented Kodiak bear named Tag, only to complain that all anyone cared about was his 1,000-pound guest. Cox, who lost his last statewide campaign to Newsom by 24 points, then held an event without Tag. No one showed except for one photographer.
Or maybe it became clear the next day, when Caitlyn Jenner debuted as a candidate on Sean Hannity's show inside her private Malibu airplane hangar by explaining that the owner of a neighboring hangar left California because he didn't care for its homeless population. In the first polls after she announced her campaign, which is led by former senior Donald Trump staffers, she drew just 6 percent support.
At some point last week, California Republicans engineering the recall and some incorrigible swaths of the political media-industrial complex faced an inescapable truth: They can't expect anything more than hollow attention and anemic support if they're just going to rely on reflexive provocations, spectacle, and a splash of celebrity to beat Newsom. They have misslearned some fundamental lessons if they think that's how Trump won — and these performative antics had little to do with Schwarzenegger's 2003 success, either.
While Faulconer, Cox, and Ose may have found some reason to cheer in a poll showing them with double-digit support, more than two times as many Californians say they're not inclined to support each of them than back any of them. As for Jenner, who came in at 6 percent just after launching her campaign? Over three-quarters of voters said thanks, but no thanks.
https://nymag.com/intelligencer/2021/05/california-recall-is-craziest-election-since-trump.html