December 1, 2022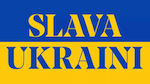 A friend, family member, or neighbor who would like to subscribe to this FREE weekly newsletter should simply email jellison@san.rr.com with "subscribe" as the subject.
THE WEEK'S BEST QUOTES. . .
I was described by Steve Bannon … as a pit bull.
Jack Smith
makes me look like a golden retriever puppy.  So tenacious and fearless. And apolitical and ethical. — Former top Mueller prosecutor Andrew Weissman about the special counsel appointed to oversee criminal probes into the former president. 
https://twitter.com/AWeissmann_/status/1593783449952944128
This is a fucking nightmare. If people are looking at DeSantis to run against Trump, here's another reason why.—
A Trump adviser
about Donald Trump dining with a white nationalist.
https://www.nbcnews.com/politics/donald-trump/f-ing-nightmare-trump-team-damage-control-dines-ye-white-supremacist-n-rcna58780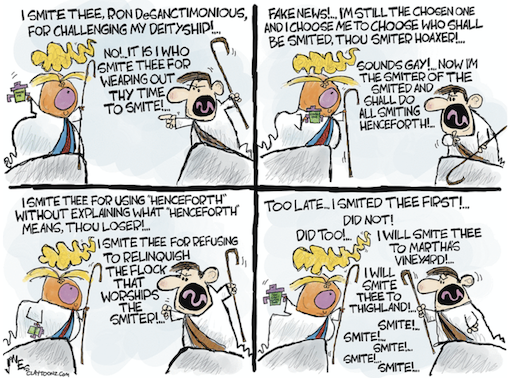 I tell the story often — I get asked Who's the most dangerous person in the world? Is it Chairman Kim, is it Xi Jinping? The most dangerous person in the world is Randi Weingarten. It's not a close call. If you ask, Who's the most likely to take this republic down? It would be the teacher's unions, and the filth that they're teaching our kids, and the fact that they don't know math and reading or writing. —
Mike Pompeo
https://www.semafor.com/article/11/21/2022/mike-pompeo-2024-trump
The greatest danger in American politics is not recognizing that there are great dangers. The same people in 2015 and 2016 were confidently asserting Donald Trump could never, ever under any circumstances win the Republican nomination, and there were never any circumstances where Donald Trump could beat Hillary Clinton… I know that the Republicans who right now are acting very bold and the donors who are acting very frisky – as Trump starts winning primaries, they will bend the knee, they will break, they will fall, they will all come back into line. —
Lincoln Project co-founder Rick Wilson
.
https://www.theguardian.com/us-news/2022/nov/27/rick-wilson-lincoln-project-dismiss-trump-ron-desantis
Massive numbers of 'BROKEN' voting machines in Republican Districts on Election Day. Mechanics sent in to 'FIX' them made them worse. Kari had to be taken to a Democrat area, which was working perfectly, to vote. Her opponent ran the Election. This is yet another criminal voting operation – SO OBVIOUS. Kari Lake should be installed Governor of Arizona. This is almost as bad as the 2020 Presidential Election, which the Unselect Committee refuses to touch because they know it was Fraudulent! —
Donald Trump
demanding that
Kari Lake (R)
be named the winner of the Arizona governor's race — even though she lost.
https://twitter.com/RonFilipkowski/status/1597195878812770309
Billionaire Twitter owner
Elon Musk
says he will back
Ron DeSantis
if he runs for president in 2024. Tweeting into the night on Friday, Musk described DeSantis as a "sensible and centrist" choice.
https://twitter.com/washingtonpost/status/1596536848284880896
With all my due diligence and in prayer, I am 100% running for RNC chairman against Ronna McDaniel. It's going to change real fast, saying that he was looking to move the Republican Party toward backing candidates like Kari Lake and Mark Finchem (Trump-backed individuals who have consistently made baseless claims about the 2020 election). We're going to get our country right, really quick.The RNC collects money and then they don't do anything with election crime. —
MyPillow CEO Mike Lindell
wants more power within the Republican Party: he's officially running to chair the Republican National Committee.
https://www.businessinsider.com/mike-lindell-running-rnc-chair-unseat-ronna-mcdaniel-2022-11
This fully weaponized monster, Jack Smith, shouldn't be let anywhere near the political persecution of "President Donald J. Trump." I did nothing wrong on January 6th, and nothing wrong with the Democrats' fix on the Document Hoax, that is, unless the six previous Presidents did something wrong also….
Donald J. Trump
https://twitter.com/SpiroAgnewGhost/status/1597337266191409152/photo/1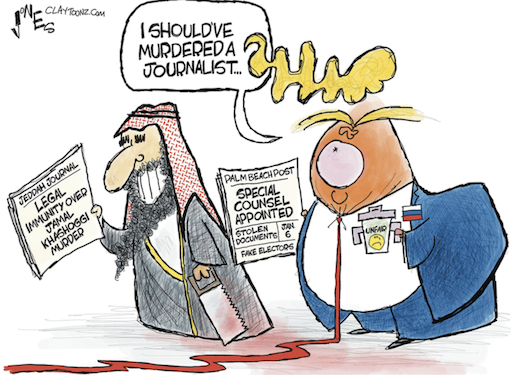 This is a battle for the future of civilization. If free speech is lost even in America, tyranny is all that lies ahead. -- Elon Musk, who keeps doubling down on his decision to allow anyone to say whatever they want to on Twitter. https://twitter.com/elonmusk/status/1597405399040217088

 "I voted to remove him from office twice… I don't think he should be president of the United states. I don't think he should be the nominee of our party in 2024. And I certainly don't want him hanging over our party like a gargoyle. It's a character issue." — Sen. Mitt Romney (R-UT) on Donald Trump having dinner with Holocaust deniers. https://twitter.com/sahilkapur/status/

VIDEOS
Donald and Melania Trump are just sick that many January 6 rioters have been locked up for their crimes, saying over and over that he will pardon the Jan. 6 defendants once he's back in office. — Rep. Marjorie Taylor Greene (R-GA) to Steve Bannon. https://rumble.com/v1xhizg-marjorie-taylor-greene-donald-and-melania-trump-are-just-sick-over-jan.-6-d.html

LITIGATION TRACKER

Pending Criminal and Civil Cases Against Donald Trump.  https://www.justsecurity.org/75032/litigation-tracker-pending-criminal-and-civil-cases-against-donald-trump/
---
IN THIS ISSUE
IN THE NEWS
OPINION
Andy Borowitz: Kari Lake Storms Out of Thanksgiving After Losing Battle for Wishbone
The former anchorwoman Kari Lake reportedly "stormed out" of Thanksgiving dinner after losing a pitched battle over the wishbone, multiple witnesses reported.
According to those who saw the ugly scene unfold, Lake was locked in a fierce struggle over the turkey part with a rival identified by several onlookers as her nine-year-old niece Paisley.
After Lake's attempt to win a majority of the wishbone was soundly defeated, she blasted the contest for being riddled with fraud.
"When the truth comes out, I am going to be your worst nightmare," she reportedly told her niece.
Just prior to her angry departure from the dinner, Lake had angrily rejected a demotion to the children's table, relatives said..
https://www.newyorker.com/humor/borowitz-report/
Western sanctions catch up with Russia's wartime economy
All objective indicators show there is a very strong drop in economic activity, said Vladimir Milov, a former Russian deputy energy minister who is now a leading opposition politician in exile. The spiral is escalating, and there is no way out of this now.

The Western ban on technology imports is affecting most sectors of the economy, while the Kremlin's forced mobilization of more than 300,000 Russian conscripts to serve in Ukraine, combined with the departure of at least as many abroad fleeing the draft, has dealt a further blow, economists said. In addition, Putin's own restrictions on gas supplies to Europe, followed by the unexplained explosion of the Nord Stream gas pipeline, has led to a sharp drop in gas production — down 20 percent in October compared with the previous year. Meanwhile, oil sales to Europe are plummeting ahead of the European Union embargo expected to be imposed Dec. 5. https://www.washingtonpost.com/world/2022/11/26/russia-war-economy-military-supply/
There is a growing shadow campaign to defend Joe Biden from House Republicans
President Joe Biden hasn't said if he's running for re-election, but the groups are designed to defend him and discredit the opposition — including launching intense opposition research efforts into Republicans leading the charge in Congress — ahead of a likely rematch with former President Donald Trump in 2024.

Three new 'war rooms' have sprung up in the past two weeks to combat the House Republican investigations, each backed by multimillion-dollar dark money budgets and some of the best-known operatives in the Democratic Party. Meanwhile, the Democratic National Committee and major outside groups are already retooling to shift from 2022 to 2024. https://www.nbcnews.com/politics/growing-shadow-campaign-defend-joe-biden-house-republicans-rcna58263
House GOP Plans as Many as 50 Investigations
Rep. James Comer (R-KY), the top Republican on the House Oversight committee, told NBC News: We're going to investigate between 40 and 50 different things. https://www.nbcnews.com/meet-the-press/video/full-comer-interview-we-already-have-many-gun-laws-on-the-books-155379781692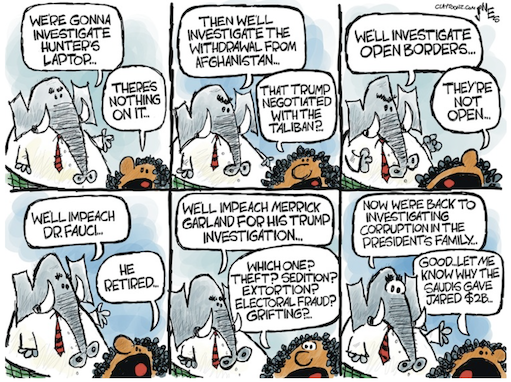 Kemp slams Trump's 'un-American' white supremacist dinner guest; Walker is silent
Georgia Gov. Brian Kemp (R) criticized former President Donald Trump for his dinner with Nick Fuentes, whose unabashed racism and antisemitism has made him the nation's most prominent white nationalist figure, saying racism, antisemitism and denial of the Holocaust have no place in the Republican Party and are completely un-American.

Republican Senate hopeful Herschel Walker, meanwhile, declined comment through an aide. https://www.ajc.com/politics/kemp-slams-trumps-un-american-dinner-guest-walker-is-silent/PQNXGDQ3HBDWXK7BPEIAFQZAY4/
High-profile Republicans gain followers in first weeks of Musk's reign
Taylor Greene and Rep. Jim Jordan gained tens of thousands of Twitter followers in the first few weeks of Elon Musk's reign over the social media network, while their Democratic counterparts experienced a decline. https://www.washingtonpost.com/technology/2022/11/27/musk-followers-bernie-cruz/
At Protests, Guns Are Doing the Talking
Across the country, openly carrying a gun in public is no longer just an exercise in self-defense — increasingly it is a soapbox for elevating one's voice and, just as often, quieting someone else's.

This month, armed protesters appeared outside an elections center in Phoenix, hurling baseless accusations that the election for governor had been stolen from the Republican, Kari Lake. In October, Proud Boys with guns joined a rally in Nashville where conservative lawmakers spoke against transgender medical treatments for minors. https://www.nytimes.com/2022/11/26/us/guns-protests-open-carry.html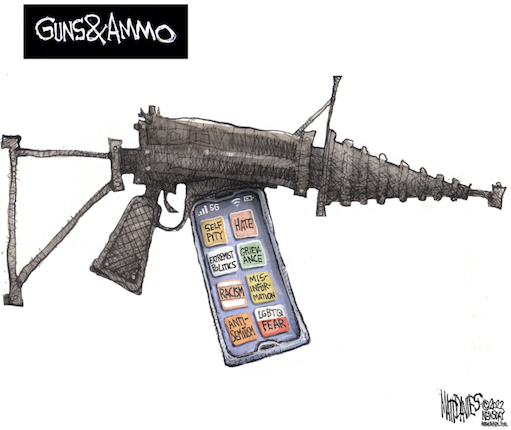 Populist House Republicans Picking a Fight With US Business Over 'Woke Capitalism'
Republicans and their longtime corporate allies are going through a messy breakup as companies' equality and climate goals run headlong into a GOP movement exploiting social and cultural issues to fire up conservatives.

The ensuing drama will unfold over the next two years in the US House, where the incoming GOP majority plans to pressure companies on immigration, equality and climate change stances that are now being assailed by key Republicans as 'woke capitalism.' https://www.bloomberg.com/news/articles/2022-11-27/new-republican-house-majority-primed-to-pick-a-fight-over-woke-capitalism
House Dems on GOP's thin majority: "Welcome to hell"
Democrats just spent two harrowing years navigating one of the tiniest majorities in House history. Now it's the GOP's turn — and things could get even worse.

House Minority Leader Kevin McCarthy and his team are set to take over in January with the kind of margins that vexed Speaker Nancy Pelosi, but lacking the two decades of experience she brought to the task.

And the House GOP will have to steer legislation through with as few as four votes to spare while its leaders deal with an emboldened Freedom Caucus, internal finger-pointing over a disappointing midterm cycle, and a looming brawl over a 2024 presidential primary that features Donald Trump back in the mix. https://www.politico.com/news/2022/11/28/house-dems-on-gops-thin-majority-welcome-to-hell-00070473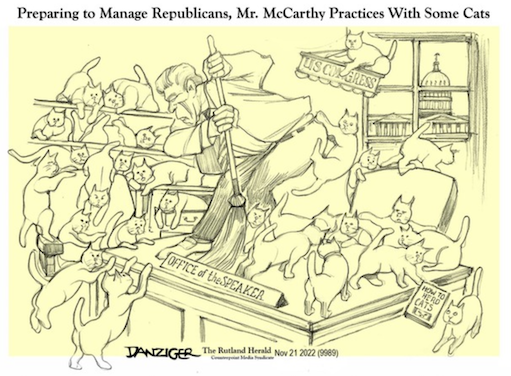 Twitter grapples with Chinese spam obscuring news of protests
Twitter's radically reduced anti-propaganda team grappled on Sunday with a flood of nuisance content in China that researchers said was aimed at reducing the flow of news about stunning widespread protests against coronavirus restrictions

Numerous Chinese-language accounts, some dormant for months or years, came to life early Sunday and started spamming the service with links to escort services and other adult offerings alongside city names.

The result: For hours, anyone searching for posts from those cities and using the Chinese names for the locations would see pages and pages of useless tweets instead of information about the daring protests as they escalated to include calls for Communist Party leaders to resign. https://www.washingtonpost.com/technology/2022/11/27/twitter-china-spam-protests/
Key Trump 2024 Rivals Silent After His White Supremacist Meeting
Many of Donald Trump's potential 2024 rivals and some top Republicans have fallen silent on the former president's dinner with a notorious white supremacist, illustrating the party's continuing struggle to escape his grasp.

Trump's impromptu dinner with Nick Fuentes at Mar-a-Lago last week has drawn condemnation from only a handful of Republicans, while most sidestepped the matter or said nothing. Those silent so far include Florida Governor Ron DeSantis, former Vice President Mike Pence, Senate Minority Leader Mitch McConnell and House Minority leader Kevin McCarthy, the chamber's likely next speaker. https://www.bloomberg.com/news/articles/2022-11-27/key-trump-2024-rivals-silent-after-his-white-supremacist-meeting?leadSource=uverify wall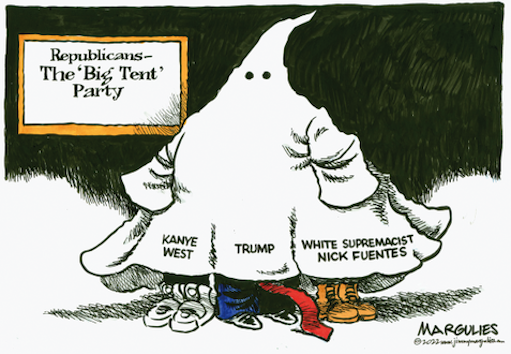 Musk asks if Apple hates 'free speech in America' after Twitter advertising drop-off
Elon Musk publicly slammed Apple on Monday for suspending some of its advertising on his social media platform, asking if leaders of the tech company "hate free speech."

"Apple has mostly stopped advertising on Twitter," Musk announced. "Do they hate in America?"

The Tesla and SpaceX CEO, who acquired Twitter in a $44 billion deal closed last month, has described himself as a "free speech absolutist" and promised to advocate for it using his ownership of the platform.

Racist language and misinformation have reportedly surged on Twitter since Musk's acquisition, and left-leaning watchdog Media Matters for America found that 50 of Twitter's leading 100 advertisers appear to have halted their work with the site.

Musk posted a parade of tweets criticizing Apple for its "monopoly" on tech products and its censorship of some language.

"During Covid, Apple demanded our apps filter some search terms from being returned. If we did not filter the terms, our apps would not be allowed in the store," the account wrote in response to Musk's question about Apple and free speech.

"Who else has Apple censored?" responded Musk. https://thehill.com/policy/technology/3753233-elon-musk-asks-if-apple-hates-free-speech-in-america-after-twitter-advertising-drop-off/
Anyone But McCarthy?
Every day seems to bring more bad news for new Washington prom king Kevin McCarthy as members of the House Freedom Caucus make it known publicly that they are #NeverKevins. So far, about five members of the House Freedom Caucus have said that they will not back McCarthy for Speaker, a fight he is willing to take to the floor.

But the math for McCarthy is daunting: If Republicans have 222 seats, he can only afford to lose four. During the G.O.P. conference vote, 31 members were silent, but voted against him. There were also five who wrote in another candidate. The silent nos are probably the easiest to win over, but every day seems to bring another public rebuke. Now those close to him are starting to perceive that he doesn't have the votes and he's going to have to make the public 'Nos' go back on their word, which may be like reversing gravity. https://puck.news/anyone-but-mccarthy/
Elon Musk's job cuts decimate Twitter team tackling child sexual abuse, sources say
Elon Musk has dramatically reduced the size of the Twitter Inc. team devoted to tackling child sexual exploitation on the platform, cutting the global team of experts in half and leaving behind an overwhelmed skeleton crew. https://www.miamiherald.com/news/nation-world/national/article269357817.html
Manchin's side deal on brink as GOP seeks his 2024 ouster
Sen. Joe Manchin's (D-WV) side deal with Senate Majority Leader Charles Schumer (D-N.Y.) to enact permitting reform before the end of the year is on life support as Republicans look to deprive the lawmaker of a major victory that could aid his potential 2024 reelection, The Hill reports.


Manchin is in discussions with GOP colleagues about striking a deal on permitting reform in the lame-duck session, but Republicans say it faces an uphill path as they view his West Virginia Senate seat as a top pickup opportunity in the next election. https://thehill.com/homenews/senate/3748512-manchins-side-deal-on-brink-as-gop-seeks-his-2024-ouster/
'Opening the gates of hell': Musk says he will revive banned accounts
Elon Musk plans to reinstate nearly all previously banned Twitter accounts — to the alarm of activists and online trust and safety experts, the Washington Post reports.

The mass return of users who had been banned for such offenses as violent threats, harassment and misinformation will have a significant impact on the platform, experts said. And many questioned how such a resurrection would be handled, given that it's unclear what Musk means by egregious spam and the difficulty of separating out users who have broken the law, which vary widely by jurisdiction and country. https://www.washingtonpost.com/technology/2022/11/24/twitter-musk-reverses-suspensions/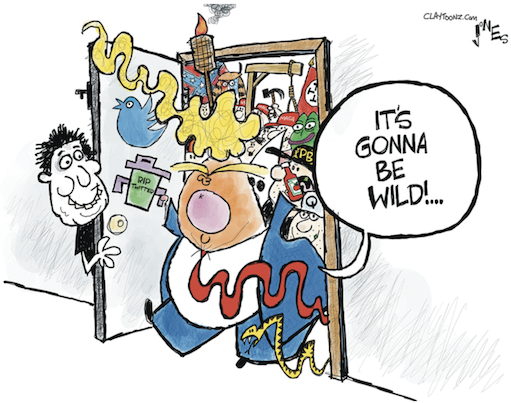 White House likely to honor some GOP probes but not those on Hunter
As House Republicans prepare to launch an onslaught of oversight investigations next year, the White House is planning to distinguish between inquiries they deem legitimate and others they view as politically, not legislatively, motivated — with an eye toward minimizing their cooperation with probes they consider improper.

White House officials caution that their decisions about cooperation will ultimately hinge on the nature of the investigations, but their preparations, which have been underway for months, hinge on such a split strategy. The White House is likely to respond to requests for documents and testimony relating to the U.S. withdrawal from Afghanistan, for example, but far less likely to engage with Republicans' investigations into Hunter Biden, the president's son, the people said, speaking on the condition of anonymity to discuss private deliberations. https://www.washingtonpost.com/politics/2022/11/23/white-house-hunter-biden-probes/
Doug Mastriano supporters are flooding Pa. courts with baseless recount petitions in the governor's race
Doug Mastriano lost by a lot.

But some of his supporters wrongly believe the results are inaccurate, and they think they've found a way to do something about it. So now election denial groups are flooding Pennsylvania courts with petitions seeking to force hand recounts under a little-known provision of state election law.

It's not clear the effort will succeed in requiring counties to retally their votes — some courts have already thrown out the requests — and they certainly won't give Mastriano, the defeated Republican nominee for governor, the 781,000 votes by which he lost to Democratic Gov.-elect Josh Shapiro. Recounts change election results very little, if at all.

But the baseless efforts threaten to sow confusion about the validity of this month's election, tie up state courts, and disrupt officials' ongoing work to audit and certify results by Monday's deadline. It's the latest front for an election denial movement that helped lift Mastriano to prominence, and has repeatedly tried to find and exploit vulnerabilities in the state's election system.  https://www.inquirer.com/politics/election/doug-mastriano-pa-governor-election-results-recount-petitions-20221123.html
The growing, unchecked power of state legislatures
Half of all state legislatures are on track to have veto-proof majorities, handing the party in power a historic level of control over elections, redistricting, abortion rights, gun laws and other major policies.

Supermajorities often boast sweeping power to amend state constitutions and overrule governors. In Wisconsin, where Republicans fell barely short of a supermajority in the midterms, a governor's veto is the only check standing in the way of a statewide abortion ban. https://www.axios.com/2022/11/27/veto-proof-supermajorities-legislature-midterm-election
Georgia Supreme Court Reinstates Abortion Ban
The Georgia Supreme Court Wednesday reinstated the state's ban on abortions after roughly six weeks of pregnancy, the AP reports.

The high court put a lower court ruling overturning the ban on hold while it considers an appeal. https://www.huffpost.com/entry/georgia-abortion-ban_n_637e522ae4b0b7f65302f0ce
GOP candidate for Arizona attorney general sues to reverse results
Abe Hamadeh, the Republican candidate for attorney general in Arizona, on Tuesday sued his Democratic opponent and a wide range of state and county officials in a bid to block certification of his loss and force them to declare him the winner in the Nov. 8 contest. https://www.washingtonpost.com/politics/2022/11/23/arizona-abe-hamadeh-lawsuit-kari-lake-maricopa/.
Pope Francis compares Russia's war against Ukraine to a devastating Stalin-era famine.
Pope Francis on Wednesday compared the war in Ukraine to the terrible Holodomor genocide of the 1930s, when the policies of the Soviet dictator, Joseph Stalin, caused a devastating famine in Ukraine.

The pontiff's comparison of Moscow's attacks on civilian targets in Ukraine to Stalin's decision to let millions in Ukraine starve represents one of his strongest condemnations yet of the Russian invasion. https://www.nytimes.com/2022/11/23/world/europe/pope-francis-russia-ukraine-stalin-famine.html
Twitter ends its ban on COVID misinformation
Twitter will no longer enforce its policy against coronavirus misinformation, worrying experts who say the move could have serious consequences in the midst of a still-deadly pandemic.

The rollback of Twitter's covid-19 misinformation policy is just the latest pivot since Elon Musk took control of the company a month ago.

Twitter introduced its policy against COVID misinformation in 2020 during the early days of the pandemic. Since then, the company had suspended more than 11,000 accounts and removed more than 100,000 pieces of content for violating the policy, according to a report from the company. Several high-profile figures ran afoul of the policy, including Rep. Marjorie Taylor Greene (R-Ga.), whose personal account was suspended in January for violating the policy by casting doubt on the efficacy of coronavirus vaccines. Her account was reinstated last week. https://www.washingtonpost.com/technology/2022/11/29/twitter-covid-misinformation-policy/
EU and US turn up the heat on Elon Musk over Twitter
The EU has threatened Elon Musk's Twitter with a European ban unless the billionaire abides by its strict rules on content moderation, setting up a regulatory battle over the future of the social network, the Financial Times reports. https://www.ft.com/content/a07ca1ae-9f9a-46ee-9457-27bb30e18ed2
House committee receives Donald Trump's federal tax returns from IRS
The House Ways and Means Committee now has six years of Donald Trump's federal tax returns, ending a years long pursuit by Democrats to dig into one of the former president's most closely guarded personal details, CNN reports.
The Supreme Court declined last week to intervene after courts said the House had power to request the returns from the IRS. https://www.cnn.com/2022/11/30/politics/house-ways-and-means-committee-now-has-donald-trumps-federal-tax-returns/index.html
Senate GOP Seek to Tie Budget Cuts to Debt Ceiling Hike
Senate Republicans want to leverage the next US debt limit increase to force cuts in projected federal spending and changes to Social Security and other entitlement programs according the GOP's #2 leader, John Thune. https://www.bloomberg.com/news/articles/2022-11-29/gop-s-thune-sees-debt-ceiling-hike-as-vehicle-for-budget-cuts.
Indiana AG seeks punishment for doctor who provided abortion to 10-year-old rape survivor
Indiana's Republican attorney general on Wednesday asked the state medical licensing board to discipline an Indianapolis doctor who has spoken publicly about providing an abortion to a 10-year-old rape victim who traveled from Ohio after its more-restrictive abortion law took effect. https://www.pbs.org/newshour/health/indiana-ag-seeks-punishment-for-doctor-who-provided-abortion-to-10-year-old-rape-survivor
DeSantis-backed school boards begin ousting Florida educators
Gov. Ron DeSantis put his weight behind dozens of conservative school board candidates across Florida during the midterms. Now they're in office — and are purging some educational leaders who enforced Covid-19 mandates.
New board members in two GOP-leaning counties essentially sacked their school superintendents over the span of one week. The ousters were spurred by how the superintendents carried out local policies like efforts to support the rights of parents, an issue inflamed by schools imposing student mask mandates last fall in defiance of DeSantis. https://www.politico.com/news/2022/11/30/desantis-school-board-covid-00071305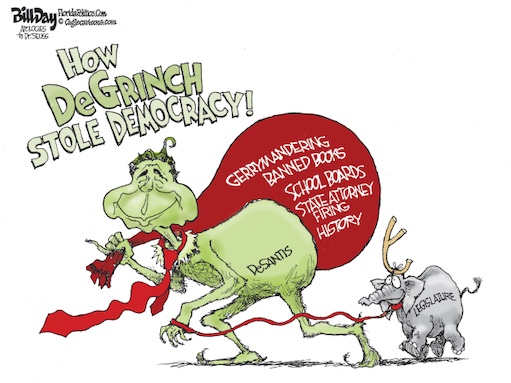 Ron Brownstein: The House GOP's Investigation Conundrum
The list of investigative priorities for the House Judiciary Committee that the incoming chairperson, Jim Jordan, sent to the Justice Department earlier this month reads like an assignment sheet for Fox News.

And that was before Jordan, with incoming House Oversight and Government Reform Committee Chair James Comer, repeatedly insisted the FBI had colluded with Big Tech to undermine former president Donald Trump by suppressing information about Hunter Biden's laptop prior to the 2020 election.

It was also before reports surfaced that Kevin McCarthy, in his bid to secure the votes as speaker, promised far-right members of his caucus that he would authorize investigations into the Justice Department's treatment of the insurrectionists who rioted in support of Trump on January 6. This was also before McCarthy threatened to launch impeachment proceedings against Department of Homeland Security Secretary Alejandro Mayorkas.

Two months before taking power, the new House Republican majority has signaled that its investigative agenda will channel the preoccupations of the former president and his die-hard base of supporters. But it has set this course immediately after a midterm election in which voters outside the core conservative states sent an unmistakable signal of their own by repeatedly rejecting Trump-backed candidates in high-profile senate and gubernatorial races. That contrast captures why the GOP's plans for aggressive investigations of President Joe Biden may present as much political risk for the investigators as it does for the targets.

But the new majority's focus on airing echo-chamber conservative obsessions risks further stamping the GOP as the party of Trump precisely as more Republican leaders and donors insist the recent election results demonstrate the need to move beyond him. https://www.theatlantic.com/politics/archive/2022/11/republican-house-majority-biden-investigations/672259/
Philip Bump: Nick Fuentes is a symptom of the GOP's problem, not the disease
This, not the antisemitism as such, is the GOP's problem with Trump. It's that Trump has always been desperate to send signals to his base of support that he agrees with and loves them. That his political instinct has always centered on stoking loyalty from his most energetic supporters, a tactic that helped him narrowly win the presidency in 2016. Others in the party, often worried about party primaries, adopted a similar policy of declining to confront Trump's base, which is why the response to controversies has consistently been silence.

The new challenge is that Trump's base increasingly includes more toxic elements. Trump giddily encourages QAnon adherents on Truth Social after years of keeping them at something of a distance. He's embraced the idea that the Capitol rioters have been unfairly targeted, despite the day's violence. He's attacked Jewish Americans as he's ignored Ye's rhetoric in favor of depicting Ye as a symbol of support from Black America.

In other words, the base to which he and his party is beholden is increasingly flecked with the sorts of elements that would once have been incomprehensible as targets of political outreach. By now, the fringe has been pulled so close to the establishment that only people like Fuentes still sit at the fringe in the first place. The disinterest in kicking anyone out of the party's political tent is the central problem that makes a Trump-Fuentes dinner possible in the first place.
Incidentally, Trump himself answered our original question. On Truth Social, he shrugged at the idea that he should have turned Ye away. After all, the two of them got along great. Besides, at the dinner, Ye expressed no anti-Semitism, & I appreciated all of the nice things he said about me on 'Tucker Carlson.' Why wouldn't I agree to meet?

It's not like his party would have objected . https://www.washingtonpost.com/politics/2022/11/28/trump-fuentes-ye-dinner/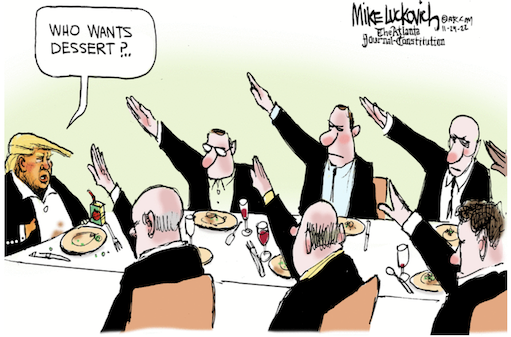 Henry Olson:The GOP's Path to Dumping Trump Will Be Torturous
The new Republican Party breaks down into four rough factions in response to this query, and none has a clear plurality. Instead, the party has three factions of nearly equal size and a fourth tiny one whose votes might be decisive.

The three lions are Mega MAGA, the Old Guard and the MAGA Adjacent. I estimate each are about 30 percent of the party's voters and are numerous in virtually every state. The minnow is the Never Trump group, which constitutes about 10 percent of GOP voters. They are strongest in wealthy suburbs and major metropolitan areas such as New York and D.C."

If DeSantis sours and some MAGA Adjacent voters go back to Trump, then the final two candidates will be Trump and whichever Old Guard candidate can solidify his or her position. But if DeSantis stays strong and the Old Guard remains split, then DeSantis will make it to the final round and the Old Guard voters have to decide who the nominee will be.

This could put the Never Trumpers in the driver's seat. They might prefer someone such as outgoing Maryland Gov. Larry Hogan or Rep. Liz Cheney (Wyo.), but they should quickly realize their first choice has no hope of winning the nomination. Will they instead get behind an Old Guarder, propelling that person to the final two even if that means MAGA Adjacent voters might later coalesce around Trump? Will they back DeSantis as the lesser of two evils to send Trump packing, even if their hearts are elsewhere? Or will they effectively abstain in the early stages and let the crucial choice of the final two competitors take place without their input?
One can see from this that all Republican contenders, even Trump, must perform an intricate dance to prevail. The person who pirouettes to the winners' platform will have to be skillful indeed. https://www.washingtonpost.com/opinions/2022/11/28/republican-primary-2024-dump-trump/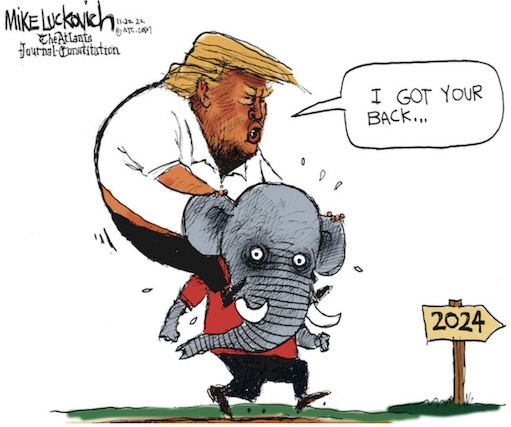 Charlotte Klein: Elon Musk Slashed Twitter's Safety Team. Then A Chinese Spam Campaign Ran Rampant
The global implications of Elon Musk's Twitter takeover, in which Twitter's staff has dwindled from roughly 7,500 to 2,000, was on full display Sunday, as Chinese spam accounts—suspected to be connected to the government—seemingly manipulated the platform to obscure reports of protests against the country's COVID policies. For hours on Sunday, users who searched in Chinese for major Chinese cities on Twitter were inundated with links for escort services, porn, and gambling, a flood of content from numerous Chinese-language accounts, some dormant for months or years that researchers said was aimed at reducing the flow of news about the escalating protests,  according to the Washington Post. Twitter was aware of the problem by midday and was working to resolve it, per the Post.

Twitter has in the past dealt with foreign interference, and a former Twitter employee told the Post that this specific technique by accounts thought to be tied to the state is a known problem that our team was dealing with manually, aside from automations we put in place. But Sunday's campaign comes as Twitter's content-moderation capacity is particularly weak. Musk has wreaked havoc on the Trust and Safety team since taking over late last month, ushering in massive layoffs and attempting to overhaul the company's approach to content moderation. What happened Sunday, the former employee said, was another exhibit where there are now even larger holes to fill, because all the China influence operations and analysts at Twitter all resigned. All of which leaves Twitter in a much different position to take on misinformation campaigns than, say, in 2020, when it found and removed thousands of state-linked accounts spreading pro-China content regarding coronavirus and protests in Hong Kong. In 2021, Twitter again removed thousands of accounts tied to Chinese propaganda campaigns, this time regarding the human rights abuses that China has been accused of committing against the Uyghur population. Musk hasn't commented specifically on the Chinese activity around the protests, tweeting early Monday, The amount of pro psy ops on Twitter is ridiculous! At least with new Verified they will pay $8 for the privilege haha.

Stanford Internet Observatory Director Alex Stamos tweeted Sunday that his team was still working on our own analysis while sharing a thread suggesting the Chinese actions were an intentional attack to throw up informational chaff and reduce external visibility into protests in China. He added: Looks like we might have the first major failure to stop gov interference in the Musk era.  https://www.vanityfair.com/news/2022/11/elon-musk-slashed-twitters-safety-team-then-a-chinese-spam-campaign-ran-rampant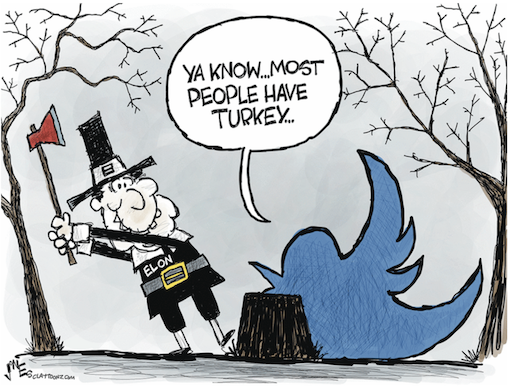 Michael Hiltzik: Elon Musk's engagement with the far right on Twitter is out of control
So far, Musk hasn't shown any awareness of the damage caused by his behavior to the platform he spent $44 billion — including more than $33 billion of his personal fortune — to acquire. That's a problem, because the only way to bring advertisers back into the fold and protect Twitter's role in public discourse is for Musk to disappear — to appoint a chief executive with credibility in the social media field with users and advertisers, and to stop tweeting himself.

If that were to happen today or tomorrow, the restoration of Twitter to trustworthiness could begin immediately.

But Musk already has made it impossible for that recovery to happen quickly. And the signs are pointing to his becoming even more arrogant and more intemperate in his behavior. Just in the last day or two he has tweeted an image of Pepe the Frog, a meme the Anti-Defamation League identifies as having racist and antisemitic connotations.

He has also picked a fight with Apple, which he says has threatened to "withhold" Twitter from its iPhone and iPad App store, though he says the big company "won't tell us why." He tweeted that Apple has mostly dropped its advertising on Twitter and asked, "Do they hate free speech in America?" He followed up with a tweet directed at Apple's CEO: "What's going on here, @tim_cook?"

(Actually, the reason Apple might be concerned about Twitter is obvious: Apple carefully screens apps it offers users to ensure they're clean and hate-free.

Musk's policies may not guarantee those qualities.)

Put it all together, and things are likely to get worse before they get better, on Twitter ... if they ever do get better. https://www.latimes.com/business/story/2022-11-28/column-elon-musks-engagement-with-nazis-and-the-far-right-on-twitter-is-out-of-control
Michelle Goldberg: Antisemitism's March Into the Mainstream
Early this year, the Republican House minority leader, Kevin McCarthy — who could soon become House speaker — castigated Representatives Marjorie Taylor Greene and Paul Gosar for speaking at one of Fuentes's events. McCarthy's refusal to say anything about Fuentes's meeting with the Republican Party's most influential figure suggests that the boundary between the intolerable and the acceptable is shifting.

That's what Trump does: By violating the norms holding together liberal democratic society with impunity, he renders those norms inoperable. If it were just Trump doing this, that would be bad enough. But other narcissistic celebrities are now joining him in reveling in reactionary transgression.

Ye is launching a vanity presidential campaign run by the far-right provocateur Milo Yiannopoulos, who recently wrote on Telegram, "We're done putting Jewish interests first." After buying Twitter, Elon Musk enthusiastically welcomed both Trump and Ye back to the platform, and has been tiptoing up to the edge of antisemitism himself. On Sunday, he tweeted that Alexander Vindman, the Jewish retired Army officer who testified about Trump's attempt to extort Ukraine's president, is both "puppet & puppeteer," echoing an old antisemitic trope about Jews pulling the strings behind world events. On Monday, Musk tweeted an image of the alt-right symbol Pepe the Frog.

For most of my adult life, antisemites — with exceptions like Pat Buchanan and Mel Gibson — have lacked status in America. The most virulent antisemites tended to hate Jews from below, blaming them for their own failures and disappointments. Now, however, anti-Jewish bigotry, or at least tacit approval of anti-Jewish bigotry, is coming from people with serious power: the leader of a major political party, a famous pop star, and the world's richest man.
Such antisemitism still feels, at least to me, less like an immediate source of terror than an ominous force offstage, just as it was for the comfortable fin-de-siècle Austrian Jews in Stoppard's play. Maybe this time, for the first time, it won't get worse. https://www.nytimes.com/2022/11/28/opinion/antisemitism-trump-nick-fuentes.html\
Jonathan Last: The Power of Populism
Republican elites will not determine whether or not Donald Trump wins the nomination. They have little-to-no power to influence that outcome.

Trump is a populist. His power emanates from the voters. And Republican voters have spent the last seven years refusing to do what they were told. They want what they want.

"The Republican party as currently constituted is a populist party. This brings certain advantages. For instance, the party has broadened its appeal to racial minorities by focusing on working-class voters."

It also comes with disadvantages. For instance, the party's voters are anti-establishment—up to and including their party's own establishment. So elites have less influence over the direction of the institution.

Ultimately, it doesn't matter what Conservatism Inc. wants. It doesn't matter what you or I want, either. Because none of us constitute the populist base of the Republican party. Here's some recent poll data:
62 percent of Republicans think Trump's candidacy is a good thing.

70 percent of Republicans think Trump is good for their party.

79 percent of Republicans consider themselves "MAGA."

Half of all Americans—not just Republicans, but everyone—think Trump is likely to win the general election in 2024.
And have a look at these splits from Emerson's latest poll: "There is also an age divide in the Republican primary: younger voters under 50 break for Trump over DeSantis 67% to 14%, voters between 50 and 64 break for Trump 54% to 32%, while Republicans over 65 are more split: 39% support Trump and 32% DeSantis."

You can't want or should these numbers away. https://thetriad.thebulwark.com/p/the-power-of-populism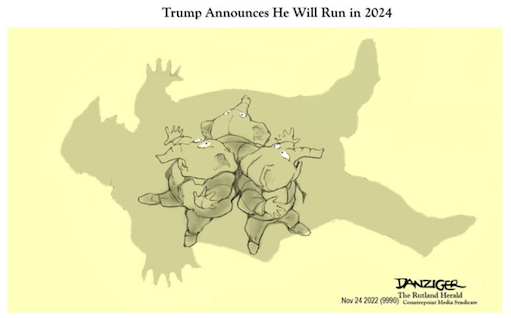 Eric Lutz: Biden's Bet: House Republicans' Antics Will Backfire
Despite their tepid midterm performance, Republicans have been giddy about their forthcoming House takeover. Kevin McCarthy, who stands to become speaker, is vowing to remove Democrats Ilhan Omar, Adam Schiff, and Eric Swalwell from their committee assignments—a thinly-veiled act of retaliation for the removal of right-wing extremists Marjorie Taylor Greene and Paul Gosar from theirs. Greene, who McCarthy says he'll allow to serve on committees again, is eager to use her rising influence in the caucus to push for audits into Ukraine funding as well as the political impeachments of Merrick Garland and other administration officials, including President Joe Biden himself. Meanwhile, Jim Jordan is already rolling up his sleeves as he and other right-wingers prepare to use their newfound committee power to investigate everything from the Justice Department's raid of Mar-a-Lago to Hunter Biden's business dealings.

The House GOP is framing all this nonsense as legitimate oversight. But the party's actual agenda is much more sinister: to inflict as much political damage on Biden and the Democrats as possible while providing cover for Donald Trump and others on the MAGA right. It's going to be chaos with Republican leadership, as Schiff told ABC News over the weekend.

As Politico reported Tuesday, the Biden administration has been gearing up to combat the onslaught from the incoming House Republican majority—and from Trump, who is sure to use Biden as a foil as he begins his 2024 White House bid in earnest. The plan, officials told the outlet, is to use the GOP's antics to draw contrasts with the administration's agenda. In other words, the White House has accepted the likelihood that Republicans will be able to make headlines and command the news cycle. But the administration believes that it will come off, to the public, as partisan overreach. A lot of what they've been talking about are just not things Americans care about, an administration official told Politico

A Politico/Morning Consult poll seems to support this theory: Though there is obviously a market on the MAGA right for Greene-style politics, about 70 percent of respondents didn't seem to like the idea of lawmakers spending the next two years investigating Hunter Biden and attacking Anthony Fauci. We have more pressing issues at hand, one survey respondent said.

It'll be tougher for Washington to address those issues over the next two years, unless McCarthy suddenly finds the will and capacity to keep his raucous caucus in line. But that could ultimately reinforce the message voters sent in the midterms: I think the American public wants us to move on, Biden said in his November 9 presser, and get things done for them.  https://www.vanityfair.com/news/2022/11/biden-bets-house-republicans-antics-will-backfire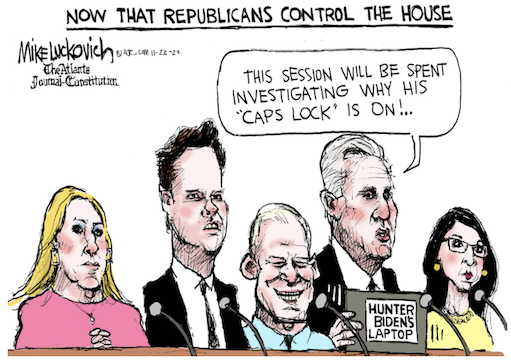 Jeff Greenfield: An Early Clue on Trump's Republican Support
If you are one of those obsessed with following the next presidential election, you will consume the weekly or daily or hourly polls, even though you know they have a collective half-life of an ice cream cone in Saudi Arabia. You'll watch every debate, no matter how early, in search of the fatal gaffe or resonant sound bite.

But if you really want to know whether Donald Trump is ascendant or in free fall, you might do better to focus on what might seem like a recipe for narcolepsy: the Republican Party's delegate-selection process across the 50-plus states, territories and commonwealths. Over the next year and a half, there will be no better clue to the strength and weaknesses of Trump and his competitors.

Why? Well, for one thing, the way that delegates are chosen by state primaries, conventions and caucuses are far more important than a dozen debates and tens of millions of campaign dollars. And how the GOP state parties decide how their convention delegates are selected may also tell you whether these state parties are out to hobble the former president — or put him on a glide path to another nomination. https://www.politico.com/news/magazine/2022/11/25/trump-2024-presidential-election-00070677