March 2, 2017
ON THE RECORD. . .
"Not going to happen." -- Former House Speaker John Boehner on the likelihood of a full repeal and replace of Obamacare.
I retweeted an inaccurate article. My apologies to @SenJohnMcCain. -- Sean Hannity ✔ @seanhannity apologizing for sharing a story on Twitter that calls Sen. John McCain (R-AZ.) a "war criminal." 
In the case of these immigration orders, there is the large and lurking idea that immigrants in general are dangerous, even murderous threats—stealing jobs, stealing lives, the explanation for all that is wrong—and that if that danger is not manifest today, it will be tomorrow. When Trump sets "priorities," he does so like a bully, trying to find who is weakest and least protected. The question is whether the neighbors of the undocumented will stand up for them, or look away." --Amy Davidson: in The New Yorker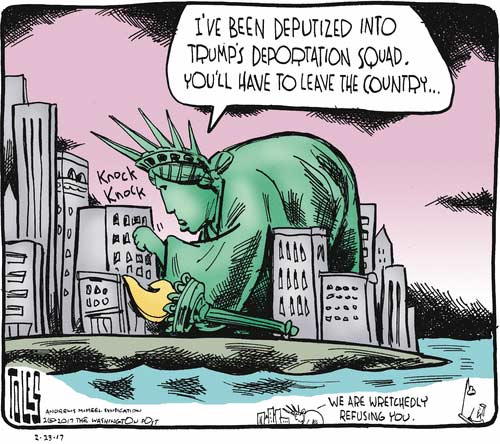 "I consider the media to be indispensable to democracy. We needed the media to hold people like me to account. Power can be very addictive and it can be corrosive, and it's important for the media to call to account people who abuse their power." — Former President George W. Bush
"Nobody knew that health care could be so complicated." -- President Trump
"It's not going to happen. It would be a disaster." -- Sen. Lindsey Graham (R-SC) saying that President Trump's first budget was "dead on arrival" and wouldn't make it through Congress. 02/28/17 
"Yes, I don't like the racism and I don't like the name-calling and I don't like people feeling alienated. Nobody likes that." — George W. Bush, in an interview with People magazine, on the Trump administration.
"I think that President Obama is behind it because his people certainly are behind it. In terms of him being behind things, that's politics. It will probably continue." -- President Trump who "has been dismissing the protests against his presidency and demonstrations at congressional town hall meetings across the country as concocted by his political enemies. But now he has an alleged culprit: Barack Obama.
"This was something that was, you know, just — they wanted to do (the covert mission in Yemen). And they came to see me and they explained what they wanted to do, the generals, who are very respected. ... And they lost Ryan." -- Donald Trump, refusing to accept responsibility for the mission he authorized and the subsequent death of Senior Chief Petty Officer William 'Ryan' Owens.
---
IN THIS ISSUE
1. Trump Out of Step with Voters on Key Issues
2. Trump's State of the UnionSpeech Filled with Inaccuracies
3. The Borowitz Report): Republicans Accuse Voters Of Using Town Halls To Express Themselves
4. Undocumented Immigrants' State and Local Tax Contributions
5. The DAILY GRILL
6. From MEDIA MATTERS (They watch Fox News so you don't have to)
7. From the Late Shows
8. Military Spending in the United States
9. Leaked report suggests millions could lose coverage under GOP health proposal
10. Trump's Clean Up Crew
11. Every outlet the WH banned from press briefing is chasing stories on Trump's Russia ties 
12. What's Normal? What's Important? Rating 20 Big Events of the Trump Presidency 
13. Trump administration has only $20 million in existing funds for wall
14. Late Nite Jokes for Dems
1. Jonathan Chait : Trump's Health-Care Nightmare Is Only Just Beginning
2. George Packer: Can A Free Mind Survive In Trump's White House?
3. Jonathan Chait: This Obscure News Story, Which Should Be Huge, Shows How Trump Gets Away With Corruption
4. NY Times Editorial: President Trump Takes Aim at the Environment
5. Jonathan Chait: Trump Can't Stop Undermining His Claim to Represent the Workers Party
6. Jesse Ferguson: The Resistance Is the Majority of Americans — Not a New Tea Party
7. Nicholas Kristof: Trump Voters, Your Savior Is Betraying You 
8. Renée Graham: Donald Trump's dangerous need for adoration
9. E.J. Dionne: Trump and Bannon Are the 'Corporatists' 
10. Ryan Lizza : Donald Trump Learns That Reforming Health Care Is "complicated" 
1. Trump Out of Step with Voters on Key Issues
A new Quinnipiac poll finds that President Trump's policy agenda is not very popular with a broad portion of the electorate is telling President Trump there is a big difference between campaign bravado and an agenda that works for all Americans."
62% to 31% are against reducing taxes across the board, even if it increases the deficit
51% to 38% are against restarting the Keystone XL and Dakota Access pipelines
76% to 18% are against lowering taxes on the wealthy
50% to 43% are against lowering taxes on businesses and corporations
54% to 34% are against removing regulations on businesses and corporations
63% to 27% are against removing specific regulations intended to combat climate change\
54% to 43% are against repealing the Affordable Care Act
60% to 37% are against building the wall on the Mexican border, with 65% to 33% against the wall if the U.S. must pay for it. https://poll.qu.edu/national/release-detail?ReleaseID=2432
2. Trump's State of the Union Speech Filled with Inaccuracies
"An address to Congress is such an important speech that presidents generally are careful not to stretch the truth. President Trump's maiden address to Congress was notable because it was filled with numerous inaccuracies. In fact, many of the president's false claims are old favorites that he trots out on a regular, almost daily basis. https://www.washingtonpost.com/news/fact-checker/wp/2017/02/28/fact-checking-president-trumps-address-to-congress/
More at http://www.politifact.com/truth-o-meter/article/2017/feb/28/fact-checking-donald-trumps-address-congress/ and http://abcnews.go.com/Politics/fact-checking-president-donald-trumps-address-joint-session/story
3. The Borowitz Report): Republicans Accuse Voters Of Using Town Halls To Express Themselves
Saying "Enough is enough," Republican senators on Friday angrily accused their constituents of "intentionally and opportunistically" using recent town-hall meetings as vehicles to express themselves.

One of the angriest Republicans, Senator Tom Cotton, of Arkansas, said he was "disgusted and offended" by the "flagrant exercise of freedom of speech" he witnessed at his town hall.

"The spectacle of people standing up, asking their elected representatives questions, and expecting them to answer is the most disgraceful thing I've ever experienced," Cotton said. "This will not stand."

Cotton accused "outside agitators" of sending voters to the town halls "to cynically exploit an obscure provision in the Constitution called the First Amendment."

EARLIER: On the final day of Black History Month, Donald J. Trump thanked Ben Carson for participating in a handful of photo opportunities during the month, and bade him farewell until Black History Month next year. "We'll do things like that again next year. Thanks again, Ben, and goodbye."

As the retired neurosurgeon turned to leave the White House, a reporter asked Carson, who is Trump's nominee for HUD Secretary, whether he had any plans beyond standing near Trump during Black History Month. More at http://www.newyorker.com/humor/borowitz-report/
4. Undocumented Immigrants' State and Local Tax Contributions
The 11 million undocumented immigrants currently living in the United States collectively paid $11.64 billion in state and local taxes.  ITEP's analysis finds their combined nationwide state and local tax contributions would increase by $805 million under full implementation of the administration's 2012 and 2014 executive actions and by $2.1 billion under comprehensive reform. 2/24/16 http://www.itep.org/immigration/
5. The DAILY GRILL
For the record @nytimes @grynbaum can't even get where I was born right and failed to ask https://twitter.com/michikokakutani/status/835568432808660992 … -- Sean Spicer ✔@seanspicer

VERSUS

I imagine it must be really annoying when someone puts out false info about where you were born. Must really bother you!! cc @BarackObamatwitter.com/seanspicer/sta… -- Jake Tapper ✔@jaketapper

 

"Congratulations to Thomas Perez, who has just been named Chairman of the DNC. I could not be happier for him, or for the Republican Party!" — Donald J. Trump @realDonaldTrump

VERSUS

"Call me Tom. And don't get too happy. Keith Ellison and I, and Democrats united across the country, will be your worst nightmare." — Tom Perez @TomPerez

 

Reporters "shouldn't be allowed to use sources unless they use somebody's name." -- Donald Trump

VERSUS

Members of his White House team regularly demand anonymity when talking to reporters. That was the case Friday morning when Trump officials briefed reporters on chief of staff Reince Priebus' contact with top FBI officials concerning the Russia reports. -- AP

 

"America's Obamacare nightmare is about to end. Despite the best efforts of liberal activists around the country, the American people know better. Obamacare has failed, and Obamacare must go." — Vice President Mike Pence,

VERSUS

Obamacare Approval Hits New High: A new Kaiser tracking poll has the approval rating for the Affordable Care Act up to 48% – the highest it's been in some 60 such polls. Lawmakers, of course, are hearing about that newfound popularity firsthand at raucous town halls that are developing into mirror-image opposites of the famous Tea Party events that hurt the bill's popularity back in 2009 and 2010." -- ABC News 2/24/17

 

"Obamacare covers very few people. And remember, deduct from the number all of the people that had great health care that they loved, that was taken away from them." -- Donald Trump

VERSUS

That's only true if you consider more than 20 million people to be "very few." That's how many are covered by the two major components of the law: expanded Medicaid and subsidized private health insurance.-- AP Fact Check

 

"We got that price down by over $1 billion, and I probably haven't spoken, to be honest with you, for more than an hour on the project. I got the generals in, who are fantastic. I got Boeing in. But I told Boeing it's not good enough. We're not going to do it. The price is still too high." -- Donald Trump

VERSUS

The Air Force can't account for $1 billion in savings that President Donald Trump claims he's negotiated for the program to develop, purchase and operate two new Boeing jets to serve as Air Force One. -- Bloomberg

 

Trump again claimed credit for a $700 million savings in the military's contract with Lockheed for the F-35 fighter jet. Speaking to the defense contractor's CEO Marillyn Hewson, he said: "Over $700 million. Do you think Hillary would have cost you $700 million? I assume you wanted her to win" — referring to Democratic presidential nominee Hillary Clinton. -- Trump

VERSUS

"There is absolutely no evidence whatsoever of additional F-35 cost savings as a result of President Trump's intervention," said Richard Aboulafia, an analyst with the aerospace consulting firm Teal Group. He said Trump appears to be taking credit for prior-year budget decisions and for work already done by managers at the Pentagon who took action before the presidential election to reduce costs. -- AP Fact Check

 

When will President Obama issue the words RADICAL ISLAMIC TERRORISM? He can't say it, and unless he will, the problem will not be solved! -- Donald J. Trump ✔@realDonaldTrump 15 Nov 2015

VERSUS

The label "radical Islamic terrorism" is not helpful and that terrorists are "un-Islamic." -- National Security Adviser H.R. McMaster 2/25/17

 

The U.S. is providing security to other nations "while leaving our own border wide open. Anybody can come in. But don't worry, we're getting a wall. ... We're getting bad people out of this country." -- Trump

VERSUS

His wide-open border claim is bogus. The number of arrests of illegal border crossers — the best measure of how many people are trying to cross illegally — remains at a 40-year low. -- AP Fact Check

 

"We have authorized the construction, one day, of the Keystone and Dakota Access pipelines. And issued a new rule — this took place while I was getting ready to sign. I said who makes the pipes for the pipeline? Well, sir, it comes from all over the world, isn't that wonderful? I said nope, comes from the United States, or we're not building it. American steel. If they want a pipeline in the United States, they're going to use pipe that's made in the United States." -- Trump

VERSUS

Trump's Jan. 24 order on U.S. steel has little effect on the Dakota Access project because it is nearly complete. -- AP Fact Check
6. From MEDIA MATTERS (They watch Fox News so you don't have to)
Sean Hannity Falls For Misleading Claim From Gateway Pundit (Again) - Gateway Pundit, Which Recently Got White House Press Credentials, Is Known For Inaccuracy http://mediamatters.org/blog/2017/02/23/sean-hannity-falls-misleading-claim-gateway-pundit-again/215441

At CPAC, Steve Bannon Calls Media The Opposition Party That Is "Always Wrong" http://mediamatters.org/video/2017/02/23/cpac-steve-bannon-calls-media-opposition-party-always-wrong/215436

CPAC Crowd Applauds After Kayleigh McEnany Discusses Trump Rolling Back Trans-Inclusive Nondiscrimination Protections http://mediamatters.org/video/2017/02/23/cnns-mcenany-obama-acted-lawlessly-when-he-instituted-trans-inclusive-nondiscrimination-protections/215438

Trump Just Blacklisted Media Outlets. We Warned You This Would Happen. http://mediamatters.org/blog/2017/02/24/trump-just-blacklisted-media-outlets-we-warned-you-would-happen/215456

Infowars Denies It Promoted "Pizzagate" Conspiracy Theory After Deleting Content From Its Website http://mediamatters.org/blog/2017/02/24/infowars-denies-it-promoted-pizzagate-conspiracy-theory-after-deleting-pizzagate-content-its-website/215465
7. From the Late Shows
The Late Show with Stephen Colbert: Infowars' Alex Jones Is Trump's CAPS LOCK Advisor: https://youtu.be/A-HUbdEAxo8

Late Night with Seth Meyers: Trump's Wall and Immigration Policies: A Closer Look: https://www.youtube.com/watch?v=wh1v74YFpSs

John Oliver - Trump's "Military Operation": https://youtu.be/aWCjvYRkBBE

The Late Show with Stephen Colbert: Jon Stewart To The Media: It's Time To Get Your Groove Back: https://www.youtube.com/watch?v=cmdFne7LnuA
8. Military Spending in the United States
In fiscal year 2015, military spending is projected to account for 54 percent of all federal discretionary spending, a total of $598.5 billion. Military spending includes: all regular activities of the Department of Defense; war spending; nuclear weapons spending; international military assistance; and other Pentagon-related spending. https://www.nationalpriorities.org/campaigns/military-spending-united-states/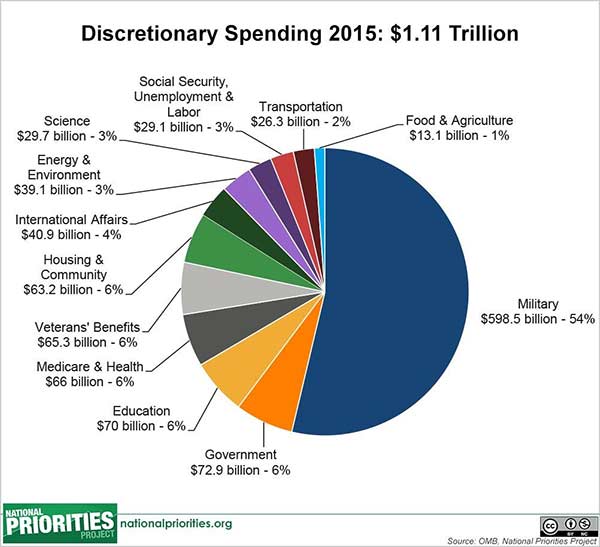 9. Leaked report suggests millions could lose coverage under GOP health proposal
Republican replacement plans for Obamacare would lead to significant declines in the number of Americans with health insurance coverage," according to a McKinsey analysis presented at the National Governors Association and obtained by Vox.
The analysis includes graphs on what the Republican plan to overhaul Obamacare's tax credits, generally making them less generous, would do. They are based on the recent 19-page proposal that Republican leadership released about their plan to repeal and replace Obamacare. http://www.vox.com/2017/2/25/14739280/obamacare-nga-report
10. Trump's Clean Up Crew
With each passing day, Donald Trump's Cabinet looks more like a clean-up crew. The president's undiplomatic comments are repeatedly forcing his foreign policy and national security appointees into the awkward position of telling an anxious world that, basically, their boss didn't really mean what he said. http://www.politico.com/story/2017/02/trump-comments-cabinet-clean-up-235325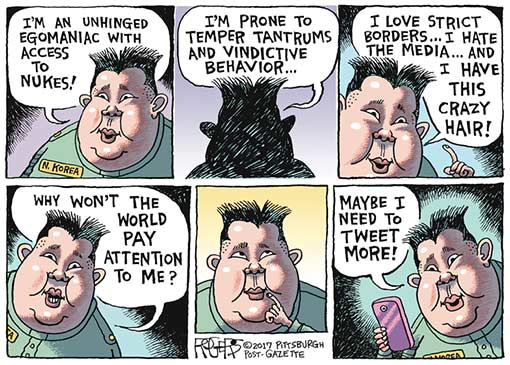 11. Every outlet the WH banned from press briefing is chasing stories on Trump's Russia ties
Here is a rundown of the stories that motivated this latest Trump attack on the free press:
The New York Times reported on contacts between Trump aide Michael Cohen and longtime Trump associate Felix Sater, in which Cohen reportedly hand-delivered plans for how to lift U.S. economic sanctions against Russia.

Buzzfeed posted the contents of the dossier collected by a former British intelligence official alleging close ties and possible blackmail between the Russian government and Trump.

Politico reported on texts that suggested that former Trump campaign official Paul Manafort, who also has ties to pro-Putin elements, may have faced a blackmail attempt while part of the campaign.

CNN's report indicated that Trump Chief of Staff Reince Priebus was rejected by the FBI when he attempted to have the agency publicly squelch reports about Trump interactions with Russia.

The Guardian pushed to "investigate [Trump's] ties to Russia and his past with Russia," noting, "Unknown conflicts of interests in both fields can turn out to be a huge danger to the national security of the US."
The Trump administration does not want these types of stories reported, and they have punished and attacked the outlets who do so. They did the same on the campaign trail, blocking Univision, Buzzfeed, The Huffington Post, Politico, and The Washington Post from obtaining official campaign credentials.
But now they are attacking the free press from within the White House, while being paid with your tax dollars. http://shareblue.com/every-outlet-wh-banned-from-press-briefing-is-chasing-stories-on-trumps-russia-ties/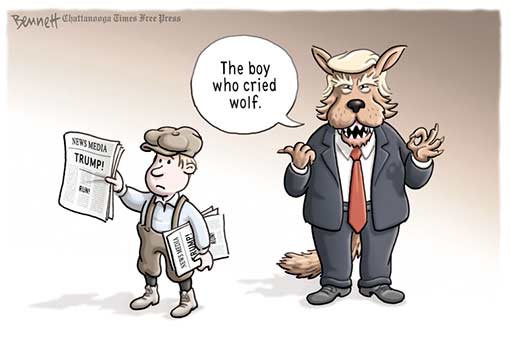 12. What's Normal? What's Important? Rating 20 Big Events of the Trump Presidency
The New York Times asked experts across the ideological spectrum — people who have served in government or studied the way governments work — rate 20 news events for importance and abnormality. More often than not, the administration's actions have been both highly unusual and highly consequential. To see the ratings go to https://www.nytimes.com/interactive/2017/02/27/upshot/whats-normal-whats-important-a-ranking-of-20-events-in-the-trump-administration.html
13. Trump administration has only $20 million in existing funds for wall
President Donald Trump's promise to use existing funds to begin immediate construction of a wall on the U.S.-Mexico border has hit a financial roadblock, according to a document seen by Reuters.
The rapid start of construction, promised throughout Trump's campaign and in an executive order issued in January on border security, was to be financed, according to the White House, with 'existing funds and resources' of the Department of Homeland Security. But so far, the DHS has identified only $20 million that can be re-directed to the multi-billion-dollar project. 3/01/17 http://www.reuters.com/article/us-usa-immigration-funds-idUSKBN1685SY
14. Late Nite Jokes for Dems
Last night, Mahershala Ali became the first Muslim actor to win an Oscar. Or as the Trump White House reported it, "Muslim Wields Heavy Blunt Object." -- Jimmy Fallon

At his rally on Saturday, Trump suggested there was a terror attack in Sweden that didn't really happen — and then the Swedish Embassy asked the State Department for an explanation. You know things are bad when the country that makes Ikea instructions is totally confused. -- Jimmy Fallon

I noticed that President Trump didn't wear a tie to his big rally in Orlando on Saturday. I guess it was either at the cleaners, or he got tired of tripping over it. -- Jimmy Fallon

Warren Beatty and Faye Dunaway were the presenters that announced the wrong film. Basically they were the Sean Spicers of the Oscars. -- James Corden

The British parliament is debating whether or not Donald Trump should be allow to make a state visit to the United Kingdom after a petition to keep him out garnered 1.8 million signatures. Hey, Donald, how's that travel ban feel when it's on the other foot? -- James Corden

It was reported this week that Donald Trump has made six different trips to golf courses in Florida in his first month as president. It's definitely a lot for a guy who once tweeted: "Can you believe that with all the problems and difficulties facing the U.S., President Obama spent the day playing golf?" We all thought Trump was being critical. Turns out he was being jealous. -- James Corden

President Trump said today that he is going to "save people" from Obamacare. Kinda like how that iceberg "rescued" the Titanic from having to go to New York. -- Seth Meyers

President Trump today visited the National Museum of African American History and Culture … as part of his ongoing quest to find Barack Obama's birth certificate. -- Seth Meyers

The White House today disputed claims that a retired general turned down President Trump's offer to serve as national security adviser, saying he made it very clear he wanted the job, but refused for financial reasons. Well, technically what he said was, "I wouldn't do that job for all the money in the world." -- Seth Meyers

Last Thursday was something called "A day Without Immigrants." You know about this? I didn't know; I thought that's what Trump called it when Melania stays in New York. -- Stephen Colbert

For those of you keeping score at home, Donald Trump has gone golfing six times 30 days. That explains the bumper sticker on Air Force One: "I'd rather be golfing, and there's a 20% chance that I am." -- Stephen Colbert
1. Jonathan Chait: Trump's Health-Care Nightmare Is Only Just Beginning
Republicans may not have even realized until recently how deeply their ability to make political hay on Obamacare depended on not having power. They could posture against every inconvenient aspect of an industry nobody has ever liked, and promise all things to all people, with no responsibility to fulfill their grandiose promises. Now the dynamic has reversed. Loss aversion has inspired massive, energetic protests to speak up for a law Democrats could hardly be roused to defend before, while the energy has drained away from the opposition. Amazingly, polling for Obamacare, which has been unpopular since the outset, has sharply reversed. The last ten polls all show net positive approval for the Affordable Care Act. If Republicans somehow muster the partisan discipline to tear down Obamacare, as opposed to settling for minor changes, they will have to be willing to endure searing political pain.
And this is all happening before Republicans have published a detailed plan. That is the most amazing aspect of all. Obamacare repeal faces dire peril, and the most painful steps have yet to come. http://nymag.com/daily/intelligencer/2017/02/trumps-health-care-nightmare-is-only-just-beginning.html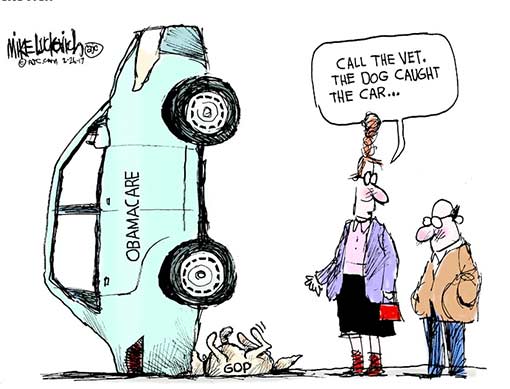 2. George Packer: Can A Free Mind Survive In Trump's White House?
H. R. McMaster, President Trump's choice to be his national-security adviser, has already shown himself to be a fierce battlefield commander, in the first Gulf War, when he led a tank company against Saddam Hussein's Republican Guard—probably the most intense engagement of that short war. It was what came next in Tal Afar that distinguished McMaster as one of the leading Army officers of his generation. He sent his troops into the city and kept them there, establishing connections with local leaders and Iraqi Army units, gathering intelligence on the jihadis, providing security in the streets, and showing that the Americans—appearances throughout the country notwithstanding—were not abandoning Iraq to its warring factions.
But, what kind of relationship can McMaster have with Trump? Will he be able to choose his own staff? Will he have the bureaucratic skill to outmaneuver the long knives of Steve Bannon and his shadow National Security Council? Will he tell Trump, as he once told Rumsfeld, what he really thinks, even if it drives the President crazy? If McMaster remains his own man, he could be a force for sanity and stability in the White House—but he also might not last long.   2/22/17 http://www.newyorker.com/news/news-desk/can-h-r-mcmaster-survive-as-trumps-national-security-adviser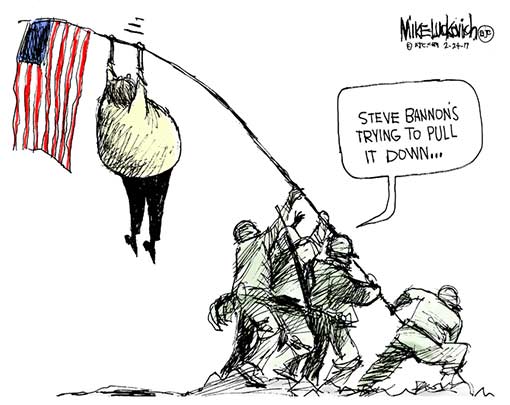 3. Jonathan Chait: This Obscure News Story, Which Should Be Huge, Shows How Trump Gets Away With Corruption
One of the flaws in the design of the federal government is that, while the founders envisioned competing branches of government, unified party control of government can turn those branches into partners who do not check each other's abuses. A second flaw is that Congress has a diffuse and often-confusing decision-making process that can make public accountability extremely difficult. Both problems come together in a new story that ought to be huge news but will instead be relegated to legislative arcana.
Here is the story. The House of Representatives has refused to investigate either one of the two massive ongoing legal and ethical violations involving the Trump administration: President Trump's opaque ties (financial and otherwise) to Russia, and his ongoing self-enrichment in office and violations of the Constitution's Emoluments Clause.
If the House won't investigate, what happens next? Well, the next-best course of action would be some form of public debate on the matter. This is not nearly as good as a real investigation, since the absence of subpoena power means Republicans can simply deny Trump has done anything wrong while blocking any efforts to acquire the evidence that would prove the case. But at least it's something. http://nymag.com/daily/intelligencer/2017/02/this-obscure-news-story-shows-how-trump-gets-away-with-it.html
4. NY Times Editorial: President Trump Takes Aim at the Environment
President Trump brandished executive pen and fresh hyperbole last week in blessing the coal industry's decades-old practice of freely dumping tons of debris into the streams and mountain hollows of America's mining communities.
"Another terrible job-killing rule," Mr. Trump declared at a signing ceremony that struck down the Obama administration's attempt to regulate surface mining wastes. He insisted he was saving "many thousands of American jobs" in sparing coal companies the expense of cleaning up their environmental messes.
The signing ceremony was not just an insult to the benighted coal hamlets of Appalachia, where the industry's dumping of debris down the mountainsides has created a wasteland. It also ignored two truths. One is that by official estimates the rules, while helping the environment, would in fact cost very few jobs — 260 on average a year offset by almost the same number of jobs for people hired to comply with the rules. What's been costing jobs in the industry for years — and this is the second and larger truth — is a shifting global market in which power plants have turned to cleaner natural gas. In cynically promising the resurgence of King Coal, Mr. Trump might as well have been signing a decree that the whaling industry was being restored to Nantucket. https://www.nytimes.com/2017/02/23/opinion/president-trump-takes-aim-at-the-environment.html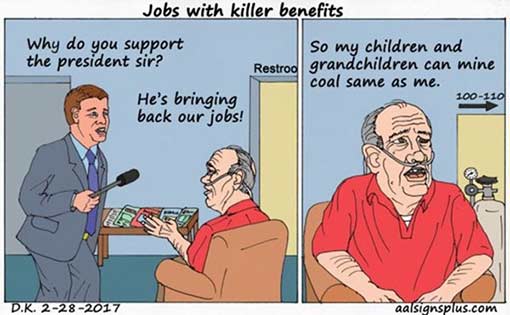 5. Jonathan Chait: Trump Can't Stop Undermining His Claim to Represent the Workers Party
One of the pleasures of watching a Donald Trump campaign speech is the glaringly obvious contrast between his written remarks and his frequent, rambling riffs. Trump reading from the text is stilted and halting, often mispronouncing unfamiliar words ("seq-wes-chure?" he sputtered, trying to pronounce sequester), while the free-form Trump is the familiar authentic narcissist.
What made his speech to CPAC especially entertaining was the fact that the tonal contrast between his written and extemporaneous remarks mirrored a substantive contrast. The formal text was designed to position the president as an outsider-populist. But Trump kept interrupting his own speech with anecdotes that destroyed his own premise. "The GOP will be, from now on, the party also of the American worker," he vowed, articulating one of the speech's primary intended themes. "We will not answer to donors or lobbyists or special interests."
Trump interspersed this bold promise with stories about him answering to donors, lobbyists, and special interests.
"That is the way the system works." That sentence perfectly captures the authentic Trump view of the world — the view of the man who has donated to politicians of both parties, treated all policy as transactional, and disregarded any moral currency other than power or wealth. Trump can read populist denunciations of the system, but he doesn't actually believe them. Not only does he see nothing wrong with a system in which wealthy, powerful people meet with him and he delivers them policy favors, his central role in the process strikes him as evidence of his own power and success. He is boasting about it because he cannot imagine it would reflect anything other than his own greatness. Trump is not a sophisticated enough thinker to grasp the contradiction between the character he is supposed to be performing in public and the actual role he keeps confessing. http://nymag.com/daily/intelligencer/2017/02/trump-cant-stop-undermining-claim-to-represent-workers.html
6. Jesse Ferguson: The Resistance Is the Majority of Americans — Not a New Tea Party
The Democratic resistance and the Tea Party actually differ in a number of important ways, each of which tells a different story about where our country is and where our politics may be headed.
For starters, the Tea Party was forged as an opposition to a societal reality in our country, while today's resistance is opposed to a political reality. The Tea Party began before the election of President Obama, as a reaction to President Bush and the bank bailouts of 2008. Tea Partiers believed that society and the economy had all left them behind. The movement's anger was stoked by the realization that the country had changed to the extent that it would elect someone like Barack Obama and support his "liberal" policies like the Economic Recovery Act (the so-called stimulus) and the Affordable Care Act (scornfully dubbed "Obamacare"). These members wanted the entire country to revert to a set of values that more closely resembled what they saw on Leave It to Beaver.
On the other hand, the current resistance isn't based on a belief that our country has gone astray from some former golden age. It's a political backlash, borne out of Donald Trump's policies and his presidency. Its participants aren't rejecting the social structures of American society. They are embracing and defending our evolving structures of diversity and inclusiveness. The people stepping forward to resist the Trump Administration are standing against an Administration that doesn't respect the core values that this nation holds: that we are all equal and that we can all achieve our own dreams. http://time.com/4676825/democratic-resistance-tea-party
7. Nicholas Kristof: Trump Voters, Your Savior Is Betraying You
The biggest Trump bait-and-switch was visible Friday when he talked about giving Americans "access" to health care. That's a scam his administration is moving toward, with millions of Americans likely to lose health insurance: Instead of promising insurance coverage, Trump now promises "access" — and if you can't afford it, tough luck.
This promise of "access" is an echo of Marie Antoinette. In Trump's worldview, starving French peasants wouldn't have needed bread because they had "access" to cake.
Many of you voted for Trump because he campaigned as a populist. But instead of draining the swamp, he's wallowing in it and monetizing the presidency. He retains his financial interests, refuses to release his taxes or explain what financial leverage Russia may have over him, and doubled the fee to join Mar-a-Lago to $200,000.
The greatest betrayal of all will come if, as some of his advisers recommend, he "reforms" and tears holes in some of the big safety net programs like Medicaid, Social Security or Medicare. Medicaid is particularly vulnerable.
The truth is that among the biggest losers from Trump policies will be you Trump voters, especially those of you from the working and middle class. You were hoping you'd elected a savior, and instead Donald Trump is doing to you what he did to just about everyone who ever trusted him: He's betraying you.
The sooner you recognize that, the sooner you can fight back and push for policies that will protect your health care and Social Security, defend the integrity of our election system and protect your own interests. You have a false savior, and you will have to turn on him to save yourselves and our nation. https://www.nytimes.com/2017/02/25/opinion/sunday/trump-voters-your-savior-is-betraying-you.html
8. Renée Graham: Donald Trump's dangerous need for adoration
Trump has historically high disapproval ratings. "Not My President" protesters are showing no letup. Meanwhile, the press is all up in his business and businesses, which is, much to his chagrin, their business. So expect Trump to keep hightailing it to Florida — always on the taxpayer's dime — to throw himself a party. He needs to be among those who don't roll their eyes when he claims his messy administration is running "so smoothly," and is never happier than when he's smiling out at a sea of MAGA caps and T-shirts bearing his face or name. A man who neither drinks nor smokes, Trump is dangerously addicted to the unconditional love of strangers. He doesn't want constituents; he wants toadies.
When I see Trump, I'm reminded of Commodus in "Gladiator," the craven young man who tells his father, shortly before murdering him for political gain, "I would butcher the whole world if you would only love me." I can hear those words in Trump's coarse voice. Tetchy and fragile, he will listen only to those who agree with and admire him. Playing to Trump's insecurities is likely how Russian president Vladimir Putin, who admires only himself, hacked into our election, and into the man who is now the American president.
Anyone who disagrees with Trump is dissed, dismissed, or discredited. His supporters, who have already invested too much emotionally to turn away, prop him up and ignore that he will also run their lives into the ground. To Trump, there are two sides — those to be coddled and those to be crushed. This isn't a presidency. It's a sycophancy, demanded by a man who would rather be loved and admired than capable and effective. Like the dictators he aspires to emulate, Trump is a man so thirsty for adoration that he will stop at nothing to achieve it. 2/21/17 http://www.bostonglobe.com/opinion/2017/02/21/president-seeking-adoration/h5ysY58wrA6B3OVLzXM89J/story.html?s_campaign=weekinopinion:newsletter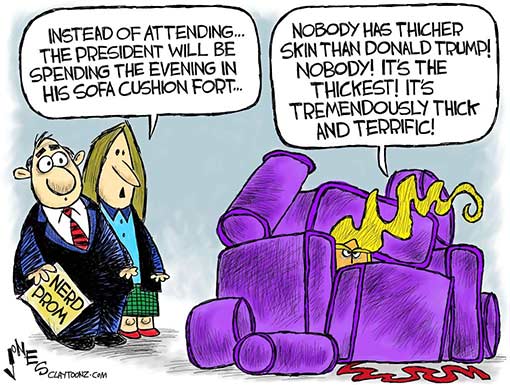 9. E.J. Dionne: Trump and Bannon Are the 'Corporatists'
Just when you despair that only chaos animates the Trump administration, along comes Steve Bannon, the White House ideologue, to offer the Rosetta Stone illuminating what this circus is all about.
And when you realize what Trump & Co. might really be up to, your despair turns to alarm.
This is a war on a century's worth of work to keep our air and water clean; our food, drugs and workplaces safe; the rights of employees protected; and the marketplace fair and unrigged. It's one thing to make regulations more efficient and no more intrusive than necessary. It's another to say that all the structures of democratic government designed to protect our citizens from the abuses of concentrated private power should be swept away.
It's a very strange moment. Trump and Bannon are happy to expand the reach of the state when it comes to policing, immigration enforcement, executive branch meddling in the work of investigative agencies, and the browbeating of individual companies that offend the president in one way or another. The parts of government they want to dismantle are those that stand on the side of citizens against powerful interests.
In his CPAC presentation, Bannon accused Trump's foes of being "corporatist." But, in the truest sense of the word, the real corporatists are in the White House. 2/27/17 http://www.realclearpolitics.com/articles/2017/02/27/trump_and_bannon_are_the_corporatists_133188.html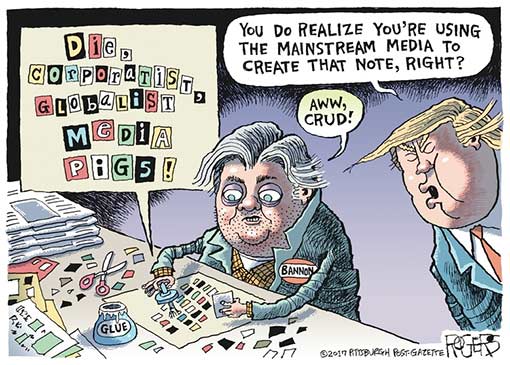 10. Ryan Lizza: Donald Trump Learns That Reforming Health Care Is "complicated"
The A.C.A. is more popular with the public than it has been since September, 2010, according to the Kaiser Health tracking poll. And during the recent congressional recess, many Republicans were faced with protests from constituents at town-hall meetings across the country. All of this has emboldened Democrats, especially those, like Senator Chuck Schumer, who have been around long enough to see health-care reform frustrate the ambitions of several Presidents.
"I predict the discord in their party will grow as Republicans return to Washington after this last week of angry town halls," Schumer said in remarks at the National Press Club yesterday. "I believe the odds are very high we will keep the A.C.A. It will not be repealed."
In their history of health-care reform, Blumenthal and Morone conclude with eight conditions necessary for passing major reform. The first, and perhaps most important, is "passion."
"Major health care reform is virtually impossible, difficult to understand, swarming with interests, powered by money, and resonating with popular anxiety," they write. "The first key to success is a president who cares about it deeply." Any President who is just learning the basic fact that health care is "complicated" has failed the passion test. And without that, little else matters. http://www.newyorker.com/news/ryan-lizza/donald-trump-learns-that-reforming-health-care-is-complicated