April 21, 2022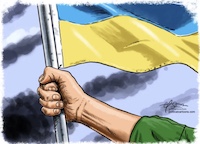 If you have a friend, family member, or neighbor who would like to subscribe to this FREE weekly newsletter they should simply email jellison@san.rr.com with "subscribe" as the subject.
THE WEEK'S BEST QUOTES. . .
"The enemy cannot seize Mariupol. The enemy may seize the land that Mariupol used to stand on, but the city of Mariupol is no more. The city of Mariupol has been wiped off the face of the earth by the Russian Federation, by those who will never be able to restore it." —
Pavlo Kyrylenko
, governor of the Donetsk.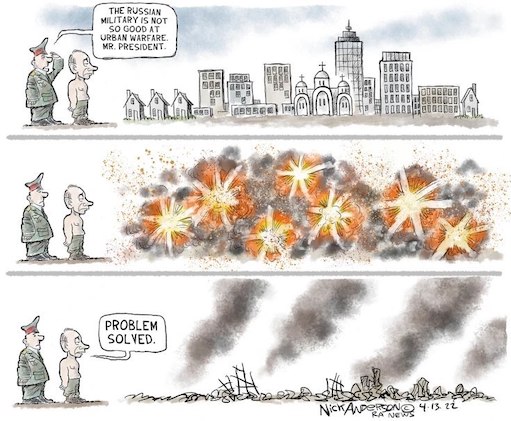 #Ukraine security expert tells me of a recent convo with an Italian journo:
Italian: "So, to make peace with #Russia, what will you give them?"
Ukrainian: "what do you mean?"
Italian: "well, you'll have to give them territory of course!"
Ukrainian: "hmmm, yes, ok. We'll give them Lake Cuomo." —
David Patrikarakos
"When some leaders ask me what weapons I need, I need a moment to calm myself, because I already told them the week before. It's Groundhog Day. I feel like Bill Murray." — Ukraine president Volodymyr Zelensky
A "flagship" Russian warship is a worthy diving site. We have one more diving spot in the Black Sea now. Will definitely visit the wreck after our victory in the war. —Ukraine Defense Minister Oleksii Reznikov mocking Russia over the loss of its "flagship" warship Moskva.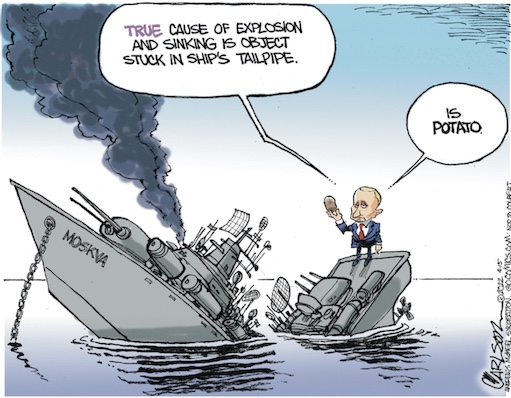 "It's the worst political environment that I've lived through in 30 years of being a political consultant." — Democratic pollster John Azalone.
"I wanna give you a little history lesson on homelessness. In 1910, Hitler decided to live on the streets for a while. So for two years, Hitler lived on the streets and practice his oratory and body language and how to connect with the masses and then went on to lead a life that got him in the history books. So a lot of these people, it's not a dead-end. They can come out of this. These homeless camps and have a productive life... or in Hitler's case a very unproductive life. I support this bill," said State Sen. Frank Nicely (R-Strawberry Plains). — Tennessee state Sen. Frank Niceley (R) citing Adolf Hitler as someone people struggling with homelessness should aspire to emulate during debate on a bill on unauthorized camping.
"I knew Putin very well. Almost as well as I know you, Sean… I will tell you, we talked about it, we talked about it a lot, he did want Ukraine, but I said, 'You're not going into Ukraine.' He would never, ever have gone into Ukraine." — Donald Trump, bragging about his relationship with Russian president Vladimir Putin with Sean Hannity.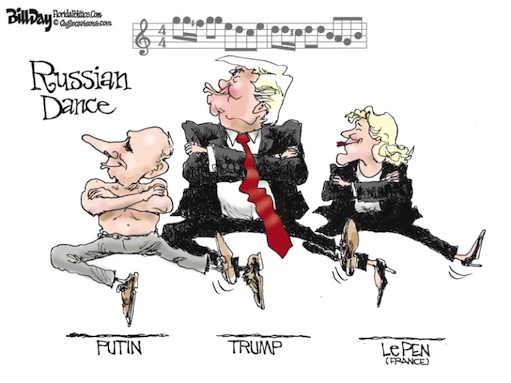 Secretary of State Mike Pompeo "knows deep in his heart that Donald Trump couldn't find Ukraine on a map if you had the letter 'U' and a picture of an actual crane." — Rick Wilson on a report that Pompeo asked an NPR reporter to find Ukraine on a map after an interview.
"Republicans, if they win the House majority in this year's midterm elections, will not impeach President Biden for "political purposes." -- House Minority Leader Kevin McCarthy (R-CA) drawing right-wing ire.
"Democrats win elections when we show we understand the painful economic realities facing American families and convince voters we will deliver meaningful change. To put it bluntly: if we fail to use the months remaining before the elections to deliver on more of our agenda, Democrats are headed toward big losses in the midterms." — Elizabeth Warren
"The coup organized by the president against the vice president and against the Congress in order to overturn the 2020 presidential election will be a centerpiece of committee hearings in Congress next month" — Jan. 6 Committee member Rep. Jamie Raskin
"I think most people are not very ideological, and Trump, while I find him loathsome, touches a legitimate nerve… But I'm not surprised by Trump's rise, and I think the entire party has only itself to blame. We are, whether we like it or not, the party of lower-income, lower-education white people, and I have been saying for a long time that we need to offer those people SOMETHING (and hell, maybe even expand our appeal to working class black people in the process) or a demagogue would. We are now at that point. Trump is the fruit of the party's collective neglect." — Trump endorsed Ohio U.S. Senate candidate J.D. Vance (R) adding that Donald Trump was either a "cynical asshole" or "America's Hitler" in a private message to an old law school classmate.
The battle for Twitter's heart and soul is now clearly a zero-sum fight between the entrenched and aggrieved, the status quo up against a flawed vision for change. The fight for Twitter has become just another 2020s war, unwinnable for both sides. — Ian Chaffee in Barrons
VIDEOS
As elected officials, we swear an oath under God to the Constitution — and that oath has to mean something. We have a duty and an obligation to defend the Constitution and the rule of law. — Rep. Liz Cheney
Senator Lana Theis accused me by name of grooming and sexualizing children in an attempt to marginalize me for standing up against her marginalizing the LGBTQ community...in a fundraising email, for herself. Hate wins when people like me stand by and let it happen. I won't. — State Senator Mallory McMorrow (D) Royal Oak, Michigan.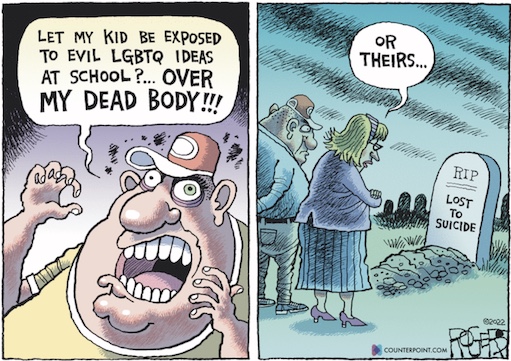 LITIGATION TRACKER
Pending Criminal and Civil Cases Against Donald Trump.
https://www.justsecurity.org/75032/litigation-tracker-pending-criminal-and-civil-cases-against-donald-trump/
---
IN THIS ISSUE
IN THE NEWS
OPINION
Andy Borowitz: DeSantis Warns That Math Makes Children Gay
Proposing a sweeping ban on math in Florida's classrooms, Governor Ron DeSantis asserted that "the latest research" indicates that "math makes children gay."
"For years, liberals in the education mafia have brainwashed Americans into thinking that our children should learn to add, subtract, multiply, and divide," he told reporters. "We now know that numbers are a portal into a so-called alternative life style."
"Children who learn how to count are more likely to pursue careers in fashion and Broadway musicals," the Governor claimed. "Even worse, some of these musicals will be produced by Disney."
DeSantis said that he was establishing a task force to determine how many of Florida's schoolchildren may have been exposed to math in recent years.
"Fortunately, thanks to the tireless efforts of our former Secretary of Education, Betsy DeVos, those numbers are fairly low," he said.
After a reporter noted that DeSantis had just referred to numbers, the Governor abruptly ended the press conference to "pray the math away." https://www.newyorker.com/humor/borowitz-report/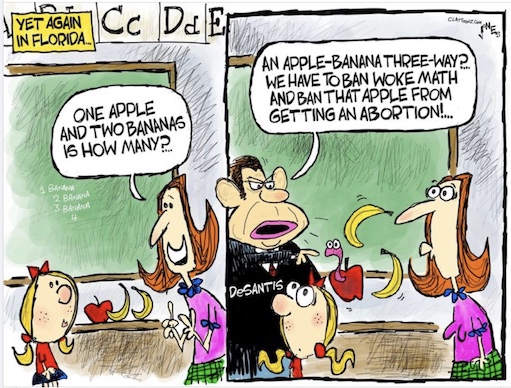 Trump Judge Was Deemed "Not Qualified." Then She Axed the Mask Mandate
The American Bar Association said in 2020 that Kathryn Kimball Mizelle lacked sufficient experience, but that didn't stop her from ascending to a lifetime appointment and striking down the federal mask mandate.
The ruling on Monday by U.S. District Judge Kathryn Kimball Mizelle to strike down the federal mask mandate for public transportation that has been in place for two years sparked celebration for some travelers, but stoked confusion and consternation among others. A number of people were particularly bewildered as to how a 35-year-old Donald Trump appointee rated "Not Qualified" by the American Bar Association (ABA) was able to effectively decide public health policy for much of the nation. https://www.vanityfair.com/news/2022/04/this-trump-judge-was-found-not-qualified-then-she-axed-the-mask-mandate
Majority of Americans want masks for travelers: AP-NORC poll
An
AP-NORC poll
finds that 56% of Americans favor requiring people on planes, trains and public transportation to wear masks, compared with 24% opposed and 20% who say they're neither in favor nor opposed. https://apnews.com/article/covid-business-health-travel-lifestyle-df8d9d7e46db0b9a85e29ac762a41a51
Florida says it rejected math textbooks for referring to critical race theory
The Florida Department of Education announced it has rejected dozens of math textbooks submitted by publishers for schools, saying they "contained prohibited topics" including critical race theory.
54 out of 132 math books (41%) recently submitted for review in the state were found to be "impermissible with either Florida's new standards or contained prohibited topics," per a Florida Department of Education (FDOE) statement Friday. https://www.axios.com/florida-rejects-math-textbooks-critical-race-theory-1f7555e6-16b7-4303-bb67-4f79c9fc53d3.html
50 days of Russia's war in Ukraine has changed the world
Before the war, Ukraine was the world's fourth-largest exporter of corn and wheat. Russia, the world's largest oil exporter, was also a top supplier of fertilizer. But the protracted conflict has driven up commodity prices globally, jeopardizing food security and poverty alleviation efforts in Africa and the Middle East.
The World Food Program has said that 41 million people in western and central Africa may be affected by a food and nutrition crisis this year, as the region confronts the highest prices in a decade for products like grain, oil and fertilizer. The war has also set off panic buying of basic foodstuffs in countries such as Egypt, Syria and Lebanon that are reliant on Ukrainian and Russian imports.
On Tuesday, the World Trade Organization slashed this year's growth forecast to 2.8 percent from 4.1 percent before the war, saying the conflict had inflicted "a severe blow" on the world economy. And the longer the war drags on, experts predict the damage will only grow. https://www.washingtonpost.com/world/2022/04/14/russia-ukraine-war-50-days-economy-sanctions-refugees/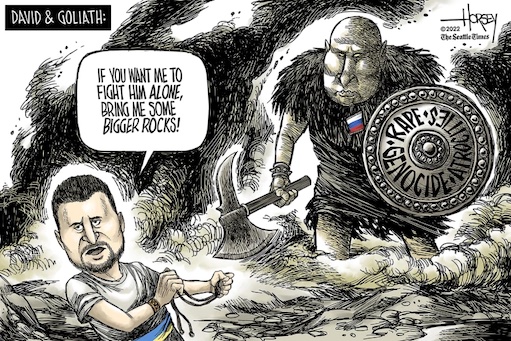 Trump Allies Continue Legal Drive to Erase His Loss, Stoking Election Doubts
In statehouses and courtrooms across the country, as well as on right-wing news outlets, allies of Mr. Trump — including the lawyer John Eastman — are pressing for states to pass resolutions rescinding Electoral College votes for President Biden and to bring lawsuits that seek to prove baseless claims of large-scale voter fraud. Some of those allies are casting their work as a precursor to reinstating the former president.
The fringe legal theory that Mr. Eastman and Mr. Epshteyn are promoting — which has been widely dismissed — holds that state lawmakers have the power to choose how electors are selected, and they can change them long after the Electoral College has certified votes if they find fraud and illegality sufficiently altered the outcome. The theory has surfaced in multiple states, including several that are political battlegrounds.
As in Wisconsin, state legislators in Arizona drafted resolutions calling for the decertification of the 2020 election. In Georgia, a lawsuit sought to decertify the victories of the Democratic senators Jon Ossoff and Raphael Warnock. And Robert Regan, a Republican favored to win a seat in the Michigan House, has said he wants to decertify the 2020 election either through a ballot petition or the courts.
"We are on a full, full freight train to decertify," Mr. Epshteyn said on the program in January. "That's what we're going to get. Everyone knows. Everyone knows this election was stolen." https://www.nytimes.com/2022/04/18/us/politics/trump-allies-election-decertify.html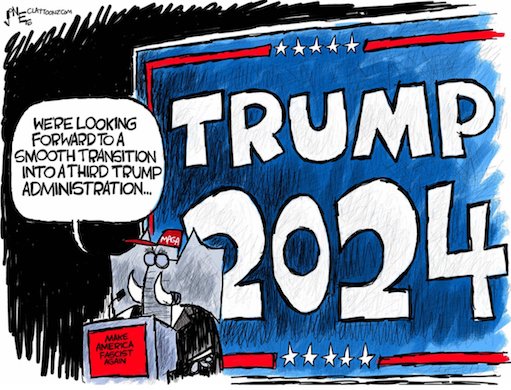 Effort to Remove Marjorie Taylor Greene From Ballot Can Proceed, Judge Say
A federal judge cleared the way on Monday for a group of Georgia voters to move forward with legal efforts seeking to disqualify Representative Marjorie Taylor Greene from running for re-election to Congress, citing her role in the Jan. 6, 2021, attack on the Capitol.
The disqualification effort is based on a constitutional provision adopted after the Civil War that barred members of the Confederacy from holding office. https://www.nytimes.com/2022/04/18/us/politics/marjorie-taylor-greene-jan-6.html
Mar-a-Lago Machine: Trump as a Modern-Day Party Boss
Working from a large wooden desk reminiscent of the one he used in the Oval Office, Mr. Trump has transformed Mar-a-Lago's old bridal suite into a shadow G.O.P. headquarters, amassing more than $120 million — a war chest more than double that of the Republican National Committee itself. Federal records show that his PAC raised more online than the party on every day but two in the last six months of 2021, one of which was Christmas Eve.
And while other past presidents have ceded the political stage, Mr. Trump has done the opposite, aggressively pursuing an agenda of vengeance against Republicans who have wronged him, endorsing more than 140 candidates nationwide and turning the 2022 primaries into a stress test of his continued sway.
Inspiring fear, hoarding cash, doling out favors and seeking to crush rivals, Mr. Trump is behaving not merely as a power broker but as something closer to the head of a 19th-century political machine. https://www.nytimes.com/2022/04/17/us/politics/trump-mar-a-lago.html
Americans Agree Democracy Is Doomed, but Not About Why
A New Republic poll found Republicans are split between whether the January 6 attack was an "insurrection" or an "act of patriotism," with 43% saying the former and 57% saying the latter.
By contrast, 88% of Democrats characterize it as an "insurrection. https://newrepublic.com/article/166027/democracy-poll
Democrats hope Trump will save them from midterm disaster
Inflation, President Biden's low approval ratings and history — a new president's party usually loses seats in the midterms — could be just too much to overcome.
But Democrats are looking for hope — and finding it in the man they usually love to hate.
"Trump could do the Democratic Party multiple favors all across the country, in terms of tilting the nomination to bizarro, unqualified candidates," Democratic strategist Mark Longabaugh told this column.
"To the degree that he is out there endorsing clearly unqualified candidates just because they kiss his ring — some of them with pretty crazy ideas — I think that puts us in a position where we could hold on to seats that we might not otherwise be able to, because of the environment."
The trend, if it occurs, is far more likely to affect Senate races, where candidates have to appeal on a statewide basis, than to House races in districts that often lean overwhelmingly toward one party or the other. https://thehill.com/news/administration/3269153-the-memo-democrats-hope-trump-will-save-them-from-midterm-disaster/
House Democrats to showcase 'deliverables' in bid to preserve majority
In the face of stiff national headwinds that threaten one of the narrowest majorities in recent history, House Democrats say they will showcase the local results they have delivered since seizing control of Congress and the White House just over a year ago. In interviews, party leaders and the incumbents who face difficult re-election bids say they will illustrate the results of measures like the coronavirus relief legislation known as the American Rescue Plan and the bipartisan infrastructure bill, which gave members the opportunity to deliver major projects to their districts — and then to brag about those projects at ribbon-cuttings and grant presentations. https://thehill.com/news/campaign/3266813-house-democrats-to-showcase-deliverables-in-bid-to-preserve-majority/
Kentucky lawmakers block abortion access with new law, effective immediately
Kentucky effectively suspended legal abortion access on Wednesday as the legislature enacted a sweeping anti-abortion law that took effect right away and forces providers to stop offering abortions until they can meet certain requirements.
The impact of the law makes Kentucky the first U.S. state without legal abortion access since the 1973 Supreme Court case Roe v. Wade established the right to end a pregnancy before the fetus is viable, abortion providers say. https://www.reuters.com/world/us/kentucky-lawmakers-block-abortion-access-with-new-law-effective-immediately-2022-04-13/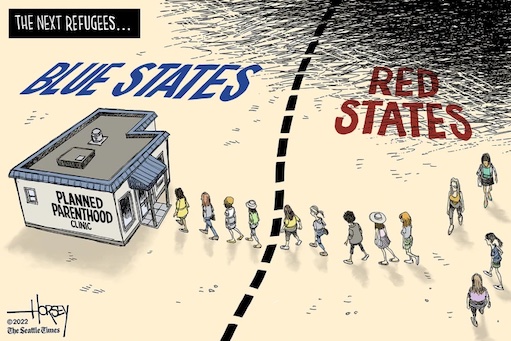 DeSantis takes on Disney in a culture war with national implications
Republican Gov. Ron DeSantis is doing battle with one of America's most recognizable cultural icons in a feud with potential reverberations far beyond Florida.
DeSantis's decision to go after the Walt Disney Co. for its opposition to a bill banning the teaching of gender-related issues to kids younger than third grade — dubbed the "don't say gay" bill by its foes — opens a new front in the growing culture wars being waged by top Republican officials around the country in a midterm election year. In states from Texas to California, Republicans are increasingly targeting issues important to their base, from abortion rights to medical care for transgender youth and the teaching of race's impact on U.S. laws. In some cases, they are heavily restricting or banning those things.
This particular clash features a pair of Florida's most powerful behemoths: the governor, who has made a name for himself with slash-and-burn Trump-style politics; and Disney, the entertainment giant that is one of the state's largest and most influential employers. Under pressure from its employees, Disney denounced the bill — but has disappointed some by not pushing back further and sooner. https://www.washingtonpost.com/politics/2022/04/13/desantis-disney-dont-say-gay-bill/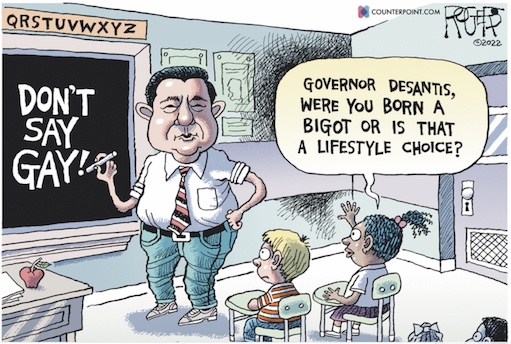 The DAILY GRILL
"Twitter's censors are freaking out about Elon Musk because they can't buy his silence." — Sen. Marsha Blackburn (R-Tenn.) among Several Republicans who hailed Musk as a hero and Twitter as the problem.
VERSUS
"@elonmusk offer to buy @Twitter heading into the #2022Elections and #2024Elections isn't a coincidence. It is a threat to our #democracy." — Democratic analyst Mary Anne Marsh.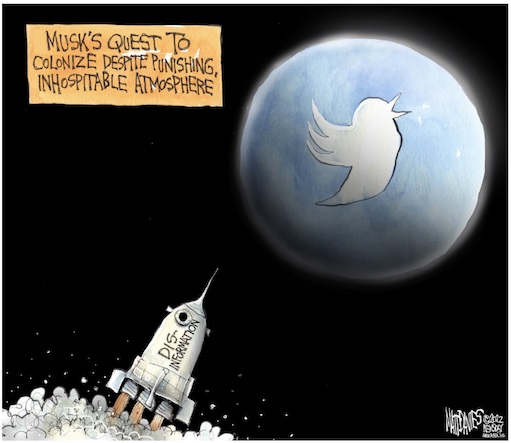 Never forget that the people who want to take away your guns are the people who know the least about them.— Rep. Lauren Boebert (R-CO)
VERSUS
Never forget that the people who want to control a woman's uterus are the people who know the least about them. — Jo @loloFromJerz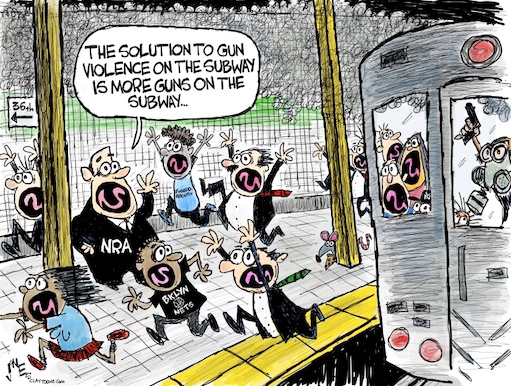 Jane Mayer: The Slime Machine Targeting Dozens of Biden Nominees
The American Accountability Foundation (A.A.F.'s) approach represents a new escalation in partisan warfare, and underscores the growing role that secret spending has played in deepening the polarization in Washington.
Rather than attack a single candidate or nominee, the A.A.F. aims to thwart the entire Biden slate. The obstructionism, like the Republican blockade of Biden's legislative agenda in Congress, is the end in itself. The group hosts a Web site, bidennoms.com, that displays the photographs of Administration nominees it has targeted, as though they were hunting trophies. And the A.A.F. hasn't just undermined nominees for Cabinet and Court seats—the kinds of prominent people whose records are usually well known and well defended. It's also gone after relatively obscure, sub-Cabinet-level political appointees, whose public profiles can be easily distorted and who have little entrenched support. The A.A.F., which is run by conservative white men, has particularly focussed on blocking women and people of color. As of last month, more than a third of the twenty-nine candidates it had publicly attacked were people of color, and nearly sixty per cent were women.
Tom Jones, the A.A.F.'s founder and executive director, is a longtime Beltway operative specializing in opposition research. Records show that over the years he has worked for several of the most conservative Republicans to have served in the Senate, including Ron Johnson, of Wisconsin; Ted Cruz, of Texas; Jim DeMint, of South Carolina; and John Ensign, of Nevada, for whom Jones was briefly a legislative director. In 2016, Jones ran the opposition-research effort for Cruz's failed Presidential campaign. When I asked Jones for an interview, through the A.A.F.'s online portal, he replied, "Ms. Meyers . . . Go pound sand." Citing an article that I had written debunking attacks on Bloom Raskin from moneyed interests, including the A.A.F., he said, "You are a liberal hack masquerading as an investigative journalist—and not a very good one." Jones subsequently posted this comment on his group's Twitter account, along with my e-mail address and cell-phone number. https://www.newyorker.com/news/a-reporter-at-large/the-slime-machine-targeting-dozens-of-biden-nominees
Bess Levin: Saudi Arabia Concluded Jared Kushner's Investment Firm Was A Joke, Gave Him $2 Billion Anyway
Jared Kushner did a famously bad job as a senior adviser to the president of the United States, so much so that the "Controversies" section on his Wikipedia page should be titled "F-ckups You've Probably Heard About." From the prolonged government shutdown and a Middle East peace plan that involved calling Palestinians "hysterical and stupid," to the initial dismissal of COVID-19 as not actually being a public health emergency and the scrapping of nationwide testing because the virus was primarily affecting Democratic states, all of young Kush's hits would be there, and the takeaway would be that on a near daily basis, he screwed up big time.
As we've noted a number of times around these parts, though, the one exception to the "Jared Kushner is bad at this" rule was when it came to the task of cultivating friendships with some of the world's worst human-rights abusers. Specifically, Kushner was a huge fan of Saudi crown prince Mohammed bin Salman, with whom he texted via WhatsApp and built a relationship that one congressman told Vanity Fair's Abigail Tracy "stunned" him, saying, "It looks bad. It smells bad. It is bad." In addition to seemingly having no problem with the prince's decision to jail his own family members, or the disastrous Saudi-led intervention in Yemen, Kushner defended MBS amid the murder of Saudi dissident (and U.S. resident) Jamal Khashoggi, and he reportedly urged Donald Trump to support the prince, arguing that the whole situation—wherein a man was kidnapped, killed, and dismembered via bone saw—would blow over. And while that level of of ass-kissing and murder-excusing would keep a person with a functioning moral compass up at night, for Kushner it has paid off—literally.
On Sunday, The New York Times reported that just six months after leaving the White House, the former first son-in-law's newly formed private equity firm, Affinity Partners, was awarded a $2 billion investment from Saudi Arabia's sovereign wealth fund, which is led by MBS. That the kingdom would fork over that kind of cash to Kushner is obviously ridiculously shady and, as Nick Penniman, the founder and chief executive of good-government organization Issue One, told The Times, "swampy and seemingly hypocritical." But the cash alone is not even the funniest part, and by funniest we mean insanely unethical and wildly corrupt. No, the unethical and corrupt part is that the people who perform due diligence for the Saudis' Public Investment Fund concluded Kushner's firm was a joke and that he might make them look bad…and then the board, headed by MBS, gave him the money anyway. Because…y'know. https://www.vanityfair.com/news/2022/04/jared-kushner-saudi-arabia-2-billion-investment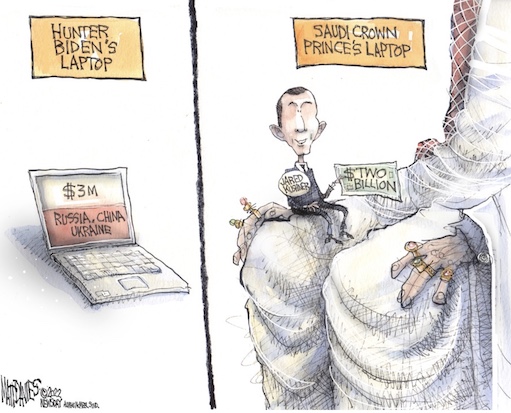 Jonathan Chait: If Trump Was Still President, Ukraine Would Be So Screwed Right Now
A month ago, Trump's close friend and supporter Sean Hannity tried repeatedly to coax him to call Vladimir Putin a bad person or admit his slaughter of civilians was wrong. Trump kept refusing. After Trump declined the first opportunity, Hannity offered another: "You came under some fire when you said that Vladimir Putin is very smart. I think I know you a little bit better than most people in the media, and I think you also recognize he's evil, do you not?"
After Trump declined again and boasted of his closeness with Putin, Hannity tried suggesting Russia was an "enemy" Trump was strategically keeping close. Trump declined that opportunity, too, saying, "I got along with these people. I got along with them well."
Hannity just tried again. Referring back to their previous conversation, he asked Trump if Russia's invasion was "evil." Trump declined, instead ranting about the weakness of NATO: "I think in a hundred years, people are gonna look back and they're going to say, 'How did we stand back, and NATO stand back?' — which, in many ways, I've called a paper tiger." He did not concede Russia was morally wrong to invade.
NATO allies have increased their military spending in response to Russia's invasion. But rather than acknowledge this success — the outcome he supposedly wants — Trump continued to bash them as worthless leeches. https://nymag.com/intelligencer/2022/04/if-trump-was-still-president-ukraine-would-be-so-screwed.html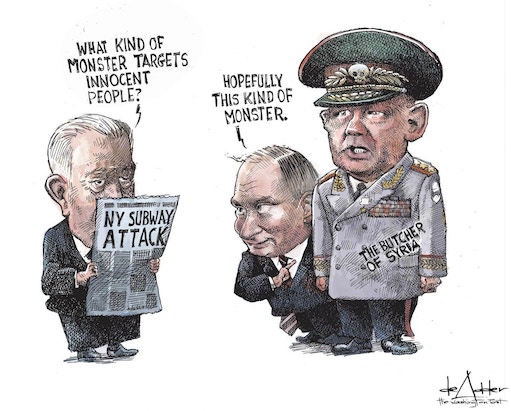 Amy Walter: It's Still Trump's Party
The best way to see that the party remains fixed in the Trumpian mold is to, well, see it. In hundreds of TV ads, GOP candidates and outside groups that support them, are highlighting their commitment to Trump's policies and persona. The advertising analysis firm AdImpact captures and categorizes political ads from around the country. Since the beginning of the year, the term "Trump" appears in 164 ads that collectively total $26M worth of spending. Almost all of those ads — 152 of them — and that spending ($24M) came from the Republican side.
Most of these GOP ads feature not just images of the former president, but also many of the terms associated with Trump, like "fighter," "conservative outsider," and "America First." Many feature pledges to complete or finish "Donald Trump's wall" at the southern border and to defeat "radical socialism."
In the contests where Trump hasn't endorsed, GOP candidates eagerly present their Trumpian bonafides in their advertising. In the Alabama Senate race, where Trump has yet to endorse another candidate after rescinding his support of Brooks, candidate Mike Durant boasts that he is a "conservative, pro-Trump" candidate who is "ready for the fight." Katie Britt, the former chief of staff to retiring Sen. Richard Shelby, bemoans the high level of illegal immigration and promises to 'finish Trump's wall" at the southern border. https://www.cookpolitical.com/analysis/national/national-politics/its-still-trumps-party
Jackie Calmes: Biden isn't misspeaking about Putin. He's speaking for the American people
Excuse me if I don't join the tut-tutting about President Biden, after he once again departed from diplo-speak, this time to accuse Russia of genocide.
The president's truth-telling on Tuesday followed undiplomatic remarks last month condemning Putin as "a war criminal," before the Biden administration had officially applied that label, and ad-libbing about the Russian leader in a speech in Warsaw: "For God's sake, this man cannot remain in power."
French President Emmanuel Macron led the critics, telling French television that Biden's remarks were unhelpful to peace-making. As if Putin shows any sign of wanting peace.
It was Macron, not Biden, who stepped in it: "'Genocide' has a meaning," the French leader said, that might not apply between Russians and Ukrainians because "these two peoples are brothers." The diplomatically self-righteous Macron essentially parroted Putin's propaganda — echoed with genocidal overtones from the Kremlin and state-controlled media — that has long denied the national identity of Ukrainians to justify Russia's subjugation of them.
Yes, words matter, especially the words of a U.S. president. And words like "genocide" and "war crimes" have distinct meanings, defined by international law dating to the Nuremberg trials of German Nazis. The United Nations' 1948 Convention on the Prevention and Punishment of the Crime of Genocide describes genocide as "a crime committed with the intent to destroy a national, ethnic, racial or religious group, in whole or in part."
That's clearly what Biden had in mind when he said in Iowa on Tuesday that Putin "is just trying to wipe out even the idea of being Ukrainian."
The experts and diplomats tell us that, for all the evidence of war crimes, identifying and prosecuting the Russians responsible will be difficult. They say Putin most likely will never sit in the dock as Hitler's henchmen did, even if he's charged.
But we know what we're seeing, and naming and shaming is not nothing. Let Biden be Biden. https://www.latimes.com/opinion/story/2022-04-15/joe-biden-genocide-war-crimes-vladimir-putin-russia-ukraine-invasion
Annie Gowen: Censorship battles' new frontier: Your public library
In early November, an email dropped into the inbox of Judge Ron Cunningham, the silver-haired head chair of the governing body of Llano County in Texas's picturesque Hill Country. The subject line read "Pornographic Filth at the Llano Public Libraries."
"It came to my attention a few weeks ago that pornographic filth has been discovered at the Llano library," wrote Bonnie Wallace, a 54-year-old local church volunteer. "I'm not advocating for any book to be censored but to be RELOCATED to the ADULT section. … It is the only way I can think of to prohibit censorship of books I do agree with, mainly the Bible, if more radicals come to town and want to use the fact that we censored these books against us."
Wallace had attached an Excel spreadsheet of about 60 books she found objectionable, including those about transgender teens, sex education and race, including such notable works as "Between the World and Me," by author and journalist Ta-Nehisi Coates, an exploration of the country's history written as a letter to his adolescent son. Not long after, the county's chief librarian sent the list to Suzette Baker, head of one of the library's three branches.
"She told me to look at pulling the books off the shelf and possibly putting them behind the counter. I told them that was censorship," Baker said.
Wallace's list was the opening salvo in a censorship battle that is unlikely to end well for proponents of free speech in this county of 21,000 nestled in rolling hills of mesquite trees and cactus northwest of Austin. https://www.washingtonpost.com/nation/2022/04/17/public-libraries-books-censorship/
Walter Russell Mead: The End of Russia's Empire?
"As the war exposes the darkness inherent in Mr. Putin's regime, and as atrocities abroad and repression at home impress the mark of Cain ever more deeply on its brow, it is impossible not to hope for a Russian defeat. Nevertheless, caution is in order. Mr. Putin and those around him know that in Ukraine they aren't fighting only for an adjustment of frontiers. They are fighting for their world, and it may be psychologically impossible for them to accept defeat until every measure, however ruthless, and every weapon, however heinous, has been brought into play. For Vladimir Putin and the people around him, the stakes in Ukraine are almost infinitely great."
https://www.wsj.com/articles/the-end-of-russia-empire-ukraine-war-eastern-slavic-national-identity-invade-soviet-czar-putin-ussr-11650307491
Jennifer Rubin: Mike Lee has some explaining to do
CNN released nearly 100 texts from Rep. Chip Roy (R-Tex.) and Sen. Mike Lee (R-Utah) to then-White House chief of staff Mark Meadows in the wake of the 2020 election. The two sets of texts, coming on the heels of the 2020 election, illuminate the difference between a partisan (but ultimately patriotic) Republican congressman and a GOP senator willing to overthrow the will of the voters — so long as he has a fig leaf of legal protection from state lawmakers.
Lee, starts by pressing for information for election challenges. On Nov. 7, he sends Meadows a striking message to convey to the president: "We the undersigned offer our unequivocal support for you to exhaust every legal and constitutional remedy at your disposal to restore Americans faith in our elections."
On Nov. 9, he signals that he is supportive of Sidney ("Kraken") Powell and on Nov. 10 asks for the number of rejected ballots in Pennsylvania and Wisconsin. By Nov. 19, Lee has watched Powell's news conference and soured on her tactics. ("Unless Powell can immediately substantiate what she said today, the president should probably dissociate himself and refute any claims that can't be substantiated.")
On Nov. 22, in a pathetic show of subservience to Trump, Lee pleads with Meadows: "Please tell me what I should be saying." By Nov. 23, Lee, too, has latched onto Eastman's theory.
On Dec. 8, he writes, "If a very small handful of states were to have their legislatures appoint alternative slates of delegates, there could be a path."
On Jan. 3, Lee seems at a crossroads: "[A]ll of this could change if the states in question certified Trump electors pursuant to state law. But in the absence of that, this effort is destined not only to fail, but to hurt DJT in the process." In short, so long as they get those alternate slates — backed up by nothing — they can aim to overturn the election. He repeats this theory: "We simply have no authority to reject a state's certified electoral votes in the absence of a dueling slates, with the Trump slate coming from a state legislative determination."
On Jan. 4, he seems to effectively confess to pressuring state legislatures to send an alternate slate no matter what the factual basis (again, no fraud has been found):
"Every good lawyer — and Mike Lee is a good one — knows that there are limits to the arguments that you are allowed to make and serious consequences if you go beyond those limits," former House impeachment counsel Norm Eisen tells me. "This one was way over the line: because there was no fraud, there was no factual basis to claim that the state legislatures could step in and there was no legal basis. I think the new evidence shows a betrayal of his duty as an attorney and his oath as a senator." https://www.washingtonpost.com/opinions/2022/04/18/mike-lee-disqualify/