January 16, 2020
ON THE RECORD. . .
"If Mike Espy and the liberal Democrats gain the Senate we will take that first step into a thousand years of darkness." — Mississippi Gov. Phil Bryant (R) warned that the election of Mike Espy (D), an African American who served as Secretary of Agriculture, to the U.S. Senate would kick off a millennium of "darkness."

"Some of the most compelling evidence that Qasem Soleimani was preparing an imminent attack against American forces and American personnel also represents some of the most sensitive intelligence that we have. It could compromise those sources and methods." — Vice President Mike Pence told NBC News that the intelligence justifying the killing of Iranian Gen. Qassem Soleimani was "too sensitive" to share with Congress.

"That's easy: I don't have any." — Sen. Lindsey Graham (R-SC), responding to a protester who asked, "How will your children survive extinction with Donald Trump in office."

"Standing near the bar, Sherman ran into Frank Luntz, the Republican pollster, and the two started chatting. Sherman asked Luntz when he last saw the President. 'Last week, at the White House Christmas party,' Luntz said. Sherman asked what the two men talked about, to which Luntz replied that he had asked Trump what his middle initial 'J' stands for. 'Genius,' Trump responded." — On this week's episode of the Podcast, Inside the Hive, Vanity Fair special correspondent Gabriel Sherman relayed this story, that sums up the Trump presidency and the mess we're currently living in.

"Every president faces criticism and caricature. Donald Trump, however, is unique in that he is routinely characterized in ways more suitable for a toddler. What's more, it is not just Democrats, pundits, or protestors who compare the president to a child; Trump's staffers, subordinates, and allies on Capitol Hill also describe Trump like a small, badly behaved preschooler." —From "The Toddler in Chief: What Donald Trump Teaches Us about the Modern Presidency," by Daniel W. Drezner.

"This president is impeached for life, regardless of any gamesmanship on the part of Mitch McConnell. He will be impeached forever." — Speaker Nancy Pelosi, twisting the knife into Donald Trump's ego.

It might be a good evening to dust off an old copy of The Guns of August. One thing is clear, this administration has no strategy for what will come next. None. We have arrived at a most dangerous hour and the President of the United States is ignorant, incompetent and reckless. — Steve Schmidt @SteveSchmidtSES

"I presume I'll be voting in favor of hearing from John Bolton." — Sen. Mitt Romney (R-UT) saying he will vote to hear at least on impeachment witness.

"It's just so unfair that American companies aren't allowed to pay bribes to get business overseas. We're going to change that." The president, they go on to explain, was frustrated with the law "ostensibly because it restricted his industry buddies or his own company's executives from paying off foreign governments in faraway lands." — Trump clashing with Sec. of State Tillerson when he told him he wanted his help getting rid of the Foreign Corrupt Practices Act, a 1977 law that prevents U.S. firms and individuals from bribing foreign officials for business deals.

"To maximize my chance of survival, I may have to miss some votes. I'm not interested in becoming a martyr." — Lee Carter, the south's only socialist legislator who has become the subject of a heated conspiracy theory swirling around Virginia's pending gun-control legislation.

"There is an effort to limit the press… I'm going to vote against that, if I'm allowed to vote. U.S. senators are grown women and grown men. If they don't want to make a comment, they know how to say 'no comment." -- Sen. John Kennedy (R-LA), distancing himself from proposed restrictions on reporters covering the upcoming Senate impeachment trial, calling it a "huge mistake."
---
IN THIS ISSUE
FYI
OPINION
1. Andy Borowitz: Democrats Demand That Giuliani Be Trump's Lawyer at Impeachment Trial
Rudolph Giuliani's offer to act as Donald J. Trump's defense attorney at the President's impeachment trial has received unanimous support from congressional Democrats, who are now demanding that he perform such a role.

House Speaker Nancy Pelosi and Senate Minority Leader Charles Schumer told reporters on Tuesday that Giuliani's participation as Trump's lawyer during his Senate trial was, as far as they were concerned, "nonnegotiable."

"Rudy Giuliani has demonstrated over the past three years that he can represent the President as no one else can," Pelosi said. "If he is not the President's lawyer in the Senate, that would be a deal-breaker for me."

Pelosi indicated that Democrats were now willing to back off their earlier demands for witnesses at the trial. "No witnesses," she said. "Just Giuliani."

Appearing on Fox News, Giuliani said that he was "a little surprised" by the Democrats' enthusiastic support, adding, "Nancy Pelosi even offered to drive me to work every morning, which I thought was really nice." https://www.newyorker.com/humor/borowitz-report/
2. Anatomy of a Trump rally: 67 percent of claims are false or lacking evidence
It was the Moby Dick of fact-checking assignments, a two-hour tornado of false and bewildering claims. President Trump held his longest campaign rally to date on Dec. 18 in Michigan, just as the House was voting to impeach him.
The rallies are longer now and the amount of claims worth fact-checking has nearly doubled, but one thing's clear: Trump's still got it.
At the December rally in Michigan, Trump falsely claimed he won the state's "man of the year" award. He falsely claimed to have set military spending records. He claimed — again, falsely — that 401(k) retirement accounts have gained up to 90 percent in value during his presidency. He falsely claimed Michigan had more auto industry jobs. He inflated the attendance at his rally and made up stories about several Democratic rivals. He took credit for major legislation and economic growth trends and NATO spending that came well before he took office. And on and on and on … https://www.washingtonpost.com/politics/2020/01/07/anatomy-trump-rally-percent-claims-are-false-or-lacking-evidence/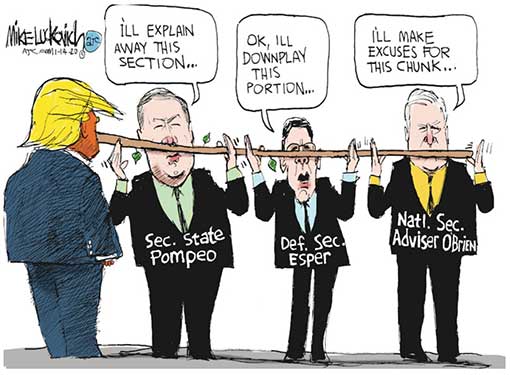 3. Many Iowa Democrats are paralyzed by fear of choosing the wrong candidate to take on Trump
Iowa voters are famous for taking their time every four years to decide which candidate to support, often insisting on a dutiful process of meeting several contenders in person before making up their minds. But this year is different, with many Democrats here so paralyzed by the fear of choosing the wrong candidate in the first-in-the-nation nominating contest that they are finding it impossible to make up their minds.
The uncertainty goes deeper than the already-vexing decision about which contender voters like more, and it is complicated not merely by this year's crowded field.
Rather, for many here who remain uncommitted, the dilemma presents a whole new calculation — a search for an elusive set of qualities seen as necessary to defeat President Trump, the most unpredictable opponent in modern history.
The question is taking on new urgency less than four weeks before the Feb. 3 caucuses. Polls show at least four candidates remain in the hunt, each with perceived strengths but potential vulnerabilities against Trump that give likely caucusgoers pause. The consuming quandary is whether experience, charisma or preparedness — each complicated by questions of age and gender — is the best asset in taking the fight to the November general election. https://www.washingtonpost.com/politics/many-iowa-democrats-are-paralyzed-by-fear-of-choosing-the-wrong-candidate-to-take-on-trump/2020/01/10/a83b78c6-2f26-11ea-9b60-817cc18cf173_story.html
4. Trump Fails to Quash E. Jean Carroll's Defamation Suit
A New York judge has rebuffed Trump's bid to throw out a lawsuit filed against him by the writer E. Jean Carroll, who accuses him of hurting her career and reputation in denying her claim that he raped her in a Manhattan department store in the 1990s. https://www.nytimes.com/2020/01/09/nyregion/trump-e-jean-carroll-defamation.html
5. Trump, red states ask Supreme Court to refuse Obamacare case before election
The Trump administration and Republican-led states are urging the Supreme Court to swat away Democrats' request to immediately review a lawsuit threatening Obamacare, which would ensure the politically fraught case doesn't get resolved until after November's election.
The justices had asked the Trump administration and red states challenging the health care law to respond to a plea from state Democratic attorneys general to fast-track review of the case by this summer. The Democrats' request came after a federal appeals court last month ruled against the Affordable Care Act's individual mandate but sent the case back to a federal judge, likely delaying a resolution until next year unless the Supreme Court intervenes.
Democrats defending the law in court, including the House of Representatives, say the Supreme Court must decide the case before the election to address uncertainty over Obamacare's fate. They worry that President Donald Trump would be shielded from the political consequences if the court ultimately guts or overturns the law.
But the Trump administration, which is supporting the red states' challenge, argued the Supreme Court has no pressing need to intervene since the law remains in effect while it's on appeal. https://www.politico.com/news/2020/01/10/supreme-court-obamacare-case-097332
6. Facebook sticking with policies on politicians' lies and voter targeting
Facebook is standing by its policies that allow politicians to lie to voters, while targeting their ads at narrow subsets of the public — decisions with vast implications for the more than $1 billion in online campaign messaging expected in this year's elections.
The online giant announced Thursday morning that it is not changing the most controversial elements of its approach to campaign ads, after months of a debate that has divided Silicon Valley and brought Facebook a barrage of criticism from Democrats. The critics have been most incensed by Facebook's refusal to fact-check politicians' claims, accusing the company of knowingly profiting from deception. https://www.politico.com/news/2020/01/09/facebook-sticking-with-policies-on-politicians-lies-and-voter-targeting-096597
7. Two-year witch hunt against Hillary Clinton ends with a thud, because she did nothing wrong
In all the most important ways, Donald Trump's Thursday night rally was simply another installment in his sad, sick show of hatred, bullying racism, and irrationality. Like all stale serials limping into a fourth season, Trump's traveling sideshow relied on recycling every standard line and mindless catchphrase. That included claims about a wall that have been proven a lie a hundred times over, and it included Trump nodding along to "Lock her up" chants and following up with claims that his 2016 opponent really deserved to be behind bars.
But even as Trump was rambling on about Hillary Clinton, word leaked that a two-year fishing expedition into everything Clinton was ending … without so much as a minnow.
The fact that Huber's investigation discovered no actual wrongdoing by Hillary Clinton is likely to be a momentary frustration for Trump, and for House Republicans whose current minority position means that, while they can continue to announce endless investigations, no one really cares. And it may cause a passing frown for Trump, who won't be able to actually drag his erstwhile opponent before his ravening mob in chains. But they'll get over it. And keep right on chanting. https://www.dailykos.com/stories/2020/1/10/1910582/-Two-year-investigation-into-everything-around-Hillary-Clinton-reportedly-finds-no-wrongdoing
8. The DAILY GRILL
"They (Democrats) are in love with terrorists. We see that they mourn Soleimani more than they mourn our Gold Star families who are the ones who suffered under Soleimani. That's a problem." — Rep. Doug Collins (R-Ga.), the top Republican on the House Judiciary Committee, to Lou Dobbs on Fox Business

VERSUS

"I left literal parts of my body in Iraq, where I was fighting terrorists. Donald Trump spent months attacking an ACTUAL Gold Star Family," … adding on Twitter. "[Collins] should be ashamed of himself for perpetuating this offensive lie. " — Sen. Tammy Duckworth (D-Ill.), who has used a wheelchair since her Black Hawk helicopter was shot down over Iraq in 2004.

 

Where have the Radical Left, Do Nothing Democrats gone when they have spent the last 3 days defending the life of Qassem Soleimani. He was also looking to do big future damage! 'Dems are "unhinged.'" — Trump on Twitter

VERSUS

The mistruth follows a barrage of other eyebrow-raising claims by the president. On Friday, he claimed that four embassies were under threat from Iran. But, as the Washington Post reported, "that was at odds with intelligence assessments from senior officials." -- The Daily Beast

To the brave, long-suffering people of Iran: I've stood with you since the beginning of my Presidency, and my Administration will continue to stand with you. We are following your protests closely, and are inspired by your courage. -- Trump tweet.

VERSUS

During his first month in office, Trump issued an executive order that soon became known as the "travel ban" – which suspended travel from Muslim-majority countries like Iran and Iraq. It followed from Trump calling to ban Muslims from entering the United States. The Trump administration later issued an updated order that bans all Iranian nationals from the United States, unless they are visiting on student visas or on cultural exchange visas. Trump is reportedly considering expanding the travel ban. — AP

 

Mini Mike Bloomberg is spending a lot of money on False Advertising. I was the person who saved Pre-Existing Conditions in your Healthcare, you have it now, while at the same time winning the fight to rid you of the expensive, unfair and very unpopular Individual Mandate....and, if Republicans win in court and take back the House of Representatives, your healthcare, that I have now brought to the best place in many years, will become the best ever, by far. I will always protect your Pre-Existing Conditions, the Dems will not! — Donald J. Trump @realDonaldTrump

VERSUS

Trump's Justice Department is currently backing a lawsuit by Republican state officials to throw out the entire health care law — including those protections. The president has also previously urged Congress to pass a bill that would roll back some of the law's protections for pre-existing conditions and his administration has expanded access to plans that do not cover pre-existing conditions, which critics deride as "junk insurance." -- NBC News 

 

"I said, 'Listen, you're a very rich country. You want more troops? I'm going to send them to you, but you have to pay us.' They're paying us. They've already deposited $1 billion in the bank." — Donald Trump

VERSUS

"The Department of Defense has engaged Saudi Arabia on contributing to US activities that support regional security and dissuade hostility and aggression," wrote Pentagon spokesperson Cmdr. Rebecca Rebarich, not specifying any financial transaction, and "discussions are ongoing to formalize these contributions"; quite different from Trump's unequivocal claim that Saudi Arabia had "already deposited $1 billion in the bank."

 
9. From MEDIA MATTERS (They watch Fox News so you don't have to)
U.S. attorney John Huber reportedly intends to close, without bringing charges, his two-year review of the U.S. government's decision not to block the sale of the company known as Uranium One. The news serves as a stinging rebuke to the right-wing media figures who spent years massaging it into a scandal aimed at former Secretary of State Hillary Clinton -- and the mainstream reporters who helped them. https://www.mediamatters.org/peter-schweizer/final-inevitable-collapse-right-wing-medias-uranium-one-conspiracy-theory

Donald Trump recently appointed anti-Muslim and anti-LGBTQ cable news pundit Jenna Ellis as a senior legal adviser to him and his campaign. Ellis has promoted harmful and ineffective conversion therapy; claimed that "Christians cannot follow God and accept or condone or participate in homosexuality"; and said gay and bisexual men have higher rates of HIV because "we cannot escape God's moral law and His supremacy." She's also claimed that "Islam is not freedom. It's not peaceful. It is not Liberty. It is not American."  Ellis previously worked as a director for the James Dobson Family Institute, which is named after and led by the anti-LGBTQ conservative commentator.  https://www.mediamatters.org/donald-trump/trump-senior-adviser-and-pundit-jenna-ellis-has-long-trail-toxic-anti-lgbtq-remarks

DR. QANTA AHMED: Ilhan Omar is an empty vessel. She has no allegiance to the United States that I can detect. She speaks like an Islamist mouthpiece. Her views are completely in line with the views of Qatar, the Muslim Brotherhood, and other sympathizers of which Iran would also be in alliance as a Shiite Islamist. https://www.mediamatters.org/fox-business/fox-business-guest-rep-ilhan-omar-has-no-allegiance-united-states-i-can-detect

Fox's Sarah Sanders says she "can't think of anything dumber than allowing Congress to" authorize war. Sanders: "The last thing I want to do is see them take power away from President Trump and put it into their own hands." https://www.mediamatters.org/sarah-huckabee-sanders/foxs-sarah-sanders-says-she-cant-think-anything-dumber-allowing-congress
10. The Lincoln Project Puts Evangelicals On Notice In Damning New Ad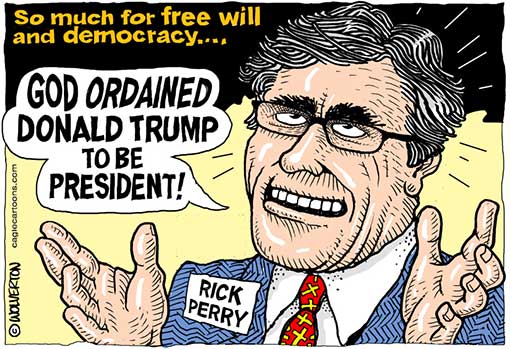 11.

Trump administration violated law by withholding Ukraine aid, GAO finds

In the summer of 2019, the Office of Management and Budget (OMB) withheld from obligation funds appropriated to the Department of Defense (DOD) for security assistance to Ukraine.  In order to withhold the funds, OMB issued a series of nine apportionment schedules with footnotes that made all unobligated balances unavailable for obligation.  

Faithful execution of the law does not permit the President to substitute his own policy priorities for those that Congress has enacted into law.  OMB withheld funds for a policy reason, which is not permitted under the Impoundment Control Act (ICA).  The withholding was not a programmatic delay.  Therefore, we conclude that OMB violated the ICA. - Thomas H. Armstrong, General Counsel, GAO
12. Majority of Americans favor wealth tax on very rich: Reuters/Ipsos poll
Among the 4,441 respondents to the poll, 64% strongly or somewhat agreed that "the very rich should contribute an extra share of their total wealth each year to support public programs" - the essence of a wealth tax. Results were similar across gender, race and household income. While support among Democrats was stronger, at 77%, a majority of Republicans, 53%, also agreed with the idea.
Results were similar across gender, race and household income. While support among Democrats was stronger, at 77%, a majority of Republicans, 53%, also agreed with the idea.
While the share of wealth held by the bottom 50% of Americans has increased since the 2009 crisis, to 1.5% percent, long term the trend is down, with their share at less than half what it was in 1989. The shares of wealth held by the middle and upper middle classes - or all other Americans save for the richest 1 percent — have all fallen since the crisis. https://www.reuters.com/article/us-usa-election-inequality-poll/majority-of-americans-favor-wealth-tax-on-very-rich-reuters-ipsos-poll-idUSKBN1Z9141
13. Trump planning to waste additional $7.2 billion in Pentagon funds for border wall
Trump is preparing to divert an additional $7.2 billion in Pentagon funding for border wall construction this year, five times what Congress authorized him to spend on the project in the 2020 budget, according to internal planning figures obtained by The Washington Post.
The Pentagon funds would be extracted, for the second year in a row, from military construction projects and counternarcotics funding. According to the plans, the funding would give the government enough money to complete approximately 885 miles of new fencing by Spring 2022, far more than the 509 miles the administration has slated for the U.S. border with Mexico. https://www.washingtonpost.com/immigration/trump-planning-to-divert-additional-72-billion-in-pentagon-funds-for-border-wall/2020/01/13/59080a3a-363d-11ea-bb7b-265f4554af6d_story.html
14. Warren asks SEC to investigate Trump's Mar-a-lago comments about Soleimani
Sens. Elizabeth Warren (D-MA) sent a letter to federal regulatory agencies asking them to investigate whether President Trump violated the law by telling guests at his Mar-a-Lago club to expect a "big" response to Iran's killing of an American contractor in Iraq. They asked for an investigation to address the following questions:
1. Which members and guests did President Trump meet or have discussions with at Mar-a-Lago in the days leading up to the January 2, 2020 strike against Iranian Major General Qasem Soleimani?

2. What information did President Trump provide to Mar-a-Lago members and guests regarding the January 2, 2020 strike against Iranian Major General Qasem Soleimani? a. To what extent was this information material and non-public?

3. Which members and guests at Mar-a-Lago or other confidants of President Trump received advanced notice about the potential of the January 2, 2020 military action?

4. Did any of these individuals make any trades based on this information, and if so, did these trades violate insider trading laws? In addition to opening an investigation, I ask that you provide my staff with a briefing on this matter no later than February 13, 2020. https://assets.documentcloud.org/documents/6641867/Sen-Warrenletter.pdf
15. Who Controls Trump's Environmental Policy?
A small number of people at a few federal agencies have vast power over the protection of American air and water. Under the Trump administration, the people appointed to those positions overwhelmingly used to work in the fossil fuel, chemical and agriculture industries. During their time in government they have been responsible for loosening or undoing nearly 100 environmental protections from pollution and pesticides, as well as weakening preservations of natural resources and efforts to curb planet-warming greenhouse gas emissions.
Of 20 key officials across several agencies, 15 came from careers in the oil, gas, coal, chemical or agriculture industries, while another three hail from state governments that have spent years resisting environmental regulations. At least four have direct ties to organizations led by Charles G. and the late David H. Koch, who have spent millions of dollars to defeat climate change and clean energy measures. https://www.nytimes.com/interactive/2020/01/14/climate/fossil-fuel-industry-environmental-policy.html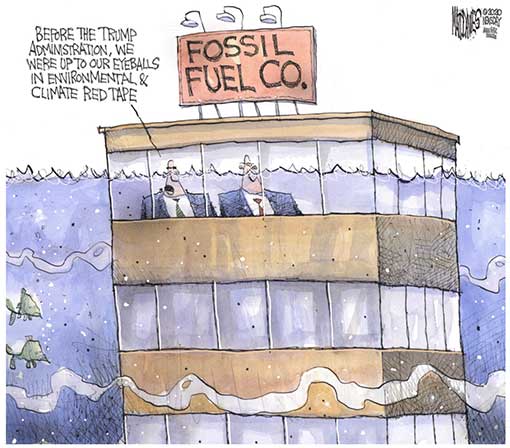 16. Federal judge temporarily halts Trump administration policy allowing local governments to block refugees
State and local officials cannot block refugees from being resettled in their jurisdictions, a federal judge ruled Wednesday, finding the Trump administration's new refu­gee policy is likely to be "unlawful" and "does not appear to serve the overall public interest."
U.S. District Judge Peter J. Messitte of Maryland temporarily halted President Trump's executive order requiring governors and local officials nationwide to agree in writing to welcome refugees before resettlements take place in their jurisdictions.
"One is left to wonder exactly what the rationale is for doing away entirely with a process that has worked so successfully for so long," he wrote. "And why now?" https://www.washingtonpost.com/local/legal-issues/federal-judge-temporarily-halts-trump-administration-policy-allowing-local-governments-to-block-refugees/2020/01/15/ffd40bee-3317-11ea-9313-6cba89b1b9fb_story.html
17. Days before Europeans warned Iran of nuclear deal violations, Trump secretly threatened to impose 25% tariff on European autos if they didn't
A week before Germany, France and Britain formally accused Iran of breaching the 2015 nuclear deal, the Trump administration issued a private threat to the Europeans that shocked officials in all three countries.
If they refused to call out Tehran and initiate an arcane dispute mechanism in the deal, the United States would impose a 25 percent tariff on European automobiles, the Trump officials warned, according to European officials familiar with the conversations.
The U.S. effort to coerce European foreign policy through tariffs, a move one European official equated to "extortion," represents a new level of hardball tactics with the United States' oldest allies, underscoring the extraordinary tumult in the transatlantic relationship. https://www.washingtonpost.com/world/national-security/days-before-europeans-warned-iran-of-nuclear-deal-violations-trump-secretly-threatened-to-impose-25percent-tariff-on-european-autos-if-they-didnt/2020/01/15/0a3ea8ce-37a9-11ea-a01d-b7cc8ec1a85d_story.html
18. Trump went on another rambling rant at a Milwaukee rally about 'worthless' new dishwashers, weak showers, and lightbulbs that 'make you look orange'
Trump appeared to criticize Energy Department regulations for the energy efficiency of appliances, saying to cheers from the crowd: "I'm also approving new dishwashers that give you more water so you can actually wash and rinse your dishes without having to do it 10 times — four, five, six, seven, eight, nine, 10.
"Anybody have a new dishwasher? I'm sorry for that. I'm sorry for that. It's worthless. They give you so little water. You ever see it? Air comes out. So little water."
He claimed that people were forced to take plates out and wash them "the old-fashioned way."
Other water-using appliances were also on Trump's list of grievances. "Sinks, toilets, and showers — you don't get any water," he said.
"You go into a shower — and I have this beautiful head of hair. I need a lot of water," he said, to cheers from the crowd.
"And you go into the shower, right? You turn on the water. Drip. Drip. Drip. I call the guy: 'Is something wrong with this?' 'No, sir, it's just the restrictor.'"
He added: "We're getting rid of the restrictors. You're going to have full shower flow." https://www.businessinsider.com/trump-rants-about-dishwasher-lightbulbs-at-milwaukee-rally-2020-1
19. From the Late Shows
The Late Show with Stephen Colbert: Trump's Dishwasher Rant Is Highlight Of Rambling Pre-Debate Rally: https://youtu.be/P2MwQQdtYCA
The Late Show with Stephen Colbert: White House Officials "Shushed" Lawmakers Who Asked Questions During Iran Briefing: https://youtu.be/zKBgREfspKI
1. Neal Katyal: Lev Parnas and Rudy Giuliani have demolished Trump's claims of innocence
Americans who have been wondering why President Trump has taken the extraordinary step of trying to block every document from being released to Congress in his impeachment inquiry need wonder no longer. The new documents released Tuesday evening by the House Intelligence Committee were devastating to Trump's continuing — if shifting — defense of his Ukraine extortion scandal, just days before his impeachment trial is likely to begin in the Senate.
The new documents released Tuesday show what Trump has been so afraid of. For starters, they prove that his already-eyebrow-raising claim to have been fighting corruption in Ukraine was bogus. Notes taken by Lev Parnas — who is an associate of Trump's personal lawyer Rudolph W. Giuliani and is now facing federal criminal charges — show what his and Giuliani's mission was when they got in touch with Ukrainian President Volodymyr Zelensky: "get Zalensky to Announce that the Biden case will Be Investigated." Look hard at the real goal here: not to prompt an investigation of Hunter Biden, but to score an announcement of a Biden investigation. Pursuing an announcement, rather than an investigation, makes sense only if Trump's objective was to dirty the reputation of Joe Biden, a leading political rival. https://www.washingtonpost.com/outlook/2020/01/15/lev-parnas-rudy-giuliani-have-demolished-trumps-claims-innocence/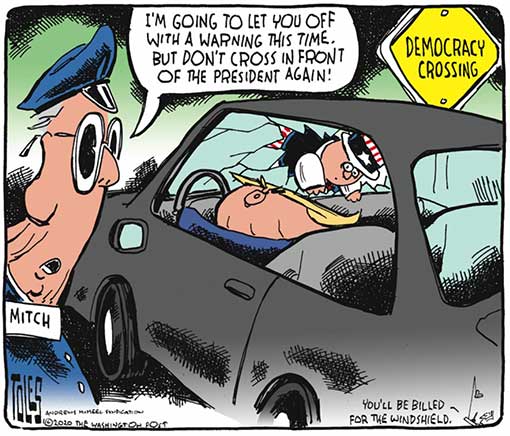 2. John Stoehr: The Wall Street Journal Accidentally Reports the Plain Truth about Soleimani's Assassination
Yup, it was because of Trump's impeachment.
The plain truth can often be so obvious as to be invisible. That's my more charitable interpretation of the press corps' coverage of Qassem Soleimani's assassination.
The press corps has been busy this week reporting in granular detail virtually every aspect of Donald Trump's decision last week to target and kill Iran's top general in Baghdad. Everything, that is, short of reporting the plain, obvious and unbearable truth: the president ordered a man's death because he was impeached.
That reporters and editors in Washington, D.C, find ways to avoid seeing the plain truth was brought to mind by this morning's Wall Street Journal. In a piece about the president's new national security team—how its "cohesion" resulted in Soleimani's assassination—seven esteemed reporters committed one of journalism's professional sins. They buried the lede. Nearly 30 paragraphs into a 2,200-word story, they said:
Mr. Trump, after the strike, told associates he was under pressure to deal with Gen. Soleimani from GOP senators he views as important supporters in his coming impeachment trial in the Senate, associates said (my italics).
Now, these are unnamed sources. They were speaking on background. In isolation, I wouldn't make much of this. But in context, it matters—so much so, it warrants its own reporting, which we have not yet seen. That context would be the absence of legitimate non-political reasons for ordering Soleimani's death. In all the reporting I've read, administration officials can't keep their stories straight. On the one hand, that suggests no good reason. On the other, that suggests the most obvious one. https://stoehr.substack.com/p/the-wall-street-journal-accidentally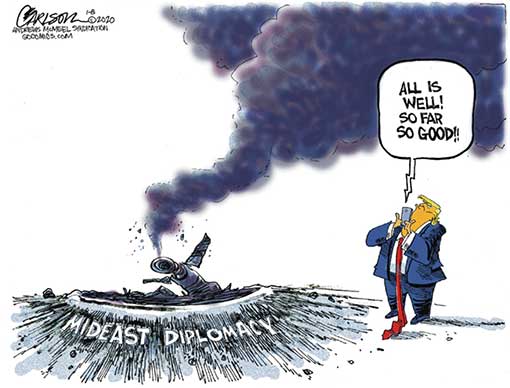 3. Jonathan B Jarvis and Destry Jarvis: The great dismantling of America's national parks is under way
Interior secretary, Ryan Zinke first attempted to double the entrance fees, rescinded climate policies and moved seasoned senior national park superintendents around to force their retirements. Then came the decisions to leave the parks open to impacts during the unfortunate government shutdown, illegally misuse entrance fees, open park trails to e-bikes, suppress climate science, kill wolf pups and bear cubs in their dens to enhance "sport hunting," privatize campgrounds, and issue muzzle memos to park managers. With a waiver of environmental laws, bulldozers are plowing ancient cacti in national parks along the southern border in order to build a wall. Senior career park managers are likely to be replaced with unqualified political hacks.
These are not random actions. This is a systematic dismantling of a beloved institution, like pulling blocks from a Jenga tower, until it collapses. You ask, why on earth would someone want to do that to the popular National Park Service, the subject of one of Ken Burns' acclaimed documentaries and often called "America's best idea"?
Because if you want to drill, mine and exploit the public estate for the benefit of the industry, the last thing you want is a popular and respected agency's voice raising alarms on behalf of conservation and historic preservation.
Because if you want the public to ignore the science of climate change, the last thing you want are trusted park rangers speaking the truth to park visitors.
Because if you want to get the federal government small enough (in the words of Grover Norquist) to "drown it in a bathtub", the last thing you want is a government agency with high popular appeal that needs to grow rather than shrink.
It is clear that this administration cannot be trusted with the keys to the vault of our most precious places that define us as a nation, such as Mount Rushmore or Yosemite national park. https://www.theguardian.com/environment/2020/jan/10/us-national-parks-dismantling-under-way
4. Martin Pengelly: How to dump Trump: Rick Wilson on Running Against the Devil
Rick Wilson's new book is a guide to how he thinks Trump can be beaten. The chief way to do it, he says, is to make the election a referendum on the president. He thinks impeachment and the Iran crisis, which happened after he went to press, only help prove Trump isn't fit for office.
He thinks Democrats are making a huge mistake in the campaign so far – by telling voters who they really are. The main candidates are veering too far left, he thinks, away from the disaffected Trump voters they will have to turn. Among progressives, the Massachusetts senator Elizabeth Warren is praised for her detailed policy plans. But to Wilson, Democratic "policy is the enemy", whether it concerns Medicare for All, gun control or women's right to choose.
"Guys like me who still work on the Trump side of the fence can always turn it into something that is a millstone around their neck. It's not even that hard. Elizabeth Warren produces a 600-page healthcare plan and my research geeks can't find, I don't know, 30 things in there that I can't demagogue the hell out of? Because I can. Or the guys that are me now can."
Away from the coasts and the college towns, Wilson contends, America is still a conservative place. Accordingly, Running Against the Devil contains a lot of what its author calls "tough love", telling harsh truths and demanding Democrats put party purity aside. After all, the general election against Trump is going to be dirty as hell.
"Democrats tend to believe the country is completely homogenous politically," Wilson says. "No matter how meritorious their position may be on gun control, for example, or not, it just kills them in rural areas. It just destroys them.
"No matter how much they want to talk about choice and reproductive rights, when you go into Catholic communities it is still a burden on them and they don't have this ability to say, 'Maybe rural Michigan isn't the same thing as San Jose, California.'"
Prodding a sore, Wilson insists Trump's defeat in the popular vote in 2016 – by nearly 3 million votes to Hillary Clinton – didn't matter. Nor will it matter if Trump wins in the electoral college again. Them's the rules, they ain't changing soon and if a state doesn't help paint the college blue, no Democrat should visit it for anything other than dollars. https://www.theguardian.com/us-news/2020/jan/11/donald-trump-rick-wilson-running-against-the-devil
5. David Frum: Americans Aren't Rallying to Trump
Trump supporters are trying to re-create the atmosphere of 2003, to claim the high ground of patriotism and defense of the nation. That can never work for them, because at every turn they and the country confront the weird hold Russia's Vladimir Putin seems to hold over the U.S. president. Trump defenders angrily denounce the facts of the Trump-Putin connection as a "hoax," but the country does not believe them. As of mid-summer 2019, only 35 percent of voters accepted the president's claims of "exoneration." A majority believe that Russia interfered in the 2016 election to help Trump; a plurality believe that Trump colluded with that effort.
Trump himself seems to intuit the danger—which is why he always flinches from foreign-policy confrontations at the last minute, first with North Korea and now with Iran. When you know you're driving a stolen car, you want to avoid collisions.
But Trump's supporters in Congress and on TV have not kept up with the times as well as their boss. They imagine it's still 2003—or maybe 1969. But that history has passed by. When Fox talkers call on all Americans to unite behind the president, they have to carve out mental exceptions for close to half the country. Not New York State or New York City: President Trump has said he hates them "even more than I should." Not the state of California, home to one out of every eight Americans: "a disgrace to our country." Not the city of Chicago: "embarrassing to us as a nation." Not the city of Baltimore: "a rat and rodent infested mess." Not the city of Atlanta: "in horrible shape and falling apart."
Trump has never aspired to the job of president of all the United States. He does not understand the job. He cannot do the job. And now the job needs to be done.
Earlier in the Trump administration, it was said that the president was fortunate to have never encountered a crisis not of his own making. Over three years, however, he has contrived to make a great many crises: a trade war with China, a betrayal in Kurdistan, a diplomatic debacle on the Korean peninsula, the ongoing thralldom of Trump to Putin, and now the approach to war with Iran. National crises become no less dangerous for being the fault of the U.S. president rather than some foreign aggressor. Happily, the Iran crisis is paused, at least for the moment. None of these national self-harms will be resolved, however, until this sham president leaves office. https://www.washingtonpost.com/politics/trump-uses-sanctions-as-a-favorite-form-of-retribution--against-friend-and-foe-alike/2020/01/08/0b9ad6ee-317c-11ea-a053-dc6d944ba776_story.html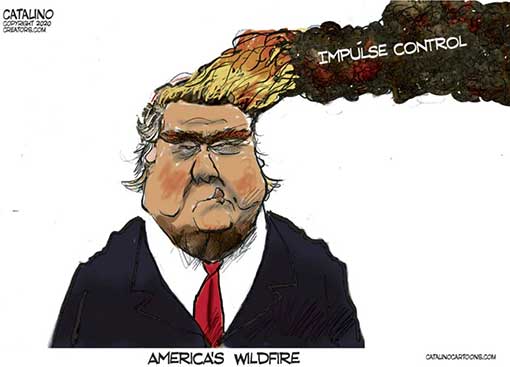 6. Jonathan Capehart: Trump loves to blame the black guy
Anyone else tired of perpetually petulant President Trump blaming former president Barack Obama for, well, everything?
Boo-hoo, the air conditioning makes the White House too cold. Waaa, it's unlawful for Turkey to buy U.S. fighter jets because it purchased missiles from Russia. Hmmph, Iran is restarting its nuclear program after I junked the international treaty Obama negotiated that put the whole thing on ice for at least 10 years.
On Wednesday, hours after some yapper on "Fox & Friends" said, "This moment right now is on Barack Obama, not Donald Trump," the 45th president of the United States blamed the 44th. "The missiles fired last night at us and our allies were paid for with the funds made available by the last administration," Trump mewled. "The very defective [Iran nuclear agreement] expires shortly anyway, and gives Iran a clear and quick path to nuclear breakout." As my Post colleague Paul Waldman noted, "None of those things is true." https://www.washingtonpost.com/opinions/2020/01/09/trump-loves-blame-black-guy/
7. E.J. Dionne Jr.: Hey Republicans, demagoguery won't hide Trump's incoherence
President Trump's incoherent recklessness is not the only problem for U.S. foreign policy dramatized this week. Also troubling is the eagerness of Republicans to fall in behind whatever he does and turn to demagoguery to paint his political opponents as traitors, a term Trump regularly deploys himself.
Republicans keep trying to pretend they believe that what Trump does is normal and that anyone who says otherwise is out of line. Their behavior in the impeachment controversy is of a piece with this. They act as if there is not overwhelming evidence that Trump pressured the Ukrainian government to dig up dirt on Biden. They criticize Democrats for not obtaining evidence that Trump kept from them — and then say no more evidence is needed to acquit him.
Both the Iranian and Ukrainian affairs reveal who Trump is and how he behaves. What's dangerous about him is not that he's a hawk — or a dove. He's not a foreign policy realist or a principled noninterventionist. He's not a Wilsonian or a Jacksonian. He has absolutely no sense of what he is trying to do in the world. He's just a jumble of bad and selfish instincts. https://www.washingtonpost.com/opinions/hey-republicans-demagoguery-wont-hide-trumps-incoherence/2020/01/08/6ce30a4a-325b-11ea-91fd-82d4e04a3fac_story.html
8. Matt Stieb: Trump Doesn't Want Voters to Know How Much His Family's Trips Cost Taxpayers
Though Trump promised during the campaign that he would "rarely leave the White House," he has spent 114 days at his home in Mar-a-Lago and 75 days at Trump National Golf Club Bedminster in New Jersey. Full records of Secret Service spending are unavailable, but individual costs detailed over the years offer a glimpse of how much the agency is spending to protect our leisurely president — and why the administration might not want the details publicized in an election year.
In his first four trips to Mar-a-Lago in 2017, the Secret Service alone spent about $1.3 million on each visit. Just renting enough golf carts to follow the president — without hampering his ability to cheat on the green — has cost $588,000 since 2017, according to federal spending data available online. The Secret Service has also had to put taxpayer money directly into Trump's pocket, spending at least $250,000 at Trump properties in the first five months of his term. For just one month in 2017, Trump's travel costs totaled $13.6 million, including expenditures by the Secret Service, the Department of Defense, and the cost of renting space and equipment. As the Post notes: "Trump has made 22 more trips to Mar-a-Lago since then … If the Secret Service's costs remained constant, that would mean more than $28 million in further spending by the Secret Service alone, and $75 million from the government in all — and just on a fraction of Trump's total travel." In contrast, and flouting Trump's impression of his predecessor, the government reportedly spent around $96 million on travel for Obama over eight years. Less than two months into Trump's term, the Secret Service asked Congress for a budget boost of $60 million to manage presidential travel.
Trump's family, too, has proven to be a serious expense for the agency. As the Post notes: "Since their father was elected, Trump's sons Eric and Donald Jr. have made business trips to overseas locales including Ireland, Scotland, Dubai, Uruguay, and India. In 2017, Eric Trump's visit to a Trump building under construction in Uruguay cost taxpayers $97,000." Last September, the Secret Service also put in a bid to buy Jet Skis, so that federal agents could protect the Trump family off the shore of Mar-a-Lago. http://nymag.com/intelligencer/2020/01/trump-wants-to-hide-secret-service-cost-of-family-trips.html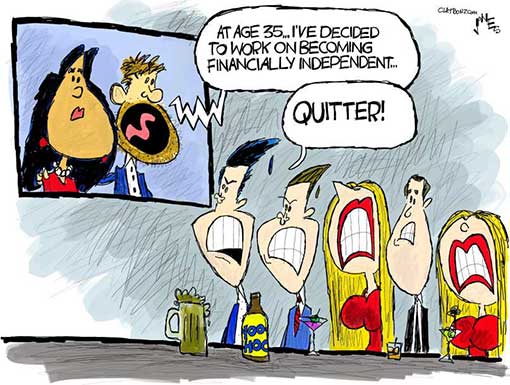 9. Jamelle Bouie: The Trump We Did Not Want to See
When are we going to stop trying to rationalize the irrational?
We've learned since that the strike on Suleimani was almost certainly another impulsive action from an impatient president. Pentagon officials have said they were stunned by the decision. According to reporting in The Times, they gave Trump the option of an attack with the expectation that he would reject it for being too extreme. Vice President Mike Pence and Secretary of State Mike Pompeo have been pushing for an attack on Iran for some time, but the past few days of confusion — of mixed-messages and shifting rationales — are evidence that this strike was made with little thought to the consequences, justified after the fact with claims of imminent danger.
This is reckless but it isn't shocking. Trump is not a steady hand. He's never been one. Three years in office have neither changed his character nor enhanced his capabilities. He is as ignorant and incurious as a president as he was as a candidate (and as a would-be mogul before that). His main goal is self-preservation, and he'll sacrifice anything to achieve it. His current assault on the authority of Congress — his refusal to have the White House or members of his administration release documents or obey subpoenas — is an attempt to escape responsibility for his own unethical (and potentially illegal) actions. He is self-involved, unethical and unstable — a dangerous combination to have for the commander-in-chief of the world's most powerful military forces, under pressure from impeachment and a re-election campaign.
The president may have started a war with no plan to end it and no regard for the lives that will be lost. The situation is precarious. It's scary to think about. But we cannot look away. https://www.nytimes.com/2020/01/08/opinion/trump-iran-soleimani.html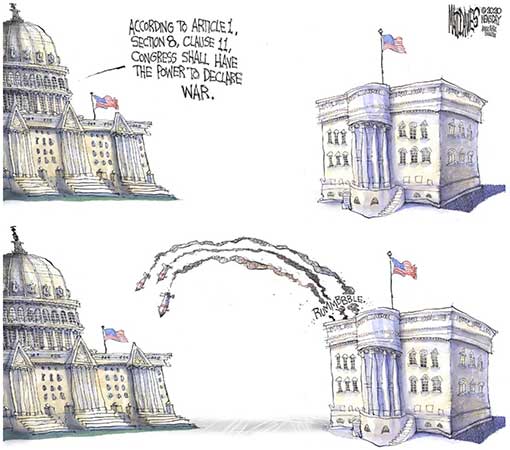 10. Jonathan Chait: Report: Trump Cited GOP Senate Impeachment Pressure As Reason to Kill Soleimani
Deep inside a long, detailed Wall Street Journal report about President Trump's foreign policy advisers is an explosive nugget: "Mr. Trump, after the strike, told associates he was under pressure to deal with Gen. Soleimani from GOP senators he views as important supporters in his coming impeachment trial in the Senate, associates said." This is a slightly stronger iteration of a fact the New York Times reported three days ago, to wit, "pointed out to one person who spoke to him on the phone last week that he had been pressured to take a harder line on Iran by some Republican senators whose support he needs now more than ever amid an impeachment battle."
This would not mean Trump ordered the strike entirely, or even primarily, in order to placate Senate Republicans. But it does constitute an admission that domestic political considerations influenced his decision. That would, of course, constitute a grave dereliction of duty. Trump is so cynical he wouldn't even recognize that making foreign policy decisions influenced by impeachment is the kind of thing he shouldn't say out loud. Of course, using his foreign policy authority for domestic political gain is the offense Trump is being impeached for. It would be characteristically Trumpian to compound the offense as part of his efforts to avoid accountability for it. http://nymag.com/intelligencer/2020/01/report-trump-cited-impeachment-pressure-to-kill-soleimani.html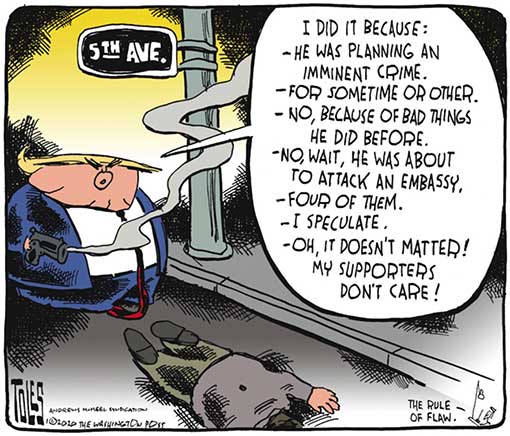 11. Preet Bharara: Georgia congressman, you've hit a shocking new low
Dear Representative Doug Collins,
You are not my congressman, and while I am ever thankful for that fact, after seeing your performance on Fox News on Wednesday night, I'm not sure you are fit to be anyone's congressman. Specifically, I saw you blithely assert on national television that Democrats "are in love with terrorists. We see that they mourn Soleimani more than they mourn our Gold Star families."
No American is "in love" with terrorists or "mourns" the death of that Iranian general on an airstrip in Baghdad. Many of us do, however, mourn the death of decency, honesty and reason here at home.
I realize that you are a politician and that hyperbolic, hyperpartisan claptrap is the unfortunate fashion of the day. But even allowing for the new normal of nastiness in political rhetoric, your casual slur of countless good Americans hits a new bottom. Americans can, in good faith, differ about the legality or efficacy of killing Soleimani. That doesn't make them unpatriotic or lovers of terrorists. It is hostility to differences of opinion that is un-American.
You are not a talk radio host or a carnival barker. You are a pastor, an attorney and a sitting member of Congress. Therefore, the evidence would suggest you should know better. To utter such garbage, which you know to be false and defamatory, goes against all the training and teaching you must have received. But you got your cheap shot across, and perhaps that's all that matters to you.
Learn that volume and wisdom are not the same thing.
You were elected to lead. Please give it a try.
Respectfully, Preet Bharara https://www.cnn.com/2020/01/09/opinions/doug-collins-remark-crosses-line-preet-bharara/index.html
12. Greg Sargent: Trump's unhinged rally rant underscores case for reining him in
At a rally in Ohio on Thursday night, President Trump drew deafening cheers by boasting about his order to assassinate Maj. Gen. Qasem Soleimani, deriding Democrats with petty schoolyard taunts and mocking the very idea that Congress should act to constrain his warmaking powers.
In so doing, Trump demonstrated powerfully why Congress absolutely must act to rein in Trump's unilateral authority to wage war. Not just in a superficial sense — as in, no one this unhinged should be declaring war unilaterally — but in a much deeper sense as well.
At his rally, Trump belittled House Speaker Nancy Pelosi as "not operating with a full deck." He derided House Intelligence Committee Chairman Adam Schiff as "you little pencil neck." The crowd roared, demonstrating how heavily Trump's petty abusiveness figures as a factor in his appeal.
But what Trump really displayed here is that his deranged attacks on the opposition aren't mere insults. Taken along with Trump's mockery of congressional demands for input into decisions of war, they demonstrate a profound contempt for the very notion that his most consequential decisions should be subject to oversight and accountability at all. https://www.washingtonpost.com/opinions/2020/01/10/trumps-deranged-rally-stunt-underscores-case-reining-him/
13. Virginia Heffernan: Call Trumpism what it is: a cult
Republican lawyer George Conway reportedly described his wife, Trump's presidential counselor Kellyanne Conway, as a member of a cult. Former GOP strategist John Weaver has used the term. Anthony Scaramucci, Trump's onetime communications director, concurs. Also news vet Dan Rather, conservative political scientist Norman Ornstein, science journalist Steve Silberman, pastor John Pavlovitz and academic and journalist Jared Yates Sexton.
What the cult diagnosis may lack in scholarly rigor, it makes up for in explanatory power. When polled, far too many Republicans come across as having abandoned their commitment to libertarianism, family values or simple logic in favor of Trump worship. They're lost to paranoia and factually unmoored talking points, just the way Hassan was lost to Sun Myung Moon.
It can be heartbreaking when loved ones succumb to Trumpism. (It's a double whammy when your grief is dismissed as liberal tears.) A true believer undergoes a "radical personal change," as Hassan puts it. The person you once knew seems somehow ... not there.
Journalists Luke O'Neil and Edwin Lyngar, as well as Jen Senko in "The Brainwashing of My Dad," have compiled stories of Americans who have gone over. O'Neil summarized the transformation this way: "A loved one … sat down in front of Fox News, found some kind of deep, addictive comfort in the anger and paranoia, and became a different person."
Sounds about right.
Hassan — who remembers, during his Moonie days, shouting, "I don't care if Moon is like Hitler. I've chosen to follow him, and I'll follow him to the end" — broke free, and became an expert on cults and how to leave them. He has spent his career proving it's possible.
To see Trumpism as a cult is not to refuse to engage with its effects, the crimes committed in its name or the way it has awakened and emboldened the cruelest and most destructive beliefs and practices in the American playbook. Instead, the cult framework should relieve the pressure many of us feel to call Trumpites back to themselves, to keep arguing with them. They are stuck in a bad relationship with a controlling figure.
Understanding Trump is a fool's errand. He's sui generis, and far too erratic and finally insubstantial to reward close attention. Trump zealots are another matter. They are part of the tradition of radical converts in American history who elected to forfeit their authentic personalities and principles rather than refine or strengthen them. We need to stay focused on how so many Americans came to this pass and took this destructive course. The Trump cult will define American politics for decades to come, even after its dear leader is gone. https://www.latimes.com/opinion/story/2020-01-10/donald-trump-cult-steven-hassan-moonie
14. Rick Wilson: If Trump Wins in 2020, Get Ready for President Don Jr.
Eight years of Trump sucks, right? It's terrible, isn't it? I mean, it can't get worse, right?
Right?
Oh, you cockeyed optimists.
As in all things Trump, it can get much, much worse. If he wins in 2020, we're never getting rid of these dolts. Even if shit goes really, really off the rails, Immortan Don and the rest of his Mad Max crew will still be racing around the desert far into the future.
A second term guarantees the rise of the Imperial Trumps, a family cult built on the remains of the moldering corpse of the GOP, featuring all the warmth of North Korea's Kim dynasty and a kind of Hapsburg-jawed je ne sais dumbfuck rien.
Get ready for Donald Trump Jr., a man who speaks the fluent asshole dialogue of the own-the-libs Trump Party, to rise to the top of the 2024 GOP primary ranks. The dynastic talk that was once treated as a joke (even by me) is already growing around both Don Jr. and Ivanka. Poor Eric is left out, but then again, he always has been.
The Trump family—including the creepy automaton Jared Kushner—will continue to view the American government not as a sacred trust but as an ATM for their crapulous enterprises and nation-state-level grifting. While Kushner's ambitions don't appear to be especially political, his exploitation of his high office as Grand Vizier to Emir Donald has been spectacularly profitable for his companies. As for Trump personally, his hotels, golf courses, and clubs were miraculously both popular and profitable for unknown reasons. (Pardon me while I recover from that epic eye-roll.)
One other factor about the soon-to-be endless presence of Trumps in our lives: They're breeding like rabbits, so if we don't play our cards right now, they'll have enough offspring to get a majority in the U.S. Senate before long. https://www.thedailybeast.com/if-trump-wins-in-2020-get-ready-for-president-don-jr?ref=home
15.  Tom Boggioni: Impeachment should be the least of Trump worries as he faces a flood of lawsuits and federal investigations: report
According to a report at Bloomberg, the possibility that Donald Trump will be ousted from office after the House impeached him should concern him less than the multiple federal investigations and lawsuits awaiting him in 2020.
"The impeachment trial starts as soon as next week, while the court cases are running on separate tracks. House committees are seeking his financial records, a New York prosecutor wants his income tax returns, and public officials and private watchdogs say he's unlawfully profiting from foreign government business," the report states. "The House Judiciary Committee is suing to get the records of former Special Counsel Robert Mueller's Russia investigation, and a court is being asked if former White House Counsel Don McGahn must testify." https://www.rawstory.com/2020/01/impeachment-should-be-the-least-of-trump-worries-as-he-faces-a-flood-of-lawsuits-and-federal-investigations-report/
16. John Stoehr: Trump timed Suleimani's death to have maximum impact before his Senate impeachment trial
The conventional wisdom is Nancy Pelosi has no leverage in her bid to force Mitch McConnell to hold a fair impeachment trial in the Senate. The thinking is the House speaker can delay sending articles of impeachment, but the Republicans there aren't in any hurry. She can waste more time. The Senate majority leader is still going to "win."
I've always thought the conventional wisdom is myopic. Pelosi does not have the bear the weight of a lying, thieving, philandering sadist making of fetish of exoneration. McConnell, however, does. When they impeached him, the Democrats cut Trump in ways he's never been cut. He's bleeding. The only way to stop it, from Trump's point of view, is for the Senate to clear him, and maybe not even then. Trump is, has been and always will be weak. Impeachment made it apparent to all. His ego won't let it go. The only thing he wants to know from McConnell is when they're going to acquit him.
Moreover, the conventional wisdom does not account for ongoing reporting about the president's extortion of Ukraine's Volodymyr Zelensky. The Center for Public Integrity and Just Security sued for access to administration emails showing the Pentagon was fully aware blocking millions in aid money was illegal. The US Constitution and federal statutes gives the Congress, and only the Congress, authority over how money is spent and why. Trump can't legally withhold money allocated by the Congress for Ukraine even if he does so to encourage anti-corruption efforts. It's not his call. The Pentagon made its objections clear, but Trump ordered the money withheld anyway. In other words, the president knew he was breaking the law even as he was breaking it.
Though the articles of impeachment are about abuse of power and obstruction of the Congress, not about this particular crime, news of Trump's lawbreaking affirms them in effect. It may also bring more pressure to Republican senators facing reelection this year. Protecting his majority is the only political factor McConnell truly cares about. https://www.rawstory.com/2020/01/trump-timed-suleimanis-death-to-have-maximum-impact-before-his-senate-impeachment-trial/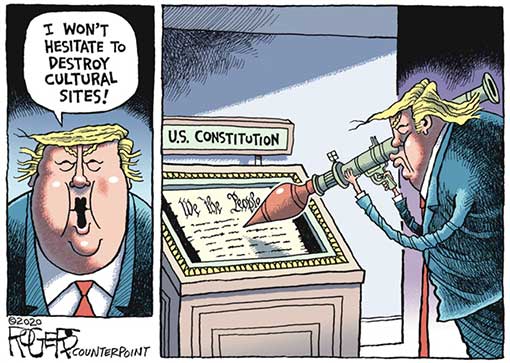 17. David Rohde: William Barr, Trump's Sword and Shield
As Barr insists on expanded Presidential power, Republican voters are starting to agree. According to the Pew Center, forty-three per cent of Republicans believe that "presidents could operate more effectively if they did not have to worry so much about Congress and the courts." That number has increased from fourteen per cent when Trump took office. A House G.O.P. report about Ukraine endorsed his singular authority; slightly misquoting John Marshall, it argued that Trump was, "constitutionally, the 'nation's sole organ of foreign affairs,' " and thus had unlimited latitude in his dealings with Ukraine.
Donald Ayer, who served as Deputy Attorney General under George H. W. Bush,  fears that Barr has combined a Reagan-era drive to dismantle government with a Trump-era drive to politicize it. As the White House succeeds in holding off congressional attempts at removing Trump from office, Barr is winning his long war on the power of the legislative branch. In the 2020 campaign, Trump will argue that he alone can protect the country from the dangers posed by the left, immigrants, and other enemies. And Barr's vision of Presidential power will be the Party's mainstream position. "Barr sought out the opportunity to be Donald Trump's Attorney General," Ayer said. "This, I believe, was his opportunity—the opportunity of a lifetime—to make major progress on advancing his vision of an all-powerful Chief Executive." https://www.newyorker.com/magazine/2020/01/20/william-barr-trumps-sword-and-shield
18. Michael Scherer: Mike Bloomberg wants to be president, but he also has a fallback plan: Defeat Donald Trump and remake the Democratic Party
The thing that makes Bloomberg different is he can knock on all doors at once. Bloomberg is running aggressively to win the Democratic nomination but he is simultaneously building out a general election machine to defeat President Trump, with a new structure — data, field organizing, advertising and policy — that aims to elect Democrats up and down the ballot even if the party's voters reject the former New York mayor this spring.
While most presidential efforts start early and poor, the Bloomberg project exists in an inverted dimension, a fact that has caught the attention of Trump, who spent years tracking Bloomberg's political career closely in New York. The president has been closely monitoring Bloomberg's campaign, impressed by his extraordinary spending and fearful of his potential rise, according to Trump confidants with whom the president has discussed Bloomberg.
The extravagance is part of the message, an attempt to demonstrate his competence and show that he can manage something big with good intentions.
"We also want people to know that we are building a juggernaut pointed at Donald Trump and the Republican Party," said Tim O'Brien, a senior adviser to the campaign who has been taking the message to state parties around the country. "One of Mike's goals is to make a machine that lasts. This idea that he wants to do a vanity run or is just buying exposure is belied by that." https://www.washingtonpost.com/politics/mike-bloomberg-wants-to-be-president-but-he-also-has-a-fallback-plan-defeat-donald-trump-and-remake-the-democratic-party/2020/01/12/8ebe580e-3346-11ea-9313-6cba89b1b9fb_story.html
19. Jonathan Chait: Trump Takes Credit For Obamacare, Says Democrats Want to Repeal It
Democrats created protections for people with preexisting conditions, and Trump's ongoing legislative and legal strategy is to eliminate those protections. Yet he claims just the opposite — that he created the protections, and Democrats are trying to undo them.
The question of why Trump would be willing to lie about this is obviously uninteresting. (He is a gigantic liar.) The more interesting question is why he has to lie about this. Trump obviously recognizes that protections for preexisting conditions are popular, and the attacks on his position are potent. So why is he forced to lie so blatantly, instead of simply abandoning his highly unpopular stance?
The answer is that the logic of Republican health-care policy demands it. The party declared Obamacare to be a socialist monstrosity bound to collapse. The once-fanatical passion Republicans attached to their hatred for Obamacare has subsided, but the party has never revisited its eliminationist dogma. The party's formal legislative and legal stance remains wedded to overturning protections for people with preexisting conditions. Republicans still want to let insurers charge astronomical rates to people with preexisting conditions, however unpopular that stance would be, because to them anything is better than admitting Obama was right. http://nymag.com/intelligencer/2020/01/trump-preexisting-conditions-lie-health-care-obamacare.html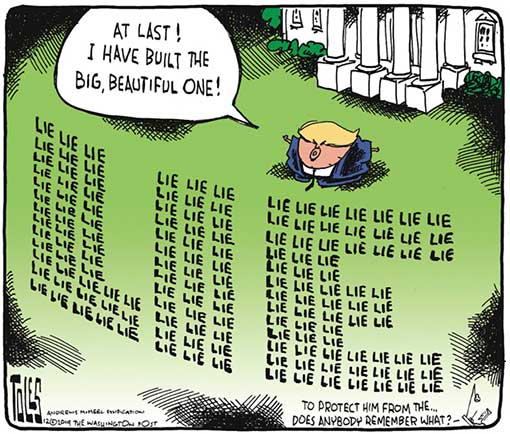 20. Zak Cheney-Rice: Trump Is Rushing to Make His Border Wall Look Like a Success Before November
There's plenty to ridicule about the president's mad dash to produce results on a project that exists largely because he couldn't remember what to say on the stump. He's already had to downgrade his supporters' expectations several times. What he framed initially as a concrete barrier spanning the entire border has materialized as a roughly 100-mile network of steel slats, fencing, and privately owned brush country and desert that many of its owners don't wish to cede to the federal government, let alone the president's racist vanity project. People smuggling drugs into the U.S. have been using commercially available power saws to cut holes in the newly constructed steel wall, passing contraband through largely unencumbered. And Trump has taken his reality-TV instincts to new extremes, unrolling a plan to use webcams to video record live feeds of the construction process so that everyday viewers can have visual evidence that something is, indeed, happening at the border. (This development has also rankled contractors who don't want their proprietary techniques available for competitors to see, according to the Post.) But ultimately, any progress made on the wall — in whatever modified form it ends up taking — testifies to how seamlessly racist rhetoric can facilitate racist policy. The dilemma facing a president who promised to keep Mexicans out of America is that he must appear to be keeping Mexicans out of America. We now have a $18 billion bill and miles of flimsy and grotesque architecture to show for it. http://nymag.com/intelligencer/2020/01/trump-takes-usd7-2-billion-more-from-pentagon-for-border-wall.html
21. Eugene Robinson: To lie or not to lie? The answer is easy for the GOP.
To lie, or not to lie? That's a no-brainer for President Trump and his Republican enablers. They just go for it, making stuff up whenever they think it gives them an advantage. This utter shamelessness defines the political moment and will shape, or warp, the coming election.
It is an uncomfortable truth that one of our two major political parties, the GOP, lies boldly and constantly, while the other, the Democratic Party, does not. We in the media are still struggling to deal with this asymmetry. We urgently need to banish the "both sides" template from our coverage and give primacy to the facts, not to some Platonic ideal of fairness as always involving "on the one hand" and "on the other hand." That works only if there are, indeed, two legitimate sides.
The reason seemed to be that "false news," which really shouldn't be called news at all, is "more novel" and provokes a more intense emotional response. That makes sense if you think about it. Outrageous and improbable claims are memorable, and fantasy is more vivid than pedestrian reality. If I'm the first to "know" that water may actually be dry, I want to tell all my friends. And as soon as they hear it from me, they want to tell all their friends.
The Republican Party figured this out long before the scholars at MIT did, and the Democratic Party still doesn't have a clue. The technology of lying and obfuscation has leaped far ahead of the technology of truth telling and accountability. Thanks to Facebook, Twitter, Instagram and other conduits, we in the media are no longer the primary arbiters of what's true and what's false. It's a jungle out there.
In the Darwinian world of social media, will "survival of the fakest" be the rule? It cannot be. Democracy requires truth, and we had better take to the barricades to defend it. https://www.washingtonpost.com/opinions/trump-and-the-gop-are-harnessing-the-power-of-lies/2020/01/13/5fdb9bd8-3642-11ea-9541-9107303481a4_story.html