November 9, 2023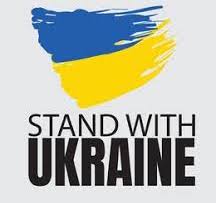 To subscribe to this FREE weekly newsletter simply email jellison@san.rr.com with "subscribe" as the subject.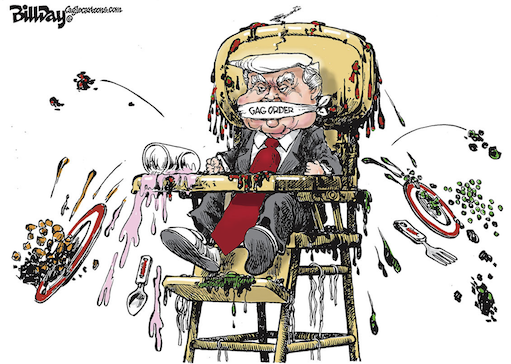 THE WEEK'S BEST QUOTES. . .
"What the mainstream media is saying about the indiscriminate fire and the actors—I mean you literally have paid actors who are pretending to be killed, pretending to be treated." — Rep. Cory Mills (R-FL) claiming that "paid actors" are pretending to be killed in the Israel-Hamas war.
https://twitter.com/Acyn/status/1720876954466054432
"I'm gonna say to NIH scientists, God bless you all. Thank you for public service. We're going to give infectious disease a break for about eight years." — Robert F. Kennedy Jr. told a conference that if he is elected president, he would have the National Institutes of Health move away from covering infectious disease outbreaks like Covid and measles.
https://www.nbcnews.com/politics/politics-news/rfk-jr-comes-home-anti-vaccine-group-commits-break-us-infectious-disea-rcna123551
"That's something I'm going to prove before I die." —Rep. George Santos addresses the claims he's made about his Jewish heritage in this one-on-one with CNN's Manu Raju.
https://twitter.com/InsidePolitics/status/1721278717614592140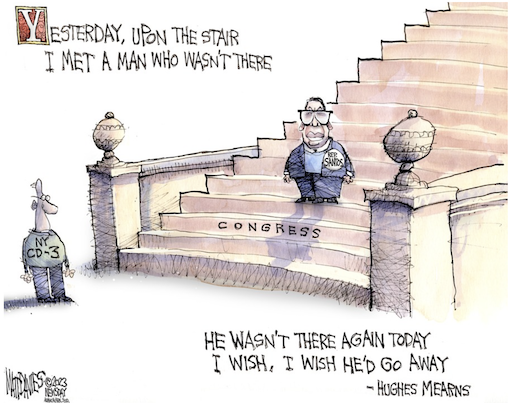 Former Housing Secretary Ben Carson was interviewed on CNN by Abby Phillip:
Phillip : What evidence do you have that the DOJ has been weaponized against Trump?
Carson: Al Capone had one indictment. Trump has four.
Phillip: I don't think that's evidence of anything except that Trump allegedly has committed conduct that has resulted in indictments. https://twitter.com/Acyn/status/1719912252818546908
" I think when we look at this, as a whole, I would encourage the other side to not so lightly throw around the idea of innocent Palestinian civilians. I don't think we would so lightly throw around the term innocent Nazi civilians" — Rep. Brian Mast (R-FL) compared Palestinians facing a humanitarian crisis in Gaza to Nazis during World War II.
https://twitter.com/Acyn/status/1719788747292623010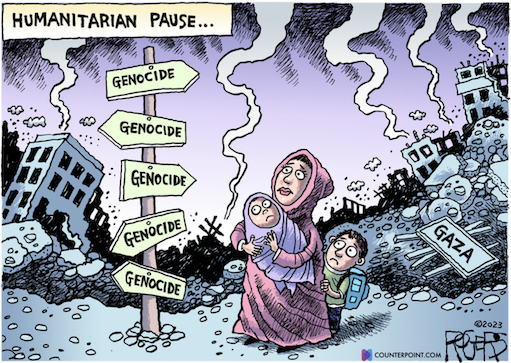 "No Labels is perilous to our democracy. I hesitate to say No Labels because they do have labels. They're called no taxes for the rich. No child tax credit for children. They're called let's undo the Affordable Care Act. When they jeopardize the reelection of Joe Biden as president of the United States, I can no longer remain silent on that." —  Speaker Emerita Nancy Pelosi on Thursday became one of the highest-profile elected Democrats to go public with her concerns about the centrist group No Labels' third-party presidential bid.
https://www.politico.com/news/2023/11/02/pelsoi-launches-attack-against-no-labels-00125043
"That's in the middle of the primaries! If I lose the presidency, you are going to be the reason!" — Donald Trump threw a tantrum at one of his lawyers — calling him a "little fucker" — upon learning of the March 2024 start date for his New York hush-money trial.
https://www.theatlantic.com/ideas/archive/2023/11/what-2024-election-really-about-trump-supporters/675869/
"Including such topics as  legalizing recreational marijuana and a separate measure to uphold the right to abortion in the state's constitution on the ballot means a lot of young people come out and vote. It was a secret sauce for disaster in Ohio. I don't know what they were thinking. That's why, thank goodness that most of the states in this country don't allow you to put everything on the ballot. Because pure democracies are not the way to run a country." — Former GOP Sen. Rick Santorum.
https://www.thedailybeast.com/rick-santorum-blames-very-sexy-issue-of-abortion-for-disaster-in-ohio
Speaker of the House Mike Johnson admitted that he and his son monitored each other's porn intake in a resurfaced clip from 2022.
https://twitter.com/RollingStone/status/1721274337188040981
VIDEOS ...
"What the mainstream media is saying about the indiscriminate fire and the actors—I mean you literally have paid actors who are pretending to be killed, pretending to be treated." — Rep. Cory Mills (R-FL) claimed that "paid actors" are pretending to be killed in the Israel-Hamas war.
https://twitter.com/Acyn/status/1720876954466054432
"The time for gamesmanship is over. What do my Republican colleagues not get about that? The world is on fire." — House Minority Leader Hakeem Jeffries (D-NY).
https://twitter.com/atrupar/status/1720466841821224976?s=20
Unbelievable. Eric testified today and basically just lost the entire case.
1) After testifying he "never heard" about the Trump org statement of financial condition until recently, he later admitted that he knew about it in 2013.
2) After saying he never worked on it, he was showed an email where employees were told he was working on it.
They lie so much, they can't even keep track of their own bullshit. Sounds like perjury is on today's menu. — Mary L. Trump
https://twitter.com/MaryLTrump/status/1720175954411016480
Nearly every House Republican who appeared on Hannity on Wednesday night raised their hands when asked if they were headed toward impeaching President Biden.
https://twitter.com/Acyn/status/1719892227256689051
Gov. Ron Desantis released a string of 21 video clips showing that Donald Trump is cognitively impaired and unfit to be president.
https://twitter.com/DeSantisWarRoom/status/1721591385025892446
---
IN THIS ISSUE
IN THE NEWS
OPINION
Andy Borowitz: Furious Ohio Republicans Report Widespread Incidents of Women Voting
Irate Republican officials in Ohio have been crying foul over Tuesday night's election results, claiming that there were "widespread cases" of women voting across the state.
Harland Dorrinson, a G.O.P. operative in Lake County, said that he had "eyewitness accounts" of "swarms of women" standing in long lines outside of polling places.
"Many of our poll workers spotted women going into voting booths and literally casting votes," he said. "These were not isolated incidents."
Dorrinson said the "nightmare scenario" that unfolded on Tuesday has dire implications for both Ohio and the nation.
"There is every indication that women meddled in this election," he said. "What's to stop them from doing it again in 2024?" 
https://www.newyorker.com/humor/borowitz-report/
Republicans Haven't Cracked the Abortion Code
Last's night's votes followed a consistent pattern since the Supreme Court handed down the Dobbs decision. Last year, abortion rights won all six state ballot measures — in blue states like California and Vermont, in swing states like Michigan, and in deep red states like Kansas, Kentucky, and Montana.
Add Ohio to the list. And, like the others, the vote was not even close.
In Virginia, Governor Glenn Youngkin hoped that a fifteen-week abortion ban compromise might defang the issue. It didn't.
In Kentucky, abortion played a central role in the GOP's failure to unseat Democrat Andy Beshear. And in Pennsylvania, a liberal state supreme court candidate cruised to an easy victory.
https://plus.thebulwark.com/p/cassidy-hutchinson-why-i-testified-b25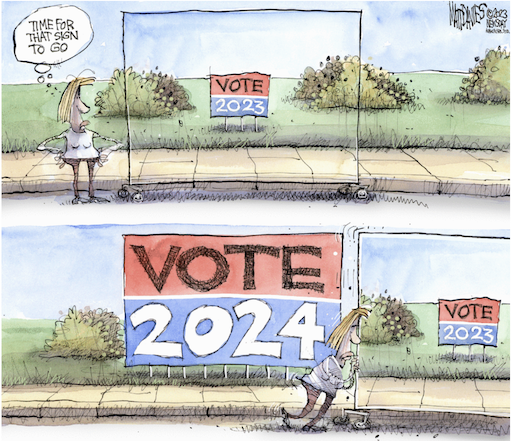 Trump belief that 2020 election was stolen is not a defense, DOJ says
Special counsel prosecutors said Monday they plan to show at trial that Donald Trump lied repeatedly about the results of the 2020 election as part of a conspiracy to subvert the legitimate results. But they also said they don't need to prove whether Trump believed he lost the race.
Legal experts have debated the importance of Trump's state of mind in his federal election subversion case in D.C., with some arguing that to win a conviction the government must pin down the true beliefs of a politician who amassed a long record of making false or misleading claims while president. The Justice Department weighed in on the debate for the first time, saying that what they need to prove is not that Trump believed the 'Big Lie' of the election being stolen but that he knowingly spread associated lies in a criminal scheme to stay in power. 
https://www.washingtonpost.com/dc-md-va/2023/11/06/trump-defense-big-lie-jan-6/
Trump and allies plot revenge, Justice Department control in a second term
Donald Trump and his allies have begun mapping out specific plans for using the federal government to punish critics and opponents should he win a second term, with the former president naming individuals he wants to investigate or prosecute and his associates drafting plans to potentially invoke the Insurrection Act on his first day in office to allow him to deploy the military against civil demonstrations.
In private, Trump has told advisers and friends in recent months that he wants the Justice Department to investigate onetime officials and allies who have become critical of his time in office, including his former chief of staff, John Kelly, and former attorney general William Barr, as well as his ex-attorney Ty Cobb and former Joint Chiefs of Staff chairman Gen. Mark Milley. Trump has also talked of prosecuting officials at the FBI and Justice Department.
In public, Trump has vowed to appoint a special prosecutor to 'go after' President Biden and his family.
https://www.washingtonpost.com/politics/2023/11/05/trump-revenge-second-term/
Obama calls conflict in Middle East a 'moral reckoning for all of us'
"[A]ll of this is taking place against the backdrop of decades of failure to achieve a durable peace for both Israelis and Palestinians," the former president said at the Obama Foundation's "Democracy Forum" Friday. "One that is based on genuine security for Israel, a recognition of its right to exist, and a peace that is based on an end of the occupation and the creation of a viable state and self-determination for the Palestinian people."
"Now, I will admit, it is impossible to be dispassionate in the face of this carnage," Obama continued. "It is hard to feel hopeful. The images of families mourning, of bodies being pulled from rubble, force a moral reckoning on all of us." https://thehill.com/homenews/media/4293362-obama-conflict-middle-east-moral-reckoning/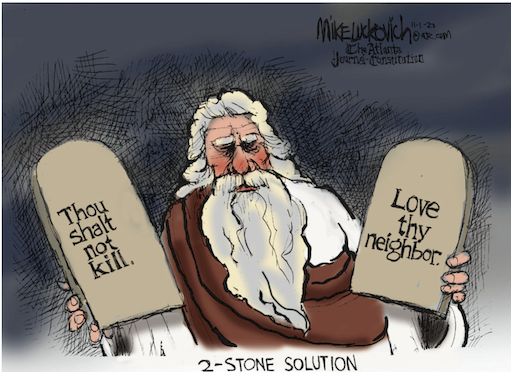 U.S., European officials broach topic of peace negotiations with Ukraine, sources say
U.S. and European officials have begun quietly talking to the Ukrainian government about what possible peace negotiations with Russia might entail to end the war, according to one current senior U.S. official and one former senior U.S. official familiar with the discussions.
The conversations have included very broad outlines of what Ukraine might need to give up to reach a deal, the officials said. Some of the talks, which officials described as delicate, took place last month during a meeting of representatives from more than 50 nations supporting Ukraine, including NATO members, known as the Ukraine Defense Contact Group, the officials said.
The discussions are an acknowledgment of the dynamics militarily on the ground in Ukraine and politically in the U.S. and Europe, officials said.
https://www.nbcnews.com/news/world/us-european-officials-broach-topic-peace-negotiations-ukraine-sources-rcna123628
An Ohio amendment serves as a testing ground for statewide abortion fights expected in 2024      
Abortion access is expected to play a central role in the 2024 elections. The preview comes next week, when Ohio voters decide whether to enshrine reproductive rights in their state Constitution.
The amendment is the only abortion question on any state's ballot this year, a spotlight that has generated intense attention from national groups and made Ohio a testing ground for fresh campaign messaging — some of it misleading. The amendment has drawn more than $60 million in combined spending so far. 
https://apnews.com/article/election-2023-abortion-rights-ohio-e3edc16a1bfaa22b9e72bc1d6fb76dd0
Porter and Schiff polling neck and neck in California Senate race, in lead for a runoff
A new UC Berkeley Institute poll in California finds Katie Porter (D) leading the Senate field with 17%, followed by Adam Schiff (D) at 16%, Steve Garvey (R) at 10% and Barbara Lee (D) at 9%.
https://www.latimes.com/politics/story/2023-11-03/porter-schiff-runoff-california-senate-election-poll
Trump Trial Document May Prove He Knew He Lost Election
During Trump Jr.'s cross-examination, prosecutors presented a document dated January 15, 2021, that showed the former president reinstating himself as trustee of the Donald J. Trump Revocable Trust.
Alex Woodward, senior reporter for the Independent, said the document in question stated that full control of Trump's trust would be returned to the former president on January 20, 2021, the day that he left the White House. Trump had forgone his trustee position to Trump Jr. and Allen Weisselberg, former chief financial officer of The Trump Organization, prior to taking office in January 2017.
https://www.newsweek.com/trump-trial-document-may-prove-he-knew-he-lost-election-legal-analyst-1840116
Huge Majority Worry U.S. Will Be Drawn Into War
An overwhelming majority of voters (84 percent) are either very concerned (43 percent) or somewhat concerned (41 percent) that the United States will be drawn into a military conflict in the Middle East, according to a Quinnipiac (KWIN-uh-pea-ack) University national poll of registered voters released today. Sixteen percent are either not so concerned (10 percent) or not concerned at all (6 percent). https://poll.qu.edu/poll-release?releaseid=3882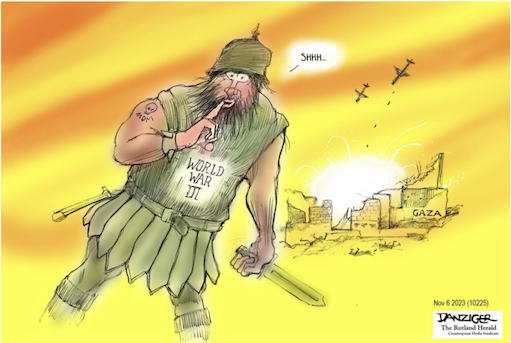 The Storm of Dissent Brewing in the State Department
As Blinken shuttled between Middle Eastern capitals, a growing storm of dissent was brewing in the diplomatic corps back home, where many U.S. diplomats were privately angered, shocked, and despondent by what they perceived as a de facto blank check from Washington for Israel to launch a massive military operation in Gaza at an immense humanitarian cost for the besieged Palestinian civilians in Gaza.
That anger became a groundswell of opposition to Biden's initial approach to the war among the ranks of U.S. national security officials, putting top Biden administration officials on the defensive both abroad and at home. https://foreignpolicy.com/2023/11/01/israel-hamas-war-state-department-internal-dissent-biden-policy/#cookie_message_anchor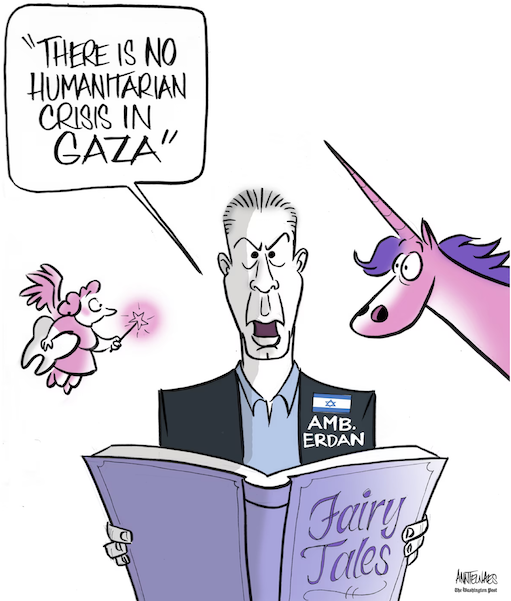 As he visits Minnesota, local Muslim leaders say they will 'abandon Biden'
President Joe Biden was met with protests organized by local Muslim leaders when he arrived in Minneapolis on Wednesday for a series of events, the latest sign that Muslim American voters may turn against the president after having supported him in 2020.
The Minnesota chapter of the Council on American-Islamic Relations, the country's largest Muslim advocacy group, organized three separate protests at various locations Biden visited Wednesday, including the airport, a farm in rural Northfield and downtown Minneapolis. https://www.nbcnews.com/politics/white-house/muslim-leaders-minnesota-say-will-abandon-biden-rcna123263
Famed climate scientist has a new, dire prediction
Thirty-five years ago, NASA climate scientist James Hansen stood in front of Congress with a bold declaration: Humans are causing an increase in greenhouse gas emissions, and it's changing our climate. Some scoffed, but, in the decades that followed, people saw how prescient this warning was.
On Thursday, Hansen and colleagues across the world released a study with another serious, though controversial, finding. Climate change will catapult global temperatures into crisis territory earlier than previously thought, the scientists said, warning that Earth is already nearing average temperatures more than 1.5 degrees Celsius above preindustrial norms. Their alarming prediction — that the pace of Earth's warming is accelerating — stirred some disagreement within the climate community.
The 1.5-degree limit is deader than a doornail, Hansen, now a director at the Earth Institute at Columbia University, said in a call with reporters Thursday. In the next several months, we're going to go well above 1.5C [Celsius] on a 12-month average. ... For the rest of this decade, the average is going to be at least 1.5.

Since the preindustrial era, Earth has warmed around 1.2 degrees Celsius. But recently, temperatures have spiked beyond that. Some summer months in 2023 have registered global average temperatures 1.5 to 1.6 degrees hotter than the average before the widespread use of fossil fuels.

While 1.5 degrees isn't a magical tipping point for Earth's demise, the United Nations has warned of severe and potentially irreversible consequences above that level. Many staple crops wouldn't be able to grow in such warmth. Even the best water conservation practices wouldn't combat the projected droughts.

Scientists have long disagreed on exactly how much global temperatures will rise with additional atmospheric carbon dioxide. An early study in 1979 estimated that doubling carbon dioxide in the air would cause global increases of 1.5 to 4.5 degrees Celsius. More recently, the U.N. Intergovernmental Panel on Climate Change calculated that the Earth could warm by 3 degrees with a doubling of CO2.

But those may be underestimations, the new study found. Hansen and his colleagues analyzed paleoclimate data and the Earth's energy imbalance to estimate that doubling carbon dioxide could lead to a whopping 4.8 degrees of warming compared with the preindustrial era.
Under the current trajectory of greenhouse gas emissions, they predicted that the 1.5-degree benchmark will be passed in the 2020s, and 2 degrees of warming will be passed before 2050 — a markedly faster rate than the prognosis from other scientists. In its most recent landmark climate report, the United Nations stated global temperatures would reach the 1.5-degree mark in the early 2030s. https://www.washingtonpost.com/climate-environment/2023/11/02/james-hansen-climate-change-warning/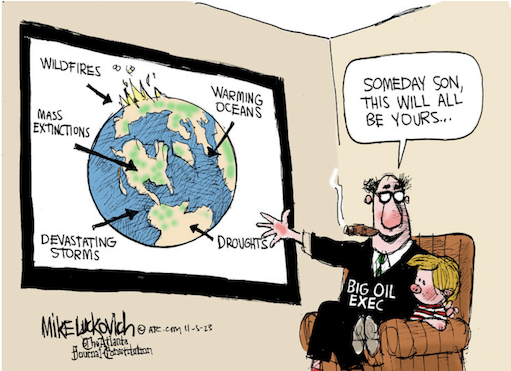 Trump wants to build a free online university — and make Harvard pay for it
Trump's latest policy proposal proposes taxing large private university endowments to pay for a new institution called 'American Academy.' … Using the federal government to create an entirely new educational institution aimed at competing with the thousands of existing schools would drastically reshape American higher education. https://www.politico.com/news/2023/11/01/trump-free-online-university-00124905
Tuberville Staffer Threatens Primaries of GOP Critics
Sen. Tommy Tuberville's (R-AL) spokesperson asked anti-abortion groups to make clear GOP senators risk primary challenges if they support an effort to overcome his military holds over a Pentagon abortion policy,.
https://www.politico.com/live-updates/2023/11/02/congress/tuberville-staffers-anti-abortion-group-ask-00124994
Rudy Tells Trump He'll Go Down With the Ship
Rudy Giuliani is bleeding cash, losing attorneys, racking up lawsuits against him, facing criminal charges, and alienating longtime friends and Republican Party stalwarts. And yet, as his life comes apart around him, Giuliani is still promising to go down with the Donald Trump-sized ship, Rolling Stone reports.
The former top Trump lawyer bragged to associates in recent months that he'd never 'break' or betray Trump, even as his own legal problem exploded and indictments were handed down.

The pledge highlights both Giuliani's declared loyalty in the face of extreme legal jeopardy and the former president's growing isolation among the circle of advisers who helped him try to overturn the 2020 election. As the Trump legal team games out which of his co-defendants are most likely to cooperate with prosecutors, Giuliani appears to be one of the few alleged co-conspirators whose loyalty is viewed as uniquely reliable. https://www.rollingstone.com/politics/politics-features/rudy-giuliani-trump-criminal-1234870163/
Zinke Introduces Bill to Expel Palestinians from the United States
Today, Western Montana Congressman Ryan Zinke introduced the Safeguarding Americans from Extremism (SAFE) Act to prevent Palestinian terrorists from abusing the United States' legal immigration system by requiring the Department of Homeland Security to implement a pause on all visas, refugee status and granting of asylum for individuals holding a passport issued by the Palestinian Authority (PA). It also revokes any entrance of covered aliens who were granted visas or entered the United States on or after October 1, 2023.
This legislation keeps America safe. I don't trust the Biden Administration any more than I do the Palestinian Authority to screen who is allowed to come into the United States, Zinke said. This is the most anti-Hamas immigration legislation I have seen and it's well deserved. Given the circumstances, the threats to our immigration system and the history of terrorists abusing refugee, asylum and visa processes all over the world, the requirements in this bill are necessary to keep Americans safe. This bill does exactly that. https://zinke.house.gov/media/press-releases/zinke-introduces-bill-expel-palestinians-united-states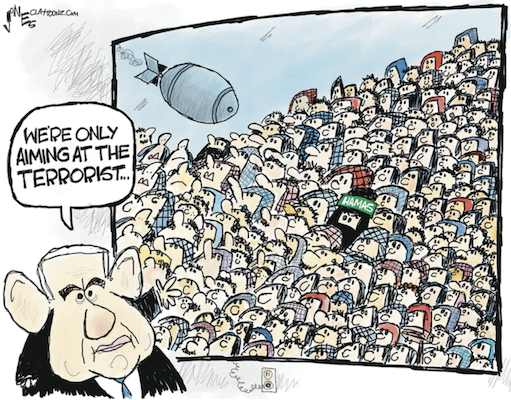 Court to decide if 14th Amendment case over Trump's Minnesota ballot eligibility proceeds
Donald Trump's legal battles continue to mount as oral arguments begin on Thursday in Minnesota, where the state's Supreme Court will decide whether or not the case to prevent him from appearing on the state's ballot under Section 3 of the 14th Amendment should proceed because of his actions around the Jan. 6 attack on the U.S. Capitol, ABC News reports.
This will be the second time this week that a case challenging Trump's eligibility for office will be heard in a courtroom. https://abcnews.go.com/Politics/oral-arguments-begin-trumps-eligibility-minnesota-ballot-proceed/story
Israel's borders explained in maps

More than 75 years after Israel declared statehood, its borders are yet to be entirely settled. Wars, treaties and occupation mean the shape of the Jewish state has changed over time, and in parts is still undefined. For a series of maps explaining why go to
https://www.bbc.com/news/world-middle-east-54116567
THE DAILY GRILL
You voted to kick me out of the freedom caucus, but keep CNN wannabe Ken Buck and vaping groping Lauren Boebert and you voted with the Democrats to protect Terrorist Tlaib. — Rep. Marjorie Taylor Greene (R-GA) to Chip Roy. Texas (D-TX21).  https://twitter.com/WashTimes/status/1720372745635254617
VERSUS
Tell her to go chase so-called Jewish space lasers if she wants to spend time on that sort of thing. — Rep. Chip Roy responds to  MTG.  https://twitter.com/mychaelschnell/status/1720067788834804156
 



Fox News Sunday moderator Shannon Bream pressed Johnson on whether he had a bank account. Mike Johnson avoided answering the question, saying only that he was a "man of modest means. https://www.thedailybeast.com/house-speaker-mike-johnson-skirts-question-on-personal-bank-account

VERSUS

After days of not directly answering the question, Speaker Mike Johnson's (R-LA) spokesman finally told Playbook that the Louisiana lawmaker does have a personal bank account. But he explained the account is exempt from House disclosure rules because it is not interest-bearing. https://www.politico.com/newsletters/playbook/2023/11/07/four-big-election-day-questions-00125728
Dennis Aftergut: Lessons for 2024 in the 2023 Elections
FOR THOSE WHO WORRY about the future of our democracy and the rule of law, Tuesday's off-year elections in three states should steady the nerves. All the more so because of the larger context: In the dozens of special elections held across the country earlier this year, Democrats on average performed 10 percent better than you would expect given the partisan lean where the voting took place.
WHAT DOES ALL THIS MEAN FOR 2024? A presidential campaign is very different from an off-year election, but we can draw certain conclusions. First, it's even clearer now that abortion remains a powerful electoral driver. Second, while the polls for 2024 cannot help but worry us—as they show growing support for Donald Trump despite his telling us he will destroy American constitutionalism, and continuing concerns about Joe Biden despite his administration's successes — Tuesday's results remind us that we shouldn't despair. As Podhorzer wrote over the weekend, Americans know the difference between answering a survey and casting a ballot, even if the media doesn't.

Regardless of what a poll says today, Podhorzer writes, it can't tell us what will happen between now and Election Day that might change [voters'] minds. And it can't tell us how being in an actual voting booth might change their actions.

Americans constantly report dissatisfaction with our presidents and with our nation's institutions. A majority of voters will tell pollsters they want change. But when it comes time to vote, Podhorzer observes, Americans have shown themselves to be better aware of the consequences of choosing MAGA—which is why MAGA has lost 27 of the last 32 races in those six [battleground] states.

So yes, the worrisome polling about a Trump/Biden rematch in 2024, like the NYT/Siena survey or another yesterday from CNN, should have those of us who care about democracy running scared and working hard. But the elections in Ohio, Kentucky, and Virginia remind us to keep the faith. They tell us that majorities are sensible and committed to keeping their rights. With organizing and solid messaging, they will appreciate the high stakes in next year's election and act accordingly in the privacy of the voting booth. https://plus.thebulwark.com/p/lessons-for-2024-in-2023-elections
Philip Bump: 2020 falsehoods thrive as a replay of the election nears
Joe Biden won the 2020 presidential election, earning 81 million votes to Donald Trump's 74 million. Biden flipped five states that Trump had won four years before, often by only narrow margins. Countless investigations and adjudications have unfolded over the intervening three years and demonstrated unequivocally that the 2020 election was neither stolen nor rigged to ensure a Biden victory.
Yet, the GOP is dominated by people who assert that 2020 was an illegitimate election. Some of them are sincere, deluded into thinking that there exists evidence that Trump was robbed of victory. Others are either skeptical of the outcome or willing to bolster skepticism because they recognize that's what the party's base demands. Others still confront that base, and earn disgust and anger in response.
One year from last Monday will be the day after the 2024 presidential general election. Trump is likely to have faced off against Biden once again, and he will have a base of support that is already heavily invested in the idea that presidential elections can and have been tainted by illegitimacy.
Should Trump again be declared the loser, it's hard to predict what will follow, but it's easy to predict how his base will respond.
https://www.washingtonpost.com/politics/2023/11/06/trump-republicans-elections-2024/
Tom Nichols: Trump Plots Against His Enemies
Trump is, to put it mildly, an emotionally disordered man. But such men are usually only a hazard to their families and themselves, especially if they lack money or power. Trump has both, but even more important, he has people around him willing to use that money and power against American democracy. As the Post report reveals, these henchmen are now trying to turn Trump's ravings into an autocratic program; without their aid, Trump would be just another motormouthed New York executive living on inherited money and holding court over a charred steak while the restaurant staff roll their eyes. With their support, however, he is an ongoing menace to the entire democratic order of the United States.
The coalition of pro-democracy voters — I am one of them — is shocked at the relative lack of outrage when Trump says hideous things. (The media's complacency is a big part of this problem, but that's a subject for another day.) For many of us, it feels as if Trump put up a billboard in Times Square that says 'I will end democracy and I will in fact shoot you in the middle of Fifth Avenue if that's what it takes to stay in power' and no one noticed.
https://www.theatlantic.com/newsletters/archive/2023/11/trump-plot-military-election/675922/
Martin Wolf: A Trump win would change the world
Recent polls suggest that almost 55 per cent of U.S. voters disapprove of Joe Biden's performance. They also suggest that Trump is slightly ahead of Biden in head-to-head polling before the election now a year away. Finally, they suggest that Trump is ahead of Biden in five of the six most important 'battleground' states. In all, a Trump victory is clearly and disturbingly plausible.
What would that mean? The most important answer is that the U.S., not just the world's most powerful democracy, but its savior in the 20th century, is no longer committed to democratic norms. The most fundamental of such norms is that power has to be won in free and fair elections. Whether US presidential elections are 'fair' is debatable. But they do have rules. Efforts by the incumbent to overthrow those rules amount to insurrection.
That Trump attempted to do so is not debatable. Neither is the absence of evidence of fraud to support his attempted coup. He is properly under indictment. Yet he might still win a presidential election. One reason why he might do so is that close to 70 per cent of people who identify as Republicans say they believe his lies. This is shocking, though, alas, not that surprising.
https://www.ft.com/content/4a14c19e-8285-4688-aa19-542023520798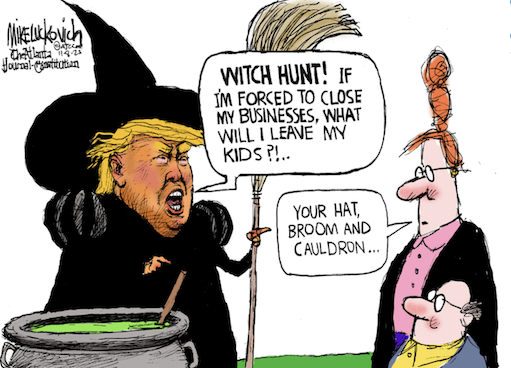 Bill Kristol: Putin's Century?
VLADIMIR PUTIN TOOK POWER in 2000 in what then still seemed to be a nascent democratic and possibly liberalizing Russia. He has stayed in power ever since, and has ended Russian democracy and liberalization. He has ruthlessly and effectively used propaganda, intimidation, and violence—which has included killing political opponents inside and outside Russia—to stay in power. We frequently label the Putin pattern with the hesitant term authoritarian. But he's not just authoritarian; he's a dictator. He's a twenty-first century fascist.
One could say that the twenty-first century has belonged to Vladimir Putin.
Since he came to power, Putin has shown that aggressive and brutal dictatorship need not fail. This is true not just at home but also abroad. Putin has launched wars against Russia's neighbors in 2008, 2014, and 2022, each conflict larger and more barbaric than the last. His first two aggressions succeeded, and he paid little price, which surely encouraged his third act, the full-scale invasion of Ukraine on February 24, 2022. The fate of that attempt to obliterate a neighboring, internationally recognized state with a democratic government now hangs in the balance.

HAMAS IS AN IMMEDIATE manifestation of barbarism, and China is a true long-term challenge. But right now, the most urgent threat to the United States and a decent world order is Putin.

One hopes—one trusts—that in the twenty-first century, the arc of history will bend toward justice. But one must acknowledge that so far, the arc of the twenty-first century has bent toward Putin. https://plus.thebulwark.com/p/vladimir-putin-century-russia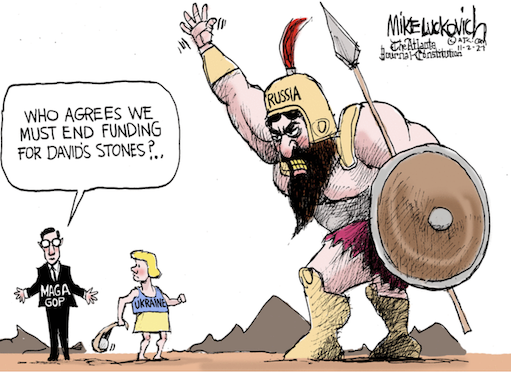 Hunter Biden: I fought to get sober. Political weaponization of my addiction hurts more than me.
Over four years ago, I chose life over the slow strangle-death grip of addiction, which in my case consisted each day of a bottle of vodka and as many hits on a crack pipe as possible. I am prouder of that choice and of my recovery than anything I've ever done.
My experience is not a unique one. At least 20 million Americans today suffer from substance abuse disorder. I don't know a family that hasn't been impacted in some way by addiction. What is distinct about my situation is that I'm the son of the president of the United States.
My struggles and my mistakes have been fodder for a vile and sustained disinformation campaign against him, and an all-out annihilation of my reputation through high-pitched but fruitless congressional investigations and, more recently, criminal charges for possessing an unloaded gun for 11 days five years ago – charges that appear to be the first-ever of their kind brought in the history of Delaware.  
What troubles me is the demonization of addiction, of human frailty, using me as its avatar and the devastating consequences it has for the millions struggling with addiction, desperate for a way out and being bombarded by the denigrating and near-constant coverage of me and my addiction on Fox News (more airtime than GOP presidential candidate Ron DeSantis) and in The New York Post (an average of two stories a day over the past year).
My addiction doesn't justify Steve Bannon and Guo Wengui posting altered nude photos of me with editorial creativity over the pictures. My addiction shouldn't permit the likes of Rudy Giuliani or a former Peter Navarro aide to debase and dehumanize me for their own gains.
It is already a near-impossible decision for addicts to get sober, and the avalanche of negativity and assault of my personal privacy may only make it harder for those considering it.
The effort of recovery is something that should be celebrated, and I hope that despite my role as the punchline and punching bag for some, others will also make the effort I have made, one day at a time, and get honest with themselves and the people who love and rely upon them.
https://www.usatoday.com/story/opinion/voices/2023/11/02/hunter-biden-addiction-substance-abuse-not-political-ploy/71332255007/
Greg Sargent: The autoworkers' big win exposes the absurdity of Trump's populism
In September, Donald Trump's advisers leaked word that he would travel to Detroit to show support for striking members of the United Auto Workers. In reality, he ended up addressing workers at a nonunion shop, bashing the strike as useless given that electric vehicles will inevitably destroy their jobs — unless they elect him president in 2024, of course.
Now that UAW has reached tentative deals with Ford, General Motors and Stellantis (formerly Chrysler) after six weeks of picketing, that Trumpian episode takes on a glaring new meaning. On multiple levels, this whole affair captures the vacuity of the right-wing populism espoused by Trump and other Republicans eager to give the GOP a working class makeover.
https://www.washingtonpost.com/opinions/2023/11/01/united-auto-workers-strike-deal-big-three-trump-jd-vance/
Kate Cohen: Mike Johnson is a pro-gun Christian nationalist. Yes, be afraid
Johnson got right to work mixing church and state in his first speech after he won the speakership.
"I believe that scripture, the Bible is very clear: that God is the one that raises up those in authority," he said from the pulpit — er, the House rostrum. "And I believe that God has ordained and allowed each one of us to be brought here for this specific moment."
Experts project that this kind of nonsense will spew from the Capitol now that the most powerful man in Congress is someone who has said that "every Christian should seek to bring industry, government and society as a whole under the sway of the principles of righteousness," as Johnson told a campaign rally — er, a Shreveport, La., congregation — in 2016.
For Johnson, those principles include protecting not just fertilized eggs and children at risk of learning that gay people exist but also guns. Especially guns.
"At the end of the day, we have to protect the right of the citizens to protect themselves," he told Hannity, "and that's the Second Amendment."
On the same day he became House speaker and 18 Mainers were gunned down with a weapon that most Americans want outlawed, the nonpartisan Public Religion Research Institute released a survey about threats to democracy in advance of the 2024 election. It found growing support for political violence, especially among people who believe that the United States is a Christian nation, that the country has changed for the worse since the 1950s and that the 2020 election was stolen from Donald Trump.
Is charging the gates of hell a figure of speech? Will Johnson fight like a lion by genially ignoring calls to bring a gun-control bill to a vote? Or should Americans, accustomed to enduring political inaction when it comes to guns, begin to fear something even worse?
https://www.washingtonpost.com/opinions/2023/11/01/mike-johnson-christian-nationalism-guns-political-violence/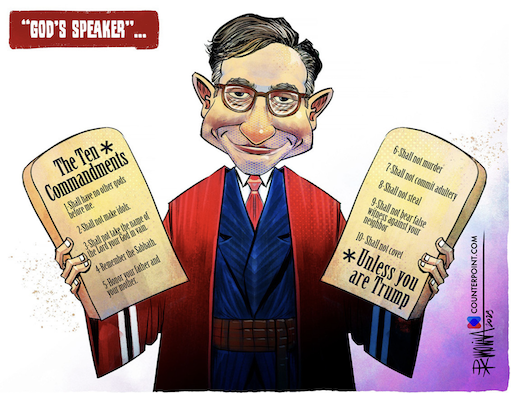 David Frum: Here's What Biden Can Do to Change His Grim Polling
Whatever your theory, it should take into account a curious coincidence: how closely Biden's approval numbers have tracked the numbers from former President Barack Obama's first term. Obama's numbers slumped in the second half of his third year, 2011. In the middle of that October, his disapproval number reached 41 percent, not very far off from Biden's 37 percent at the same point in October 2023.
The world of 2011 was a very different place from the world of 2023. The job market was weak, not red hot the way it is now. Immigrants were returning home, not arriving by the millions. China's economy was booming, not slumping.
Yet if the external facts diverged, the internal dynamics of U.S. politics 12 years ago bore many similarities to those of today. Republican leaders in the House faced a mutiny from their radical fringe. Then, as now, that fringe was impelled by conspiratorial theories: birtherism in those days, elaborate fantasies about Ukraine and the president's scapegrace son today. Speaker John Boehner barely held on to his job—at the price of a battle over the debt ceiling in May 2011 that pushed the United States to the edge of default.

Then, as now, the chaos in Washington was blamed on the president.

Biden is subject to all kinds of unfair and seemingly unconvincing criticisms. This old-fashioned Humphrey-Muskie Democrat is depicted as a socialist, a secret ally of black-masked anarchists, a patsy for extremism of all kinds. Some Biden supporters think responding to such hallucinatory accusations is beneath their dignity. But precisely because the real record is so very different, these bubbles can readily be burst with a satisfying pop.

Picking a fight with Kanye West worked for Obama. Photo ops with cute kids wearing school logos worked for Clinton. Biden needs to make triangulating opportunism work for him. Every day, the furthest fringes of American culture create even more lucrative targets for Biden to whack at.
Biden already drives in the road's middle lane. Now he just needs to toot the horn to let the other motorists know that he owns it. https://www.theatlantic.com/ideas/archive/2023/11/biden-triangulate-poll-numbers/675883/
Bess Levin: What's Up With Mike Johnson's Very Shady-Seeming Financial Disclosures?
In the week since Mike Johnson was elected Speaker of the House, we've learned a tremendous amount about the Louisiana Republican, and virtually none of it has been good. For instance, the man the GOP just elevated to one of the most powerful jobs in the federal government tried to help Donald Trump steal a second term, is virulently antiabortion, thinks America doesn't have a gun problem, very possibly does not believe in evolution, definitely doesn't believe in separation of church and state, has claimed homosexuality is sinful and destructive, and is married to someone who founded a company that equates being gay with bestiality and incest. And now, for something totally different, we've learned the new House Speaker…doesn't have any bank accounts listed on his financial disclosure forms.
The Daily Beast reports that in financial disclosures dating back to 2016, the year he joined Congress, Johnson never reported having a savings or checking account in his name, his spouse's name, or in the name of any of his children. In his latest filing, which covers last year, he doesn't list a single asset either. Which, given that he made more than $200,000 last year—in addition to his wife's salary—is more than a little odd. https://www.vanityfair.com/news/2023/11/mike-johnson-financial-disclosures
Michael Tomasky: It Just Got Worse — Again — for Donald Trump
Whenever I look at the latest polls and start to freak out about Donald Trump winning the presidency again, I calm myself by remembering that the guy is very likely going to be an at-least-once convicted felon by next November. While that won't bother his fans, I still think it will bother enough swing voters that he will lose, and maybe spectacularly.
So we're in for 10 weeks—until the January 15 Iowa caucuses—of poll after poll showing Trump ahead and probably gaining. No piece of bad news will matter. He'll roll in Iowa. Next will come New Hampshire. No date has yet been set for that primary, but it's expected to be sometime in January. In New Hampshire, Trump is if anything further ahead than he is in Iowa. Then there's not another GOP primary until South Carolina on February 24 (there will be Nevada and Virgin Islands caucuses on February 8). In other words, if Trump wins both Iowa and New Hampshire, the race is basically over, and there will be a full month of headlines calling Trump victorious and unstoppable.

Actually—not all headlines. In fact, on the very day, January 16, that we'll wake up to headlines blaring, "Trump Sails to Victory in Iowa," we will also be greeted by this headline: "E. Jean Carroll Damages Trial Against Trump Starts Today." Remember that New York Judge Lewis Kaplan has already said that Trump raped Carroll in the normally understood sense of the term. So readers, and voters, are going to be reminded of that. Then the January 6 trial, the one in which Meadows flipped, starts the day before Super Tuesday. And so on. https://thenewrepublic.substack.com/p/it-just-got-worseagainfor-donald