October 20, 2022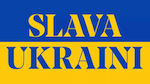 If you have a friend, family member, or neighbor who would like to subscribe to this FREE weekly newsletter they should simply email jellison@san.rr.com with "subscribe" as the subject.
THE WEEK'S BEST QUOTES. . .
"There was no doubt that President Trump knew what he was going to do: sending an angry mob… armed with various weapons to the Capitol. There's no scenario where that action is benign." — As Rep. Pete Aguilar (D-CA). https://twitter.com/maxpcohen/status/1580631617667620865

No matter what you think of Alex Jones all he did was speak words. He was not the one who pulled the trigger. Were his words wrong and did he apologize? Yes. That's what freedom of speech is. Freedom to speak words. Political persecution must end. — Rep. Marjorie Taylor Green (R-GA) comments on the $1 billion verdict against Alex Jones. https://twitter.com/RepMTG/status/1580297479337431040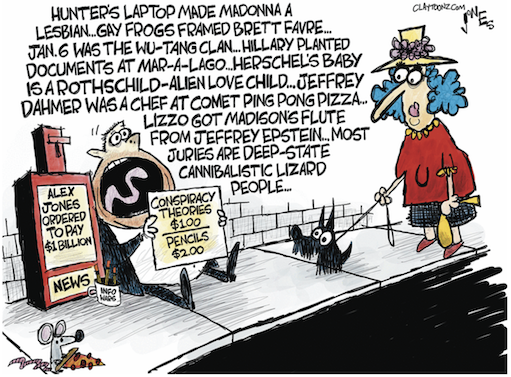 "There's no real mystery because there are the tweets, thousands of them. But the arc of the coup can be boiled down to just three — when he summoned the mob, egged on the attack, and celebrated it afterward." — Charlie Sykes:
https://morningshots.thebulwark.com/p/a-coup-in-three-tweets
"If he comes I'm going to punch him out. I've been waiting for this. For trespassing on the Capitol grounds. I'm going to punch him out and I'm going to go to jail and I'm going to be happy." — Speaker Nancy Pelosi, when a staffer told her on January 6 that Donald Trump would not join the March to the Capitol.
https://www.businessinsider.com/nancy-pelosi-january-6-if-trump-comes-capitol-punch-him-2022-10
"You cannot tell me that anybody 60 years old would trade brains with Herschel Walker, 'cause you wouldn't." — James Carville, in an interview with Vanity Fair.
https://www.vanityfair.com/news/2022/10/james-carville-trump-women-2024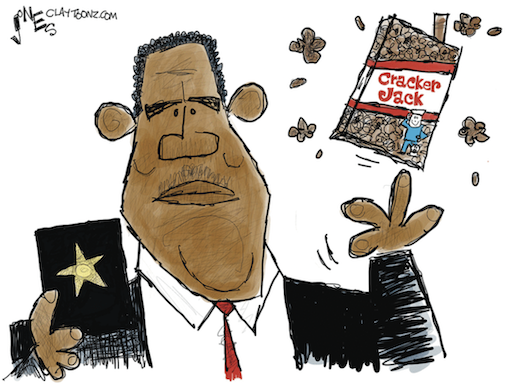 Trump issued an order for large scale troop withdrawals. November 11 called for all troops out of Somalia and Afghanistan before Biden took office showing that he was setting Biden up.— Rep. Kinzinger
https://twitter.com/HC_Richardson/status/1580614266536665090
"We all know that he's much more likely to lose the White House than anybody else running for president on our side of the aisle, so why would we want to go with that?" — Former Speaker Paul Ryan on the possibility of Donald Trump running for president again.
https://www.cnbc.com/2022/10/14/trump-wont-be-gop-nominee-in-2024-paul-ryan-predicts.html
"There is no "crime" having to do with the storage of documents at Mar-a- Lago, only in the minds of the Radical Left Lunatics who are destroying our Country, and were just forced by the Courts to give me back much of what they took (STOLE?) during their unprecedented and unnecessary break in of my home. The Clinton "Socks Case," which is law, says it all belongs to "the President," NO CRIME, and the Presidential Record Act is simple, "negotiate," and NO CRIME. These people are CRAZY!!!" --  Donald Trump reacted to news last night that one of his aides told the FBI they had been ordered to move boxes of classified documents by Trump himself.
https://truthsocial.com/@realDonaldTrump/posts/109158450495490798
"I'm going to win the election and I'm going to accept that result." — Kari Lake (R) did not answer — when asked multiple times —whether she will accept the results of Arizona's gubernatorial election if she loses.
https://www.axios.com/2022/10/16/arizona-kari-lake-midterm-election-denial-trump
MAGA doesn't vote for stupid people with big mouths. Good luck Joe —Trump posted on Truth Social, a day after Colorado's GOP senate candidate Joe O'Dea after saying on CNN that he would actively campaign against the former president if he ran again in 2024. https://truthsocial.com/@realDonaldTrump/posts/109184206195801630

Sen. Mike Lee (R-UT) wrote an odd op-ed in the Salt Lake Tribune praising his record in the third person. https://www.sltrib.com/opinion/commentary/2022/10/16/mike-lee-has-earned-reputation/

This Herschel Walker ad is now airing across Georgia. https://twitter.com/NoLieWithBTC/status/1581325186313306113

Wouldn't she be great?" — Greene has repeatedly made the list of those Trump would tap for top government positions should he win back the White House. https://www.rollingstone.com/politics/politics-news/donald-trump-marjorie-taylor-greene-2024-administration-job-1234613138/

House Minority Leader Kevin McCarthy (R-CA) believes he can win the votes of the House Republican Conference and that if he doesn't win, it wasn't in God's plan. https://punchbowl.news/archive/101722-punchbowl-news-am/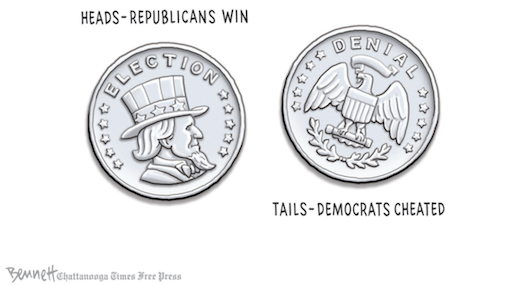 "Inflation's an issue, but it's global. It's global… What's the Republicans' plan? They ain't got nothing. When you bring down unemployment, inflation goes up. Inflation is there but it's global and not as bad as it is in some countries. We'll have to message it better in the next three weeks ahead. I think we're in great shape. Other people don't want to believe that."  -- Speaker Nancy Pelosi (D-CA) saying Democrats need better messaging on inflation. https://thehill.com/homenews/house/3695490-pelosi-says-democrats-need-better-messaging-on-inflation/

"With 8.3% inflation, that is the equivalent of one month salary for the average American. I know in my household, my wife and I can't afford to give up one month's salary. We have bills to pay, we have rent to pay." — But NC congressional candidate Bo Hines. backed by former President Donald Trump, reported having no salary at all, according to his certified personal financial disclosure, which he filed with congressional regulators on May 20. https://www.businessinsider.com/bo-hines-congress-salary-voters-personal-finance-2022-10

 Well, I haven't really seen the statements he's made. I did watch the Tucker Carlson interview and he was really nice to me. Beyond anybody, he was. He was great to me… And he was great, really, to MAGA, to the MAGA movement, which was very impressive. I was, you know, not surprised. I always got along with him. I liked him. I've always gotten along with him." -- Donald Trump spoke with Larry O'Connor of Salem News about Kanye West's recent anti-Semitic comments and attacks on Jarad Kushner..  https://www.mediaite.com/politics/trump-praises-kanye-west-for-being-great-to-me-when-pushed-on-rappers-anti-semitic-comments-and-attacks-on-jared-kushner/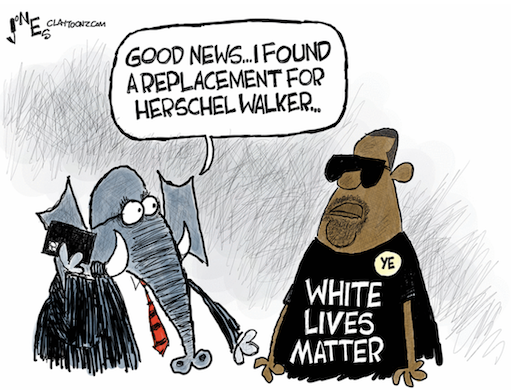 VIDEOS
Jared Kushner has an IQ of 70. He's coming to Miami. We will eject him from Miami very quickly; he will be leaving very quickly.He has 100 security guards. I will have 5,000 security guards. You want to fight. Let's fight. Fuck you." (The filmmakers remain unsure of who Stone directed this remark towards.). Fuck you and your abortionist bitch daughter" —

Roger Stone

in a yet-to-be-released documentary that captured Stone's meltdown after learning on President Joe Biden's inauguration day that he wouldn't be granted a second coveted legal protection, this time to shield from any Jan 6 legal fallout. After Roger Stone wasn't granted a post-Jan. 6 pardon, he grew so upset that he suggested fighting Jared Kushner, the man tapped as the point person for handling 11th-hour Trump pardons. https://www.thedailybeast.com/roger-stone-threw-a-fit-after-not-getting-pardon-bashed-ivanka-trump-as-abortionist-bitch
"No, we won. Fuck you."— Roger Stone, in a documentary clip shown at
the January 6 Committee hearing. https://twitter.com/atrupar/status/1580612677457825792

Another Roger Stone video, this time Stone is talking about Donald Trump: "run again you'll get your fucking brains beat in"  https://twitter.com/AdamParkhomenko/status/1581302999703429120

"Our duty today is to our country and our children and our Constitution. We are obligated to seek answers directly from the man who set this all in motion." — Liz Cheney calls for Jan. 6 Committee to subpoena former Pres. Trump. https://twitter.com/ThisWeekABC/status/1580643610089127936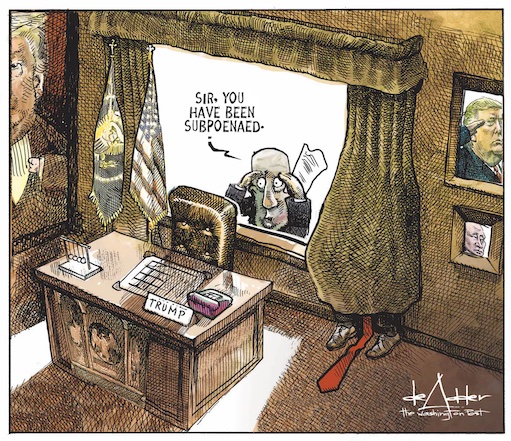 LITIGATION TRACKER
Pending Criminal and Civil Cases Against Donald Trump
. 
https://www.justsecurity.org/75032/litigation-tracker-pending-criminal-and-civil-cases-against-donald-trump/
---
IN THIS ISSUE
IN THE NEWS
OPINION
Andy Borowitz: Herschel Walker Claims He Is Honorary Power Ranger
Hurling an October surprise into his race for the United States Senate, Herschel Walker has revealed that he is an honorary Power Ranger.

In remarks to reporters at a campaign stop in Atlanta, Walker said that the Mighty Morphin Power Rangers designated him an honorary member sometime in the nineteen-nineties.

They made me an honorary red Power Ranger, he said. They gave me the red costume, and the Power Sword and the Tyrannosaurus Power Coin.

Offering further details of his superpowers, Walker said, I can control the Tyrannosaurus Dinozord. Raphael Warnock can't say that.

Walker revealed that his status as an honorary Power Ranger was the real reason that he did not participate in the most recent candidates' debate. They wouldn't let me wear my costume, because they claimed it was a 'prop,'  he said, adding that he intends to wear it later this month when he goes trick-or-treating.
https://www.newyorker.com/humor/borowitz-report/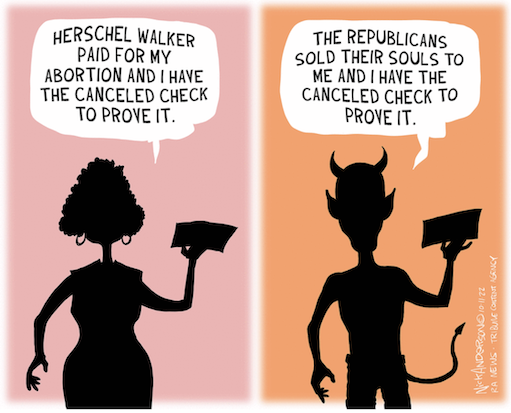 Voters See Democracy in Peril, but Saving It Isn't a Priority
Voters overwhelmingly believe American democracy is under threat, but seem remarkably apathetic about that danger, with few calling it the nation's most pressing problem, according to a New York Times/Siena College poll.
In fact, more than a third of independent voters and a smaller but noteworthy contingent of Democrats said they were open to supporting candidates who reject the legitimacy of the 2020 election, as they assigned greater urgency to their concerns about the economy than to fears about the fate of the country's political system.
https://www.nytimes.com/2022/10/18/us/politics/midterm-election-voters-democracy-poll.html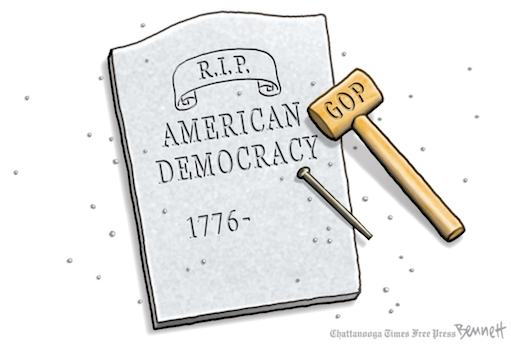 GOP wants to push to extend Trump tax cuts after midterm elections
Republicans plan to push to extend key parts of President Donald Trump's tax cuts if they take control of Congress in this fall's elections, aiming to force President Biden to codify trillions of dollars worth of lower taxes touted by his predecessor, the Washington Post reports.

With Democrats likely to lose control of the House of Representatives and possibly the Senate, Republicans are preparing to advance legislation that would make permanent the GOP's 2017 changes to the tax rates paid by individuals. Republican officials will also push for scrapping some of the law's specific tax increases on corporations that were designed to offset the cost of their enormous overall cut to the corporate tax rate.

Many economists say the GOP's plans to expand the tax cuts flies against their promises to fight inflation and reduce the federal deficit, which have emerged as central themes of their 2022 midterm campaign rhetoric. https://www.washingtonpost.com/us-policy/2022/10/17/republicans-tax-trump-biden/
McCarthy Would Use Debt Limit to Force Spending Cuts
House Minority Leader Kevin McCarthy (R-CA) said that if Republicans win control of the House the GOP will use raising the debt limit as leverage to force spending cuts and limit additional funding to Ukraine.

McCarthy also wouldn't rule out cuts to Medicare and Social Security. https://punchbowl.news/newsletter/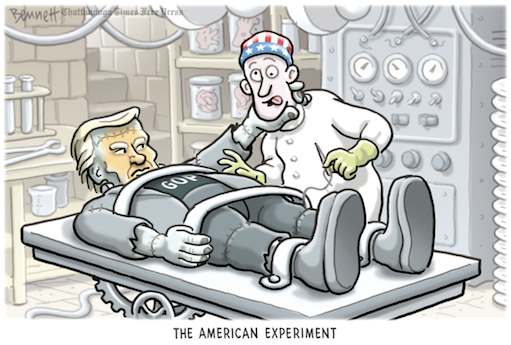 McCarthy signals GOP-led House likely to oppose more aid to Ukraine
House Minority Leader Kevin McCarthy (R-Calif.) is signaling that if Republicans win the House majority in next month's midterm elections, the GOP is likely to oppose more aid to Ukraine in its war with Russia.

Since the invasion in February the majority of congressional Republicans and Democrats have united in authorizing billions of dollars in U.S. military and humanitarian assistance to Kyiv as a geopolitical and moral stand against Vladimir Putin's aggression.
McCarthy, who could be House speaker if Republicans triumph, indicated that that could end in a GOP-led House. https://www.washingtonpost.com/politics/2022/10/18/house-republicans-ukraine-mccarthy/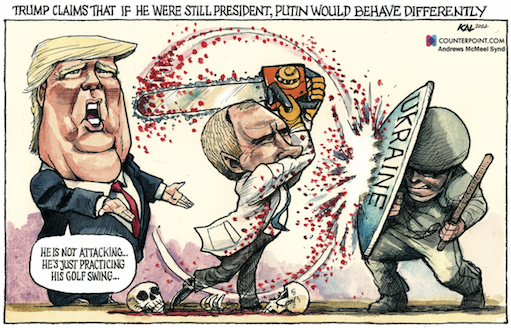 Covert network provides pills for thousands of abortions in U.S. post Roe
The emerging network — fueled by the widespread availability of medication abortion — has made the illegal abortions of today simpler and safer than those of the pre-Roe era, remembered for its back alleys and coat hangers. Distinct from services that sell pills to patients on the internet, a growing army of community-based distributors is reaching pregnant women through word of mouth or social media to supply pills for free — though typically without the safeguards of medical oversight.

This account of the illegal abortion movement that has grown quickly since the Supreme Court ruling is based on interviews with 16 people with firsthand knowledge of the operation, and includes on-the-ground reporting in four U.S. cities and Mexico. https://www.washingtonpost.com/politics/2022/10/18/illegal-abortion-pill-network/
Pennsylvania Could Determine Control of the Senate, But First They'll Need to Count Votes
Pennsylvania is likely to be a focal point on election night because of the way it counts votes. Unlike other states with heavy vote-by-mail use, counties there can't begin the time-consuming processing and counting of mail-in ballots until 7 a.m. on Election Day.

In 2020, Joe Biden wasn't declared the winner of the Keystone State — and the presidency — for four days, until the Saturday after the election.

With vote-by-mail largely favored by Democratic voters after Trump called for voters to cast ballots in person on Election Day 2020, that will likely lead to another "red mirage" in which results from votes cast on Election Day — when more Republicans vote — become public first and are slowly whittled down as mail ballots favoring Democrats are counted. Trump contested his loss in the state, falsely claiming that the late-counted Democratic votes were fraudulent. https://www.bloomberg.com/news/articles/2022-10-19/pa-midterm-election-2022-results-shouldn-t-be-expected-on-nov-8
Attack Ads Are Darkening the Skin Tone of Black Candidates
It's working. Once ahead in the polls, Democrat Mandela Barnes, the lieutenant governor of Wisconsin, is now trailing Republican incumbent Ron Johnson in the state's race for U.S. Senate, a shift also seen recently in other important races. One factor is an onslaught of negative messaging that seeks to paint Barnes as a crime-loving radical. A key word here is 'paint.'

One of the ads, from the National Republican Senate Committee, ends with a shot that brands Barnes, who is black, as "different" and "dangerous" as it pictures him alongside three congresswomen of color who are members of "The Squad," none of whom has campaigned with him. For good measure, the state Republican party sent out a mailer in which the color of Barnes's skin has clearly been darkened. https://www.thebulwark.com/attack-ads-are-darkening-the-skin-tone-of-black-candidates/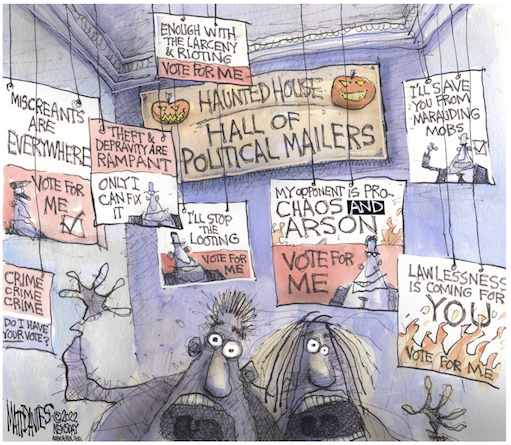 As a TV doctor, Mehmet Oz embraced climate science. Now as a Senate candidate, he denies it
As a celebrity TV doctor, Mehmet Oz used his platform to spread awareness of how climate change is harming public health by fueling extreme heat, wildfires, floods and infectious-disease outbreaks.

But as a Republican candidate for a Senate seat in Pennsylvania, a key battleground in the fight for control of Congress, Oz is now denying the scientific consensus on climate change and downplaying the dangers of Earth's rapid warming. https://www.washingtonpost.com/politics/2022/10/19/tv-doctor-mehmet-oz-embraced-climate-science-now-senate-candidate-he-denies-it/
Putin declares martial law in annexed regions of Ukraine
Vladimir Putin declared martial law Wednesday in the four regions of Ukraine that Moscow annexed and gave additional emergency powers to the heads of all regions of Russia.

According to the Russian legislation, martial law could require banning public gatherings, introducing travel bans and curfews, and conducting censorship, among other restrictions. https://apnews.com/article/russia-declares-martial-law-in-annexed-ukraine-regions-b48b555f547ff6a1a59b1cad17d0e269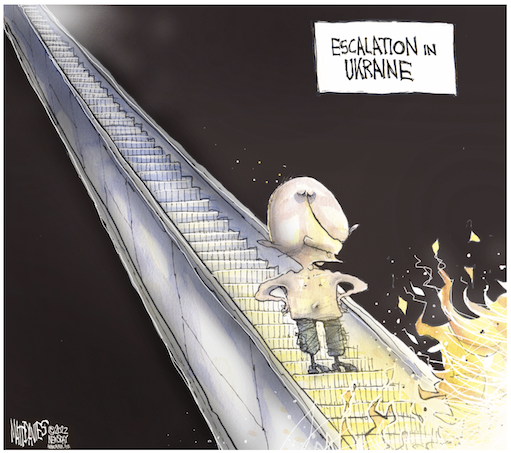 Why you should pay attention to Marjorie Taylor Greene's transgender care bill
Marjorie Taylor Greene, R-Ga. introduced the Protect Children's Innocence Act last month, which would restrict gender-affirming care, including puberty blockers and hormone therapies, for individuals under 18 years old.

"It's not about anyone's chosen sexuality or what adults choose to do with their bodies," Greene told Semafor. "It's just about protecting kids and letting them grow up before they make permanent changes."

Under Greene's bill, anyone caught performing a list of targeted procedures could be charged with a Class C felony. The bill would also prohibit individuals from using federal funds to pay for gender-affirming care and revoke accreditation for higher education institutions that teach gender-affirming care.

The proposal currently has 46 co-sponsors, all Republican. https://www.semafor.com/article/10/18/2022/marjorie-taylor-greene-has-a-bill-to-ban-care-for-transgender-youth
Right-wing Freedom Caucus chair floats potential Ukraine peace talks probe
Rep. Scott Perry (R-PA), the chair of the right-wing Freedom Caucus, floated to colleagues the idea of laying the groundwork for an investigation into the Biden administration's approach to Russia-Ukraine peace talks.

Republican criticism of President Biden's approach to the conflict has splintered as the conflict has dragged on. While establishment GOP senators have urged Biden to speed up and diversify weapon sales to Ukraine, MAGA-aligned Republicans have demanded Kyiv enter negotiations to avert the risk of nuclear escalation. https://www.axios.com/2022/10/18/ukraine-peace-talks-republican-biden-investigation
Chris Christie says Trump kept classified documents as a "trophy"
Former New Jersey Gov. Chris Christie (R) told ABC News that he believes former President Trump took classified documents from the federal government and kept them at his Mar-a-Lago residence as a trophy.

Said Christie: I think it's much more likely that they're a trophy, that he walks around and says, 'Look, I got this, I've got this classified document or that.'

He added: Because, remember something, he can't believe he's not president. He can't believe he still doesn't get these documents. And he needs to display to everybody down at Mar-a-Lago, or up in Bedminster during the summer, that he still has some of those trappings. https://www.axios.com/2022/10/16/trump-classified-documents-chris-christie-trophies
Trump charged Secret Service 'exorbitant' rates at his hotels
Former president Donald Trump's company charged the Secret Service as much as five times more than the government rate for agents to stay overnight at Trump hotels while protecting him and his family, according to expense records newly obtained by Congress.

The records show that in 40 cases the Trump Organization billed the Secret Service far higher amounts than the approved government rate — in one case charging agents $1,185 a night to stay at the Trump International Hotel in D.C. The new billing documents, according to a congressional committee's review, show that U.S. taxpayers paid the president's company at least $1.4 million for Secret Service agents' stays at Trump properties for his and his family's protection. https://www.washingtonpost.com/nation/2022/10/17/trump-secret-service-hotel-rates-records/
Ted Cruz reimbursed himself $555,000 after successfully challenging a political spending law at the Supreme Court
Sen. Ted Cruz (R-TX) received $555,000 from his campaign account two months ago to cover old personal loans.

It comes after Cruz successfully challenged a law that capped the amount candidates could repay themselves. https://www.businessinsider.com/ted-cruz-campaign-funds-fec-supreme-court-corruption-2022-10
Kanye West, After Going On Several Antisemitic Rants, Agrees To Buy Parler
Just days after going on antisemitic rants that earned him plaudits from the far-right, Kanye West, who now goes simply by Ye, has agreed to buy Parler, the conservative-friendly social media platform that's become a hotbed for antisemitism and other forms of bigotry. In a world where conservative opinions are considered to be controversial, we have to make sure we have the right to freely express ourselves, said the star rapper, producer, and fashion designer in a statement released by Parler. The decision comes roughly a week after West gave a widely scorned Fox News interview with Tucker Carlson, who allowed the rapper to go on a number of uninterrupted antisemitic diatribes, according to Vice, which obtained footage  that had been edited out of the official broadcast. https://www.vanityfair.com/news/2022/10/kanye-west-parler-antisemitic-rants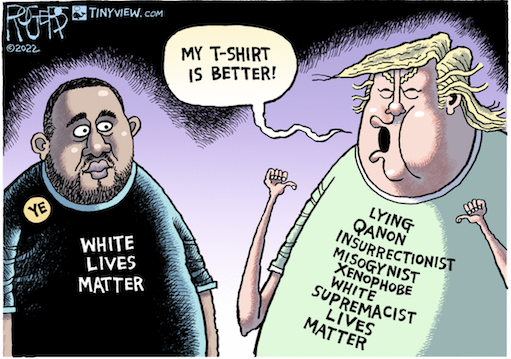 Herschel Walker Doesn't Show for Debate
The moderator of a Senate debate tonight in Georgia introduced Republican candidate Herschel Walker — who had declined to appear — as being represented by this empty podium. https://twitter.com/Acyn/status/1581784765941719041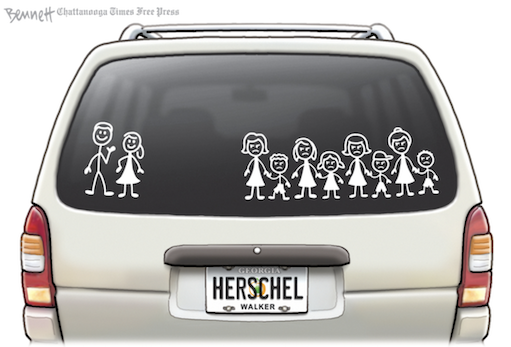 Democrats in Tight Races Turn to Jill Biden on the Campaign Trail
With President Biden's job approval hovering at about 40 percent at a moment when Democrats are struggling to hold on to the House and Senate, Dr. Biden has become a lifeline for candidates trying to draw attention and money but not the baggage that an appearance with her husband would bring. According to a senior White House official, she is the most requested surrogate in the administration. https://www.nytimes.com/2022/10/16/us/politics/jill-biden-democrats-midterms.html
Iran plans to send missiles, drones to Russia for Ukraine war, officials say
Iran is strengthening its commitment to supply arms for Russia's assault on Ukraine, according to U.S. and allied security officials, secretly agreeing to send not only attack drones but also what some officials described as the first Iranian-made surface-to-surface missiles intended for use against Ukrainian cities and troop positions. https://www.washingtonpost.com/national-security/2022/10/16/iran-russia-missiles-ukraine/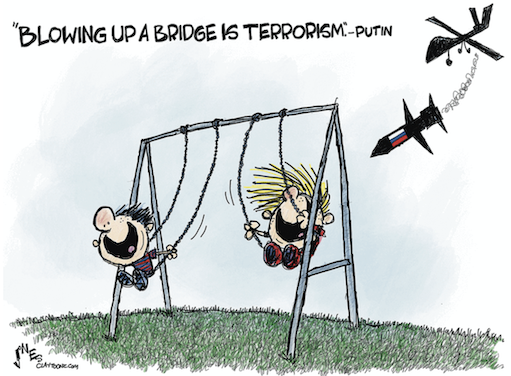 DeSantis Aides May Be Criminally Liable for Migrant Stunt
Top aides to Gov. Ron DeSantis played key roles in planning and executing Florida's controversial migrant flight program.

While the program was carried out by a private contractor, the new records show the deep involvement of Larry Keefe, DeSantis' public safety czar, and James Uthmeier, his chief of staff, in an operation that has led to at least one criminal investigation, a separate U.S. Treasury Department probe and several lawsuits — potentially heightening their exposure to the various inquiries underway. https://miamiherald.com/
Rep. Elise Stefanik Touts Funding She Opposed
House GOP Conference Chair Elise Stefanik (R-NY) is again touting money for projects that were funded by President Joe Biden's $1.9 trillion Covid relief package last year — a bill she voted against. https://www.politico.com/minutes/congress/10-14-2022/secret-service-responds/
Trump indictment odds skyrocket after bombshell Mar-a-Lago report, legal experts say
A bevy of legal experts, reacting to new explosive reporting about the Mar-a-Lago documents investigation, is convinced there is now enough evidence to charge former President Donald Trump with crimes. https://www.washingtonexaminer.com/news/justice/trump-indictment-odds-skyrocket-legal-experts
Blake Masters Is Already Claiming His Election Will Be Stolen
In his campaign to unseat Sen. Mark Kelly (D-AZ), Republican Blake Masters has consistently amplified skepticism and conspiracy theories surrounding the outcome of the 2020 presidential election. https://www.thedailybeast.com/blake-masters-is-already-claiming-his-election-will-be-stolen-arizona-mark-kelly
How an urban myth about litter boxes in schools became a GOP talking point
At least 20 conservative candidates and elected officials have claimed this year that K-12 schools are placing litter boxes on campus or making other accommodations for students who identify as cats.

Every school district that has been named by those 20 politicians said either to NBC News or in public statements that these claims are untrue. There is no evidence that any school has deployed litter boxes for students to use because they identify as cats. https://www.nbcnews.com/tech/misinformation/urban-myth-litter-boxes-schools-became-gop-talking-point-rcna51439
Trump Lambastes January 6 Committee
Former president Donald Trump on Friday lambasted the House select committee investigating the Jan. 6, 2021, attack on the Capitol but was silent on whether he would comply with a subpoena for testimony and documents in a 14-page letter sent to its chairman.

Said Trump: "Despite very poor television ratings, the Unselect Committee has perpetuated a Show Trial the likes of which this Country has never seen before. There is no Due Process, no Cross-Examination, no 'real' Republican members, and no legitimacy since you do not talk about Election Fraud or not calling up the troops. It is a Witch Hunt of the highest level, a continuation of what has been going on for years." https://www.washingtonpost.com/politics/2022/10/14/warnock-walker-debate-trump-subpoena/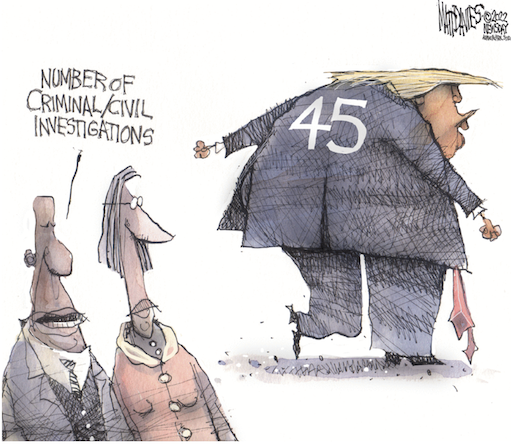 Why Senate control could hinge once again on Georgia runoff
Control of the Senate could once again come down to a familiar scenario: a runoff election in Georgia.

Even after Republican nominee Herschel Walker ran up against allegations that he paid for his then-girlfriend to have an abortion more than a decade ago — which he has denied — polling still shows a tight race between him and Sen. Raphael Warnock (D). Neither candidate is breaking 50 percent support, leaving both parties to confront the possibility that the fight for the Senate could head into overtime.

Such a scenario could leave the Senate majority hanging in the balance for weeks after Election Day much like it did after the 2020 elections, when Democrats recaptured control of the upper chamber only after Warnock and Sen. Jon Ossoff (D-Ga.) narrowly won a pair of January runoff elections against GOP incumbents. https://thehill.com/homenews/3683716-why-senate-control-could-hinge-once-again-on-georgia-runoff/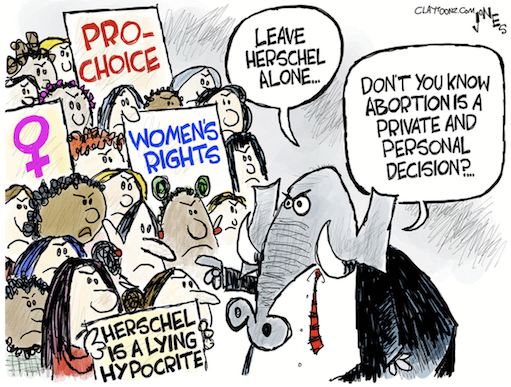 Trump worker told FBI about moving Mar-a-Lago boxes on ex-president's orders
The people familiar with the investigation said agents have gathered witness accounts indicating that, after Trump advisers received a subpoena in May for any classified documents that remained at Mar-a-Lago, Trump told people to move boxes to his residence at the property. That description of events was corroborated by the security-camera footage, which showed people moving the boxes, said the people, who spoke on the condition of anonymity to discuss an ongoing investigation. https://www.washingtonpost.com/national-security/2022/10/12/maralago-witness-trump-boxes-moved/
Trump Threatened to Out Confidential Sources From Russia Investigation
Donald Trump in the final days of his presidency repeatedly threatened to out government sources involved in the Trump-Russia investigation, an anti-Deep State revenge fantasy he still obsesses over to this day,

Ultimately, top intelligence officials and other Trump lieutenants talked him out of publicizing the sources' identities before he left the White House, the sources say. Instead, Trump's team bargained him down to vetting a series of heavily redacted reports that they argued would help safeguard the work and safety of Russia-related informants.

But a third source familiar with the situation says that this obsession with outing the confidential sources is ongoing. The former president, the source says, still sporadically talks about the need to get 'the names' out into the public record. https://www.rollingstone.com/politics/politics-news/trump-russia-fbi-sources-confidential-maralago-1234608878/
Texas Family of Five Sentenced for Capitol Riot
Five members of a Texas family were sentenced Wednesday for their roles in the Capitol attack on Jan. 6, 2021, as part of a family trip to Washington paid for in part with a government stimulus check. https://www.usatoday.com/story/news/politics/2022/10/13/texas-family-5-sentenced-january-6-capitol-riot/10484752002/
Stop the steal' supporters train thousands of U.S. poll observers
As the United States enters the final stretch to November's midterm elections, Reuters documented multiple incidents of intimidation involving an expanding army of election observers, many of them recruited by prominent Republican Party figures and activists echoing Trump's false theories about election fraud." https://www.reuters.com/world/us/stop-steal-supporters-train-thousands-us-poll-observers-2022-10-13/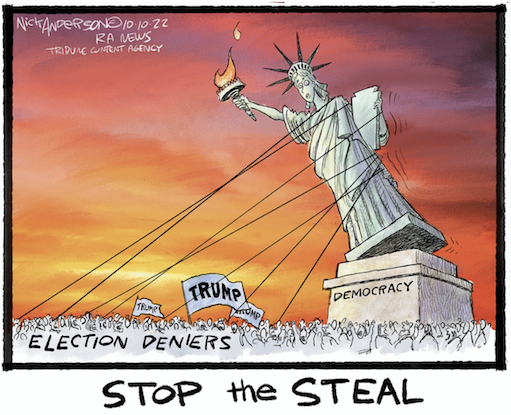 Texas sheriff certifies the Martha's Vineyard migrants are crime victims, opening the door for special visas
"A Texas sheriff has certified that the nearly 50 migrants flown to Martha's Vineyard by Florida Gov. Ron DeSantis were victims of a crime," WGBH reports.

"That certification is a key step in qualifying them for a special visa they would not have otherwise been eligible for… The documents are key parts of applications for U-visas, which are reserved for crime victims, or people who witnessed crimes." https://www.wgbh.org/news/local-news/2022/10/13/texas-sheriff-certifies-the-marthas-vineyard-migrants-are-crime-victims-opening-the-door-for-special-visas
Child Incest Victim Denied Abortion in Florida
A 15-year-old incest victim was denied abortion care after the state's 15-week abortion ban—which lacks exceptions for rape and incest—took effect in July, Planned Parenthood of South, East, and North Florida confirmed to BuzzFeed News on Wednesday. Laura Goodhue, vice president of public policy for the group, said the patient was forced to travel "at least two, three states away" with help from Planned Parenthood.

"The cruelty of forcing a very young person, who has already survived a horrible case of violence, to give birth, it just takes away their rights to bodily autonomy, and it is really turning a blind eye to what is happening in our society," Goodhue said. https://jezebel.com/two-child-incest-victims-denied-abortions-in-florida-1849652906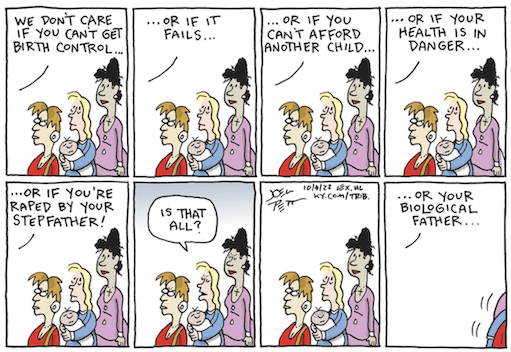 The Durham probe has been a giant bust
For much of the last three years, Donald Trump has insisted that the probe being run by special counsel John Durham is on its way to blowing the cover off of a massive scheme to defame him and rob him of the 2016 election.
On Tuesday, Durham's probe swung and missed – again. This time, Igor Danchenko, the primary source for a now-infamous dossier on Trump's ties to Russia, was found not guilty of all the charges against him. That's the second time this year alone that one of the prosecutions Durham engineered has flopped. In May, Michael Sussmann, a Hillary Clinton campaign lawyer, was found not guilty of lying to the FBI while passing on a tip about Trump and Russia.

As CNN's Marshall Cohen noted: "In both cases, the defense argued that Durham was a prosecutor run amok, who cherry-picked facts, bullied witnesses and tried to concoct an anti-Trump conspiracy where none existed."
https://www.cnn.com/2022/10/19/politics/john-durham-probe-donald-trump-bust/index.html
Musk appeasement of Putin and China stokes fears of new Twitter policies
The person most likely to own Twitter next month has proposed solving the war in Ukraine by letting Russia keep territory, won praise from a top Chinese diplomat for suggesting China take control of Taiwan, and welcomed a widely followed celebrity back to Twitter who had just had his Instagram account suspended for threatening Jews — all within the past week.

Billionaire industrialist Elon Musk's moves have heightened alarm about what he will do with Twitter, which he has faulted for being too restrictive about legal but false or hateful speech. https://www.washingtonpost.com/technology/2022/10/12/musk-twitter-foreign-policy-worries/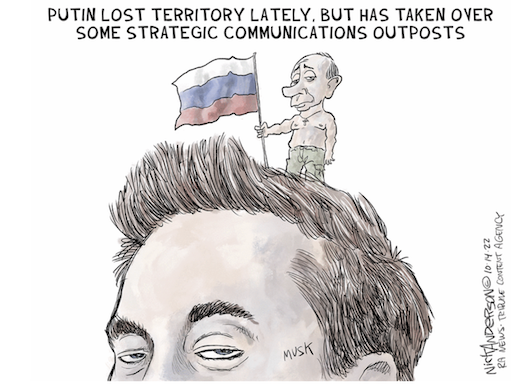 G.O.P. Candidates' Fervor for Trump Fluctuates on the Campaign Trail
Heading into the final weeks of the midterm campaigns, Republican candidates locked in close races have twisted themselves into political contortions as they puzzle out how to handle their party's most powerful figure — and its most controversial — while toggling between the debate stage and the rally stage.

The challenge confronting Republican contenders across the country is how to win over moderate and independent swing voters without alienating the party's base of Trump loyalists — or the former president himself. Mr. Trump often views politics in deeply personal terms and is known to respond in kind to acts of defiance, even when retribution could jeopardize an election for his party. https://www.nytimes.com/2022/10/13/us/politics/trump-republicans.html
Jan. 6 panel scrutinizes Trump's post-election military orders
Then President Donald Trump ordered the Pentagon to rapidly pull all U.S. troops from Afghanistan and Somalia in the immediate aftermath of his 2020 election loss to Joe Biden, alarming senior aides who feared doing so would have "catastrophic" consequences, according to congressional testimony aired Thursday.

Trump disregarded concerns about the consequences for fragile governments on the front lines of the fight against [the Islamic State] and al-Qaeda terrorists," Rep. Adam Kinzinger (R-Ill.) said. "Knowing he was leaving office, he acted immediately and signed this order on November 11th, which would have required the immediate withdrawal of troops from Somalia and Afghanistan, all to be complete before the Biden inauguration on January 20th. https://www.washingtonpost.com/national-security/2022/10/13/january-6-trump-afghanistan-somalia/
Ro Khanna puts political consultants in early 2024 primary states on campaign payroll
Rep. Ro Khanna (D-CA) "is paying a cadre of political consultants in the early presidential nominating states, which some say is a possible sign he's exploring a presidential run as early as 2024.

Khanna, a three-term California Democrat, has on his campaign payroll political consultants and strategists throughout the Northeast as well as in Iowa, Nevada and Colorado. The relationships were first disclosed on Friday in filings Khanna's re-election campaign made with the Federal Election Commission. https://www.foxnews.com/politics/ro-khanna-puts-political-consultants-early-2024-primary-states-campaign-payroll
THE DAILY GRILL
During a debate on Sunday night, firebrand Rep. Marjorie Taylor Greene (R-GA) insisted she had nothing to do with what happened on January 6.
https://hunterwalker.substack.com/p/here-are-all-of-marjorie-taylor-greenes
VERSUS
Text messages she appears to have exchanged with President Trump's former White House chief of staff, Mark Meadows, indicate Greene was involved in organizing the efforts to overturn the 2020 presidential election at the U.S. Capitol that day. You can read all of those texts here for the first time.
https://hunterwalker.substack.com/p/here-are-all-of-marjorie-taylor-greenes
Michelle Goldberg: The Fall of Liz Cheney and the Rise of Marjorie Taylor Greene
The truth is, if Republicans win — a recent New York Times/Siena College poll shows them ahead by three points among likely voters — Greene will be a leader no matter what McCarthy does. Chances are she'll be at the forefront of an expanding MAGA squad, with at least one Republican who was at the Capitol on Jan. 6, and maybe more. A Georgia Republican who has promised to be a great teammate for Greene, Mike Collins, has a campaign video in which he shoots a gun at what looks like a garbage can full of explosives marked Voting Machine.

It goes without saying that these Republicans will disband the Jan. 6 committee and impeach Joe Biden. They'll probably seek vengeance for Greene — and Paul Gosar, who lost his committee assignments for tweeting an anime video altered to show him killing Alexandria Ocasio-Cortez — by stripping Ocasio-Cortez and other progressives of their committee assignments. Expect them to shut down the government more than once and to launch investigations into the Department of Justice over its investigation of Trump. If the 2024 election is disputed, they'll do all they can to swing it to Republicans. It's what their voters are sending them to Congress to do.

Our institutions only hold when men and women of good faith make them hold, regardless of the political cost, Cheney said at the most recent Jan. 6 hearing. We have no guarantee that these men and women will be in place next time. Indeed, we have a guarantee that many of them won't be. https://www.nytimes.com/2022/10/17/opinion/cheney-taylor-greene-jan-6.html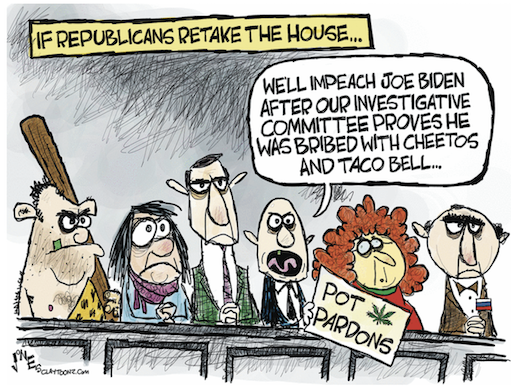 Catherine Rampell: Republicans' secret economic agenda? A global financial crisis.
The scariest part of the recently disclosed GOP economic agenda, however, has largely gone under the radar. It's the plan to hold the debt ceiling hostage next year, which could easily precipitate a global financial catastrophe.
Republicans have withheld their support from raising the debt limit before, usually framing their hostage-taking as a commitment to fiscal restraint. But the debt ceiling has nothing to do with new spending; rather, it's a somewhat arbitrary statutory cap on how much the government can borrow to pay off bills that it has already incurred, through tax and spending decisions that Congress has already made. Refusing to raise the debt limit is like going to a restaurant, ordering the lobster and a $500 bottle of wine, and then declaring yourself financially responsible because you skipped out on the check.
Actually, it's worse than that.
If lawmakers dine-and-dash on behalf of Uncle Sam, they tarnish the creditworthiness of the United States and can make it more expensive for the federal government to borrow in the future because investors don't trust us. Worse, they might accidentally blow up every other financial market on Earth, too. 
https://www.washingtonpost.com/opinions/2022/10/18/gop-debt-ceiling-plan-financial-crisis-recession/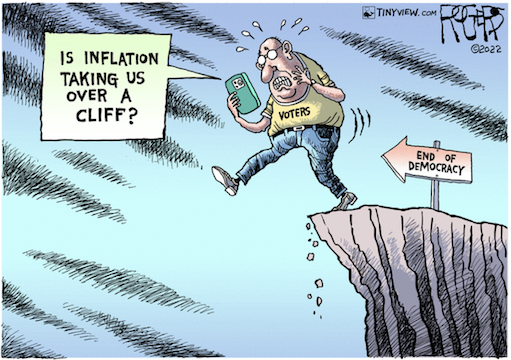 Zeynep Tufekci: We Should Try to Prevent Another Alex Jones
It's become so easy to lucratively lie to so many people, and we have few realistic and effective defenses against the harms of deceptions like these, not just to individuals but to our society.

Good speech isn't going to push out lies when viewership is so fragmented, nor is the solution fact-checks of various levels of quality by institutions already not trusted by many.

There have been campaigns to get major social media platforms to act more aggressively to get rid of liars, but why should we trust them to decide who should be banned? What if political winds shift?

What's the solution? No society can be constantly pulled at its seams like this and escape unscathed. The recent Jones verdict certainly did some damage to the industry of lucrative lying, and perhaps few are as deserving of this result as he is. But laws written for a different era cannot resolve the problems of our current media ecology.

There are no easy, quick solutions, but perhaps a starting point would be to make it harder and less lucrative to lie to huge audiences. Rather than pursuing legally dubious and inadvisable efforts to ban speech or define and target misinformation, regulations should target the incentives for and the speed with which lies can be spread, amplified and monetized.

One part of the solution might be to target reckless data surveillance online, by greatly limiting how much data can be collected, how long it can be retained, what it can be used for and how it can be traded. Among other benefits, this could make chasing engagement less attractive as a business model.

There could also be new, careful versions of the Fairness Doctrine — which required mass broadcasters that essentially held a monopoly on the public sphere to present broader viewpoints on topics of public importance. It wasn't a perfect solution, and it could be weaponized, but it recognized that good speech can confront bad speech only if there is access to the same audiences. Versions for the 21st century might involve a requirement that when blatant or harmful lies on issues of public importance are amplified, the people who are sent those lies are also sent corrections and further explanations.

But we should also work hard at making the rest of society work much better so that liars can't do as much damage. I keep coming back to how people over 65 have higher rates of vaccination, despite higher Fox News viewership and some in that age group having a greater propensity to believe misinformation. That's possibly because they are more motivated to brush off lies in light of the higher risk they face from Covid but perhaps also because Medicare allows them to have medical providers they trust. Similarly, for example, regulating the supplement industry — a common vehicle for conspiracy and political grift — and having stricter standards on advertising claims might help, too.

The work of civilization is not just discovering and unleashing new and powerful technologies; it is also regulating and shaping them and crafting norms and values through education and awareness that make societies healthier and function better. We are late to grapple with all of this, but late is better than never. https://www.nytimes.com/2022/10/16/opinion/alex-jones-sandy-hook.htm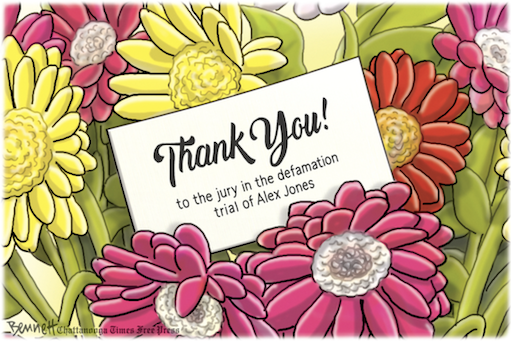 Mark Z. Barabak: It's more than just a Senate race. Trump's Big Lie and the Jan. 6 riot are on Nevada's ballot
The Big Lie — the idea that the 2020 election was stolen, that a corrupt election system allowed it, that President Biden wrongly took office and former President Trump belongs in the White House — is on the ballot next month in Nevada.

Not literally.

But the state presents a test of whether one of those directly responsible for the reckless and corrosive lie that led to the Jan. 6 riot will get the punishment he deserves, or be rewarded by taking a seat in the U.S. Senate.

Republican Adam Laxalt faces Democratic Sen. Catherine Cortez Masto, who is running for a second term and is widely considered her party's most endangered incumbent. The contest appears to be a toss-up. The fact that control of the Senate may rest on the outcome makes the stakes that much higher.

Plenty of Republican candidates embraced Trump's spurious election claims after the fact as a way to sate the party base and win a GOP primary. But Laxalt, a former state attorney general, didn't just jump on the ex-president's election-denying bandwagon. He helped build it.

As co-chairman of Trump's Nevada campaign, Laxalt led efforts to overturn Biden's 2020 victory in the state, filing a batch of groundless lawsuits, pushing phony claims of voter fraud and sowing unwarranted doubts about the integrity of balloting overseen by Nevada's top election official, a fellow Republican.

After the Jan. 6 insurrection, which was stoked by those kinds of falsehoods, Laxalt accused the media of hyping the assault on the Capitol, and bemoaned not the death and destruction sown by the rioters, but rather Trump's loss of a favorite megaphone.

"That fateful day in January when they pulled him off of social media and pulled him off of Twitter," Laxalt lamented. "People felt that in their stomach."

"Laxalt could not bring himself to show an ounce of remorse for his actions," Cortez Masto said at an appearance last week with peace officers in Las Vegas. "It is unforgivable, and Nevada will not forget his actions. https://www.latimes.com/politics/story/2022-10-12/2022-midterm-election-nevada-senate-trump-big-lie-capitol-insurrection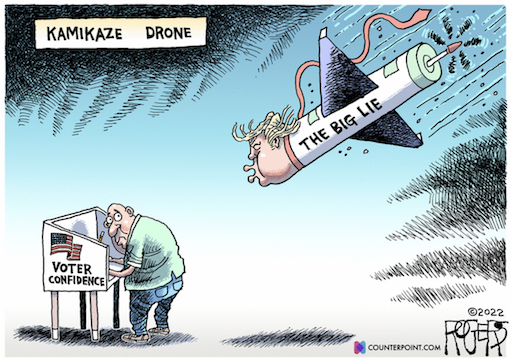 John Harris: The Jan. 6 Committee Has Helped Make Trump a Historic President
In historical terms, Trump is a larger figure than ever. Far from loosening, his claim on national attention is as urgent as ever. Far from fading into irrelevance, Trump is now positioned to be among the most consequential presidents of his era. This is largely on the strength of what looks to be the most consequential EX-presidency in American history.

The usual journalistic crutch when assessing political legacies is 'for better or worse,' but in this case it is only for worse. Trump's historic significance flows from how effectively he has made people doubt what was previously beyond doubt — that American democracy is on the level — and how brilliantly he has illuminated just how much this generation of Americans looks at one another with mutual contempt and mutual incomprehension.

Here is the great paradox of the Jan. 6 panel. Its inquiry has systematically dismantled Trump's deceptions and denialism surrounding the 2020 election. At the same time, it has helped build Trump into something much larger than he appeared two years ago. He is a political leader too serious to forget. https://www.politico.com/news/magazine/2022/10/14/jan-6-committee-trump-historic-00061797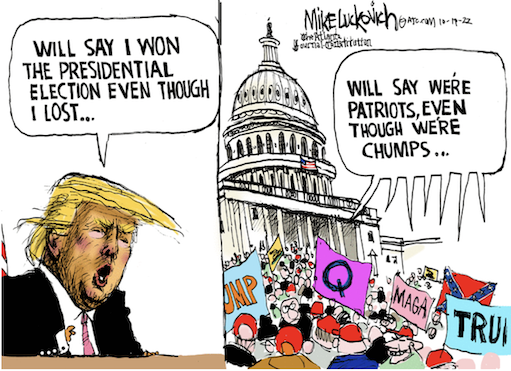 Anna Arutunyan: Putin's acolytes are boxing him in
As Russia continues to get routed in eastern Ukraine – losing territory, machinery and personnel to an emboldened Ukrainian counteroffensive – infighting has intensified in the Kremlin. Looking for someone to blame, the various factions are increasingly attacking Defense Minister Sergei Shoigu and his Ministry, and seeking an escalation of hostilities in Ukraine.

When Russia lost the town of Lyman less than 24 hours after illegally annexing four regions that included it, Chechen leader Ramzan Kadyrov called for a tactical nuclear strike on Ukraine. He also lashed out against the General Staff, and threatened to send Central Military District Commander Alexander Lapin to the front to 'cleanse his shame in blood'. While the Kremlin was forced to downplay Kadyrov's 'emotional' remarks, yesterday's missile strikes against Kyiv seem in part like a desperate measure by Putin to assuage hawks.
Putin, who has a track record of delegating responsibility to his vassals and making decisions at the very last minute to leave himself as many options as possible, is ending up with fewer and fewer good choices. With defeat looming in Ukraine, cutting his losses may be his best chance for survival. But even as government elites remain too scared to stand up to him – this is why, for now, the attacks are directed against the Defense Ministry, not the Kremlin itself – Putin is too scared to stand up to his most fervent hawks, the ones calling for escalation in Ukraine. Why? Because he knows that, without the Defense Ministry standing between them, he is the one they will come at next.
In the process, Putin is undermining his own capability to balance the various factions that rule over Russia. But what the ferocious infighting is making clear is precisely the dangerous illusion of his control – the mirage with which he has inveigled the West, his own people, and, worst of all for him – himself. https://www.spectator.co.uk/article/putin-s-acolytes-are-boxing-him-in