August 13, 2020
ON THE RECORD. . .
"You'll never know who the winner is, but the winner's going to be me." — Trump, while criticizing voting by mail.

"Basically, we all knew he was an asshole, but he was our asshole. — Mary Trump, in an interview with the Financial Times, about her uncle, Donald Trump.

"Well, this whole thing is because of them n—–s in Detroit. … Black Lives Matter has everything to do with taking the country away from us. I don't regret calling it an n—-r. A n—-r is a n—-r is a n—-r. That's not a person whatsoever." — Tom Eckerle, Republican official in Leelanau County, Michigan rejecting calls for his resignation after he used the n-word at a public meeting. Eckerle then doubled-down to Interlochen Public Radio.

"Take away your guns, take away your Second Amendment. No religion, no anything. Hurt the Bible. Hurt God. He's against God. He's against guns. He's against energy." — Trump claiming that Joe Biden -- a practicing Catholic -- is "against God" in a series of false attacks made during a rally-style address to supporters gathered on Cleveland's airport tarmac.

Trump's religious allies can delude themselves all they want about Trump being an ignorant vehicle of divine vengeance against their liberal enemies, but even they tend to shy away from the assertion that Trump — who once famously said he had no sins to confess — is a God-fearing man in any serious sense. He'll toe the Christian-right line as long as it's necessary to carry the electoral votes of states like Texas, and not a moment longer. -- Ed Kilgore

"Donald Trump is the only president in our history to have tear-gassed peaceful Americans and thrown a priest out of his church just so he could profane it—and a Bible—for his own cynical optics." — Andrew Bates, a spokesperson for Joe Biden.

The Commission on Presidential Debates should be abolished if they refuse the Trump campaign's request to add a fourth debate or move the first one up. — Rudy Giuliani on Fox & Friends.

"What kind of spectacular prick do you have to be that everyone's last request is 'make sure that asshole isn't at my funeral'?" — Bill Maher, noting President Trump did not attend the funerals of important figures in both parties, such as Sen. John McCain, former first lady Barbara Bush, Rep. Elijah Cummings and Rep. John Lewis.

Repubs must not allow Pres Obama to subvert the Constitution of the US for his own benefit & because he is unable to negotiate w/ Congress. — Donald J. Trump Nov 20, 2014

It is doubtful that Trump has the legal authority to issue any of the four executive orders, but politically they could help him. When his reelection is at stake, the law doesn't matter. — electoral-vote.com

"He is laying out his roadmap to cutting Social Security. Our seniors and millions of Americans with disabilities are under enough stress without Trump putting their hard-earned Social Security benefits in doubt." — Joe Biden calling Trump's executive order to cut payroll taxes "a reckless war on Social Security." 

Instead of putting in the work to solve Americans' problems, Trump chose to stay on his golf course to announce unworkable, weak & narrow policy announcements to slash the unemployment benefits that millions desperately need and endanger seniors' Social Security & Medicare. — Sen. Chuck Schumer

 

"It's mind-blowing that you can't get the government to improve the testing because they just want to say how great it is. No other country has the testing insanity because they won't talk about fixing it, because they think they need to just keep acting like they've done a competent job." — Bill Gates slammed the U.S.'s coronavirus "testing insanity" which he says had caused the country to fall behind the rest of the world.

Trump's abdication of responsibility proceeds apace. He has no national testing strategy; no plan for the reopened schools he so noisily demands; no road to reviving the economy; no disciplined or sustained message about social distancing and wearing masks. Nothing but the prattling of a self-absorbed child regurgitating willful make-believe—claiming that the virus will disappear or that hydroxychloroquine is great. — Richard North Patterson

"From my standpoint, the breakdown in the talks is very good news. It's very good news for future generations. I hope the talks remain broken down." — Sen. Ron Johnson (R-WI) on the stalled coronavirus relief negotiations.

"If I don't win the election, China will own the United States. You're going to have to learn to speak Chinese, you want to know the truth." — Trump, in an interview with Hugh Hewitt.

To pick Harris is to say to the Democratic base: yes, it can happen here. A United States senator from California, former prosecutor and biracial daughter of immigrants could be president one day — if you make it happen. Even if that never happens, the mere possibility of it happening might be enough, in the age of Donald Trump, to supercharge Democratic turnout, fueling a landslide election, which is probably the only thing that would push Trump out of office." May it be so. —John Stoehr

Principled. Brilliant. Compassionate. Empathetic. Honest. The perfect choice for @JoeBiden. That's @KamalaHarris — Governor Gavin Newsom

The most important American election since 1864 has revealed the choice. These are competent, moral, decent and Patriotic Americans. They will lead our nation back from the Trump/Pence abyss. @KamalaHarris will certainly be an upgrade from the morally preening sycophant Pence twitter.com/projectlincoln… Let's go win this. — Steve Schmidt

I think it is high time that we see a ferociously self-determined, highly accomplished, thoroughly prepared woman of color at the top of the national ticket. And I think regardless of people's political persuasions, I think honestly it just reminds us that diversity and possibility are the core of what makes this nation great." — Former Hewlett-Packard CEO and onetime GOP presidential candidate Carly Fiorina saying Wednesday that Sen. Kamala Harris (D-Calif.) was "a smart choice" for former Vice President Joe Biden's 2020 running mate.

POLITICAL ADS.....

Better America | Joe Biden For President 2020: https://youtu.be/VyJk3H2MtzI

Joe Biden Gets Vetted | Joe Biden For President: 2020: https://youtu.be/BQVpzCxumGY

Trump: Biden is "against the Bible | Republican Voters Against Trump: https://twitter.com/BillKristol/status/1291423399668064264

#Trump Hoaxed America | MeidasTouch: https://twitter.com/search?q=%23TrumpHoaxedAmerica

Fox News is onto something here... he is NOT okay: https://twitter.com/TheDailyShow/status/1290787291695218690

Trump said Joe Biden will 'hurt God' if elected | NowThis: https://twitter.com/nowthisnews/status/1291902698221182977

Donald Trump's Guide to American History | NowThis: https://youtu.be/vtgzVARrPu4

Honest Government Ad | TRUMP 2020: https://youtu.be/dpIkl2QnJeI

#TrumpMadeInChina | Daily Edge: https://twitter.com/TheDailyEdge/status/1292588393461841920

A lot of people are saying they're regretting voting for trump... I can see why. | The Lincoln Project: https://twitter.com/ProjectLincoln/status/1292299462300311552

Kamala. It's time. Let's go. | The Lincoln Project: https://twitter.com/ProjectLincoln/status/1293288202502103041

Trump is the Most Anti-Nature President Ever | NowThis: https://twitter.com/nowthisnews/status/1292087666817634308
---
IN THIS ISSUE
FYI
OPINION
1. Andy Borowitz: Trump Signs New Executive Order Granting Himself Unemployment Check in January
Donald J. Trump raised eyebrows on Monday by signing an executive order granting himself a million-dollar unemployment check if he leaves office in January.

Trump said that he will deserve the seven-figure check if the election is "stolen" by what he called "a conspiracy between the U.S. Postal Service and Antifa."

In a further defense of the huge payment, Trump said, "If I'm out of a job, Ivanka, Eric, and Don, Jr., will be, too."

The executive order immediately drew howls of protest from congressional Democrats, as well as from the Republican senator Ben Sasse, who called it "a steaming pile of constitutional crap."

Unmoved, Trump called the Nebraska senator "Poor Li'l Sassy" and argued that the executive order was a "work of genius" that should guarantee him a place on Mt. Rushmore.

"Those beauties like Lincoln and Jefferson never thought of anything this smart," he said. "They would be lucky if I let my head be carved out of the same rock as theirs." https://www.newyorker.com/humor/borowitz-report/
2. Fox News Insists That Joe Biden Didn't Really Pick Kamala Harris
Almost immediately after Kamala Harris was announced, The Fox Five co-host Greg Gutfeld repeatedly declared—without the remotest bit of evidence—not only that Biden wasn't involved in picking the senator, but that she was specifically selected by mysterious party figures to supplant Biden as the nominee (despite the fact that the nominating convention begins in less than a week).
"We can pretty much agree that Joe wasn't involved in this decision. I don't believe he was in the room. He might have been in a room, but not the room. Maybe a room with a shawl and hot chocolate," Gutfeld quipped, though the joke seemed to fall flat as no one on the panel laughed. "I'll say this again: I don't think the ticket is done yet."
His co-host Jesse Watters agreed. "This is kinda like when you go out to a restaurant with your grandfather and you have to order for him," he said, mimicking showing an elderly person a menu and picking a meal for them. "Joe didn't make this pick. This pick was made for Joe," Watters blared before pivoting to suggest Harris is a Lady Macbeth-like figure secretly aiming to overtake Biden. "I wouldn't trust Kamala Harris," the Fox host declared. "I think she's very ambitious and we all know Joe's only running for one term. So you're basically ushering in someone that's gonna, I don't think, have the best intentions."
The following morning, on Fox & Friends, conservative columnist Miranda Devine asserted that "ruthlessly ambitious" Harris will be "quick to push Joe Biden out of the way as soon as she gets a chance." Similarly, on Tuesday evening, primetime star Laura Ingraham claimed that Biden is ultimately a Trojan Horse for Harris and other unnamed figures to run the party.  https://www.thedailybeast.com/fox-news-insists-that-joe-biden-didnt-really-pick-kamala-harris
3. Trump continues to spin false narrative around mail-in voting and coronavirus
Donald Trump turned his Monday news conference into a dishonesty spree, blitzing reporters with rapid-fire false claims on a variety of his favorite topics -- the coronavirus pandemic, mail-in voting, China, Democrats generally and President Barack Obama in particular. 
Trump made a false claim in the opening minutes of the briefing, wrongly saying it is easy for foreign countries to interfere with mail-in voting. Trump uttered at least 12 false claims in total. https://www.cnn.com/2020/08/10/politics/donald-trump-coronavirus-briefing-virginia-ballots-fact-check/index.html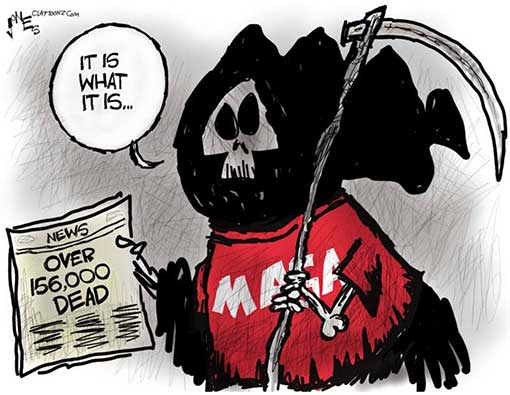 4. America's COVID Warning System
Five key indicators are used to determine risk levels for 50 states and 3,000+ counties. https://covidactnow.org/
5. Elliott Abrams, Convicted in Iran-Contra Affair, Is Appointed Trump's Envoy to Iran
From the administration that brought you a former open-pit-mining lobbyist as the secretary of the Interior and a coal-mining lobbyist as the head of the Environmental Protection Agency comes another staffing decision defined by conflict of interest. Elliott Abrams — who was convicted of two misdemeanor counts of withholding information from Congress during the Iran-Contra Affair — will now serve the Trump administration as its envoy to Iran.
Pardoned by George H.W. Bush in 1992, Abrams was a pivotal figure in the foreign-policy scandal that shook the Reagan administration, lying to Congress about his knowledge of the plot to covertly sell weapons to the Khomeini government and use the proceeds to illegally fund the right-wing Contras rebel group in Nicaragua. As assistant secretary of State, he testified that the United States was not involved in such a plot, despite being well aware of architect Oliver North's efforts to resupply the brutal paramilitaries; in 1991 he was convicted of two counts of withholding evidence. (For observers new to the scandal that consider it a product of a bygone era, the attorney general who cheer-led the pardoning of Abrams and four others involved in the affair is William Barr, who holds the same position today.) https://nymag.com/intelligencer/2020/08/elliott-abrams-convicted-in-iran-contra-is-now-trumps-iran-envoy.html
6. Health directors told to keep quiet as Fla. leaders pressed to reopen classrooms
As Gov. Ron DeSantis pushed this summer for schools to reopen, state leaders told school boards they would need Health Department approval if they wanted to keep classrooms closed.
Then they instructed health directors not to give it. https://www.palmbeachpost.com/news/20200807/health-directors-told-to-keep-quiet-as-fla-leaders-pressed-to-reopen-classrooms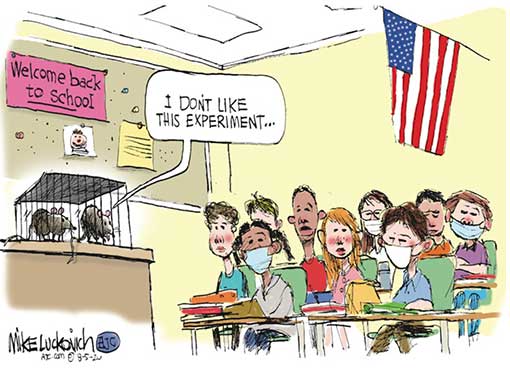 7. GOP women warn of eroding support among female voters amid a 'gender chasm'
A growing number of Republican women are sounding the alarm about continuing loss of support for President Trump and the GOP among female voters ahead of the November election, warning that the party is in danger of permanently alienating women if it doesn't change course.
Trump's flailing response to the coronavirus pandemic and his move to inflame nationwide racial tensions are exacerbating an already precarious situation, according to interviews with female Republican lawmakers and GOP pollsters focused on female voters. https://www.washingtonpost.com/politics/republican-women-falling-support-trump/2020/08/07/108bec18-d5b6-11ea-b9b2-1ea733b97910_story.html
8. Election strategy: Hire all the lawyers
The coronavirus has sent overall U.S. unemployment into the double digits — but it's a sort of full-employment act for election law attorneys.
The prospect of extended court fights over COVID-19-related voting changes, an absentee ballot avalanche, foreign interference and contested presidential results has prompted a hire-all-the-lawyers binge by candidates and campaigns — not just in swing states but around the country.
Issues with people not receiving absentee ballots in time due to postal service delays, concerns over rejected absentee ballots, and disruptions at polling places because of poll worker shortages could fuel litigation around and after Election Day.
"You could see suddenly Republicans arguing that these ballots shouldn't have been tossed, and you could see Democrats taking the opposite position."A third of the states have changed mail-in voting laws because of the virus, a trend driving much of the current and anticipated litigation. https://www.axios.com/2020-election-lawsuits-de329dcc-97d1-46e9-9a9d-11197fd1e6a9.html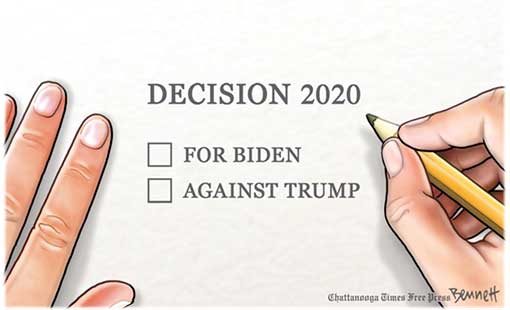 9. E. Jean Carroll, Who Accused Trump of Rape, Can Go Forward With Suit
A New York judge has rejected President Trump's bid to temporarily halt proceedings in a lawsuit filed against him by the writer E. Jean Carroll, who has accused him of rape, a ruling that allows the case to move forward in the months before the presidential election.
The decision was a victory for Ms. Carroll, who sued Mr. Trump last November for defamation after he called her a liar and said he had never met her. She published a memoir last summer that accused Mr. Trump of attacking her in a department store dressing room in Manhattan in the 1990s. https://www.nytimes.com/2020/08/07/nyregion/jean-caroll-donald-trump-lawsuit-rape.html
10. Trump long has relied on nondisclosure deals to prevent criticism. That strategy may be unraveling
For decades, Donald Trump has relied on broadly worded nondisclosure agreements as a powerful weapon against anyone who would say something critical of him. Among those who have signed agreements are a porn star, two ex-wives, contestants on "The Apprentice," campaign workers and business associates.
But this key element of Trump's corporate and political strategy has shown signs of unraveling, even as his campaign spends heavily to enforce such agreements. He and his allies recently have lost initial rounds in legal battles to stop damaging books by former top White House officials and his niece Mary L. Trump.
Now, in one of the most sweeping efforts by a former associate to undo nondisclosure agreements, the Trump campaign's former Hispanic outreach director last week filed her latest effort in a class-action suit to void all such campaign contracts. She says they are so broad that they deny individuals their First Amendment right to say anything critical of the president — even as he routinely takes to Twitter to mock and deride his critics. https://www.washingtonpost.com/politics/trump-nda-jessica-denson-lawsuit/2020/08/06/202fed1c-d5ad-11ea-b9b2-1ea733b97910_story.html
11. House Democrats can sue Trump over U.S.-Mexico border wall funding
A federal appeals court ruled on Friday that House Democrats can proceed with a lawsuit over President Trump's diversion of $2.5 billion in Pentagon funding to build a U.S.-Mexico border wall.
In a 7-2 decision, the D.C. Circuit Court of Appeals ruled that lawmakers have the legal right to sue the administration over a financing maneuver that a separate California-based federal appeals court found to be an illegal encroachment of Congress's power of the purse. https://thehill.com/homenews/administration/511049-house-democrats-can-sue-trump-over-us-mexico-border-wall-funding
12. Russia Continues Interfering in Election to Try to Help Trump
Russia is using a range of techniques to denigrate Joseph R. Biden Jr., American intelligence officials said Friday in their first public assessment that Moscow continues to try to interfere in the 2020 campaign to help President Trump.
At the same time, the officials said China preferred that Mr. Trump be defeated in November and was weighing whether to take more aggressive action in the election.
An American official briefed on the intelligence said it was wrong to equate the two countries. Russia, the official said, is a tornado, capable of inflicting damage on American democracy now. China is more like climate change, the official said: The threat is real and grave, but more long term. https://www.nytimes.com/2020/08/07/us/politics/russia-china-trump-biden-election-interference.html
13. Postal Service overhauls leadership as Democrats press for investigation of mail delays
Postmaster General Louis DeJoy unveiled a sweeping overhaul of the nation's mail service, displacing the two top executives overseeing day-to-day operations, according to a reorganization memo released Friday. The shake-up came as congressional Democrats called for an investigation of DeJoy and the cost-cutting measures that have slowed mail delivery and ensnared ballots in recent primary elections.
Twenty-three postal executives were reassigned or displaced, the new organizational chart shows. Analysts say the structure centralizes power around DeJoy, a former logistics executive and major ally of President Trump, and de-emphasizes decades of institutional postal knowledge. All told, 33 staffers included in the old postal hierarchy either kept their jobs or were reassigned in the restructuring, with five more staffers joining the leadership from other roles.
The reshuffling threatens to heighten tensions between postal officials and lawmakers, who are troubled by delivery delays — the Postal Service banned employees from working overtime and making extra trips to deliver mail — and wary of the Trump administration's influence on the Postal Service as the coronavirus pandemic rages and November's election draws near. https://www.washingtonpost.com/business/2020/08/07/postal-service-investigation-dejoy/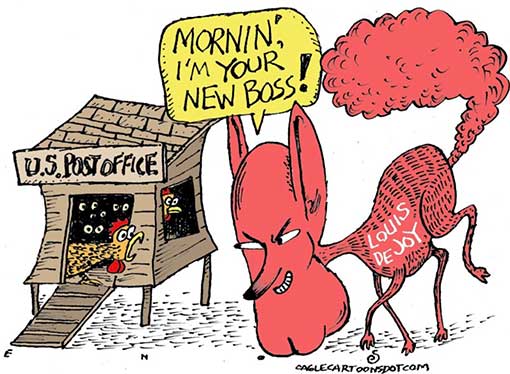 14. Trump aides exploring executive actions to curb voting by mail
This past spring, President Donald Trump began a full-fledged assault on voting by mail, tweeting, retweeting and railing about massive fraud and rigged elections with scant evidence.
Then the Republican apparatus got to work backing up the president.
In the weeks since, Trump's campaign and the Republican National Committee have taken to the courts dozens of times as part of a $20 million effort to challenge voting rules, including filing their own lawsuits in several battleground states, including Minnesota, Pennsylvania and Nevada. And around the time Trump started musing about delaying the election last week, aides and outside advisers began scrambling to ponder possible executive actions he could take to curb mail-in voting — everything from directing the postal service to not deliver certain ballots to stopping local officials from counting them after Election Day. https://www.politico.com/news/2020/08/08/trump-wants-to-cut-mail-in-voting-the-republican-machine-is-helping-him-392428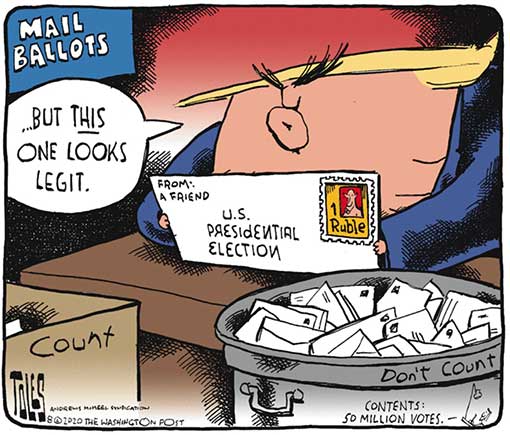 15. The lost days of summer: How Trump fell short in containing the virus
As the White House chief of staff, Mark Meadows is responsible for coordinating the vast executive branch, including its coronavirus response. But in closed-door meetings, he has revealed his skepticism of the two physicians guiding the anti-pandemic effort, Deborah Birx and Anthony S. Fauci, routinely questioning their expertise, according to senior administration officials and other people briefed on the internal discussions.
Meadows no longer holds a daily 8 a.m. meeting that includes health professionals to discuss the raging pandemic. Instead, aides said, he huddles in the mornings with a half-dozen politically oriented aides — and when the virus comes up, their focus is more on how to convince the public that President Trump has the crisis under control, rather than on methodically planning ways to contain it.
During coronavirus meetings, Meadows has repeatedly questioned the scientific consensus that wearing masks helps contain the spread of the novel coronavirus, officials said. He has regularly raised with Fauci and others a range of issues on which he thinks Fauci has been wrong, and he personally monitors the infectious-disease expert's media appearances. When he catches Fauci sounding out of sync with Trump, the chief of staff admonishes the doctor to "stay on message," officials said — and he has impressed upon Fauci, Birx and other public health professionals that they should not opine on restrictions or make policy in the media. https://www.washingtonpost.com/politics/trump-struggled-summer-coronavirus/2020/08/08/e12ceace-d80a-11ea-aff6-220dd3a14741_story.html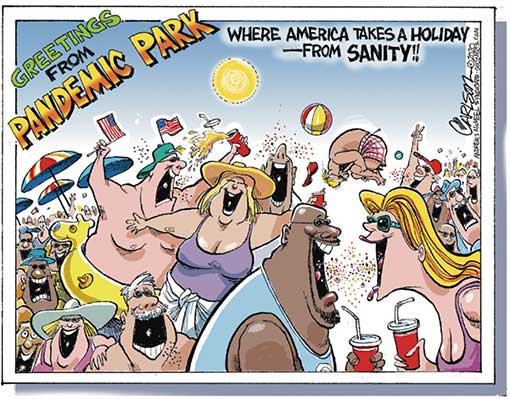 16. The DAILY GRILL
Trump, during a speech Thursday at a Whirlpool manufacturing plant in Ohio, announced that he had signed a proclamation. reimposing 10% tariffs on aluminum imports from Canada that had been lifted more than a year earlier.

VERSUS

Canada said Friday it will slap retaliatory tariffs on $2.7 billion worth of U.S. goods, the latest development in a new trade feud sparked by President Donald Trump's decision to reimpose aluminum duties on the U.S. ally.

 

"Over the next two weeks I'll be pursuing a major executive order requiring health insurance companies to cover all pre-existing conditions for all customers," — Trump.

VERSUS

"The Affordable Care Act already requires insurers to cover pre-existing conditions. The Trump administration is currently arguing in a case before the Supreme Court to strike down that very law — including its pre-existing condition protections."

 

@CNN has no sources on the Task Force. Their "sources" are made up, pure fiction! Jim Acosta is a Fake reporter! - Donald Trump tweet.

VERSUS

False. @Acosta is a Real reporter with Real sources who talks to members of your Task Force much more often than you do. — @CNNPR
17. From MEDIA MATTERS (They watch Fox News so you don't have to)
Far-right media figures are targeting one of  Dr. Anthony Fauci's daughters with a conspiracy theory that claims there is something untoward about her reported employment with Twitter. Misogynist far-right media figure Patrick Howley took credit for first reporting her employment, and Dr. Fauci has said that he and his daughters have been receiving death threats over his work on the coronavirus pandemic. Attacks on the daughter have been promoted on Alex Jones' Infowars network and are circulating on far-right message board 8kun (which replaced the shuttered 8chan message board).  https://www.mediamatters.org/coronavirus-covid-19/far-right-media-target-anthony-faucis-daughter-conspiracy-theory-about-her

America's Newsroom aired the vast majority of Sen. Lindsey Graham's (R-SC) opening statement in which he repeated several right-wing media narratives around the origins of the Russia investigation, aka. Crossfire Hurricane, but the show cut away before Sen. Dianne Feinstein (D-CA) gave her statement. America's Newsroom did not cover the segment where former Deputy Attorney General Sally Yates' gave an unequivocal, sworn denial of the central accusation that either then-President Barack Obama, then-Vice President Joe Biden, or then-national security adviser Susan Rice ordered or influenced any investigations during an Oval Office meeting on January 5, 2017. https://www.mediamatters.org/fox-news/fox-news-declines-air-sally-yates-debunking-right-wing-conspiracy-theory-under-oath

Russian propaganda and far-right media wildly exaggerated a story about Bible-burnings in Portland — and Fox News ran with it. Fox News and other right-wing media were aghast last week about a story from the ongoing protests and civil unrest in Portland, Oregon, in which a crowd supposedly burned a stack of Bibles as a widely seen political statement — which now turns out to have been a vastly exaggerated event, further enlarged and distributed by Russian propaganda. https://www.mediamatters.org/fox-news/russian-propaganda-and-far-right-media-wildly-exaggerated-story-about-bible-burnings
1. James Hohmann: Trump's Mount Rushmore fantasy is enabled by a 'Potemkin village' staffers build for him
Trump said Sunday night that etching his likeness in granite on Mount Rushmore alongside George Washington, Thomas Jefferson, Abraham Lincoln and Theodore Roosevelt "sounds like a good idea."
Trump has spent a lifetime putting his name on prime real estate, but this aspiration to add his visage to perhaps the nation's foremost symbol of presidential greatness also epitomizes how his perception of his own job performance diverges so sharply from the views of most Americans.
"Everyone is busy trying to create a Potemkin village for him every day," said a senior administration official involved in the pandemic response. "You're not supposed to see this behavior in liberal democracies that are founded on principles of rule of law. Everyone bends over backwards to create this Potemkin village for him and for his inner circle."
"Staffers have concocted a positive feedback loop for the boss. They present him with fawning media commentary and craft charts with statistics that back up the president's claim that the administration has done a great — even historically excellent — job fighting the virus," my colleagues report.
On Sunday night, however, Trump tweeted this picture of himself.
A few minutes later, the president denied a report in Sunday's New York Times that said a White House aide reached out to the South Dakota governor's office last year to find out what the process would be to add Trump's likeness to Mount Rushmore. He tweeted: "Never suggested it although, based on all of the many things accomplished during the first 3 1/2 years, perhaps more than any other Presidency, sounds like a good idea to me!" https://www.washingtonpost.com/politics/2020/08/10/daily-202-trumps-mount-rushmore-fantasy-is-enabled-by-potemkin-village-staffers-build-him/
2. Bill McKibben: Trump's Attack on the Postal Service Is a Threat to Democracy—and to Rural America
It's by now pretty obvious that the Trump Administration is attempting to sabotage mail delivery in order to cast some kind of shadow over the November election. Donald Trump's newly installed Postmaster General, Louis DeJoy, who earned the position with more than two million dollars in donations to the Trump campaign and other Republican causes since 2016, has eliminated all overtime; a memo to employees declares that, as a result, "if we cannot deliver all the mail due to call offs or shortage of people and you have no other help, the mail will not go out." Last week, as the Washington Post reports, in what's being called the Friday Night Massacre, DeJoy obliterated decades of institutional knowledge, by reassigning or displacing twenty-three highly ranked officials in the postal service. Not only that but the Postal Service almost tripled the postage for mailing ballots to voters.
You'd think that the Republican Party, which depends on the undue weight given to rural voters for its continued political life, would be particularly solicitous of the post office. But, at the higher reaches, its ideological preoccupations are stronger: the post office is a government service, and therefore bad; it should be run instead by people who can make money from it.
In April, Trump told reporters that the post office was "a joke" and that he'd oppose any bailout unless it quadrupled the rate for mailing packages. (Along with the postal service's role in our democracy, the President seems upset about its contracts with Amazon, because it is owned by the same man who owns the Washington Post, which Trump thinks is mean to him, which is just daily life in a tinpot wannabe-dictatorship.) "Trump and the Republican Party use rural communities and give speeches about how connected they are to our rural way of life in order to get elected, and then turn around and abandon everything we care about, from our schools, to the post office, to our family farmers, and to our rural hospitals, https://www.newyorker.com/news/daily-comment/trumps-attack-on-the-postal-service-is-a-threat-to-democracy-and-to-rural-america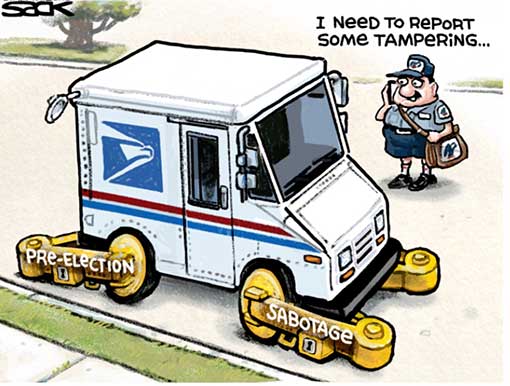 3. Max Boot: Republicans are becoming the QAnon Party
The president might not be a full-fledged QAnon adherent, but he is a racist and a conspiracy-monger in his own right. The conspiracy theories that he has promoted — Joe Scarborough is a murderer, former president Barack Obama wasn't born in the United States, Sen. Ted Cruz's (R-Tex.) father killed John F. Kennedy, etc. — are nearly as nutty as the ones promulgated by QAnon. And Trump is appointing officials with similarly noxious beliefs: His choice for a senior Pentagon post said that Obama is a sleeper agent for Hamas and a "terrorist leader." His choice for ambassador to Germany said that country has been overrun by "Muslim invaders." And his choice to run the Office of Personnel Management said Hillary Clinton campaign manager John Podesta took part in satanic rituals. Trump's first national security adviser — Michael Flynn — has even pledged allegiance to QAnon.
Trump is also becoming increasingly blatant in his appeals to White bigots. He tweeted on Wednesday that "the 'suburban housewife' will be voting for me," because under a Biden presidency "low income housing would invade their neighborhood." Trump claimed that the person in charge of this plot would be African American Sen. Cory Booker (D-N.J.). This isn't a racist dog whistle; this is a wolf whistle.
Under Trump, the GOP has become a party of white nationalists and conspiracy-mongers. I had feared that the Republican swing to the far right would lead the Democrats to go to the far left — and Sen. Bernie Sanders's (I-Vt.) brief run as the Democratic front-runner had confirmed my concerns. But the ticket of Joe Biden and Sen. Kamala D. Harris (Calif.) is as mainstream and moderate as you can get. Trump & Co. can bellow all day long that they are lackeys for Sanders and "the Squad," but it's simply not credible. The Republican Party, by contrast, isn't just catering to extremists — it's led by one. https://www.washingtonpost.com/opinions/2020/08/12/republicans-are-becoming-qanon-party/
4. Peter Baker, Nick Corasaniti, Michael S. Schmidt and Maggie Haberman: The Voting Will End Nov. 3. The Legal Battle Probably Won't.
The stormy once-in-a-lifetime Florida recount battle that polarized the nation in 2000 and left the Supreme Court to decide the presidency may soon look like a high school student council election compared with what could be coming after this November's election.
Imagine not just another Florida, but a dozen Floridas. Not just one set of lawsuits but a vast array of them. And instead of two restrained candidates staying out of sight and leaving the fight to surrogates, a sitting president of the United States unleashing ALL CAPS Twitter blasts from the Oval Office while seeking ways to use the power of his office to intervene.
The possibility of an ugly November — and perhaps even December and January — has emerged more starkly in recent days as President Trump complains that the election will be rigged and Democrats accuse him of trying to make that a self-fulfilling prophesy. https://www.nytimes.com/2020/08/08/us/politics/voting-nov-3-election.html
5. Dan Pfeiffer: Time to Sound the Alarm
Trump believes that Vote by Mail benefits Joe Biden. He says — and tweets — as much every single day. It's fair to say that Trump has worked harder at undermining Vote by Mail than he has worked at anything in his 74 years on the planet.
The torrential tempo of news in the Trump era makes it difficult to separate the serious from the silly. A few weeks ago, Trump proposed delaying the election — something he has no ability to do, but fits with a long running progressive fear about Trump canceling the election and ruling for his remaining days. This absurd proposition dominated the political conversation for days.
Delaying the election cannot and will not happen. Delaying the mail IS happening and it can help Trump steal the election. In many states, ballots mailed before the election that arrive after it, do not count. If you believe — as Trump clearly does — that Democrats will rely on mail balloting more than Republicans, delaying the mail is a very simple way to steal an election.
This is a five alarm fire and we need to respond like the fate our democracy is on the line. https://messagebox.substack.com/p/time-to-sound-the-alarm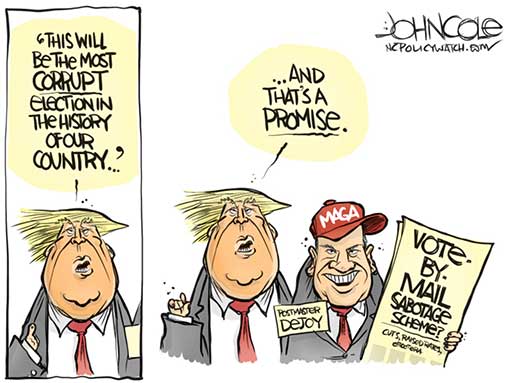 6. Williams Saletan: The Trump Pandemic
Since his January interview with Chris Wallace, Trump has attacked and belittled his medical advisers. He lashed out at Birx for acknowledging the ongoing spread of the virus. He retweeted a false claim that Fauci was suppressing hydroxychloroquine "to perpetuate Covid deaths to hurt Trump." When Fauci told Congress that infections had increased due to insufficient mitigation, Trump rebuked him and blamed the surge on increased testing. And when Dave Portnoy, a wealthy Trump supporter, complained that his stocks tanked every time Fauci called for mitigation, Trump assured Portnoy that the doctor's pleas would go nowhere. "He'd like to see [the economy] closed up for a couple of years," Trump said of Fauci. "But that's OK, because I'm president. So I say, 'I appreciate your opinion. Now somebody give me another opinion.' "

It's hard to believe a president could be this callous and corrupt. It's hard to believe one person could get so many things wrong or do so much damage. But that's what happened. Trump knew we weren't ready for a pandemic, but he didn't prepare. He knew China was hiding the extent of the crisis, but he joined in the cover-up. He knew the virus was spreading in the United States, but he said it was vanishing. He knew we wouldn't find it without more tests, but he said we didn't need them. He delayed mitigation. He derided masks. He tried to silence anyone who told the truth. And in the face of multiple warnings, he pushed the country back open, reigniting the spread of the disease. https://slate.com/news-and-politics/2020/08/trump-coronavirus-deaths-timeline.html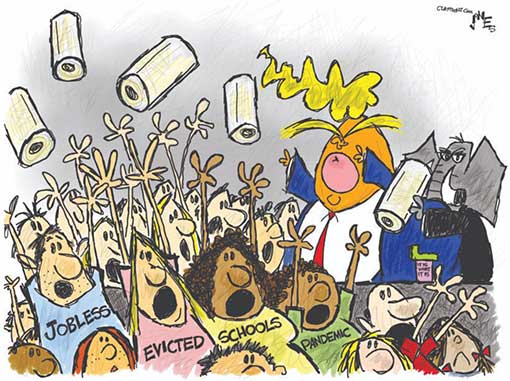 7. Molly Ball: How COVID-19 Changed Everything About the 2020 Election
"For four years, Trump has been the dominant force and inescapable fact not only of national politics but also of American life. Now he finds himself displaced as the central character in his own campaign by a plague that answers to no calendar, ideology or political objective. Just as the virus has changed the way adults report to offices and children go to school, upending whole industries in the process, it has spurred a massive shift in the fundamental act of American democracy: how we select the President who will be charged with ending the pandemic's reign of destruction, dealing with its aftermath and shaping the nation that rises from its ashes. And as with so many other changes wrought by the coronavirus, the practice of American politics may never be quite the same again."
"This was always going to be an unusual contest–the high-stakes re-election campaign of a historically divisive President at a pivotal moment for the nation, a referendum on his norm-shattering style and disruptive vision, a test for his scattered opposition to prove which side of a polarized political spectrum represents the mainstream. As the campaign enters its final three-month stretch, Trump trails badly in national and battleground-state polls as Americans give his dismal handling of the pandemic a failing grade. But the end of Trump's turbulent term will be written by the virus. It startled us with its rise and spread in January and February, suspended normal life in March and April, and lulled many into complacency before whipsawing us again with its resurgence in June and July. Who knows what kind of October surprise it may have in store?" https://time.com/5876599/election-2020-coronavirus
8. Senator Richard Blumenthal (D-CT): The threat to U.S. elections is real, and frightening. The public has a right to know.
This week, I reviewed classified materials in the Senate's Sensitive Compartmented Information Facility and received a similarly classified briefing on malign foreign threats to U.S. elections. I was shocked by what I learned — and appalled that, by swearing Congress to secrecy, the Trump administration is keeping the truth about a grave, looming threat to democracy hidden from the American people. On Friday, the Office of the Director of National Intelligence issued a statement that only hints at the threats.
The facts are chilling. I believe the American public needs and deserves to know them. The information should be declassified immediately.
The publicly available facts are terrifying enough. A report released on Wednesday by the State Department outlined in detail attempts by Russian front groups, fake individual online identities and state-funded media to sow disinformation and dissension about U.S. allies around the world. Russian intelligence operations have perfected the art of laundering distorted and fabricated narratives through media networks, covert hacking, international proxies and others to undermine democracies, attack the United States' global image and silence criticism of Russian President Vladimir Putin.
Though the report was focused on Russia's global influence campaign, there is no reason to think the United States is immune from its destructive and destabilizing efforts. The sophisticated tactics and techniques described in the report make Moscow's past interference and nefarious actions look like child's play.
Protecting the nation's democratic values should be a bipartisan imperative. Those of us in Washington should not risk looking back and saying, if only we'd known, we could have done something. We do know. We can do something. It starts with sharing the truth. https://www.washingtonpost.com/opinions/the-threat-to-us-elections-is-real-and-frightening-the-public-has-a-right-to-know/2020/08/07/366dba0e-d8dd-11ea-930e-d88518c57dcc_story.html
9. Maureen Dowd: Double, Double, Trump's Toil, Our Trouble
As the Shakespeare scholar Stephen Greenblatt writes: "The tyrant, Macbeth and other plays suggest, is driven by a range of sexual anxieties: a compulsive need to prove his manhood, dread of impotence, a nagging apprehension that he will not be found sufficiently attractive or powerful, a fear of failure. Hence the penchant for bullying, the vicious misogyny, and the explosive violence. Hence, too, the vulnerability to taunts. Especially those bearing a latent or explicit sexual charge."
Trump's fear of emasculation led to his de-mask-ulation. Instead of cleaving to science and reason, he stuck with the old, corny Gordon Gekko routine, putting concern for the stock market above all else.
Even Trump's allies are baffled about why he can't fake a sense of compassion and competency. He has made enough cheesy movie cameos — even one hawking cheese-stuffed Pizza Hut crust — that he should know how to pretend to be halfway human.
Now the president is threatening another crisis, tweeting that we might have to delay the election because there could be mail-in voting fraud.
In his view, either he wins or the election is rigged. He's trying to make mail-in ballots socially unacceptable the same way he made masks socially unacceptable for the first five months of the plague.
The Washington Post reports that backlogs at the U.S. Postal Service are causing some employees there to worry that the Trump lackey in charge, a top donor, is intentionally gumming up the works just in time for the election. It is astounding the corrupt lengths the administration seems willing to go to — destroying the Postal Service to win the election. Ben Franklin would be incensed.
As Axelrod notes, "Whatever happened back in the Bush v. Gore recount days will seem like the Garden of Innocence compared to what's going to happen now. Trump is not going to walk to the rostrum and say, 'The people have spoken and I accept their verdict.''' https://www.nytimes.com/2020/08/01/opinion/sunday/trump-coronavirus-herman-cain.html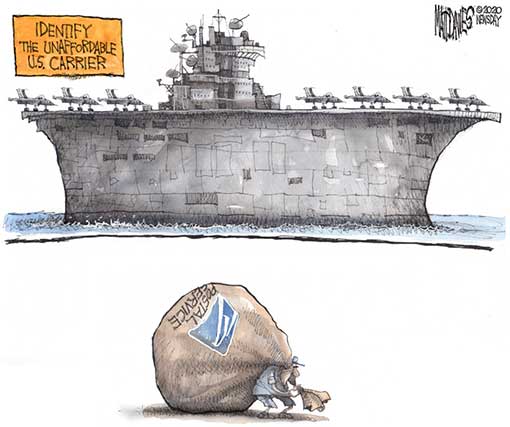 10. David Leonhardt: The Unique U.S. Failure to Control the Virus
Nearly every country has struggled to contain the coronavirus and made mistakes along the way.
China committed the first major failure, silencing doctors who tried to raise alarms about the virus and allowing it to escape from Wuhan. Much of Europe went next, failing to avoid enormous outbreaks. Today, many countries — Japan, Canada, France, Australia and more — are coping with new increases in cases after reopening parts of society.
Yet even with all of these problems, one country stands alone, as the only affluent nation to have suffered a severe, sustained outbreak for more than four months: the United States.
Over the past month, about 1.9 million Americans have tested positive for the virus.
That's more than five times as many as in all of Europe, Canada, Japan, South Korea and Australia, combined. Even though some of these countries saw worrying new outbreaks over the past month, including 50,000 new cases in Spain, the outbreaks still pale in comparison to those in the United States. Florida, with a population less than half of Spain, has reported nearly 300,000 cases in the same period.
How did this happen? The New York Times set out to reconstruct the unique failure of the United States, through numerous interviews with scientists and public health experts around the world. The reporting points to two central themes.
First, the United States faced longstanding challenges in confronting a major pandemic. It is a large country at the nexus of the global economy, with a tradition of prioritizing individualism over government restrictions. That tradition is one reason the United States suffers from an unequal health care system that has long produced worse medical outcomes — including higher infant mortality and diabetes rates and lower life expectancy — than in most other rich countries. https://www.nytimes.com/2020/08/06/us/coronavirus-us.html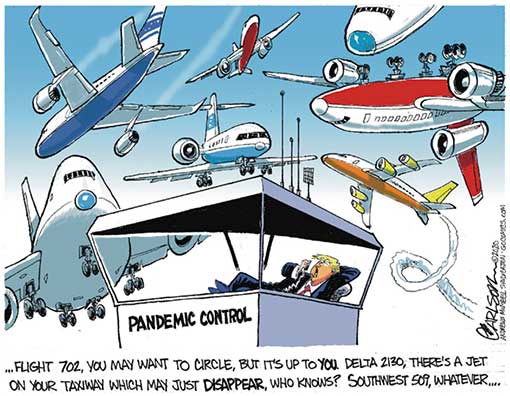 11. John J. Pitney Jr.: Trump Saying Biden Would 'Hurt the Bible' and 'Hurt God' is the Height of Hypocrisy
In Ohio on Thursday, Trump described what would happen if Joe Biden became president: "No religion, no anything. Hurt the Bible. Hurt God. He's against God." That's an odd charge. Biden is a churchgoing Catholic who has told the moving story of how his faith sustained him through the deaths of his first wife, his daughter, and his son.
But yes, there is a candidate without real religion or Christian morality. His name is Donald Trump.
Omarosa Manigault Newman, a former Trump aide and an ordained Baptist minister, put it this way: "Donald Trump has no knowledge of the Bible at all. It might as well be a paper brick to him." After Trump said that public schools should offer the "option" of Bible study, a pastor tweeted:
I was @realDonaldTrump's pastor for 5 years @MarbleChurch. I assure you, he had the "option" to come to Bible study. He never "opted" in. Nor did he ever actually enter the church doors. Not one time. https://t.co/hf06e6LyRz
- David Lewicki (@dlewicki) January 29, 2019
In her recent book, his niece quotes his sister Maryanne: "The only time Donald went to church was when the cameras were there."
Trump's ignorance of religion is comical. In 2015, when a reporter asked him to name his favorite Bible verse, he declined by saying "it's very personal." Watch the video. If you're a teacher, you have seen that body language from students who haven't done the assigned reading.
What's more troubling is that he scorns the moral teachings of the faith that he pretends to believe in. The New Testament warns against hatred: "Whoever claims to love God yet hates a brother or sister is a liar" (1 John 4:20). Trump preaches hatred. In 1989, when he was persecuting the wrongly accused (and then wrongly convicted) Central Park Five, he said: "I hate these people and let's all hate these people because maybe hate is what we need if we're gonna get something done."
Perhaps the most famous of Jesus' moral teachings is: "If someone slaps you on one cheek, turn to them the other also" (Luke 6:29). In 2012, Trump tweeted: "When someone attacks me, I always attack back . . . except 100x more. This has nothing to do with a tirade but rather, a way of life!" Lest anyone miss the point about Trump's repudiation of Jesus' words, see a tweet from 2013: "What happened to 'turn the other cheek?' Sorry, not a believer!"
Think about that. Presented with the words of the religious figure that he claims to worship, he sneered, "Sorry, not a believer!" https://thebulwark.com/trump-saying-biden-would-hurt-the-bible-and-hurt-god-is-the-height-of-hypocrisy/
12. Art Cullen: Trump is in electoral hot water. It could be even worse for him by November
The pandemic is pretty much out of control. The economy is a wreck, with interest rates near zero. China finally bought some of our corn because it's so cheap. We are in the grips of a drought that has farmers sweating low yields with low prices. Wildfires are spreading from Arizona to California along with Covid. Our one bright spot, baseball, might even have to shut down just when the Minnesota Twins are on a roll. No way Trump wins Minnesota, one of his flip targets. George Floyd looms large.
Trump says the only way he can lose is through election fraud. In fact, it seems more likely that the only way he can win is through fraud. In April, Wisconsin Republicans tried to stop voters in a key Wisconsin election for a supreme court justice that was a proxy on Trump – and Trump lost, as stubborn cheeseheads stood in line for hours at great personal infection danger to vote. He desperately needs Wisconsin. But the paper mills are shutting down, dairy operators are drowning in a glut of corporate milk, and furious teachers are organizing like never before.
People are fed up with being cooped up and knocked down. They want some security right now. Biden has offered voters a steady rollout of plans to solve big problems, and with a heavy dose of decency and respect. His climate agenda is truly bold. He says he wants to be a "transformational" president, not just transitional. He will follow science to respond to the pandemic. That's what people want to hear, not whining. "Why don't they like me?" Trump wondered aloud. Because they don't. That should be good enough to set this country right.
So long as everybody votes. https://www.theguardian.com/commentisfree/2020/aug/07/trump-election-2020-november-biden-art-cullen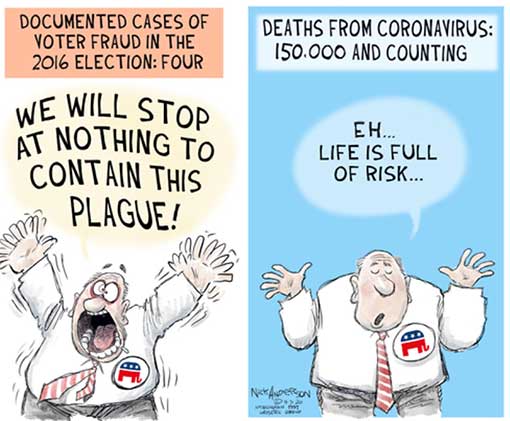 13. Greg Olear: The Great Escape: Donald John Trump's Exit Strategy
Where does the President go from here?
No one is pretending that Trump is going to win the popular vote. He's not even trying to. He's doubling down on the culture wars that excite his base in the hopes of getting them to turn out in strong numbers, most recently by sending federal law enforcement officers into cities led by Democrats in order to create images of what looks like rioting, to enable him to set himself up as defending "law and order."
At the same time, he and his supporters in the Republican Party are working to guarantee an undercount of votes for his opponent by attacking mail-in voting, shutting down polling places, kicking people off voter rolls, undercutting the United States Postal Service, and even, perhaps, by permitting a wave of evictions that will make it significantly harder for displaced people to vote.
It is notable that, as a country, we are not talking about policies or winning majorities. We are talking about how Trump can win by gaming the Electoral College, or by cheating. https://gregolear.substack.com/p/the-great-escape-donald-john-trumps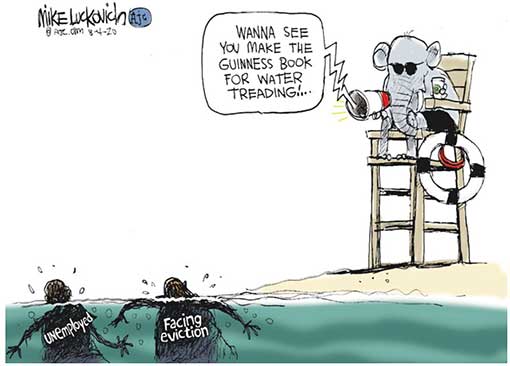 14. Laurence H. Tribe, Jennifer Taub, and Joshua A. Geltzer: Trump Has Launched a Three-Pronged Attack on the Election
As President Donald Trump reflects on his sinking approval ratings and grows more desperate by the day, he's been floating a dictator's dream: postponing the November election. Even Senate Majority Leader Mitch McConnell and other Trump loyalists, including the Federalist Society co-founder Steven Calabresi, swiftly rejected this authoritarian fantasy. So Trump has retreated to a fallback position: casting doubt on the legitimacy of any election he doesn't win. That starts by inventing fables about how voting by mail invites massive fraud and interminable delay—except, Trump now tells us, in Florida, where Trump's elderly supporters will surely rely on it.
Halting vote-counting after Election Day requires Trump to stage a three-pronged attack: slowing mail delivery, then urging Republican state legislatures to deem Election Day "failed" because of the many uncounted votes, and finally denouncing as illegitimate all vote-counting that continues after Election Day—even as slowly delivered mail-in ballots keep arriving. Leading the first step is Postmaster General Louis DeJoy, who's reportedly shutting down post offices and slowing mail delivery under the guise of cost-cutting. Employees say that piles upon piles of letters and packages remain undelivered, stranded for weeks on end. These efforts undermine public confidence in the Postal Service and threaten to slow the distribution of blank ballots to voters and the return of completed ballots to state officials—with a likely disproportionate effect on Democratic-leaning urban voters, for whom the coronavirus's circulation in cities makes mail-in voting particularly appealing. The likely surge in mail-in ballots that the pandemic will encourage suggests that tallying the election results won't be completed on November 3 but will take days, possibly weeks, to complete accurately.
Trump will almost certainly use this delay as an opportunity to cast doubt on the whole election. He may even try to urge Republican-controlled legislatures in states that tend to vote blue but supported him in 2016 to deem Election Day "failed" given the uncounted votes, as well as pressure those legislatures to then exploit a federal law that allows them to come up with a new way to appoint presidential electors—such as handpicking a slate committed to Trump. https://www.theatlantic.com/ideas/archive/2020/08/trump-has-launched-three-pronged-attack-election/615034/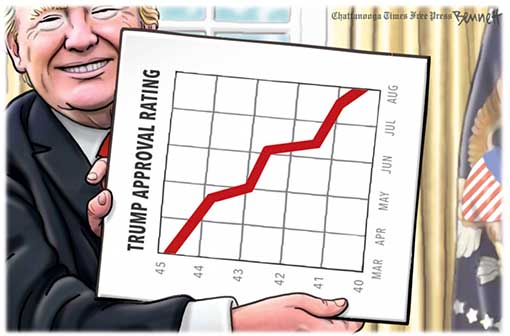 15. Paul Waldman: Why Putin Wants Trump to Win
When this subject comes up, administration officials protest that Trump has been tough on Russia, citing a couple of relatively minor decisions, including some sanctions and the release of weapons to Ukraine (after Trump got caught holding up military aid that Congress had appropriated, of course). But that's small potatoes in the context of Putin's broader interests.
And Donald Trump serves almost all those interests. In particular, Trump has tried aggressively to weaken the Western alliance, fraying the economic, diplomatic, and military ties that bind the world's most powerful country to our European allies. Not even Putin is as openly contemptuous of international organizations like NATO.
Perhaps even more important to Putin in the long term, every day he is in office Trump undermines the institutional foundations of the American system and discredits Western-style democracy.
This is one of the prime motivations behind the election meddling Putin has undertaken in country after country. He might have a preference between candidates in a given election, but what he wants above all is to cause chaos that weakens the target country and makes its politics more dysfunctional, thereby validating the case to his own people that having a strongman rule for life is far preferable to the systems of the West.
And he never accomplished more toward that goal than by helping Donald Trump become president of the United States. Give Trump four more years, and American democracy could be on the brink of collapse. https://prospect.org/politics/why-putin-wants-trump-to-win/
16. Phil Heimlich: Republicans against Trump: 'We will not make the same mistake this November'
In 2016, many of us who wanted change in the White House took a chance on Donald Trump. We thought he'd lead as a conservative Republican: instead, he has imperiled our republic. Therefor, for the following reasons, we're joining with other Ohio Republicans in to vote against President Trump this November:
● He has created a culture of fear within the Republican Party as well as across the country, demonizing anyone with differing opinions.

● He belittles, berates, and ruins the careers of all who oppose him – including his own appointed government agency heads, respected military leaders and war heroes.

● He has undermined the rule of law, obstructed justice, and issued pardons and commutations to personal cronies who helped cover up his misdeeds.

● He has demonstrated gross incompetence during the COVID-19 pandemic, causing needless suffering and death.

● He has run up a $2.7 trillion budget deficit, $1 trillion of which occurred before the pandemic unfolded.

● He has, as the late Sen. John McCain put it, "debased himself before a tyrant," referring to Trump's refusal to stand up to Vladimir Putin and protect our elections from foreign interference.

● He has turned his back on our NATO allies we have embraced for 75 years.

● He has shamed us by diminishing our standing as a stalwart republic and defender of democracy worldwide.

● Trump has routinely evaded the call to rise to the moment and lead this great nation.
We will not make the same mistake this November that we made in 2016. You don't have to, either. https://www.cincinnati.com/story/opinion/2020/08/06/republicans-against-trump-we-not-make-same-mistake-november/5576787002/