July 25, 2019
ON THE RECORD. . .
"I challenge every Republican to watch Donald Trump's rally last night, complete with chants of 'Send her back,' and ask if that is the Party of Lincoln and Reagan we signed up for. We are in a fight for the soul of the GOP, and silence is not an option." — Former Gov. William Weld (R), on Twitter.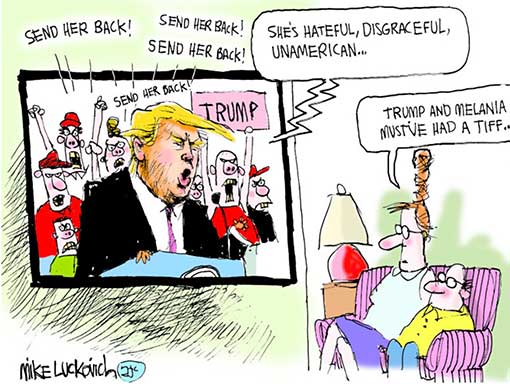 You may shoot me with your words,
You may cut me with your eyes,
You may kill me with your hatefulness,
But still, like air, I'll rise. — Ilhan Omar quoting Maya Angelou
"When I said I was the president's nightmare, well you're watching it now. We are going to continue to be a nightmare to this president, because his policies are a nightmare to us. And we are not deterred, we are not frightened, we are ready." — Rep. Ilhan Omar (D-MN)
I can't "sit or stand silently while our sitting president issues such racist rhetoric. This is a very eerie wave of similar situations in history, be that Nazi Germany or elsewhere." — Rabbi Avi Olitzky, among the faith leaders in Rep. Ilhan Omar's (D-MN) home district who are standing firmly behind her in the face of attacks from President Trump, despite disagreeing with some of her comments on Israel.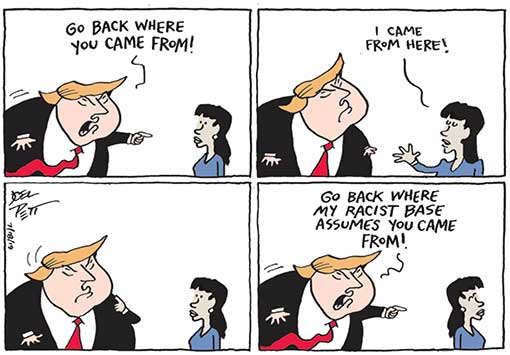 "Owning slaves doesn't make you racist." — New Hampshire state Rep. Werner Horn (R), calling the American institution of slavery an "economic reality."
"Trump thinks that Bolton is a key part of his negotiating strategy. He thinks that Bolton's bellicosity and eagerness to kill people is a bargaining chip when he's sitting down with foreign leaders. Bolton can be the bad cop and Trump can be the good cop. Trump believes this to his core." —  Senior administration officials
"If we wanted to fight a war in Afghanistan and win it, I could win that war in a week. I just don't want to kill 10 million people. I have plans on Afghanistan that if I wanted to win that war, Afghanistan would be wiped off the face of the Earth. It would be gone. It would be over in — literally in ten days. And I don't want to do that. I don't want to go that route." — Trump touting a secret plan to win the war in Afghanistan "in a week" at a tremendous cost to life.
"Every day, it's a trap. Yes, you stand up [against racism], but you have to acknowledge that it's a trap." — Sen. Amy Klobuchar (D-MN) saying Democrats must counter Trump but warned that they cannot be pulled into a political riptide in which they spend each day responding to him rather than making their own case to voters.
"The president doesn't make things up." — White House economic adviser Larry Kudlow, dismissing suggestions President Trump fabricated his claim that he was asked to mediate the decades-long dispute between India and Pakistan over the Kashmir territory.
"No, I don't regard myself a racist. The real racists are the ones who call other people racists." — Former Alabama Gov. George Wallace, on Face the Nation in 1968.
"If we adopt a platform that's way out to the left, they're going to say we're socialists. If we adopt a more moderate or conservative platform, they're going to say we're socialists. So we might as well just do what we think is right, make the case for it and then let them do what they want." — Mayor Pete Buttigieg
"Jesus, forgive me for ever being a Republican." — Joe Scarborough, on Twitter.
SCHIFF: "Trump and his campaign welcomed and encouraged Russian interference?"
MUELLER: "Yes."
SCHIFF: "And then Trump and his campaign lied about it to cover it up?"
MUELLER: "Yes."
House Intelligence Committee Chairman Adam Schiff (D-CA) questioning Robert Mueller.
"Trump used to be a race-baiting, xenophobic religious bigot. Now he is president of the United States."— Jonathan Chait
---
IN THIS ISSUE
FYI
OPINION
1.  Andy Borowitz: Trump Denies Being at North Carolina Rally
Donald J. Trump attempted to further distance himself from a racist chant shouted at a North Carolina campaign rally earlier this week by denying that he had attended the rally.

"I wasn't there," Trump told reporters at the White House on Friday. "If I had been there, you can be sure I would have done everything I could to stop them from chanting."

Trump said that he was furious that thousands of people had apparently assembled in North Carolina to chant racist things when he was nowhere near the rally and thus totally incapable of intervening.

"It's the kind of thing I would have been disgusted by if I had been there to hear it," he said. "Unfortunately, I wasn't there."

On Capitol Hill, Senator Lindsey Graham lashed out at reporters for persistently claiming that Trump had, in fact, attended the rally. "If he says he wasn't there, then, damn it, he wasn't there," a visibly furious Graham said. "How do you people sleep at night?" https://www.newyorker.com/humor/borowitz-report/
2. Deficit Don? Red ink gushes in Trump era
President Donald Trump may have to hand out some new nicknames — for himself — after endorsing a bipartisan budget deal with Congress: "Trillion Dollar Trump?" "Deficit Don?"
With a new bipartisan budget deal that does nothing to cut federal spending, Trump is on track for another $1 trillion deficit this year. And there's no reason to believe the following fiscal year will be any different, with ballooning deficits from higher spending, the 2017 tax cuts — Trump's signature legislative achievement, which slashed revenue — and none of the entitlement reforms long preached by Republican leaders on Capitol Hill.
Candidate Trump bragged that he would pay off the entire federal debt in eight years, but President Trump is governing as if deficits don't matter. https://www.politico.com/story/2019/07/22/deficit-don-budget-red-ink-trump-1426696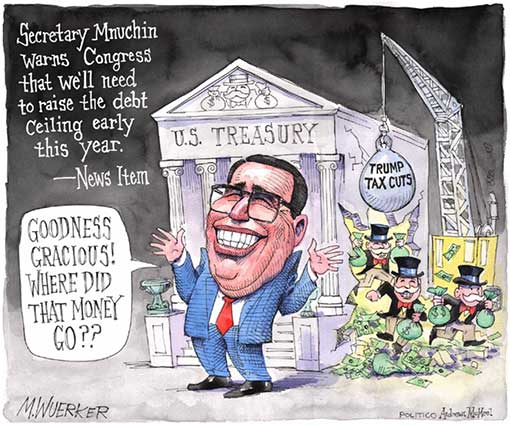 3. CBS News poll: Most Americans disagree with Trump's "go back" tweets
A majority of Americans (59%) disagree with what the president said in his tweets last week about four Democratic congresswomen of color, including 44% who disagree strongly with what he said. But 40% of the country agrees with what Mr. Trump said. "'Progressive' Democratic Congresswomen" should "go back" to their countries, he tweeted last Sunday.
And in a nation which nine in 10 Americans believe is divided along racial lines, sharp partisan and racial differences define their views. Among Democrats, disagreement with what the president said runs high, at 88%. Most of those in agreement with the president are from his party, with 82% of Republicans agreeing, including 47% who strongly agree with the statements. Independents mirror the country overall — 58% disagree, including 41% who strongly disagree.
Overall, 48% of Americans describe the tweets as racist, and 34% feel they were not racist. 
Whites are split: 41% call them racist, and 41% do not. However, among African-Americans, 76% describe the tweets as racist, as do a 54%-majority of Hispanics. There are age differences too: people over 65 are three times as likely to strongly agree with what the president said than are Americans under 30. And younger Americans are more likely than older Americans to call the tweets racist.
Most Republicans like the fact that the president tweeted those statements in the first place, and on this view, they stand apart from other Americans. While only 26% of Americans like Mr. Trump's tweeting of the  statements about the Democratic congresswomen, 57% of Republicans somewhat or strongly like that he did so, and only 18% say they dislike it. Most Republicans feel the ideas expressed in the tweets were pro-American, and 70% feel they were not racist. https://www.cbsnews.com/news/most-americans-disagree-with-trumps-go-back-tweets-cbs-news-poll/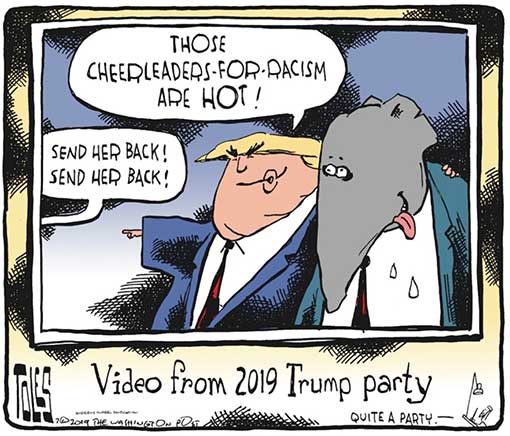 4. Trump officials pressing to slash refugee admissions to zero next year
The Trump administration is considering a virtual shutdown of refugee admissions next year — cutting the number to nearly zero — according to three people familiar with the plan.
During a key meeting of security officials on refugee admissions last week, a U.S. Citizenship and Immigration Services representative who is closely aligned with White House immigration adviser Stephen Miller suggested setting a cap at zero, the people said. Homeland Security Department officials at the meeting later floated making the level anywhere from 3,000 to 10,000, according to one of the people.
The proposal for a near-shutdown of the refugee program is alarming officials at the Department of Defense, who don't want to see a halt in admissions of Iraqis who risked their lives assisting U.S. forces in that country. The possible move comes after the Trump administration cut refugee admissions by a third this year, to 30,000. https://www.politico.com/story/2019/07/18/trump-officials-refugee-zero-1603503
5. The Mueller Report Podcasts
"The Muller Report: A Reading." By Paper Trail Media. A reading of the muller report: 8 episodes. https://podcasts.apple.com/us/podcast/the-mueller-report-a-reading/id1462179816

"Mueller Report Audio." By Timberlane Media. The Mueller Report is delivered in audiobook-style format, without political commentary. 35 episodes. https://podcasts.apple.com/us/podcast/mueller-report-audio/id1458985688

"The Report." By Lawfare. A multi part audio narrative series. 1 episode. https://podcasts.apple.com/us/podcast/the-report/id1472798169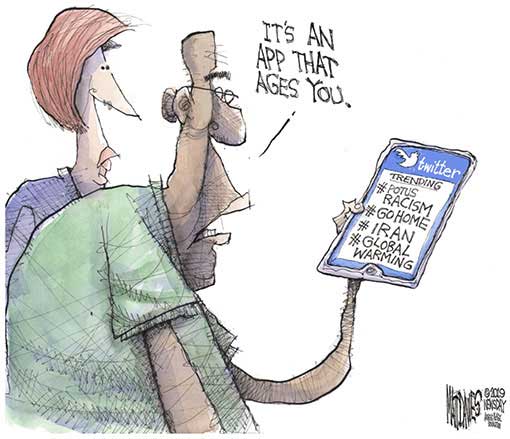 6. How Trump's 2020 reelection strategy could work -- but probably won't
Trump's 2020 strategy seemed to be in full swing this past week. He looks to be doubling down on a campaign of hardline immigration policies and racial resentment. Trump lashed out in a racist Twitter tirade, telling four " 'Progressive' Democrat Congresswomen [to...] go back and help fix the totally broken and crime infested places from which they came."
The Trump strategy is pretty simple: 1. Drive up the unfavorable ratings of his Democratic rival as he did in 2016 in order to compensate for his own low ratings. 2. Bank on an electoral college/popular vote split as he did in 2016. 3. Use a campaign of racial resentment to drive up turnout even more among groups favorable toward the President.
Trump's also hoping that his methods will have the added potential benefit of helping him in the turnout department in Wisconsin. According to analysis by the New York Times' Nate Cohn, whites without a college degree made up a much larger percentage of voters who didn't cast a ballot in 2018 than those who did in the northern swing states like Wisconsin. Whites without a college degree make up a core Trump constituency.
Still, we should realize that Trump's really trying to thread the needle here. A lot of things can go wrong.
And remember, Trump also risks raising turnout among nonwhite voters. That's not a big deal in a state like Wisconsin, which is very white. It could, however, take Sunbelt states moving to the left, like Arizona and Texas, and put them into play for the Democrats.
If either Arizona or Texas go blue, it opens up a lot of electoral college paths for the eventual Democratic nominee. https://www.cnn.com/2019/07/20/politics/2020-trump-reelection-strategy-analysis/index.html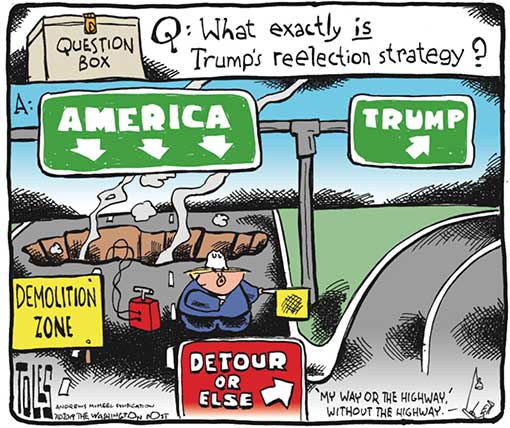 7. Trump tells aides to look for big spending cuts in second term, sowing confusion about budget priorities
Trump has instructed aides to prepare for sweeping budget cuts if he wins a second term in the White House, five people briefed on the discussions said, a move that would dramatically reverse the big-spending approach he adopted during his first 30 months in office.
Trump's advisers say he will be better positioned to crack down on spending and shrink or eliminate certain agencies after next year, particularly if Republicans regain control of the House of Representatives.
But this second-term ambition is already sowing confusion about how the White House should approach the current slate of negotiations, in which some conservatives want Trump to push for spending restraint.
Instead, Trump is advocating swiftly lifting the federal debt ceiling, which would allow for more spending and borrowing. Trump, who was once a fierce promoter of refusing to raise the debt ceiling without winning concessions, said the opposite on Friday, telling reporters that "it's a sacred element of our country. They can't use the debt ceiling to negotiate." https://www.washingtonpost.com/business/economy/trump-tells-aides-to-look-for-big-spending-cuts-in-second-term-seeding-confusion-about-budget-priorities/2019/07/19/3e9e9bde-a98c-11e9-86dd-d7f0e60391e9_story.html
8. Cuccinelli bores his way into Trump's inner circle
Ken Cuccinelli had virtually no hope of getting a Senate-confirmed job, having spent years leading conservative efforts to oust incumbent Republican senators, including Senate Majority Leader Mitch McConnell.
But in the six weeks since President Donald Trump named him as acting head of the relatively obscure U.S. Citizenship and Immigration Services, Cuccinelli has become one of the president's top lieutenants for his aggressive immigration agenda.
The outspoken immigration hard-liner enjoys a direct pipeline to Trump, according to four people briefed on the arrangement, and has met multiple times with the president and with White House senior adviser Stephen Miller to discuss the administration's plans to stem the tide of migrants across the U.S. border. Cuccinelli, who has also spoken with Trump by phone, has been told he'll be involved with top immigration decisions, even those that are outside the scope of his agency, two of the people said.
The newly formed relationship is so tight that Cuccinelli's boss, acting Homeland Security Secretary Kevin McAleenan, was not even aware of the meetings with Trump, one of the people said.  It's an extraordinary position of power for an official with little relevant policy experience and whose job is to run an agency responsible for processing immigration paperwork and vetting asylum applicants, not border enforcement.
And it shows how Trump and Miller are eager to consolidate critical immigration decisions and messaging among a small group of like-minded individuals, without the vetting and oversight that would come from a more traditional bureaucratic structure. https://www.politico.com/story/2019/07/18/cuccinelli-immigration-trump-1598325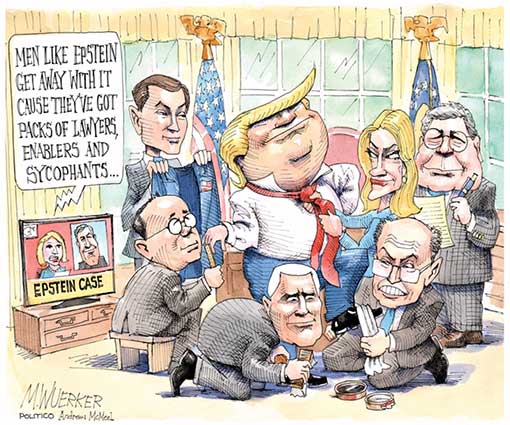 9. Democrats' Ratings of Party's 2020 Field: Better Than in 2016, Similar to 2008
Pew Research: With a large slate of candidates to choose from and the first primary votes still more than six months off, Democratic voters express relatively high levels of satisfaction with the Democratic candidates as a group.
The election also is attracting more attention and interest than past elections did at similar points in the cycle, with about half of voters saying they have given a lot of thought about the presidential candidates – higher than at this point in the 2008, 2012 or 2016 elections.
And among the general public, a record share says they have been closely following news about the 2020 candidates – more so than in any of the previous eight election cycles.
Today, roughly two-thirds of Democratic and Democratic-leaning registered voters (65%) say they have an excellent (23%) or good (42%) impression of the Democratic candidates as a group. By comparison, in September 2015, only about half of Democratic voters (51%) said the same. https://www.people-press.org/2019/07/18/democrats-ratings-of-partys-2020-field-better-than-in-2016-similar-to-2008/
10. The DAILY GRILL
"This, I believe, is one of the most important sources of America's greatness: We lead the world because, unique among nations, we draw our people – our strength – from every country and every corner of the world. And, by doing so, we continuously renew and enrich our nation. … Thanks to each wave of new arrivals to this land of opportunity, we're a nation forever young, forever bursting with energy and new ideas, and always on the cutting edge, always leading the world to the next frontier. This quality is vital to our future as a nation. If we ever closed the door to new Americans, our leadership in the world would soon be lost." — Ronald Reagan, January 1989.

VERSUS

Thirty years later, the man who now occupies the White House tweeted that four minority lawmakers – three of whom were born in the United States – should "go back" to "the crime infested places from which they came."-- Washington Post

 

"The first lady thinks that it's horrible what they've said about Israel and horrible what they've said about our country, these congresswomen. They can't call our country and our people 'garbage.' They can't be anti-Semitic. They can't talk about evil Jews, which is what they say. 'Evil Jews.' " --Trump, During an exchange with reporters as he left the White House on Friday afternoon.

VERSUS

Given that society has "strayed so far away from what has really made us powerful and just and good and equitable and productive. Moderate" policies are insufficient. I think all of these things sound radical compared to where we are. But where we are is not a good thing. This idea of 10% better from garbage shouldn't be what we settle for. It feels like moderate is not a stance, it's just an attitude toward life of like, 'meh.' " — Rep. Alexandria Ocasio-Cortez (D-NY) to an interviewer from The Intercept.
11. Trump leans on issue of race in bid for a 2nd term in 2020
Not since George Wallace's campaign in 1968 has a presidential candidate — and certainly not an incumbent president — put racial polarization at the center of his call to voters. Though Trump's comments generated outrage and even a resolution of condemnation in the House, the president and his campaign believe the strategy carries far more benefits than risks.
Educated suburban voters, especially college-educated women, and minorities in key states like Pennsylvania, Michigan and Wisconsin were already threatening to revolt against the Republican president. Trump believes his inflammatory rhetoric will strengthen his support among the white working class and attract a new group of disaffected voters who fear cultural changes across America. https://www.apnews.com/cfc3e4f0029e49a4b0107bfb59e32ae7
12. The GOP's Demographic Decay
The numbers simply do not lie. America, as a whole, and swing states, in particular, are growing more diverse, more quickly. There is no way Republicans can change birth rates or curb this trend — and there's not a single demographic megatrend that favors Republicans.
President Trump's short-term calculation to stir up white voters with race-baiting rhetoric might very well echo for a generation."
Key takeaway: "Next year, the entire under-18 population will be majority non-white… In less than a decade, the under-30 population will be majority non-white." https://www.axios.com/republican-party-demographics-threat-trump-racism-1524a8a1-c2f1-4183-896f-107420e2d50a.html
13. From MEDIA MATTERS (They watch Fox News so you don't have to)
Fox host calls "send her back" chants at Trump rally "appropriate." TODD STARNES (HOST): As for Congresswoman Omar and other immigrants who find that America, well, just doesn't meet their standards of living, might I just suggest this -- how about a one-way plane ticket back to whatever third-world hellhole you came from? And don't let the door hit you where the good lord split you. https://www.mediamatters.org/blog/2019/07/18/fox-host-calls-send-her-back-chants-trump-rally-appropriate/224262

Fox's Kennedy: The "difference" between Trump's criticisms of the U.S. and Reps. Omar and Tlaib is they want "to bring down the entire structure." https://www.mediamatters.org/video/2019/07/18/foxs-kennedy-difference-between-trumps-criticisms-us-and-reps-omar-and-tlaib-they-want-bring-down/224263

Scott Walker admits it: Former Wisconsin governor argues votes in metropolitan areas shouldn't count as much as votes in rural areas. After the Supreme Court's partisan gerrymandering decision, expect the worst from antidemocratic right-wing pundits. https://www.mediamatters.org/blog/2019/07/18/scott-walker-admits-it-former-wisconsin-governor-argues-votes-metropolitan-areas-shouldnt-count-much/224258

Fox News describes the congresswomen Trump targeted with racist remarks as extremists and the face of the Democratic Party. https://www.mediamatters.org/blog/2019/07/19/Fox-News-describes-the-congresswomen-Trump-targeted-with-racist-remarks-as-extremists-and-/224283

Fox's Todd Starnes warns that "we have been invaded" by migrants and "one day they're going to be raising that Mexican flag over the U.S. Capitol." Starnes: "The police called it a peaceful protest. Nothing peaceful, folks, about desecrating Old Glory. That's an act of war." https://www.mediamatters.org/video/2019/07/19/fox-s-todd-starnes-warns-we-have-been-invaded-migrants-and-one-day-theyre-going-be-raising-mexican/224284

Fox & Friends hosts say there's no need to raise the tipped minimum wage. Ainsley Earhardt: "If you're working at a McDonald's or a small little restaurant where you're making tips, ... if you' re nice to the people, you make a lot of money." https://www.mediamatters.org/video/2019/07/23/fox-friends-hosts-say-theres-no-need-raise-tipped-minimum-wage/224302

Fox's Brian Kilmeade fearmongers that immigration will "destroy the color of -- the culture of the country." Kilmeade: "We're not talking color, we're talking culture. You're in a country to keep that culture going." https://www.mediamatters.org/video/2019/07/23/foxs-brian-kilmeade-fearmongers-immigration-will-destroy-color-culture-country/224301

Rush Limbaugh: "Nobody I know on the Republican side even knows" any "so-called white nationalists." Limbaugh: "They are so small, they are so fringe, but the media is trying to say that they are the Republican Party and that they are Trump's base, and that Trump is one of them." https://www.mediamatters.org/video/2019/07/22/Rush-Limbaugh-Nobody-I-know-on-the-Republican-side-even-knows-any-so-called-white-national/224298

WSJ's James Freeman argues against raising the minimum wage: Young people are "willing to work for low wages." Freeman: Paying a low minimum wage to new workers is part of " that natural, healthy process of young people, unskilled people coming into the workforce, gaining experience, moving up" https://www.mediamatters.org/video/2019/07/23/wsjs-james-freeman-argues-against-raising-minimum-wage-young-people-are-willing-work-low-wages/224310
14. From the Late Shows
The Late Show with Stephen Colbert: Don't Even Try To Out Stupid Donald Trump: https://youtu.be/XQLS0UiLOgA

Trump Continues Racist Attacks as Mueller Hearing Looms: A Closer Look: https://youtu.be/0i6x_-h8SR8

Video Surfaces of Trump Partying with Jeffrey Epstein | The Daily Show: https://youtu.be/WfW_V-RLqrA
15. E.P.A. Won't Ban Chlorpyrifos, Pesticide Tied to Children's Health Problems
The EPA announced it would not ban a widely used pesticide associated with developmental disabilities and other health problems in children.
The decision not to prohibit the use of the pesticide, chlorpyrifos, comes after years of legal wrangling. It represents a victory for the chemical industry and farmers who have lobbied to continue using the substance, arguing it is necessary to protect crops." https://www.nytimes.com/2019/07/18/climate/epa-chlorpyrifos-pesticide-ban.html
16. Trump plan would kick more than 3 million people off food stamps
The Trump administration is proposing a rule that would limit Americans' access to food stamps, reportedly removing more than 3 million people from the federal program. The plan would eliminate automatic enrollment in food stamps for poor families who receive welfare benefits.  https://www.cbsnews.com/news/trump-proposal-would-kick-3-1-million-people-off-food-stamps/
17. Almost 45 percent of Fortune 500 companies were founded by immigrants or their children.
New American Economy, a bipartisan research and advocacy organization, finds that 44.6 percent, or 223 companies, in the Fortune 500 were founded by immigrants or their children. Of those companies, 101 were founded directly by foreign-born individuals while another 122 were founded by the children of immigrants. https://data.newamericaneconomy.org/en/fortune500-2019/
18. GOP 2020 convention host city Charlotte condemns Trump's 'racist and xenophobic' comments
The Charlotte City Council on Monday passed a resolution condemning President Trump's "racist and xenophobic comments," in a rebuke of the president by the city that will host him next year at the Republican National Convention.
The 9-to-2 vote came a week after Trump sent a racist tweet in which he said four minority congresswomen — Democratic Reps. Ayanna Pressley (Mass.), Ilhan Omar (Minn.), Alexandria Ocasio-Cortez (N.Y.) and Rashida Tlaib (Mich.) — should "go back and help fix the totally broken and crime infested places from which they came."
It also came after Trump held a rally in Greenville, N.C., about 220 miles from Charlotte, at which supporters chanted "Send her back! Send her back!" in response to Trump's criticism of Omar. https://www.washingtonpost.com/politics/republican-2020-convention-host-city-charlotte-condemns-trumps-racist-and-xenophobic-comments/2019/07/22/683a28d4-accd-11e9-8e77-03b30bc29f64_story.htm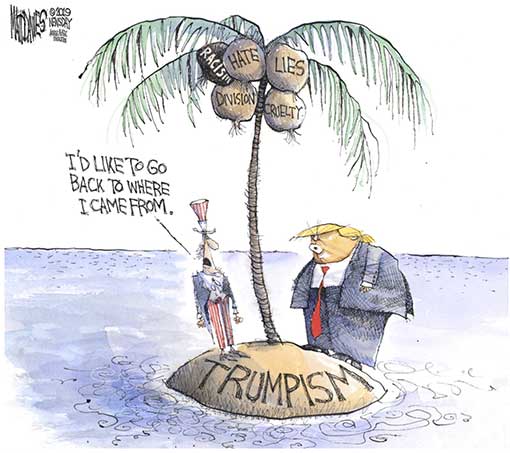 19. Pelosi wants election victories secured a year before votes are cast
With a winning message, strong fundraising and a powerful ground game, Speaker of the House Nancy Pelosi said she plans to scare off credible challengers, secure a victorious 2020 election cycle and maintain the Democratic majority in the U.S. House of Representatives by November, a year before voters cast their ballots.
By November, sitting and potential members of Congress will make the decision on whether they'll run for Congress in the 2020 cycle, Pelosi told the Detroit Free Press editorial board Monday. And Democratic candidates will have the edge.
"You have done your ground work, constituent work, town hall meetings. You are out there, present. You're formidable … We have people in the field, we own the ground and have a brutal get-out-the-vote operation," she said. "And money — there's nothing quite as eloquent as a bank statement to show strength."
https://www.freep.com/story/news/politics/2019/07/22/pelosi-dem-victories-2020/1798308001/
20. 'It's a disaster over there': Commerce Department reaches new heights of dysfunction
Constant infighting among top officials. Sudden departures of senior staffers without explanation. A leader who is disengaged and prone to falling asleep in meetings.
The Commerce Department has reached its apex of dysfunction under Wilbur Ross, according to four people with knowledge of the inner workings of the department. The 81-year-old Commerce secretary, who has for months endured whispers that he is on the outs, spends much of his time at the White House to try to retain President Donald Trump's favor, the sources said, leaving his department adrift.
He's hardly the only top Trump official to seek the president's approval. But department insiders say they've rarely seen Commerce so rudderless — and they say Ross' penchant for managing upward at the expense of his staff is leading to what one plugged-in observer described as "a disaster over there."
"With our ongoing trade wars and the census looming, Commerce needs functional leadership to be effective, and right now they just don't have it," said Theo LeCompte, a former top Commerce official in the Obama administration who speaks often with former colleagues. https://www.politico.com/story/2019/07/22/wilbur-ross-commerce-department-dysfunction-1424427
1. Philip Bump: Robert Mueller kneecaps President Trump's no collusion, no obstruction mantra
"Director Mueller," Judiciary Chairman Jerrold Nadler asked, "the president has repeatedly claimed that your report found there was no obstruction and that it completely and totally exonerated him, but that is not what your report said, is it?"
"Correct," Mueller replied. "That is not what the report said."
Nadler quoted from a section of the report in which Mueller's team wrote that it would have exonerated Trump on the question of obstruction if it could. But, the report says, it couldn't.
"So the report did not conclude that he did not commit obstruction of justice, is that correct?" Nadler asked.
"That is correct," Mueller replied.
"And what about total exoneration? Did you totally exonerate the president?" Nadler continued.
"No," Mueller said.
"Does your report state there is sufficient factual and legal basis for further investigation of potential obstruction of justice by the president?" Rep. Sheila Jackson Lee (D-Tex.) later asked.
"Yes," Mueller replied.
https://www.washingtonpost.com/politics/2019/07/24/robert-mueller-kneecaps-president-trumps-no-collusion-no-obstruction-mantra/
2. Walter Shapiro: Moderation in the Trump era? Democrats, it's futile
We have all read versions of this column written by skittish liberals, nervous centrists and panicked never-Trump Republicans: "Don't the Democrats understand that many voters like their employer-provided health care plans and will rebel over being forced into a rigid 'Medicare for All' system? Eliminating criminal penalties for crossing the border illegally would be an invitation for immigration chaos. And do Democrats really believe that Americans will sacrifice their lifestyles to comply with the extreme provisions of a Green New Deal?"
These Democrats-in-disarray columns invariably point out that only with sensible moderation can Donald Trump be defeated in 2020. As for Democratic congressional candidates, particularly first-term House members elected in the 2018 Democratic sweep, their political futures are jeopardized by the extreme antics of "the squad" and the unreasonable demands of these left-wing activists with safe seats.
These are fine arguments — and I would probably accept them in a normal political climate. I remember the wipeout years for the Democrats, like 1972 and 1984, when the party was crushed by veering too far from the center in an increasingly conservative political environment.
But Trump's contempt for anything resembling truth has erased this traditional political equation.
What's the point of the 2020 Democratic nominee offering a nuanced policy on immigration if Trump, regardless, will loudly bellow that his opponent not only supports open borders but also wants to invite the entire population of Honduras to move to Kansas?
Where are the political benefits of carefully talking about adding a public option to Obamacare when the Republicans will claim that all Democrats want to take away your doctor and make you wait long hours in a government clinic to see anyone?
Any Democrat talking about global warming and America rejoining the Paris accord will be accused of wanting to confiscate your car and turn off your air conditioning. In fact, the Republicans may even claim that there is a Democratic master plan for a gulag for those who have ever used plastic straws.
The NRCC press release helpfully explained, "The socialist Democrats' deranged hatred of President Trump reached a new pathetic level today, with Abigail Spanberger voting to circumvent the rules of the House of Representatives to allow Nancy Pelosi to call Trump a racist."
If that is all that it takes in politics today to be considered "deranged," I am dying to know what conduct the NRCC deems worthy of being called "criminally insane."
The larger point is that the traditional rewards for Democrats to move toward the center to appeal to swing voters have vanished in an era of Trumpian trampling on truth. If merely wanting to roll back part of the 2017 tax cuts is now attacked as socialism, then the careful issue proposals of prior Democratic nominees like Hillary Clinton no longer represent the route to political safety. https://www.rollcall.com/news/opinion/the-case-against-democratic-moderation-in-the-trump-era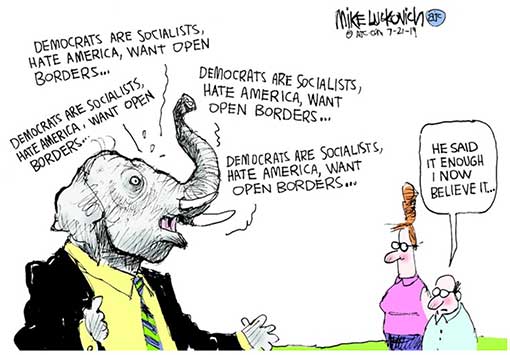 3.  Paul Krugman: Deficit Man and the 2020 Election
A sort of test: Can a sufficiently terrible president lose an election despite a good economy? And that is, in fact, the test we'd be running if the election were tomorrow.
On one side, Donald Trump wastes no opportunity to remind us how awful he is. His latest foray into overt racism delights his base but repels everyone else. On the other side, he presides over an economy in which unemployment is very low and real G.D.P. grew 3.2 percent over the past year.
But the election won't be tomorrow, it will be an exhausting 15 months from now. Trump's character won't change, except possibly for the worse. But the economy might look significantly different.
So let's talk about the Trump economy.
The first thing you need to know is that the Trump tax cut caused a huge rise in the budget deficit, which the administration expects to hit $1 trillion this year, up from less than $600 billion in 2016. This tidal wave of red ink is even more extraordinary than it looks, because it has taken place despite falling unemployment, which usually leads to a falling deficit.
Strange to say, none of the Republicans who warned of a debt apocalypse under President Barack Obama have protested the Trump deficits. (Should we put Paul Ryan's face on milk cartons?) For that matter, even the centrists who obsessed over federal debt during the Obama years have been pretty quiet. Clearly, deficits only matter when there's a Democrat in the White House.https://www.nytimes.com/2019/07/18/opinion/2020-trump-economy.html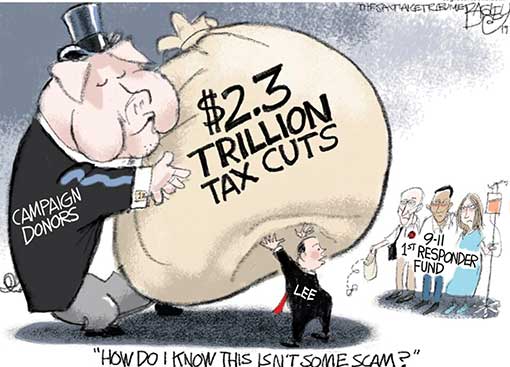 4. Adam Serwer: 'What Americans Do Now Will Define Us Forever
White nationalism was a formal or informal governing doctrine of the United States until 1965, or for most of its existence as a country. Racist demagogues, from Andrew Johnson to Woodrow Wilson, have occupied the White House. Trump has predecessors, such as Calvin Coolidge, who imposed racist immigration restrictions designed to preserve a white demographic majority. Prior presidents, such as Richard Nixon, have exploited racial division for political gain. But we have never seen an American president make a U.S. representative, a refugee, an American citizen, a woman of color, and a religious minority an object of hate for the political masses, in a deliberate attempt to turn the country against his fellow Americans who share any of those traits. Trump is assailing the moral foundations of the multiracial democracy Americans have struggled to bring into existence since 1965, and unless Trumpism is defeated, that fragile project will fail.
Nevertheless, most of Trump's predecessors had something he does not yet have: the support of a majority of the electorate. Ilhan Omar's prominence as a Republican target comes not, as conservatives might argue, simply because her policy views are left-wing. Neither is it because, as some liberals have supposed, she is an unmatched political talent. She has emerged as an Emmanuel Goldstein for the Trumpist right because as a black woman, a Muslim, an immigrant, and a progressive member of Congress, she represents in vivid terms a threat to the nation Trumpists fear they are losing.
Omar must be defended, but not because of her views on Israel, gay rights, or progressive taxation. You needn't agree with her on any of those things; in fact, you needn't like her at all. But she must be defended, because the nature of the president's attack on her is a threat to all Americans—black or white, Jew or Gentile—whose citizenship, whose belonging, might similarly be questioned. This is not about Omar anymore, or the other women of color who have been told by this president to "go back" to their supposed countries of origin. It is about defending the idea that America should be a country for all its people. If multiracial democracy cannot be defended in America, it will not be defended elsewhere. What Americans do now, in the face of this, will define us forever. https://www.theatlantic.com/ideas/archive/2019/07/send-her-back-battle-will-define-us-forever/594307/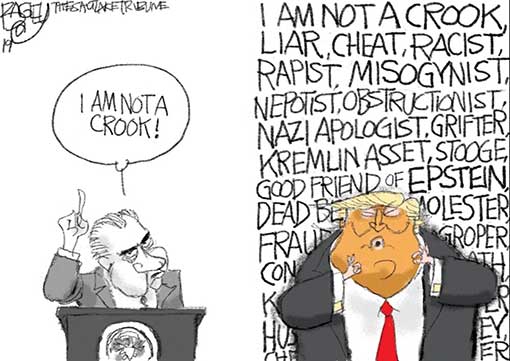 5. Zak Cheney-Rice: Republicans Don't Want Racist Chants to Define Them — Just Racist Policies
Few statements capture the yawning emptiness of Republican disapproval toward Trump's racism better than Trump's tweet that Democratic Representatives Ilhan Omar, Rashida Tlaib, Ayanna Pressley, and Alexandria Ocasio-Cortez should "go back" to the "totally broken and crime infested" countries they "originally came from."' Some GOP officials don't want the president's bigoted remarks reflecting on the party as a whole. (Though others are fine with it.) Rather, they prefer to be judged by Trump's policies, as backed and implemented by rank-and-file Republicans. As it stands, these policies include an attempt to ban Muslim entry to the United States, disguised as a travel restriction targeting countries deemed a security threat. They've included a naked attempt to erode the political power of Hispanic voters in favor of non-Hispanic white people by adding a citizenship question to the 2020 Census, thus discouraging participation by Hispanic immigrants and leading to an undercount that would favor Republicans during redistricting. The administration has expended significant resources defending both efforts before the U.S. Supreme Court — the first successfully, the second unsuccessfully. Trump has supplemented these policies with dramatic restrictions on immigration, targeting Central American migrants attempting entry via the U.S.-Mexico border. These include narrowed options for legitimate asylum claims and compulsory separation of undocumented children from their guardians, creating a network of child jails near the border, some in degraded and lethal conditions. The animus driving these measures is not in dispute: Trump has described Central American migrants as murderers, rapists, and drug dealers hiding terrorists from the Middle East in their ranks, and derided their homelands as "shithole" countries — while submitting his preference for immigrants from European countries like Norway.
The clear takeaway from the party's response to this agenda is that some Republicans may be put off by Trump's racist remarks, but they're fine with his racist policies. This is predictable, given that much of this agenda marks a continuation of mandates the party has pursued for years — indulging the electorate's most extreme Islamophobic impulses, suppressing votes and gerrymandering districts to enshrine minority rule, and drumming up resentment toward immigrants from Latin America. It also explodes the notion that meaningful daylight exists between Trump and the Republican establishment, as suggested by the opposition to his campaign that dogged the 2016 primary. Even Senator Lindsey Graham, then one of the most vocal anti-Trump Republicans, is among his loudest defenders today. "Something I have learned," the South Carolina Republican tweeted on Thursday. "If you are a Republican nominee for President — or President — you will be accused of being a racist. John Lewis compared John McCain's campaign to being like that of George Wallace. It comes with the territory unfortunately." Omar responded by tweeting Graham's words from 2015: "Donald Trump is a race-baiting, xenophobic, religious bigot." Whatever discomfort GOP officials have with the president's behavior is cosmetic. They object to the crudeness of the vessel. But its substance aligns firmly with their views. Some, like Walker, believe their shared policy vision so laudable as to be worth advertising and celebrating. The Trump presidency is not a new low. It is where the Republican Party — and America — has been headed for decades. http://nymag.com/intelligencer/2019/07/republicans-define-us-by-racist-policies-not-racist-chants.html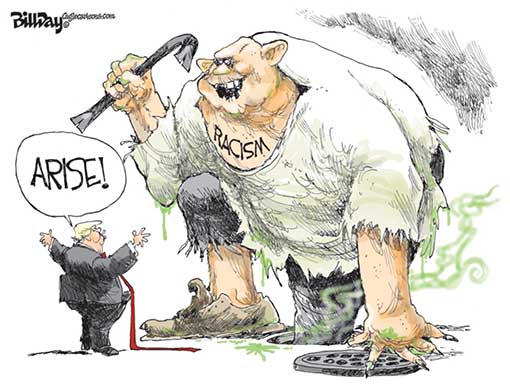 6. Jonathan Chait: Welcome to the Post-Post-Corruption Era of the Republican Party
On Thursday, President Trump announced that he would nominate labor lawyer Eugene Scalia, son of the former Supreme Court justice Antonin Scalia, to replace Alexander Acosta as Labor secretary. Until Scalia can be confirmed, Acosta's deputy, Patrick Pizzella, will serve on an acting basis, working to turn the functions of the agency over to the business lobby. Pizzella is a familiar kind of right-wing apparatchik, but he does have a unique biographical attribute that links him to a now-forgotten period of Republican politics.
Pizzella may not lead the agency for long, and by Trump-era standards, of course, his offenses barely register as scandals at all. The Trump administration is shot through with corruption, from petty grifts like Cabinet members abusing their expense accounts to legislation written by and for lobbyists. The president himself is taking payoffs from corporate lobbyists and foreign governments through his Washington hotel and other properties.
The party's whole post-Bush backlash against corruption and deficit spending, and the notion that those values are antithetical to conservatism, has been forgotten. ("Nobody is a fiscal conservative anymore," Rush Limbaugh casually declared. "All this talk about concern for the deficit and the budget has been bogus for as long as it's been around.") Having fulfilled its use by giving Republicans a reason to absolve their ideology of any role in Bush's failure, they discarded it.
There was a time when conservatives spoke of little else besides corruption and the lessons they had learned from it. Now they never speak of it at all, while their grifter president and his family soak the government for every dollar they can wring from it. http://nymag.com/intelligencer/2019/07/pat-pizella-labor-abramoff-corruption-republican-trump-marianas.html
7. Eric Levitz: GOP: Ilhan Omar Is Un-American Because She Supports the First Amendment
The Republican Party has spent the past several days accusing four Democratic congresswoman of "hating America" and rejecting its values. In that time, the GOP has produced approximately no evidence to substantiate its charges. No footage of Alexandria Ocasio-Cortez burning a flag has been uncovered; no photo of Ayanna Pressley training with Maoist guerrillas in the Berkshires has been published.
But this week, Ilhan Omar and Rashida Tlaib did introduce a congressional resolution affirming that all Americans have a constitutional right to participate in boycotts. And this, apparently, qualifies as evidence of their dearth of patriotism and hostility to American values.
A pillar of the Republican indictment of Omar and Tlaib is that they are insufficiently deferential to the Israeli government on questions of Palestinian rights. And, since vehement opposition to the occupation of the West Bank is equivalent to anti-Semitism, and anti-Semitism is un-American, the congresswomen's views on the Israel-Palestine conflict render them anti-American.
Therefore, many conservatives expressed incredulity when Omar and Tlaib — both of whom support the boycott, divestment, and sanctions movement against Israel — decided to introduce a resolution defending the legitimacy of boycotts this week, as though such a move did not confirm the worst things that had been said about them. http://nymag.com/intelligencer/2019/07/omars-bds-resolution-free-speech-israel-gop-boycotts.html
8. Susan B. Glasser: "I'm Winning": Donald Trump's Calculated Racism
On Friday, Vice-President Mike Pence saw with his own eyes hundreds of men kept in inhuman and inhumane conditions in Texas, men forced to exist in such squalor that their armed guards wore masks to stave off the stench of so many unwashed bodies. It was terrible. And then Trump and Pence denied that it was any such thing at all. It couldn't be a "concentration camp," Trump even said at Tuesday's Cabinet meeting, because it was very well run.
Republicans, meanwhile, are not only sticking with Trump as the country's division and discord deepens, they approve of it. Many are even cheering him on. On Capitol Hill, just four Republican representatives joined with Democrats on a symbolic resolution condemning the tweets. Half of the country is appalled but not really sure how to combat him; the other half is cheering, or at least averting its gaze. This is what a political civil war looks like, with words, for now, as weapons. As if to underscore the point, the Merriam-Webster Dictionary account tweeted this during Trump's rally: "Tonight's top searches, in order: racism, socialism, fascism, concentration camp, xenophobia, bigot." Whatever you call what is happening in America right now, Trump is convinced it is working for him, which is why we are in for many more such weeks, all the way through 2020. "I do think I'm winning the political fight. I think I'm winning it by a lot," Trump told reporters before he boarded Marine One for the North Carolina rally, at which he would call the Squad "hate-filled extremists" intent on the "destruction of our country" all over again. "I'll never change."
Trump's unwavering belief that race-baiting and immigrant-hating work to his electoral benefit is already the subject of raging debate in political circles. Many Democrats spent the five days and counting of this tweet controversy worrying that they were both required to call out Trump's words and also doomed to see their condemnation of his racism play right into his hands. The Party is divided about how to counter Trump, and it shows: House Speaker Nancy Pelosi has remained firmly against impeachment as the numbers inside her caucus favoring it grow.
https://www.newyorker.com/news/letter-from-trumps-washington/im-winning-donald-trumps-calculated-racism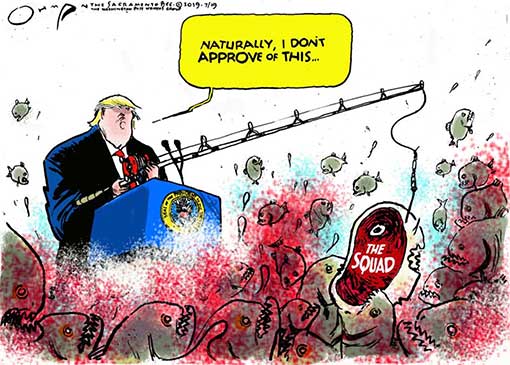 9.  John Cassidy: There Is Nothing Strategic About Trump's Racism
On Thursday, four days after posting his racist tweets, in which he said his targets should "go back and help fix the totally broken and crime-infested places from which they came," he finally took a step back, claiming he was "unhappy" about the chants of "Send her back" that echoed around his campaign rally in Greenville, North Carolina, on Wednesday evening. Even this reversal, according to the Times, took interventions from congressional G.O.P. leaders and Vice-President Mike Pence, who feared that "the rally had veered into territory that could hurt the party in 2020." And on Friday Trump walked back his walk-back. "Those are incredible people. Those are incredible patriots," he said, in reference to the crowd in North Carolina. Asked whether he was really unhappy about the chants directed at the Somali-born representative Ilhan Omar, he said, "You know what I'm unhappy with—the fact that a congresswoman can hate our country."
To restate the obvious: the President is unpopular. Despite this, it is often argued that he knows what he is doing, and he's concentrating on turning out his base of disaffected white voters, particularly those living in the Midwestern states that tipped the Electoral College his way in 2016. In an analysis posted on Friday, Nate Cohn, the Times' election analyst, argued that, given Trump's advantage in the Electoral College, he "could win while losing the national vote by as much as five percentage points."
But, even for a candidate focussing on the Electoral College rather than the popular vote, Presidential contests aren't merely about motivating the base. To win an election in which more than a hundred and thirty million people vote, a candidate has to make some inroads into the center ground. By adopting the language of barroom bigots everywhere, Trump is narrowing his potential voter pool and incentivizing some key groups whose participation could be key, such as suburbanites in Michigan, minorities in Milwaukee and Philadelphia, and millennials who voted for the Green Party in 2016. Could he still pull out a victory? After 2016, only a fool or an eternal optimist would say it's inconceivable. He didn't boost his chances this week, though. https://www.newyorker.com/news/our-columnists/there-is-nothing-strategic-about-trumps-racism
10. Andrew Sullivan:Trump Is Betting That Indecency Can Win in America
In the deeply disturbing moments after Donald Trump invoked a three-minutes-of-hate session toward Congresswoman Ilhan Omar Wednesday night, and the crowd erupted with chants of "Send Her Back! Send Her Back!", a protester yelled something inaudible, and caused a commotion. As security was called, the crowd chanted "USA! USA!" and eventually the young man was handcuffed and led out of the stadium, to the mob's vocal derision and pleasure. In those moments, you can see Trump pause to allow the mob to vent against the dissenter. Frenzied participants gleefully whipped out their phones to take photos of the man, who was holding up pictures of Jeffrey Epstein and Trump together and wearing a "Native Trash" T-shirt — a defunct Charlotte band but also presumably a reference to all those who surrounded him.
Trump smiled that wide, satisfied, toothless grin of his, as the man was forcibly ejected, jutting his chin in the air, and strutting around the podium, inhaling the fumes of mob fervor like some two-bit Mussolini. He had formed an umbilical psychic bond with these people, a mastery of the mob few ever attain. He had tweeted only days before that Omar should "go back" to Somalia, and now his followers had created a chant to echo him. His claim yesterday that he tried to restrain the crowd, or was not happy with the chant, is belied by the tape, and by the thrilled tweet he issued afterward, actively touting the enthusiasm of his followers.
Yes, we have seen rallies not unlike this in the past, from George Wallace's candidacy, for example. We have gone through periods in which minorities have been subliminally targeted in presidential rhetoric, along the Lee Atwater principle of using ever-more-coded racism to rally white support. We have had intense nativist phases during waves of mass immigration similar to the one we are now experiencing. http://nymag.com/intelligencer/2019/07/andrew-sullivan-trump-betting-indecency-can-win-in-america.html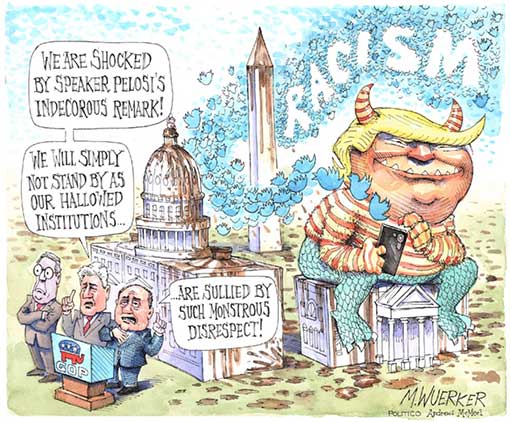 11. David Brooks: Donald Trump Hates America
In Trump's version, "American" is defined by three propositions. First, to be American is to be xenophobic. The basic narrative he tells is that the good people of the heartland are under assault from aliens, elitists and outsiders. Second, to be American is to be nostalgic. America's values were better during some golden past. Third, a true American is white. White Protestants created this country; everybody else is here on their sufferance.
When you look at Trump's American idea you realize that it contradicts the traditional American idea in every particular. In fact, Trump's national story is much closer to the Russian national story than it is toward our own. It's an alien ideology he's trying to plant on our soil.
Trump's vision is radically anti-American.
The real American idea is not xenophobic, nostalgic or racist; it is pluralistic, future-oriented and universal. America is exceptional precisely because it is the only nation on earth that defines itself by its future, not its past. America is exceptional because from the first its citizens saw themselves in a project that would have implications for all humankind. America is exceptional because it was launched with a dream to take the diverse many and make them one — e pluribus unum. https://www.nytimes.com/2019/07/18/opinion/trump-america-election.html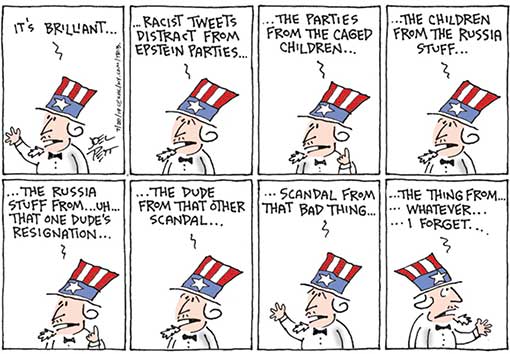 12. Bess Levin: Fox Host Would "Love" To See Megan Rapinoe Fired For Disrespecting Trump
Donald Trump has never met a person, place, or inanimate object he didn't deem ripe for maligning on Twitter. Since declaring his candidacy in 2015, an extremely short, wildly incomplete list of stuff he's insulted via social media has included: Puerto Rican politicians; former Senator Harry Reid; new Senator Mitt Romney; the people calling the Kentucky Derby; the Federal Reserve Board; the ghost of John McCain; Guatemala; Honduras; the "dues sucking" firefighters' union; Rep. Rashida Tlaib; his home state; "dumb as a rock" Rex Tillerson; the "very weak and untalented" late-night hosts; Paul Krugman; the United States census; "Mr. Kellyanne Conway," a "stone cold loser and husband from hell"; House Speaker Nancy Pelosi; Major League Baseball; UCLA basketball players; and the NFL. One target that had eluded him, however, was the U.S. Women's soccer team, which he remedied on Wednesday morning with a multi-tweet outburst about co-captain Megan Rapinoe, who had the audacity to say she wouldn't go to the White House if invited, after he complained about her respectful National Anthem protest. And while many people believe that the president, yet again, came off like a total lunatic who should be fitted for a padded cell, at least one guy thought his Chernobyl-esque meltdown was totally warranted: Stu Varney.
Bristling at the notion that anyone would have the temerity to turn down an invitation from an alleged serial sexual predator whose idea of a celebratory meal translates to a heaping spread of Burger King, Varney told his Fox Business audience, "She's the co-captain of the team that represents the United States of America on foreign soil and what does she do? She insults, with an obscenity, our White House and our president. That is beneath contempt." Then, he proffered an idea: "Why don't we just fire her as the co-captain," he asked. "Love to see that."
If it were up to Coach Trump—and thankfully, it's not—it'd probably already be a done deal. https://www.vanityfair.com/news/2019/06/donald-trump-megan-rapinoe-stuart-varney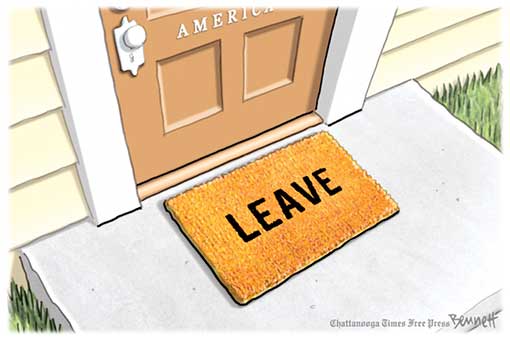 13. Charles Sykes: Dante, Trump and the moral cowardice of the G.O.P.
Someday, we can expect to read lachrymose mea culpas from members of the G.O.P. who will confess that they regretted siding with Mr. Trump or remaining silent, and they will unburden their freighted consciences in memoirs and op-ed pieces.
They will assure us that their silence did not reflect who they really are. But it did because this was the moment when they had to make a choice.
Unfortunately, this is where the G.O.P.'s Faustian bargain has led: Their moral compromises and silence have become a habit. The small surrenders become larger ones until there is nothing left.
Some of them are motivated by fear of the president's wrath or by the political pragmatism of politicians who are obsessed with self-preservation. Others simply hope to ride out the news cycle, hoping the entire incident will be quickly forgotten.
But at some level, I suspect, they know that this was a defining moment. And it reminds us that while we celebrate political and moral courage, we forget that genuine political courage is vanishingly rare.  https://www.americamagazine.org/politics-society/2019/07/21/dante-trump-and-moral-cowardice-gop
14. David Remnick: A Racist in the White House
Over decades in business, entertainment and now politics, Mr. Trump has approached America's racial, ethnic and religious divisions opportunistically, not as the nation's wounds to be healed but as openings to achieve his goals, whether they be ratings, fame, money or power, without regard for adverse consequences.
He was accused by government investigators in the 1970s of refusing to rent apartments to black tenants (he denied it but settled the case) and made a name for himself in the 1980s by championing the return of the death penalty when five black and Hispanic teenagers were charged with raping a jogger. They were later exonerated. He threatened to sell his Mar-a-Lago estate to the Unification Church in 1991 and unleash "thousands of Moonies" if city officials in Palm Beach, Fla., did not allow him to carve up his property.
Taking on competitors of his Atlantic City casinos, he questioned whether rival owners were really Native Americans entitled to federal recognition — then later teamed up with another tribe when there was money to be made. With his eye on the White House, he opened a yearslong drive to convince Americans that President Barack Obama was really born in Africa.
His own campaign in 2016 was marked by slurs against Mexicans, a proposed Muslim ban and other furors. To deflect criticism, two campaign officials said they regularly positioned a supporter nicknamed "Michael the Black Man" so cameras would show him behind Mr. Trump at his rallies.
In the White House, Mr. Trump equated "both sides" of a white supremacist rally in Charlottesville, Va., referred to African nations as "shithole countries" and said Nigerian visitors to the United States would never "go back to their huts." https://www.nytimes.com/2019/07/20/us/politics/trump-race-record.html