March 4, 2021
ON THE RECORD. . .
"Today, Minority Leader McConnell made clear that Republicans do not want a commission and that if one is created, they aim to try to make it about antifa." — A senior House Democratic aide who also accused House GOP Leader Kevin McCarthy's (R-CA) of slow-walking the commission draft.

When I graduated college in 1968, the typical corporate CEO got 20 times the pay of the average worker.

When I became labor secretary in 1993, the ratio was 61-to-1.

Today, the ratio is 320-to-1.

Capitalism is off the rails.-- Robert Reich

"We have contained this. I won't say airtight, but pretty close to airtight. We've done a good job in the U.S." — Trump economic adviser Larry Kudlow, one year ago, commenting on the coronavirus pandemic.

"I think he's going to run in 2024 because this is the most money that he's ever made. Just imagine making $300 million off of these rubes that he's conning after the election with his big lie… So he'll run again in 2024." — Anthony Scaramucci, predicting Donald Trump will run for president in 2024.

 

"I take them one at a time, if there is someone I think will be good to Missouri, that I can defend to my voters, somebody who I think is going to be good for the job, I'll vote for them." — Sen. Josh Hawley (R-MO) defending his role as the only US senator to oppose every one of President Joe Biden's Cabinet nominees.

"The press doesn't like to talk about it, but the real number was much, much bigger… It was tremendous numbers of people, not the Capitol, I'm talking about the rally itself, and it was a lovefest, it was a beautiful thing." — Donald Trump blaming Speaker Nancy Pelosi for poor security and then boasting about the size of the crowd that was there to support him.

"There is nothing more dangerous than a reckless asshole who thinks he is smarter than everyone else." — Former House Speaker John Boehner, describing Sen. Ted Cruz (R-TX) in his new book, On the House.

"We have not to date seen any evidence of anarchist violent extremists or people subscribing to Antifa in connection with the 6th." — FBI Director Wray
VIDEOS

Lt. Gov. Dan Patrick says Texans who 'gambled' deserve $17,000 power bills: https://www.youtube.com/watch?v=UONyL2QmYYU

Trump Emerges for Crazy Self-Love Fest at CPAC | Jimmy Kimmel Live: https://youtu.be/PUx9dzo_2H0
---
IN THIS ISSUE
IN THE NEWS
OPINION
Andy Borowitz: Trump's Taxes Reveal He Claimed Ted Cruz as Dependent
In the first major bombshell to emerge from the handover of Donald J. Trump's tax returns, the Manhattan district attorney has announced that the former President claimed Senator Ted Cruz as a dependent.

Speaking to reporters, Cyrus Vance, Jr., said that listing the Texas senator as a dependent was "highly unorthodox, to say the least."

"For this deduction to be allowed, we would certainly need some documentation proving that Mr. Trump had adopted Mr. Cruz, or something to that effect," Vance added.

From his home in Palm Beach, Trump issued a terse rebuttal to Vance's statement. "Ted Cruz is my little baby, and everyone knows it," Trump said.

The tax imbroglio turned a spotlight on Cruz, who was suddenly under pressure to clarify his legal relationship with the ex-President.

"If it turns out that I am, in fact, Donald Trump's little baby, that will be the greatest honor of my life," Cruz told reporters. https://www.newyorker.com/humor/borowitz-report/
NOTE: Just Security is tracking every pending criminal and civil case against Donald Trump.
Trump plots future -- and revenge -- from sunny Florida links
In a South Florida war room, occupied most days by a party of one, a former President of the United States is plotting his return -- and his revenge.
He typically spends mornings on his nearby golf course, making and taking calls from a golf cart that doubles as his mobile, and self-driven, office. The multiple trips to the links in the last few weeks have served to accomplish a long-promised goal, says someone who spent time with him recently: Donald Trump claims he has increased his drive by 20 yards, a new favorite brag to golfing partners, or anyone who will listen.
Eighteen holes later, he leaves his Trump International Golf Club and returns to Mar-a-Lago, where he retreats within his quarters to his own private living space, separate from that of his wife, and ponders two main questions: Who is with him? And who is against him?
We've seen this for years now -- Trumpian offers of encouragement that are more like the mafioso 'nice little business you have here' threats," says Doug Heye, a longtime Republican strategist and consultant who formerly worked in senior communications roles for leadership on Capitol Hill. "The problem for these candidates moving forward is that despite always hustling to score points, Donald Trump doesn't give points, he only takes them away. One at a time." https://www.cnn.com/2021/02/25/politics/donald-trump-plans-family/index.html
Fox News once banned its hosts from speaking at partisan events. Then it went all in on CPAC.
Only a few months ago, Fox cracked down on appearances by its hosts and journalists at partisan events, deeming them a breach of the line distinguishing a news organization from a ­political-advocacy outfit.
But Fox not only permitted Bongino and Hegseth to address this week — the network was directly involved in financing the conference. The network spent $250,000 through its Fox Nation streaming service to become a leading CPAC sponsor, according to the Daily Beast. (Fox contributed to CPAC's organizer last year as well, but at a much lower rate: $28,000 in sponsorship fees.) https://www.washingtonpost.com/lifestyle/media/fox-news-cpac-sponsorship/2021/03/01/ee85e8c8-7a04-11eb-b3d1-9e5aa3d5220c_story.html
AZ GOP goes full fascist: Bills to arrest election officials, declare Trump winner by fiat
Every Republican in the Arizona Senate co-sponsored a resolution demanding the Supervisor of Elections for Arizona's largest county, Maricopa, to be arrested for declaring Joe Biden the winner of the 2020 election and for not complying with their illegal demand to turn over election equipment and mail-in ballots to a Trump-allied firm that promoted false claims about the election. This despite there being no evidence of any fraud except for Trump's claim that he can never lose.
Among the 19 bills that are coming that would restrict voting rights for Arizona citizens, there is one that would allow the legislature to declare Trump, assuming he is the GOP nominee in 2024, the winner by fiat, regardless of how Arizona citizens voted. https://www.dailykos.com/stories/2021/2/28/2018563/-AZ-GOP-goes-full-fascist-Bills-to-arrest-election-officials-declare-Trump-winner-by-fiat
Inspector General's Report Cites Elaine Chao for Misuse of Office
The Transportation Department's inspector general asked the Justice Department in December to consider a criminal investigation into what it said was, Sen. Mitch McConnell's wife Elaine Chao's misuse of her office as transportation secretary in the Trump administration to help promote her family's shipping business, which is run by her sister and has extensive business ties with China.
The inspector general said the Justice Department's criminal and public integrity divisions both declined to take up the matter in the closing weeks of the Trump administration, even after the inspector general found repeated examples of Ms. Chao using her staff and her office to help benefit her family and their business operations and revealed that staff members at the agency had raised ethics concerns. https://www.nytimes.com/2021/03/03/us/politics/elaine-chao-inspector-general-report.html
Local GOP leaders fire up base with conspiracies, lies
A faction of local, county and state Republican officials is pushing lies, misinformation and conspiracy theories that echo those that helped inspire the violent U.S. Capitol siege, online messaging that is spreading quickly through GOP ranks fueled by algorithms that boost extreme content.
The Associated Press reviewed public and private social media accounts of nearly 1,000 federal, state, and local elected and appointed Republican officials nationwide, many of whom have voiced support for the Jan. 6 insurrection or demanded that the 2020 presidential election be overturned, sometimes in deleted posts or now-removed online forums.
"Sham-peachment," they say, and warn that "corporate America helped rig the election." They call former president Donald Trump a "savior" who was robbed of a second term — despite no evidence — and President Joe Biden, a "thief." "Patriots want answers," they declare.
The bitter, combative rhetoric is helping the officials grow their constituencies on social media and gain outsized influence in their communities, city councils, county boards and state assemblies. And it exposes the GOP's internal struggle over whether the party can include traditional conservative politicians, conspiracy theorists and militias as it builds its base for 2022. https://apnews.com/article/local-gop-leaders-conspiracy-theories-0ef88e6f3b2b418ae07b214131d7f128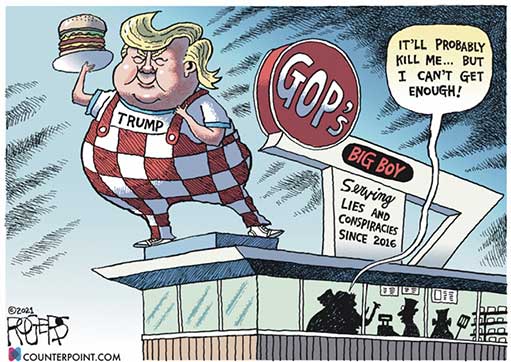 In Statehouses, Stolen-Election Myth Fuels a G.O.P. Drive to Rewrite Rules
Led by loyalists who embrace former President Donald J. Trump's baseless claims of a stolen election, Republicans in state legislatures nationwide are mounting extraordinary efforts to change the rules of voting and representation — and enhance their own political clout.
At the top of those efforts is a slew of bills raising new barriers to casting votes, particularly the mail ballots that Democrats flocked to in the 2020 election. But other measures go well beyond that, including tweaking Electoral College and judicial election rules for the benefit of Republicans; clamping down on citizen-led ballot initiatives; and outlawing private donations that provide resources for administering elections, which were crucial to the smooth November vote. https://www.nytimes.com/2021/02/27/us/republican-voter-suppression.html
GOP Rep. Appears at White Nationalist Event Where Organizer Calls Capitol Riot 'Awesome'
A sitting member of Congress appeared at a white nationalist convention Friday night, marking new GOP support for the racist movement. Rep. Paul Gosar (R-AZ) spoke in Orlando, Florida, at the America First Political Action conference, a far-right event meant to mimic the establishment Republican Conservative Political Action Conference (CPAC).
Gosar was joined at the event by former Rep. Steve King (R-IA), who lost his congressional committee seats after defending white nationalism. https://www.thedailybeast.com/rep-paul-gosar-appears-at-white-nationalist-afpac-where-organizer-nick-fuentes-calls-capitol-riot-awesome
Biden Revokes Trump's Pause on Green Cards
President Biden reopened the country on Wednesday to people seeking green cards, ending a ban on legal immigration that President Donald J. Trump imposed last spring, citing what he said was the need to protect American jobs during the pandemic.
In a proclamation, Mr. Biden said that the ban did "not advance the interests of the United States," challenging Mr. Trump's claims that the way to protect the American economy during the health crisis was to shut the country off from the rest of the world.
"To the contrary," Mr. Biden said of his predecessor's immigration ban, "it harms the United States, including by preventing certain family members of United States citizens and lawful permanent residents from joining their families here. It also harms industries in the United States that utilize talent from around the world."
The president's action was the latest example of his efforts to roll back Mr. Trump's assault on the nation's immigration system. Since taking office, Mr. Biden has issued several executive orders and directives aimed at lifting restrictions on immigrants put in place over the past four years. https://www.nytimes.com/2021/02/24/us/politics/biden-immigration-trump.html
North Dakota officials block wind power in effort to save coal
North Dakota has lots of coal. It also has strong and consistent winds. It might be the perfect spot to showcase the long-awaited "energy transition" from climate-warming fossil fuels to climate-saving renewables.
Yet that transition has hit a snag. Two counties in the state have enacted drastic restrictions on new wind projects in an attempt to save coal mining jobs, despite protests from landowners who'd like to rent their land to wind energy companies. It's a sign of how difficult that transition can be for communities that depend on coal for jobs and tax revenue. The economic benefits of wind power, even though substantial, often flow to different people. https://www.mprnews.org/story/2021/02/25/npr-north-dakota-officials-block-wind-power-in-effort-to-save-coal
Three Percenter Truck at Capitol on Jan. 6 Belongs to Hitler-Quoting Rep's Husband
A pickup truck parked at the United States Capitol and bearing a Three Percenter militia sticker on the day of the Jan. 6 riot belongs to the husband of freshman U.S. Rep. Mary Miller of Illinois, who approvingly quoted Adolf Hitler a day earlier.
The presence of a vehicle with a militia decal so close to the Capitol, inaccessible to normal vehicle traffic, raised questions about how it got there—and whether it belonged to any of the hundreds of suspects involved in the deadly riot. https://www.thedailybeast.com/rep-mary-millers-husband-owns-three-percenter-militia-truck-at-capitol-riot
Republicans Return to Old Voter-Suppression Playbook
Republican state legislatures across the country have recently launched efforts to restricting voting by mail in myriad ways. It's generally understood that they are reacting to Donald Trump's bizarre but incessant claims that massive fraud associated with expanded mail ballots in 2020 robbed him of a "landslide" victory. That's not, however, the only voter-suppression measures the GOP is pursuing in states where they control both the executive and legislative branches of government. They are also returning to their pre-2020 agenda of restricting in-person voting in ways that disproportionately affect Democratic-leaning constituencies.
That's most evident in Georgia, where GOP legislators are considering crackdowns on early in-person voting, restricting weekend voting opportunities, banning mobile polling places, and invalidating provisional ballots cast in the wrong precinct. But it's popped up also in Iowa, where Republicans have sent their GOP governor a bill cutting back on early voting and even closing the polls earlier on Election Day (Democrats traditionally vote later in the day than Republicans). https://nymag.com/intelligencer/article/republicans-suppress-in-person-mail-in-voting.html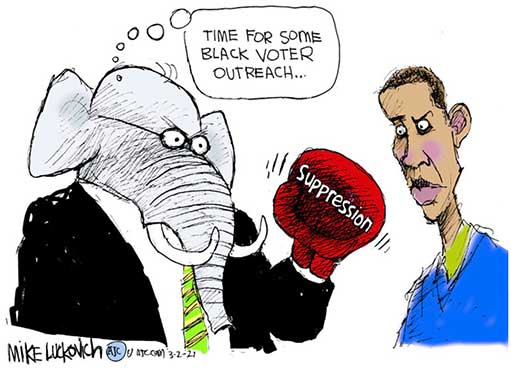 Golden Statue of Trump Is Perfect Metaphor for GOP
The Golden Calf is one of the most famous stories in the Old Testament. The Israelites, newly freed from Egyptian slavery, have a crisis of faith while God is speaking with Moses on Mount Sinai. They melt down the golden jewelry to construct a physical god — a statue in the shape of a calf — to worship in place of their abstract, invisible deity. It's a story about the allure of idolatry, how easy it is to abandon one's commitments to principle in favor of shiny, easy falsehoods.
This biblical tale trended on Twitter in the US Friday morning because of the following video, filmed on the first day of the 2021 Conservative Political Action Conference. Someone involved in the conference constructed a golden statue — not of a calf, but of Trump — and wheeled it out to cheers from conference attendees. https://www.vox.com/policy-and-politics/2021/2/26/22302887/trump-cpac-2021-republican-gold-statue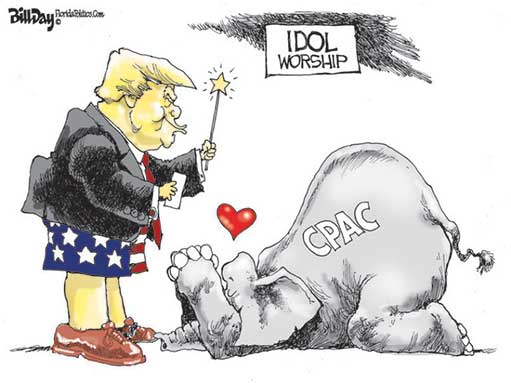 Republicans' real beef with the Jan. 6 Commission
Sen. Ron Johnson (R-Wis.) is on a mission to pretend the violent insurrection at the Capitol on Jan. 6 had nothing to do with the man whose name appeared on the insurrectionists' banners. It is not surprising others are following Johnson's lead.
Even Senate Minority Leader Mitch McConnell (R-Ky.) has gotten into the act in fighting over the independent commission to study the insurrection. McConnell supports the "Ron Johnson school" of investigation, as House Speaker Nancy Pelosi (D-Calif.) put it on Thursday, which would focus the commission either narrowly on Capitol security failures or on "the full scope of the political violence problem in this country," as McConnell said on Wednesday. Both approaches would take the spotlight away from the real problem — the rise of white-supremacist extremism. While the media has fixated on the number of commission members each party would appoint (which Pelosi said could be negotiated), the speaker made clear the fight is over the scope of the commission. https://www.washingtonpost.com/opinions/2021/02/26/republicans-real-beef-with-16-commission/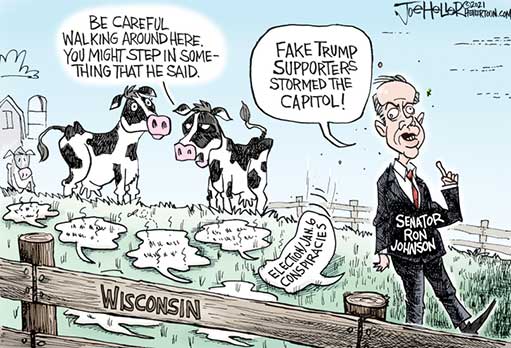 Architect Of The Capitol Outlines $30 Million In Damages From Pro-Trump Riot
The cost of repairing damages from the attack on the U.S. Capitol and related security expenses have already topped $30 million and will keep rising, Architect of the Capitol J. Brett Blanton told lawmakers on Wednesday. https://www.npr.org/sections/insurrection-at-the-capitol/2021/02/24/970977612/architect-of-the-capitol-outlines-30-million-in-damages-from-pro-trump-riot
Republicans are least likely to want the coronavirus vaccine
Americans of all ages, education levels, genders, races and political parties say they're more likely than not to get the coronavirus vaccine — except Republicans.
Vaccine hesitancy is higher among white Republicans than any other demographic group, and it hasn't been improving much as the vaccination effort continues, according to Civiqs polling.
By the numbers: 41% of Republicans say they don't plan to get a vaccine if it's available to them. Only 33% say they do plan to get vaccinated.
70% of Democrats and a plurality of independents (47%) say they plan to get vaccinated.
White Americans are now less likely than Black (69%) and Latino Americans (70%) who say they plan to get the vaccine. https://www.axios.com/republicans-coronavirus-vaccine-hesitancy-023bf32f-3d68-4206-b906-4f701b87c39f.html
Prosecutors Investigating Trump Focus on His Finance Chief
State prosecutors in Manhattan who are investigating former President Donald J. Trump and his family business are sharpening their focus on the company's long-serving chief financial officer, asking witnesses questions about his dealings at the company, according to people with knowledge of the matter.
The increased focus on the executive, Allen H. Weisselberg, could step up pressure on him to cooperate with the investigation if the prosecutors unearth evidence of wrongdoing on his part. He has served as the Trump Organization's financial gatekeeper for more than two decades and could be a vital source of information for the government about the inner workings of the company. https://www.nytimes.com/2021/03/01/nyregion/trump-vance-investigation.html
Steve Bannon investigation gains steam as Manhattan prosecutors subpoena financial records
The Manhattan district attorney's office has subpoenaed financial records related to Steve Bannon's crowd-funding border-wall effort, signaling that its criminal investigation into former President Donald Trump's chief strategist is advancing, according to people familiar with the matter.
Prosecutors sent the subpoenas after Trump pardoned Bannon in late January for federal conspiracy crimes tied to the southern border-wall project, making Bannon among the Trump world figures -- including the former president -- subjects of criminal investigations by Manhattan district attorney Cyrus Vance.
The state grand jury investigation revives the possibility that Bannon, the conservative and outspoken political strategist, could face state criminal charges after shedding the federal case last month. https://www.cnn.com/2021/02/24/politics/bannon-investigation-gains-steam/index.html
The "Trump-made-me-do-it" defense is already looking like a longshot
Facing damning evidence in the deadly Capitol siege last month — including social media posts flaunting their actions — rioters are arguing in court they were following then-President Donald Trump's instructions on Jan. 6. Experts believe the argument is not likely to get anyone off the hook for the insurrection where five people died, including a police officer. https://apnews.com/article/donald-trump-capitol-siege-us-news-75b5963841a2263fe8d79b1d18ef552b
How minority rule plagues Senate: Republicans last won more support than Democrats two decades ago
Today, the 50 members of the Democratic caucus represent 56.5% of the 50-state population compared to only 43.5% for the chamber's 50 Republicans, meaning Democrats have tens of millions more constituents but the same number of seats.
Democrats have likewise won millions more votes than Republicans across the three most recent election cycles, but if Republicans had won just 1,018 more votes in New Hampshire in 2016, they would still control the Senate 51-49 today in spite of the public's decisive support for Democrats.
Republican minority rule in the Senate has already had far-reaching consequences. Five Supreme Court justices (and many more lower court judges) were confirmed by senates where the GOP majority was elected with less popular support than Democrats. Those right-wing hardliners are now poised to use their control over the court to attack voting rights and preserve Republican gerrymanders while striking down progressive policies. This same minority rule has also paved the way for massive tax cuts for the rich under George W. Bush and Donald Trump that have facilitated an explosion in economic inequality. https://www.dailykos.com/stories/2021/2/23/2013769/-How-minority-rule-plagues-Senate-Republicans-last-won-more-support-than-Democrats-two-decades-ago
What's in an adjective? 'Democrat Party' label on the rise
Amid bipartisan calls to dial back extreme partisanship following the insurrection, the intentional misuse of "Democrat" as an adjective remains in nearly universal use among Republicans. Propelled by conservative media, it also has caught on with far-right elements that were energized by the Trump presidency.
Academics and partisans disagree on the significance of the word play. Is it a harmless political tactic intended to annoy Republicans' opponents, or a maliciously subtle vilification of one of America's two major political parties that further divides the nation? https://apnews.com/article/donald-trump-us-news-ohio-elections-f39b9370f14fd698a76285b83a2ef4c6
Donald Trump Jr. deposed by DC attorney general as part of inaugural funds lawsuit
Trump Jr. and his brother Eric Trump, executive vice presidents of the Trump Organization who run the real estate company on a day-to-day basis, have increasingly surfaced in investigations as authorities' interest turns to properties the former President's sons are involved in.
In addition to the DC attorney general's lawsuit, prosecutors with the Manhattan district attorney's office are digging into the company's finances and asking questions about business units that both brothers are intimately involved with, including the Trump family compound known as Seven Springs in New York, as well as the Trump Tower and 40 Wall Street skyscrapers, according to a person familiar with the matter.
One person said prosecutors are asking "about everything under the sun about Donald, Ivanka, Don Jr and Eric, [and] Allen Weisselberg," the chief financial officer. https://www.cnn.com/2021/02/24/politics/donald-trump-jr-deposition/index.html
Harris favorite to win 2024 U.S. presidential election - UK bookmaker
According to British bookmaker Ladbrokes Kamala Harris is favorite to be next president, with 22.2% implied probability. President Biden has 20% chance and former President Trump has 14.3% probability. https://www.reuters.com/article/uk-usa-politics-harris-idUKKCN2AT23Z
The DAILY GRILL
The hypocrisy of those trying to cancel Ted Cruz who have been totally silent on their Democrat Governor's incompetence is telling. My thoughts on the Cancún Cruz faux outrage! #Cruz #CancunGate is fake. https://rumble.com/vdysv7-cancel-cancn-cruz-not-so-fast....html — Donald Trump Jr.

VERSUS

Hey, Republican Governor of Texas Greg Abbott. Donald J Trump Jr is calling you both a Democrat and an incompetent. Comment? Or are you just going to say nothing, and leave it that Don is as dumb as his dad? — Kurt Eichenwald

 

"On the campaign trial [sic], Biden promised to reopen schools within his first 100 days in office," the party tweeted. "But that is just another promise that President Biden hasn't kept." — The RNC complaining on Thursday that President Joe Biden has not kept his promise to reopen most schools in the first 100 days of his presidency.

VERSUS

Biden took office at noon on Jan. 20, just 36 days ago. Math would indicate that he still has 64 days left to keep any promises for his first 100 days. But this has not stopped Republicans from calling him a failure already. "Ron (WH chief of staff Ron Klain), you promised parents that schools will reopen within 100 days, not within 4 years. #OpenSchoolsNow." -- Rep. Mike Johnson (R-LA)  last Thursday on Twitter.

 

"This shows how the Green New Deal would be a deadly deal for the United States of America" — Texas Gov. Abbott blaming solar and wind for the blackouts in his state.

VERSUS

Republicans could trip over their own shoelaces and they'd still find a way to blame me, immigrants, LGBTQ+ people, the Green New Deal, BLM, anything but accept responsibility for their own actions and dealings. Ineptitude, bigotry, and corruption. Disasters in their own right. -- Alexandria Ocasio-Cortez

 

A combative Meghan McCain demanded answers from White House press secretary Jen Psaki on how President Joe Biden's policy is all that different from President Donald Trump separating kids from their parents in detention facilities.

VERSUS

The Biden administration had to reopen an HHS facility because there are still a number of children whose parents haven't been found after they were taken from their parents. When Trump left the number was at 611 children whose parents couldn't be found. Wednesday, that number fell by 105 children thanks to the work of organizers on the ground. — NBC News.

 

I started working by bussing tables at the Star Family Restaurant for $1/hour & slowly moved up to cook – the big leagues for a kid like me– to earn $6/hour. Businesses in small towns survive on narrow margins. Mandating a $15 minimum wage would put many of them out of business. — Sen. John Thune (R-SD)

VERSUS

Of course, as Newsweek points out, Thune's $6 an hour wage adjusted for inflation would be $24 an hour today. https://www.newsweek.com/sen-john-thune-opposing-15-min-wage-says-he-earned-6-kidthats-24-inflation-1571915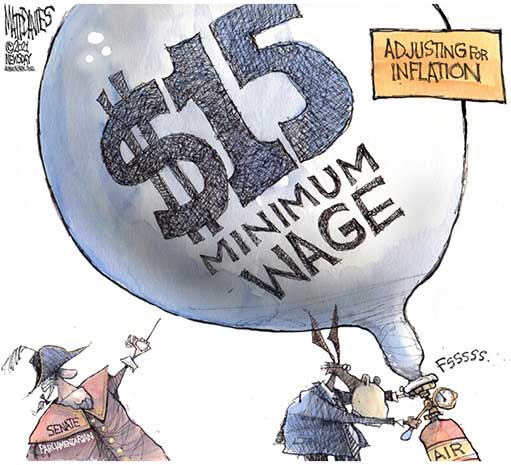 From MEDIA MATTERS (They watch Fox News so you don't have to)
Tucker Carlson's commentary and affect often provoke the question: Is he one of the stupidest people in American public life, or a shameless liar who treats his audience with the utmost contempt? So it is with his Tuesday night's widely-mocked claim that QAnon, the violent mythology whose adherents participated in the January 6 storming of the U.S. Capitol by supporters of then-President Donald Trump, does not exist. "We spent all day trying to locate the famous QAnon, which, in the end, we learned is not even a website," Carlson snarked while arguing that the left and the media are engaged in the true "disinformation campaign" in this country. "If it's out there, we could not find it." Last month, Carlson similarly criticized journalists focusing on the "forbidden idea" of "something called QAnon. https://www.mediamatters.org/january-6-insurrection/tucker-carlsons-insurrection-alternate-reality
It makes sense that journalists will cover CPAC, as they should if something newsworthy happens. What journalists must avoid, however, is becoming amplifiers for propaganda. The list of speakers at CPAC is loaded with people who have spread harmful, democracy-weakening lies. This conference should be described for what it is: a gathering of people largely dedicated to the propagation of a deadly lie that got people killed. "Protecting elections" is little more than a code for rigging elections in their favor. We are at this point in history because these people have been given free rein to lie about mass voter fraud without paying a political, professional, or societal price. If the press is to be part of our democracy, as it must be, then it's time to start holding politicians and pundits accountable for what they say. https://www.mediamatters.org/matt-schlapp/years-cpac-devoted-2020-election-lies-journalists-shouldnt-help-spread-them
Fox has yet to air live a single second of the Biden administration's eight COVID-19 response briefings. This is a stark change from the network's practices during the Trump administration, when it showed nearly all (61 hours) of the COVID-19 task force briefings -- which frequently featured coronavirus misinformation and then-President Donald Trump's meltdowns.  https://www.mediamatters.org/coronavirus-covid-19/fox-news-has-yet-air-any-biden-administrations-covid-19-response-team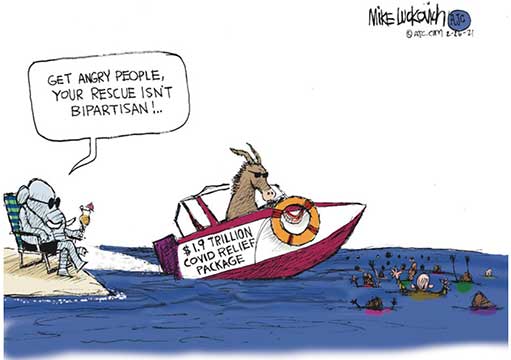 Bess Levin: Texas Lt. Governor Dan Patrick Blames Constituents For Giant Electric Bills: "Read The Fine Print"
As millions of Texans went days without heat or electricity last week, the few that somehow didn't lose power no doubt counted themselves extremely lucky. That is, until they looked at their energy bills and saw eye-popping, five-figure numbers nearly a hundred times bigger than what they typically owed. "My savings is gone," Scott Willoughby, a 63-year-old Army veteran who found himself on the receiving end of a $16,752 bill, told The New York Times. "It's been 43 degrees in the house since Monday, and I still have a $5,000 bill," Karen Cosby told the Dallas News. "How in the world can anyone pay that," Ty Williams wondered aloud to WFAA ABC, after noting that his electric bill was more than $17,000 for the month.
In an interview with Fox News, Patrick told host Harris Faulkner, "I saw the story about the high bills. Let me explain that. We have in Texas, you can choose your energy plan and most people have a fixed rate. If they had a fixed rate per kilowatt-hour, their rates aren't going up…. But the people who are getting those big bills are people who gambled on a very, very low rate…going forward, people need to read the fine print in those kinds of bills."
Sure, Patrick added that the "folks" who received $2,000 and $3,000 and $17,000 bills should "not panic" and that the government is "going to figure that out," but he also said that he's going to get to the bottom of why Texas's power grid failed in such a spectacular fashion when, again, the state was warned a decade ago that it needed to winterize its power plants. So it doesn't really seem like Patrick is great at figuring things out.
Patrick, who has been described by the Dallas Morning News as "the icon for exactly what's wrong with the Republican Party in Texas," was most recently in the news for basically trying to bribe people to report 2020 election voter fraud that never happened. Before that, he famously suggested, at the start of the coronavirus pandemic, that seniors should volunteer to die to save the economy, claiming that "lots of grandparents" were willing to sacrifice themselves for the cause. https://www.vanityfair.com/news/2021/02/dan-patrick-texas-electricity-bills
Jonathan Bernstein: Why Biden Prefers Politicians Over Experts
Senator Ted Cruz (AWOL-Cancun) is on a roll, criticizing Xavier Becerra, President Joe Biden's nominee to lead the Department of Health and Human Services, for having what he sees as the wrong qualifications for the job: "If a Republican tried to nominate a trial lawyer like Xavier Becerra to lead HHS in the midst of a global pandemic, they would be laughed out of the room." He's not alone; Cruz joined 10 other Republican senators in complaining that Becerra is unqualified for the position.
They're wrong. In fact, Becerra, who spent 12 terms in the House before serving as California's attorney general starting in 2017, couldn't be a more typical nominee. And there are very good reasons why presidents keep picking nominees with similar backgrounds. The job of a cabinet secretary, whether at HHS or elsewhere, is more than anything a political job, so politicians are the ones with the right training for the position. https://www.bloomberg.com/opinion/articles/2021-02-25/why-joe-biden-prefers-politicians-over-experts
Dana Millbank: "What terrible things did Neera Tanden tweet? The truth.
Can you believe that Neera Tanden called Hillary Clinton the "anti-Christ" and the "real enemy"?
Oh, wait. It was Ryan Zinke who said those things. Fifty-one Republican senators (and several Democrats, including Joe Manchin III of West Virginia) confirmed him as secretary of the interior in 2017.
And how about the times Tanden allegedly called the NAACP a "pinko organization" that "hates white people" and used racial epithets?
My bad. That was Jeff Sessions. Again, 51 Republican senators (and one Democrat, Manchin) voted to confirm him as attorney general in 2017.
Surely Tanden went beyond the pale when she "liked" a tweet calling then-Secretary of State John F. Kerry a "traitor" and "Vietnam's worst export," and when she suggested Clinton supporters leave the country.
Except Mike Pompeo was the one who did those things. He won confirmation as secretary of state in 2018 with the votes of 50 Republicans and six Democrats, including Manchin.
But, really, the most appalling thing Tanden said was that Muslims have a "deficient theology" and they "stand condemned."
Whoops. That wasn't Tanden but Russell Vought. Just last year, 51 Republicans voted to confirm him as director of the Office of Management and Budget — the same position Tanden is up for now.
Now, all 50 Senate Republicans, assisted by Manchin, are on the cusp of sinking Tanden's nomination because they object to her harsh tweets. Many have noted the hypocrisy, particularly when compared with the treatment of Richard Grenell, an online troll who won confirmation as ambassador to Germany with 50 Republican votes — and Manchin, natch — despite routinely disparaging women's appearances.
We all want healing. We all want unity. But it won't happen as long as the Party of Trump assigns Democrats sole responsibility for civility, while using President Biden's admirable talk of unity as a cudgel. Collins moralized about Tanden representing "the kind of animosity that President Biden has pledged to transcend." In other words, apology not accepted. https://www.washingtonpost.com/opinions/2021/02/24/what-terrible-things-did-neera-tanden-tweet-truth/
Jennifer Rubin: The GOP is not even trying to disguise its racism anymore
Sen. John Neely Kennedy (R-La.) echoing the disgraced ex-president's call for members of the Squad to "go back" to the countries from which they are from (even though they are all American citizens), attacked Neera Tanden, President Biden's nominee to head the Office of Management and Budget, declaring that her "allegiance is not to America and it's not to President Biden, it's to Secretary [Hillary] Clinton." The Indian American, you see, is not loyal to this country.
That is a message that many Republicans have been telling us about women of color, although not always as overtly. The Post reports, "Many of the president's Black, Latino, Asian and Native American nominees are encountering more political turbulence than their White counterparts, further drawing out the process of staffing the federal government." When someone like Tanden is treated so differently — accusing her of disloyalty and making up a new standard never employed for Republicans or White males (mean tweets) — that "turbulence" becomes indistinguishable from racism.
It does not stop there. The GOP is now going after two nominees for key spots in the Justice Department, Vanita Gupta for associate attorney general and Kristen Clarke for head of the civil rights division. And — no shocker — both are women of color. The Post reports: "Kristen Clarke, a Black lawyer who has been nominated to lead the Civil Rights Division at Justice, has been accused of being insensitive to Jewish people because she invited the author of an antisemitic book to speak at Harvard. She has said she regrets this decision." She was 19 years old at the time. That's it.
Clarke herself has never been accused of making anti-Semitic comments. Not one. Full stop. She has spent her career championing the rights of Jews and all of the most marginalized and at-risk people in our country during her time at the Justice Department, at the NAACP Legal Defense Fund, at the New York Attorney General's Office as director of the Civil Rights Bureau or as president of the Lawyers' Committee for Civil Rights Under Law. And her nomination is supported by a number of prominent Jewish organizations and people — including me and the organization I lead, the National Council of Jewish Women.
Meanwhile, right-wing groups have launched a campaign calling Gupta "dangerous," falsely claiming she advocated defunding the police in a speech. They have also claimed that she wants to lessen punishment for violent white supremacists, an absurd distortion of her opposition to the federal death penalty — a view many elected officials hold.
It is not hard to find the pattern. Take a woman of color who is an outspoken advocate for her views. Call her dangerous, radical, extreme, disloyal. Find some scrap of something that proves nothing and seems to contradict their enabling of a racist, disgraced ex-president. It is as blatant as their attempts to disenfranchise Black voters, their refusal to disown white-supremacist groups and their lionization of Confederate imagery. Forget the "Party of Lincoln"; this is the party of Jim Crow. https://www.washingtonpost.com/opinions/2021/02/25/gop-is-not-even-trying-disguise-its-racism-anymore/
Brian Karem: The Conspiracies and Cruelty of the Trumpist GOP
A legacy of lunacy and lies.
Lincoln said in his famous "House Divided" speech that "If we could first know where we are, and whither we are tending, we could then better judge what to do, and how to do it."
At this point it is obvious where we are. A record number of American voters turned out in the last election to defeat a president who preached fear, racism, misogyny, and violence—a man whose supporters, with his encouragement, marched on the Capitol to overturn the elected government for his personality cult. That failed.
It is not clear where we are tending, though from their rhetoric it sounds like the Republican fearmongers believe our direction to be toward the precipice of Hell. By contrast, in his CNN townhall last week, President Biden was more hopeful that the country is better off than the rants of the diminished GOP, and that there may yet be a chance for E pluribus unum. "The nation is not divided," Biden said:
The stubborn lunacy of Trumpism is built on lies, but it will not go away on its own. An equally stubborn insistence upon truth will be required to finally end it. https://thebulwark.com/the-conspiracies-and-cruelty-of-the-trumpist-gop/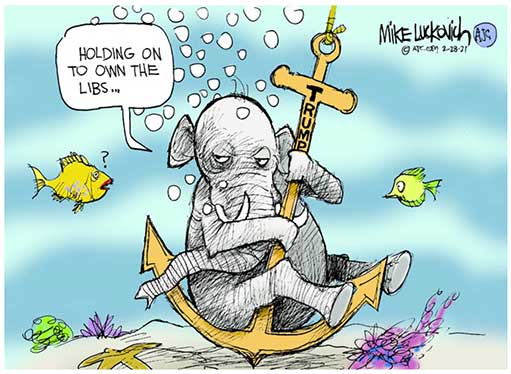 Matthew Chapman: There are startling similarities between the implosion of the GOP and the demise of the Soviet Union
Writing for The Atlantic, Naval War College professor and Trump-skeptic conservative Tom Nichols compared the current state of the Republican Party to the decline of the Soviet Communist Party in the 1970s — not in terms of ideology, but in terms of the corruption and stagnation thereof.
"The Republicans have entered their own kind of end-stage Bolshevism, as members of a party that is now exhausted by its failures, cynical about its own ideology, authoritarian by reflex, controlled as a personality cult by a failing old man, and looking for new adventures to rejuvenate its fortunes," wrote Nichols, who has previously denounced the far-right evangelical takeover of the party he once backed and warned of the poisonous influence of right-wing media.
"The Republican Party has, for years, ignored the ideas and principles it once espoused, to the point where the 2020 GOP convention simply dispensed with the fiction of a platform and instead declared the party to be whatever Comrade — excuse me, President — Donald Trump said it was," wrote Nichols. "Like Brezhnev, Trump has grown in status to become a heroic figure among his supporters. If the Republicans could create the rank of 'Marshal of the American Republic' and strike a medal for a 'Hero of American Culture,' Trump would have them both by now."
There is no coming back from this kind of decay, Nichols argued.
"Another lesson from all this history is that the Republicans have no path to reform," wrote Nichols. "Like their Soviet counterparts, their party is too far gone. Gorbachev tried to reform the Soviet Communist Party, and he remains reviled among the Soviet faithful to this day. Similar efforts by the remaining handful of reasonable Republicans are unlikely to fare any better. The Republican Party, to take a phrase from the early Soviet leader Leon Trotsky, should now be deposited where it belongs: in the 'dustbin of history.'"https://www.rawstory.com/end-of-the-gop/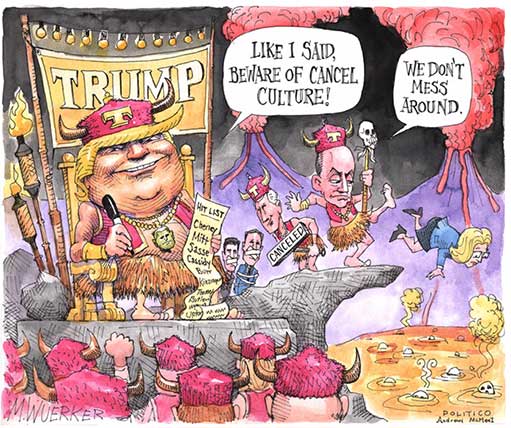 Bess Levin: Marjorie Taylor Greene Wants People To Know She's Not Just Crazy, She's A Crazy Bigot
If you heard the name Marjorie Taylor Greene at any point over the last few months, it was probably in the context of: her embrace of QAnon, the conspiracy theory that Democrats are running a Satan-worshipping pedophile cult that eats babies; 9/11, and Greene's claim that there's no proof a plane hit the Pentagon that day; school shootings like Sandy Hook and Parkland, which Greene has alternately deemed hoaxes or "false flags" that Nancy Pelosi and Hillary Clinton wanted to happen so they could pass gun control legislation; her support for the executions of Democratic leaders; and Jewish laser beams. All that has obviously earned Greene a reputation as a uniquely unhinged individual who shouldn't be allowed within 1,000 feet of Congress. But apparently she'd also like people to know she's so much more than a crazy person—she's also a certified, unapologetic bigot.
Last month fellow freshman representative Cori Bush decided to move her office away from Greene's after the Georgia congresswoman refused to wear a mask in common areas amidst, y'know, a global pandemic. It's also not the first time Greene has made hateful comments about people who are not straight, cisgender, white, and Christian. In addition to her commentary about Jews, Greene has previously said that Black and Hispanic men are controlled by gangs and suggested that Muslims shouldn't serve in government. While Democrats stripped her of her committee assignments, many Republicans have embraced her as the future of the party.
 
On Thursday, Newman responded to Greene's transphobic poster by saying: "Two things I thought [when I saw it], Wow, she's got a lot of time on her hands, because she would have to go get that printed and decide that this is the right thing to do, so kind of wild on a bunch of fronts. But further, what I would say is that she's welcome to her sign, no one's buying it, and that is not science." https://www.vanityfair.com/news/2021/02/marjorie-taylor-greene-equality-act-transphobia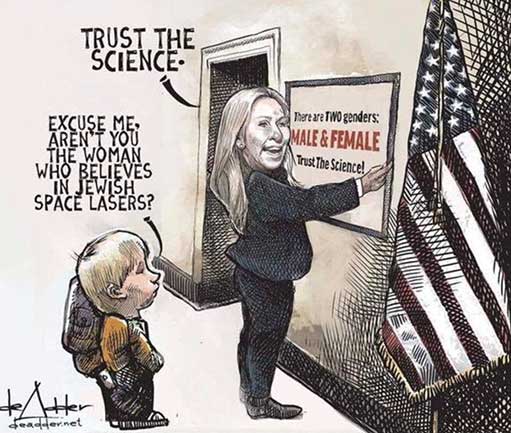 Democratic voting bill would make biggest changes in decades
As Congress begins debate this week on sweeping voting and ethics legislation, Democrats and Republicans can agree on one thing: If signed into law, it would usher in the biggest overhaul of U.S. elections law in at least a generation.
House Resolution 1: Democrats' 791-page bill, would touch virtually every aspect of the electoral process — striking down hurdles to voting erected in the name of election security, curbing partisan gerrymandering and curtailing the influence of big money in politics.
Republicans see those very measures as threats that would both limit the power of states to conduct elections and ultimately benefit Democrats, notably with higher turnout among minority voters.
The stakes are prodigious, with control of Congress and the fate of President Joe Biden's legislative agenda in the balance. But at its core, a more foundational principle of American democracy is at play: access to the ballot.
"This goes above partisan interests. The vote is at the heart of our democratic system of government," said Fred Wertheimer, president of the nonpartisan good government organization Democracy 21. "That's the battleground. And everyone knows it."
Barriers to voting are as old as the country, but in more recent history they have come in the form of voter ID laws and other restrictions that are up for debate in statehouses across the country.
Rep. John Sarbanes, a Maryland Democrat who sponsored the bill, said that outside of Congress "these aren't controversial reforms." Much of it, he noted, was derived from recommendations of a bipartisan commission. https://www.aol.com/news/democratic-voting-bill-biggest-changes-052510034-131656911.html
Michael M. Grynbaum, Davey Alba and Reid J. Epstein: How Pro-Trump Forces Pushed a Lie About Antifa at the Capitol Riot
On social media, on cable networks and even in the halls of Congress, supporters of Donald J. Trump tried to rewrite history in real time, pushing the fiction that left-wing agitators were to blame for the violence on Jan. 6.
At 1:51 p.m. on Jan. 6, a right-wing radio host named Michael D. Brown wrote on Twitter that rioters had breached the United States Capitol — and immediately speculated about who was really to blame. "Antifa or BLM or other insurgents could be doing it disguised as Trump supporters," Mr. Brown wrote, using shorthand for Black Lives Matter. "Come on, man, have you never heard of psyops?"
Only 13,000 people follow Mr. Brown on Twitter, but his tweet caught the attention of another conservative pundit: Todd Herman, who was guest-hosting Rush Limbaugh's national radio program. Minutes later, he repeated Mr. Brown's baseless claim to Mr. Limbaugh's throngs of listeners: "It's probably not Trump supporters who would do that. Antifa, BLM, that's what they do. Right?"
What happened over the next 12 hours illustrated the speed and the scale of a right-wing disinformation machine primed to seize on a lie that served its political interests and quickly spread it as truth to a receptive audience. The weekslong fiction about a stolen election that President Donald J. Trump pushed to his millions of supporters had set the stage for a new and equally false iteration: that left-wing agitators were responsible for the attack on the Capitol. https://www.nytimes.com/2021/03/01/us/politics/antifa-conspiracy-capitol-riot.html
Jonathan Bernstein: Disloyalty Is Trump's Secret Weapon
Trump is good at tapping into resentment, but plenty of Republican politicians are good at that. Yes, he's popular among Republican voters, but most politicians are popular among their own party's voters. Yes, he's willing to take sides in primaries, but he doesn't actually have a particularly impressive record of swaying primary voters.
No, what's different about Trump is that unlike any other former president — really, any former nominee — in living memory, it's that easy to picture him telling his voters to stay home and handing elections to the other party. And that's why he's been an impossible dilemma for Republican politicians ever since he emerged as a major candidate in 2015.
If Trump persuaded only 5% or so of Republican voters to stay home or support a third-party candidate, the damage from the top of the ballot to the bottom could be devastating. This gives Republican politicians a strong and continuing incentive to try to accommodate — to try to mange — the former president.
Of course, that's not all that's going on within the Republican Party. Some politicians and other party actors surely are trying to flatter Trump because they believe (perhaps correctly, perhaps not) that it will propel them to successful careers. Surely others sincerely (if implausibly) believe that Trump really was a great president and that the party is best off with him as their leader as long as he's willing. But I do think that a lot of them just consider him a threat they need to appease. https://www.bloomberg.com/opinion/articles/2021-03-02/why-does-trump-have-power-over-republicans-disloyalty-klrzo4nd
1. Eric Lutz: Republicans Are Taking A Sledgehammer To Voting Rights
Donald Trump's power grab may have failed, but it's possible that democracy is now under even greater threat than it was before January 20. The transparent and ludicrous lies that Trump told, over and over, in his desperate campaign to overturn his loss to Joe Biden have now ossified into the official party line, with Republicans across the country attempting—in some cases successfully—to translate the MAGA propaganda into actual laws. The GOP has now put forth bills in 43 states that would dramatically restrict access to the ballot, according to a Brennan Center analysis; in places like Georgia, with Republican-controlled state governments, anti-democracy lawmakers are succeeding. And on Tuesday, the franchise will face perhaps its biggest test in decades when the conservative Supreme Court considers a pair of Arizona laws that could open the floodgates for even more racist voting restrictions.
Democrats, who have lost just one presidential popular vote since 1988 and represent far more Americans on Capitol Hill than their counterparts, are not powerless to protect democracy against attacks by a Republican party that has increasingly embraced Trumpian authoritarianism. They've introduced hundreds of their own bills in state legislatures seeking to expand the franchise, and are mobilizing behind a House bill that seeks to knock down barriers to the ballot. But the success or failure of these efforts will almost certainly depend on whether or not Democratic leaders, from the White House on down, fight for Americans' rights with the same urgency that Trump and the Republicans are fighting to take them away. "Republicans have made opposing voting rights the central tenet of their party," the Democratic attorney Marc Elias, who spent the post-election interregnum combatting Trump's lies in court, wrote Monday, "and are currently engaged in a bizarre competition with each other to see who can impose and enact the most grotesque voting restrictions."
Suppressing the votes of Black Americans and other minorities has long been a key part of the GOP's election strategy. But their efforts have been even more audacious, bald-faced, and undemocratic in recent months: In swing states where Trump sought to overturn his narrow losses, Republican legislators are using his lies as a pretext for "election security" bills targeting mail-in voting and other measures that expand access to the ballot. In Wisconsin, the GOP has put forth a package that would force voters to show an ID, limit absentee balloting, and that could dampen early voting. Similar legislation is being considered in Pennsylvania. Democratic governors in those states mean the sweeping overhauls proposed by Republican-controlled legislatures probably won't go far—for now, at least. But things are more concerning in Georgia, where the state House on Monday passed a massive, multi-pronged package of voting restrictions—including one measure scaling back Sunday voting, a direct attack on the "Souls to the Polls" initiative to increase Black turnout. https://www.vanityfair.com/news/2021/03/republicans-are-taking-a-sledgehammer-to-voting-rights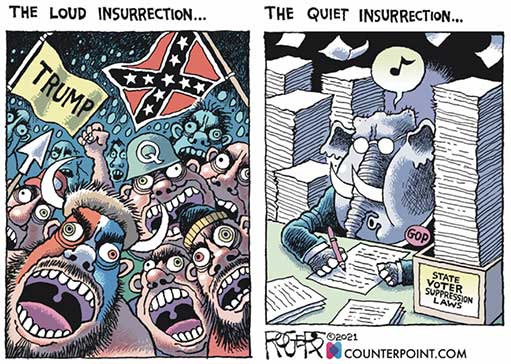 Ron Brownstein: Democrats' Only Chance to Stop the GOP Assault on Voting Rights
The most explosive battle in decades over access to the voting booth will reach a new crescendo this week, as Republican-controlled states advance an array of measures to restrict the ballot, and the U.S. House of Representatives votes on the federal legislation that represents Democrats' best chance to stop them.
It's no exaggeration to say that future Americans could view the resolution of this struggle as a turning point in the history of U.S. democracy. The outcome could not only shape the balance of power between the parties, but determine whether that democracy grows more inclusive or exclusionary. To many civil-rights advocates and democracy scholars I've spoken with, this new wave of state-level bills constitutes the greatest assault on Americans' right to vote since the Jim Crow era's barriers to the ballot.
Democrats may have only a brief window in which to block these state-level GOP maneuvers. Typically, the president's party loses House and Senate seats in the first midterm election after his victory. Democrats will face even worse odds if Republicans succeed in imposing restrictive voting laws or gerrymandering districts in the GOP's favor across a host of red states. https://www.theatlantic.com/politics/archive/2021/03/democrats-need-hr-1-and-new-vra-protect-voting-rights/618171/