April 13, 2023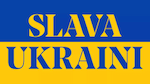 To subscribe to this FREE weekly newsletter simply email jellison@san.rr.com with "subscribe" as the subject.
LITIGATION TRACKER
Pending Criminal and Civil Cases Against Donald Trump.
THE WEEK'S BEST QUOTES...
"This is beyond party or partisanship. This degree of corruption is shocking — almost cartoonish. Thomas must be impeached." -- Rep. Alexandria Ocasio-Cortez (D-N.Y.) calling for Supreme Court Justice Clarence Thomas to be impeached after a
bombshell report
revealed that he's been taking luxury trips paid for by a Republican megadonor for decades and not disclosing them.
https://www.huffpost.com/entry/ocasio-cortez-clarence-thomas-impeach_n_642ed61ce4b001e12d70dcec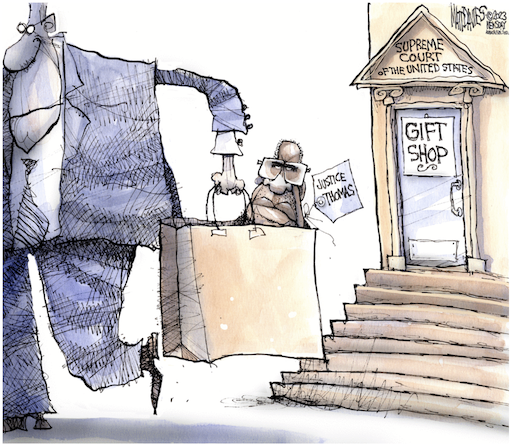 "He bragged that he won't seek Trump's Endorsement, so I didn't give it—which guaranteed his loss. How foolish is a man that doesn't seek an Endorsement that would have won him the Election?"  — Donald Trump taking aim at Daniel Kelly, the losing Republican candidate for the Wisconsin state Supreme Court.
https://thehill.com/blogs/blog-briefing-room/3936609-trump-mocks-failed-wisconsin-judicial-candidate-for-not-seeking-his-endorsement/
"The witness list for the Fox News $1.6 billion defamation trial now has more big names than a prime-time lineup." — Katie Robertson.
https://www.nytimes.com/2023/04/05/business/media/rupert-murdoch-testify-fox-dominion-trial.html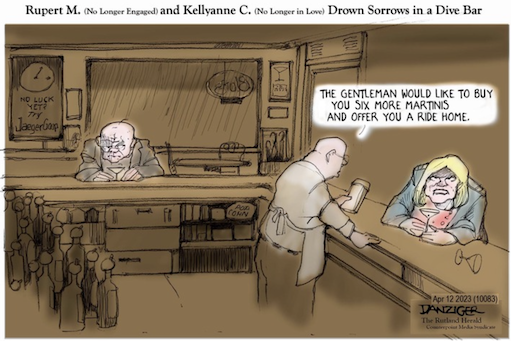 "I don't have time to sit around all day long and drink scotch and bullshit about bills that have no chance of passing into law." — Rep. Tony Gonzales (R-TX) on how the House GOP majority is working.
https://www.cnn.com/2023/04/07/politics/house-gop-growing-pains/index.html
"I think ultimately the savvy Democratic strategists know the Manhattan District Attorney's probe is going to help Trump, and they want him to be the nominee because he is the weakest of the Republican candidates, the most likely to lose again to Biden." — Former Attorney General Bill Barr.
https://www.foxnews.com/politics/barr-slams-trump-weak-candidate-makes-bold-prediction-2024-election
Musk's messy decision to label National Public Radio a government outlet is "an insult to the notion of a free press" which conflates  "an editorially independent nonprofit organization like NPR with state-controlled propaganda mills" in Russia and China. — Senator Ron Wyden.
https://www.washingtonpost.com/politics/2023/04/06/twitters-labeling-npr-boon-foreign-propagandists-critics-say/
"Ron DeSantis is a young man who is not doing well against me in the polls, to put it mildly. I believe that if he decides to run for President, which will only hurt and somewhat divide the Republican Party, he will lose the cherished and massive MAGA vote, and never be able to successfully run for office again." — Donald Trump.
https://thehill.com/homenews/campaign/3942406-trump-discourages-desantis-says-candidacy-would-only-hurt-republican-party/
"The lord rebuke you, Satan, and all of your demons and all of your imps who come parade before us. That's right, I called you demons and imps, who come and parade before us and pretend that you are part of this world." — Florida state Rep. Webster Barnaby (R) apologizing after he called transgender people "demons" and "mutants" during a hearing on a bill that would make it a misdemeanor offense for someone to use a bathroom that doesn't align with the sex they were assigned at birth.
https://www.politico.com/news/2023/04/10/florida-republican-apology-transgender-comments-00091315
"Russia is becoming more and more dependent on China and, in some respects, runs the risk of becoming an economic colony of China over time, dependent for export of energy resources and raw materials." — CIA Director William Burns as Russia's isolation from the West deepens.
https://www.theguardian.com/world/live/2023/apr/12/russia-ukraine-war-live-russia-risks-becoming-economic-colony-of-china-as-isolation-deepens-says-cia-director
"There goes Jim Jordan, the MAGA chairman of the House Judiciary Committee and its 'weaponization of government' subcommittee, driving his clown car to a new town." —  Dennis Aftergut
https://www.thebulwark.com/jim-jordan-takes-his-clown-show-on-the-road/
VIDEOS ...
"It's just error after error, Matt?" — Mehdi Hasan confronts Matt Taibbi with multiple, unacknowledged, and glaring mistakes in his Twitter Files reporting. https://twitter.com/mehdirhasan/status/1644064242419617803
"It's disgusting… It was repulsive, it smells bad. I think it's a very terrible place." — Marjorie Taylor Greene about New York. https://twitter.com/reedgalen/status/1643852446740144128
"Lets talk about expulsion. For years, one of your colleagues was guilty of domestic violence, no expulsion. One an admitted child molester, sat in this chamber, no expulsion. One member was under federal investigation, no expulsion. We had one member pee on another members chair, no expulsion." -- Tennessee state Rep. Justin Jones (D) calling out his GOP colleagues on the floor just before he was expelled for demonstrating over gun violence. https://twitter.com/Phil_Lewis_/status/1644057153928413184
The J Six is beating Taylor Swift. It's Donald Trump and the J Six Prisoners...So now I feel like Elvis. — Donald Trump bragging to Hannity that  the new single, "Justice for All," featuring himself and the a choir of men held in a Washington DC prison for their parts in the deadly January 6 insurrection reached number one on iTunes' top songs https://twitter.com/AccountableGOP/status/1640530941784334336

"They were incredible. When I went to the courthouse which is also a prison in a sense, they signed me in and I'II tell you people were crying. People that work there. Professionally work there that have no problems putting in murderers and they see everybody. It's tough, tough place and they were crying. They were actually crying. They said, I'm sorry." — Donald Trump in an interview with Tucker Carlson. https://www.foxnews.com/video/6324559927112
---
IN THIS ISSUE
IN THE NEWS
OPINION
Andy Borowitz: Millions of Americans Who Have Paid Off Porn Stars Feel Under Attack
The approximately forty million Americans who have paid off porn stars feel "embattled and persecuted" as a result of recent events, a prominent psychologist reports.
Harland Dorrinson, who has treated countless people who have paid off porn stars, said that many of his patients have been experiencing "acute anxiety and stress" during the past week.
The porn-star compensators, who represent roughly twelve per cent of the U.S. population, believe that their basic constitutional right to silence an adult-film performer with a financial emolument "is in jeopardy like never before," he said.
"These are individuals who have taken great comfort in their ability to pay off porn stars, and suddenly they feel as though the rug has been pulled out from under them," he said. "They're in a lot of pain right now."
"As the country heads into a Presidential-election year, the millions who have paid off porn stars could emerge as a force to be reckoned with," a leading political scientist warns.
"Republicans have been casting around for a kitchen-table issue that can energize a wide swath of voters," Davis Logsdon, of the University of Minnesota, said. "The God-given right to pay off your porn star could be that issue."
https://www.newyorker.com/humor/borowitz-report/
GOP Seeks To Shield Trump From All Future State Prosecutions
New legislation from House Republicans aims to prevent local district attorneys from pursuing charges against former presidents.
The symbolic bill is yet another show of support for Donald Trump, who faces the possibility of criminal charges in Georgia and was arraigned in Manhattan last week for allegedly violating state law with false business records.
https://www.huffpost.com/entry/donald-trump-political-prosecutions-2020-election_n_6436d332e4b0a75926241b45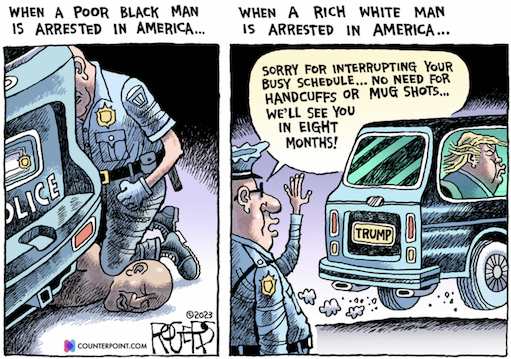 Why Ron DeSantis Is Taking Aim at the Federal Reserve
Gov. Ron DeSantis appears to have discovered something that populists throughout history have found to be true: Bashing the Federal Reserve is good politics.
Mr. DeSantis has begun to criticize Jerome H. Powell, the Fed chair, in speeches and news conferences. He has alleged without evidence that the Biden administration is about to introduce a central bank digital currency — which neither the White House nor the politically independent Fed has decided to do — in a bid to surveil Americans and control their spending on gas. He has quoted the Fed's Twitter posts disparagingly.
His critiques echo a familiar playbook from the Trump administration. Former President Donald J. Trump often blasted the central bank during the 2016 campaign and while he was in office, as policymakers lifted interest rates and slowed economic growth. Mr. Trump at one point called Mr. Powell — his own pick for Fed chair — an "enemy," comparing him to President Xi Jinping of China.
https://www.nytimes.com/2023/04/11/business/economy/desantis-federal-reserve-powell.html
How the 'Tennessee Three' Backlash Fits Into Dems' 2024 Plan
To Democrats who have toiled for years to rebuild state level power, the reaction to what unfolded in Tennessee not only crystallizes the party's recent shift, but signals the increased investment they believe is coming to states where Democrats hope to make gains in the 2024 election cycle. https://www.thedailybeast.com/how-the-tennessee-three-backlash-fits-into-dems-2024-plan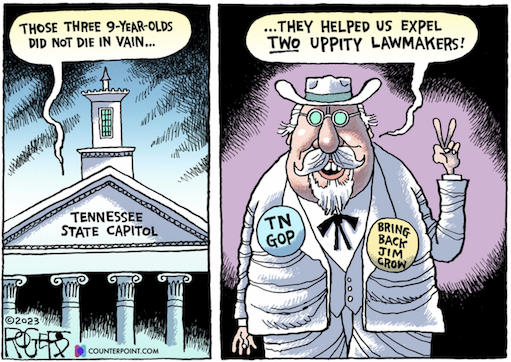 Trump's Favorability Plummets
A new ABC News/Ipsos poll finds Donald Trump's favorable rating at just 25%.
https://twitter.com/AaronBlake/status/1645400022807191552
The Racial Element of Trump's Attacks on His Prosecutors
With his trademark self-owning projection, Trump has attacked all three black prosecutors investigating him as "racist." In his post-arraignment Mar-a-Lago rant, he referred to Fulton County DA, Georgia Willis as "a local racist Democrat district attorney in Atlanta who is doing everything in her power to indict me over an absolutely perfect phone call." NY Attorney General Letitia "Tish" James, he added, is "another racist in reverse." He spared Manhattan DA Alvin Bragg that particular word that night, but he had already called him an "animal" and warned of "potential death and destruction" if he were to be charged. He was back at it Sunday night with a Truth Social post that started, "Just like New York, the Racist District Attorney in Atlanta . . . " https://www.thebulwark.com/the-racial-element-of-trumps-attacks-on-his-prosecutors/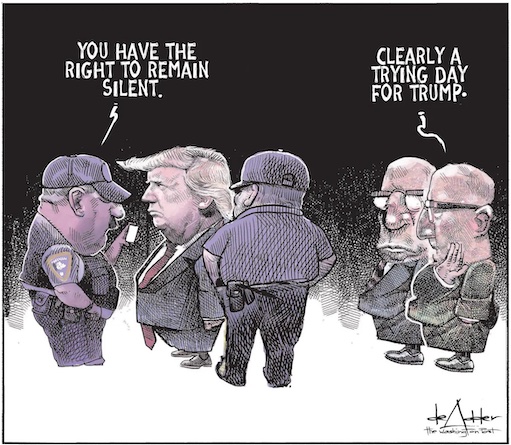 Judge Limits Fox's Options for Defense in Dominion Trial
A judge ruled on Tuesday that Fox News could not argue that it broadcast false information about Dominion Voting Systems on the basis that the allegations were newsworthy, limiting a key line of defense for the network as it faces the beginning of a potentially costly defamation trial next week.
https://www.nytimes.com/2023/04/11/business/fox-news-dominion-trial.html
GOP embraces a new foreign policy: Bomb Mexico
A growing number of prominent Republicans are rallying around the idea that to solve the fentanyl crisis, America must bomb it away.
In recent weeks, Donald Trump has discussed sending "special forces" and using "cyber warfare" to target cartel leaders if he's reelected president and, per Rolling Stone, asked for "battle plans" to strike Mexico. Reps. Dan Crenshaw (R-Texas) and Mike Waltz (R-Fla.) introduced a bill seeking authorization for the use of military force to "put us at war with the cartels." Sen. Tom Cotton (R-Ark.) said he is open to sending U.S. troops into Mexico to target drug lords even without that nation's permission.
https://www.politico.com/news/2023/04/10/gop-bomb-mexico-fentanyl-00091132
California's floods may be 'only a taste' of what's to come in a warmer world
Climate scientists warn that what Californians have lived through in recent months — atmospheric river after atmospheric river, catastrophic flooding, and one of the largest winter snowpack in years — is just a preview of what's to come, with exponentially worse flooding predicted in future years. When atmospheric rivers reach land, they act like a hose dumping heavy moisture on the land, which can cause issues like flooding, landslides and power outages.

"As disruptive as this year's events have been, we're nowhere near to a plausible worst-case storm and flood scenario for California," said UCLA climate scientist Daniel Swain. https://www.kpbs.org/news/environment/2023/04/08/why-californias-floods-may-be-only-a-taste-of-whats-to-come-in-a-warmer-world/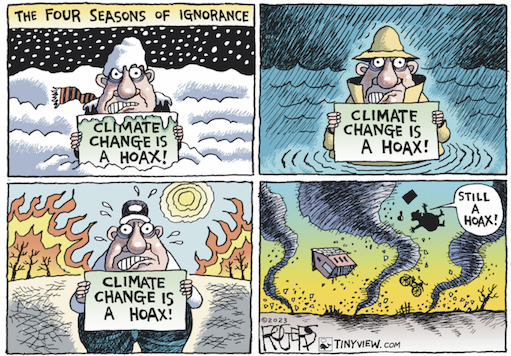 Democrats push abortion rights to the ballot in 2024, using an old GOP playbook
Key Democrats hoping to keep abortion access a central part of the 2024 campaign are looking to the 2004 playbook of an old Republican nemesis: Karl Rove.
Rove was the architect of ballot initiatives to ban gay marriage placed in swing states to boost turnout for George W. Bush. Now Democrats are pushing ballot measures and an array of other moves to try to capitalize on a backlash to last year's Supreme Court decision overturning Roe v. Wade, which they say was instrumental in many of their wins in last year's midterms.
https://www.cnn.com/2023/04/07/politics/democrats-abortion-ballot-measures-2024/
Gov. Greg Abbott backs call for pardon for Daniel Perry, who killed Austin protester in 2020
Gov. Greg Abbott directed the Texas Board of Pardons and Paroles to consider recommending a pardon for Daniel Perry on Saturday, one day after a Travis County jury convicted the U.S. Army sergeant in the 2020 murder of Austin protester Garrett Foster.
After 17 hours of deliberations and an eight-day trial, jurors Friday found Perry guilty of murder for shooting and killing Foster, who was armed with an AK-47 as part of a group protesting police brutality. Perry, an Uber driver, had encountered the protest a few blocks from the Capitol in downtown Austin.
Under pressure from conservatives, Abbott announced Saturday that he asked the parole board to review Perry's conviction on an expedited basis. The Texas Constitution, he said, requires the parole board to recommend a pardon before a governor could act.
"I look forward to approving the Board's pardon recommendation as soon as it hits my desk," Abbott said in a statement posted to Twitter.
Several Republicans praised Abbott's promise to work "as swiftly as Texas law allows" to pardon Perry, including Attorney General Ken Paxton, who tweeted that he agreed with Abbott "on this 100%."
But state Sen. Sarah Eckhardt, D-Austin, called Abbott's move "a stunning and dangerous abrogation of the rule of law that will embolden more armed confrontations and inevitable tragedies."
https://www.texastribune.org/2023/04/08/greg-abbott-pardon-daniel-perry/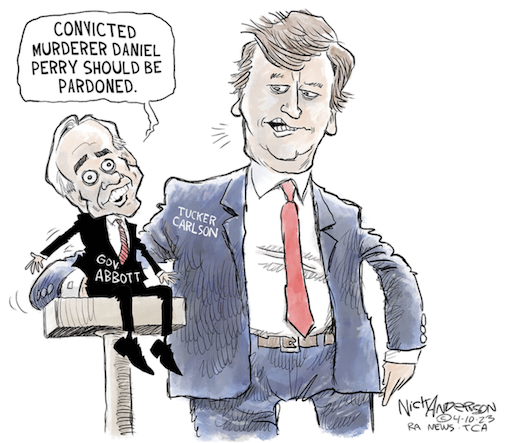 GOP's stormy 2024 outlook
This week marked a low point for Republicans as they prepare for the 2024 elections: Former President Trump is once again the dominant force in the party, which is showing little indication of trying to appeal to swing voters.
We're a deeply divided and polarized country, split closely between left and right, but Trump's legal predicament combined with the GOP's exposure on abortion is giving the Democrats a small but important advantage heading into a pivotal election year."
By aligning with Trump's grievances and promoting tougher abortion restrictions, it's increasingly difficult for the GOP to win outside of deep-red strongholds.
Until Republican voters show they're capable of moderating when necessary, Democrats will hold the edge in 2024.
https://www.axios.com/2023/04/09/republicans-2024-storm-trump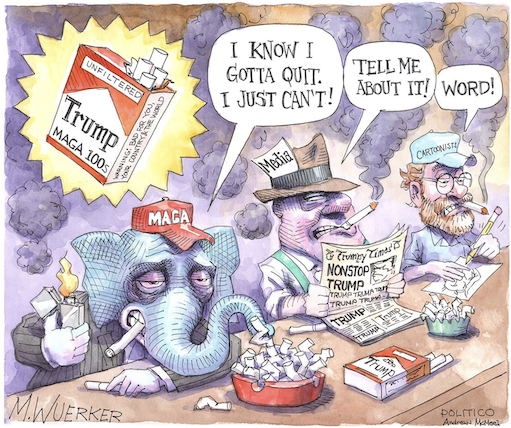 Tennessee vote marks latest GOP move to stifle dissent
Tennessee Republicans' dramatic expulsion of two Democrats who agitated for gun control in the state Capitol after a mass killing is the latest move by Republican state leaders around the country to stifle dissent and expand their power base, free speech experts say.
In Montana, Texas, Florida and elsewhere, Republicans have moved in other ways to silence opposition in recent months, actions that might ultimately erode the country's democratic ideals, they said. https://www.washingtonpost.com/nation/2023/04/07/tennessee-republicans-protest-dissent/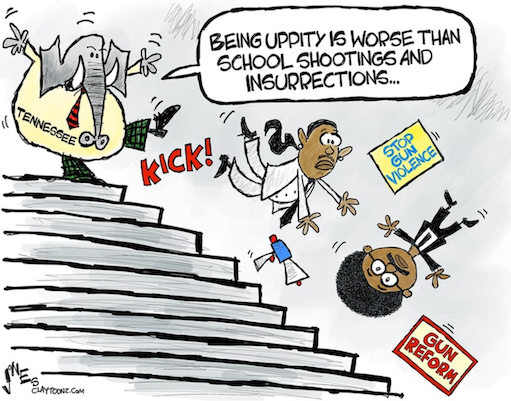 DC Circuit Decides Case About Obstruct[ing] Official Proceedings
A divided three-judge panel of the D.C. Circuit, siding with almost all of the district court decisions considering the question, has held that some of those who invaded the U.S. Capitol on January 6, 2021 could be charged under a federal statute that makes it a crime to, among other things 'corruptly….obstruct…or impede any official proceeding, or attempts to do so.'
This case has implications not only for hundreds of January 6-related prosecutions, but also potentially against Donald Trump, should DOJ choose to charge him with election-subversion-related activities after the 2020 election.
https://electionlawblog.org/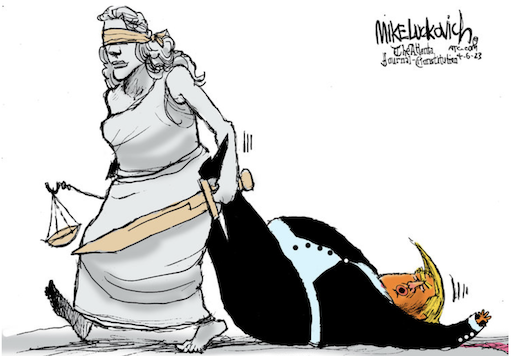 Kevin McCarthy's blame game sweeps Capitol Hill
Soon after House Speaker Kevin McCarthy cliched the speakership, some of his allies began to fret: "How the hell was he going to live up to all the promises he'd made to conservatives to win their support?"
How, in particular, would the California Republican pass a budget that would balance within 10 years — a tricky feat even before he took cuts to Social Security and Medicare off the table?
Now, McCarthy's chickens are coming home to roost. Under pressure from President Joe Biden and a rapidly approaching debt limit deadline, Republicans are struggling to unite behind a fiscal blueprint. Some worry they may not release any budget — let alone one that balances in a decade, let alone one that can pass.
Instead of owning up to failure, McCarthy appears to be looking for a scapegoat.
https://www.politico.com/news/2023/04/07/kevin-mccarthy-debt-limit-blame-00090979
Early struggles of new House Republican majority raise anxiety over high-stakes fights to come
The intense whipping effort and internal drama on a messaging bill that is dead-on-arrival in the Senate has become a recurring theme of the House GOP's first 100 days in office. With little room for error in their razor-thin majority, Republicans have so far struggled to deliver on key priorities like the border and the budget amid their internal divisions – though they have notched some symbolic victories on energy and education, while actually succeeding in overturning a DC crime bill.
Despite the handful of successes, the party's more vulnerable members are frustrated with how the House Republican majority has so far spent its time in power, which has also included a heavy focus on investigations and running defense for former President Donald Trump.
https://www.cnn.com/2023/04/07/politics/house-gop-growing-pains/index.html
The GOP Civil War That's Already Making 2024 Awkward
Behind the scenes, the Club for Growth has been pressuring members of the hard-right House Freedom Caucus to not endorse Trump for president. Some Republicans worry that the power struggle will only cause collateral damage that could contribute to more disappointing election results and needless feuding.
https://www.thedailybeast.com/the-gop-civil-war-between-trump-and-club-for-growth-thats-already-making-2024-awkward
Kyrsten Sinema Is Preparing for a 2024 Re-Election Campaign as an Independent
Sen. Kyrsten Sinema, the De­mo­c­rat-turned-in­de­pen­dent, is pre­paring for a re-elec­tion cam­paign, set­ting the stage for what could be an un­pre­dictable three-way con­test in the highly com­pet­i­tive state.
A re-elec­tion cam­paign by Ms. Sinema would have im­pli­ca­tions for the bat­tle for the Sen­ate in 2024 and test whether a sen­a­tor who has spurned a tra­di­tional party iden­tity can build a win­ning cen­trist coali­tion. Ms. Sinema left the De­mo­c­ra­tic Party last year to be­come an in­de­pen­dent af­ter be­ing a reg­u­lar thorn in the side of De­mo­c­ra­tic lead­ers and pro­gres­sive ac­tivists. She still cau­cuses with the De­moc­rats, how­ever, and re­mains a piv­otal vote in the par­ty's 51-49 ma­jor­ity.
https://www.wsj.com/articles/kyrsten-sinema-is-preparing-for-a-2024-re-election-campaign-23edb2fb
E.P.A. Lays Out Rules to Turbocharge Sales of Electric Cars and Trucks
The Biden administration on Wednesday proposed the nation's most ambitious climate regulations to date, two plans designed to ensure two-thirds of new passenger cars and a quarter of new heavy trucks sold in the United States are all-electric by 2032.
If the two rules from the Environmental Protection Agency are enacted as proposed, they would put the world's largest economy on track to slash its planet-warming emissions at the pace that scientists say is required of all nations in order to avert the most devastating impacts of climate change.
https://www.nytimes.com/2023/04/12/climate/biden-electric-cars-epa.html
Georgia Looms Next After Trump's Indictment in New York
While nothing is certain, there are numerous signs that Fulton County District Attorney Fani T. Willis (D) may go big, with a more kaleidoscopic indictment charging not only Mr. Trump, but perhaps a dozen or more of his allies.
Her investigation has targeted a wide range of conduct centered around efforts to subvert the democratic process and overturn Mr. Trump's 2020 election loss. Nearly 20 people are already known to have been told that they are targets who could face charges, including Rudolph W. Giuliani, Mr. Trump's former personal lawyer, and David Shafer, the head of the Georgia Republican Party.
For Mr. Trump, the possibility of a second and potentially more complex criminal indictment in another state underscores the blizzard of legal challenges he is facing, even as he emerges as the clear front-runner among Republican presidential candidates.
https://www.nytimes.com/2023/04/08/us/trump-georgia-election-fani-willis.html
Wisconsin Rout Points to Democrats' Enduring Post-Dobbs Strength
The commanding victory on Tuesday by a liberal candidate in a pivotal race for the Wisconsin Supreme Court showed the enduring power of abortion rights and issues of democracy as motivators for Democratic voters, as well as a continuing struggle among conservatives to put forward candidates who can unite Republicans and win general elections.
The liberal candidate, Janet Protasiewicz, swept onto the bench by 11 percentage points, a staggering margin in an evenly divided battleground state that signaled just how much last summer's Supreme Court decision overturning Roe v. Wade has transformed American politics.
https://www.nytimes.com/2023/04/05/us/politics/wisconsin-supreme-court-abortion-protasiewicz.html
Governor Whitmer repeals Michigan's 1931 abortion ban
With a stroke of her pen, Gov. Gretchen repealed an unenforceable Michigan law that makes it a felony to administer most abortions with no exception for rape or incest.
https://www.freep.com/story/news/politics/2023/04/05/michigan-abortion-ban-repeal-1931-law-whitmer/69990549007/
Record number of anti-LGBTQ bills have been introduced this year
At least 417 anti-LGBTQ bills have been introduced in state legislatures across the United States since the start of the year — a new record.
That's already more than twice the number of such bills introduced all of last year.
https://www.cnn.com/2023/04/06/politics/anti-lgbtq-plus-state-bill-rights-dg/index.html
The House GOP's shadow speaker
Former President Trump — now a criminal defendant — has consolidated control over the House GOP, scrambling the majority's agenda and cementing his status as the true power behind the gavel.
Trump's allies had already ensured that the central themes of his 2024 campaign — victimhood and vengeance — would permeate the House GOP's priorities. Trump's indictment has kicked that dynamic into overdrive — unnerving some vulnerable Republicans in the process.
Trump on Wednesday called for Republicans to "defund" the Justice Department and the FBI "until they come to their senses," throwing his support behind an effort championed by House Judiciary Chair Jim Jordan (R-Ohio) and Rep. Marjorie Taylor Greene (R-GA).
https://www.axios.com/2023/04/05/trump-house-republicans-shadow-speaker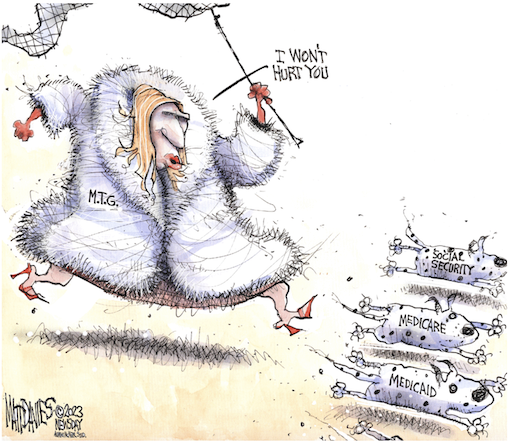 Inside the 3 so-called 'catch and kill' payments in Trump's indictment
In August 2015, shortly after announcing his candidacy for president, Donald Trump convened a meeting at his namesake Manhattan skyscraper to hatch a plan to "suppress negative stories" that might threaten to derail his White House bid, prosecutors claimed in charging documents on Tuesday.
Two of the candidate's most trusted allies joined him at the Trump Tower confab, according to prosecutors: his longtime attorney Michael Cohen, and a tabloid executive named David Pecker.
The trio agreed to an arrangement in which Pecker would act as the campaign's "eyes and ears" to identify negative stories, according to prosecutors, after which he would procure their exclusive rights and never publish. Prosecutors claim Trump and Cohen agreed to then "reimburse" Pecker's company, National Enquirer publisher American Media Inc., known as AMI.
Over the course of the 2016 presidential campaign, prosecutors claim that Trump, Cohen and Pecker collaborated on at least three occasions to execute this so-called "catch and kill" scheme -- to silence a onetime doorman at a Trump-owned property, a former Playboy model, and adult film actress Stormy Daniels.
After securing the presidency, Trump summoned Pecker back to Trump Tower, where the president-elect "thanked" the publishing executive "for handling the stories," prosecutors wrote. As a token of his gratitude, according to charging documents, Trump invited Pecker to his inauguration in Washington, and later, in 2017, hosted Pecker for dinner at the White to "thank him for his help during the campaign."
The three "catch and kill" accusations comprise the pattern of behavior underpinning Manhattan District Attorney Alvin Bragg's 34-count indictment of the former president. To carry out the hush payments to Stormy Daniels, Bragg claims, Trump falsified dozens of business records.
https://abcnews.go.com/US/inside-3-called-catch-kill-payments-trumps-indictment/story
'Just the way the Nazis did': Evidence suggests Russians are stealing art from Ukraine on a World War II scale
A growing body of evidence suggests Russian forces are systematically stealing art and cultural artifacts from Ukraine on a scale not seen in Europe since the Nazi plunder of World War II, according to researchers and experts documenting the damage.
The theft includes precious Scythian gold jewelry dating to the fourth century B.C., ancient coins and thousands of paintings from museums and private collections, researchers said. Some art and cultural sites have been severely damaged and destroyed, including centuries-old Orthodox Christian churches, libraries and paintings by one of Ukraine's most beloved artists, Maria Prymachenko, whose work was hailed by Pablo Picasso as an 'artistic miracle.'
https://www.nbcnews.com/news/world/russia-stealing-art-ukraine-nazi-level-world-war-2-rcna77879
How Trump Could Talk Himself Into a Gag Order
Six hours after a New York judge warned former President Trump he could be penalized for any remarks that endangered others, Trump stepped to a microphone in Florida — and practically dared the judge to do just that.
Trump was somber in court, but after flying back to Mar-a-Lago he unleashed a rambling, bitter attack that singled out Judge Juan Merchan and his family — hours after Trump's elder son, Don Jr., had tweeted a story with a photo of Merchan's daughter.
https://www.axios.com/2023/04/06/how-trump-insults-gag-order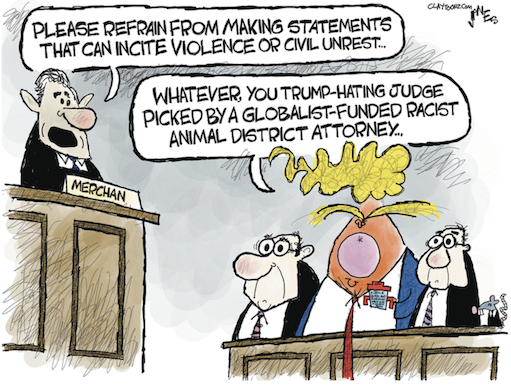 Kansas lawmakers override governor's veto to enact anti-trans sports ban
Transgender women and girls in Kansas will no longer be allowed to compete on sports teams from kindergarten through college consistent with their gender, after state lawmakers on Wednesday overrode a veto from their governor to enact the restriction.
https://www.cnn.com/2023/04/05/politics/kansas-veto-override-transgender-sports-ban/index.html
Gov. Newsom rips DeSantis during Sarasota visit with New College students
California Gov. Gavin Newsom made a surprise visit to Sarasota Wednesday near the New College of Florida campus, ripping Florida Gov. Ron DeSantis during a meeting with students grappling with his conservative higher education experiment.
"I want you to know you're not alone, you matter, we care," Newsom told New College students upset about DeSantis' effort to transform their school.
https://www.heraldtribune.com/story/news/politics/2023/04/05/gavin-newsom-rips-ron-desantis-during-new-college-florida-visit/70083923007/
VP Harris announces huge Qcells solar panel deal during Georgia visit
Vice President Kamala Harris visited an expanding solar panel factory in northwest Georgia on Thursday where she announced an order for millions of Peach State-built panels as she touted how federal climate and economic efforts are combining to create jobs in rural areas.
The $2.5 billion expansion, which will result in 2,500 additional jobs, is the type of investment Harris and the White House are highlighting in its "Investing in America" tour to promote President Joe Biden's legislative agenda ahead of a likely 2024 re-election campaign.
https://www.ajc.com/news/atlanta-news/vice-president-harris-visits-georgia-today-to-laud-clean-energy-growth/5XTFH26WLVHFJJ5KQ5ULPASZVU/
Biden administration proposes tighter health privacy rules around abortion
The Biden administration proposed new health privacy protections to prevent protected health information from being used to investigate or sue people who facilitate abortions, senior administration officials said.
The changes, proposed by the Department of Health and Human Services' Office for Civil Rights, would create a "federal floor" for medical privacy, a senior administration official said on a call with reporters previewing the proposal.
https://www.nbcnews.com/politics/politics-news/biden-administration-propose-tighter-health-privacy-rules-abortion-rcna79257
Putin Approved Arrest of US Reporter on Spying Charges
Russian President Vladimir Putin personally approved the arrest of a US reporter on espionage charges for the first time since the Cold War, according to people familiar with the situation.
The Russian president's endorsement of the move reflects the growing influence of Kremlin hardliners who push for deepening a confrontation with Washington they view as irreversible, the people said, speaking on condition of anonymity to discuss matters that aren't public.
https://www.bloomberg.com/news/articles/2023-04-12/putin-approved-arrest-of-us-reporter-as-hardliners-clout-grows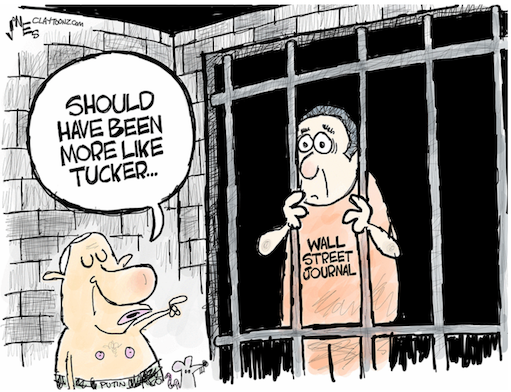 White House accuses GOP of helping Mexican drug cartels by targeting ATF
The White House is opening a new line of attack on Republicans — as former President Donald Trump demands his party defund federal law enforcement — by arguing that threatening firearm-control agencies would help arm Mexican drug cartels that traffic fentanyl into the country.
The Bureau of Alcohol, Tobacco, Firearms and Explosives, a perennial target of gun rights supporters, risks a funding reduction or even outright elimination as House Republicans look for places to cut spending in government funding negotiations.
https://www.nbcnews.com/politics/white-house/white-house-accuses-gop-helping-mexican-drug-cartels-targeting-atf-rcna78422
THE DAILY GRILL
Like many other wealthy Americans, Elon Musk has spoken out against a proposed "billionaires' tax" writing on Twitter in October that "eventually, they run out of other people's money, and then they come for you." More recently, he spoke out against government subsidies and tax incentives for US businesses. In a recent interview with TIME, he said the government was not a good "steward of capital." 
https://www.businessinsider.com/elon-musk-list-government-subsidies-tesla-billions-spacex-solarcity-2021-12
VERSUS
Musk's companies — Tesla Motors, SpaceX, and SolarCity — have received billions of dollars from government loans, contracts, tax credits, and subsidies. According to a
Los Angeles Times investigation
, Musk's companies had received an estimated $4.9 billion in government support by 2015, and they've gotten more since.
Tennessee House Speaker Sexton describing the efforts of three House representatives to disrupt the session with a megaphone to 'incite riots or violence' as comparable to the siege at the U.S. Capitol. 
https://www.wsmv.com/2023/04/04/speaker-sexton-compares-gun-protest-january-6-insurrection-draws-backlash/
VERSUS
That is a blatant lie, and it's offensive. You show me the broken windows. You show me anyone who went into the Speaker's office and put the chair up on his desk and trashed his office. You show me where a noose was hanging anywhere on the Legislative Plaza...to refer to yesterday as an insurrection is an offense.- Tennessee House Rep. John Ray Clemmons responding to Speaker Sexton's comparison with Jan. 6.
https://www.wsmv.com/2023/04/04/speaker-sexton-compares-gun-protest-january-6-insurrection-draws-backlash/
Eugene Robinson: Republicans' longtime opposition to abortion is coming back to haunt them
Be careful what you wish for. Republican zealots spent decades trying to erase the constitutional right to abortion. Last year, they finally
succeeded
— and now they are reaping the whirlwind.
Supreme Court Justice Samuel A. Alito Jr.'s smug and self-satisfied majority opinion in Dobbs v. Jackson Women's Health Organization took away fundamental rights of privacy and bodily autonomy that had been recognized, and protected, for half a century. It is now clear that the ruling also generated a backlash against the Republican Party, which is radically out of step with public sentiment on the issue of abortion.
Crazy overreaches by antiabortion extremists serve only to energize the pro-choice majority. I refer to Friday's ruling by U.S. District Judge Matthew Kacsmaryk, an appointee of President Donald Trump, who absurdly imposed a nationwide ban on the drug mifepristone, used in more than half of U.S. abortions.
Republican strategists want the party to please
stop talking so much about abortion
.They should have told Alito.
https://www.washingtonpost.com/opinions/2023/04/10/abortion-dobbs-ruling-republicans-blowback/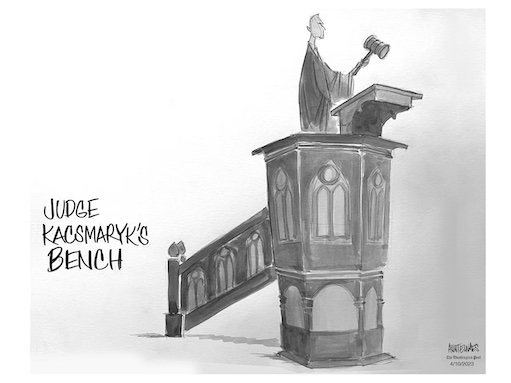 Andrew C. McCarthy: GOP Beware: Bragg's Case Is Just the Start of Trump's Legal Jeopardy
Don't be fooled by snapshot polls showing Trump beating Biden — which Democrats are hyping because, for now, they want us to think he can win. He can't. Don't allow the intensity of Trump's base supporters to mask how deeply unpopular he is with the country writ large. He had consistently low job-approval ratings as president… Trump could never again win a national election after the 2020 coup attempt, the Capitol riot, and his continued delusional insistence that reelection was stolen from him.
Moreover, the demagogic riffs that make MAGA crowds swoon — and that Trump doubled down on at this week's Mar-a-Lago rally (because why wouldn't an arraignment be the occasion for a rally?) — are exactly what most Americans find deeply disturbing about him. If he's the nominee, the Democrats will retain the White House by ten points or more, with the tide sweeping the Senate and the House their way, too.
https://www.nationalreview.com/2023/04/gop-beware-braggs-case-is-just-the-start-of-trumps-legal-jeopardy/
Michelle Goldberg: The Abortion Ban Backlash Is Starting to Freak Out Republicans
Having made the criminalization of abortion a central axis of their political project for decades, Republicans have no obvious way out of their electoral predicament. A decisive majority of Americans — 64 percent, according to a recent Public Religion Research Institute survey — believe that abortion should be legal in most cases. A decisive majority of Republicans — 63 percent, according to the same survey — believe that it should not.
When abortion bans were merely theoretical, anti-abortion passion was often a boon to Republicans, powering the grass-roots organizing of the religious right. Now that the end of Roe has awakened a previously complacent pro-choice majority, anti-abortion passion has become a liability, but the Republican Party can't jettison it without tearing itself apart.
Republican attempts to moderate abortion prohibitions even slightly have, for the most part, gone nowhere. Last year, Idaho's Republican Party defeated an amendment to the party's platform allowing for an exception to the state's abortion ban to save a woman's life. In the weeks before the Wisconsin election on Tuesday, Republican lawmakers introduced a bill providing some narrow exceptions to the state's abortion prohibition for cases of rape, incest and grave threats to a pregnant person's health, but they lacked the votes in their own party to pass it.
https://www.nytimes.com/2023/04/07/opinion/abortion-rights-wisconsin-elections-republicans.html
Amanda Carpenter: It's All About Trump's Election Criminality
At the broadest level, the Manhattan district attorney's indictment of Trump regards the same subject as the ongoing investigation by the Fulton County district attorney in Georgia and one of the investigations now being led by the special counsel in the Department of Justice. In fact, the case even strikes the same theme as the Mueller investigation and both of Trump's impeachments.
What would that be? Election criminality.
That's the throughline of most of Trump's corruption since 2016. He covered up hush money to his mistresses, made overtures to Russia 'if you're listening,' held up funding for Ukraine, put the squeeze on Georgia election officials to 'find the votes,' and incited the January 6th insurrection all in pursuit of the same goal: to win presidential elections—and then, when he lost in 2020, to overturn the results.
Sweeping election criminality is the element that elevates Trump's actions from tawdry scandals to weighty cases worthy of being brought to trial either in the courts or, via impeachment proceedings, in Congress.
https://plus.thebulwark.com/p/its-all-about-trumps-election-criminality
Jeff Greenfield: The Tennessee Expulsion Is a Glimpse of the Future
Tennessee Republicans really went there. Despite the outcry, the GOP-controlled state legislature expelled two Democrats Thursday for engaging in a boisterous protest against gun violence.
But the key lesson out of Nashville is not what did or did not happen in the chamber; it's another reminder of what it means for a legislature to gain a supermajority enabling it not only to dominate legislative matters, but to deploy overwhelming power more broadly, even over the other branches of government.
In virtually every state, each house of the legislature is the judge of its members. The U.S. Constitution similarly gives each house of Congress the same power. Members can be reprimanded, censured, fined, stripped of committee assignments and expelled for a wide variety of conduct, though this sanction is rarely applied.
The case of the two Tennessee Democrats involves neither criminal nor immoral conduct nor the mere statement of opinions. It involves conduct — encouraging demonstrations and bringing a bullhorn and posters to the state House floor — that violates the rules of the House. Still, the legislature has never imposed before so severe a penalty for rules violations, and over the past few years, a number of legislators have kept their posts even after being charged with serious sexual misconduct.
Clearly, expelling these members is an explosive move and temporarily leaves their constituents no representation, at least until a special election is held; in fact, the state party is already raising money for the members to win back their seats.
In the coming weeks and months, the Nashville battle may well be just a footnote as legislatures exercise their powers over everything from the makeup and reach of the courts to the traditional powers of a governor, to the will of the voters who vote for ballot propositions. It's another reminder that the most important elections of the 21st century happened in 2010 — when legislatures from one end of the country to the other turned red and began to reshape the politics of the nation.
https://www.politico.com/news/magazine/2023/04/06/tennessee-expulsion-future-democrats-00090911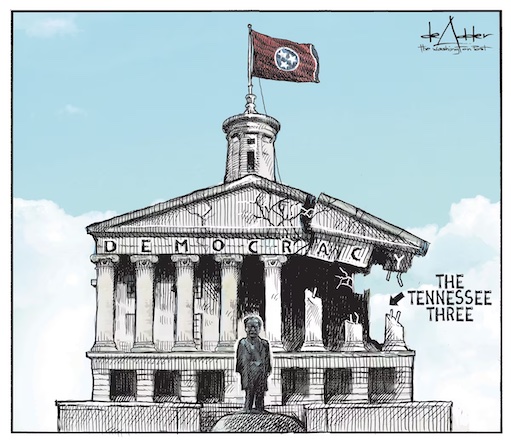 Michael Hiltzik: How right-wing judges in Texas are erasing Americans' rights everywhere
Because a litigant only has to win in a single court to stop the implementation of a congressional statute or agency rule, he has a huge incentive to pick a jurisdiction where he's likely to win.
That's exactly what's been happening, with Texas federal courts having become the epicenter of such judicial activism, thanks largely to multiple anti-Biden campaigns by Texas Atty. Gen. Ken Paxton.
The rules governing venues among federal courts are, on the surface, straightforward. Plaintiffs are expected to have a reason to choose a particular location, perhaps because they live in the judicial district or their case involves activities that took place there.
But things are not that simple. Underlying Paxton's filings is the notion that the state as an entity resides in all the federal judicial districts within its borders and therefore it can properly file its lawsuits in any of them.
That assertion, however, merely skates over the fundamental cynicism of Paxton's strategy. Texas is unusual in having a surfeit of federal courthouses with only one or two sitting judges — in many cases former President Trump-appointed judges with a distinct conservative outlook.
All 28 of Texas' lawsuits against the Biden administration have been filed in one of just seven divisions where local rules severely limit the number of judges to whom the cases could be assigned, the Department of Justice observed in asking federal judge Drew Tipton to relinquish an immigration case filed in his court in Victoria, Texas, where Tipton is the only sitting federal judge.
Those included 18 lawsuits filed in divisions where the case would necessarily be assigned to a single pre-determined judge.
A right-wing judge with an established anti-Obamacare record accepted a tendentious interpretation of the biblical word of God to deny accessible and affordable healthcare to the entire country. That makes the danger of expansive injunctions, as they're produced by Trump-appointed judges in Texas, crystal clear. https://www.latimes.com/business/story/2023-04-07/hiltzik-how-right-wing-judge-shopping-in-texas-erases-americans-rights-everywhere
Bess Levin: Melania Trump Apparently RSVP'd F--k Off to Her Husband's Post-Arraignment Speech
Shortly before the news broke last week that Donald Trump would, in fact, be indicted, we learned that Melania Trump was reportedly still angry about her husband's alleged affair with porn star Stormy Daniels and did not sympathize with the fact that he was facing criminal charges and possibly even time in prison. Now that the ex-president has been formally charged—with 34 class E felonies—and is looking at a potential century-plus behind bars if convicted on all counts, the question is whether the former first lady still feels that way. After all, it's one thing to tell your spouse they made their bed and must now lie in it when you think there's no chance of their becoming a convicted criminal—it's another when they're actually forced to surrender and could spend the rest of your marriage behind bars. Melania, of course, has not said anything publicly about the matter—but one hint that she may not be too broken up about all this? Maybe the fact that she skipped her husband's post-arraignment speech last night.
During her time as first lady, Melania made it pretty clear that she despised her husband. So it's possible she's downright thrilled at the prospect of his doing 136 years in prison and thus spent last night celebrating. https://www.vanityfair.com/news/2023/04/melania-trump-donald-trump-arraignment-speech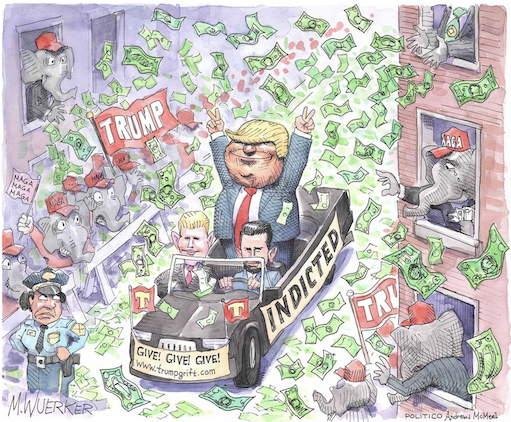 Dan Balz: A dizzying, divisive week in politics spotlights America's raging battle
For Republicans, the past week's news was almost uniformly bad, although some in the party probably do not see it that way. The damage inflicted by past and present actions continues to define a new Republican Party, one that has been consolidating power in many red states but vulnerable elsewhere — especially in states that could decide the next presidential election.
Trump's arraignment on Tuesday in New York on criminal charges — however the case turns out — and his subsequent speech later that evening from his Mar-a-Lago Club in Florida, which was replete with lies, distortions and grievances, highlighted the degree to which the former president remains at once the dominant force in the Republican Party, a threat to democratic norms and institutions, and a compromised candidate for president in 2024.
That Trump's message had and continues to have more resonance than many of his detractors would have imagined is something that Democrats cannot underestimate. He won the presidency and then lost the presidency, but it took a massive increase in voter turnout for that to happen. President Biden found the path to victory and Democrats are betting, or hoping, he can repeat that in 2024, assuming he runs for reelection. But Trump's volatility makes the 2024 election difficult to forecast, and Biden's age and some Democratic policies provide openings for Republicans to try to exploit.
The political state of the country is calcified, as political scientists John M. Sides, Lynn Vavreck and Chris Tausanovitch wrote in The Bitter End, their analysis of the 2020 election — not given to big swings, but one in which small shifts can mean big changes. That is why each side sees every election now as a mini Armageddon.
In Wisconsin, the change of one state Supreme Court justice could reshape politics there. In Tennessee, the expulsions of two Democrats reveal the priorities and strategies of a dominant GOP majority. In North Carolina, the shift of one legislative seat can turbocharge a conservative policy agenda. With Trump, everyone knows who he is, what he has done and what he is looking to do — which is why the battles continue at a fever pitch.
https://www.washingtonpost.com/politics/2023/04/08/political-analysis-tennessee-trump-wisconsin/
Peter Wehner: Depraved, Deranged, and Doing Real Damage
In his speech last night to his supporters at Mar-a-Lago, made several hours after he was arraigned in Manhattan on 34 felony counts, Donald Trump took aim at Juan Merchan, the judge in the case.
"I have a Trump-hating judge with a Trump-hating wife and family, whose daughter worked for Kamala Harris and now receives money from the Biden-Harris campaign, and a lot of it," Trump said. He also compared the conduct of Merchan, who presided over the Trump Organization's tax-fraud trial, to something "right out of the old Soviet Union."

 Earlier in the day, two of Trump's sons, Don Jr. and Eric, attacked the judge's daughter as well, with the former tweeting a picture of her. This came a few days after Trump posted a fake image of himself swinging a baseball bat at the head of Manhattan District Attorney Alvin Bragg, whom Trump referred to on his Truth Social platform as an "animal."
I recently wrote that Trump was behaving like a mob boss. That comparison turns out to have been insulting to mob bosses everywhere. Andrew Weissmann, a former lead prosecutor in Robert Mueller's Special Counsel's office, was asked on MSNBC about Trump's attack on Judge Merchan and his family. Noting that he had prosecuted Mafia cases in the past, Weissmann said, "You do not have this behavior from a mob boss. There is a rule in organized crime. You do not do this with respect to prosecutors. You don't do this with respect to the judge. You certainly don't go after their families. It's bad business to do that." Leave it to Donald Trump to go where Mafia dons will not.
https://www.theatlantic.com/ideas/archive/2023/04/trump-mar-a-lago-indictment-speech/673639/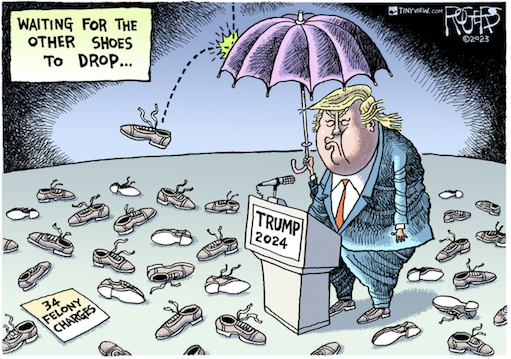 Ron Brownstein: The GOP's 'Abusive Relationship' With Trump'
It's a measure of Donald Trump's hold on the Republican Party that his unprecedented criminal indictment is strengthening, not loosening, his grip.
Trump was on the defensive after November's midterm election because many in the GOP blamed voter resistance to him for the party's disappointing results. But five months later he has reestablished himself as a commanding front-runner in the Republican presidential primary, even as Manhattan District Attorney Alvin Bragg has delivered the first of what could be several criminal indictments against him.
"It's almost like an abusive relationship in that certain segments of MAGA voters recognize they want to leave, they are willing to leave, but they are just not ready to make that full plunge," the GOP consultant John Thomas told me.
https://www.theatlantic.com/politics/archive/2023/04/trump-indictment-republican-party-frustration/673638/
David Frum: Never again Trump
Trump's ability to surmount this latest tumult continues one of the defining patterns of his political career. Each time Trump has shattered a norm or engaged in behavior once unimaginable for a national leader—such as his praise of neo-Nazi demonstrators in Charlottesville, Virginia, in 2017 and his role in trying to overturn the 2020 election result and instigating the January 6 insurrection—most Republican elected officials and voters have found ways to excuse his actions and continue supporting him.
"At every point when the party had a chance to move in a different direction, it went further down the Trump path," Stuart Stevens, the chief strategist for Mitt Romney's 2012 presidential campaign, told me.
Trump's latest revival has dispirited his Republican critics, who believed that the party's discouraging results in November's election had finally created a pathway to forcing him aside. Now those critics find themselves in the worst of both worlds, facing signs that Trump's legal troubles could simultaneously increase his odds of winning the GOP nomination and reduce his chances of winning the general election.
https://www.theatlantic.com/politics/archive/2023/04/trump-indictment-republican-party-frustration/673638/
Yan Lizza, Rachael Bade and Eugene Daniels: A 'five-alarm warning' for the GOP
The short history of post-Dobbs electoral politics is pretty clear. Since the Supreme Court handed down its opinion last June, Democrats have gained control of four state legislative chambers while losing none of the ones they'd already controlled, added a seat to its majority in the U.S. Senate and kept losses in the House well below the historic norm.
"I don't think Democrats have fully processed that this country is now 10 to 15 percent more pro-choice than it was before Dobbs in state after state and national data," pollster Celinda Lake recently told New York mag's Rebecca Traister.
"Republicans had better get their abortion position straight, and more in line with where voters are or they will face another disappointment in 2024. A total ban is a loser in swing states.
Republicans who insist on that position could soon find that electoral defeats will lead to even more liberal state abortion laws than under Roe. That's where Michigan is now after last year's rout."
https://www.politico.com/newsletters/playbook/2023/04/06/a-five-alarm-warning-for-the-gop-00090778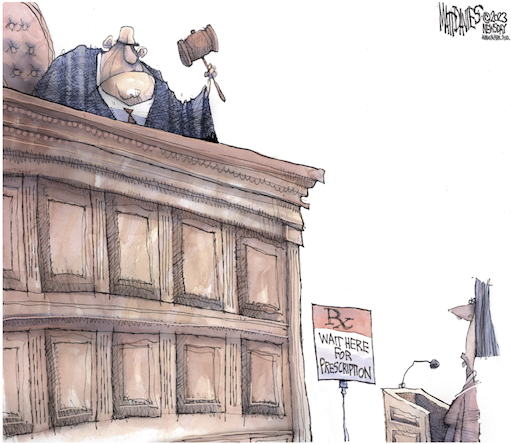 Jim Rutenberg: How Fox Chased Its Audience Down the Rabbit Hole
Dominion is now arguing in its seismic defamation lawsuit against Fox that the network had by then made its choice: It would amplify a lie to maintain its audience. Dominion is now seeking $1.6 billion in damages from the news network and its parent company in a defamation trial that — barring a settlement — is scheduled to start in Delaware this month. (Smartmatic is also suing, seeking $2.7 billion, with a trial date pending. In both cases, Fox is arguing that its actions are protected by the First Amendment.) Losses in either or both cases would represent a big hit to the balance sheet of the Fox Corporation, which reported a net income of $1.2 billion in 2022. But the case is about matters more existential than Fox's bottom line.
Dominion's pretrial court filings have already provided a rare look inside the company's decision-making process throughout the election crisis that preceded the Jan. 6 insurrection. The president the network favored was promoting a lie — that Democrats were illegally seizing power through pervasive, systemic voter fraud — to stay in office. That lie excited and angered his supporters, and many of those supporters were also Fox's core audience. Violence was in the air, the fate of democracy up for grabs. If ever there was a time for Fox News to live up to the journalistic promise still embedded in its name, it was then.
Knowing lies, reckless disregard for the truth — "actual malice" that is at the heart of the Dominion case. The court will decide if Fox crossed that line. But the newly available records show what drove Fox, and its powerful founder, to the very edge of that line, if not beyond: an audience that has reliably delivered influence and profits for decades. Now, in the age of social media and powerfully attractive disinformation campaigns, that audience could instantly move on to even headier stuff from even more adventurous competitors.
https://www.nytimes.com/2023/04/06/magazine/fox-dominion-jan-6.html
Jessica Levinson: Alvin Bragg has some hurdles ahead, but that doesn't mean he won't clear them
Manhattan District Attorney Alvin Bragg, the first prosecutor ever to bring criminal charges against a former president, has a path to winning convictions against Trump, but it is a path strewn with legal hurdles.

Fundamentally Bragg's case is about allegations that Trump and others entered into an agreement to buy the silence of people who wanted to share negative stories about Trump. Trump and others engaged in this scheme, Bragg alleges, not to protect Trump personally, but to protect his candidacy. Put another way, these payments were made to help his chances in the 2016 presidential election, not to benefit him personally or even in his business endeavors. As the statement of facts in this case alleges, Trump told Cohen to hold off on paying Daniels for as long as possible and said that once the election was over, there would be no need to pay her for her silence. These payments were for political, not personal, purposes. This is why federal election laws would apply to this case.

Can Bragg rely on tax law? Yes. And this may provide the cleanest route for the prosecutor. Tax law allows Bragg to avoid entering, or at least solely relying on, the legal thicket of state and federal election laws.

Trump's payments to Cohen were, apparently, mischaracterized as legal expenses and, hence, as income to Cohen. In reality, the payments were just reimbursements for Cohen's hush money payments. As prosecutors have referenced, this could amount to a violation of New York tax law. 

In sum, Bragg will have to connect a number of dots in order to secure a conviction against the former President of the United States. But he has the tools to do so. It is way too early to say whether or not Trump will be convicted on these charges. It is just the right time, however, to conclude that a conviction appears legally and factually possible. https://www.msnbc.com/opinion/msnbc-opinion/alvin-bragg-can-make-case-trump-committed-felonies-rcna78392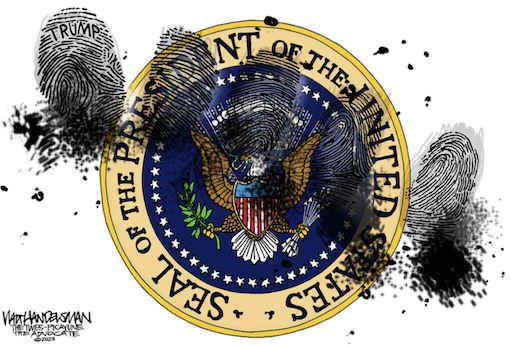 Thomas Edsall: The Republican Strategists Who Have Carefully Planned All of This
Republican leaders are now adopting increasingly autocratic measures, using the police powers of government to impose moralized regulations, turning private citizens into enforcement officers and expelling defiant elected Democrats just as county Republican parties, particularly in western states, are electing militia members, Christian nationalists and QAnon believers to key posts.
Theda Skocpol, a professor of political science and sociology at Harvard, contended that many of the developments in states controlled by Republicans are a result of careful, long-term planning by conservative strategists, particularly those in the Federalist Society, who are developing tools to build what she called "minority authoritarianism" within the context of a nominally democratic system of government.
https://www.nytimes.com/2023/04/12/opinion/republican-party-intrusive-government.html
Jonathan Martin: How Tennessee Became the Poster State for Political Meltdown
Today, Tennessee represents the grim culmination of the forces corroding state politics: the nationalization of elections and governance, the tribalism between the two parties, the collapse of local media and internet-accelerated siloing of news and the incentive structure wrought by extreme gerrymandering.

Also, if we're being honest, the transition from pragmatists anchored in their communities to partisans more fixated on what's said online than at their local Rotary Club.

Now, the voters are confined to safely red or blue districts and are animated by the same partisan impulses down the ballot that have made Tennessee a deep-red state in federal races. Candidate quality, cyclical changes in the economy and local issues are moot, at least when compared to party label.

"We don't have elections anymore, we have censuses," said Jeff Yarbro, a state senator from Nashville. https://www.politico.com/news/magazine/2023/04/12/tennessee-political-meltdown-00091517