February 17, 2022
THE WEEK'S BEST QUOTES. . .
"I'm all for it. Civil disobedience is a time-honored tradition in our country, from slavery to civil rights to you name it. Peaceful protest, clog things up, make people think about the mandates. I hope the truckers do come to America, and I hope they clog up cities." —
Sen. Rand Paul (R-KY)
"We should get our cyber guys" to take over a broadcast of Fox News's Hannity to air "evidence" of voter fraud in the 2020 presidential election. —
MyPillow CEO Mike Lindell
"Not only do we have the DC jail which is the DC gulag, but now we have Nancy Pelosi's gazpacho police spying on members of Congress, spying on the legislative work that we do, spying on our staff and spying on American citizens." —
Rep. Marjorie Taylor Greene (R-GA)
apparently confusing cold Spanish soup with the Gestapo.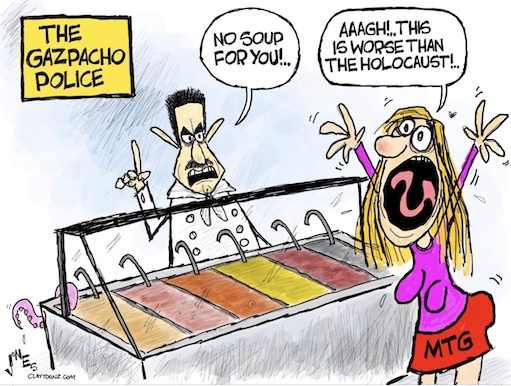 "It seemed ... that the election of Joe Biden was somewhat of a coup and that the person who won was President Trump."" —
MN GOP Attorney General candidate Lynne Torgerson
who  Jan. 6 rioters "heroes."
"Look at President Trump - if the next president can lose the right to be on Twitter, I mean, where are we, where are the rest of us? This is way out of bounds." —
Former Sen. David Perdue (R)
, a candidate for governor of Georgia, comparing Twitter's decision to ban Trump from Twitter as an attack on free speech, comparing it to Germany under Adolf Hitler, Russia after the Bolshevik Revolution, Cuba under Fidel Castro's communist regime, and Venezuela under President Nicolás Maduro..
The word "infiltrate" has been mentioned at least 47 times on Fox News/Business this week -- the idea being Clinton spied on (or "infiltrated") the Trump WH. But the word appears nowhere in Durham's filing. It's from a quote Kash Patel made to Fox News! Extremely misleading. —
Aaron Rupar
While lies about Clinton"infiltrating" Trump servers have been mentioned at least 47 times this week on Fox News/Business, Trump's longtime accounting firm dumping him and citing the NY investigation of his business has been brought up once. Once! --
Aaron Rupar
VIDEOS
What Still Works Cold Open - SNL: https://youtu.be/9LqK8GiIMYw
Revisited: Feb 27, 2021 Weekend Update: Rep. Marjorie Taylor Greene on Science - SNL: https://youtu.be/L4VGtQBXjY8
Litigation Tracker: Pending Criminal and Civil Cases Against Donald Trump.
---
IN THIS ISSUE
IN THE NEWS
OPINION
Andy Borowitz: MyPillow Customer Finds Classified Documents Inside Duvet
In a remarkable discovery, a customer who purchased a MyPillow duvet found it stuffed with classified documents from the desk of Donald J. Trump.

Carol Foyler, who lives in Akron, Ohio, said that, after she accidentally tore open the duvet, a trove of shredded documents came spilling out.

After she began taping together the documents, she found several relating to national defense, including an order from Trump to send a birthday cake to the North Korean leader, Kim Jong Un.

Foyler said that, once she finishes reconstituting the documents, she will send them to the National Archives in Washington for safekeeping.

"Obviously, it's not ideal to find classified documents inside a random duvet, but so far I haven't seen the nuclear codes," she said. https://www.newyorker.com/humor/borowitz-report/
Inside McConnell's Campaign to Take Back the Senate and Thwart Trump
As Mr. Trump works to retain his hold on the Republican Party, elevating a slate of friendly candidates in midterm elections, Mr. McConnell and his allies are quietly, desperately maneuvering to try to thwart him. The loose alliance, which was once thought of as the G.O.P. establishment, for months has been engaged in a high-stakes candidate recruitment campaign, full of phone calls, meetings, polling memos and promises of millions of dollars. It's all aimed at recapturing the Senate majority, but the election also represents what could be Republicans' last chance to reverse the spread of Trumpism before it fully consumes their party.
In conversations with senators and would-be senators, Mr. McConnell is blunt about the damage he believes Mr. Trump has done to the G.O.P., according to those who have spoken to him. Privately, he has declared he won't let unelectable "goofballs" win Republican primaries.
https://www.nytimes.com/2022/02/13/us/mcconnell-trump-primaries-midterms.html
Jim Jordan Says Trump 'Right On Target' With Statement Suggesting Clinton Campaign Operatives Should be Executed
Rep. Jim Jordan (R-OH) told Fox News that he agrees with a Donald Trump statement in which the former president suggests Democrat operatives tied to the Hillary Clinton 2016 campaign should have been executed.
Trump said that the actions of the Clinton operatives, as described by a Fox News report, "should be subject to criminal prosecution," and at other times in U.S. history, "this crime would have been punishable by death."
Said Jordan: "President Trump's statement yesterday, I think is right on target. This is truly unprecedented, truly something that has never happened in the history of our great country." 
https://www.mediaite.com/tv/jim-jordan-says-trump-right-on-target-with-statement-suggesting-clinton-campaign-operatives-should-be-executed/
Global democracy rating hits new low
An annual global democracy index dropped to its lowest score since tracking began in 2006, with just 45.7% of the world's population living in a democracy of some sort.

The average global score in the Economist Intelligence Unit's 2021 Democracy Index fell from 5.37 to 5.28 — the largest annual drop since 2010, after the global financial crisis.

The index ranks countries on a scale of 1-10, based on 60 indicators grouped into five categories: electoral process and pluralism, functioning of government, political participation, political culture and civil liberties.

120 countries, or 71.8%, registered a decline or stagnation in their average score in 2021.

The highest score goes to Norway with as score of 9.75, the lowest to Afghanistan 0.32.

Ongoing political polarization during the past year contributed to a democratic decline in the U.S., branded a "flawed democracy" that saw its score drop from 7.92 to 7.85. https://www.axios.com/democracy-ranking-decline-28b25ba9-57ff-42f5-8950-cdae377aa13b.html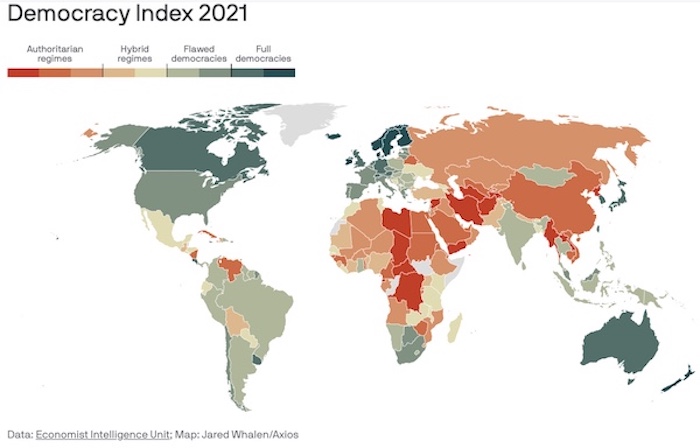 GOP culture war attacks 'alarmingly potent,' DCCC warns
Democrats' own research shows that some battleground voters think the party is "preachy," "judgmental" and "focused on culture wars," according to documents obtained by POLITICO.
And the party's House campaign arm had a stark warning for Democrats: Unless they more forcefully confront the GOP's "alarmingly potent" culture war attacks, from critical race theory to defunding the police, they risk losing significant ground to Republicans in the midterms.
The Democratic Congressional Campaign Committee is recommending a new strategy to endangered members and their teams, hoping to blunt the kinds of GOP attacks that nearly erased their majority last election and remain a huge risk ahead of November. In presentations over the past two weeks, party officials and operatives used polling and focus group findings to argue Democrats can't simply ignore the attacks, particularly when they're playing at a disadvantage. A generic ballot of swing districts from late January showed Democrats trailing Republicans by 4 points, according to the polling. https://www.politico.com/news/2022/02/15/gop-culture-war-attacks-alarmingly-potent-dccc-warns-00009265
Mike Lindell Says He's Sending MyPillows To The Ottawa Anti-Vaccine Trucker Mob
MyPillow CEO Mike Lindell is showing support for the anti-vaccine trucker protesters in Ottawa who have blocked major routes across the U.S.-Canada border — by pledging to send them pillows en masse.
"All of our employees are busy making pillows right now for the truckers in Canada. We're going to try and get them through. I'm not going to say what day or, you know, there will be obstructionists," Lindell, a stalwart Trump disciple, told the Right Side Broadcasting Network on Saturday. 
https://www.huffpost.com/entry/mike-lindell-sends-pillows-truckers_n_62098698e4b0328e002828de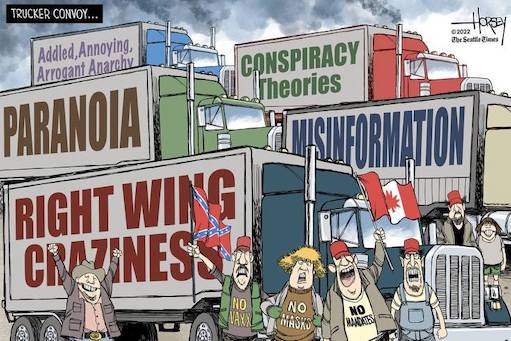 Republicans Admit: MTG's Blessing Is the Next Best Thing to Trump's in 2022
At the violent, historically disgraceful conclusion of Donald Trump's presidency, it was still inevitable that Republicans would soon crawl back to him, and beg and compete for his endorsements in the critical 2022 elections.
But even in today's increasingly extreme GOP—where a twice-impeached, one-term president who led a failed coup is the gold standard of endorsements—there is one person whose emergence as a sought-after 2022 endorser has surprised even some of the most hardened and cynical Republican operatives.
Rep. Marjorie Taylor Greene (R-GA), the COVID vaccine-hating, conspiracy theory-spewing freshman congresswoman who came to national prominence as a far-right QAnon promoter, is increasingly in demand. This is due in large part to her direct line to former President Trump, and her vast network of small, grassroots donors.
According to four longtime Republican operatives working at senior levels on a variety of competitive GOP primaries across the nation, Greene's endorsement in competitive 2022 Republican House and Senate primaries is not only considered as welcome, but also as one that should be actively courted—particularly in races where the nominee is likely to be decided by which candidate most animates the ultra-Trumpist grassroots.
"It is stunning," one of these sources said. "Her popularity among much of the base and what she brings to a campaign right now is not nothing. Actually, it can be good for the candidate, and I don't know if I would have predicted that a year ago."
https://finance.yahoo.com/finance/news/republicans-admit-mtg-blessing-next-032306825.html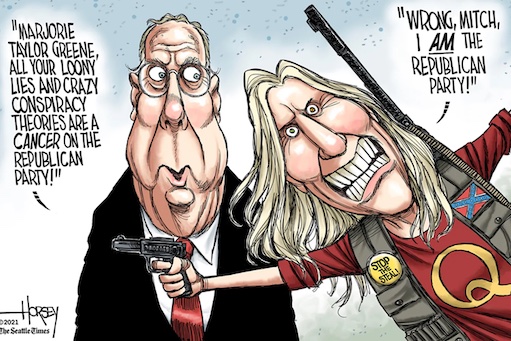 DeSantis holds on to his hopes of creating a new congressional district map in Florida
Florida Gov. Ron DeSantis on Friday vowed not to sign a new congressional map unless lawmakers dismantle a North Florida district represented by a Black Democrat, setting up a showdown with his own party that threatens to upend the state's delicate redistricting process.
https://www.cnn.com/2022/02/11/politics/desantis-florida-redistricting/index.html
Trump Backer Charged with Voter Fraud in Wisconsin
A supporter of former President Donald Trump who said authorities should root out voter fraud is among five people who were charged Thursday with election fraud by a Republican district attorney who's running for Wisconsin attorney general.
https://apnews.com/article/business-donald-trump-wisconsin-presidential-elections-elections-f7e490e5a73b54110e077c824c4e3bb3
Texas ban on encouraging mail-in votes likely unconstitutional, judge rules
A new Texas law that keeps local election officials from encouraging voters to request mail-in ballots likely violates the First Amendment, a federal judge ruled late Friday,  dealing the first legal blow to new elections restrictions and voting changes Republican lawmakers enacted last year..
https://www.texastribune.org/2022/02/11/texas-voting-law-mail-in-ballots-ruling/
This Western megadrought is the worst in a millennium
The extreme dryness that has ravaged the American West for more than two decades now ranks as the driest 22-year period in at least 1,200 years, and scientists have found that this megadrought is being intensified by humanity's heating of the planet.
In their research, the scientists examined major droughts in southwestern North America back to the year 800 and determined that the region's desiccation this century has surpassed the severity of a megadrought in the late 1500s, making it the driest 22-year stretch on record. The authors of the study also concluded that dry conditions will probably continue through this year and, judging from the past, may persist for years.
The researchers found the current drought wouldn't be nearly as severe without global warming. They estimated that 42% of the drought's severity is attributable to higher temperatures caused by greenhouse gases accumulating in the atmosphere.
"The results are really concerning, because it's showing that the drought conditions we are facing now are substantially worse because of climate change," said Park Williams, a climate scientist at UCLA and the study's lead author. "But that also there is quite a bit of room for drought conditions to get worse."
https://edition.pagesuite.com/popovers/dynamic_article_popover.aspx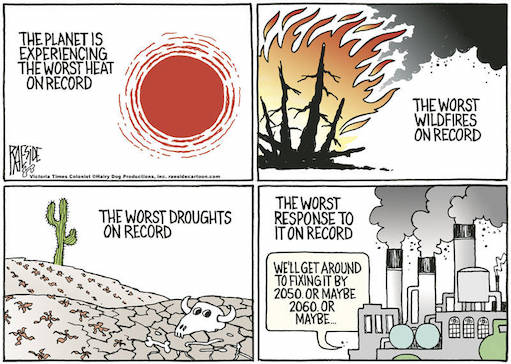 School boards get death threats amid rage over race, gender, mask police
Local school officials across the United States are being inundated with threats of violence and other hostile messages from anonymous harassers nationwide, fueled by anger over culture-war issues. Reuters found 220 examples of such intimidation in a sampling of districts. 
https://www.reuters.com/investigates/special-report/usa-education-threats/
The DAILY GRILL
Biden Admin To Fund Crack Pipe Distribution To Advance 'Racial Equity.' $30 million program will provide 'smoking kits' to vulnerable communities. —
Washington Free Beacon
VERSUS
After a wave of grossly misleading news coverage in February 2022, the U.S. Department of Health and Human Services stipulated that federal funding would not be used to include pipes in safe smoking kits, as part of a substance abuse harm reduction grant program. This newly-stipulated detail was not originally available, meaning the assertions made in a first wave of coverage had become outdated. —
Snopes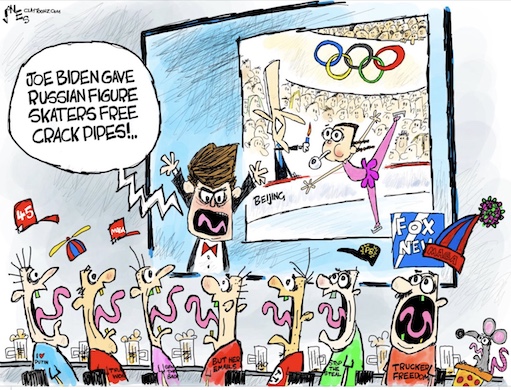 "The latest pleading from Special Counsel Robert [sic] Durham provides indisputable evidence that my campaign and presidency were spied on by operatives paid by the Hillary Clinton Campaign in an effort to develop a completely fabricated connection to Russia. … In a stronger period of time in our country, this crime would have been punishable by death." —
Donald Trump
, in a statement, Feb. 12                  
VERSUS
It's not every day that a former president suggests that his political opponents should be executed. But ever since Trump in early 2017 falsely accused former president Barack Obama of spying on him, based on sketchy, anonymously sourced reports, he and his allies have sought to somehow make the claim come true. (Never mind that now the claim is against the Clinton campaign.) Thus far, Durham has not charged anyone with spying on Trump. In fact, the statute of limitations has already expired for a key meeting cited in the filing.
https://www.washingtonpost.com/politics/2022/02/15/heres-why-trump-once-again-is-claiming-spying-by-democrats/
Paul Waldman: The Republican propaganda machine kicks into high gear
The latest "blockbuster" story gripping the right, is a story built on a grab bag of misleading assertions, misinterpretations and outright lies. It forces us to ask yet again: Is it possible to have a healthy democracy when so much of it is soaking in misinformation?
The current story concerns John Durham, the special counsel who has spent almost three years investigating the investigation into Russia's attempts to subvert the 2016 election. You can read a comprehensive rundown of the facts 
here
or 
here
.
In no time, we have moved from questionable claims to obviously false allegations to demands for legal retaliation against political opponents to whining about their own victimhood, with the enthusiastic participation of GOP officeholders, none of whom has the courage to say, "Hey guys, I hate Hillary as much as anyone, but it seems like we're running out ahead of the facts here."
That's because every Republican relies on the propaganda machine.
It helps their own campaigns. It keeps the base in a state of perpetual anger. And if you question it, you will become its enemy.
So where does that leave us? The unfortunate answer is that when a propaganda apparatus such as this one is so deeply embedded within one of our parties, it becomes almost impossible to puncture. Fantasies are accepted as fact, lies become immune to refutation and anyone who displays even a modicum of honesty is denounced as a traitor.
There may be a solution out there, a strategy to pull our politics back to reality. But if there is, we haven't found it yet. 
https://www.washingtonpost.com/opinions/2022/02/15/propaganda-machine-high-gear/
Dana Milbank: Sixty years late, right-wingers join the counterculture
Covering the hypocrisy of the Trump right is a full-time beat these days. "Law and order" Republicans now embrace insurrectionists. Those who decried "cancel culture" now ban books and history lessons. Conservatives who supported "tort reform" now enshrine the rights of private citizens to sue one another. A party that welcomed libertarians now has officials incentivizing people to report on their neighbors. Onetime Cold Warriors now sympathize with Putin.
The inconsistency over street protests is particularly black and white.
When a convoy of White people in trucks promotes chaos and lawlessness on the northern border, Republican officials call them heroes, and former president Donald Trump invites them to the United States. When a caravan of Brown people on foot posed a remote chance of chaos and lawlessness on the southern border in 2018, Trump called in the military to protect against the "MANY CRIMINALS."
When (predominantly White) crowds protest for the right to ignore public health rules in mostly peaceful but occasionally violent and highly disruptive actions, Republican officials hail the glory of civil disobedience. When (heavily Black) crowds protested for racial justice in mostly peaceful but occasionally violent and highly disruptive actions, Trump called them "rioters, looters and anarchists" not to mention "terrorists," "arsonists" and "violent mobs."
"I'm old enough to remember when Black Lives Matter shut down highways and the right responded with laws making it easier to run protesters over — and get away with it!" conservative Matt Lewis wrote in the Daily Beast. It's true: Last year, Florida's Republican governor, Ron DeSantis, signed a law granting civil immunity to people who drive through protesters blocking a street. Texas, Oklahoma and other states enacted similar laws.
Now, Republican officials are lending rhetorical support and financial protection to the White men blocking the streets of Ottawa? This isn't "reclaiming the dream." It's a bad acid trip.
https://www.washingtonpost.com/opinions/2022/02/14/canada-trucker-protests-republicans-support/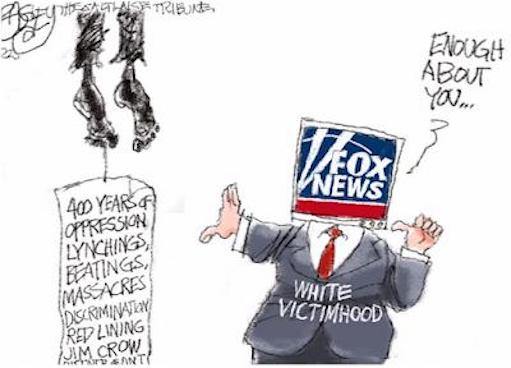 Philip Bump; Can the GOP find another conduit for its base's anti-establishment anger?
The question is 2024. In a hard-fought national election, is there a Republican who can both soothe the nerves of less-extreme donors as well as spur the conspiracy theorists to come out and vote? I mean, Trump can; his whole thing was keeping the loudest voices yelling the same thing while the donors and the establishment passed the policies and approved the judges they wanted.
Some seem to think that the strategy used by Glenn Youngkin (R) to win election as Virginia's governor might be the path, centering on opposition to President Biden and on culture-war fights while paying quiet lip service to Trump. Perhaps it will be — in part because being anti-Biden seems like it might be enough for pretty much any Republican at this point. But that also depends on the absence of a primary candidate who can effectively organize the fringe, and the Virginia GOP, which held a convention to pick Youngkin, did not allow such a candidate to emerge.
One thing that seems clear is that the view espoused by Maryland Gov. Larry Hogan (R) on CNN's "State of the Nation" on Sunday is not realistic.
"The battle for the soul of the Republican Party," host Jake Tapper asked — "are you losing it?"
"Like I said, we have until 2024," Hogan replied. "Right now, I think we have made tremendous progress, because we went from about 80-some percent that wanted to reelect Donald Trump to 50. That's a huge drop."
To the extent that this actually captures reality, which isn't much, this isn't an indication that moderate Republicans like Hogan are winning the battle for the soul of the party. It's a measure of the fact that the establishment is advantaged by a splintering of the anti-establishment arm of the party. That was enough for the GOP leadership to hold power from 2010 to 2016, but it was not enough to win the presidency in 2012.
https://www.washingtonpost.com/politics/2022/02/14/gop-anti-establishment-anger/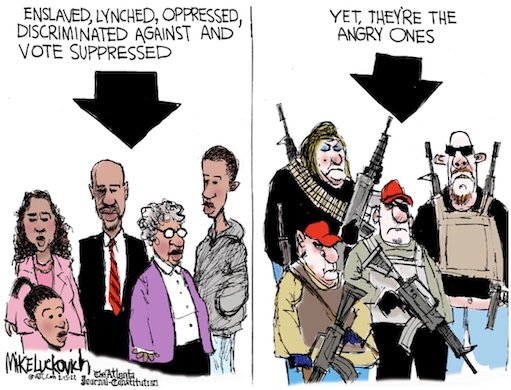 Eugene Robinson: Trump's document destruction isn't something to paper over or shrug off
An enduring mystery might finally have been solved. Remember when Donald Trump ranted about how "people are flushing toilets 10 times, 15 times, as opposed to once," and nobody knew what on earth he was talking about? Maybe he was referring to personal difficulties in trying to flush away official White House documents.
.
A forthcoming book by New York Times correspondent Maggie Haberman, who covered Trump's White House, reports that staff in the upstairs residence repeatedly found one of the toilets clogged with wads of printed paper. Trump issued a statement Thursday denying any and all document-flushing. But given what else we know about how he handled official paperwork — which belongs to the nation, not to him — I'm inclined to believe Haberman's version of events.
From reporting in The Post, we learned this week that the National Archives and Records Administration had to recover 15 boxes of documents that Trump wrongly took with him to Mar-a-Lago, rather than sending them to the agency as required by law. From the Times, we learned that there may have been some classified material in those purloined documents. And now the National Archives and Records Administration has asked the Justice Department to investigate the matter.
The Justice Department should indeed investigate whether Trump broke the law by destroying, stealing or flushing official documents that he was required to preserve and surrender to the Archives. Granted, it is much more urgent that Justice investigate whether Trump committed the crime of seditious conspiracy by inciting the Jan. 6 insurrection at the Capitol. But the question of the documents cannot simply be dismissed with a "Trump will be Trump" shrug. 
https://www.washingtonpost.com/opinions/2022/02/10/trump-torn-documents-archives-toilet-congress-investigate-hearings/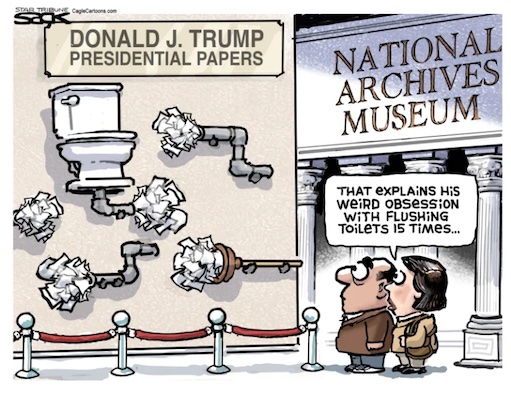 John Cassidy: Will Trump's Obsession with His Big Lie Save Biden and the Democrats?
According to a recent CBS News poll, eighty-three per cent of Americans disapprove of the actions of the Trump supporters who forced their way into the Capitol, and fifty-four per cent think it was an insurrection. In defeating McAuliffe in November, Glenn Youngkin, a leveraged-buyout tycoon who hails from the traditional Wall Street wing of the G.O.P., successfully avoided being dragged into the January 6th morass. He accepted Trump's endorsement but didn't invite the former President to campaign for him. Youngkin called for an audit of Virginia's voting machines, but, finally, after repeatedly ducking the issue, said that he would have voted to certify the 2020 election result. He kept Trump at arm's length without alienating him or his supporters.
With Trump back on the national stage railing about a stolen election, this straddle will be increasingly difficult for any Republican candidate to maintain. Constitutionally incapable of admitting defeat, he is clearly intent on making fealty to his Big Lie a litmus test, and any Republican who questions any part of it risks incurring his wrath. Last week, he even attacked Lindsey Graham, his longtime toady and golfing partner. After Graham said he didn't favor issuing pardons to the January 6th participants who were being prosecuted, Trump called him a "rino," adding, "Lindsey Graham doesn't know what the hell he's talking about if he says that."
Trump's reëmergence doesn't guarantee anything. The antiquated American political system favors minority rule. Opposition parties usually do well in midterms, and this year's electoral map favors Republicans. But the past week has highlighted the cancer that is still eating at the G.O.P. and reminded anti-Trump voters why it is so vital for them to get out and exercise their democratic duty—an important factor in a year in which Democratic strategists fear a decline in turnout. Coming in the same week that Omicron cases kept falling sharply and the January job figures came in unexpectedly strong, this has given Biden and other Democrats reason to hope that they can eventually get their ship back on course. 
https://www.newyorker.com/news/our-columnists/will-trumps-obsession-with-his-big-lie-save-biden-and-the-democrats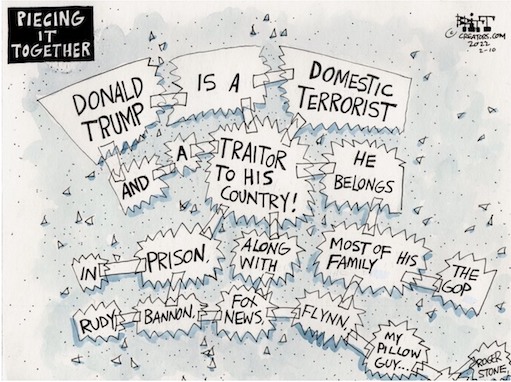 Dana Milbank: Taking a glass-is-one-seventh-full view of the GOP
A week ago, the Republican National Committee forced GOP lawmakers into a time for choosing. Its resolution referring to the violent insurrection at the Capitol on Jan. 6, 2021, as "ordinary citizens engaged in legitimate political discourse," which remains in force a week later, spells it out in plain language: The GOP stands with the insurrectionists of Jan. 6.
Elected Republicans have had, at this writing, a full week to condemn, criticize or distance themselves from this endorsement of violence to overturn the results of a free election. Where did they come down on this existential question for democracy?
Again, the good news first: Seven Senate Republicans, including Minority Leader Mitch McConnell, directly criticized the GOP's insurrectionist platform.
The bad news: This means (unless I've missed any others) 43 Senate Republicans did not. The Republican Party legitimized political violence, and 86 percent of Senate Republicans let it stand. Among House Republicans, the numbers were even worse.
I'm a glass-is-one-seventh-full type of guy, so let's celebrate the seven Senate Republicans who stood firmly against violence this week, including the highest-ranking elected Republican official in the land. "Well, let me give you my view of what happened Jan. 6," McConnell said. "It was a violent insurrection for the purpose of trying to prevent the peaceful transfer of power after a legitimately certified election from one administration to the next. That's what it was."
So where are the other 86 percent of Senate Republicans? Will they stand with their leader in saying a violent insurrection is not "legitimate political discourse"? Or will they once again cower? Trump claimed this week that McConnell "does not represent the views of the vast majority of [Republican] voters." The cowardice of McConnell's colleagues proves Trump correct.
https://www.washingtonpost.com/opinions/2022/02/11/republican-senators-pushback-rnc-statement/
Amy Davidson Sorkin: What the January 6th Papers Reveal
The receipt of the documents held by the National Archives by the Select Committee has fueled a burst of revelations about the Trump White House's involvement in the events leading up to the assault on the Capitol, and about Trump's desperate efforts to hold on to the Presidency. One of the documents, as Politico first reported, is a draft executive order, which was not issued, directing the Department of Defense to seize voting machines and associated electronic records in various states. That story was followed by reports, in the Times and elsewhere, about how Trump and his advisers debated the order—and whether there might be better ways to overturn the election. (Rudy Giuliani may have been the one to persuade Trump not to go down that military-backed-coup route.) There also seems to have been a draft executive order instructing the Department of Homeland Security to seize those voting machines, and a separate proposal telling the Department of Justice that it should do so, which D.H.S. official Ken Cuccinelli and Attorney General William Barr both resisted.
One election-negating strategy that Giuliani apparently did like involved manufacturing "competing" slates of Presidential electors. The idea, promoted by John Eastman, a law professor, in a how-to-pull-a-coup playbook, was that Vice-President Mike Pence would use the uncertainty created by such slates as a pretext for cutting short the counting of electoral votes on January 6th. Pence refused, but not before would-be Trump electors from seven states—Arizona, Georgia, Michigan, Nevada, New Mexico, Pennsylvania, and Wisconsin, all of which Joe Biden won—sent certificates to the National Archives claiming that they had cast their states' votes for Trump on December 14th, the day that electors who had actually been chosen convened around the country.
Among those seven states, there is a significant distinction: in Pennsylvania and New Mexico, local Republicans noted in their submissions that their votes were contingent upon Trump's winning his challenges to the election results. In the other five, there was no such qualification—the votes were sent in with language proclaiming Trump the winner. As a result, those Trump certificates might, in legal terms, be considered forgeries or falsified election materials. The Justice Department has confirmed that it is investigating the scheme, and the Select Committee has subpoenaed people involved in preparing the certificates from all seven states. One question to be answered is how much pressure the Trump team put on local Republicans to submit the fake certifications.
https://www.newyorker.com/magazine/2022/02/14/what-the-january-6th-papers-reveal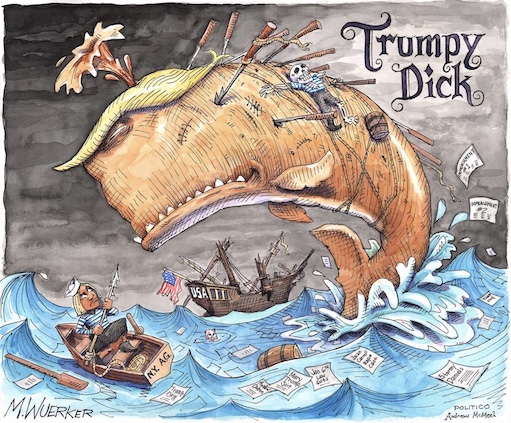 John Cassidy: Note to the Federal Reserve: Don't Panic About Inflation
This week's bad economic news is that inflation, as measured by the Consumer Price Index, hit a forty-year high of 7.5 per cent in January. The even worse news is that there is now a serious danger that the Federal Reserve will overreact and drag the economy into a recession by dramatically raising interest rates. Following the release of the inflation data on Thursday, Wall Street expects a half-point hike in the federal funds rate at the next Fed meeting—the biggest single increase since 2000. There has even been some speculation that Jerome Powell and his colleagues might enact an emergency rate bump before then. James Bullard, the president of the Federal Reserve Bank of St. Louis, said that he and his colleagues should make sure the funds rate reaches one per cent by July. Goldman Sachs predicted that the Fed would raise rates seven times this year.
All of this is because the January inflation figure came in a bit higher than expected—yes, a bit. Goldman, for example, had predicted that the core rate of inflation, which excludes volatile prices like energy and food, and which the Fed monitors closely, would jump by 0.56 per cent in January, for an annualized rate of 6.01 per cent. The actual monthly figure was 0.58 per cent, for an annualized rate of 6.02 per cent. These differences are trivial.
Given these crosscurrents, Powell and the Fed board need to keep their nerve and avoid letting Wall Street bounce it into panicking. After its ultra-loose policies of the past couple of years, a tightening is certainly justified, but it needs to be carried out judiciously and with realistic expectations.
https://www.newyorker.com/news/our-columnists/note-to-the-federal-reserve-dont-panic-about-inflation
Bess Levin: Ron Desantis Signals He'd Be Open To Making Florida An Anti-Gay Hellhole
A funny thing about Republicans is that despite claiming to be the party of "personal freedom," in the last year alone, they have tried to prevent Americans from: reading certain books, teaching about systemic racism, making decisions about their own bodies, and, in the case of some groups, voting in democratic elections. A lot of people would look at this evidence and conclude that Republicans are massive hypocrites—and they would be right! So while deeply depressing, it's in no way surprising that Florida conservatives want to ban talk of gender identity and sexual orientation in the state's primary school classrooms, and that Florida's governor, who seems to have his eye on the White House in 2024, has signaled his support for the initiative.
On Monday, Ron DeSantis offered tacit endorsement for the Parental Rights in Education bill, a.k.a. the "Don't Say Gay" bill, which would require the implementation of "procedures to reinforce the fundamental right of parents to make decisions regarding the upbringing and control of their children," ban teachers from encouraging conversations about LGBTQ+ topics in the classroom that are "not age-appropriate or developmentally appropriate for students," and allow parents to take legal action against school districts if they think their "fundamental right" as parents has been violated. Asked about the bill, DeSantis insisted it is "entirely inappropriate" for teachers to talk with students about gender identity, claiming to have heard examples of children being told, "Don't worry, don't pick your gender yet," and where teachers are "hiding" lessons from parents.
"Schools need to be teaching kids to read, to write," DeSantis said, completely ignoring the emotional development that also occurs during kids' formative years. "They need to teach them science, history. We need more civics and understanding of the U.S. Constitution, what makes our country unique, all those basic stuff.… The larger issue with all of this is parents must have a seat at the table when it comes to what's going on in their schools." While he did not outright say he would sign the bill into law, as NBC News notes, "it was the first time the Republican governor signaled his support for the measure since it was proposed by the state's House of Representatives last month." Which is incredibly worrisome.
Opponents of the bill—which include the White House—have warned it would be extremely harmful to the mental health of LGBTQ+ teachers and students. "Make no mistake—this is not an isolated action. Across the country, we're seeing Republican leaders take actions to regulate what students can or cannot read, what they can or cannot learn, and most troubling, who they can or cannot be," a spokesperson for the White House said in a statement. "This is politics at its worse, cynically using our students as pawns in political warfare."
https://www.vanityfair.com/news/2022/02/ron-desantis-dont-say-gay-bill
Michael Gerson: The Jan. 6 committee is an organ of truth. Of course Trump Republicans are attacking it.
American politics is regularly impinging on matters I certainly did not imagine as a younger man. I came to this field of public service because I believed in a set of policy ideas that would gain implementation only if they were to persuade Republican leaders and, eventually, a presidential campaign. Even at that point, Washington politics was not a feast of reason. But it involved an argument about a common reality: What set of ideals and proposals would work best?
Relating this to our current circumstance is like comparing oranges and existentialism. There is no common ground of facts and reality in which to argue for superior policy. There is hardly any discussion of public policy on the right at all. The evidence of loyalty — the method of belonging — is to adopt a view of reality that has no contact with reality. Do you solemnly swear to affirm the "big lie" and accept no source of authority other than Trump's?
The RNC made the pledge repeatedly. And its subverting of the authority of the Jan. 6 committee is closely related to these matters. This target was not casually chosen. Because of its investigative powers and the participation of Cheney and Kinzinger, the committee will be an independent source of truth. And Republicans have no intention of refuting its findings. Their goal is to intimidate, discredit and defame the committee — to destroy its standing as a source of reality.
This consistent goal has turned activists and leaders on the right into serial, institutional arsonists. Anything beyond control must be put to flame. This political vision is not even the estranged, distant cousin of Edmund Burke or any other conservative. It is the direct progeny of "Burn, baby, burn." It is triumph of anarchy and chaos.
https://www.washingtonpost.com/opinions/2022/02/07/trump-republicans-afraid-of-truth-attack-jan-6-committee/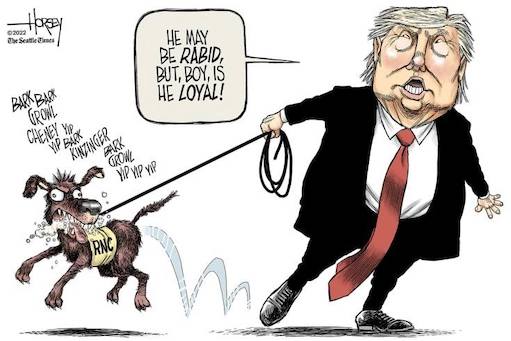 From Former RNC chair Marc Racicot's letter to his successor, Ronna McDaniel:
Dear Chairwoman McDaniel,
I have discovered no facts nor evidence, anywhere, of the "sabotage" or "persecution" or efforts to "destroy" the former president that serve as the basis for the accusations cited in the RNC Resolution and lodged against Representatives Cheney and Kinzinger. Quite the opposite, the evidence reveals two Republican members of the House of Representatives honorably performing their investigative duties and searching for the truth as members of a duly constituted investigative committee. In other words, they're doing their job with fidelity and loyalty to the Constitution.
Parenthetically, it appears that the House Republican leadership not only made the wrong decision by refusing to participate in the legitimate business of the Select Committee, they made a serious tactical error as well. Now, having forfeited their opportunity to provide input into the Select Committee's work and deliberations, they are left with only one available option, namely, to close their eyes to the truth and curse the darkness.
How is it that an official inquiry undertaken to pursue and determine the truth can be so threatening? How is it that faithfulness to one's country and fellow citizens can be so precipitously and eagerly sacrificed in exchange for political victory, or the pursuit of power, or both? How is it that the responsibility to assess accountability, if the facts establish it, can be so easily dismissed? There has been no honest and reasonable answer to any of those questions.
Of course, the elephant in the room is the 2020 presidential election and the efforts of the unsuccessful candidate to overturn the results.
Although it is ever so neat and tidy to blame the defeat of the former president on the existence of decisive and widespread fraud, there is not even a scintilla of evidence, anywhere, to support such piffle. The former president didn't experience defeat in 2020 because of fraud. The truth is quite the opposite. The defeat of the former president is explained by the fact that legions of responsible citizens, part of that Great Middle of America, voted the way they did because they embraced the very fidelity to their country and its Constitution that the RNC claims to embrace in its Party Platform.
So what can be done now? My suggestion and request is that you lead the Committee through the process of withdrawing and dismissing the RNC Resolution rebuking and deserting Representatives Liz Cheney and Adam Kinzinger. I urge the pursuit of this remedy with the understanding that we're human, that politics is a competitive enterprise and that sometimes we make mistakes. But I also believe in such a situation the final measure of our character is whether we have the insight and courage to humbly and honestly correct them.
Respectfully submitted, Marc Racicot 
https://mtstandard.com/opinion/columnists/guest-view-a-letter-from-marc-racicot-to-current-rnc-chairw/article_c5dc95cf-1d28-5ce7-afb1-5cf0fe166ea0.html