December 6, 2018
ON THE RECORD. . .
"My attorney is preparing to file criminal charges against Mueller. So if you want to know what I think of him, I think he's a political hack and a criminal. I'm going to file charges with the Department of Justice. My attorneys are preparing it right now. We're going to file it with [acting Attorney General Matt] Whitaker," — Right-wing author and conspiracy theorist Jerome Corsi
"The guilty plea—which, like every step of the Mueller investigation took even close watchers by surprise with its timing and rich level of detail—draws a direct connection between Donald Trump's business deals and Russian president Vladimir Putin." — Garrett Graff in Wired Magazine.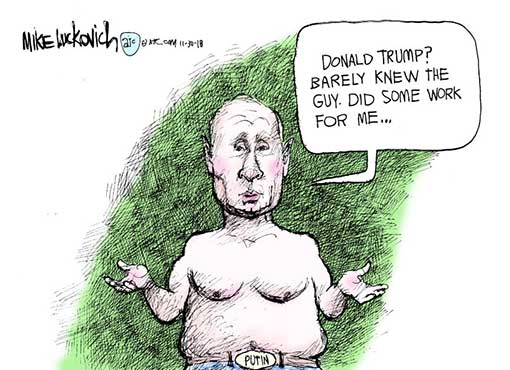 "It's hard for him to think straight from the bottom of the bottle.— From Interior Secretary Ryan Zink's scathing statement against Rep. Raúl Grijalva (D-AZ), the incoming chair of the House Natural Resources Committee, of "drunken and hostile behavior" after the congressman called for Zinke's resignation in a USA Today op-ed.
"Many of my memories are linked to him. We happened to work together in years of great changes. It was a dramatic time demanding huge responsibility from everyone. The result was the end of the Cold War and the nuclear arms race. I pay tribute to George Bush's contribution toward this historic achievement. He was a genuine partner." — Mikhail Gorbachev, the last Soviet leader, quoted by Reuters.
"The time that he can get away with lying to the American people all the time and evading accountability is coming to an end." — New York Democrat Jerry Nadler, the incoming chairman of the House Judiciary Committee, saying that new revelations from one of President Trump's allies amount to proof that Russia had "leverage" over Trump during the 2016 presidential campaign.
"There is now testimony, there is now a witness, who confirms that in the same way Michael Flynn was compromised, that the president and his business are compromised." — Rep. Adam Schiff (D-CA), the incoming chairman of the House Intelligence Committee, saying that new revelations from Michael Cohen amount to proof that Russia had "leverage" over Donald Trump during the 2016 presidential campaign.
Maybe the definition of national security or maybe the conditions under which national security could be used as an excuse (to impose tarrifs) is a little wide." — Incoming Senate Finance Chairman Chuck Grassley (R-IA) saying that he may try to make it harder for the president to impose new tariffs.
"We have to have to have a relationship with some players that we don't agree with. Journalists disappear all over the country. 20 journalists have been killed in Mexico. You don't think it happens in Turkey and China? Of course it does. And yet we have to have a relationship with these individuals, or with these countries." — Rep. Chris Stewart (R-UT) defending President Trump's decision to stand by Saudi Arabia despite overwhelming evidence that Crown Prince Mohammed bin Salman was behind the murder of U.S.-based journalist Jamal Khashoggi.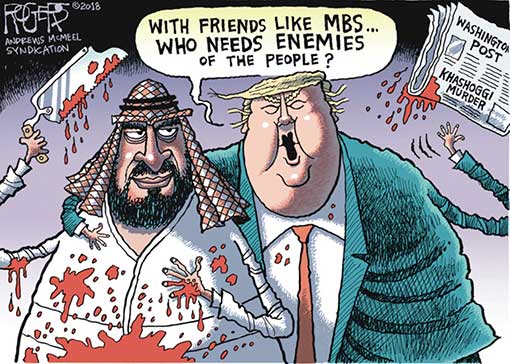 Democracies ultimately depend on having stable rules and norms that support those rules — even when things don't go your way. We agree to this basic logic as citizens; it's central to our social contract with the state. We should expect the same of our elected officials. Politicians who change the rules of the game because they don't like the outcomes are a danger to democracy. — Donald P. Moynihan about Wisconsin Republicans who are trying to subvert the will of the voters.
"Everything about the tweet he passed on to his 56 million listed Twitter followers Tuesday is wrong." — AP FACT CHECK: "President Trump is spreading a false claim from supporters that people who are in the United States illegally receive more in federal assistance than the average American gets in Social Security benefits. "
"There's not a smoking gun, there's a smoking saw." — Sen. Lindsey Graham(R-SC) referencing Trump administration comments that there is no "smoking gun" linking the Saudi Crown Prince to the order to kill journalist Jamal Khashoggi.
"It's gonna be classified as a homicide because, essentially, a fertilized egg is a human life just like a 1-year-old baby is a human life. So, an abortion would be considered intentionally taking a human life." — Oklahoma state Sen. Joseph Silk (R) wants to pass legislation that would have abortion classified as a felony homicide.
"If President Trump appears to be rattled by special counsel Robert Mueller's investigation now — and his extraordinary tweets on the subject suggest that he is — just wait. Over the next few weeks, a series of court filings are due that may shed substantial light on what Mueller has learned from people who once sat in Trump's inner circle. — Ken Dilanian and Tom Winter for  NBC
The Trumps are seated next to:
1) The president Trump said was illegitimate (Obama)
2) The president he said assaulted women (Clinton)
3) The first lady/SoS he said should be in jail (Hillary)
4) The president he said was the second-worst, behind Obama (Carter)

Washington Post political reporter Arron Blake at the HW Bush funeral. https://twitter.com/AaronBlake/status/1070347638313312256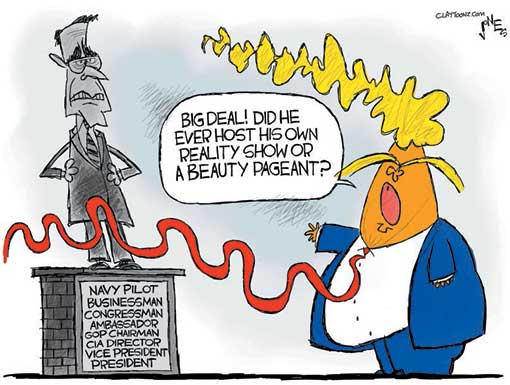 ---
IN THIS ISSUE
FYI
OPINION
1. Andy Borowitz: G-20 Leaders Vote Unanimously Not to Give Trump Asylum
In an unusual display of unity by an often fractious organization, the leaders of the G-20 nations voted unanimously on Saturday to deny Donald J. Trump's urgent request for asylum.

Prior to the vote, Trump had been heard asking colleagues ranging from Angela Merkel to Xi Jinping for safe harbor in their countries, sweetening his request with offers of free luxury penthouses in Trump buildings around the globe.

In the most stunning insult to Trump, his closest allies, Vladimir Putin and Mohammed bin Salman, responded to his asylum request by laughing uproariously in his face and high-fiving each other.

After the resolution to deny Trump asylum passed by a 19–0 vote, international observers said that they had never seen the G-20 act with such enthusiastic solidarity. "Justin Trudeau and Emmanuel Macron were practically peeing themselves," one observer said.

After receiving the resounding rebuke from the G-20, Trump grumpily withdrew to his hotel room, where he reportedly placed several calls to Kim Jong Un that went straight to voice mail. https://www.newyorker.com/humor/borowitz-report/
2. Inside The North Carolina Republican Vote Machine: Cash, Pills — And Ballots
McCrae Dowless and his family worked with "wads of cash" — and workers illegally handled absentee ballots, a woman who worked for him says.
The allegations that Republicans tampered with absentee ballots in a close North Carolina election represent the most serious federal election tampering case in years, one that allegedly stole votes from elderly black voters in the state's rural south.
Now two women intimately involved with McCrae Dowless's absentee ballot machine have revealed to BuzzFeed News its grim and chaotic workings, in which Dowless tracked votes on yellow paper and paid his workers, including family members, from stacks of cash, and that some were on opioids while they worked.
The accounts of the women, Jessica Karen Dowless and Lisa Britt, add significant new details to those that have come out from investigators and other news reports, as the state election board considers whether it should order a new election between Republican Mark Harris and Democrat Dan McCready. The women, both related to McCrae Dowless, paint a picture of American political chicanery at its lowest levels — though with sweeping consequences both for voters allegedly denied the franchise, and for the outcome of a pivotal national election, which Harris won by 905 votes. https://www.buzzfeednews.com/article/briannasacks/dowless-britt-inside-north-carolina-absentee-ballot-machine

3. The DAILY GRILL
"Committing voter fraud is easy in our state. Just for fun, here's one way an organized group could commit voter fraud in North Carolina." -- North Carolina Lt. Gov. Dan Forest in a slickly produced animated video goes on to describe an elaborate process by which a group could scrape the names, addresses and voting status of infrequent voters before Election Day, then go to their polling places, claim to be those voters, which is a crime under state law, and cast fraudulent ballots.

VERSUS

Just for fun, here's another way to commit voter fraud in North Carolina. You could — theoretically, of course — hire someone who would coordinate an effort to falsify absentee ballots. — Sarah Jones for the Intelligencer

 

"President George H.W. Bush was a war hero, an internationalist who played a consequential role in maintaining the post-war world order. In domestic politics, he is remembered as a pillar of the Republican establishment, a pragmatist who pined for a 'kinder, gentler nation." — Andrew Restuccia in Politico

VERSUS

"President Donald J. Trump represents a starkly different strain of Republicanism, and a rejection of nearly all of Bush's values. And as Trump played global statesman at the G-20 summit here against the backdrop of a former president's passing, many world leaders clearly missed the predictability of the Bush years and the America he represented." — Andrew Restuccia in Politico

 

Michael Cohen asks judge for no Prison Time. You mean he can do all of the TERRIBLE, unrelated to Trump, things having to do with fraud, big loans, Taxis, etc., and not serve a long prison term? He makes up stories to get a GREAT & ALREADY reduced deal for himself, and get ....his wife and father-in-law (who has the money?) off Scott Free. He lied for this outcome and should, in my opinion, serve a full and complete sentence. — Donald Trump on Twitter

VERSUS

"I will never testify against Trump." This statement was recently made by Roger Stone, essentially stating that he will not be forced by a rogue and out of control prosecutor to make up lies and stories about "President Trump." Nice to know that some people still have "guts!" — Donald Trump on Twitter, praising longtime associate Roger Stone for refusing to talk to special counsel Robert Mueller.
4. Trump's racist policies have been even worse than we feared
The FBI's report released this month revealed that hate crimes had jumped an astonishing 17 percent from 2016 to 2017. And the targets? Sixty percent of the victims were selected because of their race, ethnicity or ancestry. More than 20 percent were targeted because of their religion.
The ADL reported an increase of nearly 60 percent in anti-Semitic incidents between 2016 and 2017.
Anecdotal evidence and data compiled each day show that the Trump effect has taken on a life of its own, spreading a meanness and animosity once confined to the environs of the Ku Klux Klan and the White Citizens Councils that peppered the South.
The hard evidence of Trump's hostility toward people of color abounds — his actions against south-of-the-border immigrants, his hostile treatment of black women and disparagement of black and brown men, references to Haiti and African nations as "shithole countries. https://www.washingtonpost.com/opinions/who-knew-just-how-damaging-and-degrading-a-trump-presidency-would-be/2018/11/30/4a30f536-f4bb-11e8-aeea-b85fd44449f5_story.html
5. How to Read Michael 's Latest Plea and Its Revelations About the Trump Organization
Cohen admitted in court on Thursday that even as Russian operatives were hacking Democratic emails and getting ready to dump emails through Wikileaks, even as Trump was publicly praising Russian strongman Vladimir Putin, even as the Trump Tower meeting involving Donald Trump Jr. took place in the summer of 2016, the Trump Organization—with Trump and his family very much in the know—was negotiating to build a Trump Tower in Moscow. The Trump Organization was negotiating—or, at least, trying to negotiate—this deal with the Kremlin itself. And Cohen has admitted that he lied to Congress about this history to protect Trump politically.
In important respects, the legalities—or illegalities—at issue here are secondary points. The primary point is that this is all utterly unacceptable. That a large swath of the public, and the legislative branch, has chosen to accept it does not make it more reasonable that a man seeking to be president of the United States would at the same time publicly cozy up to a foreign dictator and negotiate with his regime over a potential business opportunity—and then cover it all up. The story is likely to get worse. https://www.lawfareblog.com/how-read-michael-cohens-latest-plea-and-its-revelations-about-trump-organization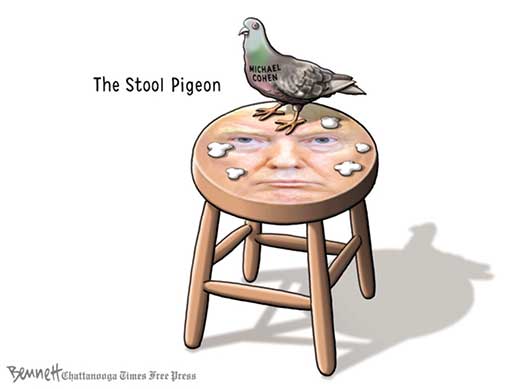 6. From MEDIA MATTERS (They watch Fox News so you don't have to)
Tucker Carlson criticizes Robert Mueller investigation for "threatening elderly men." https://www.mediamatters.org/video/2018/11/28/tucker-carlson-criticizes-robert-mueller-investigation-threatening-elderly-men/222178

Ann Coulter went on Fox News and called for migrants to be shot.  Despite Coulter's outrageous comments, Fox News headlined the show's transcript on its website "Coulter urges Trump to follow through on tough border talk." https://www.mediamatters.org/blog/2018/11/28/ann-coulter-went-fox-news-and-called-migrants-be-shot-here-s-headline-fox-went/222172

Fox's Jeanine Pirro says that the real racists are asylum-seekers for trying to enter the United States. https://www.mediamatters.org/video/2018/11/30/Foxs-Jeanine-Pirro-says-that-the-real-racists-are-asylum-seekers-for-trying-to-enter-the-U/222198

Fox's Mollie Hemingway: The Russia investigation is a "fishing expedition," and takes a "very Stalinist-type approach to criminal justice." Hemingway: Mueller's indictments suggest that "political enemies are upset that Donald Trump won and they're going to use the power of the state to go after people." https://www.mediamatters.org/video/2018/11/30/foxs-mollie-hemingway-russia-investigation-fishing-expedition-and-takes-very-stalinist-type-approach/222194

Sean Hannity: Trump could order a military tribunal to investigate the Department of Justice. Hannity: "That would be within the realm of the executive branch of the government, which he is the head of." https://www.mediamatters.org/video/2018/11/30/sean-hannity-trump-could-order-military-tribunal-investigate-department-justice/222205

Despite an obsession with "voter fraud," Fox News has virtually ignored possible election fraud in North Carolina. https://www.mediamatters.org/blog/2018/12/03/despite-obsession-voter-fraud-fox-news-has-virtually-ignored-possible-election-fraud-north-carolina/222213 

NRA spokesperson calls pediatricians "irresponsible" for pointing out link between firearms and adolescent suicide. https://www.mediamatters.org/blog/2018/12/04/nra-spokesperson-calls-pediatricians-irresponsible-pointing-out-link-between-firearms-and-adolescent/222225

In some of Fox's only coverage of apparent GOP election fraud in North Carolina, host attacks California election laws ignoring credible reports that a partisan actor in North Carolina was collecting and destroying voters' ballots.  https://www.mediamatters.org/blog/2018/12/05/some-fox-s-only-coverage-apparent-gop-election-fraud-north-carolina-host-attacks-california-election/222237

Fox News guest goes on bizarre rant against vegans: It's "an inversion of the natural order." Michael Knowles: "Why do we have to care about" animals like fish, "but we can't care about unborn human babies?" https://www.mediamatters.org/video/2018/12/05/Fox-News-guest-goes-on-bizarre-rant-against-vegans-Its-an-inversion-of-the-natural-order/222235
7. From the Late Shows
The Late Show with Stephen Colbert: Cohen Exposes Trump's Business Ties With Russia: https://youtu.be/l6SpoMrEo6I

Trump Argentina Cold Open - SNL: https://youtu.be/9q3QBnCnJbQ
8. Note to Trump: The Probe Costs Roughly $0.00 – Not $40 Million
As of September, the fiscal cost of the Mueller investigation was roughly $0.00. By that point, the probe had spent roughly $26 million. But, by striking a plea agreement with Paul Manafort for his myriad white-collar crimes — an agreement that required Trump's former campaign manager to forfeit five multi-million-dollar properties, a life-insurance policy, and the contents of multiple bank accounts — Mueller's investigation had acquired somewhere between $26 million and $42 million worth of revenue for the federal treasury. http://nymag.com/intelligencer/2018/11/trump-tweet-mueller-probe-usd40-million-fact-check-paul-manafort.html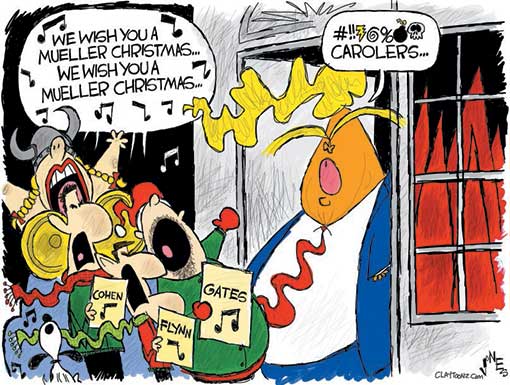 9. "Trump Was Totally Caught Off Guard By The Cohen Plea": Inside Trumpworld, Some Fear Mueller Has Laid A Perjury Trap
The fear in Trumpworld is that Mueller may have laid a perjury trap for the president, the former staffer said. Mueller waited until after Trump submitted written answers under oath to the special counsel's office—some of which reportedly included responses to questions about Trump Tower Moscow—before revealing the evidence prosecutors had gathered to secure Cohen's plea. "Trump was totally caught off guard by the Cohen plea," the source said.
Cohen's plea also re-ignited fears that the president's son, Don Jr., will be next to be indicted. "Don's been telling people he's very worried after today," a source said. (Don Jr.'s attorney did not immediately respond to a request for comment.) Mueller now appears to be driving the West Wing agenda, with the principals in a reactive crouch; there's a sense of loss of control. "It's an untethered situation," a person close to the president said. https://www.vanityfair.com/news/2018/11/inside-trumpworld-some-fear-mueller-has-laid-a-perjury-trap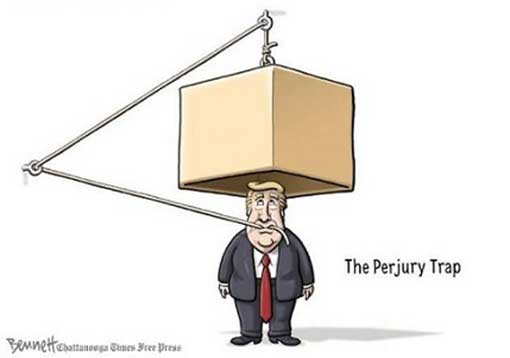 10. He's Built an Empire, With Detained Migrant Children as the Bricks
Southwest Key has collected $1.7 billion in federal grants in the past decade, including $626 million in the past year alone. But as it has grown, tripling its revenue in three years, the organization has left a record of sloppy management and possible financial improprieties, according to dozens of interviews and an examination of documents. It has stockpiled tens of millions of taxpayer dollars with little government oversight and possibly engaged in self-dealing with top executives. As immigration intensifies as a flash point of the Trump presidency, with tear gas being fired at a migrant caravan and the price tag for separating families continuing to rise, Mr. Sanchez is central to the administration's plans. Southwest Key can now house up to 5,000 children in its 24 shelters, including a converted Walmart Supercenter that has drawn criticism as a warehouse for youths. The system is nearing a breaking point, with a record 14,000 minors at about 100 sites — a human crisis, but also a moneymaking opportunity.
Though Southwest Key is, on paper, a charity, no one has benefited more than Mr. Sanchez, now 71. Serving as chief executive, he was paid $1.5 million last year — more than twice what his counterpart at the far larger American Red Cross made. https://www.nytimes.com/2018/12/02/us/southwest-key-migrant-children.html
11. With H.R. 1, Democrats Announce a New Program for Electoral Reform
When the new Congress convenes in January, the very first item on its to-do list will be H.R. 1, a package of good-government and election reforms unveiled Friday by Minority Leader Nancy Pelosi and a group of legislators led by John Sarbanes, of Maryland. Its contents haven't been fully composed yet, but Pelosi and Sarbanes previewed its three parts in a Washington Post op-ed earlier this week: a voting-rights plank that includes updates to the Voting Rights Act, measures to address gerrymandering, and automatic voter registration; an ethics plank that requires the President to disclose his or her tax returns and bans the use of taxpayer funds for congressional sexual-harassment settlements; and a campaign-finance plank that offers matching federal funds for small-dollar donations and requires super pacs to publicly disclose their donors. https://www.newyorker.com/news/current/with-hr-1-democrats-announce-a-new-program-for-electoral-reform
12. Mueller's breadcrumbs suggest he has the goods
One of the least-noticed elements of the special counsel's approach is that all along, he has been making his case bit by bit, in public, since his very first court filing. With his major court filings so far, Mueller has already written more than 290 pages of the 'Mueller Report.' And there are still lots of loose ends in those documents — breadcrumbs Mueller is apparently leaving for later.
By making such detailed filings, Mueller is actually increasing his burden of proof — suggesting a supreme confidence that he has the goods.
And by making so much public as he goes along, Mueller is also insuring against his probe being shut down or otherwise curtailed by the White House.
Mueller's breadcrumbs suggest he has the goods. https://www.axios.com/mueller-investigation-report-details-court-filings-2511dd33-1928-4431-a9bb-09488ee216ef.html
13. No Sign of Course Correction by Republicans
It appears that the Mueller investigation is reaching its endgame. After a two-month hiatus for the midterms, special counsel Robert Mueller's team is prepared to once again show its work. These developments are ominous for President Donald Trump. In short order, expect to see a case of conspiracy to interfere with the 2016 election to be laid out in court. 
Defenders of the president have, despite the obvious progress of the Mueller investigation — more than 30 indictments or guilty pleas, including Trump's campaign chairman, personal lawyer, national security adviser, deputy campaign manager and foreign policy adviser — consistently argued that "no collusion" has been proved. While it is true that the charges made public have not alleged conspiracy (there is no crime of "collusion") it should be clear to all but the most obtuse by now that the endgame is drawing near. Mueller is laying out the predicate for a wide-ranging conspiracy case that will likely ensnare the president's family and, quite likely, Trump himself. https://www.usatoday.com/story/opinion/2018/12/03/michael-cohen-plea-deal-donald-trump-tower-moscow-russia-column/2183355002/
14. Majority of Americans believe House Dems should release Trump's tax returns: poll
A majority of people polled believe the incoming Democratic House majority should be allowed to obtain and release President Trump's tax returns, according to a Harvard CAPS/Harris poll released on Monday.
Among polled registered voters, 63 percent say that House Democratic leadership in the next session of Congress should be allowed to publicize the president's tax returns, while 37 percent say it shouldn't.
Only 35 percent of polled Republicans believe the House should disclose Trump's tax returns, while 86 percent of Democratic respondents believe the House majority should. https://thehill.com/homenews/administration/419498-majority-of-americans-believe-house-dems-should-release-trumps-tax
15. 'Just a lot of alarmism': Trump's skepticism of climate science is echoed across GOP
As President Trump's rejection of climate science isolates the United States on the world stage, illustrated by the small U.S. delegation dispatched to this week's United Nations climate summit in Poland, he has also presided over a transformation in the Republican Party — placing climate change skepticism squarely in the GOP's ideological mainstream.
Where the last Republican president, George W. Bush, acknowledged that the Earth was warming and that 'an increase in greenhouse gases caused by humans is contributing to the problem,' the prevailing GOP view expressed on the campaign trail this year and espoused by many members of Congress is built on the false premise that climate science is an open question.
The small number of voices supporting the science have been largely drowned out. https://www.washingtonpost.com/politics/just-a-lot-of-alarmism-trumps-skepticism-of-climate-science-is-echoed-across-gop/2018/12/02/f6ee9ca6-f4de-11e8-bc79-68604ed88993_story.html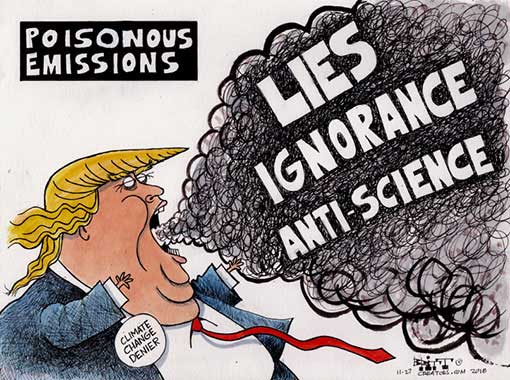 16. The Lame Duck Power Grab
Republicans in Michigan, Wisconsin, and North Carolina haven't gone as far as to challenge the results of their respective elections, but their actions, which serve to hamstring the incoming body of duly elected officials, are movement in that direction. In national politics, Republican lawmakers are openly questioning the legitimacy of the Democratic House of Representatives victory, casting ordinary acts—the counting of ballots—as potentially insidious. Indeed, much of the Republican Party has already embraced voter suppression, extreme gerrymandering, and other methods to preserve legislative majorities in the face of popular opposition. The lame-duck power grab is just a natural next step.
For all the attention on Donald Trump as a threat to American democracy, it's these actions—from ordinary, almost anonymous, Republican politicians, uncontested by anyone of influence in the party—that are much more ominous. It's one thing to jockey for partisan advantage, it's something much more dangerous to treat democracy like a game of Calvinball, where the rules only count when they suit your interests.  https://slate.com/news-and-politics/2018/12/republican-democracy-stress-test-michigan-wisconsin-north-carolina.html
17. Trump's latest tweets cross clear lines, experts say: Obstruction of justice and witness tampering
President Trump took to Twitter Monday morning, haranguing special counsel Robert S. Mueller III and witnesses to his ongoing Russia investigation. His tweets have become a common morning occurrence, particularly in recent weeks. But legal experts are calling Monday's missives a newsworthy development that amounts to evidence of obstructing justice.
Trump's first statement went out after Michael Cohen, his former personal attorney who pleaded guilty last week for lying to Congress about the president's real estate project in Russia. In his tweet, Trump alleged that Cohen lied to Mueller and called for a severe penalty, demanding that his former fixer "serve a full and complete sentence."
After the overt attack on Cohen came a tweet encouraging Roger Stone, a longtime adviser to Trump, not to become a witness against him. https://www.washingtonpost.com/politics/2018/12/03/trumps-latest-tweets-cross-clear-lines-experts-say-obstruction-justice-witness-tampering/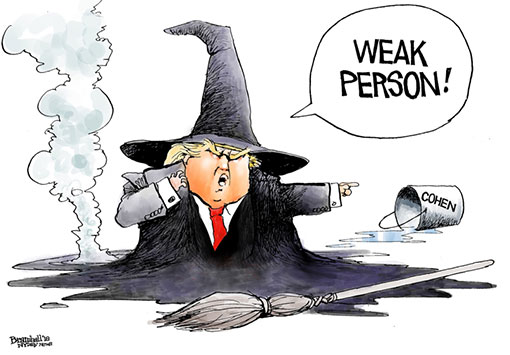 18. Confusion clouds restoration of Florida felons' voting rights
Florida voters spoke clearly four weeks ago: They restored the right to vote to most convicted felons who complete their sentences.
When it becomes Florida law in five weeks, an estimated 1.2 million felons will be eligible to rejoin the voter rolls. But at a statewide elections conference, it was obvious that confusion and uncertainty still hovers over implementation of Amendment 4."
The state announced that it has stopped transmitting documents counties use to remove convicted felons from the rolls. One official said the issue requires more research on how to carry out the will of the people. https://www.tampabay.com/florida-politics/buzz/2018/12/04/confusion-and-uncertainty-cloud-restoration-of-felons-voting-rights/
19. Trump on Coming Debt Crisis: 'I Won't Be Here' When It Blows Up
Since the 2016 presidential campaign, Donald Trump's aides and advisers have tried to convince him of the importance of tackling the national debt.
Sources close to the president say he has repeatedly shrugged it off, implying that he doesn't have to worry about the money owed to America's creditors—currently about $21 trillion—because he won't be around to shoulder the blame when it becomes even more untenable.
The friction came to a head in early 2017 when senior officials offered Trump charts and graphics laying out the numbers and showing a "hockey stick" spike in the national debt in the not-too-distant future. In response, Trump noted that the data suggested the debt would reach a critical mass only after his possible second term in office.
"Yeah, but I won't be here," the president bluntly said, according to a source who was in the room when Trump made this comment during discussions on the debt.
The episode illustrates the extent of the president's ambivalence toward tackling an issue that has previously animated the Republican Party from the days of Ronald Reagan to the presidency of Barack Obama. https://www.thedailybeast.com/trump-on-coming-debt-crisis-i-wont-be-here-when-it-blows-up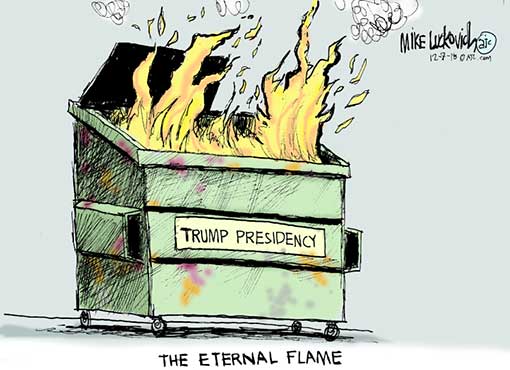 1. Abigail Tracy: Mueller's Heavily Redacted Memo on Michael Flynn is a Warning to Trumpworld
President Donald Trump's mafioso message praising Roger Stone for his "guts" and urging him to stay strong—a move that legal experts, including George Conway, have argued could amount to witness tampering—was swiftly answered by Robert Mueller on Tuesday night, when the special counsel released a long-awaited sentencing memo on Michael Flynn. Citing Flynn's "substantial assistance" in the ongoing Justice Department probe, the special counsel recommended a light sentence for the disgraced retired Army general—one that may not include any time behind bars. "A sentence at the low end of the guideline range—including a sentence that does not impose a term of incarceration—is appropriate and warranted," the memo reads.
Much of the filing is redacted, and the details of what, exactly, Flynn—who pleaded guilty last December to a single count of lying to F.B.I. investigators about his Russian contacts—told Mueller are blacked out entirely. But the memo does reveal that Flynn sat for 19 interviews with the special counsel team and D.O.J. attorneys on matters related to the investigation into whether the Trump campaign colluded with Russia, as well as at least one additional unknown "criminal investigation." Perhaps most notably—and most damning for Trumpworld—the filing says, "The defendant provided firsthand information about the content and context of interactions between the transition team and Russian government officials."
The clearest takeaway from the sentencing memo is that Mueller places a premium on cooperation. Flynn's one charge of lying to investigators carries a maximum of five years in prison, but the special counsel set the ceiling for his misdeeds at just six months. "The usefulness of the defendant's assistance is connected to its timeliness," the memo reads. "The defendant began providing information to the government not long after the government first sought his cooperation."
Flynn's sentencing sends a clear signal that Mueller is prepared to reward cooperation with leniency—a message even longtime Trump fixer and lawyer Michael Cohen seems to have picked up on. And Trump's tweets are hardly a guarantee that a presidential pardon is on the table. https://www.vanityfair.com/news/2018/12/robert-mueller-mike-flynn-sentencing-memo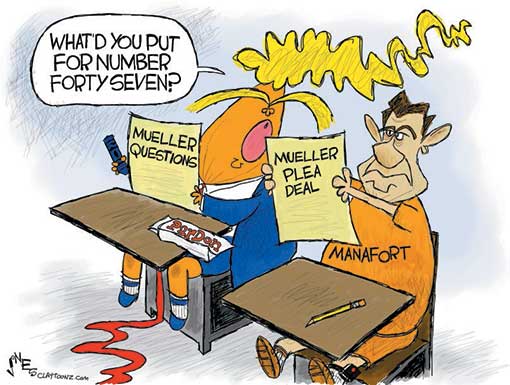 2. Charles Blow: What Happens If … The possibilities ahead in the Russia investigation suggest we are not reaching the end of a nightmare, but rather entering one
I expect Trump to admit nothing, even if faced with proof positive of his own misconduct. There is nothing in the record to convince me otherwise. He will call the truth a lie and vice versa."
"I also don't think that Trump would ever voluntarily leave office as Nixon did, even if he felt impeachment was imminent. I'm not even sure that he would willingly leave if he were impeached and the Senate moved to convict, a scenario that is hard to imagine at this point.
I don't think any of this gets better, even as the evidence becomes clearer. I don't believe that Trump's supporters would reverse course in the same way that Nixon's did. I don't believe that the facts Mueller presents will be considered unassailable. I don't believe Trump will go down without bringing the country down with him.
In short, I don't believe we are reaching the end of a nightmare, but rather we are entering one. This will not get easier, but harder. https://www.nytimes.com/2018/12/02/opinion/trump-mueller-russia-investigation.html
3.  Jennifer Rubin: Trump's not winning anything, anywhere
President Trump pulled the United States out of the Joint Comprehensive Plan of Action (JCPOA), but he has no apparent substitute for containing Iran's aggression. We are isolated from our European allies. Trump says he wants to pull out of the North American Free Trade Agreement, but NAFTA 2.0 is not ratified (nor is it likely to be), and in any event, it isn't dramatically different from the original. We're out of the Trans-Pacific Partnership but not out of a trade war with China (although tariffs are not rising quite yet).
Trump met with North Korean dictator Kim Jong Un, declared the nuclear threat gone and wants to meet again. North Korea, however, has not shown it is prepared to denuclearize. Trump pulled the United States out of the Paris accord; the other world leaders are meeting in Poland to discuss steps forward without the United States. Meanwhile, the climate change problem becomes more urgent with each passing year, according to the administration's own report.
Our European and North American allies scorn and distrust Trump, revile his pullout from international agreements and his erratic trade threats, and rightly see him as unable to lead the West in an existential battle against illiberal regimes.
Russia remains in Ukraine and now is making a play for control of the Sea of Azov. Iran and Russia dominate Syria. The war in Afghanistan drags on without clear purpose.
Let's be blunt: The only significant foreign policy "achievements" Trump can claim are eviscerating our reputation as a reliable ally that defends human rights and giving autocrats the impression that they can get away with murder (and dismemberment and more) without paying any significant price. https://www.washingtonpost.com/news/opinions/wp/2018/12/03/trumps-not-winning-anything-anywhere/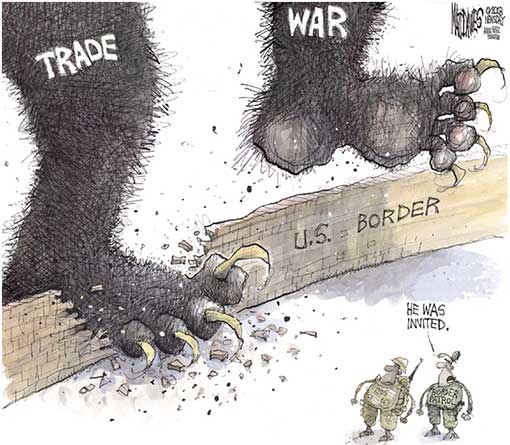 4. Joshua Green: Looking Toward 2020, Democrats Shift Focus From Health Care to Mueller
Democrats built a midterm electoral wave by centering their message around health care. But since the Nov. 6 election, many Democratic ads have shifted focus from protecting health insurance to protecting special counsel Robert Mueller.
In the past several weeks, prominent Democrats have run thousands of Facebook ads urging viewers to sign petitions in support of Mueller, who may be vulnerable to political interference by the Trump administration after the resignation of Attorney General Jeff Sessions. They include Senators Kamala Harris of California, Elizabeth Warren of Massachusetts, and Corey Booker of New Jersey and billionaire activist Tom Steyer, along with a super PAC tied to former Massachusetts Governor Deval Patrick. https://www.bloomberg.com/news/articles/2018-11-29/looking-toward-2020-democrats-shift-focus-from-health-care-to-mueller
5. John Harwood: The all-Republican government will end as it began under Trump, in disarray
Donald Trump's all-GOP government in Washington ends a two-year run as it began, by struggling to govern at all.
The president who vowed to make America great again has rattled financial markets, reduced farm exports and raised manufacturing costs with his tariff policies. As growth slows, he blames the Federal Reserve for raising interest rates and threatens General Motors for closing plants.
The president who promised law and order, having previously fired the FBI director, fired his attorney general over the Justice Department's Trump-Russia investigation. The acting attorney general has been openly hostile to the probe.
The president who insisted Mexico would finance a border wall now wants American taxpayers to pay as a condition of keeping their government open. Congress doesn't intend to build the wall, so the government could shut down next week.
Thus completes the chaotic circle of governance by Trump and the GOP Congress: fanciful promises, contradictory priorities, presidential provocations that Republicans won't rein in. Voters responded this month by handing the House to Democrats. https://www.cnbc.com/2018/11/29/the-all-gop-government-will-end-as-it-began-under-trump-in-disarray.html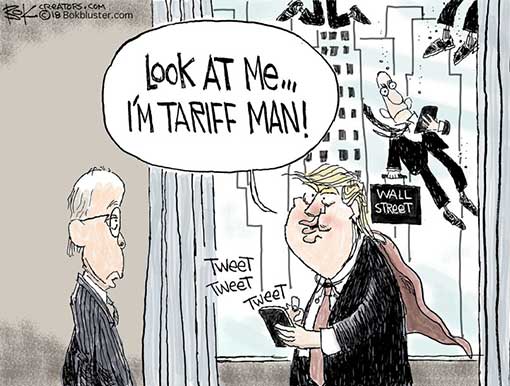 6. Jonathan Chait: If Trump Didn't Collude, Why Does He Keep Obstructing Justice?
Earlier this summer, President Trump asked his lawyers about pardoning his former campaign manager, Paul . Giuliani told the president such a maneuver would be inadvisable and could expose Trump to a possible obstruction of justice charge. "We sat [Trump] down and said you're not considering these other pardons with anybody involved in the investigation. He said yes, absolutely, I understand," Giuliani told the Washington Post, "The real concern is whether [Robert] Mueller would turn any pardon into an obstruction charge."
Yesterday, Trump went ahead and dangled a pardon for Manafort anyway. "It was never discussed," he told the New York Post, falsely, before continuing, "but I wouldn't take it off the table. Why would I take it off the table?"
Dangling a pardon like this is an extremely serious offense. It was one of the very crimes for which Nixon was going to be impeached. This naturally raises the question of why Trump would obstruct justice so blatantly.
A common theory of the Russia scandal is that it consists of nothing more than some low-level shenanigans. Perhaps some cheap grifters attached themselves to Trump and took some inappropriate meetings, but Trump's campaign did not collude with Putin, and Trump himself has nothing to fear. Trump's evident rage at the investigation, by this theory, is simply his indignation at the notion that his great victory has been tainted as a cheat with Russian help.
But how could this theory explain the extremely risky moves Trump keeps taking? The endless obstruction of justice, while binding his legal fate ever more tightly to the low-level crooks who supposedly can't be tied to him — the latter of which requires the assent of Trump's lawyers — all make no sense. Unless Trump is, in fact, guilty. http://nymag.com/intelligencer/2018/11/trumps-obstructing-justice-russia-mueller-guilty.html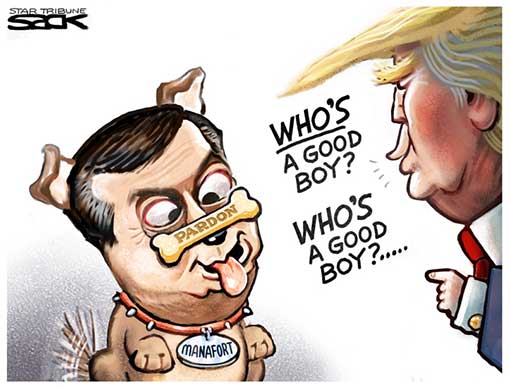 7. Paul Waldman: Lies, lies and more lies: This is not how innocent people act
Imagine for a moment that President Trump is right when he claims there is, in fact, no Russia scandal — because the entire thing is a hoax, a fraud, a witch hunt — and that neither he nor any of his family members, employees, or associates did anything wrong.
If that were the case, how would they all have conducted themselves as this controversy has gone on?
There's one thing we should all be able to agree on: If they were all innocent, they would be telling the truth about what they did and didn't do. That's because the truth would exonerate them. What has happened, instead, is that one person after another, from the president on down, has lied about their actions, their contacts with Russia and the decisions they made.
In short, they're acting like the guiltiest bunch of people since Richard M. Nixon's Committee to Reelect the President. https://www.washingtonpost.com/blogs/plum-line/wp/2018/11/30/lies-lies-and-more-lies-this-is-not-how-innocent-people-act/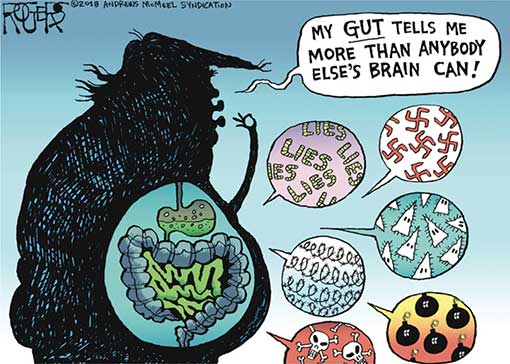 8. Jennifer Rubin: Trump should be freaked out right about now
If Cohen is telling the truth, Trump lied during the campaign in flatly denying any deals in Russia. That in itself is a big deal. Trump took a bizarrely pro-Putin stance during the campaign and in the debates specifically. The notion that a candidate would take the side of a foreign foe of the United States while negotiating business deals in that country should be seen as wholly unacceptable, perhaps even an attempt to defraud voters. If he was doing it to assist his own economic interests, it can be seen as a quid pro quo.
But was it illegal or impeachable? If lying about the Trump Tower deal was part of a scheme to conspire/collude with Russia, the latest revelation will be one more fact in a conspiracy charge (or campaign finance violation against Trump). Trump's shocking insistence Thursday that he was "allowed to do whatever I wanted during the campaign" seems to leave open the possibility that he did not comprehend the ramifications of working with the Russians to feather his own nest and get him elected.
Lying about Russia deals also might be considered one in a series of impeachable acts. Constitutional law professor Laurence Tribe told me, "The only pre-election lying (or other misconduct) that becomes impeachable if and when the candidate wins office is conduct that contributes materially to a fraudulent victory, which much of Trump's activity with Russia during the 2016 campaign may well have done." Remember, Article One of Richard Nixon's impeachment included "making or causing to be made false or misleading public statements for the purpose of deceiving the people of the United States."
Cohen is helping Mueller to tie Trump — financially, personally, politically — to the highest levels of the Russian government. Whether that amounts to crimes (apart from efforts to obstruct justice) remains to be seen. It does, however, mean that Trump lied his way into the presidency, in part, to protect financial interests in Russia and perhaps to get Russian assistance (e.g., in disclosing dirt on Hillary Clinton). Trump has every reason to panic. https://www.washingtonpost.com/news/opinions/wp/2018/11/29/trump-should-be-freaked-out-right-about-now/
9. Paul Krugman: When MAGA Fantasy Meets Rust Belt Reality
For at least some Trump voters, MAGA was a promise to restore the kind of economy we had 40 or 50 years ago — an economy that still offered lots of manly jobs in manufacturing and mining. Unfortunately for those who trusted Mr. Art of the Deal, Trump never had any idea how to deliver on that promise. And even if he had a clue about policymaking, he couldn't have changed the long-term trajectory of our economy, which is moving steadily away from making physical stuff and toward providing services.
As a result, Trump, who cares above all about image, is now getting headlines that make a mockery of his campaign posturing — headlines about closing auto plants and lost jobs. Now, autos are a special case; overall manufacturing employment is still rising, although not especially fast. But relative to his grand promises, what's happening is an embarrassing bust.
Why was the vision of revived manufacturing nonsense? Talking about what Donald Trump doesn't know is, of course, a vast task, since his ignorance is both broad and deep.
Trump's promise to restore U.S. manufacturing was doomed to fail. Why did he make it in the first place?
For what it's worth, I suspect that in this case Trump wasn't actually trying to scam voters. My guess is that he genuinely believed that he could bring manufacturing, coal mining and so on roaring back, that others had failed to do so only because they weren't tough enough.
You might wonder where his confidence came from, given how little he obviously knows about economics. The answer, probably, is the Dunning-Kruger effect: inept people are often confident in their abilities, because they're too inept to know how badly they're doing.
But the real question isn't whether Trump will ever realize that he doesn't know how to MAGA. It's whether and when his supporters will figure it out. I guess we'll learn the answer in the months ahead. https://www.nytimes.com/2018/11/29/opinion/maga-trump-manufacturing.html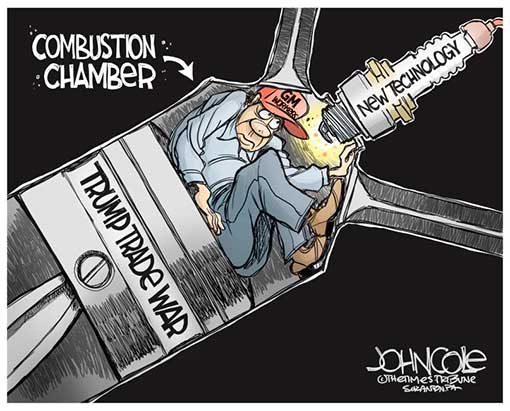 10. Sharon LaFraniere: Mueller Exposes the Culture of Lying That Surrounds Trump
If the special counsel, Robert S. Mueller III, has proved anything in his 18-month-long investigation — besides how intensely Russia meddledin an American presidential election — it is that Mr. Trump surrounded himself throughout 2016 and early 2017 with people to whom lying seemed to be second nature.
They lied to federal authorities even when they had lawyers advising them, even when the risk of getting caught was high and even when the consequences for them were dire.
If the special counsel, Robert S. Mueller III, has proved anything in his 18-month-long investigation — besides how intensely Russia meddledin an American presidential election — it is that Mr. Trump surrounded himself throughout 2016 and early 2017 with people to whom lying seemed to be second nature.
They lied to federal authorities even when they had lawyers advising them, even when the risk of getting caught was high and even when the consequences for them were dire.
Campaign aides often echoed Mr. Trump's pronouncements knowing they were false. People joined the top levels of his administration with the realization that they would be expected to embrace what Mr. Trump said, no matter how far from the truth or how much their reputations suffered. https://www.nytimes.com/2018/12/01/us/politics/trump-mueller-lying.html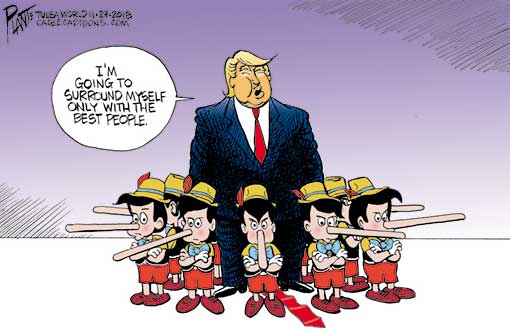 11. Bess Levin: Trump Admits His "Incredible" Deal With China Is Bullshit
At the conclusion of the G20 summit in Argentina, Donald Trump boasted to reporters that he'd managed to strike an "incredible" trade deal with Chinese president Xi Jinping—one that would go down "as one of the largest deals ever made." Among other major feats, the ex-Miss Universe proprietor claimed he'd convinced the Chinese to cut tariffs on U.S.-made cars, which would have been a legitimate coup. This, of course, turned out to be so far from the truth that not even the president's own White House would back it up. China, too, said nothing about lowering tariffs, and Wall Street analysts almost immediately began issuing notes to clients calling bulls--t on the president's "incredible" deal.
Goldman Sachs, for one, noted that "the actual amount of concrete progress made at this meeting appears to have been quite limited." Morgan Stanley pointed out that Trump essentially "agreed to pause tariffs without any meaningful concessions on the toughest negotiating points." And JPMorgan all but called the president a liar and a fraud, writing: "It doesn't seem like anything was actually agreed to at the dinner and White House officials are contorting themselves into pretzels to reconcile Trump's tweets (which seem if not completely fabricated then grossly exaggerated) with reality."
Normally, people calling Trump out on his obvious lies would simply cause him to double down. But on Tuesday, not even the gang at Fox & Friends, a docile group of seals paid to bark and clap approvingly at everything Trump does, were going along with the narrative that his dinner with Xi had resulted in a massive win for America. https://www.vanityfair.com/news/2018/12/trump-admits-his-incredible-deal-with-china-is-bullshit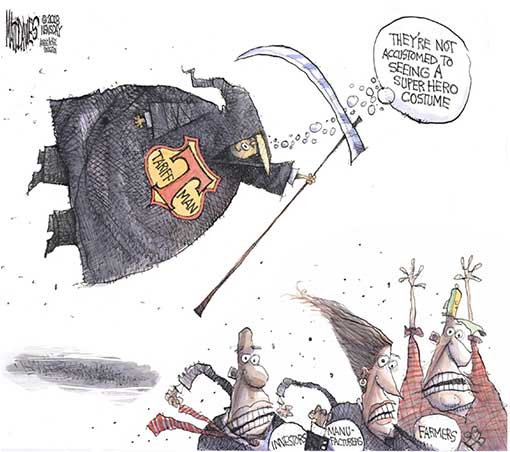 12. Adam Schiff: Trump is compromised. What else is he hiding and who else knows about it?
The most serious of these criminal cases, from a counterintelligence point of view, is that of former national security adviser Michael Flynn. As Acting Attorney General Sally Yates made clear in her testimony to Congress, she felt compelled to alert the White House that Flynn had been dishonest when he denied discussing sanctions with the Russians. Because Flynn had lied to the vice president, the FBI and potentially others about his communications with the Russian ambassador, and the Russians were aware of the lie, it created a "compromise situation," in which Flynn could be "blackmailed."
A national security adviser who could be subject to blackmail by Russia is nearly a worst case counterintelligence scenario. But this week, we learned that the potential for compromise was even more significant than we thought. Donald Trump's longtime personal attorney, Michael Cohen, pleaded guilty to lying to the Intelligence Committee about his efforts on behalf of the Trump Organization to reach a deal and secure financing from a Russian bank under U.S. sanctions to build a Trump Tower Moscow.
In written testimony to our committee, Cohen minimized Trump's personal involvement in the project, and claimed that the Trump Organization had abandoned the Trump Tower Moscow effort by January 2016, when in fact those efforts had continued well into the primary season and through June 2016. He also claimed that when he reached out to the Kremlin for help with the project, he never heard back. In fact, the office of Dmitry Peskov, a Kremlin spokesman close to Putin, did follow up on the Trump proposal, even though Peskov would later deny it in an effort to provide cover for the U.S. president.
There have long been credible allegations that Russian money was laundered through the Trump Organization. If Russia could show that Trump, his business or his immediate family had benefited from tainted money or broken the law — or if Trump believed they could — it would mean that Russia could exert pressure on Trump to influence U.S. foreign policy.
The American people deserve to know that our president is acting in their interest and not his own financial self interest, or because he has been compromised by a foreign power. Now, with a new Democratic majority in the House, we should be able to find out.  https://www.usatoday.com/story/opinion/2018/12/04/donald-trump-michael-flynn-russia-national-security-blackmail-column/2196390002/