July 20, 2023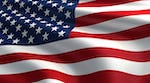 To subscribe to this FREE weekly newsletter simply email jellison@san.rr.com with "subscribe" as the subject.
THE WEEK'S BEST QUOTES. . .
"I think it shows that politicians lie and they know they're lying… The liar knows that people know he's lying, and the people that are being lied to know they're being lied to. That is political reality in 2023." — Sen. Cynthia Lummis (R-WY), on the public's numbness to more possible Trump indictments.
https://twitter.com/igorbobic/status/1681442431164899329
Rep. Andy Biggs (R-AZ) was interviewed on Fox Business by Maria Bartiromo, where he accused President Biden of taking massive bribes with no evidence.
BIGGS: Maria, we're talking literally, it's not $10 million. It's it's well over 20, $30 million. And some estimates as high as $100 million flowing through these accounts.
BARTIROMO: Holy moly!
BIGGS: And so, we have to get to the bottom of it. But we're getting slow-walked ourselves from the administration, obviously, and their partisans and their supporters but this looks more and more sinister every time we look at it…
BARTIROMO: Unbelievable. As much as $100 million taken in by the Biden family is what you just said. https://www.mediaite.com/tv/holy-moly-maria-bartiromo-wowed-by-gop-congressmans-wild-claim-biden-family-could-have-taken-in-100-million
"Man-made chemicals in the environment could be making children gay or transgender and causing the feminization of boys and masculinization of girls,"— Robert F. Kennedy Jr..
https://www.cnn.com/2023/07/13/politics/robert-kennedy-jr-chemicals-water-children-frogs/index.html
"COVID-19. There is an argument that it is ethnically targeted. COVID-19 attacks certain races disproportionately. COVID-19 is targeted to attack Caucasians and black people. The people who are most immune are Ashkenazi Jews and Chinese." — Robert F. Kennedy Jr.
https://nypost.com/2023/07/15/rfk-jr-says-covid-was-ethnically-targeted-to-spare-jews/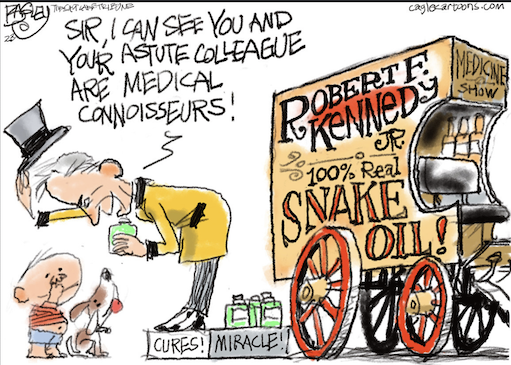 "There is no way in hell I will attend Israeli President Isaac Herzog's address to a joint session of Congress next week." — Rep. Ilhan Omar (D-MN) criticized the Israeli president over the country's human rights violations and for representing "the most right wing government in Israel's history." She also accused Israel's government of "essentially putting a nail in the coffin of peace and a two-state solution."
https://www.usatoday.com/story/news/politics/2023/07/13/ilhan-omar-protest-israel-president-isaac-herzog/70409610007/
"This is a national security issue. It's a readiness issue. And, we shouldn't kid ourselves. I think any member of the Senate Armed Services Committee knows that." -- Defense Secretary Lloyd Austin told CNN that Sen. Tommy Tuberville's (R-AL) holds on hundreds of senior military nominations are a "national security issue."
https://www.cnn.com/2023/07/13/politics/lloyd-austin-tommy-tuberville/index.html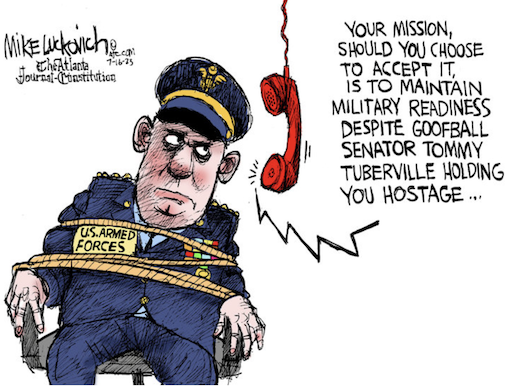 "At some point, Trump's base is going to start thinking about actually winning. I also think they're going to start noticing that the only people who lionize Trump are the people who actually haven't really worked with and seen him in action." — Former Attorney General William Barr. https://www.washingtonpost.com/lifestyle/2023/07/12/chris-christie-2024-campaign-against-trump/

MTG, who was a NO last night on defense bill, just told us that Speaker McCarthy gave her a spot on the House-Senate conference committee — which is why she voted for the bill.-- CNN's Manu Raju. https://twitter.com/mkraju/status/1679874902721978368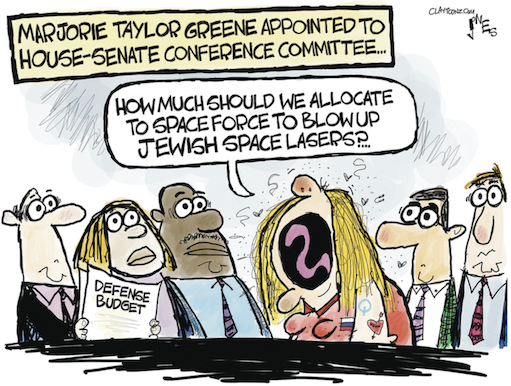 "I'd give a respectful word of caution to all the groups that are opposing what No Labels wants to do in 2024. They obviously have the right to oppose us. But if they begin to take action that's aimed at blocking us from achieving our constitutional right to gain access to the ballot for a third ticket, they're really running the risk of not only unconstitutional but illegal behavior." — Former Sen. Joe Lieberman (I-CT).
https://www.washingtonpost.com/politics/2023/07/14/joe-lieberman-has-warning-no-labels-critics/
"Cancel culture has gone too far in Temecula: radicalized zealots on the school board rejected a textbook used by hundreds of thousands of students and now children will begin the school year without the tools they need to learn. If the school board won't do its job by its next board meeting to ensure kids start the school year with basic materials, the state will deliver the book into the hands of children and their parents — and we'll send the district the bill and fine them for violating state law." — Governor Gavin Newsom.
https://www.gov.ca.gov/2023/07/13/temecula-do-your-job/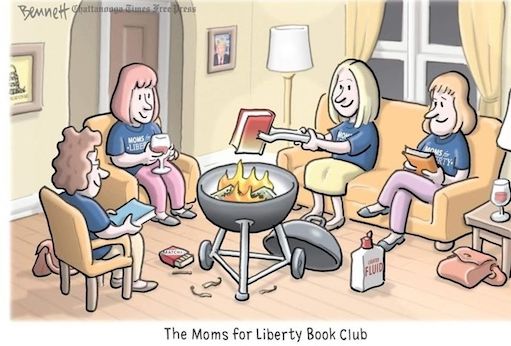 "A fistfight could break out at any moment… I am friends with both of them. It's entertaining to think that a fistfight could break out at any movement. I kind of dig that."  — Rep. Tim Burchett (R-TN) on the stand-off between Rep. Marjorie Taylor Greene (R-GA) and Rep. Lauren Boebert (R-CO).
https://www.thedailybeast.com/the-standoff-between-marjorie-taylor-greene-and-lauren-boebert-is-worse-than-you-think
"If you're a Democrat, after Donald Trump, there's no Republican in the country you want to beat more than me." — Sen. Ted Cruz (R-TX).
https://www.politico.com/news/2023/07/18/cruz-scott-hawley-democrats-00106674
"I'm having more 'rational Republicans' coming up to me and saying, 'I just don't know how long I can stay in this party.' Now our party is becoming known as a group of kind of extremist, populist over-the-top people where no one is taking us seriously anymore." — Sen. Lisa Murkowski (R-AK).
https://www.msn.com/en-us/news/politics/gop-senators-rattled-by-radical-conservative-populism/ar-AA1dXSUY
"This is absolute bullshit. This is weaponized government. Democrats can't win an election so they have to arrest their political opponents." — Rep. Marjorie Taylor Greene (R-GA), who later called Special Counsel Jack Smith "a weak little bitch for the Democrats."
https://themessenger.com/politics/republicans-back-trump-as-possible-third-indictment-looms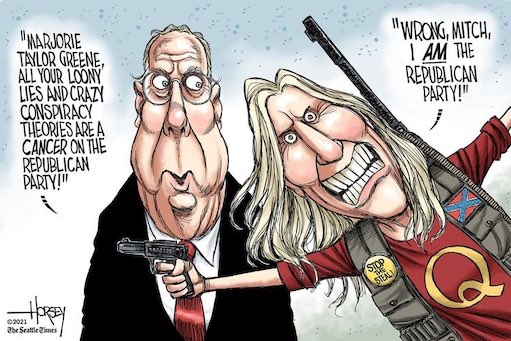 VIDEOS ...-
"I will be introducing legislation under my name to defund Jack Smith's investigations into Donald Trump because "they are attacking our democracy." — Rep. Matt Gaetz (R-FL). https://twitter.com/AccountableGOP/status/1681371901766008843
"I don't snort cocaine, it's not my thing." — Trump Jr. https://twitter.com/acyn/status/1680641720382558209

"Come on. Guy is 78-years-old. I'd kick his ass. I would "fight Donald Trump anywhere he wants in any arena he wants. Whether it's on a debate stage, or in the octagon." — Chris Christie telling Piers Morgan that he'd make quick work of Donald Trump in a physical fight between the two. https://thehill.com/homenews/campaign/4097810-christie-says-hed-fight-trump-id-kick-his-a/

"Think about how far this White House has fallen from the last president to this president. Not only do you have people flashing in the Rose Garden -- now you have cocaine being found." — Kevin McCarthy to Maria Bartiromo. https://twitter.com/atrupar/status/1679105118153715712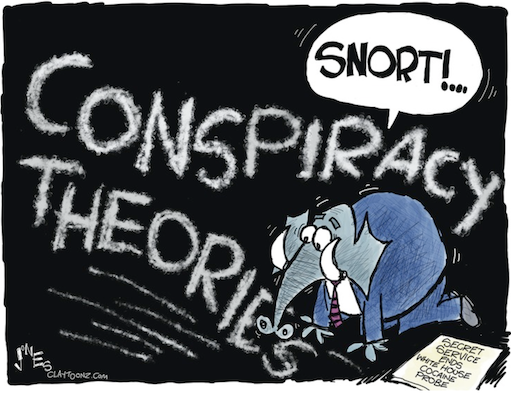 "If you don't go, you'll be called a coward, a chicken — reduced to throwing spitballs from the sidelines. So, Donald, you need to decide, are you a chicken or just a loser?" — A group supporting Chris Christie's television ad trying to goad Donald Trump into a debate.
https://www.youtube.com/watch?v=ZKzC0Y8nqaI
---
IN THIS ISSUE
IN THE NEWS
OPINION
Andy Borowitz: DeSantis Demands NATO Withdraw from Disney's "It's A Small World" Ride
In an effort to establish his foreign-policy credentials, Ron DeSantis urged all nato countries to "immediately withdraw" from Disney World's "It's a Small World" ride.
Claiming that Disney had perpetrated an "illegal woke invasion of Florida," the Governor identified the "Small World" ride as the "tip of Disney's liberal spear."
"The Evil Empire of Disney is trying to spread the ideology that 'there's so much that we share,' " he said. "Not on my watch, there isn't."
He said that, if NATO did not withdraw from "It's a Small World," he would instruct Florida state troopers to raid the ride and "seize your dolls."
"It will not be a world of laughter," he warned. "It will be a world of tears."
https://www.newyorker.com/humor/borowitz-report/
Special Counsel's Jan. 6 Target Letter to Trump Mentions Conspiracy, Tampering
The special counsel's letter to Donald Trump related to Jan. 6 listed the federal statutes under which Trump is expected to be charged, including conspiracy, obstruction, and civil rights violations.
The letter mentions three federal statutes: Conspiracy to commit offense or to defraud the United States; deprivation of rights under color of law; and tampering with a witness, victim, or an informant. It does not offer further details, nor does it detail how the special counsel believes Trump may have violated the statutes.

The letter does not mention statutes on sedition or insurrection… Trump is the only person named in the letter. https://www.rollingstone.com/politics/politics-features/trump-target-letter-special-counsel-conspiracy-tampering-1234791030/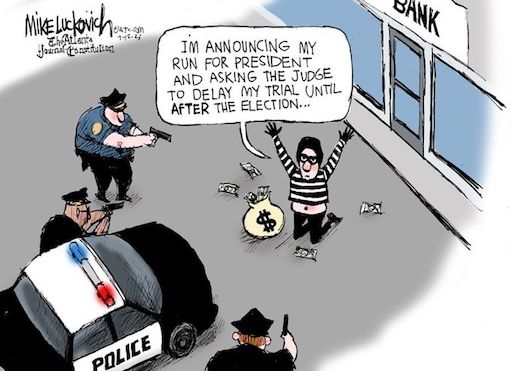 House GOP seeks billions in cuts to rail, water infrastructure spending
A series of GOP bills to finance the federal government in 2024 would wipe out billions of dollars meant to repair the nation's aging infrastructure, potentially undercutting a 2021 law that was one of Washington's rare recent bipartisan achievements. The proposed cuts could hamstring some of the most urgently needed public-works projects across the country, from improving rail safety to reducing lead contamination at schools.
Some of the cuts would be particularly steep: Amtrak, for example, could lose nearly two-thirds of its annual federal funding next fiscal year if House Republicans prevail. That includes more than $1 billion in cuts targeting the highly trafficked and rapidly aging Northeast Corridor, which runs between Boston and Washington, prompting Amtrak's chief to sound early alarms about service disruptions.
https://www.washingtonpost.com/business/2023/07/18/republican-spending-bills-infrastructure-cuts/
Texas troopers told to push back migrants into Rio Grande River and ordered not to give water amid soaring temperatures, report says
Officers working for Gov. Greg Abbott's border security initiative have been ordered to push small children and nursing babies back into the Rio Grande, and have been told not to give water to asylum seekers even in extreme heat, according to an email from a Department of Public Safety trooper who described the actions as 'inhumane.The July 3 account discloses several previously unreported incidents the trooper witnessed in Eagle Pass, where the state of Texas has strung miles of razor wire and deployed a wall of buoys in the Rio Grande.
https://www.houstonchronicle.com/politics/texas/article/border-trooper-migrants-wire-18205076.php.
No Labels Says It's Not a Political Party. But It's Setting Up State Parties.
No Labels, the self-professed centrist group that is preparing to possibly run its own presidential candidate in 2024, says it is not a political party. That means it does not have to reveal the donors that have pumped tens of millions of dollars in recent years into its coffers. Parties must disclose their funders; nonprofit outfits, as No Labels claims to be, do not.
But in several states, No Labels has established an affiliate that explicitly declares it is a political party, and some of these groups, particularly the party it set up in Florida, have deep Republican roots.
https://www.motherjones.com/politics/2023/07/no-labels-is-setting-up-state-parties-2024/
GOP donors fuel RFK Jr's presidential campaign
According to a Popular Information analysis of Robert F. Kennedy Jr.'s first FEC filing, the lion's share of Kennedy's biggest donors have previously only donated to Republicans.
https://popular.info/p/gop-donors-fuel-rfk-jrs-presidential
Trump and Allies Forge Plans to Increase Presidential Power in 2025
Donald Trump and his allies are planning a sweeping expansion of presidential power over the machinery of government if voters return him to the White House in 2025, reshaping the structure of the executive branch to concentrate far greater authority directly in his hands.
Their plans to centralize more power in the Oval Office stretch far beyond the former president's recent remarks that he would order a criminal investigation into his political rival, President Biden, signaling his intent to end the post-Watergate norm of Justice Department independence from White House political control.
Mr. Trump and his associates have a broader goal: to alter the balance of power by increasing the president's authority over every part of the federal government that now operates, by either law or tradition, with any measure of independence from political interference by the White House, according to a review of his campaign policy proposals and interviews with people close to him.
https://www.nytimes.com/2023/07/17/us/politics/trump-plans-2025.html
The Electoral College is the big factor in a third-party nightmare for Democrats
Democrats are rightly spooked by the prospect of credible third-party candidates this cycle… But there is one point of solace for Democrats: Voters in battleground states have been less likely to vote third party in recent elections than those in less competitive states.
None of the top 20 states for third-party voting in the past two presidential elections is broadly considered a swing state, and only three of the top 20 were states where the winning candidate's margin in 2020 was within single digits: Minnesota (No. 11, Biden +7), Maine (No. 13, Biden +9) and Iowa (No. 19, Trump +8).
https://www.politico.com/news/2023/07/15/electoral-college-third-party-democrats-00106472
Trump Indictments Sparked Threats Linked to Russians, Extremists
Donald Trump's criminal indictments in New York and Miami sparked a barrage of threats from his extremist supporters and alleged Russian hackers including bomb threats, protest plans and other forms of violence.
None of the threats materialized, but the 85 pages obtained under the Freedom of Information Act provide a behind-the-scenes look at how federal agents responded to the threats.
https://www.bloomberg.com/news/articles/2023-07-14/trump-criminal-charges-over-classified-documents-led-to-threats-of-violence#xj4y7vzkg
Kari Lake's 'Frivolous' Election Suit Sparks $122,200 Sanctions Penalty
Failed Arizona gubernatorial candidate Kari Lake must pay a $122,200 sanctions penalty together with her attorney Alan Dershowitz and fellow far-right candidate Mark Finchem for pursuing a "frivolous" lawsuit seeking to overturn her 2022 midterm defeat, according to a federal judge's order issued Friday.
https://themessenger.com/politics/kari-lakes-dershowitz-finchem-frivolous-election-suit-sanctions-penalty
Florida Republicans target voter registration groups with thousands in fine
Florida Republicans have hit dozens of voter registration groups with thousands of dollars of fines, the latest salvo in an alarming crackdown on voting in the state led by Governor Ron DeSantis.
At least 26 groups have cumulatively racked up more than $100,000 in fines since September of last year, according to a list that was provided by Florida officials to the Guardian. The groups include both for-profit and nonprofit organizations as well as political parties, including the statewide Republican and Democratic parties of Florida.
https://www.theguardian.com/us-news/2023/jul/13/florida-fines-voter-registration-groups
Trump Aide Walt Nauta May Pay the Ultimate Price for Loyalty
On the morning of July 6, Donald Trump's valet Walt Nauta plead not guilty to helping the former president hide classified documents at Mar-a-Lago and obstructing justice.
The tragic irony is that Nauta's loyalty to Trump seems born from the service ethos he learned in the military. Even though Nauta retired from the Navy in 2021 and now works for a civilian former president, he allegedly followed Trump's orders to move boxes as if Trump were still the commander in chief. Walt still serves the president as if he never took off the uniform, longtime Trump adviser Michael Caputo says.
https://www.vanityfair.com/news/2023/07/walt-nauta-donald-trump-indictment-mar-a-lago-classified-documents
Arizona escalates probe into alleged efforts to swing election for Trump
Arizona's top prosecutor is ramping up a criminal investigation into alleged attempts by Republicans to overturn the 2020 presidential election results in the state by signing and transmitting paperwork falsely declaring Donald Trump the winner.
Arizona Attorney General Kris Mayes (D) assigned a team of prosecutors to the case in May, and investigators have contacted many of the pro-Trump electors and their lawyers.
https://www.washingtonpost.com/national-security/2023/07/13/investigation-2020-election-results-arizona-trump/
Biden's Economic Dream Is Becoming Reality
On Thursday the latest consumer price index numbers revealed inflation cooling to 3% — its lowest rate since March 2021.

"it's the latest in a string of economic developments that's bolstered the administration's confidence it can set the U.S. on a glide path without first plunging it into a downturn," Adam Cancryn reports.
Top Biden advisers are reluctant to be seen as taking a full victory lap. Even as they hit the road touting Bidenomics, they have their eyes to three big potential storms on the horizon: (1) the mass resumption of student loan payments coming this fall; (2) a likely government shutdown later this year; and (3) the possibility that additional interest rate hikes could still push the economy into a downturn. https://www.politico.com/newsletters/playbook/2023/07/13/why-biden-is-smiling-this-week-00106072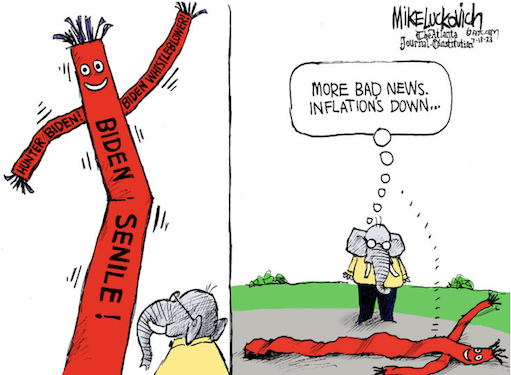 A Third-Party Candidate Might Help Trump — And Spoil The Election For Biden
Initial evidence suggests that, in a rematch between Biden and Trump, a No Labels and/or West campaign could pull marginal support from Biden and subtly shift the election toward Trump.
Whether this would actually make for a potential spoiler, though, is a different question: History — and common sense — suggest that these possible third-party candidates would be most likely to affect the outcome if the overall race were close. But in our deeply divided political era, close elections have been the norm, which makes a spoiler candidacy a live possibility.
https://fivethirtyeight.com/features/third-party-candidate-spoiler-trump-biden/
Arizona Man Cited in Conspiracy Theories Sues Fox News for Defamatio
Ray Epps, the man at the center of a widespread conspiracy theory about the attack on the Capitol on Jan. 6, 2021, filed a lawsuit on Wednesday accusing Fox News and its former host Tucker Carlson of defamation for promoting a 'fantastical story' that Mr. Epps was an undercover government agent who instigated the violence at the Capitol as a way to disparage then-President Trump and his supporters.
https://www.nytimes.com/2023/07/12/business/ray-epps-fox-tucker-carlson-lawsuit.html
Hunter Biden's lawyer sends cease-and-desist letter to Trump over social media posts
An attorney for Hunter Biden sent a cease-and-desist letter on Thursday to former President Donald Trump's legal team, claiming that Trump's rhetoric on social media and elsewhere could lead to Hunter Biden's or his family's injury.
https://abcnews.go.com/Politics/hunter-bidens-lawyer-sends-cease-desist-letter-trump/story
Far-right Twitter influencers first on Elon Musk's monetization scheme
On Thursday Twitter announced that it would begin sharing ad revenue with content creators on its platform for the first time. But the offer won't apply to all creators, the Washington Post reports.
The first beneficiaries appear to be high-profile far-right influencers who tweeted before the announcement how much they've earned as part of the program. Ian Miles Cheong, Benny Johnson and Ashley St. Clair all touted their earnings.
Wow. Elon Musk wasn't kidding. Content monetization is real, tweeted an anonymous account called End Wokeness, with 1.4 million followers, accompanied by a screenshot showing earnings of over $10,400.
So far, many of the influencers who have publicly revealed that they're part of the program are prominent figures on the right. Andrew Tate, for example, who was recently released from jail on rape and human trafficking charges ,https://www.nytimes.com/2023/04/03/world/europe/andrew-tate-house-arrest-romania.html>, posted that he'd been paid over $20,000 by Twitter.
This is a nice turnaround from being banned by Twitter 1.0 for almost 2 years to now being paid to post Thank you @elonmusk, tweeted far-right influencer Rogan O'Handley, known as DC Draino.
https://www.washingtonpost.com/technology/2023/07/13/twitter-creators-payments-right-wing/
The US sets a grim milestone with a new record for the deadliest six months of mass killings
This year's unrelenting bloodshed across the U.S. has led to the grimmest of milestones: The deadliest six months of mass killings recorded since at least 2006.
From Jan. 1 to June 30, the nation endured 28 mass killings, all but one of which involved guns. The death toll rose just about every week, a constant cycle of violence and grief.
Six months. 181 days. 28 mass killings. 140 victims. One country.
https://apnews.com/article/mass-killings-record-gun-violence-0174103c37756fe4d247fd15cd3bc009
Trump asks Georgia courts to disqualify DA Fani Willis and quash report on 2020 election
Donald Trump asked two courts in Georgia to disqualify Fulton County District Attorney Fani Willis from investigating him and quash the special grand jury report that recommended criminal charges in Willis' 2020 election interference probe.
In both, Trump's attorneys argued that Willis seeks an indictment against Trump based on evidence that was unlawfully obtained.
https://www.cnbc.com/2023/07/14/trump-asks-court-to-disqualify-georgia-da-fani-willis-toss-2020-election-report.html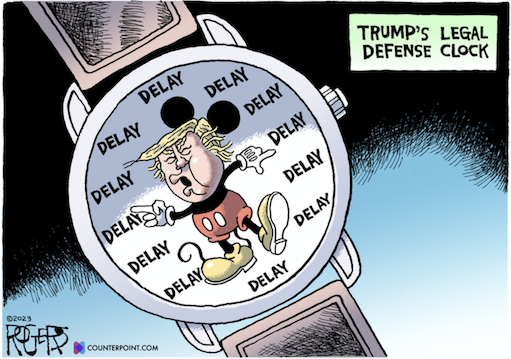 Donald Trump has told supporters not to just see him as a candidate but as your retribution.
Trump's unprecedented campaign pitch: Elect me to get revenge on the government
In his comeback bid for the White House, the former president -- twice impeached but twice acquitted and now twice indicted -- has vowed that if reelected, he will wield his power to personally remake parts of the federal government to a degree that historian Mark Updegrove said was unprecedented. Trump has promised to hamstring perceived enemies, including in the Department of Justice, which is currently investigating him, and target Republican bogeymen like President Joe Biden.
He swore in June to appoint a special prosecutor to go after the Bidens and that he would totally obliterate the deep state, referring to a conspiratorial view of how the government operates.
This is the final battle. ... Either they win or we win, he said in March.
https://abcnews.go.com/Politics/trumps-unprecedented-2024-campaign-pitch-elect-revenge-government/story
Americans Are Widely Pessimistic About Democracy in the United States
A new AP-NORC poll finds that only about 1 in 10 U.S. adults give high ratings to the way democracy is working in the United States or how well it represents the interests of most Americans.
https://apnews.com/article/poll-democracy-partisanship-trump-biden-trust-221f2b4f6cf9805f766c9a8395b9539d
Special counsel blasts Trump's bid to delay documents trial until 2024 election
Special counsel Jack Smith's team sharply rebuked Donald Trump's bid to postpone until after the 2024 election his criminal trial for allegedly hoarding classified documents, characterizing the former president's call for delay as unfounded and one of his key legal arguments as 'borderline frivolous.
https://www.politico.com/news/2023/07/13/special-counsel-trump-trial-date-00106268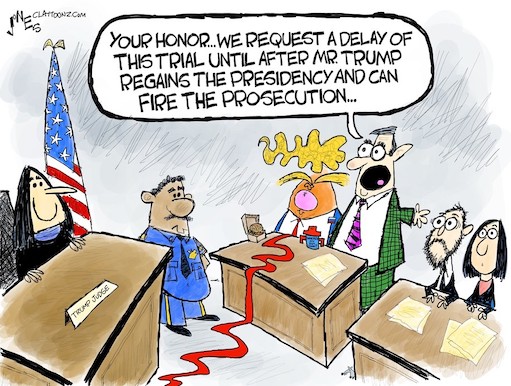 Biden Administration to Forgive $39 Billion in Student Debt
The US Department of Education will forgive $39 billion in student debt by updating a technical requirement under a long-existing program, Bloomberg reports.
The change, announced Friday, will help more than 804,000 borrowers. It comes as the Biden administration pursues alternatives to a $400 billion student loan forgiveness plan that the Supreme Court struck down in June.
https://www.bloomberg.com/news/articles/2023-07-14/biden-administration-will-forgive-39-billion-in-student-debt#xj4y
IRS Collected $38 Million from 175 Tax Delinquents
The IRS is showcasing its new capability to aggressively audit high-income tax dodgers as it makes the case for sustained funding and tries to avert budget cuts sought by Republicans who want to gut the agency.
IRS leaders said they collected $38 million in delinquent taxes from more than 175 high-income taxpayers in the past few months.
In one case, an individual had used money owed to the government to buy a Maserati and a Bentley, and roughly 100 high-income people tried to get favorable tax treatment through Puerto Rico without meeting certain tax requirements. Many of those cases are expected to face criminal investigation.
https://apnews.com/article/irs-tax-treasury-yellen-0b3240e16760753f1ed6479a060a1b2b
Tucker Carlson Is Creating a New Media Company
Former Fox News host Tucker Carlson and former White House adviser Neil Patel are seeking to raise funds to start a new media company that would potentially use Twitter as its backbone, the Wall Street Journal reports.
The new company would be anchored by longer versions of the free videos that Carlson has been posting regularly on Twitter since shortly after his departure from Fox News, but would ultimately be driven by subscriptions.
Carlson and Patel are looking to raise hundreds of millions of dollars to fund the company.
https://www.wsj.com/articles/tucker-carlson-is-creating-a-new-media-company-8e21b909
THE DAILY GRILL ...
I hope it wasn't too problematic for your operational team and your private jet to get here.. — Rep. Cory Mills, R-Fla. https://www.foxnews.com/politics/kerry-erupts-private-jet-travel-mocked-house-hearing-denies-owning-one

VERSUS

We don't own a private jet. I don't own a private jet. I personally have never owned a private jet. And obviously it's pretty stupid to talk about coming in a private jet from the State Department up here. I just honestly, if that's where you want to go, go. — Kerry:  https://www.foxnews.com/politics/kerry-erupts-private-jet-travel-mocked-house-hearing-denies-owning-one



'DeSanctis' opposed my China tariffs — the ones where I gave you $28 billion, by the way. That was just a small portion of what we took in — we took in hundreds of billions of dollars from China. … Very simply, 'DeSanctis' sided with the communists in China. I sided with the farmers of America. — Donald Trump, campaigning in Council Bluffs, Iowa. https://www.washingtonpost.com/politics/2023/07/13/trump-conjures-up-phony-dispute-with-ron-desantis-over-china-tariffs/

VERSUS

The Trump campaign is clipping a few isolated moments from some interviews, while ignoring others that undercut its narrative. It's especially absurd for Trump to elevate this into an attack that DeSantis sided with the communists in China instead of American farmers. There is no evidence that backs up that incendiary claim. Trump earns Four Pinocchios. — Glenn Kessler, the Washington Post Fact Checker https://www.washingtonpost.com/politics/2023/07/13/trump-conjures-up-phony-dispute-with-ron-desantis-over-china-tariffs/



Robert F. Kennedy Jr. dished out wild Covid-19 conspiracy theories this week during a press event at an Upper East Side restaurant, claiming the bug was a genetically engineered bioweapon that may have been 'ethnically targeted' to spare Ashkenazi Jews and Chinese people. https://nypost.com/2023/07/15/rfk-jr-says-covid-was-ethnically-targeted-to-spare-jews/

VERSUS

That Kennedy would ultimately echo the anti-Semitic assumptions of his conspiratorial cohort was inevitable. Indeed, he is far from the first traveler on the well-trodden path from conspiracism to outright anti-Semitism. In recent years, individuals as diverse as Marjorie Taylor Greene, Kyrie Irving, and Elon Musk have graduated from garden-variety conspiracy theories to anti-Jewish arguments. Even the content of Kennedy's COVID-19 conjecture isn't original: Jews have been blamed for spreading plagues for centuries, most famously during Europe's Black Death. https://www.theatlantic.com/ideas/archive/2023/07/rfk-kennedy-covid-anti-semitism/674727/
Michelle Cottle: It's Getting Really Awkward for Speaker Kevin McCarthy 
Some days, Speaker Kevin McCarthy must look out over his House conference in awe and think: Are you maniacs trying to lose us the majority?
Thursday may well have been one of those days, as hard-right crusaders larded up the National Defense Authorization Act with divisive, culture-warring amendments taking aim at abortion access, transgender medical care and diversity training. The annual N.D.A.A. usually garners solid bipartisan support, passing without excessive turbulence for the past 60 years. Last week, the House Freedom Caucus and its allies labored to insert more poison pills into the package than a back-alley fentanyl mill. After much drama, and much futile pleading by Mr. McCarthy with his right flank, the House passed the bill Friday, 219 to 210, on a mostly party-line vote.
Rest assured, the spectacle is far from over.
The odds of the bill's extreme measures passing muster with the Democratic Senate and White House are worse than Mike Pence's odds of winning the presidency next year. So, less than zero. But House conservatives aren't aiming to make serious policy gains here — at least, not the conservatives who understand how a divided government works. They are looking to make trouble, to prove they are loud, uncompromising fighters for the conservative cause. They are also looking to make a point, one directed in no small part at Mr. McCarthy, with whom they remain spitting mad over the debt-ceiling deal he negotiated with Democrats in May. And if they need to imperil their nascent majority to make that point, then so be it. Life is full of difficult trade-offs.
https://www.nytimes.com/2023/07/17/opinion/house-republicans-mccarthy.html
Jonathan Weisman: Tucker Carlson Turns a Christian Presidential Forum Into a Putin Showcase
Bob Vander Plaats, the conservative evangelical kingmaker in Iowa politics, now knows what happens when you turn over your Republican presidential showcase to Tucker Carlson.

Jesus is out. Vladimir V. Putin is in.

Mr. Carlson was given the task of interviewing six Republican presidential hopefuls at the Family Leadership conference in Des Moines on Friday. Consequently, Russia's invasion of Ukraine became the dominant issue of debate, on a day when Gov. Kim Reynolds of Iowa used the event to sign a near-total abortion ban into law.

In the hands of Mr. Carlson, the former Fox News host who was recently fired, Ukraine became the bad actor in the conflict, not Russia.

The most heated exchange came when Mr. Carlson interviewed former Vice President Mike Pence before a packed auditorium in Des Moines' convention center. Mr. Pence was berating the Biden administration for being too slow to provide advanced weaponry to Ukraine.

We promised them 33 Abrams tanks in January. I heard again two weeks ago in Ukraine, they still don't have them, Mr. Pence said. We've been telling them we'll train their F-16 pilots, but now they're saying maybe January.

Mr. Carlson interjected, to the delight of much of the audience. Wait, I know you're running for president, but you are distressed that Ukrainians don't have enough American tanks? he asked, in his trademark confrontational style.

For good measure, Mr. Carlson called Ukraine an American client state, accused Ukraine's Jewish leader, Volodymyr Zelensky, of persecuting Christians and strongly indicated Mr. Pence had been conned, despite evidence to the contrary.

Mr. Pence was not alone. Senator Tim Scott, Republican of South Carolina, argued that by degrading Russia's military, American aid to Ukraine was making the United States stronger and more secure.

Mr. Carlson responded with a signature dismissive response.
The total body count from Russia in the United States is right around zero; I don't know anyone who's been killed by Russia, Mr. Carlson said. I know people personally who have been killed by Mexico, he said, adding, Why is Mexico less of a threat than Russia? https://www.nytimes.com/2023/07/14/us/politics/republicans-iowa-tucker-carlson-ukraine.html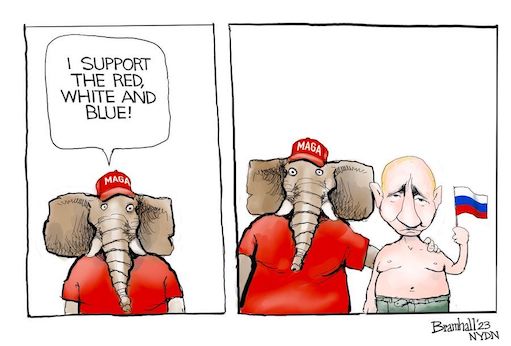 Amy Walter: More Trump Indictments Could Impact The GOP Primary Race
It's hard to believe that voters who have stuck with Trump through all of his current legal troubles — including two indictments and a battery and defamation lawsuit — are going to suddenly abandon him if a Georgia grand jury indicts him later this summer for alleged voter interference in the 2020 election.
However, some Republican strategists I've spoken with argue that the weight of Trump's legal troubles is taking an unseen toll. Republicans are rallying behind Trump because they see him being unfairly attacked. But, defending him is different from voting for him. Many of these GOP voters are weary of the chaos and the drama that engulfs the former president. And, every new indictment, court appearance or controversy reminds those voters that if they vote for Trump, this is exactly what they will get for another four years.
https://www.cookpolitical.com/analysis/national/national-politics/three-things-watch-summer-could-impact-gop-primary-race
Dan Balz: House Republicans wage 'woke' culture wars with the military
For decades, bipartisan majorities in Congress approved the annual defense authorization bill that funds the military and national security priorities. That long-standing practice collapsed this week under the weight of a right-wing effort to turn the measure into the latest arena in the culture wars.
The vote in the House on Friday signaled that no area of public policy may now be insulated from the debates over abortion, transgender policies and other cultural issues that have become central to the Republican Party's agenda. Unity around one of the most important responsibilities of the federal government — national security — gave way to the demands of a faction that wields great influence over Speaker Kevin McCarthy (R-Calif.) and his unruly conference.
The anti-woke initiatives in the defense bill echo what Republicans have done in some states where they control both the legislature and the governor's office, including restricting how the country's racial history can be taught in schools and limiting discussion of gender and identity for schoolchildren.
https://www.washingtonpost.com/politics/2023/07/15/house-republicans-culture-wars-military/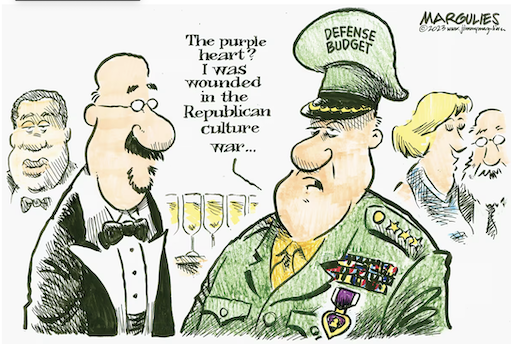 Sarah Kaplan: Floods, fires and deadly heat are the alarm bells of a planet on the brink
The world is hotter than it's been in thousands of years, and it's as if every alarm bell on Earth were ringing.

The warnings are echoing through the drenched mountains of Vermont, where two months of rain just fell in only two days. India and Japan were deluged by extreme flooding.

They're blaring from the scorching streets of Texas, Florida, Spain and China, with a severe heat wave also building in Phoenix and the Southwest in coming days.

They're burbling up from the oceans, where temperatures have surged to levels considered beyond extreme.

And they're showing up in unprecedented, still-burning wildfires in Canada that have sent plumes of dangerous smoke into the United States.

Scientists say there is no question that this cacophony was caused by climate change — or that it will continue to intensify as the planet warms. Research shows that human greenhouse gas emissions, particularly from burning fossil fuels, have raised Earth's temperature by about 1.2 degrees Celsius (2.2 Fahrenheit) above preindustrial levels. Unless humanity radically transforms the way people travel, generate energy and produce food, the global average temperature is on track to increase by more than 3 degrees Celsius (5.4 Fahrenheit), according to the Intergovernmental Panel on Climate Change — unleashing catastrophes that will make this year's disasters seem mild. https://www.washingtonpost.com/climate-environment/2023/07/12/climate-change-flooding-heat-wave-continue/
NOTE: A study in Nature Medicine finds that more than 61,000 people died because of last year's brutal summer heat waves across Europe. https://www.nature.com/articles/s41591-023-02419-z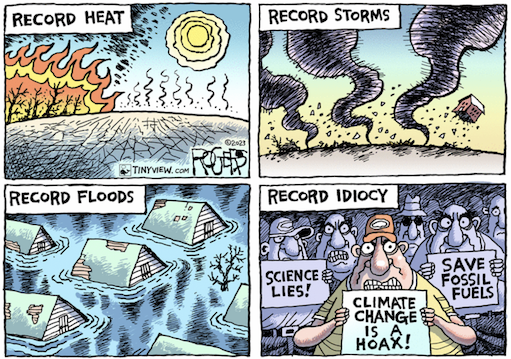 Molly Jong-Fast: Yes, Joe Biden Is Old. Is That All Republicans Have to Run On?
It seems that Republicans are obsessed with Biden's age because that's pretty much all they have to run on in 2024. In recent election cycles, Republicans could run on opposing mask mandates (no longer relevant); crime (the murder rate is falling); the Southern border (ending Title 42 was supposed to result in a sea of migrants, yet daily crossings are significantly down); inflation (also down), opposition to abortion (they already got Roe overturned, a politically unpopular move); and anti-LGBTQ+ rights. Sure, Republicans will still exaggerate the potential crisis that crime and inflation and unchecked immigration could pose, and stoke fears about "wokeness" run amok. But it'll be harder to sell such talking points to journalists—and importantly—voters.
Whereas Biden is actually old. A May 2023 NPR/PBS NewsHour/Marist poll showed that "almost 4 in 10 Democrats said his mental fitness was a real concern as did 7 in 10 independents and, as expected, more than 8 in 10 Republicans." The president's age is certainly fair game in covering the upcoming election; Vanity Fair, for one, has explored the issue.

But that doesn't mean Biden's status as an octogenarian is going to propel Republicans back to the White House. Because the Biden age discourse only works if he's running against a much younger candidate, like Florida governor Ron DeSantis (44), Miami mayor Francis Suarez, or tech bro Vivek Ramaswamy (37). And while some in the GOP field—along with one self-described Democrat—are trying to out-push-up each other in a kind of testosterone primary, it increasingly looks like Donald Trump's nomination to lose. Maybe these guys have a shot if Trump gets hit by lightning, though it's just as easy to see the 77-year-old former guy keep going and win the nomination anyway.

In 2020, Trump and his allies tried making the case that Biden wasn't up to the job of being president. "We can't lock ourselves up in a basement like Joe does," Trump said during the final debate. "He has this thing about living in a basement." Republicans lowered expectations for Biden's speaking ability so much so that it actually helped him, as his debate performances defied expectation by many multiples. Trumpworld was bitten by its own bizarre tactic. Biden often says, "don't compare me to the Almighty. Compare me to the alternative." And he's absolutely right. When it comes to Trump, Biden looks like a spry, energetic Lincoln. Add to that, the twice-impeached Trump is also facing the enormous stress of multiple criminal indictments (with January 6–related charges potentially on the way).

None of us know what will happen in the future. So much of punditry is trying to make predictions that don't make you look like a moron when the future suddenly takes a wild turn, as it often does. We could see a completely different presidential contest than 2020, but it's looking more and more like we'll see 2020 Part Two. This means that political parties have a chance to learn from their mistakes, but Republicans probably won't, as they appear poised to nominate Trump despite all of his baggage. They think they can nail Biden on his age and make voters vote against him for it. Voter turnout is typically highest among people over the age of 65, so by making Biden's age a central focus, Republicans risk alienating these very voters.

It's hard for Republicans to pick on Biden when their own guy seems winded driving a golf cart, but hypocrisy has never stopped Republicans before. https://www.vanityfair.com/news/2023/07/joe-biden-donald-trump-gop-2024-election
Alexander Bolton: GOP senators rattled by radical conservative populism
Republican senators say they're worried that conservative populism, though always a part of the GOP, is beginning to take over the party, becoming more radical and threatening to cause them significant political problems heading into the 2024 election.
GOP senators are saying they're being increasingly confronted by constituents who buy into discredited conspiracy theories such as the claim that Democrats stole the 2020 presidential election or that federal agents incited the Jan. 6, 2021, attack on the U.S. Capitol.  

Growing distrust with government institutions, from the FBI, CIA and Department of Justice to the Centers for Disease Control and National Institutes of Health, make it more difficult for Republican lawmakers to govern.

There are an astonishing number of people in my state who believe the election was stolen, said one Republican senator who requested anonymity to talk about the growing popularity of conservative conspiracy theories at home. https://thehill.com/homenews/senate/4098609-gop-senators-rattled-by-radical-conservative-populism/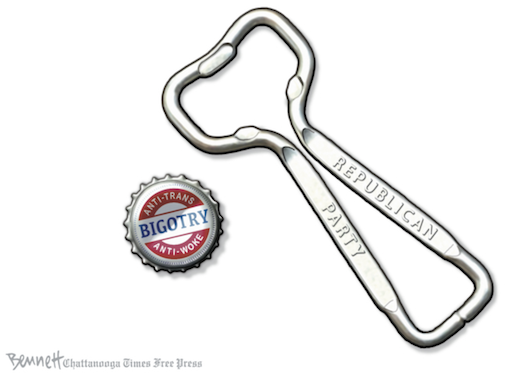 Catherine Rampell: Republicans lob a bomb of cynicism at our soldiers
Why would Republicans want the military to prepare for real wars when fighting culture wars is so much more fun?
Perhaps the best way to summarize GOP priorities these days is merely promotion of cultural grievances and fearmongering. Certainly there have been many policies — so-called bathroom bills, anti-immigrant measures, book bans, anti-drag legislation — playing up the culture wars, particularly at the state level.
But at the federal level, the GOP seems to have another broad objective, too: throwing sand in the gears of government, and sowing government dysfunction wherever possible.
After all, the House bill's culture-war measures are probably dead on arrival in the Democratic-controlled Senate. Maybe this means that at the other end of this process, legislators will have worked out a more normal, bipartisan, cultural-grievance-free bill. Perhaps more likely, unresolvable conflict over the defense bill will help precipitate a government shutdown, which some Republican lawmakers have openly signaled they want.
Culture wars and chaos: the brand conservatives can get behind.
https://www.washingtonpost.com/opinions/2023/07/18/house-republicans-defense-bill-amendments/