March 14, 2019
ON THE RECORD. . .
The Girl Scouts are celebrating the victory won by their alums in the 2018 midterms on its website, beginning with their star, Alexandra Ocasio-Cortez, who attributes much of her success to what she learned as part of this organization. So before you decide to embrace an International Women's Day celebration or buy the cookies, ask yourself, "Will the country be better off with more representatives like the young socialist Alexandra Ocasio-Cortez?"— Jane Chastin in WND.
"If you start to see this president use pardon power for people who are connected with this investigation, I think you'll see Congress erupt." — Sen. Tim Kaine (D-VA)
"I think the question should be, is Fox state-run TV or is the White House state-run government by Fox TV?" — CNN President Jeff Zucker
"I wake up every day thinking I must still be asleep. I tell myself this must just be a crazy nightmare and that I hope I can remember to tell people about it when I wake up. Then, I assume when I do tell people about it, they will laugh and say, wow, can you imagine if he were actually president. That's how I think the Trump presidency is going." — Former Obama aide Nick Shapiro, in an interview with Politico.
Sen. Marco Rubio (R-FL) sounded the alarms in a tweet about an electrical blackout in Venezuela, but the response from a journalist is priceless:
MARCO RUBIO: Today another transformer explosion at the German Dam in Bolivar State caused another massive blackout.
GERMAN DAM: Senator @marcorubio, an important transformer exploded in Bolívar and that, in part, again collapsed the Venezuelan Electric System; however it was not in a dam, much less german. My name is Germán Dam, I am one of the journalists who published the information.
Pence's understanding of religious text "has a lot more to do with sexuality and, I don't know, a certain view of rectitude. But even if you buy into that, how could he allow himself to become the cheerleader of the porn star presidency? Is it that he stopped believing in scripture when he started believing in Donald Trump? I don't know, I don't know." — Pete Buttigieg, responding to a question about whether Pence would be a better president than Trump.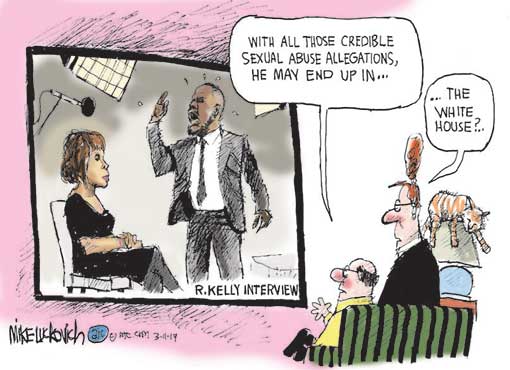 "I'm not for impeachment. This is news. I'm going to give you some news right now because I haven't said this to any press person before. But since you asked, and I've been thinking about this: Impeachment is so divisive to the country that unless there's something so compelling and overwhelming and bipartisan, I don't think we should go down that path, because it divides the country. And he's just not worth it." — Speaker Nancy Pelosi
"Congress refused to fund his wall and he was forced to admit defeat and reopen the government. The same thing will repeat itself if he tries this again. We hope he learned his lesson." — Speaker Nancy Pelosi (D-CA) and Senate Minority Leader Chuck Schumer (D-CA), in response to reports Trump is seeking $8.6 billion for a border wall in a new budget request.
"The Democrats hate Jewish people."—Trump telling RNC donors that he didn't understand how any Jew could vote for a Democrat these days.
At a recent round table meeting of business executives, & long after formally introducing Tim Cook of Apple, I quickly referred to Tim + Apple as Tim/Apple as an easy way to save time & words. The Fake News was disparagingly all over this, & it became yet another bad Trump story! — Donald J. Trump@realDonaldTrump
Donald Trump signing bibles is like Hannibal Lecter signing cookbooks. —Adam Best@adamcbest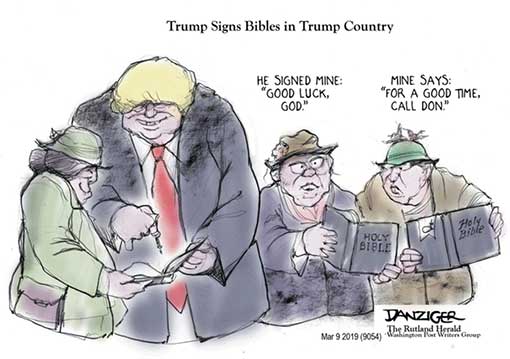 ---
IN THIS ISSUE
FYI
OPINION
1. Andy Borowitz: Obama Demands to See Trump's Elementary-School Diploma
Former President Barack Obama ignited a firestorm of controversy on Wednesday by demanding to see President Donald Trump's elementary-school diploma.

Speaking to reporters in Washington, Obama called on Trump to prove "once and for all" that he had completed a K-through-five program.

"While the U.S. Constitution does not require the President to have graduated from fifth grade, it would still be nice to know that he had done so," Obama said.

By insisting on the release of Trump's diploma, Obama joined a growing movement of so-called schoolers, who contend that Trump never attended school.

Schoolers' demands to see documentation of Trump's elementary-school attendance have yet to sway the White House, which has released only a short version of Trump's second-grade report card, with the grades completely redacted.

Obama revealed that he had hired forensic detectives to study Trump's utterances and tweets to determine the extent of his verifiable schooling, but, so far, they had found "no proof" of a fifth-grade education.

"Donald Trump claims that he attended elementary school," Obama said. "All I'm asking is, where's the evidence?" https://www.newyorker.com/humor/borowitz-report/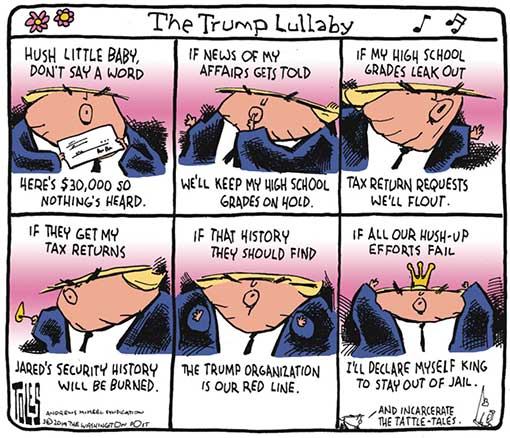 2. The biggest political scandal in American history
Even without seeing Robert Mueller's report, or knowing what prosecutors with the Southern District of New York have unearthed, or what congressional investigators will find, we already have witnessed the biggest political scandal in American history.
Historians tell Axios that the only two scandals that come close to Trump-Russia are Watergate, which led to President Richard Nixon's resignation in 1974, and the Teapot Dome scandal of the early 1920s, in which oil barons bribed a corrupt aide to President Warren Harding for petroleum leases."
"Mueller has already delivered one of the biggest counterintelligence cases in U.S. history… Watergate yielded more charges than Mueller has so far… But historians say that both Watergate and Teapot Dome were more limited because a foreign power wasn't a central player, and a much narrower band of potential offenses was under investigation. https://www.axios.com/donald-trump-russia-mueller-investigation-scandal-c3023a26-b2b9-443b-aee5-ded4f0e6bc44.htm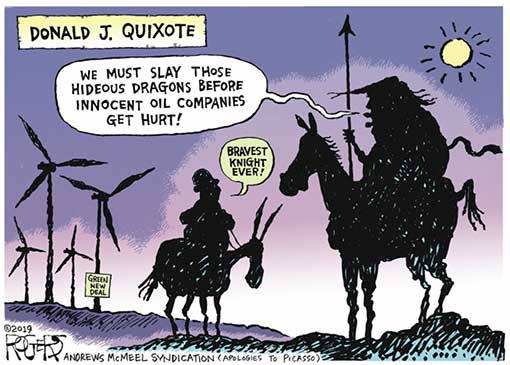 3. New York Attorney General Opens Investigation of Trump Projects
"The New York attorney general's office late on Monday issued subpoenas to Deutsche Bank and Investors Bank for records relating to the financing of four major Trump Organization projects and a failed effort to buy the Buffalo Bills of the National Football League in 2014," the New York Times reports.
The inquiry opens a new front in the scrutiny of Deutsche Bank, one of the few lenders willing to do business with Donald Trump in recent years. The bank is already the subject of two congressional investigations and was examined last year by New York banking regulators, who took no action. https://www.nytimes.com/2019/03/11/nyregion/deutsche-bank-trump.html
4. New York Charges Manafort With 16 Crimes. If He's Convicted, Trump Can't Pardon Him.
Paul J. Manafort, President Trump's former campaign chairman, has been charged in New York with mortgage fraud and more than a dozen other state felonies, the Manhattan district attorney, Cyrus R. Vance, Jr., said Wednesday, an effort to ensure he will still face prison time if Mr. Trump pardons him for his federal crimes.
News of the indictment came shortly after Mr. Manafort was sentenced to his second federal prison term in two weeks; he now faces a combined sentence of more than seven years for tax and bank fraud and conspiracy in two related cases brought by the special counsel, Robert S. Mueller III.
The president has broad power to issue pardons for federal crimes, but has no such authority in state cases. https://www.nytimes.com/2019/03/13/nyregion/manafort-indictment.html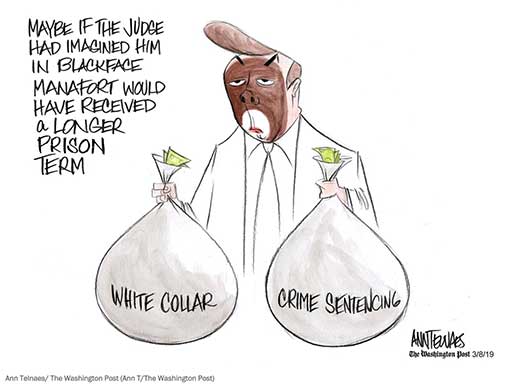 5. 'An Otherwise Blameless Life'
Franklin Foer takes issue with Paul's lenient sentence and the judge's assertion that the convict "has lived an otherwise blameless life."
In an otherwise blameless life, he helped the Philippine President Ferdinand Marcos bolster his image in Washington after he assassinated his primary political opponent. In an otherwise blameless life, he worked to keep arms flowing to the Angolan generalissimo Jonas Savimbi, a monstrous leader bankrolled by the apartheid government in South Africa… In otherwise blameless life, he produced a public-relations campaign to convince Washington that Ukrainian President Viktor Yanukovych was acting within his democratic rights and duties when he imprisoned his most compelling rival for power. In an otherwise blameless life, he stood mute as Yanukovych's police killed 130 protesters in the Maidan."
"In an otherwise blameless life, he attempted to phone a potential witness in his trial, so that they could align their stories… In an otherwise blameless life, he acted with impunity, as if the laws never applied to him… And with Ellis's featherweight punishment, Manafort managed to bring his life's project to a strange completion. He had devoted his career to normalizing corruption in Washington. By the time he was caught, his extraordinary avarice had become so commonplace that not even a federal judge could blame him for it. https://www.theatlantic.com/ideas/archive/2019/03/paul-manaforts-otherwise-blamess-life-crime/584419/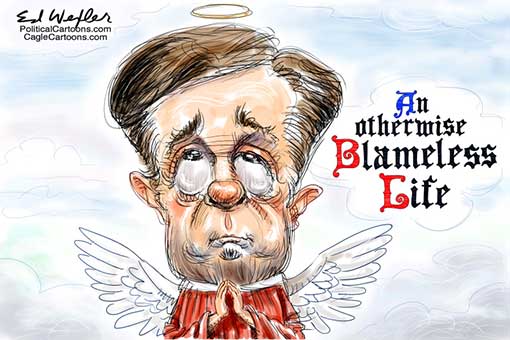 6. The DAILY GRILL
A quick survey of the crimes for which Manafort, 69, is spending at least a part of the next decade in prison: conspiracy to defraud the United States, witness tampering, five counts of tax fraud, and two counts of bank fraud. During the trial, prosecutors put forward evidence that the lobbyist hid more than $55 million he made in Ukraine in 30 overseas bank accounts, and lied to banks about his finances to obtain millions more in loans. -- NY Magazine

VERSUS

• For context on Manafort's 47 months in prison, my client yesterday was offered 36-72 months in prison for stealing $100 worth of quarters from a residential laundry room. --Scott Hechinger@ScottHech

•Judge Ruben Gonzalez, a state district court judge, sentenced a Texas woman to five years in prison for voting illegally because she was a felon on probation. — NY Times

 

So what could possibly have convinced these people that a man of Trump's unquestionable integrity would even consider something so unethical as using his pardon power to get free one of his former aides from accountability in an investigation in which he himself is under suspicion? — Paul Waldman

VERSUS

As has been stated by numerous legal scholars, I have the absolute right to PARDON myself, but why would I do that when I have done nothing wrong? In the meantime, the never ending Witch Hunt, led by 13 very Angry and Conflicted Democrats (& others) continues into the mid-terms! -- Donald J. Trump@realDonaldTrump
 

 

Bad lawyer and fraudster Michael Cohen said under sworn testimony that he never asked for a Pardon. His lawyers totally contradicted him. He lied! Additionally, he directly asked me for a pardon. I said NO. He lied again! He also badly wanted to work at the White House. He lied! -- Donald J. Trump@realDonaldTrump

VERSUS

Just another set of lies by @POTUS @realdonaldtrump. Mr. President...let me remind you that today is #InternationalWomensDay. You may want use today to apologize for your own #lies and #DirtyDeeds to women like Karen McDougal and Stephanie Clifford. -- Michael Cohen@MichaelCohen212

 

At a recent round table meeting of business executives, & long after formally introducing Tim Cook of Apple, I quickly referred to Tim + Apple as Tim/Apple as an easy way to save time & words. The Fake News was disparagingly all over this, & it became yet another bad Trump story! -- Donald J. Trump@realDonaldTrump

VERSUS

Correction, correction: When Donald Trump said "Tim Apple" in that meeting with Tim Cook of Apple, he meant "Tim/Apple." The slash was silent. He was just saving time. Look, he really, really wanted you to know that, so he tweeted about it. — Kenzie Bryant in Vanity Fair
7. From MEDIA MATTERS (They watch Fox News so you don't have to)
Fox's "news" team is an essential cog in a corrupt propaganda machine. The Fox network's reinvention as state TV has rendered it utterly appalling. Everyone at Fox is complicit in what the network has become. https://www.mediamatters.org/blog/2019/03/07/foxs-news-team-essential-cog-corrupt-propaganda-machine/223071

Tucker Carlson compares judge's gag order in Roger Stone case to The Inquisition and Nazi Germany. Carlson: "Judge Amy Jackson, who is an actual judge, is now threatening Roger Stone with prison time, because he wrote a new introduction to his book that says unflattering things about Robert Mueller." https://www.mediamatters.org/video/2019/03/06/tucker-carlson-compares-judge-s-gag-order-roger-stone-case-inquisition-and-nazi-germany/223068

Fox guest: Millennials turn to socialism because "they have attended a high school." Marion Smith: "You do see that in high schools. Howard Zinn, a Marxist historian is the most assigned historian. Karl Marx is the most assigned economist."https://www.mediamatters.org/video/2019/03/07/fox-guest-millennials-turn-socialism-because-they-have-attended-high-school/223075

Fox's Charles Hurt: Democrats are "the party of live-birth abortion, sanctuary cities, socialism, and now human smuggling."  we're supposed to have borders, but you have Democrats -- it's combination of being basically a party of sanctuary cities and no borders, but also you combine that with their hatred of Donald Trump and their refusing to do the most basic job and they're becoming the party of live-birth abortion, sanctuary cities, socialism, and now human smuggling. https://www.mediamatters.org/video/2019/03/07/foxs-charles-hurt-democrats-are-party-live-birth-abortion-sanctuary-cities-socialism-and-now-human/223074

On Fox, former Border Patrol chief says they don't use "cages," just "chain link fence" for "safety and security." https://www.mediamatters.org/video/2019/03/07/fox-former-border-patrol-chief-says-they-dont-use-cages-just-chain-link-fence-safety-and-security/223072

Leaked chat messages show members of white supremacist group Identity Evropa are obsessed with Tucker Carlson. Chats show extremists claim Carlson has "done more for" white supremacists than they "could ever hope to." https://www.mediamatters.org/blog/2019/03/08/leaked-chat-messages-show-members-white-supremacist-group-identity-evropa-are-obsessed-tucker/223083

Laura Ingraham and Pat Buchanan warn that immigration will change "the whole character and composition of the nation." Buchanan: "We're becoming a different country without consulting the American people, who never voted for any of this ... you're talking about the destiny of a country." https://www.mediamatters.org/video/2019/03/08/laura-ingraham-and-pat-buchanan-warn-immigration-will-change-whole-character-and-composition-nation/223089

Laura Ingraham guest says 600,000 slaves were brought to America but 620,000 people died in the Civil War so reparations are unnecessary. https://www.mediamatters.org/video/2019/03/08/laura-ingraham-guest-says-600000-slaves-were-brought-america-620000-people-died-civil-war-so/223091
8. From the Late Shows
The Late Show with Stephen Colbert: Trump Might Regret Becoming President: https://youtu.be/OEzKQi1sq8A

Late Night with Seth Meyers: College Cheating Scandal and Paul Manafort's Sentencing: A Closer Look: https://youtu.be/BwtedTHdyNQ

The Late Show with Stephen Colbert; President Trump Simplifies Air Force One: https://youtu.be/Qok2pFhcvnc
9. Republicans don't waver on whether they like Trump. Just on how much.
As we have learned more about Trump, one article of faith has been reinforced over and over again: Republicans are sticking with him.
Consider a poll question from Monmouth University, published this week.
"In general," the pollsters asked, "do you think there is any new information that could ever come out about President Trump that would significantly change public opinion of him, or do you think people are set in their opinions regardless of what new information may come out?" This question followed a battery of questions about former Trump attorney Michael Cohen's testimony before a House committee last week, but it is itself broad. It is not about Russia or Trump's business: It is about anything.
Three in 10 respondents said some information could come out that might change public opinion on Trump. Two-thirds said nothing could move opinion numbers. Among Republicans, though, 1 in 5 thought something might emerge to change public opinion on Trump, and more than three-quarters said it would not.
Trump is now and always has been likely to win most Republican votes in that election as he did three years ago. That blank letterhead has been filled in with things that are specifically designed to keep Republicans happy.
It simply means most Americans and most Republicans are probably right: Whatever else is to come from Trump's presidency, his base will stay his base. https://www.washingtonpost.com/politics/2019/03/07/republicans-dont-waver-whether-they-like-trump-just-how-much/
10. 'Not my fault': Trump struggles to defend his record amid setbacks on immigration, trade, North Korea
President Trump proclaimed in a freewheeling speech to a conference of conservatives last weekend that "America is winning again." But his administration has been on a pronounced losing streak over the past week.
Trump is losing ground on top priorities to curb illegal immigration, cut the trade deficit and blunt North Korea's nuclear threat — setbacks that complicate his planned reelection message as a can-do president who is making historic progress.
Late last week, Trump flew home empty-handed from a summit with North Korean leader Kim Jong Un in Hanoi — and, within days, new satellite images appeared to show that the North was secretly rebuilding a rocket-launching site.
On Tuesday, the Department of Homeland Security announced that unauthorized border crossings have spiked to the highest pace in 12 years — despite Trump's hard-line rhetoric and new policies aimed at deterring migrants.
And on Wednesday, the Commerce Department said that the nation's trade deficit is at a record high — in part due to punitive tariffs Trump imposed on allies and adversaries. Trump vowed throughout his 2016 campaign and during his presidency to shrink the trade deficit, which he views as a measure of other nations taking advantage of the United States. https://www.washingtonpost.com/politics/not-my-fault-trump-struggles-to-defend-his-record-amid-setbacks-on-immigration-trade-north-korea/2019/03/06/19ab2ca4-4026-11e9-a0d3-1210e58a94cf_story.html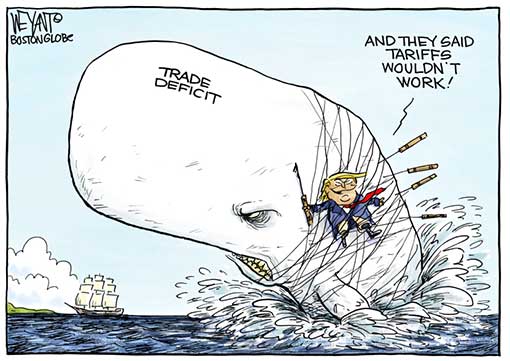 11. Trump Seeks Huge Premium From Allies Hosting U.S. Troops
For years, President Donald Trump has complained that countries hosting American troops aren't paying enough. Now he wants to get even, and then some.
Under White House direction, the administration is drawing up demands that Germany, Japan and eventually any other country hosting U.S. troops pay the full price of American soldiers deployed on their soil -- plus 50 percent or more for the privilege of hosting them, according to a dozen administration officials and people briefed on the matter.
In some cases, nations hosting American forces could be asked to pay five to six times as much as they do now under the "Cost Plus 50" formula
https://www.bloomberg.com/news/articles/2019-03-08/trump-said-to-seek-huge-premium-from-allies-hosting-u-s-troops
12. The 2020 Path Democrats Shouldn't Take
According to First Read, just 9 percent of independents and 13 percent of moderates view socialism favorably, a flashing red light for Democrats contemplating embracing that approach.
It is very clear, listening to Trump as well as to GOP strategists, that they are building up democratic socialism as the straw man to knock down in this campaign. Their goal obviously is to make electing a Democratic president an unacceptable alternative to Trump. So it basically comes down to whether Democrats want this election to be about Trump or about embarking on a new and different philosophical direction. One of those paths seems to be very risky. — Charlie Cook https://cookpolitical.com/analysis/national/national-politics/2020-path-democrats-shouldnt-take
13. A 'Beat Trump' Fervor Is Producing Big Turnouts for 2020 Democrats
As the already large presidential field grows by the week, the enthusiasm that propelled Democrats to a decisive takeover of the House in the midterms is still surging, driving crowd sizes and intensity typically seen in the days before the first caucuses and primaries, not a year ahead of them. Powered by an almost desperate yearning to oust President Trump, and galvanized by the most diverse field in presidential primary history, Democrats are packing into gymnasiums, churches and exhibition halls to hear candidates speak — even if they are far from committed to supporting the candidate they are showing up to see.
Early polling data underscores the displays of grass-roots enthusiasm: A recent University of New Hampshire survey showed that more than 60 percent of Democrats said they were "extremely interested" in the primary, significantly higher than they reported at this stage in each of the last three cycles. Overall, half of those polled in the state said they were "extremely interested" in the primary.
While the energy has been uplifting for many of the candidates, it has also posed something of a challenge for anyone looking to gauge early-stage popularity: Because voters are showing up in such high numbers and cheering so enthusiastically, even for lesser known candidates, the traditional measures of excitement — crowd size, noise — no longer distinguish individual contenders. (Two candidates who have yet to join the race, Beto O'Rourke and former Vice President Joseph R. Biden, are expected to bring big crowds in their own right.) https://www.nytimes.com/2019/03/08/us/politics/trump-democrats-2020-election.html
14. Ex-Mercenary CEO Erik Prince Admits To Trump Tower Meet With Don Jr., Saudi Emissary
Erik Prince, former head of mercenary business Blackwater, revealed in a bombshell interview Friday that he attended a meeting in Trump Tower with Donald Trump Jr. and a representative of Saudi Arabia and the United Arab Emirates to discuss "Iran policy" during the presidential campaign.
The interview marked the first time Prince has publicly acknowledged such a meeting. Prince said in congressional testimony in 2017 that he had no "official" or "unofficial" role in the campaign — other than a "yard sign" and writing "papers" — according to the transcript of his testimony before the House intelligence committee. Nor did he mention the meeting in his testimony, according to transcripts.
The New York Times reported last year that Prince organized the 2016 meeting at Trump Tower with Donald Trump's eldest son and Lebanese-American businessman George Nader. Nader revealed at the meeting that the United Arab Emirates and Saudi Arabia wanted to aid Trump in his bid for the presidency, according to the newspaper.
The meeting also reportedly included now-top White House aide Stephen Miller and Israeli social media expert Joel Zamel.
The August meeting is yet another secret huddle with a representative of foreign governments that may have provided illegal international aid to sway the American election. Just months earlier Donald Jr. and the president's son-in-law and now senior White House aide Jared Kushner met at Trump Tower with a Russian lawyer connected to the Kremlin. https://www.huffpost.com/entry/erik-prince-donald-trump-jr-trump-tower-meeting-suadi-arabia_n_5c834ed7e4b08d5b7861d58d
15. ICE Is Detaining 50,000 People, an All-Time High
For the first time in its history, the U.S. government is detaining more than 50,000 people it says are undocumented immigrants in jails and prisons around the country.
According to a figure provided to Capitol Hill and made available to The Daily Beast, Immigration and Customs Enforcement has set an all-time record–the latest in its string of broken records concerning immigrants detained–is 50,049 people as of Wednesday, March 6. The figure includes both single adults and whole families behind bars. After initial publication of this piece, ICE confirmed the detentions figure.
It isn't clear where ICE would have found the money for the increase. A year ago, when passing ICE's most recent budget, legislators explicitly instructed the interior-immigration agency to cap detentions at 40,520. Instead, by the summer ICE had surpassed that total, leading its Department of Homeland Security parent to raid its other accounts, including FEMA, to float ICE. A Senate appropriator–the last sort of person an executive agency wishes to anger come budget season–called ICE out for continuing a policy of "maximum cruelty." https://www.thedailybeast.com/ice-is-detaining-50000-people-a-new-all-time-high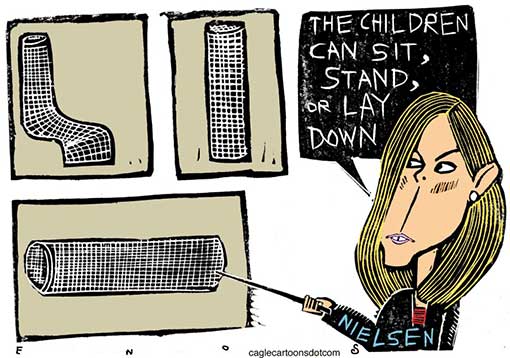 16. Russian Trolls Shift Strategy to Disrupt U.S. Election in 2020
Russian internet trolls appear to be shifting strategy in their efforts to disrupt the 2020 U.S. elections, promoting politically divisive messages through phony social media accounts instead of creating propaganda themselves.
"The Kremlin-linked Internet Research Agency may be among those trying to circumvent protections put in place by companies including Facebook Inc. and Twitter Inc. to find and remove fake content that hackers created to sow division among the American electorate in the 2016 presidential campaign." https://www.bloomberg.com/news/articles/2019-03-09/russian-trolls-shift-strategy-to-disrupt-u-s-election-in-2020
17. GOP meddles in Democratic nomination with takedown of O'Rourke
A prominent conservative group is thrusting itself into the Democratic primary with a TV ad assailing Beto O'Rourke — a move that comes as Republicans consider a broader campaign to meddle in the opposing party's contest to take on President Donald Trump.
The anti-tax Club for Growth is expected to begin airing a two-minute commercialin Iowa this week aimed at dampening liberal support for O'Rourke, who's expected to enter the race any day. The spot paints the former Texas congressman as a politician dripping with "white male privilege" who's undeserving of the comparisons he's drawing to Barack Obama.
"With a charmed life like his, you can never really lose," the ad concludes. "That's why Beto's running for president — because he can."
The offensive represents the GOP's first concerted effort to wreak havoc in the Democratic race, and it arrives as senior Republicans have begun deliberating how the party should seek to influence the Democratic primary. With President Donald Trump's job approval mired in the low- to mid-40s, Republicans are starting to focus on ensuring he faces as weak a candidate as possible. https://www.politico.com/story/2019/03/10/beto-orourke-2020-attack-1214805
18. A Florida Massage Parlor Owner Has Been Selling Chinese Execs Access to Trump at Mar-a-Lago
Cindy Yang, a Florida entrepreneur who founded a chain of spas and massages parlors that included the one where New England Patriots owner Robert Kraft was arrested recently for allegedly soliciting prostitution, also runs a consulting business that has offered to sell Chinese clients access to President Trump and his family at Mar-a-Lago, Mother Jones reports.
Yang, a donor to the Republican Party and Trump campaign, popped up this week in photos showing her at a Super Bowl viewing party at the Trump-owned Mar-a-Lago that included a selfie with the president. https://www.motherjones.com/politics/2019/03/a-florida-massage-parlor-owner-has-been-selling-chinese-execs-access-to-trump-at-mar-a-lago/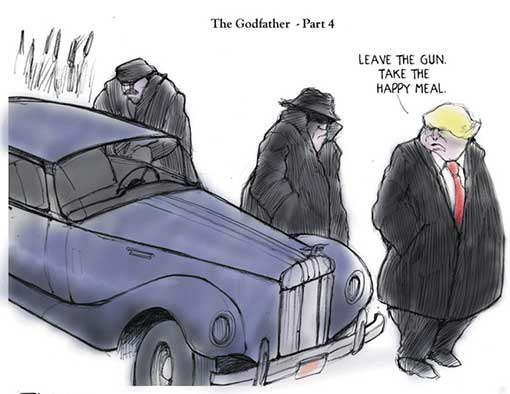 19. U.S. Continues to Separate Migrant Families Despite Rollback of Policy
Nearly nine months after the Trump administration officially rescinded its policy of separating migrant families who have illegally crossed the border, more than 200 migrant children have been taken from parents and other relatives and placed in institutional care, with some spending months in shelters and foster homes thousands of miles away from their parents.
The latest data reported to the federal judge monitoring one of the most controversial of President Trump's immigration policies shows that 245 children have been removed from their families since the court ordered the government to halt routine separations under last spring's "zero tolerance" border enforcement policy. Some of the new separations are being undertaken with no clear documentation to help track the children's whereabouts. https://www.nytimes.com/2019/03/09/us/migrant-family-separations-border.html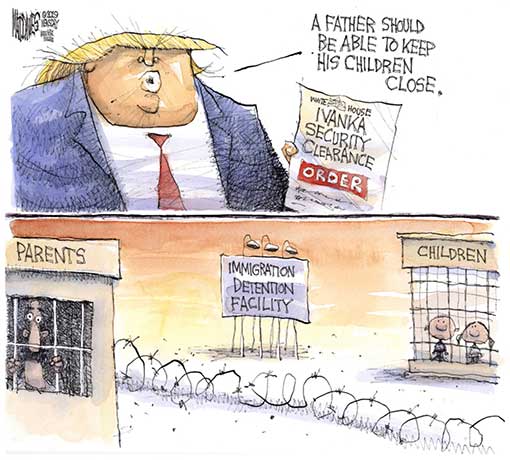 20. Trump Will Close International Immigration Offices
The Trump administration is preparing to shutter all 21 international offices of U.S. Citizenship and Immigration Services, a move that could slow the processing of family visa applications, foreign adoptions and citizenship petitions from members of the military. https://www.washingtonpost.com/national/trump-administration-preparing-to-close-international-immigration-offices/2019/03/12/e8db2be4-44d3-11e9-aaf8-4512a6fe3439_story.html
1. John Cassidy: The White House's New Budget Exposes Donald Trump's Lies About Protecting Medicare and Medicaid
I've noted before that Donald Trump lives by a famous dictum from Joseph Goebbels, the Nazi propagandist: "When one lies, one should lie big, and stick to it." (Goebbels attributed this tactic to the English.) And the President has outdone himself with his Administration's new budget proposal for the 2020 fiscal year, which is entitled "A Budget for a Better America:. Promises Kept. Taxpayers First."
Promises kept" has a particularly nice ring to it. Almost as nice as what Trump said on that fateful day, June 16, 2015, when he descended the escalator at Trump Tower. "Save Medicare, Medicaid, and Social Security without cuts," he declared. "Have to do it." Throughout the Republican primary campaign, Trump repeated this pledge many times and also accused his G.O.P. opponents of wanting to slash the three big entitlement programs. In the general-election campaign, he stuck to the same mantra. A few days before Election Day, he suggested that Hillary Clinton wanted to "destroy" Medicare, the public health-care system for the elderly, which she had vowed to expand, and claimed that he alone would "protect" it.
So how does the "Budget for a Better America" treat Medicare and the other programs that Trump vowed to safeguard at all costs? By calling for even larger cuts to them than the White House proposed this time last year, when it formally abandoned Trump's campaign pledges. The budget for the 2019 fiscal year called for five hundred and fifty billion dollars in cuts to Medicare over ten years. With the budget deficit skyrocketing as a consequence of the Trump-G.O.P. tax bill, the 2020 budget would reduce spending on Medicare by eight hundred and forty-five billion dollars over the next decade. Even in Washington, that's a lot of money.
No surprise there, you might say. It's been clear from the beginning that Trump was selling snake oil and that his pledge to protect the safety net was about as valuable as a certificate from Trump University. But it is instructive, nonetheless, to see his mendacity expressed in cold numbers, and it also raises an interesting political question. https://www.newyorker.com/news/our-columnists/the-white-houses-new-budget-exposes-donald-trumps-lies-about-protecting-medicare-and-medicaid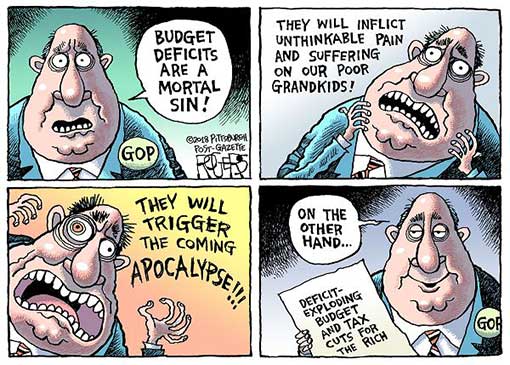 2. Greg Sargent: Trump's emerging reelection strategy: Double down on failure and lies
It is not my purpose here to predict that Trump will lose. He very well could win reelection. Trump will retain some advantages of incumbency, and as David Byler notes, it might not take that much to nudge his approval into reelection territory, particularly if the economy remains relatively good.
Instead, I want to highlight a crucial difference between 2016 and 2020 in light of Trump's vow to run again on his virulent nationalism. The difference this time is that the American electorate has seen what this means in practice and has recoiled.
In 2016, one could squint at Trump's nationalist immigration and trade policies and see a different kind of Republican, one who wasn't in thrall to conventional GOP economic orthodoxy. This was surely helped by Trump's vows to bring health-care coverage to everybody, to protect social insurance for the elderly and to take on economic elites.
But now the horrors of Trump's immigration agenda have been vividly illustrated for all to see. The results: Immigrant children in cages, families broken up by deportations, mass protests over his thinly veiled Muslim ban and a wall obsession that's nothing short of pathological. All this surely drove away swing voters in the midterms — Trump made those elections all about his immigration agenda — yet Trump appears unable to grasp that this rejection happened.
Beyond this, though, Trump's economic nationalism is failing. Asylum-seeking families have spiked, unmasking cruel deterrence as an unnecessary and ineffective disaster. This is also true on trade: The trade deficit in goods has ballooned, a huge pratfall by his own (demented) metric. Trade wars have not proved "good and easy to win" because the issue turns out to be far more complicated than he ever allowed. Now he'll probably make a face-saving deal with China, getting few concessions even as all the damage this has done is unlikely to be forgotten.
On top of all that, Trump went all in with GOP economic orthodoxy, trying to strip health care from millions and signing an enormous tax giveaway to corporations, both of which have proved deeply unpopular, and also helped fuel the GOP loss in the midterms.
In short, Trump's economic nationalist agenda has proved to be both a failure and a fraud. This is the prism through which swing voters will likely judge his promise of four more years of the same. Yet Trump appears certain that for those voters, he can make 2020 all about the Democrats' alleged "socialism," and not about his own disastrous presidency. https://www.washingtonpost.com/opinions/2019/03/11/trumps-emerging-reelection-strategy-double-down-failure-lies/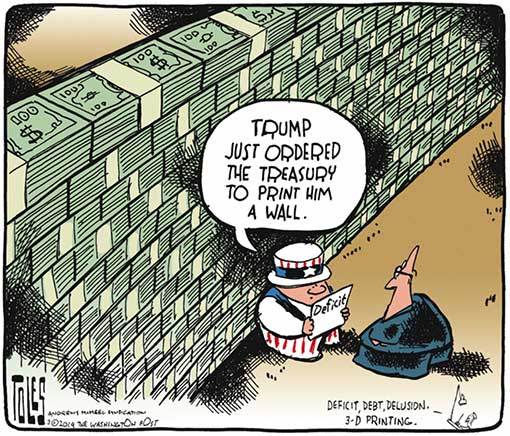 3. Max Boot: Trump is turning U.S. foreign policy into a protection racket
With his diatribes against witnesses who cooperate with the government — "flippers" and "rats" — President Trump has become notorious for speaking like a mob boss. He is acting like one, too, turning U.S. foreign policy into a protection racket and soldiers into a strong-arm squad that needs to be paid off — or else.
Bloomberg News reports that, at the president's insistence, the administration is formulating plans to demand a vast increase in the subsidies that allies pay to support U.S. forces on their soil. Trump wants countries such as Germany, Japan, and South Korea to pay the entire cost of those deployments — plus 50 percent! This "Cost Plus 50" formula would require those nations to pay five or six times as much as they currently do — and they currently pay a lot. Germany, for example, contributes $1 billion a year, representing 28 percent of the cost of 35,000 U.S. personnel based there.
Trump just got Seoul to increase its cost-sharing from $830 million to $924 million, representing more than 40 percent of the cost of keeping 28,000 U.S. troops in South Korea. But that's only a one-year deal, so expect another bruising renegotiation with South Korea — and other allies. Trump has already been browbeating NATO countries to spend more on defense, apparently under the mistaken impression that the money will be paid to the U.S. Treasury rather than to their own defense ministries.
There is nothing novel or wrong about asking allies to pay more; past administrations have done so for decades. But unlike his predecessors, Trump shows no awareness of the benefits that the United States derives from its deployments. He is acting like a landlord demanding a rent increase from deadbeat tenants.
The U.S.-led international order has been so successful for so long, that Americans have come to take it for granted." They're right — and the proof is in Trump's determination to mess with success. https://www.washingtonpost.com/opinions/2019/03/11/trump-is-turning-us-foreign-policy-into-protection-racket/
4. Jonathan Chait: Mueller's Case for Collusion: A Preview
Trump's efforts to obstruct justice have been so persistent and flagrant that his supporters have hardly bothered to deny it. Instead they have presented obstruction as a "process crime," a runner-up prize sought by Mueller in lieu of finding proof of true wrongdoing.
But the real wrongdoing is rampant and sitting in front of our faces. And the obstruction is the reason no conclusion Mueller reaches can clear Trump of all suspicion. If the president were innocent, or if he wanted his critics to concede his relationship with Russia broke no laws, he could have encouraged his allies to cooperate with the investigation. But obstructing the investigation, while making it harder to produce evidence of criminality, makes it impossible to produce exoneration. Trump, using his pardon power, persuaded the two campaign staffers in closest touch with Russia's campaign operations, Paul Manafort and Roger Stone, to shut their mouths.
Trump has prevailed upon his underlings to lie and lie and lie about every aspect of his financial and political dealings with Russia. They have conceded nothing voluntarily, admitting only that which has been proven (and sometimes not even that), replacing old lies with new ones. They are hiding a corrupt relationship with Vladimir Putin's gangster state. All that remains to be learned is details. http://nymag.com/intelligencer/2019/03/russia-trump-mueller-report-collusion-corruption-guilty.html
5.  Eric Levitz: Of Course Democrats Shouldn't Let Fox News Host a Primary Debate
The Democratic National Committee has decided that it will not allow a Republican propaganda outfit known for fomenting racial paranoia, facilitating serial sexual assault — and directly advising the GOP president— to host any of the Democratic Party's 2020 primary debates.
Not that Democrats didn't consider doing so. As DNC chair Tom Perez said in a statement Wednesday, "I believe that a key pathway to victory is to continue to expand our electorate and reach all voters. That is why I have made it a priority to talk to a broad array of potential media partners, including Fox News."
But, Perez continued, "Recent reporting in the New Yorker on the inappropriate relationship between President Trump, his administration and Fox News has led me to conclude that the network is not in a position to host a fair and neutral debate for our candidates."
How Perez could have possibly been unaware of this "inappropriate relationship" before reading Jane Mayer's latest bombshell is unclear. Nevertheless, The New Yorker article does make said impropriety undeniable. In it, Mayer reveals that, in 2016, a Fox reporter named Diana Falzone had acquired hard evidence of both Trump's affair with Stormy Daniels and his efforts to buy her silence — only to have an editor kill her story, telling her, in so many words, "Good reporting, kiddo. But Rupert wants Donald Trump to win." After the mogul's victory, the network demoted Falzone. She then sued, and won a settlement that included a nondisclosure agreement.
There are many things you can call a media organization that punishes its employees for digging up stories that are politically inconvenient for the Republican Party — "a legitimate news network" is not one of them.
http://nymag.com/intelligencer/2019/03/dnc-wont-let-fox-news-host-2020-democratic-primary-debate.html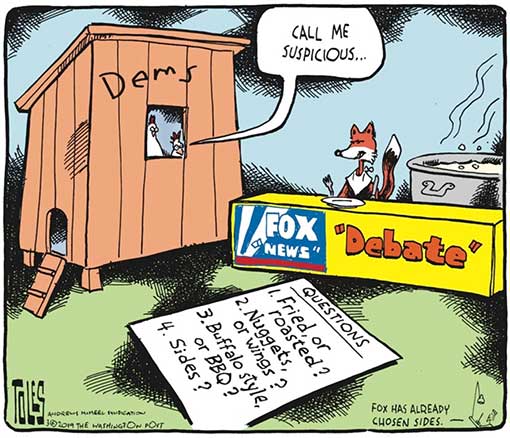 6. Jonathan Bernstein: John Bolton Shows the Dangers of a Weak President
Just how weak a president has Donald Trump become? For an illustration, see a terrific Washington Post article on the foreign-policy decision-making process since John Bolton became Trump's national security adviser. Or, rather, the absence of anything resembling a process.
When a weak president – or, as with Reagan, a president with significant flaws – doesn't have a James Baker around, the administration can turn into a free-for-all, with White House staffers and executive-branch personnel pursuing their own preferences, protecting their turf, and generally disrupting the policy process. That seems to be what happened to George W. Bush in the run-up to the Iraq War; whatever his own views, he was ill-served by everyone, from Vice President Dick Cheney on down, who failed to present him with honest options and instead used bureaucratic skills to lock in the choices they wanted. Similarly, Bill Clinton and Barack Obama both suffered from foreign-policy inexperience, especially early in their presidencies, and made mistakes as a result.
For Trump, the problem is worse. Even if he wanted to replace Bolton, there's only a tiny pool of people who are both qualified for the job and willing to work in this White House. Which is yet another consequence of presidential weakness: He can't persuade many people to work for him. And if Trump is getting rolled in an area where presidents have unusually strong authority – in their capacity as commanders-in-chief – imagine how he's faring in other policy areas. https://www.bloomberg.com/opinion/articles/2019-03-06/john-bolton-is-exploiting-donald-trump-s-weakness
7. Ed Kilgore: For Republicans, Attacking Ilhan Omar Is a Many-Splendored Thing
The interminable brouhaha over U.S. Representative Ilhan Omar's dubious if murky comments on the reasons for reflexive U.S. support for Israel is obviously a problem for Democrats who aren't sure whether to criticize her or defend her. But for Republicans, its benefits are almost endless, which is why they are exploiting it for all it's worth.
All in all, it's clear Ilhan Omar had a bull's-eye on her back from practically the moment she entered Congress. To be sure, she's contributed to her own misfortune with clumsy and sinister-sounding characterizations of Israel supporters. But she's just too convenient a devil figure for Republicans to be much of anything else for the time being. http://nymag.com/intelligencer/2019/03/four-reasons-republicans-are-keeping-the-heat-on-ilhan-omar.html
8. Michael Signer: Yes, Trump is undignified. Demagogues have to be.
A textbook demagogue meets four tests. First, he identifies as a man of the masses, usually by attacking elites. Second, he creates great waves of passion. Third, he uses that passion for political benefit. Fourth, he tests or breaks established rules of governance. Taken together, this approach enables the demagogue to create a state within a state — a massive cult — that follows him alone.
Trump is the first demagogue to actually become president, but American history has seen a lot of them, whether the segregationist Alabama governor George Wallace, the Wisconsin senator and communist-chaser Joseph McCarthy, the Louisiana governor and senator Huey Long, or the Detroit "radio priest" Father Charles Coughlin. World history has seen Mussolini and Hitler and, more recently, Hugo Chávez in Venezuela and Alexander Lukashenko in Belarus.
All of these figures were called undignified by critics who thought their antics could not succeed because they should not succeed.
What Trump understands is that millions of Americans feel left behind by our politics. They are frustrated by everything about conventional politics, including the expectation that traditional rules like decency and dignified behavior will help solve their problems. They are ripe for a demagogue. https://www.washingtonpost.com/outlook/yes-trump-is-undignified-demagogues-have-to-be/2019/03/08/bd8d8d9c-4109-11e9-a0d3-1210e58a94cf_story.html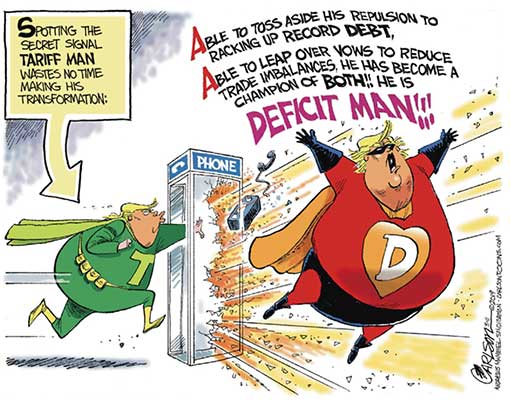 9. Jonathan Chait: Instead of a New Press Chief, Trump Could Try Committing Fewer Crimes
In a development that comes as a surprise to nobody, White House communications director, Bill Shine, has decided to spend more time with his family and less time being humiliated by Donald Trump. Trump's first communications director, Sean Spicer, blew up his credibility on day one by following Trump's orders to tell the national press corps that Trump pulled the largest inaugural crowd in history. In February 2017, Spicer gave the communications director job to William Dubke, who gave it back to Spicer when he resigned in May. On July 21, Spicer was replaced by Anthony Scaramucci, who left after ten days, and was replaced in August by Hope Hicks, who resigned last February, in favor of Shine last July.
Throughout these five or six (depending on how you count Spicer's two nonconsecutive terms) press chiefs, Trump has had consistently abysmal coverage in the non-party-controlled media. Trump has analyzed the pattern and identified the one constant: His many communications directors keep somehow failing to get the media to show what an honest, well-informed, compassionate president he truly is.
It's just possible that Trump's communications directors aren't the problem. It's presumably difficult to generate a lot of positive press attention when you're the subject of so many different criminal and ethical investigations that your best single communications asset is the media's inability to keep track of them all. Eliminating all the crimes would be a big ask, but maybe Trump should consider doing fewer? http://nymag.com/intelligencer/2019/03/bill-shine-fired-trump-communications-director.html
10. Washington Post Editorial: She exposed Russian trolling. Her award for her work was rescinded after she criticized Trump.
LONG BEFORE fears erupted in the United States about Russian meddling in the 2016 presidential campaign, Jessikka Aro, an investigative journalist in Finland, was poking around an unusual company in St. Petersburg, the Internet Research Agency. In early 2015, she identified the building that housed the firm, and by looking at job advertisements and building on earlier reporting by Russian journalists, Ms. Aro identified the Russian online troll factory.
After she reported her findings on the Finnish broadcasting company YLE, she was mercilessly attacked by the same Russian trolls. One troll activist filmed her appearance at a journalism seminar, then posted video online ridiculing every sentence she said in the seminar. "This discrediting method is used almost every time I appear on TV or radio," she said in a retrospective about living as a Russian troll magnet, subject to vicious hate and abuse, which also spread online. "I was accused of engaging in information warfare, distributing American propaganda and waging war," she recalled.
One posting that called her and a colleague "media prostitutes" was spread to 16 Facebook pages that mostly disseminate news from the Russian propaganda outlet Sputnik. Their faces were illustrated with a graphic that was a hybrid of the NATO logo and a swastika. Another time, "I received a text message from a person pretending to be my father, who died 20 years ago. My 'father' told me in the message he's not dead, but 'observing me.' "
What Ms. Aro exposed in St. Petersburg was ground zero for the Russian mischief campaign against the 2016 presidential election, according to an indictment subsequently returned in the United States. The troll factory was funded by one of President Vladimir Putin's cronies, Yevgeniy Viktorovich Prigozhin.
For her journalism, Ms. Aro was informed in January by the State Department that she was to be one of the winners of this year's International Women of Courage Award, presented Thursday by Secretary of State Mike Pompeo and first lady Melania Trump.
The award has been given since 2007 to women around the world who have "demonstrated exceptional courage and leadership in advocating for peace, justice, human rights, gender equality, and women's empowerment, often at great personal risk and sacrifice." Ms. Aro got a formal invitation from the State Department on Feb. 12, and a tour around the United States was envisioned.
However, according to Foreign Policy magazine, which broke the story, the State Department then wrote to Ms. Aro to rescind the award, saying there had been a "regrettable error." In fact, Foreign Policy reported, the award was rescinded because Ms. Aro had criticized President Trump on social media. It wasn't clear who made the decision. But it is in keeping with a president who has set the tone of prizing loyalty and personal sycophancy over wisdom and vision. https://www.washingtonpost.com/opinions/global-opinions/she-exposed-russian-trolling-her-award-for-her-work-was-rescinded-after-she-criticized-trump/2019/03/08/1bbdc4f8-41ba-11e9-9361-301ffb5bd5e6_story.html
11. Ed Kilgore: Trump Owns the Swamp Now, and It's Awash in Lobbyists
One of the catchier, if vague, slogans of the Trump campaign in 2016 was "Drain the Swamp!" which normally was interpreted as meaning an attack on special interest influence of government policy-making via lobbyists. But that wasn't so clear given the fact that Trump borrowed it from Ronald Reagan, who meant it to involve getting rid of "wasteful" federal programs, i.e., those that conservatives didn't like.
The first tip-off that "Drain the Swamp" didn't mean an ethics crusade came from the composition of Trump's post-election transition team, which was thickly larded with lobbyists (in sharp contrast with what the supposed corrupt insider Hillary Clinton had planned: a ban on any lobbyists on the transition team). 
Now a bit over half-way through Trump's first term, the liberal group American Bridge 21st Century has supplied the Washington Post with a list of lobbyists on Team Trump, and it's formidable:
Data provided to The Post…identifies over 350 individuals who've worked as lobbyists who currently work in the administration, have worked in it or have been nominated to serve in Trump's administration. Cumulatively, they've represented more than 2,800 companies at one point or another, according to lobbying registration documents. Nearly 200 of them now served or have been nominated to serve in divisions of government that they once lobbied.
Most of these people are not as famous (or infamous) as, say, the former oil industry shill and coal lobbyist who have serially run the Environmental Protection Agency under Trump. But 350 ex-lobbyists represent a lot of special interests. And their greatest concentration, the Post notes, is in the Executive Office of the President, where 47 ex-lobbyists toil to set policy for the entire federal government. http://nymag.com/intelligencer/2019/03/350-lobbyists-swimming-in-trumps-swamp.html
12. NY Times Editorial: Only One Roadblock on the Road to Reform: Mitch McConnell
With the conspicuous perversion of the political system on daily display, congressional Democrats are eager to brand themselves the party of reform. They took another step in this direction on Friday, when the House voted 234-to-193 — along straight party lines — to pass the For the People Act, a sweeping package of proposals aimed at rooting out political corruption and shoring up the integrity of the electoral system.
The bill is the Democrats' chief policy priority and covers close to 700 pages. H.R. 1, as it is officially known, seeks, among other reforms, to strengthen ethics laws for lawmakers and lobbyists, increase voting access, improve voting security, tighten campaign finance laws and create an alternative campaign-finance system geared toward small donors.
To advance the bill, Democratic leaders had to work through more than 70 proposed amendments. Some were embraced, including several aimed at spotlighting questionable behavior in the Trump administration. One, for instance, bars federal money from being spent at businesses owned or controlled by the president or other top administration officials. Others were rejected, including a plan to lower the voting age to 16.
As a sign of Democrats' commitment to a cause that helped power its takeover of the House, the bill's passage was an important achievement. As a practical legislative matter, it's a bit of a hollow victory. As fired up as Democrats are to shake up the system, Republicans are perhaps even more fired up to stop them.
The Senate majority leader, Mitch McConnell, has been openly hostile to the anticorruption package since its inception. This week he made clear that he would refuse even to bring it up for a vote. https://www.nytimes.com/2019/03/08/opinion/mcconnell-hr1-democrats-ethics-voting-rights.html
13. Jonathan Chait: Brexit and Trumpism Have Failed Because Conservative Populism Is a Lie
"They will soon be calling me MR. BREXIT!," announced Donald Trump in the summer of 2016. Before long, Trump was calling himself that, after appearing at a rally with Nigel Farage, one of its champions.
The association with Brexit burnished Trump's self-styled (and utterly fabricated) reputation as a soothsayer. More importantly, the connection seemed to confirm that Trump represented something larger: a wave of conservative populism sweeping the Western world.
And yet the collapse of Brexit, yet again, reveals another, less flattering commonality. Conservative populism has utterly failed to translate the political impulses behind them into a plausible governing agenda. It is a visceral reaction against multiculturalism and modernity that has not only failed to produce concrete solutions for its supporters, but doesn't even know what to ask for. http://nymag.com/intelligencer/2019/03/brexit-trump-conservative-populism.html