September 29, 2016
ON THE RECORD. . .
"Trump is a man whom few Republicans would care to invite into their homes. So what's going on here? An epidemic of hippocampus poisoning from bad enzymes in cheap beers? The man is a fraud, a compulsive liar and a clueless playboy whose presidency would be an unmitigated disaster for the country." -- Garrison Keillor 9/21/16
"I don't think there was any racism until Obama got elected. We never had problems like this." -- Kathy Miller, chair of Donald Trump's campaign in Mahoning County, Ohio 9/22/16 
"The grievance in their minds — the animus, the anger — they hate white people, because white people are successful and they're not. ... It is a welfare state. We have spent trillions of dollars on welfare, and we've put people in bondage, so they can't be all that they're capable of being." -- Rep. Robert Pittenger (R-N.C.), who apparently understands the motivations of young, African American protesters better than they do. 9/23/16
"Trump's dirty-fuels-first plan is pretty simple: drill enough off our coasts to threaten beaches from Maine to Florida, frack enough to spoil groundwater across the nation, and burn enough coal to cook the planet and make our kids sick. In stark contrast, Hillary Clinton is the only candidate in this race who is committed to grow the booming clean energy economy to create jobs and help tackle the climate crisis." -- Sierra Club Political Director Khalid Pitts
I've always felt that this election comes down to a referendum on mental. The GOP candidate displays the classic symptoms of a sociopath — grandiosity, manipulative behavior, chronic lying, lack of empathy, etc. — whereas Mrs. Clinton does not. It's true that I'm not a trained psychiatric professional. But I'm also not a trained ornithologist, and yet I know a duck when I see one." -- Gary Trudeau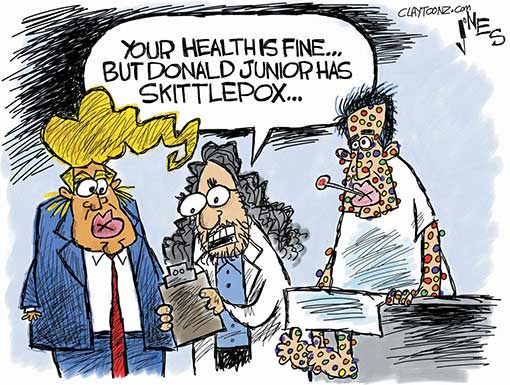 "Clinton was in command from beginning, succeeded where Trump's GOP opponents failed: remain unflappable and in control of arguments. No knockout blow but Clinton won this debate hands down. Trump struggled with format, duration, and facts and rambled." -- Kim Ghattas, BBC correspondent
"Bottom line: Trump was doing pretty well for the first fifteen minutes, then Hillary went on the offensive, and Trump choked." -- William Kristol, editor of the conservative magazine The Weekly Standard
"Hillary Clinton belongs in the White House. Donald Trump belongs on my show." -- Jerry Springer, host of "The Jerry Springer Show"
"Trump's insistence that his five years of accusing President Obama of falsifying his birthplace was simply meant to clarify the matter and in the end turned out to be a favor to Obama is so invincibly stupid, it's right out of a Carl Hiaasen novel about lowlife redneck dopeheads in south Florida. By this standard, Jesse James robbed banks so as to inspire greater alertness among bank guards and Boss Tweed let dead men vote as a way of keeping their memories alive and Guy Fawkes put the barrels of dynamite in the cellars of Parliament only to keep them out of the hands of children." -- Garrison Keillor 9/27/16
"Trump, according to the people trying to help him win, is unable to pick good staff, manage his time, follow advice, or even accept the connection between preparing for an event and succeeding at it. Republicans have so internalized Trump's wild unsuitability for the presidency that they have decided to treat these facts as mere hurdles to overcome on the path to the presidency. But why are they trying to help him win in the first place?" -- Jonathan Chait 9/27/16
---
IN THIS ISSUE
1. Andy Borowitz: Trump Threatens To Skip Remaining Debates If Hillary Is There
2. Winner of the first debate: Hillary Clinton
3. Prediction Markets Score the Debate a Rout: Clinton Over Trump
4. The DAILY GRILL
5. From MEDIA MATTERS (They watch Fox News so you don't have to)
6. From the Late Shows
7. Political Ads/Statements
8. Clinton Campaign: Trump's Debunked Lies
9. How Trump used his charity to settle his business's lawsuits
10. Trump received $1.6 million from Secret Service
11. Obama's Green-Energy Revolution
12. Trump scores $8.2 million in payments from Trump campaign
13. Why Are There Any Liberals Supporting Gary Johnson? 
14. Study: Earth's Roughly Warmest in About 100,000 Years
15. Washington Post Fact Checker Special edition! Fact-checking the first Clinton-Trump presidential debate
16. No, U.S. Immigration and Customs Enforcement Did Not Endorse Trump
1. Washington Post Editorial: Trump's slimy, shameless approach to philanthropy
2. Frank Rich: How Hillary Clinton's Pitch-perfect Put-downs May Have Changed the Race
3. Jonathan Chait: Ranting Bully Donald Trump Came Unglued in First Presidential Debate
4. Michael Gerson: Out of his depth, Donald Trump clings to deception
5. Zack Beauchamp: Donald Trump lost Monday's debate. So did Trumpism.
6. Emily Crockett: Clinton's debate performance spoke to every woman who has had to humor an incompetent man 
7. Joy Ann Reid: Trump Makes a Bunch of Clark Kents Feel Like Supermen
8. NY Times Editorial: Hillary Clinton for President 
9. Cincinnati Enquirer Editorial: It has to be Hillary Clinton
10. Katha Pollitt: Ambivalent Hillary Voters: Don't Assume Someone Else Will Stop Trump
11. Ian Reifowitz: I am incredibly enthusiastic about voting for Hillary Clinton
12. NY Times Editorial: Why Donald Trump Should Not Be President 
13. Jelani Cobb: The Model For Donald Trump's Media Relations Is Joseph Mccarthy
14. Eugene Robinson: In America, gun rights are for whites only
15. LA Times Editorial: Hillary Clinton would make a sober, smart and pragmatic president. Donald Trump would be a catastrophe.
16. The Arizona Republic Endorsement: Hillary Clinton is the only choice to move America ahead
1. Andy Borowitz: Trump Threatens To Skip Remaining Debates If Hillary Is There
Plunging the future of the 2016 Presidential debates into doubt, Donald J. Trump said on Tuesday morning that he would not participate in the remaining two debates if Hillary Clinton is there.

Trump blasted the format of Monday night's debate by claiming that the presence of Clinton was "specifically designed" to distract him from delivering his message to the American people.

"Every time I said something, she would say something back," he said. "It was rigged."

He also lambasted the "underhanded tactics" his opponent used during the debate. "She kept on bringing up things I said or did," he added. "She is a very nasty person."

Turning to CNN, Trump criticized the network's use of a split screen showing both him and Clinton throughout the telecast. "It should have been just me," he said. "That way people could have seen how really good my temperament is."

The billionaire said that debate organizers had not yet responded to his ultimatum, but he warned that if he does not get assurances in writing that future debates will be "un-rigged, Hillary-wise," he will not participate.

"I have said time and time again that I would only do these debates if I am treated fairly," he added. "The only way I can be guaranteed of being treated fairly is if Hillary Clinton is not there." Read more athttp://www.newyorker.com/humor/borowitz-report/
2. Winner of the first debate: Hillary Clinton
Hillary Clinton takes round one: Hillary Clinton was deemed the winner of Monday night's debate by 62% of voters who tuned in to watch, while just 27% said they thought Donald Trump had the better night, according to a CNN/ORC Poll of voters who watched the debate. 9/27/16 http://www.cnn.com/2016/09/27/politics/hillary-clinton-donald-trump-debate-poll/

Score round 1 for Hillary Clinton: That's according to The POLITICO Caucus — a panel of swing-state activists, strategists and operatives who watched the first debate here Monday night. The insiders' bipartisan verdict: Clinton dispatched Donald Trump in their first of three nationally televised meetings. Overall, roughly 80 percent of insiders — with equal numbers of Democrats and Republicans responding to the post-debate survey — said Clinton did the better job at the debate, including 99 percent of Democrats and 57 percent of Republicans. Only 21 percent — 1 percent of Democrats and 43 percent of Republicans — picked Trump as the winner http://www.politico.com/story/2016/09/debate-caucus-trump-clinton-228757#ixzz4LTwArsR6
3. Prediction Markets Score the Debate a Rout: Clinton Over Trump
Prediction Markets Score the Debate a Rout: Clinton Over Trump
According to the people who put money on the line in the political prediction markets, Hillary Clinton clearly won the first debate.
All told, Mrs. Clinton's odds of winning the election rose from around 63 percent in the minutes before the debate started to 69 percent by the end. Likewise, Mr. Trump's chances of winning the White House declined by five percentage points. Other prediction markets, such as PredictIt, showed aneven larger move against Mr. Trump.
The value of the dollar relative to the Mexican peso — which has come to be the financial price most closely associated with Mr. Trump's electoral fortunes — also fell sharply during the debate, perhaps a sign that traders don't believe that Mr. Trump will get a chance to raise trade barriers with Mexico. 9/27/16 http://www.nytimes.com/2016/09/28/upshot/prediction-markets-score-it-a-rout-clinton-over-trump.html?em_pos=medium&emc=edit_cn_20160927&nl=first-draft&nl_art=8&nlid=74243604&ref=headline&te=1
4. The DAILY GRILL
Trump Claims CNN's Candy Crowley"Turned Out To Be Wrong" When She Fact-Checked Mitt Romney In 2012 Debate

Fox News Is Still Angry Over Candy Crowley's Benghazi Fact-Check In 2012

VERSUS

CNN Fact Check: A day after Libya attack, Obama described it as 'acts of terror'

 

Trump has directed approximately $2.3 million worth of payments he was owed personally to the foundation. The problem for Trump is that he is still required to pay taxes on that income. --Washington Post reporter David Fahrenthold

VERSUS

"Absolutely not." -- Trump Adviser Boris Epshteyn when asked if Trump could he provide proof of that tax payment?
5. From MEDIA MATTERS (They watch Fox News so you don't have to)
Fox Lines Up Behind Trump's Stop-And-Frisk Proposal, Despite Overwhelming Evidence That It Doesn't Workhttp://mediamatters.org/research/2016/09/22/fox-lines-behind-trumps-stop-and-frisk-proposal-despite-overwhelming-evidence-it-doesnt-work/213262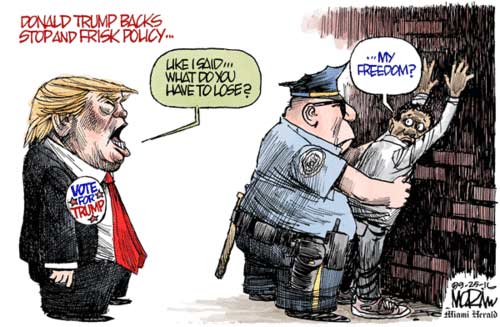 Fox's Melissa Francis Pushes The Myth That The Estate Tax "Hits The People Who Really Can't Afford It" Versus: Center On Budget And Policy Priorities: "Only The Estates Of The Wealthiest 0.2 Percent Of Americans … Owe Any Estate Tax." 9/23/16http://mediamatters.org/video/2016/09/23/foxs-melissa-francis-pushes-myth-estate-tax-hits-people-who-really-can-t-afford-it/213280
Online Polls Are "Garbage," But Fox News Still Cites Them http://mediamatters.org/research/2016/09/27/online-polls-are-garbage-fox-news-still-cites-them/213376
Fox News' Sham Effort To Prove Donald Trump Isn't Lying About Iraq http://mediamatters.org/blog/2016/09/27/fox-news-sham-effort-prove-donald-trump-isn-t-lying-about-iraq/213377
Trump Surrogate Lashes Out At Wash. Post's Fahrenthold For His Reporting On The Trump -- Boris Epshteyn: David Fahrenthold Is A "Joke" And "Not Really A Reporter, He's Pretty Much A Clinton Surrogate At This Point"http://mediamatters.org/video/2016/09/27/trump-surrogate-lashes-out-wash-posts-fahrenthold-his-reporting-trump-foundation/213375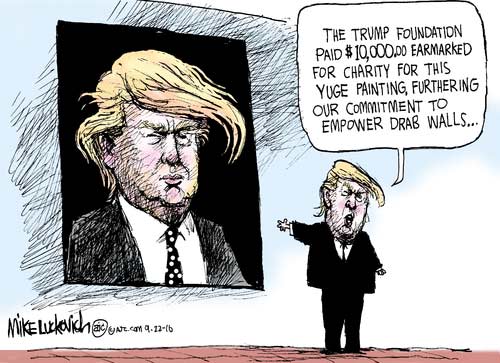 Fox's Bret Baier: "I Do Think [Trump] Gets Credit For Just Being On The Stage" -- Baier Says Trump Is "Authentic" Because He "Answers Every Question" http://mediamatters.org/video/2016/09/27/foxs-bret-baier-i-do-think-trump-gets-credit-just-being-stage/213369
6. From the Late Shows
The Daily Show - Jordan Klepper Fingers the Pulse - Conspiracy Theories Thrive at a Trump Rally

Jimmy Kimmel Live: Lie Witness News - Trump's Tax Returns Edition

The Late Show with Stephen Colbert: Stephen Colbert Reacts to the State of Emergency in Charlotte

Funny Or Die Video: Between Two Ferns With Zach Galifianakis: Hillary Clinton

http://www.funnyordie.com/videos/b2fc974d1d/between-two-ferns-with-zach-galifianakis-hillary-clinton

Late Night with Seth Meyers: Debate Fallout: A Closer Look

The Late Show with Stephen Colbert: After The First Debate, Trump Is Up 20 Points In Narnia
7. Political Ads/Statements
Mirrors | Hillary Clinton

Lies | The Briefing

Watch | Hillary Clinton

Trump victim: Alicia Machado | The Briefing
8. Clinton Campaign: Trump's Debunked Lies
https://www.hillaryclinton.com/briefing/factchecks/2016/09/23/clinton-campaign-trump-cannot-pass-debate-test-if-he-repeats-these-debunked-lies/
9. How Trump used his charity to settle his business's lawsuits
"Brazen" describes the Trump campaign's response to The Post's reporting. As the revelations have mounted, Trump spokesmen have accused The Post of "badgering" them and said that Mr. Fahrenthold is "biased" and "a little obsessed." Though the campaign insisted that The Post's reporting "is peppered with inaccuracies and omissions," it pointed to none and has offered no evidence telling a different story.
In fact, Mr. Trump has a secret trove of documents that could help to clarify how much he has really given to charity in recent years, what his business dealings look like and potential conflicts of interest should he be elected president. These documents are his tax returns, which he still refuses to reveal, bucking decades of precedent. Mr. Trump is the least transparent major-party presidential nominee in recent memory — and the one who Americans have the most reason to fear is hiding something.  https://www.washingtonpost.com/opinions/trumps-slimy-shameless-approach-to-philanthropy/2016/09/21/436b8ade-8034-11e6-a52d-9a865a0ed0d4_story.html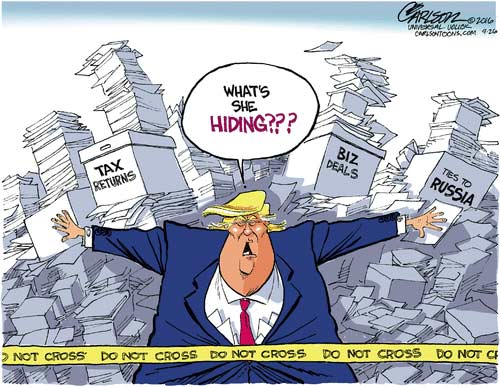 10. Trump received $1.6 million from Secret Service
The agency pays to travel with all presidential nominees, but in Trump's case, that money went to one of his companies.
"The taxpayers are actually reimbursing Trump for the travel of the Secret Service agents," a campaign finance lawyer said. | Getty
Donald Trump's campaign isn't alone in patronizing his own businesses: taxpayers are indirectly doing so, too.
Federal Election Commission records show that the U.S. Secret Service has paid the Trump campaign about $1.6 million to cover the cost of flying its agents with the candidate on a plane owned and operated by one of his companies.
It's standard practice for the agency — which is tasked with protecting presidential candidates as well as presidents and other federal officials — to reimburse presidential campaigns for the cost of traveling with the candidates.
In fact, the Secret Service has reimbursed the Clinton campaign, too: $2.6 million so far this cycle.
The difference with Trump is that one of his companies, TAG Air, Inc., owns the plane, so the government is effectively paying him. http://www.politico.com/story/2016/09/donald-trump-secret-service-campaign-travel-payments-228553
11. Obama's Green-Energy Revolution
History will probably record the green-energy revolution as the Obama administration's most important accomplishment. The daisy chain of events began with $90 billion in green-energy subsidies in the stimulus; continued through a wide array of greenhouse-gas-reducing regulations of transportation, construction, and electric power; and culminated with international agreements with China and then the entire world.
It is strange how little attention Obama's climate agenda receives given its global importance. The drama has played out in bureaucratic regulations, court rulings, and international negotiations — not the legislative fights that draw passionate floor speeches in Congress or angry town-hall meetings. Yet, here we are, in a world where zero-emission energy is plunging in cost, solar energy is cheaper than coal or natural gas in much of the developing world — far cheaper, in some places — and a wide array of green-energy technologies are advancing at a furious pace.
Meanwhile, the Republican view of energy policy remains locked in the past. The party refuses to acknowledge the findings of climate science and treats the restoration of the primacy of fossil fuels as its central energy goal. All of which underscores the one remaining threat to Obama's green-energy revolution: Trump might win. http://nymag.com/daily/intelligencer/2016/09/obamas-climate-plan-will-survive-legal-challenge.html
12. Trump scores $8.2 million in payments from Trump campaign
Donald Trump's campaign paid more than $500,000 in August to companies the brash businessman own.
The chief beneficiaries were Trump's aviation company and his office headquarters in Manhattan: TAG Air was paid nearly $320,000 for operating the campaign jet and Trump Tower collected nearly $170,000 in rent for the month of August. Another $23,000 went to smaller Trump properties and businesses.
Overall, Politico reports that Trump's presidential campaign has paid his family's businesses more than $8.2 million. 9/21/16 http://www.politico.com/story/2016/09/donald-trump-business-campaign-trail-228500
13. Why Are There Any Liberals Supporting Gary Johnson?
Because, among other things:
He supports fracking.

He opposes any federal policies that would make college more affordable or reduce student debt. In fact, he wants to abolish student loans entirely.

He thinks Citizens United is great.

He doesn't want to raise the minimum wage. At all.

He favors a balanced-budget amendment and has previously suggested that he would slash federal spending 43 percent in order to balance the budget. This would require massive cuts to Social Security, Medicare, and social welfare programs of all kinds.

He opposes net neutrality.

He opposes any kind of national health care and wants to repeal Obamacare.

He opposes practically all forms of gun control.

He opposes any kind of paid maternity or medical leave.

He supported the Keystone XL pipeline.

He opposes any government action to address climate change.

He wants to cut the corporate tax rate to zero.
He appears to believe that we should reduce financial regulation. All we need to do is allow big banks to fail and everything will be OK.

He wants to remove the Fed's mandate to maximize employment and has spoken favorably of returning to the gold standard.

He wants to block-grant Medicare and turn it over to the states.

He wants to repeal the 16th Amendment and eliminate the income tax, the payroll tax, and the estate tax. He would replace it with a 28 percent FairTax that exempts the poor. This is equivalent to a 39 percent sales tax, and it would almost certainly represent a large tax cut for the rich.
http://www.motherjones.com/kevin-drum/2016/09/why-are-there-any-liberals-supporting-gary-johnson-list
14. Study: Earth's Roughly Warmest in About 100,000 Years
A new study paints a picture of an Earth that is warmer than it has been in about 120,000 years, and is locked into eventually hitting its hottest mark in more than 2 million years.
As part of her doctoral dissertation at Stanford University, Carolyn Snyder , now a climate policy official at the U.S. Environmental Protection Agency, created a continuous 2 million year temperature record, much longer than a previous 22,000 year record. Snyder's temperature reconstruction, published Monday in the journal Nature , doesn't estimate temperature for a single year, but averages 5,000-year time periods going back a couple million years. 9/26/15 http://abcnews.go.com/Technology/wireStory/study-earths-roughly-warmest-100000-years-42366964
15. Washington Post Fact Checker Special edition! Fact-checking the first Clinton-Trump presidential debate
https://www.washingtonpost.com/news/fact-checker/wp/2016/09/27/fact-checking-the-first-clinton-trump-presidential-debate/
16. No, U.S. Immigration and Customs Enforcement Did Not Endorse Trump
In the debate, Donald Trump accused his favorite federal agency of breaking the law.
"I was just endorsed by ICE," he boasted about two-thirds of the way through the presidential debate, referring to the Immigration and Customs Enforcement agency. "They've never endorsed anybody before on immigration. I was just endorsed by ICE. I was just recently endorsed—16,500 Border Patrol agents."
It would have been a historic endorsement. If it had actually happened. But it didn't. 9.27.16 http://www.thedailybeast.com/articles/2016/09/27/no-the-immigration-and-customs-enforcement-did-not-endorse-trump.html
1. Washington Post Editorial: Trump's slimy, shameless approach to philanthropy
WHERE DID Donald Trump get the harebrained idea that he will get Mexico to pay for a new border wall? Or his boast that he will make Arab states pay for refugee safe zones in Syria? Perhaps from the success he has had sleazily diverting money other people had donated to charity into paying off his business obligations.
"It's called OPM. I do that all the time in business. It's called other people's money,"Mr. Trump said Tuesday. "There's nothing like doing things with other people's money."
One of the things he did with other people's money, according to revelations painstakingly uncovered by The Post's David A. Fahrenthold, was fund his namesake charity, from which donations appeared to come from him. Mr. Trump then used some of that funding to pay off business liabilities. In one instance, he settled a dispute with the town of Palm Beach, Fla., over $120,000 in unpaid fines by promising to donate $100,000 to a veterans group. Instead of donating personal funds, he transferred some money — OPM — from his charitable foundation. Similarly, the GOP nominee used other people's charitable giving to settle a dispute over a hole-in-one tournament held at the Trump National Golf Club in New York. At the time, his foundation was mostly funded by a big donation from pro-wrestling magnates Vince and Linda McMahon.
These revelations come on top of findings that Mr. Trump and his wife used foundation money to win items at charitable auctions, such as a helmet signed by quarterback Tim Tebow and not one but two paintings of Mr. Trump.
It is likely that this sort of behavior is illegal, because charities are not supposed to engage in "self-dealing" — activities that directly benefit the bottom lines of those running them. But even if Mr. Trump's approach to "philanthropy" is not technically illegal, it is still slimy and shameless. Sometimes charities associated with wealthy families or businesses tiptoe near ethical lines — but charity experts say Mr. Trump's activity appears to be brazen. 9/21/16 https://www.washingtonpost.com/opinions/trumps-slimy-shameless-approach-to-philanthropy/2016/09/21/436b8ade-8034-11e6-a52d-9a865a0ed0d4_story.html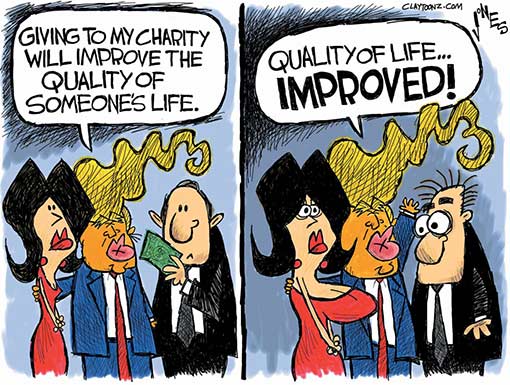 2. Frank Rich: How Hillary Clinton's Pitch-perfect Put-downs May Have Changed the Race
Going into last night's debate, polls showed Hillary Clinton's lead over Donald Trump continuing to shrink. But a CNN/ORC instant poll right after the debate found that she'd won it by more than a two-to-one margin. Should her performance last night be enough to move the needle back?
We'll have to wait for polls a few days from now for the answer to that question. But let's pause for one moment to savor how Clinton performed last night. My heart sank with her first answer, to a question about job creation: her usual diligent wonky A-student's recitation of a list of prefab economic proposals that the brain instantly tunes out, that no one thinks will ever happen, and that have been promised by Democratic politicians in every presidential election since Carter and then Mondale were slaughtered by Ronald Reagan.
But what followed was something of a miracle: Hillary from then on mustered a pitch-perfect response to the boor on the other side of the split screen. She stuck to substance (of which he had none) and waited out his diatribes (many long waits) either by looking slightly bemused or by outright laughing at his absurdities. She refused to get lost in the weeds of his many lies and factual errors — urging viewers to consult fact-checkers online instead — and allowed herself some actual wit. "If we're actually going to look at the facts … " she said early on, throwing the line away lightly but devastatingly (though her target seemed oblivious to the dig). When Trump went on and on to try to pin his own birtherism campaign on her, a foolhardy errand in which he assumed the audience understood his oblique references to Sidney Blumenthal and Patti Solis Doyle, she retorted, smilingly, with "Just listen to what you heard." It was a perfect response, directing the audience simply to watch her opponent as he choked on his own incoherent gusher of words. And when Trump went on his bizarre tear about how he had really, truly been opposed to the Iraq War early on, and how Sean Hannity could vouch for him despite all the evidence to the contrary, she replied with an even bigger smile and the mot juste for the moment: "O-kay!" 9/27/16 http://nymag.com/daily/intelligencer/2016/09/hillary-clintons-pitch-perfect-debate-put-downs.html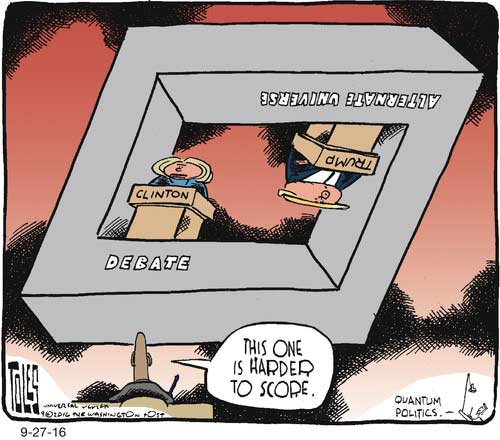 3. Jonathan Chait: Ranting Bully Donald Trump Came Unglued in First Presidential Debate
Before the first presidential debate, a conventional wisdom had formed that Donald Trump merely needed to appear "presidential," which the campaign media had defined as "non-sociopathic." He failed to clear that bar.
How did Clinton come across? She maintained her composure and her dignity, something no Republican who confronted (or was bullied by) Trump in the primary debates managed to do. She had facts at her disposal, she apologized for her poor choice of email systems, and she conveyed that she is sane and competent. The contrast between an obviously and eminently qualified public servant and a ranting bully was as stark as any presidential debate in American history. http://nymag.com/daily/intelligencer/2016/09/ranting-bully-donald-trump-came-unglued-in-first-debate.html
4. Michael Gerson: Out of his depth, Donald Trump clings to deception
There is a story from the history of professional wrestling in which a manager named Freddie Blassie comes to the edge of the ring and, while the referee is distracted, offers his cane to break over the head of the opposing wrestler. After the match an interviewer asked Blassie, "Where's that cane of yours?" He replied, "What cane? I didn't have no cane!"
During the last political year, life has imitated professional wrestling. Those expecting such antics from Donald Trump during the first presidential debate were not disappointed. When confronted with his claim that global warming was a hoax perpetrated by the Chinese, Trump replied, "I did not [say it]." He did. When Trump's claim that he could not release his tax returns because of an IRS audit was exposed as false, he still insisted on it. When charged with saying that he could personally negotiate down the national debt, he said this was "wrong." The charge was right. When Trump's transparently deceptive claim to be an early opponent of the Iraq War was debunked, he doubled down in a babbling defense citing Sean Hannity as the ultimate arbiter.
It is not surprising that Trump inhabits his own factual universe, in which truth is determined by usefulness and lies become credible through repetition. What made the first presidential debate extraordinary — really unprecedented — was not the charges that Trump denied, but the ones he confirmed. 9/27/16 https://www.washingtonpost.com/opinions/out-of-his-depth-donald-trump-clings-to-deception/2016/09/27/070feda6-84ca-11e6-a3ef-f35afb41797f_story.html
5. Zack Beauchamp: Donald Trump lost Monday's debate. So did Trumpism.
Donald Trump got his start in politics peddling the idea that Barack Obama was born abroad. He built his successful Republican primary campaign on a similar form of white identity politics, married to a deep and hard-line skepticism of immigration. That's been his biggest single issue — deriding Mexicans as rapists and murderers, promising to deport 11 million undocumented immigrants, and threatening to ban Muslims from entering the country.
Trump entered the room as the defender of a distinct set of ideas that blame America's problems on immigrants and multiculturalism. He walked out a pale imitation of the mainstream, a man with a deeply racist past trying desperately to cover it up.
Donald Trump lost Monday night's debate. So did the ideas he stands for. 9/27/16 http://www.vox.com/policy-and-politics/2016/9/27/13075072/donald-trump-lost-debate-trumpism-hofstra
6. Emily Crockett: Clinton's debate performance spoke to every woman who has had to humor an incompetent man
Hillary Clinton debated circles around Donald Trump during Monday night's presidential debate. She had prepared, coherent answers, while Trump had unprepared, chaotic word salad. She subtly baited him into flying off the handle and loudly interrupting her, while she kept smiling and maintained her cool. It was a masterful performance.
But for many women watching the debate, it was also a frustrating reminder of just how hard Clinton has to work to overcome sexist double standards — and how hard most women have to work every day to do the same.
Maacah Davis, founder of Belladonna Magazine, perfectly captured this frustration in a Facebook post. Davis said that Clinton is "every woman who has ever been challenged by a guy who had no idea what he was talking about" but who still has to "pretend that his opinions and feelings are just as valid as the facts her experience have taught her." http://www.vox.com/identities/2016/9/27/13075552/presidential-debate-clinton-trump-sexism-double-standard-incompetent-man
7. Joy Ann Reid: Trump Makes a Bunch of Clark Kents Feel Like Supermen
It's hard for many, both inside and outside the United States to believe that substantial numbers of Americans would want to cast the nation's image in that of a demagogue and braggart who reeks of such neediness and insecurity that he falls into the arms of Vladimir Putin at the faintest praise. That pluralities of Americans could tell pollsters that Trump is A) racially intolerant, B) in possession of an unpresidential temperament, and C) their preferred candidate, seems almost insane to outsiders looking in at a country that twice elected Obama.
And yet, here we are. And at a certain point, we have to put aside our reflex to venerate the sainted voter and confront the fact that Trump, and all he represents, is what a not-insignificant number of our fellow citizens—mostly white and male and blue collar (though many are affluent and surely eager for a return to the trickle-down economics Trump is promising)—affirmatively want.
Whether they agree with every aspect of Trumpism or not, Trump's supporters either don't care or can live with the fact that he cheated people with a fake university, stiffed undocumented Polish workers to build Trump Tower and that his foundation appears to be a vehicle for him to spend donors' money on his own needs and desires, including potential bribes of public officials, garish self-portraits and payments to settle his own debts. They either don't care or can live with the prospect that his international business entanglements could conflict with our national interests. It doesn't matter to them how ignorant or outrageous, inarticulate or just plain crazy he sounds; or that little that he says is either realistic or even true. No matter what they hear from him or from alarmed fellow Americans, they want this country to be represented and led by such a person. (How many times have you heard from a Trumpist that so long as he isn't Hillary Clinton, they don't care what Trump says, is or does?)
To a group of Americans who feel like weak, disempowered Clark Kents, a President Trump would make them feel like Superman. 9/24/16 http://www.thedailybeast.com/articles/2016/09/24/trump-makes-a-bunch-of-clark-kents-feel-like-supermen.html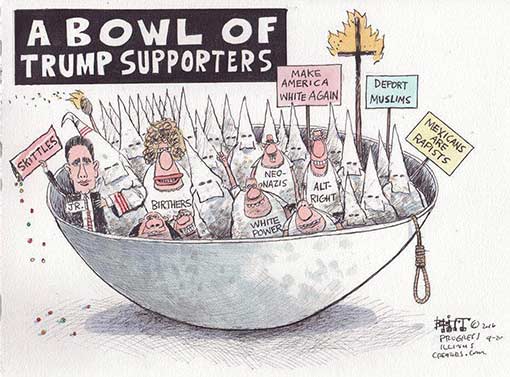 8. NY Times Editorial: Hillary Clinton for President
In any normal election year, we'd compare the two presidential candidates side by side on the issues. But this is not a normal election year. A comparison like that would be an empty exercise in a race where one candidate — our choice, Hillary Clinton — has a record of service and a raft of pragmatic ideas, and the other, Donald Trump, discloses nothing concrete about himself or his plans while promising the moon and offering the stars on layaway. (We will explain in a subsequent editorial why we believe Mr. Trump to be the worst nominee put forward by a major party in modern American history.)
But this endorsement would also be an empty exercise if it merely affirmed the choice of Clinton supporters. We're aiming instead to persuade those of you who are hesitating to vote for Mrs. Clinton — because you are reluctant to vote for a Democrat, or for another Clinton, or for a candidate who might appear, on the surface, not to offer change from an establishment that seems indifferent and a political system that seems broken.
Running down the other guy won't suffice to make that argument. The best case for Hillary Clinton cannot be, and is not, that she isn't Donald Trump.
The best case is, instead, about the challenges this country faces, and Mrs. Clinton's capacity to rise to them.
The next president will take office with bigoted, tribalist movements and their 
Through war and recession, Americans born since 9/11 have had to grow up fast, and they deserve a grown-up president. A lifetime's commitment to solving problems in the real world qualifies Hillary Clinton for this job, and the country should put her to work. 9/25/16 http://www.nytimes.com/2016/09/25/opinion/sunday/hillary-clinton-for-president.html?smid=tw-bna&_r=0
9. Cincinnati Enquirer Editorial: It has to be Hillary Clinton
The Enquirer has supported Republicans for president for almost a century – a tradition this editorial board doesn't take lightly. But this is not a traditional race, and these are not traditional times. Our country needs calm, thoughtful leadership to deal with the challenges we face at home and abroad. We need a leader who will bring out the best in all Americans, not the worst.
That's why there is only one choice when we elect a president in November: Hillary Clinton.
Clinton is a known commodity with a proven track record of governing. As senator of New York, she earned respect in Congress by working across the aisle and crafting bills with conservative lawmakers. She helped 9/11 first responders get the care they needed after suffering health effects from their time at Ground Zero, and helped expand health care and family leave for military families. Clinton has spent more than 40 years fighting for women's and children's rights. As first lady, she unsuccessfully fought for universal health care but helped to create the Children's Health Insurance Program that provides health care to more than 8 million kids today. She has been a proponent of closing the gender wage gap and has stood up for LGBT rights domestically and internationally, including advocating for marriage equality.
Trump is a clear and present danger to our country. He has no history of governance that should engender any confidence from voters. Trump has no foreign policy experience, and the fact that he doesn't recognize it – instead insisting that, "I know more about ISIS than the generals do" – is even more troubling. His wild threats to blow Iranian ships out of the water if they make rude gestures at U.S. ships is just the type of reckless, cowboy diplomacy Americans should fear from a Trump presidency. Clinton has been criticized for being overly cautious when it comes to sending our troops into battle, but there is a measured way to react to the world's problems. Do we really want someone in charge of our military and nuclear codes who has an impulse control problem? The fact that so many top military and national security officials are not supporting Trump speaks volumes. 9/23/16 http://www.cincinnati.com/story/opinion/editorials/2016/09/23/enquirer-endorses-hillary-clinton-donald-trump/90728344/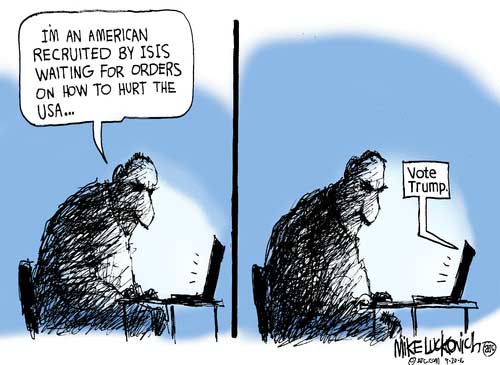 10. Katha Pollitt: Ambivalent Hillary Voters: Don't Assume Someone Else Will Stop Trump
This is a column for all you leftists, liberals, progressives, feminists, Democrats—whatever you call yourselves—who are feeling passive, underwhelmed, downhearted, or paralyzed about the upcoming election. All right, you say, you'll hold your nose and vote for Hillary Clinton, but you haven't been knocking yourself out like you did for Barack Obama in 2008 or even 2012. "This election is getting really scary, yet I do not feel motivated to get active," wrote one friend when I sent out a call for comments about enthusiasm, or the lack thereof. There are a lot of you out there.
Maybe you're still mourning Hillary's victory over Bernie Sanders. (Bernie has gotten over it and urges you to support her.) Maybe you've been assuming Trump will lose, so you can afford to relax and rely on herd immunity, like an anti-vaxxer. Maybe you're having too much fun in the circular firing squad of Twitter and Facebook: Why spend your evenings phone-banking or your weekends in swing states canvassing when you can impress your friends with zingers about what a sellout Clinton is? If she loses, it will be her own damn fault, right?
The link for volunteering with the Clinton campaign is hillaryclinton.com/volunteer. Go there now. You'll find the page quite user-friendly; it takes about 30 seconds to sign up. Once you're set up, the campaign will keep you up to date on all of its activities: buses going to swing states on the weekends, sites for phone-banking, dates for local canvassing. It even has an option that lets you phone-bank from home. So if you only have a few free moments in your day, or can't get out of the house easily, just make yourself comfy on the sofa and call a few voters. It isn't hard. Post the link on your Facebook page and get your friends involved. If working with Hil­lary's campaign is a bridge too far for you, MoveOn.org is planning a massive get-out-the-vote drive in swing states. Sign up with the MoveOn text team and use your cell phone to recruit other volunteers for campaign events up and down the ticket.
Politics is social. If you're hanging out with your fellow political depressives, no wonder you're down! So get up and get busy—and bring them along while you're at it. 9/22/16 https://www.thenation.com/article/ambivalent-hillary-voters-dont-assume-someone-else-will-stop-trump-2/
11. Ian Reifowitz: I am incredibly enthusiastic about voting for Hillary Clinton.
Here's why.
First and foremost: I'm a progressive, and so is she. Progressives, let alone Democrats, don't agree on every issue. However, Hillary Clinton and I believe most of the same things, and share most of the same priorities for our country. She is the candidate who comes far closer to my values than any other on the ballot, and that would be true no matter which of the Republican presidential candidates became the nominee.
To name just a few examples, I believe in women's reproductive freedom, I believe we need to aggressively combat global warming, I believe our tax policy should benefit the 99 percent rather than the 1 percent, I believe every American has a right to affordable health care, I believe we need strong regulation—of Wall Street and every industry—both to protect consumers and ensure that honest business people can compete without having to cheat.
Hillary Clinton shares these beliefs. Furthermore, she's spent a lifetime working to implement them, as seen in her decades of work advocating for children, for improvements to education, to improve the lives of disabled Americans, and going undercover to expose racial segregation and discrimination. She's been fighting for progressive change her entire adult life, and she's gotten results.
I'm more than just ready for Hillary, I'm chomping at the bit to vote for her. Not just against Donald Trump, but for Hillary Clinton. In the primaries, I voted for Bernie Sanders, and wrote about why I did so at the time. But now, the reason I'm excited to vote for Secretary Clinton is simple: I know she's going to make a great president. 9/25/16 http://www.dailykos.com/stories/2016/9/25/1571268/-I-am-incredibly-enthusiastic-about-voting-for-Hillary-Clinton-Here-s-why
12. NY Times Editorial: Why Donald Trump Should Not Be President
When Donald Trump began his improbable run for president 15 months ago, he offered his wealth and television celebrity as credentials, then slyly added a twist of fearmongering about Mexican "rapists" flooding across the Southern border.
From that moment of combustion, it became clear that Mr. Trump's views were matters of dangerous impulse and cynical pandering rather than thoughtful politics. Yet he has attracted throngs of Americans who ascribe higher purpose to him than he has demonstrated in a freewheeling campaign marked by bursts of false and outrageous allegations, personal insults, xenophobic nationalism, unapologetic sexism and positions that shift according to his audience and his whims.
Now here stands Mr. Trump, feisty from his runaway Republican primary victories and ready for the first presidential debate, scheduled for Monday night, with Hillary Clinton. It is time for others who are still undecided, and perhaps hoping for some dramatic change in our politics and governance, to take a hard look and see Mr. Trump for who he is. They have an obligation to scrutinize his supposed virtues as a refreshing counterpolitician. Otherwise, they could face the consequences of handing the White House to a man far more consumed with himself than with the nation's well-being. 9/25/16 http://www.nytimes.com/2016/09/26/opinion/why-donald-trump-should-not-be-president.html?_r=0
13. Jelani Cobb: The Model For Donald Trump's Media Relations Is Joseph Mccarthy
Trump and McCarthy share not only the kindred traits of demagogues—bombast and the manipulation of public fear in the service of their own ends—but a curiously close, almost familial resemblance. McCarthy's hallucinatory anti-Communism was facilitated in part by a kind of swaggering masculinity that he deployed to differentiate himself from his patrician G.O.P. colleagues. He distorted his record of military service to portray himself as a fearless fighter against unambiguous evil. As with Trump's, McCarthy's world view was defined by a hypertensive, conspiratorial outlook. A conspiracy theory typically rests upon the extrapolation of a single shred of suggestion into a skein of unverifiable assertions—as with McCarthy's 1950 claim that two hundred and five Communists had infiltrated the State Department. An internal government document had noted a number of employees whose background checks had revealed unspecified but troubling information, but there was no indication that these individuals were Communist moles. Trump's Presidential campaign has been a miasma of conspiracy theories, virtually from the outset. Yet those parallels—disturbing as they may be—are surpassed by the similarities between Trump and McCarthy's relationships with the press.
McCarthy's demagogy was essentially enabled by a symbiotic press corps that was both frustrated by the senator's pervasive dishonesty and beholden to him as a source of public interest and, therefore, newspaper sales. As David Oshinsky points out in "A Conspiracy So Immense," his biography of McCarthy, the version of "objective" journalism in which the media simply reports the statements made by public figures, irrespective of their veracity, is uniquely vulnerable to manipulation by demagogues and serial liars. 9/23/16 http://www.newyorker.com/news/daily-comment/the-model-for-donald-trumps-media-relations-is-joseph-mccarthy
14. Eugene Robinson: In America, gun rights are for whites only
If you are a black man in America, exercising your constitutional right to keep and bear arms can be fatal. You might think the National Rifle Association and its amen chorus would be outraged, but apparently they believe Second Amendment rights are for whites only.
In the Scott case, according to a Charlotte police department statement, officers said they went to a neighborhood looking for someone else and saw Scott "inside a vehicle in the apartment complex. The subject exited the vehicle armed with a handgun. Officers observed the subject get back into the vehicle at which time they began to approach the subject."
If all they saw was a man with a gun who got out of a car and back in, what illegal activity did they observe? Why did they "approach the subject" instead of going about their business? Did they have any reason to suspect it was an illegal gun? Are all men carrying guns believed to be carrying guns illegally, or just black men?
Our gun laws should be changed. Until then, however, they must be enforced equally. Does the NRA disagree? https://www.washingtonpost.com/opinions/in-america-gun-rights-are-for-whites-only/2016/09/22/3990d370-80f2-11e6-8327-f141a7beb626_story.html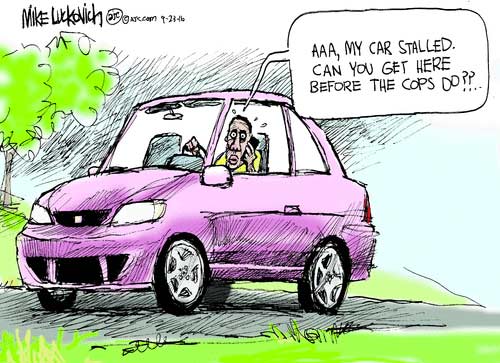 15. LA Times Editorial Hillary Clinton would make a sober, smart and pragmatic president. Donald Trump would be a catastrophe.
American voters have a clear choice on Nov. 8. We can elect an experienced, thoughtful and deeply knowledgeable public servant or a thin-skinned demagogue who is unqualified and unsuited to be president. 
Donald J. Trump, a billionaire businessman and television personality, is the latter. He has never held elected office and has shown himself temperamentally unfit to do so. He has run a divisive, belligerent, dishonest campaign, repeatedly aligning himself with racists, strongmen and thugs while maligning or dismissing large segments of the American public. Electing Trump could be catastrophic for the nation. 
By contrast, Hillary Clinton is one of the best prepared candidates to seek the presidency in many years. As a first lady, a Democratic senator from New York and secretary of State in President Obama's first term, she immersed herself in the details of government, which is why her positions on the issues today are infinitely better thought-out than those of her opponent.  
She stands for rational, comprehensive immigration reform and an improvement rather than an abandonment of the Affordable Care Act. She supports abortion rights, wants to raise the federal minimum wage to $12 an hour, hopes to reform the sentencing laws that have overcrowded American prisons, would repair the Voting Rights Act and help students to leave college without enormous debt. Abroad she would strengthen America's traditional alliances, continue the Obama administration's efforts to "degrade and ultimately defeat" Islamic State and negotiate with potential adversaries such as Russia and China in a way that balances realism and the protection of American interests. Unlike Trump, Clinton accepts the prevailing science on climate change and considers the issue to be "the defining challenge of our time." 
Every presidential race is described as "defining" and historic." This time, it's true. Americans must not sit this election out, but cast their votes for Hillary Clinton over her dangerous Republican opponent, Donald Trump. http://www.latimes.com/opinion/editorials/la-ed-hillary-endorsement-20160923-snap-story.html
16. The Arizona Republic Endorsement: Hillary Clinton is the only choice to move America ahead
Since The Arizona Republic began publication in 1890, we have never endorsed a Democrat over a Republican for president. Never. This reflects a deep philosophical appreciation for conservative ideals and Republican principles.
This year is different.
The 2016 Republican candidate is not conservative and he is not qualified.
That's why, for the first time in our history, The Arizona Republic will support a Democrat for president.
The challenges the United States faces domestically and internationally demand a steady hand, a cool head and the ability to think carefully before acting.
Hillary Clinton understands this. Donald Trump does not.
Clinton has the temperament and experience to be president. Donald Trump does not. 9/27/16 http://www.azcentral.com/story/opinion/editorial/2016/09/27/hillary-clinton-endorsement/91198668/