September 7, 2023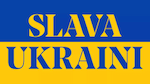 To subscribe to this FREE weekly newsletter simply email jellison@san.rr.com with "subscribe" as the subject.
THE WEEK'S BEST QUOTES. . .
"People are not affecting climate change. You're going to tell me that back in the Ice Age, how much taxes did people pay, and how many changes did governments make to melt the ice?" — Marjorie Taylor Greene.
https://twitter.com/NoLieWithBTC/status/1699064590850510875
"How dare lowlife prosecutor deranged Jack Smith…break into my former Twitter account without informing me…What could he possibly find out that is not already known?" — Trump attacks Jack Smith for getting a search warrant for records related to his Twitter account.
https://twitter.com/AccountableGOP/status/1696899755870126431.
"I told one senator… we've got to put our heads together and figure this out. We need to be taking action right now. Because if we don't, our constituencies are gonna be fighting it in the streets. Do you want a civil war? I don't want a civil war. I don't want to have to draw my rifle. I want to make this problem go away with my legislative means of doing so." — Georgia state Sen. Colton Moore (R) told Steve Bannon that he plans to push the legislature to defund Fulton District Attorney Fani Willis' prosecution of Donald Trump, arguing she threatens to ignite a "civil war."
https://twitter.com/AnthonyMKreis/status/1696880355267973622
"I was very busy. I was — I considered this the most important job in the world, saving millions of lives. I think you would have nuclear holocaust if I didn't deal with North Korea. I think you would have a nuclear war, if I weren't elected. And I think you might have a nuclear war now if you want to know the truth." — In a sworn deposition from this past April, former President Donald Trump told New York officials that he was too busy 'saving millions of lives' as president to run his company, let alone commit business fraud. 
https://thehill.com/regulation/court-battles/4180726-trump-in-deposition-says-he-averted-nuclear-holocaust/
and
https://www.documentcloud.org/documents/23932448-trump-ag-deposition-transcript
"My main hope is for Trump to win election in 2024. I know he'll pardon me. I believe that with all my heart." — Proud Boys Leader Joe Biggs called in to Alex Jones's Info Wars show tonight to complain about the 17-year sentence he just received in federal court for his role in J6.
https://www.meidastouch.com/news/proud-boy-biggs-from-prison-i-know-trump-will-pardon-me
"I think they're walking the plank. I'm pro-life. I have a fantastic pro-life voting record, but I also understand that we cannot be assholes to women." — Rep. Nancy Mace (R-SC) has a warning for her party about some efforts to restrict abortion without exceptions – and how it could affect moderate House Republicans on whom their narrow majority depends.
https://www.cnn.com/2023/09/03/politics/nancy-mace-republicans-abortion/index.html
"I don't think age is the singularly most importantly issue — for instance, I'd rather elect someone who will be 86 at the end of his term than someone who might refuse to step down at the end of it." -- Nate Silver. 
https://www.natesilver.net/p/of-course-bidens-age-is-a-legitimate
"What is happening at Burning Man with people trapped by flood is a plot by the Deep State to force 75,000 people into one place to brainwash them on climate change.…Tornadoes and flooding were sent by God to punish them for the mock sacrifice they supposedly performed.    Now when all the attendees go home, they will spread climate change propaganda.  Rep. Marjorie Taylor Greene.
https://www.meidastouch.com/news/greene-god-sent-tornadoes-to-burning-man-to-teach-them-a-lesson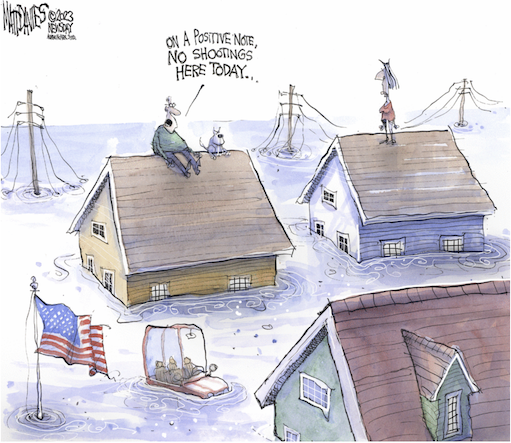 ---
IN THIS ISSUE
IN THE NEWS
OPINION
Andy Borowitz: Giuliani Requests Change of Trial Venue to Four Seasons Total Landscaping
Rudolph Giuliani has requested that his election-interference trial be moved from Georgia to the parking lot of Four Seasons Total Landscaping.
The former New York mayor made the request from the parking lot of Four Seasons Total Landscaping.
"Conducting a trial behind closed doors is a travesty of justice," he said. "This trial must be held out in the open, in a parking lot."
"Jurors can watch the proceedings from the comfort of their cars," he said. "And if they need a drink, they can just start up their engines and go to a liquor store. There's one right around the corner from here. Great selection. Good guy runs it—his name is Dave or Mike or something. I'm heading over there now."
https://www.newyorker.com/humor/borowitz-report
Tucker Carlson: 'Obviously' We're 'Speeding Toward Assassination' of Trump
Tucker Carlson is pounding home the theory that Democrats and the D.C. establishment are plotting to kill Donald Trump.
Said Carlson: "They protested him, they called him names. He won anyway. They impeached him twice on ridiculous pretenses. They fabricated a lot about what happened on January 6 in order to impeach him again. It didn't work. He came back. Then they indicted him. It didn't work. He became more popular. Then they indicted him three more times. And every single time his popularity rose."
He added: "If you begin with criticism, then you go to protest. Then you go to impeachment. Now you go to indictment and none of them work. What's next? I mean, you know, graph it out, man! We're speeding toward assassination, obviously, and no one will say that!"
https://www.thedailybeast.com/tucker-carlson-obviously-were-speeding-toward-assassination-of-trump
Musk's new Twitter policies helped spread Russian propaganda, E.U. says
Twitter under Elon Musk's ownership has played a major role in allowing Russian propaganda about Ukraine to reach more people than before the war began, according to a study released this week by the European Commission, the governing body of the European Union.
https://www.washingtonpost.com/technology/2023/09/01/musk-twitter-x-russia-propaganda/
Climate-Linked Ills Threaten Humanity
Pakistan is the epicenter of a new global wave of disease and death linked to climate change, according to a Washington Post analysis.
This examination of climate-fueled illnesses — tied to hotter temperatures, and swifter passage of pathogens and toxins — shows how countries across the globe are ill-prepared for the insidious, intensifying risks to almost every facet of human health.
https://www.washingtonpost.com/climate-environment/interactive/2023/pakistan-extreme-heat-health-impacts-death/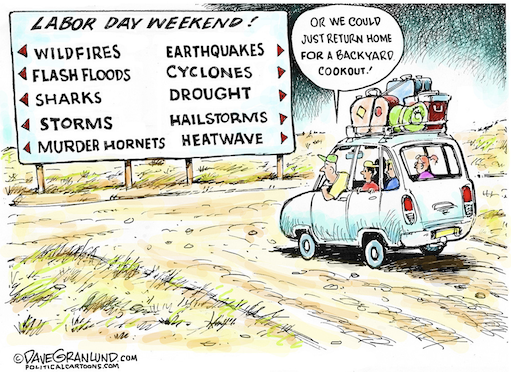 Kamala Harris and Gavin Newsom's Decades-Long 'Cold War'
Throughout both careers, much of the tension has stemmed from both Democrats' desire to move up the political ladder. That is true today, too: Newsom's role as the Biden campaign's attack dog has only increased his profile in top Democratic circles, making his name one of the first mentioned when political watchers discuss the 2028 presidential election. That has frustrated some close to Harris, who see her as the obvious heir apparent to Biden, given her current role.
That unease does not extend to the Biden campaign, however, where operatives are pleased with the governor's work and have been routinely made aware of his media appearances on behalf of the campaign. Part of the problem is that while Newsom has found success, Harris has largely failed to find her footing as vice president. But few believe the frustration is coming from Harris directly.
https://themessenger.com/politics/kamala-harris-and-gavin-newsoms-decades-long-cold-war
Clashes mount between Trump and his legal nemesis
Special counsel Jack Smith is not done with former President Donald Trump and his entourage, despite charging him with four criminal counts over his attempt to overthrow the 2020 election and more than three dozen other charges over his hoarding of classified documents in Florida.
The clash between the hard-driving prosecutor and the world's most famous defendant escalated even further on Tuesday, as new details of Smith's widening probe into election interference emerged. The special counsel is now looking at how money raised off baseless claims of voter fraud was used to fund attempts to breach voting equipment in several states won by President Joe Biden.
https://www.cnn.com/2023/09/06/politics/donald-trump-jack-smith-clashes/index.html
Some Republicans Worry that a Trump Nomination Could Bring Steep Down-Ballot Losses for the GOP
Republicans have quietly been coming to grips with the likelihood that Donald Trump will keep winning the Republican nomination until he dies if he doesn't retake the White House next year — and either outcome could cost the GOP down-ballot.
It's a grim sort of arrested development for Republicans, with Trump positioned as a modern-day Adlai Stevenson, Democrats' losing nominee in 1952 and 1956. The worry is that Trump's baggage and bombast will disincentivize center-right and independent voters from participating in general elections, with repercussions down the ballot — reversing the old coattails rule of politics, which holds that a strong name at the top of the ticket lifts all boats in the party.
But in the inverted world operatives are bracing for, it's Trump's name forever sinking their boats in statewide battles by depressing voter turnout.
https://themessenger.com/politics/some-republicans-worry-that-a-trump-nomination-could-bring-steep-down-ballot-losses-for-the-gop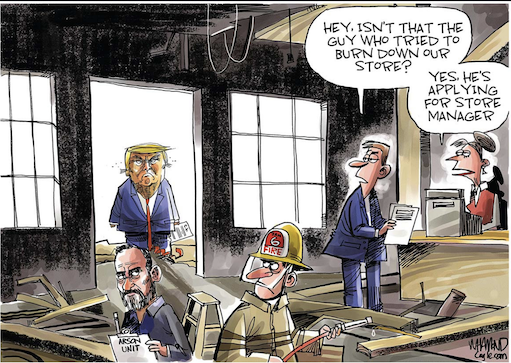 Hunter Biden might not be the slam dunk issue GOP commentators hoped
For months, 'Where's Hunter?' and 'Biden Crime Family' has become a rallying cry of the right. House Speaker Kevin McCarthy is signaling he may move forward with an impeachment inquiry against the president this year over alleged corruption related to Hunter Biden's activities.
But in the 2024 primary, the controversy surrounding Hunter Biden is falling flat. Instead, there is a growing recognition within some corners of the GOP — and among former President Donald Trump's rivals, significantly — that the issue may not resonate as much as they once hoped, and that fixating on it could only help Trump.
https://www.politico.com/news/2023/09/05/hunter-biden-gop-primary-00113820
Peter Navarro heads to trial with gutted defense and mounting bills
With former president Donald Trump now accused of 91 felonies in four historic indictments, the legal woes of his erstwhile senior trade adviser, Peter Navarro, have been reduced to a prosecutorial sideshow.
Yet the 74-year-old economist, still a loud proponent of the 'stolen election' falsehoods of his ex-boss, remains noteworthy in this sense: After right-wing provocateur Stephen K. Bannon was convicted last summer of contempt of Congress, Navarro on Tuesday is set to become the second top official in Trump's White House to face a criminal trial related to a scheme to undo President Biden's 2020 victory at the polls.
https://www.washingtonpost.com/dc-md-va/2023/09/05/peter-navarro-contempt-trial/
New Biden Ad to Blanket Swing States During NFL Kickoff
The Biden campaign plans to place a 
new TV ad
targeted to battleground states during the NFL season opener on Thursday.
The spot is part of a broader $25 million campaign that will focus on the president's economic record and last through December.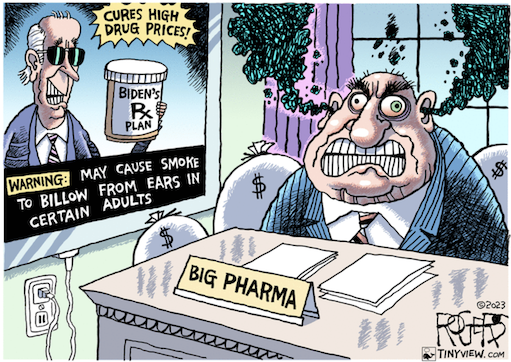 Trump's Co-Defendants Already Starting to Turn on Him
The finger-pointing among Donald Trump's inner circle has begun.
And as his four criminal cases march toward trials, some of his aides, allies and co-defendants are pointing at the former president.
In court documents and hearings, lawyers for people in Trump's orbit — both high-level advisers and lesser known associates — are starting to reveal glimmers of a tried-and-true strategy in cases with many defendants: Portray yourself as a hapless pawn while piling blame on the apparent kingpin.
https://www.politico.com/news/2023/09/05/trump-cases-defendants-flipping-00113910
From 'Sleepy Joe' to 'Crooked Joe': Trump tries to redraw his portrait of Biden
During their first showdown, Donald Trump disparaged Joe Biden as 'a sleepy guy in the basement of a house' who was barely aware of his surroundings. Now, facing four criminal indictments and gearing up for a 2024 rematch, the former president is changing course to depict his successor as a nefarious mastermind who is pulling the strings of a complex justice system without leaving any fingerprints.
https://www.nbcnews.com/politics/2024-election/sleepy-joe-crooked-joe-trump-tries-redraw-portrait-biden-rcna102383
Clarence Thomas officially discloses private trips on GOP donor Harlan Crow's plane
Justice Clarence Thomas disclosed Thursday that Republican megadonor Harlan Crow paid for private jet trips for Thomas in 2022 to attend a speech in Texas and a vacation at Crow's luxurious New York estate, as ethics questions continue to rock the Supreme Court.
Thomas also disclosed Thursday that he had "inadvertently omitted" other information in past reports including a life insurance policy for his spouse, conservative activist Virginia Thomas that had a cash value under $100,000 and a bank account valued at under $70,000 in 2018.
In addition, he said that he should have disclosed a 2014 private real estate deal between Crow, Thomas and members of Thomas' family that involved the sale of three Georgia properties including the home where Thomas' mother currently lives.
A source close to Thomas told CNN in April that Thomas initially believed he didn't have to disclose because he lost money on the deal. The real estate deal was first reported by ProPublica. The financial disclosure form clearly indicates, however, that a "transaction" needs to be listed irrespective if there was a loss.
As a part of the negotiated sale price, Williams, 85 at the time, was given an occupancy agreement to be able to live in the home for the rest of her life rent free but responsible for paying property taxes and insurance.
As for the travel that Crow paid for in 2022, it included a private jet for Thomas who gave a talk at the Old Parkland Conference sponsored by the Hoover Institution, the Manhattan Institute and the American Enterprise Institute. The conference was held at a building owned by Crow Holdings.
According to the disclosure, Thomas flew down to be the keynote speaker of the event in February, but returned via private jet "due to an unexpected ice storm." The talk was rescheduled in May and Thomas rode round trip on Crow's plane. In the financial disclosure form Thomas notes that "because of increased security risk following the Dobbs opinion leak, the May flights were by private plane for official travel as filer's security detail recommended noncommerical travel whenever possible."
In addition, in July, Thomas traveled to Crow's private Adirondack resort for vacation.
https://www.cnn.com/2023/08/31/politics/thomas-alito-supreme-court-disclosures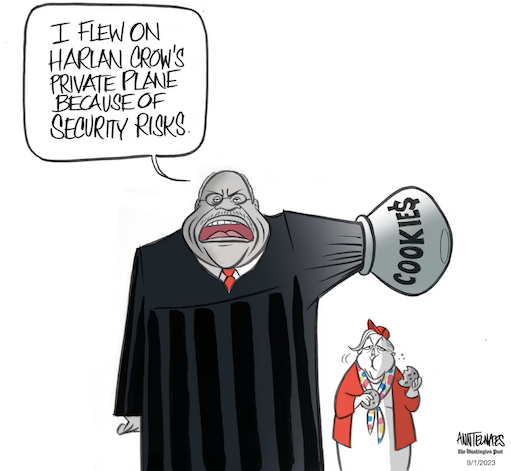 White House Memo Frames the Pending Government Shutdown
"With House Republicans on the verge of breaking with the Senate GOP and turning their back on the funding commitment they made to the American people, they need to remember that lives are at stake in the government funding debate."
"House Republicans have a pressing choice to make: do they keep their commitment to the country and provide the resources we need to address our urgent challenges, or do they set back the most critical needs of the American people by deciding that a baseless impeachment stunt demanded by Marjorie Taylor Greene and their most extreme members is somehow more important?"
https://www.politico.com/f/?id=0000018a-64a3-d0b1-a7eb-66f3f46d0000
GOP Lawmakers Seek to Ban Rainbow Decals
Some central Florida lawmakers said they were considering "all legislative, legal and executive options available" to stop business owners in a small town from voluntarily displaying rainbow decals in their windows indicating that they are "safe place" for LGBTQ+ people who feel threatened.
Four Republican lawmakers wrote a letter to officials in Mount Dora two weeks ago warning that the new, optional city-sponsored program could put the central Florida community outside Orlando "in the crosshairs of potentially detrimental and absolutely unnecessary economic harm."
https://www.local10.com/news/national/2023/09/02/gop-lawmakers-take-aim-at-lgbtq-safe-places-program-in-small-florida-town/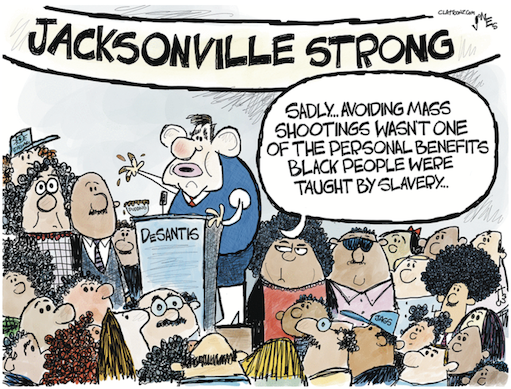 Musk threatens to sue ADL after blaming it for X ad sales slump
Elon Musk threatened to sue the Anti-Defamation League on Monday after blaming the nonprofit for an advertising revenue slump on X since he led a takeover of the platform formerly known as Twitter.
Musk accused the ADL in a post on X of 'trying to kill this platform by falsely accusing it and me of being anti-Semitic' after it reported a spike in hate speech on the platform following the reinstatement of banned accounts there.
https://www.axios.com/2023/09/04/elon-musk-anti-defamation-league-x-ad-sales-slump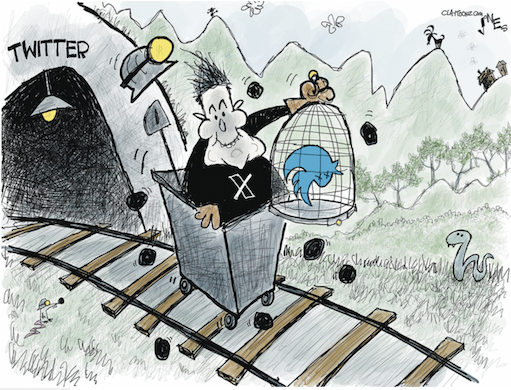 Wisconsin GOP weighs moves to sideline elections chief and liberal Supreme Court majority
Wisconsin Republicans, after a string of losses in hotly contested statewide races, are taking steps toward sidelining the state's nonpartisan elections chief and undercutting the new liberal majority on the state Supreme Court.
Their actions – an escalation of bitter, partisan feuds that have rankled the state government in one of the nation's most important swing states for years – raise questions about how the 2024 election will be run there and who will set the rules.
https://www.cnn.com/2023/09/04/politics/wisconsin-republicans-election-fight/index.html
Matt Schlapp Held an Exorcism at CPAC Offices After Junior Employees Resigned
When a group of employees resigned in protest from conservative activist group CPAC last year, the organization's power couple—Matt Schlapp and his wife, Mercedes—felt it was time for a new beginning. As part of the reset, the Schlapps turned to a priest to evict satanic spirits from the D.C. offices.
https://www.thedailybeast.com/matt-schlapp-held-an-exorcism-at-cpac-offices-after-junior-employees-resigned
Congress poised for messy September as McCarthy races to avoid government shutdown
GOP hardliners in the House are eager to play a game of chicken over the end-of-the-month deadline to fund federal agencies, seeking to force the White House and Senate to make a choice: Accept a slew of conservative priorities or risk a debilitating government shutdown.
And caught in the middle, once again, is Speaker Kevin McCarthy.
https://www.cnn.com/2023/09/03/politics/congress-september-government-shutdown-kevin-mccarthy/index.html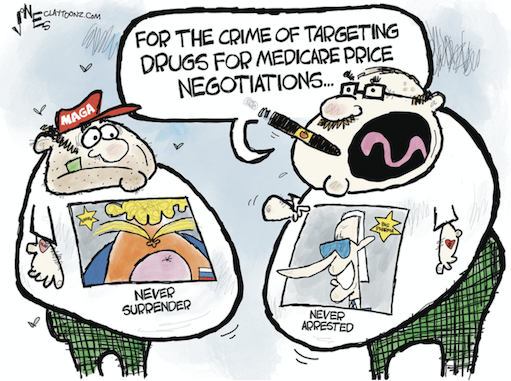 White House ramps up war room to battle expected GOP impeachment inquiry
The White House has stood up a war room of two dozen lawyers, legislative aides and communications staffers to lead an aggressive response to a likely Republican impeachment inquiry into President Joe Biden.
The effort, as described by eight people familiar with the plans, has been taking shape for months in the White House counsel's office as part of the response to Republican-led House investigations. Biden's aides and allies say they are preparing to vigorously push back against an impeachment inquiry and present it as an evidence-free partisan sham that shows a GOP penchant for chaos…
Biden aides have looked to 1998, when the House impeached President Bill Clinton, as a model for how to mount an effective defense — and make the GOP pay a political price for overreaching — said a source familiar with the strategy. … If Republicans follow through with threats of an impeachment inquiry in the coming weeks or months, the White House plans to try to present a split-screen in which the president is focused on economic issues that affect people's lives.
https://www.nbcnews.com/politics/joe-biden/white-house-war-room-gop-impeachment-inquiry-joe-biden-rcna102766
Alabama can prosecute those who help women travel for abortion, attorney general says
Alabama Attorney General Steve Marshall (R) said the state can prosecute people who help women travel out of state for abortions in response to a lawsuit filed by a pro-abortion group and owners of women's clinics.
https://www.al.com/news/2023/08/alabama-can-prosecute-those-who-help-women-travel-for-abortion-attorney-general-says.html
Giuliani's first big legal loss is a blistering one
We don't yet know how much Giuliani will ultimately be forced to pay, but Howell suggested it could be 'significant.' Howell has already ordered him to pay about $132,000 in sanctions for his failures to comply with court orders. There will still be a trial to assess how much Giuliani owes Freeman and Moss in monetary damages.
The development is merely the latest example of a Trump ally suffering direct consequences and even being forced to pay up for promoting bogus voter-fraud claims. The other big one, of course, was Fox News agreeing to pay a $787.5 million settlement to Dominion Voting Systems over its defamation claims. That case also involved false Giuliani claims that Fox chose to air, despite prominent figures within the company privately deriding such claims — and deriding Giuliani personally.
https://www.washingtonpost.com/politics/2023/08/30/giulianis-first-big-legal-loss-is-blistering-one/
Wisconsin's new liberal Supreme Court justice hasn't heard a case but Republicans may impeach
Even before the newly elected justice who gave liberals a one-seat majority on the Wisconsin Supreme Court has heard a case, Republican lawmakers are talking about taking the unprecedented step of impeaching and removing her from office.
And they have the votes to do it.
Republicans worry that the legislative districts they drew 12 years ago, which are widely viewed as among the most gerrymandered in the country, will be undone in one of the court's first actions under liberal control. It's a legitimate concern, as Democratic-friendly groups brought two lawsuits in the first week of newly elected Justice Janet Protasiewicz's term asking the new liberal-controlled court to toss the maps.
https://www.msn.com/en-us/news/politics/wisconsin-s-new-liberal-supreme-court-justice-hasn-t-heard-a-case-but-republicans-may-impeach/ar-AA1g3oKj
'Trump isn't funding any of us': Co-defendants in Georgia case are struggling with mounting legal bills
Some of Donald Trump's co-defendants in the sprawling election subversion case in Georgia are trying all sorts of ways to fund their mounting legal bills – yet the costs of the 2020 election fallout may quickly exceed their abilities to pay.
Trump has covered the legal bills of aides, advisers and employees during the House select committee's probe into January 6, 2021, and federal investigations, including his two co-defendants in the classified documents case, Walt Nauta and Carlos De Oliveira, both of whom work for the former president.
But there is no sign yet that Trump intends to do so for any of his co-defendants in the Georgia case, which alleges that he and others engaged in a criminal conspiracy to subvert the state's 2020 election results. In fact, Trump has publicly distanced himself from them, telling Newsmax he doesn't know 'a lot of these people.'
https://www.cnn.com/2023/09/01/politics/cash-crunch-trump-georgia-co-defendants-legal-bills/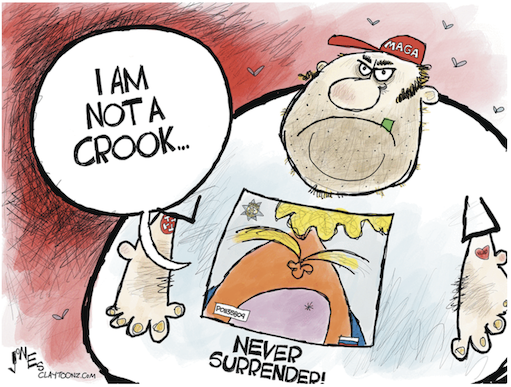 Highways are the next antiabortion target
More than a year after Roe v. Wade was overturned, many conservatives have grown frustrated by the number of people able to circumvent antiabortion laws — with some advocates grasping for even stricter measures they hope will fully eradicate abortion nationwide.
That frustration is driving a new strategy in heavily conservative cities and counties across Texas. Designed by the architects of the state's 'heartbeat' ban that took effect months before Roe fell, ordinances like the one proposed in Llano — where some 80 percent of voters in the county backed President Donald Trump in 2020 — make it illegal to transport anyone to get an abortion on roads within the city or county limits. The laws allow any private citizen to sue a person or organization they suspect of violating the ordinance.
Antiabortion advocates behind the measure are targeting regions along interstates and in areas with airports, with the goal of blocking off the main arteries out of Texas and keeping pregnant women hemmed within the confines of their antiabortion state.
https://www.washingtonpost.com/politics/2023/09/01/texas-abortion-highways/
Democrats Push to Subpoena Jared Kushner's Saudi-Backed Investment Firm
House Oversight Democrats are calling on committee Chair James Comer (R-KY) to use his subpoena power to investigate the foreign business dealings of Donald Trump's son-in-law Jared Kushner — an investigation Comer has been personally stalling for more than a year.
Since Republicans gained control of the House in 2022, Comer has focused the bulk of the Oversight Committee's work on a sprawling probe into President Joe Biden's son Hunter Biden.
But earlier this month, Comer himself acknowledged that Kushner had 'crossed the line of ethics' in his foreign business dealings, a statement Rep. Jamie Raskin (D-MD) is looking to capitalize on.
https://www.rollingstone.com/politics/politics-news/jared-kushner-subpoena-oversight-democrats-1234816008/
U.S. presses Saudi Arabia on reported migrant massacres
The Biden administration is pressing Saudi Arabia to identify which elements of its security forces are alleged to have slaughtered migrants along the kingdom's border with Yemen, a step that would mark an advance toward determining responsibility for the reported abuses and help the United States establish if it has provided weapons or training to those units, the Washington Post reports.
Riyadh has categorically denied the allegations in last week's explosive report from Human Rights Watch, which described widespread killing, maiming and abuse of Ethiopian migrants and asylum seekers by Saudi government forces positioned along the border.
https://www.washingtonpost.com/national-security/2023/08/31/saudi-yemen-migrants-us/
Florida Judge Throws Out DeSantis-Backed Congressional Map, Rules In Favor of Civil Rights Groups
A judge in Florida ruled in favor of civil rights groups on Saturday, throwing out a congressional district map that Republican Gov. Ron DeSantis had backed and deeming it unconstitutional.
The ruling, which is likely to be appealed, delivered another redistricting win for Democrats in the Southeast after a series of cases in the region have given the party more opportunities to flip Republican-controlled House seats ahead of what will be a contentious fight for control of the legislative chamber next year.
https://themessenger.com/politics/florida-redistricting-judge-throws-out-desantis-backed-congressional-map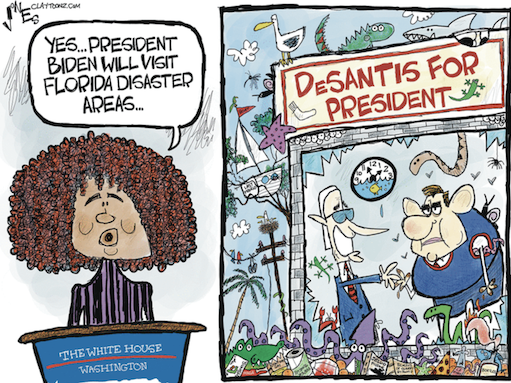 Leaked internal poll numbers scrambling the GOP primary
Ron DeSantis' supporters were thrilled last week when a poll emerged following the first primary debate showing him bouncing up 7 points in the critical first caucus state of Iowa.
The debate, they argued, had given the Florida governor the type of bump he needed to revive a sagging presidential campaign.
Left largely unsaid: The poll had been commissioned by a nonprofit that had hired DeSantis' own polling firm.
https://www.politico.com/news/2023/09/02/desantis-gop-primary-internal-polling-00113716
The sleeper legal fight that could define 2024: Is Trump even eligible to run?
There are two ways the theory might be tested. One strategy is for politicians, advocacy groups or even ordinary voters to file lawsuits seeking judicial declarations that Trump is ineligible to run. This strategy is already in its infant stages, with two obscure plaintiffs filing lawsuits in New Hampshire and Florida in recent days.
The other, more politically perilous option would be for one or more states to embrace the theory outright and simply refuse to list Trump on their ballots. That might force Trump to file his own lawsuits asking courts to order his candidacy restored in those states. So far, no state has moved to bar Trump from the ballot, though secretaries of state around the nation are discussing the issue among themselves.
Either scenario could thrust the courts, and likely the Supreme Court, into an unsettled debate over the meaning of the insurrection clause, a long-winded 110-word provision that was ratified in 1868 and has rarely been interpreted — or even invoked — since then.
https://www.politico.com/news/2023/09/01/fourteenth-amendment-insurrection-clause-trump-00113790
McCarthy says he won't open impeachment inquiry without House vote
Speaker Kevin McCarthy (R-CA) said that he would only open a formal impeachment inquiry into President Biden with a full House vote — shutting down talk of Republicans potentially moving forward without one.
Said McCarthy: "To open an impeachment inquiry is a serious matter, and House Republicans would not take it lightly or use it for political purposes. The American people deserve to be heard on this matter through their elected representatives. That's why, if we move forward with an impeachment inquiry, it would occur through a vote on the floor of the People's House and not through a declaration by one person."
https://thehill.com/homenews/house/4183496-mccarthy-says-he-wont-open-impeachment-inquiry-without-house-vote/
Kentucky's governor won't commit to appointing Republican if McConnell resigns
After Senate Minority Leader Mitch McConnell (R-KY) experienced his second freezing episode in five weeks, Kentucky Gov. Andy Beshear (D) is declining to say whether he would follow a state law requiring him to appoint a Republican in the event of a Senate vacancy
.
Said Beshear: "There is no Senate vacancy. Senator McConnell has said he's going to serve out his term, and I believe him, so I'm not going to speculate about something that hasn't happened and isn't going to happen."
https://www.washingtonpost.com/politics/2023/09/01/kentucky-governor-beshear-mcconnell/
Florida school vouchers can pay for TVs, kayaks and theme parks. Is that OK?
As Florida lawmakers expanded eligibility for school vouchers this year, they also gave parents more ways to spend the money.
Theme park passes, 55-inch TVs, and stand-up paddleboards are among the approved items that recipients can buy to use at home. The purchases can be made by parents who home-school their children or send them to private schools, if any voucher money remains after paying tuition and fees.
https://www.tampabay.com/news/education/2023/09/01/florida-school-vouchers-can-pay-tvs-kayaks-theme-parks-is-that-ok/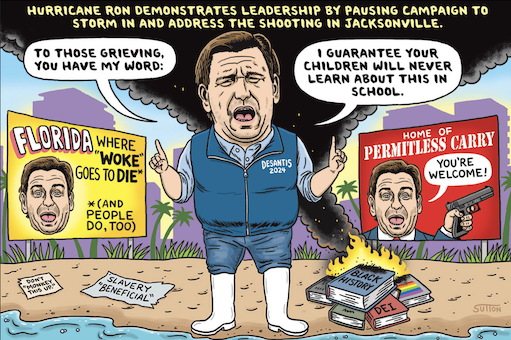 Biden's Age, Economic Worries Endanger Re-Election in 2024, WSJ Poll Finds
Voters overwhelmingly think President Biden is too old to run for re-election and give him low marks for handling the economy and other issues important to their vote, according to a new Wall Street Journal poll that offers a stark warning to the 80-year-old incumbent ahead of the 2024 contest.
The negative views of Biden's age and performance in office help explain why only 39% of voters hold a favorable view of the president. In a separate question, some 42% said they approve of how he is handling his job, well below the 57% who disapprove.
And Biden is tied with former President Donald Trump in a potential rematch of the 2020 election, with each holding 46% support in a head-to-head test.
https://www.wsj.com/politics/elections/bidens-age-economic-worries-endanger-re-election-in-2024-wsj-poll-finds-67a7bba8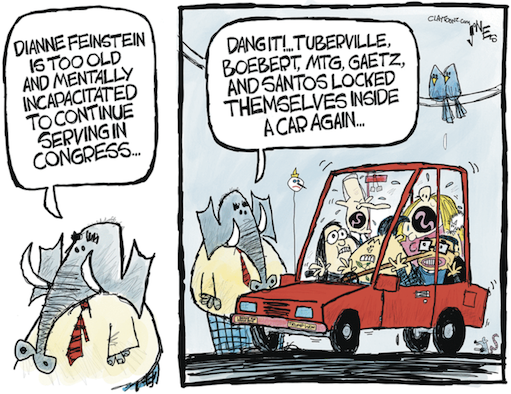 THE DAILY GRILL ...
Rep. Marjorie Taylor Greene (R-GA) announced what it would take to win her vote to fund the government and prevent a shutdown. The demands includes passing an impeachment inquiry into President Biden, defunding his weaponization of government, eliminating funding for Covid-related mandates and cutting off new aid for Ukraine. https://twitter.com/RepMTG/status/1697397823875018936

VERSUS

The White House slammed Rep. Marjorie Taylor Greene (R-GA) for saying she's willing to stop funding the government if Congress doesn't hold a vote to open an impeachment inquiry on President Joe Biden, warning Republicans not to let the hardcore fringe of their party force a shutdown. https://www.usatoday.com/story/news/politics/2023/09/01/white-house-marjorie-taylor-greene-impeachment-shutdown/70737016007/
Michael Hiltzik: Vivek Ramaswamy's idiotic play for airtime is working, God help us
You may have noticed that Vivek Ramaswamy is the political flavor of the moment, thanks to his supercaffeinated performance at the Aug. 23 GOP political debate.
By constantly interrupting his fellow would-be presidential aspirants with a firehose of cocksure imbecilities, Ramaswamy captured the attention of the political chattering classes.
There is no reason to give charlatans like Ramaswamy and Kennedy uncritical airtime on cable or column inches in print or online except that they're shiny objects that cable shows and political pundits think will draw viewers and readers. They offer no legitimate policy proposals, back up their claims with no facts. The result is a series of encounters in which (to quote Joan Didion) "measurable cerebral activity is virtually absent."
It's possible that as fringe candidates Ramaswamy and Kennedy will cancel each other out. But that may only leave a vacuum to be filled by the next glittery charlatan to catch the media's attention.
After the debate, I described Ramaswamy as an "attention whore." The label applies equally to RFK Jr. But what does that say about the news organizations that put them on the air?
https://www.latimes.com/business/story/2023-08-31/vivek-ramaswamy-idiotic-play-for-airtime-working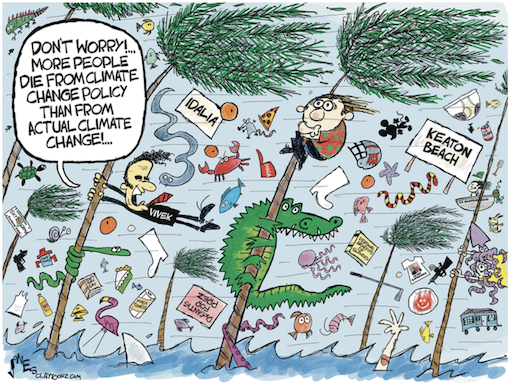 Susan B. Glasser The Twilight of Mitch McConnell and the Spectre of 2024
McConnell's decline might also be something of a boon to Biden. At least, it's awkward timing for Trump and Republicans, who have been planning to make Biden's age and capacity a major theme of the 2024 Presidential campaign. Trump's years of taunting the President as Sleepy Joe have clearly had an effect. Yet Biden is a year younger than McConnell and, for now at least, notably more vigorous. It is a bizarre fact of our current politics that Republicans are preparing to unite around the banner of the seventy-seven-year-old Trump in the name of averting the catastrophe of a President who is too old to serve.
But, in politics, you run with what you've got. It's not so much that voters aren't concerned about Trump's age but that, when it comes to him, they have so much more to worry about. In the same A.P. survey, voters' views of Trump were also highly negative, but fixated more on his chronic lying, alleged criminality, and reckless personality. Among the words volunteered to describe the ex-President: "Corrupt," "Criminal," "Crooked," "Compromised," "Traitor," "Con Artist," "Puppet," "Bully," "Mean," "Jerk," "Hateful," "Loudmouth," "Liar," "Dishonest," and "Untrustworthy." Together, those made up more than a quarter of all responses.
It's the nature of politics to seek advantage in a crisis. The sad twilight of Mitch McConnell will prove to be no exception. But what I keep coming back to is a different and likely even more consequential question: What if Biden has his own McConnell moment? Imagine it happening in the latter days of the 2024 campaign, with Trump as the Republican nominee and the fate of the free world itself on the line. This is hardly an implausible hypothetical. There are, sadly, a million possibilities—a health scare, a bad fall as McConnell experienced, just the accelerated condition of advanced old age. The reign of the octogenarians is a risky bet for a democracy. 
https://www.newyorker.com/news/letter-from-bidens-washington/the-twilight-of-mitch-mcconnell-and-the-spectre-of-2024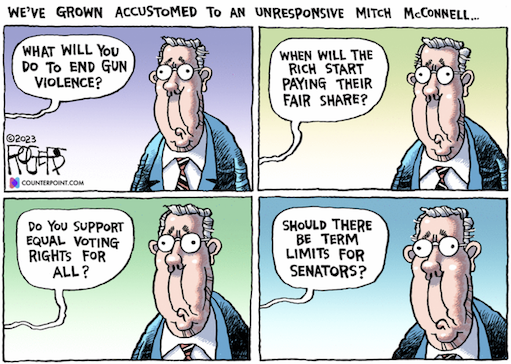 A. B. Stoddard: To Beat Trump, Democrats Need a Whitmer-Warnock Ticket
A new standard-bearer is required to decisively beat Trump next year. It has nothing to do with the president's record or Joe Biden the man. This is purely strategic, and solely about his chance of winning, as well as Kamala Harris's. The vice president's persistently low approval rating, part of the calculation for a second Biden campaign, is comparable to Trump's when he was in office.
All of this may be unfair—successful first terms for incumbent presidents are usually rewarded by second terms, after all—but a determination made repeatedly by a majority of voters that Biden lacks the capacity to serve as commander in chief on account of his age isn't going to fade away. If anything, the issue will get worse for the president as he continues to get older…
If Trump chooses Nikki Haley or Sen. Tim Scott to be his running mate, the race may not even be close. Throw in Cornel West's third-party candidacy, a No Labels spoiler unity ticket—and perhaps an independent run from Robert F. Kennedy Jr., backed by Steve Bannon & Friends—and a second term of Trump starts to look like all but a sure thing.
https://plus.thebulwark.com/p/to-beat-trump-democrats-need-whitmer-warnock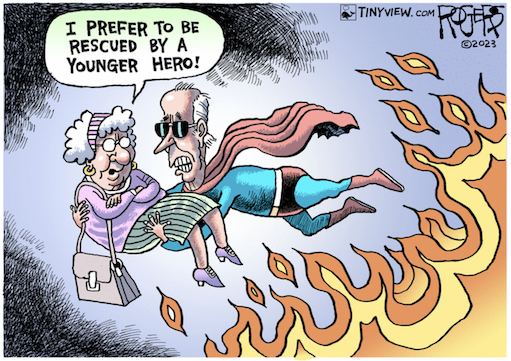 Kristen Soltis Anderson: The Thing Is, Most Republicans Really Like Trump
Many Republicans have an apocalyptic view of the future, believing that the future of the country hangs in the balance if their party does not win the 2024 election, you might assume that Republicans would prioritize electability as they choose a nominee and seek a safe, steady standard-bearer to face President Biden next November. And you might assume, as many pundits and commentators do, that Republicans would begin to consider that nominating Donald Trump, with all his troubles and legal peril, would be too great a risk.
But the belief that the other party would be simply disastrous for the nation is feeding the deep confidence that one's own side is going to prevail in 2024.
What does this mean for Republicans? It means that G.O.P. voters see Mr. Biden as eminently beatable, and they think most Americans see him as they do. Given that, most Republicans aren't looking to be rescued from Donald Trump. The fact is, they really do like him, and at this point they think he's their best shot.
Despite losing the 2020 elections and then experiencing a disappointing 2022 midterm, most Republicans seem confident that their candidate — even Donald Trump, especially Donald Trump — would defeat Joe Biden handily in 2024. They have watched as Mr. Biden has increasingly stumbled, as gas prices have remained high and as Americans have continued to doubt the value of 'Bidenomics.' Many of them believe the pernicious fantasy pushed by Mr. Trump — and indulged by too many Republican leaders who should know better — that the 2020 election was not actually a loss.
In other words, the GOP is made up mainly of men who are stuck in emotional adolescence.
https://www.nytimes.com/2023/08/28/opinion/donald-trump-presidential-campaign.html?smid=tw-share
Jemima Kelly: Trump's status as an anti-hero is making him unstoppable
Many worry that all his legal woes are turning Trump into a 'martyr,' but I'm not sure that quite captures it. It would imply, apart from anything else, that Trump is being persecuted for some kind of strongly held beliefs or principles. But he is in possession of neither — apart from the belief in himself. No, Trump is no feeble martyr. He is something altogether more 'based' — to borrow the internet slang-word for someone who is respected for paying no regard to political correctness or even basic morality.
Trump is the ultimate American anti-hero. An anti-hero, a word normally associated with fictional characters, is someone who plays the central role in a story despite possessing none of the virtues associated with a traditional heroic lead character. In a 2022 paper, a pair of researchers described the anti-hero as 'a bewitching, unrepentant, amoral outsider who breaks old rules and creates new ones while leaving chaos in his wake.'
https://www.ft.com/content/a1d5af1e-8de9-4798-bbd4-1a69e4382741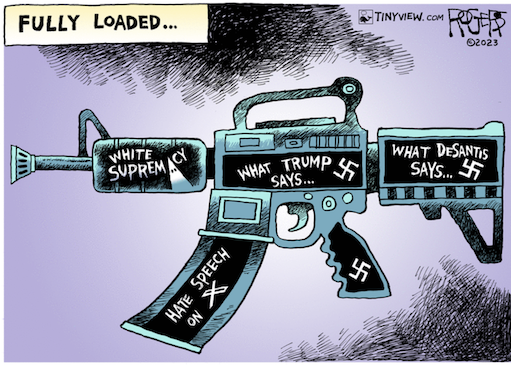 Abigail Tracy: How "Insider" Election Threats Could Help Send Donald Trump Back to the White House
Republicans are still seeking revenge for their 2020 election losses. In Wisconsin, they've put a target on the back of Meagan Wolfe, the state's nonpartisan elections chief, who they're apparently still mad at for refusing to take Donald Trump's baseless claims of election fraud more seriously. Wolfe called the 2020 election "an incredible success that was a result of years of preparation and meticulously, carefully following the law." Nevertheless, state Republicans heeded Trump's election lies, launching a review of the 2020 results, which was led by a former right-wing judge—who attended a symposium on election fraud headed by MyPillow founder Mike Lindell. The investigation cost taxpayers over $1.1 million and ultimately, in 2022, reported no evidence of fraud. Unsatisfied, and still without a smoking gun, Wisconsin Republicans have made Wolfe a scapegoat. Nearly a year from the 2024 election, it looks like they want to fire her, subject to a possibly illegitimate confirmation hearing last week. Wolfe's future as elections administrator remains in limbo.
The power struggle playing out around her post serves as a portent of the machinations to come in 2024—when it's highly possible Trump will once again be on the ballot. It also comes as Democratic secretaries of state are sounding the alarm of continued and emergent threats facing American democracy. Trump allies are already deploying the same playbook as they did in 2020.
https://www.vanityfair.com/news/2023/09/secretaries-of-state-election-threats-donald-trump-joe-biden-2024