July 16, 2020
ON THE RECORD. . .
"The media's been asking this question for four years, and for four years, the president has said the same thing, his taxes are under audit, and when they're no longer under audit, he will release them." — White House press secretary Kayleigh McEnany when asked why President Trump still won't release his tax returns.

The former official added that if an adviser told Trump he needed to choose a woman or black running mate to win the election, Trump wouldn't hesitate to make the change. If it's good for Trump, he'll do it in a second." — A former White House official claiming that the president would throw his vice president "in a wood chipper if he needed to."

Waking up at 5 a.m. the morning after the 2016 election it felt as though 62,979,636 voters had chosen to turn this country into a macro version of my malignantly dysfunctional family." — Mary Trump in her new book.

"BLM is a bit of a dangerous Trojan Horse and they are catching well-meaning people into dangerous posturing that can invite mob rule and property looting, Let's not be tricked into joining cause with radical extremists seeking to foment a cultural revolution because they hate America." — Ginni Thomas, wife of Justice Clarence Thomas.

"The stakes are very high this election, but you know why I know we're going to win? Because people remember how good their lives were back in February." — Sen. Thom Tillis' (R-NC) message at the virtual North Carolina Republican convention.

SEN. LEAHY: "Do you believe a president could lawfully issue a pardon in exchange for the recipient's promise not to incriminate him?"
AG BARR: "No. That would be a crime."

"They have no reason to believe that there is anything wrong with his tax returns. All these tax returns have by and large—maybe not the last one—but all of them have been audited, all of them have either been passed on or settled." — Rudy Giuliani directly contradicting both Trump and his spokesperson's excuse for not just releasing the returns to the public voluntarily."

"Maybe they (Democrats) just hate America. Maybe they just enjoy watching the world burn. I think some are liking the chaos because they think it gives them a political advantage. They are using our kids as political pawns. To them I say, unashamedly, they can kiss my ass. — Sen. John Kennedy (R-LA)

"So are White people. So are White people. What a terrible question to ask. So are White people. More White people, by the way. More White people." — Trump responding to CBS News Catherine Herridge who asked why Black Americans are "still dying at the hands of law enforcement in this country." NOTE:  A study published in 2018  found that Black men are roughly 3.5 times more likely to be killed by law enforcement than White men.

"I think they're not going to say, 'Hey, I'm for Trump, I'm for Trump' — they don't want to go through the process. And I fully understand that, because the process is not fair. The media doesn't treat us fairly. They never have, and perhaps they never will. But maybe they will when we turn this around for a second term, and it's going to happen very quickly." — Trump at his Rose Garden "news conference."

'If Joe Biden wins … let me be clear. America as you know it, we know it, will be destroyed. Our entire way of life will be flushed down the drain.'  — Sean Hannity

"There isn't anyone in their right mind who would say this is a smart strategy in the middle of an exploding pandemic — 'let's wage war on Tony Fauci!' In no rational world does that make sense." — David Axelrod on Peter Navarro who wrote an opinion column slamming Dr. Anthony Fauci, the government's top infectious disease expert.

ON THE PANDEMIC

"We're going to be worse than New York. But at least in New York, people took the virus seriously. Here, we're in a war zone that people refuse to accept." — A Charleston, South Carolina emergency room nurse.

If the US continues on its current path it will reach "one of the most unstable times in the history of our country. We will have hospitals overwhelmed and not only in terms of ICU beds and hospitals -- and that's bad -- but exhausted hospital staff and hospital staff that's getting ill themselves," — Dr. Peter Hotez, dean of tropical medicine at the Baylor College of Medicine.

"As we are experiencing firsthand, you cannot fight the pandemic with lies and disinformation any more than you can fight it with hate or incitement to hatred. The limits of populism and denial of basic truths are being laid bare." — Angela Merkel 

By any standard, no matter how you look at it, the U.S. is losing its war against the coronavirus. The pandemic is not an abstraction, and it is not something that's simmering in the background. It is an ongoing emergency ravaging nearly the entire country, with a loss of life equivalent to a Sept. 11 every three days — for four months and counting. — Sam Baker, the health care editor at Axios.

The Trump administration and its allies have decided that more people — including public school students, their teachers and their families — should fall ill and die as a means of creating a new "normal" where the disease is no longer viewed as an emergency. The evident goal is to sacrifice human beings for "capitalism" and "the economy" in order to salvage Donald Trump's re-election chances. This is the "economics of barbarism" in practice.— Dr. John Gartner

"I had 39 sixth graders one year in my class. I double-dog dare Donald Trump to sit in a class of 39 sixth graders and breathe that air without any preparation for how we're going to bring our kids back safely." — Lily Eskelsen García, president of the National Education Association.

ON ROGER STONE

"He knows I was under enormous pressure to turn on him. It would have eased my situation considerably. But I didn't." — Roger Stone, explaining the reason for his presidential commutation in an interview with Howard Fineman.

"There are no doubt thousands of people in federal prison who deserved a presidential commutation more than Roger Stone. But after President Trump's intervention on Friday, Mr. Stone will serve none of his prison sentence. The president may have had the power to help his longtime friend. But that does not make it any less a perversion of justice — indeed, it is one of the most nauseating instances of corrupt government favoritism the United States has ever seen." —  Washington Post editorial

Unprecedented, historic corruption: an American president commutes the sentence of a person convicted by a jury of lying to shield that very president. — Mitt Romney tweet

So let me get this straight: Trump fires officials for telling the truth, but pardons his lackeys for telling lies? — Robert Reich tweet.

POLITICAL ADS.....

Trump's campaign manager is a felon.
His deputy campaign manager is a felon.
His national security advisor is a felon.
His foreign policy advisor is a felon.
His personal lawyer is a felon.
His long time advisor is a felon.
--- It's not a campaign, it's a criminal enterprise | The Lincoln Project: https://twitter.com/ProjectLincoln/status/1282104708308635648

#TrumpGaveUp | Republican Voters Against Trump: https://twitter.com/RVAT2020/status/1276241475957915651

Trump knew about coronavirus and did nothing. And now he wants *us* to live with it | The Lincoln Project: https://twitter.com/ProjectLincoln/status/1282447856268447745

We're Leading the World | Joe Biden: https://twitter.com/JoeBiden/status/1282755424177893376

Fauci | The Lincoln Project: https://youtu.be/-6wIOKaHMWo

Trump Voters: "It's OK to Change Your Mind. We Did." | Republican Voters Against Trump: https://youtu.be/k57rXjqQbp8
---
IN THIS ISSUE
FYI
OPINION
1. Andy Borowitz: Trump Claims Biden Could Never Have a Pandemic As Big As His
Trying out a new line of attack against the former Vice-President, Donald Trump said on Wednesday that Joe Biden could never have a pandemic as big as his.

"Biden was Vice-President for eight years and had all the time in the world to have a pandemic," Trump said. "Where was his pandemic?"

By contrast, Trump asserted, "In just a few months, I've built the biggest pandemic this country has seen in a hundred years."

"People are going to be talking about my pandemic for generations to come," Trump said. "What did Biden ever have? Swine flu? What a joke."

Trump said that Biden's failure to have "any pandemic worth writing home about" makes him a "terrible choice" to be President.

"I've worked hard and built an amazing pandemic, but if Biden gets in, all that goes away," he warned. https://www.newyorker.com/humor/borowitz-report/
2. Two crimes benefited Trump's campaign in 2016. Ever since, the president has worked to block scrutiny of those schemes.
A porn star was paid to keep silent about her alleged dalliance years earlier with a presidential candidate, which a judge has agreed was an illegal violation of campaign finance laws.
The private emails of Democrats were stolen and published, which prosecutors have said was an illegal intervention into the U.S. political system by foreign operatives.
The two crimes were undertaken to help Donald Trump's campaign in 2016. They led to the indictment or conviction of 13 men, including Trump's personal attorney.
But for nearly four years, Trump has bullied, browbeaten and litigated his way out of efforts to pin down whether he had involvement in or knowledge of the illicit actions that were undertaken to help his presidential campaign.
Legal experts said his commutation last week of the sentence of confidant Roger Stone, who had been convicted of lying to Congress about his efforts to interact with WikiLeaks while it was publishing the hacked Democratic emails, was part of a pattern in which Trump flexed the powers of his office and his platform to evade scrutiny of his actions. https://www.washingtonpost.com/politics/two-crimes-benefited-trumps-campaign-in-2016-ever-since-the-president-has-worked-to-block-scrutiny-of-those-schemes/2020/07/15/6b48cba8-c52b-11ea-a99f-3bbdffb1af38_story.html
3. Joe Biden unveils $2 trillion green infrastructure and jobs plan
Joe Biden released a sprawling plan Tuesday to revamp American infrastructure and energy to both curb climate change and spur economic growth. 
His proposal aims to achieve carbon-free power generation by 2035. As the coronavirus pandemic leaves the U.S. mired in an economic crisis, Biden said he will set out to create "millions" of union jobs that pay at least $15 per hour as the U.S. overhauls its roads, bridges, trains, auto industry and broadband system. 

It aims to use the federal government to reverse years of Trump administration efforts to ease environmental rules, including by setting up an environmental and climate justice division within the Justice Department. The campaign said it would create tools to better monitor and root out pollution that disproportionately leaves communities of color with chronic health issues. 

"We need to be mindful of the historical wrongs and damage" that companies have done to vulnerable communities, which are often composed of people of color," Biden said. He added that he aims to hold chief executive officers more accountable for practices that leave neighborhoods polluted. https://www.cnbc.com/2020/07/14/joe-biden-unveils-green-jobs-and-infrastructure-plan-during-2020-election.html
4. A Record 5.4 Million Americans Have Lost Health Insurance, Study Finds
The coronavirus pandemic stripped an estimated 5.4 million Americans of their health insurance between February and May, a stretch in which more adults became uninsured because of job losses than have ever lost coverage in a single year, according to a new analysis. https://www.nytimes.com/2020/07/13/world/coronavirus-updates.html
5. Trump retweets claim that doctors are lying about coronavirus.
Trump retweeted a claim by game show host Chuck Woolery that the CDC, the media, the Democratic party, and "most" doctors are "lying" about the coronavirus. https://i.guim.co.uk/img/media/db8fbf7978a78fe72ee5c333643b911fc4f355f0/0_0_1201_331/master/1201.jpg
6. Trump Says He 'Aced' Cognitive Test
In an "interview" with Sean Hannity Trump boasted about one of his greatest accomplishments in office: passing a test used to measure patients suspected of dementia, saying::
It actually took one when I, uh, very recently, when I was, uh, when I was — you know the radical left was saying, 'Is he all there? Is he all there?' And I proved I was all there 'cause I aced it, I aced the test, and he should take the same exact test, a very standard test at Walter Reed Medical Center. I took it in front of doctors, and they were very surprised. They said, 'That's an unbelievable thing, very rarely do people do what you just did.'
Notably, the effect of this statement reduces rather than enhances confidence in the president's cognitive abilities. He describes an event from two and a half years ago as "very recently,"
The Montreal Cognitive Assessment, which Trump took, is an extremely simple test. As James Hamblin reported at the time, its questions include the likes of knowing the date and where you are, being able to say what a train and a bicycle have in common, and correctly identifying pictures of a lion, camel, rhinoceros, and so on. https://nymag.com/intelligencer/2020/07/trump-montreal-cognitive-assessment-dementia-test-surprised-impairment.html
Sarah Cooper: How to cognitive: https://twitter.com/sarahcpr/status/1281631729409822722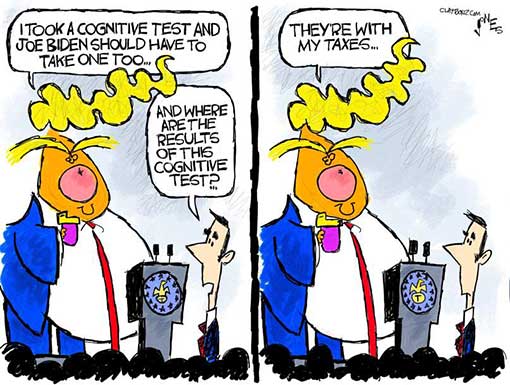 7. Trump tweet threatens tax-exempt status of schools, colleges
Donald Trump said Friday he's instructed the Treasury Department to review the tax-exempt status of U.S. schools, colleges and universities, in a pair of tweets that advanced his administration's weeklong drive to turn education into a political wedge issue.
"Too many Universities and School Systems are about Radical Left Indoctrination, not Education," Trump tweeted.
"Therefore, I am telling the Treasury Department to re-examine their Tax-Exempt Status...... and/or Funding, which will be taken away if this Propaganda or Act Against Public Policy continues. Our children must be Educated, not Indoctrinated!" https://www.politico.com/news/2020/07/10/trump-threatens-schools-colleges-356294
8. Judge asks full federal appeals court to reconsider decision forcing him to drop Michael Flynn case
 The judge in Michael Flynn's criminal case asked a federal appeals court to reconsider its ruling ordering him to dismiss the prosecution of the former national security advisor to President Donald Trump. https://www.cnbc.com/2020/07/09/judge-asks-appeals-court-to-reconsider-decision-forcing-him-to-drop-michael-flynn-case.html
9. U.S. Broadcasting Agency Will Not Extend Visas For Its Foreign Journalists
Dozens of foreign nationals working as journalists in the U.S. for Voice of America, the federal government's international broadcaster, will not have their visas extended once they expire, according to three people with knowledge of the decision.
Those people — each with current or past ties to the agency — said the new CEO of the U.S. Agency for Global Media, Michael Pack, signaled he will not approve the visa extensions.
The foreign journalists affected by the visa decision are particularly valued for their language skills, which are crucial to VOA's mission as an international broadcaster covering news in many countries that do not have a free or robust press. One VOA journalist, who asked not to be named because of a fear of retaliation, said it could lead to the departure of more than 100 staffers in the foreign language services. https://www.npr.org/2020/07/09/889301025/u-s-broadcasting-agency-will-not-extend-visas-for-its-foreign-journalists
10. Michael Cohen rushed back to upstate N.Y. prison after refusing to sign Trump book gag order
Michael Cohen, The former personal attorney to President Trump was released from the Otisville prison on May 21 to serve out the rest of his sentence in home confinement as part of a Justice Department effort to thin out inmate populations amid the COVID-19 pandemic. He's serving time after pleading guilty to a range of financial charges, including campaign finances crimes that implicate Trump.
But, on Thursday afternoon, he was arrested at a probation office in downtown Manhattan after declining to sign a home confinement contract that required him to promise he wouldn't speak to any journalists, use social media or publish a tell-all book about Trump for the duration of his sentence. https://www.nydailynews.com/news/politics/ny-michael-cohen-prison-trump-20200710-ch6e7iqunzdcboeqqjnxuadnze-story.html
11. Trump rips private Texas border wall built by his supporters
Donald Trump on Sunday criticized a privately built border wall in South Texas that's showing signs of erosion months after going up, saying it was "only done to make me look bad," even though the wall was built after a months-long campaign by his supporters.
The company that built the private section in January, North Dakota-based Fisher Industries, has since won a $1.3 billion border wall contract from the federal government, the largest award to date. https://apnews.com/a3f8fe11e88898cd4fa96ea50038e57d
12. 11 GOP congressional nominees support QAnon conspiracy
At least 11 Republican congressional nominees have publicly supported or defended the QAnon conspiracy theory movement or some of its tenets — and more aligned with the movement may still find a way onto ballots this year.
Their progress shows how a fringe online forum built on unsubstantiated claims and flagged as a threat by the FBI is seeking a foothold in the U.S. political mainstream.
https://www.axios.com/qanon-nominees-congress-gop-8086ed21-b7d3-46af-9016-d132e65ba801.html
13. Trump isn't secretly winking at QAnon. He's retweeting its followers.
On July Fourth Trump  retweeted 14 tweets from accounts supporting the QAnon conspiracy theory, a sprawling and ever-mutating belief that a mysterious government official who goes by "Q" is leaving online clues about a messianic Trump's secret plan to dismantle a cadre of Washington elites engaged in everything from pedophilia to child sex trafficking.
It wasn't the first time Trump has nodded — accidentally or not — to QAnon followers on Twitter. But Trump's QAnon-baiting has gone into overdrive in recent months. According to a Media Matters analysis, ever since the pandemic began, Trump has retweeted at least 90 posts from 49 pro-QAnon accounts, often multiple times in the same day.
To Trump's critics, the reason is simple enough: QAnon followers are some of Trump's biggest boosters. They show up at rallies. They promote the president's narrative online, even coming up with their own conspiracy theories to protect him. And as the president struggles in the polls amid criticism over his handling of the coronavirus pandemic and response to nationwide protests over police killings, there are political benefits to engaging Trump's most fervent fan base.
In the QAnon mythos, Q and Trump are working toward an event called "The Storm," the day that he finally arrests thousands of elites and ships them to Guantanamo Bay. Occasionally, QAnon followers see various setbacks as The Storm in action; others have attempted to explain the lack of mass indictments through science fiction. https://www.politico.com/amp/news/2020/07/12/trump-tweeting-qanon-followers-357238
14. More than 1,000 TSA employees have tested positive for coronavirus
The president of the TSA officers' union said the agency is still struggling to keep its workforce safe during the pandemic
In all, TSA says 1,018 employees have tested positive. Its 50,000-strong force of screening officers has borne the brunt, accounting for 907 of the cases. Six employees have died, as has a contractor. https://www.washingtonpost.com/transportation/2020/07/09/more-than-1000-tsa-employees-have-tested-positive-coronavirus/
15. House to quickly revive legal effort to get Trump's financial records
The House is planning to quickly revisit its effort to obtain President Donald Trump's personal financial records, urging the Supreme Court on Monday night to take its final formal steps on the matter so lawmakers can reignite the issue in the lower courts.
In a filing late Monday, the House's top lawyer, Douglas Letter, urged the justices to immediately effectuate their July 9 ruling on the House's subpoena for Trump's records. Once the ruling is in force, the House can return to the U.S. District Court judge who initially heard the case and ask for renewed consideration. https://www.politico.com/news/2020/07/13/house-trump-financial-records-360295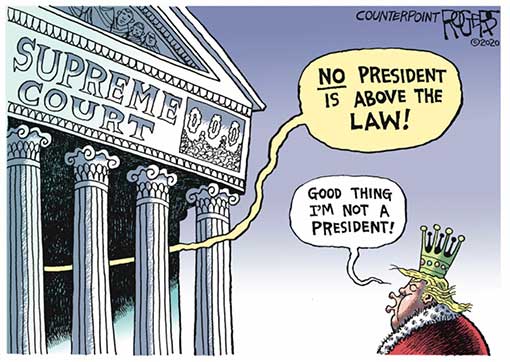 16. The DAILY GRILL
"Roger Stone is a victim of the Russia Hoax that the Left and its allies in the media perpetuated for years in an attempt to undermine the Trump Presidency. Roger Stone is a free man!" -- White House press secretary Kayleigh McEnany

VERSUS

Donald Trump's commutation of Roger Stone's sentence is shocking but not surprising. This is the most corrupt and cronyistic act in perhaps all of recent history."— CNN's Jeffrey Toobin

 

For the 1/100th time, the reason we show so many Cases, compared to other countries that haven't done nearly as well as we have, is that our TESTING is much bigger and better. We have tested 40,000,000 people. If we did 20,000,000 instead, Cases would be half, etc. NOT REPORTED! — Donald J. Trump tweet

VERSUS

Can we amend the Constitution to require that, in addition to having attained the age of thirty-five years, presidents be able to understand fractions? — George Conway @gtconway3d

 

"We're all truly blessed... to have a leader like President Trump who is a builder." — Goya Foods CEO, Robert Unanue

VERSUS

@GoyaFoods has been a staple of so many Latino households for generations. Now their CEO, Bob Unanue, is praising a president who villainizes and maliciously attacks Latinos for political gain. Americans should think twice before buying their products. — Julián Castro tweet

 

Last week, the St. Johns Board of County Commissioners took up the issue of whether masks should be mandated countywide. One of the motions would mandate masks for county employees. It failed by a count of 3-2, with Paul Waldron voting against it.

VERSUS

St. Johns County Commissioner Paul Waldron caught the coronavirus and went into septic shock and has many organs struggling. He is currently in the most critical of conditions. — Commissioner Waldron's daughter

 

"I know many in business and politics that work out endlessly, in some cases to a point of exhaustion. It is their number one passion in life, but nobody complains. My 'exercise' is playing, almost never during the week, a quick round of golf. Obama played more and much longer rounds, no problem. When I play, Fake News CNN, and others, park themselves anywhere they can to get a picture, then scream 'President Trump is playing golf.' Actually, I play VERY fast, get a lot of work done on the golf course, and also get a 'tiny' bit of exercise. Not bad!" — Trump on Twitter.

VERSUS

Obama played 98 rounds of golf through this point in his presidency. By contrast, Trump has spent all or part of 248 days at a golf course. -- Mark Knoller, a veteran CBS News White House correspondent.

 

Fauci "is a nice man, but he's made a lot of mistakes."-- Donald Trump during a Fox News interview .

VERSUS

All the President's Lies: An unfinished compendium of Trump's overwhelming dishonesty during this national health emergency.

 

It's unclear whether children can get and transmit COVID-19, — Sen. John Cornyn (R-TX).

VERSUS

That same day, Texas reported more than 550 COVID infections in children 9 and younger. — The Houston Chronicle

 

"Well, people love it, and I don't view — I know people that like the Confederate flag and they're not thinking about slavery," — Donald Trump defending people who support the Confederate flag

VERSUS

Confederate leaders explicitly laid out in their constitution (ARTICLE IV Sec. 3 (3)) that the main goal of the Confederacy was to preserve slavery.
17. From MEDIA MATTERS (They watch Fox News so you don't have to)
"Surplus military equipment for law enforcement -- they don't need that," Biden said. "The last thing you need is an up-armored Humvee coming into a neighborhood, it's like the military invading. They don't know anybody. They become the enemy. They're supposed to be protecting these people." Trump's campaign swiftly tweeted out a clip from the interview, falsely claiming that Biden had said "police have 'BECOME THE ENEMY.'" "Joe Biden says the police are 'the enemy,'" Lou Dobbs lied at the top of a segment on his Fox Business show. "Those are his words, 'the enemy.'" A few hours later, Sean Hannity falsely suggested that Biden had called police "the enemy" at least four times over the course of his Fox prime-time show. As is fitting for a Fox host/Trump operative, the Trump campaign subsequently tweeted a clip of one of the attacks. And Laura Ingraham's show also referenced the remark, with Fox contributor Raymond Arroyo falsely claiming that Biden "is calling police the enemy here."This sort of bad-faith deception will continue through the election as the president's partisan media allies try to find some attack that will stick to Biden, who currently enjoys a sizable lead. https://www.mediamatters.org/fox-news/trumpists-use-distortion-outright-fabrication-lie-biden-called-police-enemy

Stone is the latest beneficiary of the Fox News pardon pipeline, which has been linked to more than a dozen clemency grants. Media Matters' Matt Gertz has written extensively on the phenomenon in which "people accused of or convicted of federal crimes and their family members and lawyers have descended on the network over the past few years, using the president's favorite programs to plead their case to him directly." Trump's commutation of Stone's sentence indicates a new chapter in the phenomenon: Not only will Fox News egg on Trump in capriciously wielding his clemency power -- often in support of his political allies -- but also in instances where the crime at hand was an effort to cover up the president's own wrongdoing. https://www.mediamatters.org/roger-stone/trump-commutes-roger-stones-sentence-following-concerted-campaign-fox-news-and-infowars

For weeks, Fox News host Tucker Carlson's prime-time show has featured racist attacks on the Black Lives Matter movement and protests following the May 25 police killing of George Floyd in Minneapolis. Carlson framed the movement, the protesters, and those who have offered public displays of solidarity for them in extreme and deliberately misleading ways, calling demonstrators "thugs" and "vampires," and saying the protests have "nothing to do with civil rights." He claimed Democrats and Black Lives Matter supporters are advocating for "a permanently unequal society where some citizens are elevated and others are crushed." https://www.mediamatters.org/black-lives-matter/tucker-carlsons-racist-and-extreme-descriptions-black-lives-matter-movement

Rush Limbaugh: Americans should "adapt" to coronavirus, like famous pioneers who "had to turn to cannibalism." You've heard of the Donner Party? Maybe some of you haven't. The Donner Party, the Donner family and a bunch of travelers trying to get to California over the Sierra Nevada mountain range. They made the mistake of trying to make the trip in the middle of winter. We're talking the Lake Tahoe region. They get to the peak. It was so bad that they had to turn to cannibalism to survive. That's what's noteworthy about the Donner Party. If you read the diaries written by the leaders of the Donner Party, the only reference to how cold it was, was one sentence: "It was a particularly tough winter." It's just what was. They didn't complain about it, because there was nothing they could do. They had to adapt. This is what's missing. There seems to be no concept of adaptation. There seems to be no understanding in the Millennial generation that we can adapt to this, and that we're going to have to. https://www.mediamatters.org/coronavirus-covid-19/rush-limbaugh-americans-should-adapt-coronavirus-famous-pioneers-who-had-turn

Trump campaign official Erin Perrine went on a QAnon program to promote President Donald Trump's reelection campaign and recruit volunteers. Perrine encouraged the QAnon audience to "sign up and attend a Trump Victory Leadership Initiative training" and also said that they could "talk to their local GOP party, their state party." https://www.mediamatters.org/qanon-conspiracy-theory/trump-official-went-qanon-show-recruit-campaign-volunteers 
1. Richard North Patterson: Trump Is Cornered. Here's Why.
From January to mid-March, Trump dismissed the pandemic as of negligible concern. Thereafter, obsessing on how its economic impact would affect his re-election campaign, he treated COVID-19 primarily as a cultural and political problem, blaming Democrats for the public health measures his own government had prescribed. He even mocked Joe Biden for wearing a mask. Only this past weekend—more than six weeks after Biden and millions of other Americans started wearing masks—did Trump finally wear a mask in public, and even that reportedly required his staff "pleading" with him.
His remarks about masks have been far from his only idiocy. Trump's public statements would comprise a litany of buffoonery were his derelictions not so lethal. A few early examples:
• The virus will vanish "like a miracle."
• We're doing a great job.
• We're reopening on Easter.
• Hydroxychloroquine would be one of the biggest game changers in history of medicine.
• Injecting household disinfectants into the body could kill the virus.
• Anyone who wants a test can get one.
Such preposterous misstatements became a case study in political malpractice. In mid-May he proclaimed: "We have met the moment and we have prevailed." "He's declaring victory," former DNC chair Terry McAuliffe observed in wonder. "We're going to use his own words. . . . That will sink him."
But, like a panicky salesman, Trump cannot stop himself: "When you have all those tests, you have more cases"—"99 percent of which are totally harmless." As the coronavirus surged, he announced on the Fourth of July that "our strategy is moving along well. . . . We've learned how to put out the flame." In keeping with the pattern of his entire career, he cannot stop himself from the grotesque exaggerations and outright lies of a carnival barker. https://thebulwark.com/trump-is-cornered/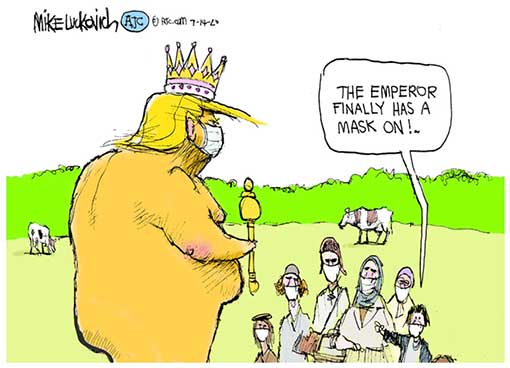 2. Stephen Collinson: Trump offers denial and delusion as pandemic crisis overtakes his presidency
Rarely has a president shown himself to be so unequal to a tragic national emergency.
Hundreds of Americans are dying daily and tens of thousands are getting infected from a once-in-a-century virus. States and cities are closing down again, threatening to trigger a ruinous new economic slump. Doctors and nurses lack sufficient protective gear as they battle the deadly pathogen. And with testing swamped by waves of disease, one top official is warning of the "the most difficult time" ever for US public health this winter.
Yet this is what is on Donald Trump's mind: Joe Biden didn't fix the country's roads and bridges, crowds of bikers and boaters in MAGA hats prove that election polls are wrong, and the border wall is almost finished (except it isn't). Oh, and by the way, where is Hunter Biden? https://www.cnn.com/2020/07/15/politics/donald-trump-coronavirus/index.html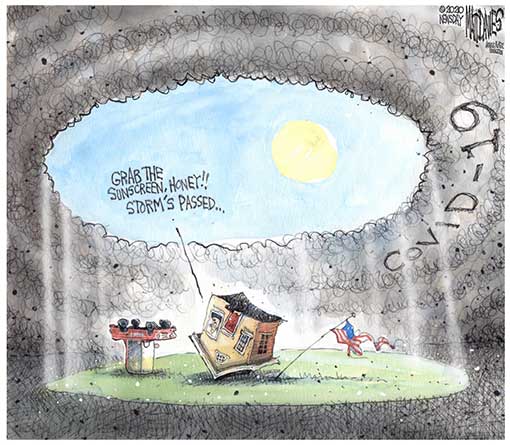 3. George F. Will: The nation is in a downward spiral. Worse is still to come.
Because of his incontinent use of it, the rhetorical mustard that the president slathers on every subject has lost its tang. The entertainer has become a bore, and foretelling his defeat no longer involves peering into a distant future: Early voting begins in two states (South Dakota and Minnesota) 61 days from Sunday, which is 107 days before Election Day.
Never has a U.S. election come at such a moment of national mortification. In April 1970, President Richard M. Nixon told a national television audience that futility in Vietnam would make the United States appear to the world as "a pitiful, helpless giant." Half a century later, America, for the first time in its history, is pitied.
Not even during the Civil War, when the country was blood-soaked by a conflict involving enormous issues, was it viewed with disdainful condescension as it now is, and not without reason: Last Sunday, Germany (population 80.2 million) had 159 new cases of covid-19; Florida (population 21.5 million) had 15,300.
Under the most frivolous person ever to hold any great nation's highest office, this nation is in a downward spiral. This spiral has not reached its nadir, but at least it has reached a point where worse is helpful, and worse can be confidently expected.
The nation's floundering government is now administered by a gangster regime. It is helpful to have this made obvious as voters contemplate renewing the regime's lease on the executive branch. Roger Stone adopted the argot of B-grade mobster movies when he said he would not "roll on" Donald Trump. By commuting Stone's sentence, Stone's beneficiary played his part in this down-market drama, showing gratitude for Stone's version of omertà (the Mafia code of silence), which involved lots of speaking but much lying. Because pandemic prevents both presidential candidates from bouncing around the continent like popcorn in a skillet, the electorate can concentrate on other things, including Trump's selection of friends such as Stone and Paul Manafort, dregs from the bottom of the Republican barrel.
This nation built the Empire State Building, groundbreaking to official opening, in 410 days during the Depression, and the Pentagon in 16 months during wartime. Today's less serious nation is unable to competently combat a pandemic, or even reliably conduct elections. This is what national decline looks like. https://www.washingtonpost.com/opinions/this-is-what-national-decline-looks-like/2020/07/14/ef499fd4-c5f0-11ea-b037-f9711f89ee46_story.html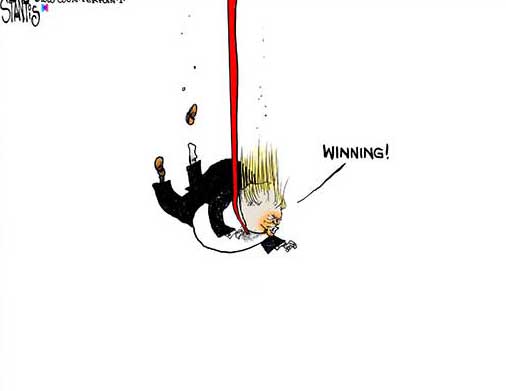 4. Mona Charen: Dr. Fauci Was Doomed from the Start. No serious, sober, dedicated, public servant can survive in this administration.
The earnest, public-spirited infectious disease specialist, who had helped to guide the nation through previous public health challenges ranging from AIDS to Zika to Ebola, was a perfect contrast to this president. On one hand you had professionalism, modesty, and integrity. On the other—well, let's put it this way, they are such diametrically opposed types that it's amazing they were able to stand on the same platform without causing a matter/anti-matter explosion.
At the end of June, Dr. Fauci testified before Congress that we were in deep trouble. Warning that we could soon see 100,000 cases per day, he acknowledged, "Clearly we are not in control right now." That could not have been well-received in the West Wing. Then, on July 10, clearly concluding that the jig was up, he went further, telling the Financial Times that "I have a reputation, as you probably have figured out, of speaking the truth at all times and not sugar-coating things. And that may be one of the reasons why I haven't been on television very much lately."
That did it. But Trump didn't fire Fauci, he fired at him, through leaks. The press office circulated an opposition research document with "bullet points" showing errors Fauci had made early on. The good doctor had recommended against mask-wearing! Yes, but he later acknowledged the error. Well, they say, the hoity toity Fauci said on February 29 that there was "no need to change anything you're doing." Yes, but what the oppo dump left out was that he added that his advice "could change if we see community spread," which we did soon thereafter.
People of good character who attempt to tell the truth and conduct themselves as honorable public servants cannot survive in this administration. This president exalts Roger Stone, Michael Flynn, Paul Manafort, Rudi Giuliani, and Steve Bannon. He attempts to destroy Alexander Vindman, Marie Yovanovich, and James Mattis. Fauci was doomed from the start because he is serious, sober, dedicated, and independent, not a lackey for the Bad Orange Man. Above all, he was doomed because he tells the truth. And this administration is one continuing lie. https://thebulwark.com/dr-fauci-was-doomed-from-the-start/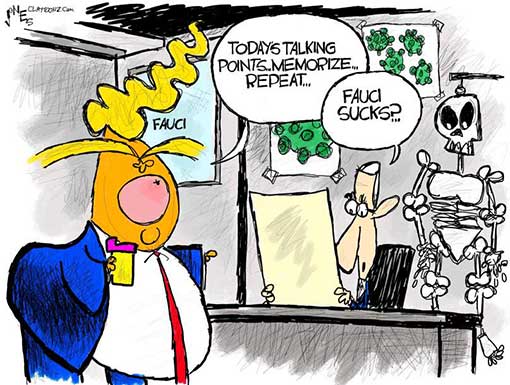 5. Michelle Goldberg: In Some Countries, Normal Life Is Back. Not Here.
If you're lucky enough to live in New Zealand, the coronavirus nightmare has been mostly over since June. After more than two weeks with no new cases, the government lifted almost all restrictions that month. The borders are still shut, but inside the country, normal life returned.
It's coming back elsewhere too. Taiwan, where most days this month no new cases have been reported, just held the Taipei Film Festival, and a recent baseball game drew 10,000 spectators. Italy was once the epicenter of Europe's outbreak and remains in a state of emergency, but with just a few hundred new cases a day in the whole country, bars are open and tourists have started returning, though of course Americans remain banned. According to The New York Times's figures, there were 321 new cases in all of Canada last Friday.
And America? We had 68,241. As of last week, the worst per capita outbreak on the planet was in Arizona, followed by Florida. The world is closed to us; American passports were once coveted, but now only a few dozen nations will let us in. Lawrence O. Gostin, professor of global health law at Georgetown, told me he doesn't expect American life to feel truly normal before summer 2022. Two years of our lives, stolen by Donald Trump.
As our country plunges into a black hole of unchecked illness, death and pariahdom, the administration is waging a PR war on its own top disease expert, Anthony Fauci, trying to convince news outlets that he can't be trusted. "The move to treat Dr. Fauci as if he were a warring political rival comes as he has grown increasingly vocal in his concerns about the national surge in coronavirus cases," reported The Times. https://www.nytimes.com/2020/07/13/opinion/us-coronavirus-trump.html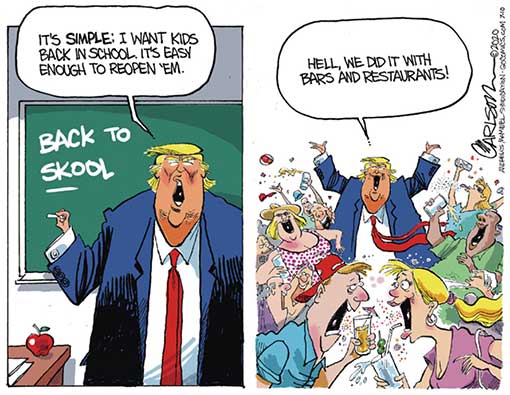 6. Robert Mueller: Roger Stone remains a convicted felon, and rightly so
We now have a detailed picture of Russia's interference in the 2016 presidential election. The special counsel's office identified two principal operations directed at our election: hacking and dumping Clinton campaign emails, and an online social media campaign to disparage the Democratic candidate. We also identified numerous links between the Russian government and Trump campaign personnel — Stone among them. We did not establish that members of the Trump campaign conspired with the Russian government in its activities. The investigation did, however, establish that the Russian government perceived it would benefit from a Trump presidency and worked to secure that outcome. It also established that the campaign expected it would benefit electorally from information stolen and released through Russian efforts.
Congress also investigated and sought information from Stone. A jury later determined he lied repeatedly to members of Congress. He lied about the identity of his intermediary to WikiLeaks. He lied about the existence of written communications with his intermediary. He lied by denying he had communicated with the Trump campaign about the timing of WikiLeaks' releases. He in fact updated senior campaign officials repeatedly about WikiLeaks. And he tampered with a witness, imploring him to stonewall Congress.
We made every decision in Stone's case, as in all our cases, based solely on the facts and the law and in accordance with the rule of law. The women and men who conducted these investigations and prosecutions acted with the highest integrity. Claims to the contrary are false.
https://www.washingtonpost.com/opinions/2020/07/11/mueller-stone-oped/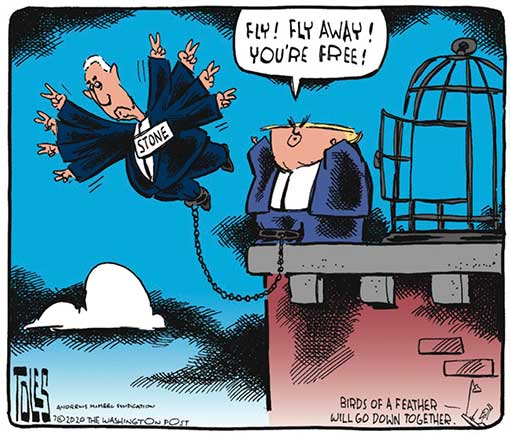 7. Tammy Duckworth: Tucker Carlson Doesn't Know What Patriotism Is
In his farewell address, George Washington not only recognized his own imperfections, he also urged Americans to "guard against the impostures of pretended patriotism" and be wary of excessive partisanship. In the generations since, too many patriots, including many in my own family, have sacrificed too much to let our guard down now.
So when Tucker Carlson questions the patriotism of those willing to sacrifice for his freedom, or when Donald Trump promotes those smears — after having threatened to veto a pay raise for our troops to try to ensure the military continues honoring Confederate traitors who took up arms against our Union — remember Washington's words.
Remember that part of what has always made America not just great but good is that every American has the right to question those in charge. Anyone claiming to stand up for "patriotic" values should recognize that, because, without it, the country these impostor patriots claim to love so much would not exist.
Our nation deserves leaders mature and secure enough not to race-bait or swift-boat anyone who dares disagree with them. After these past four years, and especially after these past four months, it's clearer than ever that we must choose public servants who will focus on the serious issues facing our country — from the spread of the coronavirus to systemic racism to foreign adversaries threatening our troops' lives — rather than cynical bullies who use schoolyard tactics to distract from their own shortcomings.
So while I would put on my old uniform and go to war all over again to protect the right of Tucker Carlson and Donald Trump to say offensive things on TV and Twitter, I will also spend every moment I can from now until November fighting to elect leaders who would rather do good for their country than do well for themselves. https://www.nytimes.com/2020/07/09/opinion/tammy-duckworth-tucker-carlson.html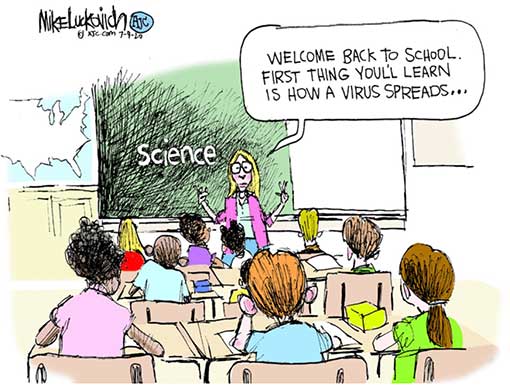 8. Michelle Goldberg: Trump Threatens to Turn Pandemic Schooling Into a Culture War
Donald Trump has approached the extraordinarily complex challenge of educating children during a pandemic just as he's approached most other matters of governing: with bullying, bluster and propaganda.
On Thursday, Secretary of Education Betsy DeVos gestured toward a plan of coronavirus-inspired school choice that would punish public schools that don't fully reopen. Without offering details, she said families could take the federal money spent at these schools and use it elsewhere. She's long wanted to give public money to private schools; perhaps she thinks this coronavirus has given her the chance.
At the end of June, the American Federation of Teachers surveyed its members and found a broad willingness to return to the classroom. Two-thirds of respondents said school buildings should reopen in some capacity, and 76 percent said they'd be comfortable being in school with the proper safeguards. But after Trump began ranting about schools, Weingarten started hearing from teachers who were scared that reopening would be done rashly.
So as Trump tries to turn school reopenings into part of his culture war, Weingarten fears "a huge brain drain of people not willing to be in schools anymore."
Last month, NPR reported on a mostly Black nursing home in Maryland that didn't lose any residents to Covid because its director listened to what Trump said about the virus and assumed the opposite was true. "When I heard President Trump say we only had 15 cases and by the end of the week that it would be zero, I knew that it was time to act," the director said.
This is a president with negative credibility. The more Trump demands that schools open, the more people who've paid close attention to him will fear they all must remain closed. https://www.nytimes.com/2020/07/10/opinion/school-reopenings-trump.html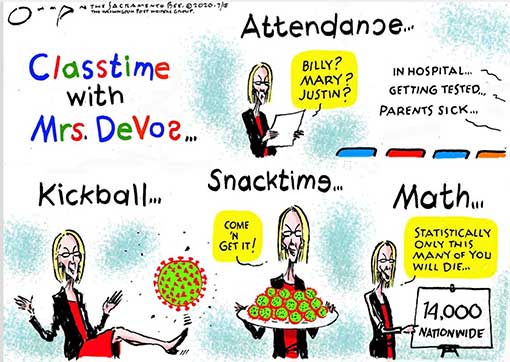 9. Susan B. Glasser: President Winning-by-Losing Is, in Fact, Losing
Donald Trump has approached the extraordinarily complex challenge of educating children during a pandemic just as he's approached most other matters of governing: with bullying, bluster and propaganda.
While doing nothing to curb the wildfire spread of the coronavirus, he has demanded that schools reopen and threatened to cut off funding for those that don't. On Wednesday, he tweeted that the guidelines for reopening schools from his own Centers for Disease Control and Prevention were "very tough & expensive," adding, "I will be meeting with them!!!" Mike Pence then suggested that the guidelines would be revised. On Thursday the agency's director, Dr. Robert Redfield, said they wouldn't be, but later, seeming to give into pressure, said the guidelines should be seen as recommendations, not requirements.
This is a president with negative credibility. The more Trump demands that schools open, the more people who've paid close attention to him will fear they all must remain closed. https://www.newyorker.com/news/letter-from-trumps-washington/president-winning-by-losing-is-in-fact-losing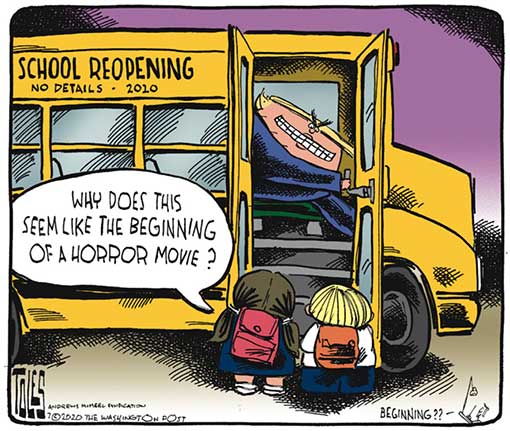 10. Quinta Jurecic and Benjamin Wittes: The Roger Stone Commutation Is Even More Corrupt Than It Seems
Trump's commutation of the prison sentence of his long-time confidante Roger Stone is wholly unsurprising. Indeed, given Trump's repeated teasing of the matter over the life of the case against Stone, it would have been something of surprise had he not intervened so that his felonious friend was spared time behind bars.
But the predictable nature of Trump's action should not obscure its rank corruption. In fact, the predictability makes the commutation all the more corrupt, the capstone of an all-but-open attempt on the president's part to obstruct justice in a self-protective fashion over a protracted period of time. That may sound like hyperbole, but it's actually not. Trump publicly encouraged Stone not to cooperate with Robert Mueller's investigation; he publicly dangled clemency as a reward for silence; and he has now delivered. The act is predictable precisely because the corrupt action is so naked.
In a normal world, this pattern of conduct would constitute an almost prototypical impeachable offense. But this is not a normal world. Congress is unlikely to bestir itself to do anything about what Trump has done—just as it has previously done nothing about the obstruction allegations detailed in the Mueller Report. https://www.lawfareblog.com/roger-stone-commutation-even-more-corrupt-it-seems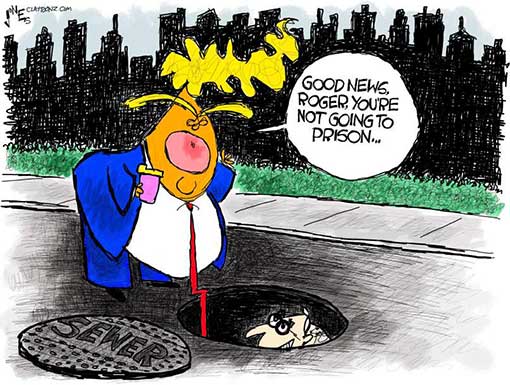 11. Max Boot: The worst president ever keeps getting worse
Three months ago — all the way back on April 5 — I proclaimed Donald Trump the worst president ever. Oh, how innocent I was. Sure, I knew he was bad. But not this bad.
Back then I thought he was barely edging James Buchanan in the annals of presidential ineptitude. But now, with the commutation of Roger Stone's well-deserved prison sentence and so many other vile acts, he has disgraced the nation's highest office as no previous occupant has come close to doing.
But what makes Trump the worst president ever is not simply that he is colossally incompetent. It is that he is also thoroughly corrupt. It is hard to think of a single major decision he has made for the good of the country, rather than for his own advantage. Trump has so egregiously abused the power of the presidency that he makes Warren Harding and Richard Nixon look like choirboys. Trump was impeached for trying to use military aid to blackmail Ukraine into helping his reelection campaign. He seems to have learned nothing from the experience save that, with Republicans in control of the Senate, he can get away with anything. Since his acquittal, he has committed one appalling act of corruption after another. https://www.washingtonpost.com/opinions/2020/07/11/worst-president-ever-keeps-getting-worse/
12. David Frum: Stone Walks Free in One of the Greatest Scandals in American History
Stone was accused of—and convicted of—lying to Congress about his role in the WikiLeaks matter. Since Stone himself would have been in no legal jeopardy had he told the truth, the strong inference is that he lied to protect somebody else. Just today, this very day, Stone told the journalist Howard Fineman why he lied and whom he was protecting. "He knows I was under enormous pressure to turn on him. It would have eased my situation considerably. But I didn't." You read that, and you blink. As the prominent Trump critic George Conway tweeted: "I mean, even Tony Soprano would have used only a pay phone or burner phone to say something like this." Stone said it on the record to one of the best-known reporters in Washington. In so many words, he seemed to imply: I could have hurt the president if I'd rolled over on him. I kept my mouth shut. He owes me.
And sure enough, Trump did owe him. Trump commuted Stone's 40-month sentence. Roger Stone will not go to prison. Stone's former business partner Paul Manafort is likewise keeping silent. And so the American public will likely never know what use the Russians made of the Trump polling information that Manafort shared with them. Manafort has extra reason to keep quiet, for he must feel new confidence that his pardon is coming.
But how much more do we need to know? At every step in this story, the formula I've mentioned in previous essays continues to hold: "Many secrets. No mysteries." Although crucial details remain concealed, the core narrative has been visible from the start. An American private citizen worked with foreign spies to damage one presidential candidate and help the other. That president accepted the help. When caught, the private citizen lied. When the private citizen was punished, the president commuted his sentence.
It's all there: as bold as the spats on Roger Stone's shoes, as ugly as the 130,000 Americans dead, and daily rising, because of the malign incompetence of the president assisted into the Oval Office by Stone, Manafort, and the Russian spy services. https://www.theatlantic.com/ideas/archive/2020/07/roger-stone/614068/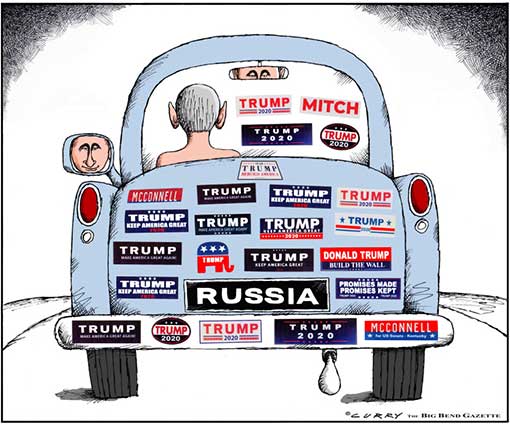 13. Richard North Patterson: Trump Is Cornered. Here's Why
The core of Trump's campaign is not about his presidency—it's about race. As Michelle Goldberg wrote, "Trump sees clearly—more clearly than most of his party—that racism is the main thing he has to offer."
Indeed. What other president would tweet videos of a supporter shouting "white power," a white couple aiming guns at peaceful protesters, and blacks assaulting whites; embrace Confederate monuments; threaten to veto a defense bill which would rename military bases commemorating Confederate generals; call the slogan Black Lives Matter a "symbol of hate"; and propose to scrap an Obama-era fair-housing regulation at "the request of many great Americans who live in the Suburbs."
This is not simply a gross abuse of his office; it is politically tone-deaf. Says pollster Cornell Belcher: "What's different today is the upward of 70 percent of Americans [who] think racism is a problem in this country." https://thebulwark.com/trump-is-cornered/
14. Jill Lawrence: The utter failure of our system has allowed Trump to scale new heights of corruption each week
The Founders gave us basic tools: Checks and balances — a president, a Congress and a court system — that are supposed to counter the tribalism that James Madison called "mischiefs of faction." An emoluments clause to prevent foreign gifts and influence in our new country's affairs. Impeachment as a way to oust unfit presidents between elections. An amendment process that yielded the 25th Amendment, under which a vice president and Cabinet can determine that a president is "unable to discharge the powers and duties of his office." A free press and freedom of speech to expose the workings of government and the qualities, or shortcomings, of its leaders.
The system is failing and we are, too 
None of it has worked. A special counsel investigation and impeachment failed outright due to tribal extremism the Founders could never have imagined. The court system is so laboriously slow on every level that Trump will serve at least one full term despite egregious, even criminal, often stunningly hypocritical behavior that endangers our national security and values.
Whistleblowers, watchdogs and public servants like Lt. Col. Alexander Vindman have been punished for their conscientious patriotism. We have been inundated with journalism scoops, investigations, scorching memoirs and tell-alls — from "grab 'em by the pussy" to stiffing contractors to dodging taxes to John Bolton's frightening account of foreign policy madness.
And yet, Trump is still in office, scaling new heights of corruption each week. https://www.usatoday.com/story/opinion/2020/07/11/trump-corruption-cronyism-roger-stone-commutation-column/5420269002/