September 21, 2023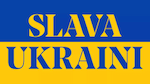 To subscribe to this FREE weekly newsletter simply email jellison@san.rr.com with "subscribe" as the subject.
THE WEEK'S BEST QUOTES. . .
"I can assure you that not one time have I ever recommended to attack Iran." — Chairman of the Joint Chiefs of Staff Gen. Mark Milley told CNN that he never recommended a US military attack on Iran during the Trump administration, pushing back on claims made by Donald Trump and his White House chief of staff Mark Meadows.
https://www.cnn.com/2023/09/13/politics/milley-cnn-interview-trump-iran/index.html
"There are only two presidents in American history with fewer jobs the day they left office than when they started. One is President Hoover. The other is Donald Hoover Trump." — President Biden.
https://twitter.com/Acyn/status/1702411660802367491
""I think the chance of getting elected after being convicted of a felony is as close to zero as you can get." — Ron DeSantis 
https://apnews.com/article/desantis-trump-gop-precedential-race-criminal-charges-b8d6b58d9da67ad8c4de2d2c833f6f07
"I got your back. Keep fighting." — Ron DeSantis spent about 30 minutes on the phone with conservative Reps. Chip Roy (R-TX), Thomas Massie, (R-KY) and Bob Good (R-VA) discussing the spending fight as all three men urge Republicans to hold the line, even if it means a government shutdown.
https://www.politico.com/newsletters/playbook/2023/09/14/bidens-impeachment-tightrope-00115856
Donald Trump spoke for more than an hour at "Pray, Vote, Stand Summit" in DC, saying Joe Biden is "cognitively impaired" and totally corrupt but then said we could be in "World War II very quickly if we're going to be relying on this man," says Dems want to "kill babies" even "after they're born,"
suggested that he is leading Barack Obama in polls of the 2024 race.
Who is cognitively impaired?
https://twitter.com/LaPrensaSD/status/1703084865959473640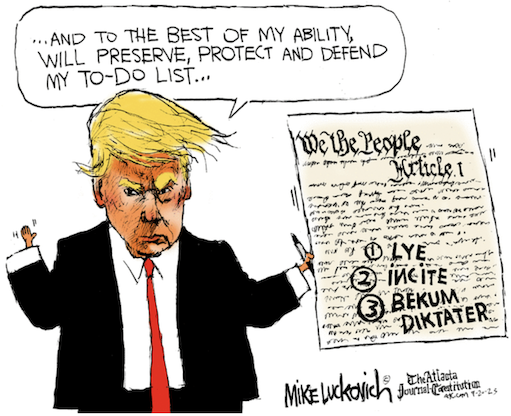 "I simply can't support him for elected office again. Why I have chosen to distance is because of that frankly malignant narcissistic tendency to simply say that he's never done anything wrong." — Jenna Ellis, a Donald Trump lawyer who, like the former president, faces criminal charges regarding attempted election subversion .
https://www.theguardian.com/us-news/2023/sep/15/trump-lawyer-jenna-ellis
"It hasn't happened yet, and I am not going to comment on conjecture here. Either he is going to file it or he's not. If he's going to do it, put his money where his mouth is." — Rep. Nancy Mace (R-SC) calling on Rep. Matt Gaetz (R-FL) to follow through on his vow to introduce a motion to remove Speaker Kevin McCarthy (R-CA).
https://thehill.com/homenews/house/4208757-mace-on-gaetzs-push-to-oust-mccarthy-he-should-put-his-money-where-his-mouth-is/
"I simply can't support him for elected office again. Why I have chosen to distance is because of that frankly malignant narcissistic tendency to simply say that he's never done anything wrong." — Jenna Ellis, the Donald Trump lawyer who like the former president faces criminal charges for attempted election subversion.
https://www.theguardian.com/us-news/2023/sep/15/trump-lawyer-jenna-ellis
"Just a quick reminder for liberal Jews who voted to destroy America & Israel because you believed false narratives! Let's hope you learned from your mistake & make better choices moving forward! Happy New Year!" — Donald Trump, who as Jews around the country celebrated Rosh Hashanah, slammed "liberal Jews" for not supporting him.
https://truthsocial.com/@realDonaldTrump/posts/111083021216078581
"The only thing that's changed over the past eight years, really, is that everyone should know Trump's playbook by now. We should know that he will 1) flood the zone with things that are burbling on the right-wing fringe, 2) make sweeping promises without much follow-through and 3) reject any criticism out of hand, spinning it into a reason to praise himself." — Philip Bump
https://www.washingtonpost.com/politics/2023/09/18/trump-welker-interview/
"It's a shit show in the House. It's always a shit show in the House… Eventually what's going to happen is a government shutdown will not go well for us. — Sen. Lindsey Graham (R-SC).
https://twitter.com/igorbobic/status/1703900602193859062
""Every fiber of our union is being poured into fighting the billionaire class and an economy that enriches people like Donald Trump at the expense of workers." — United Auto Workers Union President Shawn Fain on Donald Trump's reported plan to speak with auto workers and union members in Detroit.
https://themessenger.com/politics/trumps-planned-union-speech-blasted-by-uaw.
"With this moment, the UAW leadership has an opportunity they cannot let slip through their grasp. Rather than relenting to the Biden administration's unjust transition to EVs, the UAW should use their leverage and force the President to stop subsidizing an industry that benefits Communist China more than it does American workers." — Sen. J.D. Vance (R-OH).
https://www.toledoblade.com/opinion/columnists/2023/09/19/vance-biden-ev-agenda-threatens-us-auto-industry/stories/20230919029
"Ultimately all future date nights have been canceled, and I learned to check party affiliations before you go on a date," —  Rep. Lauren Boebert, R-Colo., referencing reports that the man who appears in surveillance video of the incident with her is a Democrat.
https://www.usatoday.com/story/news/politics/2023/09/19/lauren-boebert-parted-date-removal-beetlejuice/70900877007/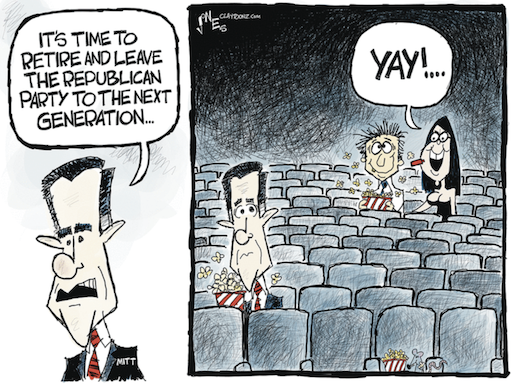 "Former President Ronald Reagan gave us a great example when he fired striking federal workers in the 1980s." — Sen. Tim Scott (R-SC) when asked about the United Auto Workers strike.
https://www.nbcnews.com/politics/2024-election/tim-scott-asked-auto-strikes-praises-firing-striking-federal-workers-rcna105716
"Some of these folks would vote against the Bible because there's not enough Jesus in it." — Rep. Don Bacon (R-NE) about the House Freedom Caucus.
https://www.msn.com/en-us/news/politics/house-gop-in-open-warfare-over-doomed-spending-plan/ar-AA1gVJUY
"The patients are now in charge of the hospital." — House Majority Whip Tom Emmer (R-MN) on the all-out war between Republican House members.
https://punchbowl.news/
Today I'm putting congressional leadership & @POTUS on notice that I will oppose any effort to hold the federal government hostage for Ukraine funding. I will not consent to expedited passage of any spending measure that provides any more US aid to Ukraine. — Sen. Rand Paul (R-KY).
https://twitter.com/RandPaul/status/1704485590085812595
VIDEOS ...
#KYGov: The Andy Beshear campaign is up on TV with this spot: "This is to you, Daniel Cameron (Republican candidate for governor). To tell a 12-year-old girl she must have the baby of her stepfather who raped her is unthinkable." https://twitter.com/MediumBuying/status/1704479015992447432
---
IN THIS ISSUE
IN THE NEWS
OPINION
Andy Borowitz: X Users to Require Elon Musk to Pay Them to Keep Using It
THE XVERSE: Users of X, the social-media platform formerly known as Twitter, are about to roll out a plan that would require Elon Musk to pay them a monthly fee to keep using the site.
Tracy Klugian, a user who masterminded the plan, said that a monthly fee of $10.99 would compensate users for the toxic experience of being on X.
Additionally, Klugian said, X users will demand that Musk set aside billions of dollars to compensate them for any psychiatric or other medical expenses that they incur as a result of their exposure to the platform.
The proposal drew a harsh response from a legion of bots, who argued that Musk must also compensate them for their continued presence on the site.
"Any plan that pays a monthly fee to X users but not to bots is deeply hurtful," @TrumpBoebert2024 wrote. "Bots made X what it is today." 
https://www.newyorker.com/humor/borowitz-repor
Strike Is a High-Stakes Gamble for Autoworkers and the Labor Movement
What unions haven't had during that stretch is a true gut-check moment on a national scale. Strikes by railroad workers and UPS employees, which had the potential to rattle the U.S. economy, were averted at the last minute. The fallout from the continuing writers' and actors' strikes has been heavily concentrated in Southern California.
The strike by the United Automobile Workers, whose members walked off the job at three plants on Friday, is shaping up to be such a test. A contract with substantial wage increases and other concessions from the three automakers could announce organized labor as an economic force to be reckoned with and accelerate a recent wave of organizing.
But there are also real pitfalls. A prolonged strike could undermine the three established U.S. automakers — General Motors, Ford and Stellantis, which owns Chrysler, Jeep and Ram — and send the politically crucial Midwest into recession. If the union is seen as overreaching, or if it settles for a weak deal after a costly stoppage, public support could sour.
https://www.nytimes.com/2023/09/19/business/economy/strike-autoworkers-labor.html
House GOP in open warfare over doomed spending plan
Beneath the surface, things are even worse for McCarthy this time around. The faceplant by the two negotiators he'd empowered has exposed a full-on House Republican rebellion that's officially underway.
It's bigger than a clash between the centrist and right wings of the party. The Freedom Caucus itself is divided, with many members swatting down a plan backed by their own leader. Many of those conservatives are now openly threatening to try to oust McCarthy if he relies on Democratic votes to avoid a shutdown, but they're also withholding their support from the only Republican plan on paper.
https://www.politico.com/news/2023/09/19/house-gop-spending-plan-00116631
Judge hopes to decide by Thanksgiving whether 14th Amendment disqualifies Trump from Colorado's 2024 ballot
A Colorado judge said Monday she hopes to decide by Thanksgiving whether the 14th Amendment's ban on insurrectionists holding office means former President Donald Trump is disqualified from appearing on the state's presidential ballot in 2024.
Judge Sarah Wallace made the comments at a hearing in which she set an expedited schedule for the case, which was initiated by a watchdog group called Citizens for Responsibility and Ethics in Washington, or CREW, on behalf of a group of Republican and unaffiliated Colorado voters.
Lawyers for Colorado Secretary of State Jena Griswold, a Democrat, did not take a position on the lawsuit Monday but emphasized a hard deadline of January 5 for it to be settled. Her office is required by that date to certify the names of all candidates that will be printed on the state's presidential primary election, set for March 5.
https://www.cnn.com/2023/09/18/politics/colorado-judge-14th-amendment-ballot/index.html
Rating changes: 10 races shift, with House control in play
Inside Elections made 10 ratings changes for House seats — three in the direction of Republicans and seven towards the Democrats.
https://rollcall.com/2023/09/18/rating-changes-10-races-shift-with-house-control-in-play/
Republicans who objected to a Biden impeachment inquiry now say they're fine with it
McCarthy's decision to proceed with the impeachment inquiry has faced scant public pushback from House Republicans, even though many of them objected to taking that momentous step.
The softening of stances is the latest example of swing-district and center-right Republicans standing by their leadership team, even as it bends to pressure from far-right lawmakers to take actions that could backfire politically on these more centrist members and endanger their competitive seats.
https://www.nbcnews.com/politics/congress/republicans-objected-biden-impeachment-inquiry-now-say-fine-rcna104871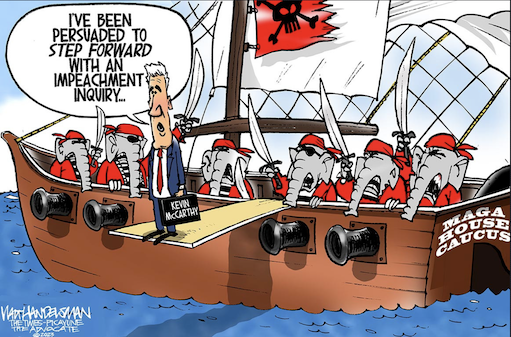 Election Deniers Are Overseeing Elections in 17 States
Fully one-third of U.S. states have election deniers in some of the highest positions overseeing elections. That's according to a new report from States United Democracy Center highlighted by Mother Jones.
Although many election deniers lost their races in the 2022 midterms, States United, a non-partisan organization, found that a total of 23 election deniers now hold statewide office positions that give them influential oversight over elections in 17 different states. This includes seven governors, five secretaries of state, and 11 attorneys general. https://www.rollingstone.com/politics/politics-news/election-deniers-17-states-1234826808/
Hunter Biden's lawyer says gun statute unconstitutional, case will be dismissed
The attorney for Hunter Biden, who is facing felony gun charges, said that the statute is likely unconstitutional and he expects the case will be dismissed before trial.
While the criminal statutes cited in the indictment are clear — it is a crime to lie on a gun application form or to possess a firearm as a drug user – Hunter Biden's attorney suggested that the charges could be unconstitutional, citing a recent appeals court ruling that drug use alone should not automatically prevent someone from obtaining a gun.
https://abcnews.go.com/US/hunter-bidens-lawyer-gun-statute-unconstitutional-case-dismissed/story?id=103214828
Wisconsin Republicans vote to fire elections director, who sues to keep her job
Republicans in the Wisconsin Senate voted Thursday to fire the swing state's top nonpartisan elections official, whose allies responded by saying the lawmakers didn't have the power to oust her.
The Democratic governor immediately called on the state's attorney general to file a lawsuit so she can remain in her job.
The vote creates a dispute over who is in charge of overseeing elections in a state that is expected to play a critical role in next year's presidential campaign and that may have to redraw its legislative districts within months.
https://www.washingtonpost.com/politics/2023/09/14/wisconsin-republicans-fire-election-director/
GOP is the party of the walking dead
Trump owns some non-trivial percentage of Republican voters. Maybe it's 25 percent; maybe it's 35 percent; maybe it's 45 percent. These are people who would follow him if he were to decamp from the GOP.
This isn't even an open secret: Republicans have been talking about it since Trump popped into first place in polling during the summer of 2015. Back then they refused to attack him because they feared that even if they did beat him, he would sabotage the party in revenge.
https://thetriad.thebulwark.com/p/trump-controls-the-republican-party
Is Kamala Harris the secret weapon no one is talking about for 2024?
In May
The Economist and Yougov published a poll
on many aspects of American political life. The item #20 question was, "Do you approve or disapprove of the way Kamala Harris is handling her job as vice president?" Among 18-29 year olds Harris polled at 59% approval (strongly approve plus somewhat approve). The next question was, "If it should become necessary, do you think Kamala Harris has the qualifications to serve effectively as president?" For the same age group she polled 83%.
Because the White House team understands data and how to win elections Harris has visited 11 college campuses already this year. This is smart politics and real, on the ground strategic outreach.
https://www.dailykos.com/stories/2023/9/16/2193736/-Kamala-Harris-What-the-Media-Doesn-t-Tell-Us
Outflanked by liberals, Oregon conservatives aim to become part of Idaho
The disaffection among conservatives has spawned a movement to change the state's political dynamic in a novel if quixotic way — rather than relocate or change the politics, which seems impossible to many here, why not move the border and become residents who live under the rules of Idaho?
This is no small task. Both the Oregon and Idaho state legislatures, which are controlled by Democrats and Republicans respectively, would have to approve a border shift, which in this case would be the most significant geographically since western states began forming in the mid-19th century. The issue would then go to the U.S. Congress.
https://www.washingtonpost.com/nation/2023/09/15/oregon-republicans-border-move-idaho/
White Man's Burden
One of Donald Trump's signature political achievements, which like most of them owes to his genius for shamelessness, has been to convert self-pity from a Republican vice into a virtue. He has likewise turned claims of victimhood inside out, from confessions of weakness into boasts… He has called one source of his suffering 'the greatest witch hunt in the history of our country', and another, simply, 'a lynching'. It may be the only Trump whine he has ever managed to sell, but, as he exhorts his supporters to feel sorry for themselves and to rage at their oppressors, and presents himself as their persecuted billionaire champion, they gulp it all down.
As effective as this Trumpian theme has been, one category of Republican politician seems particularly reluctant to adopt it: non-white ones.
https://www.economist.com/united-states/2023/09/14/why-some-gop-candidates-dont-act-as-aggrieved-as-donald-trump
Inside Exxon's Strategy to Downplay Climate Change
Exxon Mobil issued its first public statement that burning fossil fuels contributes to climate change in 2006, following years of denial, the Wall Street Journal reports.
Yet behind closed doors, Exxon took a very different tack: Its executives strategized over how to diminish concerns about warming temperatures, and they sought to muddle scientific findings that might hurt its oil-and-gas business, according to internal Exxon documents reviewed by The Wall Street Journal and interviews with former executives.
https://www.wsj.com/business/energy-oil/exxon-climate-change-documents-e2e9e6af
Democrats Won't Save McCarthy
Senior Democrats previously signaled to us they'd likely help McCarthy if far-right Republicans tried to boot him from the speakership for 'being reasonable.'
And Rep. Matt Gaetz (R-FL) has repeatedly threatened to file a motion to vacate as soon as next week.
But any potential Democratic assistance to McCarthy on this front evaporated with the start of the impeachment inquiry.
https://punchbowl.news/archive/91423-punchbowl-news-am/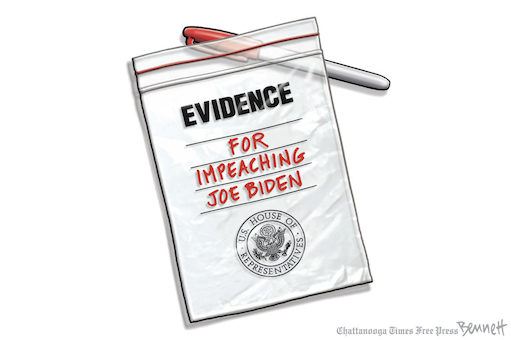 Federal Judge Again Rules DACA Is Illegal
A federal judge in Texas on Wednesday rejected the Biden administration's latest effort to save a program that has shielded hundreds of thousands of undocumented young adults from deportation, saying that it remained unlawful even after recent changes, the New York Times reports.
The judge, Andrew S. Hanen of the Federal District Court in Houston, maintained that President Barack Obama exceeded his authority when he created the Deferred Action for Childhood Arrivals program, or DACA, by executive action in 2012.
The government is almost certain to appeal the decision to the U.S. Court of Appeals for the Fifth Circuit, experts said, and the case is likely to end up in the Supreme Court.
https://www.nytimes.com/2023/09/13/us/daca-immigration-ruling.html
Ramaswamy Says He Would Fire Most of the Federal Work Force if Elected
Vivek Ramaswamy, the Republican presidential candidate whose strident and sometimes unrealistic proposals have helped him stand out in the crowded primary field, said in a policy speech on Wednesday that he would fire more than 75 percent of the federal work force and shutter several major agencies, the New York Times reports.
Mr. Ramaswamy also claimed he could make the changes unilaterally if he were to be elected president, putting forward a sweeping theory that the executive wields the power to restructure the federal government on his own and does not need to submit such proposals to Congress for approval.
https://www.nytimes.com/2023/09/13/us/politics/vivek-ramaswamy-dismantle-government.html
Trump wants to close the Department of Education, joining calls by GOP rivals
Former President Donald Trump said Wednesday he wants to close the Department of Education and have state governments 'run the education of our children,' pushing for a long-held Republican goal that has been endorsed by several other 2024 GOP candidates.
Said Trump, in
a campaign video
: "We're going to end education coming out of Washington, DC. We're going to close it up – all those buildings all over the place and people that in many cases hate our children. We're going to send it all back to the states."
But eliminating the US Department of Education would not necessarily give any more power to states over K-12 schools. While the federal agency helps the president execute education policies, the power to set curriculum, establish schools and determine enrollment eligibility already lies with the states and local school boards.
https://www.cnn.com/2023/09/13/politics/trump-department-of-education-states-2024/index.html
DeSantis discourages latest covid boosters, contradicting federal guidance
Florida Gov. Ron DeSantis (R) and the state's surgeon general are warning residents under age 65 against the new coronavirus booster, going against the advice of federal health officials who have recommended the shots.
Said DeSantis: I will not stand by and let the FDA and CDC use healthy Floridians as guinea pigs for new booster shots that have not been proven to be safe or effective.
https://www.washingtonpost.com/politics/2023/09/14/florida-covid-vaccine-desantis-ladapo/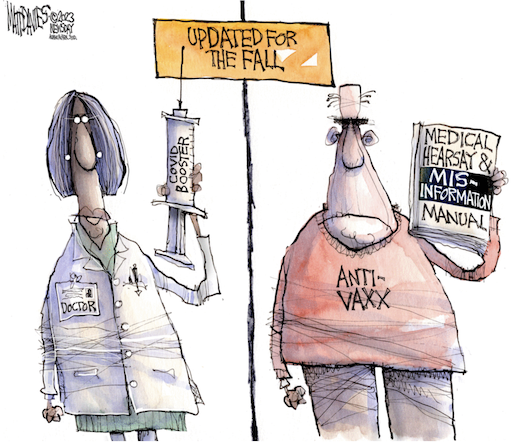 Jury Awards $100,000 to Couple Denied Marriage License
A federal jury has awarded $100,000 to a Kentucky couple who sued former county clerk Kim Davis over her refusal to issue marriage licenses to same-sex couples.
https://apnews.com/article/kentucky-kim-davis-marriage-license-samesex-53c37a606aa8dab261edb198db0de72c
'It will take years to recover' from Tuberville blockade, top Navy nominee says
President Biden's nominee to be the Navy's top officer, Adm. Lisa Franchetti, said it could take the service years to recover from the impacts of Sen. Tommy Tuberville's blockade of hundreds of senior military promotions, Politico reports.
Said Franchetti: Just at the three-star level, it would take about three to four months just to move all the people around. But it will take years to recover from the promotion delays that we would see.
https://www.politico.com/news/2023/09/14/tuberville-blockade-franchetti-00115936
A pall on relations between the White House and Justice Department
Respect and admiration among White House aides for Garland, a longtime federal appeals-court judge chosen to underscore the independence of the Justice Department, has shifted for some into resignation and distrust. They point to Garland having appointed not just a special counsel to investigate former President Donald Trump, but two others as well: one looking into Biden and another probing his son, Hunter Biden. On Thursday, the latter indicted the younger Biden on gun charges.
Some Biden aides have said they see Garland's handling of the inquiries into the Biden family as driven less by a dispassionate pursuit of justice than by a punctilious desire to give the appearance that sensitive investigations are walled off from political pressure.
https://www.wsj.com/politics/policy/ties-between-joe-biden-and-merrick-garland-deteriorate-from-distant-to-frigid-e2b81f5d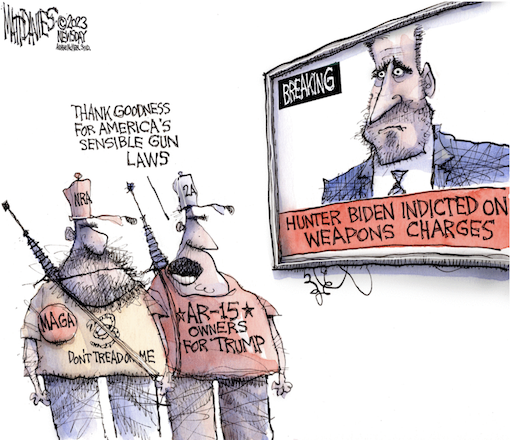 Red States Quit Nation's Oldest Library Group
The American Library Association is facing a partisan firefight unlike anything in its almost 150-year history.
The once-uncontroversial organization, which says it is the world's largest and oldest library association and which provides funding, training and tools to most of the country's 123,000 libraries, has become entangled in the education culture wars — the raging debates over what and how to teach about race, sex and gender.
Over the summer, state libraries in Montana, Missouri and Texas announced that they were severing ties with the ALA, imperiling their libraries' access to funding and training.
https://www.washingtonpost.com/education/2023/09/15/american-library-association-book-bans/
Only a Third Think Biden Will Finish Second Term
Only 34% of registered U.S. voters think President Biden would complete a second term if re-elected, 44% believe he'd leave before it ended and 22% are unsure, according to a new CBS News/YouGov poll.
https://www.documentcloud.org/documents/23979668-671717605-cbsnews-20230917-sun
THE DAILY GRILL ...
"President Biden on Friday urged the Big Three automakers to offer more money to the striking United Auto Workers, backing the union's call for better wages in its unprecedented labor action." https://www.washingtonpost.com/business/2023/09/15/uaw-strike-biden-trump/

VERSUS

"Donald Trump recorded an interview for TV in which he attacked UAW President Shawn Fain, arguing that Fain is not going to have a union in three years and alleging the workers are being sold down the river by their leadership." https://www.washingtonpost.com/business/2023/09/15/uaw-strike-biden-trump/
 


"When Trump told NBC News over the weekend that it was his decision — and not that of his lawyers — to challenge the 2020 presidential election result, he torpedoed one of his key legal defenses, making Trump's lawyers must really wonder why their client insists of doing television interviews." https://twitter.com/MeetThePress/status/1703398762746384533

VERSUS

"Trump just threw his whole 'following my lawyers' advice' defense under the bus.
Then he added: No, let me correct that: not just under the bus but under a roaring, speeding, ginormous freight train." — Harvard law professor Laurence Tribe. https://twitter.com/tribelaw/status/1703444807727686091
Paul Waldman  The GOP wants to impeach Biden for 'corruption'? Don't make me laugh
If one tried to articulate the principle on which the Republican push to impeach President Biden is based, it would have to go something like this: Public officials shouldn't be permitted to profit from their positions, and anyone who does should be removed from office. Like any principle, this one should apply to every public official regardless of party or ideology.

But if any Republican said that out loud, the proper response would be to burst out laughing.

This isn't just because Republicans have found no evidence that Biden is guilty of wrongdoing, despite the tireless efforts of multiple House committees. Nor is it because they have defended the relentless quest of the Trump family to profit from former president Donald Trump's time in the White House. Hypocrisy might be the tribute vice pays to virtue, but Republicans stopped paying any tribute to virtue long ago. They sped right past hypocrisy to arrive at something entirely different.

Republicans are not characterizing their impeachment push against Biden as an attempt to bring strict ethical standards back to government. There's no high-minded talk of integrity, moral rectitude or the solemn obligations of public service. That's because they are in the midst of a years-long crusade to convince the public to not care about corruption.

That crusade is only partly about defending Trump, perhaps the most shamelessly corrupt president in U.S. history. He installed his laughably unqualified family members in White House positions. He spent a good amount of time in office at his various resorts, charging the Secret Service as much as $1,185 a night per room to stay there to protect him. His Washington hotel became a destination for anyone who wanted to put some money directly in his pocket; foreign governments spent millions of dollars there, as did a fleet of Republican candidates and party flunkies. Foreign governments also eagerly gave special favors to Trump's businesses. His relentless advocacy for the government of Saudi Arabia while in office was followed by the Saudis giving son-in-law Jared Kushner $2 billion for his start-up private equity firm, even though the Saudis' own investment advisers found Kushner's operation unsatisfactory in all aspects.

And that doesn't even get into the litany of Trump associates with flexible ethics, including multiple Cabinet members and a raft of cronies who faced their own scandals and criminal charges.

Were Republicans bothered by this orgy of self-dealing? They were not. In fact, judging by the myriad ways they have decimated the legal and normative standards to which public officials must abide, they were perfectly sincere when they insisted that Trump's actions were nothing worse than what voters should expect of anyone in high office.

For instance, the GOP effort to remove nearly all restrictions on how much money corporations and the wealthy can give to candidates goes back decades. It had its greatest success with the Citizens United case, which opened the floodgates to a tidal wave of spending on campaigns. They also celebrated another Supreme Court case, McDonnell v. United States, which redefined what constituted an official act, ruling that the favors former Virginia governor Bob McDonnell did for donors who showered him with money and gifts while in office didn't qualify as corruption.

Speaking of the Supreme Court, in recent weeks, reporters have exposed the extravagant largesse that billionaire Harlan Crow has lavished on Justice Clarence Thomas, which included not just luxury vacations but also paying the private-school tuition of a Thomas relative. Justice Samuel A. Alito Jr. has also taken advantage of billionaire-funded hospitality. These revelations were greeted by Republicans everywhere with either a shrug or a rush to defend the right-wing justices. How dare anyone impugn their character by claiming there's something wrong with taking gifts from super-rich friends who have a deep interest in the decisions the court makes?

Given the GOP's clear position on what ought to be expected of public officials at all levels, one might be tempted to label it the pro-corruption party. But it would be more accurate to say that its position is that we should stop worrying about corruption altogether.
So listen closely as Republicans offer their wild tales of President Biden's alleged wrongdoing, spun from innuendo and outright lies. They'll say Biden is corrupt, but they likely won't say why corruption is bad. Because they don't think it is. https://www.washingtonpost.com/opinions/2023/09/18/biden-impeachment-republicans-corruption/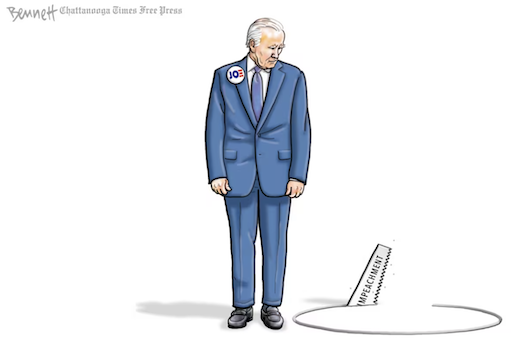 Washington Post Editorial: A good deal already exists to avert a U.S. government shutdown
A deal already exists to avert a U.S. government shutdown. It's the debt ceiling compromise that was agreed to in May by House Speaker Kevin McCarthy (R-Calif.) and President Biden. The deal was a true middle ground: Mr. Biden and other Democrats agreed to spending cuts on domestic programs in 2024 and 2025 and a reduction in IRS funding in exchange for House Republicans raising the debt limit and forgoing deeper cuts. Both sides gave a little, and the result was some real (though modest) savings. As a new budget year approaches in October, all lawmakers have to do is follow the spending levels they agreed to earlier this year.
Yet far-right lawmakers are demanding a renegotiation, insisting on substantial cuts to everything but defense and veterans aid — the things they did not get earlier this year — and threatening a government shutdown if they do not get their way.
Mr. McCarthy does not have to bow to these lawmakers' demands. He can stick to the previous agreement, passing a budget with some votes from House Democrats, and avoid an Oct. 1 shutdown.

Instead, Mr. McCarthy has tried to get his far right on his side, proposing a budget that would slash funding for everything other than defense or veterans by 8 percent. That means cuts to education, transportation, national parks, public health and even law enforcement, among other popular and widely used programs. The bill would fund the government only through October, meaning there would be another hostage-like situation over the 2024 budget again this fall — during which the new, lower spending levels would no doubt be the basis for further demands.

When House Republicans pushed such cuts earlier this year, the Democratic-controlled Senate and the White House balked. They will not agree to them now. Whatever Mr. McCarthy is doing, it's not a serious effort to address this reality. https://www.washingtonpost.com/opinions/2023/09/18/mccarthy-republicans-shutdown-deal/
Philip Bump: Trumpworld is still figuring out the Hunter Biden indictment conspiracy
In theory, the announcement Thursday that President Biden's son Hunter was indicted on charges related to his purchase of a gun in 2018 would seem like an obvious political win for the president's opponents. Hunter Biden has been disparaged repeatedly by Republican politicians and the right-wing media to impugn the president; his reaching a plea agreement earlier this year that included the gun question was presented as an unacceptably light response to his alleged actions. That deal fell apart and here we are.

But the indictment instead meant that the right's broader conspiracy theory about how Joe Biden is using the levers of power needed to be adjusted. (Announcing an impeachment inquiry Tuesday, House Speaker Kevin McCarthy (R-Calif.) alleged that the president's family has been offered special treatment by Biden's own administration, for example.) It can't both be the case that Joe Biden is leaning on the Justice Department to go easy on Hunter Biden and that Hunter Biden is now facing a set of charges that are only rarely brought against defendants.
The beauty of conspiracy theories, though, is that they are ever-flowing streams that easily slip around obstacles in their path to get to their destination. It might take a while for an ideal new channel to be carved, but the process by which it is established is already underway. https://www.washingtonpost.com/politics/2023/09/15/biden-trump-hunter-indicted/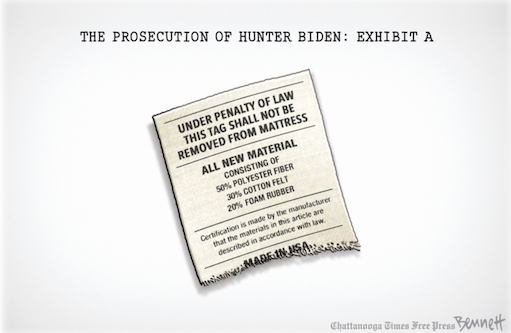 Norm Ornstein: The Senate's Deep and Dirty Secret
The Senate's deep and dirty secret is that holds work only because every member of the Senate wants them to. Other senators continue to deny unanimous consent not just to protect the prerogatives of their absent colleague, but to protect their own ability to use holds in the future. Every member of the body is culpable, because every one of them wants to have the opportunity to gain leverage over a president or another executive-branch official or agency. Even senators of the same party as the president find many instances where their pleas for attention or action are ignored or downplayed. Using a hold to block confirmation of someone a president dearly wants in office means that attention will be given. Of course, in most cases, the holds are for individuals and do not last very long.
Holds have been a part of Senate procedure for a long time, but their use for punitive or ideological motives is relatively recent. During the Obama administration, Republican Senator Tom Cotton of Arkansas put a hold on Barack Obama's nominee for ambassador to the Bahamas, Cassandra Butts, that lasted for 27 months, until she died of cancer. The hold had nothing to do with Butts's qualifications or character—it was purely punitive. Tuberville is not the only senator now using blanket holds for partisan or ideological purposes; Kentucky's Rand Paul has a blanket hold on more than 60 ambassadors and other key State Department officials, and Ohio's J. D. Vance has done the same for Justice Department nominees, including the head of the Office on Violence Against Women and several nominees for U.S. attorney, in retaliation for DOJ actions against Donald Trump.

For a long time, holds were an allowable and sometimes beneficial practice that helped balance power between the Senate and the presidency. Senators rarely took advantage of the process by applying blanket holds or sustaining them for unreasonable periods of time. The main abuses in the past were when individual senators tried to keep their holds secret to avoid criticism. That practice was severely limited a few years ago. But the norms that kept the practice in check have been shredded. https://www.theatlantic.com/ideas/archive/2023/09/senate-hold-procedure/675315/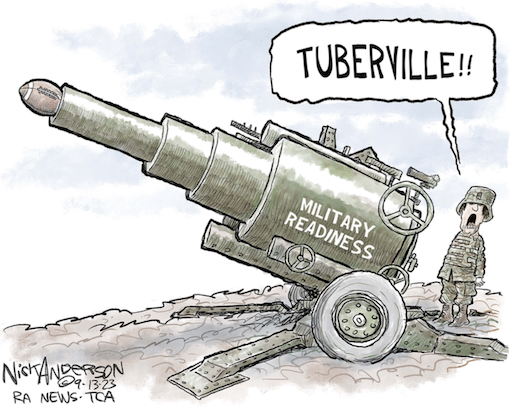 Jonathan Last: Trump Controls the Republican Party Because He Has the Power To Destroy It
Trump owns some non-trivial percentage of Republican voters. Maybe it's 25 percent; maybe it's 35 percent; maybe it's 45 percent. These are people who would follow him if he were to decamp from the GOP.
This isn't even an open secret: Republicans have been talking about it since Trump popped into first place in polling during the summer of 2015. Back then they refused to attack him because they feared that even if they did beat him, he would sabotage the party in revenge. https://thetriad.thebulwark.com/p/trump-controls-the-republican-party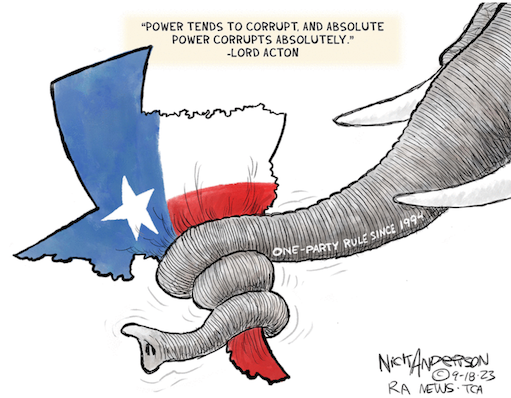 Bobby Azarian: The scientific reason why Trump's supporters won't believe any evidence
When delving into the perplexing world of politics and the enigmatic figure of Donald Trump, we often encounter a peculiar phenomenon amongst his supporters: a staunch refusal to accept any criminal allegation or felony charge against him, no matter how compelling the evidence.
There are many neurological and psychological reasons for this irrational behavior. But today, we will focus on the mental phenomena I feel are most urgent to explore ahead of the 2024 presidential election.
Now that Trump is running for president again while facing 91 felony charges, I feel a moral responsibility to illuminate all the mental factors that are driving Americans to support a man who is a master manipulator, and incapable of telling the truth. Unfortunately, these are qualities that are too common among presidential candidates, but Trump is a particularly egregious example, and therefore we must be vigilant. This article is meant to inform but also to warn voters of what is to come.
Researchers placed participants into the confines of an fMRI scanner and presented them with a mixture of factual and abstract statements. The results were illuminating. Disbelief, it turns out, is cognitively demanding. It requires more mental effort than simply accepting a statement as true. From an evolutionary perspective, this preference for easy belief makes sense; a perpetually skeptical individual questioning every piece of information would struggle to adapt in a fast-paced world.

What does all this have to do with Trump supporters? Well, it's far less cognitively demanding for them to believe anything their leader tells them. Any challenge to what Trump tells them is true takes mental work. This means there is a psychological incentive for Trump loyalists to maintain their loyalty.

Now, let's consider the unique predicament faced by individuals who staunchly support Trump and want him to again become president. From the moment Trump began his political career and his social engineering career, his supporters have been exposed to narratives — Trump doesn't lie, Democrats are communists, the media is an enemy of the people — that emphasize loyalty and trust in their political idol. These narratives often steer away from critical examination and instead encourage blind faith. When coupled with the brain's inherent tendency to accept rather than question, it creates an ideal environment for unwavering allegiance. No matter that Trump, time and again, has been revealed to be a serial liar, habitually misrepresenting matters of great consequence, from elections to economics to public health.

If we aspire to build a society less susceptible to misinformation, we must embark on a paradigm shift. Our educational approach should pivot from passive acceptance of supposed facts to the exhilarating pursuit of questioning authority and healthy skepticism (as too much skepticism can also lead to irrational thinking). Recognizing that belief, in many ways, is the brain's default mode rather than a conscious choice, can serve as the first step in this cerebral revolution.

In conclusion, the unwavering belief in Trump, despite the felony charges against him, is not solely a political matter but, for some, a manifestation of our brain's intrinsic tendencies. Understanding this cognitive dynamic is pivotal in addressing the challenges posed by misinformation and fostering a more critical and discerning society. https://www.alternet.org/trump-supporters-brains/
David Von Drehle: Democrats are crazy to insist only Biden can beat Trump
In a nation where 50-50 debate is the defining rule of politics, a huge majority of voters — nearly 8 out of 10 — agree on this: At 80, President Biden is too old to seek a second term.
This is not a whimsical or ageist belief. According to Social Security Administration actuarial data, the majority of American men who are Biden's age are in their final decade of life, with an average of about 7½ years of life remaining. I wish the president well and hope he has many happy, healthy years ahead. But a second term would take him to age 86 — 12 years past the average life expectancy of an American male born in 2020.

Why on earth would a political party, supposedly in the business of channeling the views of the people, tack determinedly into the face of such widespread and well-founded opposition? It's certainly not because Biden is extremely popular. The venerable measure of presidential job approval maintained by the Gallup organization has consistently shown Biden bumping along in the vicinity of 40 percent for most of his term. And it's not because he is a great campaigner. The election of 2020 was Biden's third attempt to win the presidency and was no more successful than the first two until he was rescued from defeat by party leaders alarmed at the suicidal prospect of Sen. Bernie Sanders (I-Vt.) as nominee.

This is happening for two reasons: the refusal of one man, Biden, to step back (a bewilderingly common affliction among the superannuated politicians shuffling around Washington), and the virtuosity of Democratic thought leaders in telling one another things that are not true. The second of these is the more interesting.

You can trace the Democratic self-delusion to the 2016 election, in which the egregious Donald Trump seized control of a moribund Republican Party and eked out a narrow victory over Hillary Clinton. In a preview of 2020, Democratic leaders had been so alarmed by Sanders running hard to the left that they reached into their vaults to anoint a proven loser, then pretended they had a great candidate. Clinton had the dubious distinction of losing the nomination in 2008 to a freshman senator, yet the party was shocked when she managed to lose to a celebrity from reality TV.

Rather than draw the obvious conclusion that the party needed to strengthen its bench, Democrats instead decided that Trump had some strange political dark magic. No amount of subsequent losing by the burly blowhard has shaken that deep-down dread. At cocktail parties, in caucus rooms and on cable TV, one hears over and over that only Biden can defeat Trump, like an elderly Harry Potter who alone can stop Lord Voldemort.

This is crazy. Any moderately popular person could beat Trump in a general election. The former president has not made the slightest effort since leaving office to win back a single swing vote; indeed, polls suggest that more than half of the electorate is a hard no on Trump and nearly two-thirds are either firmly or leaning against him.

Another mistaken mind-meld among Democrats is the idea that Bidenomics is a winning platform. Here's the truth: For an incumbent president, the economy is only as good as the public believes it to be. The large U.S. share of the vast global economy is always a mixture of good news and bad. And that will not change in the next six months, during which — political scientists tell us — voter attitudes on the economy will be set.

Yes, unemployment is low; wages at the bottom are rising; inflation is down from its peak. But the deficit is on track to double, interest rates are at 20-year highs and household income has dropped three years in a row. Polls indicate that Americans are less gung-ho about Biden's economy than Democratic cheerleaders want them to be.

And Democrats are deluding themselves when they tell themselves they have no alternative to Biden. The governors of 24 states are Democrats. Fifty U.S. senators are Democrats or caucus with the Democrats. The entire Cabinet comprises Democrats, and Democrats lead some of the world's most complex corporations. The mayors of many of the nation's largest cities are Democrats, as are the presidents of many colleges and universities. Many retired military leaders are Democrats. America has done fine for more than two centuries with presidents drawn from these wells.

If Biden were to choose retirement, the field of contenders would fill overnight and a new generation of leaders would finally emerge in a nation that is hungry for them. The election is more than a year off. There is plenty of time. https://www.washingtonpost.com/opinions/2023/09/14/biden-trump-election-democrats-delusion/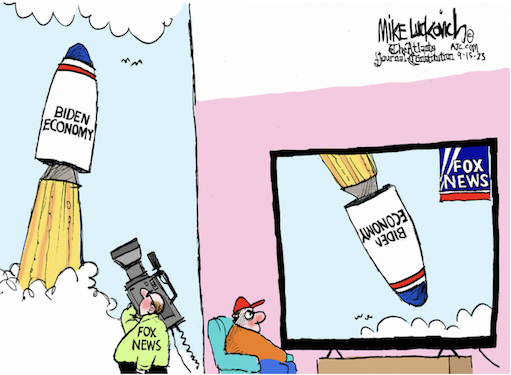 Amy Walter: Old Metrics No Longer Silver Bullet in Predicting Presidency
When I first started covering politics some 25 years ago, the following data points were considered the gold standard to understanding the trajectory of an election cycle: a president's job approval rating, the overall mood of the electorate (namely, is the country headed in the right direction or wrong direction) and opinions about the economy. Taken together, they told the story of a president or party in peril, or a president and party that were headed to reelection.
Over these past few years, however, these questions have become less determinative.
https://www.cookpolitical.com/analysis/national/national-politics/old-metrics-no-longer-silver-bullet-predicting-presidency
Michael Hiltzik: Does Ron DeSantis even believe his dangerous B.S. about COVID vaccines?
The latest government advisories on the new monovalent COVID-19 vaccines were not much of a surprise. On Monday, the Food and Drug Administration approved the vaccines as safe and effective, and a day later the Centers for Disease Control and Prevention recommended the shots for all Americans over the age of six months.
Even less of a surprise was the reaction of the resolutely anti-vax, anti-science Florida Gov. Ron DeSantis. The Republican, who is angling for the GOP nomination for president, staged a roundtable of scientific mountebanks on Wednesday to attack the vaccines.

DeSantis' roundtable took place, naturally, on X, the platform formerly known as Twitter, which is today most notable as the place where truth goes to die.

The roundtable, as one might have predicted, was an agglomeration of misinformation, misunderstanding and misrepresentation that amounted to a public health threat in real time.

It raised the question of how many lives would be saved across the country if DeSantis' presidential campaign completes its glide path to irrelevancy, sapping his quest for the most politically expedient right-wing policy prescriptions.

The answer, conservatively, is hundreds of thousands. Florida boasts one of the worst COVID death rates in the nation, more than 391 deaths per 100,000 population. If Florida's rate were applied to the entire U.S. population instead of the national rate of 338.6 deaths per 100,000, then nearly 1.3 million Americans would have perished from the disease, instead of the documented toll of 1.1 million.

In other words, the end to DeSantis' boorish, charisma-free performance on the campaign trail would be a public health boon. Can there be any greater proof of the adage that elections have consequences? https://www.latimes.com/business/story/2023-09-15/desantis-attacks-covid-vaccine-risking-untold-lives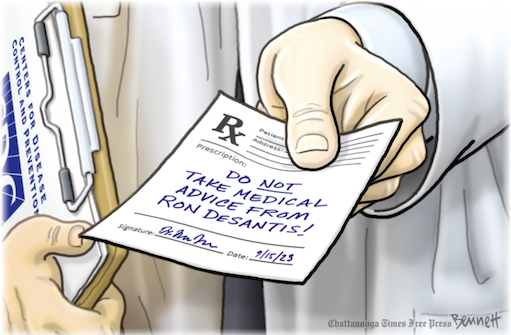 Maureen Dowd: Go With the Flow, Joe!
I've covered Biden for 35 years. He has always been a babble merchant, prone to exaggeration and telling stories too good to be true, saying inexplicably wacky things. It was often cleanup on Aisle Biden. So when he acts like this now, it shouldn't be attributed just to aging. Certainly, he has slowed down. But his staff has exacerbated the problem by trying too hard to keep him in check. Americans know who Uncle Joe is, quirks and all, slower and all. Let them decide.
The president's feelings were no doubt hurt the other day by The Washington Post column by David Ignatius, a charter member of the capital's liberal elite, saying that Biden should be proud of "the string of wins" from his first term but not run for re-election because he "risks undoing his greatest achievement — which was stopping Trump."

I don't disagree, but I doubt it will make a difference.
If Biden has a chip on his shoulder, it's justified. Barack Obama blew off his vice president in 2016 in favor of Hillary Clinton, and a lot of Democrats wrote off Biden during the 2020 primaries after he lost Iowa and New Hampshire.

It was amazing, given his trajectory, that Biden fought his way to the presidency. And he thinks he has done a great job. Besides, being an underdog is his sweet spot. And he's got a point that he is the only one who has beaten Trump.

But Biden needs to start looking like he's in command. His staff is going to have to roll with him and take some risks and stop jerking the reins. Let Joe out of the virtual basement. https://www.nytimes.com/2023/09/16/opinion/joe-biden-old.html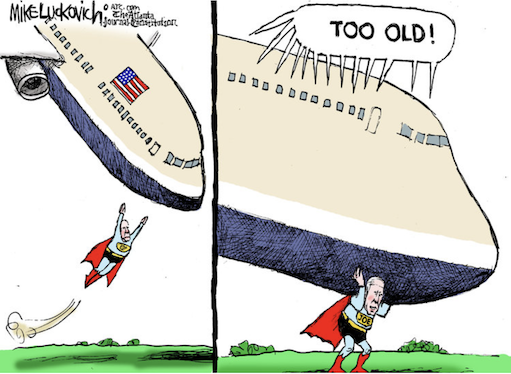 Dan Pfeiffer: The Real Reason No Dem is Challenging Biden
Political narratives can be misleading. On the Republican side, the conversation is about Donald Trump's stranglehold over his base. Republican voters' devotion to Trump is portrayed as being so strong that the former President is compared to a cult leader. Reading press coverage of Joe Biden these days, one would think that Joe Biden was holding off an insurrection among his own voters. But that's not what the polls show at ball.
Biden and Trump have nearly identical favorable ratings from members of their own party. In the recent New York Times/Sienna poll, Trump's is 77/21. Biden's is 77/19. In the most recent YouGov/Economist poll, Trump's favorable rating among Republicans is 75/24 and Biden's is 81/17 among Democrats. Republicans are about 10 points more enthusiastic, and both Trump and Biden will need to raise those numbers before the election, but the idea that Democratic voters are walking away from Biden does not show up in the polls.
As Trump is demonstrating in the GOP primary, it's very hard to defeat a well-known and well-liked political figure.
https://www.messageboxnews.com/p/the-real-reason-no-dem-is-challenging
 Anne Applebaum: What Russia Got by Scaring Elon Musk
One evening in September 2022, a group of Ukrainian sea drones sped out into the Black Sea, heading for Russian-occupied Crimea. Their designers—engineers who had been doing other things until the current war began—had carefully targeted the fast, remote-controlled, explosive-packed vessels to hit ships anchored in Sebastopol, the home of Russia's Black Sea Fleet. But the drones ran into a problem: Starlink, the satellite-communications system that Ukraine had been using since Russia invaded early last year, unexpectedly wasn't working. This was a surprise to the engineers. Several people, in Ukraine and elsewhere, frantically called and texted Elon Musk, the owner of Starlink, to persuade him to enable the system.
Musk, in turn, called Walter Isaacson, his biographer, and told him there was a "non-trivial possibility" that the sea-drone attack could lead to a nuclear war. According to Isaacson, Musk had recently spoken with Russia's ambassador in Washington, who had warned him explicitly that any attack on Crimea would lead to nuclear conflict. Musk implied to several other people (though he later denied it) that he had been speaking with President Vladimir Putin around that time as well.
Here is the part you might not have heard, or not registered: The same team launched a similar attack again a few weeks later. On October 29, a fleet of guided sea drones packed with explosives did reach Sebastopol harbor, using a different communications system. They did hit their targets. They put one Russian frigate, the Admiral Makarov, out of commission. The team believes that they damaged at least one submarine and at least two other boats as well.
And then? Nuclear war did not follow. Despite Musk's fears, in other words—fears put into his head by the Russian ambassador, or perhaps by Putin himself—World War III did not erupt as a result of this successful attack on a Crimean port. Instead, the Russian naval commanders were spooked by the attack, so much so that they stuck close to Sebastopol harbor over the following weeks.
https://www.theatlantic.com/ideas/archive/2023/09/elon-musk-let-russia-scare-him/675282/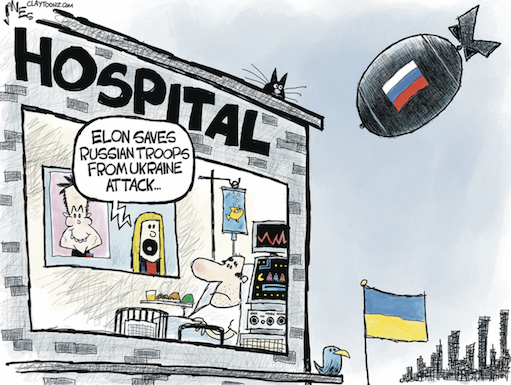 Noam Scheiber: Strike Is a High-Stakes Gamble for Autoworkers and the Labor Movement
Since the start of the pandemic, labor unions have enjoyed something of a renaissance. They have made inroads into previously nonunion companies like Starbucks and Amazon, and won unusually strong contracts for hundreds of thousands of workers. Last year, public approval for unions reached its highest level since the Lyndon Johnson presidency.

What unions haven't had during that stretch is a true gut-check moment on a national scale. Strikes by railroad workers and UPS employees, which had the potential to rattle the U.S. economy, were averted at the last minute. The fallout from the continuing writers' and actors' strikes has been heavily concentrated in Southern California.
The strike by the United Automobile Workers, whose members walked off the job at three plants on Friday, is shaping up to be such a test. A contract with substantial wage increases and other concessions from the three automakers could announce organized labor as an economic force to be reckoned with and accelerate a recent wave of organizing.
But there are also real pitfalls. A prolonged strike could undermine the three established U.S. automakers — General Motors, Ford and Stellantis, which owns Chrysler, Jeep and Ram — and send the politically crucial Midwest into recession. If the union is seen as overreaching, or if it settles for a weak deal after a costly stoppage, public support could sour. https://www.nytimes.com/2023/09/19/business/economy/strike-autoworkers-labor.html