December 2, 2021
ON THE RECORD. . .
"I think if you want to see a revolution, go ahead, outlaw Roe v. Wade and see what the response is…" — Sen Jeanne Shaheen (D-NH), on new abortion restrictions going into effect in N.H. & the upcoming Dobbs v. Jackson Women's Health Organization case.

"Will this institution survive the stench that this creates in the public perception that the Constitution and its reading are just political acts? I don't see how it is possible. If people actually believe it's all political, how will we survive? How will the court survive?" — Justice Sonia Sotomayor at the start of oral arguments in a case challenging Roe v. Wade and Planned Parenthood v. Casey.

"The Court has never revoked a right that is so fundamental to so many Americans and so central to their ability to participate fully and equally in society. The Court should not overrule the central component of women's liberty." —U.S. Solicitor General Elizabeth Prelogar defending the Roe v. Wade precedent which legalized abortion.

"From the audio: "You will not live much longer… We see you Muslim and (n-word) bitch, we know what you're up to. You're all about taking over our country. Don't worry, there's plenty that will love the opportunity to take you off the face of this fucking earth. Come get it. But you fucking Muslim piece of shit. You jihadist. We know what you are. You're a fucking traitor." — Rep. Ilhan Omar (D-MN) plays a horrific death threat she received following Rep. Lauren Boebert's (R-CO) recent Islamophobic attacks on her.

"It was never an option for me to take off my hijab and run. And that should never be something that a Muslim woman ... has to contemplate if she wants to enter public life." — Rep. Ilhan Omar (D-MN) concluding her remarks condemning Islamophobic attacks from GOP colleagues.

"She is the trash in the GOP Conference. Never attacked by Democrats or RINO's (same thing) because she is not conservative, she's pro-abort." — Rep. Marjorie Taylor Greene (R-GA) blasting Rep. Nancy Mace (R-SC) after the South Carolina lawmaker criticized Rep. Lauren Boebert (R-CO) for an anti-muslim remark Boebert made about Rep. Ilhan Omar (D-MN).

Kinda disheartening to see how some prominent people, prop Kyle Rittenhouse up as a hero, yet the brave men and women who fought and defended the Capitol on 1/6 have to continue to fight just for the TRUTH to be told about that day…….-- Capitol Police Officer Harry Dunn, who was among those honored for defending the Capitol on Jan.

"That's okay. I'm just gonna do my job, and I'm gonna be saving lives, and they're gonna be lying." -- Dr. Fauci on Ted Cruz and other Republicans scapegoating him.

"He was also going to cure cancer, if I remember correctly. Everyone said, 'Oh, that's great, we should definitely elect him.. "I haven't seen much movement on that." -- Trump Jr. to Fox host Dan Bongino, attacked President Joe Biden for not curing cancer during his first 10 months in office.

"You don't hear about what's going on as it relates to the riots in Europe on a daily basis now against the vaccine mandates. Because our media wants to block that out. They're going to make sure that you never hear about it because they don't want you getting these kind of ideas that freedom may actually still exist in some parts the world. I mean, Europe is pushing back, and America is sitting there like sheep... 'Oh, this is great, we'll just go along with what these guys who've gotten nothing right in the last two years tell us.' It's absolute insanity." — Trump Jr., who also appeared to lament that there haven't been riots against COVID-19 vaccine mandates in the U.S.

Covid was intentionally released on the world by "Global Elites," but "their little plan with covid didn't work" because "digital warriors" exposed the truth. Now the "elites" are about to unleash another virus to control the population. — Former Trump national security adviser Michael Flynn.
"Here comes the MEV — the Midterm Election Variant! They NEED a reason to push unsolicited nationwide mail-in ballots Democrats will do anything to CHEAT during an election — but we're not going to let them!" — Rep. Ronny Jackson (R-TX), the former White House physician, saying that omicron is just the latest deep state plot to distract America.
Litigation Tracker: Pending Criminal and Civil Cases Against Donald Trump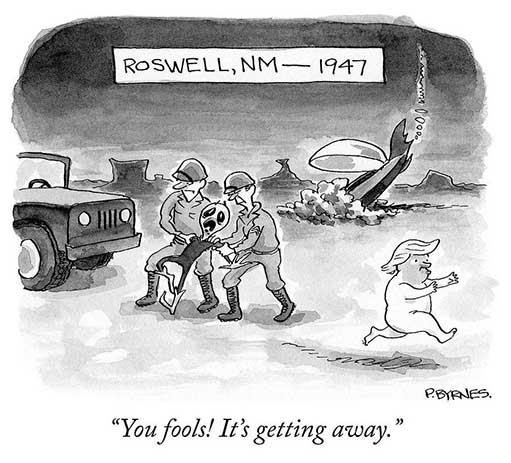 ---
IN THIS ISSUE
IN THE NEWS
OPINION
Andy Borowitz: Powerful Variant of Stupidity Identified in Texas
What is being called a "troubling variant of stupidity" has been identified in Texas, Dr. Anthony Fauci has confirmed.
Although the powerful variant of stupidity is not new, it has recently displayed alarming virulence, the esteemed physician said.
"What's concerning about this variant is that it appears to have developed immunity to all information," Fauci said. "Of the many mutations of stupidity found in Texas, this one stands out."
The immunologist urged that steps be taken to prevent this variant of stupidity from spreading. "We know that it has travelled as far as Cancun," Fauci said. https://www.newyorker.com/humor/borowitz-report/
What abortion laws would look like if Roe v. Wade were overturned
If the Supreme Court overturns the 1973 precedent, the legality of abortion will be left to individual states. Many have already made their intentions clear. https://www.washingtonpost.com/politics/2021/06/11/abortion-rights-roe-v-wade/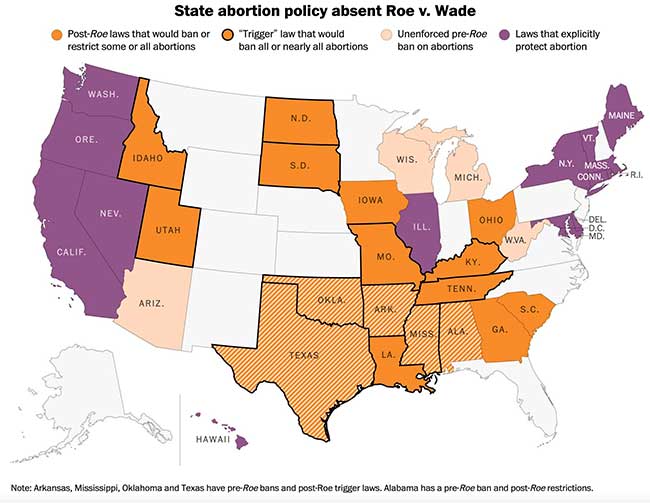 Trump allies work to place supporters in key election posts across the country, spurring fears about future vote challenges
A year after local and state election officials came under immense pressure from Trump to subvert the results of the 2020 White House race, he and his supporters are pushing an ambitious plan to place Trump loyalists in key positions across the administration of U.S. elections.
The effort goes far beyond the former president's public broadsides against well-known Republican state officials who certified President Biden's victory, such as Georgia Secretary of State Brad Raffensperger and Arizona Gov. Doug Ducey. Citing the need to make elections more secure, Trump allies are also seeking to replace officials across the nation, including volunteer poll watchers, paid precinct judges, elected county clerks and state attorneys general, according to state and local officials, as well as rally speeches, social media posts and campaign appearances by those seeking the positions.
If they succeed, Trump and his allies could pull down some of the guardrails that prevented him from overturning Biden's win by creating openings to challenge the results next time, election officials and watchdog groups say.
"The attacks right now are no longer about 2020," said Colorado Secretary of State Jena Griswold (D). "They're about 2022 and 2024. It's about chipping away at confidence and chipping away at the reality of safe and secure elections. And the next time there's a close election, it will be easier to achieve their goals. That's what this is all about." https://www.washingtonpost.com/politics/trump-allies-election-oversight/2021/11/28/3933b3ce-4227-11ec-9ea7-3eb2406a2e24_story.html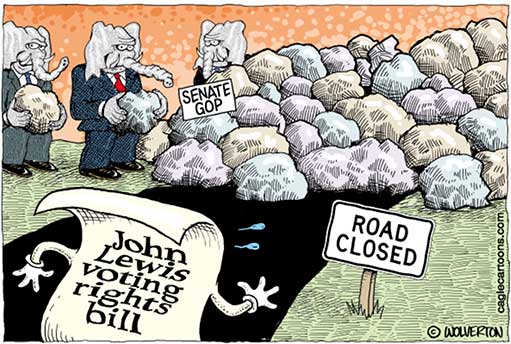 Conservatives plot government shutdown over vaccine mandate
Conservatives on both sides of the Capitol are privately plotting to force a government shutdown Friday in an effort to defund the Biden administration's vaccine mandate on the private sector, multiple GOP sources told Playbook.
Capitalizing on a last-minute scramble to fund the government, a group of Senate conservatives is planning to object to quick consideration of a stopgap measure to extend funding into early 2022 unless Democratic leaders agree to deny money to enforce the mandate. Because of the tight schedule — and Senate rules that require unanimous consent to move quickly — the senators believe they'll be able to drag out the process well past midnight Friday, when funding officially expires.
The strategy, if it holds, means the government will likely shut down for several days — even if appropriators strike a bipartisan agreement to extend funding by the end of today. A Senate Democratic leadership staffer said that without an agreement to truncate the timeline, the Senate would need at least five days to process the continuing resolution. That would mean a brief shutdown ending Sunday at the earliest, but possibly dragging into next week if a deal isn't reached today. https://www.politico.com/newsletters/playbook/2021/12/01/scoop-conservatives-plot-government-shutdown-over-vaccine-mandate-495273
DOJ: Bannon attempting 'frivolous' effort to turn court case into media spectacle
The Justice Department on Sunday night accused Steve Bannon's defense team of lodging "frivolous" legal complaints in order to cause a public dust-up with prosecutors as he battles criminal charges for attempting to thwart the House's Jan. 6 select committee.
"The defense's misleading claims, failure to confer, unexplained wholesale opposition, and extrajudicial statements make clear the defense's real purpose: to abuse criminal discovery to try this case in the media rather than in court," Assistant U.S. Attorney Amanda Vaughn wrote. https://www.politico.com/news/2021/11/28/bannon-trial-media-spectacle-523432
GOP courts anti-vaxxers with jobless aid
Republican officials around the country are testing a creative mechanism to build loyalty with unvaccinated Americans while undermining Biden administration mandates: unemployment benefits.
Florida, Iowa, Kansas and Tennessee have changed their unemployment insurance rules to allow workers who are fired or quit over vaccine mandates to receive benefits.
Nine GOP-controlled states have passed laws requiring exemptions for the Biden administration's vaccine mandate, or banning private companies from requiring vaccination altogether, according to the National Academy for State Health Policy.
These policies undermine federal efforts to get the pandemic under control, which the right then blames Biden for not controlling. They also might help sabotage the economic recovery, which the right will also blame Biden for not sufficiently juicing. Of course, the magnitude of the economic effect of these unemployment-benefit policies alone may be tiny, at least based on that recent experience with other unemployment benefit expansions. But that's not what Republicans have said they believe.
Whatever their motivation, Republicans seem to be rooting for the virus — and against the country. https://www.axios.com/republicans-unemployment-unvaccinated-biden-3cf363b5-8789-4bb4-b431-70401320de94.html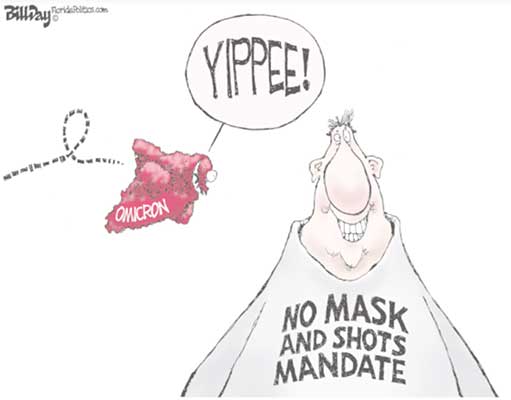 Fox Nation host goes on conspiracy-laden rant comparing Dr Fauci to Nazi doctor Josef Mengele
Fox Nation anchor Lara Logan has compared Dr Anthony Fauci to infamous Nazi doctor Josef Mengele while complaining about Covid measures impacting rights and economy.
"This is what people say to me: that he [Dr Fauci] doesn't represent science to them, he represents Josef Mengele, the Nazi doctor who did experiments on Jews during the second world war in the concentration camps," Ms Logan said on Fox News on Monday.
She added that "people all across the world are saying this," without qualifying her comment with examples or proof. Josef Mengele was dubbed the "Angel of Death" for his deadly experiments on prisoners during the Holocaust at the Auschwitz concentration camp. https://www.independent.co.uk/news/world/americas/us-politics/fox-news-dr-fauci-nazi-doctor-b1966554.html
Trump called aides hours before Capitol riot to discuss how to stop Biden victory
Hours before the deadly attack on the US Capitol this year, Donald Trump made several calls from the White House to top lieutenants at the Willard hotel in Washington and talked about ways to stop the certification of Joe Biden's election win from taking place on 6 January.
The former president first told the lieutenants his vice-president, Mike Pence, was reluctant to go along with the plan to commandeer his largely ceremonial role at the joint session of Congress in a way that would allow Trump to retain the presidency for a second term.
But as Trump relayed to them the situation with Pence, he pressed his lieutenants about how to stop Biden's certification from taking place on 6 January, and delay the certification process to get alternate slates of electors for Trump sent to Congress.
The former president's remarks came as part of strategy discussions he had from the White House with the lieutenants at the Willard – a team led by Trump lawyers Rudy Giuliani, John Eastman, Boris Epshteyn and Trump strategist Steve Bannon – about delaying the certification. https://www.theguardian.com/us-news/2021/nov/30/donald-trump-called-top-aides-capitol-riot-biden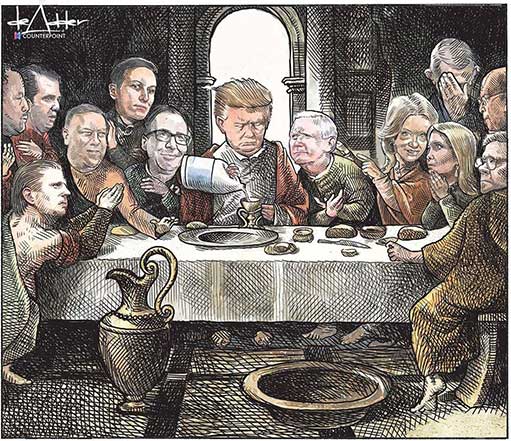 Conservative Media Makes Up a Fake Florida Mansion for Nancy Pelosi
Over the weekend, Conservatism Inc. found a new scandal to promote: A false report that Nancy Pelosi had purchased a $25 million mansion in Florida, home to 2024 hopeful, Gov. Ron DeSantis and former President Trump. To underscore: This story is false. Nancy Pelosi has not bought a $25 million mansion in Florida.
The lib-owning idea went something like this: Nancy Pelosi and her ilk have overreacted to COVID-19 at every turn. Ron DeSantis is a freedom loving governor of the greatest state in America. And now Pelosi was all but admitting that DeSantis was right by spending $25 million on Florida real estate. What an elitist hypocrite! https://www.thebulwark.com/conservative-media-makes-up-a-fake-florida-mansion-for-nancy-pelosi/
Chris Christie aims to shape future for GOP and for himself
The former New Jersey governor and onetime Republican presidential candidate denounced "conspiracy theorists" during a September appearance at the Ronald Reagan Library in California. He followed up with a speech this month to influential Republicans in Las Vegas, warning that the party will only succeed if it offers a "plan for tomorrow, not a grievance about yesterday."
In between, he's been interviewed by everyone from Laura Ingraham on Fox News to David Axelrod, a former adviser to President Barack Obama, on CNN.
On its face, Christie's publicity campaign is in service of "Republican Rescue," his new book that offers a simple prescription for his party: stop talking nonsense about 2020 and focus on the future — or keep losing elections. But the frenzied pace of his appearances and the increasingly obvious jabs at Donald Trump suggest Christie is plotting a political comeback with the 2024 campaign in mind. https://apnews.com/article/donald-trump-new-jersey-campaigns-barack-obama-election-2020-da8c2189595f06eb8023166efa5dfb01
Trump's Senate picks stumble out of the gate
Donald Trump's favorite in the Alabama Senate race is treading water. His pick in Pennsylvania just bowed out of the GOP primary after losing custody of his children. In Alaska and North Carolina, two other Trump-endorsed Senate candidates are behind in primary election polls.
Trump may still have an iron grip on the Republican Party, but the limits of his powers are being exposed in 2022 Senate primaries. A number of his preferred Senate candidates are discovering that the former president's endorsement is no guarantee of success in a crowded primary, leaving Trump to decide just how much political capital to further expend on their behalf. https://www.politico.com/news/2021/11/28/donald-trump-senate-picks-stumble-523407
Trump Could Pay $156,000 For Every Jan. 6 Rioter's Defense, But So Far Has Spent Nothing
Former President Donald Trump could pay $156,000 in legal expenses for every person arrested thus far in the Jan. 6 assault on the Capitol using the $105 million he has collected by spreading the same lies he used to incite the attack, but so far has not helped a single one of the nearly 700 rioters.
"Many people who went there that day are disappointed by his lack of support," said one defense lawyer on the condition of anonymity so as not to hurt his Jan. 6 client's case. "If President Trump was ever going to step up and step in, the time to do it is right now."
Albert Watkins, the lawyer for the self-described "QAnon Shaman" who last week was sentenced to three and half years in federal prison for his role in the attack, was far more blunt speaking to reporters afterward about what Trump should do.
"I'd tell him, 'You know what? You've got a few fucking things to do. Including clearing this fucking mess up and taking care of a lot of the jackasses that you fucked up because of January 6,'" he said.
In all, 670 of Trump's Jan. 6 mob face permanent criminal records and five- and six-figure legal bills for believing Trump's lies that the 2020 presidential election had been stolen from him, and acting on his requests that they do something about it.
Cynthia Hughes, who is collecting money to help Jan. 6 defendants — her "Patriot Freedom Project" web site offers visitors the opportunity to make a "1/6 Thanksgiving Pledge" — appeared on Trump adviser Steve Bannon's podcast and urged Trump to act.
"They're disappointed they haven't heard from him. They're disappointed he hasn't spoken out," she said on Nov. 13. "President Trump, I need to hear from you. I need to hear from you immediately, because we need your help, and we need to know that you're behind us. That you support these people that support you."
Trump, though, appears to have done nothing to support his followers, outside of the occasional public statement claiming they are being "persecuted" by his successor's administration.
https://www.huffpost.com/entry/trump-legal-funds_n_619eb5cde4b0451e5503421f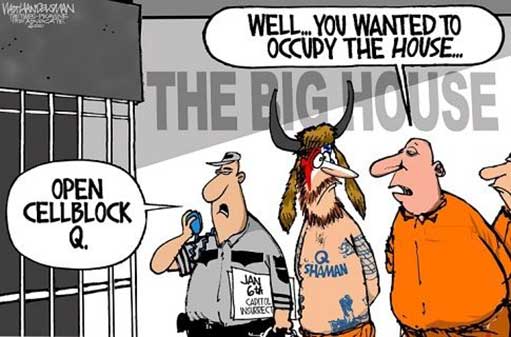 Rep. Greene introduces bill to award Congress's highest honor to Kyle Rittenhouse, who fatally shot two men
Rep. Marjorie Taylor Greene (R-Ga.) has introduced a bill to award the Congressional Gold Medal — the legislative branch's highest honor — to Kyle Rittenhouse, the teenager who last week was found not guilty of homicide and other charges related to his fatal shooting of two men during a protest against police violence last year.
Past recipients, according to a Congressional Research Service report, have been an eclectic group, including Sir Winston Churchill, Bob Hope, George Washington, Robert Frost, Joe Louis, the Dalai Lama, the Rev. Martin Luther King Jr., and Mother Teresa of Kolkata.
Greene was, notably, one of 21 House Republicans who voted against awarding the Congressional Gold Medal to U.S. Capitol Police and D.C. police officers who defended the Capitol during the Jan. 6 attack by a pro-Trump mob.
Greene told news organizations that she voted against those honors because she didn't believe the legislation behind them should refer to the Jan. 6 riot as an "insurrection." She also said she had an issue with how the bill described the Capitol as a "temple of our American Democracy." https://www.washingtonpost.com/politics/greene-rittenhouse-congressional-gold-medal/2021/11/24/c09980d2-4d49-11ec-a1b9-9f12bd39487a_story.html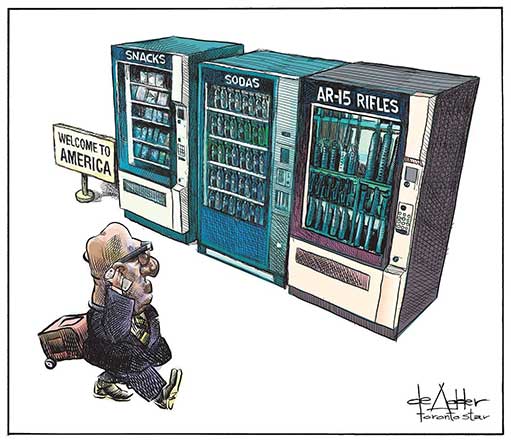 Lara Trump claims pricier turkeys are a liberal plot against Thanksgiving
Lara Trump, the Fox News contributor and wife of Eric Trump, has bizarrely claimed that the rising cost of the Thanksgiving turkey is part of a liberal plot to "chip away" at American traditions.
During a discussion on Fox News about inflation and its impact on Thanksgiving-related purchases, the former president's daughter-in law claimed leftwing Americans "want to fundamentally transform America" and were using the humble Thanksgiving turkey as a vehicle for their nefarious plot.
"Well, how do you that? You have to change America from the inside-out. You have to take away our traditions. So it might seem a little funny and a little ridiculous. 'Oh, don't have a turkey, then people won't come over.'"
In the exchange with the Fox host Pete Hegseth, Trump was responding to comments made by the White House press secretary, Jen Psaki, that inflation had pushed costs of the traditional Thanksgiving bird to about a dollar more for a 20lb bird.
"It all goes to fundamentally transforming this country, and the way you do that is you make sure that we have no commonality whatsoever, no traditions as Americans whatsoever," she said. "You start chipping away at that, and they don't care that Thanksgiving costs a lot more."
"They don't want us to have any common ground. They don't want us to have any shared traditions like Thanksgiving. A lot of places last month actually did away with Halloween because they wanted to be inclusive of the people that didn't celebrate Halloween," Trump added. https://www.theguardian.com/lifeandstyle/2021/nov/25/lara-trump-turkeys-liberal-plot-thanksgiving
Fox News Has The Audacity To Publicly Attack President Biden For Spending "Lush" Thanksgiving With Family, Conveniently Forgets Trump's Mar-A-Lago Habits
On Wednesday, Fox News was unsurprisingly chock full of segments, publicly attacking President Joe Biden for daring to leave the White House to spend a "lush" (as they called it) Thanksgiving holiday with his family and friends. Frankly, their attacks aren't all that surprising, and neither is the fact that they seemed to conveniently forget and/or ignore Donald Trump's holiday habits involving his Florida Mar-a-Lago resort during his presidency.
One segment featured Fox host Sandra Smith reporting that President Biden had plans to meet a "billionaire friend" during his time away from the White House for the holiday.
"So is Scranton Joe looking out of touch with the working class?" Smith asked during the show. "A lot of critics say, yes, indeed."
All the while, the Trump-loving Conservative network was displaying graphics that read, "Let Them Eat Cake" and "Critics slam Biden for Lush Thanksgiving Vacation."
Fox reporters conveniently left out the very relevant fact that ex-President Donald Trump spent numerous Thanksgivings, as well as pretty much every other conceivable holiday, at his Mar-a-Lago resort while he was president. In fact, they didn't even mention a word of him.
Funny how that works for these people, huh? https://polinews.org/fox-news-has-the-audacity-to-publicly-attack-president-biden-for-spending-lush-thanksgiving-with-family-conveniently-forgets-trumps-mar-a-lago-habits/
GOP targets Wisconsin elections system, nonpartisan director
Wisconsin Republicans are working to discredit the bipartisan system they created to run elections in the state after President Joe Biden narrowly won last year's presidential race, making the political battleground the latest front in the national push by the GOP to exert more control over elections. https://www.nbcnews.com/politics/elections/gop-targets-wisconsin-elections-system-nonpartisan-director-n1285148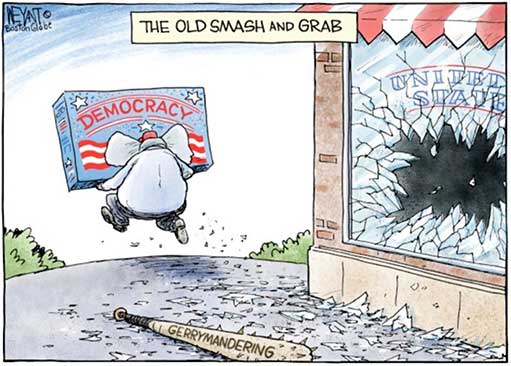 The DAILY GRILL
"Today, I graciously accepted a call from Rep. Lauren Boebert in the hope of receiving a direct apology for falsely claiming she met me in an elevator, suggesting I was a terrorist, and for a history of anti-Muslim hate. Instead of apologizing for her Islamophobic comments and fabricated lies, Rep. Boebert refused to publicly acknowledge her hurtful and dangerous comments.  She instead doubled down on her rhetoric and I decided to end the unproductive call." — Rep. Ilhan Omar (D-MN) describing a tense phone call on Monday after video surfaced of the far-right lawmaker making Islamophobic remarks about her.

VERSUS

"She kept asking for a public apology. So I told Ilhan Omar that she should make a public apology to the American people for her anti-American, antisemitic, anti-police rhetoric." — Rep. Lauren Boebert (R-CO) responds.
Irin Carmon: This Is How Roe Ends
This is how Roe v. Wade ends — without pretense or pretext, the conservative movement's tireless dream of forced birth, brought to fruition through the naked promises of Donald Trump, who said if he could put "another two or perhaps three justices on," Roe would be overturned "automatically, in my opinion, because I am putting pro-life justices on the Court." On Wednesday, all three of Trump's justices hearing a case challenging Mississippi's 15-week abortion ban seemed ready to prove him right. Even John Roberts's feeble attempts at describing, if not actually finding, a compromise would mean overturning all the prior Supreme Court decisions that have made abortion legal.
There had been some pre-argument rumblings that Barrett and Brett Kavanaugh might defect, perhaps forming a bloc with Roberts to find some middle ground as happened the last time the Court considered overturning Roe in 1992's Planned Parenthood v. Casey. On Wednesday, neither Barrett nor Kavanaugh seemed inclined to disappoint the movement that put them on the Court.
Two women, Julie Rikelman of the Center for Reproductive Rights and U.S. solicitor general Elizabeth Prelogar, calmly and eloquently argued that abortion is a fundamental right that shouldn't be put up to a vote, described the importance of precedent, and laid out the evidence for the damage that denying abortion would do to people's lives. Their words mattered inasmuch as someone had to say it besides the outnumbered liberal justices, but they were very unlikely to change anything. It wasn't hard to count five votes for overturning Roe.
Wednesday's arguments also made clear why a majority of the Court went ahead and allowed Texas to effectively ban abortion at six weeks. For three months and counting, Texans have been forced to do one of the following: make rushed decisions, go out of state for an abortion, end their pregnancies on their own in ways that make them vulnerable to prosecution, or remain pregnant against their will. This is the future the conservative justices want. What will change if they rule for Mississippi is that millions more will be in Texans' position, and with the number of states poised to ban abortion given the chance, they will likely have to travel much farther. We'll find out by June. https://nymag.com/intelligencer/2021/12/supreme-court-looks-likely-to-kill-roe-in-mississippi-case.html

Eugene Robinson: On voting rights, Democratic senators need to face reality
The holiday season has just begun, and I already know what I want for Christmas: full and fair voting rights for all Americans. Note that I didn't say please. This is a demand, not a request.
Republicans have practically fallen over themselves in a rush to enact laws that limit or dilute the voting power of Americans of color — who, not coincidentally, tend to vote for Democrats. They limit the number of polling places in selected neighborhoods so that voters of color have to wait in long lines. They try to structure rules on early and absentee voting in ways that disadvantage minorities. They draw congressional district boundaries to dilute the Black and Hispanic vote — and do the same with state legislative districts so that Republicans can continue to be the ones who make, and distort, election rules.
Some Republican-held states are going even further to seek control over how votes are counted. Georgia, for example, has given its GOP-controlled state legislature a role in deciding who won an election and who lost. In January, the state elected two Democrats to the U.S. Senate, and Republicans seem determined not to let anything like that happen again.
All attempts by Congress to guarantee that all qualified citizens in every state have the right and ability to vote have been stymied by the Senate filibuster. The John Lewis Act is no radical departure; essentially, it would just return us to the status quo before 2013. If there are not the necessary 10 Republican votes to do even that, the prospects for stronger and more comprehensive pro-democracy legislation are nonexistent.
The right to vote should not be a partisan issue. But it is.
The Republican senators who voted in the past for the provisions of the John Lewis Act should vote for them again now. But they won't.
It is past time for Senate Democrats to deal with reality as it is, not as they wish it to be. The Senate is not the comity club it used to be. It has become basically a smaller, less efficient version of the House, where members vote along party lines rather than being guided by conscience. Democrats need to recognize that preserving our democracy is much more important than Senate tradition, and at a minimum they need to change the rules so that the John Lewis Act can be passed by simple majority.
The argument against eliminating the filibuster — even for the one fundamental issue of voting rights — is that Democrats will regret such a move when Republicans are back in charge of the chamber. Imagine what they would do if Democrats have no power to use the filibuster to stop them.
Manchin and Sinema have said they are unwilling to eliminate or circumvent the filibuster. But they have also said they understand the importance of guaranteeing voting rights, and surely they see what Republicans are doing to unfairly tilt the political playing field in the GOP's favor.
This isn't about saving the Democratic Party. It's about giving all Americans a vote, and thus a voice, in electing our leaders. Senators, do the right thing. https://www.washingtonpost.com/opinions/2021/11/26/voting-rights-democratic-senators-need-face-reality/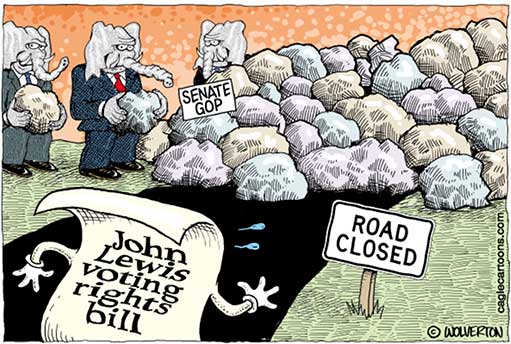 Jonathan Bernstein: Omicron Is Feeding the Republican Conspiracy Beast
Is anyone surprised that it took only a couple of days for Republicans to spread obviously nonsensical conspiracy theories about the omicron coronavirus variant? U.S. Representative Ronny Jackson, a Texas Republican and former White House physician, took to Twitter on Sunday to claim: "Here comes the MEV — the Midterm Election Variant! They NEED a reason to push unsolicited nationwide mail-in ballots. Democrats will do anything to CHEAT during an election — but we're not going to let them!"
I suppose I should point out how unlikely it is, to put it mildly, that Democrats would be capable of getting the entire world to pretend there's a new, potentially dangerous variant of the virus that causes Covid-19, which would then serve as a pretext for absentee voting, which somehow Democrats would supposedly be able to use to cheat, even though no such cheating was detected by a series of Republican states in 2020 — and even though those all-powerful, devious Democrats also, for this to make sense, wouldn't be able to find any other way of cheating. Oh, and that's not to mention that the timing is all wrong. And that surely more devastation from the pandemic would be, you know, actually really bad for the incumbent party. 
I suppose this is why one political scientist despaired about the adequacy of the tools scholars use to understand such things: "It is difficult lately to be a political scientist trained in the understanding of the various institutional practices of normal American politics when that offers little contribution to situating the truly crazy set of conspiracy theories that seem to arise each day now in US," tweeted Scott W. Barclay of Arizona State University. https://www.bloomberg.com/opinion/articles/2021-11-29/omicron-is-feeding-the-republican-conspiracy-beast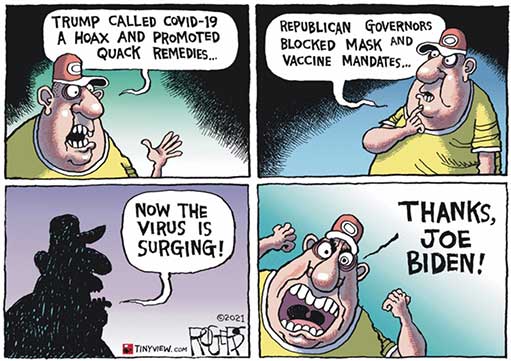 Jason Easley: Trump Described As Mob Boss Who Is Retaliating Against Republicans Who Didn't Support Coup
America no longer has two political parties. There is the pro-democracy Democratic Party, and there is the authoritarian cult of personality Trump party.
Anyone who thought that Trump would go away or fade from the scene after he lost had not been paying attention for the last six years. The Republican Party had a chance to boot Trump, but they were too weak, and the natural right-wing impulse toward authoritarianism was too strong to resist Trump.
The media needs to understand what the Republican Party has become and stop treating it like it is a  normal party. Trump is trying to clean out the people who opposed his coup so that when he tries the same overthrow again in 2024, there won't be anyone left within the Republican Party to stop him.
Trump is acting like a mob boss, and that is the exact way that prosecutors should take him down. https://www.politicususa.com/2021/11/26/trump-described-as-mob-boss-who-is-retaliating-against-republicans-who-didnt-support-coup.html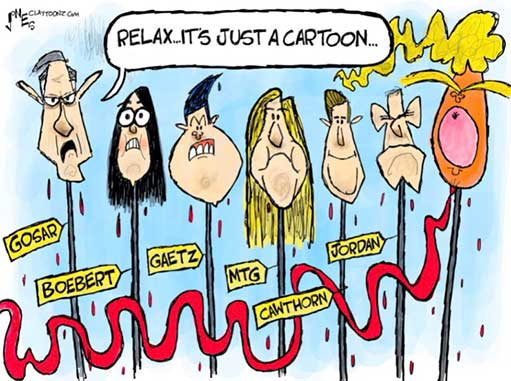 Charles Sykes: Charlottesville verdict another missed opportunity for Republicans to disavow hate
Despite a jury's $25 million verdict against a group of white nationalists, neo-Nazis and organizers of the 2017 Charlottesville, Virginia, "Unite the Right" rally, Republican leaders, once again, will not take the opportunity to repudiate the alt-right.
Republican leaders, once again, will not take the opportunity to repudiate the alt-right.
By now, this is an old story with a familiar pattern: denial, silence and historical revisionism.
Four years ago, after former President Donald Trump referred to some of the participants in the deadly rally as "very fine people," Republicans had a chance to make it clear where they stood.
Torch-carrying bigots chanted, "Jews will not replace us!" An avowed neo-Nazi drove his car into counterprotesters, killing 32-year-old Heather Heyer.
It was an easy call for a normal political party.
Republicans could have issued a historic denunciation of bigotry.
They could have denounced anti-Semitism.
They could have announced that there was no place for white nationalists in the party.
They could have drawn a bright, red line against political violence — and attempts to normalize violence.
Instead, for the most part, Republicans either looked the other way, kept quiet or went along with Trump's gaslighting denials that he had, in fact, said what he said.
In many ways, the response to Charlottesville was a dress rehearsal for the right's response to the Jan. 6 insurrection. The same group that adamantly denied that Trump had praised racists as "very fine people" are now pushing revisionist versions of what happened at the Capitol. https://www.msnbc.com/opinion/charlottesville-verdict-another-missed-opportunity-republicans-disavow-hate-n1284587
Cynthia Miller-Idriss: America's democracy is failing — and the world knows it
A number of non-governmental organizations that have long worked to rebuild communities in countries beset by violent and intractable conflicts — places that have collapsed under the weight of mass atrocities, political assassinations, authoritarian take overs, and widespread citizen violence — have shifted focus to a new subject: The United States.
For a country that has long thought of itself as a beacon of democracy, this is a wake-up call.
At this moment, our country is in great need of lessons on what it takes to restore crumbling political systems. This week, the United States was added to a list of "backsliding" democracies in an annual report on the global state of democracy, marking a serious decline in international observers' assessments of our political stability.
In naming the U.S. to the list for the first time, the report's authors — Sweden's International Institute for Democracy and Electoral Assistance (IDEA) — pointed to the "visible deterioration of democracy" in the United States on several criteria, including unwillingness to accept credible election results, voter participation suppression efforts, increasing polarization, and declines in civil liberties.
For a country that has long thought of itself as a beacon of democracy, this is a wake-up call.
It is possible — with sustained educational, national, and community investments — to create more informed citizens, restore trust across dividing lines, energize youth engagement, and reduce political violence. Doing so requires significant educational and media literacy programming. It requires engagement across sectors, through partnerships with civil society, the tech and media sector, local governments, and faith communities. Ultimately, restoring democracy requires creating a nation in which every citizen and resident feels part of a shared community in which they have a voice and a path to a common future. https://www.msnbc.com/opinion/america-s-democracy-failing-world-knows-it-n1284597
Sonam Sheth and John Haltiwanger: Trump and some Republicans are praising the Taliban to criticize Biden despite years of chest-thumping over jihadist terrorism
Just weeks before the 20th anniversary of the 9/11 attacks by Islamist terrorists, some of the US's most prominent Republicans are now praising the Taliban to own the libs.
Former President Donald Trump and other Republicans have in recent days used the radical militant group's takeover in Afghanistan to air their grievances against President Joe Biden, "big tech," and Trump's Twitter ban — even as the militants violently cracked down on protests against their rule and people trying to escape.
During an appearance on Fox News host Sean Hannity's show Tuesday night, Trump falsely claimed the Taliban has been around for "a thousand years" (the organization was founded in 1994), and lauded the group as being "smart" and having "good fighters."
Hours earlier, Trump's son Donald Trump Jr. took to Twitter to voice his support for the jihadist group's false claim that civil rights issues in Afghanistan under Taliban rule are comparable to the free speech debate in the US.
Florida Rep. Matt Gaetz also took to Twitter Wednesday to say that the "Taliban and Trump should both be on Twitter."
He went on to say that the brutal terrorist group is "more legitimate than the last government in Afghanistan or the current government here."https://www.businessinsider.com/trump-republicans-praise-taliban-despite-chest-thumping-jihadist-terrorism-2021-8
Bess Levin: Tucker Carlson Is One Week Away From Adding Kyle Rittenhouse To His Family Cell Phone Plan
In the year 2021, it was never going to be enough for the right to simply nod approvingly as Kyle Rittenhouse was found not guilty on homicide and reckless-endangerment charges that could have put him in prison for life, despite the fact that he did, in fact, kill two people. Instead, Republican lawmakers and the conservative media have made the 18-year-old—the same one who, to reiterate, killed two people in August 2020 out of a supposed desire to defend a car dealership—their new mascot. Representative Matt Gaetz has suggested making him a congressional intern.
Representative Marjorie Taylor Greene has dubbed him one of the "good guys." Senator Tom Cotton has demanded Joe Biden apologize to him. And Tucker Carlson is effectively two shows away from publicly inviting Rittenhouse to come and live with his family and insisting before signing off that it would be an honor.
How do we know Carlson feels this way? Because he more or less told us on Monday night, during a cringeworthy, stomach-churning interview in which he lavished so much praise on the teen vigilante it should be considered an FCC violation. Introducing the segment, the Fox News host boldly claimed that the U.S. would be better off if there were more people in it like Rittenhouse, which fact-checkers tell us is only true if the majority of the population has a death wish. Then he described the guy as "bright," "decent," "sincere," "dutiful," and "hardworking."
Later, during a break, Carlson told viewers, "What a sweet kid. I think that comes through loud and clear." Sweet kid is usually a turn of phrase you'd use for a neighbor who clears the snow from your driveway without being asked, or the Girl Scout down the street who always remembers your cookie order, not someone who shot and killed two people, but potato, po-tah-to!
Elsewhere, Carlson described Rittenhouse as "a working-class kid who sincerely believes in America…he tries his best to do the right thing at a time when almost no one else in the community is trying to do the right thing." If that's not enough to make you lose your lunch, and you're a true glutton for punishment, Carlson has more in store in his campaign to lionize someone many people believe should be in prison right now. https://www.vanityfair.com/news/2021/11/tucker-carlson-kyle-rittenhouse-interview
Colleen Longand Will Weissert: Can Biden find the right balance on immigration?
Democrats wielded demands to fix the nation's broken immigration system as a cudgel against Republicans in the 2020 campaign. Elect us, went the argument, and we'll stop the cruel treatment of migrants at the border and put in place lasting and humane policies that work.
A year into the Biden presidency, though, action on the issue has been hard to find and there is growing consternation privately among some in the party that the Biden administration can't find the right balance on immigration.
Publicly, it's another story. Most Washington lawmakers are largely holding their tongues, unwilling to criticize their leader on a polarizing topic that has created divisions within the party — especially as concerns mount over whether Democrats can hold on to power come next year.
It's a hard balancing act to pull off, said Douglas Rivlin, a spokesman for America's Voice, an immigration reform group. And especially when Republicans are unrelenting in their negativity toward the president, even a little friendly fire can be a challenge.
"It's hard, but they've got to do it," he said. "They're going to face voters next year, all the people on [Capitol] Hill. Biden isn't, they are. And they have to be clear they're pushing Biden to be the Democratic president we elected, rather than being scared of the issues because the politics are difficult." https://abcnews.go.com/Politics/wireStory/biden-find-balance-immigration-81417908