November 16, 2023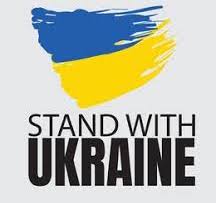 To subscribe to this FREE weekly newsletter simply email jellison@san.rr.com with "subscribe" as the subject.
THE WEEK'S BEST QUOTES. . .
".. but I'll tell you this, if someone in the drug cartels is sneaking fentanyl across the border, when I'm president, that's going to be the last thing they do. We're going to shoot him stone cold dead."  — Ron DeSantis, again, calls for shooting drug smugglers 'stone cold dead'.
https://www.theguardian.com/us-news/live/2023/nov/08/republican-third-presidential-debate-2023-candidates-miami-live-updates
"Voting for Trump was like a not very articulate scream for help. It was crazier than I thought. It was more dangerous than I thought. They couldn't get the most basic pieces of the government to work." — Peter Thiel on backing Donald Trump for president in 2016.
https://www.theatlantic.com/politics/archive/2023/11/peter-thiel-2024-election-politics-investing-life-views/675946/
"Suburban America left the GOP in 2016 when they didn't like Trump's behavior. They began to come back in 2022 when they rejected Joe Biden's economic policies, but they will leave again if the conversation is about abortion and social policy." — GOP pollster Frank Luntz.
https://www.nytimes.com/2023/11/09/us/politics/election-suburbs-abortion-immigration.html
"I think it would be the end of our country as we know it. And I don't say that lightly." — Hillary Clinton on a second presidential term for Donald Trump.
https://www.theguardian.com/us-news/2023/nov/09/hillary-clinton-donald-trump-adolf-hitler
"Yeah. If they do this, and they've already done it, but if they follow through on this, yeah, it could certainly happen in reverse. It could certainly happen in reverse. What they've done is they've released the genie out of the box."— Donald Trump talked about turning 'weaponized' government against his political opponents.
https://www.semafor.com/article/11/09/2023/exclusive-trump-defends-family-separation-warns-weaponized-government-could-target-his-opponents-in-univision-sitdown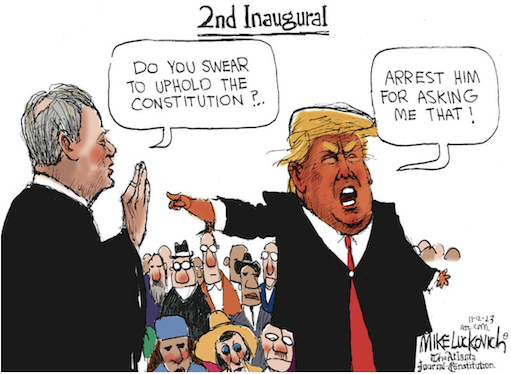 Rep. Marjorie Taylor Greene (R-GA) has been telling Republican colleagues, according to lawmakers, that Rep. Lauren Boebert (R-CO) is a "whore." https://www.thedailybeast.com/marjorie-taylor-greene-is-trashing-lauren-boebert-as-a-whore-to-gop-colleagues
"Thoughts and prayers to the former speaker as he works through his grief." — Rep. Matt Gaetz (R-FL) after former Speaker Kevin McCarthy (R-CA. https://www.thedailybeast.com/kevin-mccarthy-predicts-downfall-of-nancy-mace-after-she-helps-push-him-out-of-speakership
For many Americans, a turn toward authoritarianism isn't seen as a negative. Many Americans support that idea." — Philip Bump: https://www.washingtonpost.com/politics/2023/11/10/lot-americans-embrace-trumps-authoritarianism/
"It feels like in July I'll be wearing a fucking MAGA hat. It seems inevitable." — A supporter of Gov. Ron DeSantis on the growing fatalism around the Florida governor's presidential campaign. https://www.nbcnews.com/politics/2024-election/live-blog/third-republican-debate-live-updates-rcna121790

"I don't think the Lord Jesus himself could manage this group, adding that he would pray for the new speaker as the House adjourned for a long weekend" — Said Rep. Troy Nehls (R-TX).about House Republicans. https://www.nbcnews.com/politics/congress/-ungovernable-house-republicans-nix-votes-two-funding-bills-shutdown-d-rcna124441

"No matter how negotiations evolve over the next week, one thing is not gonna change. The only way, the only way — let me say it a third time — the only way we avoid a shutdown is with bipartisan cooperation, just as it was true in September and it will be true in the future." — Senate Majority Leader Chuck Schumer (D-NY) exhorted House Speaker Mike Johnson (R-LA) to "learn from the fiasco of a month ago" and work with Democrats to avoid a government shutdown this week. https://themessenger.com/politics/schumer-warns-gop-house-speaker-johnson-a-shutdown-will-be-on-him

Trump is a malignant threat to democracy, and that has to be taken seriously. The singular challenge of the next election will be keeping the Republic in the face of Trump's plans to take hold of power in a way that suggests he will never relinquish it. -- Joyce Vance
https://joycevance.substack.com/p/frogs-boiled-what-trump-is-planning

I will "root out the communist, Marxist, fascist and the radical left thugs that live like vermin within the confines of our country…" — Donald Trump echoing Adolf Hitler during his rally on Sunday. https://twitter.com/MeidasTouch/status/1723776391664320739

"It doesn't echo 'Mein Kamph,' this is textbook 'Mein Kampf.'" — Fascism expert and Yale professor Jason Stanley, to me, on Trump's disgusting attack on "vermin" and the left in his Veteran's Day remarks. https://nymag.com/intelligencer/2023/11/trump-vermin-hitler.html

"In just the last few days, Trump has said if he returns to office he's gonna go after all those who oppose him and wipe out what he called the 'vermin…in America'… it echoes language you heard in Nazi Germany in the 30s. It isn't even the first time. Trump also recently talked about quote, 'the blood of America is being poisoned'… Again, echoes the same phrases used in Nazi Germany." — President Joe Biden. https://www.reuters.com/world/us/biden-says-trump-echoed-nazis-with-use-word-vermin-2023-11-15/

"Republicans can win on abortion because the American people are were they are."— RNC Chairwoman Ronna McDaniel. https://twitter.com/Acyn/status/1723745583498682656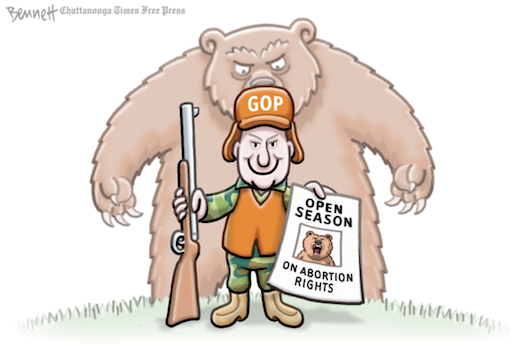 VIDEOS ...
Herr Trump pushes authoritarian agenda for second term. https://www.washingtonpost.com/video/politics/trump-pushes-authoritarian-agenda-for-second-term/2023/11/07/ba3acb6c-89b1-4694-a756-3d0b46cc3e06_video.html
"Leave my daughter out of your voice ... You're just scum." — Nikki Haley to Vivek Ramaswamy after he brings up the fact that her daughter, like him, uses TikTok. https://twitter.com/therecount/status/1722435285567340717
---
IN THIS ISSUE
IN THE NEWS
OPINION
Andy Borowitz: Clarence Thomas Collapses from Exhaustion After First Full Day of Regulating Himself
Clarence Thomas collapsed from exhaustion after putting in what he described as a "punishing day" of regulating himself under the Supreme Court's new code of conduct.

Although critics have called the Court's new rules "toothless" and "unenforceable," the strain of regulating his own behavior forced Thomas to repair to his bed, from which he spoke to reporters.

"People said that we Supreme Court Justices were going easy on ourselves by issuing a code of conduct that only we could enforce," he said. "Well, all I can tell you is, regulating my behavior turns out to be a freaking full-time job."

"I had no idea how egregious my behavior was until I was put in charge of regulating myself," he said. "I'm really something of a rascal."
He said that other Justices were struggling with the arduous self-regulatory demands of the code of conduct. "As rough a time as I've had, I wouldn't trade places with Brett Kavanaugh," he said.

As for his immediate plans, Thomas said that, once he regains his strength, he will take a "much-needed break" from regulating himself aboard Harlan Crow's hundred-and-sixty-two-foot yacht.  https://www.newyorker.com/humor/borowitz-report/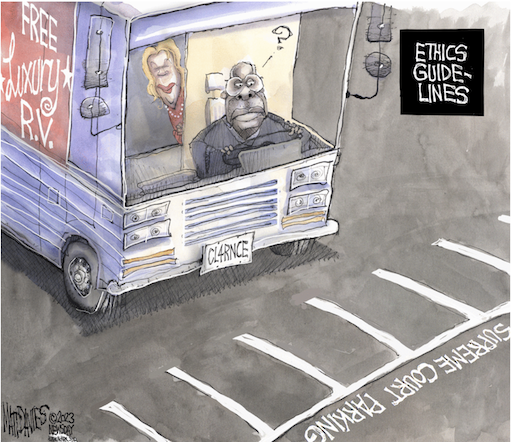 Trump plots mass detention and deportation of undocumented immigrants should he regain power
Former President Donald Trump is planning a widespread expansion of his first administration's hardline immigration policies if he is elected to a second term in 2024, including rounding up undocumented immigrants already in the US and placing them in detention camps to await deportation, a source familiar with the plans confirmed to CNN.
The plans, first reported by The New York Times, would necessitate building large camps to house migrants waiting for deportation and tapping federal and local law enforcement to assist with large-scale arrests of undocumented immigrants across the country.
Should Congress refuse to fund the operation, Trump could turn to a tactic used in his first term to secure more funding for a border wall — redirecting funds from the Pentagon, the source confirmed.
https://www.cnn.com/2023/11/11/politics/trump-stephen-miller-immigration-detention-deportation/index.html
Ohio Republicans move to exclude judges from interpreting enshrined abortion rights
Four Ohio Republican state lawmakers are seeking to strip judges of their power to interpret an abortion rights amendment after voters opted to enshrine those rights in the state's constitution this week.
Four Ohio Republican state lawmakers said in a news release on Thursday that they will push to have Ohio's legislature – not the courts – make any decisions about the amendment passed on Tuesday.
It's the latest development in the struggle over abortion rights between Ohio's Republican-dominated legislature and the majority of the voters, who passed the amendment by a margin of 57% to 43%. 
https://www.theguardian.com/us-news/2023/nov/11/ohio-republicans-move-to-exclude-judges-interpreting-abortion-rights-law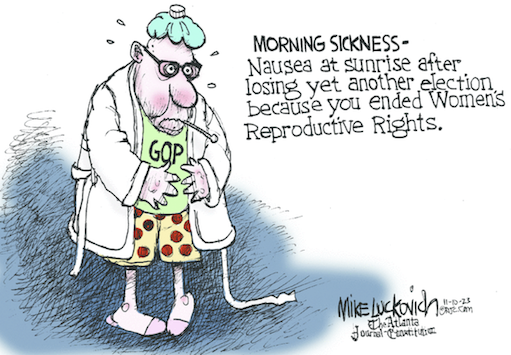 Trump Says Prosecutors Will Be Sent to Mental Institutions
Donald Trump said a group of prosecutors — the 'team of losers and misfits' who have been working illegally for years to 'take me down' — will end up in a mental institution by the time my next term as President is successfully completed.
https://truthsocial.com/@realDonaldTrump/posts/111404234873892918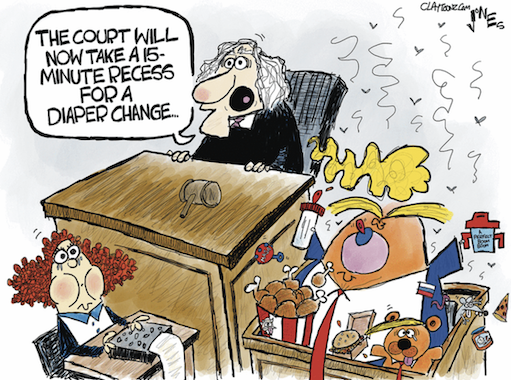 Trump Allies Pre-Screen Loyalists for Power Grab
Former President Trump's allies are pre-screening the ideologies of thousands of potential foot soldiers, as part of an unprecedented operation to centralize and expand his power at every level of the U.S. government if he wins in 2024, officials involved in the effort tell Axios, Axios reports.
Hundreds of people are spending tens of millions of dollars to install a pre-vetted, pro-Trump army of up to 54,000 loyalists across government to rip off the restraints imposed on the previous 46 presidents.
https://www.axios.com/2023/11/13/trump-loyalists-2024-presidential-election
MAGA-dominated state Republican parties plagued by infighting, money woes
In Arizona, the state GOP chairman has been begging the Republican National Committee for a financial bailout. Michigan party officials have gotten into physical fights as their finances have dipped into the red. And in Georgia, the state party is in a standoff with the Republican governor and saddled with legal fees for alternate electors put forward in 2020.
In each of these 2024 battlegrounds, election denial and grassroots fervor for former president Donald Trump have rocked the Republican apparatus. Now, the state parties are plagued by infighting, struggling to raise money and sometimes to cover legal costs stemming from Trump's efforts to overturn his 2020 defeat — threatening to hamper GOP organizing capabilities in next year's presidential election.
https://www.washingtonpost.com/politics/2023/11/13/republican-state-parties-struggles-maga/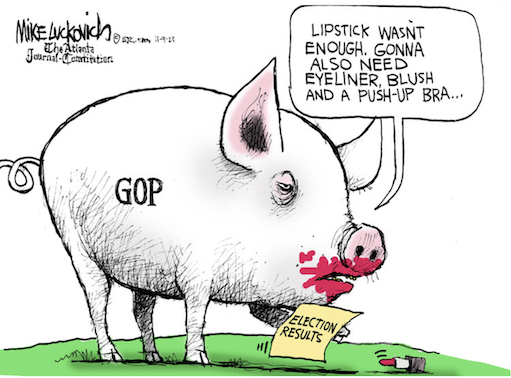 Trump Interview Unnerves Staff at Univision
Earlier this week, former president Donald Trump gave an interview to Univision, the Spanish-language broadcaster, during which he threatened to weaponize the F.B.I. and the Justice Department against his political opponents. The statements, which came on the heels of a Washington Post report revealing that Trump and his allies had been drawing up plans to use the federal government to retaliate against adversaries and former cabinet members, were arguably the most brazenly authoritarian remarks the presumptive Republican presidential nominee has made to date in a mainstream media interview. And the interview reasonably unnerved the political pundit class—'dangerous' and 'insane' are among the words that have reverberated across cable news in the last 24 hours.
Inside Univision, however, the hour-long sit-down raised alarms for another reason. The interview, which was conducted by a non-Univision journalist who did little to question or push back on Trump's claims, effectively functioned as a propaganda special, current and former Univision journalists have protested. In it, they saw glaring evidence of a broader effort by their new parent company, which has close ties to Trump and especially to his son-in-law, Jared Kushner, to curry favor with the former president and push the network further to the right.
https://puck.news/the-kushner-connection/
Trump's rivals seize on opportunities to challenge his acuity
As Trump's Republican rivals face growing pressure to stop his momentum, while Democrats seek to neutralize concerns about Biden's age, the two sides are converging on a common argument — that Trump's cognition has declined too far for him to lead the country again.
https://www.washingtonpost.com/politics/2023/11/11/trump-gaffes-age-campaign/
Trump was privately enthralled by baseless theory he could be reinstated as president
Despite losing the 2020 election, Donald Trump came to believe a fringe conspiracy theory that he could be reinstated long after leaving office and before the next election, a new book by Jonathan Karl.
The idea was not based in law and was clearly unconstitutional, but it was supported by some of Trump's most devout followers, MyPillow CEO Michael Lindell chief among them.
https://abcnews.go.com/Politics/trump-privately-enthralled-baseless-theory-reinstated-president-new/story
How Abortion Could Upend the 2024 Battle for Congress
As many as eight states could have an abortion-related referendum on the ballot next November. Among those states are nearly two dozen House districts rated as some degree of competitive by Cook Political Report.
Maryland and New York — which alone could have half a dozen swing districts, pending a redistricting lawsuit — are both set to have referenda on the ballot.
https://www.cookpolitical.com/ratings/house-race-ratings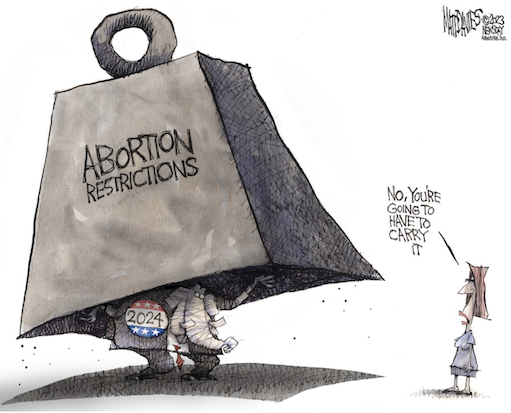 Defying Democratic pushback, Dean Phillips vows to invest millions in his primary challenge to Biden
Rep. Dean Phillips (D-MIN) is escalating his long-shot presidential primary challenge to President Joe Biden, vowing to invest as much of his multimillion-dollar fortune as it takes to win, CNN reports.
His defiance comes in the face of overwhelming rejection from his fellow Democrats, a reaction so fast and furious Phillips believes he's torpedoed his own congressional career.
But instead of backing down, Phillips is opening the door to super PAC money that could air millions of dollars' worth of negative ads in primary states that are likely pivotal in the general election, including Michigan and New Hampshire. And he's escalating his attacks against the president's message and political standing.
https://www.cnn.com/2023/11/12/politics/dean-phillips-joe-biden-democratic-primary-challenge/index.html
Shutdown standoff: White House Prepares for Mike Johnson to Fail
Politico: Given the timetable (less than a week), Johnson's experience dealing with shutdown politics (near zero), and the level of disarray in the GOP conference (high), the chances of a shutdown are growing.
Sources on the Hill and at the White House said they are adjusting travel plans accordingly and preparing to spend the holiday in D.C.
A last-minute short-term clean CR is always possible, but over at the White House they are not holding their breath.
https://www.politico.com/news/2023/11/11/shutdown-standoff-white-house-preps-for-johnson-to-fail-00126709
Trump Turns to Oil Barons to Boost His Bid
Over the course of four years, the Trump administration weakened or wiped out more than 125 environmental rules and policies, many of them designed to limit planet-warming emissions from fossil fuels. Biden, by contrast, has reversed many of Trump's policies and enacted dozens of measures aimed at moving the nation away from oil, gas and coal.
In recent weeks, Trump and his team have targeted donors from the oil and gas industry by holding two large events in Texas and calling some of the country's richest executives. The campaign's pitch has been straightforward: Trump is going to be the GOP nominee, so these donors should get on board now.
https://www.washingtonpost.com/nation/2023/11/10/trump-oil-gas-donors-climate/
Rudy Giuliani: Indicted, Isolated, And Broke, Giuliani Has One Comfort Left: The Sound Of His Own Voice.
Every night, in the darkening stillness of his luxury apartment on the Upper East Side, Rudy Giuliani puts on a suit and a tie, affixes an American flag lapel pin above his left breast, sits at his desk in his wood-paneled corner library with views over Madison Avenue, stares into a camera, and starts talking, New York Magazine reports.
And then he keeps on talking and talking, delivering, as he has for over a year, hundreds of hours of pure, uncut Rudy at his Rudest…
He has discovered that last refuge of the disgraced in 2023: The vodcast.
https://nymag.com/intelligencer/article/rudy-giuliani-spends-his-nights-ranting-online.html
How the GOP Muzzled Anti-Foreign Propaganda Coalition
A once-robust alliance of federal agencies, tech companies, election officials and researchers that worked together to thwart foreign propaganda and disinformation has fragmented after years of sustained Republican attacks, NBC News reports.
The GOP offensive started during the 2020 election as public critiques and has since escalated into lawsuits, governmental inquiries and public relations campaigns that have succeeded in stopping almost all coordination between the government and social media platforms.
https://www.nbcnews.com/tech/tech-news/gop-muzzled-quiet-coalition-fought-foreign-propaganda-rcna103373
Inside Mike Johnson's Ties to Far-Right Movement to Gut the Constitution
For the last 10 years, the 'Convention of States' movement has sought to remake the Constitution and force a tea party vision of the framers' intent upon America. This group wants to wholesale rewrite wide swaths of the U.S. Constitution in one fell swoop. In the process, they hope to do away with regulatory agencies like the FDA and the CDC, virtually eliminate the federal government's ability to borrow money, and empower state legislatures to override federal law.
As far-fetched as this idea might sound, the movement is gaining traction — and now, it believes, it has a friend in the speaker of the House.
https://www.politico.com/news/magazine/2023/11/10/mike-johnson-rewrite-constitution-00126157
Elise Stefanik files ethics complaint against Trump fraud trial judge
Rep. Elise Stefanik (R-N.Y.) filed a judicial ethics complaint Friday against the New York judge overseeing former President Trump's civil fraud trial, claiming the judge has shown inappropriate bias and judicial intemperance toward the former president and calling on him to resign.
https://thehill.com/regulation/court-battles/4304049-elise-stefanik-ethics-complaint-trump-fraud-trial-judge/
FEC Commissioner Calls Out Her GOP Colleagues
FEC Commissioner Ellen Weintraub said her Republican colleagues have effectively put Donald Trump in a category by himself by refusing to investigate at least 28 instances where the agency's professional staff determined that Trump or his family members likely violated regulations.
https://www.thedailybeast.com/fec-commissioner-calls-out-her-gop-colleagues-in-brutal-5-sentence-takedown
Democrats' new abortion battle plan: Rush to get it on ballots in 2024
After Ohio's vote Tuesday to protect abortion rights, Democrats are rushing to get similar measures on the ballot next year in key states such as Arizona, Nevada and Florida — partly to boost President Biden and down-ballot Democrats.
In the face of bleak polling on the economy, abortion continues to be a winning issue for Democrats — one that could motivate otherwise uninspired voters to turn out and keep the White House in the party's hands. https://www.axios.com/2023/11/09/democrats-abortion-election-plan-2023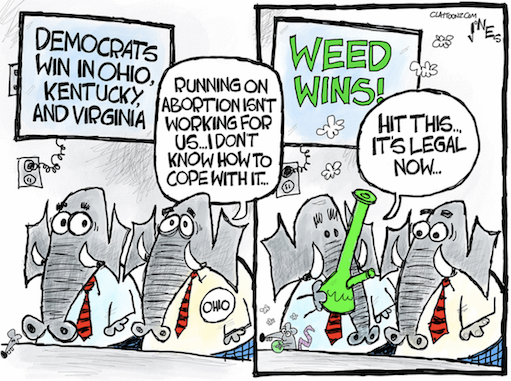 Democrats, No Longer Squeamish on Abortion, Lean Into Searing Personal Ads
Deeply personal and explicit, the ads signaled a new tone in Democrats' messaging on abortion rights, one that confronts head-on the consequences of strict anti-abortion laws.
Historically, it has been Republicans who used dire warnings and shock value in advertising to make their case on the issue — graphic images of bloody fetuses, medically unsubstantiated claims of fetal pain, charged accusations of infanticide, and testimony from women who said they regretted their abortions.
https://www.nytimes.com/2023/11/08/us/politics/abortion-ads-democrats-election.html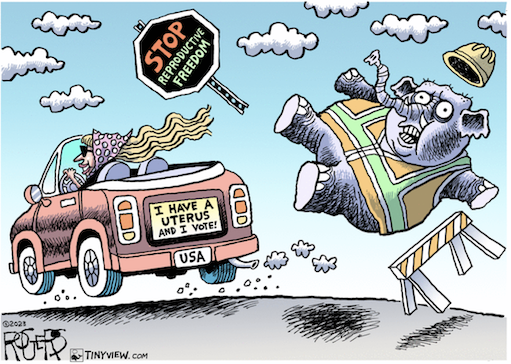 Greene Moves to Force Vote to Impeach Mayorkas
Rep. Marjorie Taylor Greene (R-GA) on Thursday moved to force a vote on impeaching Homeland Security Secretary Alejandro Mayorkas, reviving an issue that had largely fallen by the wayside as the GOP remains divided on its impeachment authority.
https://thehill.com/homenews/house/4301898-greene-force-vote-mayorkas-impeachment
The House did not pass a push to defund Kamala Harris' office — but 106 Republicans voted yes.
House lawmakers defeated an effort by Rep. Mike Collins (R-GA) to defund the office of Vice President Kamala Harris, one of the highest-level efforts yet to defund prominent federal officials and agencies.
106 Republicans voted for the measure.
https://www.politico.com/live-updates/2023/11/08/congress/house-gop-pushes-on-salaries-kamala-harris-00126140
Echoes of Jan. 6 committee as Jack Smith foreshadows plan to tie Trump to Capitol riot
When Donald Trump faces a jury on charges stemming from his bid to subvert the 2020 election, he wants to prohibit federal prosecutors from even mentioning the chaos and violence unleashed by his supporters at the Capitol on Jan. 6, 2021. But to special counsel Jack Smith, Trump's role in the riot is the heart of the case.
A new court filing from Smith's team this week reveals that the mob that stormed Congress in Trump's name will be the centerpiece of his trial, scheduled to begin on March 4. It wasn't just an unfortunate reaction to Trump's incendiary remarks that day, prosecutors contend. It was a tool that Trump used to launch one last desperate bid to cling to power.
https://www.politico.com/news/2023/11/09/donald-trump-jan-6-riot-defendant-00126258
Poll: Majority of Americans sympathize with Israel but growing number say military response in Gaza 'too much'
A new PBS NewsHour/NPR/Marist poll finds 38% of U.S. adults say Israel's military response to Hamas has been "too much."
That marks a rise of 12 percentage points since October.
https://www.pbs.org/newshour/world/poll-majority-of-americans-sympathize-with-israel-but-growing-number-say-military-response-in-gaza-too-much
Hunter Biden seeks to subpoena Trump, Barr in criminal case
Hunter Biden requested Wednesday to subpoena former President Donald Trump and three senior officials who served in his administration's Justice Department, seeking evidence that Biden's criminal prosecution is politically motivated.
Biden, who faces three federal gun charges, is demanding Trump and former Attorney General Bill Barr turn over communications and documents concerning the president's son or his criminal investigation.
https://thehill.com/regulation/court-battles/4310911-hunter-biden-seeks-to-subpoena-trump-barr-in-criminal-case/
Meta Allows Ads Claiming Rigged 2020 Election on Facebook, Instagram
Meta made the change last year, but it hasn't gained wide attention. The company decided to allow political advertisers to say past elections were 'rigged' or 'stolen' but prevented them from questioning the legitimacy of ongoing and coming elections.
https://www.wsj.com/tech/meta-allows-ads-claiming-rigged-2020-election-on-facebook-instagram-309b678d
Senate Dems take major step towards ending Tuberville's military holds
Senate Democrats took a critical step towards ending Tommy Tuberville's eight-month-long blockade on military nominations.

The Rules Committee on Tuesday advanced a resolution that would allow military nominations to be confirmed en masse — an effort that would spoil Tuberville's hold on military promotions, which he's vowed to continue until the Pentagon reverses an abortion policy. There are more than 400 military officer nominations in the backlog, meaning individual votes on those promotions would take hundreds of hours. https://www.politico.com/live-updates/2023/11/14/congress/tuberville-nominations-rules-committee-change-senate-00127031
Colbert I. King: The gunfire in Gaza might abate. Alas, not so the horror of global hatred
In the days since the Hamas's Oct. 7 onslaught, I have felt shock, anger and revulsion over what's taking place on the ground in Israel and the Palestinian territories. So have many others.
But today I'm filled with something else: a sadness that won't let go. Because I know that even after the guns fall silent in Gaza and Israel — and they eventually will, if only for a spell — the post-Oct.7 open and global display of antisemitism will not abate. Neither will the ugly scourge of Islamophobia. Conflicts and difficult times lie ahead.
I have lived too long, and seen much too much, to think otherwise.
https://www.washingtonpost.com/opinions/2023/11/10/antisemitism-israel-gaza-racism-history/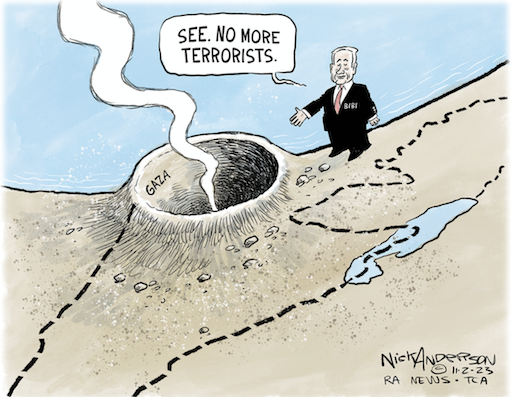 Michael Tomasky: It's Official: With "Vermin," Trump Is Now Using Straight-up Nazi Talk
We've all often wondered whether Donald Trump understands the historical import of what comes out of his mouth. He's so ill-informed, so proudly ignorant, that it's easy to think that when he hurls a historical insult, he just doesn't know.
I feel pretty safe in saying that we can now stop giving him the benefit of that particular doubt. His use—twice; once on social media and then repeated in a speech—of the word 'vermin' to describe his political enemies cannot be an accident. That's an unusual word choice. It's not a smear that one just grabs out of the air. And it appears in history chiefly in one context, and one context only.
 On Saturday at 10:25 a.m., he posted on Truth Social: "In honor of our great Veterans on Veteran's Day, we pledge to you that we will root out the Communists, Marxists, Fascists, and Radical Left Thugs that live like vermin within the confines of our country, lie, steal, and cheat on Elections, and will do anything possible, whether legally or illegally, to destroy America, and the American dream."
This is straight-up Nazi talk, in a way he's never done quite before. To announce that the real enemy is domestic and then to speak of that enemy in subhuman terms is Fascism 101. Especially that particular word.
https://thenewrepublic.substack.com/p/its-official-with-vermin-trump-is
Alexandra Petri: I'm starting to think Donald Trump is sounding like Hitler on purpose
Sorry! I know! You are sick of hearing about Donald Trump!
"Don't worry," people keep saying. Donald Trump did just promise to "root out" the internal enemies who "live like vermin" in our country, but he only might be the next president.
I don't mean to worry you, but people are running around with their hair on fire, saying they are suffering from intense, nauseating levels of déjà vu, and those people are historians. I don't like seeing historians this stressed out. If something in my house has to emit an ominous beeping, I want it to be the alarm clock, not the smoke detector.
"We pledge to you that we will root out the communists, Marxists, fascists and the radical left thugs that live like vermin within the confines of our country that lie and steal and cheat on elections," Trump announced on Veterans Day. And when people complained that sounded like something Adolf Hitler would say, a spokesman responded that "their entire existence will be crushed when President Trump returns to the White House."
Which, to be fair, also sounds like something Hitler would say.
https://www.washingtonpost.com/opinions/2023/11/14/donald-trump-dictator-vermin-2024-satire/
Greg Sargent: Trump's plan for giant detention camps points to a brutal 2024 reality
Donald Trump's advisers have declared that if he regains the presidency, he will launch an extraordinarily cruel crackdown on immigration. Given that Trump lost reelection in 2020 after attempting a far tamer agenda, advertising such plans might seem like foolish political malpractice.
But the politics of immigration can be peculiar. The public tends to turn on the president in power when the situation on the border goes wrong, leading voters to seek a diametrically different approach — no matter what policies the incumbent has adopted or what their opponent proposes.
In political science jargon, these wild swings against prevailing policy are known as "thermostatic" public opinion. This is particularly pronounced on immigration given its fiendish complexities, meaning disapproval of the incumbent could allow Trump to win even though he is campaigning on an extreme alternative.
That second-term agenda would revolve around what the New York Times calls "giant camps." While detention centers already exist, the Times reports that Trump and adviser Stephen Miller envision a vastly expanded network that would facilitate the deportation of millions of undocumented immigrants, including longtime residents with deep ties to communities.
https://www.washingtonpost.com/opinions/2023/11/14/trump-mass-deportation-immigration-stephen-miller/
Margaret Hartmann: Trump Goes Full Hitler by Calling Political Foes 'Vermin'
Since the 2016 presidential campaign, the question of whether it's appropriate to compare Donald Trump to Adolf Hitler has come up repeatedly. Trump has used a slogan popularized by Nazi sympathizers, dined with antisemites, evoked white supremacist tropes, and demonized the press and his political foes as the "enemy of the people," to cite just a few examples of his allegedly Nazi-like behavior. Plus, days before the Capitol riot, the nation's top general, Mark Milley, reportedly warned aides that America was facing a "Reichstag moment" because Trump was preaching "the gospel of the Führer" with his stolen-election lies.

When people point out that this is all a little too Hitler-y for comfort, they're often told they're being hysterical. However, it's getting harder to deny that Trump is using Nazi rhetoric. Last month, Trump said undocumented immigrants are "poisoning the blood of our country." In Mein Kampf, Hitler repeatedly described Jews and migrants as "poisons" to the "blood" of Germany and the Aryan race. Trump's remark generated a few headlines but largely flew under the radar as it came 37 minutes into a video interview with the obscure right-leaning website the National Pulse.
Over the weekend, Trump used some Nazi terminology in a far more high-profile setting. During a Veterans Day speech on Saturday, he told a crowd in Claremont, New Hampshire, that his political enemies are "like vermin." Both Hitler and Italy's Benito Mussolini compared their enemies to rodents during their rise to power in the 1920s and 1930s. https://nymag.com/intelligencer/2023/11/trump-vermin-hitler.html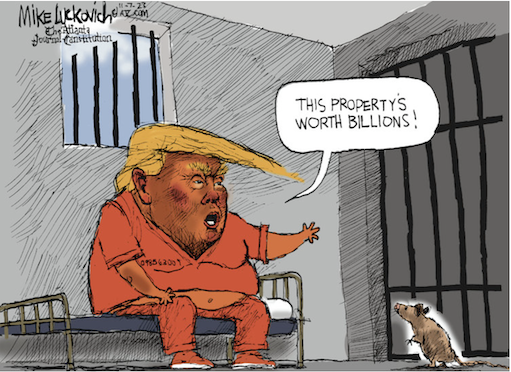 David A. Graham: Trump Isn't Merely Unhinged
With apologies to a certain newspaper's slogan, many of Donald Trump's most dangerous statements hide in the plain light of day.
The problem is not that they don't get reported on—they do—but even so, they are easy to tune out, perhaps because he's been saying outlandish things for so long that people simply can't bring themselves to parse the new ones; or perhaps because they've become accustomed, or at least numb, to his utterances; or perhaps because they don't want to let him occupy their headspace; or perhaps because he got kicked off Twitter (now X) and they had no interest in joining Truth Social. Or maybe it's because the more sinister material gets mixed up with his strange elocutions ("We're gonna have a great country—it's gonna be called the United States of America"), contrarian hot takes ("You know, Hezbollah is very smart. They're all very smart"), and gibberish ("All of these indictments that you see—I was never indicted. Practically never heard the word. It wasn't a word that registered").

Whatever the case may be, Trump has continued to make plainly dangerous and stunning remarks. Notwithstanding his rival Governor Ron DeSantis's recent claim that Trump has "lost the zip on his fastball," the former president continues to produce substantive ideas—which is not to say they are wise or prudent, but they are certainly more than gibberish. In fact, much of what Trump is discussing is un-American, not merely in the sense of being antithetical to some imagined national set of mores, but in that his ideas contravene basic principles of the Constitution or other bedrock bases of American government.

They are the sorts of ideas that would have been shocking to hear from any mainstream politician just a decade ago. And yet, today, Trump—arguably the single most influential figure in the United States—says these things, and they hardly register. https://www.theatlantic.com/ideas/archive/2023/11/donald-trump-15-most-dangerous-statements/675970/
Susan B. Glasser: The Warnings About Trump in 2024 Are Getting Louder
Donald Trump often takes the breath away with his defiance of the basic norms of American public life. (See: January 6th.) But sometimes it's the smaller encroachments on decency that serve as a reminder of how far outside the bounds he operates. "Can you control your client?" Judge Arthur Engoron demanded of Trump's lawyer, during the former President's testimony on Monday in Manhattan, where he stands accused of running a fraudulent business in the state of New York. "This is not a political rally. This is a courtroom." Later, after yet another Trump soliloquy in response to a yes-or-no question, Engoron repeated his entreaty. ""I beseech you," the judge said, "to control him if you can."

On Thursday, in an interview with Univision, Trump again made explicit what is often implicit in his vengeance-fuelled campaign: his willingness to use the justice system to go after his opponents if he is returned to the White House. Any other prospective President would have denied with all possible force a recent Washington Post report that Trump has already demanded that his aides make plans to target some former advisers who have become public critics, including his former chief of staff John Kelly, former Attorney General Bill Barr, and former chairman of the Joint Chiefs of Staff Mark Milley. Instead, Trump all but confirmed the story when he told the Spanish-language network that he would use the courts against his political rivals. "If I happen to be President and I see somebody who's doing well and beating me very badly, I say, 'Go down and indict them,'"  Trump told Univision. "They'd be out of business. They'd be out of the election."

There should be no surprise in this, of course. When Trump ran in 2016, he promised to jail his opponent, Hillary Clinton, and laughed and cheered and egged on his crowds when they chanted, "Lock her up! Lock her up!"

In an appearance this week on "The View," Clinton compared Trump to Adolf Hitler, who was, she noted, "duly elected" before he dismantled Germany's democracy and turned himself into a dictator. Her main point—and it bears endless repetition between now and whatever awaits us next November—is that Trump has clearly spelled out exactly how he plans to go after core tenets of American democracy. There is no mystery here. "Trump is telling us what he intends to do," Clinton said. "Take him at his word. The man means to throw people in jail who disagree with him, shut down legitimate press outlets, do what he can to literally undermine the rule of law and our country's values."
It's worth noting that Clinton made those comments before Trump's incendiary interview. He's said it all before; he'll say it all again. The question, with one year left on the clock, is: Who's listening? https://www.newyorker.com/news/letter-from-bidens-washington/the-warnings-about-trump-in-2024-are-getting-louder
Dana Milbank The House is most definitely not in order
Before Mike Johnson became speaker, the House of Representatives had voted to censure one of its own members only seven times in 100 years. Since Johnson became speaker, members of the House have tried to censure each other eight times in two weeks.
In the latest effort, the successful censure of Rep. Rashida Tlaib (D-Mich.) for antisemitic statements, the House floor degenerated into sobs, heckling, fist shaking and screaming.

It would be unfair to dismiss the Johnson speakership as entirely unsuccessful so far. After all, he has presided over a golden age of censure. To recap:
Rep. Jack Bergman (R-Mich.) filed a resolution to censure Tlaib.
Greene filed a resolution to censure Tlaib.

Rep. Lisa McClain (R-Mich.) filed a resolution to censure Bowman.

Greene filed another resolution to censure Tlaib.

Miller filed a resolution to censure Tlaib.

McCormick filed a resolution to censure Tlaib.

In retaliation, Rep. Becca Balint (D-Vt.) filed a resolution to censure Greene, and Rep. Sara Jacobs (D-Calif) filed a resolution to censure Rep. Brian Mast (R-Fla.).
"If we are going to start censuring anybody who says something we don't like, all we will do from now on is censure each other all day," Rep. Jim McGovern (D-Mass.) pointed out during the debate. "My Republican colleagues go on and on about cancel culture and here they are today trying to cancel someone."

Maybe Johnson will step in and tell his censorious colleagues to cease their censures. Or maybe he will continue to refuse to put people over politics.
Trust him? Not after this start. https://www.washingtonpost.com/opinions/2023/11/10/new-speaker-mike-johnson-censure-resolutions-tlaib-shutdown/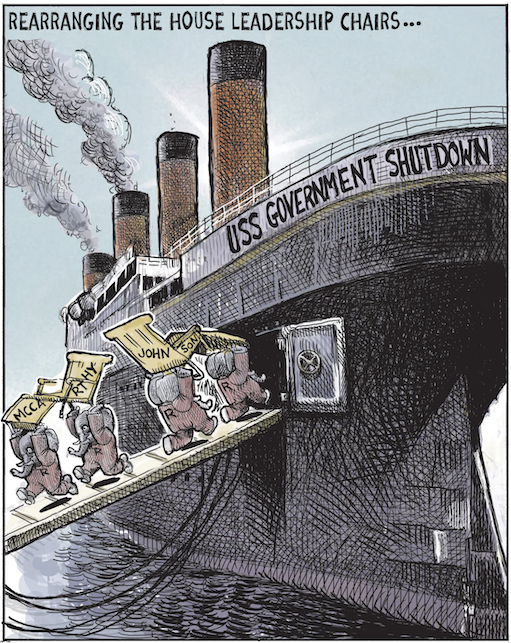 James Surowiecki: Why Americans Can't Accept the Good Economic News
Are you better off today than you were four years ago? That question, first posed by Ronald Reagan in a 1980 presidential-campaign debate with Jimmy Carter, has become the quintessential political question about the economy. And most Americans today, it seems, would say their answer is no. In a new survey by Bankrate published on Wednesday, only 21 percent of those surveyed said their financial situation had improved since Joe Biden was elected president in 2020, against 50 percent who said it had gotten worse. That echoed the results of an ABC News/Washington Post poll from September, in which 44 percent of those surveyed said they were worse off financially since Biden's election. And in a New York Times/Siena College poll released last week, 53 percent of registered voters said that Biden's policies had hurt them personally.
As has been much commented on (including by me), this gloom is striking when contrasted with the actual performance of the U.S. economy, which grew at an annual rate of 4.9 percent in the most recent quarter, and which has seen unemployment holding below 4 percent for more than 18 months. But the downbeat mood is perhaps even more striking when contrasted with the picture offered by the Federal Reserve's recently released Survey of Consumer Finances.

The survey provides an in-depth analysis of the financial condition of American households, conducted for the Fed by the National Opinion Research Center at the University of Chicago. Published every three years, it's the proverbial gold standard of household research. The latest survey looked at Americans' net worth as of mid-to-late 2022 and Americans' income in 2021, comparing them with equivalent data from three years earlier. It found that despite the severe disruption to the economy caused by the pandemic and the recovery from it, Americans across the spectrum saw their incomes and wealth rise over the survey period.

So, even allowing for the high inflation we saw in 2022, no one could really look at the U.S. economy today and say that the policy choices of the past three years made us poorer. Yet that, of course, is precisely how many Americans feel.
Although that pessimism does not bode well for Biden's reelection prospects, the real problem with it is even more far-reaching: If voters think that policies that helped them actually hurt them, that makes it much less likely that politicians will embrace similar policies in the future. The U.S. got a lot right in its macroeconomic approach over the past three years. Too bad that voters think it got so much wrong. https://www.theatlantic.com/ideas/archive/2023/11/american-household-income-improvement-voter-sentiment/675959/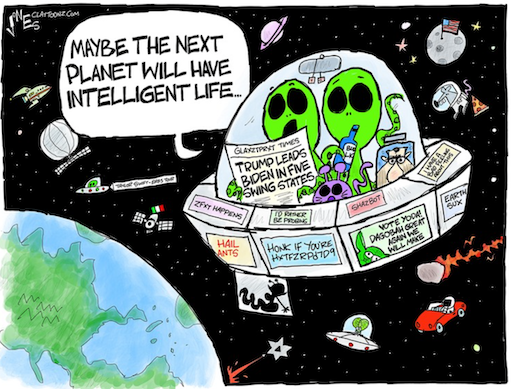 Zoë Schlanger: One Huge Contradiction Is Undoing Our Best Climate Efforts
The math isn't adding up.

You'd be forgiven for thinking that the fight against climate change is finally going well. The clean-energy revolution is well under way and exceeding expectations. Solar is set to become the cheapest form of energy in most places by 2030, and the remarkable efficiency of heat pumps is driving their own uptake now. Sales of electric vehicles could surpass those of gas-burning cars in the next six years. The world's biggest powers are putting huge sums toward infrastructure to usher in some form of energy transformation. Pledges are being made; legislation is being passed. The world, it seems, is finally lurching in the right direction.

But none of that is enough, practically speaking, because of one enormous hitch: The world is still using more energy each year, our consumption ticking ever upward, swallowing any gains made by renewable energy. Emissions are still rising—more slowly than they used to but, nonetheless, rising. Instead of getting pushed down, that needle is fitfully jiggling above zero, clawing into the positive digits when it needs to be deeply pitched into the negative. We are, in other words, simply not making a dent.
And so we are now in climate purgatory. In this zone, countries and companies are doing the right things to steer away from the damages of climate change, but are at the very same time making deliberate choices that swamp the effect of those other, better things. The International Energy Agency predicts that demand for fossil fuels will peak by 2030. Yet a report released by the United Nations and several climate organizations this week found that governments in aggregate still plan to increase coal production until 2030, and oil and gas production until at least 2050, global net-zero agreements be damned. In total, countries that hold the world's oil, gas, and coal deposits still plan to produce 69 percent more fossil fuels than is compatible with keeping warming under 2 degrees Celsius, the riskier cousin to the 1.5-degree-Celsius goal each of those countries pledged to aim for. Many experts now consider that goal impossible, because of global reluctance to phase out fossil fuels. One expert who worked on the UN report called this "insanity," a "climate disaster of our own making." The climate math is not adding up. https://www.theatlantic.com/science/archive/2023/11/climate-change-policies-contradictions/675967/
Peter Hamby: Biden's Kennedy Curse
Washington might be fixated on Manchin and No Labels, but I've found it curious that he's been getting more attention lately than the more realistic threats to Biden's candidacy coming from his left flank—Robert F. Kennedy Jr., Cornel West and Jill Stein. All three of them are swimming in a pool of leftist populism, anti-establishment thinking, antiwar dogma and a dash of conspiracy theory. Each of them has the potential to siphon support from disaffected young people, progressives, and younger Black voters—core Democratic voting blocs that have soured on Biden since 2020.
Among those three, though, Kennedy is the candidate that Democrats should be most concerned about. I find it strange that the alarms aren't louder.
https://puck.news/bidens-kennedy-curse/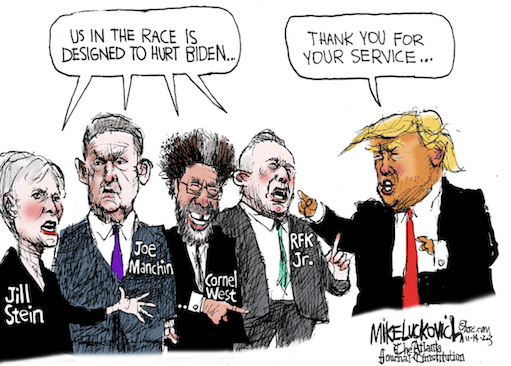 Anne Applebaum; The West Must Defeat Russia
They planned to take Kyiv in three days, the rest of Ukraine in six weeks.
More than 21 months later, Russian forces have withdrawn from half the territory they occupied in February of last year. At least 88,000 Russian soldiers are likely dead—a conservative estimate—and at least twice as many have been wounded. Billions of dollars worth of equipment, Russian tanks, planes, artillery, helicopters, armored vehicles, and warships have been destroyed. If you had predicted this outcome before the war—and nobody did—it would have seemed fanciful. No one would have believed that Ukrainian President Volodymyr Zelensky, a professional comedian, could lead a country at war, that the democratic world would be united enough to help him, or that Russian President Vladimir Putin would endure such a humiliation.

Ukraine, the United States, and the European Union have achieved something remarkable: Working together, they have not only preserved the Ukrainian state, but stood up to a bully whose nihilism harms the entire world. Putin backs far-right and extremist movements in Europe, provides thugs to support African dictatorships, and colludes with China, Iran, Venezuela, and other autocracies. From the beginning, Putin hoped the war would demonstrate that American power and American alliances can be defeated, not only in Ukraine but everywhere else. He still does, and for this purpose the war remains useful to him.


Right now, Putin's bets are on the Republicans who repeat Russian propaganda—Senator J. D. Vance, for example, echoes Russian language about the Ukraine war leading to global disorder and escalation; Representative Matt Gaetz cited a Chinese state-media source as evidence while asking about alleged Ukrainian neo-Nazis at a congressional hearing; Vivek Ramaswamy, a GOP presidential candidate, has also called Zelensky, who is Jewish, a Nazi. Putin will have been cheered by the new House speaker, Mike Johnson, who is knowingly delaying the military and financial aid that Ukraine needs to keep fighting. The supplemental bill that he refuses to pass includes money that will keep Ukrainians supplied with the air-defense systems they need to protect their cities, as well as the fiscal support they need to sustain their economy and crucial infrastructure in the coming months.

The goal in Ukraine should be to end Russia's brutish invasion—and to deter others from launching another one somewhere else. https://www.theatlantic.com/ideas/archive/2023/11/us-ukraine-support-putin-defeat/675953/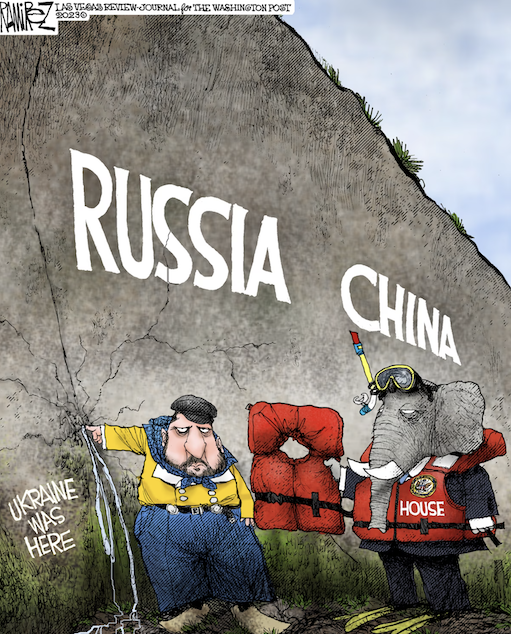 Jonathan Chait: Trump's 'He Did It First' Rationale for Locking Up His Critics. The lie hiding behind the other lie
Donald Trump has been telling anybody who would listen that if he wins a second term, his plan is to lock up his political enemies. "This is third-world-country stuff: 'Arrest your opponent,'" Trump said last month. "And that means I can do that, too." In an interview with Univision, he gave the same rationale:

"Yeah. If they do this, and they've already done it, but if they follow through on this, yeah, it could certainly happen in reverse," he said. "It could certainly happen in reverse. What they've done is they've released the genie out of the box."

He added later: "They have done something that allows the next party — I mean, if somebody, if I happen to be president and I see somebody who's doing well and beating me very badly, I say, 'Go down and indict them.' They'd be out of business; they'd be out of the election."

Obviously, Trump's premise that he is being prosecuted by Joe Biden because he is running against him is false. Trump is being prosecuted because he is a career criminal, and there is no evidence any of the prosecutors taking him to court have communicated with President Biden.

But beneath this first lie, there's a second lie: Trump only intends to prosecute his political enemies because they did it to him first. In fact, Trump has been planning to lock up his political opponents since he first ran for office, well before any of the current prosecutions began.
Trump ran for president threatening to lock up Hillary Clinton. Once in office, he basically never stopped demanding prosecutions against various critics.
In the spring of 2018, he told the White House counsel that he wanted to order Justice Department investigations of Clinton and former FBI director James Comey. In 2019, he repeatedly demanded investigations of Biden and attempted to extort Ukraine into announcing an investigation into the same. He commissioned intelligence agencies to find evidence that Comey, along with Andrew McCabe, Peter Stzrok, and Lisa Page, committed "treason." In addition to insisting on prosecuting various enemies an unknown number of times in private, Trump made similar demands repeatedly in public on his Twitter account.. https://nymag.com/intelligencer/2023/11/trump-lock-up-enemies-biden-authoritarian-justice-department-trial.html