August 23, 2018
ON THE RECORD. . .
"Hell hath no fury like Omarosa scorned." -- Former Trump aide Sam Nunberg

@RepMcSally's inability to even mention my father's name when discussing the bill named in his honor is disgraceful (just as it was with Trump) - I had such higher hopes for the next generation of leadership in my home state. -- Meghan McCain

"So I generally choose not to hang on every twist of the Mueller investigation, but if Trump pardons Manafort (after maybe having promised a pardon to get him not to cooperate) and gets away with it, then we're in a banana republic. We just are." — Sen. Chris Murphy (D-CT)

Are the Republicans on the Hill ... going to wait for a disaster to happen before they actually find their backbones to speak up against somebody who clearly is not carrying out his responsibilities with any sense of purpose and common sense? -- Former CIA Director John Brennan

"I am actually honored to be on his enemies list as I was on Nixon's when I made it there. This is a president I hold in such low esteem I would be fretting if he said something nice." — Former Nixon White House counsel John Dean, on being called a "RAT" by Donald Trump.

Exclusive: @realDonaldTrump tells @Reuters he has chosen not to be involved in Mueller probe but is "totally allowed" to be if he wanted to. "I've decided to stay out. Now, I don't have to stay out, as you know. I can go in and I could… do whatever, I could run it if I want." — Jeff Mason (@jeffmason1)

"We're in a Watergate moment. We need bipartisanship now more than ever to protect the special counsel and to stop, and I must underscore stop, any consideration of pardons." — Sen. Richard Blumenthal (D-CT), on CNN.

To state that more simply: At least two separate criminal conspiracies helped elect Donald Trump president in 2016, one executed by the Russian government, another by Trump's personal lawyer. -- Garrett M. Graff in Wired Magazine
---
IN THIS ISSUE
FYI
OPINION
1. Satire from the Borowitz Report: Putin Reportedly Close to Firing Rudolph Giuliani
Vladimir Putin is reportedly "very close" to firing Rudolph Giuliani as Donald J. Trump's attorney, a source close to the Russian President confirmed on Monday.

According to the source, Putin allowed Trump to hire Giuliani in the first place because "it's important to let Trump think that he has some autonomy from time to time," but now the Russian President has apparently determined that "enough is enough."

Over the next few days, the source indicated, Putin is likely to replace Giuliani with a handpicked successor, Arkady Lubetkin, a criminal-defense attorney who has represented several prominent Russian Mob figures.

After hearing anecdotal reports of Giuliani's appearance on NBC's "Meet the Press" on Sunday, Putin initially theorized that the nonsensical nature of Giuliani's utterances had to be chalked up to "an error in translation," the source said.

After reading an official transcript of Giuliani's statements, however, the Russian President was apparently "flabbergasted."

"Pravda is not pravda?" Putin reportedly said. "What is this bullshit?" https://www.newyorker.com/humor/borowitz-report/
2. In case of Mueller firing, break glass: Democrats prep an emergency plan
It would start within minutes of special counsel Robert Mueller being fired — a torrent of activity ricocheting through the halls of Congress and over television airwaves, including nearly a thousand protests being prepped from the Virgin Islands to Alaska.
Democrats have drafted a wide-ranging contingency plan should Mueller be fired or President Donald Trump take other steps to quash the Russia investigation, like firing Deputy Attorney General Rod Rosenstein or pardoning key witnesses.
Of top concern in the first 24 hours of such a move would be preventing Mueller's documents from being destroyed and his team disbanded, according to interviews with nearly a dozen lawmakers, congressional aides, Democratic operatives and attorneys involved in the planning. https://www.nbcnews.com/politics/donald-trump/case-mueller-firing-break-glass-democrats-prep-emergency-plan-n902526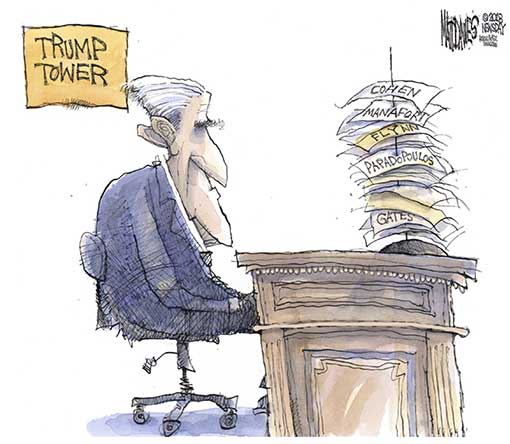 3. Pelosi pulls in staggering sums for Dems despite facing opposition in the ranks
Internal documents obtained by CNN show that the California Democrat remains a fundraising juggernaut for House Democrats as they battle to pick up the 23 seats they need to retake the House majority for the first time since the GOP won control of the chamber in the 2010 midterms.
Through June, Pelosi had raised an eye-popping $83 million for the Democratic Congressional Campaign Committee for the 2018 election cycle, more than double the next closest Democrat, according to an internal list for the group charged with electing more Democrats to the US House of Representatives. A source briefed on the matter said that through July she had raised nearly $91 million for the party committee, which is spending big in hotly contested races including where Democratic candidates are running away from Pelosi. https://www.cnn.com/2018/08/15/politics/nancy-pelosi-fundraising-democrats/index.html
4. Nate Silver: Potential Democratic gains are broad-based, across all regions of the country
One factor helping Trump in 2016 was that he really needed to beat his polls in only one part of the country, the Midwest, to defeat Hillary Clinton in the Electoral College. (Outside of the Midwest, the polls were reasonably accurate and even underestimated Clinton in some states.) By contrast, Republicans are facing a multi-front assault in the House this year:
In the Northeast, they have a lot of exposure in New York and New Jersey, which were once bastions of moderate Republicanism but which have become increasingly inhospitable to this brand of politics — and in Pennsylvania, where court-ordered redistricting resulted in a bad map for Republicans and where a lot of GOP incumbents have retired.
In the South, they face pressure because of demographic change in states such as Georgia and Virginia — and increasingly in Texas.
In the Midwest, there's the risk of reversion to the mean with Trump off the ballot, especially as the GOP coalition in these states has come to rely on voters without a college degree who don't always participate in midterm elections.
And in the West, there are 14 Republican-controlled seats in California and another four in Washington that look increasingly out of place as the Pacific Coast becomes a somewhat literal "blue wall."
As it happens, projected Democratic gains are almost evenly distributed between the four Census Bureau regions: The Classic version of our model projects them to gain nine seats in the Midwest, nine in the South, nine in the Northeast and eight in the West. Note that Democrats could completely flop in any one of these regions and yet still (just barely) win enough seats to take the House. https://fivethirtyeight.com/features/the- big-picture-in-the-race-for-the-house/
5. Democrats in stronger position to take the House: CBS News Battleground Tracker
Democrats have improved their standing in the fight for control of the House of Representatives. Our House model now shows the party poised to win 222 seats if the election were today, up from our estimate of 219 earlier this summer. The range on that estimate is plus or minus 11 seats, or 5% of House seats. https://www.cbsnews.com/news/cbs-news-battleground-tracker-poll-democrats-in-stronger-position-to-take-the-house/
6. The DAILY GRILL
Bruce Ohr of the 'Justice' Department (can you believe he is still there) is accused of helping disgraced Christopher Steele 'find dirt on Trump.' Ohr's wife, Nelly, was in on the act big time - worked for Fusion GPS on Fake Dossier. @foxandfriends — Trump tweet, Aug. 14, 2018

VERSUS

As yet, there is little evidence to support Trump's contention that Ohr helped Steele find dirt on Trump. He appears to be only a messenger. At this point, it's unclear what Ohr even told his friend at the FBI about Steele's information and whether any of that reporting ended up influencing the Russia investigation. There is also, as yet, no evidence that senior Justice Department officials were even aware of Ohr's sideline communications with Steele about the Russian probe. -- Glenn Kessler The Washington Post Fact Checker
7. From MEDIA MATTERS (They watch Fox News so you don't have to)
Alex Jones claims Brian Stelter, Lester Holt, and other high-profile media figures will have advance knowledge of "staged terror attacks" carried out against media companies. https://www.mediamatters.org/video/2018/08/16/alex-jones-claims-brian-stelter-lester-holt-and-other-high-profile-media-figures-will-have-advance/221014

Tucker Carlson calls those not defending Alex Jones and Infowars "foolish" and "cowardly." https://www.mediamatters.org/video/2018/08/17/tucker-carlson-calls-those-not-defending-alex-jones-and-infowars-foolish-and-cowardly/221021

Rudy Giuliani tells Fox News that Michael Cohen pleading guilty is good news for Trump. https://www.mediamatters.org/video/2018/08/21/rudy-giuliani-tells-fox-news-michael-cohen-pleading-guilty-good-news-trump/221051

Sean Hannity calls Manafort guilty verdict "an unmitigated disaster for Mueller." Hannity: "I mean 10 out of the 18, to me it's an unmitigated disaster for Mueller." https://www.mediamatters.org/video/2018/08/21/sean-hannity-calls-manafort-guilty-verdict-unmitigated-disaster-mueller/221050
8. From the Late Shows
Full Frontal with Samantha Bee: Fascists to Watch 2018: https://youtu.be/TF_ZqYwTG0g

The Late Show with Stephen Colbert: Omarosa Is Starting To Think Trump Might Be Racist: https://youtu.be/qsTK4CUzPb8

White Supremacists, You Won't Like Your DNA Results: https://www.youtube.com/watch?v=yvS2gjMMXBQ

Jimmy Kimmel Live: Can You Name a Country: https://youtu.be/kRh1zXFKC_o
9. Truth-Testing Trump's 250-Plus Attacks on the Russia Inquiry
The federal investigation into whether Russia actively sought to help Donald J. Trump win the White House in 2016 has been hanging over his head since even before the election. As president, he has repeatedly criticized the special counsel inquiry and has questioned whether it is the best use of time and taxpayer funds.
Some of the criticism has amounted to presidential opinion — like in calling James B. Comey "the worst F.B.I. director in history." On Twitter alone, he has used the words "witch hunt" in over 100 posts.
"That whole situation is a rigged witch hunt," Mr. Trump told reporters on Friday at the White House. "It's a totally rigged deal. They should be looking at the other side."
But hundreds of other statements, since Mr. Trump's inauguration, included bold assertions about the Russia investigation that have demanded being fact checked.
He hasn't always been wrong. Mr. Trump's estimates of the inquiry's price tag, and his accusations of political bias as demonstrated in texts between F.B.I. officials, are among presidential claims that have passed the truth test.
An analysis by The New York Times found more than 250 examples of exaggerated, misleading or flat-out false claims by Mr. Trump about the Russia investigation. https://www.nytimes.com/2018/08/18/us/politics/fact-check-trump-russia-election-interference-.html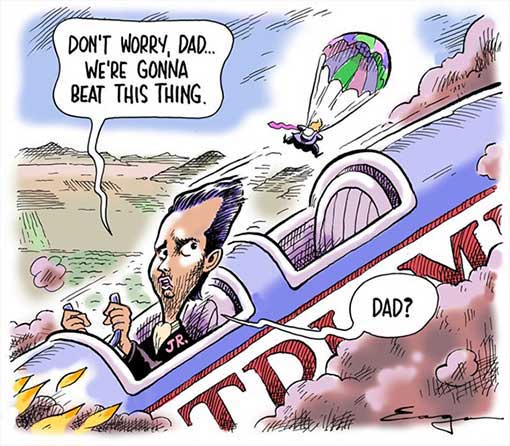 10. Late Night Jokes for Dems
SETH MEYERS

Former White House aide Omarosa Manigault released a fourth secret recording today. Apparently she hid the microphone somewhere Trump would never find it — in a salad.

President Trump tweeted today that there is nothing that he would want more for the country than true freedom of the. And then even the Twitter bird rolled its eyes.

JIMMY KIMMEL

Trump found a new way to suppress those who dare criticize him. He took the rare and unusual step of revoking the security clearance held by former CIA Director John Brennan. Trump said he revoked Brennan's clearance because of risks posed by his "erratic behavior, for making unfounded, outrageous allegations and wild outbursts on the internet." In other words, he literally described himself.

John Brennan was the point person for the operation that killed Osama bin Laden. But that was under the Obama administration. Trump really wants to undo anything Obama did. My sources tell me he wants to have bin Laden brought back to life so he can kill him himself.

Today by the way, I don't know if you know this, is National Tell a Joke Day. Here's one. Why did Donald Trump cross the road?

OK, first of all, he never crossed the road, that's fake news.

Second of all, the people who were accusing him of crossing the road? THEY'RE the ones who crossed the road.

Third, Hillary Clinton crossed a bunch of roads and the media never asked about that.

Fourth, if he did cross it, it was totally legal. The light was green.

Fifth, Donald Trump is a successful businessman who knows more about roads than any of you ever will.

Sixth, the stock market is at an all-time high, but all you want to talk about is crossing roads.

Seventh, the road-crossing investigation is a politically motivated witch hunt.

Eighth, the real question is how do we stop illegal immigrants from crossing the roads?

Nine, Vladimir Putin is a good guy. Love to hold hands and cross the road with him.

Tenth, Donald Trump crossed the road to make this country great again.

So thank you, and no more questions.

JAMES CORDEN

Trump went on to say that he will be going on the road and making 50 campaign stops, but he has "no problem with that." You know who else doesn't have a problem with that? Melania. "Go, go. Take all the time you need. Make 100 stops! See the sights!"

In other Trump news, yesterday, the president's lawyer Rudy Giuliani said he's losing patience with special counsel Robert Mueller's Russia investigation and urged Mueller to "write the damn report." Rudy Giuliani is losing his patience. Which would be a shame. You'd hate for him to lose anything else. He's already lost his dignity and his reputation and his marbles!

Giuliani also said, "If he doesn't get it done in the next two or three weeks, we will just unload on him like a ton of bricks." And they're going to get that ton of bricks from one of Trump's failed construction projects.
11. Trump Tax Cut Unlocks Millions for a Republican Election Blitz
Republicans are struggling to make the $1.5 trillion Trump tax cuts a winning issue with voters in the midterm congressional elections, but the cuts are helping the party in another crucial way: unlocking tens of millions of dollars in campaign donations from the wealthy conservatives and corporate interests that benefited handsomely from it," the New York Times reports.
"Billionaires and corporations that reaped millions of dollars in tax cuts are pumping some of that windfall into the Congressional Leadership Fund, a super PAC closely aligned with Speaker Paul Ryan that is flooding the airwaves and front porches of swing congressional districts with increasingly sharp attacks on the Democratic candidates vying to wrest control of the House. https://www.nytimes.com/2018/08/18/us/politics/tax-cuts-republicans-donors.html
12. ACLU of Georgia Slams Plan to Close Many of County's Polls
ATLANTA — Civil rights advocates are objecting to a proposal to close about 75 percent of polling locations in a predominantly black south Georgia county.
The Randolph County elections board is scheduled to meet Thursday to discuss a proposal that would eliminate seven of nine polling locations in the county, according to the American Civil Liberties Union of Georgia. Included in the proposed closures is Cuthbert Middle School where nearly 97 percent of voters are black.
"There is strong evidence that this was done with intent to make it harder for African Americans," ACLU of Georgia attorney Sean Young said. The ACLU has sent a letter to the elections board demanding that the polling places remain open and has filed open records requests for information about the proposal to close the polling places. https://www.nytimes.com/aponline/2018/08/15/us/ap-us-polling-places-proposed-closures.html
13. A blue wave is obscuring a red exodus
Dave Wasserman, the Cook Political Report's House analyst, says the most under-covered aspect of 2018 is that "a blue wave is obscuring a red exodus." Republican House members are retiring at a startling clip —  a trend that senior White House adviser Kellyanne Conway told me earlier this year was worrying her more than any other trend affecting the midterms.
Just in the past eight months, the number of vulnerable Republican seats has almost doubled, according to Wasserman. Democrats need to win 23 seats to claim control of the House. Today, the Cook Political Report rates 37 Republican-held seats as toss-ups or worse. At the beginning of the year, it was only 20. https://www.axios.com/2018-midterm-elections-house-republicans-retiring-dave-wasserman-1c985d97-2f73-4ef0-9d5e-7e7dd23c92cf.html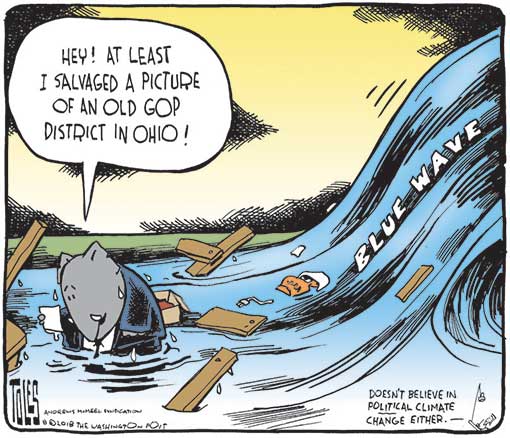 14. Judge: Trump's release of dossier memos opens door to disclosures from FBI
President Donald Trump's decision to declassify competing congressional memos about the validity of the so-called Steele dossier means the FBI has lost its authority to rebuff Freedom of Information Act requests about the bureau's efforts to verify the report's intelligence linking Trump to Russia during the 2016 campaign, a federal judge ruled on Thursday.
The decision came on an FOIA lawsuit filed last year by this reporter and a pro-transparency group, the James Madison Project.
"This ruling represents another incremental step in revealing just how much the FBI has been able to verify or discredit the rather personal allegations contained in that synopsis derived from the Steele dossier," said Brad Moss, a lawyer pressing the lawsuit. "It will be rather ironic if the president's peripheral actions that resulted in this ruling wind up disclosing that the FBI has been able to corroborate any of the 'salacious' allegations." https://www.politico.com/blogs/under-the-radar/2018/08/16/trump-dossier-fbi-disclosures-782237
15. Veterans Group Sues to Block VA Shadow Rulers
A liberal veterans group is suing to block the influence of three outside advisers who have been secretly influencing the Department of Veterans Affairs from Mar-a-Lago, President Donald Trump's private club in Palm Beach, Florida.
ProPublica reported last week that the advisers — Marvel Entertainment chairman Ike Perlmutter, West Palm Beach doctor Bruce Moskowitz and Washington lawyer Marc Sherman — have been shaping VA personnel and policy decisions despite having no official role or relevant expertise.
The trio, sometimes referred to as the "Mar-a-Lago Crowd," is failing to disclose its activities as required by federal law, according to a lawsuit filed today in federal court in Washington, D.C., by VoteVets, a liberal activist group that says it represents 500,000 supporters. https://www.propublica.org/article/veterans-group-sues-to-block-va-shadow-rulers
16. Trump's budget chief is trying to protect his home state from tariffs
Donald Trump's budget director, Mick Mulvaney, is trying to use his influence to help a South Carolina business that could be badly wounded by the White House's trade policies.
Mulvaney, a former South Carolina Republican congressman, has been making personal pleas to administration officials to protect the viability of Element Electronics, a television assembly plant in his old district that has said it will halt operations because of tariffs. https://www.mcclatchydc.com/news/politics-government/article217018380.html
17. Hillary Clinton steps back into the fray to fundraise for Democrats this fall
Hillary Clinton is stepping back into the limelight before the November midterm elections, helping to raise money for the Democratic National Committee in a series of fundraisers, NBC News has learned.
The 2016 Democratic presidential nominee will headline three events — in San Francisco, Chicago and New York — for the DNC this fall to boost the party's chances of seizing control of the U.S. House and Senate. https://www.nbcnews.com/politics/hillary-clinton/hillary-clinton-steps-back-fray-fundraise-democrats-fall-n902326
18. Inside Trump's Judicial Takeover
Trump has put 26 new judges onto the appellate courts, more than any other chief executive at this point in the presidency. He has also nominated over 100 district-court judges and gotten 26 of those picks confirmed. These judges are overwhelmingly young, ideological and now set to serve lifetime appointments. And then, of course, there's Justice Neil Gorsuch, Trump's first pick for the Supreme Court, and Judge Brett Kavanaugh, the president's second Supreme Court nominee, who stands a strong chance of confirmation.
What unites these judges is the radical legal doctrine of originalism — that the text of the Constitution should be understood only as it was intended when written more than 230 years ago. Originalism was long seen as a fringe philosophy; taken to its logical extreme, an originalist reading of the Constitution could mean a country without same-sex marriage, federal child-labor laws or the Americans With Disabilities Act. Today, however, originalism is the dominant legal philosophy on the right and the litmus test for any judge appointed by Donald Trump. https://www.rollingstone.com/politics/politics-features/trumps-judicial-takeover-711200/
19. Russia and Iran created 652 Facebook pages, groups and accounts to mislead users around the world, company says
Facebook has taken down more than 600 phony pages, groups and accounts with hundreds of thousands of followers that were part of separate disinformation campaigns — organized by Russia and Iran — targeting people worldwide, the company announced Tuesday night.
The revelation is unusual for targeting people in many countries and for involving a nation-state actor other than Russia, which has been the main focus of reporting on disinformation operations targeting the United States.
Microsoft announced this week that it had taken down six websites created by notorious Russian hacker group APT28 — also known as Fancy Bear — and that two of the sites were designed to mimic ones from two Washington think tanks that have been critical of Russia, the International Republican Institute and the Hudson Institute. Microsoft also has said that two political candidates had been subjected to spear-phishing attacks. https://www.washingtonpost.com/technology/2018/08/21/russian-iran-created-facebook-pages-groups-accounts-mislead-users-around-world-company-says/
20. Can the Republican Party survive Donald Trump?
It's one thing to accept the normal array of slippery political cheats and dodges in the name of tribal party loyalty with the usual tired rationalization that the "other side is always worse," but Trump's activities are so corrupt and corrosive as to elevate the problem way beyond cynical politics.
Trump's actions as President have created a clear moral test: Are you complicit or are you against? Trump has gone so far -- racial demagoguery and slurs, abuse of office, dictator appeasement, nepotism and family corruption, blazing incompetence, contempt for the rule of law, betrayal of public institutions, epic dishonesty, authoritarian thuggishness... the list never ends -- that he is damaging public institutions and debasing the Presidency of the United States.
You either have the courage to oppose that, regardless of blind party loyalty, or you don't. And the bulk of our party's elected leaders are showing moral indifference and cowardice about Trump. It's tragic and sad and makes of mockery of the legitimate criticism the GOP used to level at erring Democrats. It's a stain on the party that sadly will now last. https://www.cnn.com/2018/08/21/politics/donald-trump-republican-party/index.html
1.  Dan Balz: After two convictions, pressure mounts on Trump
No day during President Trump's 19 months in office could prove as dangerous or debilitating as Tuesday. Everything that happened in a pair of courtrooms hundreds of miles apart strengthened the hand of special counsel Robert S. Mueller III and weakened that of the president of the United States.
This was a day when truth overran tweets, when facts overwhelmed bald assertions. Presidential tweets, however provocative, eventually disappear into the ether. Tuesday's convictions could send two people who have had close relationships with Trump to prison for several years, while one of them brought the investigation to the doorstep of the White House.
What took place Tuesday will ratchet up the pressure on the president, will embolden his critics, and will no doubt inflame and rally his supporters. If the past months have seemed increasingly hot, the coming months could be hotter still — there's little doubt that the Trump presidency has now entered more treacherous territory, and no one can know where it will end. https://www.washingtonpost.com/politics/after-two-convictions-pressure-mounts-on-trump/2018/08/21/94e5dae0-a58a-11e8-97ce-cc9042272f07_story.html
2. Michael: Plea Agreement: Possible Meanings of the Campaign Finance Counts
What distinguishes this case and the decision to pursue the plea is that the candidate behind the subterfuge is the sitting president of the United States. Michael Cohen pleaded Tuesday to a charge that is compelling only because of the story he has to tell, along with other evidence, about the way that Donald Trump operates. And this is not so much about Trump's clumsy steps, in violation of campaign finance law, to prevent exposure of philandering. This episode, assuming in the instance the form of campaign finance law violations, is about the most powerful man in the country—whom prosecutors have observed displaying contempt for legal considerations and constraints, and consistently lying about his actions.
While the Daniels matter is fairly straightforward—hush money to conceal an affair—the McDougal case is a still-more-elaborate subterfuge entailing a "catch and kill" arrangement by a friendly media company to buy McDougal's public silence with cash and a disingenuous promise of space for her own writing. As the plea agreement makes clear, this is a count involving third-party corporate contributions, not just the candidate's personal resources. Cohen may have much to say about how this scheme was hatched, but he stated that it took place at the president's direction. The criminal information filed Tuesday in the Cohen matters lays out the steps the Trump Organization and Cohen took to falsify documentation to cover the reimbursements he received for his hush-money expenses. The degree to which Donald Trump also directed these activities, or took other actions behind the scenes to encourage Cohen and other witnesses in a course of dishonesty and fraudulent conduct, remains to be seen. 
How the case develops from here is not possible to judge at this time, but the Cohen campaign-finance plea resonates unmistakably with the special counsel investigation, which also concerns what a candidate is prepared to do to win an election and then cover his tracks. The criminal information cites the involvement of unnamed members of the Trump campaign; the campaign, like the candidate, is now clearly in separate legal jeopardy. The similarities between Trump's problems and those of Richard Nixon continue to grow. https://www.lawfareblog.com/michael-cohen-plea-agreement-possible-meanings-campaign-finance-counts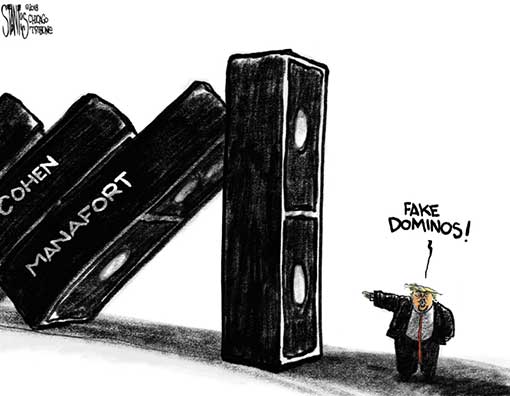 3. Max Boot: Trump is an illegitimate president whose election is tainted by fraud
There is growing evidence that the president is, to use the word favored by Richard Nixon, "a crook." Even buying the silence of his reputed playmates could by itself have been enough to swing an exceedingly close election decided by fewer than 80,000 votes in three states. Trump certainly would not have authorized the payments unless he thought it was politically imperative to do so. There is also considerable evidence, as I previously argued, that Russia's intervention on Trump's behalf affected the outcome. Even more than Nixon, Trump is now an illegitimate president whose election is tainted by fraud.
The inevitable question is: Now what? If Trump had an iota of decency, he would resign — but he doesn't, and prevailing Justice Department guidelines hold that a president can't be indicted while in office. So the onus is on Congress to act. A responsible Congress would have by now already convened an impeachment inquiry. But that is not the Congress we have. We have a Congress dominated by political hacks and moral invertebrates who are determined to act as the president's enablers and legitimizers at all costs.
The voters of the United States must now say to this Congress what Oliver Cromwell said to the Rump Parliament in 1653: "Ye are a factious crew, and enemies to all good government. . . . Ye are grown intolerably odious to the whole nation. You were deputed here by the people to get grievances redressed, are yourselves become the greatest grievance. . . . Go, get you out! Make haste! . . . In the name of God, go!" https://www.washingtonpost.com/opinions/global-opinions/trump-is-now-an-illegitimate-president/2018/08/22/d1c9271c-a613-11e8-97ce-cc9042272f07_story.html
4. Jonathan Chait: 'Law and Order' Candidate Donald Trump Is Surrounded By Criminals
Donald Trump ran for president as the professed candidate of "law and order," a phrase he borrowed from Richard Nixon. He successfully portrayed his opponents — not only the Democratic presidential candidate, but the entire Establishment arrayed against him — as a corrupt oligarchy enriching itself at the public expense. By now, at this probably still-early point in the Mueller investigation, we know that Trump's campaign manager, national security adviser, and personal attorney, along with two other campaign aides, are convicted and confessed felons.
It is common for Trump's opponents to retreat into cynicism about the possibility for news events to damage Trump's standing. It is certainly true that the president has tapped into a deep vein of cultural and racial revanchism, ensuring the irrevocable loyalty of a large segment of his base. But not every Trump voter was attracted to his gross bullying racism. Some simply overlooked or accepted it in the hopes that he would put his bullying to work for them, to "drain the swamp." That criminality has proven to pervade his inner circle is visceral evidence of a broken faith with those voters who trusted this promise. http://nymag.com/daily/intelligencer/2018/08/trump-paul-manafort-michael-cohen-surrounded-by-criminals-reelection.html
5. E.J. Dionne Jr.: America is slouching toward autocracy
In their book, "How Democracies Die," political scientists Steven Levitsky and Daniel Ziblatt write: "How do elected authoritarians shatter the democratic institutions that are supposed to constrain them? Some do it in one fell swoop. But more often the assault on democracy begins slowly. . . . The erosion of democracy takes place piecemeal, often in baby steps."
Long before Trump ran for office, Republicans were eager to change the rules of the game when doing so served their purposes, as Michael Tomasky argued last week in the Daily Beast. Consider just their aggressive voter-suppression efforts and their willingness to block even a hearing for Merrick Garland, Obama's nominee to replace Justice Antonin Scalia.
The of ominous signs goes on and on: Trump invoking Stalin's phrase"enemies of the people" to describe a free press; the firing, one after another, of public servants who moved to expose potential wrongdoing, starting with then-FBI Director James B. Comey; Trump's effusive praise of foreign despots; his extravagantly abusive (and often racially charged) language against opponents; and his refusal to abide by traditional practices about disclosing his own potential conflicts of interest and those of his family. Add to this the authoritarian's habit of institutionalizing lying as a routine aspect of governing, compressed into the astonishing credo Rudolph W. Giulian iblurted out on NBC's "Meet the Press" on Sunday: "Truth isn't truth."
This is not business as usual. Yet our politics proceeds as if it is. Slowly, Trump has accustomed us to behavior that, at any other recent time and with just about any other politician, would in all probability have been career-ending.
We know what a military coup looks like. But as Levitsky and Ziblatt note, a slow-motion dismantling of rules, norms and expectations can be more insidious because we don't even notice what's happening to us. https://www.washingtonpost.com/opinions/america-is-slouching-toward-autocracy/2018/08/19/52e9b1aa-a244-11e8-8e87-c869fe70a721_story.html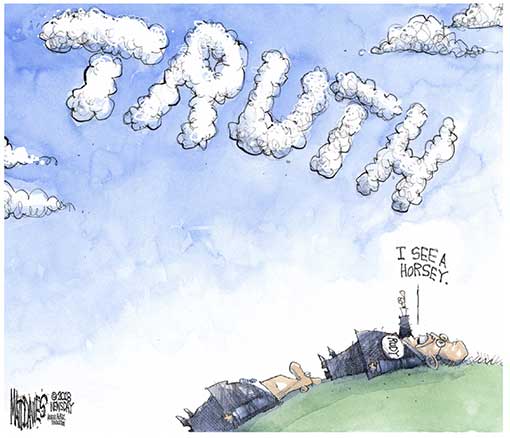 6. Eugene Robinson: The Trump era's epitaph
Whenever the Trump administration ends, we already have its shameful epitaph: "Truth isn't truth."
President Trump's lawyer Rudolph W. Giuliani made that unintentional confession of method and purpose Sunday on NBC's "Meet the Press." From the beginning of the campaign, this whole enterprise has been a lie, a fraud, a grift, a cruel deception — a sustained and increasingly frantic attempt to obscure inconvenient truth.
Earlier in the interview, as if to illustrate the point he was about to make, Giuliani told what can only be called a bald-faced lie. He claimed that when Trump's son, son-in-law and campaign chairman met at Trump Tower in 2016 with a Russian lawyer offering dirt on Hillary Clinton, "all they knew is that a woman with a Russian name wanted to meet with them. They didn't know she was a representative of the Russian government." But in email traffic setting up the meeting, Donald Trump Jr. was told that the promised "information that would incriminate Hillary" constituted "part of Russia and its government's support for Mr. Trump."
Giuliani claimed Monday that his declaration about the nature of veracity was just a clumsy way of describing "he said, she said" situations in which the facts cannot be ascertained. But he had tried to peddle what White House counselor Kellyanne Conway once called "alternative facts" about the Trump Tower meeting. "Truth isn't truth" should be taken as a suspect's blurted admission of guilt.
Constant, relentless, shameless lying is not ancillary to the Trump administration. It is not a sideshow; it's the main event. We have become inured to the fact that the president of the United States and his aides and associates simply cannot be relied upon to tell the truth.
How can this not have a corrosive effect on our democracy? We are accustomed to politicians who shade the truth and spin the facts, but now we have a president who ignores unpleasant truth and rejects unflattering facts. Whether this is a diabolical plan to delegitimize critics or a reflection of Trump's narcissism, the damage is the same. As a society we become less able to believe, less able to trust. https://www.washingtonpost.com/opinions/truth-isnt-truth-is-the-trump-eras-epitaph/2018/08/20/560b7b28-a4ad-11e8-8fac-12e98c13528d_story.html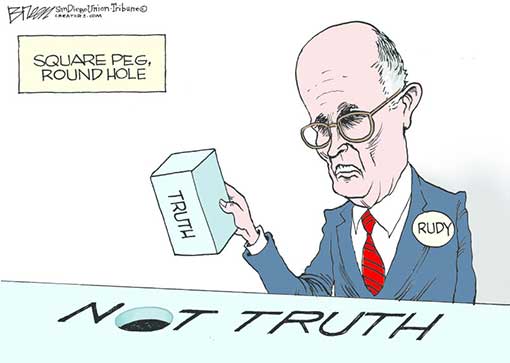 7.  Jonathan Chait: Trump's Craziest Climate Speech Ever Explains His New Dirty Energy Policy
On Monday night, the Trump administration unveiled its replacement for the Obama administration's Clean Power Plan, which gave states targets to reduce the greenhouse-gas pollution emitted by their power plants. The Trump policy is designed to freeze in place the rapid changes in energy of the previous eight years. Trump is promoting his new policy in a speech in West Virginia today. But the most revealing explication of his policy came in little-publicized remarks to donors a few days earlier.
In his comments, which drew appreciative laughter and applause, Trump ranted bizarrely against wind energy, which he associates with his liberal elitist enemies, and in favor of coal, which he sees as infused with MAGA-ness. The short rant reveals more about the energy agenda of the new administration, and the diseased mind of its leader, than any other manifesto.
Coal, Trump told his audience, is "a tremendous form of energy in the sense that in a military way — think of it — coal is indestructible," he declared. The president continued:
You can blow up a pipeline, you can blow up the windmills. You know, the wind wheels, [mimics windmill noise, mimes shooting gun] "Bing!" That's the end of that one. If the birds don't kill it first. The birds could kill it first. They kill so many birds. You look underneath some of those windmills, it's like a killing field, the birds. But uh, you know, that's what they were going to, they were going to windmills. And you know, don't worry about wind, when the wind doesn't blow, I said, "What happens when the wind doesn't blow?" Well, then we have a problem. Okay good. They were putting him in areas where they didn't have much wind, too. And it's a subsidary [sic] — you need subsidy for windmills. You need subsidy. Who wants to have energy where you need subsidy? So, uh, the coal is doing great. http://nymag.com/daily/intelligencer/2018/08/trump-gives-his-craziest-climate-speech-ever.html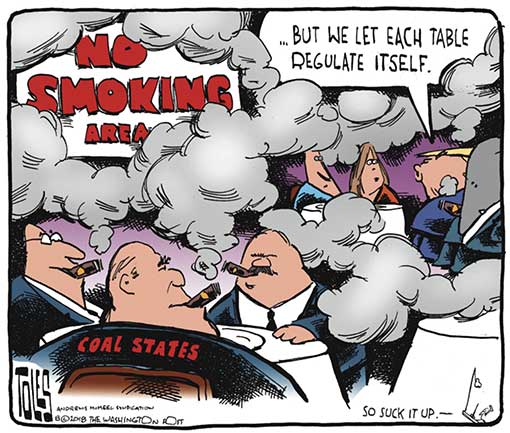 8. Susan B. Glasser: "Rigged Witch Hunt," Meet Trump's "Red Wave"
Donald Trump's Presidency is often described as a reality-show version of the White House, with Trump himself as the producer, director, and main character. There's something to the metaphor, of course; Trump is a showman, a veteran of the reality-TV genre who relishes the notion of himself as a master manipulator, able to dominate the news cycle at will by changing plotlines and introducing new controversies to distract us from the old. But the President's volatile behavior and untethered public comments in recent days suggest that the analogy misses the mark: Trump's act today is an unreality show. The President is not so much trying to shape our perception of events with his theatrics as he is trying to sell the American public, or at least his narrow slice of it, on an entirely opposite version of what is actually happening.
"Honesty wins!" the most dishonest President since Richard Nixon, and, arguably, ever, tweeted on Thursday morning. On Wednesday, he announced that he had revoked the security clearance of John Brennan, the former C.I.A. director, who has emerged as one of Trump's fiercest public critics, citing as grounds Brennan's supposed "erratic conduct and behavior" and "frenzied commentary," an example if ever there was one of a President projecting onto his enemies his own attributes. To bolster his case, Trump paraphrased his friend Sean Hannity, the Fox TV host, accusing Brennan and an array of other former national-security officials of a grave crime, the very one that Trump and his advisers are being investigated for: "They tried to steal and influence an election in the United States." https://www.newyorker.com/news/letter-from-trumps-washington/rigged-witch-hunt-meet-trumps-red-wave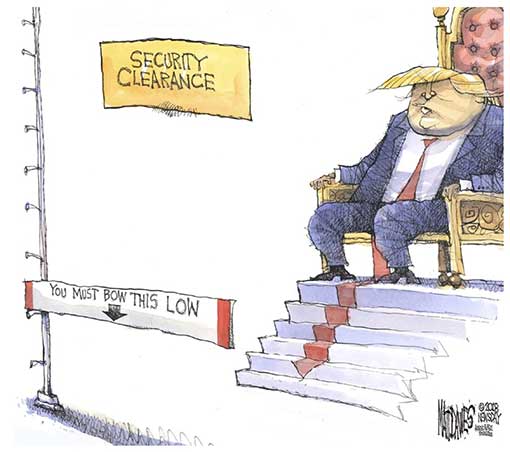 9. John Brennan: Trump's Claims of No Collusion Are Hogwash
The only questions that remain are whether the collusion that took place constituted criminally liable conspiracy, whether obstruction of justice occurred to cover up any collusion or conspiracy, and how many members of "Trump Incorporated" attempted to defraud the government by laundering and concealing the movement of money into their pockets. A jury is about to deliberate bank and tax fraud charges against one of those people, Paul Manafort, Mr. Trump's former campaign chairman. And the campaign's former deputy chairman, Rick Gates, has pleaded guilty to financial fraud and lying to investigators.
Mr. Trump clearly has become more desperate to protect himself and those close to him, which is why he made the politically motivated decision to revoke my security clearance in an attempt to scare into silence others who might dare to challenge him. Now more than ever, it is critically important that the special counsel, Robert Mueller, and his team of investigators be allowed to complete their work without interference — from Mr. Trump or anyone else — so that all Americans can get the answers they so rightly deserve. https://www.nytimes.com/2018/08/16/opinion/john-brennan-trump-russia-collusion-security-clearance.html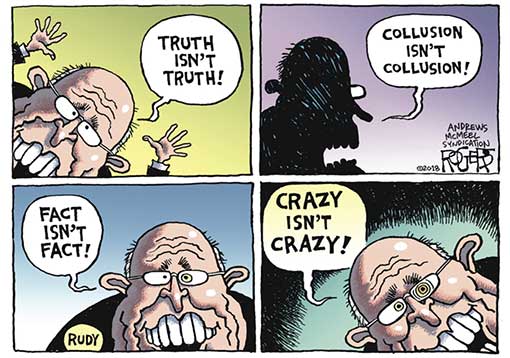 10. NY Times Editorial: Donald Trump, the Payback President
President Trump's decision to strip the security clearance of John Brennan, a former director of the C.I.A., qualifies as one of the least surprising moves from the White House this year. Mr. Brennan has been an outspoken critic of Mr. Trump, and the president's skin is as thin as his regard for democratic norms. And despite the laughable rationalizations now being peddled by administration apologists, Mr. Brennan's spanking is just the latest display of what has become standard operating procedure for this president: using the official levers of government to punish critics and to encourage other detractors to sit down and shut up.
Mr. Trump's act of spite against Mr. Brennan is less ambitious and, frankly, less imaginative, than some of the other avenues of retribution he has explored. Aggrieved over what he considers insufficiently obsequious coverage by The Washington Post, Mr. Trump has repeatedly threatened to punish the paper's owner, Jeff Bezos, by raising the postal rates paid by the online retail giant Amazon, of which Mr. Bezos is the founder and chief executive. Similarly, in the midst of his snit over the protests by National Football League players who have taken a knee during the national anthem, Mr. Trump instructed aides to brainstorm ideas for going after the league in last year's tax-reform package.
Is it Trump—or something larger than Trump? Possibly, it's both. https://www.nytimes.com/2018/08/16/opinion/donald-trump-john-brennan-security-clearance.html
11. David Faris: The lessons of Omarosagate
Why would Chinese President Xi Jinping, the leader of one of the most powerful countries on Earth, fear Trump when some former White House aide clearly does not? Trump is supposed to intimidate Germany when he can't even push a minor functionary and C-list celebrity around?
The riddle here isn't hard to solve: Neither Omarosa nor anyone else is afraid of the petulant, insecure whirlwind of self-pity, paranoia, and hate in the Oval Office. Instead, she sees him just like other world leaders do — as a blithering idiot, a careless man who constantly makes himself vulnerable to blackmail with his corrupt behavior, slapdash management practices, and lack of baseline impulse control, an unpredictable buffoon who uses people and throws them away at the slightest provocation. The only fear that the president successfully instills in others is about the way his boorishness, bad decision-making, and stupidity might ruin their lives simply by virtue of being associated with him or made complicit in his misdeeds. http://theweek.com/articles/790236/lessons-omarosagate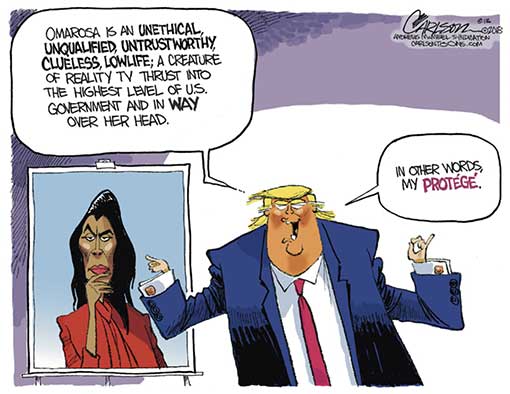 12. Paul Wood: Did the Russian mafia help Trump along his way to the Oval Office?
Before he died last year, the New York muckraking reporter Wayne Barrett told me he had discovered '25 to 30' connections between Donald Trump and the mob. He was talking about Italian-American organised crime but today another New York journalist, Craig Unger, says he has found '59' links to the Russian mafia. He lists them all in his new book "House of Trump, House of Putin," which is damning in its accumulation of detail, terrifying in its depiction of the pure evil of those Trump chose to do business with, and enraging in that — if Unger is right — Trump acted with impunity for decades to get filthy rich laundering the mob's blood money. This is the man who now sits in the Oval Office, Unger says. In fact, he argues, they put him there.
"House of Trump, House of Putin" starts with Trump's early days in business, when his lawyer was Roy Cohn, who was also consigliere to two of the five New York Italian crime families and 'the most evil, twisted, vicious bastard ever to snort coke at Studio 54'. There were mafia figures like 'Sonny' Franzese, a hitman who was recorded helpfully explaining how to get rid of the bodies: 'Dismember victim in kiddie pool. Cook body parts in microwave. Stuff parts in garbage disposal. Be patient.' When one of these Italian gangsters met Trump to buy an apartment 'he opened his briefcase and $200,000 in cash spilled out on Trump's table'.
To the Russians, this was small time. Unger retells a story of Barrett's that when a Red mafiya boss, David Bogatin, came to Trump Tower, he met Trump himself and immediately bought five apartments for $6 million in cash (about $14.5 million today). Trump didn't seem to wonder where this money might have come from. He was one of the first developers to discover that you could sell condos to shell companies that concealed the owners' identities, Unger says. This allowed Russian criminals 'to launder vast amounts of money'. Trump's willingness to sell 'no questions asked' was so important, Unger believes, that he gave the Russian mafia a foothold in the United States.
Unger has done an impressive job of putting some of the many allegations about Trump's dealings with the mafia together in one place. "House of Trump, House of Putin" is like a pointillist work of art. It might be hard to see the significance of any one fact or any one story about Trump knowing this or that gangster. But step back, take it all in, and you see the whole, ugly picture Unger has painted. https://spectator.us/2018/08/did-the-mafia-help-trump-along-his-way-to-the-oval-office/
13.  Colbert I. King: So much for the presidency
The quest to find evidence of Trump's use of the n-word expends energy that could be put to better use. In my view, the only way Trump would not have used the word is if he never knew of its existence.
Yes, we have a racist and intolerant bigot in the White House. But the country has a much more serious problem on its hands. Trump is a president with delusions of grandeur, a bully who revels in being feared, a man with a past that is catching up to him. But he has power at his disposal to do harm to anyone he sees as a threat.
Consider his retaliation against public officials who launched the probe into Russian meddling in the 2016 campaign — he threatened their security clearances, and this week he actually revoked one, using a flimsy rationalization. Consider his targeting of Canada and his launching of trade wars. Consider his alleged purge of civil servants deemed disloyal to his agenda. Consider the lengths to which he is going to discredit a free press and undermine the legitimacy of the special counsel's investigation into Russian interference in our presidential election.
Trump and the n-word? Disgusting as the thought is, that could be the least of our worries. Think about it: a duly authorized federal investigation involving a presidential campaign and possible foreign interference, and the president wants to shut it down. So much for accountability, justice and the rule of law. So much for the presidency. https://www.washingtonpost.com/opinions/so-much-for-the-presidency/2018/08/17/c3ac008c-a177-11e8-83d2-70203b8d7b44_story.html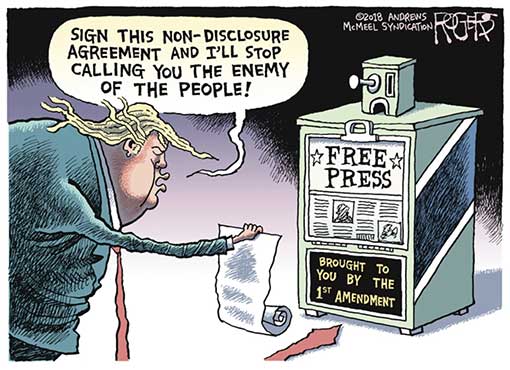 14. Paul Krugman: The Slippery Slope of Complicity
Is Trumpocracy what Republicans always wanted?
Well, it's probably what some of them always wanted. And some of them are making a coldblooded calculation that the demise of democracy is worth it if it means lower taxes on the rich and freedom to pollute.
Modern Republican politicians are, with few exceptions, apparatchiks: they are creatures of a monolithic movement that doesn't allow dissent but protects the loyal from risk. Even if they should happen to lose a race in their gerrymandered districts, as long as they toed the line they can count on "wing nut welfare" — commentator slots on Fox News, appointments at think tanks, and so on.
Even now, I don't think most political commentators have grasped how deep the rot goes. I don't think they understand, or at any rate admit to themselves, that democracy really could die just a few months from now.
And if it doesn't, if Republicans lose Congress and Trump leaves office on or before January 2021, the same people who kept declaring that Trump just became president will try to go back to pretending that Republican politicians are serious, honorable people who care about policy. But they aren't. https://www.nytimes.com/2018/08/18/opinion/the-slippery-slope-of-complicity.html
15. Jonathan Chait: Trump Is Making the Department of Justice Into His Own Private Goon Squad
One morning earlier this week during executive time, President Trump tweeted out his assessment of the Russia investigation. "The Rigged Russian Witch Hunt goes on and on as the 'originators and founders' of this scam continue to be fired and demoted for their corrupt and illegal activity," he raged. "All credibility is gone from this terrible Hoax, and much more will be lost as it proceeds. No Collusion!"
Amid this torrent of lies, the president had identified one important truth. There has in fact been a series of firings and demotions of law-enforcement officials. The casualties include FBI director James Comey, deputy director Andrew McCabe, general counsel James Baker, and, most recently, agent Peter Strzok. Robert Mueller is probing the circumstances surrounding Trump's firing of Comey for a possible obstruction-of-justice charge. But for Trump, obstruction of justice is not so much a discrete act as a way of life.
The slowly unfolding purge, one of the most vivid expressions of Trump's governing ethos, has served several purposes for the president. First, it has removed from direct authority a number of figures Trump suspects would fail to provide him the personal loyalty he demanded from Comey and expects from all officials in the federal government. Second, it supplies evidence for Trump's claim that he is being hounded by trumped-up charges — just look at all the crooked officials who have been fired! Third, it intimidates remaining officials with the threat of firing and public humiliation if they take any actions contrary to Trump's interests. Simply carrying out the law now requires a measure of personal bravery.
Republicans in Congress, for all their private misgivings, see crossing him as an act of career suicide. Shame has no more power over this administration than does Santa Claus. The remaining factor, control of Congress, hangs in the balance with the midterm elections. As does much else. http://nymag.com/daily/intelligencer/2018/08/trump-is-making-the-doj-into-his-own-private-goon-squad.html
16.  Eric Levitz: Trump's Base Has Become Too Delusional for the GOP's Own Good
Now, Republican consultants are concerned that the combination of their voters' insulation from reality — and Donald Trump's fragile ego — could cost the party control of the House.
And their fear is quite rational. The party that controls the White House almost always has a tough time mobilizing its base in midterm elections. When voters see their team in power everyday, they feel secure; and thus, complacent; and thus, less obligated to drive to their polling places after work. GOP strategists hope to combat this perennial problem by turning their party's weakness into a strength: With polls predicting a "blue wave" this November, Republicans hope to instill an energizing panic in their base over the terrifying prospect of Speaker Pelosi.
But the president's narcissism compels him to undermine this gambit. To acknowledge that Democrats are poised for a landslide would be to acknowledge that the American people do not overwhelmingly approve of his job performance. Therefore, Trump has assured his voters that all those reports about a "blue wave" are fake news, and that Republicans are certain to keep Congress in November. Fox News has dutifully echoed this message, and the GOP base has fully absorbed it.
If Democrats do retake the House (as probabilistic forecasts currently predict), perhaps the GOP base will finally realize that their movement's "fair and balanced" media outlets aren't actually interested in keeping them well-informed. But it seems much more likely that they'll follow their leader's guidance — and conclude that Democrats are busing more "illegals" to the polls than they'd ever imagined. http://nymag.com/daily/intelligencer/2018/08/2018-midterms-trump-red-wave-gop-base-delusional-fake-news.html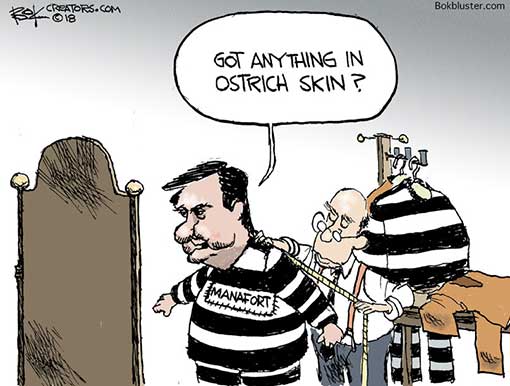 17. Glenn Kessler: Not just misleading. Not merely false. A lie
The first denial that Donald Trump knew about hush-money payments to silence women came four days before he was elected president, when his spokeswoman Hope Hicks said, without hedging, "we have no knowledge of any of this."
The second came in January of this year, when his attorney Michael Cohen said the allegations were "outlandish." By March, two of the president's spokesmen — Raj Shah and Sarah Huckabee Sanders — said publicly that Trump denied all the allegations and any payments. Even Cohen's attorney, David Schwartz, got in on the action, saying the president "was not aware of any of it."
In April, Trump finally weighed in, answering a question about whether he knew about a payment to porn star Stephanie Clifford, who uses the stage name Stormy Daniels, with a flat "no."
It's now clear that the president's statement was a lie — and that the people speaking for him repeated it.
One of the distinguishing characteristics of Donald Trump's presidency has been his loose relationship with facts. As of the beginning of this month, The Washington Post's Fact Checker had documented 4,229 false or misleading claims from the president — an average of nearly 7.6 a day.
How to characterize Trump's statements has become its own pitched political battle, with many of the president's critics demanding that they be called "lies." The Fact Checker has been hesitant to go that far, as it is difficult to document whether the president knows he is not telling the truth.
On Wednesday, Sanders said during a White House briefing that it was "a ridiculous accusation" to say the president has lied to the American people.
But this week's guilty plea by Cohen, offers indisputable evidence that Trump and his allies have been deliberately dishonest at every turn in their statements regarding payments to Daniels and Playboy model Karen McDougal. https://www.washingtonpost.com/politics/2018/08/23/not-just-misleading-not-merely-false-lie/