November 11, 2021
ON THE RECORD. . .
"I think it's all pushing towards one of two outcomes: He either wins legitimately, which he may do, or if he loses again, you just try to steal it." — Retiring Rep. Anthony Gonzalez (R-OH) has a warning for his fellow Republicans about former President Donald Trump.

"This was an electroshock therapy for Democrats to stop infighting and start delivering results for a very impatient electorate. In the war between Democratic progressives and Democratic moderates, the Republicans won." — Former Rep. Steve Israel (D-NY).

"Dow is over 36,000. Unemployment has dropped from 6.3% in Jan. to 4.8%. Over 5 million jobs added, a record. 220 million vaccines in 10 months. And only 30% of country think US is on right track. The Democratic Party has a huge messaging problem." — Former GOP strategist Stuart Stevens.

Q: "We've seen it this; there's going to be a vote, there's not going to be a vote...At a certain point, do you worry that it starts to look like the Democrats can't get out of their own way?"
A: Speaker Pelosi: "No. Welcome to my world. This is the Democratic Party."

"Wine moms won't save us. Need the beer moms." — Wisconsin Democratic operative Irene Lin on the need for Democrats to attract rural voters.

"Did I hear a laugh over there? Did I hear a laugh from those who added $2 trillion in tax cuts for the richest people in America?" — Speaker Nancy Pelosi, in response to Republican snickers over her suggestion the budget reconciliation bill will cut the debt.

"I don't think it's an exaggeration to suggest that we took a monumental step forward as a nation. We did something long overdue, that has long been talked about in Washington, but never actually done." — President Biden, quoted by the Washington Post, on the House passing the bipartisan infrastructure bill.

"Threats of violence against Members of Congress and the President of the United States must not be tolerated. Republican leader Kevin McCarthy should join in condemning this horrific video and call on the Ethics Committee and law enforcement to investigate." -- Speaker Nancy Pelosi urging investigations into an anime video tweeted by Rep. Paul Gosar (R) that depicted him swinging swords at President Joe Biden and killing Democratic Representative Alexandria Ocasio-Cortez.

"I don't think that I would have to get many votes to change the results of this race." — Roger Stone, threatening again to run against Gov. Ron DeSantis (R) as a Libertarian unless the Florida governor publicly promises not to mount a presidential campaign.

"What went wrong is just stupid wokeness. Don't just look at Virginia and New Jersey. Look at Long Island, look at Buffalo, look at Minneapolis, even look at Seattle, Wash. I mean, this 'defund the police' lunacy, this take Abraham Lincoln's name off of schools. I mean that — people see that. It's just really — has a suppressive effect all across the country on Democrats. Some of these people need to go to a 'woke' detox center or something. They're expressing a language that people just don't use, and there's backlash and a frustration at that." — James Carville telling the PBS Newshour that he blamed his party's recent losses and weak performance in state elections on "stupid wokeness."

"I'm calling on my colleagues to stand strong and NOT fund the government that's going to go do PROPAGANDA on our kids and go put these UNCONSTITUTIONAL MANDATES in place." — Rep. Chip Roy (R-Texas) calling upon Republicans in Congress to block government funding legislation next month in response to the Biden administration's vaccinate-or-test requirements that he labeled as "unconstitutional."

"Joe Biden's vaccine mandates are one of the most shocking attacks on personal liberty in this country during my lifetime." — Mississippi Gov. Tate Reeves (R), quoted by the Mississippi Free Press, without mentioning that he presided over the passage of a bill to incarcerate tuberculosis patients who refuse treatment in 2015.

North Dakota state Rep. Jeff Hoverson (R), who is organizing a rally protesting vaccine mandates, will miss the event after contracting Covid-19.

"We are also confronting a domestic threat that we have never faced before: A former president who's attempting to unravel the foundations of our constitutional republic, aided by political leaders, who have made themselves willing hostages to this dangerous and irrational man." — Rep. Liz Cheney (R-WY).

"Glenn Youngkin ran like a teenaged girl in a slasher movie away from Donald Trump. They're making fun of him on 'Saturday Night Live' for how much he tried to run away from Donald Trump." — Rep. Sean Patrick Maloney (D-NY) explaining that Donald Trump is still "a tremendous liability" for Republicans, even when he's not on the ballot himself.

"It's a godsend for Kentucky." — Minority Leader Mitch McConnell (R-KY), about the bipartisan infrastructure bill.

"Everybody remembers that Chris left New Jersey with a less than 9% approval rating – a record low, and they didn't want to hear this from him!" — Trump on former N.J. Gov. Chris Christie (R) after Christie called on Republicans to move past Trump's baseless claim that the 2020 election had been stolen from him. 

"I have proximity to this sociopath who has been elected from a very gerrymandered district. There is no other way that someone like Paul wins. Without that he is incompetent. It is obvious." — Jennifer Gosar, Rep. Paul Gosar's (R-AZ) sister told CNN that her brother is not being held accountable for his behavior by other lawmakers.

"I think in the short term, stoking division, using the fear and darkness, will win the midterms in 2022. In the long term, this will destroy the GOP. Or it will destroy the country, because this is an unsustainable path." — Rep. Adam Kinzinger (R-IL).

"I hope you die. I hope everybody in your f**king family dies," while labeling him a "f**king piece of sh*t traitor." — Republican Rep. Fred Upton on Monday shared a threatening voicemail he had received after voting for the bipartisan infrastructure bill last week.

VIDEOS

Donald Trump (James Austin Johnson), joins Justice with Judge Jeanine on SNL's cold open. https://twitter.com/nbcsnl/status/1457195169195900929

PoliticsGirl: Virginia has lessons to teach if we're willing to learn. https://twitter.com/iampoliticsgirl/status/1456101658501345283

The Republican Accountability Project: "It used to be, you know, women were attracted to your strength because you could defend them from dinosaurs." — Pennsylvania U.S. Senate candidate Sean Parnell (R). https://twitter.com/DavidPriess/status/1458159278389399566

On The Late Show: Big Bird has the perfect word to describe Senator Ted Cruz: https://twitter.com/colbertlateshow/status/1457903106935635969.

Call Vince McMahon. Wrestlemania main event:
Cruz/Carlson vs Elmo/Big Bird
Mean streets of Sesame Street fight. Special referee The Count. https://twitter.com/EngmanDerek/status/1458066579837505542

Fox News' Tucker Carlson Attacks Elmo for Anti-Racist Special | NowThis: https://youtu.be/NLzwes9XfEQ
Litigation Tracker: Pending Criminal and Civil Cases Against Donald Trump
---
IN THIS ISSUE
IN THE NEWS
OPINION
Andy Borowitz: Kayleigh McEnany Tells January 6th Panel She Never Worked at White House
Kayleigh McEnany has rebuffed the subpoena from the House select committee investigating the January 6th attack, on the ground that she never worked at the White House.

In a brusque statement, McEnany claimed that "there is only one word for anyone who suggests I was ever a White House employee: liar."

McEnany asserted that, contrary to the allegation of the congressional committee, "For the past five years, I have been assistant manager of an Enterprise Rent-a-Car branch in Las Vegas."

Having established that she was not in Washington on January 6th, she pointed the finger at several people who were. "The members of the January 6th committee have a lot of explaining to do," she said. https://www.newyorker.com/humor/borowitz-report/
In lawsuit, Pa. voting official says Trump, Giuliani lies led to his heart attacks
A Pennsylvania election worker who was falsely accused of rigging the state's election for Joe Biden is suing former President Donald Trump and some of his top surrogates, charging their lies about him led to numerous death threats and two heart attacks.
In papers filed in the Philadelphia Court of Common Pleas, Delaware County voting machine warehouse supervisor James Savage says his "character has been assassinated on a national level" thanks to the false claims made by Trump, his lawyers Rudy Giuliani and Jenna Ellis and others that he'd uploaded 50,000 votes for Biden. "The plaintiff did nothing of the sort," the suit says.
"As a result of the Defendants' knowingly false statements, Mr. Savage and his family have been the target of threats and intimidation, including at his place of work and/or his home. https://www.nbcnews.com/politics/donald-trump/lawsuit-pa-voting-official-says-trump-giuliani-lies-led-his-n1283255
AOC Slams Paul Gosar for Fantasy Clip of Him Killing Her
Rep. Alexandria Ocasio-Cortez (D-NY) hit back at Rep. Paul Gosar (R-AZ) after he posted an altered anime clip that showed him killing her, the Washington Post reports.
Said Ocasio-Cortez: "While I was en route to Glasgow, a creepy member I work with who fundraises for Neo-Nazi groups shared a fantasy video of him killing me."
She added: "This dude is a just a collection of wet toothpicks anyway. White supremacy is for extremely fragile people & sad men like him, whose self concept relies on the myth that he was born superior because deep down he knows he couldn't open a pickle jar or read a whole book by himself." https://www.washingtonpost.com/politics/republicans-gosar-trump-ocasio-cortez/2021/11/08/ead37b36-40ca-11ec-9ea7-3eb2406a2e24_story.html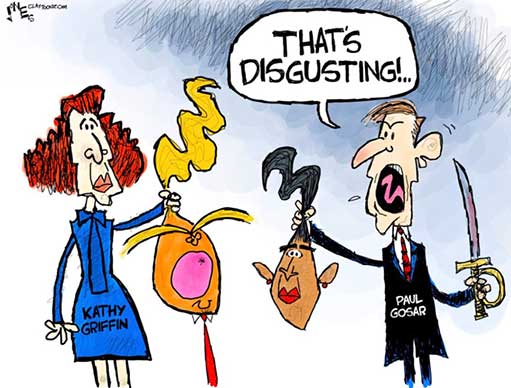 Americans Are Flush With Cash and Jobs. They Also Think the Economy Is Awful.
Americans are, by many measures, in a better financial position than they have been in many years. They also believe the economy is in terrible shape.
This is the great contradiction that underlies President Biden's poor approval ratings, recent Republican victories in state elections and the touch-and-go negotiations over the Biden legislative agenda. It presents a fundamental challenge for economic policy, which has succeeded at lifting the wealth, incomes and job prospects of millions of people — but has not made Americans, in their own self-perception, any better off.
Workers have seized the upper hand in the labor market, attaining the largest raises in decades and quitting their jobs at record rates. The unemployment rate is 4.6 percent and has been falling rapidly. Cumulatively, Americans are sitting on piles of cash; they have accumulated $2.3 trillion more in savings in the last 19 months than would have been expected in the pre-pandemic path. The median household's checking account balance was 50 percent higher in July of this year than in 2019, according to the JPMorgan Chase Institute. Yet workers' assessment of the economy is scathing. https://www.nytimes.com/2021/11/06/upshot/inflation-psychology-economy.html
GOP billionaire Ken Langone says he will hold a fundraiser for Democrat Joe Manchin, who has worked to shrink Biden's agenda
Republican billionaire Ken Langone says he plans to host a fundraiser for Sen. Joe Manchin after the conservative West Virginia Democrat blocked key elements of President Joe Biden's agenda.
The comments came as Democrats in Congress continue to hash out major parts of Biden's economic agenda, namely social safety net spending and plans to battle climate change.
Langone, in an interview Wednesday on CNBC's "Squawk Box," praised Manchin for his "guts and courage" and explained that he was set to raise money for him. Manchin is up for reelection in 2024.
"I don't see leadership any place in this country. Thank God for Joe Manchin," Langone said.
"I'm going to have one of the biggest fundraisers I've ever had for him. He's special. He's precious. He's a great American," he added. Langone has never contributed to one of Manchin's campaigns, according to the nonpartisan Center for Responsive Politics. https://www.cnbc.com/2021/11/10/republican-billionaire-ken-langone-says-he-will-hold-fundraiser-for-joe-manchin.html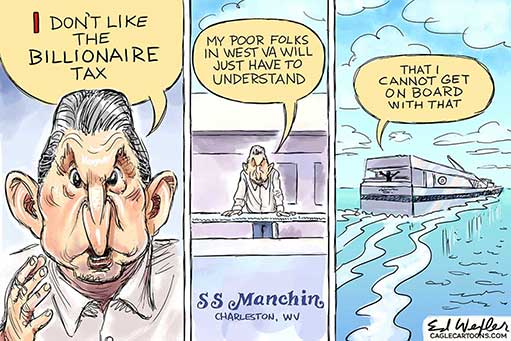 Gohmert Exploring Bid for Texas Attorney General
Rep. Louis Gohmert (R-TX) is soliciting donations  or an "exploratory" bid for Texas attorney general,.
From the site: "We need a Texas Attorney General whose top attorneys working for him have not found it necessary to send a letter to the FBI urging an investigation into corruption of their boss." https://gohmert.net/
At least 13 Trump officials illegally campaigned while in office
At least 13 senior Trump administration officials illegally mixed governing with campaigning before the 2020 election, intentionally ignoring a law that prohibits merging the two and getting approval to break it, a federal investigation released Tuesday found.
A report from the office of Special Counsel Henry Kerner describes a "willful disregard for the law" known as the Hatch Act that was "especially pernicious," given that many officials abused their government roles days before the November election. President Donald Trump — whose job it was to discipline his political appointees — allowed them to illegally promote his reelection on the job despite warnings to some from ethics officials, the report says.
"This failure to impose discipline created the conditions for what appeared to be a taxpayer-funded campaign apparatus within the upper echelons of the executive branch," investigators wrote in the scathing 60-page report. https://www.washingtonpost.com/politics/trump-violations-hatch-act/2021/11/09/b3d4c764-4108-11ec-a88e-2aa4632af69b_story.html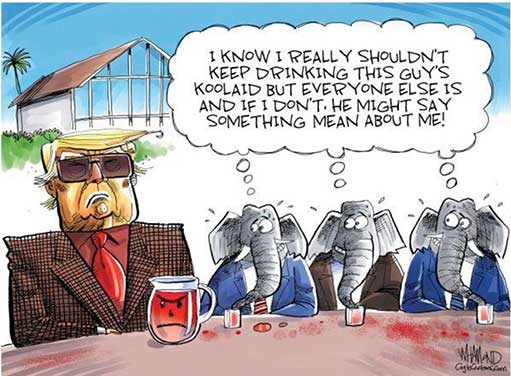 Reuters unmasks Trump supporters who terrified U.S. election officials
For this report, Reuters set out to identify the people behind these attacks on election workers and understand their motivations. Reporters submitted public-records requests and interviewed dozens of election officials in 12 states, obtaining phone numbers and email addresses for two dozen of the threateners.
Reuters was able to interview nine of them. All admitted they were behind the threats or other hostile messages. Eight did so on the record, identifying themselves by name.
The nine harassers interviewed by Reuters said they believed they did nothing wrong. Just two expressed regret when told their messages had frightened officials or caused security scares. The seven others were unrepentant, with some saying the election workers deserved the menacing messages.
The harassers expressed beliefs similar to those voiced by rioters who stormed the U.S. Capitol on January 6, trying to block Democrat Joe Biden's certification as president. Nearly all of the threateners saw the country deteriorating into a war between good and evil – "patriots" against "communists." They echoed extremist ideas popularized by QAnon, a collective of baseless conspiracy theories that often cast Trump as a savior figure and Democrats as villains. Some said they were preparing for civil war. Six were in their 50s or older; all but two were men. https://www.reuters.com/investigates/special-report/usa-election-threats/
GOP Operatives Deploy Network of Local Fake News Sites
Metric Media is a massive network of websites linked to "conservative businessman Brian Timpone." There are more than 1300 sites currently in the network, including at least 28 that operate in Virginia. A Popular Information investigation reveals that, in 2021, Metric Media published thousands of articles promoting the notion that Critical Race Theory is taught in Virginia schools. Many, but not all, of these articles are automated. 
Nationwide, tens of thousands of articles about Critical Race Theory have been published across the Metric Media network. That number is growing every day. The network is positioned to be a powerful tool in injecting Critical Race Theory into the 2022 campaign under the guise of "local news." https://popular.info/p/right-wing-operatives-deploy-massive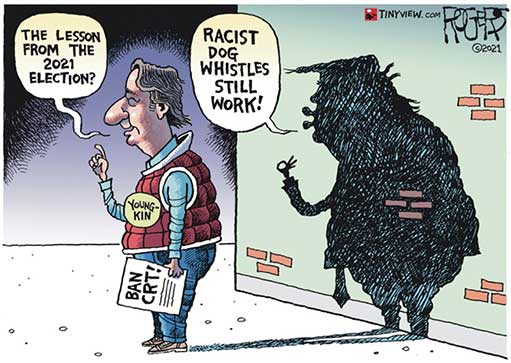 Countries' climate pledges built on flawed data, Post investigation finds
Across the world, many countries underreport their greenhouse gas emissions in their reports to the United Nations, a Washington Post investigation has found. An examination of 196 country reports reveals a giant gap between what nations declare their emissions to be versus the greenhouse gases they are sending into the atmosphere. The gap ranges from at least 8.5 billion to as high as 13.3 billion tons a year of underreported emissions — big enough to move the needle on how much the Earth will warm.
The plan to save the world from the worst of climate change is built on data. But the data the world is relying on is inaccurate.
"If we don't know the state of emissions today, we don't know whether we're cutting emissions meaningfully and substantially," said Rob Jackson, a professor at Stanford University and chair of the Global Carbon Project, a collaboration of hundreds of researchers. "The atmosphere ultimately is the truth. The atmosphere is what we care about. The concentration of methane and other greenhouse gases in the atmosphere is what's affecting climate."
At the low end, the gap is larger than the yearly emissions of the United States. At the high end, it approaches the emissions of China and comprises 23 percent of humanity's total contribution to the planet's warming, The Post found.
"In the end, everything becomes a bit of a fantasy," said Philippe Ciais, a scientist with France's Laboratory of Climate and Environmental Sciences who tracks emissions based on satellite data. "Because between the world of reporting and the real world of emissions, you start to have large discrepancies." https://www.washingtonpost.com/climate-environment/interactive/2021/greenhouse-gas-emissions-pledges-data/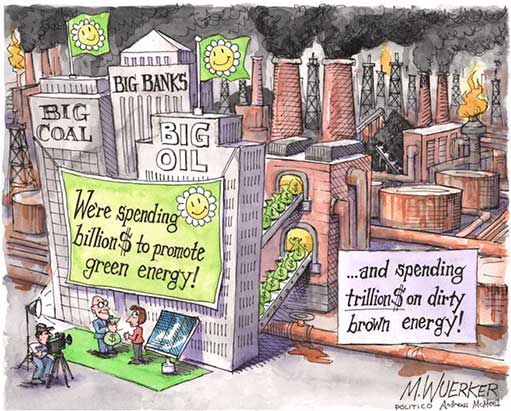 NRSC chair Rick Scott declines to say if Trump-backed Senate hopeful accused of strangling wife is right candidate for the job
Sen. Rick Scott, who heads the group that works to elect Senate Republicans, declined Monday to say whether Sean Parnell, a GOP hopeful in Pennsylvania who has been accused of strangling his wife and abusing his children, is the right candidate for the job.
We'll see who comes out of the primary," Scott said. "Facts will come out. We'll find out exactly what people think. I think what ultimately happens is people are going to look at somebody's background and say is that the type of person they want and also are they talking about the issues I care about."
https://www.washingtonpost.com/politics/rick-scott-sean-parnell/2021/11/08/d21bb370-4097-11ec-a3aa-0255edc02eb7_story.html
COVID-19 Misinformation is Ubiquitous: 78% of the Public Believes or is Unsure About At Least One False Statement, and Nearly a Third Believe At Least Four of Eight False Statements Tested
People's trusted news sources are correlated with their belief in COVID-19 misinformation. At least a third of those who trust information from CNN, MSNBC, network news, NPR, and local television news do not believe any of the eight false statements, while small shares (between 11% and 16%) believe or are unsure about at least four of the eight false statements.
Larger shares of those who trust COVID-19 information from leading conservative news sources believe misinformation, with nearly 4 in 10 of those who trust Fox News (36%) and One America News (37%), and nearly half (46%) of those who trust Newsmax, saying they believe or are unsure about at least half of the eight false statements.
Whether this is because people are exposed to misinformation from those news sources, or whether the types of people who choose those news sources are the same ones who are pre-disposed to believe certain types of misinformation for other reasons, is beyond the scope of the analysis. https://www.kff.org/coronavirus-covid-19/press-release/covid-19-misinformation-is-ubiquitous-78-of-the-public-believes-or-is-unsure-about-at-least-one-false-statement-and-nearly-at-third-believe-at-least-four-of-eight-false-statements-tested/
Ted Cruz wants Texas to secede if 'things become hopeless' in the US
Sen. Ted Cruz (R-Texas) said that Texas should secede if Democrats "fundamentally" destroy the U.S. but added that "he is not ready to give up on America yet."
"If the Democrats end the filibuster, if they fundamentally destroy the country, if they pack the Supreme Court, if they make D.C. a state, if they federalize elections, if they massively expand voter fraud, there may come a point where it's hopeless," Cruz said while speaking at an event at Texas A&M last month.
However, he emphasized that the country isn't at that point where Texas would secede and while he doesn't support the movement, he "understands the sentiment behind it."
"We're not there yet, and if there comes a point where it's hopeless, then I think we take NASA, we take the military, we take the oil," Cruz said. https://thehill.com/homenews/state-watch/580613-ted-cruz-wants-texas-to-secede-if-things-become-hopeless-in-the-us
GOP digs in on blocking Biden diplomatic picks
Republicans are putting up an intense series of roadblocks to confirmation for President Biden's diplomatic nominees, issuing maximalist demands and raising objections to both policies and personalities.
More than 10 months into Biden's administration, the Senate has confirmed only seven of his ambassadorial picks, while more than 50 nominees for the State Department and U.S. Agency for International Development (USAID) are awaiting votes, many of them held up by GOP objections. https://thehill.com/policy/international/580339-gop-digs-in-on-blocking-biden-diplomatic-picks
Deposition video shows Trump allies under oath discussing debunked election fraud claims
Allies of former President Donald Trump testified under oath that they had done little to verify debunked claims of fraud in the 2020 election before spreading them on the national stage, according to tapes of their depositions obtained exclusively by CNN.
The new footage of sworn testimony from Trump attorneys Rudy Giuliani and Sidney Powell animates the behind-the-scenes movements of the two in their effort to sow doubt about the integrity of the presidential election results. The video details responses from the Trump allies as a lawyer representing former Dominion Voting Systems executive Eric Coomer in his defamation case against them peppers them with questions about their allegations. Video https://www.cnn.com/2021/11/04/politics/rudy-giuliani-sidney-powell-deposition-tapes/index.html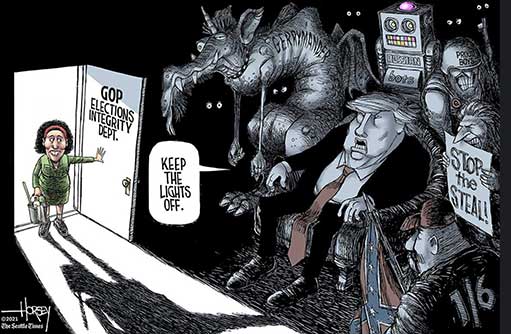 Democrats ramp up filibuster talks after voting rights setback
Democrats are ramping up their discussions about changing the Senate's rules amid growing frustration about the inability to move voting rights legislation.  
After months of trying to give space for bipartisan discussions on election legislation, Democrats are planning internal talks about what, if any, rules changes they'll be able to get through on their own. Those ideas include smaller shifts on nominations or amendments. But altering the filibuster — particularly when it comes to elections bills — is getting the most attention.  https://thehill.com/homenews/senate/580189-democrats-ramp-up-filibuster-talks-after-voting-rights-setback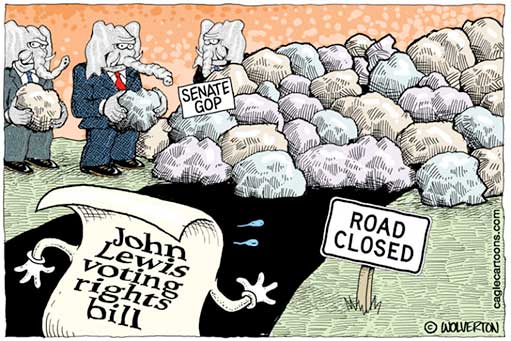 Trump-endorsed gubernatorial candidate appears with Nazi sympathizer and QAnon-linked activists at campaign events
Kari Lake (R), the Arizona gubernatorial candidate recently endorsed by former President Donald Trump, has embraced fringe far-right figures in her campaign events, including publicly thanking a Nazi sympathizer for his support and appearing with figures linked to the QAnon conspiracy. https://www.cnn.com/2021/11/04/politics/kfile-kari-lake-nazi-symapthizer-qanon-figure/index.html
In January the Hamtramck, Mich. City Council will be all Muslim, likely first in US
The six-member City Council of Hamtramck will consist of all Muslims starting in January, another historic first for the metro Detroit city known for its sizable immigrant population.
The newly elected mayor, Amer Ghalib, 42, is also Muslim, which means all of the city's elected officials will be Muslim.  https://www.freep.com/story/news/politics/elections/2021/11/05/hamtramck-first-muslim-city-council/6288652001/
Georgia Grand Jury Looms in Trump Inquiry
An Atlanta district attorney "is moving toward convening a special grand jury in her criminal investigation of election interference by the former president and his allies," the New York Times reports.
The inquiry "is seen by legal experts as potentially perilous for the former president, given the myriad interactions he and his allies had with Georgia officials, most notably Mr. Trump's January call to Secretary of State Brad Raffensperger, urging him to 'find 11,780 votes' — enough to reverse the state's election result." https://www.nytimes.com/2021/11/06/us/politics/trump-election-interference-investigation.html
GOP erupts over its House members bailing out Biden
On Friday, 13 House Republicans delivered the decisive votes to rescue a key part of President Biden's agenda — an agenda endangered by those in his own party.
And some Republicans are predictably furious — with undersold questions about House Minority Leader Kevin McCarthy's (R-Calif.) future leadership of the party potentially in the offing.
"I can't believe Republicans just gave the Democrats their socialism bill," Rep. Matt Gaetz (R-Fla.) said.
"That 13 House Republicans provided the votes needed to pass this is absurd," Rep. Chip Roy (R-Tex.) said.
Others threatened before the vote to target or launch primaries against the defectors in their midst.
"Vote for this infrastructure bill and I will primary the hell out of you," Rep. Madison Cawthorn (R-N.C.) said shortly before the vote.
Rep. Marjorie Taylor Greene (R-Ga.), in her typically understated fashion, warned last week that any Republican who voted for the bill would be "a traitor to our party, a traitor to their voters and a traitor to our donors." After the vote, she accused the 13 of having voted to "pass Joe Biden's Communist takeover of America" and tweeted the phone numbers to their congressional offices (while for some reason only listing 12 of the 13). https://www.washingtonpost.com/politics/2021/11/06/fix-gop-infrastructure-defections/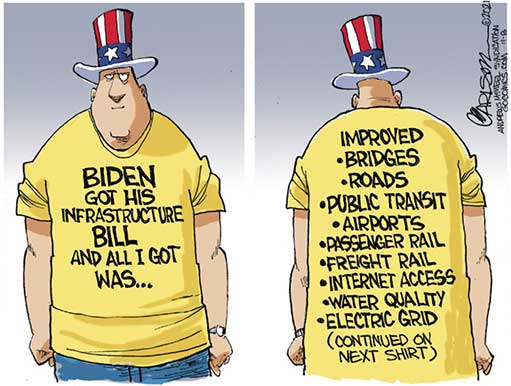 Under fire from the right, DeSantis calls for tougher election laws
Six months after signing what he called the strongest election security bill in the nation, Gov. Ron DeSantis on Wednesday said he wanted to beef up the state's voting laws and create a new office to investigate and prosecute election-related fraud. https://www.tampabay.com/news/florida-politics/2021/11/03/under-fire-from-the-right-desantis-calls-for-tougher-election-laws/
Republicans Seize on Schools as a Wedge Issue to Unite the Party
After an unexpectedly strong showing on Tuesday night, Republicans are heading into the 2022 midterm elections with what they believe will be a highly effective political strategy capitalizing on the frustrations of suburban parents still reeling from the devastating fallout of pandemic-era schooling.
Seizing on education as a newly potent wedge issue, Republicans have moved to galvanize crucial groups of voters around what the party calls "parental rights" issues in public schools, a hodgepodge of conservative causes ranging from eradicating mask mandates to demanding changes to the way children are taught about racism.
Yet it is the free-floating sense of rage from parents, many of whom felt abandoned by the government during the worst months of the pandemic, that arose from the off-year elections as one of the most powerful drivers for Republican candidates. https://www.nytimes.com/2021/11/03/us/politics/school-republican-campaign-issue.html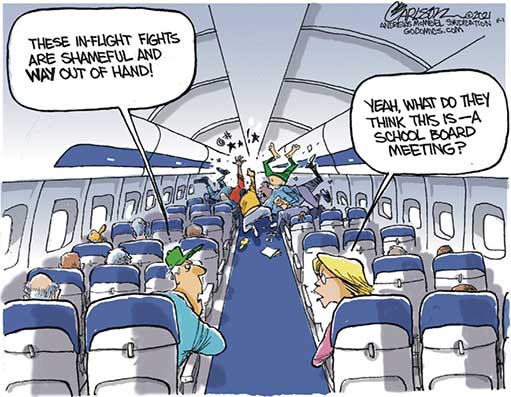 Corporations calling for voting rights bill donated to Republicans who blocked it, watchdog says
A new analysis finds that 8 major corporations gave thousands of dollars to GOP senators who prevented the legislation from advancing.
Several corporations that publicly declared their support for legislation strengthening the Voting Rights Act have donated thousands of dollars this year to Republicans who recently blocked the bill in the Senate, a new analysis found.
Accountable.US, a watchdog group, found that eight major corporations that signed a letter in July calling for passage of the John R. Lewis Voting Rights Advancement Act of 2021 have collectively donated $164,500 to GOP senators who voted this week against allowing debate on the measure. The companies include household names like Amazon, Dell and Facebook. https://www.nbcnews.com/politics/elections/corporations-calling-voting-rights-bill-donated-republicans-who-blocked-it-n1283295
Arizona defies demand to stop using COVID-19 relief money for anti-mask schools
Arizona Gov. Doug Ducey (R) is pressing forward with using federal coronavirus relief funding for grant programs that exclusively go to schools that do not have mask mandates.
The AP reports Ducey is also providing private school vouchers to parents who object to schools' mask or quarantine requirements, ignoring Treasury Department demands on how the money can be spent. https://thehill.com/homenews/state-watch/580274-arizona-defies-demand-it-stop-using-covid-19-relief-money-for-anti-mask
New Grand Jury Convened In Trump Organization Case
The Manhattan District Attorney has convened a second long-term grand jury to hear evidence about the Trump Organization's financial practices, and potentially to vote on criminal charges.
An earlier grand jury — convened this spring in Manhattan — previously handed down felony indictments against two Trump companies and Trump's longtime chief financial officer Allen Weisselberg, charging them with tax evasion. It is unclear if that grand jury is still hearing evidence about the Trump Organization.
One person familiar with the matter said the second grand jury was expected to examine how former president Donald Trump's company valued its assets. The people familiar spoke on the condition of anonymity to describe private legal proceedings. https://www.washingtonpost.com/politics/manhattan-da-convenes-new-grand-jury-in-trump-case-to-weigh-potential-charges/2021/11/04/79549fe0-3d8b-11ec-a493-51b0252dea0c_story.html
Republicans found a new phony 'issue' to demagogue. They should be so proud.
Like Popeye chugging down a can of spinach or Steve Rogers being injected with super-soldier serum, the Republican Party has found the magical elixir that will give it the power to vanquish its foes: the "issue" of education.
House Minority Leader Kevin McCarthy (R-Calif.) announced that in response to the election, he'll be creating a "Parent's Bill of Rights." This issue, said the head of the conservative Heritage Action for America, will "be at the forefront of every narrative, of every grassroots campaign, of every political expenditure going forward."
To hear this from a member of Congress is the equivalent of candidates for your local city council arguing over who has the better approach to containing North Korea's nuclear ambitions. It's just not something they have authority over. But it will be inescapable.
For Republicans, it's the new Willie Horton, or Hillary Clinton's emails, or Benghazi. https://www.washingtonpost.com/opinions/2021/11/04/republicans-education-issue-demagogue/
The DAILY GRILL
I got the COVID-19 vaccine today! My wing is feeling a little sore, but it'll give my body an extra protective boost that keeps me and others healthy. — Big Bird @BigBird

VERSUS

Government propaganda…for your 5 year old! — Ted Cruz @tedcruz

 

Midway through Trump's term, Mitch McConnell released a new version of his autobiography, which described his rise in the Senate in heroic terms. The book opened with a new glowing foreword penned by Trump, who lavished praise on McConnell as his "ace in the hole" and wrote that he "couldn't have asked for a better partner." https://www.washingtonpost.com/politics/2021/11/08/mitch-mcconnell-trump-impeachment-insurrection-senate/

VERSUS

Except Trump never actually wrote those words — at least according to the ex-president, who now mocks McConnell's role in pursuing his agenda. In an interview with The Post, Trump said McConnell actually wrote that foreword and simply used the president's name on the passage. Trump said he told McConnell, "Why don't you write it for me and I'll put it in, Mitch? Because that's the way life works." https://www.washingtonpost.com/politics/2021/11/08/mitch-mcconnell-trump-impeachment-insurrection-senate/

 

Donald Trump put out with a statement ripping Senate Minority Leader Mitch McConnell (R-KY) for supporting the bipartisan infrastructure bill while claiming he could have gotten a $2 trillion dollar infrastructure bill if not for McConnell's opposition. https://twitter.com/realLizUSA/status/1458205303888130054

VERSUS

It was actually Trump who killed an infrastructure bill in 2019 in order to spite Democrats. https://www.cnbc.com/2019/05/22/trump-hosts-democratic-leaders-at-white-house-infrastructure-talks.html
New York Times editorial board: Democrats Deny Political Reality at Their Own Peril
Tuesday's election result trend lines were a political nightmare for the Democratic Party, and no Democrat who cares about winning elections in 2022 and the presidential race in 2024 should see them as anything less.
Familiar takeaways like "wake-up call" and "warning shot" don't do justice here because the danger of ignoring those trends is too great. What would do justice, and what is badly needed, is an honest conversation in the Democratic Party about how to return to the moderate policies and values that fueled the blue-wave victories in 2018 and won Joe Biden the presidency in 2020.
Given the stakes for the country, from urgent climate and social spending needs to the future of democracy, Americans badly need a rolling conversation today and in the coming weeks and months about how moderate voters of all affiliations can coalesce behind and guide the only party right now that shows an interest in governing and preserving democratic norms.
The results in Virginia are a grave marker of political peril. Virginia is a blue state; it hasn't been a battleground in years. Mr. Biden won there in 2020 by 10 points; a year later, the Democratic nominee for governor just lost by 2.5 percentage points, and Republicans flipped two other statewide offices — lieutenant governor and attorney general — that they have not won in 12 years. https://www.nytimes.com/2021/11/04/opinion/democrats-election-results.html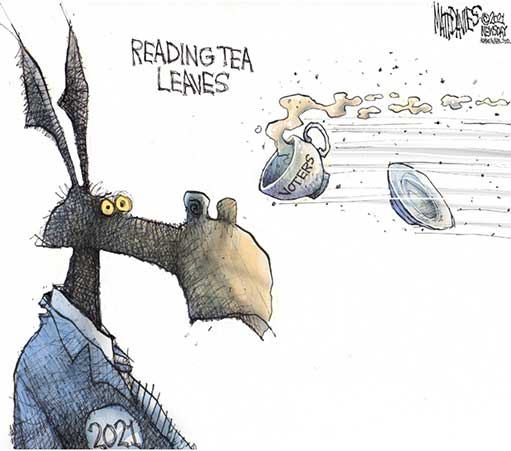 Dana Milbank: In New Jersey, Republicans are trying to discredit another free and fair election
It has been exactly a year since Donald Trump birthed the "big lie" that he won the 2020 election. Now, the "big lie" has itself given birth to a new generation of election vandalism.
In New Jersey, Ciattarelli refused to concede, and staff called media outlets "irresponsible" for projecting that his opponent won. He issued a video appeal Thursday evening for people to come forward with allegations of fraud. "You can report any perceived or real irregularity to the voter integrity hotline set up by the NJGOP," he said.
He said he wouldn't concede for another week or two "until every legal vote is counted" (that's a way of insinuating there are illegal votes), at which point he would decide about "a recount or audit."
Or maybe he can save us the wait and just skip to the part where his followers storm the state capitol.
It's another sad reminder that the Republican Party isn't just campaigning against Democrats. It's campaigning against democracy. Reckless, irresponsible GOP leaders and candidates have convinced their voters that there are two possible outcomes in any election:
A. The Republican wins.
B. The Democrat stole the election.
Heads I win, tails you cheated. A free society cannot function this way.
Nobody should be surprised Ciattarelli is doing this. Three weeks after President Biden won the election last year, Ciattarelli spoke at a "Stop the Steal" rally dedicated to overturning Biden's win.
Before his video statement in which he refused to concede, his campaign sent out a fundraising appeal saying "this race is far from over" and asking for contributions "to make our path to victory as smooth as possible."
But then it isn't about Ciattarelli winning the governorship. It's about delegitimizing the victor — and discrediting another free and fair election. https://www.washingtonpost.com/opinions/2021/11/05/new-jersey-governor-ciattarelli-republicans-fraud-lies/
Thomas Beaumont, Aaron Morrison and Will Weissert: After Virginia election, GOP amplifies debate over race and education
Republicans plan to forcefully oppose race and diversity curricula — tapping into a surge of parental frustration about public schools — as a core piece of their strategy in the 2022 midterm election, a coordinated effort to supercharge a message that mobilized right-leaning voters in Virginia last week and which Democrats dismiss as race-baiting.
Coming out of Tuesday's election, in which Republican Glenn Youngkin won the governor's office after aligning with conservative parent groups, the GOP signaled that it saw the fight over teaching about racism as a political winner. Indiana Rep. Jim Banks, chairman of the conservative House Study Committee, issued a memo suggesting "Republicans can and must become the party of parents." House Minority Leader Kevin McCarthy (R-Bakersfield) announced support for a "Parents' Bill of Rights" opposing the teaching of critical race theory, an academic framework about systemic racism that has become a catch-all phrase for teaching about race in U.S. history.
"Parents are angry at what they view as inappropriate social engineering in schools and an unresponsive bureaucracy," said Phil Cox, a former executive director of the Republican Governors Assn.
Democrats were wrestling with how to counter that message. Some dismissed it, saying it won't have much appeal beyond the GOP's most conservative base. Others argued the party ignores the power of cultural and racially divisive debates at its peril.
If the party can't find an effective response, it could lose its narrow majorities in both congressional chambers next November. https://www.latimes.com/world-nation/story/2021-11-07/after-virginia-gop-amplifies-debate-over-race-and-education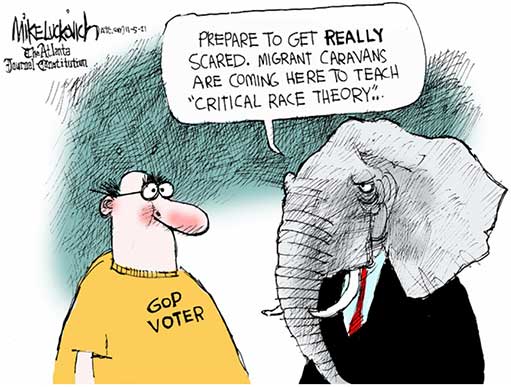 Peter Stone: Rudy Giuliani Is (Probably) Screwed
Giuliani is being treated, by all appearances, as a dead man walking. America's Mayor, as he was once known, has been abandoned by his most powerful friend. He has lost his megaphone at Fox News and is now going around with a begging bowl for money. And at the center of Giuliani's legal troubles is a web of overlapping federal investigations, including a criminal probe focusing on him personally, which some experts say could force him to yield to prosecutors in a case that may implicate the former president.
"Giuliani is facing a set of challenges unlike anything he's dealt with before," Michael Bromwich, a former inspector general at the Justice Department, told me. "The extremely serious criminal investigation that could send him to jail, the civil suits that could bankrupt him, the disbarment proceedings that may well end any opportunity to practice law ever again — it's a tidal wave of problems with potentially devastating personal and professional consequences."
Bromwich added, "It's hard to think of any analogous case where a person who once rode so high — as a prosecutor, a New York mayor, a serious presidential candidate, and an international figure — has been brought so low in so many ways and where the damage has been entirely self-inflicted." https://nymag.com/intelligencer/2021/10/rudy-giuliani-is-probably-screwed.html  
James D. Wals: Why Facebook's Metaverse Is Dead on Arrival
Facebook is basically spending $10 billion on a prayer that, in the short run, it might change the conversation. It gives them an opportunity to talk about the metaverse instead of insurrection and teen depression. It gives Mark Zuckerberg a chance to talk about the metaverse instead of saying, "Hi, I'm the CEO of Facebook, I'm ruining the world." But Facebook's metaverse won't work.
People have been talking about this future for decades and it never really comes close to what anyone has envisioned. The question is, why is there a renewed focus? It comes down to this: If we had a metaverse that dictated our relationships, a place where we kept assets and interacted with politics, then whoever controls that metaverse is the closest thing we have to a scientific god. The reason this is getting so much attention is because everyone is freaked out by the idea of a scientific god named Mark Zuckerberg. https://nymag.com/intelligencer/2021/11/why-facebooks-metaverse-is-dead-on-arrival.html