September 23, 2021
ON THE RECORD. . .
"1 down, 9 to go!" — Donald Trump's reaction to Rep. Anthony Gonzalez (R-OH), one of the 10 Republican House members who voted to impeach him who announced that he would not seek reelection.

"The left trying to move Senator McConnell with shame or pressure is like trying to move Mount Everest with a light breeze." — Antonia Ferrier, a former spokeswoman for Sen. Mitch McConnell (R-KY).

"Our hearts and minds are with the people being persecuted so unfairly relating to the January 6th protest concerning the Rigged Presidential Election. In addition to everything else, it has proven conclusively that we are a two-tiered system of justice. In the end, however, JUSTICE WILL PREVAIL!" — Donald Trump voicing solidarity with people being prosecuted in connection with the Jan. 6 insurrection.

"Could Trump work his will again? Were there any limits to what he and his supporters might do to put him back in power? Peril remains." — Bob Woodward and Robert Costa's final sentence of their new book, Peril.

"I walked into the lion's den. She walks into a bunch of kittens." — Former Trump White House press secretary Sean Spicer saying that the media treats Biden press secretary Jen Psaki much better then they did him. This SNL video may help explain it.

"If we relitigate 2020 over and over again, it won't change the result in 2020, but we're sure to lose in 2024." — Sen. Bill Cassidy (R-LA)

"A couple days ago, my friend Anthony Gonzales (R-OH) announced he won't run again, and now the pundits and politicos are discussing whether this means that Trump won. So, let me answer this question—yes, as of now, Trump is winning. Not because Anthony decided not to run, but because so many in the Republican Party decided to stay silent." — Rep. Adam Kinzinger (R-IL) Video

"The only powerful tool that Republicans have to negotiate with is the Debt Ceiling, and they would be both foolish and unpatriotic not to use it now. The way I look at it, what the Democrats are proposing, on so many different levels, will destroy our Country. Therefore, Republicans have no choice but to do what they have to do, and the Democrats will have no choice but to concede all of the horror they are trying to inflict upon the future of there United States." --- DonaldTrump, calling on Senate Republicans to shut down the government as leverage to block the "horror" of Democratic legislation.
Litigation Tracker: Pending Criminal and Civil Cases Against Donald Trump
---
IN THIS ISSUE
IN THE NEWS
OPINION
Andy Borowitz: Trump Files Lawsuit After Finishing New York Times Story He Started in 2018
Donald J. Trump filed a hundred-million-dollar lawsuit after finishing a New York Times story that he started reading in 2018, the former President has confirmed.

"When I started reading the story three years ago, I saw my name in the headline and it made me happy," Trump told reporters. "It said 'Trump.' I thought, This is probably going to be a good story."

As he continued reading the story in 2019, he said, "It still didn't seem so bad to me. I spent that year reading three or four paragraphs, and I didn't really get the entire gist of the article."

In 2020, Trump said, "I was busy with the election, so I didn't get to read as much of the article as I would've liked. I maybe got through five, six more sentences. It mentioned my name a lot. 'Trump.' Still seemed O.K."

Though Trump was ultimately able to finish the Times article this week, he accused its authors of making it intentionally difficult for him to read.

"Those so-called writers used many, many long words that I didn't know—and Jared didn't, either," he said. "We had to ask Ivanka what they meant, and, quite frankly, she had to look a lot of them up. And those jokers won the Pulitzer for this crap? That should never be allowed to happen in this country." https://www.newyorker.com/humor/borowitz-report/
U.S. default this fall would cost 6 million jobs, wipe out $15 trillion in wealth, study says
The United States could plunge into an immediate recession if Congress fails to raise the debt ceiling and the country defaults on its payment obligations this fall, according to one analysis released Tuesday.
Mark Zandi, chief economist at Moody's Analytics, found that a prolonged impasse over the debt ceiling would cost the U.S. economy up to 6 million jobs, wipe out as much as $15 trillion in household wealth, and send the unemployment rate surging to roughly 9 percent from around 5 percent.
"This economic scenario is cataclysmic. … The downturn would be comparable to that suffered during the financial crisis" of 2008, said the report, written by Zandi and Bernard Yaros, assistant director and economist at Moody's Analytics. https://www.washingtonpost.com/us-policy/2021/09/21/debt-ceiling-recession
Memo shows Trump lawyer's six-step plan for Pence to overturn the election
A conservative lawyer working with then-President Donald Trump's legal team tried to convince then-Vice President Mike Pence that he could overturn the election results on January 6 when Congress counted the Electoral College votes by throwing out electors from seven states, according to the new book "Peril" from Washington Post journalists Bob Woodward and Robert Costa.
The scheme put forward by controversial lawyer John Eastman was outlined in a two-page memo obtained by the authors for "Peril," and which was subsequently obtained by CNN. The memo, which has not previously been made public, provides new detail showing how Trump and his team tried to persuade Pence to subvert the Constitution and throw out the election results on January 6. https://www.cnn.com/2021/09/20/politics/trump-pence-election-memo/index.html
Republican leaders remain silent as Trump casts perpetrators of Jan. 6 attack as political prisoners
The Jan. 6 assault on the Capitol and the falsehoods that inspired it continue to shape the Republican Party, with former president Donald Trump ramping up his defense of the rioters who participated in the violence while marshaling opposition to GOP lawmakers who have denounced the attack as an insurrection and a threat to American democracy. https://www.washingtonpost.com/politics/republican-leaders-remain-silent-as-trump-casts-perpetrators-of-jan-6-attack-as-political-prisoners/2021/09/17/4ce91dc2-17d0-11ec-9589-31ac3173c2e5_story.html
Jan. 6 panel hires former Bush administration official as top legal adviser
The House select committee in charge of investigating the Jan. 6 Capitol insurrection has hired John F. Wood, a former U.S. attorney and a member of the George W. Bush administration, as its top legal adviser.
The decision is part of a continued effort to make the committee nonpartisan and follows the elevation of Wyoming Republican Liz Cheney to serve as vice chairwoman on the panel. https://www.axios.com/january-6-committee-hires-former-bush-administration-official-top-legal-adviser-1fc28a0a-8b2c-412a-9791-cb242feed7be.html
Newsom's Anti-Trump Recall Strategy Offers Republicans a Warning for 2022
California basks in its clairvoyance. "The future happens here first," says Gov. Gavin Newsom, calling his state "America's coming attraction."
By emphatically turning back the effort to recall him from office, however, Mr. Newsom made clear that California's cherished role presaging the politics of tomorrow was not as significant as another, larger factor in Tuesday's results: the tribal politics of today.
The first-term Democratic governor will remain in office because, in a deeply liberal state, he effectively nationalized the recall effort as a Republican plot, making a flame-throwing radio host the Trump-like face of the opposition to polarize the electorate along red and blue lines. https://www.nytimes.com/2021/09/15/us/politics/midterms-california-republicans-newsom.html
House Democrats press forward with effort to curtail presidential powers after Trump
House Democrats introduced legislation Tuesday aimed at preventing abuses of presidential power in what supporters of the measures say is largely a response to Donald Trump's actions as president.
"We have to codify this, turn it into law, so that no president of whatever party can ever assume that he or she has the power to usurp the power of the other branches of government," House Speaker Nancy said. "And it is specific in its remedies," adding the bill will be a protection against "against future abuse." https://www.nbcnews.com/politics/congress/house-democrats-press-forward-effort-curtail-presidential-powers-after-trump-n1279704
Trump's Business May Go On Trial On Tax Charges Just Before The 2022 Elections
The judge hearing the tax fraud case, an alleged scheme to defraud taxpayers by paying Trump Organization executives with untaxed benefits, has set a schedule with a potential court trial starting in late August or early September 2022, just months before the midterm elections.
That timing, as well as a potential conviction against his family business, could cast a pall over any efforts by Trump to drum up support for Republican candidates. And with multiple investigations still underway, the legal cloud hanging over Trump's world may be getting larger.
The Trump Organization may also ultimately face civil charges as part of a related investigation James' office launched in 2019 after Cohen told Congress that Trump manipulated the value of his properties to obtain bank loans and lower his tax obligations. https://www.npr.org/2021/09/20/1037035597/trump-organization-investigation-charges-cfo-allen-weisselberg
Judges strike down North Carolina voter ID law, citing its 'discriminatory purpose' against African Americans
A panel of North Carolina judges on Friday struck down the state's law requiring voters to present photo identification before casting ballots, saying that the measure "was enacted in part for a discriminatory purpose" against African American voters.
The ruling is the latest development in a state battle over voting rights that has drawn national attention, and it comes amid a raft of new restrictions by GOP-led state legislatures across the country, as well as an effort in Congress to restore key parts of the 1965 Voting Rights Act. https://www.washingtonpost.com/politics/north-carolina-voter-id-law/2021/09/17/3c2a7892-17e3-11ec-a5e5-ceecb895922f_story.html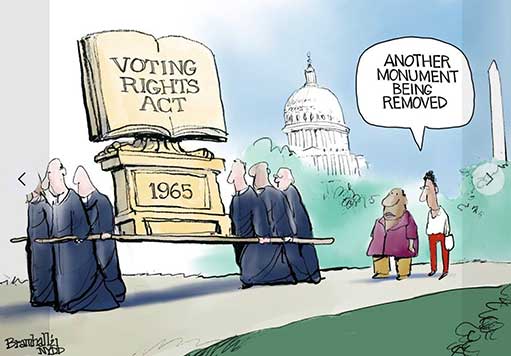 As climate pledges fall short, U.N. predicts globe could warm by catastrophic 2.7 degrees Celsius
The United Nations warned Friday that based on the most recent action plans submitted by 191 countries to curb greenhouse gas emissions, the planet is on track to warm by more than 2.7 degrees Celsius by the end of the century — far above what world leaders have said is the acceptable upper limit of global warming.
Even a lower increase would mean millions of people losing their homes to rising seas, vast sections of permafrost lost and extinction for scores of animal species.
The report set the stakes as President Biden gathered the world's biggest emitters to the White House last Friday to try reach an agreement among some of them to cut methane — a potent greenhouse gas — by 30 percent by 2030. https://www.washingtonpost.com/climate-environment/2021/09/17/un-climate-2030-biden/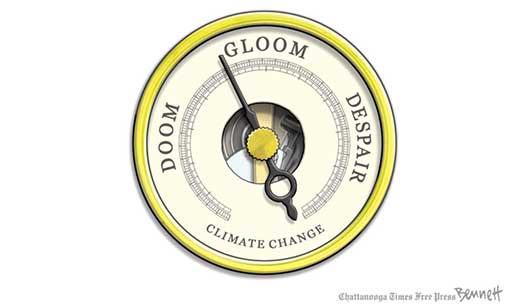 Five Oregonians hospitalized due to misuse of ivermectin for COVID-19
The Oregon Poison Center  has managed 25 cases involving Oregonians intentionally misusing ivermectin to treat or prevent COVID-19 between Aug. 1 and Sept. 14. Five of those cases involved hospitalization, and two people were so severely ill that they had to be admitted to an intensive care unit. Although the Oregon Poison Center also serves Alaska and Guam, the vast majority of ivermectin cases it has managed this year have come from Oregon. https://news.ohsu.edu/2021/09/17/five-oregonians-hospitalized-due-to-misuse-of-ivermectin-for-covid-19
Trump Looks for Challenger to Depose Mitch McConnell as Split Widens
Mitch McConnell's record-long reign as Senate Republican leader has lasted long enough for former President Donald Trump.
Mr. Trump has spoken recently with senators and allies about trying to depose Mr. McConnell and whether any Republicans are interested in mounting a challenge, according to people familiar with the conversations. There is little appetite among Senate Republicans for such a plan, lawmakers and aides said, but the discussions risk driving a wedge deeper between the most influential figure in the Republican Party and its highest-ranking member in elected office. https://www.wsj.com/articles/trump-looks-for-challenger-to-depose-mitch-mcconnell-as-split-widens-11632060002
Sources say Beto plans Texas comeback in governor's race
Former Rep. Beto O'Rourke is preparing to run for governor of Texas in 2022, with an announcement expected later this year, Texas political operatives tell Axios.
O'Rourke's entry would give Democrats a high-profile candidate with a national fundraising network to challenge Republican Gov. Greg Abbott — and give O'Rourke, a former three-term congressman from El Paso and 2020 presidential candidate and voting rights activist, a path to a political comeback. https://www.axios.com/scoop-beto-plans-texas-comeback-governors-race-33a3ae1a-4c58-4e7a-9e44-26342d3128c9.html
Harassed and Harangued, Poll Workers Now Have a New Form of Defense
Threatened by extremists and under fire by politicians, election workers now have their own legal defense network. It's a perk they never expected to need.

It is perhaps a metaphor for the times that even the volunteer who checked you into the polls in November now has a legal defense committee.
The Election Official Legal Defense Network, which made its public debut on Sept. 7, offers to represent more than just poll workers, of course. Formed to counter the waves of political pressure and public bullying that election workers have faced in the last year, the organization pledges free legal services to anyone involved in the voting process, from secretaries of state to local election officials and volunteers.
The network is the creation of two powerhouses in Republican and Democratic legal circles, Benjamin L. Ginsberg and Bob Bauer. In a Washington Post opinion piece this month, the two — Mr. Ginsberg was a premier G.O.P. lawyer for 38 years and Mr. Bauer was both a Democratic Party lawyer and White House counsel in the Obama administration — wrote that such attacks on people "overseeing the counting and casting of ballots on an independent, nonpartisan basis are destructive to our democracy." https://www.nytimes.com/2021/09/18/us/election-workers-legal-aid.html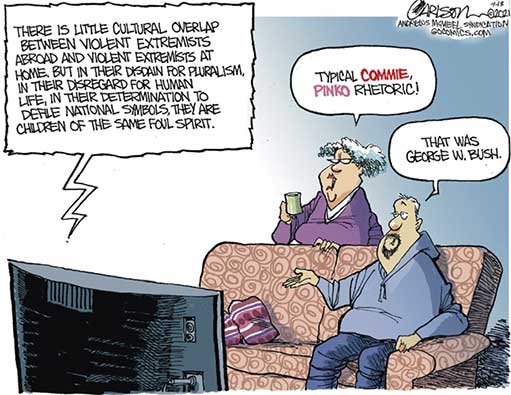 Mississippi Gov. Tate Reeves attacks vaccine mandates, downplays state's high death toll
Mississippi Gov. Tate Reeves downplayed the severity of the coronavirus pandemic in his state on Sunday, while challenging the legitimacy of vaccine mandates rolled out by the Biden administration.
"The president very much wants you and everyone else to believe that this is a fight between politicians. The reality is this is an attack by the president on hardworking Americans and hardworking Mississippians who he wants to choose between getting a jab in the arm and their ability to feed their families, and I just believe that is a false choice," Reeves said.
Reeves has previously called new measures to mandate vaccines for a larger swath of Americans by President Joe Biden "tyrannical-type" behavior.  https://www.usatoday.com/story/news/politics/2021/09/19/mississippi-gov-tate-reeves-downplays-soaring-covid-death-toll/8410742002/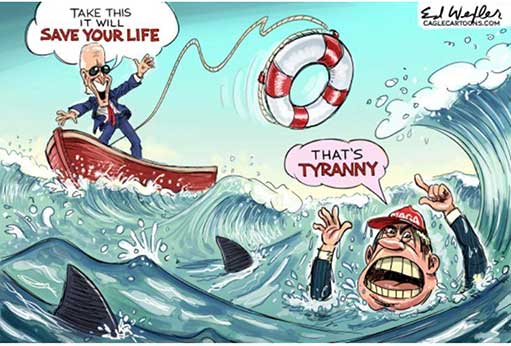 Rep. Stefanik claims in ads that Democrats seek a 'permanent election insurrection' by providing pathways to citizenship
Rep. Elise Stefanik (N.Y.), the No. 3 House Republican, is pushing the notion in Facebooks ads that President Biden and fellow Democrats are seeking a "permanent election insurrection" by expanding pathways to citizenship for undocumented immigrants.
"Radical Democrats are planning their most aggressive move yet: a PERMANENT ELECTION INSURRECTION," says one version of the ad, paid for by Stefanik's campaign committee, that appeared Wednesday. "Their plan to grant amnesty to 11 MILLION illegal immigrants will overthrow our current electorate and create a permanent liberal majority in Washington." https://www.washingtonpost.com/powerpost/rep-stefanik-claims-in-ads-that-democrats-are-seeking-a-permanent-election-insurrection-by-providing-pathways-to-citizenship/2021/09/16/7372011a-16eb-11ec-a5e5-ceecb895922f_story.html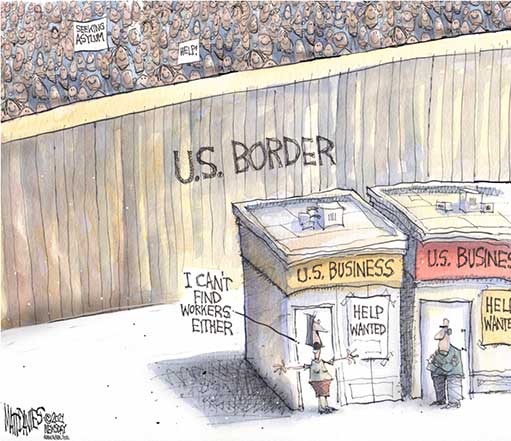 Georgia criminal probe into Trump's attempts to overturn 2020 election quietly moves forward
Georgia criminal investigators have been quietly conducting interviews, collecting documents and working to build a line of communication with congressional investigators as they aim to build a case against the former President for his alleged attempts to overturn the state's 2020 election results.
Fulton County District Attorney Fani Willis kicked off her investigation with a splash earlier this year, when she fired off a round of letters to Georgia officials asking them to preserve documents related to Trump just a month after she took office.
Since then, her investigation into Trump's efforts to upend Georgia's 2020 presidential election results has been more discreet as she juggles the early stages of the Trump probe with an avalanche of backlogged cases and rising violence in the Atlanta area.
"What I can tell you is that the Trump investigation is ongoing. As a district attorney, I do not have the right to look the other way on any crime that may have happened in my jurisdiction," Willis told reporters this week. "We have a team of lawyers that is dedicated to that, but my No. 1 priority is to make sure that we keep violent offenders off the street." https://www.cnn.com/2021/09/17/politics/georgia-probe-trump-election/index.html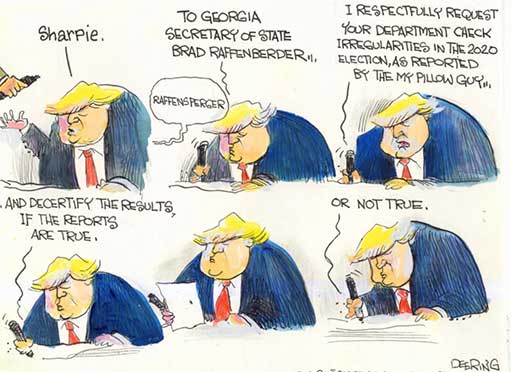 'Incredibly dangerous': Trump is trying to get Big Lie promoters chosen to run the 2024 election
Swing state by swing state, former President Donald Trump is trying to get people who tried to overturn the 2020 election chosen to be in charge of the 2024 election.
Trump's Monday endorsement of state Rep. Mark Finchem for Arizona secretary of state is the latest in a series of announcements that has alarmed independent elections experts. Trump has now backed Republicans who supported his lies about the 2020 election for the job of top elections official in three crucial battlegrounds -- Arizona, Michigan and Georgia -- where the current elections chiefs opposed his efforts to reverse his 2020 defeat.
"It is incredibly dangerous to support people for office who do not accept the legitimacy of the 2020 election. It suggests that they might be willing to bend or break the rules when it comes to running elections and counting votes in the future," said Rick Hasen, a professor of law and political science and co-director of the Fair Elections and Free Speech Center at the University of California, Irvine. "Someone who claims falsely that the 2020 election was stolen from Trump lacks credibility and cannot be trusted to run a fair election." https://www.cnn.com/2021/09/16/politics/trump-secretary-of-state-big-lie/index.html
Trump endorsements jolt GOP races
Donald Trump is endorsing candidates in party primary elections all the way down the ballot, a level of involvement that's virtually unheard of among recent former presidents.
What's remarkable about Trump's picks isn't just their breadth — he's endorsed close to 40 candidates so far in 23 states — it's their seemingly random quality. What's even more unusual is that the political goals of the GOP's de facto leader aren't necessarily in sync with his own party — in some cases, they are starkly at odds.
If there's a thread running through nearly all of Trump's endorsements, it is his habit of rewarding allies and punishing enemies. So far, at the national level, he's backed primary challengers to four House GOP incumbents and one sitting senator — all of whom voted for impeachment.
When it comes to state and local races, Trump's seal of approval is often linked in one way or another to his failed efforts to have the 2020 election results overturned. In the three secretary of state contests where he has endorsed — Arizona, Georgia and Michigan — the common denominator is that his claims of election fraud were dismissed in those places by the current secretaries of state due to a lack of evidence.
In Arizona Trump endorsed state Rep. Mark Finchem's bid for secretary of state. Finchem contends the 2020 election was stolen from Trump, participated in the "Stop the Steal" movement, attended the Jan. 6 rally at the U.S. Capitol and has pushed conspiracy theories promoted by QAnon.. https://www.politico.com/news/2021/09/17/trump-endorsements-stoke-dissension-in-gop-ranks-512444
More than half of US states have cut back public health powers during the pandemic
Republican legislators in more than half of U.S. states, spurred on by voters angry about lockdowns and mask mandates, are taking away the powers that state and local officials use to protect the public against infectious diseases.
In Arkansas, legislators banned mask mandates except in private businesses or state-run health care settings, calling them "a burden on the public peace, health, and safety of the citizens of this state." In Idaho, county commissioners, who typically have no public health expertise, can veto countywide public health orders. In Kansas and Tennessee, school boards, rather than health officials, have the power to close schools. https://www.chicagotribune.com/coronavirus/ct-aud-nw-public-health-state-laws-20210915-7xwjxmy7frgihidgzjctxakqhu-story.html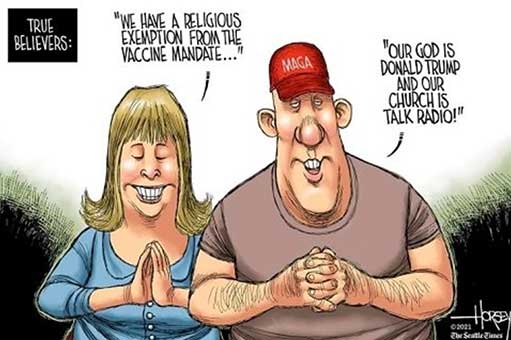 Pennsylvania GOP lawmakers approve wide-ranging subpoenas for personal information of 2020 voters
Republican lawmakers in Pennsylvania on Wednesday approved subpoenas for a wide range of data and personal information on voters, advancing a probe of the 2020 election in a key battleground state former president Donald Trump has repeatedly targeted with baseless claims of fraud.
Among other requests, Republicans are seeking the names, dates of birth, driver's license numbers, last four digits of Social Security numbers, addresses and methods of voting for millions of people who cast ballots in the May primary and the November general election.
Pennsylvania Gov. Tom Wolf (D) called Wednesday's vote "merely another step to undermine democracy, confidence in our elections and to capitulate to Donald Trump's conspiracy theories about the 2020 election." https://www.washingtonpost.com/politics/2021/09/15/pennsylvania-gop-election-probe-subpoena-trump/
Powell orders ethics review after Fed presidents disclosed multimillion-dollar investments
Federal Reserve Chairman Jerome Powell directed staff to review the central bank's ethics rules for appropriate financial activities after disclosures that several senior central bank officials made multiple multimillion-dollar stock trades in 2020, while others held significant investments.
News of Powell's inquiry broke after Sen. Elizabeth Warren sent 12 letters to the Fed's regional bank presidents calling on each Fed president to institute a ban on the ownership and trading of individual stocks by senior officials at each regional office.
A Fed spokesman told CNBC that Powell last week ordered a "fresh and comprehensive look at the ethics rules around permissible financial holdings and activities by senior Fed officials.This review will assist in identifying ways to further tighten those rules and standards. The Board will make changes, as appropriate, and any changes will be added to the Reserve Bank Code of Conduct." https://www.cnbc.com/2021/09/16/fed-chief-powell-orders-ethics-review-after-multimillion-dollar-trades.html
The DAILY GRILL
One of the sad constants of American political debate is that, anytime the tax rate on the rich is to be either raised or lowered, Republicans will repeat a certain statistic. To wit, "The Stat" is that the highest-earning one percent of taxpayers pay 40 percent of all income taxes. Conservatives consider this fact a dispositive justification either against any proposal to increase taxes on the rich, or in favor of any plan to reduce it. Over just the past day, I have seen it circulating — here. https://www.dailywire.com/news/61-of-americans-paid-no-income-tax-in-2020-report

VERSUS

The actual truth about the American tax system is that it is slightly progressive. The richest one percent earn about 21 percent of the income and pay 24 percent of the taxes. https://www.dailywire.com/news/61-of-americans-paid-no-income-tax-in-2020-report

 

"I hope I get COVID just so I can prove to people I've had bouts of food poisoning that are more serious and life threatening than a hyped up virus. Have you ever eaten bad fajitas? That will kill you faster than COVID. — Far-right anti-vaccine conspiracy theorist Laura Loome's post on the right-wing social network Parler. "https://www.salon.com/2021/09/17/just-pray-for-me-please-loomer-suffers-brutal-symptoms-after-hoping-she-would-get-covid/

VERSUS

"Just pray for me please," Loomer wrote. "Can't even begin to explain how brutal the body aches and nausea that come with covid are. I am in so much pain. This is honestly the worst part about it." — Loomer writing in another message on Telegram that she can't begin to describe how terrible the symptoms are, but then going on to push more conspiracy theories about the vaccine. https://www.salon.com/2021/09/17/just-pray-for-me-please-loomer-suffers-brutal-symptoms-after-hoping-she-would-get-covid/
Dana Milbank: Leaderless Republicans rush headlong toward default
"Unfortunately, Congress consistently brings the government to the edge of default before facing its responsibility. This brinkmanship threatens the holders of government bonds and those who rely on Social Security and veterans benefits. Interest rates would skyrocket, instability would occur in financial markets, and the federal deficit would soar. The United States has a special responsibility to itself and the world to meet its obligations." — President Ronald Reagan, Sept. 26, 1987
This is not Ronald Reagan's Republican Party.
Neither is it the party of the Republican Revolution of '94, the tea-party-infused GOP of 2010, nor even the Republican Party that surrendered to Donald Trump in 2016.
No, this new version of the GOP is at once so radical and so lacking in responsible leadership that it is plunging headlong and unified toward forcing default on the full faith and credit of the United States. Congressional Republicans are inviting economic calamity. https://www.washingtonpost.com/opinions/2021/09/21/debt-limit-republicans-default-mcconnell-cruz/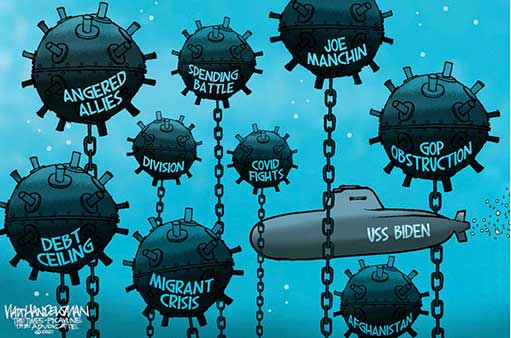 Alan Braid: Why I violated Texas's extreme abortion ban
In medical school in Texas, we'd been taught that abortion was an integral part of women's health care. When the Supreme Court issued its ruling in Roe v. Wade in 1973, recognizing abortion as a constitutional right, it enabled me to do the job I was trained to do
I understand that by providing an abortion beyond the new legal limit, I am taking a personal risk, but it's something I believe in strongly.
For the next 45 years — not including the two years I was away in the Air Force — I was a practicing OB/GYN in Texas, conducting Pap smears, pelvic exams and pregnancy check-ups; delivering more than 10,000 babies; and providing abortion care at clinics I opened in Houston and San Antonio, and another in Oklahoma.
Then, this month, everything changed. A new Texas law, known as S.B. 8, virtually banned any abortion beyond about the sixth week of pregnancy. It shut down about 80 percent of the abortion services we provide. Anyone who suspects I have violated the new law can sue me for at least $10,000. They could also sue anybody who helps a person obtain an abortion past the new limit, including, apparently, the driver who brings a patient to my clinic.
For me, it is 1972 all over again.
And that is why, on the morning of Sept. 6, I provided an abortion to a woman who, though still in her first trimester, was beyond the state's new limit. I acted because I had a duty of care to this patient, as I do for all patients, and because she has a fundamental right to receive this care.
Represented by the Center for Reproductive Rights, my clinics are among the plaintiffs in an ongoing federal lawsuit to stop S.B. 8.
I have daughters, granddaughters and nieces. I believe abortion is an essential part of health care. I have spent the past 50 years treating and helping patients. I can't just sit back and watch us return to 1972.
https://www.washingtonpost.com/opinions/2021/09/18/texas-abortion-provider-alan-braid/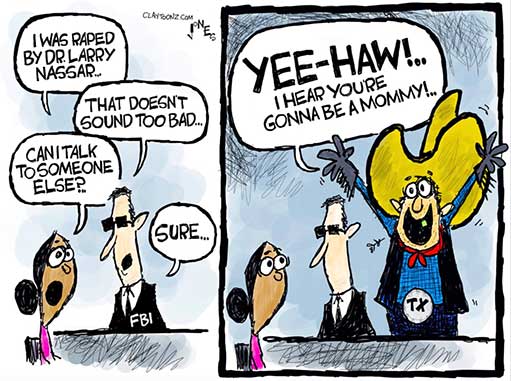 Susan B. Glasser: The Most Important Statistic of the Biden Presidency
President Biden came into office promising an end to the pandemic and a return to competent, commonsense governance. It's why he beat Trump. But his first nine months in office have shown pretty conclusively that it is not possible to beat covid in a political environment that has arguably got worse, not better, since January.
Consider the news this week that now one in five hundred Americans has died in the pandemic; total deaths in the country approach seven hundred thousand. What's worse, covid deaths—the vast majority of them preventable, avoidable deaths, now that science and the federal government have provided us with free vaccines—are continuing to rise across large swaths of vaccine-resistant Trump country. This is not a tragic mistake but a calculated choice by many Republicans who have made vaccine resistance synonymous with resistance to Biden and the Democrats. The current average of more than nineteen hundred dead a day means that a 9/11's worth of Americans are perishing from covid roughly every thirty-eight hours. To my mind, this is the biggest news of the Biden Presidency so far, and it has nothing to do with Afghanistan, or the fate of the budget-reconciliation bill, or Bob Woodward's new book. https://www.newyorker.com/news/letter-from-bidens-washington/the-most-important-statistic-of-the-biden-presidency
Erwin Chemerinsky: Are Supreme Court justices 'partisan hacks'? All the evidence says yes
If Supreme Court justices don't want to be seen as "partisan hacks," they should not act like them.
In a speech last week at the McConnell Center at the University of Louisville Law School, Justice Amy Coney Barrett said, "This court is not comprised of a bunch of partisan hacks." She added, "Judicial philosophies are not the same as political parties."
Setting aside the irony of uttering these statements at an event honoring Sen. Mitch McConnell, who blocked the confirmation of Merrick Garland to the court and rushed through the confirmation of Barrett precisely because of their ideologies, the reality is that time and again the court's Republican majority has handed down decisions strongly favoring Republicans in the political process.
Does Barrett really expect people to believe that is a coincidence?
In the same speech, Barrett reiterated that she is an originalist, one who believes that the Constitution must be interpreted to mean what it might have meant at the time it was adopted. Yet not one of the court's decisions about the election process favoring Republicans can possibly be defended on originalist grounds, which shows how wrong her claims really are.
Barrett's protest against the justices being seen as "partisan hacks" rings hollow when that is what they have become. And it is risible to say that "judicial philosophies are not the same as political parties." I would challenge her to give a single instance where the conservative justices took positions that were at odds with the views of the Republican Party. https://www.latimes.com/opinion/story/2021-09-19/supreme-court-justices-amy-coney-barrett-politics
Dana Milbank: Republicans' new civic religion: Election denial
"It's a total voter fraud."
"This guy is really fraudulent."
"He stole it."
"Based on the fraud committed … a new election should take place or [the] results nullified."
It sounds like Donald Trump complaining about the 2020 election results in Arizona, or Nevada, or Georgia, Pennsylvania, Michigan or Wisconsin. Or his complaints about last week's recall election in California, or the upcoming gubernatorial election in Virginia.
But these Trump quotes are from February 2016, when he lost the Iowa caucuses. And they were directed at the winner, fellow Republican Ted Cruz.
It's worth recalling that episode now, as distrust in elections becomes the new civic religion of Republican voters. Trump has alleged fraud against Democrats in 2016, 2018, 2020 and now 2021, but he once did the same to a Republican. In all cases except for Cruz (who did attempt to mislead voters), the charges were grounded in nothing but self-interest. . For Trump, it's binary: Heads I win, tails you cheated — except against Hillary Clinton, when he alleged massive fraud even in victory.
Yet this flimsy fallacy has consumed the Republican electorate. A CNN poll released a week ago found that fully 59 percent of Republicans agreed that "believing that Donald Trump won the 2020 election" is either somewhat or very important to "what being a Republican means to you." It may be sickening that a democracy-killing lie has become core to Republican identity, but it shouldn't be surprising. Republican officeholders routinely echo Trump's fraud fictions — and Trump never stops, as last week illustrated:
On Monday, Trump asserted that "'The Big Lie' is the Presidential Election of 2020," and asked, "Does anybody really believe the California Recall Election isn't rigged?"

On Tuesday, he whined about "the Rigged voting in California," which was "totally Rigged" and "just like 2020."
Former California GOP chairman Ron Nehring faulted losing Republican candidate Larry Elder's campaign for anticipating voter fraud before the California election. "One way not to have Republicans win is by telling Republican voters that their votes don't matter," Nehring told a post-election forum, McClatchy reported.
When Republican leaders convince their supporters not to vote, that's their problem. But when they convince them to reject democracy, that's everybody's problem. https://www.washingtonpost.com/opinions/2021/09/20/republicans-new-civic-religion-election-denial
Jonathan Bernstein: California Recall Flashes Danger Signs at Republicans
While the California recall tells us nothing helpful about voter mood, it does say something small and something large about the Republican Party that may affect upcoming elections.
The minor point is that Republicans are still following their 2020 strategy of giving their own voters a one-two demobilization punch. They're still demonizing absentee and other mail-in or drop-box voting, thereby discouraging their own voters from using those methods and making it harder for their own supporters to vote. Some of the recent Republican state laws making voting harder are in part simply a convoluted way of making up for the campaign that's pushed Republican voters away from voting methods they were in the habit of using.
The bigger idea is that Republican claims of election fraud are not only fictional and dangerous for democracy, but also may be sending a message to Republican voters that voting is futile. https://www.bloomberg.com/opinion/articles/2021-09-15/california-recall-election-flashes-danger-signs-at-republicans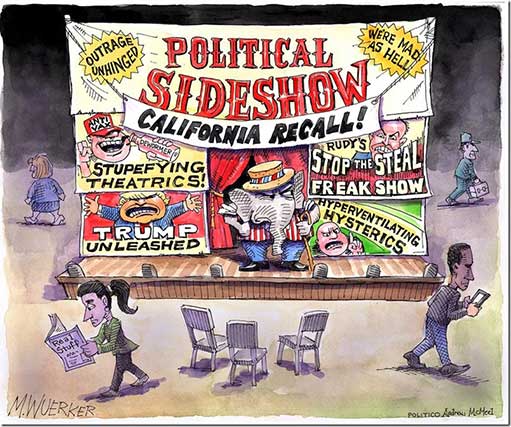 Philip Bump: When the battle over American freedom was centered on seat belt laws
The fight over the requirement to wear seat belts was the fight now: To what extent can or should the government trade off individual decision-making for the broader benefit of the community?
The startling parallels between the seat belt fight and the debate over efforts to contain the coronavirus were elevated by a clip from "The Daily Show," showing, via MSNBC, a news report from 1984, when New York became the first state to implement such a law.
Digging into news reports from the time, that pattern, equating seat belt laws to slippery-slope questions about personal freedom, were rampant.
In the current scenario, of course, the effects on others are more immediately obvious and far more dire. The unvaccinated are more likely to contract the coronavirus and therefore to spread it. They are more likely to be hospitalized, filling intensive care units that also need to provide urgent treatment to non-covid patients — like, say, people injured in car accidents.
In that 1985 report from the Associated Press, a spokesman for a pro-seat-belt-law coalition derided "the libertarian folks" who were offering the most opposition. That immediately brought to mind this clip from a 2016 Libertarian Party presidential debate (note the moderator). https://www.washingtonpost.com/politics/2021/09/16/when-battle-over-american-freedom-was-centered-seat-belt-laws/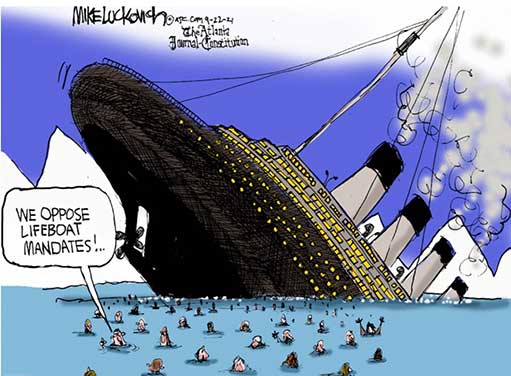 Bess Levin: Trump Reportedly Called White Supremacists "My People," In Case It Wasn't Clear He's An Abject Racist
Say what you will about Donald Trump, but the man has always said that everyone should be treated equally, no matter the religion they practice or the color of their skin, and in his four years in the White House, he never once gave anyone any reason to believe he had a single ounce of prejudice in his body. Just kidding, of course. The man is and always has been an out and out racist, and while the examples to back this up are too numerous to mention, just a small sampling includes calling for the execution of five Black and Latino teenagers; telling four congresswoman of color to "go back" to the "totally broken and crime infested places from which they came," when three-quarters of the group "came from" the U.S.; helping start an entire movement around the lie that the country's first Black president wasn't born here; and describing Baltimore, whose population is majority Black, as a "disgusting, rat and rodent infested mess" where "no human being" would "want to live." But wait, you say, what about the time he banned travel to the U.S. from seven predominantly Muslim nations? Or called Mexicans rapists and criminals? Or pardoned a guy a U.S. Department of Justice expert said oversaw the worst pattern of racial profiling by a law enforcement agency in U.S. history? Or threw an absolute shit fit over the removal of statue of a Confederate general who thought Black people should be white people's property, insisting said general was one of the greatest military leaders of all time? Obviously, if we were to include everything, we'd be here all day.
https://www.vanityfair.com/news/2021/09/donald-trump-white-supremacists-my-people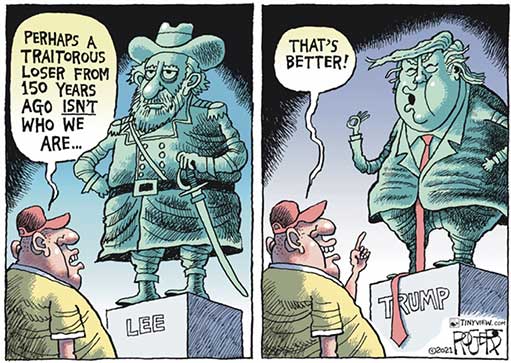 Andrew Sullivan: The Boldness Of Biden And Boris
If the definition of political courage is making big calls crisply and effectively, despite obvious risks and unknowable consequences, then it seems to me that President Biden and Prime Minister Johnson qualify right now. They've made calls recently that go beyond the usual mush of compromise and calculation and might even merit being called bold.
Biden braved the critics and got out of Afghanistan. We will debate how he did so, and with what consequences, for quite some time. But he still did it. Obama tried and failed. Trump made a big song and dance and signed a surrender deal. But Biden actually got us out.
This wasn't inevitable. The defense and foreign policy establishments had plenty of their usual arguments — threats of terror attacks, pabulum about recent "progress," the avoidance of humiliation — to slow-walk presidents into inaction, but they didn't succeed this time. Biden had sufficient experience to see through their bluff, and the fortitude to fight back when they raged against the withdrawal. Yes, it was horribly messy; tragic in the ways wars always are. But it had that mystical quality of an actual decision: doneness. https://andrewsullivan.substack.com/p/the-boldness-of-biden-and-boris-37e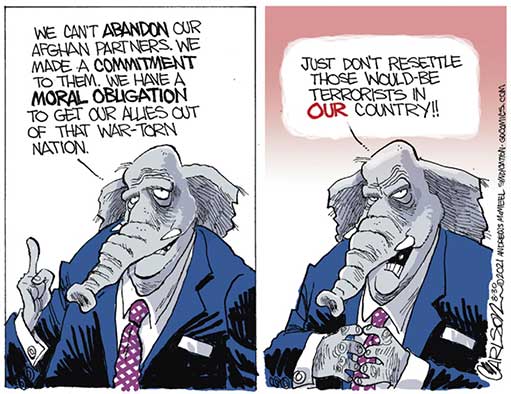 Paul Krugman: Dear Joe Manchin: Coal Isn't Your State's Future
Democrats will either rise together in next year's elections or they'll fall together. The best approach, given the strong relationship between presidential popularity and a party's midterm performance, is to put as much of Biden's agenda into law as possible by whatever means possible.
But this would demand a more unapologetically partisan approach, and that is where the real divide between moderates and progressives emerges. Moderate and centrist Democrats seem to value a bipartisan process more than they do any particular policy outcome or ideological goal.
The most charitable explanation is that they believe that their constituents value displays of bipartisanship more than any new law or benefit. A less charitable explanation is that they see bipartisanship as a way to clip the wings of Democratic Party ambition and save themselves from taking votes that might put them in conflict with either voters or donors.
What is true of both explanations is that they show the extent to which moderate Democrats have made a fetish of bipartisan displays and anti-partisan feeling. And in doing so, they reveal that they are most assuredly not the adults in the room of American politics.
There is nothing serious about an obsession with the most superficial aspects of process over actual policy and nothing savvy about leaving real problems unaddressed in order to score points with some imagined referee. https://www.nytimes.com/2021/09/21/opinion/biden-democrats.html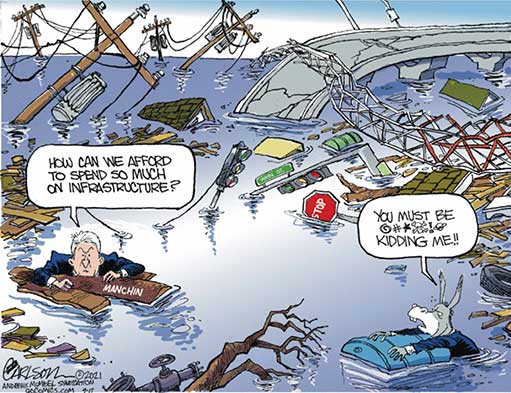 Uma Thurman: The Texas abortion law is a human rights crisis for American women
The Texas abortion law was allowed to take effect without argument by the Supreme Court, which, due in no small part to its lack of ideological diversity, is a staging ground for a human rights crisis for American women. This law is yet another discriminatory tool against those who are economically disadvantaged, and often, indeed, against their partners. Women and children of wealthy families retain all the choices in the world, and face little risk.
I am grief-stricken, as well, that the law pits citizen against citizen, creating new vigilantes who will prey on these disadvantaged women, denying them the choice not to have children they are not equipped to care for, or extinguishing their hopes for the future family they might choose.
To all of you — to women and girls of Texas, afraid of being traumatized and hounded by predatory bounty hunters; to all women outraged by having our bodies' rights taken by the state; and to all of you who are made vulnerable and subjected to shame because you have a uterus — I say: I see you. Have courage. You are beautiful. You remind me of my daughters. https://www.washingtonpost.com/opinions/2021/09/21/uma-thurman-abortion-law-texas/