June 15, 2017
ON THE RECORD. . .
"I was honestly concerned that he might lie." — Former FBI Director James Comey, testifying on why he created a memo on his January meeting with President Trump.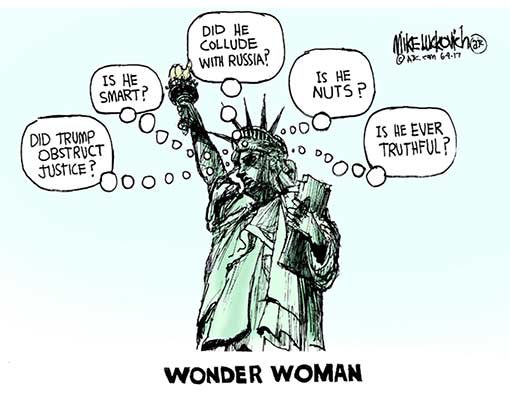 "Lordy, I hope there are tapes." — James Comey, referring to President Trump's suggestion that he may have recorded their conversations.
"Friends of the president will reply that the Comey hearing did not produce a smoking gun. That's true. But the floor is littered with cartridge casings, there's a smell of gunpowder in the air, bullet holes in the wall, and a warm weapon on the table. Comey showed himself credible, convincing, and consistent. Against him are arrayed the confused excuses of the least credible president in modern American history." -- David Frum
"Despite so many false statements and lies, total and complete vindication…and WOW, Comey is a leaker!" — President Trump, on Twitter.
"The Republicans have spent eight years insisting that they could produce a better health-care-reform plan if they had the chance. They have come to realize that this promise was false. The only thing they can do is rip away the benefits Obamacare has given millions of Americans. Their sole objective now is to do so with the minimum level of transparency or accountability." -- Jonathan Chait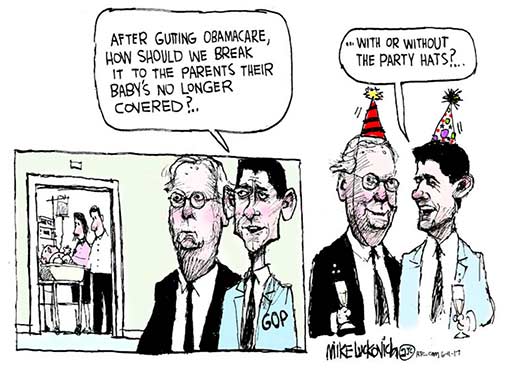 "Talk about a political sea change — the conservative state of Kansas raising taxes! — which up-ends a central GOP orthodoxy that cutting is always good and raising them is always bad. If you were looking for the breaking point for Republicans on taxes, we found it in Kansas." -- NBC News
"I think there's absolutely evidence to begin a case." — Former U.S. Attorney Preet Bharara, on the legal case for obstruction of justice against President Trump
(1) Atty Gen. Sessions provided false testimony in response to questions from me and @SenFranken about his contacts with Russian officials. (2) Now, twice in 2 mos., AG Sessions cancels an Approps hg in which I could Q him about his false testimony and half-hearted Russia recusal. (3) My mssg to AttyGen Sessions: Approps & Judiciary have oversight of DOJ. You need to testify before both in public. You can't run forever. -- Sen. Patrick Leahy @SenatorLeahy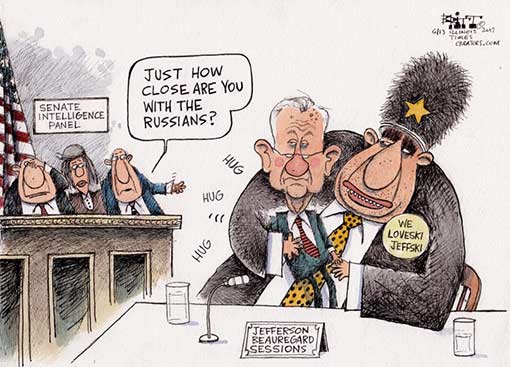 Saying that the particular brand of venom Clinton inspires (even from many liberals) can be divorced from questions about gender is like saying that Republicans and the media were so consumed with the matter of her emails for no reason other than their deep concern for IT security. -- Paul Waldman in The American Prospect 6/12/17
"Russia was actively involved in destabilizing our democracy," and they had help from "treasonous" Americans. Somebody had to give these people a roadmap. So I believe somewhere in this, somebody was directing the Russians on whose names to use, what impact these certain people sending a memo would have on the American electorate. I mean, they just didn't sit over in some cubicle over there somewhere in Moscow and figure this out." -- Virginia Gov. Terry McAuliffe (D)
One by one, they praised President Trump, taking turns complimenting his integrity, his message, his strength, his policies. Their leader sat smiling, nodding his approval. -- Julie Hirschfeld Davis on Trump's cabinet meeting. 6/12/17 Watch the he full 23-minute clip of Trump receiving unadulterated praise from his cabinet at http://video.cnbc.com/gallery/?video=3000626670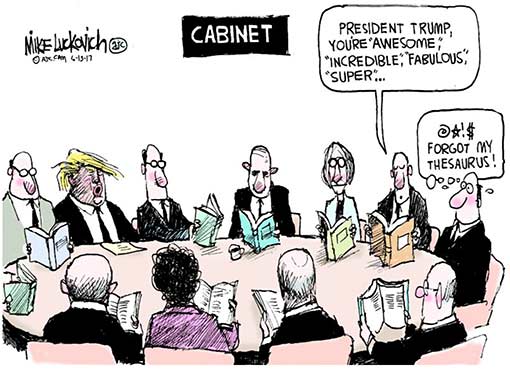 "If there is nothing there, then why do you keep impeding it?" — Sen. Angus King (I-ME), on Trump's handling of the Russia investigation. 6/1/316
---
IN THIS ISSUE
FYI
OPINION
1. The Borowitz Report: Man Ravaged by Amnesia Somehow Able to Hold Down Demanding Legal Job
An Alabama man whose brain was ravaged by severe amnesia is somehow able to function in an extremely demanding legal job, leading neurologists reported on Tuesday.

The man, whom neurologists are calling a "medical mystery," has performed highly exacting tasks in one of the country's top legal positions despite having virtually no short- or long-term memory.

Dr. Davis Logsdon, the chairman of the neurology department at the University of Minnesota Medical School, said that the Alabaman's brain "defies explanation."

"In all the medical literature, we have never seen an example of someone capable of holding down such a high-powered job while having no memory whatsoever of people he met, things he said, places he has been, or thoughts he has had," Logsdon said. "It's the stuff of science fiction."

Logsdon said that his team of neurologists was studying video of the man in the hopes of understanding the paradoxical functioning of his brain, but Logsdon acknowledged that such a task was challenging. "After listening to him talk for hours, your own brain starts to hurt," he said. http://www.newyorker.com/humor/borowitz-report/
2. The DAILY GRILL
"The president's not a liar." -- White House spokeswoman

VERSUS

"I am not a crook." -- Richard Nixon

He dangled my job. Demanded loyalty. Wanted Flynn case dropped. Wanted Russia cloud lifted. Fired me. -- James Comey 6/08/17

VERSUS

"I'm totally vindicated" -- Trump

 

Robert Mueller is superb choice to be special counsel. His reputation is impeccable for honesty and integrity. Media should now calm down -- Newt Gingrich ✔@newtgingrich on May 17th

VERSUS

Republicans are delusional if they think the special counsel is going to be fair. Look who he is hiring.check fec reports. Time to rethink. -- Newt Gingrich ✔@newtgingrich on June 12th 
3. From MEDIA MATTERS (They watch Fox News so you don't have to)
Trump ally Alex Jones: James Comey committed treason https://www.mediamatters.org/video/2017/06/08/trump-ally-alex-jones-james-comey-committed-treason/216834

Fox & Friends is echoing baseless claims from fringe and pro-Trump media sites that the government contractor accused of leaking National Security Agency (NSA) documents revealing new information about Russian hacking in the 2016 election had "plans to join the Taliban." https://www.mediamatters.org/video/2017/06/09/Pro-Trump-media-falsely-claim-accused-leaker-Reality-Winner-had-plans-to-join-the-Taliban/216850

RNC's false talking point about Comey came from "alt-right" trolls. Lie that Comey said Trump didn't pressure him on Russia-related investigations came from an "alt-right" troll and then was picked up by fake news purveyors https://www.mediamatters.org/blog/2017/06/09/RNCs-false-talking-point-about-Comey-came-from-alt-right-trolls/216853
4. From the Late Shows
The Late Show with Stephen Colbert: Stephen Digs Into James Comey's Opening Statements: https://youtu.be/yrIXBklJ5YQ

The Late Show with Stephen Colbert: Comey Attack Ads Inspire Stephen To Create His Own https://youtu.be/sc5ei8mcujw

.Late Night with Seth Meyers: James Comey's Opening Statement, Trump's Tweets: A Closer Look: https://youtu.be/V5gE0QRnWvE

Full Frontal with Samantha Bee: Keep Calm and Ignore Trump's Tweets: https://www.youtube.com/watch?v=roP-nq0IeS4&feature=youtu.be

The Late Show with Stephen Colbert: Guess Who's Comey To Dinner?: https://youtu.be/mfvzxuCrJWQ

The Late Show with Stephen Colbert: James Comey's Testimony Featuring Stephen Colbert: https://youtu.be/Or0kznzZfPI
5. Late Night Jokes for Dems
We taped this show a day before, so as it stands right now, we don't know what happened in the U.K. election. Meanwhile, in America, their election was last year and they still don't know what happened in their election. Regardless of that, we can assume Donald Trump has already congratulated the winner in his traditional fashion by insulting them on Twitter. -- James Corden

A big heat wave is expected to hit New York City this weekend. They say that we'll be sweating like Trump while he watched the James Comey hearing. -- JimmyFallon

Despite Comey's testimony, a White House spokesperson said today is a regular Thursday at the White House. America was like, "Yeah, that's what worries us. " -- JimmyFallon

Comey said that he kept memos of his meetings with Trump because he felt that the president may lie about them. Even Trump was like, "Yeah, that sounds like me. Good thinking." -- JimmyFallon

President Trump did not post on Twitter during James Comey's Senate testimony today. Well, he thought he did, but his aide switched his phone with a Speak & Spell. -- Seth Meyers

Everybody was looking forward to the former FBI director testifying about all the juicy details of his meetings with Donald Trump. Because, remember, Comey wrote everything down. And all his memos are going to be collected in his new children's book: "James and the Guilty Orange." -- Stephen Colbert

Comey understood Trump had the right to fire him, but he didn't buy the official explanation — that it was how he treated candidate Hillary Clinton. "That didn't make sense to me for a whole bunch of reasons, including the time and all the water that had gone under the bridge since those hard decisions had to be made." I remember that bridge. I think it's the one they threw Hillary off to see if she was a witch. -- Stephen Colbert

Former FBI Director Comey testified that he met privately with President Trump on February 14th. This is good news for everyone who thought THEY had the worst Valentine's Day ever. -- Conan O'Brien

House Speaker Paul Ryan defended Donald Trump's behavior, saying, "The president's new at this." Ryan said, "And by 'this' I mean 'following the law.'" -- Conan O'Brien

This is what Comey wrote about his dinner with Trump back in January. He wrote, "He had called me at lunchtime that day, invited me to dinner that night, saying he was going to invite my whole family but decided to have just me this time, with the whole family coming next time. It was unclear from the conversation who else would be at the dinner. Although, I assumed there would be others. It turned out to be just the two of us." It's starting to read like chapter one of "Fifty Shades of Orange." Right? Very sexual. -- Jimmy Kimmel Live

And Trump told Comey "he had nothing to do with Russia, had not been involved with hookers in Russia, and always assumed he was being recorded when in Russia." I love that he denied being involved with hookers in Russia. Let me tell you, Bill Clinton must be laughing his [butt] off right now. -- Jimmy Kimmel Live

So because these were uncomfortable conversations, Comey told Attorney General Jeff Sessions he did not want any future direct communication with President Trump. Melania said the same thing, by the way. It didn't work out for either of them. -- Jimmy Kimmel Live
6. Trump Disapproval Hits New High
The Gallup daily tracking poll finds President Trump's approval rate at a lowly 36%, disapproval at 60%. June 13, 2017 http://www.gallup.com/poll/201617/gallup-daily-trump-job-approval.aspx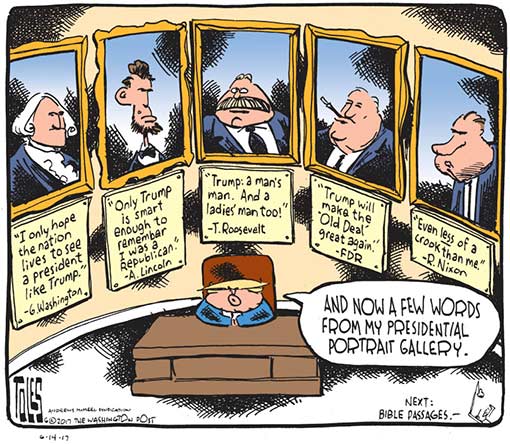 7. Democrats Have A Slight Edge In The Georgia 6 Runoff
The race remains too close to call. Ossoff's lead is slim, especially given the past accuracy of special House election polling, and we simply don't know what to expect voter turnout to be in Round 2 compared with Round 1. Still, it's significant that Ossoff has maintained and even widened his lead as voters make up their minds, because it suggests that undecided voters aren't overwhelmingly Republican. It's possible that Handel will pick up the vast majority of the remaining undecided voters in the campaign's final days, but there's no reason to expect that to happen. - FiveThirtyEight https://fivethirtyeight.com/features/democrats-have-a-slight-edge-in-the-georgia-6/
8. MarkFiore Cartoon: Presidential Pens
9. Trump's Lawyer Has Russian Ties Too
The hard-charging New York lawyer President Trump chose to represent him in the Russia investigation has prominent clients with ties to the Kremlin, a striking pick for a president trying to escape the persistent cloud that has trailed his administration."
Marc Kasowitz's clients include Oleg Deripaska, a Russian oligarch who is close to President Vladimir and has done business with Trump's former campaign manager. Kasowitz also represents Sberbank, Russia's largest state-owned bank, U.S. court records show. 6/9/17 https://www.washingtonpost.com/investigations/trumps-lawyer-in-russia-probe-has-clients-with-kremlin-ties/2017/06/09/5dba9518-4d4a-11e7-a186-60c031eab644_story.html
10. Did Rubio Trade New Cuba Policy for Defense of Trump?
It may be hard to fathom outside of Miami, but the faraway island of Cuba and Cuban-American politics could have played a role in Thursday's historic hearing of the Senate Select Committee on Intelligence investigating n interference in the 2016 election."
It was as if Rubio — who has become a fixture at the White House and has voted to confirm all of Trump's controversial appointments — was acting as Trump's defense attorney instead of as member of a bipartisan committee investigating crucial national security issues. 6/9/17 http://www.miamiherald.com/news/local/news-columns-blogs/fabiola-santiago/article155176484.html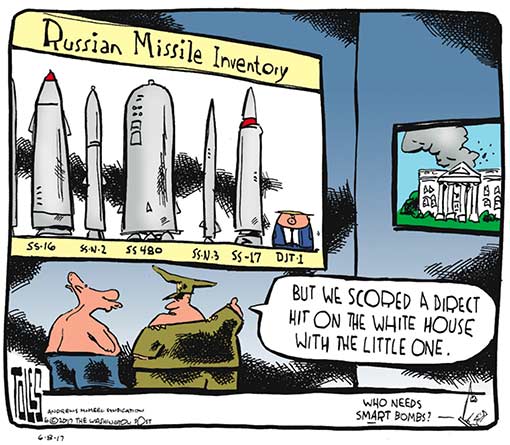 11. This isn't normal
In 18 years of covering presidents, we have never seen a Cabinet meeting like the one yesterday. Chief of Staff Reince Priebus, taking his turn to genuflect for a beaming Trump, said: "On behalf of the entire senior staff around you, Mr. President, we thank you for the opportunity and the blessing that you've given us to serve your agenda and the American people."

 

Going back to the Clintons, we have never seen a president and his family work so hard to promote or appear on a program like the Trumps' trumpet, "Fox & Friends." From yesterday's show:"Hey, look! It's Ivanka Trump." ... "I join you almost every morning, just not on the couch!" This came after Trump himself promoted the friendly show on Twitter, which he regularly does.

In 228 years of presidents, none has canned the FBI director, then allowed his own Justice Department to appoint a special counsel — who within weeks his friends and allies would openly muse about firing.

In modern presidential history, there is nothing comparable to the personal and public attacks on James Comey by the president and his eldest son. In the last few days alone, they have called Comey — a guy who most elected officials in town like and trust — a liar, a coward, a criminal leaker, and "a dishonest man of bad character." Mike Allen https://www.axios.com/trumps-daily-display-of-unprecedented-actions-behaviors-2440790600.html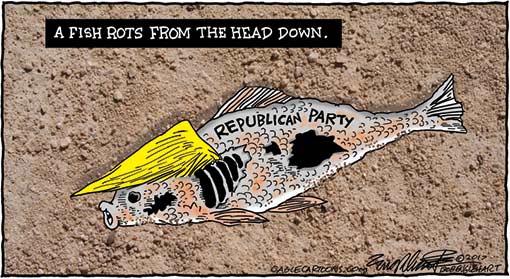 12. Trump-Comey Feud Eclipses a Warning on Russia: 'They Will Be Back'
What started out as a counterintelligence investigation to guard the United States against a hostile foreign power has morphed into a political scandal about what Mr. Trump did, what he said and what he meant by it. Lawmakers have focused mainly on the gripping conflict between the president and the FBI director he fired with cascading requests for documents, recordings and hearings.
Few doubt that the Russians have concluded that their attack on the American system was successful beyond their dreams — they started a scandal that has consumed the American political process. https://www.nytimes.com/2017/06/10/us/politics/trump-comey-russia-fbi.html
13. Trump Once Had to Admit 30 Lies Under Oath
When a reporter asked Trump if he would testify about his version of events "under oath" with the Justice Department's special counsel in the Russia probe, Robert Mueller, the president said, "100 percent." And Trump elaborated: "I would be glad to tell him exactly what I just told you."
That's interesting!
A decade ago, when Timothy L. O'Brien's lawyers questioned Trump under oath during a deposition in a libel case, Trump had to acknowledge 30 times that he had lied over the years about a wide range of issues: his ownership stake in a large Manhattan real estate development; the cost of a membership to one of his golf clubs; the size of the Trump Organization; his wealth; the rate for his speaking appearances; how many condos he had sold; the debt he owed, and whether he borrowed money from his family to stave off personal bankruptcy. Trump also lied during the deposition about his business relationships with organized crime figures. 6/12/17 https://www.bloomberg.com/view/articles/2017-06-12/trump-s-history-of-lies-according-to-biographer-timothy-o-brien
14. What's really warming the world?
Skeptics of manmade climate change offer various natural causes to explain why the earth has warmed 1.4 degrees F since 1880. This chart shows how much different factors, both natural and industrial contribute to global warming. https://www.bloomberg.com/graphics/2015-whats-warming-the-world/
15. Special counsel is investigating Trump for possible obstruction of justice
"The special counsel overseeing the investigation into Russia's role in the 2016 election is interviewing senior intelligence officials as part of a widening probe that now includes an examination of whether President Trump attempted to obstruct justice," the Washington Post reports.
"The move by Special Counsel Robert Mueller to investigate Trump's own conduct marks a major turning point in the nearly year-old FBI investigation, which until recently focused on Russian meddling during the presidential campaign and on whether there was any coordination between the Trump campaign and the Kremlin. Investigators have also been looking for any evidence of possible financial crimes among Trump associates." 6/14/17 https://www.washingtonpost.com/world/national-security/special-counsel-is-investigating-trump-for-possible-obstruction-of-justice/2017/06/14/9ce02506-5131-11e7-b064-828ba60fbb98_story.html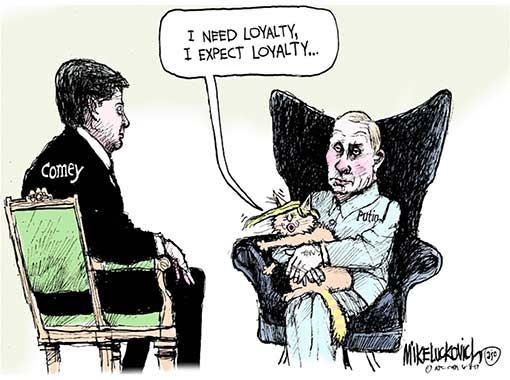 16. Christie Is Least Popular Governor In New Jersey History
Christie makes history again as New Jersey voters disapprove 81 - 15 percent of the job he is doing, the worst approval rating for any governor in any state surveyed by Quinnipiac University in more than 20 years. Even Republicans disapprove 58 - 31 percent. 6/14/17 https://poll.qu.edu/new-jersey/release-detail
17. Most Trump Real Estate Now Sold to Secretive Buyers
Since President Trump won the Republican nomination, the majority of his companies' real estate sales are to secretive shell companies that obscure the buyers' identities, a USA TODAY investigation has found.2017
Over the last 12 months, about 70% of buyers of Trump properties were limited liability companies – corporate entities that allow people to purchase property without revealing all of the owners' names. That compares with about 4% of buyers in the two years before. 6/13/17 https://www.usatoday.com/story/news/2017/06/13/trump-property-buyers-make-clear-shift-secretive-llcs/102399558/
1. Richard Cohen: Trump Is Trump, and Always Will Be
In college, I had an anthropology teacher who roamed the Earth studying bizarre folkways. But the people who most fascinated him happened to be in his own back yard — New Yorkers who could remain asleep on a screeching subway train as it started, stopped and even when the power failed and the lights blinked, finally going as dark as President Trump's cold reading lamp.
I now wonder what he would make of official Washington, a place where Republicans await the messiah-like return of a splendidly presidential Trump — gone from political tramp to prince of politicians by occasionally behaving himself. We saw that happen in February when Trump delivered an address to a joint session of Congress and did not break out into 1930s-era German. This was hailed as a historic moment when the new president "normalized himself" and would henceforth presumably read some books, listen to his advisers and tweet no more. Alas, Trump seemed to have not gotten the message and quickly resumed being who he was — President Kong, with Vice President Pence playing the hapless blonde in his fist.
More recently, the task of imagining a new, improved Trump fell to lawyers at the solicitor general's office. This month, they had to argue in a petition to the Supreme Court that Trump did not really mean what he once said about Muslims. The lawyers said that when he called last year for a "Muslim ban" on entry to the United States, he was in a campaign mode, apparently some kind of hallucinatory trance in which irresponsible speech is excused. The official document begins "Donald J. Trump, et al., Petitioners." It is a stitch. 6/13/17 https://www.realclearpolitics.com/articles/2017/06/13/trump_is_trump_and_always_will_be_134173.html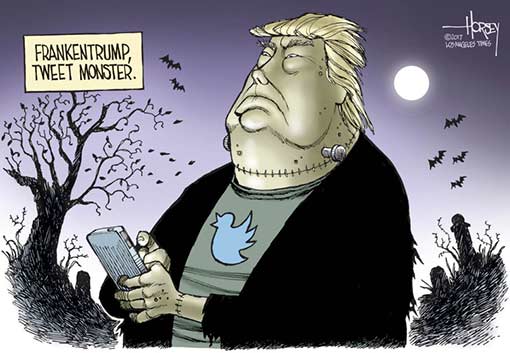 2. Tina Nguyen: As Comey Testifies, Trump Appeals To God
President Donald Trump reportedly began his day in a White House dining room, huddled with his legal team and a small circle of advisers as former F.B.I. director James Comey testified Thursday before the Senate Intelligence Committee that the president had lied and defamed him and the F.B.I.. Trump did not tweet once during Comey's testimony, leaving his eldest son to mount a defense online. Nor did he wait for Comey to finish speaking before he departed the White House for a scheduled appearance at the Omni Shoreham Hotel, where he delivered the keynote address at the annual Faith and Freedom Coalition conference.
Standing before a crowd of some of his most ardent evangelical supporters in the hotel's palatial ballroom, Trump conspicuously avoided mentioning Comey or the F.B.I. or the Russia investigation now overshadowing his presidency. Still, nearly every word of his speech seemed calculated to rebut the allegations being made across town.
"We're under siege, you understand that. But we will come out bigger and better and stronger than ever, you watch," he said, wrapping himself in the language of righteousness as he thanked members of the Christian right for their support during the election. Adopting the posture of martyr, he quoted Isaiah 1:17: "'Learn to do right. Seek justice. Defend the oppressed, take up the cause of the fatherless, plead the case of the widow.'
It remains to be seen whether the president's prayers will be answered. Shortly after Comey's public testimony concluded, the president's personal lawyer, Marc Kasowitz, released a confusing, typo-ridden statement, in which he accused the former F.B.I. director of having lied under oath and suggested that Comey be investigated for leaking classified information. But it's unlikely to take any heat off Trump. The information Comey gave to The New York Times as a private citizen was neither classified nor, technically, a leak. And with multiple parallel investigations into the Trump campaign's ties to Russia all jostling for the spotlight, there is little chance that the White House will emerge unscathed. The "cloud" of scandal that Trump allegedly asked Comey to help him remove is only growing bigger, and darker. http://www.vanityfair.com/news/2017/06/donald-trump-twitter-defense-comey-hearing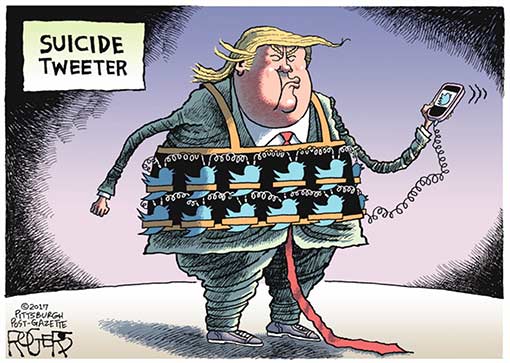 3. Jonathan Chait: As Voodoo Economics Collapses in Kansas, Trump Takes It National
When Brownback passed his plan in 2012, enthusiasts dismissed fiscal skeptics. (Wall Street Journal editorial page, 2012: "The tax cut will force state politicians to restrain spending.") When massive deficits appeared, the same cheerleaders blamed spending policies. (Wall Street Journal editorial page, 2015: "The real story is how unchecked spending, especially entitlements, can undermine tax reform.") But weren't the tax cuts supposed to prevent "unchecked spending"? Wasn't this the very reason their supporters gave to discount the predictions that the tax cuts would create deficits?
The tax cuts, which were sold above all as a plan to yield faster economic growth, produced nothing of the sort. The state, which had been growing slightly faster than the overall U.S. economy before the tax cuts, grew more slowly afterward:
What enables Republicans to persist in this charade is that duping themselves is not completely necessary. Many, perhaps most, conservative elites believe as a matter of principle that taxing the rich at higher rates is morally wrong. They consider the first-order effects of regressive tax cuts — the transfer of resources from the public fisc to "the makers" — desirable. Since most Americans do not approve of tax cuts for the rich, this requires them to focus on the alleged second-order effects. And it explains why they continue to support the policy even when those second-order effects continuously prove ephemeral.
The entire identity of Republican politics has followed this same four-step pattern. The GOP made the Bush tax cuts of 2001 and 2003 the centerpiece of its domestic policy platform. When the economic and fiscal goals of the tax cuts failed, and a cycle of miserable job growth culminated in a massive speculative collapse, the party rebranded itself as a new, austere rebooted version of the old thing. The failures of the Bush-era party turned out to be its deviation from conservatism. It had been corrupted and seduced by big spending. And now the Trump-era party is right back to where it was under Bush, following the same policies and insisting the result will be different. http://nymag.com/daily/intelligencer/2017/06/as-voodoo-economics-fails-in-kansas-trump-takes-it-national.html
4. Peter Baker: For Trump, the 'Cloud' Just Grew That Much Darker
Upset about the investigation into Russian interference in last year's election, President Trump sought relief from James B. Comey, then the F.B.I. director. By Mr. Comey's account, Mr. Trump asked him to help "lift the cloud."
But thanks to Mr. Trump's own actions, the cloud darkened considerably on Thursday and now seems likely to hover over his presidency for months, if not years, to come.
Rather than relieve the pressure, Mr. Trump's decision to fire Mr. Comey has generated an even bigger political and legal threat. In his anger at Mr. Comey for refusing to publicly disclose that the president was not personally under investigation, legal experts said, Mr. Trump may have actually made himself the target of an investigation.
While delivered in calm, deliberate and unemotional terms, Mr. Comey's testimony on Thursday was almost certainly the most damning j'accuse moment by a senior law enforcement official against a president in a generation. In a Capitol Hill hearing room, the astonishing tableau unfolded of a former F.B.I. director accusing the White House of "lies, plain and simple" and asserting that when the president suggested dropping an investigation into his former national security adviser, "I took it as a direction."
"In a credibility battle between Trump and Comey, everybody knows Comey is going to win that war," said Adam W. Goldberg, who was an associate special White House counsel under Mr. Clinton during Kenneth W. Starr's investigation.
For Mr. Trump, the battle with Mr. Comey now overshadows much of what he wants to do. Major legislation is stalled. Mr. Kasowitz said the president was "eager to continue moving forward with his agenda, with the business of this country, and with the public cloud removed."
For now, though, the cloud remains. https://www.nytimes.com/2017/06/08/us/politics/donald-trump-james-comey.html
5. Todd S. Purdum: Comey's devastating indictment of President Donald Trump
In more than two hours of steady, soft-spoken Senate testimony, former FBI Director James Comey delivered a quietly devastating indictment of President Donald Trump, confiding that he had kept contemporaneous notes of their every conversation for one overriding and unflinching reason: "I was honestly concerned that he might lie."
Comey's testimony may or may not go down in the annals of great Washington scandals. His Republican interlocutors on the Senate Intelligence Committee succeeded in eliciting his repeated confirmation that, so far as he knew, Trump has never been personally under FBI investigation for possible collusion with the Russians — or anything else, for that matter. Further, Comey repeatedly conceded that neither Trump's efforts to get him to confirm that fact publicly, nor the president's single request to back off investigating the Russia-related activities of the fired national security adviser Michael Flynn, had ever impeded the ongoing inquiry that is now in the hands of special counsel Robert Mueller.
Comey had not finished testifying before the White House deputy press secretary, Sarah Huckabee Sanders, was moved to insist, "I can definitively say the president is not a liar. I think it's frankly insulting." Such protestations from any White House are never a good thing. (See Richard Nixon's, "I am not a crook," and Bill Clinton's, "I did not have sexual relations with that woman, Miss Lewinsky," just for starters). http://www.politico.com/story/2017/06/08/james-comey-russia-trump-hearing-indictment-239310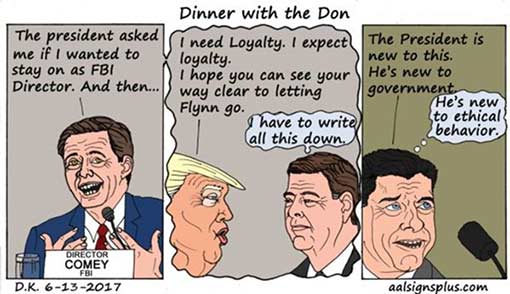 6. NY Times Editorial: Mr. Comey and All the President's Lies
Weeks after being described by Donald Trump as a "nut job," James Comey on Thursday deftly recast his confrontation with the president as a clash between the legal principles at the foundation of American democracy, and a venal, self-interested politician who does not recognize, let alone uphold, them.
In sworn testimony before the Senate Intelligence Committee, Mr. Comey, the former F.B.I. director, made clear that he had no confidence in the president's integrity. Why? "The nature of the person," he said. Confronted with low presidential character for the first time in his career, Mr. Comey began writing meticulous notes of every conversation with Mr. Trump. "I was honestly concerned that he might lie about the nature of our meeting," he said.
Mr. Comey said he was stunned during one Oval Office meeting by Mr. Trump's request — which he very reasonably understood as an order — to drop the F.B.I. investigation into Michael Flynn. Mr. Flynn had been forced to resign as national security adviser the day before, after lying about his contacts with Russia. And Russia, Mr. Comey usefully reminded the senators, had gone to unprecedented lengths to disrupt the 2016 presidential election, using "overwhelming" technological firepower.
"This is about America," Mr. Comey kept saying. Russia "tried to shape the way we think, we vote, we act — that is a big deal," he added. "They're coming after America. ... They want to undermine our credibility in the face of the world."
And yet Mr. Trump, the beneficiary of Moscow's meddling, has never appeared even slightly concerned by this Russian attack. He told Mr. Comey to stand down and fired him when he refused. "I was fired because of the Russia investigation," Mr. Comey testified. "That is a very big deal." As he decried Russia's attempt to "dirty" American democratic institutions, Mr. Comey could as well have been talking about Mr. Trump's behavior. https://www.nytimes.com/2017/06/08/opinion/james-comey-senate-testimony.html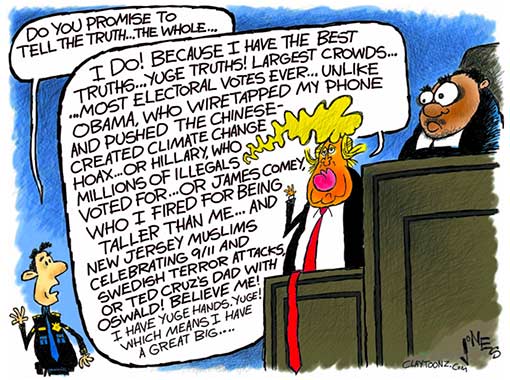 7. Damon Linker: James Comey, American hero
If Comey's testimony on Thursday gives us an accurate account of the facts, it shows that he did what he was supposed to do as the director of the country's premier federal law enforcement agency, which was to uphold the rule of law, act as a faithful public servant devoted to country over party, and to resist numerous attempts on the part of the president of the United States to co-opt him and manipulate the direction of the criminal investigation that Comey was heading.
That President Trump attempted such co-option and manipulation is blatantly obvious from Comey's testimony. The president implied that Comey owed his job to him. He twice asked for a pledge of personal loyalty. He strongly indicated that he wanted the investigation against Michael Flynn to be dropped. He likewise asked Comey for help in dispelling "the cloud" of the Russia investigation.
Each of those acts or statements was wildly inappropriate. All of them together display a pattern of behavior that can only be described as flagrantly corrupt. Some have suggested it shows that Trump was simply ignorant of proper presidential behavior or perhaps was merely acting like a boss. That is true only if by "boss" we mean "mob boss." It is the behavior of the leader of a criminal syndicate or conspiracy, the actions of someone accustomed to pledges of personal loyalty that supersede and override civic oaths and obligations. This will be true even if no criminal charges are ever brought against the president for these acts and statements. http://theweek.com/articles/704150/james-comey-american-hero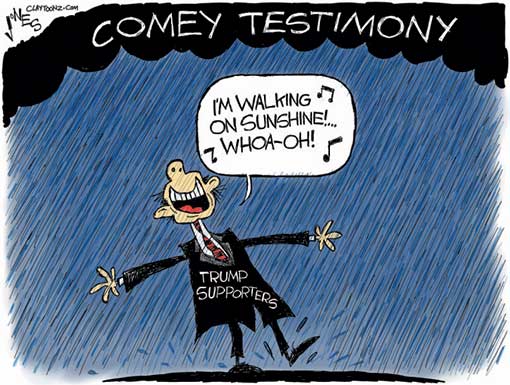 8. Bess Levin: Oh Jesus: Did Trump Really Skim Charity Money From Kids With Cancer? Color Us Shocked.
Among the many campaign scandals that would have sunk a lesser candidate, but somehow had little or no effect on Donald "Grab 'em by the p---y" Trump, were a series of damning allegations about the Donald J. Trump Foundation. An investigation by The Washington Post revealed that Trump hadn't actually given his namesake charity any of his own money since 2008, and that since then, "all of the donations have been other people's money—an arrangement that experts say is almost unheard of for a family foundation." In many instances, the Post reported, Trump would then pass the money "on to other charities, which [were] often under the impression that it [was] Trump's own money." (Trump previously told the Post "I don't have to give you records but I've given millions away," though the paper was unable to verify the donations and Trump has not released his tax returns which would, among other things, detail his charitable giving.)
Other alleged business practices at the foundation were, somehow, even shadier. The Post found that Trump "spent more than a quarter-million dollars from [the Donald J. Trump foundation] to settle lawsuits that involved the billionaire's for-profit businesses." The charity also quite generously donated $25,000 in 2013 to then Florida Attorney General Pam Bondi's political fund-raising committee, at a time when Bondi was, totally coincidentally, deciding whether or not to investigate fraud allegations against Trump University (she ultimately decided not to; Trump and his institute of higher learning ultimately settled a class action brought by former students for $25 million). (Aides to both Trump and Bondi told the Post the gift and Trump University case had nothing to do with each other.) Then there was the somewhat bizarre story of Trump bidding on a six-foot-tall painting of himself at a fund-raiser auction and paying the $20,000 tab with the foundation's money. In November, after the election, the Donald J. Trump Foundation admitted to self-dealing, a.k.a., per Politico, "using charitable funds to benefit the leaders of the organization or their family members."
The disreputable, potentially illegal behavior apparently doesn't end with Trump's own namesake charity, however. According to a report by Forbes, Trump also allegedly used his son Eric's charity to enrich his business at the expense of, wait for it, kids with cancer. http://www.vanityfair.com/news/2017/06/donald-trump-eric-trump-charity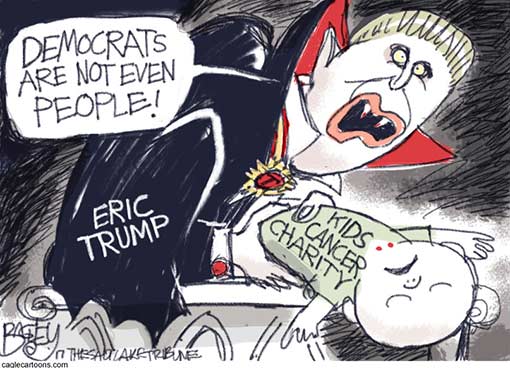 9. Paul Krugman: Wrecking the Ship of State
After Donald Trump's surprise election victory, many people on the right and even in the center tried to make the case that he wouldn't really be that bad. Every time he showed a hint of self-restraint — even if it amounted to nothing more than reading his lines without ad-libbing and laying off Twitter for a day or two — pundits rushed to declare that he had just "become president."
But can we now admit that he really is as bad as — or worse than — his harshest critics predicted he would be? And it's not just his contempt for the rule of law, which came through so clearly in the James Comey testimony: As the legal scholar Jeffrey Toobin says, if this isn't obstruction of justice, what is? There's also the way Trump's character, his combination of petty vindictiveness with sheer laziness, leaves him clearly not up to doing the job.
The point, again, is that everything suggests that Trump is neither up to the job of being president nor willing to step aside and let others do the work right. And this is already starting to have real consequences, from disrupted health coverage to ruined alliances to lost credibility on the world stage.
We're barely one-tenth of the way through Trump's first term. The worst, almost surely, is yet to come. https://www.nytimes.com/2017/06/09/opinion/donald-trump-health-care-bill.html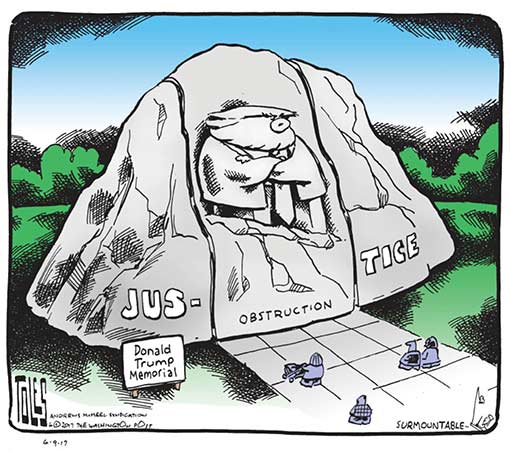 10. Jonathan Chait: Republicans Know Their Health-Care Plan Is Garbage. They Might Pass It Anyway.
Not long ago, a Senate Republican aide made a devastating confession to reporter Caitlin Owens about the GOP health-care law: "Best to get it over with and move on to things Republicans are good at." The devastating part here is not the desire to "get it over with" but the concession that writing legislation concerning health care, one of the most vital domestic functions of government, is a function the party is constitutionally incapable of performing.
The Republican Party is incapable of passing a health-care bill that is not absolutely horrific. That may sound like a partisan statement, but it is one Republicans themselves have shown, not only through their words but also through their actions, that they believe themselves.
The American Health Care Act, which passed the House last month, is a shockingly unpopular bill that even most conservative policy analysts dislike. They hate the bill because it fails to advance any theory, conservative or liberal, of a functioning health-care system. It does not harness any set of incentives or mechanisms that could plausibly reduce costs or resolve the failures of the system. The only thing it does is cut spending for people in the exchanges and on Medicaid.
The details of the emerging Senate bill seem to be conceptually similar. Republicans promised to take their time and get it right, but they very quickly changed their mind about this. The Senate bill replicates the House bill in its overall design, which is Obamacare-but-a-lot-less-of-it. http://nymag.com/daily/intelligencer/2017/06/republicans-know-their-health-care-plan-is-garbage.html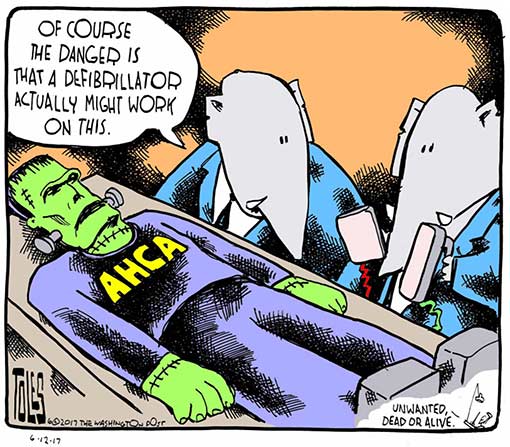 11. Betsy Woodruff: Reported Comey Complaint Threat Follows Old Trump Pattern: When In Doubt, Sue
After James Comey's bombshell testimony, it didn't take Team Trump long to hit back with a tactic dating to the president's real estate days: a lawsuit.
Trump is so enthusiastic about lawsuits that he's ruminated about changing the libel laws so people can sue media outlets more easily.
Susan Seager, a first amendment attorney and columnist at TheWrap who teaches media law at the University of Southern California, wrote an extensive study of Trump's litigation habits, wrote an extensive history of Trump's history of libel lawsuits. She found the man who would be president was "a libel bully but also a libel loser"––inclined to sue even when he had no shot of winning.
"He sues his critics and he sues even though he doesn't win," she told The Daily Beast. "He sues without caring whether he can win or not."
And, she added, the Comey threat fits with Trump's pattern of suing his critics. The only question is if it will also fit with his pattern of losing to them. http://www.thedailybeast.com/reported-comey-complaint-threat-follows-old-trump-pattern-when-in-doubt-sue
12. Max Boot: 'Total and Complete Vindication'? No Way.
That Donald Trump and his defenders are breathing a sigh of relief after former FBI Director James Comey's blockbuster Senate testimony shows how low the bar has been set for the president. Sure, he lied and behaved unethically — but, hey, at least he's not personally under investigation for colluding with Russia to alter the 2016 election. Trump claimed 'total and complete vindication.'
"What total and complete chutzpah. Not only is Comey's testimony damning on its own, but the situation is far worse for the president than the testimony, taken in isolation, would suggest. What Comey said, in his calm, just-the-facts-ma'am manner, is only one piece of the Kremlingate jigsaw puzzle. You have to look at it in totality to see how damning the whole picture actually is. There's a good reason why Sen. John McCain recently said this scandal is reaching 'Watergate size and scale.' There are three parts of this puzzle: collusion, quid pro quo, and cover-up." 6/9/17 http://foreignpolicy.com/2017/06/09/comey-testimony-russia-obstruction-total-and-complete-vindication-trump/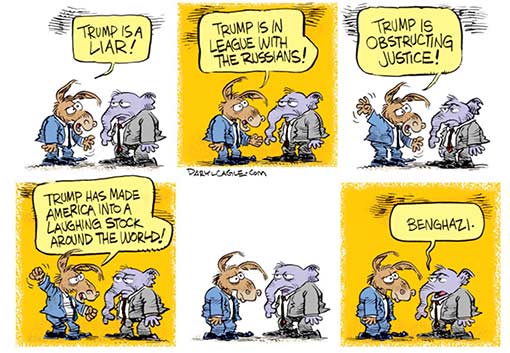 13. Maureen Dowd: Comey and Trump, the G-Man vs. the Mob Boss
Lordy, what a fine day to be Donald Trump.
Three hours of earnest James Comey testimony before the Senate Intelligence Committee and the president is not in immediate jeopardy of being indicted or impeached.
High crimes can wait. The master of low expectations headed off to his New Jersey golf club to celebrate the fact that he still has plenty of time for further self-incrimination.
If there's going to be an auto-da-fe on the Potomac, Trump would prefer to light the match. He doesn't want some shrewd, fired, leaking, taller-than-thou swamp creature to take him out when he can self-immolate.
He can do the job himself on Twitter and in TV interviews.
Trump is so self-regarding that he can only process the Russia hack as an insult to him. If the Russians helped him beat Hillary, then he gets less credit.
And with Comey & Co., Trump is so eager for the credit that he would rather bring himself down than allow someone else the honor. https://www.nytimes.com/2017/06/10/opinion/sunday/comey-and-trump-the-g-man-vs-the-mob-boss.html
14. Fred Kaplan: What Trump Doesn't Know Will Hurt Us
After James Comey's sworn Senate testimony Thursday, even stalwart Republicans are finding it harder to deny that Donald Trump has no business being president. But it's not stopping them from defending him anyway or from bringing the nation closer to disaster.
House Speaker Paul Ryan tried to excuse the most incriminating portions of Comey's statement—the highly detailed claims that Trump pressured him to swear loyalty, to drop the probe of Michael Flynn, and to tell the public that Trump himself was not under criminal investigation—by saying that the president is "just new to this." In other words, Ryan was saying, Trump isn't a crook; he's just ignorant.
Leaving aside the civic bromide that ignorance is no excuse when it comes to breaking the law, Ryan is off the mark, at least in this case. Trump kicked several officials out of his office before twisting the FBI director's arm. As Comey asked at his hearing, why would he do that if he didn't know he was about to engage in improper behavior?
So these are the GOP's rationales for Trump's behavior: He was only talking like a felon, he didn't necessarily commit a crime; and if he did, it's only because he didn't know what he was doing. It's hard to believe that even the likes of Ryan and Christie aren't a little disturbed by this state of affairs—not only because of what might be uncovered next, but because of what they are facing and abetting right now. By the powers vested in his office, Trump has immense powers (among other things, he has the nuclear codes), and his defenders are tolerating his presence in this office, even while knowing the risks.
Yes, he's to this—but he hasn't taken a single step to grow into the job. Yes, he may have had what he sees as a normal New York conversation—but he doesn't grasp that negotiating with Europe and the Middle East is different from dealing with tenants and contractors in the Manhattan real-estate market. One of these days, he may confront a crisis that's not of his own making, and nobody knows—and everyone fears—what he might do. The Republicans are no less fearful of this prospect, and yet they do nothing but make excuses for doing nothing. The warning that Comey's testimony sends to Republicans is this: If the bell ever tolls for Donald Trump, it will also toll for thee. The bigger worry is that, sometime before then, it may toll for us all. http://www.slate.com/articles/news_and_politics/war_stories/2017/06/the_dangerous
_gop_excuse_about_trump_s_inexperience_in_the_comey_affair.html