August 26, 2021
ON THE RECORD. . .
"We will have time to debate what went wrong in the war in Afghanistan, but in this critical moment we must listen to the voices of Afghan women and girls. They are asking for protection, for education, for the freedom and the future they were promised. We cannot continue to fail them. We have no time to spare."— Malala Yousafzai, who survived a Taliban assassination attempt, is an activist for girls' education and the youngest-ever Nobel Peace Prize laureate.

Trump shouts out Marjorie Taylor Greene, who he calls "one of my favorite people," "so smart," and an "incredible woman" — Rally in Cullman, Alabama

"He's willing to die for this country." — Trump about MyPillow guy Mike Lindell.

"Trump's presidency of lies, cronyism, shady dealings, and bullying caused to our country, and especially to the Republican party. Within four years, the GOP was synonymous with fake news, extreme divisiveness, and brazen lies. Rather than becoming great again, the party had degenerated into a personality cult centered around Donald Trump." — Former South Carolina Gov. Mark Sanford (R)

"The test of competence and of leadership is not about how you operate on your best day. It's about how you operate when the chips are down, when things are difficult, when you need to adapt and make decisions"— White House press secretary Jen Psaki responding to questions about Biden and Afghanistan.

"Election season is far off, but Gov. Ron DeSantis has been in full-blown campaign mode, crisscrossing the state almost every day in the past week, touting monoclonal antibody treatments for people infected with COVID-19, defending his handling of the pandemic, and excoriating anyone who disagrees with his approach." -- South Florida Sun-Sentinel

 There was never a decent way to leave the country, which is why we fought a futile war for 20 years. But there also wasn't a decent way to stay. — Michelle Goldberg in the NY times

The speed with which the administration reacted to the changing situation in Afghanistan plus effectively adapted is emerging as the true big story of past couple weeks .... The much bigger story remains the courageous decision to end the 20 year war. — David Rothkopf

In my long experience with elected officials, Biden is doing the rare thing - making hard decisions he seems best for the country without regard to the political or other costs to himself. History will remember him well for this. — Peter O'Connor

I know it's a legal term of art and so lawyers read right past it...
But forgive us non-lawyers for getting stuck on the part of today's ruling where the judge explains that the Trump lawyers will be sanctioned in part for their "empty heads." — Rachel Maddow MSNBC @maddow
Read judge Linda V. Parkers' ruling at https://s3.documentcloud.org/documents/21049106/judge-parker-ruling-82521.pdf

VIDEOS

Incredible -- Fox News just reported "no word on a possible motive" for DC bomb threat suspect Floyd Ray Roseberry, even though Roseberry posted video rants in which he echoed right-wing Trump and Fox News talking points. — Aaron Rupar VIDEO

How Full Are Hospital ICUs Near You? "About one in 4 U.S. hospitals with intensive care units, or 770 total hospitals, recently reported that at least 95 percent of their I.C.U. beds were full." Zoom in to see specific hospitals: https://nyti.ms/3sNX7oR
Litigation Tracker: Pending Criminal and Civil Cases Against Donald Trump
---
IN THIS ISSUE
IN THE NEWS
OPINION
Andy Borowitz: DeSantis Losing Support Among Voters Opposed to Dying
In a potentially ominous development for the Florida governor, a new poll shows Ron DeSantis hemorrhaging support among voters who identify as opposed to dying.

According to the poll, DeSantis's favorability numbers are plummeting among Floridians who describe themselves as "somewhat," "very," or "strongly" opposed to being dead.

Asked to name the issue most important to them, an overwhelming majority of anti-dying voters cited "continuing to exist," with the economy and immigration placing a distant second and third.

Harland Dorrinson, an aide to the Governor, dismissed the poll numbers as "a distraction" and said that "this obsession with not dying is the kind of political correctness the people of Florida are tired of."

"Governor DeSantis has had a very strong pro-dying message, and that's not going to change," the aide said. https://www.newyorker.com/humor/borowitz-report/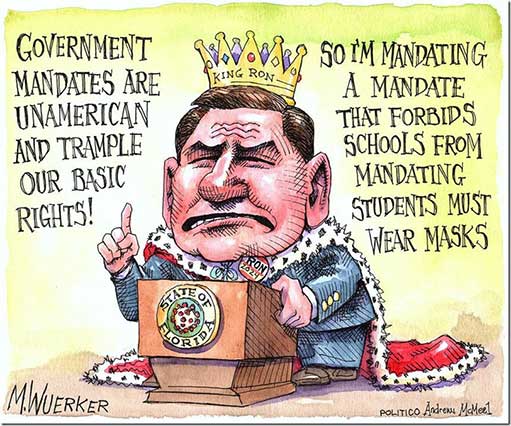 In Iowa, Gaetz and Greene Pick Up Where Trump Left Off
Far from Washington, and even farther from their home congressional districts, Representatives Matt Gaetz of Florida and Marjorie Taylor Greene of Georgia found their people.
As the two Republican lawmakers spoke at an "America First" rally in Des Moines, held in an auditorium that often hosts people with presidential aspirations, up was down and misinformation was gospel. Ms. Greene denounced Covid-19 vaccines to applause. Both declared former President Donald J. Trump the rightful winner of the 2020 election. https://www.nytimes.com/2021/08/21/us/politics/marjorie-taylor-greene-matt-gaetz-iowa.html
A Bad Poll for Ron DeSantis
Florida, of course, is ground zero in the mask wars, to a degree unsurpassed by any state, with the possible exception of Texas. In Florida, Republican Gov. Ron DeSantis has done everything he can to block local officials from implementing mask mandates, sparking a remarkable rebellion, with numerous school districts defying him.
The Quinnipiac poll finds:
A plurality of Florida residents believe DeSantis is hurting efforts to slow the spread of covid-19 in the state, 46 percent to 41 percent.
73 percent think the spread of covid in the state is a serious problem, 59 percent say the spread is out of control, and 61 percent say it was preventable.
60 percent support requiring students, teachers and staff to wear masks in schools, while only 36 percent oppose it. And by 54 percent to 44 percent, Floridians say schools, not parents, should make the decision on masks for kids.
59 percent support requiring mask-wearing in indoor spaces, while only 39 percent oppose it.
63 percent say the issue of wearing masks is primarily about public health, while only 33 percent say it's about personal freedom. Meanwhile, 64 percent say they're effective in slowing covid spread.
68 percent say local officials should generally be able to require masks in indoor public spaces.
Large majorities reject just about every aspect of DeSantis's framing of this public debate. Those majorities not only support mask mandates; they also see them as a matter of public health and a legitimate tool for local officials to employ. They don't see them as an infringement on freedom, and see them as effective against covid spread, which they view as a problem that is both preventable and that DeSantis has personally made worse. https://poll.qu.edu/images/polling/fl/fl08242021_fldn33.pdf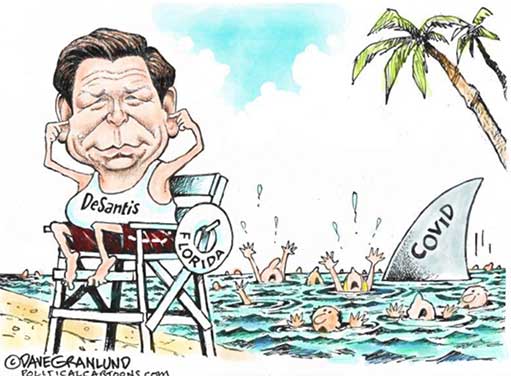 How California's Gavin Newsom could lose his job to a Republican in a recall
How does a relatively popular Democratic governor in one of the bluest states in the country find himself at serious risk of losing his job to a Trump-supporting Republican?
The answer in the case of California's Gavin Newsom is a mix of excitement among conservatives, apathy from everyone else, a confusing process and tensions heightened by the pandemic.
Californians will vote by Sept. 14 on whether to kick Newsom out of office three years into his first term. If they do, the candidate currently most likely to replace him is an anti-mask-mandate conservative radio host who cuts against the state's liberal slant. https://www.washingtonpost.com/politics/2021/08/25/california-governor-recall-election-gavin-newsom/
Pence aide blames Stephen Miller for 'devastating' visa system for Afghans
A former aide to former Vice President Mike Pence blamed racist views of a top Trump administration official for the inability of many translators and other allies to get out of Afghanistan before the U.S. withdrew troops.
Olivia Troye tweeted that Stephen Miller, a senior adviser to former President Donald Trump, teamed up with "enablers" to undermine anyone trying to get the allies out by "devastating" the special immigrant visa system at the departments of State and Homeland Security.
"Stephen Miller would peddle his racist hysteria about Iraq & Afghanistan," tweeted Troye. She described Pence as "fully aware" of the problem. https://www.usatoday.com/story/news/politics/2021/08/21/mike-pence-aide-blames-stephen-miller-wrecking-afghan-visa-system/8228495002/
GOP Lawmaker Failed to Disclose $10.9 Million In Trades
Rep. Diana Harshbarger (R-Tenn.) failed to properly disclose more than 700 stock trades that together are worth as much as $10.9 million. https://twitter.com/dsamuelsohn/status/1428434520122998787
How Partisanship Affects Pandemic Thinking
There were no open I.C.U. beds on Wednesday in Alabama, or in parts of Florida, Louisiana, Mississippi and Texas, as hospitals across the South buckled under the weight of a coronavirus surge that could have been mitigated. Cases, hospitalizations and deaths are increasing nationwide. Every day, on average, more than 800 Americans are dying from Covid-19.
It is a humanitarian catastrophe, and yet many Americans see it through a political lens. The South has some of the nation's lowest vaccination rates, driven partly by Republican reluctance. Some governors — including Gov. Greg Abbott of Texas, who is infected with the coronavirus himself — have forbidden local officials to impose mask requirements. Gov. Ron DeSantis of Florida, who has not changed his approach to follow public health guidelines, has claimed falsely that the surge is a result of President Biden's border policies.
The divisions extend beyond policies to general attitudes about the pandemic: While nearly 60 percent of Americans overall said in a recent Quinnipiac poll that they were concerned about the Delta variant, more than 60 percent of Republicans said they weren't. And research indicates that many people are looking at Covid policies they don't like and blaming whichever party they're not part of.
It's enough to make one despair about the American public's ability to deal in a nonpartisan manner with, well, anything. https://www.nytimes.com/2021/08/19/us/politics/covid-democrats-republicans.html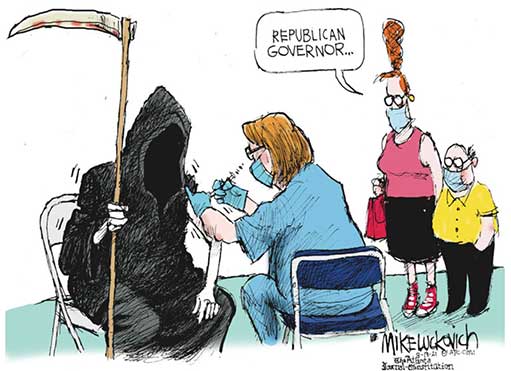 We're all going to pay for the unvaccinated
The spike in hospitalizations of unvaccinated adults — which are almost all preventable — cost the U.S. health system more than $2 billion in June and July, We're all paying for the unvaccinated, and the big question is how large we'll let the bill become. https://www.axios.com/coronavirus-unvaccinated-hospitalization-pay-013d7505-398b-4ff0-9501-53478ad615de.html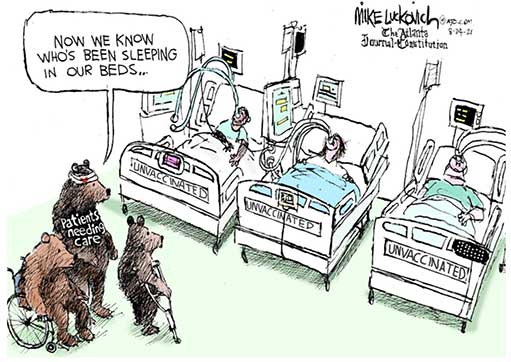 AP asks DeSantis to stop aide's "harassing behavior" toward reporter
The Associated Press' incoming CEO is asking Florida Gov. Ron DeSantis to put a stop to his press secretary's "harassing behavior" that she says has endangered one of the organization's journalists in our state.
DeSantis aide Christina Pushaw's Twitter account was temporarily suspended for violating rules on abusive behavior after she encouraged her followers to target longtime Florida reporter Brendan Farrington, who wrote a story last week pointing out that the hedge fund of one of DeSantis' top donors has invested millions in Regeneron, which manufactures a COVID-19 monoclonal antibody treatment that DeSantis has been promoting around the state.
Farrington said he received threats and hate messages about the story. "I'll be fine, I hope. Freedom. Just please don't kill me," he tweeted. https://www.axios.com/ap-ron-desantis-christina-pushaw-harassment-reporter-95667459-3001-4232-821e-f76d8a141f3b.html
Trump's Border Wall Torn Apart by Arizona Monsoon Rains
It turns out ignoring bedrock environmental laws may not have been the best choice for a multibillion-dollar construction project. Photos show former President Donald Trump's border wall in deep disrepair after summer monsoon rains literally blew floodgates off their hinges.
It remains to be seen what the future holds for the wall which has created an environmental catastrophe for one of the most fragile ecosystems in North America, a place where the wildlife from the tropics, desert, and mountains mingle. Images captured during construction of iconic saguaros being razed as well as numerous environmental impact statements laid the risks bare, and Traphagen described camera trap photos his group has taken documenting everything from rare jaguars to common javelinas pacing along the wall in search of a way around.
The severe floods may have given them a passageway near San Bernardino. And the monsoons—which have become more intense due in part to the climate crisis—could rip further parts of the shoddily constructed wall asunder. But it's clear that there's a need for a much deeper reckoning and remediation. https://gizmodo.com/trumps-border-wall-torn-apart-by-arizona-monsoon-rains-1847535174
Divisions emerge among Republicans over how to handle Afghan refugees
Divisions over how to handle an impending Afghan refugee crisis are beginning to emerge among Republicans, potentially leading to clashes at a time when GOP leaders are trying to keep the party united around its criticism of President Biden's handling of the U.S. withdrawal from Afghanistan.
Several congressional Republicans who have long warned against a hasty retreat from Afghanistan have been quick to say that the United States should welcome refugees fleeing the country to prevent a humanitarian crisis, especially Afghans who assisted the United States during the long war and women — two groups most likely to face violent retribution under the Taliban regime that has seized control.
"We need to care for them," Senate Minority Leader Mitch McConnell (R-Ky.) told a local Kentucky television station Tuesday. "We owe it to these people, who are our friends and who worked with us, to get them out safely if we can."
But the nativist wing of the party that backed President Donald Trump's "America First" agenda is warning that the Afghan refugees could pose a security threat and is stoking fears about where they would settle in the United States. Some on the right have characterized the arrival of Afghans as part of their broader "replacement theory" warning — the idea that immigrants and particularly undocumented ones are "replacing" natural-born Americans.
Rep. Marjorie Taylor Greene (R-Ga.) rebuked a suggestion by Georgia's Republican governor, Brian Kemp, that he may allow the state to accept refugees. He should not do so, she warned, while Americans remain "stranded" in Afghanistan. She also questioned the cost to Georgia taxpayers and added that "the future of GA shouldn't be like MN that voted for [Rep. Ilhan] Omar, a liberal Democrat from Minnesota and a refugee from Somalia who is often attacked by Republicans.
The warnings are also being pushed by former top Trump adviser Stephen Miller, who advocated a restrictive immigration policy that his detractors called racist. https://www.washingtonpost.com/politics/afghan-refugees-republicans/2021/08/18/3592aaa0-005e-11ec-825d-01701f9ded64_story.html
DeJoy maintains financial ties to former company as USPS awards it new $120 million contract
The U.S. Postal Service will pay $120 million over the next five years to a major logistics contractor that Postmaster General Louis DeJoy previously helped lead and with which his family maintains financial ties, according to DeJoy's financial disclosure statements and a federal contracting database.
The new contract will deepen the Postal Service's relationship with XPO Logistics, where DeJoy served as supply chain chief executive from 2014 to 2015 after the company purchased New Breed Logistics, the trucking firm he owned for more than 30 years. Since he became postmaster general, DeJoy, DeJoy-controlled companies and his family foundation have divested between $65.4 million and $155.3 million worth of XPO shares, according to financial disclosures, foundation tax documents and securities filings.
But DeJoy's family businesses continue to lease four North Carolina office buildings to XPO, according to his financial disclosures and state property records. https://www.washingtonpost.com/business/2021/08/06/usps-dejoy-xpo-logistics/
Donald Trump Booed at Alabama Rally After Encouraging Crowd to Get COVID-19 Vaccine
Former President Donald Trump was booed by his own supporters during a rally in Cullman, Alabama Saturday night after he encouraged the crowd to get vaccinated against COVID-19.
"I believe totally in your freedoms, I do, you gotta do what you gotta do, but I recommend take the vaccines. I did it. It's good," he said, drawing boos from the crowd of supporters. https://www.newsweek.com/donald-trump-booed-alabama-rally-after-encouraging-crowd-get-covid-19-vaccine-1621811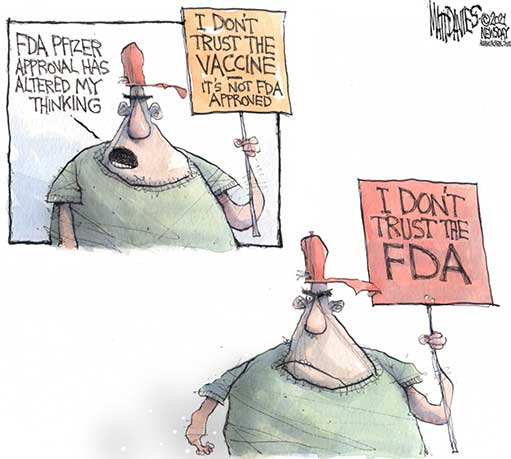 QAnon Thinks the Taliban Takeover of Afghanistan Is a Hoax
As horrific scenes of Afghans bleeding in the streets of Kabul shock the world, and Afghan women cower in fear of their fate under Taliban rule, QAnon followers have convinced themselves that the swift takeover of the country is a hoax designed by President Joe Biden as a distraction from the imminent release of the election audit report in Arizona.
And as with every other QAnon conspiracy, believers have been seeing "evidence" everywhere.
For example, in the widely-shared footage of the U.S. military plane leaving Kabul airport surrounded by Afghans on the runway, QAnon influencers noted that the number on the plane was 1109. When flipped around, it becomes "911"—though, of course, that's only accurate if you conveniently ignore the 0. https://www.vice.com/en/article/wx5yxq/qanon-thinks-the-taliban-takeover-of-afghanistan-is-a-hoax
Tucker Carlson Labels Afghans Trying to Flee as 'Invaders'
"If history is any guide, and it's always a guide, we'll see many refugees from Afghanistan resettle in our country in coming months, probably in your neighborhood. And over the next decade, that number may swell to the millions. So first we invade and then we're invaded." — Tucker Carlson calling the Afghans trying to flee the Taliban "invaders," adding that they will probably resettle in "your neighborhood." https://twitter.com/ColumbiaBugle/status/1427436463554240515
Laura Ingraham continued the theme: "Is it really our responsibility to welcome thousands of refugees from Afghanistan?" https://twitter.com/Acyn/status/1427456133376090131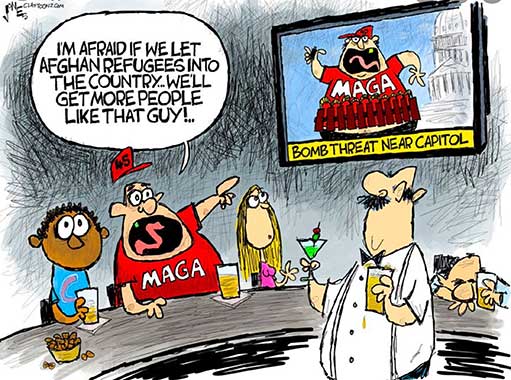 Fox News' 'big lie' segments face judicial comeuppance
All those hoping for some in-your-face accountability to visit proponents of the "big lie" would have enjoyed the hearing on Tuesday in the virtual courtroom of New York State Supreme Court Judge David B. Cohen. At issue was a $2.7 billion lawsuit by voting-technology company Smartmatic against Fox News for rolling the company into various segments alleging a grand conspiracy to steal the 2020 election from former president Donald Trump.
In a 270-page February filing — a length attributable to the volume of errant claims pushed by the defendants — Smartmatic alleges, "Defendants' story was a lie," reads the suit, which targets not only Fox News, but also three of its anchors and attorneys Rudolph W. Giuliani and Sidney Powell. "All of it. And they knew it. But, it was a story that sold.
That vigorous defense is afoot, but not even Fox News's first-rate legal team can erase the scurrilous transcripts. https://www.washingtonpost.com/opinions/2021/08/19/fox-news-big-lie-segments-face-judicial-comeuppance/
GOP governors embrace Covid cocktails over masks as cases surge
Republican governors in some of the states hardest hit by the pandemic are pushing expensive Covid cocktails over cheap masks.
The governors in Florida, Missouri and Texas are promising millions of dollars in antibody treatments for infected people even as they oppose vaccine and mask mandates, saying they can potentially keep people with mild Covid symptoms out of hospitals that are being swamped by new cases. But the treatments and cost of providing them are thousands of dollars more than preventive vaccines, and tricky to administer because they work best early in the course of an infection.
The push to medicate rankles public health officials and some within the Biden administration, who say the governors' stance misleadingly implies Covid-19 can be treated easily, like the common cold. They note treatments like Regeneron's antibody cocktail — which was administered to former President Donald Trump during his bout with the disease — are essential but part of a limited arsenal to keep patients from being hospitalized or dying, not a game-changer that could help end the pandemic. https://www.politico.com/news/2021/08/19/red-state-govs-push-pricey-covid-treatments-while-fighting-masks-506166
Hobby Lobby ordered to pay $220K to transgender employee banned from women's restroom
An Illinois appeals court has upheld a ruling that arts-and-crafts retailer Hobby Lobby should pay at least $220,000 to a transgender employee for forbidding her to use the store's women's restroom, violating the state's Human Rights Act.
The employee's attorney said the sum, affirmed Friday, would be the state's highest-ever emotional distress damage award. https://www.washingtonpost.com/nation/2021/08/18/transgender-bathroom-hobby-lobbby/
Facebook says post that cast doubt on covid-19 vaccine was most popular on the platform from January through March
Facebook said Saturday evening that an article raising concerns that the coronavirus vaccine could lead to death was the top performing link in the United States on its platform from January through March of this year, acknowledging the widespread reach of such material for the first time. https://www.washingtonpost.com/technology/2021/08/21/facebook-coronavirus-vaccine/
The DAILY GRILL
On Fox News on Aug. 19, Texas Lt. Gov. Dan Patrick claimed that "African Americans who have not been vaccinated" are "the biggest group in most states" that are contributing to the spike in COVID-19 cases. His statement is false, and it's drawing criticism from constituents and fellow politicians. https://www.kvue.com/article/news/health/coronavirus/dan-patrick-texas-vaccination-covid-surge-fox-news/269-44423c06-45e9-44f8-8cf6-5f6daeadc196

VERSUS

According to the Kaiser Family Foundation, only 40 states report vaccines by race. And among those that do, yes, Black people have the lowest vaccination rate at 40%, compared to 50% of white people. But Black people only make up 12% of the American population. So that means that for every one unvaccinated Black person in America, there are four unvaccinated white people. In Texas, for every one Black Texan who isn't vaccinated, there are three white unvaccinated Texans and three Hispanic unvaccinated Texans. https://www.kvue.com/article/news/health/coronavirus/dan-patrick-texas-vaccination-covid-surge-fox-news/269-44423c06-45e9-44f8-8cf6-5f6daeadc196
Eric Levitz: The Media Manufactured Biden's Political 'Fiasco' in Afghanistan "Straight news" has chosen sanctimony over circumspection.
America's withdrawal from Afghanistan has yet to cost our nation a single casualty. Evacuations of U.S. citizens and allies from Kabul's airport are proceeding at a faster pace than the White House had promised, or than its critics had deemed possible. Afghanistan's decades-long civil war has reached a lull, if not an end. On the streets of Kabul, "order and quiet" have replaced "rising crime and violence." Meanwhile, the Taliban is negotiating with former Afghan president Hamid Karzai over the establishment of "an inclusive government acceptable to all Afghans."
In other words, Joe Biden's withdrawal from Afghanistan has been a "disastrous" and "humiliating" "fiasco," in the words of the mainstream media's ostensibly objective foreign-policy journalists.
This may be an accurate description of what recent events in Kabul have meant for the president, politically. The latest polls have shown sharp drops in Biden's approval rating, driven in part by widespread opposition to "the way" his administration handled its (otherwise popular) exit from Afghanistan. Yet this political fiasco is not a development that the media covered so much as one that it created.
Countless reporters and commentators have cited the relatively low level of U.S. casualties in Afghanistan in recent years as proof that maintaining the status quo was a near cost-free proposition. When doing so, such cosmopolitan correspondents reveal the insularity of their moral vision. Before Biden commenced his withdrawal and the Taliban completed their victory, the 20th year of the war in Afghanistan was set to "witness the highest-ever number of documented civilian casualties in a single year" since the U.N. mission there began keeping records. Meanwhile, civilians unharmed by the war's violence have endured "elevated rates of disease due to lack of clean drinking water, malnutrition, and reduced access to health care" as a result of the conflict, according to the Watson Institute's "Costs of War" project. American involvement in Afghanistan has not only harmed civilians indirectly by perpetuating civil war; our nation also directly incinerated and tortured Afghans in the course of defending their freedom.
Every "child with a teddy-bear backpack separated from a parent" may reinforce the impression that America withdrew from Afghanistan too soon. Or every child killed in the course of a doomed counterinsurgency campaign may reinforce the impression that America withdrew far too late. It all depends on where one chooses to look.
Until America's bleeding-heart correspondents reckon with their field's endemic biases, their reporting will routinely devolve into advocacy, if not rationalizations, for future bloodshed. https://nymag.com/intelligencer/2021/08/media-bias-biden-polls-approval-afghanistan-withdrawal.html?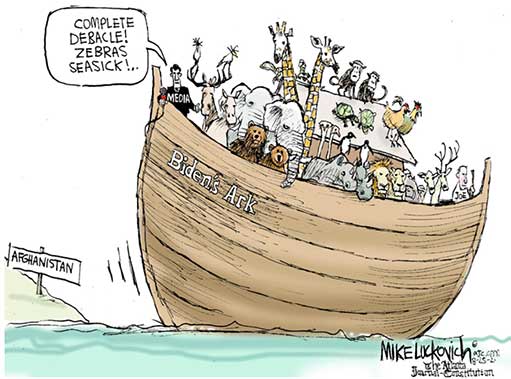 Michael Crowley: Trump's Deal With the Taliban Draws Fire From His Former Allies
In a February 2020 deal under which the United States agreed to withdraw in return for Taliban promises not to harbor terrorists and to engage in their first direct negotiations with the Afghan government. Mr. Trump's secretary of state, Mike Pompeo, attended the signing ceremony in Doha and posed for a photo alongside the Taliban leader, Mullah Abdul Ghani Baradar, which resurfaced this week on social media. Mr. Baradar is widely expected to become the head of a new Taliban government based in Kabul.
Some former senior Trump officials now call that agreement fatally flawed, saying it did little more than provide cover for a pullout that Mr. Trump was impatient to begin before his re-election bid. They also say it laid the groundwork for the chaos unfolding now in Kabul.
"Our secretary of state signed a surrender agreement with the Taliban," Mr. Trump's second national security adviser, H.R. McMaster, said of Mr. Pompeo during a podcast interview with the journalist Bari Weiss on Wednesday. "This collapse goes back to the capitulation agreement of 2020. The Taliban didn't defeat us. We defeated ourselves."
Nor is there evidence that top Trump officials prioritized planning for the eventual evacuation of Americans, or of Afghans who might be subject to Taliban reprisals for working with the United States. https://www.nytimes.com/2021/08/19/us/politics/trump-biden-afghan-taliban.html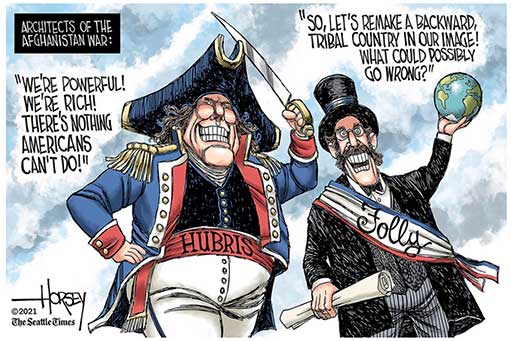 Michelle Cottle: The Trump Clown Car Has a Smashup in Arizona
The clown-car chaos in Arizona is a near-perfect distillation of what Mr. Trump has done to the Republican Party, as well as much of the broader public. On what feels like a daily basis, he beats the drum about a stolen election, setting a tuneful lie that many Republican voters still dance to as the party mandarins look on, in either active support or silence. The political ramifications of this disinformation will be on display in Arizona's U.S. Senate race next year, as well as those elsewhere, as independents and moderates assess if this is the party they want to reward.
But there's another cost that should worry all of us: the integrity of election audits, which are important and are necessary. While many secretaries of state are now pushing for new standards for such audits, the Arizona recount stands as an object lesson about the embarrassing damage to democracy that one party can inflict when led by a sore loser who still manages to scare people.
For those who have blissfully forgotten the Arizona back story: Mr. Trump was mad about narrowly losing the state to Joe Biden. He was madder still when two recounts of vote-rich Maricopa County confirmed his loser status. Desperate to appease him and his devoted base, a gaggle of Republican state senators arranged for yet another review, this one run according to their preferences and overseen by private contractors of their choosing. The result has been a poisonous, partisan P.R. stunt so poorly executed that it makes the hunt for a new "Jeopardy!" host look smooth by comparison. https://www.nytimes.com/2021/08/24/opinion/arizona-results-trump-republicans.html
Margaret Renkl: Republicans Have Gone Too Far in the Region Hit Hardest by Covid
In case you're wondering how things are going here in the Delta Rising region of the United States, I regret to report that things are going badly. Very, very badly.
Our intensive care units are full. Our children are getting sick in record numbers. Nevertheless, a small subset of unmasked, unvaccinated humanity has taken to yelling during school board meetings, and the most extreme protesters have issued threats against nurses and physicians who dared to speak publicly on behalf of such reasonable pandemic mitigation measures as masks and vaccines.
It's so bad that the Tennessee Medical Association had to issue a statement in support of the exhausted heroes who for the past 18 months have been risking their own lives to care for strangers. "The enemy is the virus, not health care workers," the statement read.
This is what some of us have become here in the American South: people who need to be reminded that our doctors are not our enemies. https://www.nytimes.com/2021/08/23/opinion/covid-masks-students.html
Jennifer Rubin: Why so many people find Biden an easy target
The vehemence with which many politicians and media pundits on the left and right have attacked President Biden should not be surprising. Given the chaotic and heart-wrenching scenes in Afghanistan, the commander in chief becomes an obvious target, especially for a press corps desperate to show they do not have a liberal bias.
But "chaotic" does not equal "failed," and just because our intelligence community blew it big time — again — does not mean the United States has abandoned its Afghan partners. Since Aug. 14, we have evacuated over 37,000 people. The United States has enlisted a slew of allies to help receive refugees. And our allies remain united that they will not recognize nor extend aid to the Taliban until we are satisfied they have not hindered our evacuation and are respecting human rights.
Despite the torrent of angry media coverage, a recent CBS News poll found that 63 percent of Americans still want out of Afghanistan. And while Biden's approval ratings have dipped (largely due to the covid-19 surge), the decline is less than one might expect. In NBC News's poll, for example, he has dropped only one point among registered voters — from 51 to 50 percent — since April. So why is the media so determined to convey that Biden's effort has "failed"? https://www.washingtonpost.com/opinions/2021/08/23/why-so-many-people-find-biden-an-easy-target/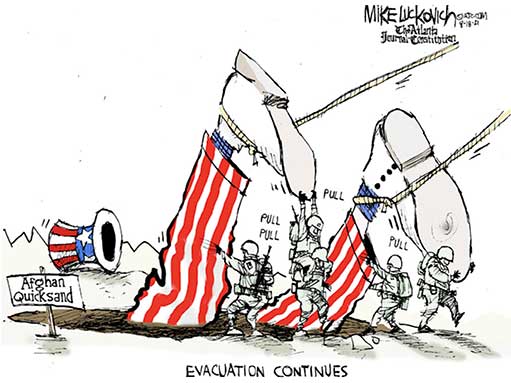 Bess Levin: Surprise: Fox News Hosts Are Following Strict COVID Protocols While Telling Viewers Masks and Vaccines Are Liberal Plots
Early on in the pandemic, the conservative media decided that following the advice of medical experts was for liberal commies, and that they'd be damned if they were going to listen to a bunch of people trying to help them avoid illness and death. Thanks to these talking heads, a disturbing percentage of Americans have refused to get vaccinated or wear masks, even as the far more contagious delta variant rips through the country, disproportionately hospitalizing and killing those who've chosen not to get inoculated. In fact, between June 28 and August 8—as ICUs became overwhelmed and COVID cases among children in the U.S. jumped—Fox News' anti-vaccination campaign got even worse; according to a report from Media Matters, the network aired 840 claims undermining or downplaying vaccinations, with hosts and guests suggesting the lifesaving immunizations were unnecessary, dangerous, a violation of personal freedom, and a plot by Democrats to win elections. Which is obviously a uniquely f--ked-up position to take considering vaccines have been proved to work and are our only hope of one day getting out of this nightmare. Also f--ked up? That Fox hosts obviously know this and are personally following COVID protocols off the air, but assume their viewers are stupid enough to buy that they're all in this together.
On Wednesday night, Hannity had Florida governor Ron DeSantis—under whose stewardship Florida has become a COVID-infested hellhole—for a fact-free discussion about vaccines that included the claim that the shots are "not protecting many people," when in fact they're protecting 99.999% of them. https://www.vanityfair.com/news/2021/08/fox-news-hosts-are-following-strict-covid-mandates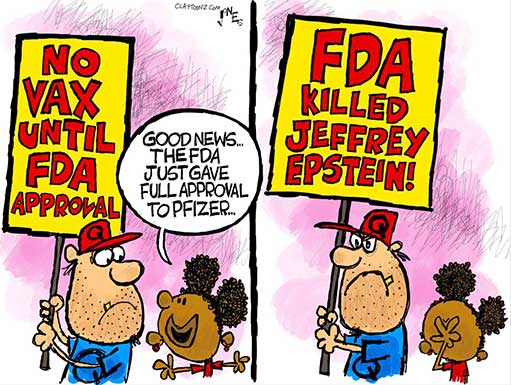 Michael Gerson: Govs. DeSantis and Abbott, in denial and risking lives, have betrayed the public trust
The challenge for the governors is that public health is not the same as other issues. Their actions will lead, directly and predictably, to deaths in their states. This constitutes a betrayal of public trust so grave — a violation of moral responsibilities so depraved — that I am not sure there is a word for it. Selling the lives of your fellow citizens to a foreign power is treason. What is the proper description of selling the lives of your fellow citizens to a crazed political interest group?
The problem for the Republican Party is that one of the central demands of a key interest group is now an act of sociopathic insanity. Some of the most basic measures of public health have suddenly become the political equivalent of gun confiscation.
It's as if the activist wing of the GOP decided that municipal trash pickup is a dangerous socialist experiment. Or chlorine in public pools is an antifa plot. There can be no absolute political right to undermine the health and safety of your community. Or else community has no meaning. https://www.washingtonpost.com/opinions/2021/08/19/desantis-abbott-florida-texas-covid-denial-risks-lives/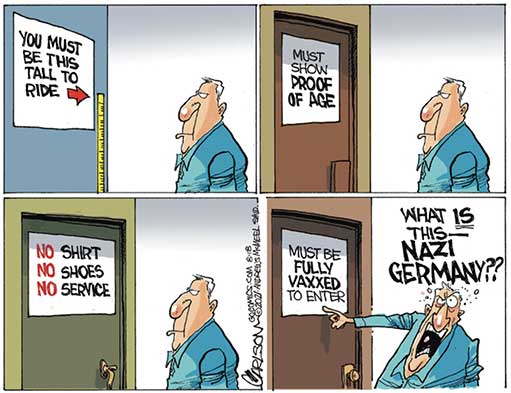 Daily Kos: The Florida Fascist: The next Trump may succeed, and will be much worse
In November 1923, Adolf Hitler demanded his followers "March on Berlin" to overturn the democratic government of Germany. The violent coup didn't succeed, and he was jailed briefly. However, less than 10 years later, he would have firm control of the government. As evil as Hitler was, he wasn't stupid. He learned from his mistakes and changed his tactics. Thankfully, Trump is incapable of that kind of insight—but Trump is not the only dangerous person within the Republican Party.
Florida Gov. Ron DeSantis is one such person. He is every bit the fascist, if not more, that Trump is. He has supported killing protesters, fired officials who refused to lie to the public, tried to make mocking him a criminal offense, and ordered students and professors to report their beliefs to the state. He knows his executive order to forbid school mask mandates will kill children, even under the threat of losing funding, but he doesn't care in the least because he wants to run for president in 2024. As deadly as this decision is, it's extremely popular with the GOP base—especially now that he blamed immigrants for the spike, and that's all that matters to him. He's even now threatening to remove school officials who "disobey" him.
With serious gerrymandering and laws to suppress votes, the GOP is desperate to win back a congressional majority in 2022. This would be a disaster, as a competent authoritarian leader would have no issue utilizing the GOP's new authority to overturn state elections. Trump's ridiculous claims for winning the election, backed by laughable characters like the Pillow Guy, have opened the door for the GOP to try a "more respectable coup" using arcane legal arguments and the power of state legislatures. Ron DeSantis is power-hungry enough and dangerous enough to be the one to try it. https://www.dailykos.com/stories/2021/8/19/2040351/-The-Florida-Fascist-The-next-Trump-may-succeed-and-will-be-much-worse
Bess Levin: Republicans Who Stood By A Presidential Lunatic Are Now Demanding Biden Be Removed Via 25Th Amendment
Over the weekend, it became clear that the United States' withdrawal from Afghanistan had become an unmitigated disaster as images of Afghan civilians clinging to a military plane in the hopes of escaping the Taliban emerged. As the disaster continues to unfold, there's obviously been a considerable amount of criticism of Joe Biden and his administration. Some of it is entirely reasonable—they clearly should have figured out, among other things, a way to evacuate more people before the country completely collapsed—and some of it is typical hysteria from the right, which has conveniently forgotten that Donald Trump and the GOP have been cheerleading a full pullout from Afghanistan until very recently, and that it was actually the last president who negotiated a deal with the Taliban to pull out U.S. troops, which many believe cost the U.S. leverage it could have applied to force the Taliban "to adhere to the peace deal and a cessation of hostilities," according to Insider. And some of these Republicans are so shameless in their denunciation of Biden that they're calling for him to be removed from office via 25th Amendment, despite standing by Trump as he engaged in behavior worthy of invoking the 25th on a near-daily basis during his time in office.
One of those people is Senator Rick Scott, the chairman of the Senate GOP's campaign arm, who on Monday tweeted, "We must confront a serious question: Is Joe Biden capable of discharging the duties of his office or has time come to exercise the provisions of the 25th Amendment?" To be clear, at no time during Trump's first term did Scott suggest that the 45th president was no longer fit to hold office, not when he was trying to extort Ukraine and not when he incited a violent mob to attack the Capitol. To also be clear, Scott is a partisan hack who was one of just eight GOP senators who tried to overturn a free and fair election even after MAGA rioters tried to stop Congress from certifying Biden's win, and he gave Trump a "Champion of Freedom Award" in April. Oh, and before he got into politics, he was CEO of a company that committed "historic medicare fraud," in case you were wondering if you should trust literally anything he ever says. And he asked for Biden's assistance in Florida on the same day he claimed the guy might not be "capable of discharging the duties of his office." https://www.vanityfair.com/news/2021/08/rick-scott-joe-biden-25th-amendment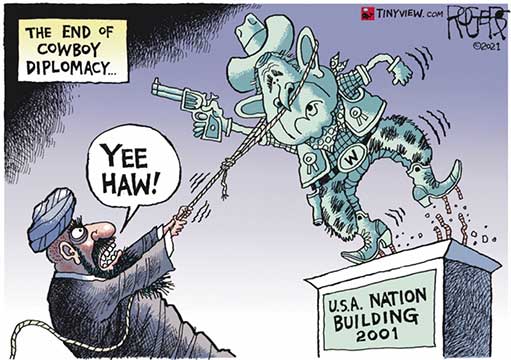 Jamelle Bouie: The 9 Democrats Making Nancy Pelosi's Life Harder Are Making a Big Mistake
Popular or unpopular, good economy or bad, the president's party almost always loses seats in midterm elections. That there are so few exceptions — Franklin Roosevelt and the Democrats in 1934, Bill Clinton and the Democrats in 1998, and George W. Bush and the Republicans in 2002 — proves the rule.
The upshot is that if you are a member of Congress in the majority — and you share a party with the president — the die has been cast. Your party will most likely lose seats in the next elections. You might lose your seat. With that in mind, you can fret and tinker and try to save yourself, or you can do as much as possible with the time you have in power. Voters may not reward productivity, but they almost always punish failure.
I say all of this apropos of the Democrats' two-pronged infrastructure strategy. Moderate and conservative Democrats want a bipartisan bill for roads and transit that they can tout to their voters; progressive Democrats want a partisan bill for new programs and benefits to shore up and expand the American welfare state. Some moderates also fear that anything more aggressive than the bipartisan bill might expose them to backlash in their districts.
If, in 2020, Democrats had won the kind of overwhelming majority they enjoyed at the outset of the Obama administration, one side or the other might be able to win an outright struggle over the party's agenda. But razor-thin margins in the House and Senate give each side the power to kill most of the other side's top priorities. The solution is to do both bills at the same time — to link the passage of one to the other. There will be no bipartisan bill if the partisan one isn't passed and no partisan bill if the bipartisan one does not come to a vote. If the two sides don't hang together, then they will both go down to defeat. https://www.nytimes.com/2021/08/24/opinion/democrats-bipartisan-infrastructure-bill.html