May 2, 2019
ON THE RECORD. . .
"I believe that it is just a matter of time before our party pays a heavy price for President Trump's reckless spending and shortsighted financial policies, his erratic, destabilizing foreign policy and his disregard for environmental concerns. If this is the new normal, I want no part of it." — State Rep. Andy McKean, Iowa's longest-serving Republican state lawmaker, who joined the Democratic Party, protesting Trump's "unacceptable behavior."
"We are in the battle for the soul of this nation. I believe history will look back on the four years of this President, and all he embraces, as an aberrant moment in time."-- Joe Biden
Sixteen years after the U.S. invasion of Iraq, we are again barreling toward another unnecessary conflict in the Middle East based on faulty and misleading logic. The Trump administration's Iran policy, built on the ashes of the failed Iraq strategy, is pushing us to take military action aimed at regime change in Tehran. We must not repeat the mistakes of the past, and Congress must act urgently to ensure that." —  Senator Richard Durbin (D-IL) and Senator Tom Udall (D-NM) warning of the similarities between the U.S. language against Iran today and the rhetoric about Iraq under Saddam Hussein.
"My view is that there's ample reason right now for the House Judiciary Committee to begin an impeachment inquiry … and if it were up to me, I would recommend them to impeach. I mean, if I were called to testify today at the first of those hearings, I would say that Trump's obstruction of justice and frankly, more importantly, Trump's dereliction of duty in failing to address the issue of Russian interference in our electoral processes, are by themselves grounds for his impeachment. Add to that, his recalcitrance in responding to [special counsel Robert] Mueller and his stonewalling of congressional investigations and the case becomes … much more compelling than that which attended the [impeachment] recommendation with respect to Clinton." -- Paul Rosenzweig, who served as a senior counsel to Ken Starr, said that a "significant number" of his former colleagues from the independent counsel office share his views — although notably not Starr himself.
"The president's job is to enforce federal law. If he had ordered its violation to save innocent life or preserve human freedom, he would have a moral defense. But ordering obstruction to save himself from the consequences of his own behavior is unlawful, defenseless and condemnable." — Judge Andrew Napolitano, a senior judicial analyst for Fox News, wrote an editorial arguing that President Trump has indeed obstructed justice.
"The Mueller Report substantiates the core reporting and many of the specifics in Christopher Steele's 2016 memoranda, including that Trump campaign figures were secretly meeting Kremlin figures, that Russia was conducting a covert operation to elect Donald Trump, and that the aim of the Russian operation was to sow discord and disunity in the U.S. and within the Transatlantic Alliance. To our knowledge, nothing in the Steele memoranda has been disproven." — A lawyer for Fusion GPS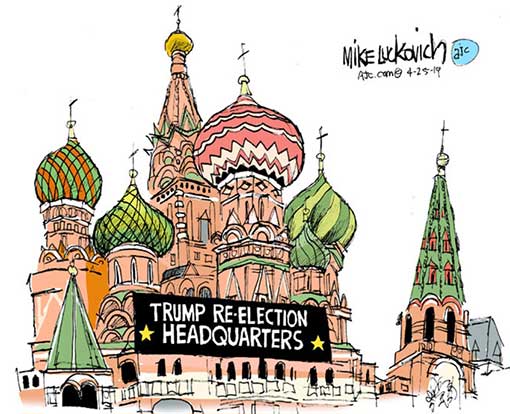 "How can a president function if he instinctively lies to not only the public but to his own staff? There is one essential truth that leaps from the pages of the Mueller report: No one can trust Donald Trump." — GOP presidential candidate Bill Weld calling Trump "a one-man crime wave."
Homosexuality is something to be repentant of, not something to be flaunted, praised or politicized. God doesn't have a political party. But God does have commandments, laws & standards… Mayor Buttigieg says he's a gay Christian… The Bible says marriage is between a man & a woman—not two men, not two women." — Evangelist Franklin Graham calling on Pete Buttigieg to "repent" for being gay.
"We will never allow foreign bureaucrats to trample on your Second Amendment freedom. And that is why my administration will never ratify the U.N. Arms Trade Treaty. I hope you are happy. … I am officially announcing today that the United States will be revoking the effect of America's signature from this badly misguided treatment." — Donald Trump at the NRA convention in Indianapolis.
"The N.R.A. is now mainly a media company, promoting a life style built around loving guns and hating anyone who might take them away." — Mike Spies in the New Yorker
"The Democratic National Committee, sometimes referred to as the DNC, is again working its magic in its quest to destroy Crazy Bernie Sanders… for the more traditional, but not very bright, Sleepy Joe Biden. Here we go again Bernie, but this time please show a little more anger and indignation when you get screwed!" — Donald Trump, encouraging Bernie Sanders supporters.
"Last month alone, 100,000 illegal immigrants arrived at our borders, placing a massive strain on communities … and public resources, like nobody has ever seen before. Now we're sending many of them to sanctuary cities, thank you very much. They ain't too happy about it. I'm proud to tell you that was actually my sick idea." — Donald Trump lying at a Wisconsin rally.
"I've been a prosecutor for nearly 30 years, and I can tell you I've personally prosecuted obstruction cases on far, far less evidence than this, I believe if he were not the president of the United States, he would likely be indicted on obstruction." — Sally Yates, fired by Trump after she refused to defend his travel ban targeting several majority-Muslim countries. 
"And you see it now better than ever, with all of the resignations of bad apples — they're bad apples! They tried for a coup. Didn't work out so well. And I didn't need a gun for that one, did I?" he said. "All was taking place at the highest levels in Washington, D.C. You've been watching, you've been seeing, you've been looking at things that you wouldn't have believed possible in our country. Corruption at the highest level. A disgrace. Spying. Surveillance. Trying for an overthrow. And we caught 'em. We caught 'em." — Trump, referring to the FBI's investigation into whether his campaign had coordinated with Russia's effort to interfere in the 2016 election. 
"The way you can tell Republicans are soft on white-supremacist terrorism is that white-supremacist terrorism is a partisan issue." — Jonathan Chait
"The greatest threat we face — which will test our country, our democracy, every single one of us — is climate change. We have one last chance to unleash the ingenuity and political will of hundreds of millions of Americans to meet this moment before it's too late." — Beto O'Rourke unveiling an ambitious $5 trillion plan to combat climate change that aims to achieve net-zero U.S. emissions by 2050.
---
IN THIS ISSUE
FYI
OPINION
1. Andy Borowitz: Americans Beg Trump for Secret to Staying So Young and Vibrant
"Clients will come in and say, 'Make me as young and vibrant as Donald Trump,'" Tracy Klugian, a fitness professional in St. Louis, said. "I have to warn them that that's setting the bar very, very high."

Having analyzed Trump's fitness habits, Klugian has theorized that his startling youthfulness and off-the-charts vibrance might be the result of eight hours that he devotes each day to "executive time."

"Lifting the remote, putting it down, lifting it again, and then tweeting is an exercise routine that very few people could keep up for one hour, and Trump does it for eight," he said. "I tell my clients, if you want to be as young and vibrant as Donald Trump, you're going to have to put in that kind of time."

Klugian said that he was also putting clients on a "Trump diet," consisting entirely of hamburgers and Coke, to give their bodies the fuel necessary to complete the gruelling remote-lifting-and-tweeting workout.

But the personal trainer said that he urges his clients not to be discouraged if, even after adopting Trump's rigorous exercise routine and diet, they fail to achieve Trump's physical perfection. "At the end of the day, Donald Trump has found the Fountain of Youth, and also the Fountain of Vibrance," he said. https://www.newyorker.com/humor/borowitz-report/
2. FBI chief Wray: Russia works '365 days a year' to undermine American democracy
FBI Director Christopher Wray said Russian efforts to influence American public opinion are not confined only to periods around elections, NBC News reports.
Said Wray: "It's pretty much a 365-days-a-year threat. And that has absolutely continued."
The FBI chief said it consists of constant use of social media, with "fake news, propaganda, false personas, et cetera, to spin us up, pit us against each other, sow divisiveness and discord, and undermine Americans' faith in democracy." https://www.nbcnews.com/politics/national-security/fbi-chief-wray-russia-works-365-days-year-undermine-american-n999086
3. "It's Not A Crime" For Trump To Demand Staffers Lie To Investigators
Even before Attorney General William Barr released his four-page summary of the Mueller report, lawmakers and concerned citizens alike were worried that his bias for Donald Trump would lead him to act less like the top lawyer for the federal government and more like the president's personal attorney. (Why else send a 19-page, unsolicited memo to the Justice Department calling the special counsel's inquiry into potential obstruction of justice "fatally misconceived" and "grossly irresponsible"?)
Those fears were not at all dispelled when Barr declined to prosecute Trump for obstruction, despite the 10 incidents laid out by Robert Mueller in which the president tried to do just that, or when he claimed that Trump couldn't have had corrupt intent, when Mueller actually found numerous compromising episodes involving Russia and the Trump campaign that the president would have preferred to keep hidden. https://www.vanityfair.com/news/2019/05/barr-not-a-crime-for-trump-to-demand-staffers-lie-to-investigators
4. Trump defends Charlottesville comments, praises Confederate Gen. Lee
First came Joe Biden's campaign announcement video highlighting President Trump's "very fine people on both sides" comment about the 2017 white-nationalist rally in Charlottesville that left a counter protester dead.
Then Trump dug in, arguing that he was referring not to the self-professed neo-Nazi marchers, but to those who had opposed the removal of a statue of the "great" Confederate Gen. Robert E. Lee.
Less than 24 hours later came another act of violence described by authorities as a hate crime: Saturday's shooting at a synagogue in Poway, Calif., in which a gunman killed one person and injured three others.
Those events have pushed the rising tide of white nationalism to the forefront of the 2020 presidential campaign, putting Trump on the defensive and prompting even some Republicans to acknowledge that the president is taking a political risk by continuing to stand by his Charlottesville comments. https://www.washingtonpost.com/politics/as-trump-stands-by-charlottesville-remarks-rise-of-white-nationalist-violence-becomes-an-issue-in-2020-presidential-race/2019/04/28/83aaf1ca-69c0-11e9-a66d-a82d3f3d96d5_story.html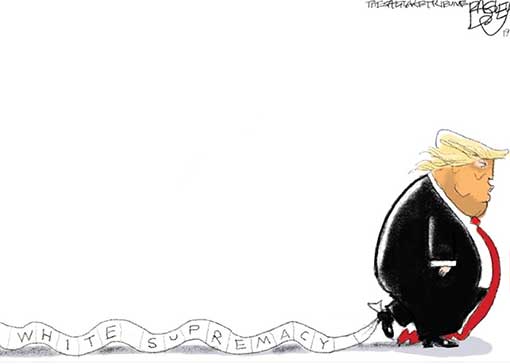 5. U.S. Farmer Income Drops Most Since 2016 as Trade War Losses Mount
Personal income for farmers fell by the most in three years in the first quarter, as losses to U.S. agriculture mount from President Donald Trump's trade wars.
The Commerce Department on Monday cited the steep decline in farm proprietors' income as a key factor weighing on the nation's overall personal income growth in March, even though agricultural producers represent only about 2 percent of total employed Americans. https://www.bloomberg.com/news/articles/2019-04-29/farmer-income-drops-most-since-2016-amid-trump-trade-war-pain
6. New York AG Opens Investigation Into NRA's Tax-Exempt Status
Attorney General Letitia James of New York has opened a formal investigation into the National Rifle Association's nonprofit status and asked the organization and several affiliated groups to preserve financial records.
According to The New York Times, James's office sent letters to the NRA and its affiliates on April 26. The Times reports that several businesses close to the NRA also received subpoenas.
News of James's investigation broke during a turbulent annual meeting of the NRA, which was marked by a power struggle between Executive Vice President Wayne LaPierre and President Oliver North. On Saturday morning, North announced that he would be stepping down. https://www.thetrace.org/rounds/new-york-opens-investigation-into-nra-tax-exempt-status/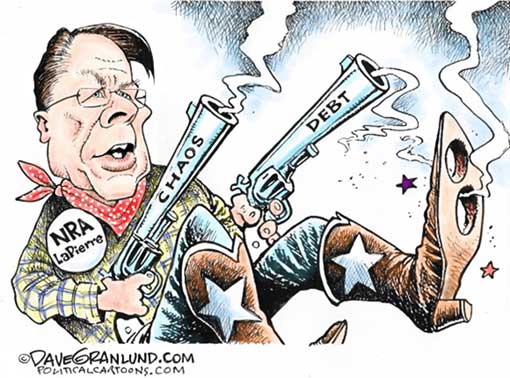 7. McCain family to support Biden in 2020 race in bid to defeat Trump
"The late Sen. John McCain's (R-AZ) family plans to support former Vice President Joe Biden's White House bid, backing the Democrat not only in his party's crowded primary race but also in a general election matchup with President Trump," the Washington Examiner reports. https://www.washingtonexaminer.com/news/mccain-family-to-support-biden-in-2020-race-in-bid-to-defeat-trump
8. Trump says ending family separation practice was a 'disaster' that led to surge in border crossings
Trump said in a television interview Sunday that ending the practice of separating children from their families at border crossings has been "a disaster" that has resulted in a surge of people coming into the country illegally, though he overstated the increase as measured by the government.
Trump said the practice had served as an effective "disincentive" for people who wish to enter the country illegally.
"Now you don't get separated, and while that sounds nice and all, what happens is you have literally you have ten times as many families coming up because they're not going to be separated from their children," Trump told Fox News host Maria Bartiromo. "It's a disaster." https://www.washingtonpost.com/politics/trump-says-ending-family-separation-practice-was-a-disaster-that-led-to-surge-in-border-crossings/2019/04/28/73e9da14-69c8-11e9-a66d-a82d3f3d96d5_story.html
9. Sharp rise in Arctic temperatures now inevitable – UN
Sharp and potentially devastating temperature rises of 3C to 5C in the Arctic are now inevitable even if the world succeeds in cutting greenhouse gas emissions in line with the Paris agreement, research has found.
Winter temperatures at the north pole are likely to rise by at least 3C above pre-industrial levels by mid-century, and there could be further rises to between 5C and 9C above the recent average for the region, according to the UN.
Such changes would result in rapidly melting ice and permafrost, leading to sea level rises and potentially to even more destructive levels of warming. Scientists fear Arctic heating could trigger a climate "tipping point" as melting permafrost releases the powerful greenhouse gas methane into the atmosphere, which in turn could create a runaway warming effect.
"What happens in the Arctic does not stay in the Arctic," said Joyce Msuya, the acting executive director of UN Environment. "We have the science. Now more urgent climate action is needed to steer away from tipping points that could be even worse for our planet than we first thought." https://www.theguardian.com/environment/2019/mar/13/arctic-temperature-rises-must-be-urgently-tackled-warns-un
10. Trump Repeats a False Claim That Doctors 'Execute' Newborns
Trump revived on Saturday night what is fast becoming a standard, and inaccurate, refrain about doctors "executing babies," the New York Times reports.
Said Trump: "The baby is born. The mother meets with the doctor. They take care of the baby. They wrap the baby beautifully. And then the doctor and the mother determine whether or not they will execute the baby."
The comments are the latest in a long string of incendiary statements from the president on abortion. https://www.nytimes.com/2019/04/28/us/politics/trump-abortion-fact-check.html
11. The DAILY GRILL
"We're fighting all the subpoenas. These aren't like impartial people. The Democrats are trying to win 2020. They're not going to win with the people I see and they're not going to win against me." -- Trump said on Wednesday

VERSUS

"And we will use any and all power in our command to make sure it's backed up -- whether that's a contempt citation, whether that's going to court and getting that citation enforced, whether it's fines, whether it's possible incarceration," the Virginia Democrat added. "We will go to the max to enforce the constitutional role of the legislative branch of government." — Rep. Gerry Connolly, a member of the House Government Oversight Committee.

 

"And if you look at what I said, you will see that that question was answered perfectly. I was talking about people that went because they felt very strongly about the monument to Robert E. Lee, a great general. Whether you like it or not, he was one of the great generals." -- Trump claimed that he had spoken with many generals at the White House who said that Lee was perhaps their favorite general.

VERSUS

"The fact of the matter is, Robert E. Lee was a great tactician. Was not a great person. Robert E. Lee was a slave owner and a brutal slave master. Thankfully, he lost that war. And I find it kind of interesting that the president is now glorifying a loser. He always said that he hated losers. Robert E. Lee was a loser." — Rep. James Clyburn (D-SC), on This Week.

 

A day after accepting an invitation from Queen Elizabeth II for a state visit to Britain, President Trump on Wednesday promoted a baseless accusation that the United Kingdom had helped the Obama administration spy on his 2016 presidential campaign. -- John Wagner in the Washington Post.

VERSUS

Deranged Donald is at back at it again. Deranged Donald can do things like this and it's not even the top of the news, because it gets lost beneath all of the other deranged things Deranged Donald does. #DerangedDonald. — George Conway@gtconway3d

 

At a rally on Saturday in Green Bay, Wisconsin, President Trump revived an inaccurate refrain about doctors "executing babies" — The New York Times@nytimes

VERSUS

Are you freaking kidding with this headline?!!!! There's only ONE way to write it: "President Trump once again FLAT OUT LIED about women's healthcare." Take a cue from @ddale8 on this, FFS #TruthSandwich -- Holley Atkinson@HolleyA


"The baby is born. The mother meets with the doctor. They take care of the baby. They wrap the baby beautifully," he said. "And then the doctor and the mother determine whether or not they will execute the baby." — Donald Trump at a MAGA rally in Green Bay.

VERSUS

Let's be clear: President Trump is spreading these outrageous, deeply harmful lies because his party is laser-focused on taking away the right to safe, legal abortion in our country. — Senator Patty Murray@PattyMurray https://twitter.com/PattyMurray/status/1122528341997834241
12. From MEDIA MATTERS (They watch Fox News so you don't have to)
Lou Dobbs: The southern border is a "battlefield" and the military needs more guns there for when they get "a shot."  Dobbs calls the US/Mexico border a "battlefield" and guest calls for less restrictive "rules of engagement."  https://www.mediamatters.org/video/2019/04/24/lou-dobbs-southern-border-battlefield-and-military-needs-more-guns-there-when-they-get-shot/223555

WSJ and right-wing outlets hype dubious study criticizing electric vehicles. Experts have documented numerous problems with the analysis, but conservative media and climate deniers are still promoting it. https://www.mediamatters.org/blog/2019/04/25/WSJ-and-right-wing-outlets-hype-dubious-study-criticizing-electric-vehicles/223566

Fox's David Webb attempts to dismiss Trump's defense of neo-Nazis in Charlottesville as "very fine people." Webb: "I want to first debunk a lie in this video because it is what it is." https://www.mediamatters.org/video/2019/04/25/Foxs-David-Webb-attempts-to-dismiss-Trumps-defense-of-neo-Nazis-in-Charlottesville-as-very/223557

Fox "straight news" anchor Martha MacCallum allows Rush Limbaugh to spew racism and conspiracy theories with no pushback' Fox News pushes "straight news" anchors like MacCallum and Bret Baier as somehow distinct from its prime-time opinion programming -- but Rush Limbaugh of all people just proved otherwise. https://www.mediamatters.org/blog/2019/04/23/fox-straight-news-anchor-martha-maccallum-allows-rush-limbaugh-spew-racism-and-conspiracy-theories/223546

As a guest links Trump's rhetoric with the rise in anti-Semitism, Fox News suddenly cuts to commercial. VIDEO at https://www.mediamatters.org/blog/2019/04/27/guest-links-trumps-rhetoric-rise-anti-semitism-fox-news-suddenly-cuts-commercial/223579

In an email to Fox employees, Fox News reporter Doug McKelway defended Trump's "both sides" comments about neo-Nazi marchers in Charlottesville.  McKelway has a history of defending Confederate statues and fearmongering about left-wing violence. https://www.mediamatters.org/blog/2019/04/26/email-fox-employees-fox-news-reporter-doug-mckelway-defended-trump-s-both-sides-comments-about-neo/223576

Stephen Moore defended slave owner Robert E. Lee, wrongly claiming that "Lee hated slavery." https://www.mediamatters.org/blog/2019/04/26/stephen-moore-defended-slave-owner-robert-e-lee-wrongly-claiming-lee-hated-slavery/223577

Liberty Counsel Founder Mat Staver lies that the Equality Act will "open the door to pedophilia." Liberty Counsel's Holly Meade also lies that the Equality Act "lowers the age of consent for homosexual behavior." https://www.mediamatters.org/video/2019/04/26/Liberty-Counsel-Founder-Mat-Staver-lies-that-the-Equality-Act-will-open-the-door-to-pedoph/223574

Fox News reporter Doug McKelway advocates for right-wing ideas and smears Democrats on Twitter. Rep. Ilhan Omar (D-MN) is a "freak show." Sen. Kirsten Gillibrand (D-NY) sounds like a "school marm scold" and is "best watched with the volume turned off." The Democratic Party is defined by "racial identity politics hucksters." There "are other viewpoints" on climate change science and it doesn't matter anyway because the "earth will die when the sun does." https://www.mediamatters.org/blog/2019/04/29/fox-news-reporter-doug-mckelway-advocates-right-wing-ideas-and-smears-democrats-twitter/223578

Fox's Brian Kilmeade calls for armed worshipers after California synagogue mass shooting. Kilmeade: "I think you have to go ready to defend yourself, ready to defend the congregation who are going there." https://www.mediamatters.org/video/2019/04/29/foxs-brian-kilmeade-calls-armed-worshipers-after-california-synagogue-mass-shooting/223582

NRATV misrepresents what happened during Poway synagogue shooting to push pro-gun propaganda. The National Rifle Association's media arm, NRATV, broadcast a false retelling of the April 27 California synagogue shooting in order to credit an armed worshipper with "almost instantly" stopping the incident. In fact, the gunman was confronted and chased out of the synagogue by an unarmed worshipper. https://www.mediamatters.org/blog/2019/04/29/nratv-misrepresents-what-happened-during-poway-synagogue-shooting-push-pro-gun-propaganda/223584

Fox host criticizes Joe Biden for attacking Trump's Charlottesville comments, claims Biden "upset a lot of people." Charles Payne: "Some folks are wondering if he should have come into this race with a more optimistic look."  https://www.mediamatters.org/video/2019/04/29/fox-host-criticizes-joe-biden-attacking-trumps-charlottesville-comments-claims-biden-upset-lot/223587

New NRA President Carolyn Meadows chairs the board of directors for the largest Confederate monument in America. Carolyn Meadows, who is succeeding Oliver North as president of the National Rifle Association, is also the chairperson of the Stone Mountain Memorial Association, an organization that maintains the largest memorial to the Confederacy in the United States. https://www.mediamatters.org/blog/2019/04/29/new-nra-president-carolyn-meadows-chairs-board-directors-largest-confederate-monument-america/223588

Trump-endorsed One America News Network among right-wing amplifiers of Jacob Wohl's attempted smear of Pete Buttigieg. Far-right network One America News Network and others helped spread a hoax from pro-Trump trolls Jacob Wohl and Jack Burkman regarding Democratic presidential candidate Pete Buttigieg. https://www.mediamatters.org/blog/2019/04/30/Trump-endorsed-One-America-News-Network-among-right-wing-amplifiers-of-Jacob-Wohls-attempt/223596

How Fox News tries to mainstream a white supremacist conspiracy theory. Adding to its pattern of mainstreaming toxic extremism, Fox News regularly echoes and sanitizes the dangerous white supremacist conspiracy theory that non-white immigrants represent the threat of "replacement" to white populations. This racist talking point has already inspired massacres and hate crimes around the world. https://www.mediamatters.org/blog/2019/04/30/how-fox-news-tries-mainstream-white-supremacist-conspiracy-theory/223586

Tucker Carlson claims "The View" inspires white nationalist terrorists. https://www.mediamatters.org/video/2019/04/30/tucker-carlson-claims-view-inspires-white-nationalist-terrorists/223598
13. Mueller Prosecutors: Trump Did Obstruct Justice
Prosecutors working for Special Counsel Robert Mueller concluded last year that they had sufficient evidence to seek criminal charges against President Trump for obstruction of justice over the president's alleged pressuring of then FBI Director James Comey in February 2017 to shut down an FBI investigation of the president's then national security adviser, Michael Flynn."
Privately, the two prosecutors, who were then employed in the special counsel's office, told other Justice Department officials that had it not been for the unique nature of the case—the investigation of a sitting president of the United States, and one who tried to use the powers of his office to thwart and even close down the special counsel's investigation—they would have advocated that he face federal criminal charges. https://www.nybooks.com/daily/2019/04/26/mueller-prosecutors-trump-did-obstruct-justice/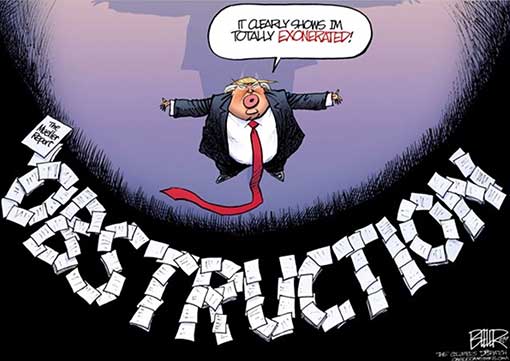 14. From the Late Shows
The Late Show with Stephen Colbert: Trump's 2020 Campaign Is Targeting Seniors On Facebook https://youtu.be/8VbvO0mY_2g

'SNL' Parodies William Barr's Mueller Report Letter With Robert De Niro Return in Cold Open: https://youtu.be/9PgpwqVleTY

Colbert Gets His Copy Of The Mueller Report: https://youtu.be/7MursWMNONo

New Rule: Crime and No Punishment | Real Time with Bill Maher (HBO): https://youtu.be/S4LMxMLTCps

The Late Show with Stephen Colbert: Samantha Bee Gears Up For 2019's Not WH Correspondents' Dinner: https://youtu.be/4teE3D4O5QE

Full Frontal with Samantha Bee: Not The White House Correspondents' Dinner: The Roast of Donald Trump | TBS: https://youtu.be/xqT4A250CuM
15. GOP at Peace with Doing Nothing on Mueller's Findings
"Senate Republicans see the special counsel's report — with its stark evidence that President Trump repeatedly impeded the investigation into Russian election interference — as a summons for collective inaction." the New York Times reports.
"Only Senator Mitt Romney, Republican of Utah, called out the president's behavior as 'sickening.' … Yet no Republican, not even Mr. Romney, a political brand-name who does not face his state's voters until 2022, has pressed for even a cursory inquiry into the findings by the special counsel, Robert Mueller." https://www.nytimes.com/2019/04/25/us/politics/republicans-mueller-report-trump.html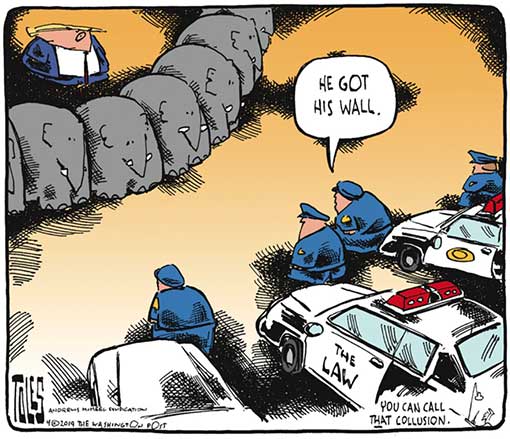 16. Far-Right Smear Merchants Try to Slime Pete Buttigieg with Bogus Sex Assault Claim
A Republican source told The Daily Beast that lobbyist Jack Burkman and internet troll Jacob Wohl approached him last week to try to convince him to falsely accuse Buttigieg, the mayor of South Bend, Indiana, of engaging him sexually while he was too drunk to consent.
The source who spoke to The Daily Beast said Burkman and Wohl made clear that their goal was to kneecap Buttigieg's momentum in the 2020 presidential race. The man asked to remain anonymous out of a concern that the resulting publicity might imperil his employment, and because he said Wohl and Burkman have a reputation for vindictiveness.
But the source provided The Daily Beast with a surreptitious audio recording of the meeting, which corroborates his account. In it, Wohl appears to refer to Buttigieg as a "terminal threat" to President Donald Trump's reelection next year. https://www.thedailybeast.com/far-right-smear-merchants-jacob-wohl-and-jack-burkman-try-to-slime-pete-buttigieg-with-bogus-sex-assault-claim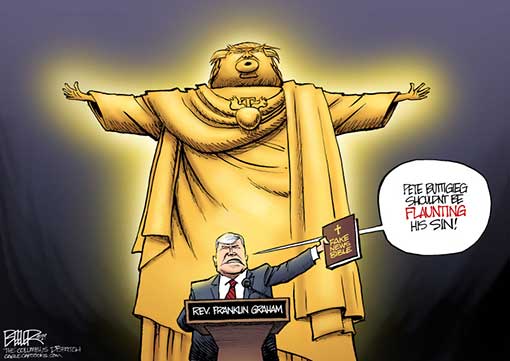 17. Omarosa Says Documents Were Destroyed
Former White House advisor Omarosa Manigault-Newman told MSBNC that White House officials told her and other Trump campaign officials not to share evidence with special counsel Robert Mueller's investigators.
Said Manigault-Newman: "We should really not just focus on what he is telling people to do or say, but how he's asked people to destroy documents, to destroy e-mails, in my case two boxes of campaign-related materials the White House still has in their possession that they claim they don't have or don't know what happened to it. https://www.youtube.com/watch?v=IdyLL5P_vBo&feature=youtu.be
18. Mental Health Analysis Of The Special Counsel's Report On The Investigation Into Russian Interference In The 2016 Presidential Election
While the information in the Special Counsel's report has been deemed insufficient for criminal determination, it provides, even in redacted form, a wealth of relevant information regarding the President's mental capacity. Not having the mental capacity to make sound decisions and to refrain from violence, whether by encouraging, recommending, or inciting it on the part of his followers, whether or not he meets the criteria for being diagnosed as mentally ill, is dangerous as long as he remains President and constitutes a medical emergency that health professionals are obligated to respond to.
We know, from the first months of the Trump administration, in response to concerns about his potential for rash and dangerous acts, there was much talk about the protection provided by key associates such as Secretary of State Rex Tillerson, Secretary of Defense James Mattis, Reince Priebus' replacement as White House Chief of Staff, John Kelley, and Michael Flynn's replacement as National Security Advisor, H. R. McMaster. Without the limitations on the President's rash, impulsive and sometimes downright dangerous decision-making that the Report attributes to these individuals, generally regarded as distinguished and formidable, the national interests of the United States and, indeed, the world, would have been placed at much greater risk by the mental functioning of the current President.
Mental capacity does not relate simply to a person's specific psychiatric diagnosis; in other words, the presence of a mental disorder does not render a person incapable of making rational and realistic decisions. This is the most dangerous kind of leadership possible. Given the clear documentation we have summarized in the Special Counsel's report of the President's impaired capacity to make responsible decisions free of impulsivity, recklessness, manipulation of advisors, a degree of suspiciousness that leads him to believe that he needs to defend himself against betrayal or persecution, an absorption in self-interest that precludes attention to the national interest, inability to consider consequences before taking action, detachment from reality, paranoid reactions, creation of dangerous conditions, and cognitive and memory difficulties, there is compelling medical evidence that he is lacks the capacity to serve as president. We would still recommend a proper, in-person evaluation, which the President should be able to agree to, if he believes he is fit to serve. Otherwise, we find the information in the Report to point overwhelmingly toward incapacity. https://dangerouscase.org/wp-content/uploads/2019/04/Report-on-the-Mueller-Report.pdf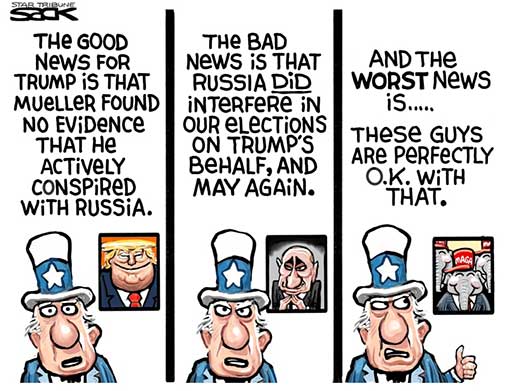 19. Trump Campaign Left Itself Wide Open to the Russians
NBC News: "The Mueller report's narrative of secret meetings between members of Donald Trump's orbit and Russian operatives — contacts that occurred both before and after the 2016 election — portrays a political campaign that left itself open to a covert Russian influence operation, former intelligence officials and other experts say."
While finding no criminal conspiracy, the report shows that Trump associates met with Russians after the intelligence community said in October 2016 that Russia was interfering in the presidential election, and even after the Obama administration announced a set of post-election sanctions to punish Russia for that behavior. https://www.nbcnews.com/politics/national-security/mueller-report-shows-trump-campaign-left-itself-wide-open-russians-n997716;j;
20. Democrats look to courts as White House stonewalls on subpoenas
Faced with all-out resistance from the White House, Democrats are turning to the courts as they grapple with a dilemma of limited options to enforce their subpoenas.
Amid a Trump administration blockade of subpoenas for numerous Democratic investigations, House Democrats are preparing a response that begins by holding officials in contempt. But they are also gearing up to fight their cases in the courtroom, acknowledging that the courts are likely their only subpoena recourse. https://www.cnn.com/2019/04/24/politics/democrats-courts-white-house-subpoenas/index.html
21. Mueller Report Reveals Trump's Fixation on Targeting Hillary Clinton
The Mueller report released last week brimmed with examples of Mr. Trump seeking to protect himself from the investigation. But his request of Mr. Sessions — and two similar ones detailed in the report — stands apart because it shows Mr. Trump trying to wield the power of law enforcement to target a political rival, a step that no president since Richard M. Nixon is known to have taken. https://www.nytimes.com/2019/04/24/us/politics/jeff-sessions-hillary-clinton-donald-trump.html
22. Trump's Week Goes From Bad To Screaming Into A Bag Of Big Macs
Of all the ongoing investigations into Donald Trump, the ones that presumably send the biggest shivers down his spine involve Deutsche Bank, the only financial institution that deigned to lend him money when other companies wouldn't so much as let him take a meeting with their interns. Which makes the news that the German bank has started turning over financial documents concerning the president's businesses to the New York attorney general probably an unwelcome development in the White House! https://www.vanityfair.com/news/2019/04/deutsche-bank-trump-new-york-attorney-general
1. Amber Phillips: Lindsey Graham's stunningly fact-free, pro-Trump spin of the Mueller report
There's shading the truth to suit your message, and then there's what Sen. Lindsey O. Graham (R-S.C.) just did: completely forsaking the facts to play politics.
At Attorney General William P. Barr's hearing on Wednesday, the chair of the Senate Judiciary Committee had a chance to clarify key issues related to Barr's release of the Mueller report into Russian interference in the 2016 election and President Trump.
Instead, in his opening statement, Graham adopted a Trumpian-like worldview in which the president could do no wrong. Graham completely mischaracterized special counsel Robert S. Mueller III's report and how damaging it was for Trump. He misstated key facts. He ignored reality and raised conspiracy theories about how the Russia investigation got started in the first place.
Even for a senator who has cozied up to the president and is up for reelection next year in a state that voted for Trump, the overtly pro-Trump display on Graham's part was stunning. What Graham said in the opening moments of the Barr hearing was misleading and just not true.
In the opening moments of this hearing, Graham made his allegiances clear. He's going to use his significant weight as head of this committee not to investigate whether the president committed a crime or obstructed an independent investigation or lied to the American people, per the Mueller report. He's going to put all that aside and dig into conspiracy theories about how the investigation got started in the first place.
It should be no surprise that aligns with exactly what Trump wants done. Graham is conducting this hearing not for the American people, but for Trump. https://www.washingtonpost.com/politics/2019/05/01/lindsey-grahams-stunningly-fact-free-pro-trump-spin-mueller-report/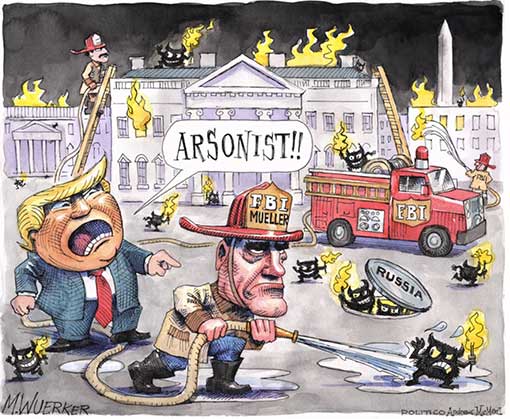 2. Jonathan Chait: William Barr Keeps Lying About Mueller, and People Keep Trusting Him Anyway
William Barr's letter summarizing Robert Mueller's report was a high point in the Trump presidency. It set off wild celebrations in the White House, and inspired Trump and his defenders to declare total vindication in the Russia "Witch Hunt"/"Hoax."
The letter was also a tightly crafted spin job, selectively presenting the facts in the softest form. The misleading nature of the letter has grown increasingly evident — first as Mueller's prosecutors leaked complaints, then as the report itself painted a far more damning portrait than Barr allowed, and finally last night as the Washington Post reported Mueller himself objected to Barr's account.
The fact that Trump's defenders would invest so much credence in a demonstrably untrustworthy official like Barr shows how much they have invested in Barr's summary. It is the Barr letter, rather than Mueller's extremely damning report, upon which they have hinged their claims of vindication. http://nymag.com/article/2019/05/barr-lying-mueller-report-trump-russia.html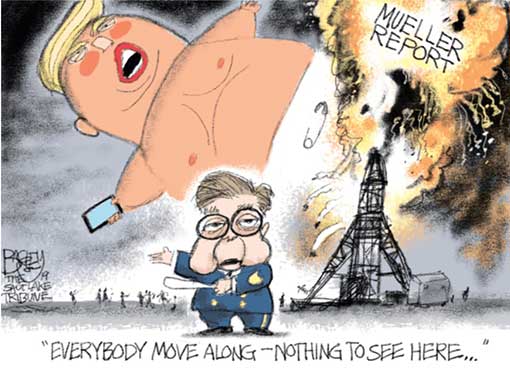 3. James Comey: How Trump Co-Opts Leaders Like Bill Barr
Amoral leaders have a way of revealing the character of those around them. Sometimes what they reveal is inspiring. For example, James Mattis, the former secretary of defense, resigned over principle, a concept so alien to Mr. Trump that it took days for the president to realize what had happened, before he could start lying about the man.
But more often, proximity to an amoral leader reveals something depressing. I think that's at least part of what we've seen with Bill Barr and Rod Rosenstein. Accomplished people lacking inner strength can't resist the compromises necessary to survive Mr. Trump and that adds up to something they will never recover from. It takes character like Mr. Mattis's to avoid the damage, because Mr. Trump eats your soul in small bites.
It starts with your sitting silent while he lies, both in public and private, making you complicit by your silence. In meetings with him, his assertions about what "everyone thinks" and what is "obviously true" wash over you, unchallenged, as they did at our private dinner on Jan. 27, 2017, because he's the president and he rarely stops talking. As a result, Mr. Trump pulls all of those present into a silent circle of assent.
Of course, to stay, you must be seen as on his team, so you make further compromises. You use his language, praise his leadership, tout his commitment to values.
And then you are lost. He has eaten your soul. https://www.nytimes.com/2019/05/01/opinion/william-barr-testimony.html
4. Patti Davis: Dear Republicans: Stop using my father, Ronald Reagan, to justify your silence on Trump
Dear Republican Party,
I have never been part of you, but you have been part of my family for decades. I was 10 years old when my father decided to stop being a Democrat and instead become a Republican. From that point on, you were a frequent guest at our dinner table — and an unwelcome one to me. I wanted to talk about my science project on the human heart, or the mean girls at school who teased me for being too tall and for wearing glasses. Instead, much of the conversation was about how the government was taking too much out of people's paychecks for taxes and how it was up to the Republicans to keep government from getting too big.
You went from an annoying presence at the dinner table to a powerful tornado, lifting up my family and depositing us in the world of politics, which no one ever escapes. I know it's not completely your fault. My father's passion for America, his commitment to try to make a difference in the country and the world, and his gentle yet powerful command over crowds that gathered to hear him speak made his ascent to the presidency all but inevitable. He would have gotten there one way or another; it just happened to be as a Republican.
You have claimed his legacy, exalted him as an icon of conservatism and used the quotes of his that serve your purpose at any given moment. Yet at this moment in America's history when the democracy to which my father pledged himself and the Constitution that he swore to uphold, and did faithfully uphold, are being degraded and chipped away at by a sneering, irreverent man who traffics in bullying and dishonesty, you stay silent.
You stay silent when President Trump speaks of immigrants as if they are trash, rips children from the arms of their parents and puts them in cages. Perhaps you've forgotten that my father said America was home "for all the pilgrims from all the lost places who are hurtling through the darkness."
Most egregiously, you remained silent when Trump said there were "very fine people" among the neo-Nazis who marched through an American city with tiki torches, chanting, "Jews will not replace us."
My father called America "the shining city on a hill." Trump sees America as another of his possessions that he can slap his name on. A president is not supposed to own America. He or she is supposed to serve the American people.
So, to the Republican Party that holds tightly to my father's legacy — if you are going to stand silent as America is dismantled and dismembered, as democracy is thrown onto the ash heap of yesterday, shame on you. But don't use my father's name on the way down. https://www.washingtonpost.com/opinions/dear-republicans-stop-using-my-father-ronald-reagan-to-justify-your-silence-on-trump/2019/04/30/ed61c6de-6b50-11e9-8f44-e8d8bb1df986_story.html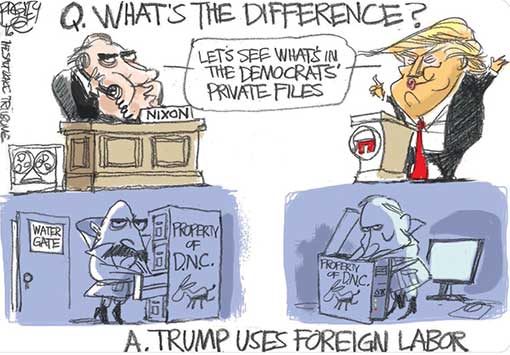 5. Jennifer Rubin: When will Democrats realize Trump desperately wants to run against Sanders?
President Trump rarely conceals what's on his mind. When he declares — without proof, naturally — that the Democratic primary is rigged against self-described socialist Sen. Bernie Sanders (I-Vt.) he not doing so out of concern for fair elections.
Democrats should pay attention. They need not agree with Trump's assessment, but they should listen to the attacks he's prepared to mount (and is already spouting) against Sanders. Trump delights in comparing dictator Nicolás Maduro of Venezuela to American socialists ("The socialists have done in Venezuela all of the same things that socialists, communists, totalitarians have done everywhere that they've had a chance to rule. The results have been catastrophic," he said in February), and it only helps him pin the extremist label on Sanders when the latter shies away from an outright condemnation of Maduro. (Warren calls Maduro a dictator.)
In short, there are reasons Trump wants to clear the left lane for Sanders in the Democratic primary. Sanders remains the Democrat most easily mocked and demonized by the right. It's why you don't hear Trump figuring out how to juice support for Sen. Amy Klobuchar (D-Minn.), former vice president Joe Biden or more than a dozen other contenders. https://www.washingtonpost.com/opinions/2019/04/29/when-will-democrats-realize-trump-desperately-wants-run-against-sanders/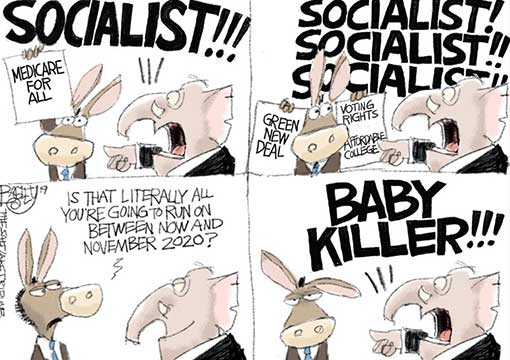 6. Paul Waldman: Trump may have degraded U.S. politics for a generation to come
Trump threatens to transform our politics in ways other presidents couldn't? When Nixon's crimes and corruption were revealed, the specific acts found few defenders. Republicans didn't rush to the TV cameras to insist there was nothing wrong with breaking into the other party's headquarters to steal information, or with paying hush money, or with tryingto enlist the CIA to quash an FBI investigation. They did what they could up until the end to minimize the damage, but they didn't claim that those acts themselves were perfectly fine.
Yet closely analogous actions when committed or celebrated by Trump have not just been defended; they have been defended by almost the entire Republican Party. With just a few exceptions here and there, one of our two great parties has committed itself to the proposition that there is no longer any such thing as standards of presidential behavior that need to be upheld.
We won't know for sure how far Trump has degraded our democracy until some time after he has left office. We don't yet know how long it will take to revive the idea that the president should be a person of strong character — or at the very least, not the embodiment of everything you'd teach your children not to be. We'll have to wait to see how long it will take the nation to recover from the infection of Trump and Trumpism, from the way he encourages us to always cultivate and elevate the worst in ourselves.
But we can say this: If you aren't disgusted by Trump and what his party does to defend him — and what together they're doing to American politics — then you're helping him make things worse. https://www.washingtonpost.com/opinions/2019/04/29/trump-may-have-degraded-us-politics-generation-come/
7. Bess Levin: Donald Trump May Already Be Committing New Crimes
Donald Trump's habit of tweeting every insane thought that comes into his head has always been a liability, in that it paints a picture of an unwell man not fit to be left alone unsupervised, let alone run the country. But, as the Mueller report showed, the president's social-media musings can come back to haunt him, such as when his tweeting about Paul Manafort was cited as possible evidence of obstruction. So you might think that the president would shy away from saying or writing anything that could be used against him when it comes to potential impeachment proceedings—growing more likely by the day!—or future criminal indictments, but then you'd catch yourself and realize that was obvious crazy talk. Instead, Trump has tweeted about the Russia probe more than 50 times in the the days since the redacted Mueller report was released, with increasingly forceful attacks on former White House counsel Don McGahn, who Trump allies fear could help lawmakers build a case for impeachment. Indeed, reports Politico, going on a rage-filled vendetta against McGahn, who knows where all Trump's bodies are buried, is probably one of the president's dumber ideas:
"It's clear that the White House plans to obstruct all legitimate congressional oversight, just like Trump obstructed in Mueller's probe at every turn, and witnesses previously obstructed our committee," a House Intelligence Committee source said, arguing that the panel is "uniquely positioned" to investigate obstruction of its own probes, should the running commentary from Team Trump continue. "They're acting like a scene out of America's Dumbest Criminals," said Julian Epstein, a chief counsel for House Judiciary Committee Democrats during the Clinton impeachment. "They just keep fueling a fire that has been the bane of their two years in the White House." https://www.vanityfair.com/news/2019/04/trump-may-already-be-committing-new-crimes
8. David Rohde: Donald Trump's Unprecedented Assault on the Power of Congress
President Donald Trump and his allies are invoking an unprecedented form of executive privilege that would systematically undermine Congress's power and the post-Watergate norms established by Ford. Those practices, followed by six subsequent Republican and Democratic Presidents, involve the executive branch coöperating, at least in limited form, with congressional investigations and subpoenas. Failure to do so, it was assumed, could hurt a President politically.
On Monday, the Democrat-controlled House Judiciary Committee issued a subpoena for Donald McGahn, the former White House counsel and a key figure in the Mueller report, to appear before it and present documents related to investigations of the President. On Tuesday, in a step never taken before by a modern President, Trump declared that he would bar McGahn—and all current and former Administration officials—from testifying before Congress, and, further, that the Administration would ignore all subpoenas from the legislative branch. "We're fighting all the subpoenas," Trump told reporters outside the White House on Wednesday. "These aren't, like, impartial people. The Democrats are trying to win 2020." https://www.newyorker.com/news/daily-comment/donald-trumps-unprecedented-assault-on-the-power-of-congress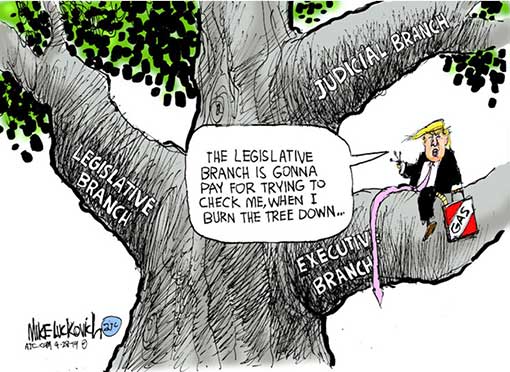 9. Susan B. Glasser: Why Is Joe Biden the Only Democrat Who Wants to Talk About Donald Trump?
Given the almost numbing predictability of the President and the ever-increasing difficulty his critics have mustering outrage toward him at this point, it came as a jolt to see Joe Biden go directly at Trump in a video announcing his Presidential campaign, on Thursday. The seventy-six-year-old former Vice-President unabashedly took the Trump-bashing course that most of the eighteen other declared Democratic candidates for 2020 have eschewed. In his launch video, which is three minutes and thirty seconds of Biden mostly talking into the camera, he calls Trump a "threat to this nation . . . unlike any I had ever seen in my lifetime" and an existential challenge to the very idea of American democracy. The election of 2020 is "the battle for the soul of the nation," Biden says, and, if Trump is reëlected, "he will forever and fundamentally alter the character of" the country. In short, Biden adds, "Everything that has made America America is at stake."
Biden is hardly the only Democratic candidate to think this. But so far he is pretty much the only Presidential contender to make it the centerpiece of his campaign. The new conventional wisdom in American politics holds that Biden is making a mistake. After all, opinions are so fixed about Trump that there is little point in talking about him to voters who have already made their minds up about the President. Hillary Clinton largely focussed her 2016 campaign on Trump and his unsuitability for the White House, and look at how that turned out. When Democrats finally won again, in the 2018 congressional elections, many of them insisted that it was because they ignored Trump and stuck to issues such as health care. Impeachment is seen as political death for Democrats; most of the Democratic Presidential candidates (Elizabeth Warren excepted) have barely even mentioned the damning evidence of Trumpian obstruction laid out by Mueller. They are talking instead about Medicare for All and free college tuition, about the climate crisis and identity politics. But Biden appears to be rejecting their example. He is going all in on the old conventional wisdom, which is that Presidential elections four years into a Presidency are almost always referendums on the incumbent, and this incumbent presents a very large target. https://www.newyorker.com/news/letter-from-trumps-washington/why-is-joe-biden-the-only-democrat-who-wants-to-talk-about-donald-trump
10. Amy Davidson Sorkin: Twenty Democrats Are Vying to Beat Trump. Can They Avoid Blowing It?
How the candidates interact will be a measure not only of their capacity for respect but of their instinct for victory. Will they refrain from demagoguery? How tough, or how cheap, will the shots be? (The goal is to defeat Trumpism, too.) How will the candidates respond when—as will almost certainly be the case—someone's campaign is hacked, or a "deep fake" video of an opponent emerges, or their allies set up deceptive Facebook pages? One risk, in a heavily contested primary, is that momentous questions, such as whether to impeach Trump, or to abolish ICE, will be reduced to a litmus test—a matter of hands raised on a stage. Another, as Barack Obama recently warned, is that "a circular firing squad" will form, leaving the Party fractured. But a search for the safe haven of an early consensus pick may not serve the Party well, either; arguably, it didn't in 2016.
A sensible approach for undecided Democrats, then, is what might be called radical agnosticism. The truth is that no one yet knows who can beat nineteen other Democrats—and Trump. In this varied field, there is a heightened possibility for surprises or breakouts. (If Governor Jay Inslee, of Washington, answers every debate question with a call to focus on climate change, will people drift away or be exhilarated?) Preëmptive dismissals of one candidate or another as a spoiler, or an impostor, or too young or too old, or too staid or too outré, or just a big drag are not likely to be helpful.
Those who want to see the current President defeated might, in other words, stop worrying and learn to love this twenty-person mob. Some of them may be maddening; none of them is Donald Trump. On Thursday, he tweeted, "Welcome to the race Sleepy Joe," with a prediction that the primaries would be "nasty," and involve "people who truly have some very sick & demented ideas. But if you make it, I will see you at the Starting Gate!" One of them will. And it may not be the candidate Trump, or anyone else, expects. https://www.newyorker.com/magazine/2019/05/06/twenty-democrats-are-vying-to-beat-trump-can-they-avoid-blowing-it
11. Robert Reich: In fighting all oversight, Trump has made his most dictatorial move
We're fighting all the subpoenas," says the person who is supposed to be chief executive of the United States government.
In other words, there is to be no congressional oversight of this administration: no questioning officials who played a role in putting a citizenship question on the 2020 census. No questioning a former White House counsel about the Mueller report.
No questioning a Trump adviser about immigration policy. No questioning a former White House security director about issuances of security clearances.
No presidential tax returns to the ways and means committee, even though a 1920s law specifically authorizes the committee to get them.
Such a blanket edict fits a dictator of a banana republic, not the president of a constitutional republic founded on separation of powers.
If Congress cannot question the people who are making policy, or obtain critical documents, Congress cannot function as a coequal branch of government.
If Congress cannot get information about the executive branch, there is no longer any separation of powers, as sanctified in the US constitution.
There is only one power – the power of the president to rule as he wishes.
Which is what Donald Trump has sought all along. https://www.theguardian.com/us-news/2019/apr/28/trump-congress-mueller-white-house-oversight
12. New York Times editorial: Donald Trump Shows a New Level of Contempt for Congress
While executive privilege is a common presidential tool, historians note that Mr. Trump's usage is decidedly uncommon, if not unprecedented. Unlike his predecessors, who invoked privilege in specific cases, Mr. Trump has vowed that he will not cooperate with any congressional inquiry. He is effectively declaring lawmakers powerless over him. This, warn the experts, puts the nation in uncharted territory and threatens to erode its democratic foundations.
And so the process will grind on, as it must if Congress is to demand any sort of accountability from a president intent on undermining its authority.
Presidents clash with Congress, at times fiercely. The founders wanted it that way. But in declaring war on congressional oversight, Mr. Trump is not looking to maintain a balance of powers. He is looking to blow up the scales. https://www.nytimes.com/2019/04/26/opinion/trump-congress.html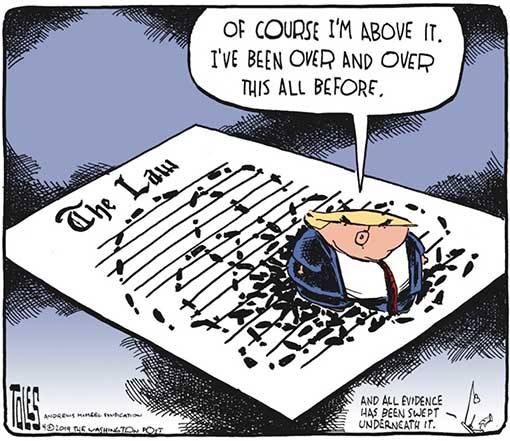 13. Jamelle Bouie: The Republican War on Democracy
The demographic changes coming over the next few decades — the continuing rise of a more diverse electorate, with more liberal views than previous generations — won't destroy the Republican Party or make it electorally insolvent. But it may make right-wing conservatism a rump ideology, backed primarily by a declining minority of older rural and exurban white voters. You can already see this taking shape. Among the youngest Republicans, 52 percent say the government should be "doing more" to solve problems, as opposed to 23 percent of Republican baby boomers.
In this environment, the only way to preserve right-wing conservatism in American government is to rig the system against this new electorate. You tilt the field in favor of constituencies that still back traditional Republican conservatism in order to build a foundation for durable minority rule by those groups. In just the last week, we've gotten a glimpse of what this rigging looks like in practice.
Americans have long struggled over the scope of voting and representation. Democracy is — and always will be — a fight. And the lines of this particular conflict are clear. Rather than try to expand our democracy or even preserve it as it stands, Republicans are fighting for a smaller, narrower one that favors their voters over all others so that their power and the interests they serve become untouchable. https://www.nytimes.com/2019/04/27/opinion/sunday/the-republican-war-on-democracy.html
14. Jonathan Bernstein: Trump's Dishonesty Isn't Normal
"The Washington Post's fact-checking operation has now counted 10,000 'false or misleading claims' by Donald Trump during his presidency."
It's hard to convey how big a deal this is. To begin with: It's real. Anyone can go through the Post's data and find plenty to argue with – maybe one statement isn't really false, another was just an exaggeration and some other one was nit-picky. But even if the fact-checkers are wrong an implausible three out of four times, that's still 2,500 false or misleading claims by the president in two-plus years.
That's simply not normal. We don't have equivalent historical data, but I'm confident that even Richard Nixon, who told more than a few important whoppers, didn't come close to Trump's level of habitual dishonesty. Barack Obama, George W. Bush? As I've said many times, most politicians actually care a lot about establishing a reputation for reliability. Oh, they'll spin. They'll present the best-looking version of events that can still count as the truth. But they will very rarely say something that flat-out isn't so. And if they're called on it, they'll usually retreat to a more justifiable position. Trump, instead, just keeps going.
Does he get away with it? In the sense that he's still president, I suppose so. But his professional reputation is in tatters, which reduces his influence, worsens his relationship with Congress, hinders his ability to negotiate and impedes his broader agenda. https://www.bloomberg.com/opinion/articles/2019-04-30/donald-trump-drags-deutsche-bank-into-war-with-schiff-and-waters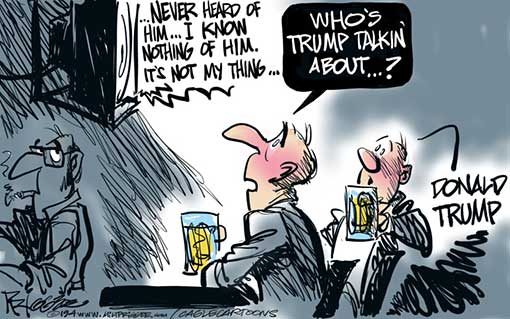 15. Jonathan Chait: Rod Rosenstein Embodies the Republican Surrender to Trump
The most bizarre passage in Rod Rosenstein's letter to President Trump resigning his post as deputy attorney general is praise for "the courtesy and humor you often display in our personal conversations." It is not standard practice for the president to have personal conversations with the deputy attorney general at all, certainly not when that person is supervising an investigation into the president himself. And while we cannot know the substance of those personal conversations, we do know that Rosenstein was once so alarmed by Trump's behavior that he discussed invoking the 25th Amendment to have him removed on account of mental unfitness.
Maybe Trump's private conversations somehow contain the humor that is completely lacking in his public persona, which consist of boasts, lies, and belittling attacks. Trump's public treatment of Rosenstein included tweeting an image of him behind bars along with other alleged traitors. That Trump, what a jokester.
Rosenstein's status as a target of Trump's rage, and his background as a career official, raised broad hopes that he would check the president's authoritarian impulses. By all indications, he failed to live up to this heroic destiny. Rosenstein ended his career as a dutiful functionary, allowing Trump to trash the rule of law while claiming he had upheld it. http://nymag.com/intelligencer/2019/04/rod-rosenstein-resigns-letter-trump-mueller-barr.html
16. Greg Sargent: Trump feeds his voters one of his most ridiculous scams yet
As we've seen, there's no end to the ugly, corrupt, destructive and bigoted things that President Trump will do in part to please his base — from separating migrant families, to pardoning racist sheriff Joe Arpaio, to supporting a lawsuit that could destroy our health-care system.
But there's another move of this kind that deserves its own category: situations in which Trump tells his voters that he's undertaking some sort of cruel action that he isn't actually taking, simply because he believes they'll thrill to his claim that he is. https://www.washingtonpost.com/opinions/2019/04/30/trump-feeds-his-voters-one-his-most-ridiculous-scams-yet/
17. Windsor Mann: What all of President Trump's 'jokes' have in common
Trump loves to joke around. His wit is so subtle, so nuanced, that sometimes it takes years to decipher it, along with a spokesperson to clarify it.
Earlier this month, White House press secretary Sarah Sanders said that Trump "was making a joke during the 2016 campaign" when he said, "I love WikiLeaks." Her clarification came three days after Julian Assange, the founder of WikiLeaks, was arrested and three years after Trump made the "joke."
Everyone knows that a joke is not a joke if it has to be explained. With Trump, the inverse is true: When he says something that he can't explain, it becomes a joke. His statements become jokes retroactively, when they become inconvenient.
In 2017, the president of the United States implored police officers to beat up suspects. After the New York Police Department and the president of the Major Cities Chiefs Association released statements rebuking his comments, Sanders said, "He was making a joke at the time."
Similarly, when Trump accused Democrats of treason for not clapping for him at his State of the Union address, he was, Sanders said, "clearly joking with his comments." (No word yet on whether Trump was joking when he tweeted earlier this month that Democrats were "TREASONOUS.") https://theweek.com/articles/836330/what-all-president-trumps-jokes-have-common
18. Jonathan Chait: Trump Claims He Can Ignore Subpoenas Because Congress Is Mean
Last night Donald Trump and his family filed a lawsuit to prohibit Deutsche Bank and Capital One from turning over his financial information to congressional investigators. The legal basis for the lawsuit, in layman's terms, is as follows: Congress is mean and only wants the information because it hates Trump. Or, to quote the only-slightly-more-sophisticated language of the lawsuit, "The subpoenas were issued to harass President Donald J. Trump, to rummage through every aspect of his personal finances, his businesses and the private information of the president and his family, and to ferret about for any material that might be used to cause him political damage. No grounds exist to establish any purpose other than a political one."
This same argument runs nearly all of Trump's refusals to abide congressional subpoenas. "These aren't, like, impartial people," the president declared of Congress. "The Democrats are trying to win 2020."
The first thing to understand about this legal theory is that it is not a legal theory. Congress is a coequal branch of government which has a legal right to conduct investigations, including of the Executive branch and its officials. There is a legal gray zone around "executive privilege," which describes the right of officials in the Executive branch to have some confidentiality around their internal discussions.
But Trump is not articulating a theory of executive privilege here. Nor would such a privilege cover a president's right to maintain a business empire that accepts payments that may or may not be bribes disguised as legitimate reimbursements in complete secrecy from Congress and the public.
Essentially Trump's argument is that congressional oversight is simply "politics" and, therefore, somehow null and void. Trump's Deutsche Bank lawsuit has a passage that could have been lifted from an op-ed written by a sophomore member of the College Republicans. It quotes Nancy Pelosi promising "checks and balances to the Trump administration," then asserts she was "not referring to legislation." It proceeds to quote a series of journalists describing Congress's investigations as being unpleasant for Trump. http://nymag.com/intelligencer/2019/04/trump-subpoena-congress-lawsuit-oversight-deutschebank.html