March 12, 2020
ON THE RECORD. . .
"It would be disingenuous for the court to conclude that the redactions of the Mueller Report pursuant to the FOIA are not tainted by Attorney General Barr's actions and representations."-- Judge Reggie wrote, ordering the Justice Department to privately show him the portions of the report that were censored in the public version so he could independently verify the justifications.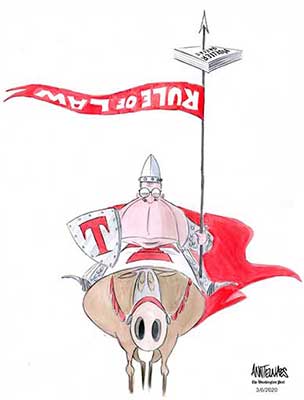 "People don't like her. She's a very mean person. And people don't like her. People don't want that. They like a person like me, that's not mean." — Trump, on why Elizabeth Warren failed to win the Democratic nomination.
"Elizabeth Warren has been an incredible candidate who, like Amy Klobuchar and Kamala Harris, was subjected to the realities of misogyny in politics. I think we made some progress, but there still was a lot of the unconscious bias and the gendered language that has been used around the women candidates. I think it affected all of the women that ran." — Hillary Clinton reflecting on Elizabeth Warren's campaign in a Vanity Fair article. 
"Unfortunately, you were unable to read a sentence in the English language. Regrettably, you were unable to achieve a passing score on the reading portion of the naturalization test." — Letter from USCIS to Lucio Delgado, born 100 percent blind, who had asked for but was denied a test in Braille.

"I like the numbers being where they are. I don't need to have the numbers double because of one ship." — Trump didn't want infected cruise ship passengers to come ashore because it would increase the U.S. tally of COVID-19 cases."  -- Daily Beast
"I like this stuff. I really get it. People are really surprised I understand this stuff. Every one of these doctors said, 'How do you know so much about this?' Maybe I have a natural ability." — Trump seeklng to calm a nation gripped with fears over coronavirus by second guessing the professionals.
"It came out of China, I heard about it, and we made a good move: We closed it down. We stopped it. It was a very early shutdown, which is something we got right.I think we're in great shape." — Trump as he approved funding to fight the coronavirus, implying that the money was unnecessary because his administration already had the situation under control.
"I listen to the scientists when it comes to the numbers, and I would encourage the president if he's going to report things to make sure the science is behind what he's saying" — Sen. Lindsey Graham (R-S.C.) on Trump citing "hunch" to contradict WHO's 3.4% death rate for coronavirus.
"Please provide an explanation for why the Covid-19 diagnostic test approved by the World Health Organization was not used," — Sen. Patty Murray, the ranking Democrat on the Senate health committee, in a letter on the testing fiasco to Mike Pence, Health Secretary Alex Azar, CDC director Robert Redfield, and Food and Drug Administration Commissioner Stephen Hahn. So far, no explanation has been provided.
Well, he is left wing. He has all people that are left wing. In many ways he is worse than Bernie. Look what he did with guns. He put Beto in charge of guns. Beto wants to get rid of guns, right? That's a bad stance. He has a lot of people that are left-wing and they will be running the government. He's not going to be running anything. If he ever got in, they will be running the government. They have people further left-wing than what Bernie has. It wouldn't be good for Wall Street, I can tell you that. Plus, if you look at his taxes, he will raise taxes incredibly. He will raise taxes more than Bernie. I looked — and he is open about it. Bernie just likes to talk about it. Joe Biden, his tax increases are just staggering. It is ridiculous. It'll destroy everything that has been built." -- Trump to reporters about Joe Biden.
"This is what happens to someone who loyally gets appointed Attorney General of the United States & then doesn't have the wisdom or courage to stare down and end the phony Russia Witch Hunt. Recuses himself on FIRST DAY in office, and the Mueller Scam begins!" — Trump weighing in on former Attorney General Jeff Sessions who was forced into a GOP primary runoff last night.
"Did the DNC & Dems tell Elizabeth Warren to wait? If so, they were deadly, the race would have been over, & Bernie would have won. Dirty double dealing? Nobody knows for sure, & history will be the judge. But I say, here we go AGAIN, Bernie!" — Trump again claiming Democrats were rigging their presidential primaries against Sen. Bernie Sanders.
"In my opinion, it's a great time to buy stocks or into your 401K. I would be all in… let's see if I'm right." — Eric Trump, tweeting on Feb 28, just before the stock market tumbled over 2500 points.
The American economy, its health infrastructure, and perhaps more are plunging into foreseeable crisis. And every step Trump has taken along the way seems almost calculated to expose him to maximal blame. Trump is now quite likely to lose his reelection, and we will look back at the last few weeks as the time when he sealed his own fate. — Jonathan Chait
Saudi Arabia and Russia are arguing over the price and flow of oil. That, and the Fake News, is the reason for the market drop! — Donald J. Trump @realDonaldTrump
"We are 10 days from our hospitals getting creamed." — Former White House homeland security adviser Thomas Bossert, who coordinated the U.S. response to global pandemics before his position was cut.
if Trump continues his allegations that Hunter Biden inappropriately made money in Ukraine while his father was vice president; if the Republicans really want to make an issue out of Hunter Biden… there is going to be a scorched earth response aimed at all of the Trump children that is unlike anything they've experienced thus far in the media." — Bloomberg adviser Tim O'Brien hinting that Mike Bloomberg may take aim at President Trump's family's business dealings.
"It is 10 times more lethal than the seasonal flu." — Dr. Anthony Fauci, director of the National Institute of Allergy and Infectious Disease on the coronavirus.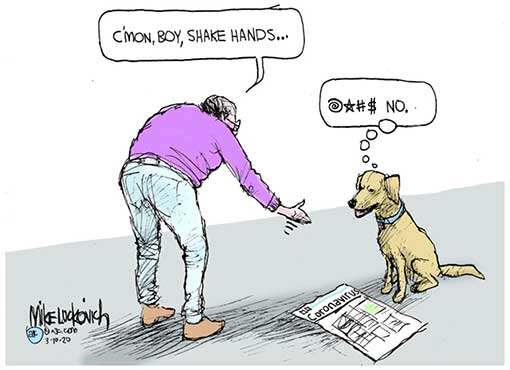 Democrats are using coronavirus as "another attempt to impeach the president."We've reached a tipping point. The chorus of hate being leveled at the president is nearing a crescendo as Democrats blame him and only him for a virus that originated halfway around the world. This is yet another attempt to impeach the president. And sadly it seems they care very little for any of the destruction they are leaving in their wake. Losses in the stock market, all this, unfortunately, just part of the political casualties for them.. — Fox Business Network's Trish Regan
"People are really surprised I understand this stuff. Every one of these doctors said, 'How do you know so much about this?' Maybe I have a natural ability." -- Trump boasting to reporters during a tour of the Centers for Disease Control and Prevention in Atlanta, where he met with actual doctors and scientists who are feverishly scrambling to contain and combat the deadly illness. Citing a "great, super-genius uncle" who taught at MIT, Trump professed that it must run in the family genes.
---
IN THIS ISSUE
FYI
OPINION
1. Andy Borowitz: Betsy DeVos Says She Was Planning to Close All Schools Anyway
As an increasing number of schools and universities closed down because of the coronavirus outbreak, the Education Secretary, Betsy DeVos, revealed on Monday that she had been planning for years to close every school in the country anyway.

Speaking to reporters in Washington, DeVos said, "When I took over as Education Secretary, I came with a simple mission: to shut down all of the nation's schools. It turns out that I was just ahead of my time."

Noting that schools are where students learn math, science, and history, DeVos said, "I have long believed that schools are where all the bad things happen."

Deciding to "wipe out the scourge of education once and for all," DeVos said that, within days of taking office, she drew up an ambitious plan called No School Left Open.

In a reassuring message to the nation's parents and students, DeVos said, "Amid the current crisis, many of you are wondering how we will close every American school overnight. Let me just say that this is the job Betsy DeVos was born to do." https://www.newyorker.com/humor/borowitz-report
2. Trump's mismanagement helped fuel coronavirus crisis
For six weeks behind the scenes, and now increasingly in public, Trump has undermined his administration's own efforts to fight the coronavirus outbreak — resisting attempts to plan for worst-case scenarios, overturning a public-health plan upon request from political allies and repeating only the warnings that he chose to hear.
Members of Congress have grilled top administration officials over the government's biggest mistake: failing to secure enough testing to head off a coronavirus outbreak in the United States. But many current and former Trump administration officials say the true management failure was Trump's. https://www.politico.com/news/2020/03/07/trump-coronavirus-management-style-123465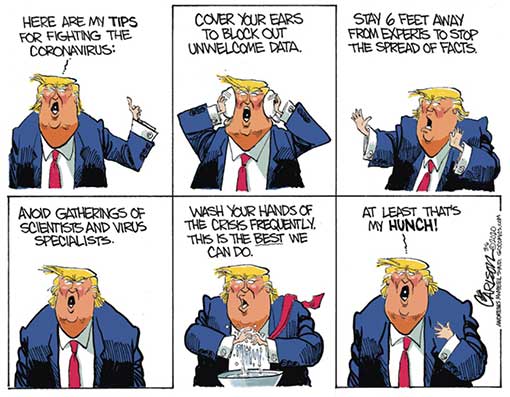 3. Judge says Amazon is 'likely to succeed' on key argument in Pentagon cloud lawsuit
A federal judge concluded that a bid protest lawsuit brought by Amazon over President Trump's intervention in a Pentagon cloud computing contract "is likely to succeed on the merits" of one of its central arguments, according to a court document made public Friday. https://www.washingtonpost.com/business/2020/03/06/judge-says-amazon-likely-succeed-key-argument-pentagon-cloud-lawsuit/
4. Clyburn: Biden Should Pick An African American Woman For VP
House Majority Whip James Clyburn (D-SC), whose endorsement of Joe Biden was key to his landslide primary victory in South Carolina, told NPR that he wants Biden to choose an African American woman as his running mate if he becomes the Democratic presidential nominee.
"I really believe that we've reached a point in this country where African American women need to be rewarded for the loyalty that they've given to this party."-- Clyburn
5. Sen. Murphy seeks to probe agencies of political bias in Hunter Biden requests
Sen. Chris Murphy (D-CT) is requesting an investigation into whether certain federal agencies are demonstrating political bias by complying with Republican-led requests related to Hunter Biden and the Ukrainian gas company Burisma.
In a letter set to be sent Wednesday to inspectors general for the State Department, the Treasury Department, the Department of Homeland Security and the National Archives, the Connecticut Democrat expressed concern that the agencies were cooperating with Republican-led investigations connected to former Vice President Joe Biden's son. But he said those same agencies didn't comply with congressional investigations into President Donald Trump.
"It just looks to me like there's a really concerning double standard -- these agencies said 'no' to every document request related to the investigation of President Trump but they may be willing to cough up anything that Senate Republicans are asking them to produce on the Biden family," said Murphy in an interview. https://www.politico.com/news/2020/03/11/murphy-hunter-biden-senate-125203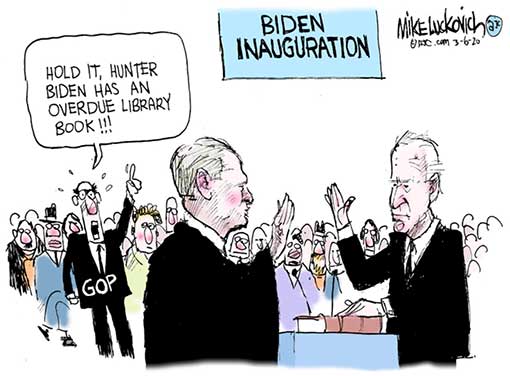 6. Trump Doesn't Want to Face This
One terrifying chart shows just how far behind the United States is in testing its citizens for coronavirus compared to other countries — which is a marker of how little our federal government has a handle on what is likely turning into a pandemic. Trump, in his rabid desire to downplay COVID-19, has continuously asserted that everything is fine and you can even go to work. But he can't hide these extremely scary numbers, and what they mean.  https://www.thecut.com/2020/03/chart-shows-little-coronavirus-testing-has-been-done-in-u-s.html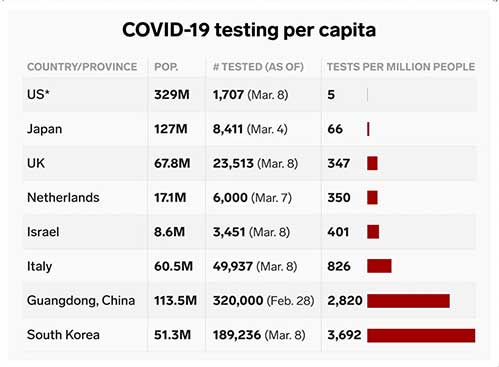 7. The Disinformation Campaign Being Launched Against Biden
During a town hall on Fox News Thursday night, Trump once again alluded to the idea that Biden is unfit for office. While the lies about the Bidens and Burisma will likely continue, the Daily Caller reports that this new line of attack will be a focus for Republicans and the Trump campaign.
This issue, however, is not simply being raised by Trump and his enablers. Steve Friess reports that a memo about Biden's "cognitive decline" is circulating among Sanders' supporters.
We are about to be subjected to a massive disinformation campaign against Joe Biden, and this one will be particularly pernicious. But for those of us who are fact-based, it is important to keep in mind that there is no data to support the allegations that are being made. https://washingtonmonthly.com/2020/03/06/the-disinformation-campaign-being-launched-against-biden/
8. Russian Media Freak Over Joe Biden's Election Resurrection
Former Vice President Joe Biden's Super Tuesday victories in 10 out of 14 state primaries caused shock waves not only in the United States, but in Russia. 
State media there have been confidently predicting the Democratic Party's nomination of Bernie Sanders, which would lead, they are sure, to the re-election of their favorite, President Donald J. Trump.
Joe Biden's win in South Carolina gave those Russian media pause, but his buoyant resurgence on Super Tuesday left the Kremlin's mouthpieces nearly speechless. 
Reporting on the U.S. elections for Russian state TV channel Rossiya 24, Alyona Pivkina made a gesture of surprise and said: "Suddenly, Biden surged ahead." The revelation was followed by an awkward moment of silence between Pivkina and the seemingly stunned host of the news broadcast.
The pro-Kremlin newspaper Vzglyad complained that Biden "rose from the ashes like a phoenix," prevailing "in spite of the corruption scandals" that have long been alleged and cultivated by the Russians—and the Republicans—concerning his son, Hunter, and his own activities in Ukraine.
With notable irritation, Vzglyad griped about Joe Biden's state primary victories in North Carolina, Oklahoma, Tennessee, and Alabama, claiming that the pro-Biden votes in rural states were secured by "rednecks, who shoot skunks for fun, bowl, beat their wives and associate the word 'socialist' with the communist threat." The newspaper bitterly surmised that through Biden's anticipated nomination, the U.S. elites won yet another Cold War against socialism. https://www.thedailybeast.com/russian-state-media-freak-over-joe-bidens-election-resurrection
9. Trump plays on Sanders' supporters dislike of Joe Biden
Donald Trump has been eager to play up the divisions within the Democratic presidential race, especially when it comes to Vermont Sen. Bernie Sanders' supporters.
"It's being rigged against — it's sad — it's being rigged against Crazy Bernie," Trump said at his rally in Charlotte, N.C. on Monday after former Vice President Joe Biden picked up endorsements from former presidential candidates Pete Buttigieg and Amy Klobuchar ahead of the Super Tuesday contests.
And he tweeted this after Biden's big victories on Super Tuesday: "The Democrat establishment came together and crushed Bernie Sanders, AGAIN! Even the fact that Elizabeth Warren stayed in the race was devastating to Bernie and allowed Sleepy Joe to unthinkably win Massachusetts. It was a perfect storm, with many good states remaining for Joe!" https://www.nbcnews.com/politics/meet-the-press/blog/meet-press-blog-latest-news-analysis-data-driving-political-discussion-n988541/ncrd1151556
10. Russia Trying to Stoke U.S. Racial Tensions Before Election, Officials Say
The Russian government has stepped up efforts to inflame racial tensions in the United States as part of its bid to influence November's presidential election, including trying to incite violence by white supremacist groups and to stoke anger among African-Americans, according to seven American officials briefed on recent intelligence.
Russia's lead intelligence agency, the S.V.R., has apparently gone beyond 2016 methods of interference, when operatives tried to stoke racial animosity by creating fake Black Lives Matter groups and spreading disinformation to depress black voter turnout. Now, Russia is also trying to influence white supremacist groups, the officials said; they gave few details, but one official said federal investigators are examining how at least one neo-Nazi organization with ties to Russia is funded.
Other Russian efforts, which American intelligence agencies have tracked, involve simply prodding white nationalists to more aggressively spread hate messages and amplifying their invective. Russian operatives are also trying to push black extremist groups toward violence, according to multiple officials, though they did not detail how. https://www.nytimes.com/2020/03/10/us/politics/russian-interference-race.html
11. Americans divided on party lines over risk from coronavirus: Reuters/Ipsos poll
Americans who now find themselves politically divided over seemingly everything are now forming two very different views of another major issue: the dangers of the new coronavirus.
Democrats are about twice as likely as Republicans to say the coronavirus poses an imminent threat to the United States, according to a Reuters/Ipsos poll conducted this week.
And more Democrats than Republicans say they are taking steps to be prepared, including washing their hands more often or limiting their travel plans.
Poll respondents who described themselves as Republicans and did not see the coronavirus as a threat said it still felt remote because cases had not been detected close to home and their friends and neighbors did not seem to be worried, either. https://www.reuters.com/article/us-health-coronavirus-usa-polarization/americans-divided-on-party-lines-over-risk-from-coronavirus-reuters-ipsos-poll-idUSKBN20T2O3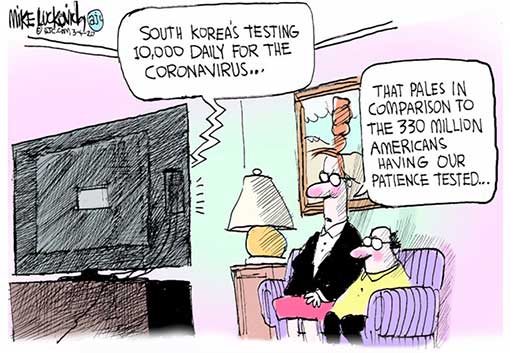 12. State Department blames 'swarms of online, false personas' from Russia for wave of coronavirus misinformation online
A top State Department official said Thursday that Russia is behind "swarms of online, false personas" that sought to spread misinformation about coronavirus on social media sites, stressing the "entire ecosystem of Russian disinformation is at play."
The latest warning came from Lea Gabrielle, the coordinator of the government's Global Engagement Center, in testimony to Congress. Her remarks follow days after an unpublished agency report, unearthed by The Washington Post on Saturday, revealed nearly 2 million tweets over a three-week period pushed coronavirus-related conspiracy theories abroad.
Gabrielle did not link that report with her broader conclusions about Russian interference online. But she said actors tied to the country — through "state proxy websites," official state-owned media and fake accounts online — were part of an effort to "take advantage of a health crisis, where people are terrified worldwide, to try to advance their priorities."
Gabrielle's comments, shared in advance with The Post, came as part of a broader congressional inquiry into the Global Engagement Center, an arm of the State Department that fights propaganda abroad. The agency's work has taken on greater significance in the midst of the 2020 presidential campaign, four years after Russian agents sought to weaponize social media to undermine the 2016 race. https://www.washingtonpost.com/technology/2020/03/05/state-department-face-fresh-questions-senate-about-coronavirus-misinformation-online/
13. Where Trump border wall rises, ranchers see defeat
When ranchers and environmentalists were fighting each other over the future of Western rangeland a generation ago, a group of families here along the U.S.-Mexico border joined to seek a middle path.
They founded the Malpai Borderlands Group, working with big-money foundations to put conservation easements on tens of thousands of acres. The agreements protected critical desert habitats from development and industry while providing tax breaks to allow traditional ranching to continue. The model was hailed as a breakthrough.
William McDonald, a fifth-generation Arizona cattleman who led the effort, received a MacArthur "genius grant" in 1998 that cited his "efforts to create ecologically responsible cooperation among government regulatory agencies, conservationists, scientists, and commercial ranchers in the West."
Today, a few miles from the site where bulldozers and excavators are building President Trump's border wall, McDonald, 67, said he feels defeated, and filled with regret. Decades of political wrangling and consensus-building — his life's work — are being flattened.
"I feel like I've let down the generations to come, because we're going to have that ugly scar out here," McDonald said. "It just makes me sick."
Though Trump often has depicted border residents as the biggest beneficiaries of his signature project, the arrival of construction crews and heavy equipment to this region has brought mostly bitterness and resignation. Trump's barrier is turning longtime friends against each other and is dramatically — and perhaps permanently — altering one of the wildest and most storied areas of the American West. https://www.washingtonpost.com/immigration/2020/03/06/where-trumps-border-wall-rises-ranchers-see-scar-range/
14. White House hires another college senior for sensitive administration post
The White House has placed another college senior in an influential administration position, according to four people familiar with the matter.
Anthony Labruna, who starts on Monday, is not slated to graduate from Iowa State University until early May. In the meantime, he'll be deputy White House liaison at the Department of Commerce, according to an administration official.
One person familiar with the matter said that Labruna was foisted on Commerce at the urging of 29-year-old Presidential Personel Office director John McEntee, who has been charged by the president with keeping his administration stocked with loyal officials. Some at the department are "pretty concerned" at Labruna's hiring because he's so young and inexperienced, this person said. "They're none too happy to have him."
The role is a sensitive one: The job of a White House liaison entails matching qualified people with political vacancies at the department, headed up by Secretary Wilbur Ross, and moving appointees in and out of those positions as needed. https://www.politico.com/news/2020/03/06/white-house-hires-another-college-senior-123093
15. Senate GOP ramps up investigations as Biden surges
Senate Republicans are sharpening their investigations involving former Vice President Joe Biden and his son's work at a Ukrainian energy company, just as the former vice president surges in the Democratic presidential race and reemerges as the front-runner for his party's nomination.
Senate Homeland Security and Governmental Affairs Chairman Ron Johnson, a Wisconsin Republican, allowed committee members to review classified documents Wednesday evening as part of his investigation and to answer any questions they might have ahead of his plans to subpoena a consultant for a US public affairs firm that worked with Burisma, the Ukrainian energy company where Hunter Biden served as a board member. Johnson has set a vote for next Wednesday on issuing the subpoena to the consultant, who has ties to the President's personal attorney Rudy Giuliani.
Johnson told CNN Wednesday evening that he thinks there are enough votes in the committee to issue the subpoena, although at least one Republican on the panel raised concerns that the investigation could appear political.
While Republicans publicly insist their efforts have nothing to do with Biden's campaign, they are using their powers in the Senate to look into a host of matters that they believe could shine negative light on the former vice president -- and help President Donald Trump as the race heads into a crucial period. Trump and his allies have repeatedly made unfounded and false claims to allege that the Bidens acted corruptly in Ukraine. https://www.cnn.com/2020/03/04/politics/joe-biden-congress-investigations/index.html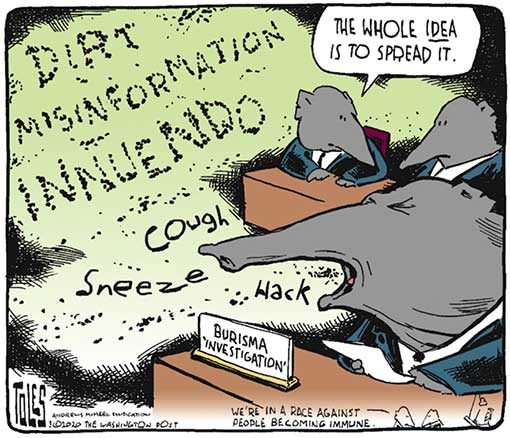 16. Montana Gov. Steve Bullock to run for Senate, boosting Democrats' fortunes in their bid to claim Senate majority
Montana Gov. Steve Bullock announced Monday that he will run for Senate, in a reversal that boosts Democrats' fortunes in their bid to unseat Sen. Steve Daines (R-Mont.) and reclaim the Senate majority.
Republicans hold 53 seats in the chamber, and the popular Bullock's entry into the Montana race would increase Democrats' chances of picking up the four GOP seats they would need to reclaim control.
In a statement, Bullock said that after speaking with his family, he decided to enter the race "so we can make Washington work more like Montana."
"As governor, I've worked my level best to represent all Montanans and leave this place we call home better than I found it, and in a time when our politics is more divided than ever, we've been able to accomplish a great deal for the people of our state," Bullock said. https://www.washingtonpost.com/politics/montana-gov-steve-bullock-to-run-for-senate-in-boon-for-democrats/2020/03/09/7b19b7b6-5e5d-11ea-b014-4fafa866bb81_story.html
17. 'Doomed from the Start.' Experts Say the Trump Administration's Coronavirus Response Was Never Going to Work
The Trump Administration's strategy to combat COVID-19, the novel coronavirus, began with a relatively simple focus: keep it out of the United States. In service of that goal, the White House issued drastic travel restrictions, imposed mandatory quarantines, and repeatedly told the public that these steps were working.
"We have contained this. I won't say airtight but pretty close to airtight," White House economic adviser Larry Kudlow said in a television interview on Feb. 25, echoing Trump's tweeted declaration that the virus was "very much under control" in the United States.
But it wasn't, and the administration's rosy messaging was fundamentally at odds with a growing cacophony of alarm bells inside and outside the U.S. government. Since January, epidemiologists, former U.S. public health officials and experts have been warning, publicly and privately, that the administration's insistence that containment was—and should remain—the primary way to confront an emerging infectious disease was a grave mistake.
In congressional testimony, in medical webcasts and in private discussions with health officials, they warned that the unique features of this flu-like virus made it impossible to control, and that the administration must use any time that containment measures might buy to prepare the country for an inevitable outbreak. The administration was using all its resources to blockade the doors, they warned, but the enemy was likely already in the house. https://time.com/5797636/trump-botched-coronavirus-response/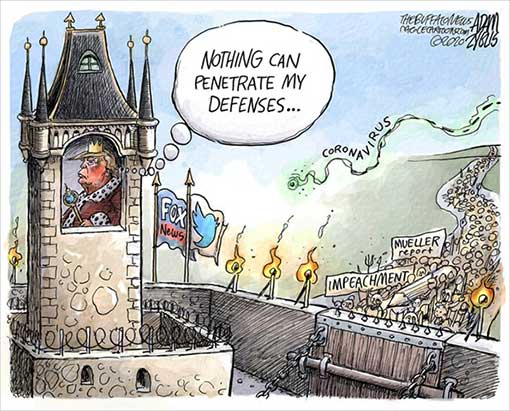 18. The DAILY GRILL
I've had a lot of conversations with a lot of people … we have thousands or hundreds of thousands of people that get better, just by, you know, sitting around and even going to work. … I think the number, personally, I would say the number is way under one percent." — Trump on Coronavirus death rate.

VERSUS

"I NEVER said people that are feeling sick should go to work. This is just more Fake News and disinformation put out by the Democrats, in particular MSDNC. Comcast covers the CoronaVirus situation horribly, only looking to do harm to the incredible & successful effort being made!" — TrumpTweet

 

"I just received a call from @VP Mike Pence, thanking Washington state for our efforts to combat the coronavirus. I told him our work would be more successful if the Trump administration stuck to the science and told the truth." — Washington State Gov. Jay Inslee tweet

VERSUS

"I told Mike not to be complimentary of that governor because that governor is a snake … If we came up with a cure today, and tomorrow everything is gone, and you went up to this governor — who is, you know, not a good governor, by the way — if you went up to this governor, and you said to him, 'How did Trump do?' He would say, 'He did a terrible job.' It makes no difference," -- Trump
19. From MEDIA MATTERS (They watch Fox News so you don't have to)
RAYMOND ARROYO: Joe Biden won't actually be in charge of the things if he is elected president. He'll be kind of a geriatric Pinocchio whose strings will be pulled by the politicians, activists, or donors currently propping him up. That includes big donor Mike Bloomberg.  https://www.mediamatters.org/fox-news/foxs-ingraham-angle-labels-michael-bloomberg-puppet-master
20. Former U.S. Attorney Preet Bharara Calls Trump 'Greatest Hoax,' Lists What's Wrong With Him
I am angry and worried right now. As are tens of millions of Americans. I don't know what will happen next but what I do know is this: Donald Trump is the greatest hoax ever perpetrated on America — Preet Bharara @PreetBharara
He is a liar
He is a cheat
He is a bad businessman
He can't spell
He doesn't read
He doesn't listen
He has no principles
He doesn't give a shit about anyone
He is profoundly disloyal
He projects his every flaw on others
He doesn't know facts
He doesn't respect science
He doesn't get math
He doesn't acknowledge history
He doesn't even understand weather
He wanted to buy Greenland
He wanted to nuke hurricanes
He says he's a genius
But he won't release his grades or tax returns
He attacks war heroes while he pardons war criminals
He accuses others of nepotism while he privileges his own children
He whines about criticism as he spews nothing but bile
He calls patriots "human scum" while surrounding himself with scumbags like Roger Stone
He claims to be alpha while he endlessly whines like stuck pig
He says he's for America though he cozies up to despots
He said no one has more respect for women than he does
He said he knows more than the generals
He suggested he has a special talent for infectious diseases
21. From the Late Shows
The Late Show with Stephen Colbert: Elizabeth Warren Bows Out Gracefully, While Trump Spreads Dangerous Coronavirus Misinformation: https://youtu.be/hfksbuyrqkQ

Jimmy Kimmel Live: Trump Doubts Coronavirus Science: https://youtu.be/IiUCja0a8kc
1. Jonathan Chait: Trump's Plan to 'Help' Black America Is a Corrupt Scam to Enrich His Family
Having rearranged his criminal justice stance from bloodthirsty advocate of a militarized race war to kindly liberal, Trump then pivoted to the second pillar of his appeal to black voters: "Opportunity Zones," presenting this as his successful plan to boost employment for African-Americans.
Opportunity Zones are in fact a corrupt scam to enrich Trump's cronies. The provision, added to his 2018 tax cut, sounds appealing on the surface. It gives a capital gains tax cut to developers who build new projects in poor urban areas. The problem is that, even conceptually, the incentive is not going to drive investment in the poorest areas. Developers will look for the least-poor blocks that qualify for the tax cut and build there. In practice, the designation of which areas get the tax credit has been hopelessly (and predictably) abused, so that well-connected builders can go into already-gentrifying neighborhoods and get lucrative tax breaks for projects they wanted to build anyway, including Jaguar dealerships, pet spas, and other luxury playgrounds for the rich.
This program is, or should be, a massive scandal. The New York Times has detailed extensively how it is working across the country, and virtually every example consists of dumping windfall benefits that primarily or exclusively help rich people. The most damning quote in the damning stories is from Aaron T. Seybert, the social-investment officer at the Kresge Foundation, who supported the proposal. "Capital is going to flow to the lowest-risk, highest-return environment," he said, "Perhaps 95 percent of this is doing no good for people we care about." This is a supporter of the bill!
Among the insiders who have cashed in on the scam, one in particular stands out: Jared Kushner. Coincidentally, the Associated Press reports today that the president's son-in-law has cashed in his stock in a company that invested heavily in "Opportunity Zones." Kushner's share rose from $5 million to $25 million. That is the sort of rate of return that is possible when you're either a business genius, or the son-in-law and adviser to a President who can design special laws to funnel tax money into your pockets.
Trump is also going to turn back to Burisma at some point. It is worth noting that, while he is accusing Biden of taking action to help his son's Ukrainian company that Biden did nothing to help, Trump actually did use his office to enrich his own son-in-law. Not only is he failing to hide this scandal, he is presenting it as a favor for black America! https://nymag.com/intelligencer/2020/03/trumps-win-for-black-people-is-scam-to-enrich-his-family.html
2. Dana Milbank: Got a medical question? Ask Dr. Trump!
Do you have a nagging medical concern? A rash that won't go away? Unexplained hearing loss? Are you currently bleeding out from a severed femoral artery?
Well, fret no more. America now has a leading medical expert — some say the best — who will dispense diagnoses and prognoses to all — for free! This bold new telemedicine initiative, "Ask Dr. Trump," will be offered on an unpredictable but highly frequent basis to all Americans (whether they like it or not).
Dr. Donald J. Trump, of course, is the pioneering scientist who first determined that climate change is a hoax and, more recently, discovered that windmills cause cancer. In between, he proved that forest fires could be contained by "raking" and identified a previously unrecognized tropical cyclone pattern targeting Alabama.
Dr. Trump acquired what he calls "a natural instinct for science" not through formal education but because "my uncle was a great professor at MIT for many years." Sadly, the elder Trump didn't live to see his nephew's greatest discoveries in the medical field: The flu shot is basically "injecting bad stuff into your body" and exercise can shorten your life. Dr. Trump used his instinctive grasp of medicine to become "the healthiest individual ever elected to the presidency" with an innate life expectancy of 200 years.
Related research by Dr. Trump found spread of the virus is not "inevitable," that cases in the United States are "going very substantially down" — and that they "are all getting better." This informed Dr. Trump's reclassification of the coronavirus as a "new hoax" by Democrats — though he later clarified that the illness itself was not the hoax, only Democrats' attempts to blame him.
In fact, Dr. Trump's DNA research has determined that neither he nor bats nor pangolins caused the virus's spread but rather President Barack Obama. "The Obama administration made a decision on testing that turned out to be very detrimental to what we're doing," Trump disclosed, a finding that eluded experts.
https://www.washingtonpost.com/opinions/2020/03/06/got-medical-question-ask-dr-trump/
3. David Von Drehle: Vladimir Putin's virus: How the Russian president has infected our national trust
The president of the United States fires his director of national intelligence after aides brief a congressional committee on new Russian efforts to interfere in the 2020 election. His acting replacement is a man whose main qualification appears to be his skepticism that Russia is meddling in our politics at all.
Meanwhile, intelligence officials tell Sen. Bernie Sanders, the leading candidate to unseat the president, that Russian bots have infiltrated his online army to sow discord in the Democratic Party. They say the goal is to help Sanders, but Sanders thinks it is a leak designed to hurt him.
Not sure what to believe? Bingo. This fever of mistrust is the desired symptom of a powerful virus — a confidence-sapping worm of mutual suspicion — that Russia has planted in the operating system of American democracy. At little cost and with surprising ease, Vladimir Putin and his government have exploited partisanship and social media to serve Russia's long-term goal of weakening the West by encouraging disorder and disunity. Already, eight months before Election Day, the virus is spreading virtually unchecked, because the very existence of a Russian chaos project has itself become a partisan wedge. Democrats see Putin's hand in nearly every news cycle, while Republicans increasingly scoff that the whole thing is, to quote the president, a witch hunt.
Millions of us are unsure whether elections will be free and fair, whether the news we consume is real or fake, whether our foreign policy serves national or personal interests. This is a massive victory for America's enemies. A climate of mutual suspicion at home erodes our ability to affect events abroad. Foreign governments lose confidence in a nation whose leaders — and followers — lack confidence in one another. https://www.washingtonpost.com/opinions/2020/03/02/did-vladimir-putin-turn-america-itself/
4. Matt Stieb: With Biden Ascendant, GOP Suddenly Cares About His Ukraine Connections Again
With the primary momentum and Establishment support behind Biden after his win on Super Tuesday, four-year-old allegations of vice-presidential family misconduct are suddenly a priority again: On Wednesday, Senate Homeland Committee Chairman Ron Johnson announced he would release an interim report summarizing the committee's investigation into Hunter Biden's employment by Burisma later this spring. Johnson is one of many Trump allies alleging that, as vice-president, Joe Biden helped remove a Ukrainian prosecutor investigating corruption at Burisma to protect his son's up-to-$50,000-a-month gig at the company. But at the time, Johnson supported Biden's effort to reform the top Ukrainian prosecutor's office, signing a letter backing "urgent reforms" in the system.
Speaking with reporters, Johnson stated his investigation was not intended to weigh down Biden's candidacy, while also undercutting that claim: "If I were a Democrat primary voter I'd want these questions satisfactorily answered before I cast my final vote." He added: "My investigations are not focused on the Bidens. They just aren't."
Critics disagreed: "After hearing nothing about Burisma over the course of the last couple weeks, the Republicans will revive it in a perfect demonstration of what this means to them, which is to be a cudgel to beat Joe Biden with," said Rep. Jim Himes, a member of the House Intelligence Committee. "Get ready," Connecticut Senator Chris Murphy told the Daily Beast. "The Senate is going to turn into an arm of the Trump campaign. I don't think we've expected anything different. The president is willing to use all the official powers at his disposal to try to destroy his political rivals."
The president has also renewed his focus on Hunter Biden's connections to Burisma, despite his being cleared of any illegal activity. "That will be a major issue in the campaign," Trump said on Wednesday, in an interview with Fox News. "I will bring that up all the time." Two days before Trump reiterated his concern over the former vice-president's son benefiting from his father's station, the Associated Press reported that Jared Kushner sold his stake in a digital platform for $25 to $50 million after the business grew thanks to tax cuts that the president's son-in-law lobbied for directly. Three years ago, before the Trump tax cuts, Kushner's stake in the company was valued at $5 million. https://nymag.com/intelligencer/2020/03/with-biden-ascendent-gop-suddenly-cares-about-ukraine-again.html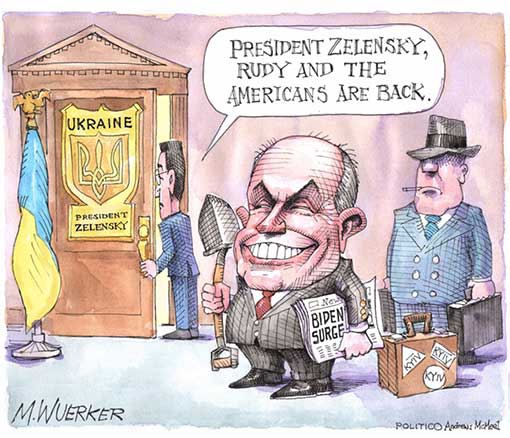 5. Eric Lutz: Trump Giving His "Hunch" About Coronavirus Isn't Helping
The World Health Organization earlier this week warned that coronavirus appears to have a higher death rate than previously known, with the latest estimates at more than 3% globally. But Donald Trump isn't buying it. The 3.4% of reported Covid-19 cases who have died, according to the W.H.O., is a "false number," in the eyes of the president. Coronavirus, he claimed, contradicting health experts, is no more dangerous than the seasonal flu. His source for that dubious conclusion? His trusty gut, of course.
"This is just my hunch," the president said in a phone interview with Fox News host Sean Hannity Wednesday night, as the global death toll rose to more than 3,000 and the United States confirmed its 11th death from the virus. "I think that [3.4%] is very high...Personally, I would say the number is way under 1%."
Trump has repeatedly attempted to play down concerns about the deadly virus, including with characteristically dubious claims. But his remarks Wednesday may be his most reckless yet, sowing doubt in expert assessments and even, at one point, suggesting those with the virus can go to work while ill—something officials have explicitly discouraged in the interest of preventing further community spread. "We have thousands or hundreds of thousands of people who get better just by sitting around and even going to work, some of them go to work but they get better,"
How much of this is Trump's stupidity and how much of it is his effort to tamp down what is quickly becoming not just a health crisis, but a political and economic crisis, is uncertain. He's see-sawed between dismissing the threat—and criticisms that his administration is bungling its response to it—and blaming others, like Barack Obama, for the problem. But there are real consequences to his errant comments, as people who actually know things warn. But who are you going to listen to? The "experts," or the "hunch" of a guy who says windmill noise causes cancer? https://www.vanityfair.com/news/2020/03/trump-giving-his-hunch-about-coronavirus-isnt-helping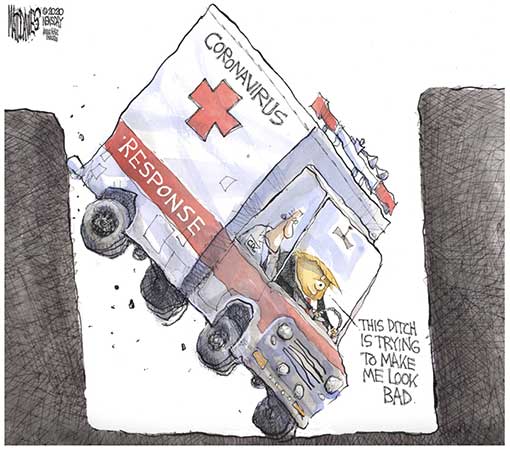 6. Bess Levin: Trump Waited A Whole Week Before Blaming The Coronavirus On Obama
Apparently it's Barack Obama's fault Trump's response to the pandemic has been an utter joke.
In a life filled with uncertainty, there are a few things we can always count on. One, that death spares no one. Two, that Jared and Ivanka will find a way to profit off of their government positions while maintaining they "sacrificed" everything to join the administration. And three, that when backed into a corner thanks to his own incompetence, greed, or history of undiagnosed traumatic brain injuries, Donald Trump will find a way to pin the blame on Barack Obama, even if the issue is, like, the DVR not recording Hannity or orange streaks on the White House bath towels because he was too impatient to let the self-tanner dry. (Previous, real-life examples have included blaming Obama for: the temperature in the Oval Office; his decision to rehire Mike Flynn, who Obama fired and warned him about; anti-Trump protests; and building a non-existent wall.)
Not surprisingly, today Trump managed to finger the 44th president of the United States for...the botched coronavirus response. Speaking to reporters alongside Mike "Jesus will sort this out" Pence one week after his big press conference on the matter, Trump claimed that the insane lack of testing of Americans presenting symptoms of the deadly disease is actually the fault of a guy who left office more than three years ago. "The Obama administration made a decision on testing that turned out to be very detrimental to what we're doing, and we undid that decision a few days ago so that the testing can take place at a much more accurate and rapid fashion," Trump said, before giving himself kudos for supposedly righting the supposed wrong. "That was a decision we disagreed with. I don't think we would have made it, but for some reason it was made. But we've undone that decision."
Only, as critics were quick to point out, it was the Trump administration that wiped out the National Security Council's global health security unit created to counter pandemics, as well as its counterpart within the Department of Homeland Security. And appointed a paranoid pharma executive to run the Department of Health and Human Services, who reportedly failed to coordinate an effective response due to distrust of his own aides and a desire not to "offend" the president. And told officials "not to do or say anything" re: the virus that would "spook the markets," including, apparently, telling the truth or devising a plan of action that doesn't sound like it was drawn up by Don Jr. and Eric from their super secret clubhouse with the "NO GIRLS ALLOWED" sign. https://www.vanityfair.com/news/2020/03/donald-trump-coronavirus-obama-fault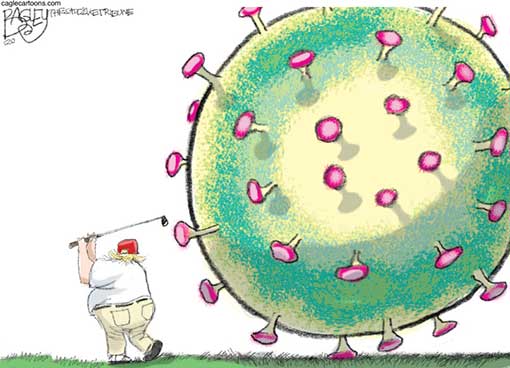 7. Andrew Sullivan: What's This, a Functioning Political Party in the United States?
It may be fleeting but I sensed a small, distinctive undercurrent of normalcy this week in our political system. A long-weakened party, faced with an insistent and ascendant insurgency from its populist wing, actually gathered itself together and acted in collective self-defense. What the Republicans were incapable of doing in 2016, the Democrats are attempting in 2020. As the GOP has dissolved into a crass husk of a media organization, dedicated to a cult figure, there's life in the rickety, old Democratic Party structure after all.
What struck me first was the swift and joint decision of both Pete Buttigieg and Amy Klobuchar to put party (and country) before candidacy. Their campaigns had not quite been nailed to the perch Tuesday night, but there was no credible way forward to victory for either. (If only Trump's rivals had exercised that discipline in the GOP primaries four years ago). Mayor Pete's pretty flawlessly executed strategy didn't fail; in Iowa and New Hampshire, it worked beyond anyone's original expectations. It just ran into the incompetence of the Iowa Democrats (denying him a triumphant news cycle), the Bloomberg bubble, and his persistent failure to break through with black voters. Klobuchar followed suit, having never quite gained the authority or personal appeal she needed to break out. Then the day after Super Tuesday, Bloomberg got out — a man who had endless cash in hand but also exercised the kind of self-discipline no Republican in 2016 managed. Better still, Bloomberg has committed to throwing vast resources to defeat Trump this fall — and his ads, taunting, brutal and simple, have been the most inspired of the campaign so far.
This was not the GOP in 2016 — unable to winnow the field and coalesce behind a single opponent to Trump, and then staggering backward into submission. This is the Democrats in 2020, finally a party capable of operating with some institutional authority. Here's a headline you don't often see: "Democrats Not in Disarray!" https://nymag.com/intelligencer/2020/03/andrew-sullivan-democrats-are-not-in-disarray.html
8. Greg Sargent: Trump's new attack on Biden exposes his own unfitness
At a rally in North Carolina on Monday night, this actually happened: President Trump ripped into a resurgent Joe Biden by claiming he bungles facts and often appears confused.
Yes, Trump suggested the former vice president is mentally unfit for the presidency.
Let it be noted that this came only hours after Trump held an open session on coronavirus, at which he stumbled over the concept of vaccines and seemed to suggest he has no idea that clinical trials are required for medications.
And this came at a time when the administration's coronavirus response has been marred by Trump's own all-consuming pathologies. Trump's initial instinct was to rage at the media for treating him unfairly, to deny the outbreak's seriousness because it might rattle the markets and to decline to bring in an outside coordinator in part out of fear of that person's disloyalty.
Does Trump really want to open the door to a debate over mental fitness for the presidency?
Apparently he does. At the rally, Trump slammed Biden for botching a gun violence statistic, adding this:
"Sleepy Joe," Mr. Trump continued, "he doesn't even know where he is or what he's doing or what office he's running for. Honestly, I don't think he knows what office he's running for."

If Mr. Biden won the presidency, Mr. Trump said, his staff would actually do the governing. "They're going to put him into a home, and other people are going to be running the country," the president said, "and they're going to be super-left, radical crazies. And Joe's going to be in a home and he'll be watching television."
Yes, those words were actually uttered by Trump, who regularly relies for his most urgent policy updates on none other than Fox News.
It's often observed that Trump criticizes his opponents for failings that he's taken to comical extremes himself. Trump is probably the most corrupt U.S. president ever — yet he often baselessly claims his foes are corrupt. Trump is the biggest liar and fabulist ever to occupy the Oval Office — yet he often falsely tars his critics as liars. https://www.washingtonpost.com/opinions/2020/03/03/trumps-new-attack-biden-exposes-his-own-unfitness/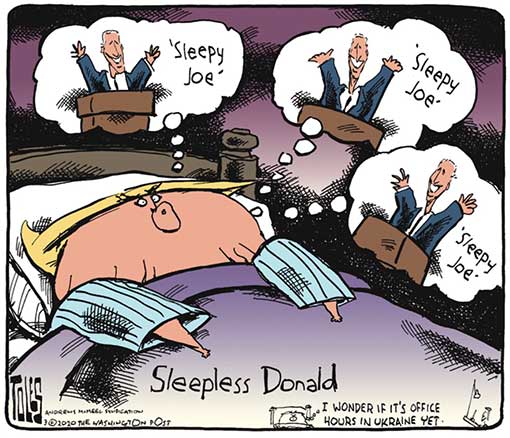 9. David Remnick: Trump in the Time of the Coronavirus
The world now faces a pandemic, it has never been more essential to recall that norm-setting performance and to admit what has been demonstrated on a daily basis about the public official who carries ultimate responsibility for the public safety of American citizens: Donald Trump is incapable of truth, heedless of science, and hostage to the demands of his insatiable ego.
Recall, since the start of the coronavirus crisis, the litany of bogus assurances, "hunches," misinformation, magical thinking, drive-by political shootings, and self-stroking:
"We have it under control. It's going to be just fine."

"By April, you know, in theory, when it gets a little warmer, it miraculously goes away."

"The Obama Administration made a decision on testing that turned out to be detrimental to what we're doing . . . "

"We're going very substantially down, not up. . . . We have it so well under control. I mean, we really have done a very good job."

"As of right now and yesterday, anybody that needs a test [can have one], that's the thing, and the tests are all perfect, like the letter was perfect—the transcription was perfect."

"They would like to have the people come off [the Grand Princess cruise ship, off the coast of California]. I would like to have the people stay. . . . Because I like the numbers being where they are."
Disinformation and misinformation are rampant in Trump's mental universe. Trump recently gave the Presidential Medal of Freedom to Rush Limbaugh, who said, last month, "The coronavirus is the common cold, folks." One of Trump's ardent supporters in the Senate, Tom Cotton, of Arkansas, is among those who have suggested publicly that "we at least need to ask the question" of whether the virus was a bioweapon deliberately created in a Chinese laboratory outside the city of Wuhan—a theory rehashed in places like the Washington Times. https://www.newyorker.com/news/daily-comment/trump-in-the-time-of-the-coronavirus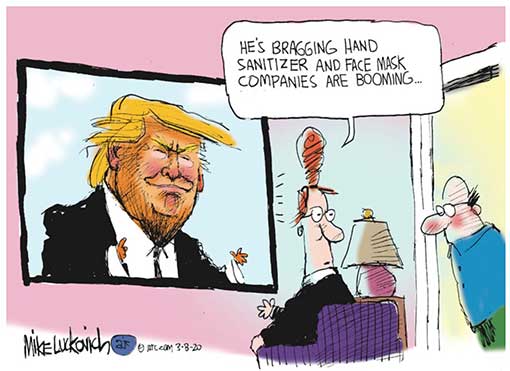 10. Maureen Dowd: Trump's Crazy Fantasy World
Trump is continuing his Panglossian handling of the coronavirus. "The tests are beautiful!" he said as he toured the C.D.C. Friday evening, after a kerfuffle over delays in testing. "The tests are all perfect, like the letter was perfect, the transcription was perfect," he added, referring to his communication with the president of Ukraine. "This is the highest-level test anywhere." "I like this stuff, I really get it," he said, adding that maybe he should have become a scientist, like his uncle the "super genius," instead of running for president.
Meanwhile, the stock market is still freaking out and financial angst is spreading from boardrooms to kitchen tables.
We can vividly see in this crisis how close to the surface Trump's id is and how easily he cleaves to delusions. He personalizes everything so much that when things go bad, he can only see it as an attack on him by the forces out to get him.
He seems psychologically incapable of dealing with a virus that is complex and uncertain. The virus will be in every community and needs truth, honesty and intelligence — all absent from the unstable Trump, who at his core is a frightened boy and pretender. https://www.nytimes.com/2020/03/07/opinion/trump-biden-coronavirus.html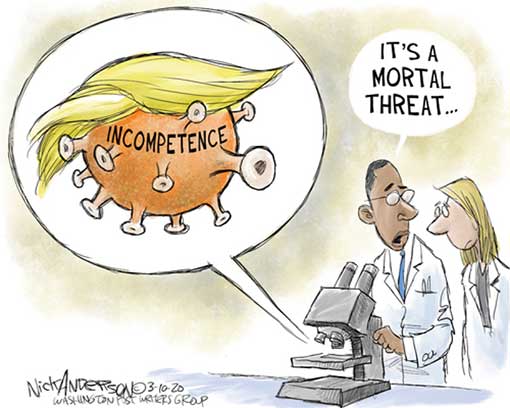 11. Jennifer Rubin: The Senate majority is within reach for Democrats
There are two ways to look at the fight for the Senate majority: one as a corollary to the presidential race, and one as a series of individual contests. Either way, Republicans have reason to panic.
President Trump's chances of reelection, already imperiled because of his low approval ratings, are dropping as fast as the stock market. The Dow Jones plunged by about 1,800 points Monday morning, triggering a temporary suspension of trading. The markets are now facing the prospect that a global pandemic may throw us into a worldwide recession. A recession alone would be enough to doom an incumbent president, but in this case, the president's utter lack of preparation and out-and-out lies about the seriousness of the health crisis will leave him no escape. The blame for the health crisis, for fatalities and for the economic meltdown will rest on him.
The increasingly irrational coterie of supporters and enablers can blather all they like, praising his "preparation" (who are we kidding?) and denying the severity of the situation. However, a deadly pandemic and a recession cannot be wished away. If President Herbert Hoover was held responsible for the Great Depression (fairly or not), Trump's name could be forever linked to any health crisis and economic crash on his watch.
In that scenario (and we do not as yet know that is where we will be months from now), House or Senate members with an "R" next to their names on the November ballot could be in grave danger. While senators normally have higher profiles and a better chance to distance themselves from the top of the ticket, Republicans who have allowed no distance and have insisted on keeping the president in office after January's impeachment trial are quite likely to go down with the ship. They have excused Trump's conduct, mouthed his misleading statements and left a corrupt and incompetent president in office. There will likely be a steep hill to climb for incumbent Republicans outside of deep-red states. https://www.washingtonpost.com/opinions/2020/03/09/senate-majority-is-within-reach-democrats/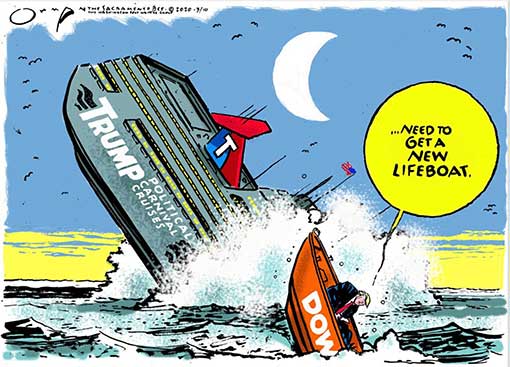 12. Brian Klaas: The coronavirus is Trump's Chernobyl
On Saturday, April 26, 1986, the No. 4 reactor at Chernobyl power station exploded just outside the town of Pripyat in the Soviet Union. During the crucial early hours of the disaster, a cascading series of mistakes exacerbated the emergency. Subordinates who feared their superiors kept quiet. Superiors who feared contradicting the prevailing mythology of the state — and its leader — bent and broke reality. They made a series of smaller lies to protect the big lie: that the Soviet Union had everything under control.
During crises, ideology kills. Protecting myths, rather than people, is deadly.
The rapidly worsening coronavirus outbreak is President Trump's Chernobyl. By putting dangerous myths above objective facts, Trump has turned the crucial early phases of government response into a disaster. Some public health experts in government have undoubtedly kept quiet, having seen repeatedly what happens to those who publicly contradict this president. And Trump himself, along with those who surround him, has tried to construct a reality that simply does not exist.
The stock market is crashing. Every indicator from bond markets predicts a serious recession. The death rate is climbing. And if the outbreak in Italy is any indication of what we should expect, everything is about to get much worse.
Trump played golf yesterday. https://www.washingtonpost.com/opinions/2020/03/09/coronavirus-is-trumps-chernobyl/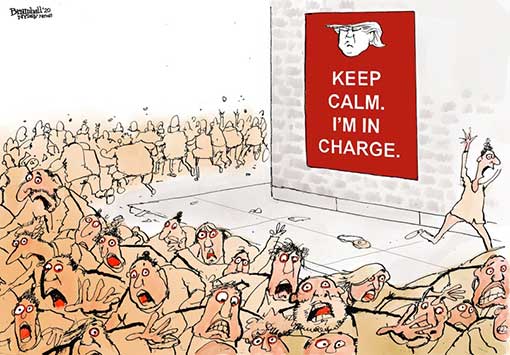 13. Caleb Ecarma: Fox News Hosts Are Honing Their Anti-Biden Message: He's Lost It
After winning South Carolina and surging on Super Tuesday, Joe Biden, revenant front-runner, is fully back—and so, too, are the right-wing media's gloves-off attacks on his mental state. Biden largely disappeared from the pro-Trump media's gaze amid disappointing showings in the early Democratic primary contests, as they pivoted from "Sleepy Joe" to "Crazy Communist Bernie." But now, with Biden's delegate lead over Bernie Sanders, Republican lawmakers care once again about Ukrainian energy companies, and major conservative media figures are honing a line of attack that could play out through November if Biden becomes the nominee. "I'm not a doctor, not going to perform any kind of armchair psychology," prefaced Fox News host Sean Hannity during a Wednesday night segment, before doing just that. "But as I have been saying, if the 78-year-old Democrat ever had a fastball, even a slow pitch, it seems to be long gone."
Hannity, the top-rated cable-news host, was not the only prime time Fox talent to claim that Biden is suffering from some kind of mental deficiency. "To the cynical and darkly clever people who run the Democratic Party, Biden's fading intellect is not a handicap. It's an opportunity," Tucker Carlson said the previous hour in an opening monologue focused on Biden's "weak" brain. "He's getting weaker. Ask anyone who knows him, or who's watched him carefully over the past 50 years. Biden is noticeably more confused now than he was even last spring, when he entered the race." Carlson then asserted that this is all "good news for the Democratic establishment...Because it means they can control him. That's one reason the other candidates were so eager to swing in behind Biden the instant he won a state." The Democratic establishment's coconspirators in this supposed Biden exploitation plan, according to Carlson, include his former rivals turned backers Amy Klobuchar and Pete Buttigieg, as well as anti-Trump "former Republicans" Bill Kristol, Ana Navarro, Jennifer Rubin, and James Comey. "All of these people are happy for the same reason: Joe Biden is fading and uncertain. Weak leaders are vessels for the stronger forces around them," he opined.
The two Fox News hosts echoed the president's jabs earlier this week. "Sleepy Joe—he doesn't even know where he is or what he's doing or what office he's running for," said Trump at a rally in North Carolina on Monday, two days after Biden's first primary win in South Carolina. "Honestly I don't think he knows what office he's running for." With his raucous North Carolina supporters cheering and hollering at him, the president laid out the same case as Carlson, but with an added Trump flair. "They're going to put him into a home, and other people are going to be running the country," he said. "Joe's going to be in a home and he'll be watching television." Apparently the irony of this accusation was lost on Trump, who regularly fills his morning and evening "executive time" hours with a constant stream of Fox News and off-brand Fox News, the even more pro-Trump One America News, and whose own mental state has been called into question by cable-news hosts. MSNBC's Joe Scarborough said that Trump's mental state "keeps getting worse" and described him as "a man in decline" in 2017. https://www.vanityfair.com/news/2020/03/fox-news-hosts-honing-anti-biden-message-hes-lost-it
14. McKay Coppins: Trump's Dangerously Effective Coronavirus Propaganda
From the moment the coronavirus reached the United States, President Donald Trump has seemed determined to construct an alternate reality around the outbreak. In the information universe he has formed, COVID-19, the disease caused by the virus, is no worse than the seasonal flu; criticism of his response to it is a "hoax"; and media coverage of the virus is part of a political conspiracy to destroy his presidency.
As with so much of the president's messaging, this narrative began with tossed-off tweets and impromptu public statements. But in recent days, as U.S. health officials have raised growing concerns about the outbreak, Trump's efforts to play down the pandemic have been amplified by the same multi-platform propaganda apparatus he's relying on for reelection in November. From the White House communications office to the MAGA meme warriors of Instagram, from the prime-time partisans on Fox News to the Trump campaign's Facebook feed, the overarching message has been the same: Pay no attention to the fake-news fearmongering about the coronavirus. It's all political hype. Things are going great.
Fact-checkers and scientists have scrambled to correct the misinformation coming out of the White House. (No, the virus has not been "contained" in America; no, testing is not available to anybody who wants it; no, people shouldn't go to work if they're sick.) But Trump's message seems to have resonated with his base: A Quinnipiac University poll released this week found that just 35 percent of Republicans are concerned about the virus, compared with 68 percent of Democrats. https://www.theatlantic.com/politics/archive/2020/03/trump-coronavirus-threat/607825/