April 7, 2022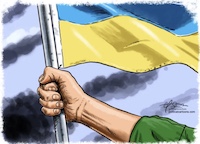 If you have a friend, family member, or neighbor who would like to subscribe to this FREE weekly newsletter they should simply email jellison@san.rr.com with "subscribe" as the subject.
THE WEEK'S BEST QUOTES. . .
At this point, the line is clearly drawn when it comes to voting to confirm #KJB or not. You are either a Senator that supports child rapists, child pornography, and the most vile child predators. Or you are a Senator who protects children and votes NO to KJB! ... Murkowski, Collins, and Romney are pro-pedophile. They just voted for #KBJ. — Rep. Marjorie Taylor Greene (R-GA) used her congressional account to tweet this baseless accusation.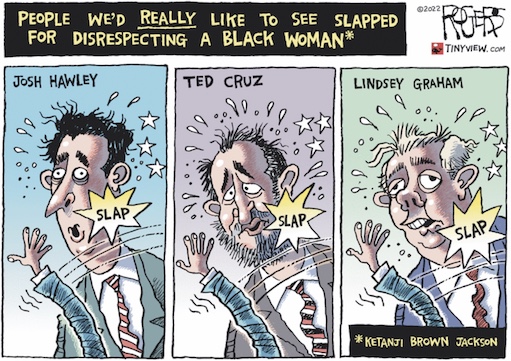 "God has intervened in my life in very significant ways to spare me from being tainted. I was taken off the air at Fox just before they went into a whole marathon of war porn in Ukraine." — Conspiracy Theorist Lara Logan, quoted by Rolling Stone, thankful that she was fired from Fox News.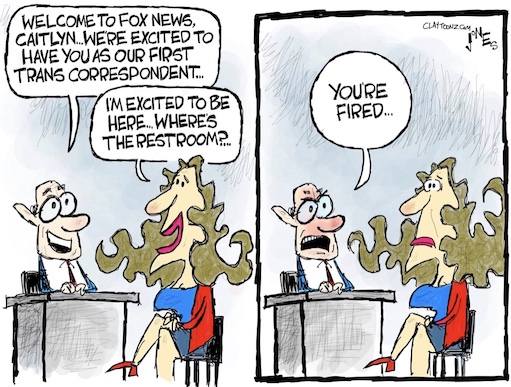 "There are more banks that can be sanctioned and taken out of the so-called SWIFT relationship. There is an increasing call for doing more on gas and oil. I think now is the time to double-down on the pressure." — Hillary Clinton calling on the U.S. to "impose even greater costs" on Russian President Vladimir Putin as punishment for Russia's unprovoked invasion of Ukraine.

"The press often will ask me if I think Donald Trump is crazy. And I'll say it this way: I don't think he's so crazy that you could put him in a mental institution. But I think if he were in one, he ain't getting out!" — New Hampshire Republican Gov.Chris Sunu at the annual Gridiron Club dinner.

"It's time for the Russian people to call on Americans to change "the regime in the U.S." before its term expires "and to again help our partner Trump to become President." — Russian TV host Evgeny Popov on Russian State TV.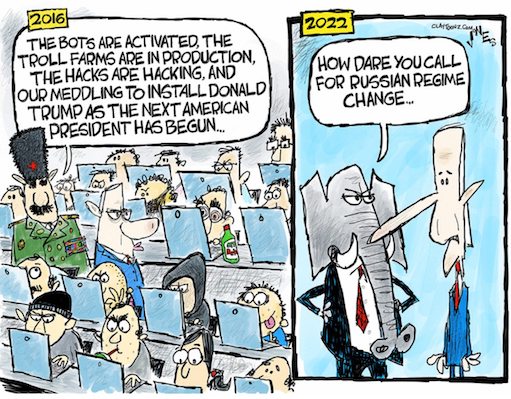 "Fox mentioned 'Disney' more than 350 times and in over 3 hours of coverage this week. Its commentators claimed the company is 'grooming' and 'sexualizing children' in order to push a 'progressive LGBT agenda.'" — Media Matters
When Republicans get back into power, Apple and Disney have to understand one thing: Everything will be on the table, your copyright/trademark protection, your special status in certain states, and even your corporate structure itself… — Fox's Laura Ingraham
While I empathize with all Americans suffering from disease and will continue to fight Big Pharma, I voted against H.R. 6833. I will not see a reemergence of FDR price controls and join the Democrats in their attempt to pave the Road to Serfdom. — Rep. Matt Gaetz, one of the 193 House Republicans who voted against capping the price of life-saving insulin at $35 a month for most Americans last week.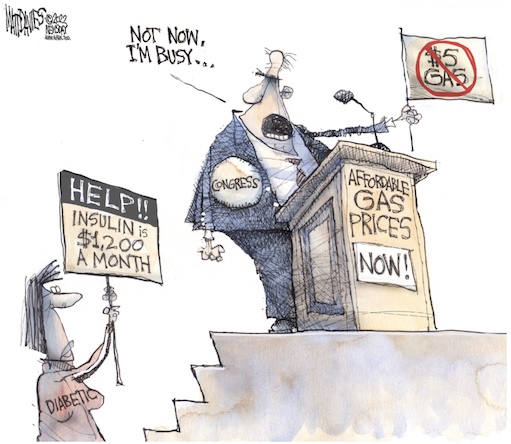 VIDEOS
Stephen Colbert welcomes Mick Mulvaney to CBS: https://youtu.be/PK-EuaH4J4s
Fox & Friends Cold Open: Supreme Court Confirmation Hearings - SNL: https://youtu.be/leSjiO6Wqyg
LITIGATION TRACKER
Pending Criminal and Civil Cases Against Donald Trump.  https://www.justsecurity.org/75032/litigation-tracker-pending-criminal-and-civil-cases-against-donald-trump/
---
IN THIS ISSUE
IN THE NEWS
OPINION
Andy Borowitz: Fauci Testifies That Legalizing Marijuana Would Help People Who Have to Listen to Ted Cruz Talk
Adding his voice to the movement to legalize cannabis at the federal level, Dr. Anthony Fauci testified that marijuana could be helpful to people who have to listen to Senator Ted Cruz speak.
"Medically speaking, there is no way to completely alleviate the pain of hearing Ted Cruz's voice," Fauci told the Senate. "But, anecdotally, I can tell you that marijuana helps."
Fauci said that a septuagenarian man who had previously suffered while listening to Cruz noted "marked improvement" when he ingested marijuana prior to another encounter.
"The results were dramatic," he said. "His feelings of anger, depression, and despair were all greatly reduced."
"Sitting here before you today, I can tell you that people are breaking the law in order to survive experiencing Ted Cruz," he said. "They should be allowed to come out of the shadows."  https://www.newyorker.com/humor/borowitz-report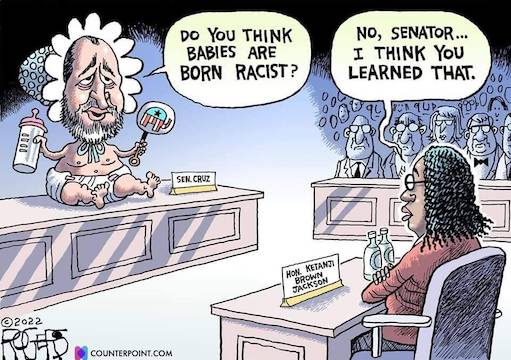 House panel's possible options for alleging Trump Jan. 6 crimes
The Senate acquitted former President Trump last year of inciting the Capitol insurrection. But neither Trump nor any of his top advisors have faced charges over the attack in a court of law, and it's uncertain if they ever will.
But increasingly, lawmakers on the House committee investigating the Jan. 6 assault have been laying out possible crimes in at least one court filing and openly discussing others, all related to that day's violent attack by Trump supporters looking to disrupt Congress' formal certification of his reelection defeat.
Here's a look at some of the suggested crimes floated by the House panel:  
Criminal conspiracy to defraud the United States
The panel says Trump and his allies interfered with the election certification process, disseminated misinformation about election fraud and pressured state and federal officials to assist in that effort.
Obstruction of an official proceeding
U.S. District Court Judge David O. Carter's order published this week "finds it more likely than not that President Trump corruptly attempted to obstruct the Joint Session of Congress on January 6, 2021."
Common law fraud
The committee has also floated a charge of "common law fraud," or falsely representing facts with the knowledge that they are false, that Trump embarked on a wide-scale campaign to convince the public and federal judges that the 2020 election was fraudulent and that he, not Biden, won the electoral college tally.
Dereliction of duty
Leaders of the House panel believe Trump could also be liable for "dereliction of duty," or inaction as his supporters violently broke the windows and doors of the U.S. Capitol.
Financial crimes
The committee has created an internal task force to investigate financing for the massive rally on the National Mall the morning of Jan. 6 and any donors who might have backed transportation or other costs that could have helped foster the violence.
Justice Department action would be far from guaranteed. And it's uncertain whether any charges against the president would hold up in court. It could be difficult for prosecutors to craft a winning case against Trump. https://www.latimes.com/world-nation/story/2022-04-01/house-panels-possible-options-for-alleging-trump-january-6-crimes
30 percent of the House GOP voted against reaffirming NATO support
On Tuesday, 63 House Republicans voted against a symbolic resolution reaffirming support for NATO and its principles, amid Russia's invasion of Ukraine. The "no" votes comprised more than 30 percent of the party's conference.
This vote marks the latest shift away from what was once a bipartisan, consensus view in Congress — supporting NATO and its importance in keeping Russia in check. And the shift continues apace. https://www.washingtonpost.com/politics/2022/04/06/house-gop-nato-support/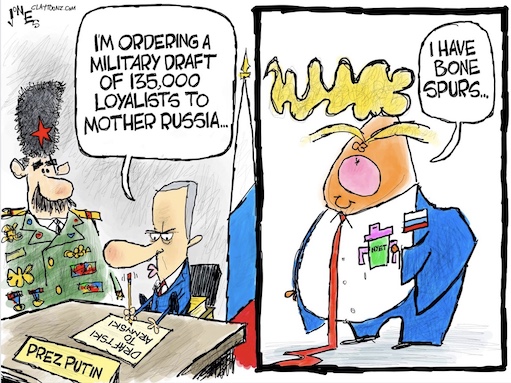 What If Fox News Viewers Watched CNN Instead?
Political scientists David Broockman of Stanford and Joshua Kalla of Yale. recruited a sample of regular Fox News viewers and paid a subset of them to watch CNN instead. Then the treatment group of switchers and the control group of non-switchers took three waves of surveys about the news.
The results: Not only did CNN and Fox cover different things during the September 2020 survey period, but the audience of committed Fox viewers, which started the month with conservative predispositions, changed their minds on many issues.
Switchers were five percentage points more likely to believe that people suffer from long Covid, for example, and six points more likely to believe that many foreign countries did a better job than the U.S. of controlling the virus. They were seven points more likely to support voting by mail. And they were 10 points less likely to believe that supporters of then-candidate Joe Biden were happy when police officers get shot, 11 points less likely to say it's more important for the president to focus on containing violent protesters than on the coronavirus, and 13 points less likely to agree that if Biden were elected, "we'll see many more police get shot by Black Lives Matter activists." https://www.bloomberg.com/opinion/articles/2022-04-03/what-if-fox-news-viewers-watched-cnn-instead
Justice Dept. expands Jan. 6 probe to look at rally prep, financing
The criminal investigation into the Jan. 6 attack on the Capitol has expanded to examine the preparations for the rally that preceded the riot, as the Justice Department aims to determine the full extent of any conspiracy to stop Congress from certifying Joe Biden's election victory, according to people familiar with the matter.
In the past two months, a federal grand jury in Washington has issued subpoena requests to some officials in former president Donald Trump's orbit who assisted in planning, funding and executing the Jan. 6 rally, said the people familiar with the matter, who spoke on the condition of anonymity to discuss an ongoing investigation.
The development shows the degree to which the Justice Department investigation — which already involves more defendants than any other criminal prosecution in the nation's history — has moved further beyond the storming of the Capitol to examine events preceding the attack. https://www.washingtonpost.com/national-security/2022/03/30/jan-6-fbi-subpoena-justice/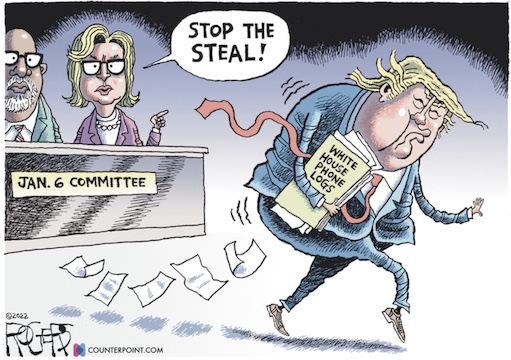 Could Trump blow the midterms for the GOP?
All signs point to a typical midterm election this year in which the president's party suffers double-digit losses in the House. The GOP has the big structural advantages on its side: a Democratic president with low approval ratings, a sour public mood driven by inflation concerns and an edge in polling on issues like crime, education and immigration that are proving important to voters in the crucial swing suburbs where the midterms will be decided.
One of the few ways Republicans could potentially blow this electoral equivalent of a layup is if former President Donald Trump suddenly returns to center court.
Trump is not toxic for his party everywhere. Republicans did better than expected in House races in 2020 because of the high MAGA turnout Trump generated. But he's deadly for the GOP in the decisive suburbs at the heart of 2022 politics. Recall how Virginia's Glenn Youngkin treated Trump like Voldemort, concerned that even uttering his name would repel potential supporters in NoVa. https://www.politico.com/newsletters/playbook/2022/03/30/could-trump-blow-the-midterms-for-the-gop-00021604
Poll: Inflation Tops Russia-Ukraine War As Most Urgent Issue In U.S.
More than a month after Russia invaded Ukraine, inflation eclipses the war in Ukraine as the nation's most urgent issue. Americans say inflation (30 percent) is the most urgent issue facing the country today, followed by Russia's invasion of Ukraine (14 percent), and then immigration (9 percent), according to a Quinnipiac (KWIN-uh-pea-ack) University national poll of adults released today.
There are large differences along party lines. Among Republicans, the top issues are inflation (39 percent), immigration (19 percent), and Russia's invasion of Ukraine (13 percent). Among Democrats, the top issues are Russia's invasion of Ukraine (16 percent), inflation (15 percent), and election laws (13 percent). Among independents, the top issues are inflation (37 percent), Russia's invasion of Ukraine (13 percent), followed by climate change (8 percent) and immigration (8 percent). https://poll.qu.edu/poll-release
Buttigieg slams 'Don't Say Gay' bill and 'nonsensical' Marjorie Taylor Greene speech
"They're looking for somebody to target, to change the subject to these culture wars. And they're really doubling down on these culture wars. Look, we're going to stand our ground and stand with people who are vulnerable. At the end of the day, they're busy worrying about which books to ban and we're here trying to figure out which bridges to fix." https://news.yahoo.com/buttigieg-slams-dont-say-gay-bill-and-nonsensical-marjorie-taylor-greene-speech-183518221.html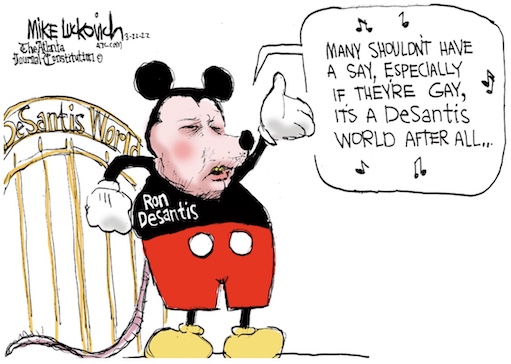 Ron DeSantis Threatening Disney With Regulations Because It Spoke Out Against Florida's Anti-LBQTG Law
Florida Governor Ron DeSantis is ramping up his war against Disney, threatening to retaliate against one of his state's largest employers over its criticism of the anti-gay law he signed this week. "Disney has alienated a lot of people now," DeSantis said at a press conference Thursday. "And so the political influence they're used to wielding, I think has dissipated. And so the question is, why would you want to have special privileges in the law at all? And I don't think that we should."
DeSantis appears to be endorsing an idea floated by some state GOP lawmakers to revoke the "special privileges" Disney has enjoyed for decades under the Reedy Creek Improvement Act as punishment for its stance against the anti-gay bill. The Reedy Creek Improvement District, established in 1967, effectively allows Disney World to act as its own government; the park oversees its own land use, regulates its own buildings, roads, and essentially provides the services a municipal or county government typically would. By revoking this statute, Disney World would come under the county's regulations. "If Disney wants to embrace woke ideology," Florida State Representative Spencer Roach tweeted Wednesday, "it seems fitting that they should be regulated by Orange County."  https://www.vanityfair.com/news/2022/04/ron-desantis-threatens-disney-over-dont-say-gay-law-criticism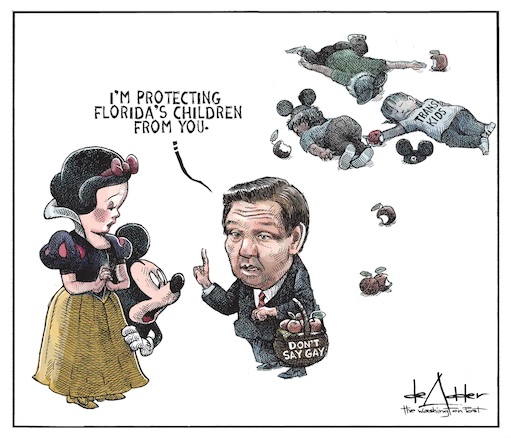 The DAILY GRILL
"I oppose and will vote against the nomination of Judge Jackson to the Supreme Court. My decision is based upon her record of judicial activism, flawed sentencing methodology regarding child pornography cases, and a belief that Judge Jackson will not be deterred by the plain meaning of the law when it comes to liberal causes." — Sen. Lindsey Graham (R-SC)
VERSUS
Sen. Lindsey Graham (R-SC) was one of three Republicans who voted less than a year ago to elevate Judge Jackson to the influential U.S. Court of Appeals for the District of Columbia Circuit.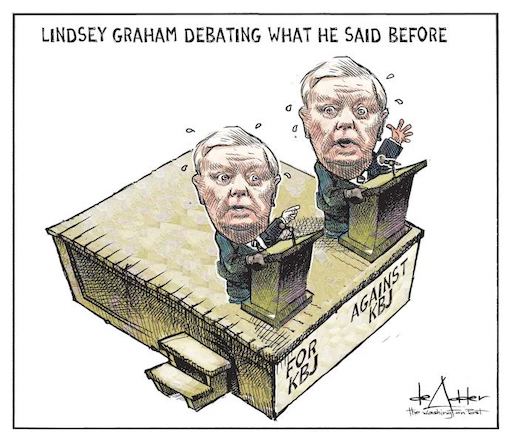 Lawmakers investigating the Jan. 6 attack on the Capitol are increasingly going public with critical statements, court filings and more to deliver a blunt message to Attorney General Merrick Garland and the Department of Justice. President Donald Trump and his allies likely committed crimes, they say. And it's up to you to do something about it.  — AP News
VERSUS
"The only pressure I feel, and the only pressure that our line prosecutors feel, is to do the right thing. That means we follow the facts and the law, wherever they may lead," — Attorney General Merrick Garland at a news conference Friday.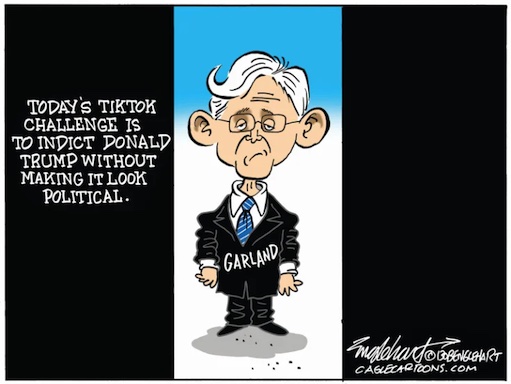 "The most popular issues and qualities among registered voters: funding the police, expanding oil and gas production, supporting the bipartisan infrastructure law and supporting Biden's call to lower health care and prescription-drug costs." ——  A NBC News poll measured 15 different candidate issues or qualities ahead of the midterm elections:
VERSUS
"The least popular: saying Trump won the 2020 presidential election, wanting to overturn Roe v. Wade, being endorsed by Senate Minority Leader Mitch McConnell and defunding the police."
"The reports of ongoing negotiations with Iran raise serious concerns about why the Administration is willing to engage and provide U.S. taxpayer dollars to a country adverse to America's interest." — Letter to Secretary of State Antony Blinken, signed by 18 House Republicans, March 30 ......
"Consider that if this deal (an Iran nuclear deal )passes, Joe Biden will be the biggest funder of terrorism in the world, and American taxpayers are going to be the ones paying for it." — Rep. Jim Banks (R-Ind.), interview on Fox News, March 19
VERSUS
Whatever one may say about an emerging agreement with Iran on its nuclear ambitions, one cannot say U.S. taxpayer funds will be involved. The money that would be released was always Iran's money — primarily what it should have received in exchange for selling goods such as oil. Lawmakers are certainly free to criticize U.S. officials for the diplomatic choices that are made, such as unfreezing billions of dollars blocked by sanctions. But they shouldn't mislead Americans into thinking U.S. taxpayers are footing the bill. -- The lawmakers earn Four Pinocchios, just as Trump did when he made a similar false claim.
"Trump Caught Osama bin Laden and Soleimani, al-Baghdadi." — Rep. Lisa McClain, R-Mich., during a Trump rally Saturday in Washington Township, Mich.
VERSUS
Trump was a private citizen in 2011, when President Barack Obama authorized the mission that killed Osama bin Laden, the al-Qaida leader. -- USA Today
"Unemployment: 40-year high." — Rep. McClain criticizing the state of the economy under President Biden.
VERSUS
The unemployment rate is actually near a 52-year low, not at a 40-year high. The rate in March was 3.6% -- just a tick higher than the Trump-era low of 3.5%, which was the lowest since late 1969.  — Facts First
Paul Waldman: 'Grooming': Republicans' vile new attack on any who criticize them
If you pay close attention to politics, you may suddenly be hearing the word "grooming" a lot. That's because we're at an essential transition point, where an idea or a trope moves from the fringe to the mainstream.
In this case, we can watch it happen almost hour by hour. What had been relegated to the extreme right is now moving into the center of mainstream conservative rhetoric on this issue.
Much of the debate revolves around a bill just signed by Florida Gov. Ron DeSantis (R) meant to shut down discussions of sexual orientation and gender identity in schools. Dubbed by opponents the "Don't Say Gay" bill, the practical implications of its vaguely worded provisions are less than clear. But its intentions are not: DeSantis is at the vanguard of a right-wing movement to create a new moral panic around schools, to convince parents that their children are being indoctrinated with bizarre and threatening ideas.
Lest there be any misunderstanding, the term refers to pedophiles winning the trust of children to prepare them for being sexually abused. On far-right websites, the Florida law has for some time been described almost exclusively as the "Anti-Grooming Bill."
Earlier this month, DeSantis's spokesperson tweeted that anyone who opposes the Florida bill "is probably a groomer." While DeSantis has not used the word, he has repeated the idea. When he signed the bill this week, he said those who opposed it "support sexualizing kids in kindergarten."  https://www.washingtonpost.com/opinions/2022/03/31/grooming-repugnant-gop-attack-anti-gay-anti-trans/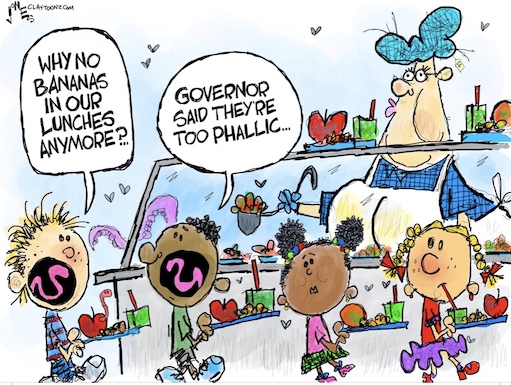 David Frum: What Trump Is Hiding
Trump's actions on January 6th  were not secret. They all happened in full public view. He incited a crowd to attack Congress in order to overturn by violence his election defeat. He refused to act to protect Congress and the Constitution when the attack began, and for a long time afterward. When he finally did act, he did so ineffectively: a tweet at 2:38 p.m. faintly suggesting that the crowd be more peaceful, another at 3:13 saying so more emphatically—all following a tweet at 2:24 p.m. once again condemning Pence for not indulging the fantasy that his vice president could overturn the election for him.
Trump encouraged the violence and welcomed it in real time. The whole world saw that.
But the world does not know everything about January 6—not yet, anyway—and Trump's phone behavior may suggest the answer to the most important remaining questions:
Did Trump in any way authorize the attack in advance?
Did Trump in any way communicate or coordinate with the attackers as the attack unfolded?
Trump's phone choices sought to conceal the answers to those questions. Why? One of the pivotal moments during the Watergate scandal of 1972 was the revelation that President Richard Nixon's secretary had erased 18 and a half crucial minutes of a tape recorded three days after the break-in. The erasure suggested consciousness of guilt by the president, and helped end his presidency.
Trump's 7.5-hour gap likewise suggests consciousness of something. And it sure smells like guilt.  https://www.theatlantic.com/ideas/archive/2022/03/trump-phone-calls-gap-january-6/629413/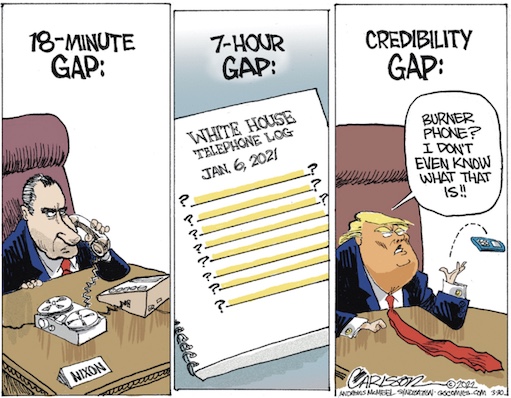 Dana Milbank: I tried Trump's Truth Social so you don't have to
There is almost nothing I wouldn't do for you, dear reader, and this week, in your behalf, I made a painful sacrifice: I joined Truth Social so you don't have to.
I endured weeks on the waiting list for the Donald Trump-created, Devin Nunes-run attempt at a Twitter killer, and I suffered through a series of technical glitches. But eventually I gained access.
As a result, I have come to be in possession of the following new pieces of information about the war in Ukraine:
Hunter Biden is involved in building and running biolabs in the country.
The CIA and National Institutes of Health are both "deeply involved" in the Ukrainian biolabs.
Russia's invasion of Ukraine was set in motion by a CIA false-flag operation that was funded by George Soros.
The covid-19 pathogen originated not in China but in Shpyl'chyna, a village in Ukraine.
The bioweapons developed in Ukraine specifically target the "Abrahamic Bloodline."
Neo-Nazis from Ukraine joined with the FBI to infiltrate the Capitol on Jan. 6 and participated in the insurrection.
Ukraine was planning to use drones to attack Russia with pathogens from the U.S.-funded bioweapons labs.
President Biden has been using Ukraine to launder money.
Ukrainian neo-Nazis controlled the Ukrainian city of Mariupol before Russians invaded.
Russia's alleged war crimes were staged.
I also found many posts calling President Biden a pedophile (or a "groomer" in the new parlance of QAnon). I found badly photoshopped images of Vice President Harris in sexualized situations. I found ceaseless attacks on trans people, an edited video of a cat attacking House Speaker Nancy Pelosi, attacks on Disney for opposing Florida's "Don't Say Gay" legislation, references to satanic sacrifice by the "deep state," a few racist epithets and endless accusations about Hunter Biden's laptop and drug abuse.
I searched for the hashtag #Ukraine, hopped into the rabbit hole and was quickly swimming in a cesspool.
I did find the occasional pro-Ukraine "Truth." And — who knows? — if I searched long enough, I might have found something accurate. But I didn't. Instead, I found a small clump of angry people shouting into a void. And that's the sad truth. https://www.washingtonpost.com/opinions/2022/04/01/truth-social-trump-network-propaganda/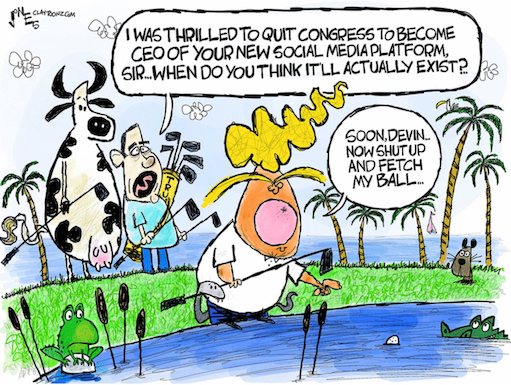 Fareed Zakaria: Russia is the last multinational empire, fighting to keep its colonies
Moscow's efforts to control Ukraine are actions of a former superpower, humiliated by its declining fortunes, grasping for some symbol of greatness. As I argued at the time, the West should have tried much harder to aid and rebuild Russia. (It is worth noting, though, that the critics sometimes exaggerate the extent to which the West was guilty of neglecting the country: The United States and Europe did provide Moscow with huge aid packages and created a new Group of Eight forum that gave Moscow a seat at the table.) But the largest problem might be that we are viewing the Ukraine crisis through the prism of great-power politics when the more appropriate framework might be imperialism.
The Soviet Union was history's last great multinational empire. In the early 1990s, I participated in discussions at Harvard, inspired by Samuel Huntington, on what history taught us about the collapse of such empires. The answer was clear: They were always accompanied by bloody efforts by the imperial powers to hold onto their former territories. The French waged brutal wars in Algeria and Vietnam, and the British killed more than 10,000 people in Kenya during the Mau Mau rebellion. They did this simply because, in their view, the idea of being a great power on the world stage required that they hold onto these colonial prizes.
Viewed through this prism, Russia's actions in Ukraine are perfectly predictable. After a period of weakness in the 1990s (when Russia still waged a bloody war to keep Chechnya), Moscow set itself the goal of retaking its most cherished former colonies. Putin describes Ukraine as inseparable from Russia in much the same way France described Algeria in the 1950s. That cause, keeping Algeria part of France, was wildly popular for many so-called French nationalists.
There was just one problem, then and now: The Algerians then, like the Ukrainians now, had no desire to continue to be colonial subjects. This resistance from the ground is the key piece of the narrative that we sometimes neglect. Whatever Washington, London, Berlin and Moscow may have decided in gilded meeting rooms, the people in the former Soviet empire clearly wanted a political, military, economic and cultural association with the West. And they were willing to do what it took to get it. So when we tell the story of Russia and the West, let's not forget to include Ukraine's desire — its determination — to be free and independent, and to fight and die for it, for perhaps that is the real driver of this story. https://www.washingtonpost.com/opinions/2022/03/31/ukrane-fighting-russia-imperialism-eastern-europe-algeria-kenya/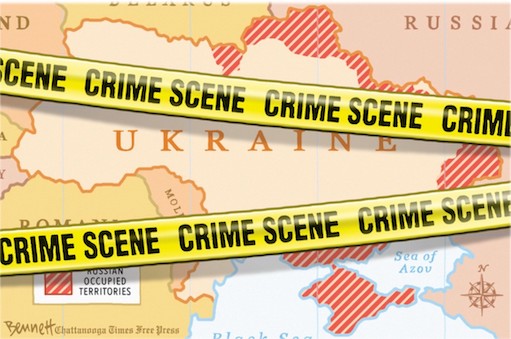 Ed Kilgore: Pence Unveils Less Unhinged, Equally Dangerous GOP Agenda
Florida senator Rick Scott got some mostly negative attention recently for putting out an "11 Point Plan to Rescue America," a package of policy proposals wrapped in extremist MAGA language and Bible allusions that he offered as campaign fodder for Republican 2022 midterms candidates who wanted to prove they had an agenda to advance if they won control of Congress. A lot of it was conservative boilerplate with owning-the-libs rhetoric, but Mitch McConnell was more than a little displeased by a couple of howlers in the mix.
Like Scott's agenda, Pence's features some glaring contradictions. He opposes putting any public-policy constraints on American capitalism's great job-creating firms (particularly fossil-fuel companies) but also calls for government intervention to prevent companies from implementing "woke" personnel practices. Pence denounces "radical political indoctrination" by public schools and offers prescriptions for conservative political indoctrination by public schools. More generally, the "freedom" the Pence agenda celebrates in nearly every paragraph is not extended to those who might, say, want the freedom to control their reproductive system or to breathe clean air.
So in packaging, if not substance, Scott's agenda is Maximum MAGA, while Pence's is MAGA Lite. But they both aim to merge Trumpism with the ancient agenda of the conservative movement.
If you look at Pence's list of "contributors" to his Freedom Agenda, you see a very full cast of characters from the pre-Trump right. You've got ideological warhorses like former Heritage Foundation presidents Ed Feulner and Jim DeMint. You've got Christian-right leaders Gary Bauer and Robert Jeffress. There's the veteran demagogue Newt Gingrich and old-school Republicans who survived into the Trump era: Betsy DeVos, Larry Kudlow, and Kellyanne Conway. There are onetime presidential candidates Rick Santorum and Scott Walker. There's not a brave Never Trumper in the bunch, despite the widespread belief that Pence — who thwarted Trump's insurrection attempt in Congress — is a martyr to every decent, non-Trumpian impulse in the GOP.
Pence's presidential prospects still seem rather dim. (Trump recently dismissed his possible 2024 candidacy, saying, "I don't think the people would accept it.") But if Republicans find themselves in need of a candidate who offers the Trumpian ideology without too much "populism," Pence will be waiting in the wings. https://nymag.com/intelligencer/2022/03/pence-unveils-less-unhinged-equally-dangerous-gop-agenda.html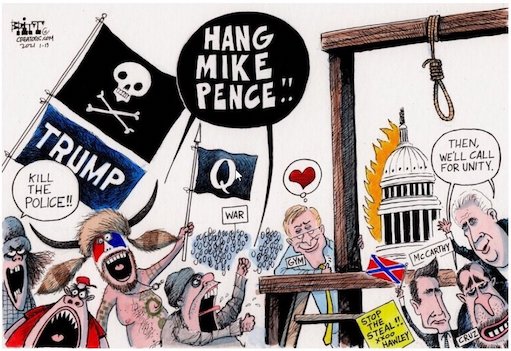 Thomas Friedman: Ukraine Is the First Real World War
Almost six weeks into the war between Russia and Ukraine, I'm beginning to wonder if this conflict isn't our first true world war — much more than World War I or World War II ever were. In this war, which I think of as "World War Wired," virtually everyone on the planet can either observe the fighting at a granular level, participate in some way or be affected economically — no matter where they live.
While the battle on the ground that triggered World War Wired is ostensibly over who should control Ukraine, do not be fooled. This has quickly turned into "the big battle" between the two most dominant political systems in the world today: free-market, "rule-of-law democracy versus authoritarian kleptocracy," the Swedish expert on the Russian economy Anders Aslund remarked to me.
Though this war is far from over, and Vladimir Putin may still find a way to prevail and come out stronger, if he doesn't, it could be a watershed in the conflict between democratic and undemocratic systems. It is worth recalling that World War II put an end to fascism, and that the Cold War put an end to orthodox communism, eventually even in China. So, what happens on the streets of Kyiv, Mariupol and the Donbas region could influence political systems far beyond Ukraine and far into the future.
Putin, it turns out, has no clue what world he was living in, no clue about the frailties of his own system, no clue how much the whole free, democratic world could and would join the fight against him in Ukraine, and no clue, most of all, about how many people would be watching. https://www.nytimes.com/2022/04/03/opinion/ukraine-russia-wired.html
Dana Milbank: Senate Republicans' unhealthy fixation on child porn, by the numbers
Judging by the numbers, Republicans on the Senate Judiciary Committee are obsessed with child pornography.
In four days of Supreme Court confirmation hearings for Judge Ketanji Brown Jackson, the phrase "child porn" (or "pornography" or "pornographer") was mentioned 165 times. There were also, according to transcripts, 142 uses of "sex" ("sexual abuse," "sexual assault," "sexual intercourse," "sex crimes"), 15 of "pedophile," 13 of "predators," 18 of "prepubescent" and nine of general pornography.
There were only 30 mentions of the First Amendment and 12 of the Bill of Rights.
The Republican fixation on pornography continued during Monday's round of statements by senators before the committee voted to advance Jackson's nomination to the Senate floor. A preliminary transcript showed 41 mentions of "porn" or "pornography" and 32 mentions of "sex offenders," "sexual assault" and the like.
In fairness, child pornography wasn't Republicans' only obsession. The phrases "critical race theory" or "CRT" came up 66 times during the hearing. Cotton claimed that Jackson "seems to have a real interest in helping terrorists." Cruz even argued that "the odds are over 100 percent she will vote to give away U.S. sovereignty to international bodies."
Sen. Hawley ended Monday where he began. He asserted that a "core point" of his disagreement with Jackson is that she believes the real victims of child pornography are the perpetrators, not the children.
As "personal slander" goes, it doesn't get much lower. https://www.washingtonpost.com/opinions/2022/04/04/republican-fixation-child-porn-kbj-hearing-numbers/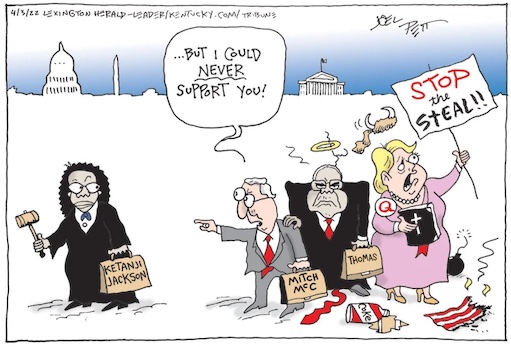 Dean Obeidallah: The double standard with Hunter Biden's laptop is worse than you think
"Attorney General Garland, do your job -- so that we can do ours," declared an exasperated Democratic Rep. Elaine Luria of Virginia on Monday night as part of her work as a member of the January 6 House select committee. Luria and others on the committee expressed frustration with Merrick Garland and the Department of Justice still not acting on the December 14, 2021, vote by the House recommending criminal charges against former Donald Trump White House chief of staff Mark Meadows for defying a congressional subpoena.
But the frustration many have with Garland goes far beyond simply the over three-month silence on Meadows. As I hear frequently from listeners to my SiriusXM show, the fact that we don't hear a peep about Garland investigating Trump for his attempted coup to overturn the 2020 election and potential crimes in connection with the January 6 attack on the Capitol is beyond frustrating. And those voices demanding Garland to act will be growing louder given a federal court decision Monday where the judge wrote that it was "more likely than not that" Trump committed crimes given his efforts to prevent the certification of Joe Biden's victory.
Yes, it's obvious to all of us that what Trump did was wrong -- and potentially illegal -- which begs the question: Where is Garland's DOJ investigation into Trump? Could there be a super secret investigation of Trump? Sure, but common sense says we would have heard something, the same way we hear about the testimony of witnesses after they appear before the House select committee on January 6. Lawyers talk, court clerks see witnesses showing up for a grand jury, etc. All you need is one person to talk to break a story.
Add to that, history tells us that the longer a DOJ investigation continues, the more likely there will be leaks to the media.
On Wednesday, CNN reported that the Justice Department investigation into the business activities of the President's son, Hunter Biden, "has gained steam in recent months, with a flurry of witnesses providing testimony to federal investigators and more expected to provide interviews in the coming weeks, according to multiple sources familiar with the matter."
Investigators are looking into the younger Biden's business dealings internationally during Biden's term as vice president. Hunter Biden has denied wrongdoing and his father is not being investigated as part of this probe, CNN reported, citing sources. The DOJ's investigation, which began in 2018, became known in December 2020 when Hunter Biden revealed it.
And, of course, when the DOJ investigated Hillary Clinton in connection with her emails, the nation first learned about it in August 2015, based on information from two unnamed government officials. While the DOJ refused to comment on the investigation, the media were filled with stories of developments in the investigation -- via leaks -- such as in March 2016 when the DOJ granted immunity to a former Clinton staffer. Clinton eventually was cleared in the investigation. When it comes to Trump, however, we hear nothing.
You don't need a law degree to understand that if Trump is not held accountable for both his attempted coup and the January 6 attack, why would Trump -- or any future president for that matter -- think that they can't do the same? The stakes are too high for timidity given our democratic Republic hangs in the balance. The demand must be made by all who seek to preserve it is this: "Attorney General Garland, do your job." https://www.cnn.com/2022/03/30/opinions/garland-trump-hunter-biden-laptop-obeidallah/index.html