October 19, 2023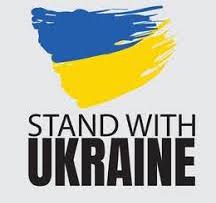 To subscribe to this FREE weekly newsletter simply email jellison@san.rr.com with "subscribe" as the subject.
THE WEEK'S BEST QUOTES. . .
"Matt Gaetz is the Democratic Party's secret weapon. Who could forget his comments right before the midterms when he said women protesting for abortion rights were all "fat and ugly."
https://twitter.com/RonFilipkowski/status/1712539457671540970
"This is the worst team I've ever been on." — Rep. Mike Kelly (R-PA) likened the situation in the House to a football team calling a play in the huddle, lining up in formation, and then never snapping the ball because nobody listened to the quarterback:
https://twitter.com/ArthurDelaneyHP/status/1712545588787687710
"A charitable explanation of your correspondence is that you are ignorant of the United States and Georgia Constitutions and codes. A more troubling explanation is that you are abusing your authority as Chairman of the Committee on the Judiciary to attempt to obstruct and interfere with a Georgia criminal prosecution."— Fulton County District Attorney Fani Willis' latest response to House Judiciary Chair Jim Jordan, this time concerning a request for more information regarding her criminal charges against former President Donald Trump. 
https://www.the-independent.com/news/world/americas/us-politics/fulton-county-jim-jordan-fani-willis-b2428782.html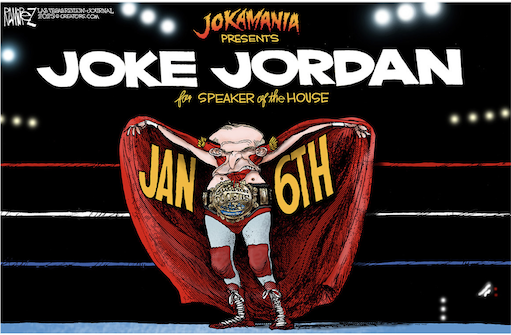 America "is not sending their best and brightest" to represent them in Congress. Sometimes you literally just can't believe like, these people are making the decisions that are determining the government here. It's actually scary." -- Sen. John Fetterman (D-PA).
https://www.youtube.com/watch?v=zYtrFNPBTXk
"Make no mistake: the twice-impeached, 4-time indicted Donald Trump is still a fool. But we can't let our fellow Americans write him off like one. Evil thrives in the shadow of dismissive mockery, which is why we must take the danger of Donald Trump very seriously." —  From Robert De Niro's statement about Donald Trump.
https://twitter.com/MaryLTrump/status/1712501593369612483
"The House Republican Conference is a mess. Complete and utter mess. They are no closer to picking a speaker. They are a month away from a shutdown. Israel is asking for aid, which needs to pass in the next few weeks. They are completely lost.  And have no idea how they will get out."-- Jake Sherman
https://twitter.com/JakeSherman/status/1712553377916506204
"The fact that you and I are living in a world where it is at least notionally possible that Jim Jordan would become the speaker of the people's house and in line to the presidency of the United States is so utterly fantastic, not because Jim Jordan is some, transdimensional warlock. But because he's an idiot… These Frankensteins were never supposed to get off the table." — Tom Nichols, an  Atlantic Magazine staff writer on the Bulwark podcast.
https://www.thebulwark.com/podcast-episode/tom-nichols-testing-the-system-til-it-breaks-2/
"'I will say so much so that you know we have a family funeral plot in New Jersey, and he was the one to say, you know, 'I want her with us.' ... It was pretty amazing again, you know, kind of a wife long removed — ex-wife long removed. He's an incredible man. He's got a heart of gold,' he continued." — Eric Trump, praising his father as an 'amazing' man with a 'heart of gold,' citing his decision to have Eric's mother, Ivana Trump, buried at Trump's New Jersey golf club.
https://www.rawstory.com/trump-burial-amazing/
After criticizing Israeli Prime Minister Benjamin Netanyahu — and praising Hezbollah — earlier this week, Donald Trump posts to Truth Social: "I stand with Israel. I stand with Bibi." 
https://truthsocial.com/@realDonaldTrump/posts/111229225750898835
There's been questions from the beginning—is it Joe Biden really making the calls? I think Michelle Obama is seen as a savior figure by the Democrats who think she's the most beautiful person ever... They think she's their big hope." — Megyn Kelly on Newsmax.
https://twitter.com/justinbaragona/status/1699463713898529159
"We in Hamas appreciate the position of Russian President Vladimir Putin regarding the ongoing Zionist aggression against our people …." -- Hamas statement thanking Vladimir Putin for Moscow's "tireless efforts" to support Palestinians. 
https://tass.ru/mezhdunarodnaya-panorama/19012201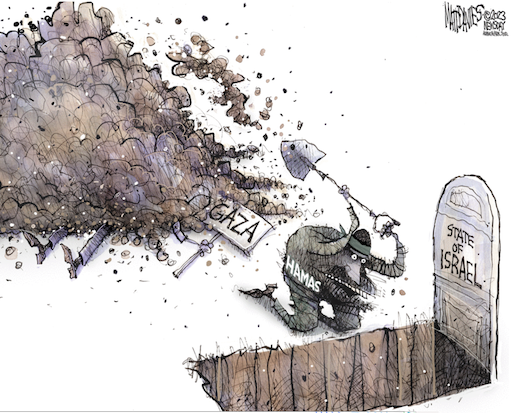 Trump, back at court viciously attacks AG James, who he describes at "ranting and raving like a lunatic." He also claims Mar-a-Lago is "the most expensive house, probably, in the world" and adds that it's worth as much as $1.5 billion.
https://twitter.com/atrupar/status/1714285487618396669
"If he wins, it's not like putting a fox in the henhouse. It's like blowing up the henhouse." — Former Rep. Steve Israel (D-NY), on the possibility of Rep. Jim Jordan (R-OH) becoming speaker. 
https://www.politico.com/news/2023/10/17/democrats-gop-jim-jordan-2024-00121933
VIDEOS ...
"I caution this while you feel that rage, don't be consumed by it. After 9/11, we were enraged in the US. While we sought justice and got justice, we also made mistakes… The vast majority of Palestinians are not Hamas. Hamas does not represent the Palestinian people." — President Biden, speaking in Israel.
https://twitter.com/Acyn/status/1714647415637098894
"I'm afraid he's going to fall down every time I turn on television." Here's Tommy! — Tommy Tuberville on Biden's Europe trip.
https://twitter.com/NotHoodlum/status/1712145761205412183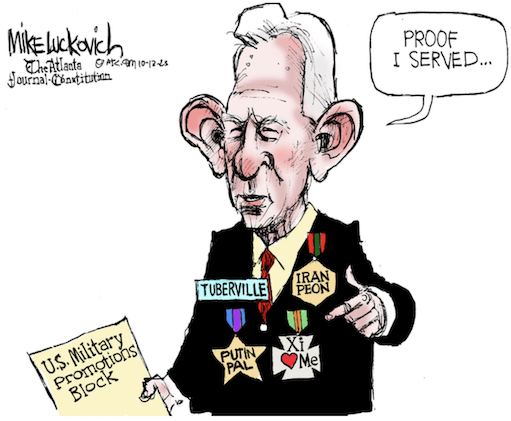 Trump ties the attack on Israel to the 2020 election which he describes as rigged.
https://twitter.com/Acyn/status/1712264804025659509
Rep. Ken Buck (R-CO) interviewed by Dana Bash about why he voted for Rep. Tom Emmer (R-MN) for speaker:
BASH: Do you really want Tom Emmer to be speaker?
BUCK: No, I don't. I don't like Tom Emmer. https://twitter.com/atrupar/status/1714341337598763146
---
IN THIS ISSUE
IN THE NEWS
OPINION
Andy Borowitz: George Santos Says If G.O.P. Lets Him Stay in Congress He Will Stop Using Their Credit Cards
Rep. George Santos has promised his fellow House Republicans that, if they allow him to remain in Congress, he will stop using their credit cards.
"I can understand why you'd be pretty honked off at me for putting patio furniture and duvet covers and whatnot on your cards," Santos, who acknowledged using more than two hundred of his colleagues' credit cards, said. "But now's the time to put this whole ugly episode behind us—for the good of the country."
He also expressed "deep regret" for checking into the Bellagio Hotel and Casino in Las Vegas last weekend under the name Marjorie Taylor Greene. "Upon reflection, that was wrong," he said.
He concluded his remarks by promising that, if he is permitted to stay in Congress, he will use his "mad computer skills" to steal the identities of House Democrats.
"Any of you want a Kawasaki Jet Ski?" he asked. "Say the word, and I'll charge it to Pelosi."
https://www.newyorker.com/humor/borowitz-report/
Hannity, Bannon and others on the right helped fuel GOP speaker chaos
Fox New host Sean Hannity's effort to personally whip up votes for Jordan highlights the central role that right-wing media has played in the weeks-long drama engulfing Capitol Hill over who will wield the speaker's gavel.
But the widely watched conservative pundit wasn't only using his televised bully pulpit to pressure the holdouts. Hannity also spent the weekend personally calling several and having one of his producers reach out to others to lobby them on their vote."
https://www.washingtonpost.com/politics/2023/10/17/sean-hannity-jim-jordan-speaker/
RFK Jr. Pulls More Support from Trump
A new NPR/PBS Newshour/Marist poll finds Joe Biden edging Donald Trump in a 2024 head-to-head match up, 49% to 46%.
However, in a three-way contest with Robert F. Kennedy Jr. running as an independent, Biden opens up a 7-point lead over Trump, 44% to 37% with 16% for Kennedy.
https://maristpoll.marist.edu/polls/the-2024-presidential-contest/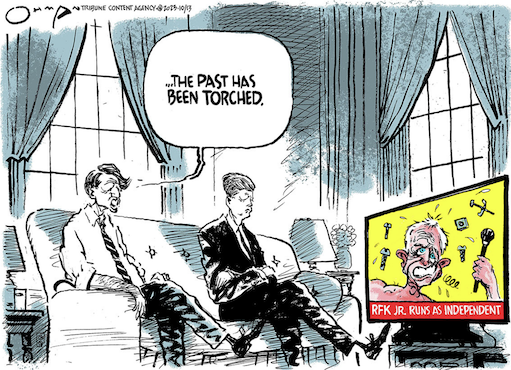 Pritzker launches abortion rights group "Think Big America"
Illinois Gov. JB Pritzker (D) launched a national nonprofit group focused on protecting and expanding abortion rights in states across the country, part of a broader mission of "combating far-right extremism.
https://www.politico.com/news/2023/10/18/pritzker-abortion-rights-think-big-america-00122159
Trump committed egregious intelligence breach, ex-UK spy tells court
Donald Trump's decision to declassify evidence given by ex-British spy Christopher Steele over the former U.S. president's alleged links with Russia led to the disappearance of two sources, Steele said in court documents made public on Tuesday.
Steele said in a witness statement that Trump's decision to declassify his 2017 testimony to Special Counsel Robert Mueller's investigation was 'one of the most egregious breaches of intelligence rules and protocol by the US government in recent times.'
Said Steele: "Two of the named Russian sources have not been seen or heard of since."
https://www.reuters.com/world/uk/trump-committed-egregious-intelligence-breach-ex-uk-spy-tells-court-2023-10-17/
Candidate Trump's claims boost legal risks for defendant Trump
Trump's bombastic diatribes are giving prosecutors new material that could be used at trial to prove elements of the criminal charges against the former president. If special counsel Jack Smith succeeds in his quest for a gag order on Trump, prosecutors could lose one of their best sources of incriminating information — Trump's mouth.
"Lying about it is compelling evidence as to consciousness of guilt," Ty Cobb, who served as a White House lawyer in the Trump administration, said. "The prosecutors can play that snippet every day if they want, and they will play that and other interviews at will. He has confessed publicly, though perhaps unknowing, to virtually every element of the Mar a Lago case. ... Every unscripted thing he says hurts him."
https://www.washingtonpost.com/national-security/2023/10/14/trump-statements-trials-evidence-gag-order/
Republicans ramp up search for an escape hatch from speaker chaos
Centrists are signaling they're open to a deal. Democrats are outlining terms. With no speaker in sight yet, House Republicans are ramping up their discussions about a way to reopen the chamber.
A bipartisan solution to the GOP's leadership chaos still sounds farfetched to most on the Hill — but then, so does the idea that Rep. Jim Jordan (R-Ohio) might overcome his dozens of skeptics and win a floor vote early next week.
There's just one problem with the idea that a temporary compromise could get the House back to legislative business: It has the same issue that plagued the speakership bids of Kevin McCarthy, Steve Scalise and now Jordan. Right now, no solution has the near-unanimous House Republican support that's required to pass on the floor.
Which means that, unless Jordan can overcome his skeptics and push to victory on the floor in the next several days, the only way forward might be with Democrats. A group of centrist Democrats wrote to Acting Speaker Patrick McHenry (R-N.C.) on Friday to propose a limited agenda and some perks for the opposing party in exchange for temporarily restarting House business during a time of global crisis.
https://www.politico.com/news/2023/10/13/stopgap-speaker-00121409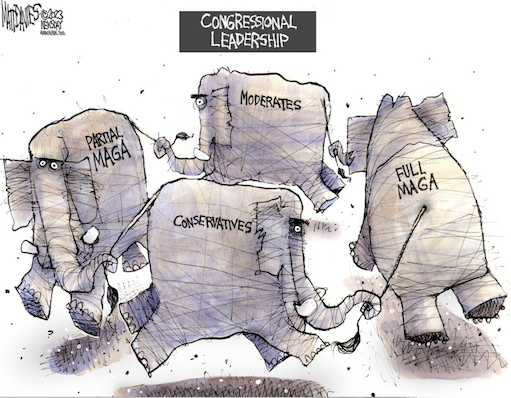 Trump, under fire for Israel comments, proposes fresh crackdown on Muslim immigrants
Donald Trump, condemned by his Republican rivals and others last week for calling Hezbollah militants 'very smart,' responded Monday by proposing harsher restrictions on immigration based on ideology, targeting Hamas sympathizers and critics of Israel.
In addition to blocking people from entering the country based on ideological screenings, Trump said he would revoke student visas and deport anti-Israel demonstrators. He also pledged to expand his travel ban on people from Muslim-majority countries and refuse refugees.
https://www.washingtonpost.com/politics/2023/10/16/trump-muslim-immigrants-crackdown/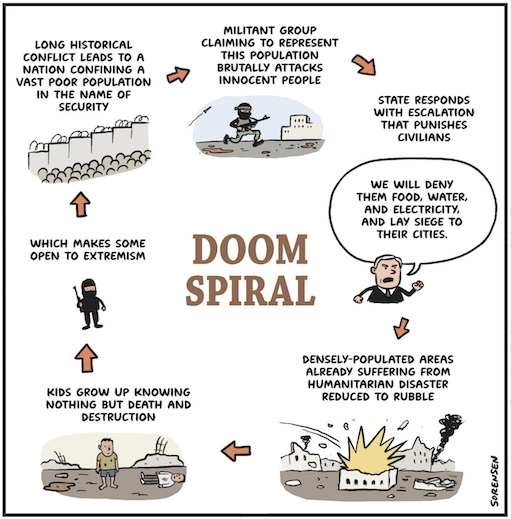 If Jim Jordan Becomes Speaker
Should Jordan ascend into the speakership, it would mark the culmination of a near-decadelong power grab by the far right and the breaching of a new frontier for MAGA's reach inside the Capitol. It was Jordan who helped organize a band of misfit conservatives into the House Freedom Caucus, using their voting cards and the fire of the conservative grassroots to push GOP leadership to new ideological extremes, while setting their sights on committee seats, then chairmanships and leadership posts, and now the speaker's gavel itself.
"It's hard to underplay the stakes. Electing a Speaker Jordan would mean installing a firm Donald Trump loyalist atop the House — one even more willing to embrace the former president's desires and tactics than McCarthy was, a "significant player" in the plan to undo Joe Biden's presidential victory."
"It's easy to imagine the House moving appropriations bills that would defund DOJ's Trump probes or zero out various Biden Cabinet officials' salaries. Or voting to impeach Biden. Or shutting down the government over policy fights with Democrats."
"Jordan has virtually no relationships with key leaders he would be negotiating with on a regular basis. In addition to leading attack after attack on Biden, he's led a cadre of conservatives that has long pummeled Senate Minority Leader Mitch McConnell as an establishment pushover. And he's had little to no dealings to speak of with Hakeem Jeffreis, the House's top Democrat."
https://www.politico.com/newsletters/playbook/2023/10/17/jim-jordans-day-of-reckoning-00121910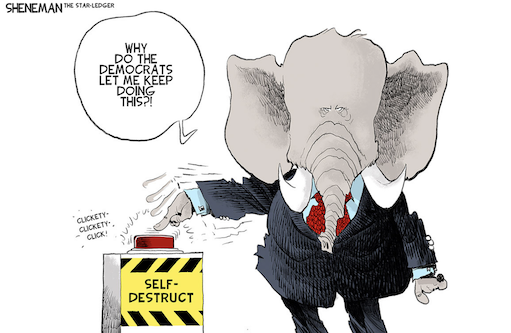 Trump falsely characterized Israel's role in his administration's hit on Iran's Soleimani, say former U.S. officials
Trump said Wednesday that Israel planned to be part of the January 2020 operation that killed Iranian Gen. Qassem Soleimani but abruptly backed out the night before it was to take place.
But the U.S. officials familiar with the planning said Trump's comments are entirely false.
Said one former official: "They were never on board with it. They always thought it was a dangerous and destabilizing idea."
https://www.nbcnews.com/politics/national-security/trump-mischaracterized-israel-role-hit-iran-soleimani-rcna120368
Menendez Indictment Looks Like Egypt Recruiting Intelligence Source, Say Former CIA Officials
The three-count federal indictment against Senator Mendendez, unsealed on Friday, paints a damning picture of pay-to-play access with a wide cast of characters, ranging from allies of the Egyptian government to an associate of the tristate-area mob. Three business associates and Nadine Menendez are all named in the legal filing, which claims that Menendez used his position of power to influence federal appointments and protect his longtime friend, Fred Daibes, a New Jersey real estate developer, financier, and longtime Menendez fundraiser.
https://theintercept.com/2023/09/27/menendez-indictment-egypt-intelligence/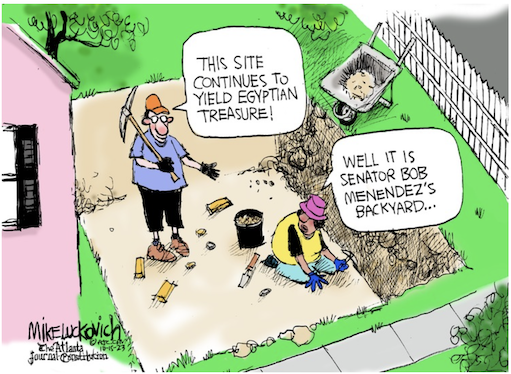 A flood of misinformation shapes views of Israel-Gaza conflict
A Palestinian digital rights organization called 7amleh says it has detected more than 19,000 cases of hate speech and violent incitement against Palestinians in the Hebrew language on X since Oct. 7, the first day of escalations. The organization's executive director, Nadim Nashif, said he wasn't able to flag the content to X because the organization's former points of contact at the company had been fired by Elon Musk, who has dramatically shrunk the company's workforce since he took ownership last year.
To combat disinformation, FakeReporter is running a war room staffed with 2,500 volunteers across Israel. The volunteers flag and report suspicious, malicious, and graphic content to the platforms themselves, and FakeReporter also debunks misleading narratives on social media.
But Eric Feinberg, vice president for content moderation at the Coalition for a Safer Web, noted that Hamas and its supporters have been able to use X to share antisemitic propaganda across the Arab world relatively unchecked. He provided screenshots of pro-Hamas accounts using WhatsApp and X in English to rally support for the organization's attacks on Israel in Pakistan.
"Right now," said Hultquist, "it's very difficult for a lay person to get to ground truth."
https://www.washingtonpost.com/technology/2023/10/14/propaganda-misinformation-israel-hamas-war-social-media/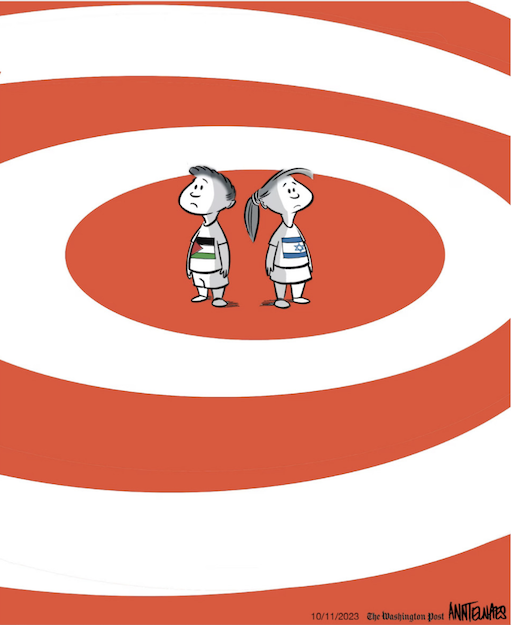 How 91 Felony Charges Boosted Trump in the GOP
Instead of voters turning on him because they are appalled by his behavior, fearful he would not be electable or exhausted by his perpetual drama, the indictments have boomeranged to his favor among Republicans, according to voters, polls, strategists in rival campaigns and Trump advisers.
Interviews with scores of voters in multiple states show that Trump's constant message of victimhood has seeped in not just among the Trump faithful — but also among center-right voters who were previously skeptical of him. Many of the voters echoed his long-running attacks on the law enforcement system that he has sharply ratcheted up in recent months.
In many cases, Republicans who said they were initially interested in another candidate more than Trump were dismissive of the seriousness of the charges. Some said they believed Trump had made mistakes, but they contend there was an unfair double standard against him.
https://www.washingtonpost.com/elections/2023/10/13/trump-support-indictments/
At far-right roadshow, Trump is God's 'anointed one,' QAnon is king, and 'everything you believe is right'
A stage crew member walks by a poster of former President Trump and his sons Don Jr. and Eric during the ReAwaken America Tour in North Las Vegas, Nev.
Between rows of portable toilets, a line of strangers waited to be baptized in an aluminum horse trough. One by one, they emerged from water heated all day by the Nevada sun, united in purpose as new soldiers for Donald Trump.
Nearby, Christian rock blared from a large tent where pastors standing before the main stage prayed and laid hands on attendees of the ReAwaken America Tour, a far-right religious roadshow now in its third year.
Helmed by retired Lt. Gen. Michael Flynn — a supporter of the former president and a key figure in efforts to overturn the 2020 election — and Clay Clark, an Oklahoma entrepreneur and podcaster, the whirlwind event melds the MAGA movement, election denial, QAnon conspiracy theories and doomsday prophecy.
The two-day church revival held in August just outside Las Vegas featured nearly 70 speakers who preached that vaccines are poisonous and will bring about the end of the world, that a cabal of global leaders is engaged in child sex trafficking and that the 2020 election was stolen. 
https://www.latimes.com/politics/story/2023-10-12/reawaken-america-trump-maga-qanon-christian-nationalism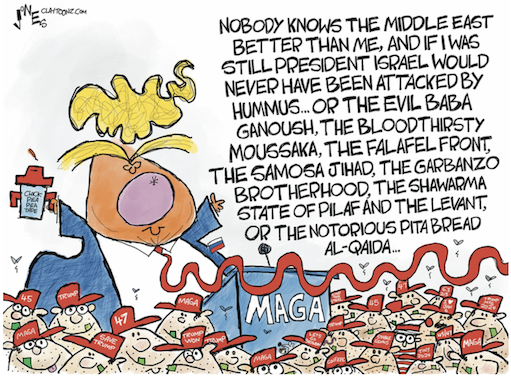 Texas paid company $75m in one year to bus migrants out of state
Texas paid over $75m to a private company over one year to transport migrants out of the state and into sanctuary cities across the country.
From August 2022 through August 2023, the state paid Wynne Transportation $75,561,032.72, according to transaction data provided by the Texas Department of Emergency Management, reported ABC13.
https://www.the-independent.com/news/world/americas/us-politics/texas-company-bus-migrants-abbott-b2428879.html
Trump Tells Allies He Wants Netanyahu 'Impeached'
Trump has had phone calls with various pro-Israel GOP allies and donors who want to know what Trump would do on Israeli-Palestinian matters if he's reelected. The former president has relayed ideas — including cutting off all aid to Palestinians and encouraging other nations to do the same, or capturing and extraditing certain Hamas figures — that he has recently discussed with certain policy advisers. But during these private conversations, Trump has also spent an inordinate amount of time aggressively trashing Netanyahu.
In a recurring comment that Trump has yet to voice publicly, the former president — and former close ally and supporter of the Israeli PM — has repeatedly expressed his strong desire for Netanyahu to be gone by the time Trump would potentially be back in office in 2025.  Since the attack, Trump has said Netanyahu should be 'impeached' by the Israeli parliament because Hamas' shocking assault, which was preceded by an apparently catastrophic intelligence failure on the part of Netanyahu's government, occurred on his watch.
Trump has also asked multiple longtime advisers if he should now publicly call for Netanyahu to step down as prime minister immediately.
https://www.rollingstone.com/politics/politics-features/trump-netanyahu-impeached-israel-hamas-war-1234852888/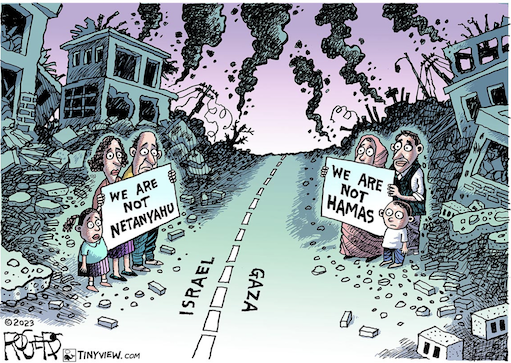 Voting begins in Ohio in the only election this fall to decide abortion rights
In-person voting for a November ballot measure over abortion rights began Wednesday in Ohio, the latest state where voters will decide the issue after the U.S. Supreme Court overturned a nationwide right to the procedure last year.
Ohio is the only state to put an abortion rights question before voters this fall, making it a testing ground for messaging ahead of the 2024 elections, when it's expected to be on the ballot in more states and a major factor in races up and down the ballot.
https://www.latimes.com/world-nation/story/2023-10-11/voting-begins-in-ohio-in-the-only-election-this-fall-to-decide-abortion-rights
George Santos Says He's "Pretty Much" Denying Wild New Criminal Charges
With everything going on in the world, you might have forgotten that there's a Republican representative in Congress—let's call him George Santos—who made up approximately 97% of his biography on the campaign trail and was charged with 13 federal counts in May, including wire fraud, money laundering, false statements to the House of Representatives, and stealing public funds. But in fact, he's still very much around and on Tuesday, and was hit with 10 new criminal counts that are somehow even wilder than the original ones.
In the new indictment, prosecutors allege the first-term congressman from New York stole donor identities, used their credit cards to make more than $44,000 in charges, and wired some of the money to both his own personal bank account and campaign coffers. In addition, the government has accused Santos of falsely claiming to the Federal Elections Commission that he'd loaned his campaign $500,000 when he hadn't loaned it anything and in fact had less than $8,000 in the bank. As alleged, Santos is charged with stealing people's identities and making charges on his own donors' credit cards without their authorization, lying to the FEC and, by extension, the public about the financial state of his campaign, US attorney Breon Peace said in a statement.
https://www.vanityfair.com/news/2023/10/george-santos-identity-theft-charges
U.S. intensifies push to use Moscow's $300 billion war chest for Kyiv
Senior U.S. officials have stepped up their efforts to lead Western governments to use hundreds of billions of dollars of frozen Russian central bank reserves to help Ukraine, according to three people who spoke on the condition of anonymity to describe internal conversations.
The intensifying push to use the assets for Ukraine comes as U.S. and European governments that support Kyiv encounter new domestic political roadblocks for their plans to send taxpayer money to the war effort, although officials insist the matters are unrelated. The Kremlin has an estimated $300 billion frozen in various bank accounts throughout Western countries, but experts have warned that simply taking that money would face legal challenges and pose major financial risks.
U.S. officials are adamant that Russian bank reserves are not a substitute for new emergency military and economic aid from Washington, which Ukraine needs to survive the next several months of the war. Even the most aggressive and optimistic advocates for redirecting the bank holdings believe it would take months — if not more than a year — for the money to reach Kyiv.
And most of Russia's reserves by far are held in Europe, where central bankers have expressed strong reservations about the impact of a seizure on their economies. If Washington acted alone, it could only make use of the estimated $5 billion held in the United States — a tiny share of the $300 billion of Russian money held around the world.
But within the Biden administration, the case for encouraging the West to redirect the assets is growing, even as some U.S. officials worry that the money might not be able to be used to pay to fight the war, but only for reconstruction.
https://www.washingtonpost.com/business/2023/10/11/us-intensifies-push-use-moscows-300-billion-war-chest-kyiv/
THE DAILY GRILL
"I'll never forget that Bibi Netanyahu let us down. We were disappointed by that. Very disappointed, he said. But we did the job ourselves, with absolute precision … and then Bibi tried to take credit for it." —Trump complaining that Israel didn't participate in the airstrike that killed Iranian major general Qasem Soleimani:— https://twitter.com/Acyn/status/1712271024941891984

VERSUS

"It was shameful that a man like that, a former U.S. president, abets propaganda and disseminates things that wound the spirit of Israel's fighters and its citizens. We don't have to bother with him and the nonsense he spouts,"  — The Israeli Government's communications minister, Shlomo Karhi. https://twitter.com/jacobkornbluh/status/1712457783042281672
Ronald Brownstein: The Threat to Democracy Is Coming From Inside the U.S. House
Representative Jim Jordan may or may not break down the last few Republican holdouts who blocked his election as House speaker yesterday. But the fact that about 90 percent of the House GOP conference voted to place him in the chamber's top job marks an ominous milestone in the Republican Party's reconfiguration since Donald Trump's emergence as its central figure.
The preponderant majority of House Republicans backing Jordan is attempting to elevate someone who not only defended former President Trump's efforts to subvert the 2020 presidential election but participated in them more extensively than any other member of Congress.
Jordan's rise, like Trump's own commanding lead in the 2024 GOP presidential race, provides more evidence that for the first time since the Civil War, the dominant faction in one of America's two major parties is no longer committed to the principles of democracy as the U.S. has known them.
https://www.theatlantic.com/politics/archive/2023/10/us-house-democracy-threat-republican-speaker-race/675679/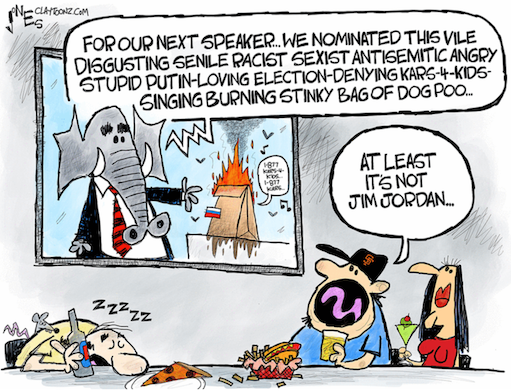 Lorraine Ali: Elon Musk bought Twitter just to break it. With a new war, we're paying the price
It's been nearly a year since Elon Musk acquired Twitter, and more than the average landlord, he's made some changes to the storefront: replacing the social media platform's cheerful winged mascot with an ominous X, stripping all but paying subscribers of verified status, and turning it from a frenetic crossroads of breaking news and opinion to a playground for falsehoods and propaganda sowed by bad actors.
Now that the little blue bird is gone, the tenor of the place has changed — and things are much uglier. GLAAD called it the most dangerous platform for LGBTQ people. The ADL cited a 61.3% increase in antisemitic tweets two weeks after Musk bought the site compared to the two weeks before he took over. The Center for Countering Digital Hate reports a 202% increase in tweets using the N-word since Musk took the reins. Last month, Musk accused the Anti-Defamation League (ADL) of trying to kill this platform by falsely accusing it & me of being anti-Semitic and hinted that he might sue the anti-hate organization for defamation.
For Musk and those who've turned the place into a toxic dump of hate-fluencers and bad info, the goal is no longer sharing information. It's about screaming into the void, no matter how ill-informed the message or baseless the accusation. It's about eroding confidence in trustworthy sources, individual or institutional, and elevating nefarious users who must stoke fear, doubt and confusion in order to thrive. And as he nears his one-year anniversary, it's never been clearer that Musk will go to great lengths to deliver.
https://www.latimes.com/world-nation/story/2023-10-12/hard-line-republicans-wont-back-scalise-speaker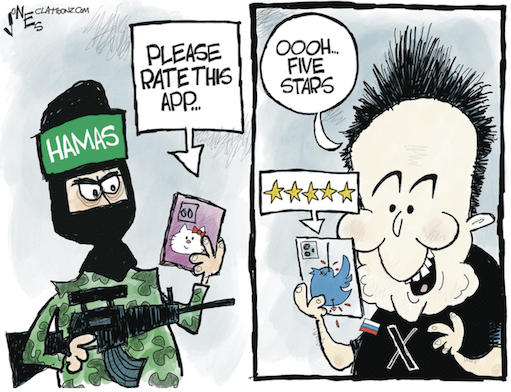 Shlomo Ben: How Netanyahu's political calculations resulted in catastrophe
Sooner or later, Israeli Prime Minister Benjamin Netanyahu's destructive political magic, which has kept him in power for 15 years, was bound to usher in a major tragedy. A year ago, he formed the most radical and incompetent government in Israel's history. Don't worry, he assured his critics, I have two hands firmly on the steering wheel.
But by ruling out any political process in Palestine and boldly asserting, in his government's guidelines, that the Jewish people have an exclusive and inalienable right to all parts of the Land of Israel, Netanyahu's fanatical government made bloodshed inevitable.
Admittedly, blood flowed in Palestine even when peace-seekers such as Yitzhak Rabin and Ehud Barak were in office. But Netanyahu recklessly invited violence by paying his coalition partners any price for their support. He let them grab Palestinian lands, expand illegal settlements, scorn Muslim sensibilities regarding the sacred mosque on the Temple Mount and promote suicidal delusions about the reconstruction of the biblical Temple in Jerusalem. Meanwhile, he also sidelined the more moderate Palestinian leadership of Mahmoud Abbas in the West Bank, effectively beefing up the radical Hamas in Gaza.
According to Netanyahu's twisted logic, strong Islamist rule in Gaza would be the ultimate argument against a political solution in Palestine. By rewarding the extremists and castigating the moderates, Netanyahu believed that he, unlike the soft leftists, had finally found the solution to the conflict. The Abraham Accords, which normalized Israel's relations with four Arab states (and will probably soon include Saudi Arabia), blinded him to the Palestinian volcano beneath his feet.
https://www.latimes.com/opinion/story/2023-10-10/israel-hamas-war-netanyahu-mideast-policies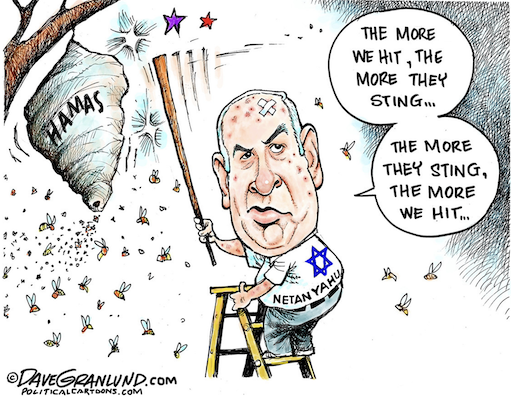 Dan Pfeiffer: An Unserious Party in a Deadly Serious Time
The Republicans' 2024 strategy against Joe Biden has been crystal clear since the first day of his presidency — make the world seem as chaotic and dangerous as possible and then argue that the 80-year-old President is too old and infirm to protect Americans from that chaos and danger…
To date, that strategy has been working. Most people think the country is going in the wrong direction. More Americans are expressing concern about Biden's age, and Trump has a slight edge in hypothetical general election polls.
The events of this past week, however, demonstrate a fatal flaw in that strategy. The more consequential the moment, the less likely voters are to hand over the wheel of the ship to a completely unserious party led by an erratic criminal without the slightest interest in or capacity to govern.
https://www.messageboxnews.com/p/the-gop-an-unserious-party-in-a-deadly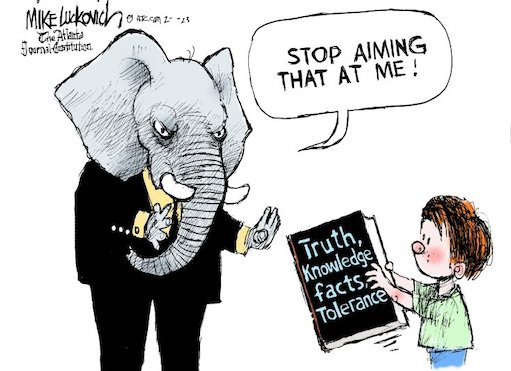 Dan Merica and Amie Parnes: House Republicans' Chaos Is Making Biden's Split-Screen Strategy a Lot Easier
Joe Biden's reelection strategy relies on painting Republicans as chaotic, disorganized, and unserious.
And the recent bedlam in the Republican-controlled House is making that job a lot easier.
Biden's campaign has seized on the Republican infighting around the ouster of former Speaker Kevin McCarthy on Oct. 3  and the Republican conference's inability to agree upon a successor. The fractious debate plays directly into Biden's split-screen strategy, one that the president's top aides and advisers believe will allow persuadable voters to see the Democratic leader in a position of power as the Republicans in the House and those vying for his job fight among themselves.
https://themessenger.com/politics/biden-house-republican-chaos-contrast-strategy
Tom Nichols: The Source of America's Political Chaos
As I continue to watch the GOP flail about—House Republicans have now chosen the execrable Representative Jim Jordan for speaker, replacing Steve Scalise, whose nomination lasted 48 hours—I have been thinking about an alternate history of a United States where Donald Trump lost the 2016 election. I am convinced that the chaos now overtaking much of the American political system was not inevitable: The source of our ongoing political disorder is because of a razor-thin victory in an election in 2016 decided by a relatively tiny number of voters.
Trump's win set up a series of cascading failures. Winning in 2016 turbocharged Trump's claims of leading a movement. His victory encouraged other Republicans to go into survival mode and adopt the protective coloration of Trumpism just to win their primaries, a process that led directly to the crapstorm deluging the House at this very moment. Most Republicans in Congress, as Mitt Romney has told us, hate Trump, and many of them probably wish that someone could jump into the Time Tunnel, go back to 2016, and persuade a few thousand voters in three or four states to come to their senses.
At the least, a Trump loss would have let other Republicans avoid sinking in the populist swamp. Elise Stefanik might be a relentless political opportunist, but without Trump, she and other GOP leaders could have pronounced Trumpian extremism a failure and stayed in something like a center-right lane. On the Earth Where Trump Lost, Fox-addicted voters might still have sent irresponsible performance artists such as Marjorie Taylor Greene and Matt Gaetz to Congress, but the institutional Republicans would have had every incentive to marginalize them. (Remember, Jordan's been in the House since 2007, but attaching himself to Trump has helped to put the speaker's gavel within his reach.
https://www.theatlantic.com/newsletters/archive/2023/10/trump-2016-source-chaos/675643/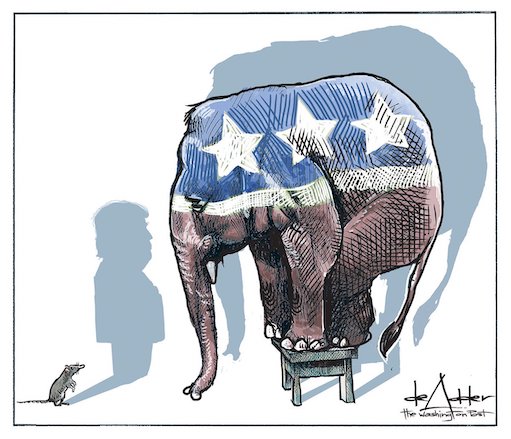 Molly Jong-Fast: House Republicans Have Opened the Gaetz of Hell
A Jim Jordan Speakership would be a nightmare for democracy, for political discourse, for many of the values that I hold dear. But Jordan winning 217 votes would make clear that there are zero moderates left in the Republican caucus, that literally every member of the house is a right-wing zealot.
Things are, in other words, looking pretty bleak. As the carnage in the Middle East dominates the news cycle—and the House's fiscal responsibilities come into immense focus—it's unclear how the party will escape from that sand trap, whether it's by electing a hard-line MAGA replacement who endangers their control of the House or by reelecting McCarthy, who could very well be vacated once more. What is certain amid all the bickering, backstabbing, and nail-biting is that the only member of Congress who is presumably happy about this House of horrors is the Gaetz of Hell.
https://www.vanityfair.com/news/2023/10/house-republicans-have-opened-the-gaetz-of-hell
Jill Lawrence: Jim Jordan: An Absurd and Dangerous Choice for House Speaker
Here are nine of the countless reasons he can't be trusted with U.S. democracy.
TWO YEARS AGO, I called for Congress to punish and even expel lawmakers who betrayed America by trying to overturn the 2020 election. Now a majority of House Republicans have chosen Jim Jordan, one of Donald Trump's "Stop the Steal" ringleaders, as their preferred candidate for speaker of the House.
How dare they even think about it?
The speaker of the House is right behind the vice president in the presidential line of succession. A speaker might have to preside over a disputed presidential election. A speaker in theory could even manufacture disputes by leading his or her party to reject state electors, an amped-up version of what we saw congressional Republicans do on January 6, 2021.
The next speaker should not be someone we already know is willing to manufacture disputes and support groundless claims to overturn an election to install the president he wants.
Jordan is an absurd and dangerous choice for that reason and too many others to count.
https://plus.thebulwark.com/p/jim-jordan-absurd-dangerous-choice-for-speaker
Eric Garcia: Jim Jordan's failure shows the limits of 'legislative terrorism'
Over the past day or so, it looked like Jim Jordan might actually clinch the speakership. He had won over some of his biggest skeptics in the House Republican conference. Even some Republicans from districts that voted for President Joe Biden like Rep Marc Molinaro (R-NY) and Juan Ciscomani (R-AZ) announced their support for the right-wing firebrand.

A Jordan victory would have symbolised the triumph of radical conservatives in the decade-long civil war they have waged against establishment Republicans – who, despite not necessarily being moderate, did understand the levers of governing – that began in 2010 during the Tea Party revolution. It would have been a sign that the institutionalists once again folded because they mistakenly believed if they incorporated the radicals into the fold, they would mature rather than see it as permission.
This is not to say that the radicals can't stage a comeback. Indeed, they will likely remember this as a moment they got so close to a taste of power and rue against those who denied it to them. But they have shown that they do not have the capacity to actually implement plans to get the power to punish their enemies. https://www.independent.co.uk/voices/jim-jordan-house-speaker-legislative-terrorist-b2431372.html